I'm always looking for new, easy-to-make recipes that are perfect for weeknight dinners. This pasta with asparagus recipe is vegan, zesty, and spicy - and it's sure to please even the pickiest of eaters! Plus, it only takes 20 minutes to make from start to finish; no sauce is needed! Give it a try tonight!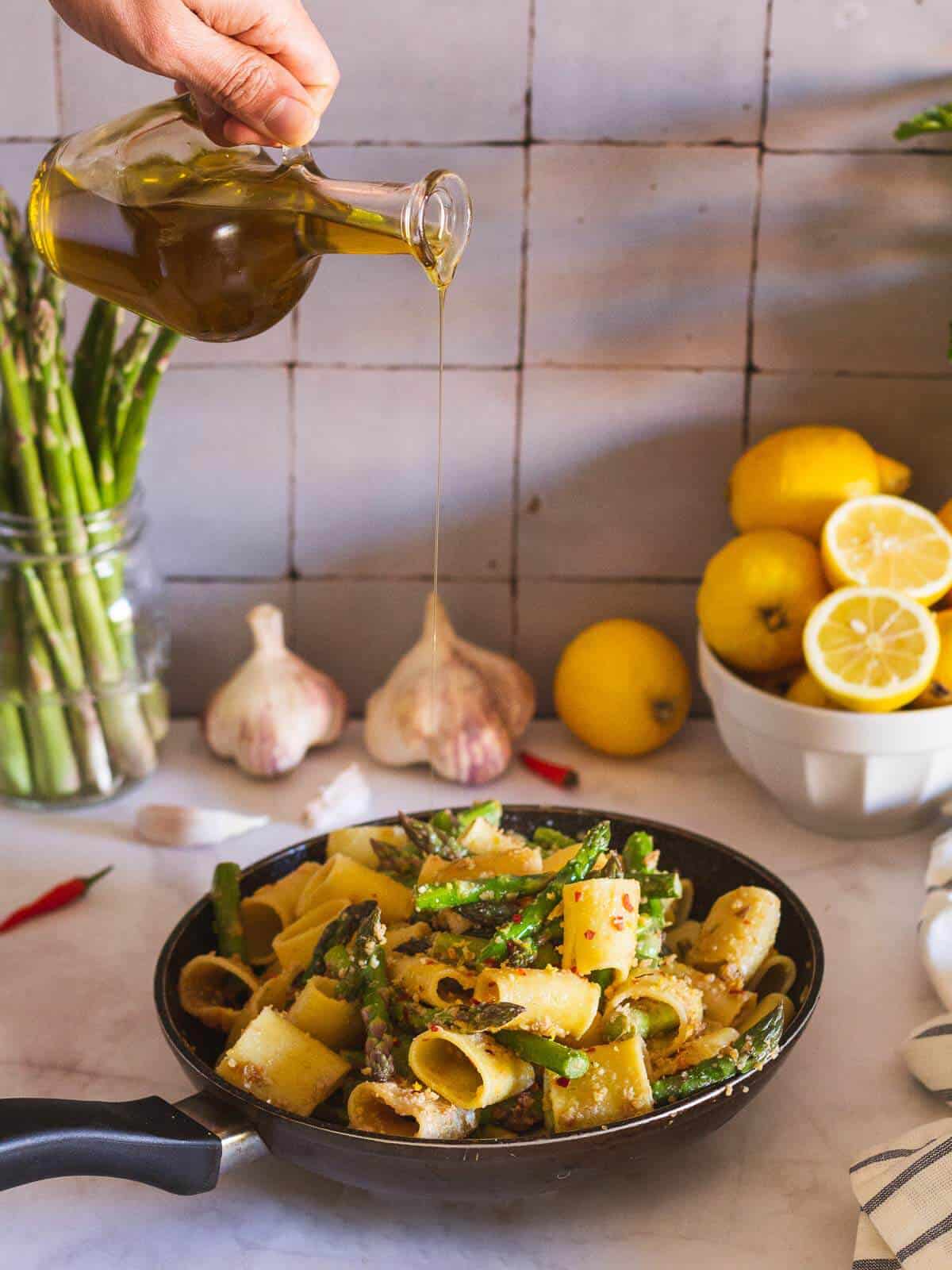 This Italian Asparagus pasta is one of our favorite vegetarian pasta recipes because it is simple, and the whole family loves it.
When we see asparagus in the Farmer's market, we immediately start craving our springtime favorite recipes, like lemon asparagus risotto, and buttery white asparagus.
This was inspired by our lemony spaghetti recipe on this site, and pairs well with this Roasted Brussels sprouts recipe, as they are both cooked in minutes, can be made next to each other, and are absolutely delicious.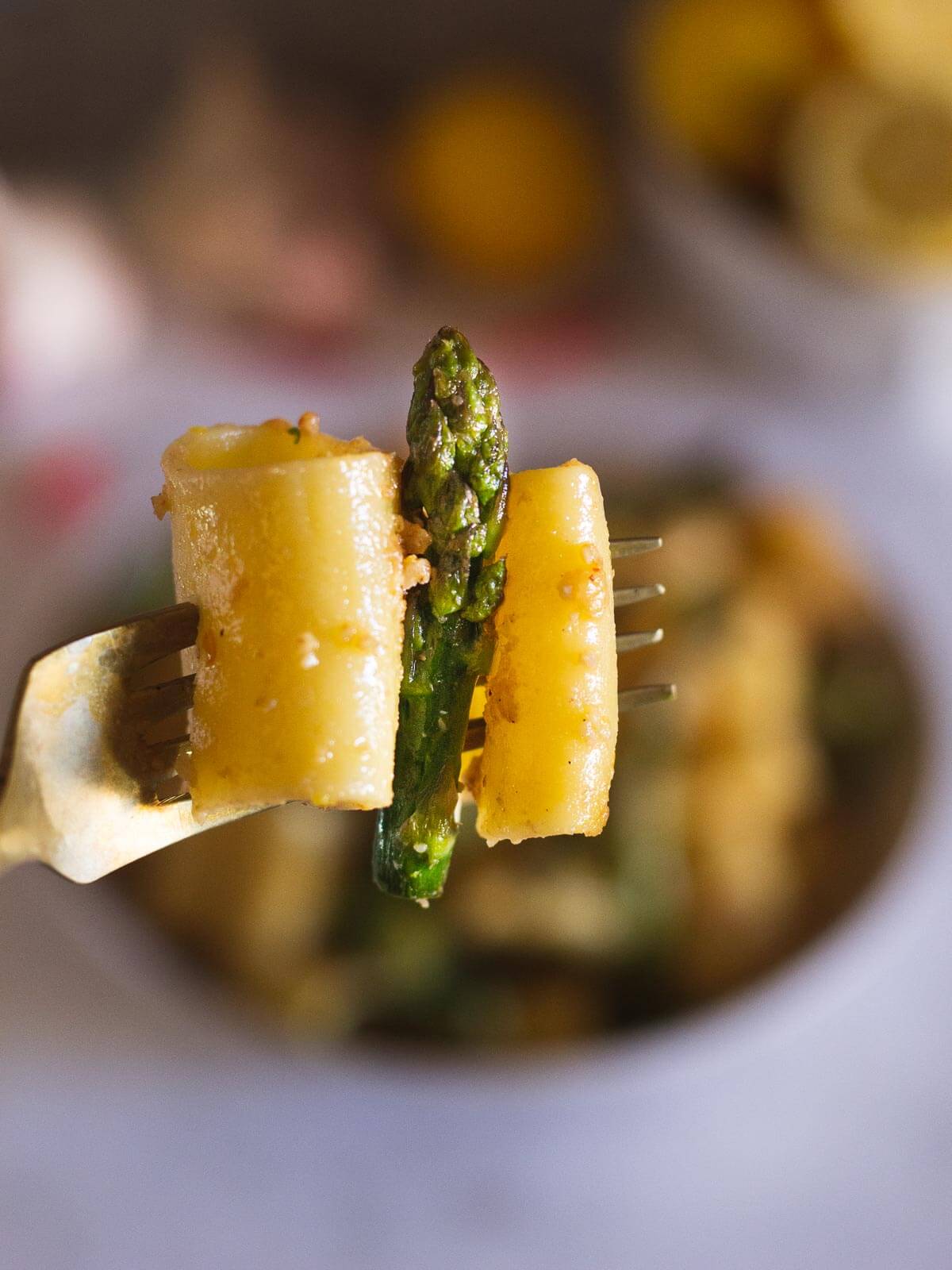 Jump to:
🧾 Ingredients
To make this asparagus pasta recipe, you need very simple ingredients that are also pantry staples.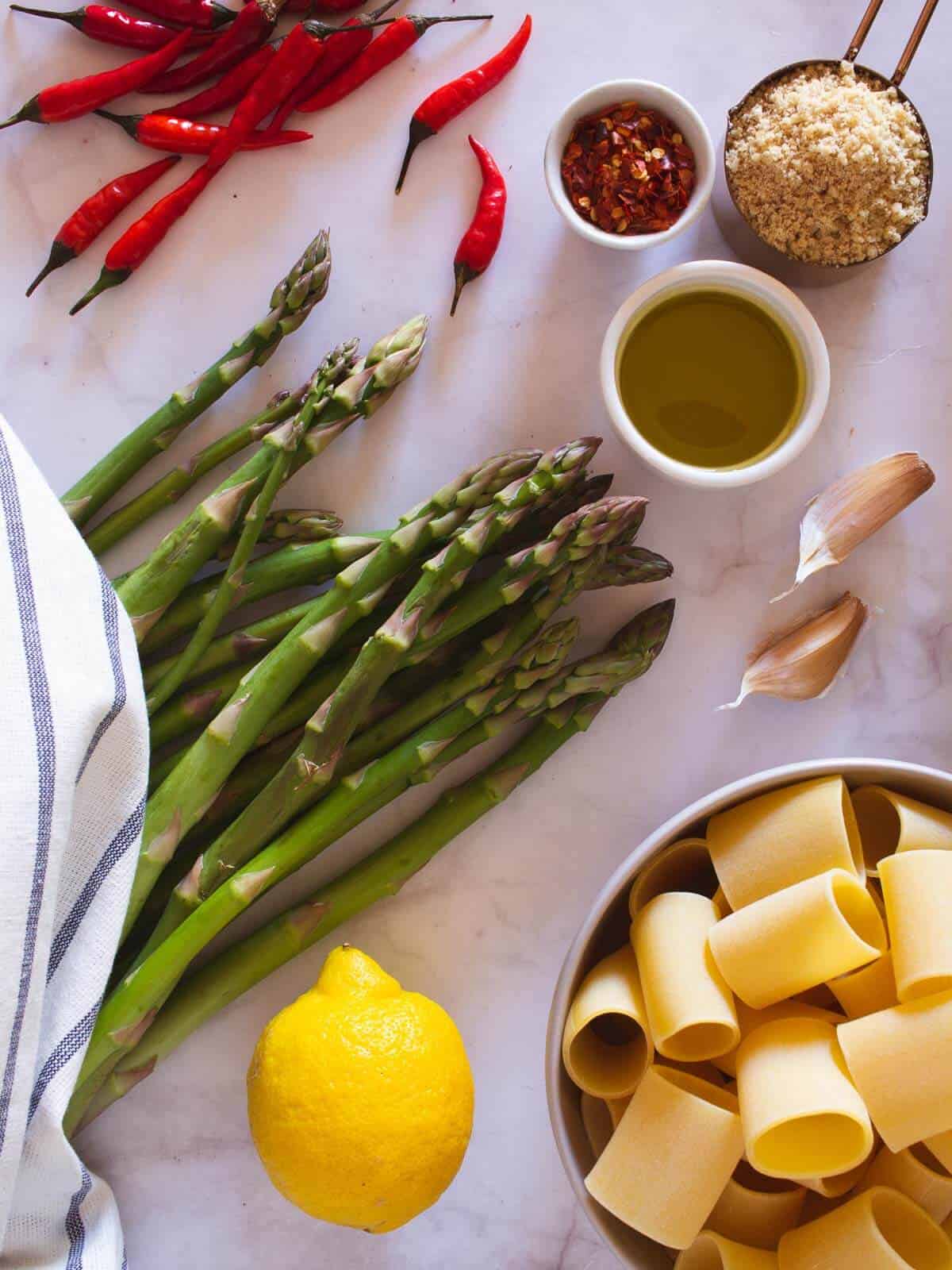 Dry pasta of your choice: Pasta is the main ingredient and provides the base of the dish, acting as a carrier for the other flavors.
Fresh asparagus (frozen asparagus spears also work): Asparagus provides a slightly sweet and earthy flavor and a tender texture while adding nutrients like vitamins A, C, and K.
Minced garlic cloves add an intense, savory flavor and enhance the other spices and ingredients.
Red pepper flakes add a spicy kick to the dish and complement the other flavors.
Fresh lemon juice and zest add a bright, tangy flavor to the dish and help balance the other ingredients' richness.
Extra virgin olive oil is used to sauté the asparagus and garlic, providing a rich, nutty flavor.
Vegan parmesan cheese is used to add a savory, cheesy flavor to the dish without the use of animal products.
See the recipe card for quantities.
🔪 Instructions
This lemon asparagus pasta recipe is made in 15 minutes with just a few kitchen utensils.
Cook pasta
Bring water to a boil and cook pasta according to package directions in a pot of salted water. Remove the pasta from the heat 2 minutes before the recommended time (almost al dente).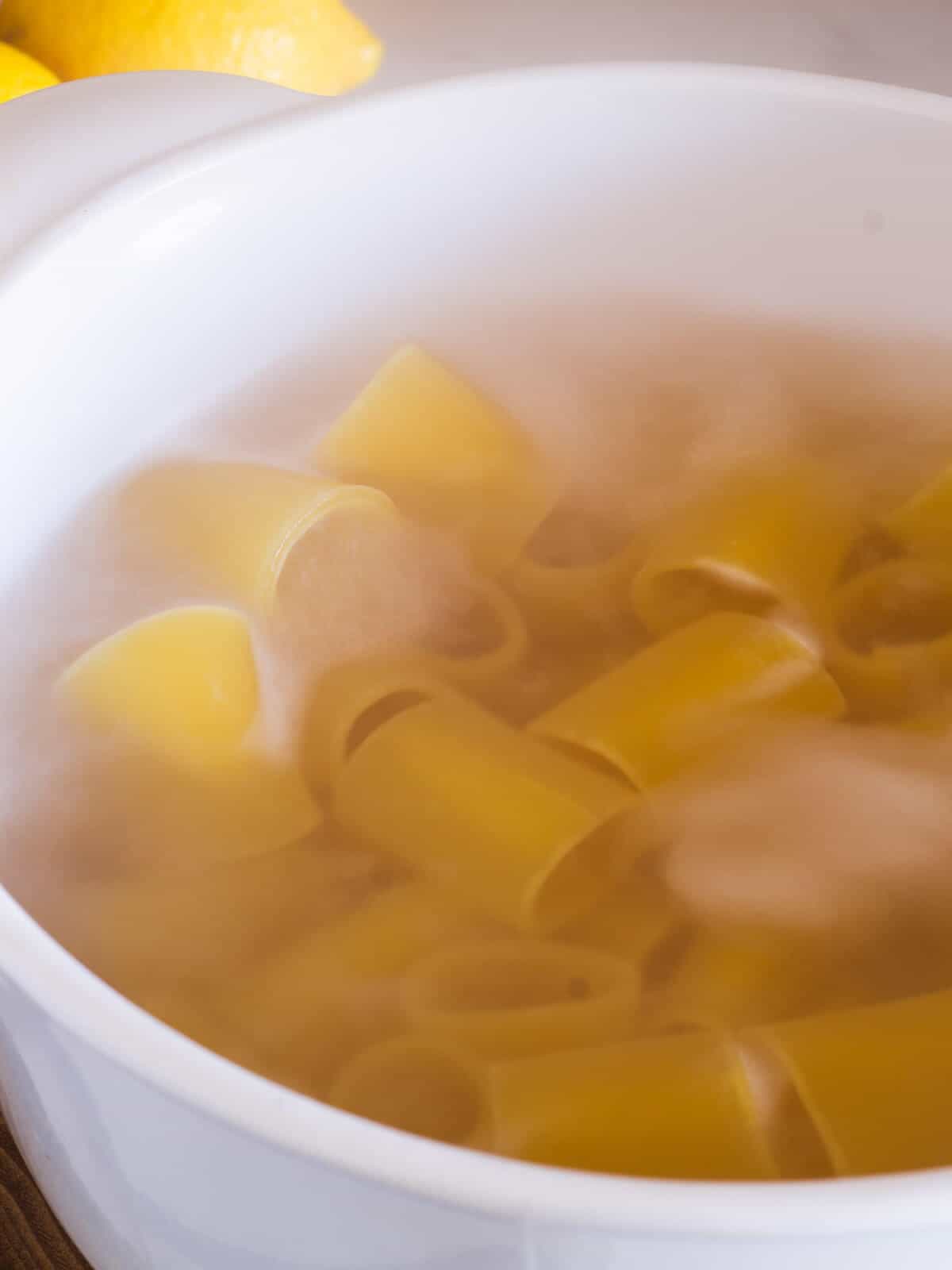 The pasta will finish its cooking process in a skillet, and we don't want it to be overcooked.
Drain the pasta using a colander, and drizzle with olive oil to prevent them from sticking.
Prepare the asparagus and lemon
While cooking pasta, wash and pat dry your asparagus delicately to avoid breaking the spears.
Cut the asparagus spears about one inch from the bottom. We need to eliminate the woody ends, which can be discarded.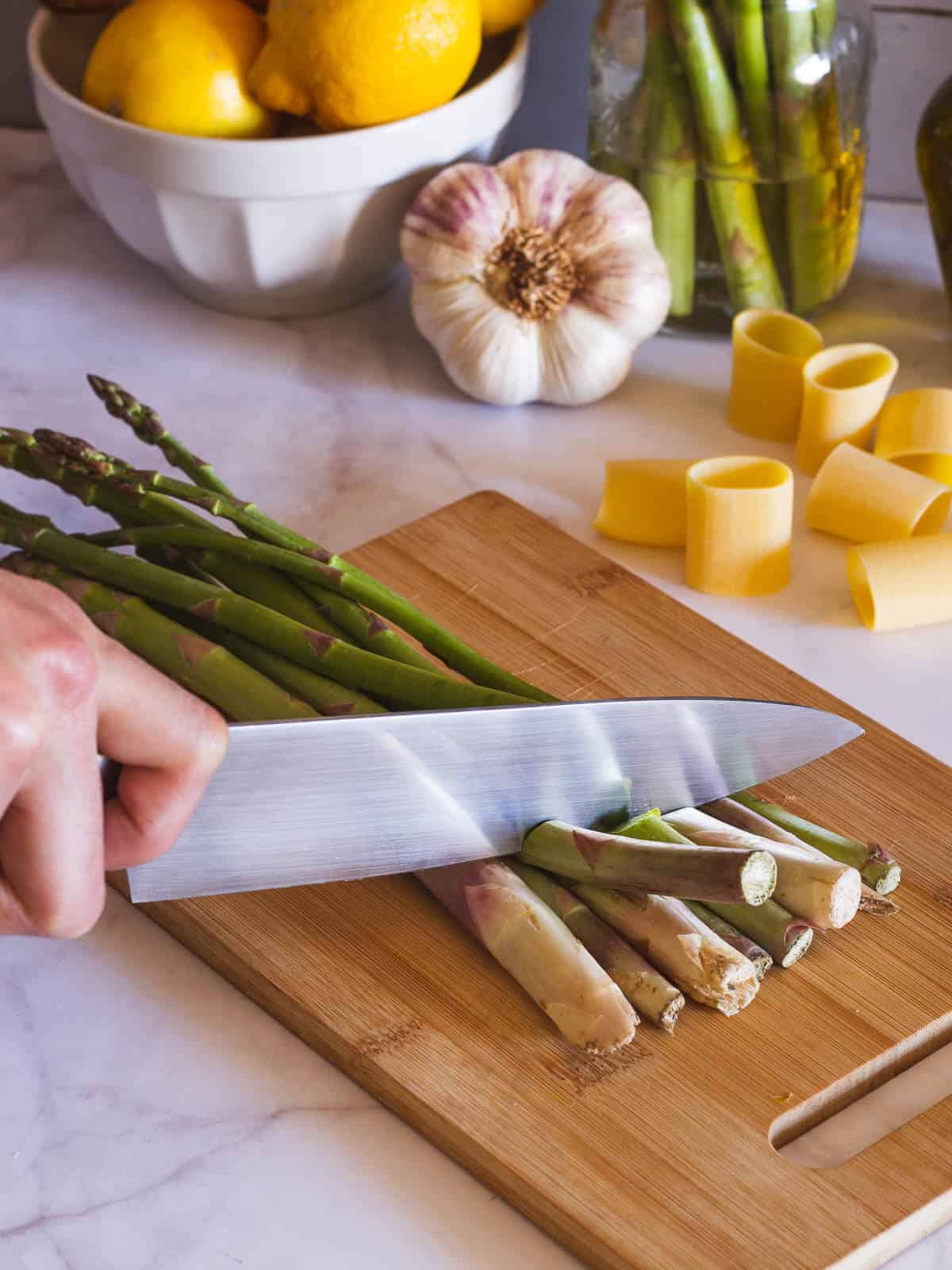 Then cut asparagus into 1 ½" pieces and reserve.
Hint: if your asparagus looks fleshy and sturdy, you can use a vegetable peeler to remove the outer layer and ensure they are tender enough.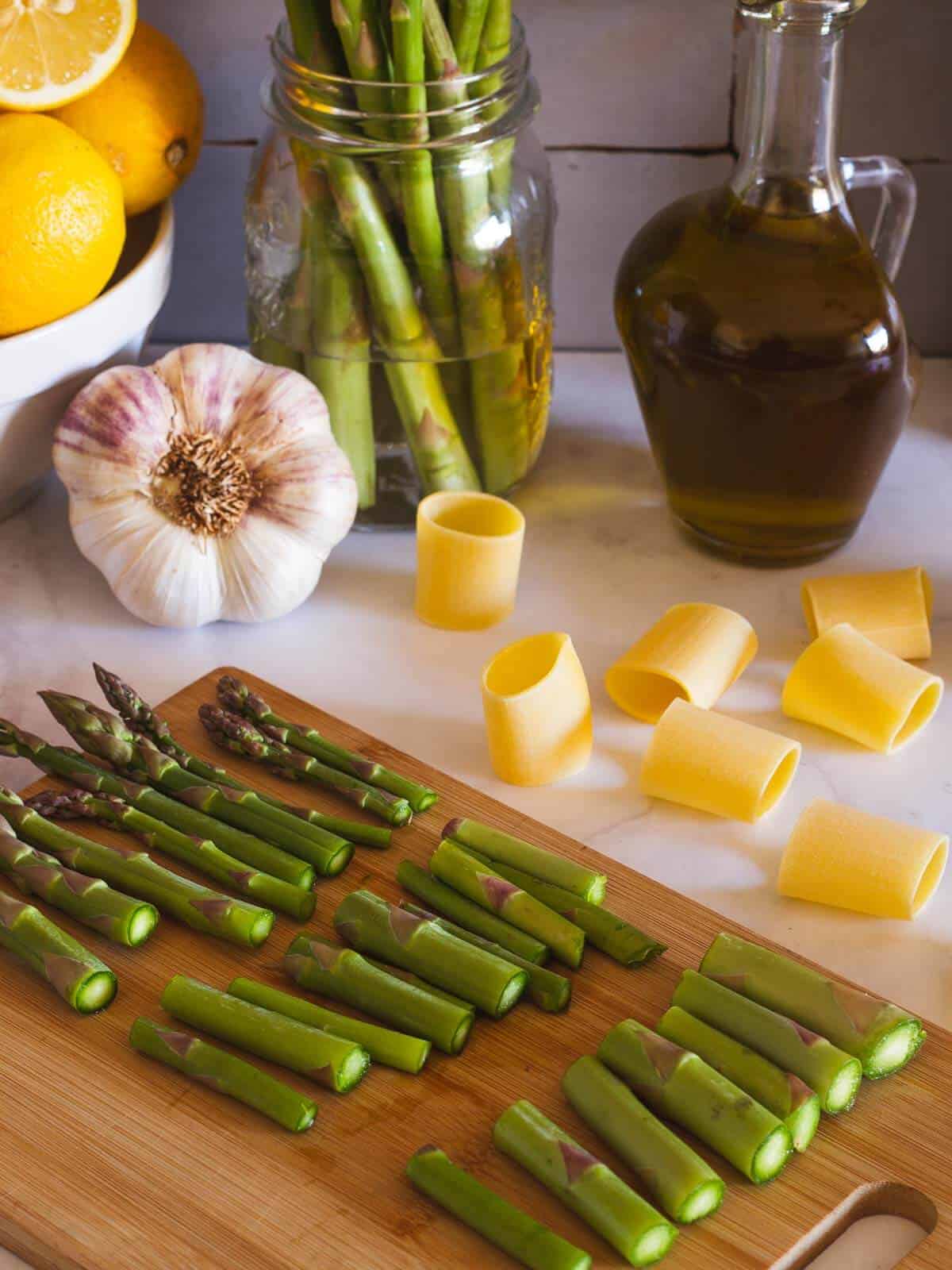 Cut the lemon in halves and juice one half.
Assemble the dish
In a skillet on medium heat, add the olive oil, followed by the red chili flakes, and add garlic. Cook for one minute.
Immediately after, toss asparagus and lemon juice, sauté asparagus in a pan for a minute, and cover with a lid for 2 minutes until they are crisp-tender.
Hint: asparagus cooks very quickly, so don't leave them in for too long as it will lose its vibrant color.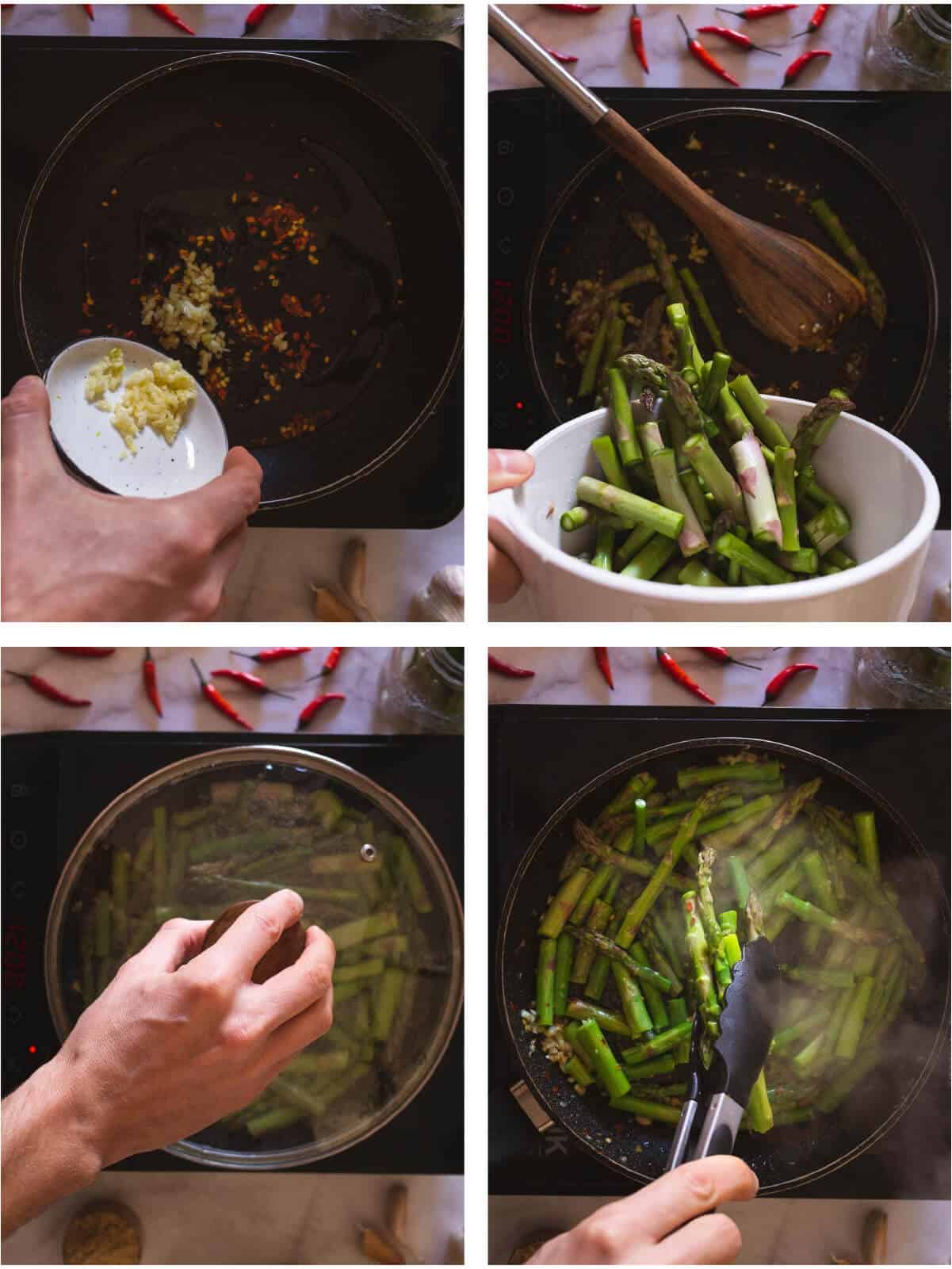 Add the drained pasta, followed by homemade vegan parmesan cheese, and stir.
Zest the remaining lemon half and sprinkle the lemon zest on top of the pasta.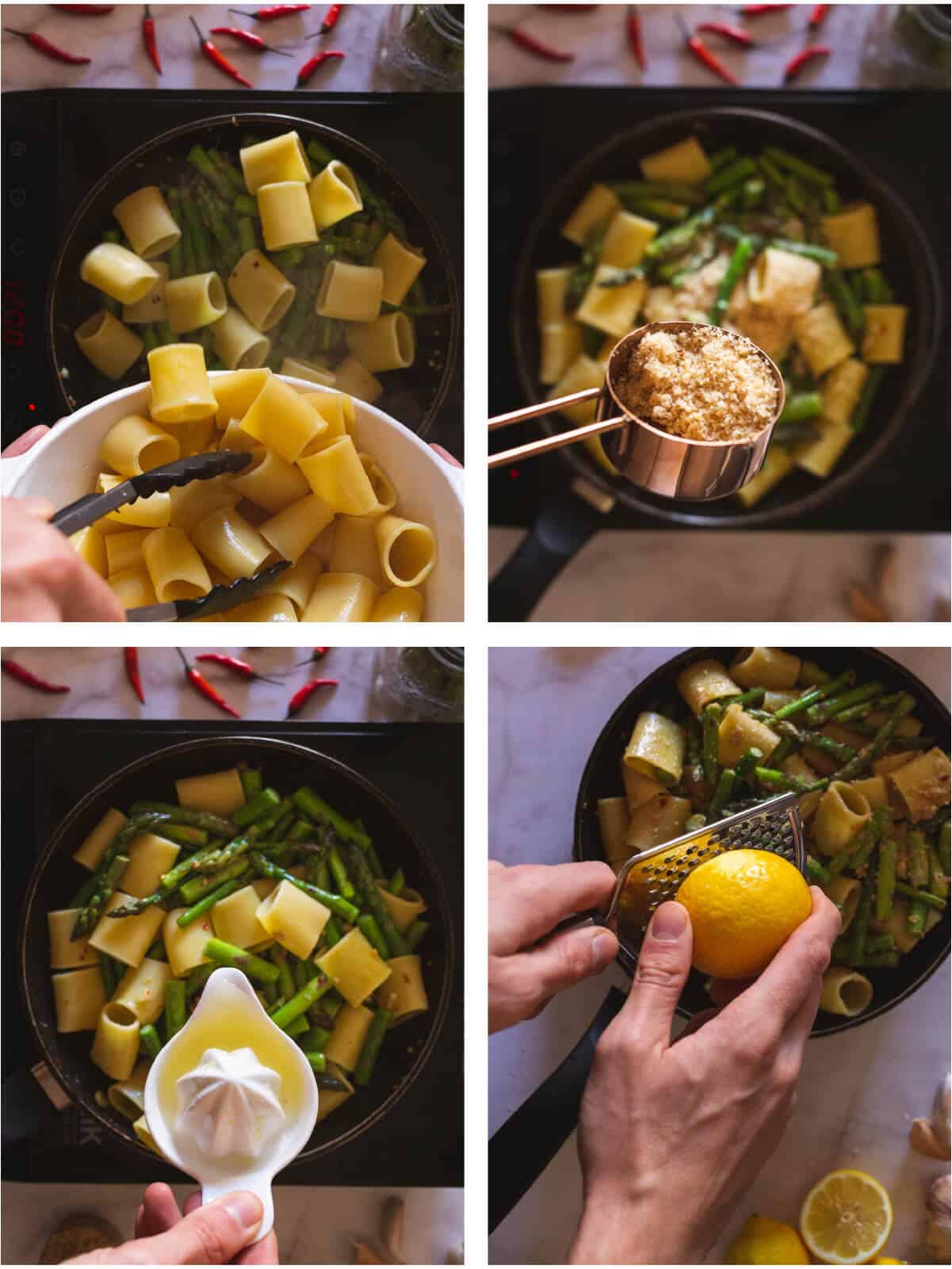 Taste and adjust to your liking with salt and black pepper, and add lemon zest.
Plate and garnish instructions
Serve this lemon asparagus pasta recipe al dente, and sprinkle vegan parmesan cheese and lemon zest. Add extra pepperoncini for extra heat and chopped fresh herbs for a beautiful look.
Use bowls and serve immediately.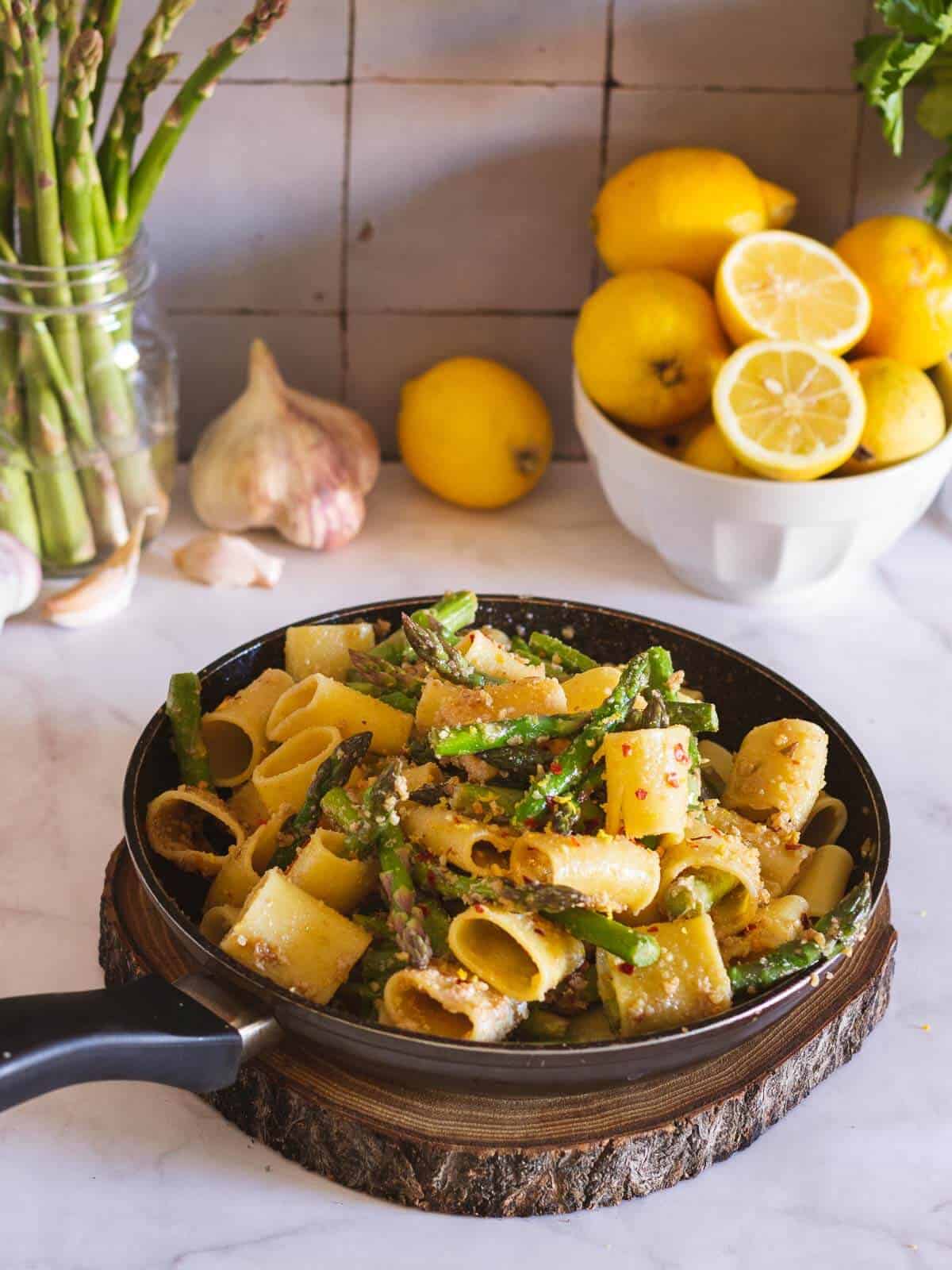 🍽 Equipment
To make this asparagus pasta recipe, you will only need a large pot to cook your pasta, a strainer, and a large skillet.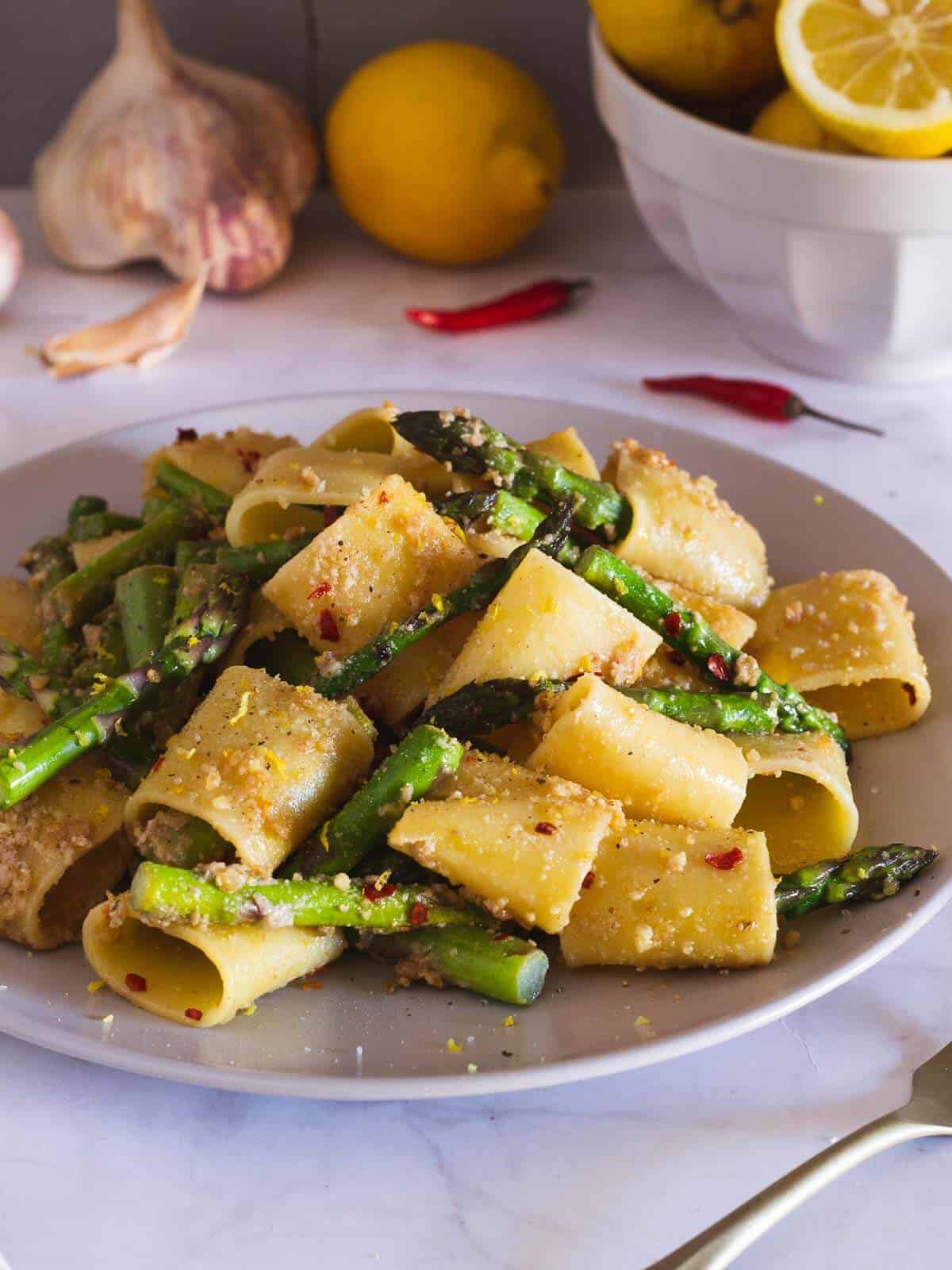 📖 Variations
Asparagus
If you are unsure about how tender your asparagus are, you can blanch asparagus in boiling water for a minute and reserve them in cold water so they keep their color.
Pasta shape
All dry pasta kinds go well with this recipe. Our favorite kind is paccheri or penne pasta, both short pasta.
We always go for vegan pasta made with durum wheat semolina and water but remember to use gluten-free pasta to keep the recipe celiac-friendly.
Read on: how to make your own fresh vegan pasta dough »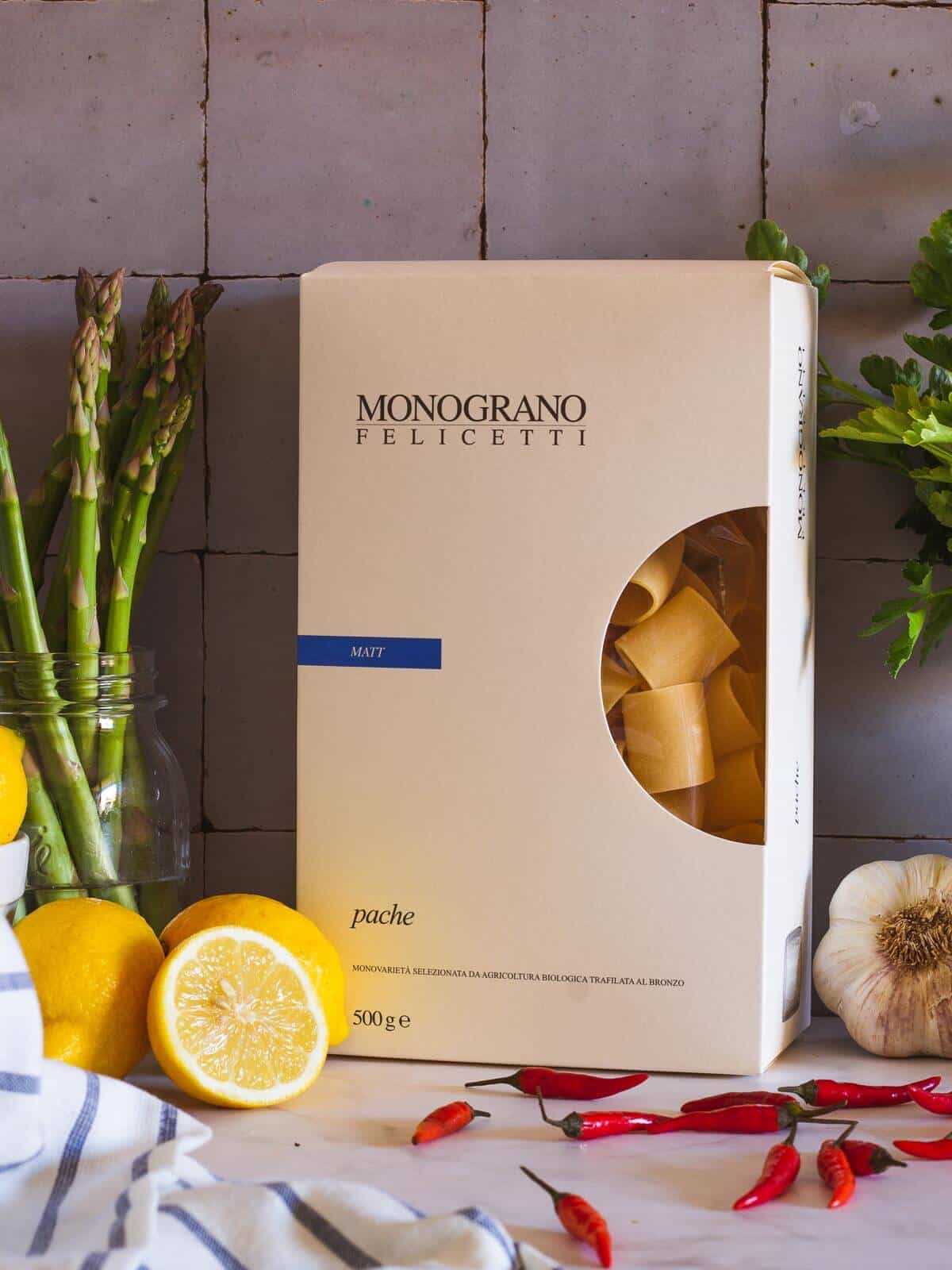 The reason we settled for paccheri (the translation from Italian literally means "bags") is that we love how the asparagus spears make their way into this tubular-shaped pasta, creating fantastic pockets of flavor.
Spaghetti with asparagus is also a popular option.
Olive oil
We use olive oil to keep the pasta cholesterol-free, but you can also use vegan butter.
Vegetables
If you want to add more veggies, we suggest sugar snap peas, frozen peas, or cherry tomatoes.
Feel free to add fresh basil during the last step if you want to add some herbs.
Gluten-Free
To make this asparagus pasta recipe gluten-free, simply use the Gluten-free paccheri pasta (affiliate link) of your choice, as the rest of the ingredients are naturally gluten-free.
More protein
Many people add to this recipe a portion of shrimp or chicken, but we find it unnecessary as one portion of this meal has 12 grams of protein which is enough for one meal and also has lots of fiber to keep you full, but if you want to increase its protein content, you can add some crispy tofu cubes or a portion of quickly made grilled tofu.
❓ FAQ
Can I use bottled lemon juice?
No! You need fresh lemon juice and lemon zest. As this Pasta with asparagus recipe requires very few ingredients on this lemon asparagus pasta, you need to nail them.

Bottled lemon juice gives a strange flavor to the recipe. The recipe also calls for lemon zest, which really makes a difference in this recipe, as it adds an extra lemony flavor without adding too much acidity.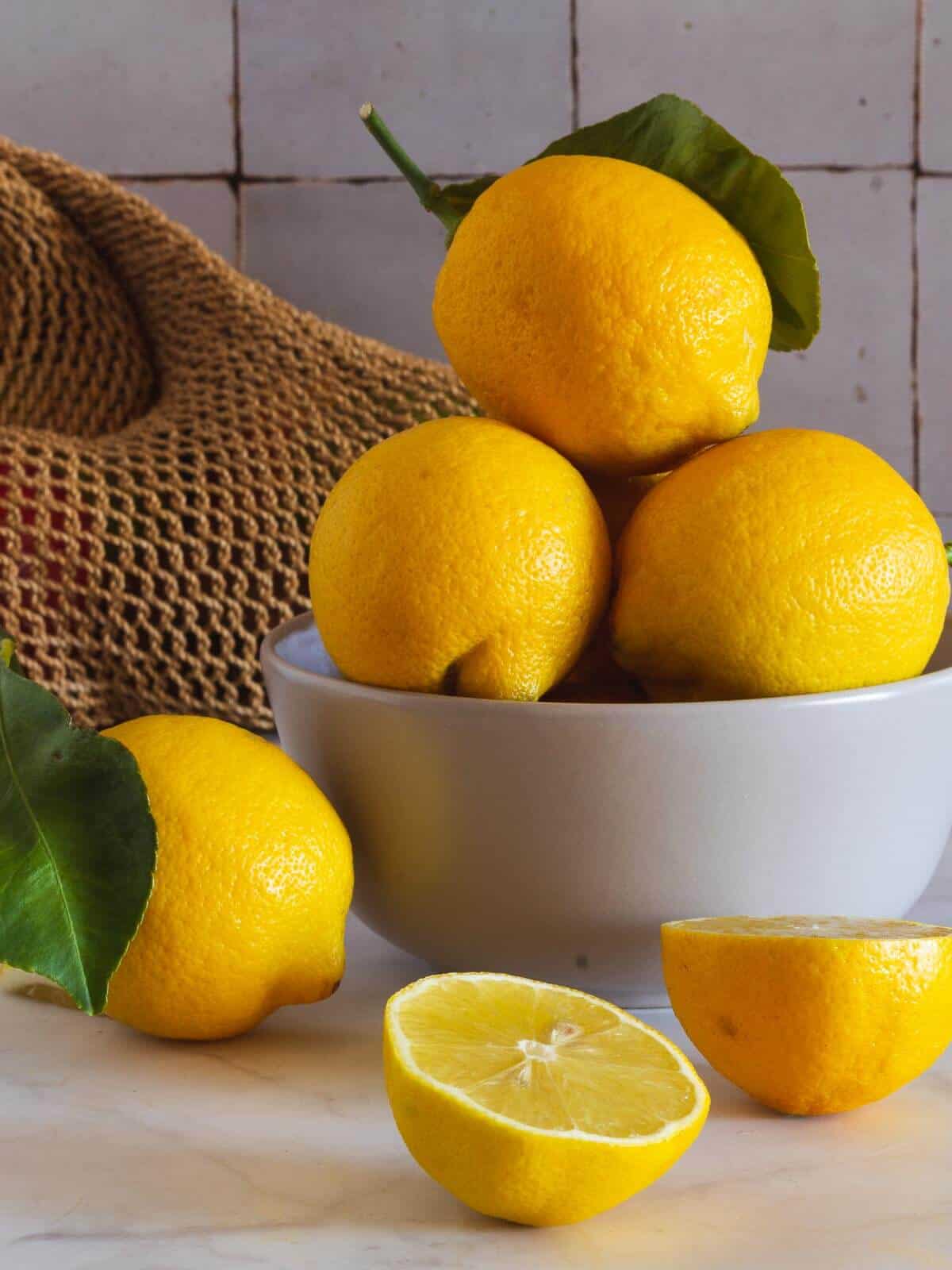 How to preserve asparagus?
As soon as you arrive from the market or grocery store, place your asparagus in a glass with water, making sure the water covers about 2 inches (5 cm) from the stem. Then cover with a nylon or plastic bag and put in the fridge.
Use this kitchen hack also to extend the life of herbs like parsley, coriander, and mint.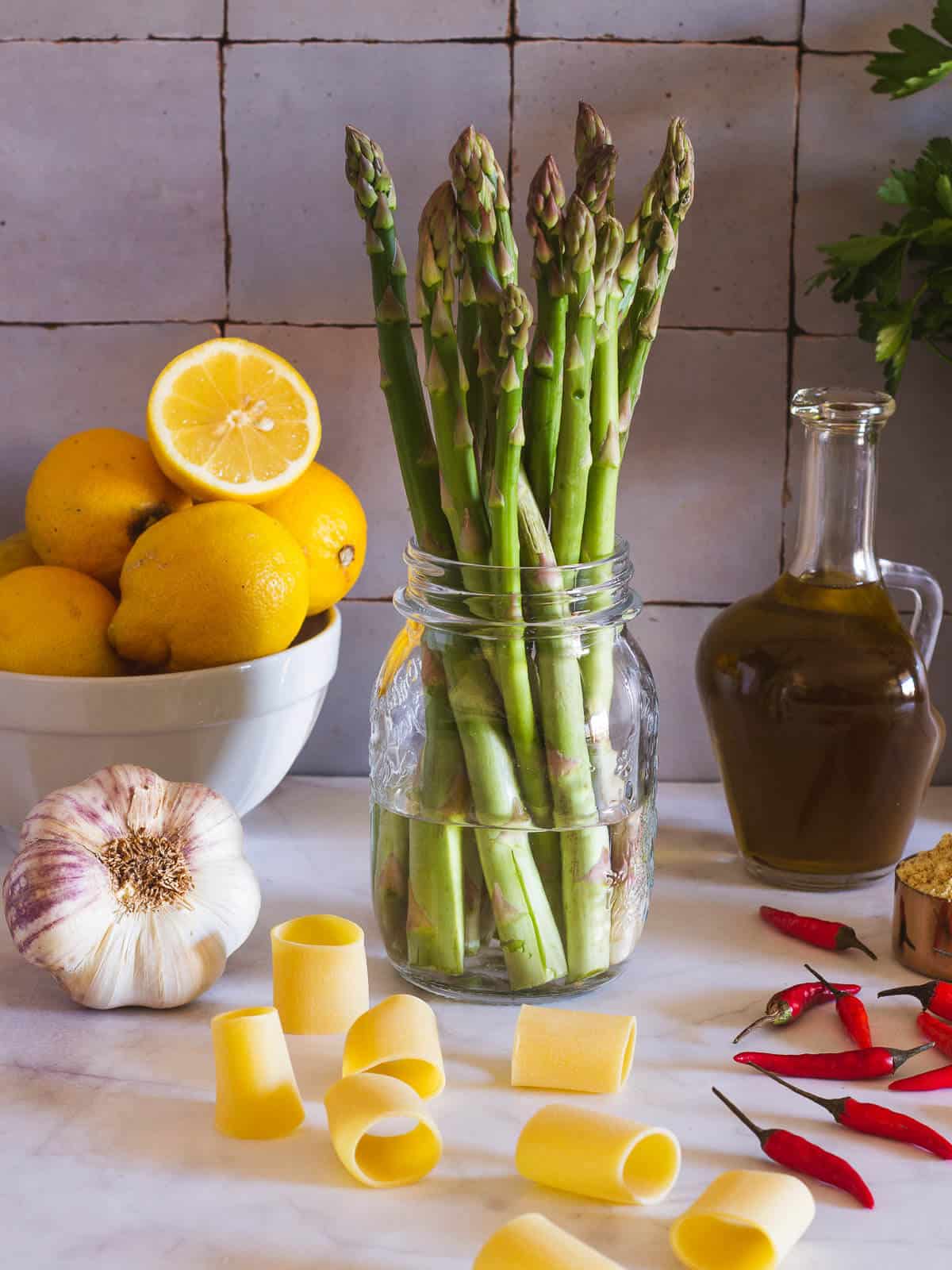 How to make creamy asparagus pasta?
We prefer this dish as it is. If you prefer a vegetarian version and use grated parmesan cheese, you have the option to make it a creamy asparagus pasta by saving ½ cup of pasta water and adding it along with the parmesan cheese, stirring fresh lemon zest, until creamy.
How to cut asparagus?

Trim about 1 inch (2.5 cm) of the stalk woody end, and then cut asparagus into 1 ½" - 2-inch pieces and either make a transversal cut or thinly slice on a deep diagonal.
how to keep asparagus fresh after cutting?
Place the asparagus in a large saucepan or bowl of ice water and add either the raw or blanched asparagus, followed by ice cubs. This will keep the asparagus green, bright color.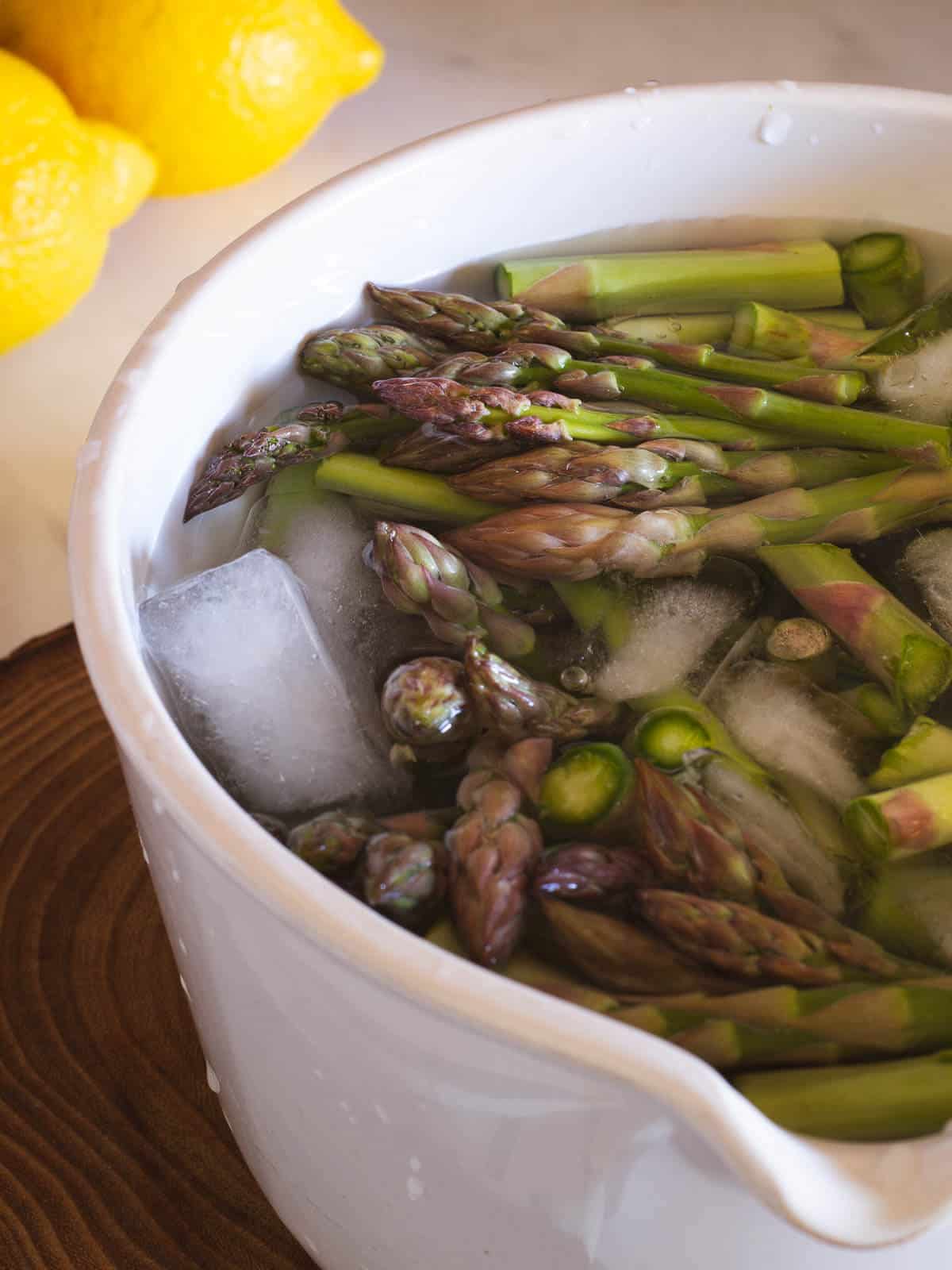 📚 More asparagus recipes
We love asparagus, and we cook them in many forms, as they always make an easy meal. For holidays, our grilled asparagus with toasted almonds are always present, and when white asparagus is in season, we indulge in this delicacy as much as we can.
Don't forget to try out our No-fry Eggplant Parmesan recipe, which is also vegan and a springtime favorite... yes Eggplants are also at their best during the Spring season.
If you want to have a fuller meal, why not try a small portion of authentic Tuscan soup to start your meal, followed by this light pasta dish.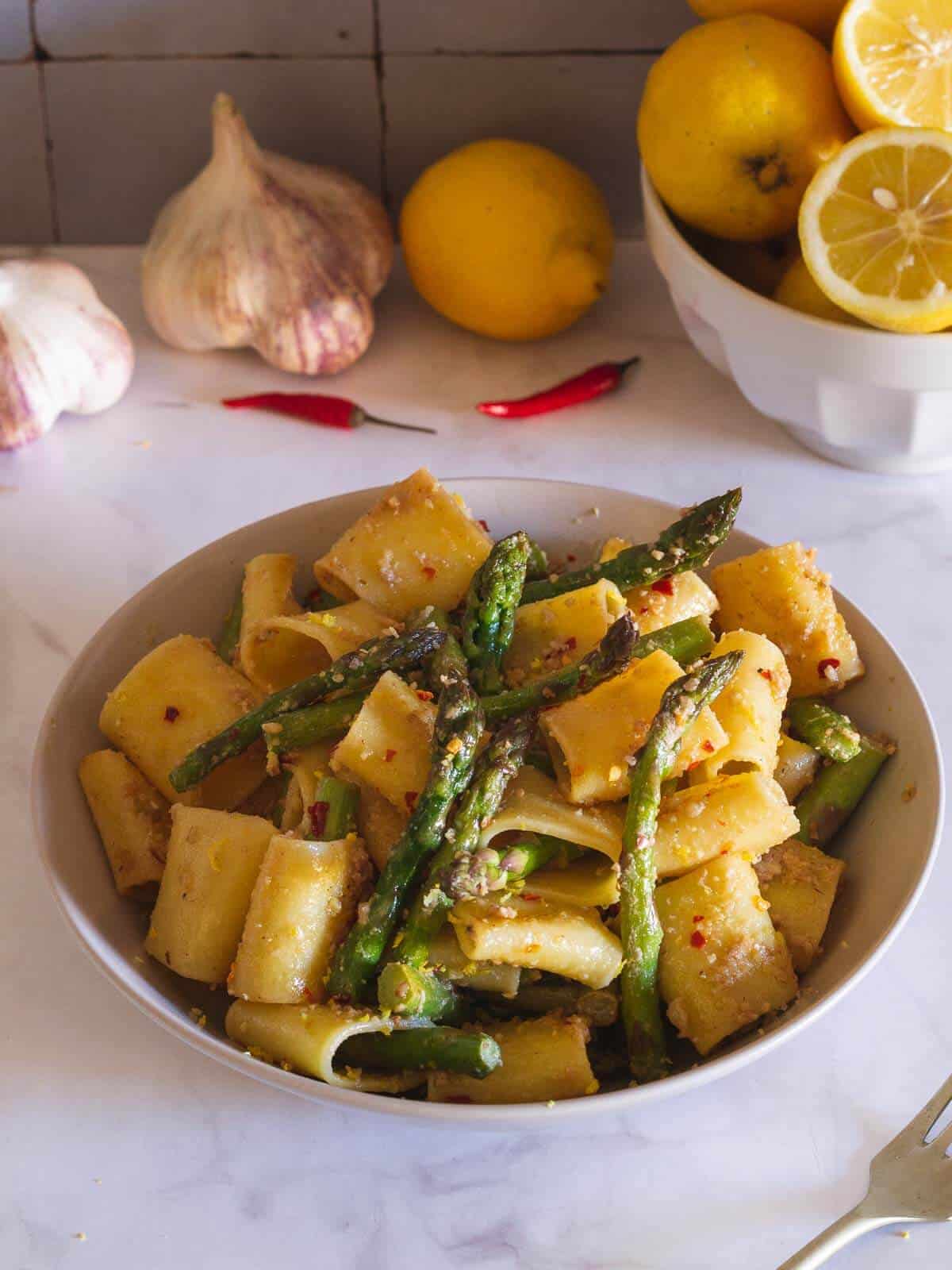 ⭐ If you try this recipe, let us know! 💬 Leave a comment, rate it, and don't forget to tag us @ourplantbasedworld on Instagram. Cheers!
📋 Recipe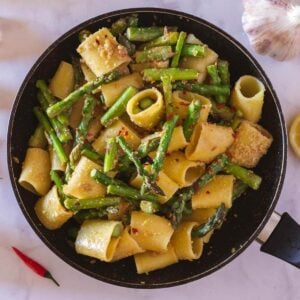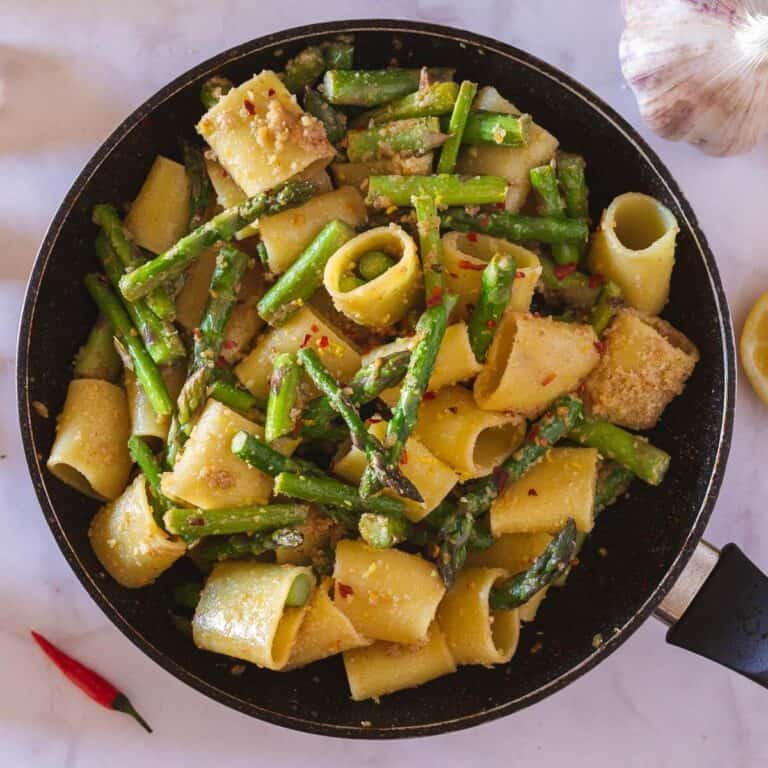 Easy Pasta with Asparagus Recipe (Vegan, Zesty and Spicy)
Ready for a great dinner? This recipe for asparagus pasta is vegan, zesty, and spicy. Ready in 15 minutes. Perfect spring or summer dinner!
Equipment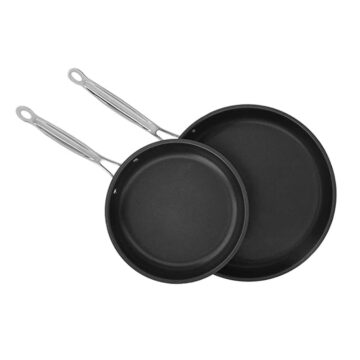 (affiliate link)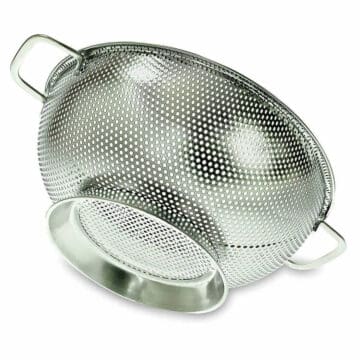 (affiliate link)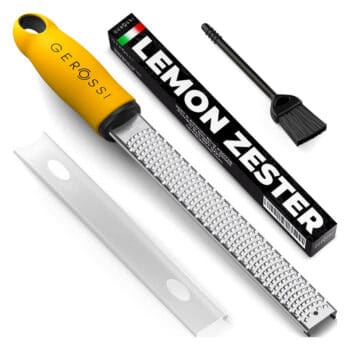 (affiliate link)
Ingredients
½

lb

pasta

gluten-free, paccheri or mostaccioli, cooked and drained

3

tablespoons

olive oil

1

bunch

asparagus

large, trimmed. 10 oz (300 g) fresh asparagus spears (about one bunch 17 oz or 500 grams before cutting the woody ends), cut into 1 ½-inch piece (you can also use frozen, see notes)

2

cloves

garlic

minced

¼

teaspoon

red pepper flakes

crushed

½

lemon

juiced, plus zest from the whole lemon

¼

cup

Vegan Parmesan cheese
Directions
Cook pasta according to package directions in a large pot of boiling salted water. Stir occasionally until 2 minutes before the recommended time. Drain pasta.

Discard woody ends. Cut the asparagus spears about one inch from the bottom. We need to eliminate the woody ends, which you can discard.

Meanwhile, heat olive oil in a large skillet over medium-high until shimmering. Add red pepper flakes and minced garlic, and cook, stirring, until fragrant, about 30 seconds.

Add asparagus and sauté. Put the lid on and cook for 1 minute. Remove from heat and let sit until pasta is done.

Add drained pasta to pot with asparagus mixture and return to medium-high heat. Squeeze juice from both lemon into pot and add the Vegan Parmesan cheese. Cook, tossing vigorously. Taste and season with lemon zest and more salt if needed.

Serve dividing pasta among serving bowls and top with more lemon zest and vegan parmesan.
Notes
If using frozen asparagus spears, let them cook for 2-3 minutes with a lid, instead of one minute.
Try one piece no make sure they are ready, before adding the drained pasta.
Nutrition Facts
Calories:
532
kcal
Carbohydrates:
71
g
Protein:
12
g
Fat:
22
g
Saturated Fat:
3
g
Polyunsaturated Fat:
3
g
Monounsaturated Fat:
15
g
Sodium:
11
mg
Potassium:
261
mg
Fiber:
4
g
Sugar:
3
g
Vitamin A:
141
IU
Vitamin C:
15
mg
Calcium:
29
mg
Iron:
2
mg
Nutrition Facts
Easy Pasta with Asparagus Recipe (Vegan, Zesty and Spicy)
Amount per Serving
% Daily Value*
* Percent Daily Values are based on a 2000 calorie diet.
🌡️ Food safety
Cook to a minimum temperature of 165 °F (74 °C)
Do not use the same utensils on cooked food, that previously touched raw meat
Wash hands after touching raw meat
Don't leave food sitting out at room temperature for extended periods
Never leave cooking food unattended
Use oils with a high smoking point to avoid harmful compounds
Always have good ventilation when using a gas stove
See more guidelines at USDA.gov.
Nutritional Disclaimer
The information shown is an estimate provided by an online nutrition calculator. It should not be considered a substitute for a professional nutritionist's advice. See our full Nutritional Disclosure here.
Affiliate Disclaimer
Please note that some of the links here are affiliate links, and I will earn a commission if you purchase through those links. I recommend all of the products listed because they are companies I have found helpful and trustworthy.