I'm always looking into developing easy recipes to try out, and this one definitely fits the bill. This Creamy Sun-dried Tomato Risotto recipe is both quick and easy to make but still has plenty of flavors. Best of all, it's perfect for a casual dinner party or even a romantic night in. Give it a try!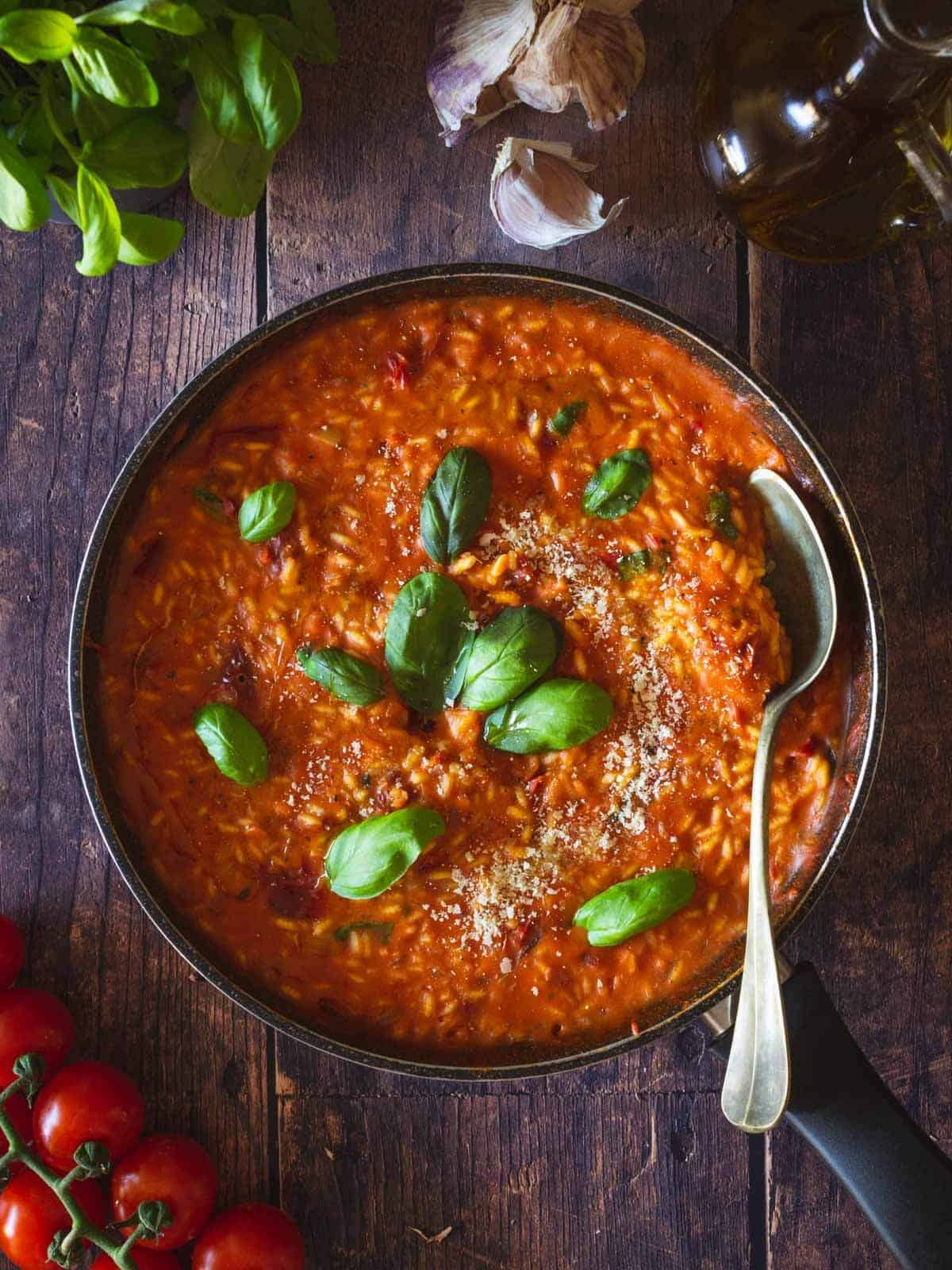 You're going to love this tomato basil risotto recipe.
We have always enjoyed making risotto, as it is our go-to dinner when we really have no clue what to have for dinner and just have an onion and maybe one or two fresh vegetables in the kitchen.
Our mushrooms risotto is one that we do either with dried mushrooms or fresh ones, just like this one.
We also make the famous Risotto Alla Milanese, which only needs a fresh onion; the rest we can find in our pantry.
With a lemon, an onion, and a zucchini, make this perfect Lemony Winter risotto, or the fantastic Zesty Lemon Asparagus Risotto, as a springtime favorite.
Risottos mean a world of endless possibilities of delicious and creamy comfort food, and this red sauce risotto makes the perfect vegetarian main for Valentine's easy but delicious recipe!
It can also make a great side dish, in small portions.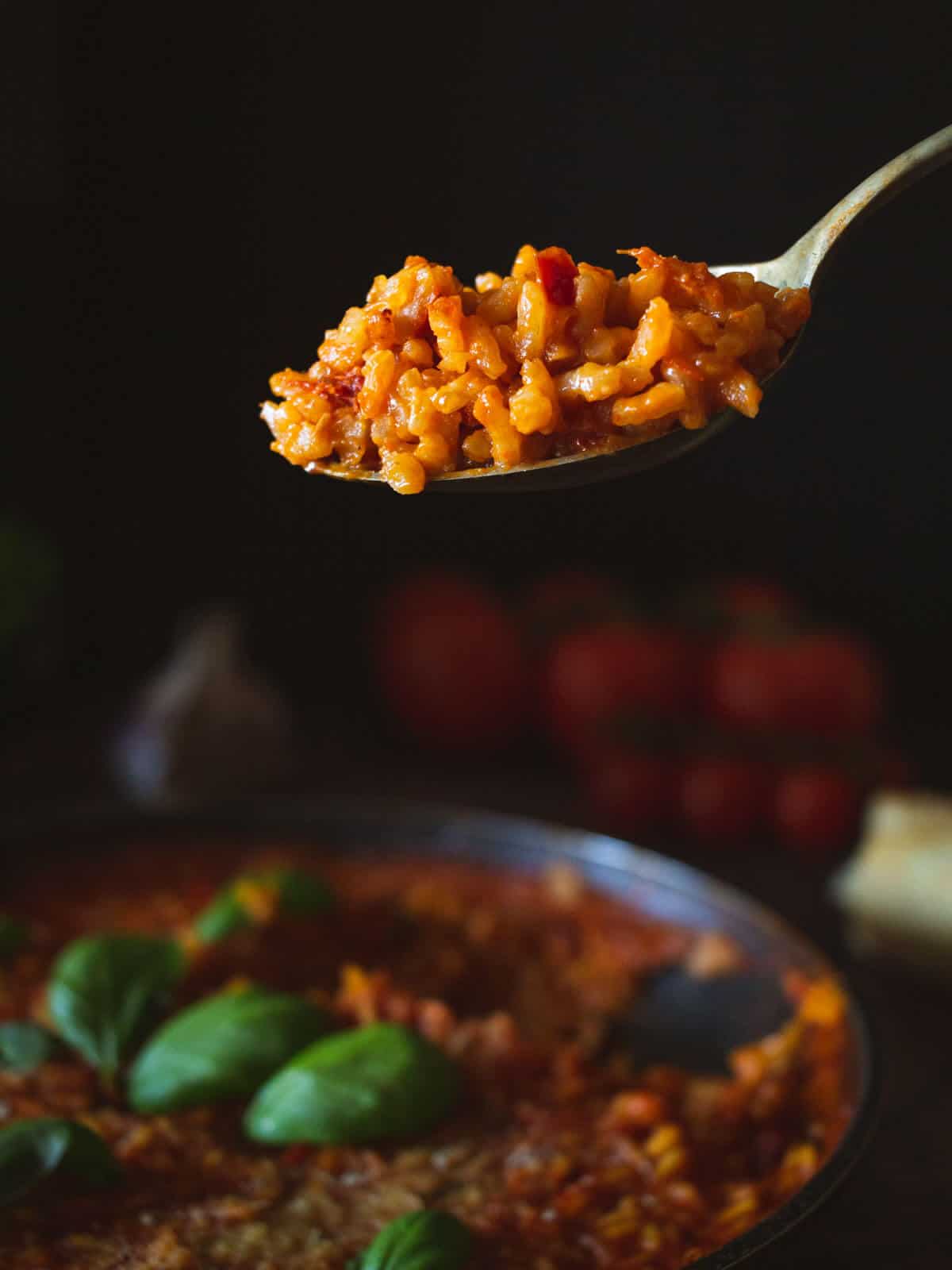 Jump to:
🤔 Why you will love it?
You can make risotto with ingredients you have available in your pantry. Fresh ingredients needed: one onion and optionally fresh basil.
It takes less than 30 minutes to make.
Everything is made in one skillet.
It is cheap.
No fancy cookware is needed.
It is a crowd-pleaser.
Naturally gluten-free and vegan.
Apt for most of the dietary restrictions.
🧾 Ingredients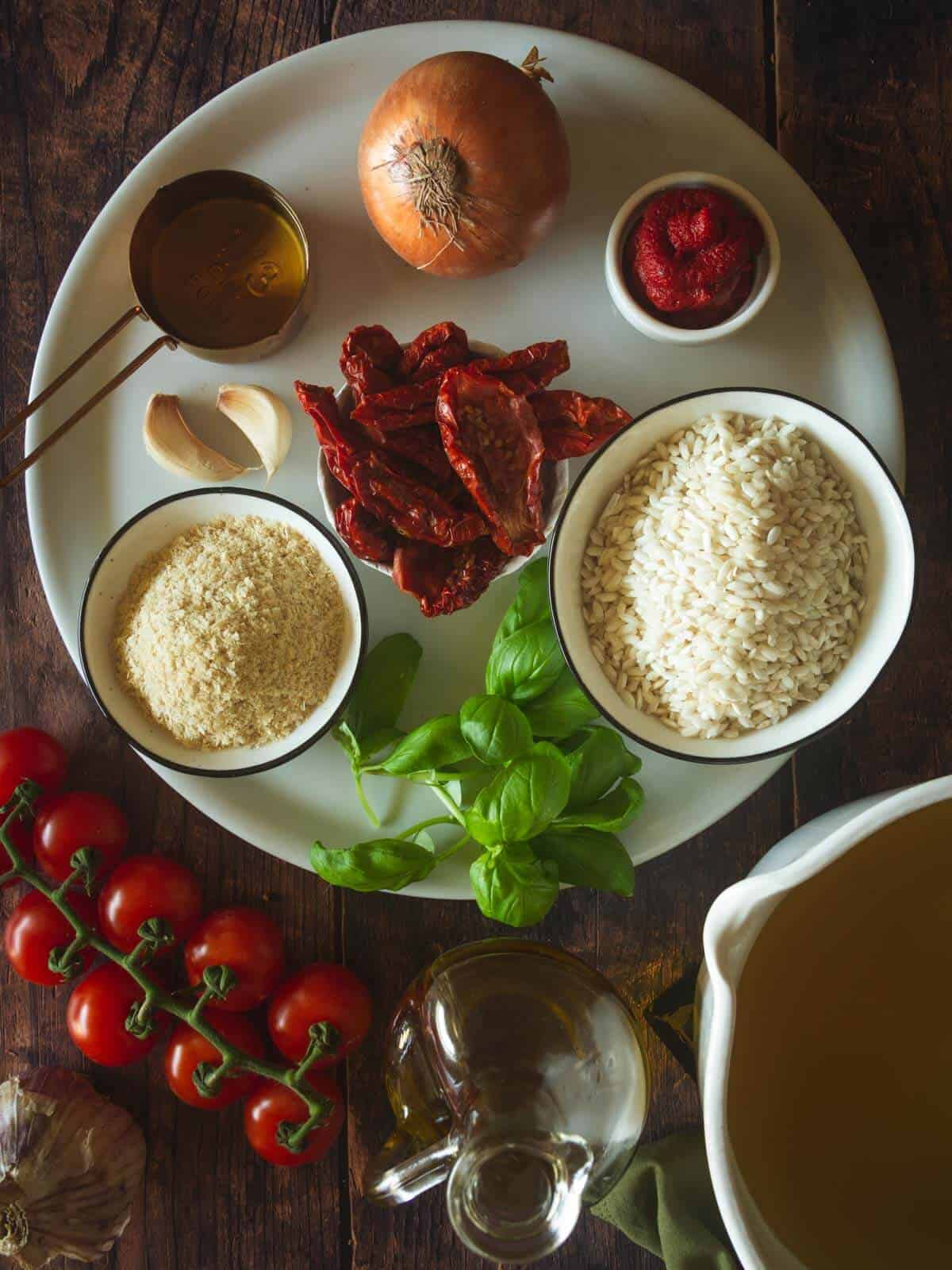 Carnarolli rice (or arborio rice)
Sun-dried tomatoes
Tomato paste
Onion
Garlic cloves
Nutritional yeast (or parmesan cheese if vegetarian)
Vegetable broth
Olive oil
Dry white wine
Fresh basil
Optional: ground black pepper and fresh cherry tomatoes.
🔪 Instructions
Prepare ingredients
Peel and finely chop the onion and garlic.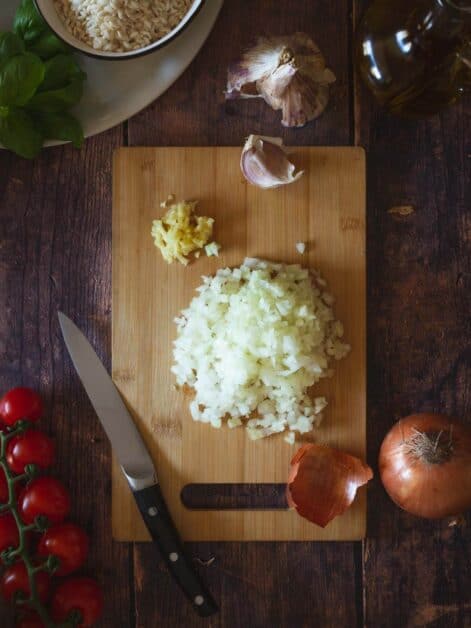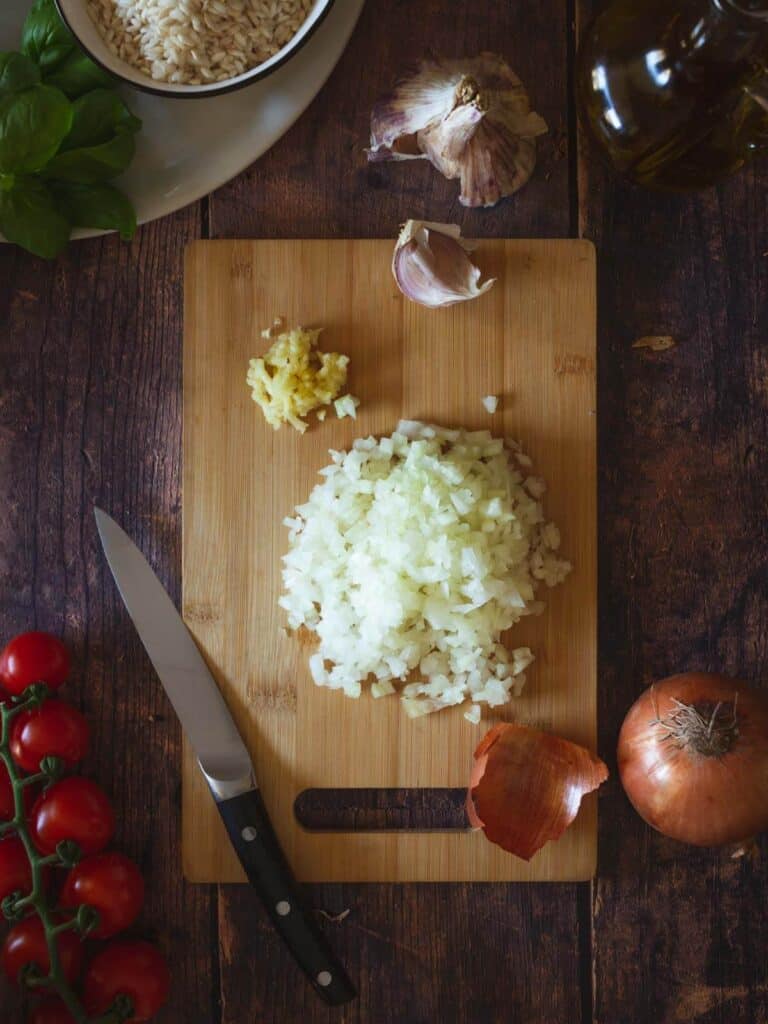 Put the vegetable stock to simmer with the chopped dried tomatoes on a medium saucepan.
Make sure you keep using hot broth throughout the cooking process to keep the rice temperature constant.
Stir-fry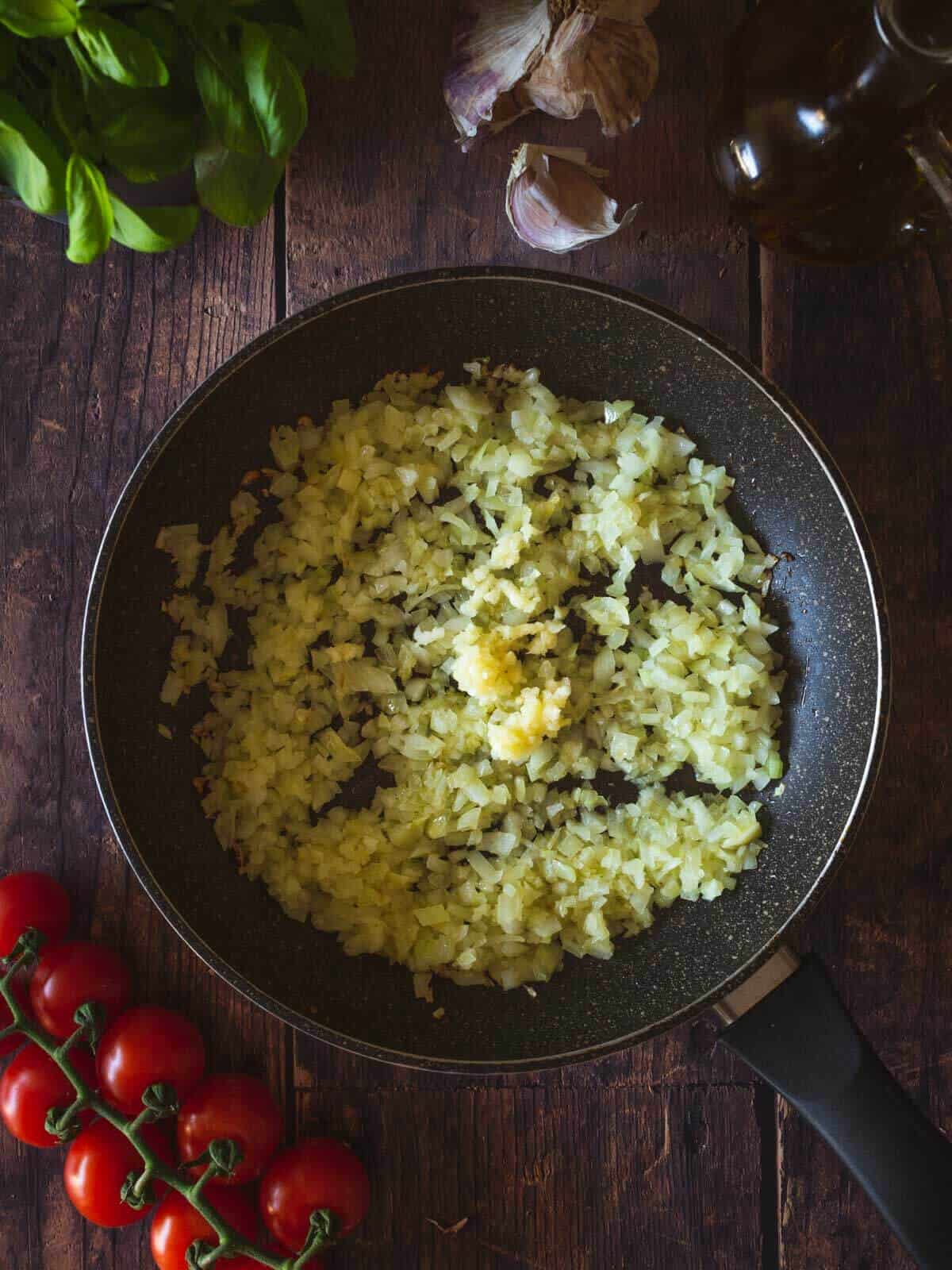 In a medium or large skillet, stir the chopped onion with two tablespoons of olive oil on medium heat until the onion looks translucent. Then add garlic.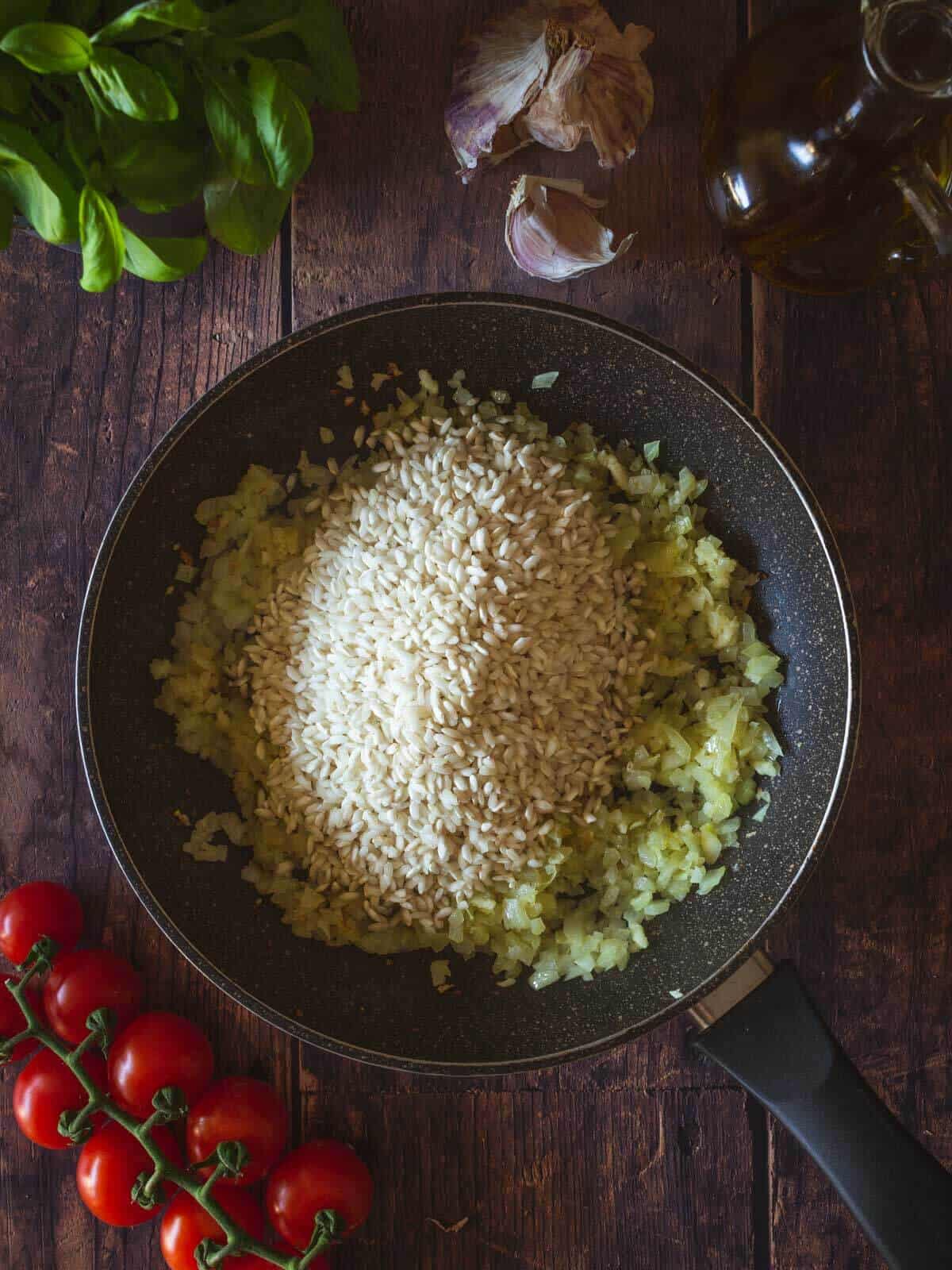 Add the carnarolli rice, and stir frequently with a wooden spoon until it dries out.
Cook stirring occasionally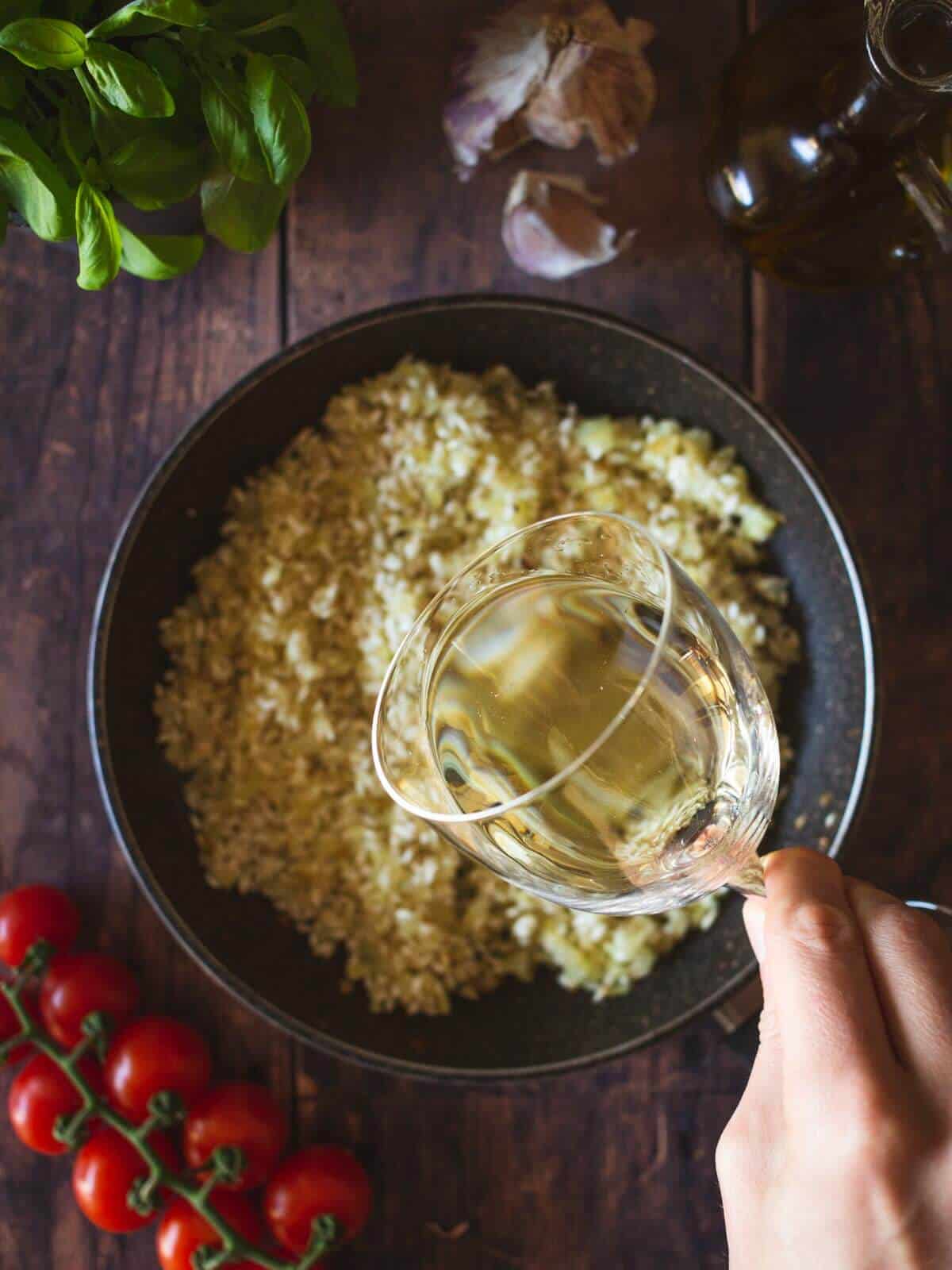 Pour the white wine (⅓ cup white wine), until the wine is completely absorbed.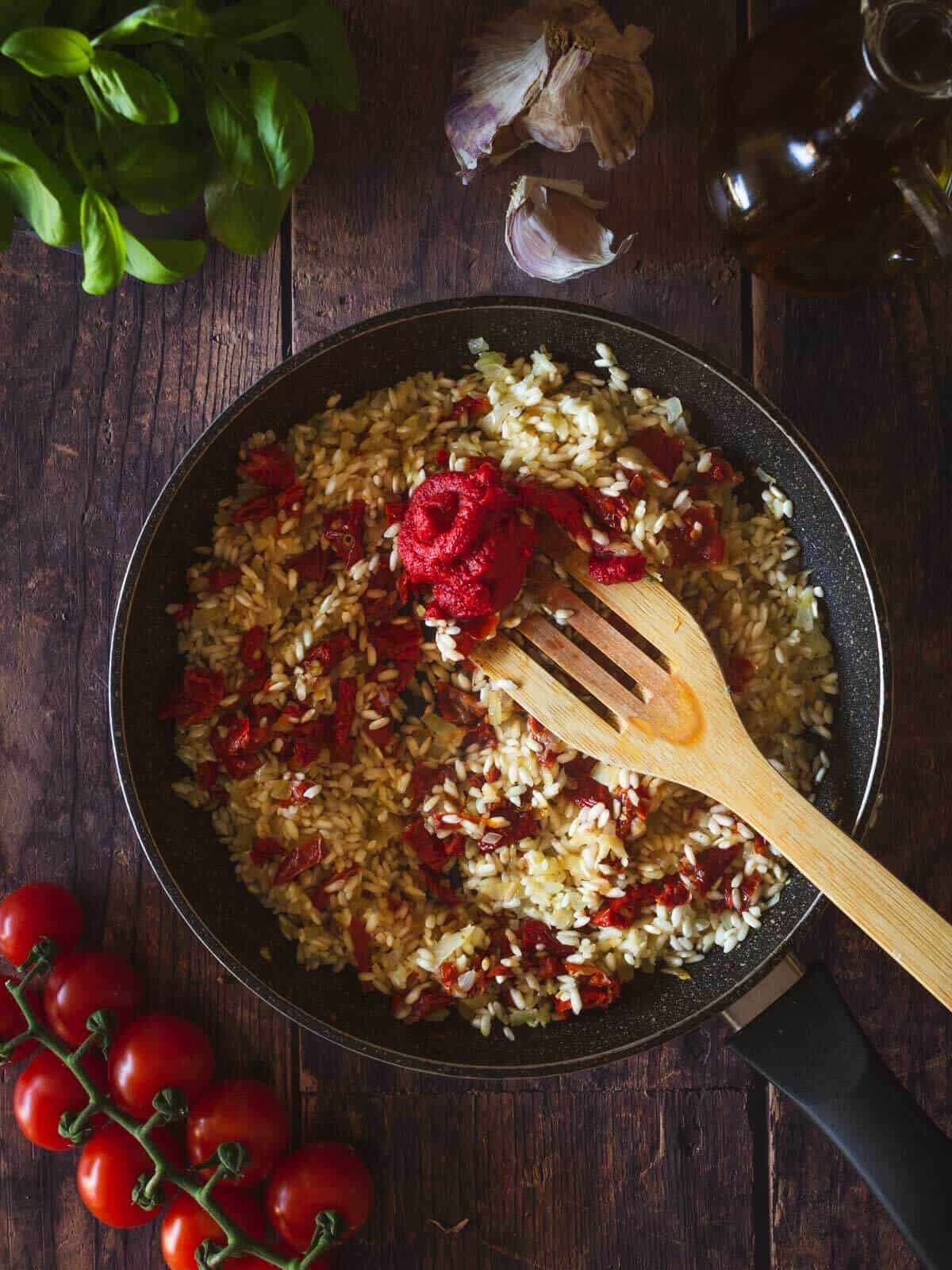 Add tomato paste to the chopped hydrated chopped tomatoes, and stir frequently.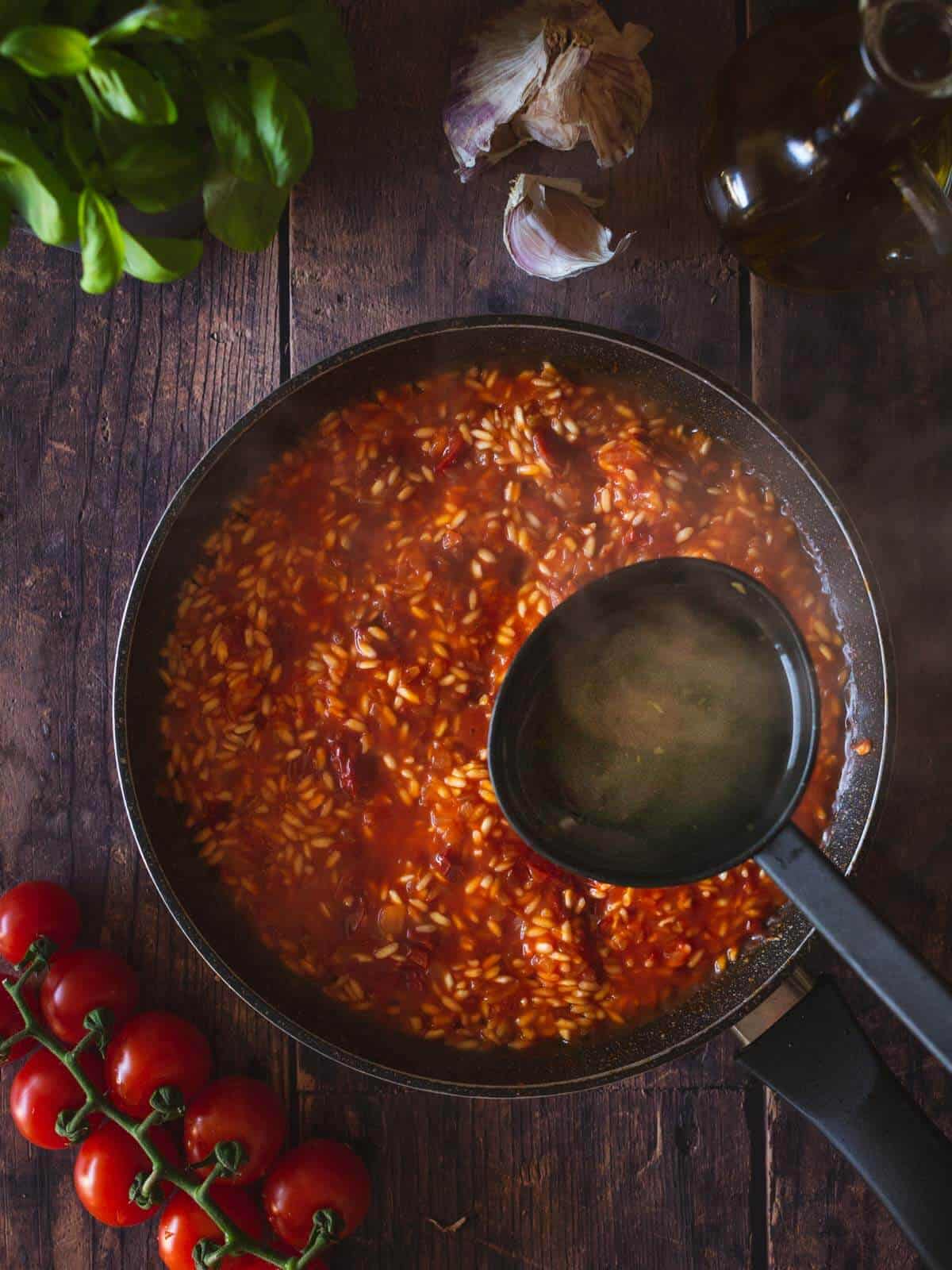 As soon as it dries, pour about one cup of vegetable stock. Keep stirring constantly.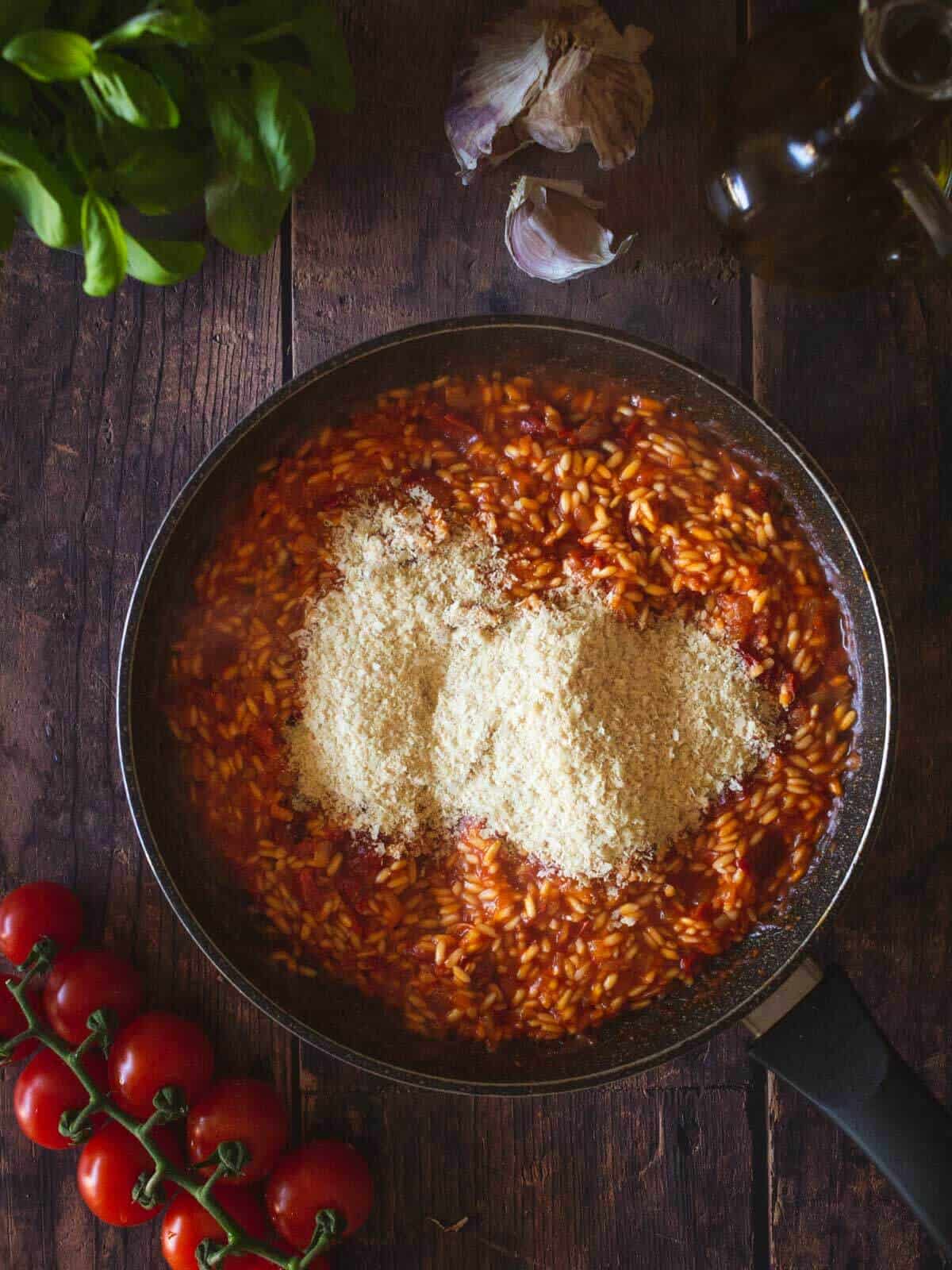 Reduce to low heat, add the tomato paste, keep adding the vegetable broth and let it be absorbed by the rice. As soon as you notice that the rice starts to look dry.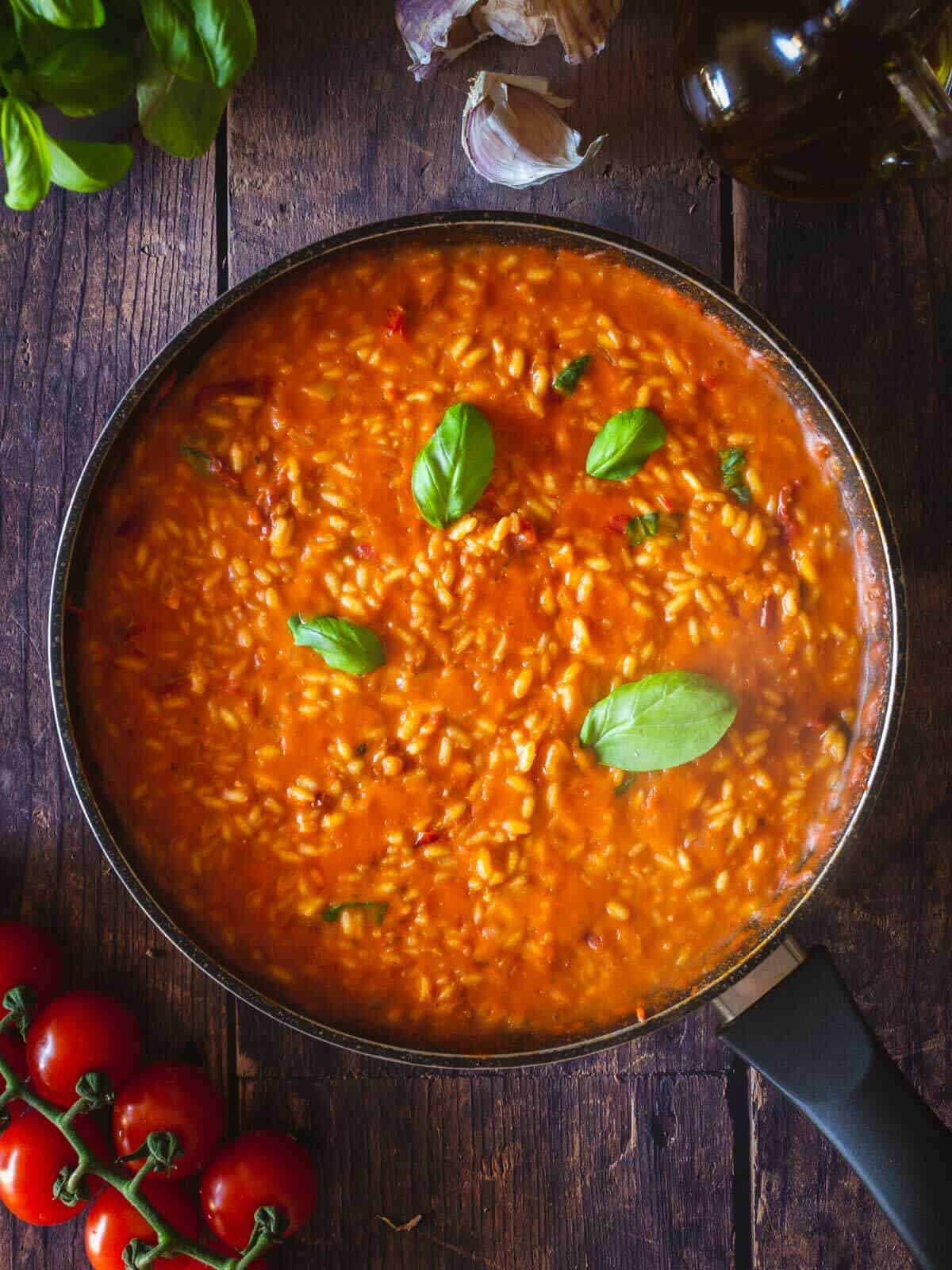 Add the nutritional yeast, let it melt while stirring the tomato risotto, and add the basil leaves.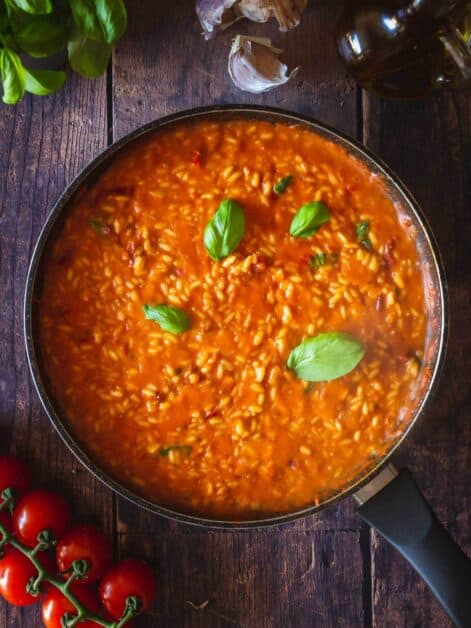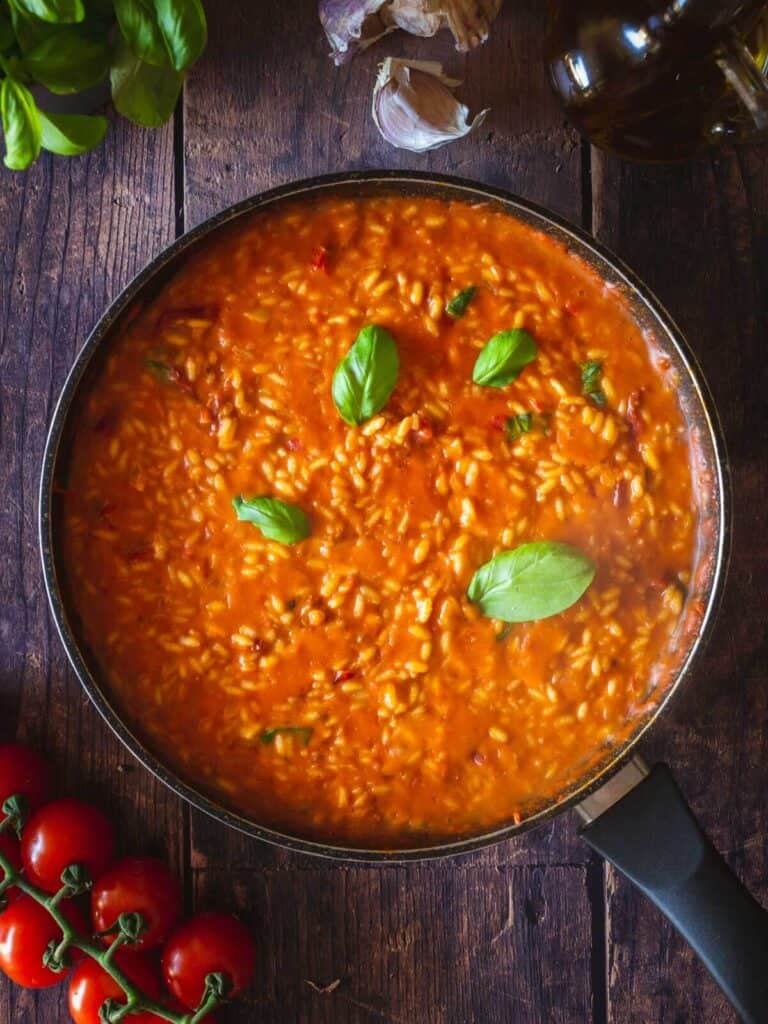 Top tip: Remember to keep stirring frequently while you add the hot broth throughout the whole cooking process, and add more as it gets absorbed by the rice; this is where the secret to making risotto is.
Final touches
Finally, add some extra basil leaves, and stir until the rice is cooked al dente. Drizzle some extra olive oil. Add salt and pepper to taste.
Let the risotto rice sit for a couple of minutes before serving to consolidate the flavors.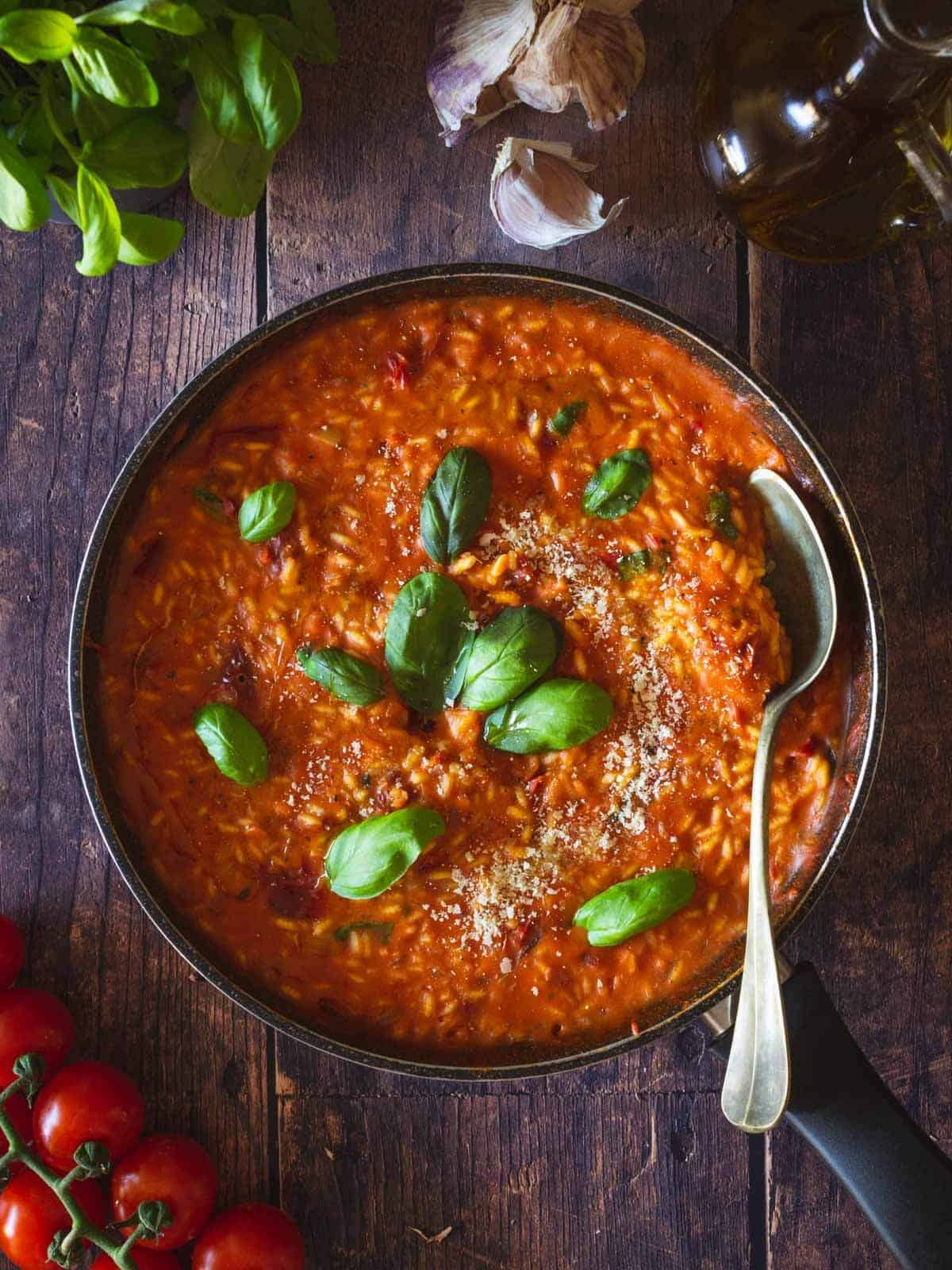 Optionally serve the risotto with extra nutritional yeast, homemade vegan parmesan cheese, or grated cheese.
📖 Variations
Carnarolli vs Arborio rice
As they say here in Italy, the best risotto is made with carnarolli rice, but arborio rice is also acceptable short-grain rice.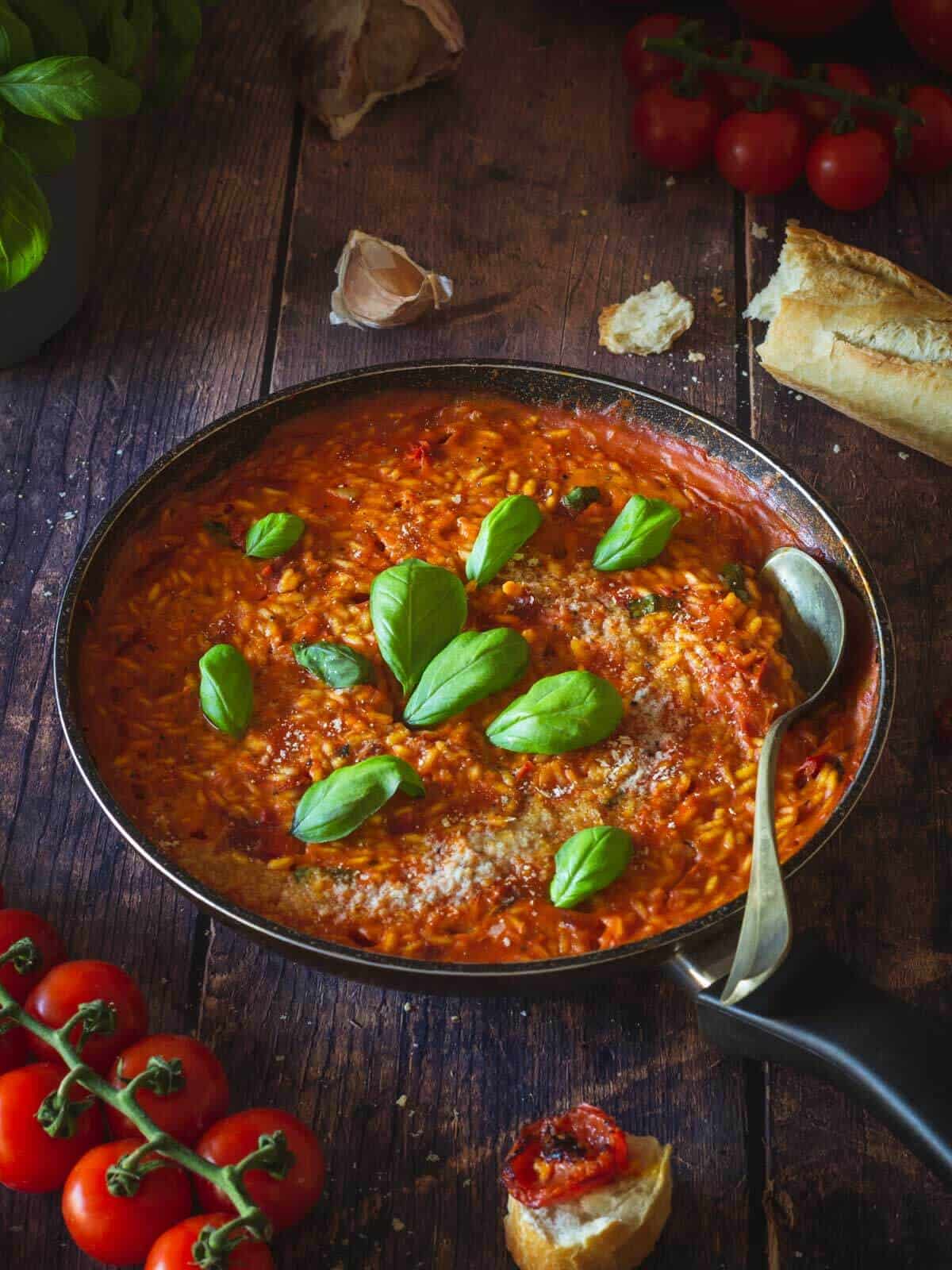 In fact, before arriving to live in Northern Italy, where risotto was born, I used to make risotto with arborio rice until I was repeatedly told that it was the second option if you could not find Carnarolli rice by any means.
I tried to compare the two several times, and yes, I can tell, that you will definitely make a creamier risotto if you go for Carnarolli.
Sun-dried tomato
You can use fresh tomatoes, like cherry tomatoes, grape tomatoes, canned tomatoes, or San Marzano tomatoes. Just make sure you pick juicy tomatoes.
Sun-dried tomatoes are also great in lentil salads and they make great stuffed portobello mushrooms filling, fantastic pesto rosso, tofu pesto, and fettuccine with rosé sauce.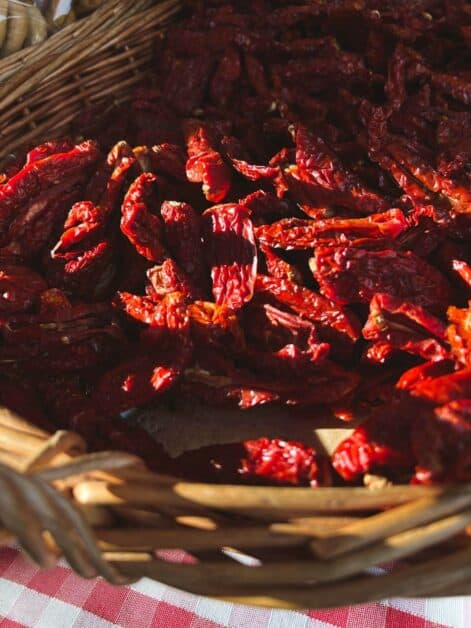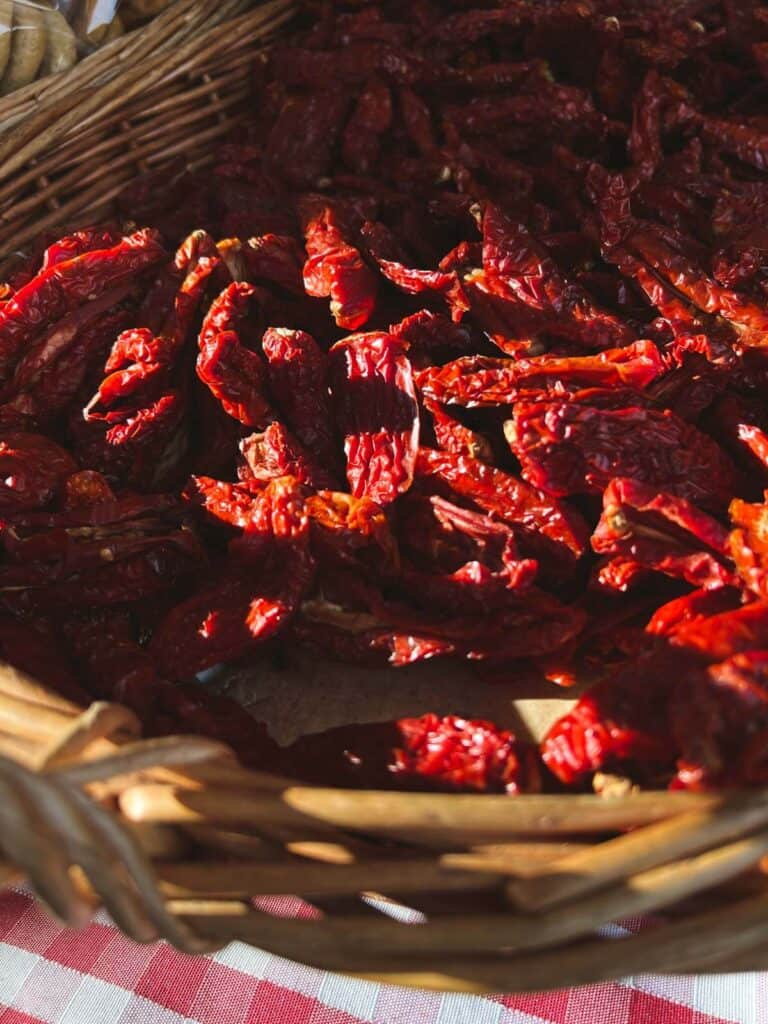 I often do, but this recipe was built with two things in mind:
Making a delicious meal, with a minimal amount of fresh produce, for those days, when your fridge is almost empty, but you still have an onion around.
Making this delicious tomato risotto recipe, even in wintertime, we cannot make a fresh summery tomato risotto.
I often add a couple of charred cherry tomatoes to our tomato risotto when I still have some fresh tomatoes.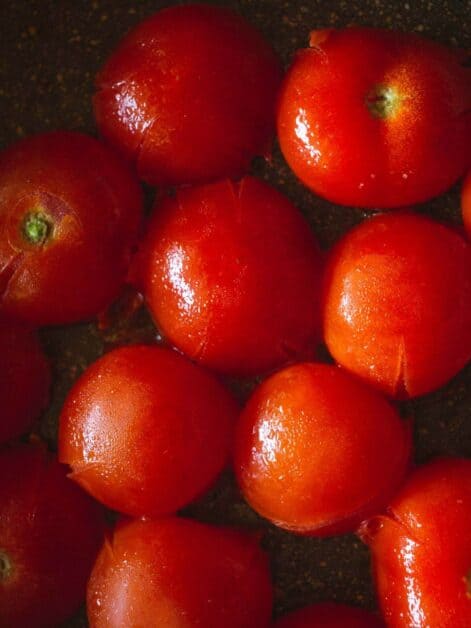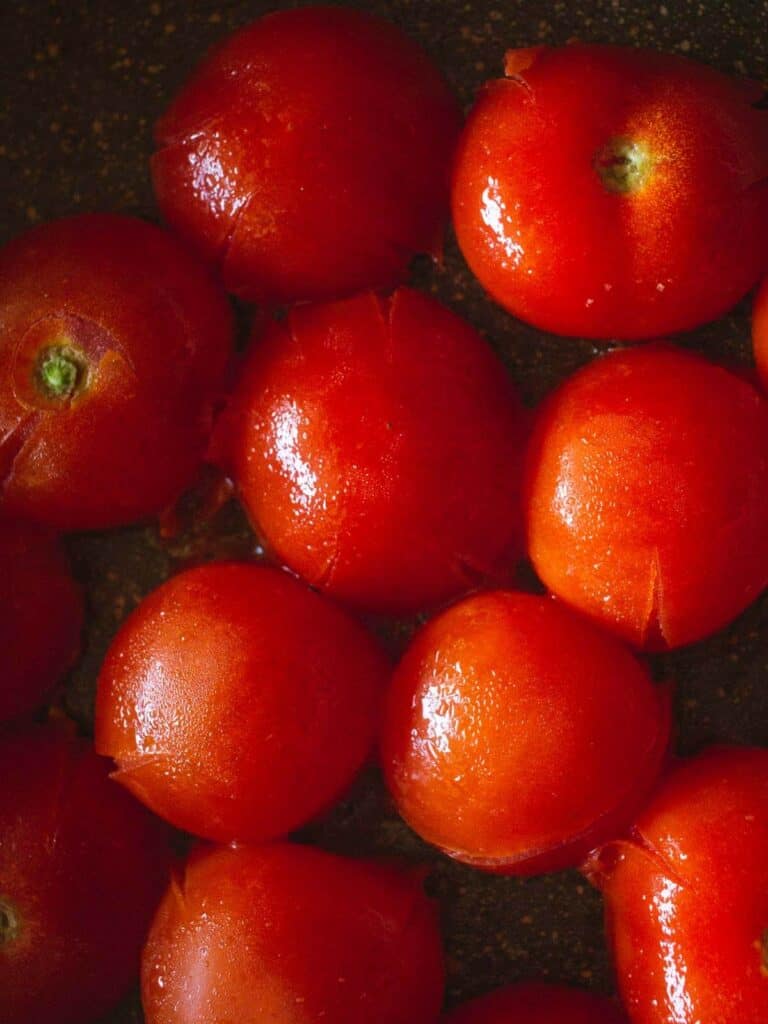 If you are using fresh tomatoes, like San Marzano tomatoes, dice and add to the risotto immediately after adding wine.
Note on dried tomatoes
Here in Italy where we buy our tomatoes at the farmer's market, there are often different kinds. We usually go for the cheaper ones that are about 7.5 euros (8.5 dollars) for 2.2 lbs (1 Kg), since the other varieties cost twice as much.
The last time we asked the nona (granny seller), she recommended we keep going for the cheaper option because they are more "Saporito" = tasty.
The other ones are more delicate in flavor and sweet.
BUT: you have to be careful, sun-dried tomatoes are often made with less or more salt, and these are SALTY, so we don0t use any salt on our risotto, as they have plenty.
So, adjust salt and pepper to your liking, at the end of the cooking process.
Tomato paste
You can also make this red sauce risotto with tomato sauce if you don't have concentrated tomato paste but have some Italian passata.
The tomato sauce will be consumed and reduced as you cook the risotto, creating the same effect.
Basil
You can use dried basil instead of fresh basil to make this tomato basil risotto, the result will be slightly different, as the fresh basil aroma is unique.
Still, you can definitely replace it with one tablespoon of the dried stuff.
If you are using tomato puree instead of tomato paste, you can also go for a tomato basil puree, so you have your basil fixed for additional convenience.
Nutritional yeast
We have chosen to use nutritional yeast to make this tomato risotto vegan, and nutritional yeast is the best vegan tool to get that cheesy flavor that we all love.
If you are a vegetarian, you can replace it with the same quantity of grated parmesan cheese.
Extra-virgin olive oil
Same as above. Risotto is usually made with butter at the beginning of the process and a little butter at the end for the "mantecatura" (to give the finished dish an even creamier texture).
We use olive oil to keep the tomato risotto vegan because olive oil pairs well with tomatoes and fresh basil.
Tomatoes and tomato-based products have been linked to better skin health and decreased heart disease and cancer risk.
Tomatoes can improve a variety of foods, but they may also benefit your entire body. These nutrients can also help your skin's health and decrease wrinkles and inflammation.
But it is fully replaceable with vegan butter or margarine.
Wine
It is recommended to use a dry white wine variety such as Sauvignon Blanc or Pinot grigio. Although not considered a dry wine, I have successfully made my risottos with Ribolla Gialla, a mineral, fresh, and slightly fruity wine variety.
🥢 How to serve
We love scraping the goodness out of our plates, as every Italian does. Bread will always be on an Italian table... a good one.
We love making nice artisan bread (Italian 3-ingredient Pagnotta, or simple and tasty focaccia) to indulge in during Italian dinners fully.
🍅 Health benefits of tomatoes
Tomatoes' health benefits include healthy skin, cholesterol reduction, and cancer prevention.
Eating tomatoes may help protect against some cancers. In a study of 40,000 people, those who ate more than seven servings of tomato-based foods per week had a 28 percent lower risk of prostate cancer than those who consumed less than one serving per week.
Other research has found that Lycopene – a compound found in tomatoes – may help fight heart disease and cancer.
More about the health benefits of tomatoes.
Learn to include tomatoes in your morning juices, even without a juicer.
📚 More risotto recipes
Although considered a "primo piatto" or appetizer in Italy, risottos make the perfect vegetarian main dish.
Risottos are put together in 30 minutes or less with a few ingredients, so it is a great idea to have a good repertoire of risotto recipes.
These are a couple of our favorites also on this site.
The Risotto alla Milanese, is a great option for those who like Traditional Italian Cuisine.
If you are like me and love lemons everywhere, this Lemony winter risotto is for you, as well as our all-times crowd-pleaser Lemony Spaghetti.
Fall season? Why don't you put your mushrooms to good use with a Creamy Mushroom Risotto?
Last but not least, if you like some creamy sweetness in your risotto, go for the Roasted Pumpkin risotto or this simple butternut squash risotto version.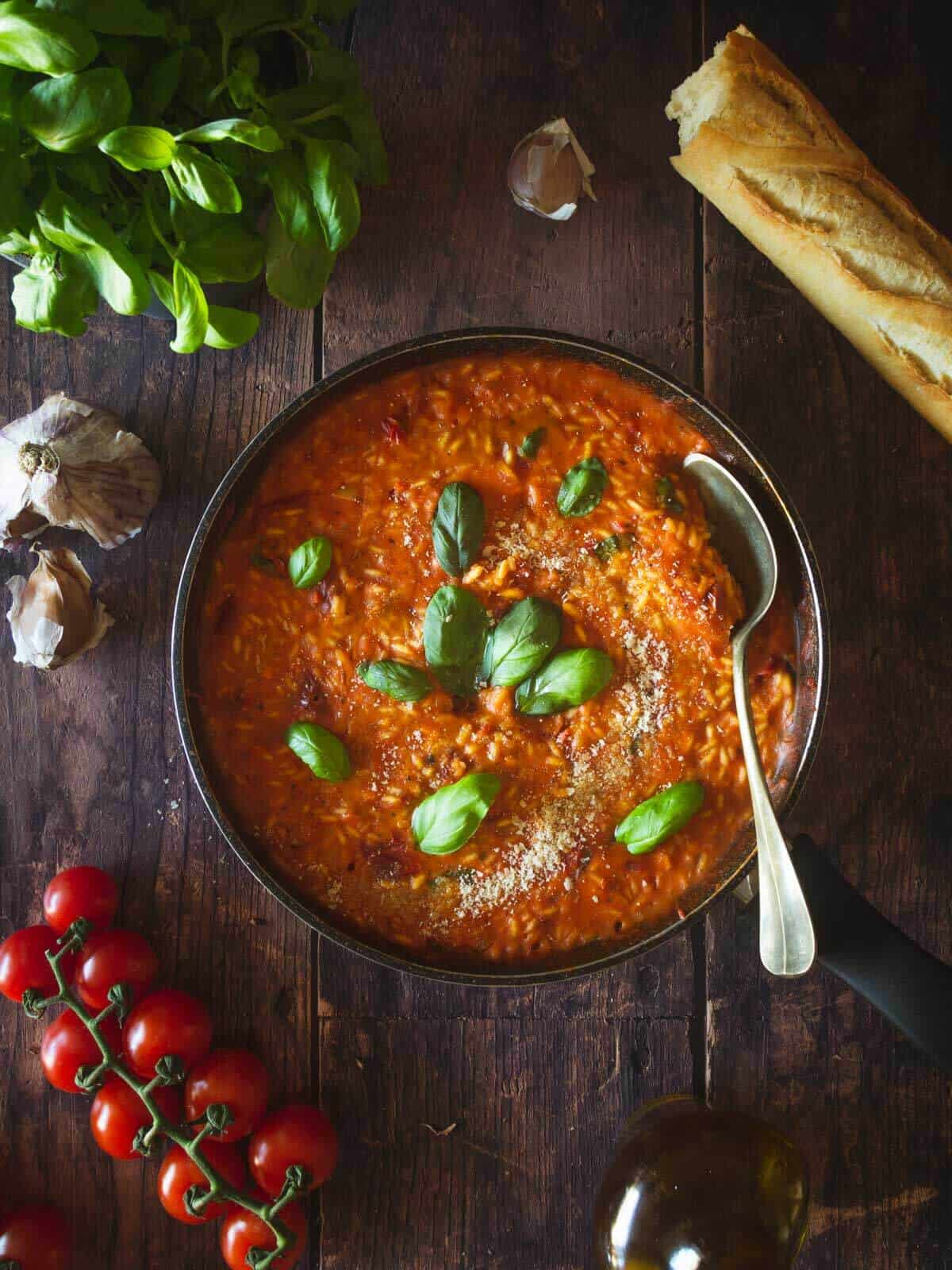 ⭐ If you try this recipe, let us know! 💬 Leave a comment, rate it, and don't forget to tag us @ourplantbasedworld on Instagram. Cheers!
📋 Recipe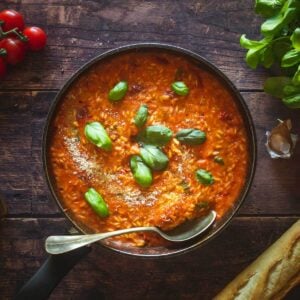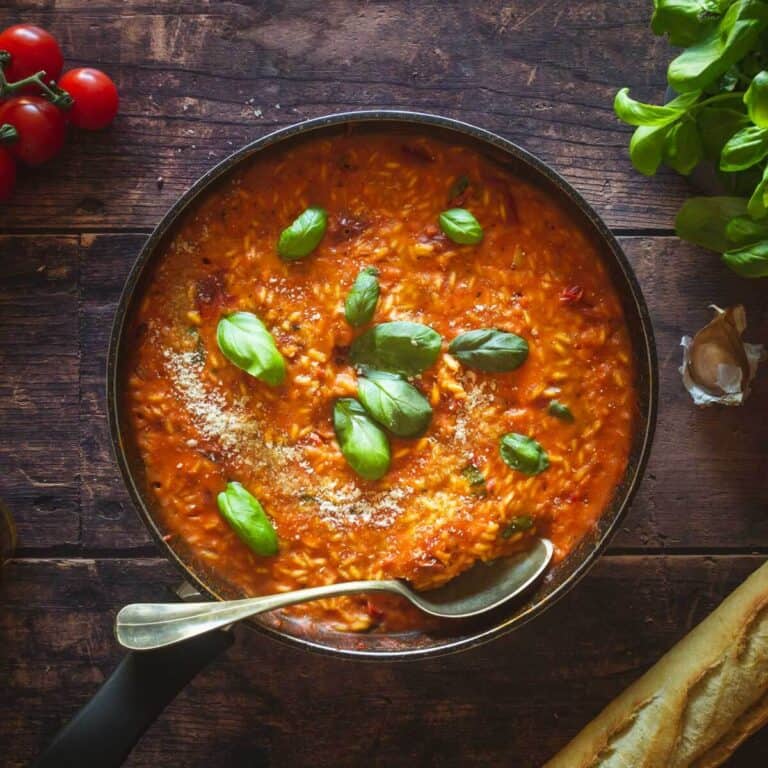 Creamy Tomato Risotto Recipe
A creamy and delicious sun-dried tomato risotto recipe, perfect for any hassle-free vegan or meat-free meal as it is made with staple pantry ingredients.
Equipment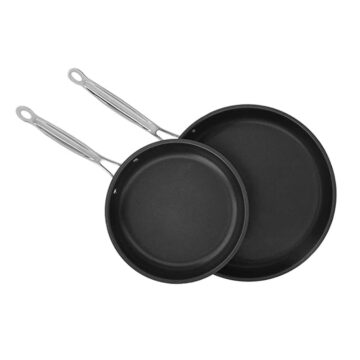 (affiliate link)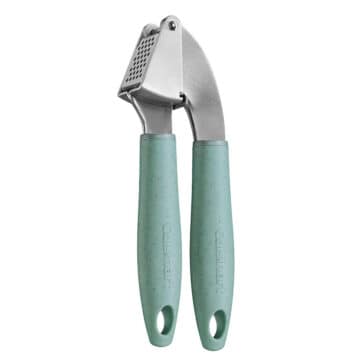 (affiliate link)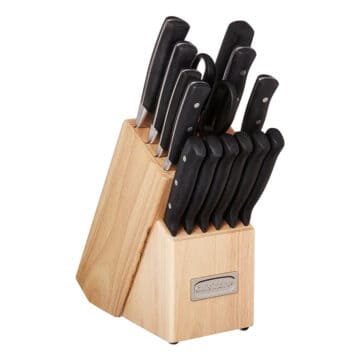 (affiliate link)
Ingredients
Optional for garnishing:
10

cherry tomatoes

charred

salt and pepper to taste

or chili pepper flakes
Directions
Prepare the vegetable stock
Put your vegetable stock to simmer. If using granulated store-bought veggie stock, bring the water to boil and prepare according to packaging instructions. Hydrate the chopped dried tomatoes by adding them to the broth.
Prepare the onions and garlic
Peel and chop your onions. Finely chop the onions. Mince the garlic cloves.
Making the risotto (about 15-20 minutes)
On medium heat, add one tablespoon of olive oil, stir-fry the onions until translucent, and then add the garlic.

Add the risotto rice, stir until lightly toasted, add wine or ⅓ cup of vegetable broth, and stir until completely absorbed.

With a colander, skim the hydrated chopped dried tomatoes from the simmering vegetable stock and add them to the rice.

Stir in the vegetable broth, little by little, stirring frequently, and then add the tomato paste. Keep adding more veggie broth, ½ cup at a time. Add more as soon as the rice absorbs it.

On minute ten, add nutritional yeast or (homemade vegan parmesan), followed by fresh basil.
Garnish and serve.
When the rice is 'al dente', add one last tablespoon of olive oil and stir.

Remove from the heat, let it sit for 2-5 minutes, and serve. Garnish with fresh basil, Vegan Parm Cheese, and freshly cracked black pepper or chili flakes to add some heat.
Notes
Look at the Tips on the post body, for variations and substitutions.
Nutrition Facts
Calories:
348
kcal
Carbohydrates:
60
g
Protein:
11
g
Fat:
8
g
Saturated Fat:
1
g
Polyunsaturated Fat:
1
g
Monounsaturated Fat:
5
g
Sodium:
1287
mg
Potassium:
877
mg
Fiber:
6
g
Sugar:
10
g
Vitamin A:
986
IU
Vitamin C:
10
mg
Calcium:
30
mg
Iron:
4
mg
Nutrition Facts
Creamy Tomato Risotto Recipe
Amount per Serving
% Daily Value*
* Percent Daily Values are based on a 2000 calorie diet.
🌡️ Food safety
Cook to a minimum temperature of 165 °F (74 °C)
Do not use the same utensils on cooked food that previously touched raw meat
Wash hands after touching raw meat
Don't leave food sitting out at room temperature for extended periods
Never leave cooking food unattended
Use oils with high smoking points to avoid harmful compounds
Always have good ventilation when using a gas stove
See more guidelines at USDA.gov.
The information shown is an estimate provided by an online nutrition calculator. It should not be considered a substitute for a professional nutritionist's advice. See our full Nutritional Disclosure here.
Please note that some of the links here are affiliate links, and I will earn a commission if you purchase through those links. I recommend all of the products listed because they are companies I have found helpful and trustworthy.