This Instant Pot Creamy Red Lentil Curry is one of my favorite dishes because it's super flavorful, nutritious, protein-packed, and you can make it in a blink of an eye.
I have always loved lentils. In my childhood, we would have instapot yellow curry at least twice a week. I come from a very religious family (although I am not), and my dad used to tell my four siblings and me the parable of the prodigal son repeatedly.
Being the second son, I kept thinking about that bowl of lentils and the incredible real estate value it had; moreover… why?
Later, I understood that lentils are probably amongst the more beloved foods worldwide for many reasons.
Lentils are incredibly nutritious, versatile, delicious, cheap, available, protein-packed, there's a wide variety of them, and unlike other grains, they cook fast, and I can go on and on.
Then I started embracing a plant-based lifestyle and began glorifying them even more. There is nothing lentils can't do for you, or you can't make out of them!
Ingredients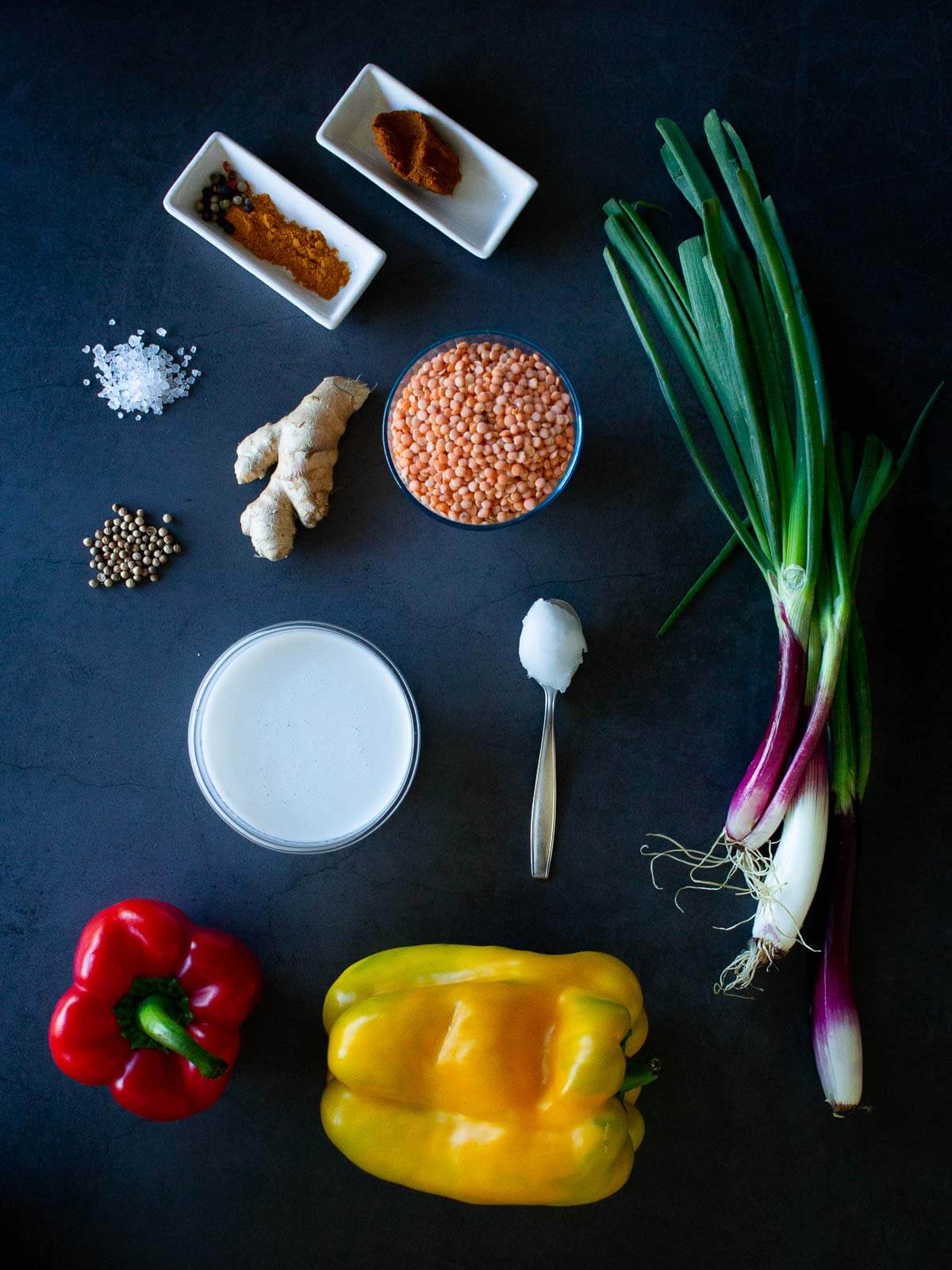 Red Lentils
Coconut milk
Spring onions
Garlic cloves
Red bell pepper
Yellow bell pepper
Coconut oil
Yellow vegan Thai curry Paste
Turmeric
Ginger
See quantities and full instructions in the recipe card.
If interested in making your own curry paste, check our recipe. You can make it once and keep it refrigerated for 2 months.
Instructions
Making this One Pot red lentil curry is very easy . Just chop your ingredients, stir fry, boil the lentils altogether and you've got it!
Chop your spring onions (or shallots) and bell peppers in big pieces.
In a large saucepan, stir fry your veggies with the coconut the yellow curry paste.
Stir in the coconut milk and all the spices.
Add the red lentils along with 4 cups of water, stir twice during the 10 minutes. Watch out closely as the red lentils are super delicate and can get mushy in minutes.
4 Tips to make a perfect curry
The Spiciness: If you want to make it spicier, add ½ tablespoon of curry paste and try again. Curry paste is full of flavor so go easy on it. The good thing is that it is easily adjustable. You can also boost the spiciness by adding extra fresh ginger or powder. Also, if you don't have the Yellow Curry Paste but have a Green or Red one, give it a try. Yellow curry has a milder flavor, so make sure you start with less paste and adjust later.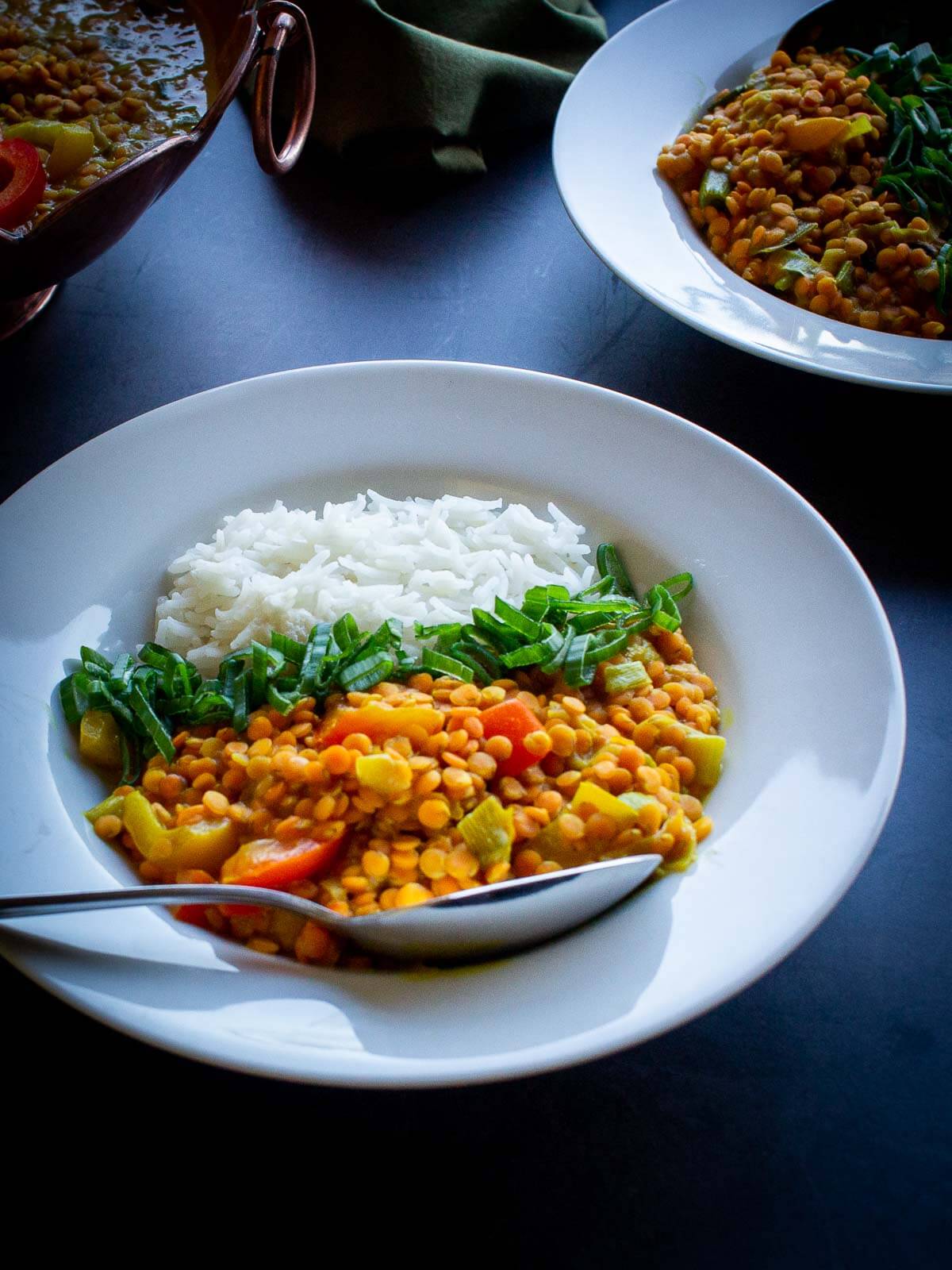 The Creaminess: I like to keep the calorie count low, so the suggested amount of coconut milk here is half of a regular-sized can. If you want it creamier and with a more robust coconut flavor, you can double the amount (use the whole can).
Texture and Color: Red Lentils are very delicate, so make sure you don't cook them for more than 10-15 minutes; otherwise, they will lose their shape and color.
Herbs: Many people don't like Cilantro (Coriander). It's genetics (crazy, right). On the other hand, I love it, so I usually add a bunch of it at the end of the cooking. We recently moved to Italy, and I have not been able to find it here, but if you have cilantro and like it, go for it!
It is a great idea to add Turmeric to your Curry, it provides more than flavor.
How to cook lentils
Lentils are easy to cook and are the perfect 1-pot ingredient. Just rinse them under running water once to clean them. Then, put them to boil with four times their volume of water, and that is it for a base for other things as dips and warm salads.
Alternatively, you can stir fry some garlic and any onion, add the lentils and water directly on top of the "sofrito," and add some spices and herbs, such as curry, and turmeric, salt, and pepper.
How long do red lentils take to cook?
Red lentils take less time to cook than other types of lentils, and they tend to get mushy if cooked for too long. For this reason, red lentils are best mixed with water or another liquid and boiled until tender, which takes about 15 minutes .
I hope you find this vegan recipe as enjoyable as it is for us to make it to your table once a week!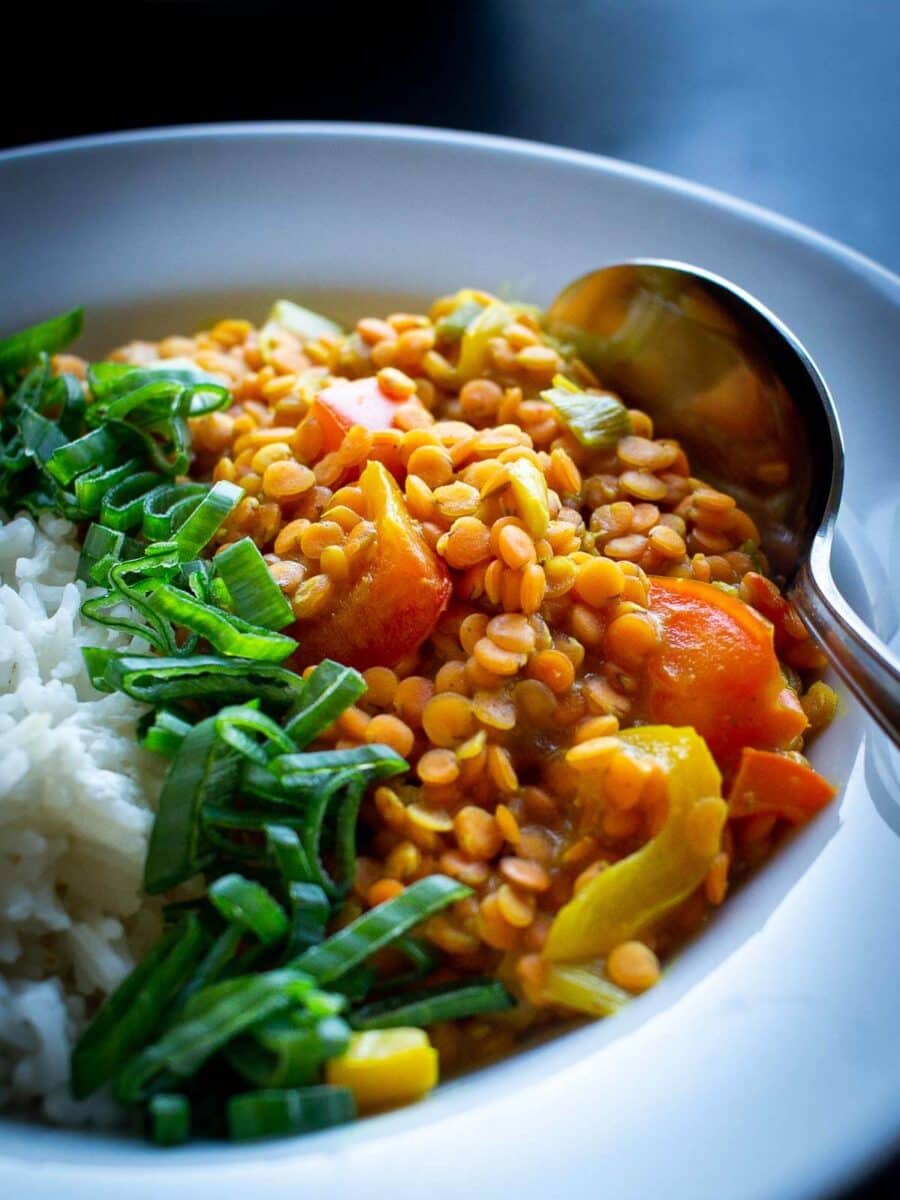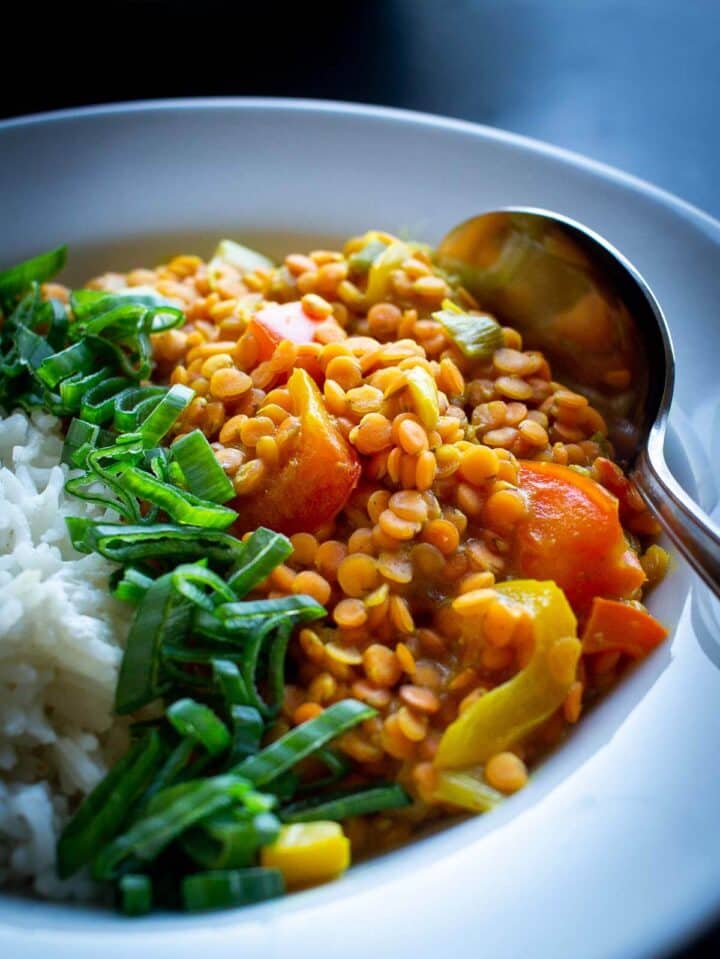 Similarly, we use the Vegan Kitchari Cleanse Ayurvedic recipe, when we want to give our guts a rest. This recipe uses moong beans instead, and fewer seasonings, as it is meant to detox our bodies while having an easy and nurturing meal.
What to make with lentils
You can make stews, salads, hamburgers, meat-less vegan casseroles, sprouted lentils, dips, soups, pasta, and even Vegan Empanadas.
There are several lentils recipes on this site already; they are a vegans' best friend.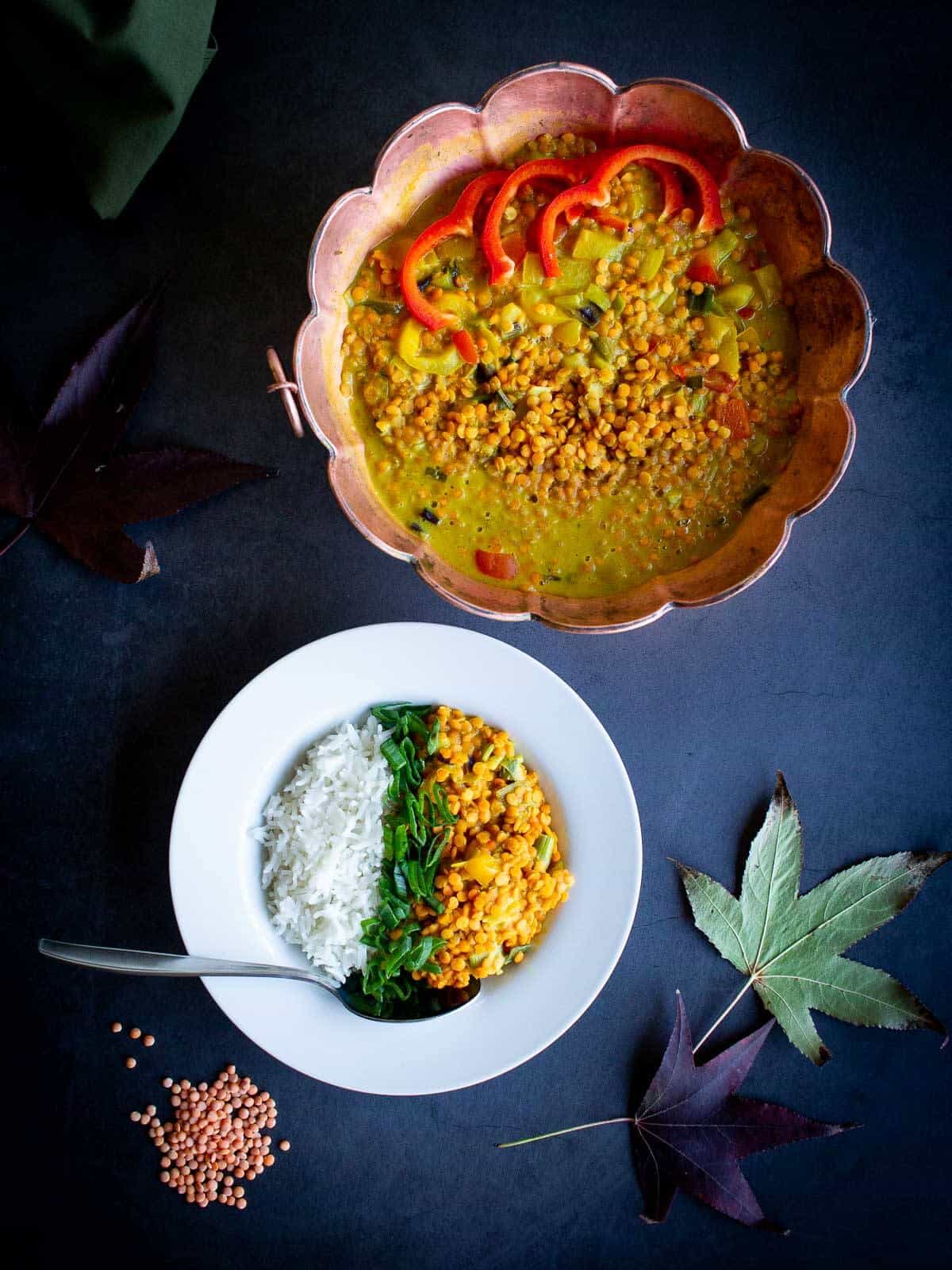 Over the years, I have found myself making them in very different ways. We both love Asian food, and Thai and Indian Cuisines are amongst our Top 5. So, I came out with this fusion: an Indian Lentils dhal, made with Thai Yellow Curry: a blast!
In general, red and split lentils are better for making Dhal (Indian Style) Lentils because they cook faster and turn out creamier.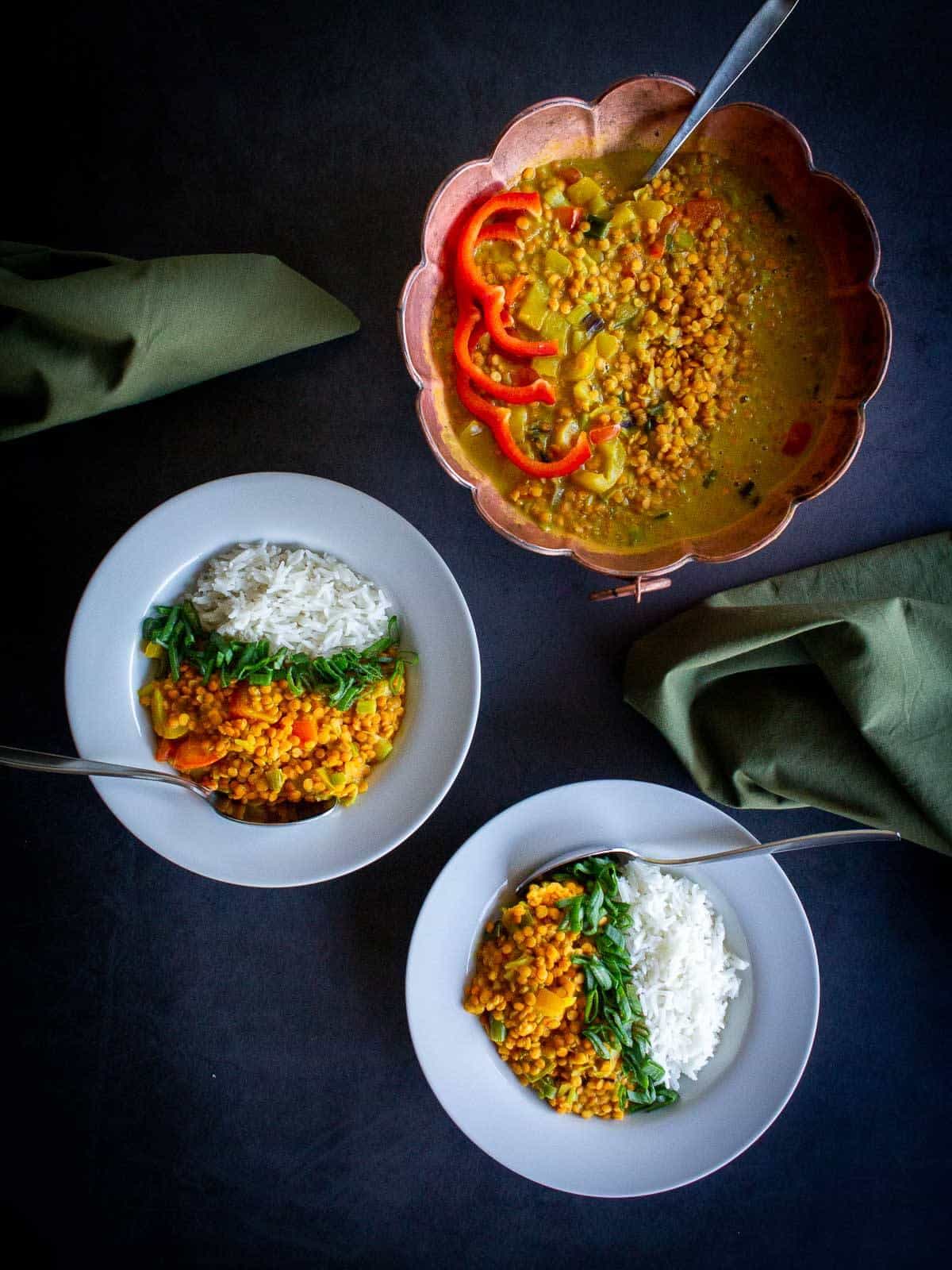 4 Health benefits of red lentils
Yellow and red lentils are split and cook quickly. They're great for making daal and have a somewhat sweet and nutty flavor.
Brown, green, yellow, red, or black — lentils are low in calories, rich in iron and folate, and an excellent protein source.
They pack health-promoting polyphenols and may reduce several heart disease risk factors.
Convenience. Cooking red lentils only take 10–20 minutes, which — like soaking — reduces their antinutrient content.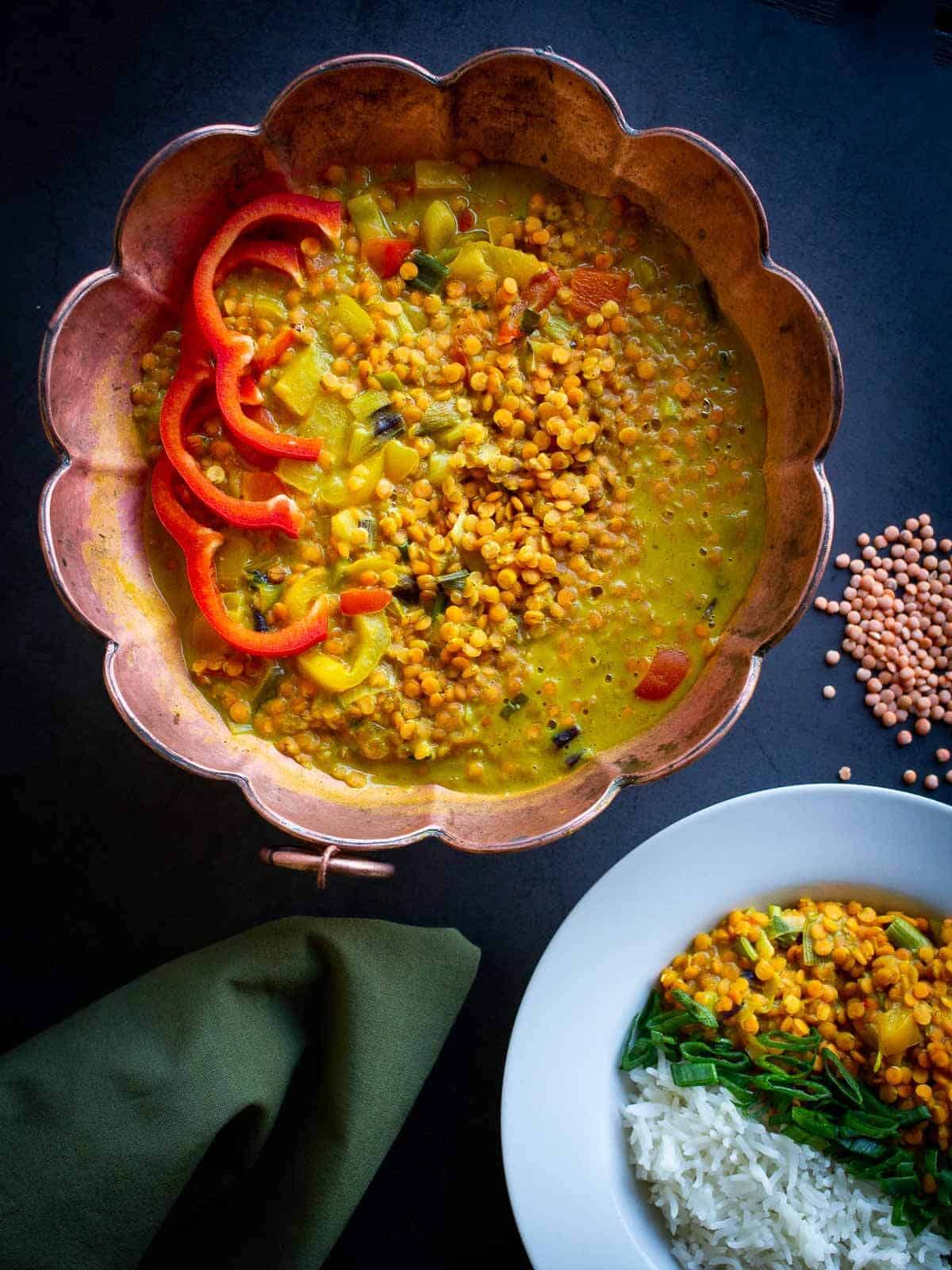 More lentils and curry recipes
Pair your curries with steamed or boiled Jasmine Rice, check how to make your rice in minutes!
Try our Vegan Chili one-pot recipe that also goes well with nice steamed rice and works wonderfully if looking forward to preparing your meals in advance.
If you try this recipe, let us know! Leave a comment, rate it, and don't forget to tag a photo #ourplantbasedworld on Instagram. Cheers!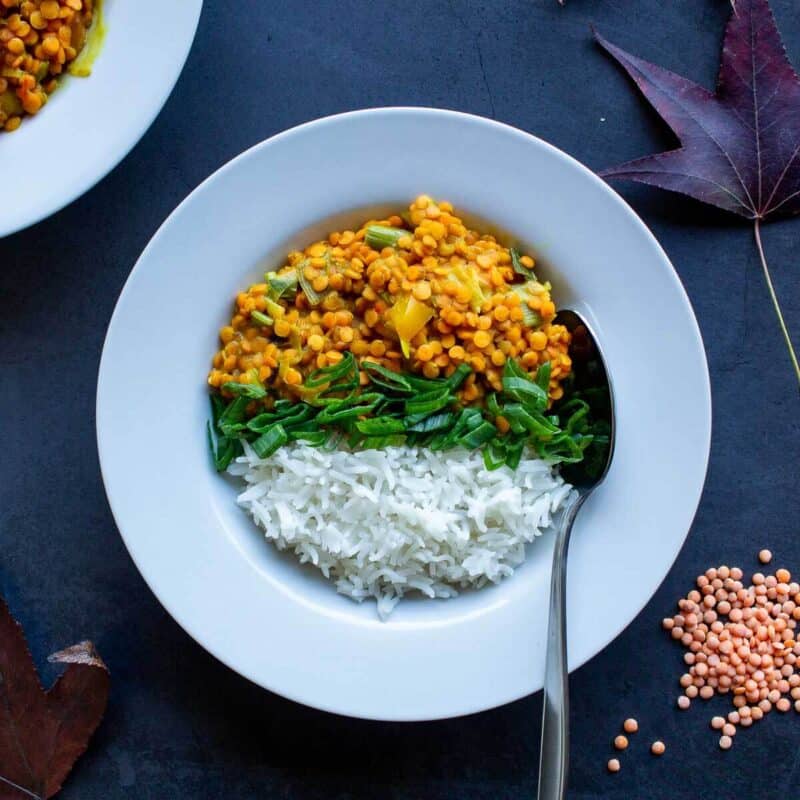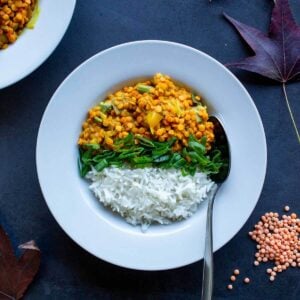 Recipe: Creamy Red Lentil Curry
This Creamy Red Lentil Curry is one of my favorite dishes because it's super flavorful, nutritious, protein-packed, and you can make it in a blink of an eye.
Directions
If having rice with your lentils, put it to boil with three cups of water and 1 teaspoon of salt. It will take 10-15 minutes and be ready when your lentils are.

14 ounces organic Red Lentils

Chop your garlic, spring onions and bell peppers in massive cuts. Remember that reducing your vegetables' surface exposure to the heat keeps more of their nutrients. Feel free to add any other leftover veggies you have, such as broccoli or cauliflower stems.

2 spring onions

,

½ red bell pepper

,

½ yellow bell pepper

,

2 garlic cloves

In a pan, stir-fry your veggies with the coconut oil for 3 minutes and add the yellow curry paste.

Add the coconut milk, curry paste and all the spices. Let the mixture simmer for another 2 minutes.

½ cup coconut milk

,

1 tablespoon yellow vegan thai curry Paste

,

1 teaspoon turmeric

,

1 inch ground fresh ginger

,

1 teaspoon black pepper

,

1 teaspoon coriander Seeds

,

1 bunch Cilantro Leaves

Add the lentils along with 4 cups of water, stir twice during the 10 minutes it will take to be ready.

14 ounces organic Red Lentils

Adjust the flavor. You migh choose to add some curry or salt.
Nutrition
Calories:
404
kcal
Carbohydrates:
68
g
Protein:
20
g
Fat:
6
g
Saturated Fat:
4
g
Sodium:
785
mg
Potassium:
789
mg
Fiber:
21
g
Sugar:
2
g
Vitamin A:
814
IU
Vitamin C:
36
mg
Calcium:
64
mg
Iron:
6
mg
Nutrition Facts
Recipe: Creamy Red Lentil Curry
Amount per Serving
% Daily Value*
* Percent Daily Values are based on a 2000 calorie diet.
Food safety
We sometimes take for granted that we have years (or decades) of cooking experience that the average visitor may not. Add to, or remove from, the list below with health and safety tips.
Cook to a minimum temperature of 165 °F (74 °C)
Do not use the same utensils on cooked food, that previously touched raw meat
Wash hands after touching raw meat
Don't leave food sitting out at room temperature for extended periods
Never leave cooking food unattended
Use oils with high smoking point to avoid harmful compounds
Always have good ventilation when using a gas stove
See more guidelines at USDA.gov.
Want to know more about the Health Benefits of Lentils? Click here.
The information shown is an estimate provided by an online nutrition calculator. It should not be considered a substitute for a professional nutritionist's advice. See our full Nutritional Disclosure here.
Please note that some of the links here are affiliate links and I will earn a commission if you purchase through those links. I use all of the products listed and recommend them because they are companies that I have found helpful and trustworthy.