Hey there, foodies! Ever craved a dessert that's not just mouth-wateringly delicious but also rooted in culture? Look no further—our Jamaican Sweet Potato Pudding Cake is the tropical treat you've been searching for. Trust us, this sweet potato pudding cake is a game-changer in the world of vegan desserts.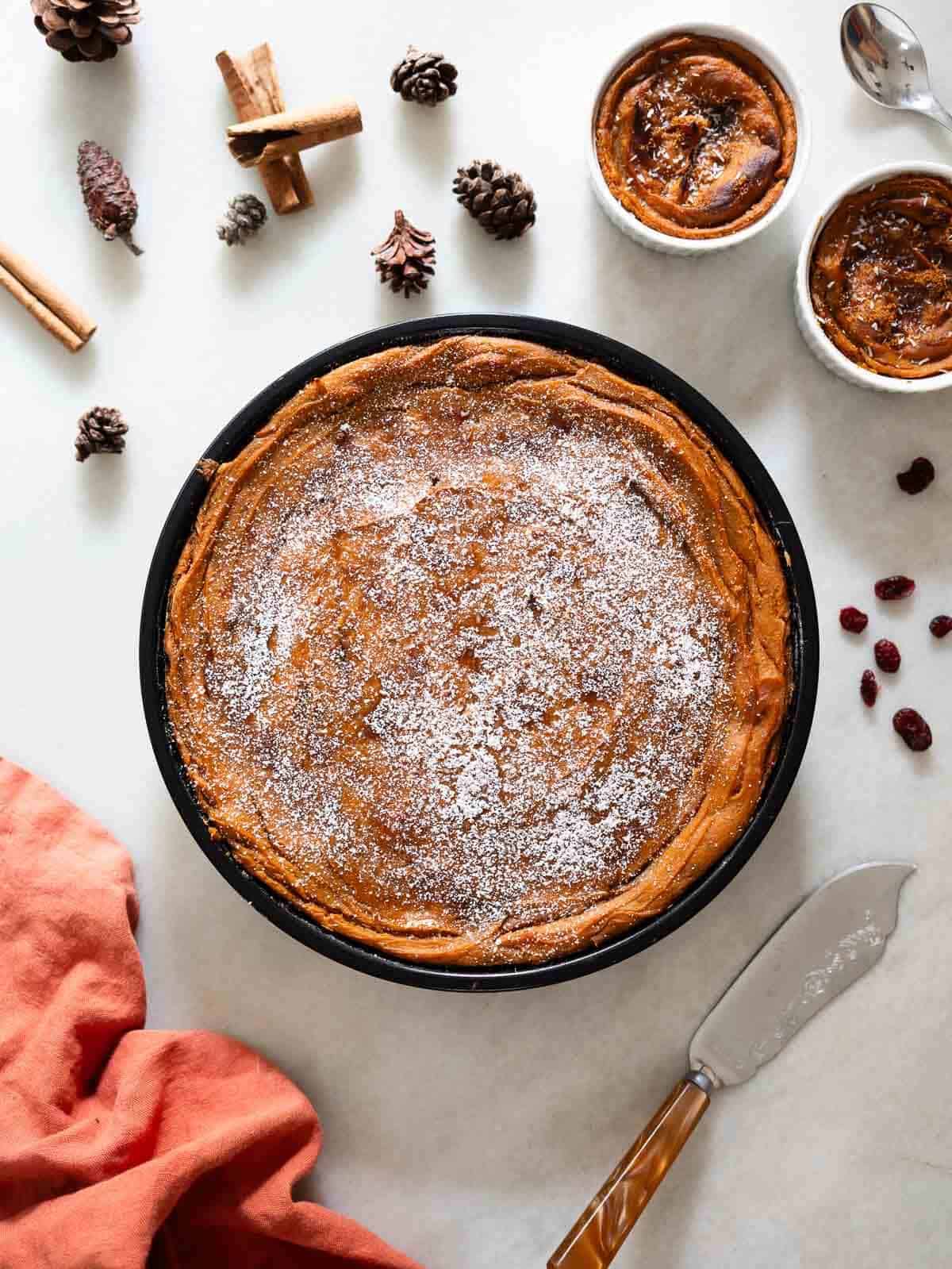 Ready to dive into why this sweet potato pudding cake is the ultimate winner in the dessert game? First off, let's talk nutrition.
Sweet potatoes are a powerhouse of vitamins and fiber, and when combined with coconut milk, you're getting a dose of healthy fats too.
Plus, spices like ginger and cinnamon add flavor and have their own health benefits. So, you're not just satisfying your sweet tooth; you're also nourishing your body.
Now, onto the easy factor. We get it; "easy" and "pudding cake" might not usually go hand in hand, but trust us on this one. With simple meal prep and straightforward steps, you'll have this dish ready in no time.
And if you're worried about finding some of the ingredients, don't sweat it. We've got you covered with substitutions and variations to make sure you can whip this up with what you've got in your pantry.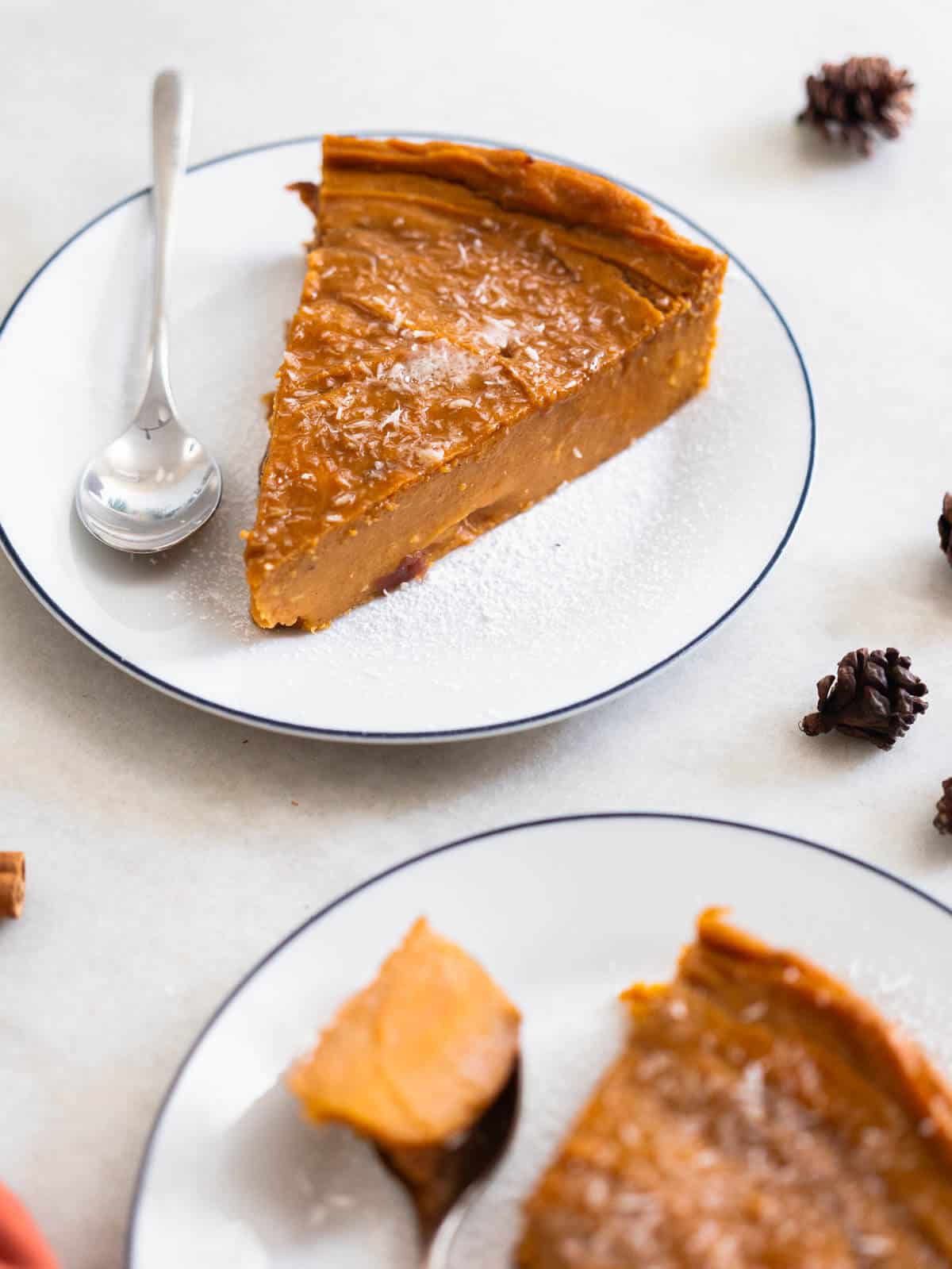 Last but not least, versatility is the name of the game. Whether you're looking to impress at a dinner party or just want a cozy meal topper, this pudding cake has got you covered. It can be a show-stopping dessert or a unique side dish, and if you loved our vegan sweet potato crunch casserole, this recipe is sure to be your next fave. So, grab your baking pan, and let's get cooking!
Jump to:
🧾 Ingredients
This sweet potato pudding cake is made with just a few delicious ingredients: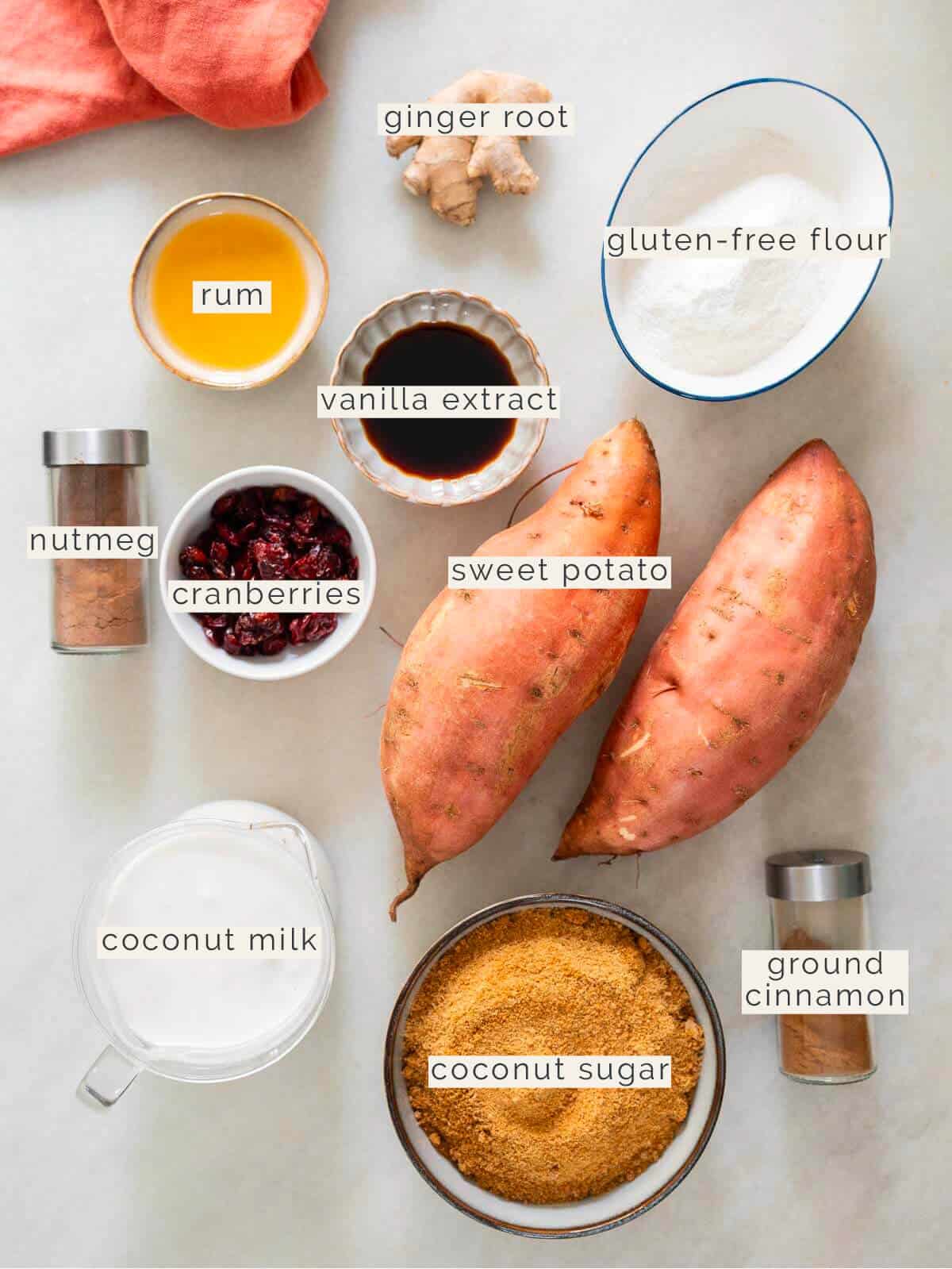 Sweet potato: The star of the show, sweet potatoes bring natural sweetness and a velvety texture. Plus, they're packed with vitamins and fiber.
Freshly grated ginger root: Adds a zesty kick that complements the sweetness while also aiding digestion.
Nutmeg: This spice elevates the dish with its warm, nutty flavor. It's a classic in Caribbean desserts.
Ground cinnamon: A dash of this spice brings warmth and depth to the pudding cake. It's also a metabolism booster!
Vanilla extract: Enhances the overall flavor profile, making every bite a little more magical.
Thick coconut milk: Gives the pudding cake its creamy, rich texture. It's also a great dairy-free alternative.
Gluten-free flour: Helps bind all the ingredients together while keeping the recipe accessible for those with gluten sensitivities.
Coconut sugar or Brown Sugar: Adds a caramel-like sweetness without going overboard on the sugar scale.
Salt: A pinch balances out the sweetness and amplifies the flavors of the other ingredients.
Optional ingredients
Cranberries, soaked in dark rum overnight: These add a tart contrast and a boozy kick, making the dish holiday-worthy.
Dark rum or Cointreau: Either option infuses the pudding cake with a subtle, adult twist.
Caster sugar: A sprinkle on top creates a delightful, beautiful layer.
See the recipe card for quantities.
🔪 Instructions
This vegan sweet potato pudding has pretty straightforward instructions:
Preparing your ingredients.
Blending the sweet potato mixture.
Baking.
Preheat that oven to 375°F (190 ºC).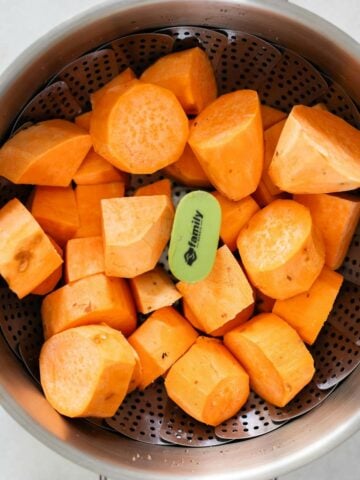 Place all the chopped sweet potatoes in a large saucepan with a steamer basket and water.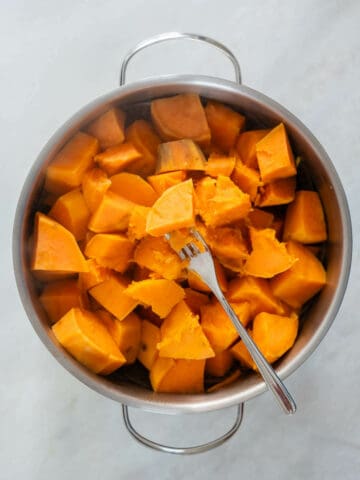 Steam until the sweet potatoes are fork-tender.
Hint: Whether you steam, boil, or bake, it's your call. We're Team Steam for nutrient retention and speed.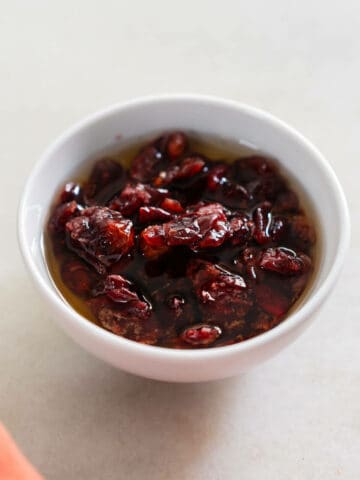 Soak the cranberries in rum while the sweet potatoes are cooking.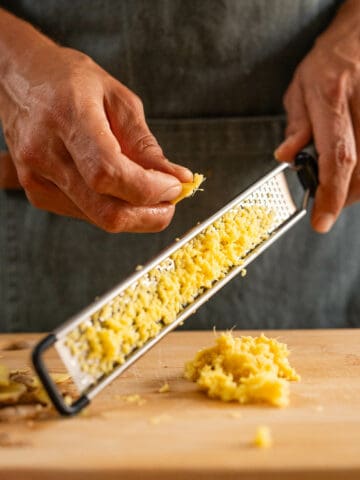 Grate ginger.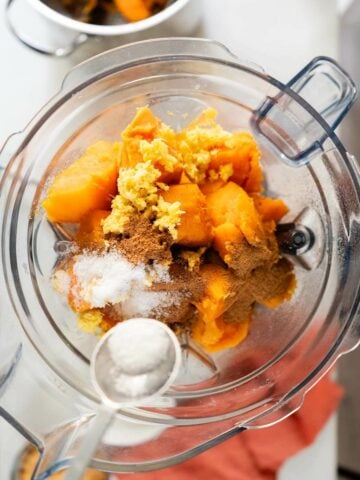 Add the wet ingredients and spices to the blender's vase. Drain the cranberries on top of the blender so the rum also gets into the batter.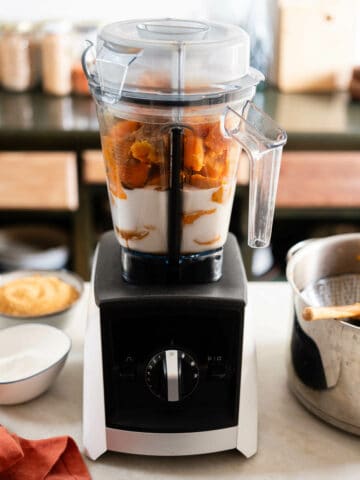 First, pour the full fat coconut milk so the blades don't get stuck. Then blend until a creamy batter is formed.
Rum Alert: Drain the cranberries and add the rum to the blender. Yep, we're making this sweet potato dish boozy!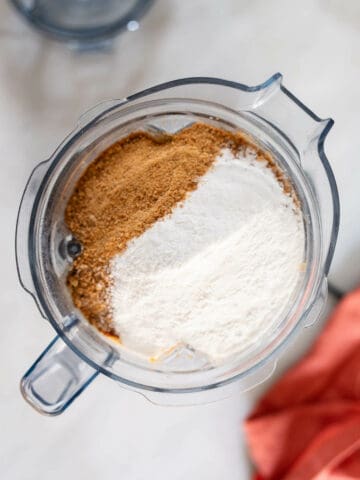 Then, add the dry ingredients to the blender.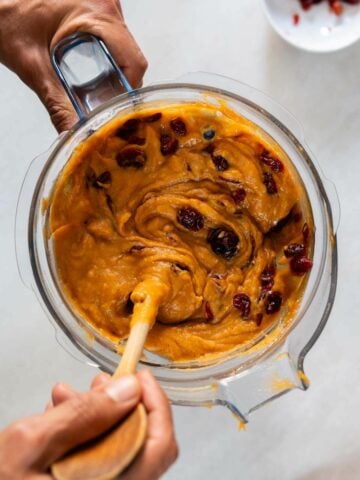 Fold in those rum-soaked cranberries with a wooden spoon or spatula. Do not blend!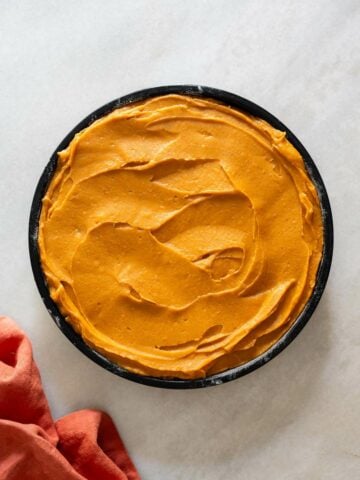 Oil that cake pan. In goes the batter. Smooth it out nicely with a spatula.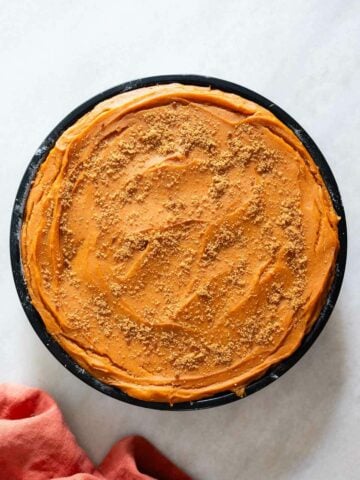 Remove from the oven after 30 minutes. Optionally sprinkle brown sugar to have a caramelized topping. Bake for 10 minutes more. Set a timer!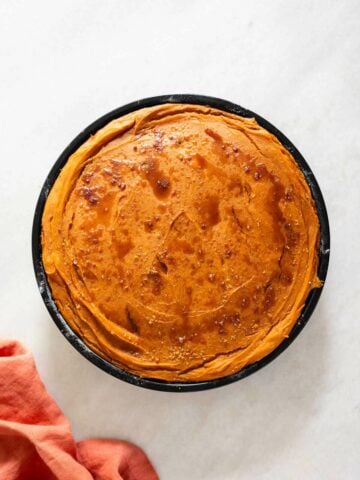 Remove from the oven.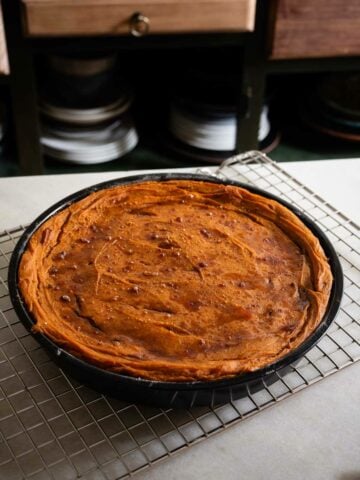 Place the sweet potato pudding on a cooling rack.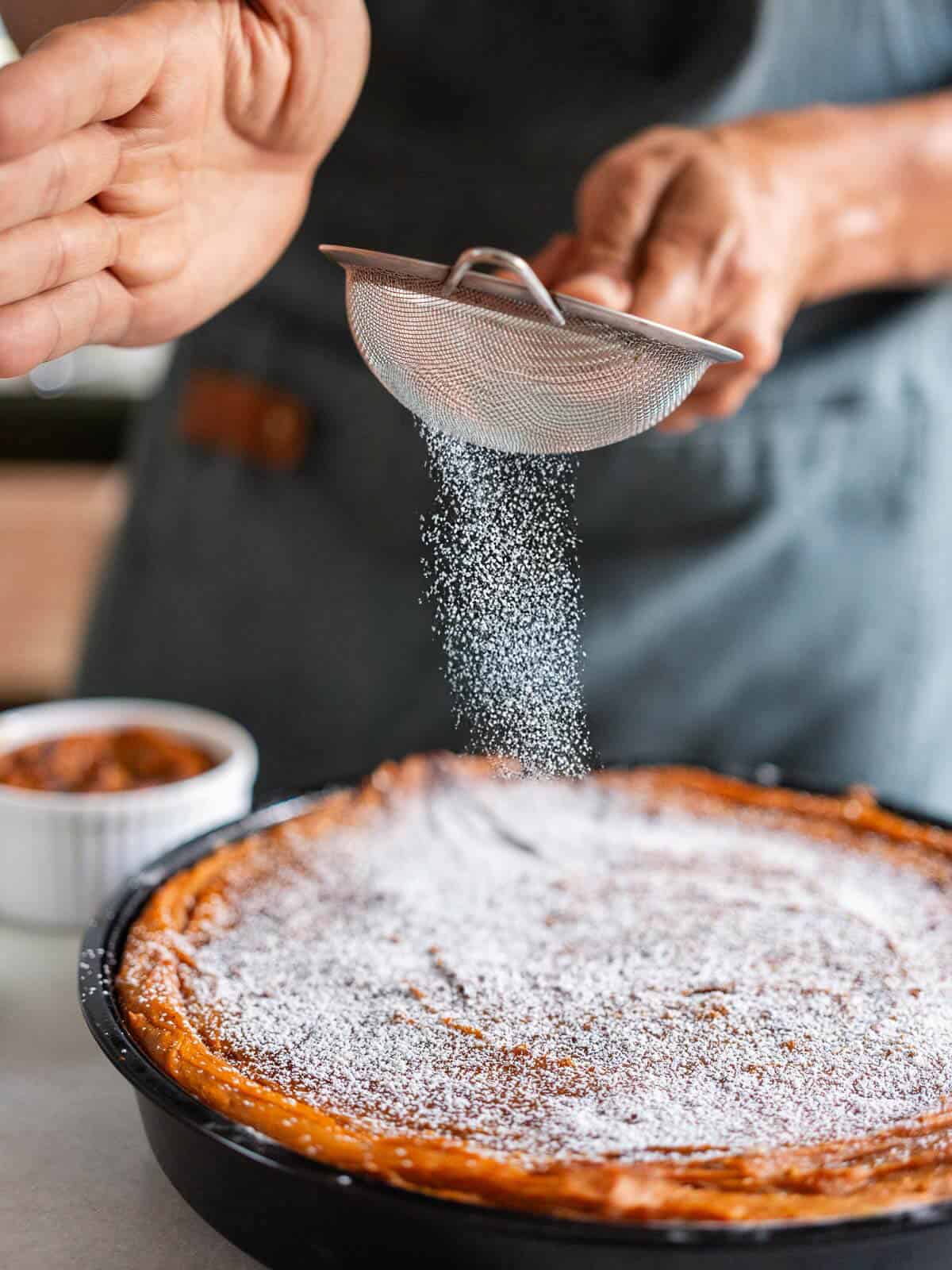 When completely cooled down, optionally sprinkle caster sugar for a nice finish.
Read on: sweet potato crunch casserole.
🍶 Substitutions
Ginger: You can use ground ginger if fresh isn't available. About ¼ teaspoon should do the trick.
Nutmeg: Allspice or ground cloves can be a good alternative. Use sparingly, as these spices are potent.
Cinnamon: Cardamom or allspice can be used as a substitute, but the flavor profile will change slightly. You can even use pumpkin pie spice mix.
Vanilla extract: Almond essence or maple extract can be used for a different yet delightful aroma.
Coconut milk: Almond milk or oat milk can be used, but the texture may be less creamy.
Gluten-free flour: Regular all-purpose flour works if gluten isn't an issue. Brown rice flour is another gluten-free option.
Coconut sugar or Brown Sugar: Maple syrup or agave nectar can be used, but you'll need to adjust the liquid content elsewhere in the recipe.
Cranberries soaked in dark rum: Raisins or dried cherries soaked in orange juice can be a non-alcoholic alternative.
Dark rum or Cointreau: You can use orange juice or apple juice for a non-alcoholic version.
Coconut sugar to caramelize: A maple syrup sprinkle can give you that caramelized top layer.
📖 Variations
If you're out of sweet potatoes, pumpkin puree or butternut squash puree make excellent substitutes. They offer a similar texture and natural sweetness.
🥢 How to serve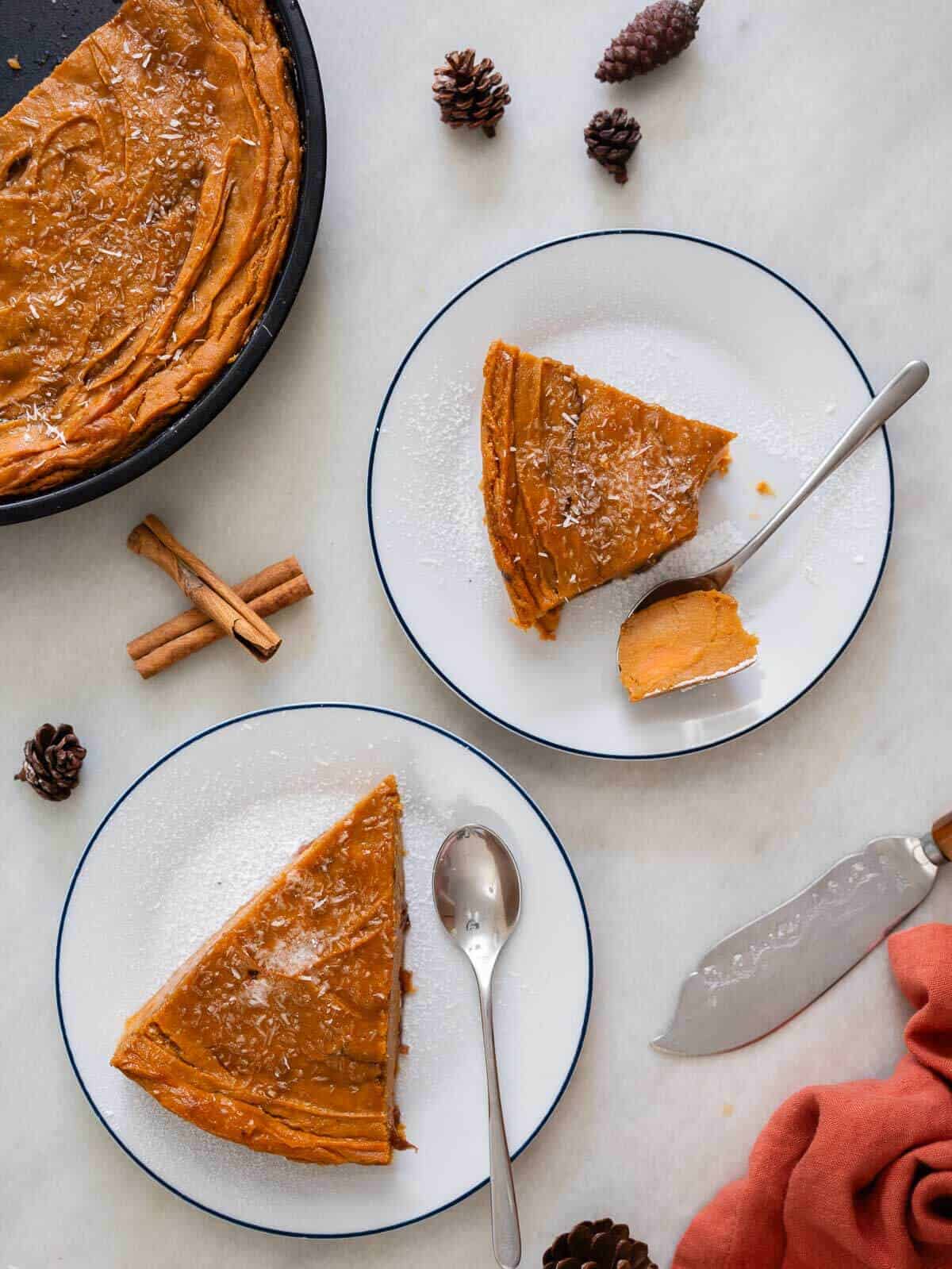 A la Mode: Serve a slice of this pudding cake warm with a scoop of vegan vanilla ice cream. The cold creaminess pairs perfectly with the warm, spiced cake.
Tropical Twist: Top it off with a dollop of coconut whipped cream and a sprinkle of shredded coconut. It's like a Caribbean vacation in every bite!
Breakfast Bonanza: How about turning leftovers into a decadent breakfast? Layer slices of the pudding cake with vegan yogurt and fresh berries in a parfait glass. A morning treat that's both indulgent and nourishing!
🍽 Equipment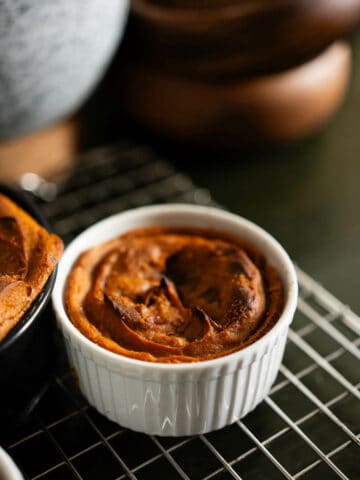 Bake in ramekins for individual portions.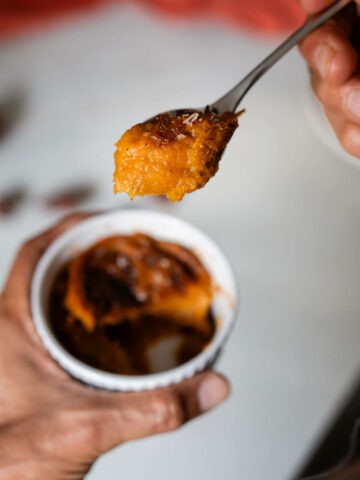 You can also enjoy them for breakfast with a glass of almond milk.
Use your size choice of spring pans to facilitate the unmolding.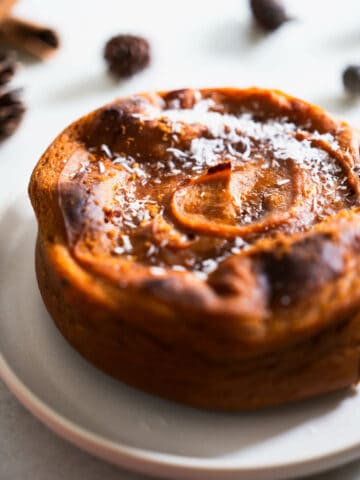 Optionally sprinkle with shredded coconut flakes.
Blender

(affiliate link)

or Food Processor

(affiliate link)

: A blender is ideal for getting that smooth, creamy texture for the pudding cake. A food processor, electric mixer, or immersion blender works, too, but may result in a slightly chunkier texture.
Spring Pan

(affiliate link)

: This makes it super easy to remove the cake once it's baked, ensuring your masterpiece stays intact.
Spatula

(affiliate link)

: You'll need this for folding in those rum-soaked cranberries and for smoothing out the batter in the pan. It's all about that even distribution!
🥡 Storage
Fridge Storage: Keep your Jamaican Sweet Potato Pudding Cake in an airtight container in the fridge for up to 5 days. When you're ready for another slice, just let it come to room temperature or give it a quick zap in the microwave.
Freezing and Reheating: If you've got leftovers (lucky you!), you can freeze individual slices wrapped in plastic wrap and then place them in a ziplock bag. To reheat, thaw it in the fridge overnight and warm it up in the oven at 350°F for about 10 minutes.
Meal Prep: Want to make this dish ahead of time? You can prepare the sweet potato mixture and store it in an airtight container in the fridge for up to 2 days. When you're ready to bake, give it a good stir, pour it into the pan, and you're good to go!
💡 Top tip
The key to nailing this recipe every time is the consistency of your sweet potato mixture. Make sure it's smooth and lump-free before you add the dry ingredients. If it's too thick, a splash of extra coconut milk can save the day. If it's too runny, a little more gluten-free flour will do the trick. This ensures you get that perfect pudding cake texture every single time. 🌟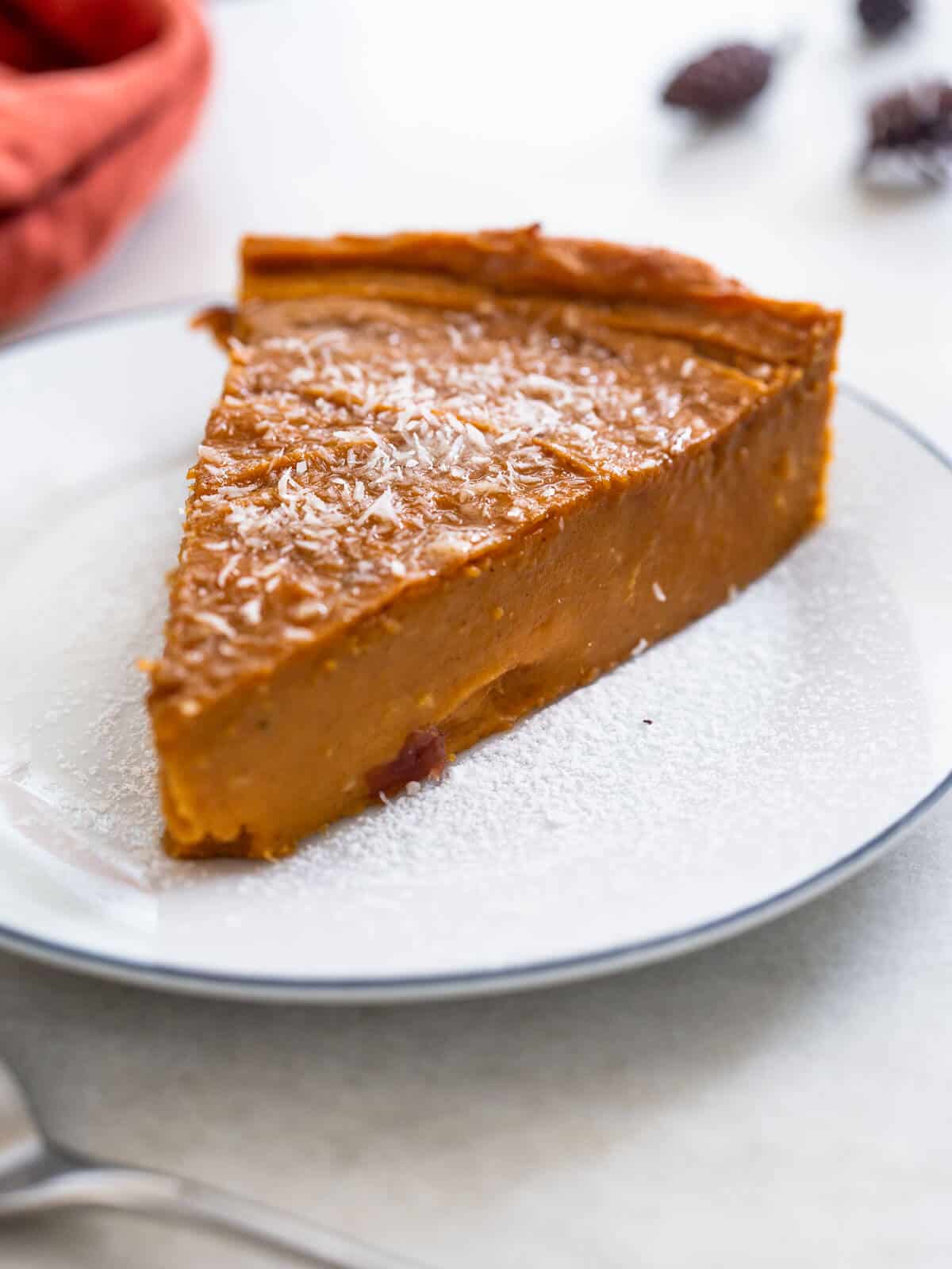 Try also our sweet potato cake, which is super easy to make, light, and fluffy!
❓ FAQ
What is the difference between Jamaican and regular sweet potato?
Color: Jamaican sweet potatoes usually white flesh sweet potato; they may also have yellow flesh, as opposed to the orange or deep yellow flesh commonly found in American sweet potatoes.
Texture: Jamaican sweet potatoes are often more starchy and dry compared to their American counterparts, which are usually sweeter and moister.
Flavor: Jamaican sweet potatoes have a more earthy, nutty flavor, while American sweet potatoes are generally sweeter and can have a flavor profile ranging from nutty to fruity.
Skin: The skin of a Jamaican sweet potato is generally thinner and can range from brown to purplish, while American sweet potatoes have a thicker skin that can be orange, yellow, or even purple.
Nutritional Profile: Both types offer a good amount of fiber, vitamins, and minerals, but the American sweet potato is often higher in beta-carotene due to its orange color.
📚 More Vegan Pudding Recipes
Love puddings? We have some great options for you to try, like our 3-ingredient oat milk chia pudding, traditional rice pudding, oats and chia pudding, the scrumptious dark chocolate and pistachio pudding, and cardamom rice pudding.
⭐ If you try this vegan sweet potato pudding recipe, let us know! 💬 Leave a comment, rate it, and don't forget to tag us @ourplantbasedworld on Instagram. Cheers!
📋 Recipe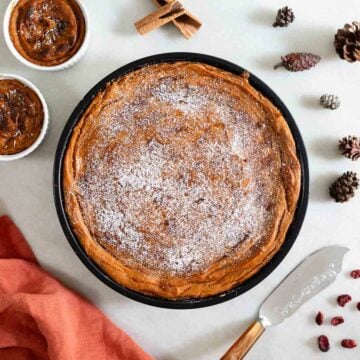 Easy Jamaican Sweet Potato Pudding Cake Recipe
Indulge in the tropical flavors of our Easy Jamaican Sweet Potato Pudding Cake, a vegan delight that's both nutritious and simple to make. This sweet potato pudding cake is your ticket to a Caribbean culinary adventure right in your kitchen!
Equipment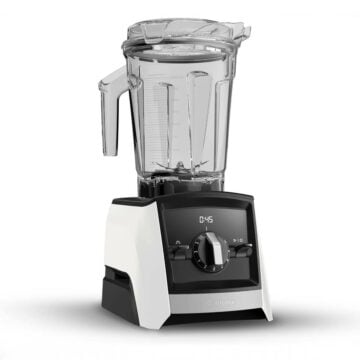 (affiliate link)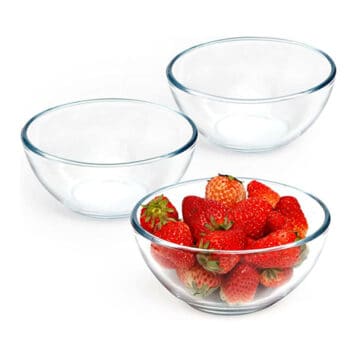 (affiliate link)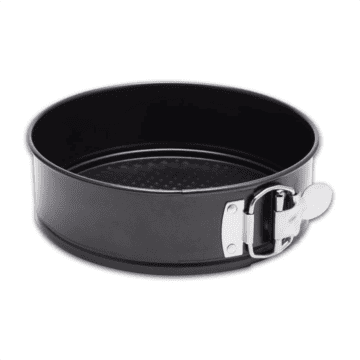 (affiliate link)
Ingredients
Optional
¼

cup

cranberries

soaked in dark rum overnight

2

tablespoons

dark rum

or Cointreau

2

tablespoons

coconut sugar

to caramelize
Directions
Prep Those Sweet Potatoes
Peel the Sweet Potatoes: Grab those sweet potatoes and give 'em a good peel. No one wants skin in their pudding cake, am I right?

Steam, Boil, or Bake: You've got options here, but we're Team Steam. It keeps the nutrients locked in and takes about 20 minutes.Pro Tip: Steaming retains more nutrients compared to boiling. Plus, it's quicker than baking!

Preheat the Oven: Crank it up to 375°F (180°C).
Blend ingredients
Into the Blender: Toss those cooked sweet potatoes into your blender.

Pour in the Coconut Milk: Make sure it's thick and creamy, just how we like it.

Rum-Soaked Cranberries: Drain those cranberries and pour the rum into the blender. Yeah, you heard me, rum! 🥃

Spice It Up: Add freshly grated ginger, ground nutmeg, ground cinnamon, and vanilla extract.

Blend: Hit that blend button until you get a smooth, uniform mixture.

Add remaining dry ingredients: gluten-Free Flour, Coconut Sugar & Salt.

Blend Again: Yep, you guessed it. Blend until everything's mixed well.

Lastly, add the drained cranberries and fold with a spatula.
Oven Time
Prep the Baking Dish: A little oil never hurt anyone. Well, at least not a baking dish.

Pour the Batter: Into the dish it goes!

First Bake: 30 minutes should do the trick.

Brown Sugar Magic: Sprinkle some brown sugar on top.

Second Bake: Another 10 minutes in the oven.
Let sit
Cool Down: Patience, young Padawan. Let it sit for about 30 minutes to cool down.

Slice and Serve: Your Easy Jamaican Sweet Potato Pudding Cake is ready to rock your world!
Nutrition Facts
Calories:
187
kcal
Carbohydrates:
30
g
Protein:
2
g
Fat:
6
g
Saturated Fat:
5
g
Polyunsaturated Fat:
0.1
g
Monounsaturated Fat:
0.3
g
Sodium:
210
mg
Potassium:
264
mg
Fiber:
3
g
Sugar:
13
g
Vitamin A:
8047
IU
Vitamin C:
2
mg
Calcium:
31
mg
Iron:
2
mg
Nutrition Facts
Easy Jamaican Sweet Potato Pudding Cake Recipe
Amount per Serving
% Daily Value*
* Percent Daily Values are based on a 2000 calorie diet.
🌡️ Food safety
Cook to a minimum temperature of 165 °F (74 °C)
Do not use the same utensils on cooked food, that previously touched raw meat
Wash hands after touching raw meat
Don't leave food sitting out at room temperature for extended periods
Never leave cooking food unattended
Use oils with a high smoking point to avoid harmful compounds
Always have good ventilation when using a gas stove
See more guidelines at USDA.gov.
Nutritional Disclaimer
The information shown is an estimate provided by an online nutrition calculator. It should not be considered a substitute for a professional nutritionist's advice. See our full Nutritional Disclosure here.
Affiliate Disclaimer
Please note that some of the links here are affiliate links, and I will earn a commission if you purchase through those links. I recommend all of the products listed because they are companies I have found helpful and trustworthy.