Looking for an easy vegan dessert? This vegan rice pudding recipe with oat milk only requires three ingredients and can be made on the stovetop in one pot. Plus, it's dairy-free and gluten-free! It is also very customizable, simply adding a dash of your favorite spices!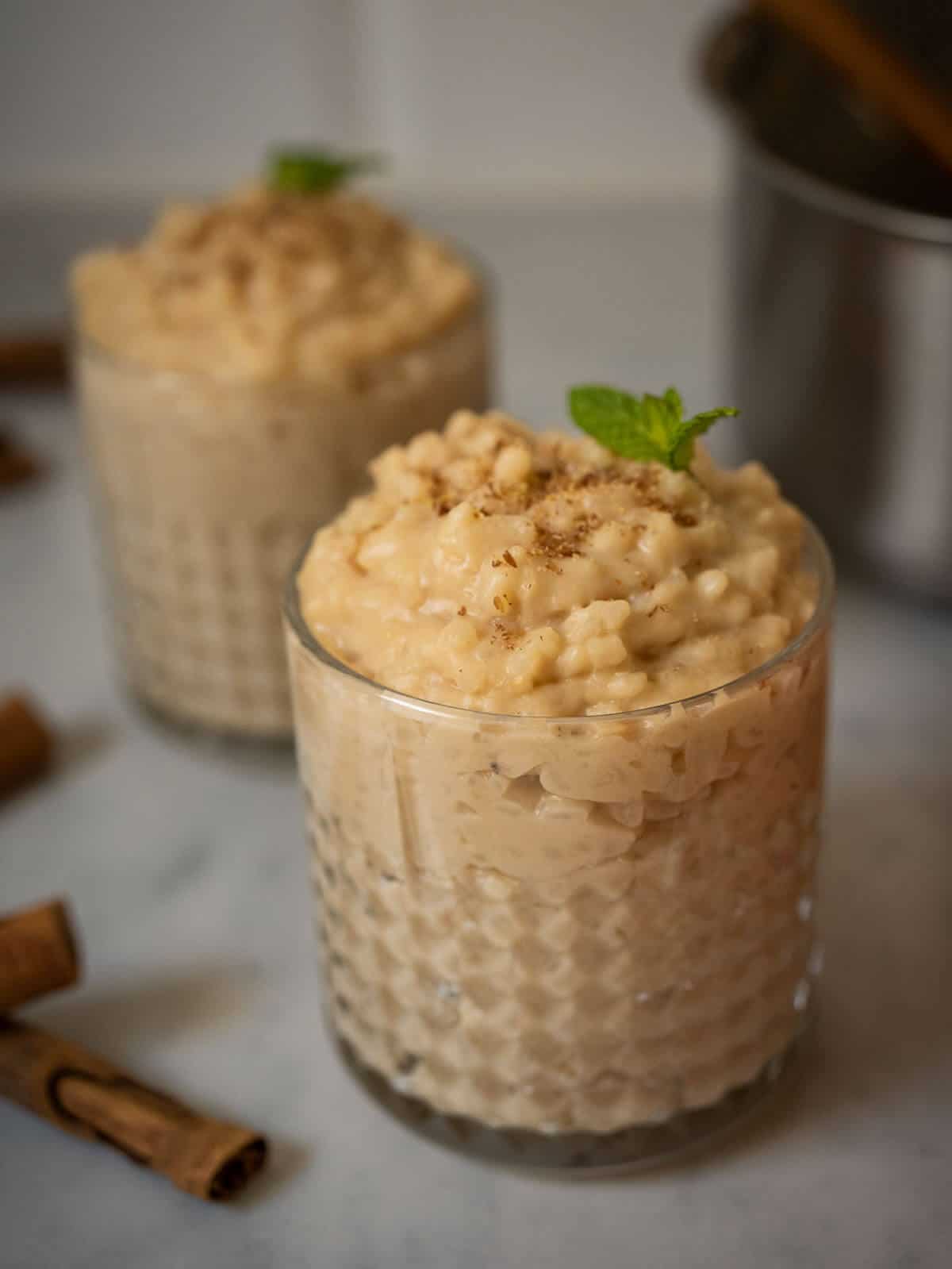 Some rice pudding recipes call for eggs, whole milk, heavy cream, or condensed milk. That is not the case here; this is a 100% vegan recipe that is equally creamy and rich.
This dessert is pure comfort food. My mom used to make it during the weekends when we returned from the beach; we had it chilled.
Mom's rice pudding wasn't vegan but followed the same technique. We like oat milk for its creaminess, but cashew milk (recipe)and any other type of milk work.
This was inspired by my creamy cardamon rice pudding recipe and is perfect as a mid-morning snack.
Jump to:
🧾 Ingredients
As promised, to make this creamy vegan rice pudding, you will only need 3 ingredients, but you can make it sweeter or enrich its flavor with some additional spices, suggested below.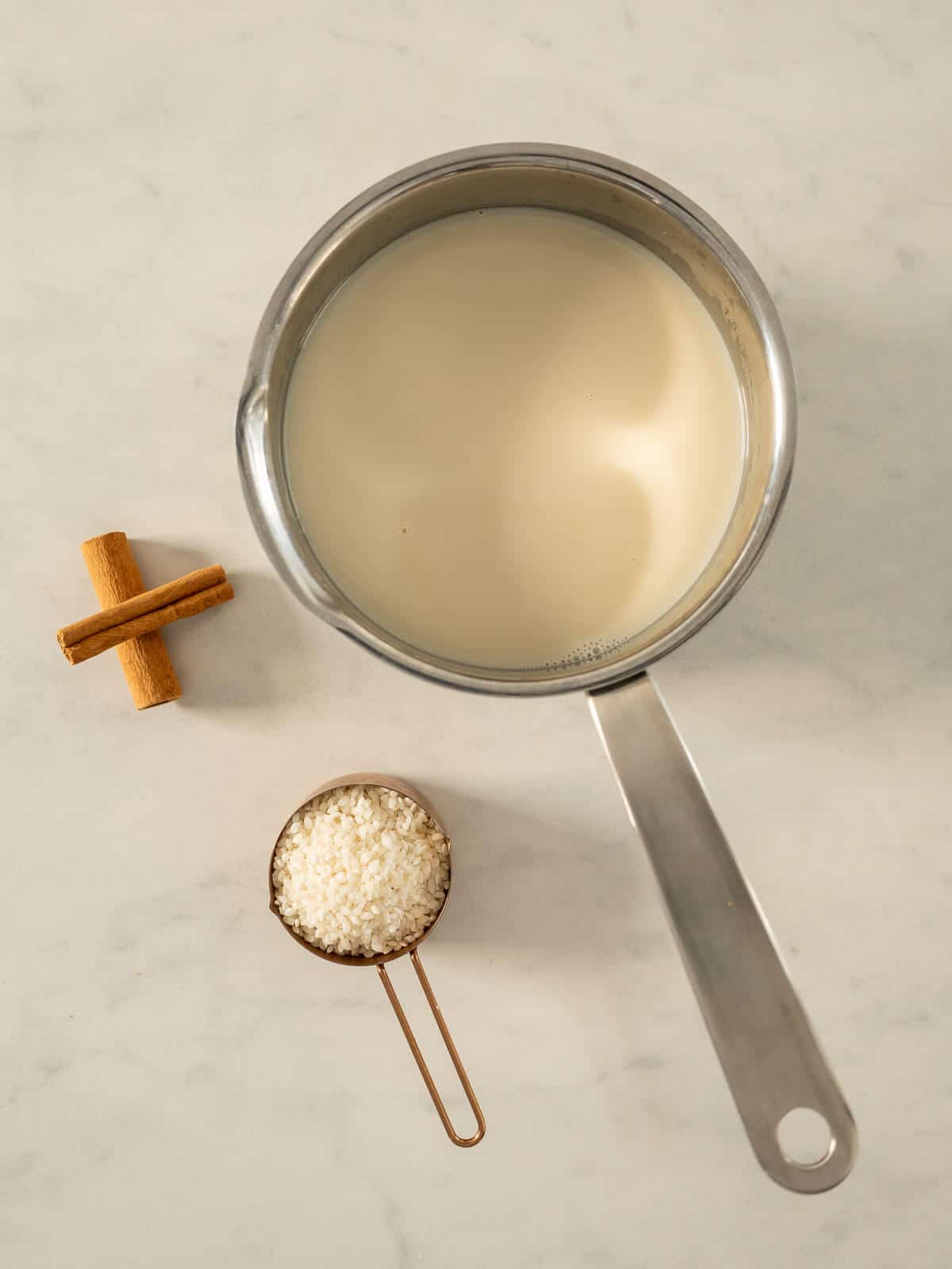 Rice - use a starchy short, grain white rice like arborio. You can also use medium-grain white rice such as basmati rice and Jasmine rice. Arborio rice is also suitable because it is very starchy and makes creamy rice.
Oat milk - use creamy oat milk, or make your own (see how).
Cinnamon sticks - to add scent and complexity to the rice pudding. You can also use ground cinnamon.
Optional ingredients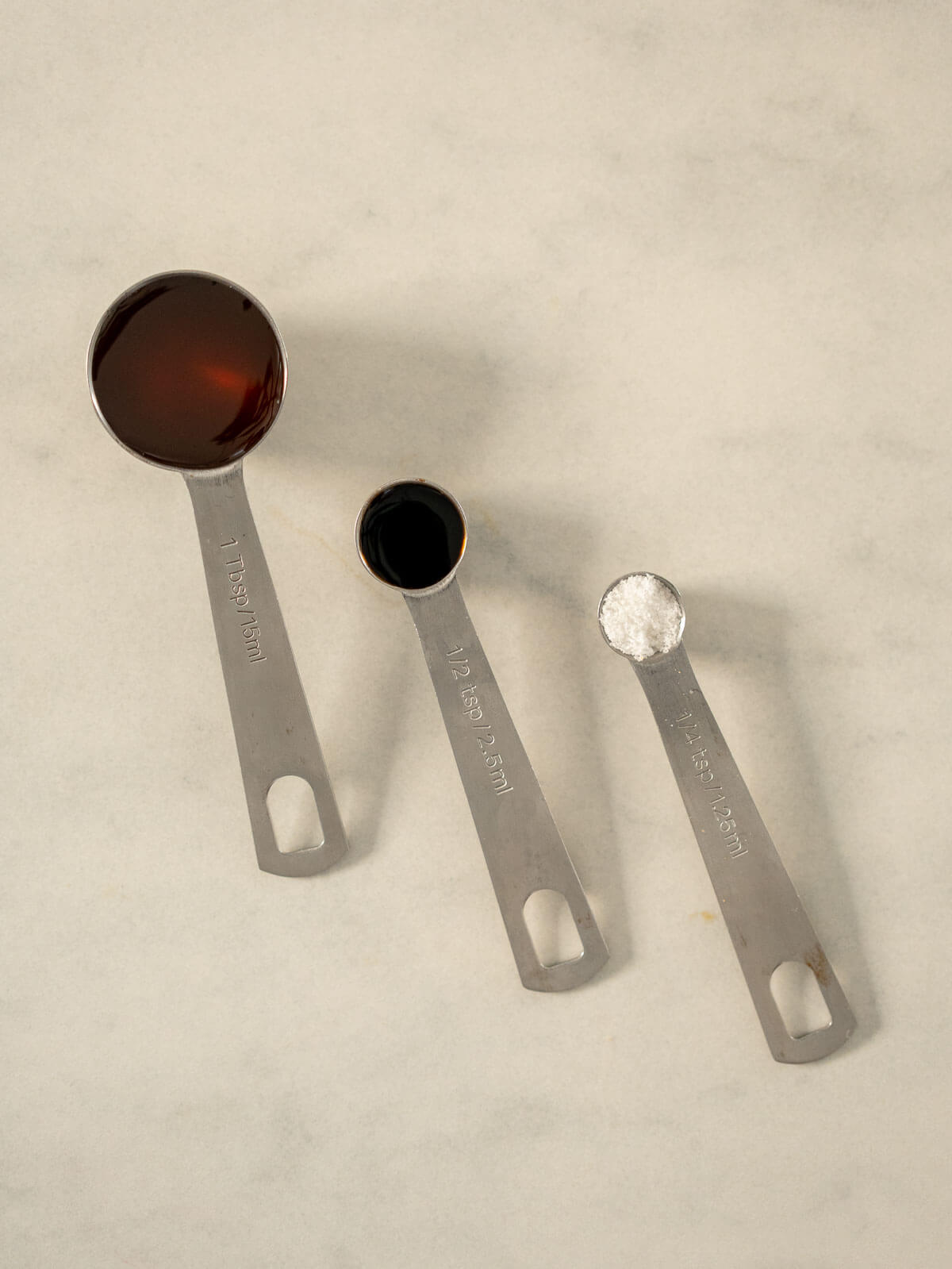 Vanilla extract - adds a floral note that blends in perfectly with oat milk and cooked rice. Also, you can simply drop the vanilla bean pod's inner pulp into the milk.
Maple syrup - adds sweetness and hints of vanilla, caramel, and prune.
Sea salt - acts as a flavor enhancer for the rest of the ingredients.
See the recipe card for quantities.
🔪 Instructions
This oat milk pudding involves two simple steps.
Boiling and cooking the rice with cinnamon and any other flavorings.
Stirring frequently and adjusting the flavor.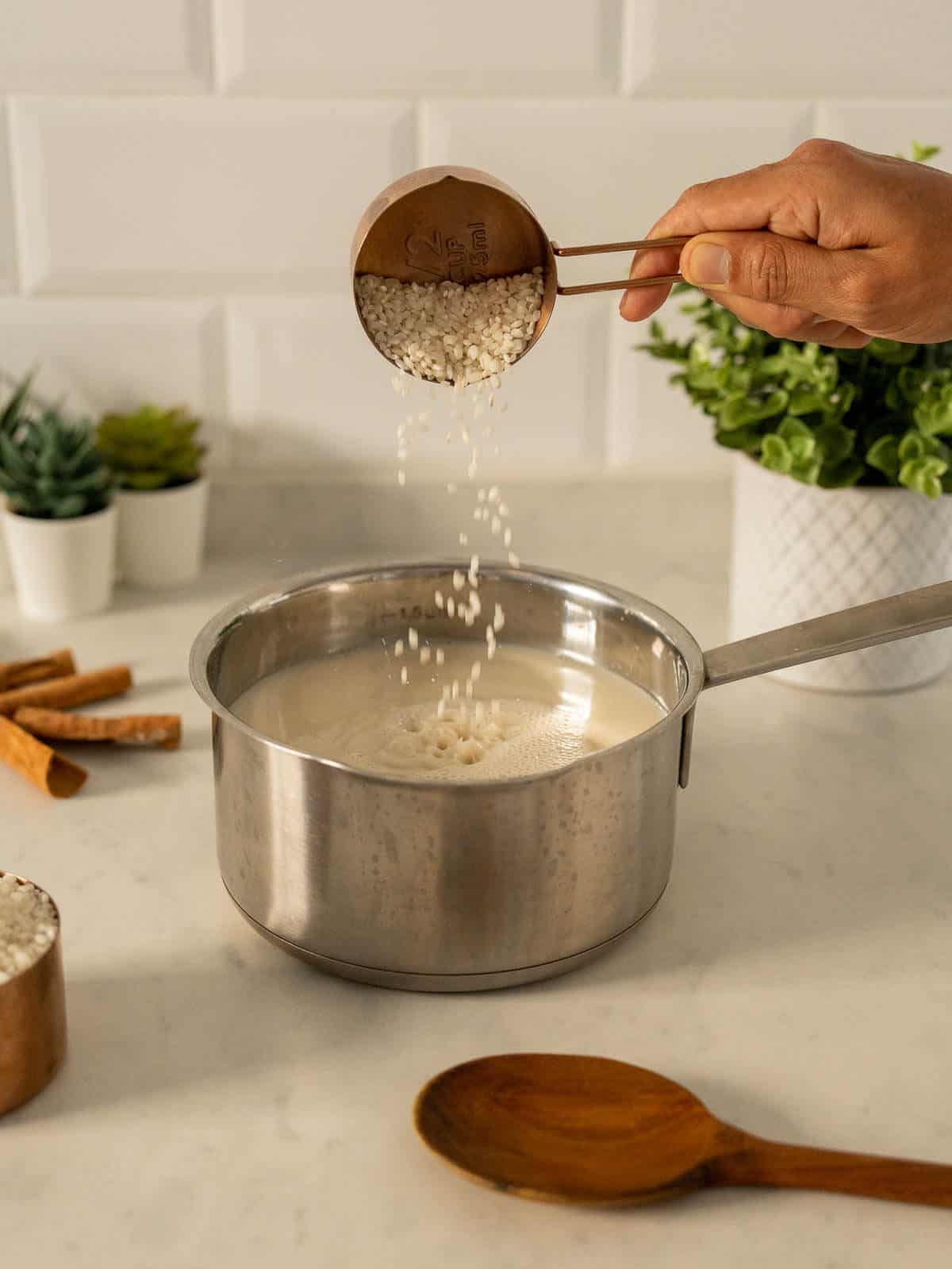 Add the uncooked rice to the saucepan with oat milk.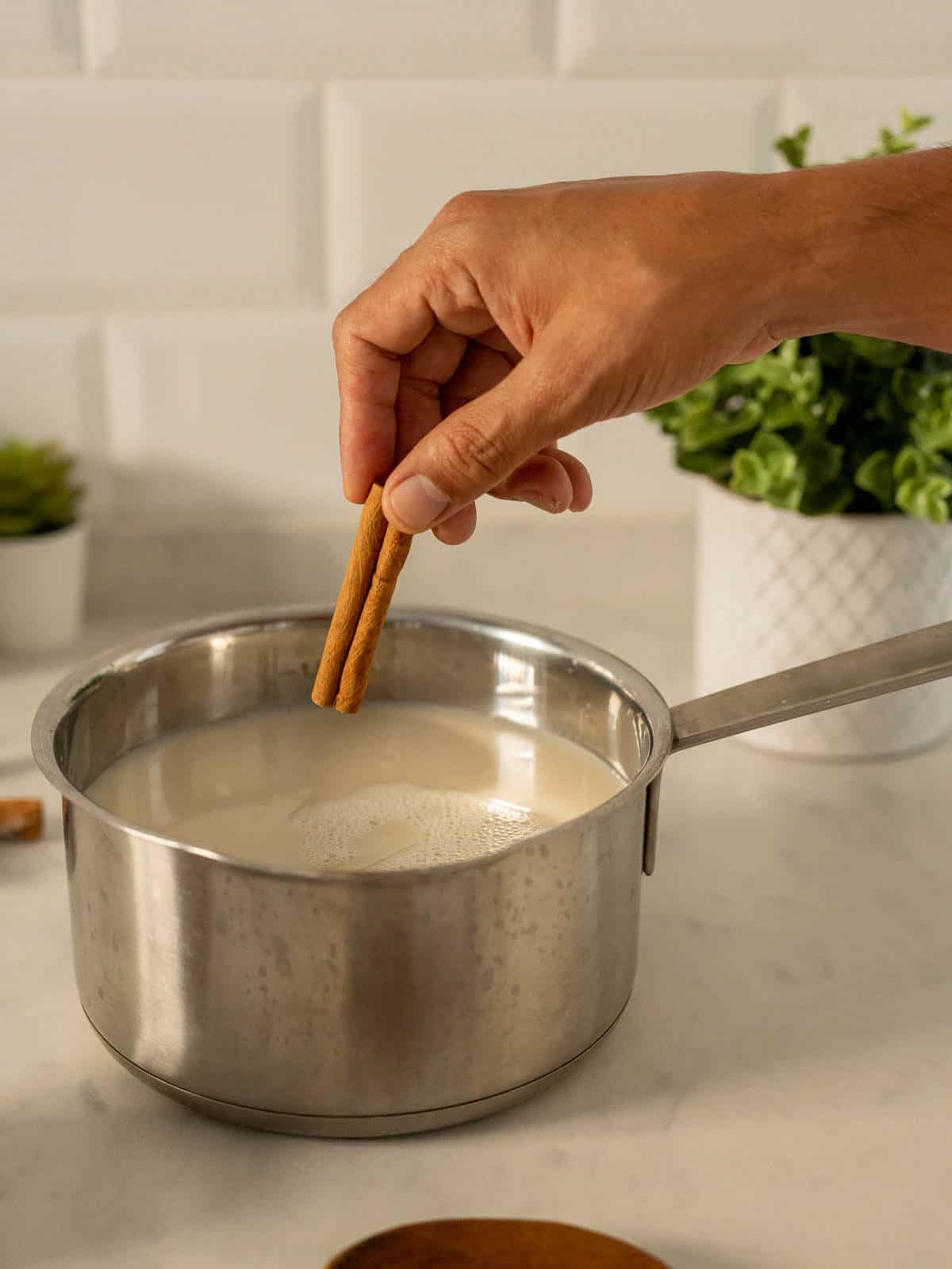 Pop in a cinnamon stick.
Hint: when the rice pudding cools off, it hardens a bit, so you don't need to stir until it has completely thickened.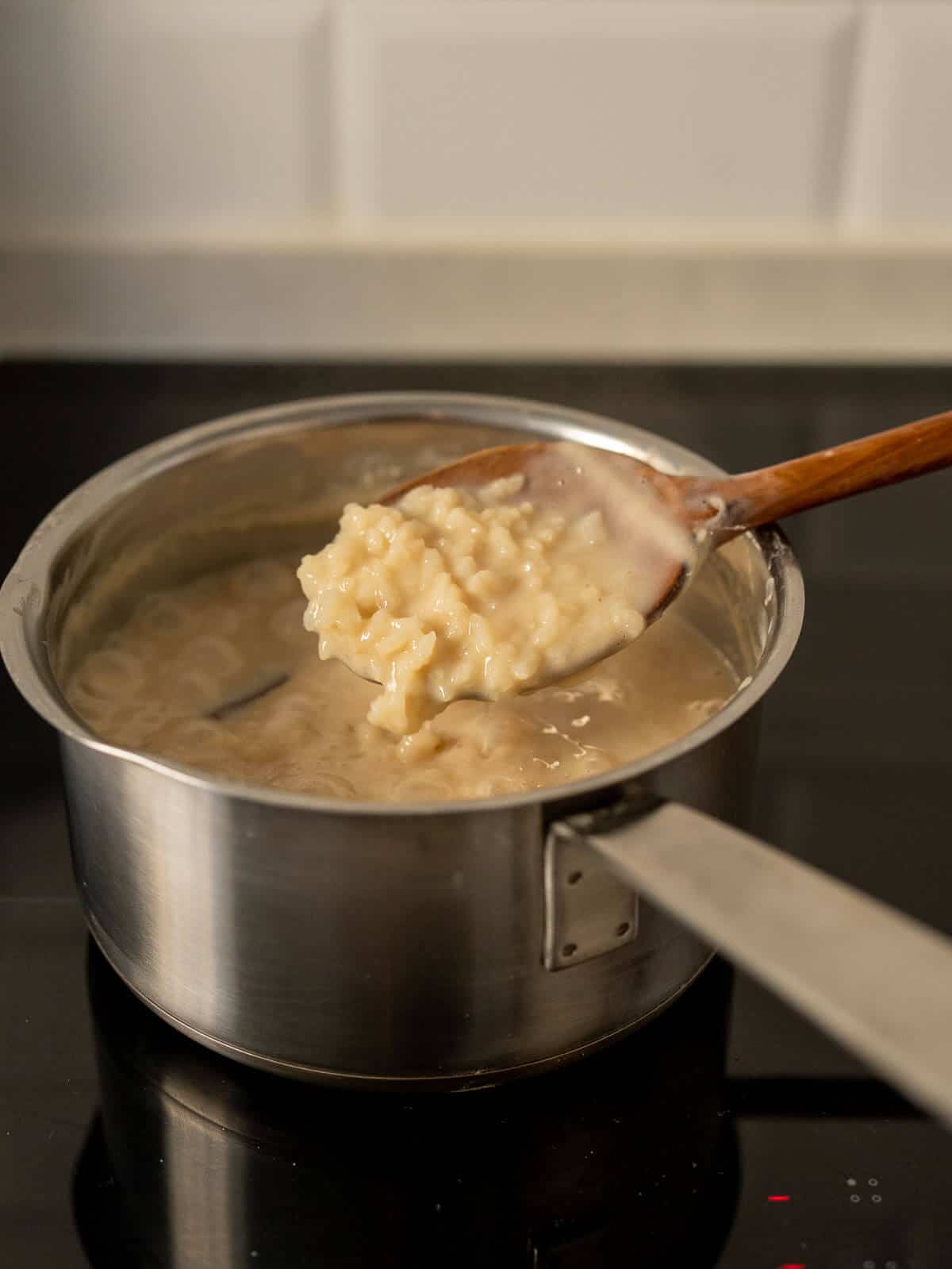 Keep stirring until the rice looks runny and thick enough.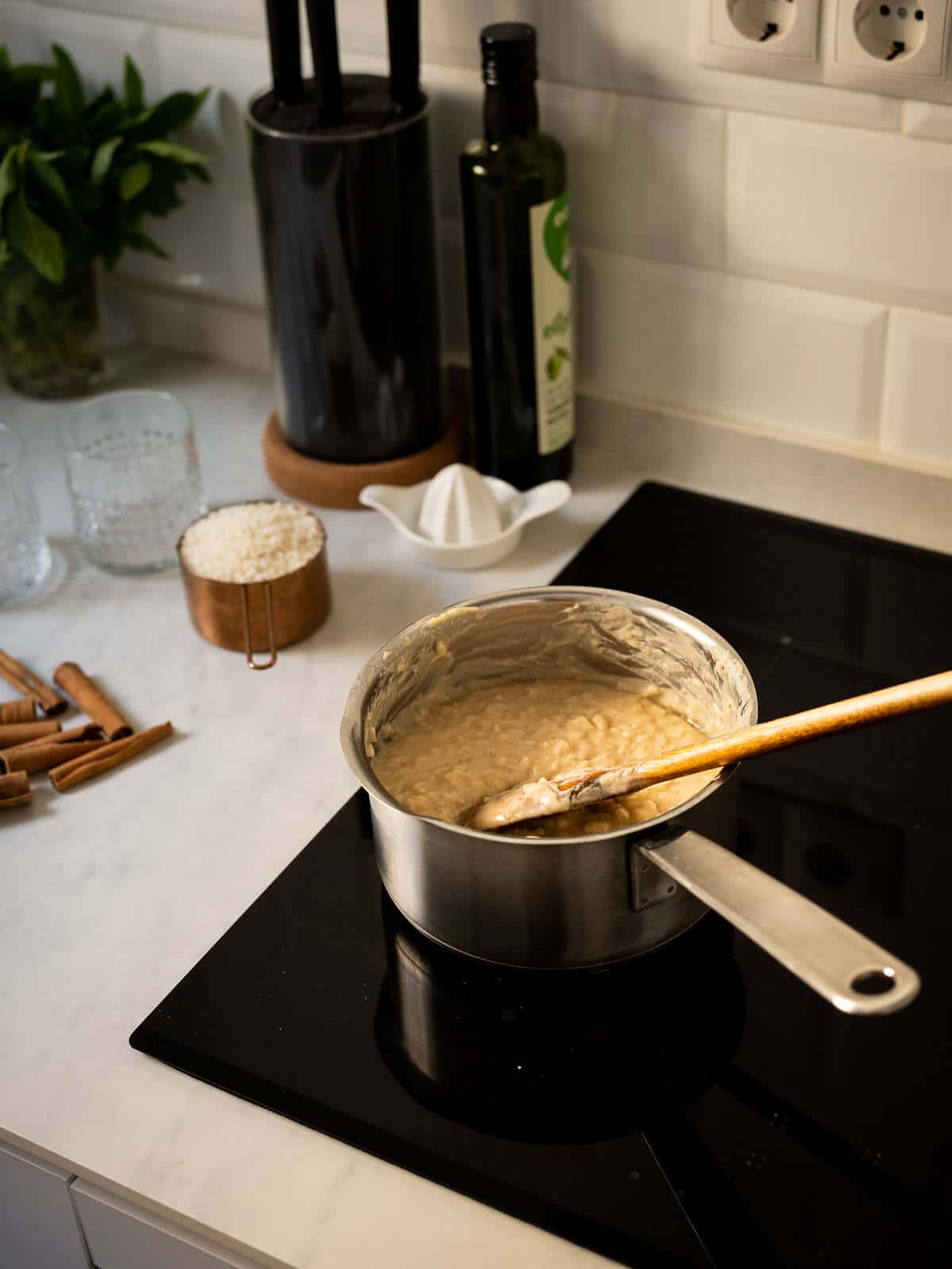 Serve the rice pudding in serving glasses immediately before it cools down.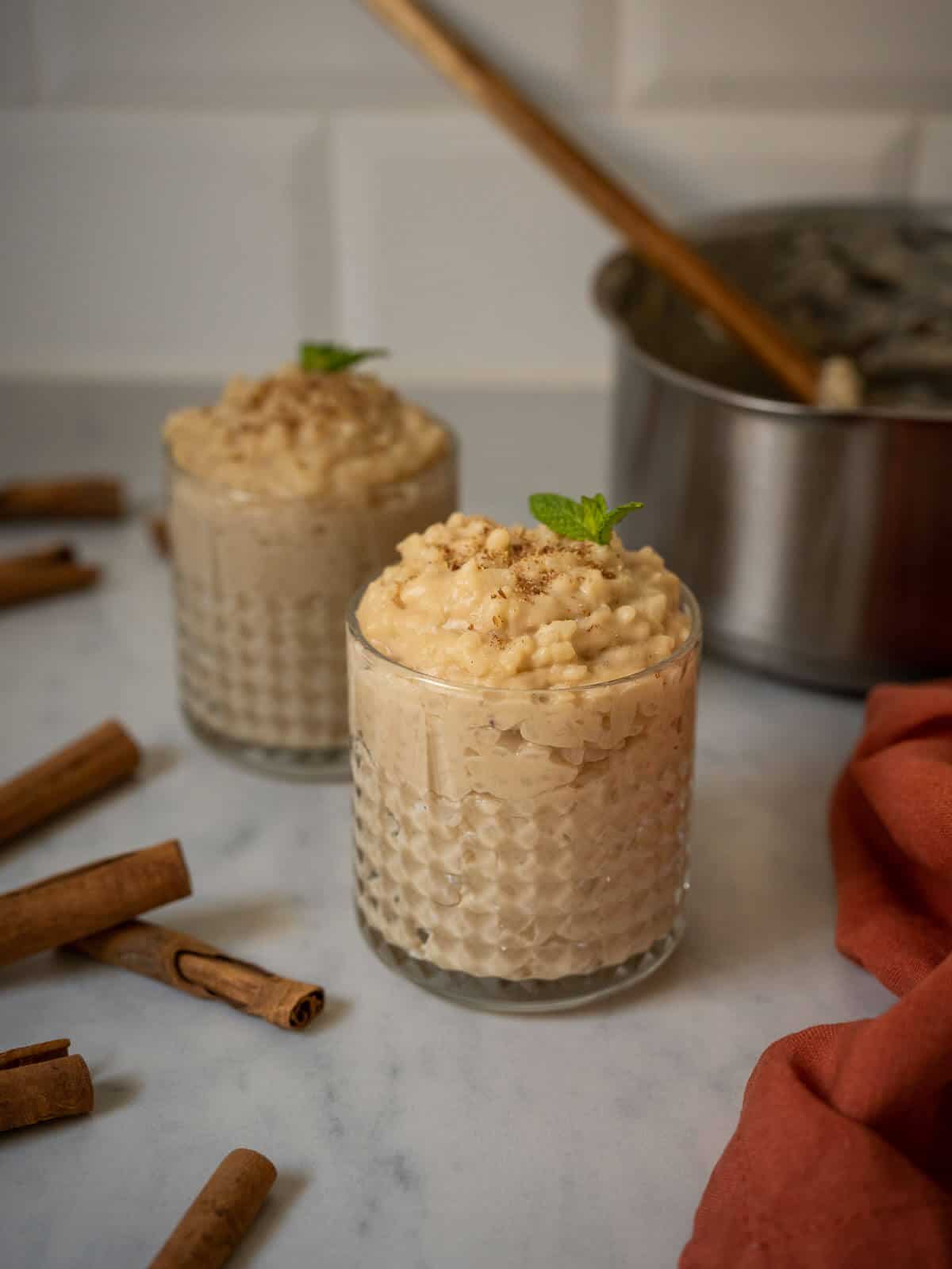 Garnish this non-dairy pudding with mint leaves and ground cinnamon.
Hint: rice pudding can be consumed either warm or cold. If you want the cold version, let it come to room temperature before being covered in the fridge for at least four hours or overnight.
When refrigerating rice pudding, make sure you use containers with a lid. Otherwise, the surface becomes a little gummy. It is not critical to cover them but the surface to preserve their lovely texture.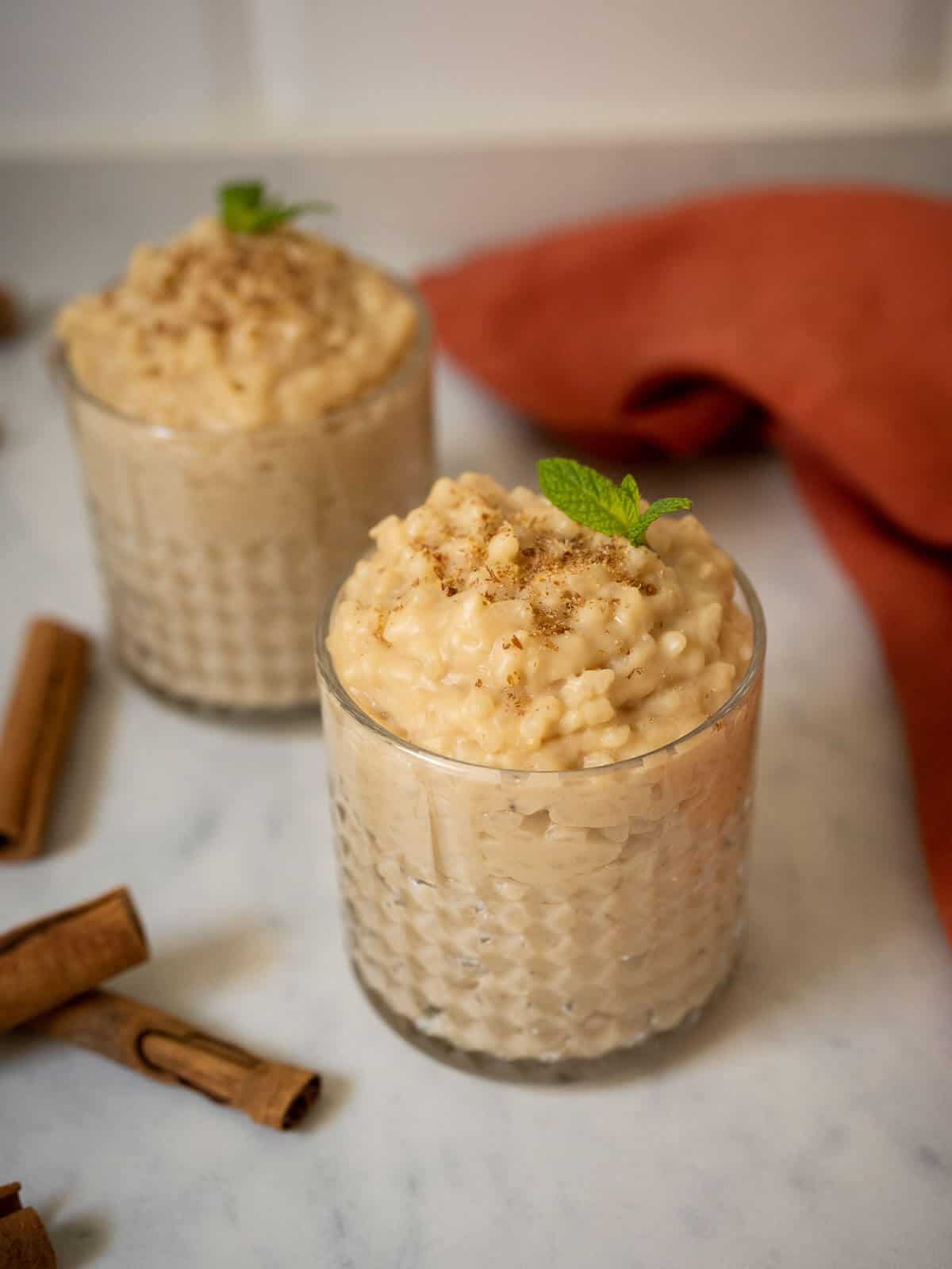 🍶 Substitutions
Cinnamon - add cardamom pods instead. See our Indian-inspired cardamom rice pudding for more inspiration. Coconut milk works better with that version.
Oat Milk - we chose oats because this plant milk has a sweet taste and doesn't need additional sugar for most palates. Other creamy and nondairy milk, such as almond milk, coconut milk, and vanilla-flavored soy milk, also works well.
Sweetener - if you use sweetened plant milk, you don't need any sweetener, but feel free to use brown sugar, homemade date paste, maple syrup, agave nectar, or monk fruit.
Rice - you can use brown rice. It will just take longer to cook and achieve the texture of a creamy rice pudding.
🥡 Variations
You can also make rice pudding with oat milk with slight variations; our favorites are below
Dried fruit - add 2 tablespoons of raisins, cranberries, or sultanas halfway through the cooking time.
Chocolate - add one teaspoon of cocoa powder.
Citrusy - add orange peel or orange extract to the saucepan while cooking. Feel free to remove the cinnamon so it doesn't overpower the citrus notes.
Almond extract - instead of using a vanilla bean pod or extract, you can use the almond extract to make it taste more like marzipan.
Peanut Butter - add ¼ cup of peanut butter or your favorite nut butter when you add the sweetener of your choice.
Fruits - strawberries and bananas are great additions to this creamy vegan rice pudding. Add them as a topping or a mashed banana while the pudding cooks.
👨🏻‍🍳 Toppings
Fruits like raspberries, blueberries, strawberries, and sliced bananas.
Crushed nuts like peanuts, almonds, or walnuts.
Coconut whipped cream goes very well with strawberries.
🍽 Equipment
To make this delicious pudding, you only need a saucepan and a wooden spoon, nothing else... promise!
🥡 Storage
Store this salad in a BPA-free airtight container in the fridge for up to 4 days.
You can freeze oat milk rice pudding in an airtight container, but it doesn't stand up well to freezing for more than 2 months.
💡 Top tip
If you use more oat milk and cook the rice longer, the milk mixture will thicken more and more as it absorbs all the liquid— you will end up with a creamy custard-like rice pudding full of flavor, egg-free, and without heavy cream.
🥢 How to serve
Serve warm, hot, or cold oat milk pudding with a sprinkle of ground cinnamon or nutmeg.
❓ FAQ
What if my rice pudding is too thick?
You can always add more milk and adjust the texture when making rice pudding. In fact, after rice pudding is not warm enough, it will naturally thicken.
Is rice pudding gluten-free?
Yes, rice pudding is gluten-free. Rice is naturally gluten-free, and most recipes for rice pudding, including ours, don't include any ingredients that contain gluten. However, it's always best to check the ingredients list of a recipe before making it to be sure there are no hidden sources of gluten.
📚 More sweet snacks recipes
Delight in a delicious, mini blueberry muffin that's just 69 calories! Whip it up in less than 25 minutes!
You may also want to look at our oats and chia pudding, and dark chocolate chia pudding with pistachio nuts.
⭐ If you try this dairy-free rice pudding recipe, let us know! 💬 Leave a comment, rate it, and don't forget to tag us @ourplantbasedworld on Instagram. Cheers!
📋 Recipe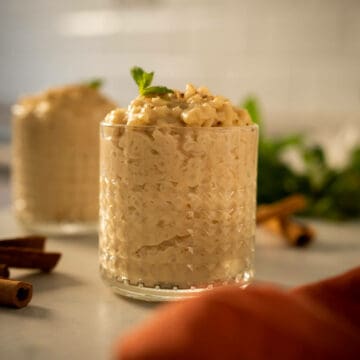 3-Ingredient Oat Milk Vegan Rice Pudding
Looking for an easy vegan dessert? This rice pudding only requires three ingredients and can be made on the stovetop in one pot. Plus, it's dairy-free and gluten-free! Give it a try.
Equipment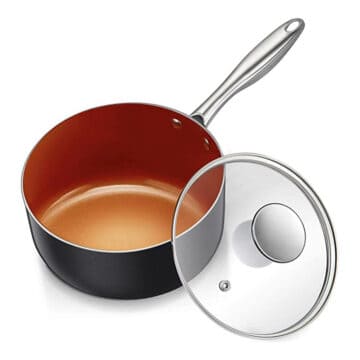 (affiliate link)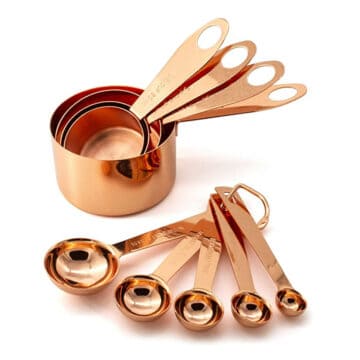 (affiliate link)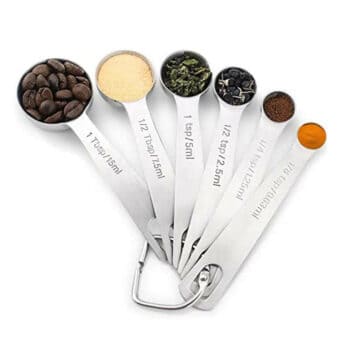 (affiliate link)
Ingredients
Optional (recommended but not needed)
Directions
Pour the milk into a medium saucepan and add the rice and the cinnamon stick.

Put to a boil on medium heat (6 on convection), stirring frequently. Don't let the rice stick to the bottom of the saucepan. Reduce to simmer (at medium-low temperature) for 30- 40 minutes.

Stir every couple of minutes until the rice is tender and the pudding is creamy.

Remove from heat. Pour into serving glasses. You can serve the rice pudding warm or chill it in the fridge until they are ready to serve.

Garnish with cinnamon powder.
Notes
Do not bring it to a full boil because it can boil over, and the milk will be spilled.
Nutrition Facts
Calories:
257
kcal
Carbohydrates:
51
g
Protein:
7
g
Fat:
3
g
Saturated Fat:
0.04
g
Polyunsaturated Fat:
0.04
g
Monounsaturated Fat:
0.05
g
Sodium:
142
mg
Potassium:
172
mg
Fiber:
4
g
Sugar:
23
g
Vitamin A:
618
IU
Vitamin C:
0.03
mg
Calcium:
441
mg
Iron:
3
mg
Nutrition Facts
3-Ingredient Oat Milk Vegan Rice Pudding
Amount per Serving
% Daily Value*
* Percent Daily Values are based on a 2000 calorie diet.
🌡️ Food safety
Cook to a minimum temperature of 165 °F (74 °C)
Do not use the same utensils on cooked food, that previously touched raw meat
Wash hands after touching raw meat
Don't leave food sitting out at room temperature for extended periods
Never leave cooking food unattended
Use oils with a high smoking point to avoid harmful compounds
Always have good ventilation when using a gas stove
See more guidelines at USDA.gov.
Nutritional Disclaimer
The information shown is an estimate provided by an online nutrition calculator. It should not be considered a substitute for a professional nutritionist's advice. See our full Nutritional Disclosure here.
Affiliate Disclaimer
Please note that some of the links here are affiliate links, and I will earn a commission if you purchase through those links. I recommend all of the products listed because they are companies I have found helpful and trustworthy.