Looking for a delicious, easy breakfast that's also good for you? Try this 3-ingredient oat milk chia pudding! With just a few simple ingredients and the right ratio, you can create a nutrient-rich snack or breakfast that will keep you full all morning. Plus, it's vegan and gluten-free, so it's perfect for those with dietary restrictions. Learn what's the perfect ratio to make it right from the beginning!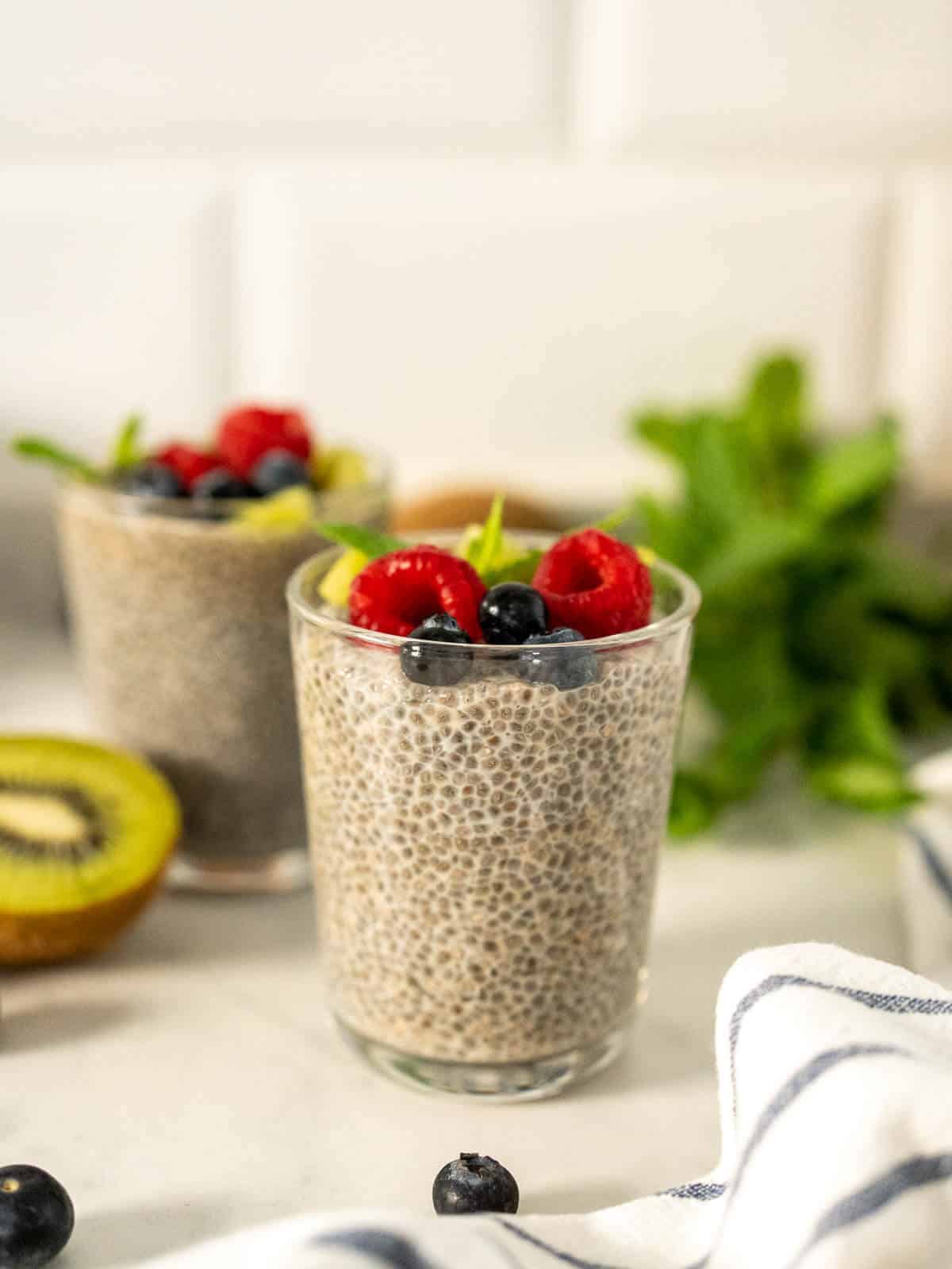 This easy chia pudding recipe is one of the most accessible, soy-free, nutritious, vegan, gluten-free, and easy healthy breakfasts you can make. Also, making chia pudding is super convenient as it only requires 5 minutes of active time, and the rest is just waiting and optionally garnishing.
All of this makes it ideal for meal prepping and consumption as a healthy dessert or snack, just like a slice of healthy banana bread or skinny carrot loaf cake.
This healthy snack or filling breakfast was inspired by my oats and chia pudding recipe and our dark chocolate chia pudding with pistachio.
Jump to:
🧾 Ingredients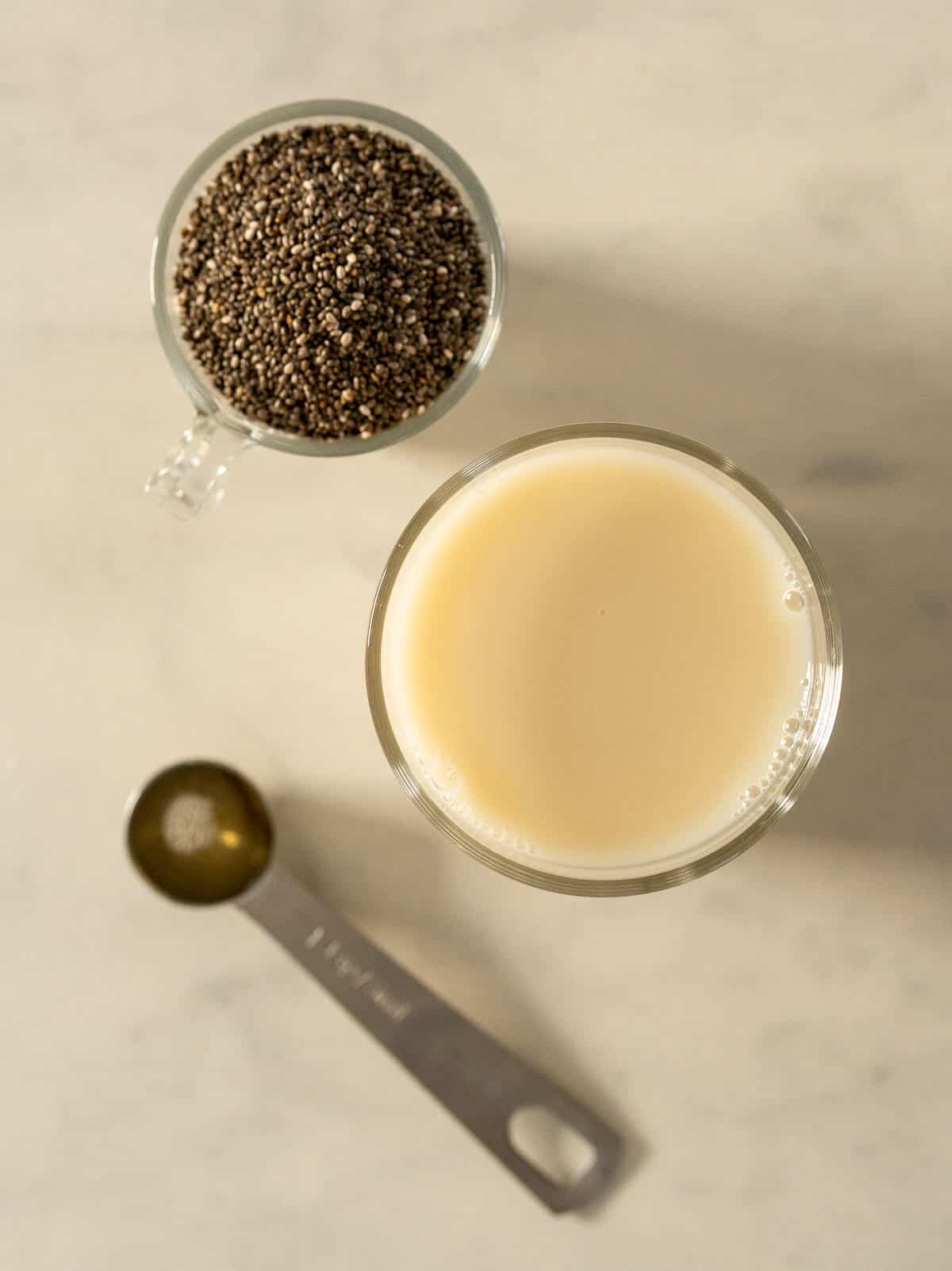 Make this pudding with oat milk recipe with just a handful of staple ingredients.
Oat milk - Typically, oat milk has a sweet and nutty taste and a slightly thicker consistency than cow's milk. It is also high in fiber, vitamin B, and minerals. Also, it contains beta-glucans, which are known to affect blood cholesterol levels beneficially.
Chia seeds - Chia seeds have a nutty, slightly bitter flavor. They also have a slightly slimy texture that can take some getting used to. They are also a healthy alternative to other nuts.
Agave nectar tastes like a cross between honey and molasses, with a slightly sweet and earthy taste. It's also a bit more viscous than honey. It has a low glycemic index, with makes it a good sweetener for people with diabetes.
Optional chia pudding toppings
Try adding fresh fruit on top to make it extra healthy.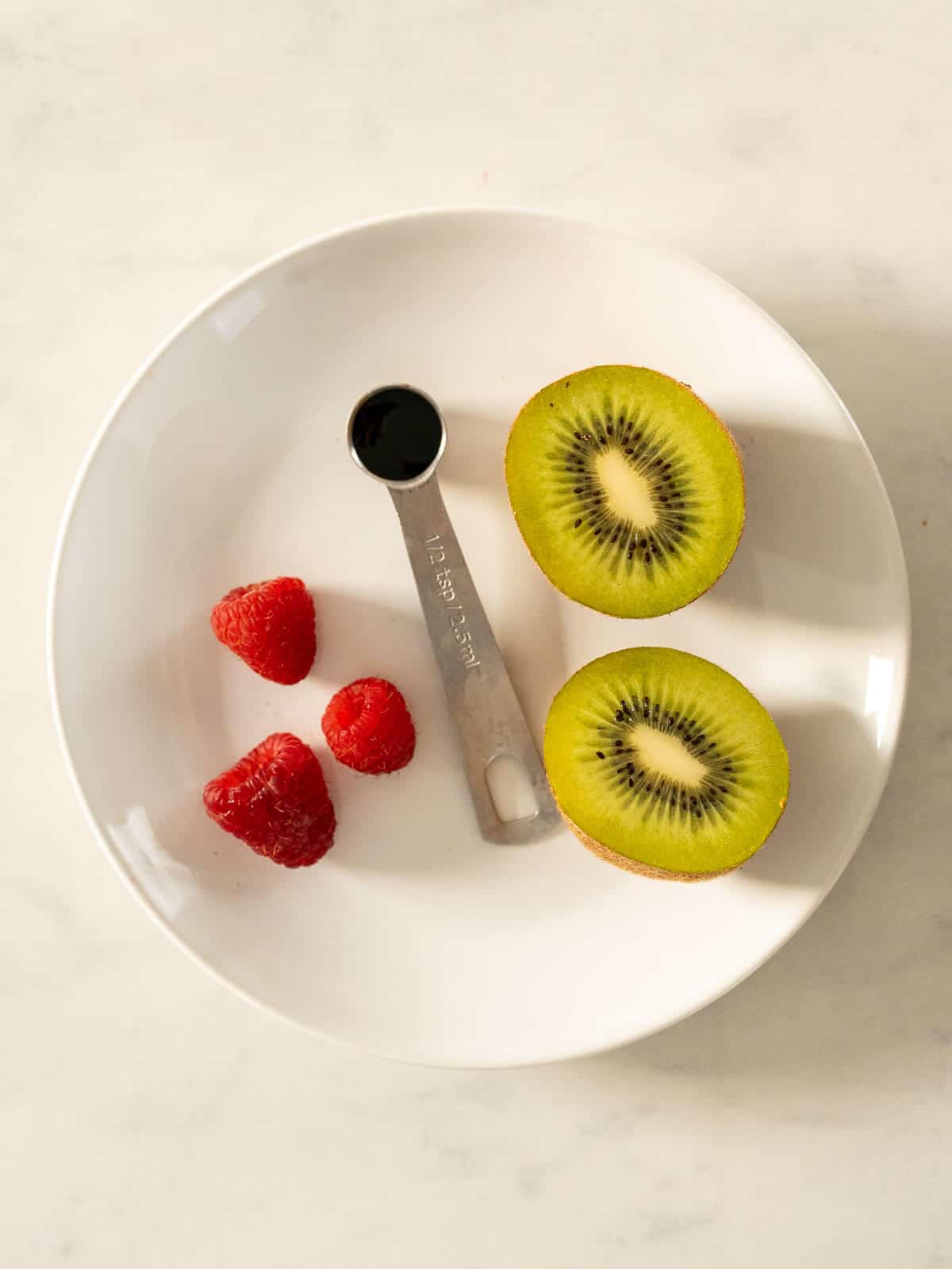 Kiwi fruit
Banana slices
Blueberries
Strawberries
Mint leaves
Shredded coconut
Fresh raspberries
See the recipe card for quantities.
🔪 Instructions
This chia pudding recipe involves three simple steps.
Mixing the chia seeds with plant milk and any flavorings.
Waiting for the chia seeds to gelify.
Garnishing with your favorite fresh fruit.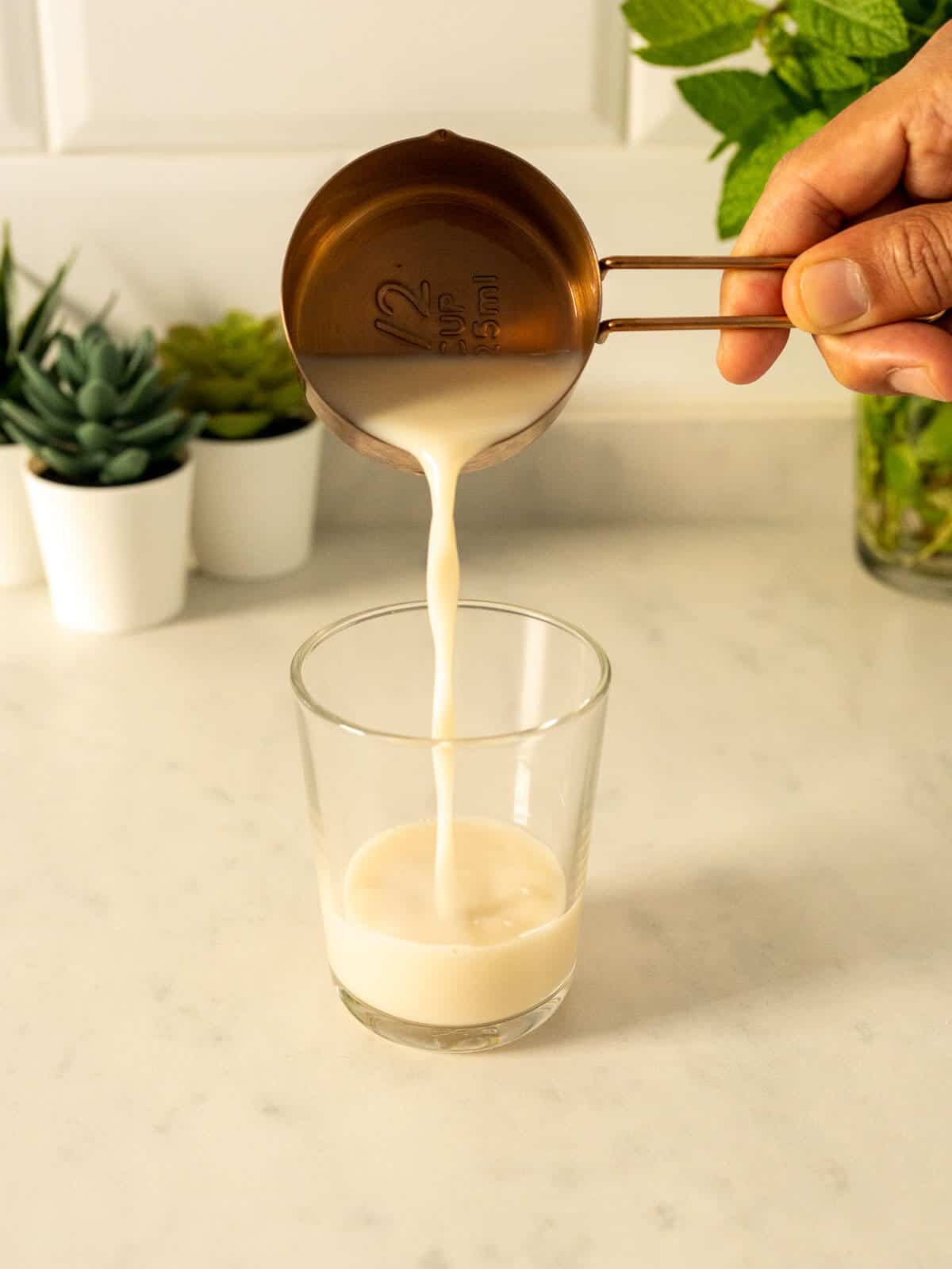 Adding oat milk to the glass to make the chia pudding.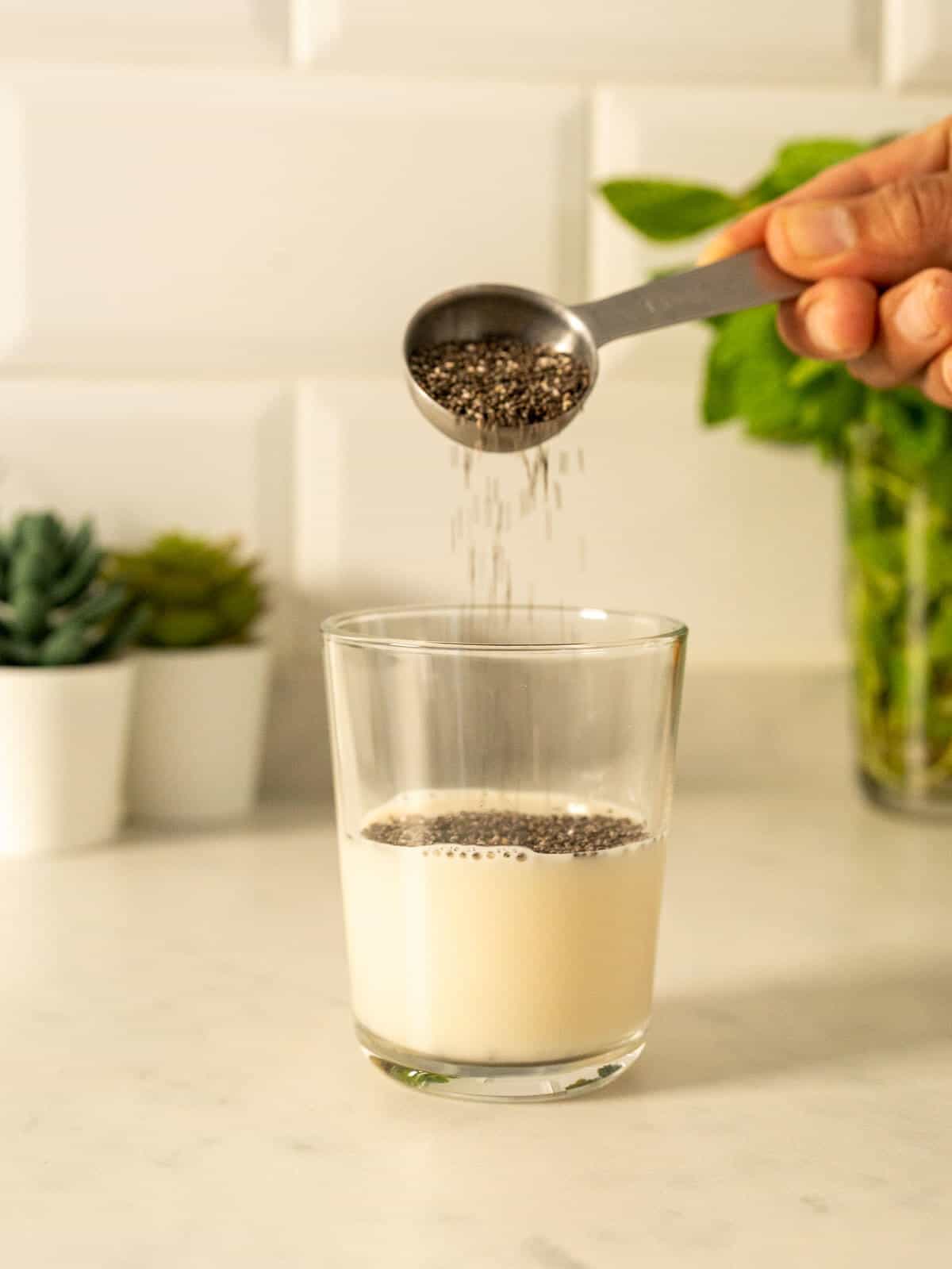 Adding chia seeds on top of oat milk in a glass, to make the chia pudding.
Hint: Cover the glass with a lid or use a mason jar for better results because the refrigerator dries out the top of the chia pudding mixture.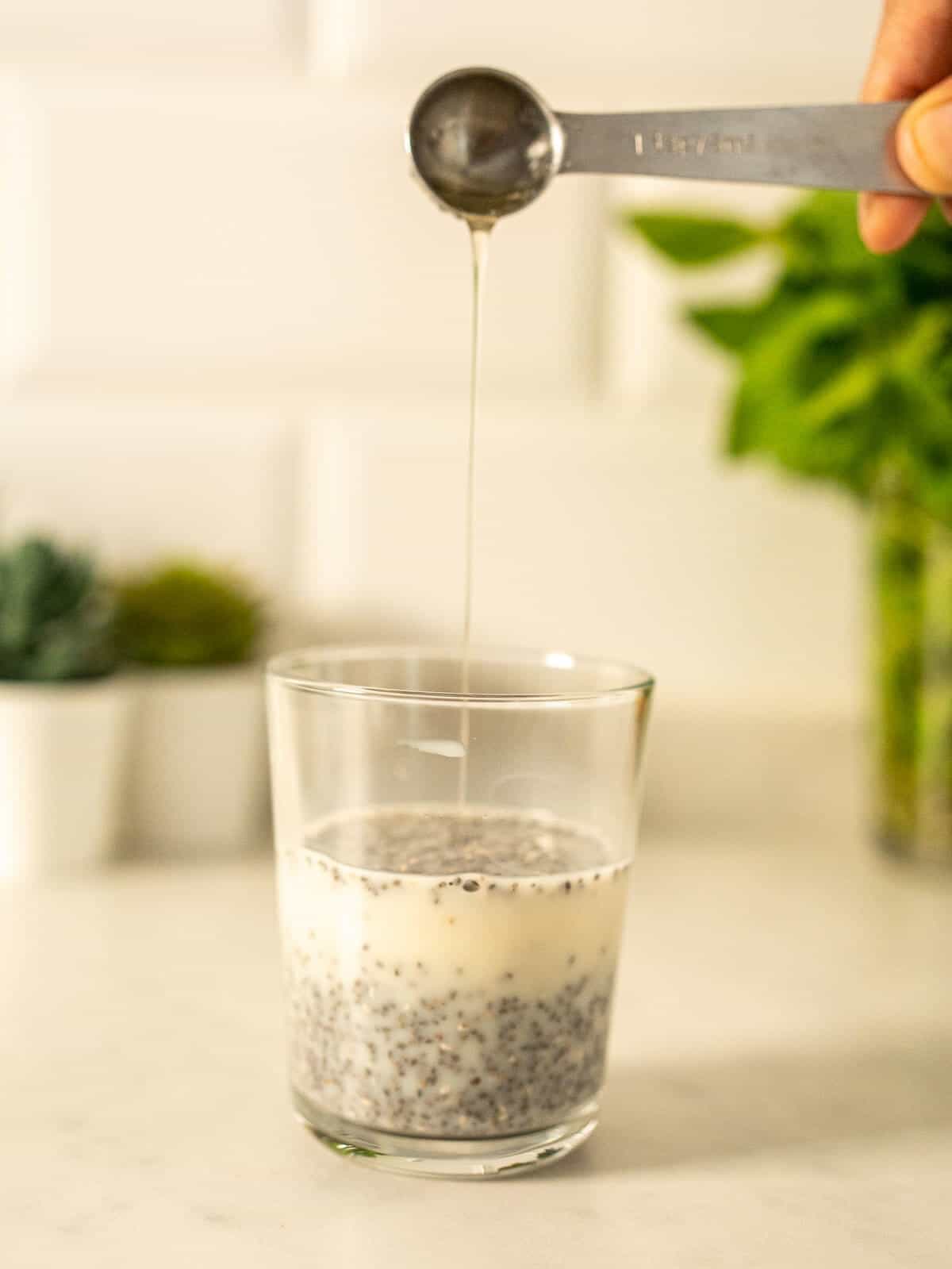 Stir in an optional vanilla extract and a sweetener like agave nectar or maple syrup to the glass containing oat milk and chia seeds.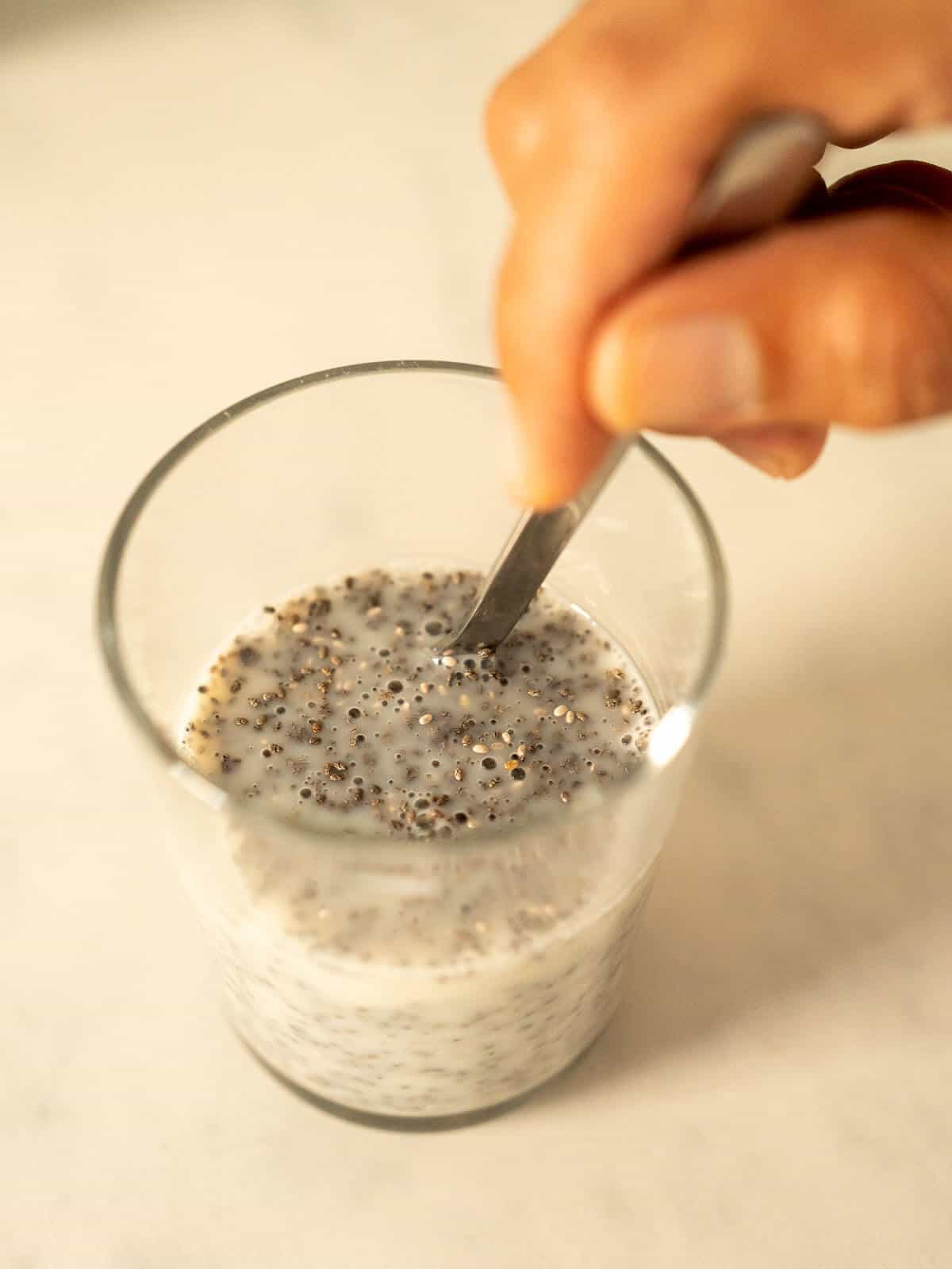 Stir chia seeds with oat milk with a teaspoon, close the mason jar's lid or cover the glass.
Hint: for optimal results, stir the chia seeds in your oat milk chia pudding after 5 minutes to break up any chia seed clumps before it completely settles in, as this will prevent dried-out chia seeds on the borders. Then put a lid on it an refrigerate.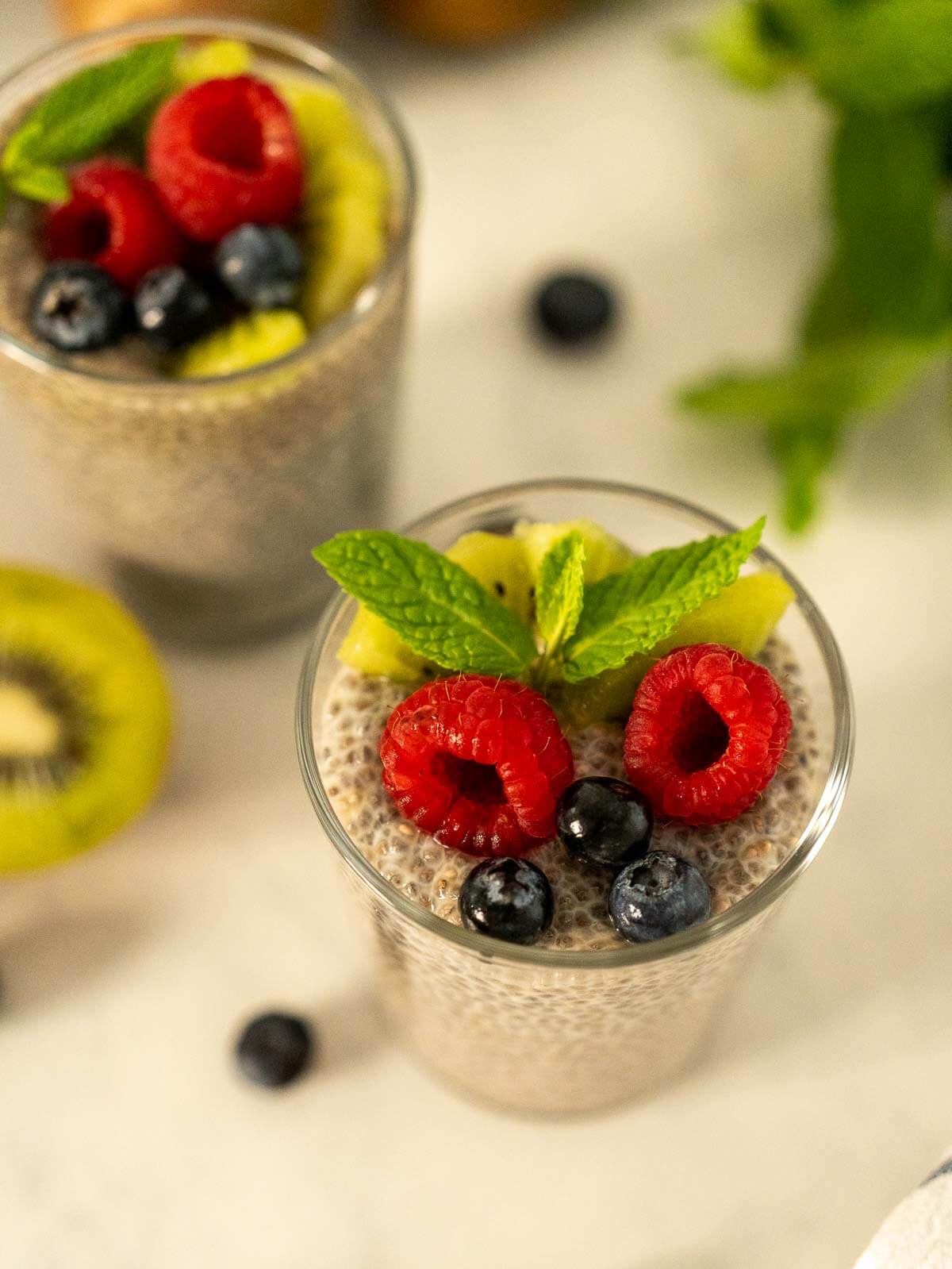 Garnish the oat milk chia pudding with slices of fresh fruit before right before you are ready to eat it.
Hint: for a runny pudding texture, you can simply let the chia pudding settle for 1 hour or add 3-5 tablespoons oat milk; if you like your chia pudding thick, leave it in the fridge overnight or add a little more chia seeds.
🍶 Substitutions
Chia seeds - both white chia seeds and black chia seeds work for this recipe.
Oat Milk - all plant-based milk works. You make the chia pudding with oat milk, on any other dairy-free milk, such as unsweetened almond milk, cashew milk, or coconut milk also works. You can even make your own oat milk, almond milk, or homemade soy milk.
Sweetener - use your sweetener of choice. We prefer using date paste or agave syrup to make chia pudding healthy. We also like to use coconut sugar, agave nectar, pure maple syrup, or monk fruit to sweeten our recipes naturally. However, you can substitute it with any other type of sweetener you like. Try experimenting with different styles and see which works best for your palate!
Vanilla extract - this is our preferred and most accessible flavoring for chia puddings, but we have also tried using the same amounts of almond extract, rose, and orange water, for a more Middle Eastern and floral touch.
Hint: if you make your own nut milk, don't forget to save the pulp for other recipes.
📖 Flavor variations
Chocolate chia pudding - see our chocolate recipe, or simply add cocoa powder and garnish with vegan chocolate chips.
Raspberry - add two tablespoons of your favorite red fruit marmalade and stir it before setting the chia seed pudding to rest.
Nut butter - try adding a tablespoon of almond butter, hazelnut, or classic peanut butter.
Cinnamon - add ¼ teaspoon of ground cinnamon or pumpkin pie spice mix. If you go for this option, try out also adding two dollops of unsweetened applesauce.
Extra oaty - see our recipe for chia and overnight oats pudding.
Antioxidant powerhouse - add a tablespoon of flax seeds or flax meal with extra 3 tablespoons water to the mix before leaving the budding on the fridge overnight. You can also add ½ teaspoon of maca powder.
Extra protein - add ½ teaspoon of spirulina powder.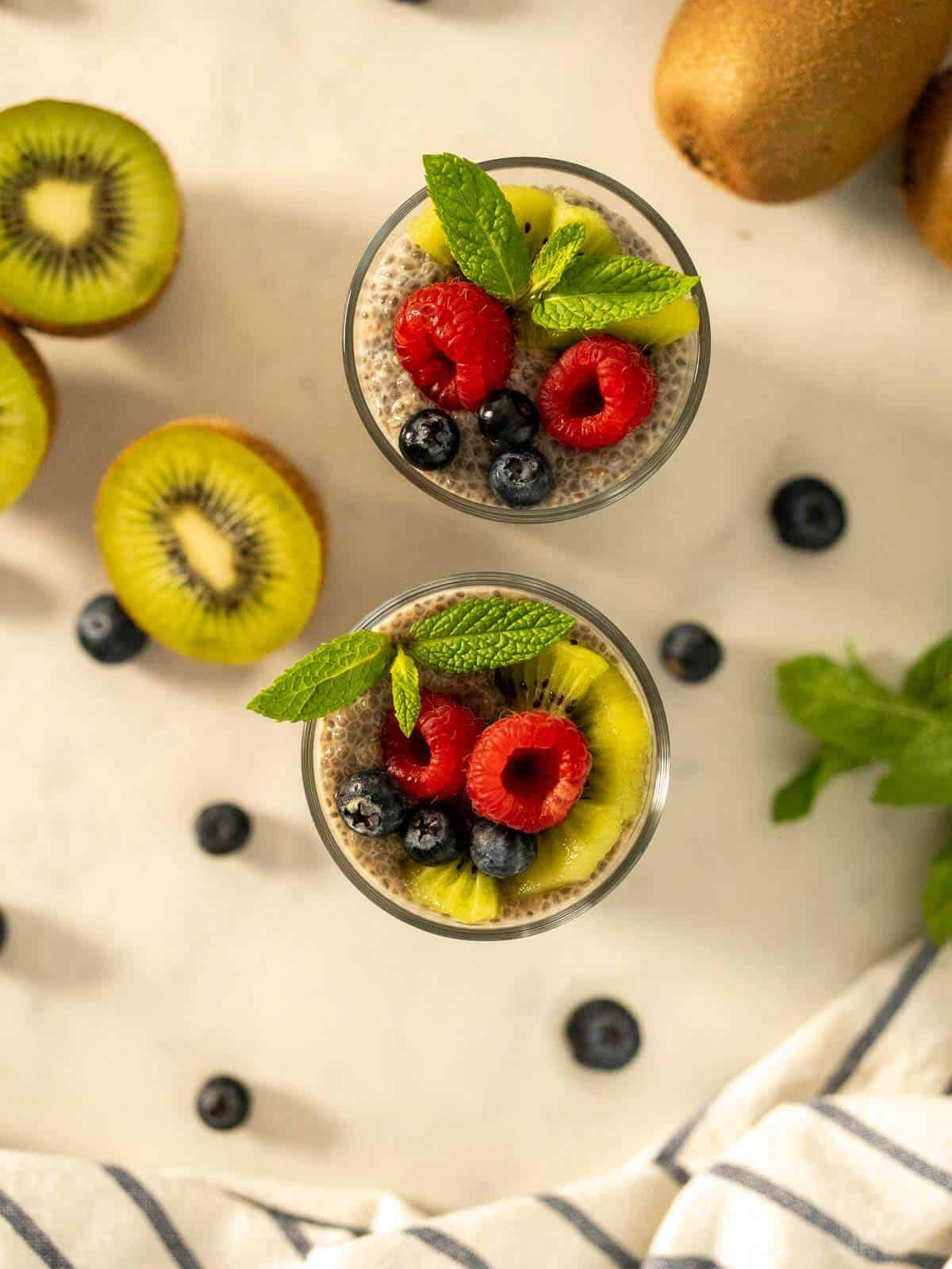 🍽 Equipment
Mason jar - or glass with a lid.
Measuring cups and spoons - to portion the ingredients.
🥡 Storage
Store pudding covered in the refrigerator for up to 5-7 days.
💡 Top tip
Let the pudding sit for at least 1 hour before consuming it.
❓ FAQ
Is chia pudding good for weight loss?
Chia pudding is a great way to start your day because it's high in fiber and protein, both of which will help you feel full and satisfied throughout the day. In addition, chia seeds are loaded with antioxidants, which can help protect your body against inflammation and disease.
So if you're looking for a healthy breakfast to help you lose weight, chia pudding is definitely a good option! Just be sure to avoid adding too much sugar or sweeteners to your pudding, and try incorporating some healthy fats and proteins into the recipe.
Can you put oats in chia pudding?
Yes, you can definitely put oats in chia pudding. Chia seeds have a viscous quality that will absorb the liquid from the oats and create a pudding-like consistency. Plus, the added fiber from the oats will make the chia pudding even more filling and satisfying. See the recipe.
Is chia seed pudding healthy for you?
Chia seed pudding is a healthy and delicious way to enjoy this nutrient-rich superfood.
Chia seeds are an excellent source of fiber, omega-3 fatty acids, protein, and antioxidants. They also contain essential minerals like calcium, magnesium, and potassium. Adding chia seeds to your diet can provide you with various health benefits, including improved blood sugar control, reduced inflammation, and better heart health.
It's easy to make, and it tastes great! Simply mix chia seeds with milk or yogurt of your choice, sweeten to taste with honey or maple syrup, and add your favorite toppings. You'll be surprised at how good it is.
Chia pudding nutrition facts
A chia pudding made with 2 tablespoons of chia seeds and ½ cup of oat milk has 212 kcal, 30 g Carbohydrates, 6 g Protein, and 9 g Fat.
A water chia pudding has 117 kcal, 10 g Carbohydrates, 4 g Protein, and 7 g Fat.

📚 More meal prep healthy recipes
This brown sugar cinnamon oatmeal is also a great meal prep option.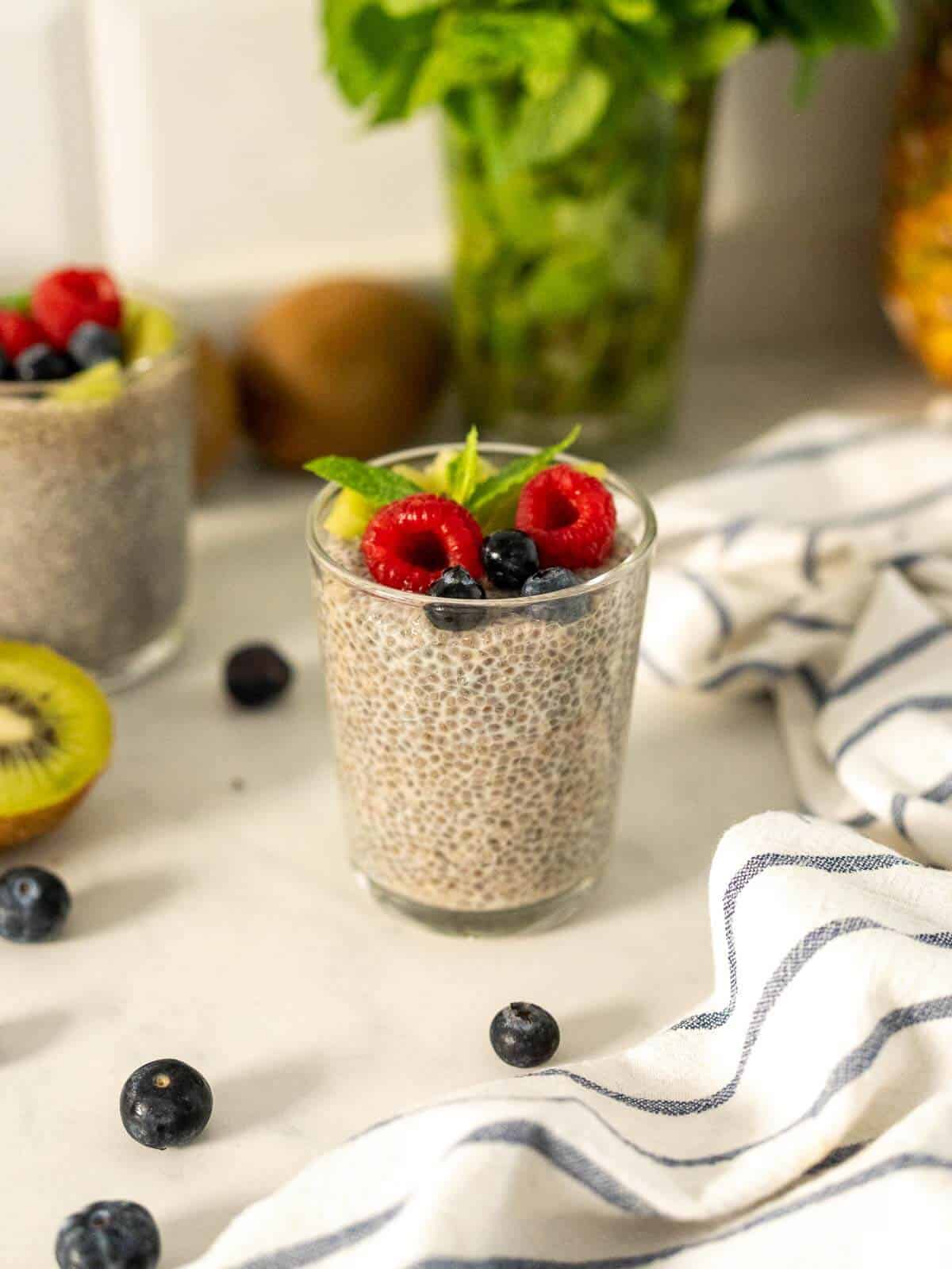 ⭐ If you try this chia pudding with oat milk recipe, let us know! 💬 Leave a comment, rate it, and don't forget to tag us @ourplantbasedworld on Instagram. Cheers!
📋 Recipe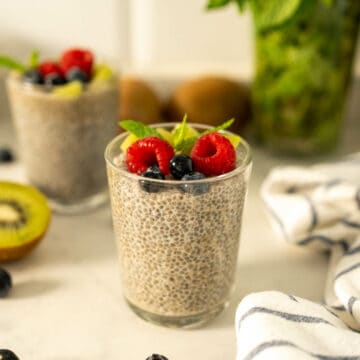 3-Ingredient Oat Milk Chia Pudding Ratio
Looking for a delicious, easy breakfast that's also good for you? Try this 3-ingredient oat milk chia pudding! With just a few simple ingredients, you can create a nutrient-rich snack or breakfast that will keep you full all morning.
Equipment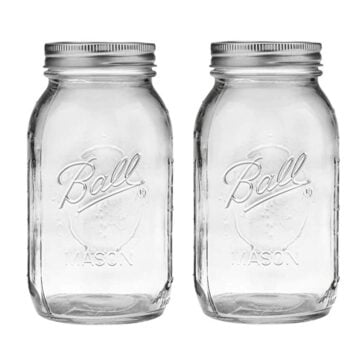 (affiliate link)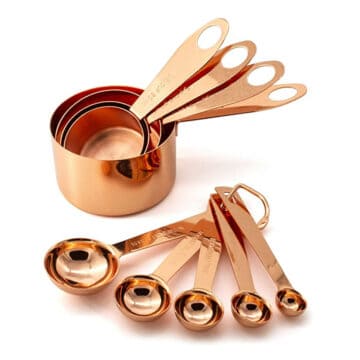 (affiliate link)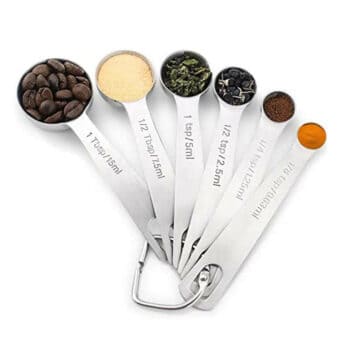 (affiliate link)
Ingredients
2

tablespoons

chia seeds

½

cup

oat milk

or almond milk

1

teaspoon

agave nectar

or maple syrup
Directions
Pour ingredients into a glass and mix well. Let settle for 3 minutes, and then mix well until you cannot see any clumps.

Store in the fridge for at least 1 hour. If you leave it overnight, cover the jar to avoid the pudding to be dried out.

When ready to eat it, top it with chopped fruit like kiwi, raspberries, blueberries, or even a dollop of your favorite nut butter. You can also top it with a dollop of compote.
Notes
Substitutes: You can use any dairy-free milk of your choice. You can also use any wholesome sweetener of your choice.
Pudding will keep covered in the refrigerator for up to 5 days.
Nutrition Facts
Calories:
212
kcal
Carbohydrates:
30
g
Protein:
6
g
Fat:
9
g
Saturated Fat:
1
g
Polyunsaturated Fat:
6
g
Monounsaturated Fat:
1
g
Trans Fat:
0.03
g
Sodium:
61
mg
Potassium:
157
mg
Fiber:
9
g
Sugar:
16
g
Vitamin A:
259
IU
Vitamin C:
2
mg
Calcium:
324
mg
Iron:
3
mg
Nutrition Facts
3-Ingredient Oat Milk Chia Pudding Ratio
Amount per Serving
% Daily Value*
* Percent Daily Values are based on a 2000 calorie diet.
🌡️ Food safety
Cook to a minimum temperature of 165 °F (74 °C)
Do not use the same utensils on cooked food, that previously touched raw meat
Wash hands after touching raw meat
Don't leave food sitting out at room temperature for extended periods
Never leave cooking food unattended
Use oils with a high smoking point to avoid harmful compounds
Always have good ventilation when using a gas stove
See more guidelines at USDA.gov.
Nutritional Disclaimer
The information shown is an estimate provided by an online nutrition calculator. It should not be considered a substitute for a professional nutritionist's advice. See our full Nutritional Disclosure here.
Affiliate Disclaimer
Please note that some of the links here are affiliate links, and I will earn a commission if you purchase through those links. I recommend all of the products listed because they are companies I have found helpful and trustworthy.