If you're looking for a delicious and healthy way to drink your tea, you must try Lemon Ginger Turmeric Tea! This tea is packed full of flavor and health benefits, making it the perfect drink for any time of day. Plus, it's really easy to make, so you can enjoy it anytime you want. Keep reading to learn more about this amazing tea and how to make it yourself.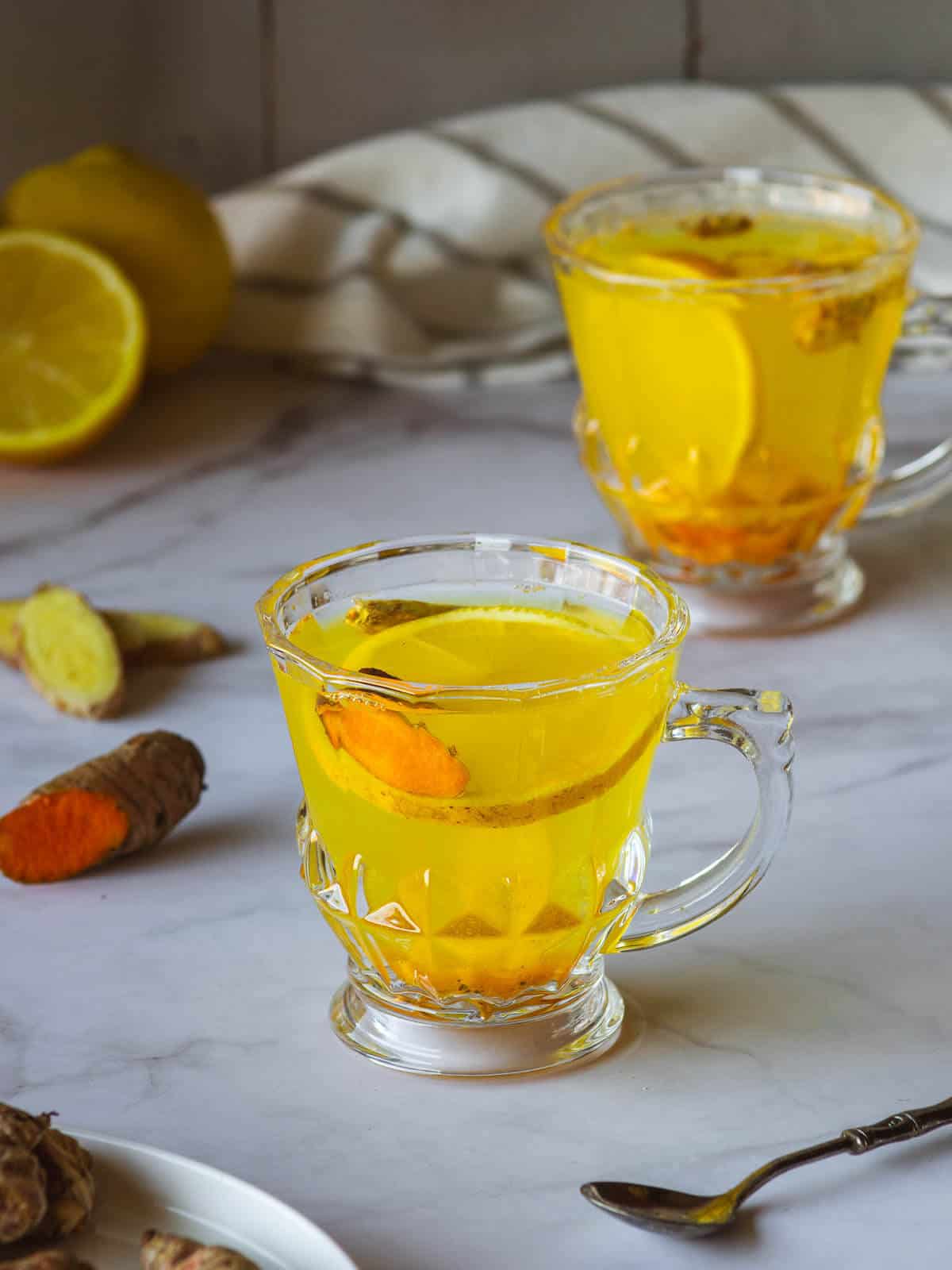 We love rituals. We always toast, even with tea; that's one!
5 minutes, 3 ingredients, and 1 simmering pot!
We sip on this infusion every morning as a proactive measure to boost our immune system and start the day feeling refreshed. It's also our go-to remedy for those times when we're not feeling our best, whether it's due to sinus issues, a sore throat, or a cold, as it helps keep us hydrated. (source)
During detox periods, we use juices and smoothies, as we alternate between our detox juice, detox smoothies, an energizing antioxidant matcha smoothie, and hydrating drinks in conjunction with this fantastic infusion.
Jump to:
🙌🏻 Lemon ginger turmeric tea ingredients and benefits
There are few things more refreshing than a cup of hot tea, and when it is infused with the fragrant flavors of lemon, ginger, and turmeric, it becomes even more delicious. But did you know that this combination of ingredients can also have major health benefits?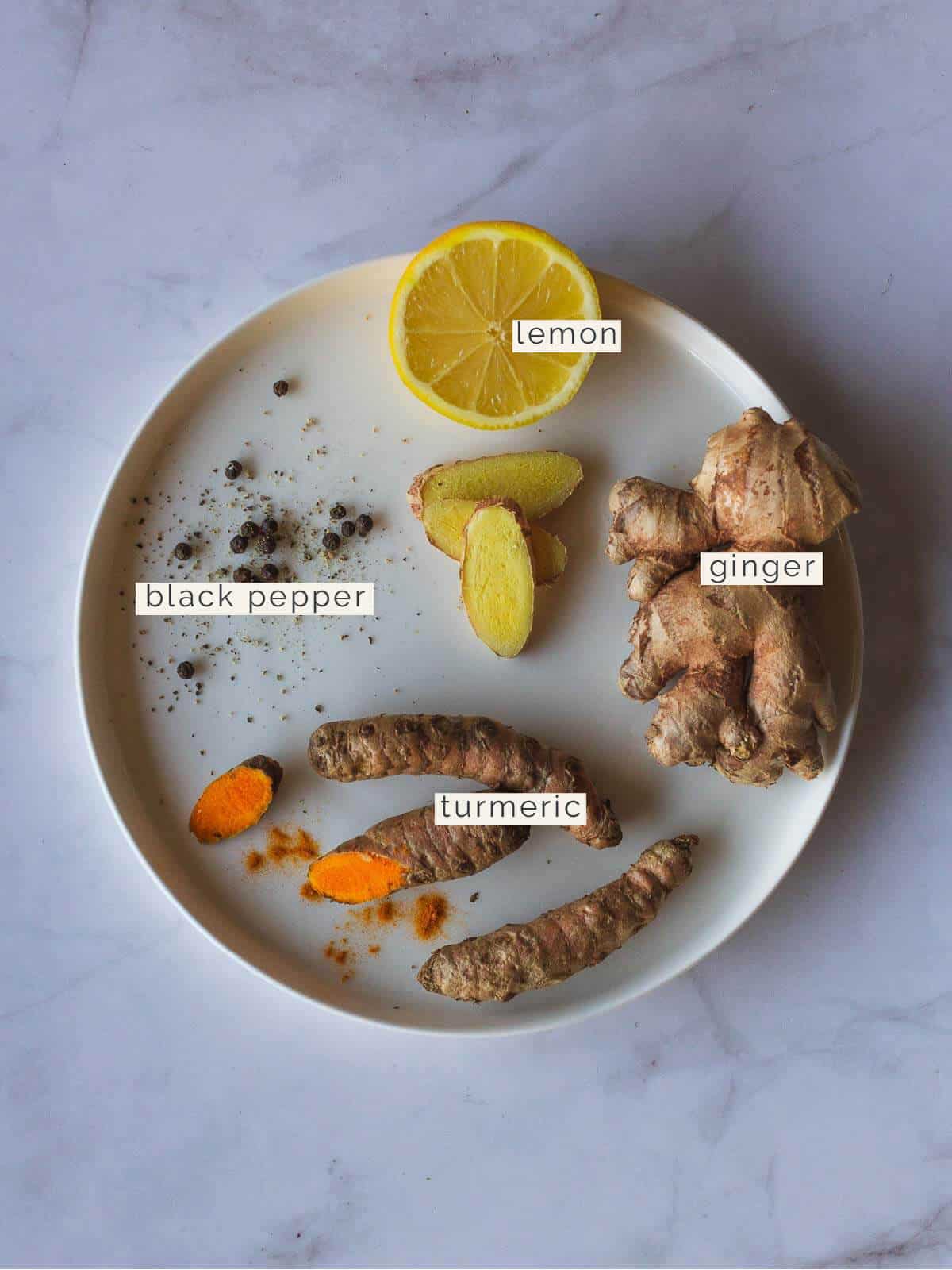 Pro Tip: Don't forget to add a pinch of black pepper! It activates turmeric curcumin, making it more bioavailable and boosting its health benefits.
In addition to its many health benefits, ginger also brings a delicious flavor to the tea. This popular beverage can be enjoyed hot or cold and is a great way to relax and unwind after a long day.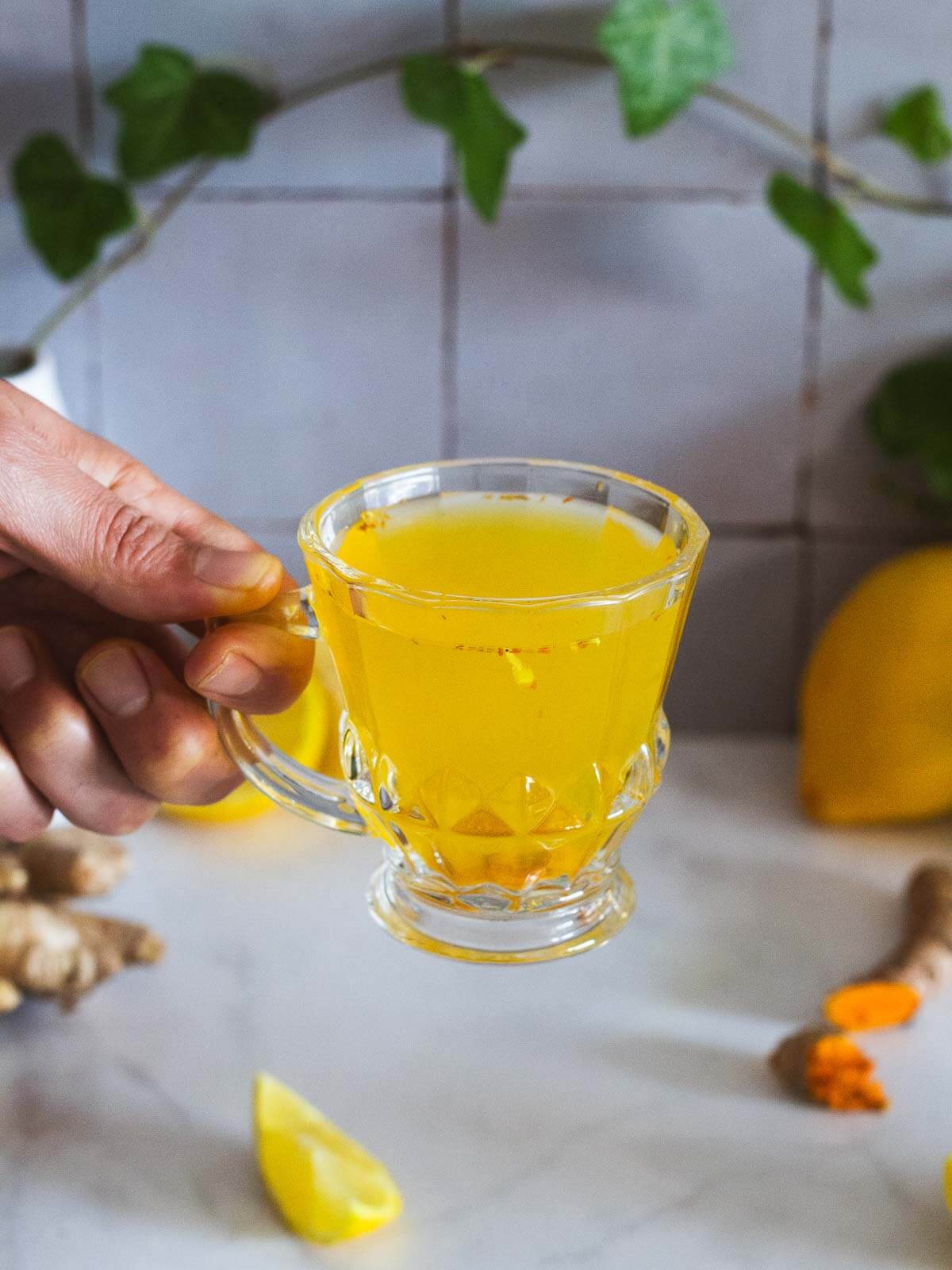 📖 Variations
Freshly ground black pepper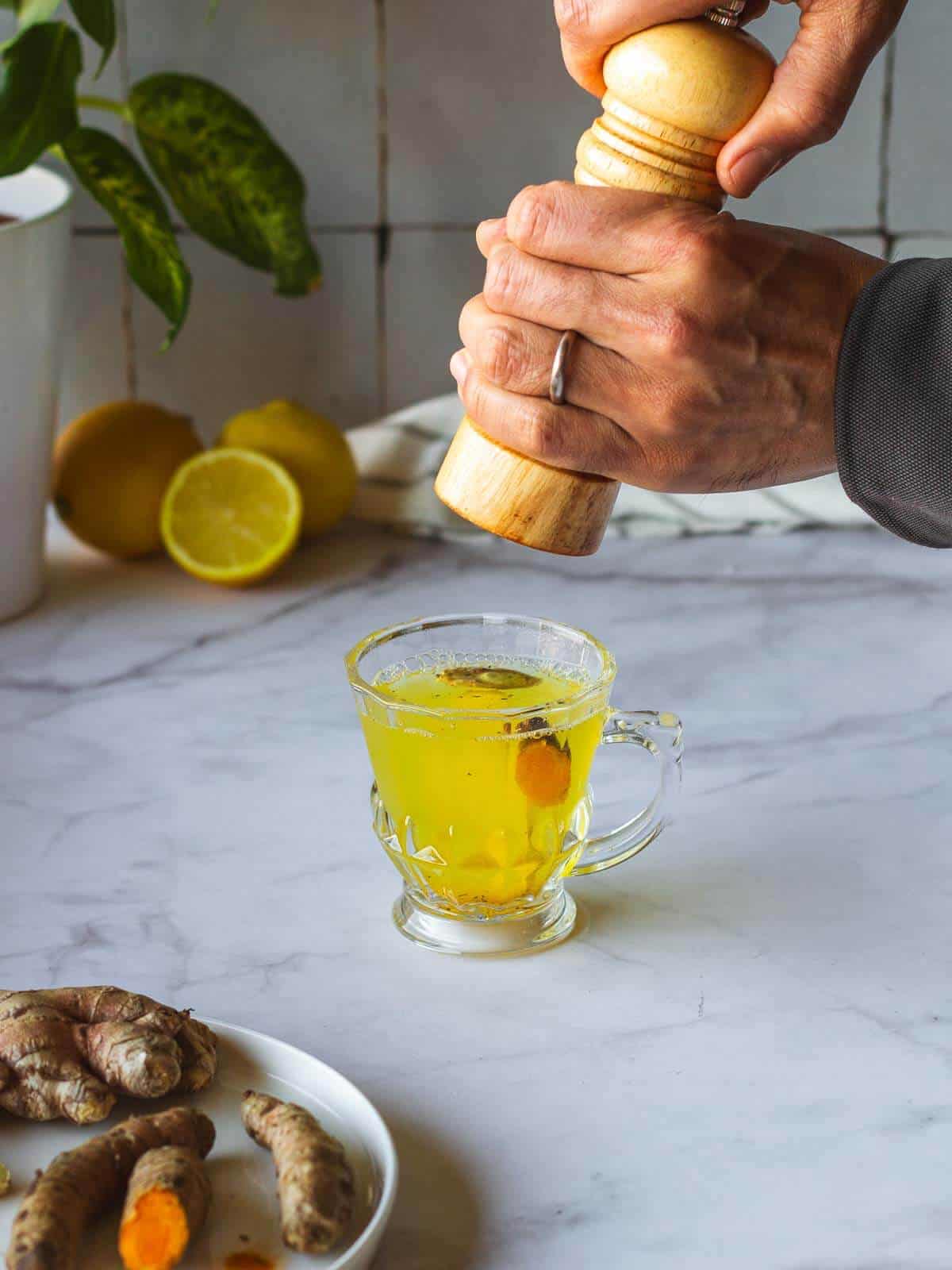 You won't feel it in your tonic, but this trick is essential to augment the bioavailability of ground turmeric, thus improving your body's absorption of this golden root. You can use cayenne pepper instead.
Cinnamon
It has been shown to have many health benefits. It can help to regulate blood sugar levels, and it also has anti-inflammatory and antimicrobial properties. In addition, cinnamon is a good source of antioxidants, which can help protect cells from damage. Cinnamon can help boost the flavor and health benefits of the tea when used in tea.
To make turmeric ginger and cinnamon tea, add one cinnamon stick to the water.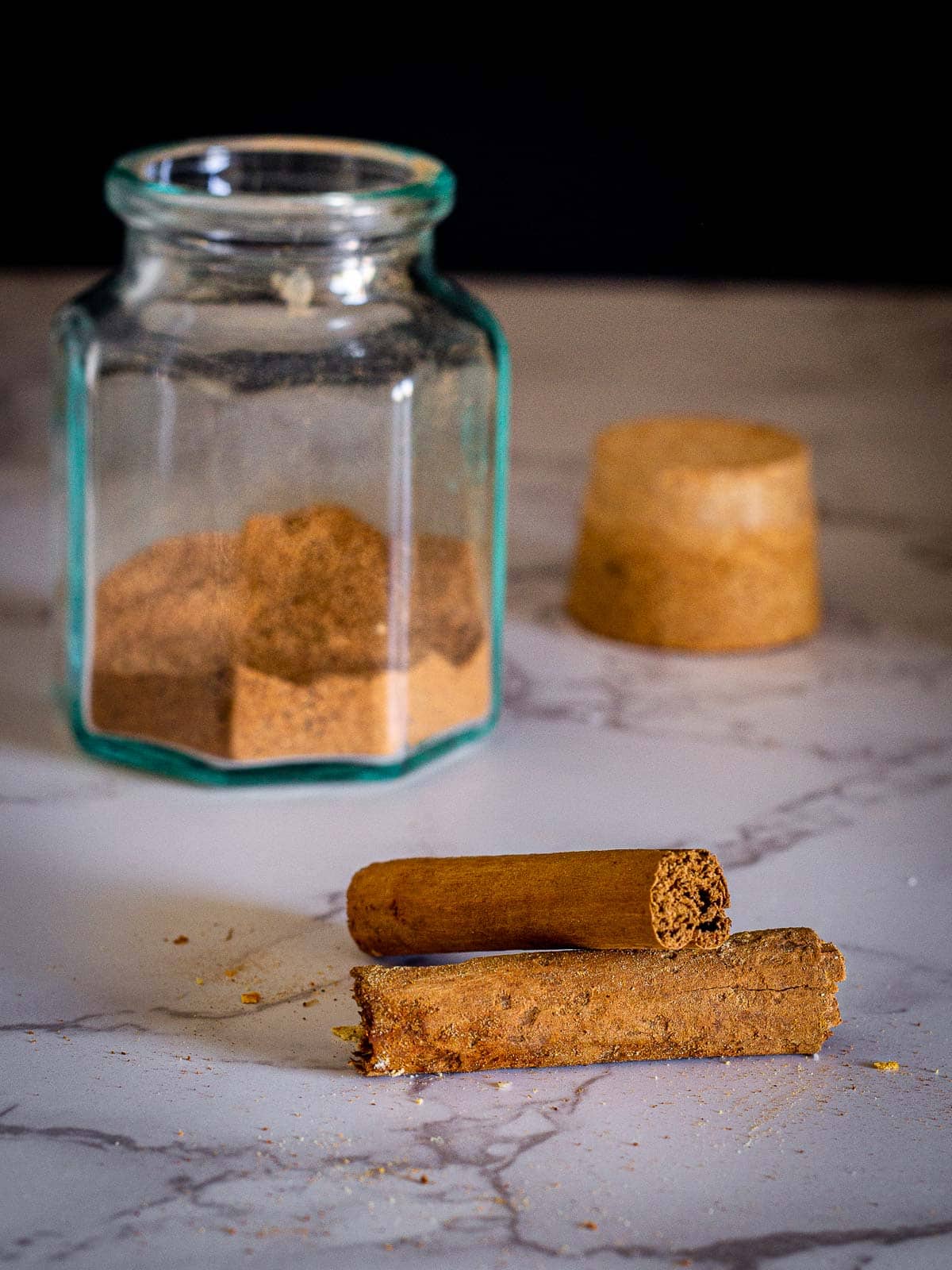 Cloves
Sometimes, add two or three cloves to the mix, just for a change, and also enjoy some extra health benefits.
They are a rich source of antioxidants, which can help to protect your body against damage from free radicals. They also contain eugenol, a natural antiseptic and anesthetic, which can help to relieve pain and inflammation.
In addition, cloves have anti-bacterial and anti-fungal properties, making them effective at fighting infections.
Cloves are also a good source of vitamins and minerals, including vitamin C, magnesium, and sodium. These nutrients are essential for good health and can help to boost your immune system, support cardiovascular health and reduce the risk of chronic diseases such as cancer. Furthermore, cloves can help to improve digestion and detoxify the body.
Star anise
Add one or two of these beauties to your simmering water. This beautiful spice has a long history of use in traditional Chinese medicine. Some of star anise health benefits: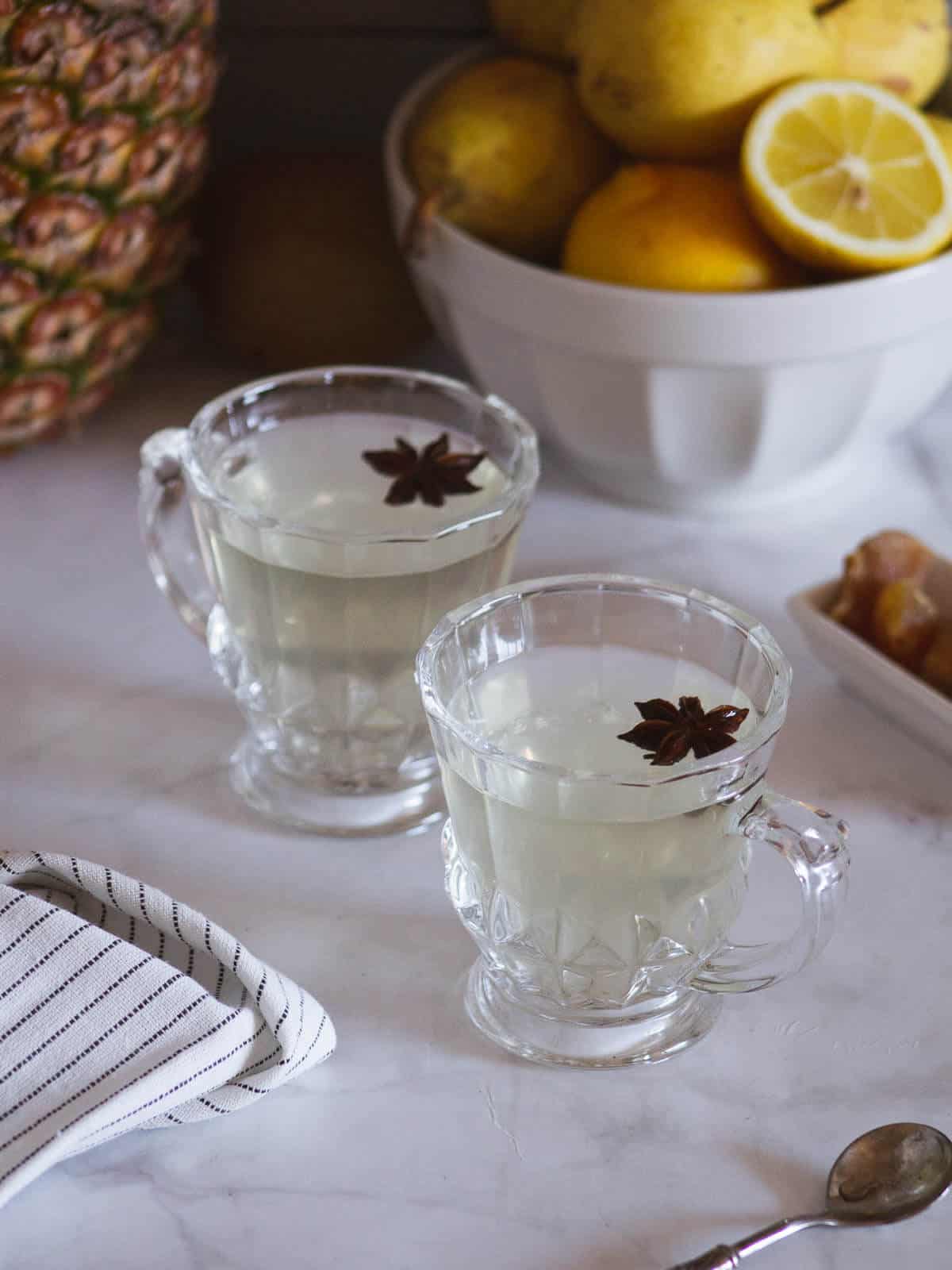 aiding in digestion
soothing the stomach
relieving gas and cramps
reducing inflammation
boosting the immune system
helping to fight off infection
treating colds and flu symptoms
providing anti-cancer benefits
Apple cider vinegar
Add one tablespoon to your morning tonic. This fermented condiment contains probiotics, enzymes, and organic acids. These nutrients promote gut health by helping restore the balance of good bacteria in the gut and providing a host of other health benefits. Some of the apple cider vinegar benefits include:
Improved blood sugar regulation
Weight loss
Reduced cholesterol level
Detoxification
Reduced risk of heart disease
Protection against cancer
Read on: the perfect pineapple and cucumber smoothie for weight loss »
🔪 Instructions
Turmeric ginger tea recipe:
Bring a kettle or a pot of water to a simmer at around 194 ºF (90 ºC).
Cut the lemon in half, ginger, and turmeric into slices or grind them with a shredder.
Add the simmering water to the lemon, turmeric, ginger, and optional cinnamon stick. Alternatively, simmer in a pot at low heat for five minutes.
If you use grated ginger or turmeric, pour the tea through a fine sieve.
Optionally, sweeten with maple syrup.
Serve and enjoy hot.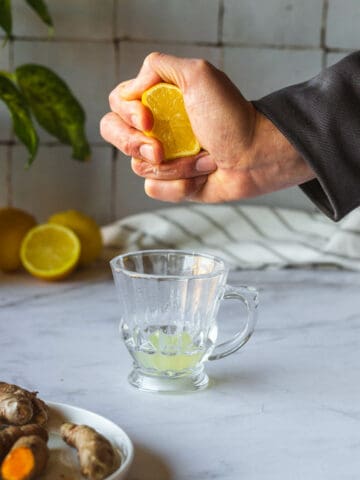 Squeeze the lemon.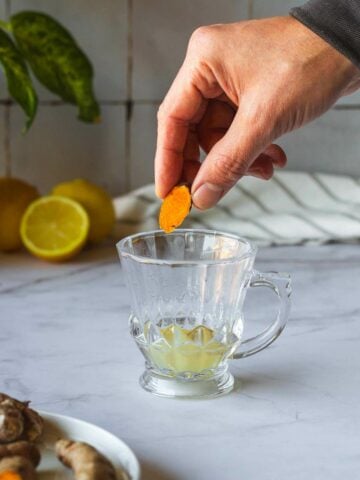 Add fresh turmeric and ginger.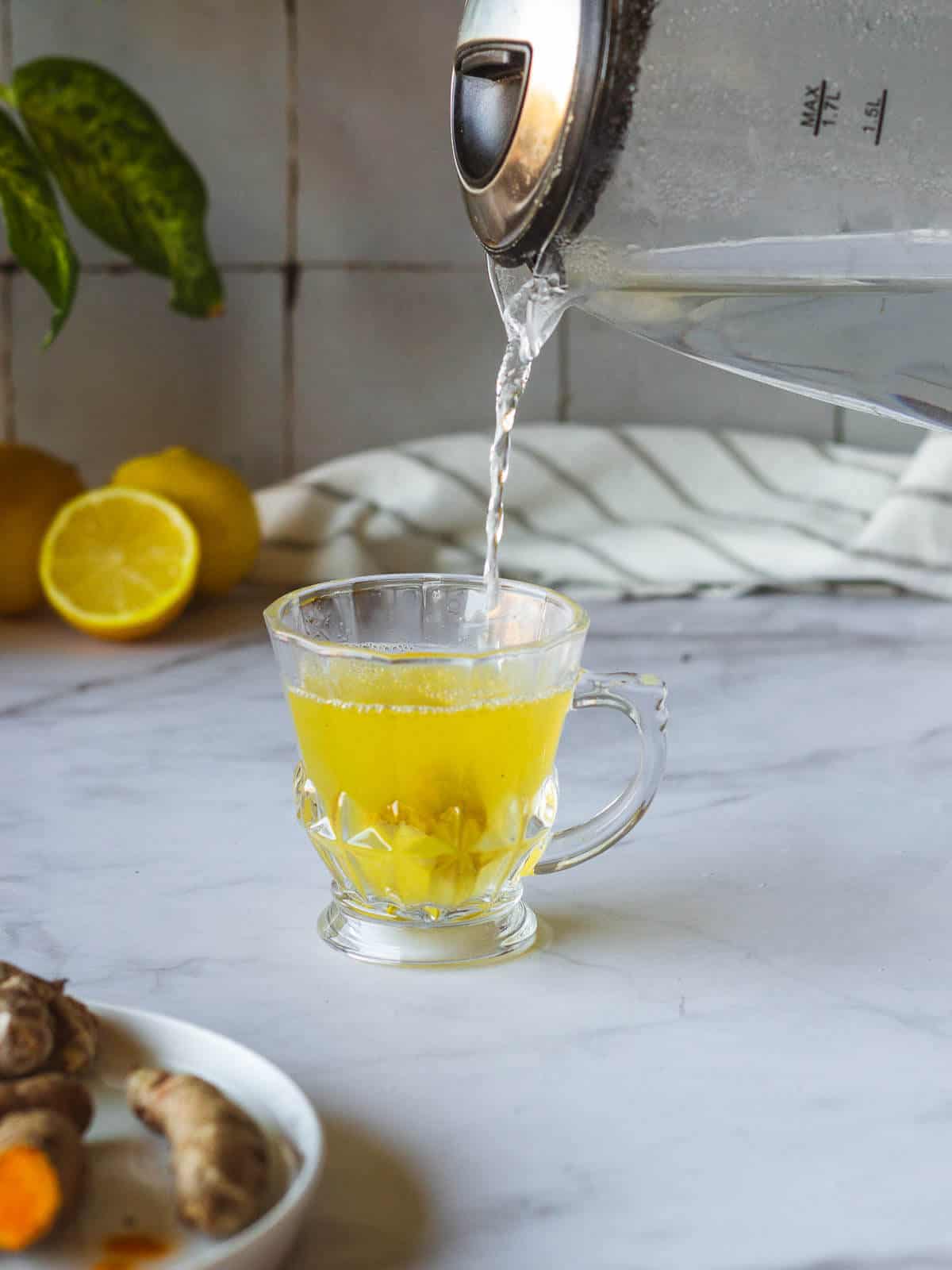 Add boiling water or bring to a simmer in a saucepan
Alternative method 1: put the water to simmer with all the ingredients, except for the sweetener and the consumption.
Alternative method 2: put the turmeric and ginger in a tea ball strainer or tea ball infuser and let it sit in hot water for 5 minutes.
Tip: depending on your dishes, turmeric can stain, so make sure you use stain-resistant cookware or cups. This will make the flavors more intense than simply pouring water on top.
Using ground spices
Another option to avoid touching turmeric is to put all the ingredients in a tea leaves container and discard the contents.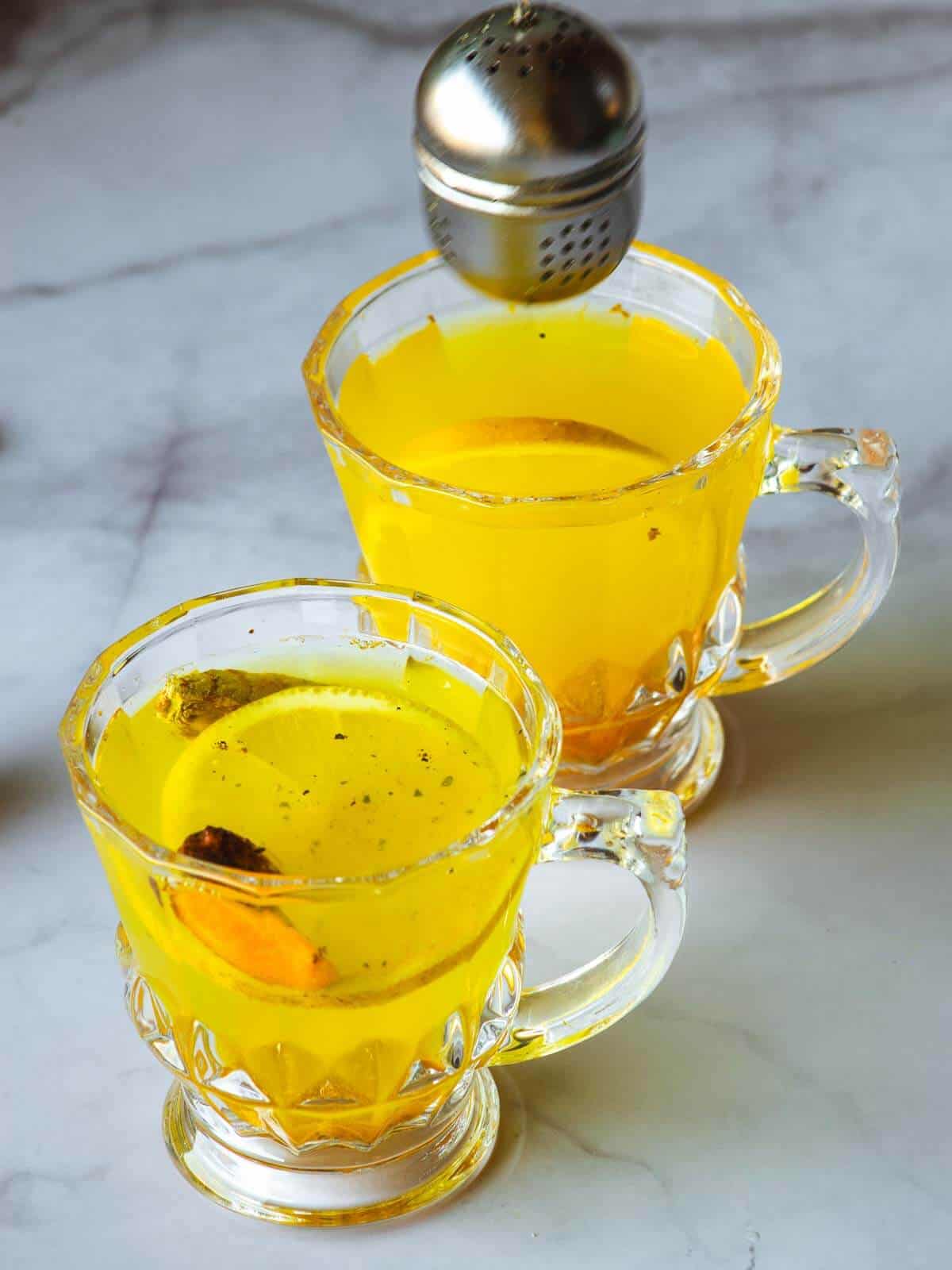 Sometimes, you have all the ingredients in your pantry; they are not fresh. It is better to use fresh spices, but the ground is OK. We recommend
Using ground turmeric root can be easier and more comfortable since it dyes. Ensure to take extra care with your hands and clothes. Once turmeric touches your skin or clothing, it is difficult to remove the stains.
Read on: how to remove turmeric stains from skin »
Read on: how to remove turmeric stain for your cloth »
🫙 Storage
Tonics and infusions are always best consumed fresh, but if you made a batch, just store it in an airtight glass container with a lid and consume it within one or two days. Bring the tea to a boil and add lemon slices before consuming it to revive its flavor.
You can also consume this infusion cold, just as we do with our homemade pineapple water.
❓ FAQ
Can I use turmeric powder?
Yes, you can. In this case, we recommend you also add black pepper. More info on the bioavailability of turmeric. In short, raw turmeric doesn't require ground black pepper for absorption because its natural oils aid absorption, but powdered turmeric requires ground or cracked black pepper.
Can I use ginger powder instead of fresh ginger?
You can make ginger powder tea by replacing one tablespoon of fresh ginger with
½ teaspoon of ground ginger.
Can I use ginger powder instead of fresh ginger?
You can make ginger powder tea by replacing one tablespoon of fresh ginger with ½ teaspoon of ground ginger.
What is the best time to drink turmeric and ginger tea?
The best time to drink turmeric and ginger tea is either first thing in the morning or before bed.
Turmeric and ginger tea is great for aiding digestion, so drinking them before meals is ideal. However, drinking it first thing in the morning is best if you're looking for a detoxifying drink to help cleanse your system.
Is it good to drink turmeric and ginger at night?
If you want to promote good sleep, drink it before bedtime.
Is it good to drink turmeric and ginger every day?
Yes, it is good to drink turmeric and ginger every day! Turmeric has numerous health benefits, including reducing inflammation, helping to prevent Alzheimer's disease and cancer, and improving digestion.
Ginger is also very beneficial for human health, providing relief from nausea and vomiting, pain relief, and helping to improve cardiovascular health. Together, these two ingredients make a potent health tonic that can help improve overall well-being.
⭐ If you try this recipe, let us know! 💬 Leave a comment, rate it, and don't forget to tag us @ourplantbasedworld on Instagram. Cheers!
📋 Recipe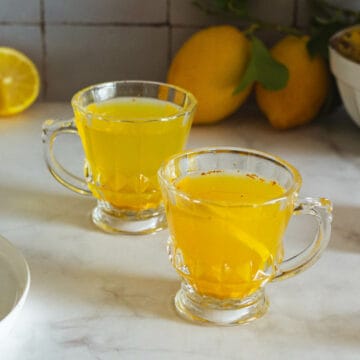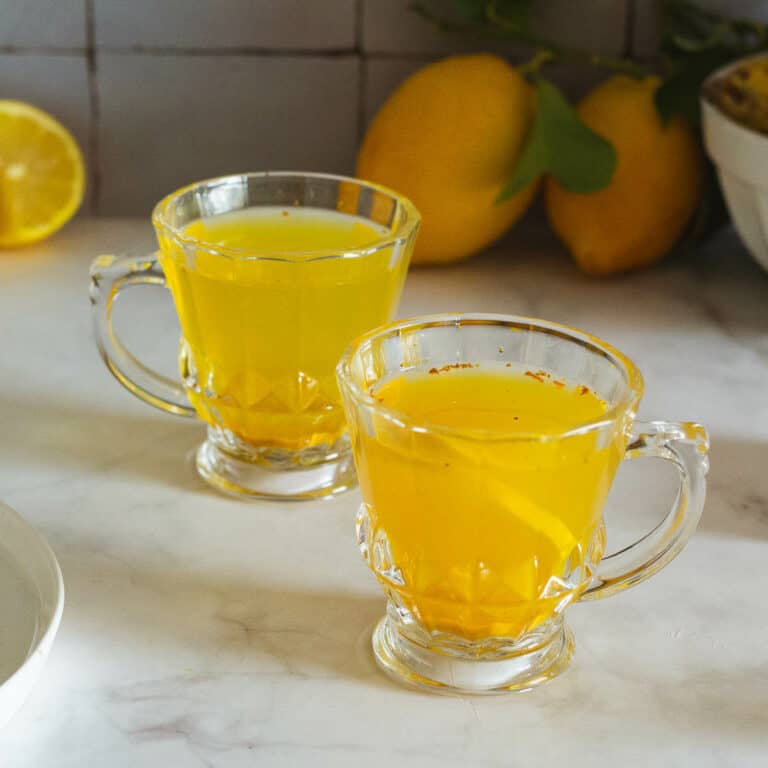 Lemon Ginger Turmeric Tea
A great way to get started with turmeric is in this lemon ginger infused turmeric tea. It's an easy way to pack some anti-inflammation nutrients!
Equipment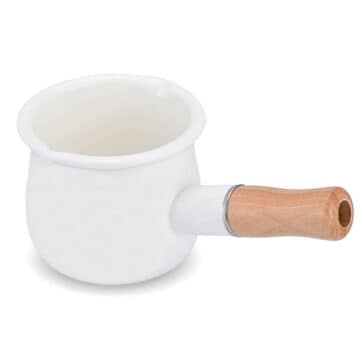 (affiliate link)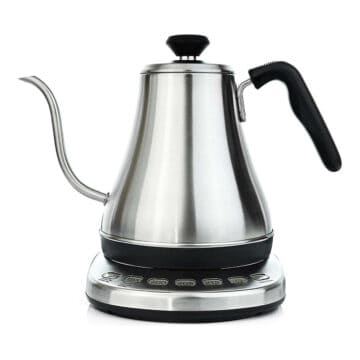 (affiliate link)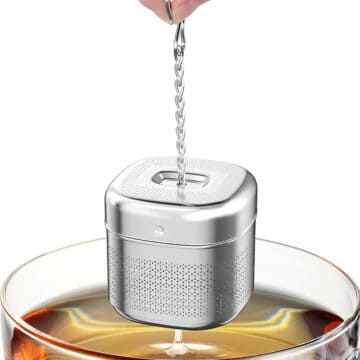 (affiliate link)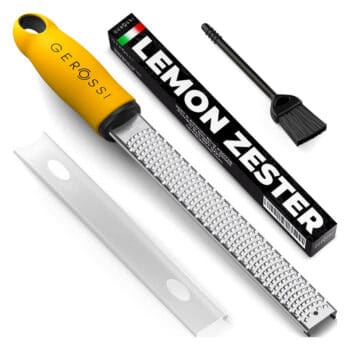 (affiliate link)
Ingredients
1

teaspoon

fresh grated turmeric

1

teaspoon

freshly grated ginger

1

whole lemon

juiced

2

cups

filtered water
Directions
Saucepan method
Add-in. To a small saucepan, add all the ingredients and water.

Whisk to combine and warm over medium heat. Heat until hot to the touch but not boiling – about 3 minutes – whisking frequently.

Strain. Pass through a colander if you used freshly ground ginger and/or turmeric roots.

Turn off heat and let it sit before consuming.
Kettle method
Put the kettle to 90 ºC or 194 ºF.

Squeeze the lemon in a cup, add the sliced or grated ginger and turmeric and pour the water in.

Let sit for 3-4 minutes.

Serve immediately.

Best when fresh, but it can be stored covered in the fridge for 2-3 days. Reheat on the stovetop until hot.
Tea ball strainer method
put the turmeric and ginger in a tea ball strainer or tea ball infuser, and let it sit in hot water for 5 minutes.
Notes
Nutrition information is a rough estimate calculated without black pepper or sweetener.
Nutrition Facts
Calories:
178
kcal
Carbohydrates:
39
g
Protein:
2
g
Fat:
3
g
Saturated Fat:
1
g
Sodium:
94
mg
Potassium:
102
mg
Fiber:
2
g
Sugar:
18
g
Vitamin A:
6
IU
Vitamin C:
1
mg
Calcium:
60
mg
Iron:
1
mg
Nutrition Facts
Lemon Ginger Turmeric Tea
Amount per Serving
% Daily Value*
* Percent Daily Values are based on a 2000 calorie diet.
Nutritional Disclaimer
The information shown is an estimate provided by an online nutrition calculator. It should not be considered a substitute for a professional nutritionist's advice. See our full Nutritional Disclosure here.
Affiliate Disclaimer
Please note that some of the links here are affiliate links, and I will earn a commission if you purchase through those links. I recommend all of the products listed because they are companies I have found helpful and trustworthy.