Start your mornings with a power boost that will give you the energy to make it through even the most hectic of days. Our energizing and creamy banana matcha green tea smoothie recipe is designed to tantalize both the taste buds and senses while giving you all-natural fuel to last throughout your day. With ingredients like ripe bananas, plant milk, antioxidant-rich matcha green tea powder, and more – this delicious drink might just become your new favorite way to get yourself going in the morning!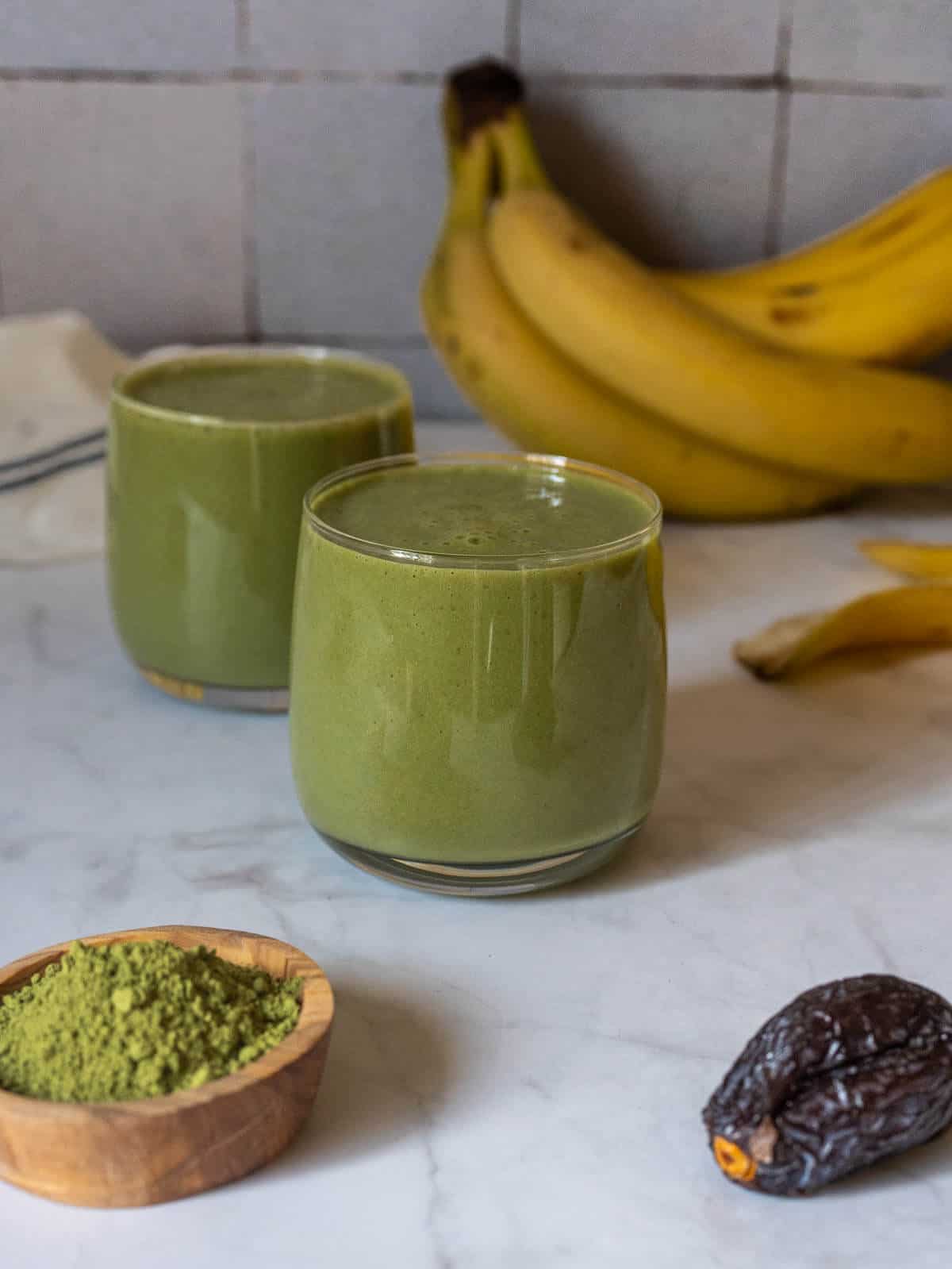 Besides making this recipe a nutritious and healthy breakfast smoothie as a low-calorie meal replacement, it is also one of the smoothies I take when I am on a mission to get back on track with my gym routine. I like drinking this, our pre-workout smoothie or our pre-workout beet juice, before going to the gym as an energizing snack, and then I bottle one post-workout smoothie to drink as soon as I finish exercising.
Since matcha powder is essentially ground green tea leaves; consuming it in your smoothies is like having a green tea concentrate. As you may know, green tea contains antioxidants, enhances endurance, and helps burn excess calories, making it the perfect addition to a detox smoothie.
Matcha is a fantastic option if you are looking to substitute or lower your coffee intake. However, they say matcha gives them a more relaxed caffeine boost than coffee.
It is important to note that both regular brewed green tea and matcha powder contain caffeine, but in lesser amounts than traditional black tea or your usual morning coffee cup.
With this in mind, we created this delicious banana matcha smoothie to double your pick-me-up game during busy mornings.
We wanted to balance the slight bitterness of matcha with something sweet and creamy. That's how bananas came in, and vanilla extract and maple syrup to make it extra yummy.
It sounds simple, but this creamy matcha smoothie recipe will blow your mind!
Jump to:
🧾 Ingredients
Make this matcha protein shake with just a handful of staple ingredients.
Matcha powder - the energy-boosting component of the smoothie.
Banana - use frozen bananas for a creamy texture. Bananas are also a great source of potassium and contain prebiotic fibers that aid digestion.
Plant milk - we like soy milk to make this smoothie a matcha protein shake since soy milk has a significantly higher protein content than other dairy-free options.
Medjool date - for added sweetness. Bananas add sweetness, but green tea powder can be bitter; hence we like adding another sweetness layer.
Vanilla extract - round up all the flavors and make it even tastier.
Optional: baby spinach and ice cubes.
See the recipe card for quantities.
🔪 Instructions
These superfood powerhouse ingredients get added to a blender, and in just a couple of minutes, you have a delightful and creamy green smoothie ready to drink or take whenever you need an energy boost.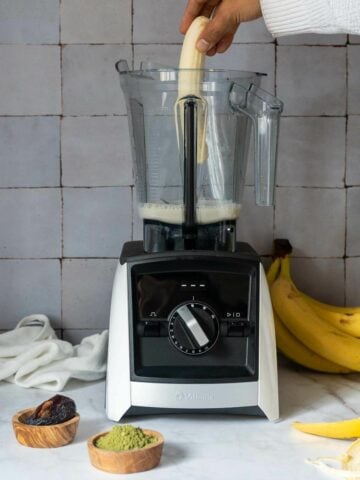 Start with plant milk, followed by fruit. Add ice cubes and pitted dates.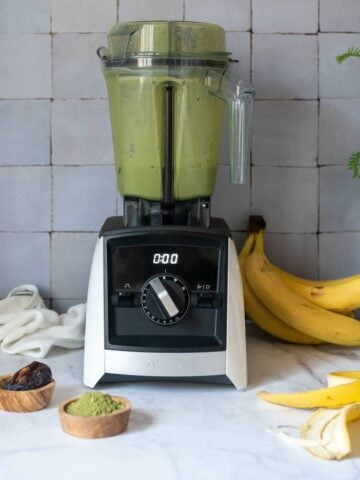 Blend all the ingredients until creamy.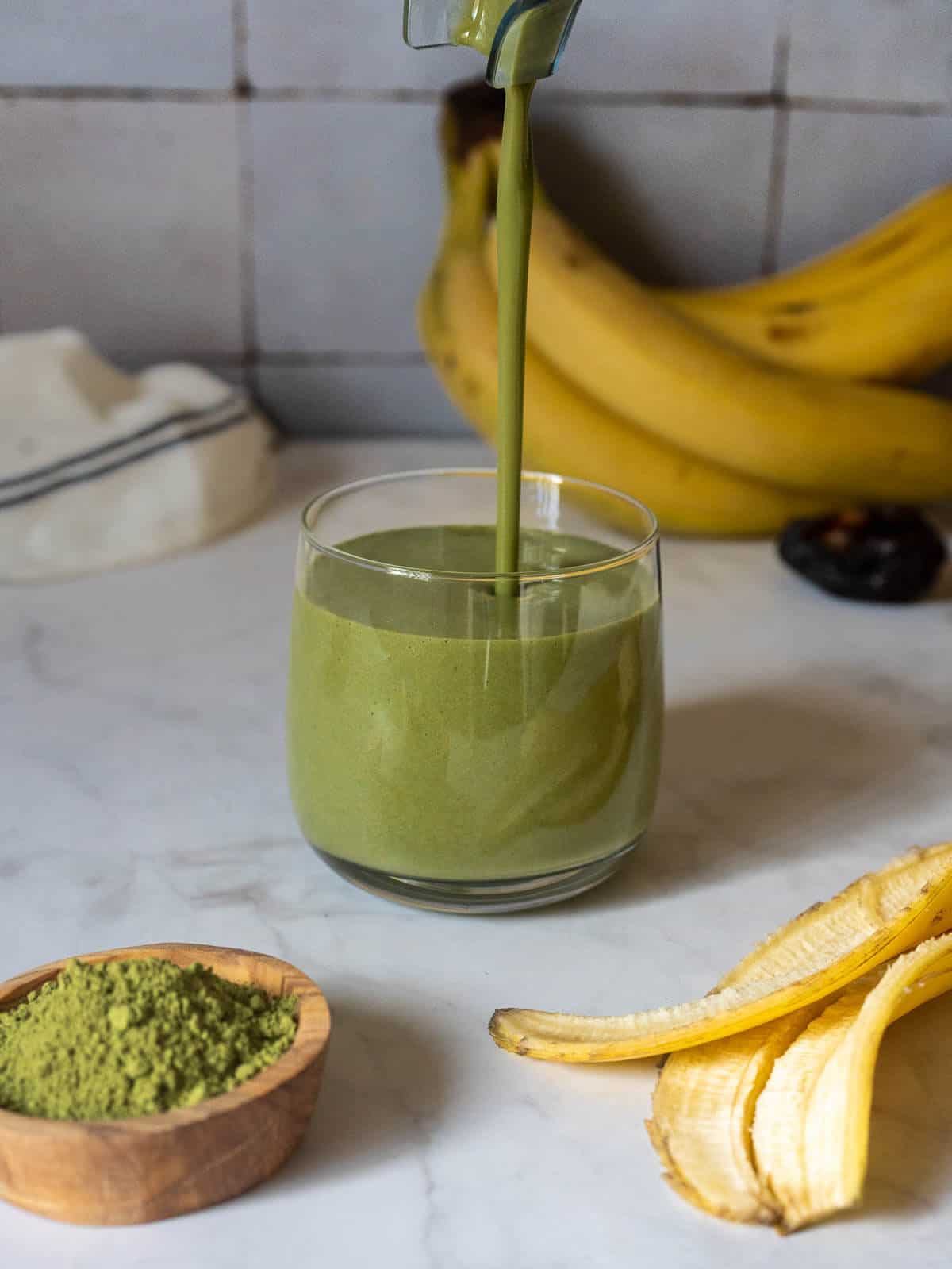 🍶 Substitutions
Medjool date - you can also Look for a zero-calorie sweetener like erythritol (a naturally-produced sweetener from foods and fruits) or a stevia-based sweetener if you are pursuing weight loss. We also like adding agave nectar, maple syrup, or date paste, when using it as a pre-workout snack since dates help to replenish your body after exercising.
Soy milk - we created this smoothie with making a matcha protein shake in mind, so we sued soy milk. But you can use unsweetened almond milk or any other dairy-free milk you like, such as oatmeal, walnut, or almond milk. Coconut milk also pairs very well with matcha powder.
Read on: see how to make your own soy milk
Hint: using another type of plant milk will decrease the protein content. You can counteract it by adding protein powder or seeds.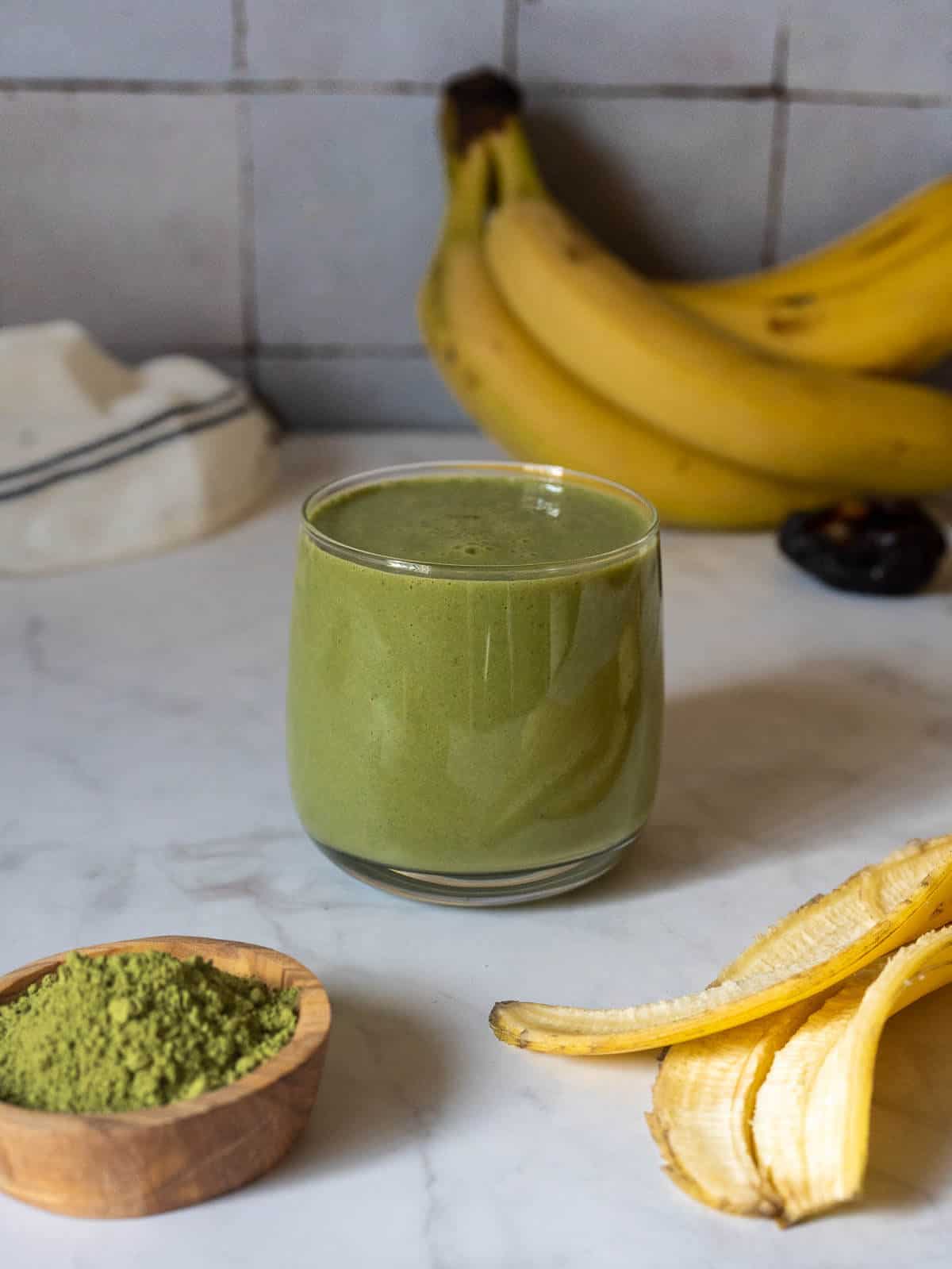 🥡 Variations
Greens - Baby spinach and collard greens are delicate and tender, and the bitter notes do not surface on this shake. One cup of spinach is packed with about 1 gram of protein, 1 gram of fiber, vitamins A, C, and K, iron, and folic acid.
Warming spices - we like adding cinnamon, nutmeg, or cardamom. Sometimes we even add pumpkin pie spice to mix things up.
Seeds - add flax meal or chia seeds to add fiber and Omega 3 fatty acids. Remember that leaving the smoothie in a container for a long time will thicken your smoothie even more.
Chocolate - we also like adding a tablespoon of raw cocoa powder, or chocolate plant-based protein

(affiliate link)

, to add flavor and increase the protein content of the matcha shake.
Ginger - add ½ teaspoon of anti-inflammatory ginger to spice things up.
🍽 Equipment
You need nothing else than a blender and measuring spoons. Our go-to blenders for smoothies are the nutribullet (affiliate link) and Vitamix (affiliate link).
🥡 Storage
These green tea matcha smoothie leftovers will keep in a covered mason jar or BPA-free container in the refrigerator for up to two days, though best when fresh.
❓ FAQ
What is Matcha?
Matcha is a powdered green tea containing a myriad of health benefits. Apart from its energizing properties, much of its popularity comes from the fact that it has even more antioxidants than the beloved brewed green tea. These antioxidants help to fight cancer-causing free radicals in the body.
What fruits go well with matcha?
Matcha powder pairs very well with bananas, mangoes, coconut, and strawberries.
Are there any matcha tea side effects?
Matcha is a green tea made from Camellia sinensis leaves that are ground into a fine powder. It is high in antioxidants and has been linked with health benefits, such as weight loss and improved mental clarity. However, like any other food or drink, it may have some side effects.
Some potential matcha sea side effects include nausea, vomiting, diarrhea, and constipation. It can also cause liver damage in high doses and may interact with certain medications. Pregnant women and people with allergies should avoid matcha tea
📚 More green smoothie recipes
Try our high-fiber smoothie, spinach smoothie with banana, spinach apple smoothie, spinach blueberry smoothie, and frozen spinach with ginger smoothie.
You may also want to add the delicious lemon ginger turmeric tea to your morning ritual if you want to keep inflammation effects in line.
⭐ If you try this green tea smoothie recipe, let us know! 💬 Leave a comment, rate it, and don't forget to tag us @ourplantbasedworld on Instagram. Cheers!
📋 Recipe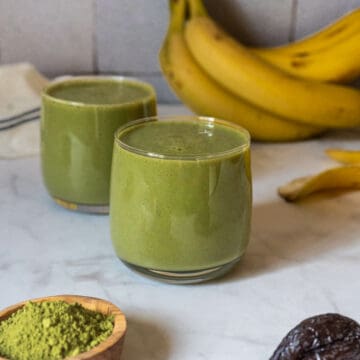 Energizing & Creamy Banana Matcha Green Tea Smoothie Recipe
This Dairy-free banana matcha smoothie is the perfect way to start your day! It's creamy, protein-packed, and energizing.
Equipment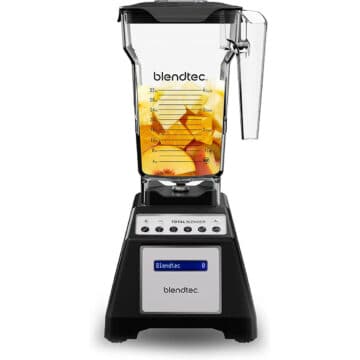 (affiliate link)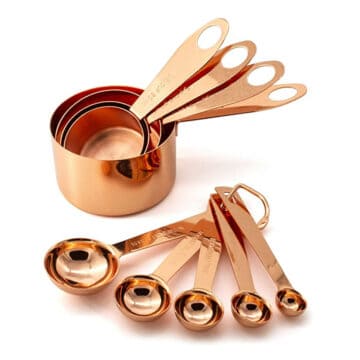 (affiliate link)
Directions
Prepare ingredients and plant-milk, vanilla extract, chopped bananas, maple syrup and ice cubes to a blender and blend on high until smoothie.

Adjust. For a thicker smoothie, add more frozen bananas or flax meal. For a thinner smoothie, add more plant milk or water (it will affect sweetness). Taste and adjust flavor as needed.

Serve immediately.
Notes
Smoothie leftovers will keep in a covered mason jar in the refrigerator for up to 2 days, though best when fresh.
If using frozen bananas, you may not need to ice cubes. Test for creaminess and adjust.
Nutrition Facts
Calories:
280
kcal
Carbohydrates:
49
g
Protein:
10
g
Fat:
5
g
Saturated Fat:
1
g
Polyunsaturated Fat:
3
g
Monounsaturated Fat:
1
g
Sodium:
122
mg
Potassium:
802
mg
Fiber:
4
g
Sugar:
32
g
Vitamin A:
1203
IU
Vitamin C:
27
mg
Calcium:
359
mg
Iron:
2
mg
Nutrition Facts
Energizing & Creamy Banana Matcha Green Tea Smoothie Recipe
Amount per Serving
% Daily Value*
* Percent Daily Values are based on a 2000 calorie diet.
Nutritional Disclaimer
The information shown is an estimate provided by an online nutrition calculator. It should not be considered a substitute for a professional nutritionist's advice. See our full Nutritional Disclosure here.
Affiliate Disclaimer
Please note that some of the links here are affiliate links, and I will earn a commission if you purchase through those links. I recommend all of the products listed because they are companies I have found helpful and trustworthy.