Pineapples are super easy to include in your smoothies, especially during summertime, but the story is different when we talk about cucumbers; they are so underrated... but their bland flavor, watery texture, and low-calorie count make them perfect for this delicious and refreshing pineapple and cucumber smoothie.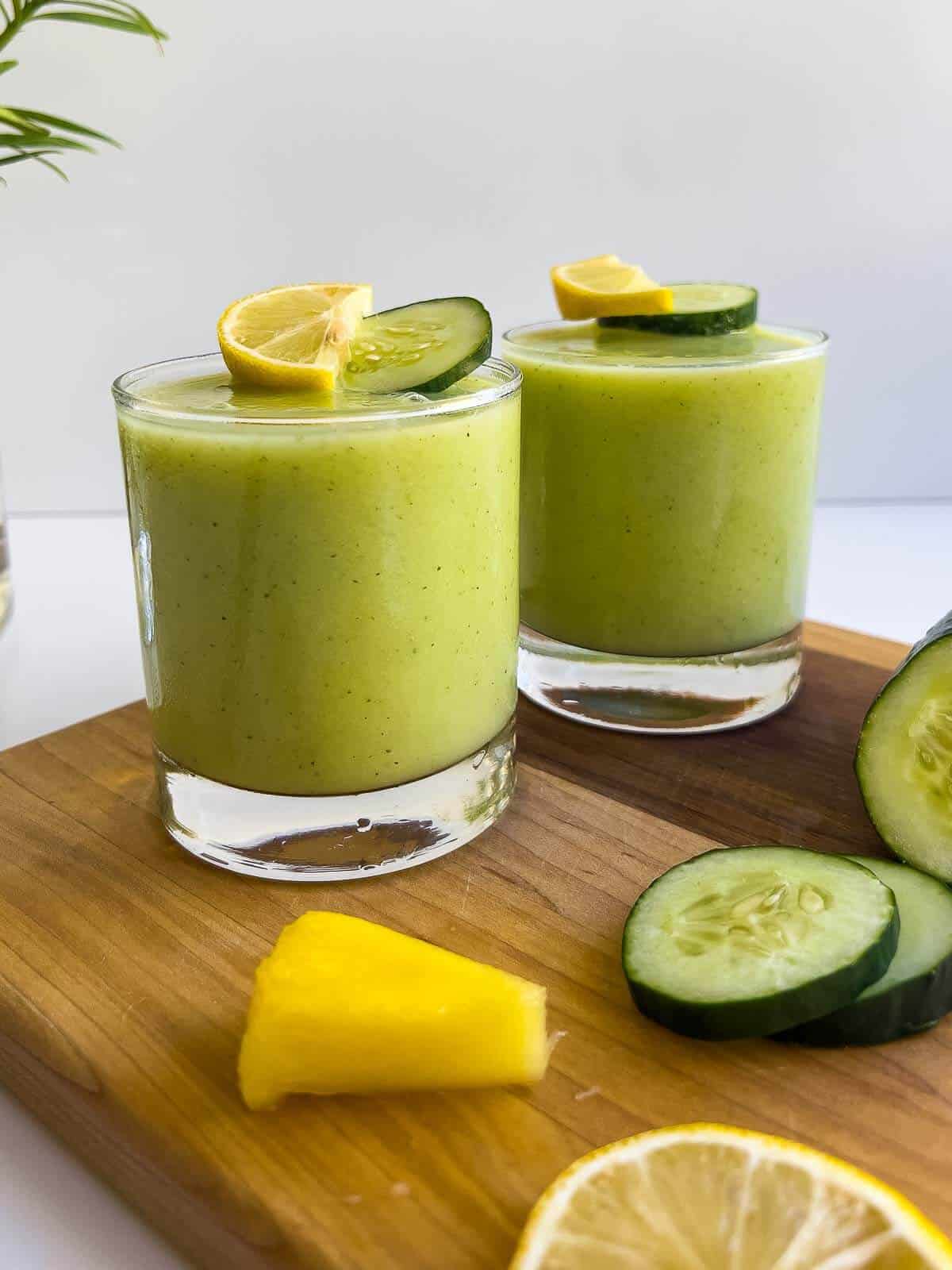 Having this super easy-to-make drink is the perfect way to help accelerate your weight loss goals. Packed with nutrients, blending cucumber and pineapple results in this refreshing smoothie is ideal for satisfying your sweet tooth while helping you stay on track!
This is one of our favorite summertime recipes, not only because it is fresh but because it is our ally when we want to have a fresh Monday start after an overindulging weekend.
Inspired by our pineapple banana spinach smoothie and the cucumber pineapple juice recipe, we took the best from both and made it into a creamy smoothie using our homemade almond milk, and ripe pear, plus all the fruits and veggies' pulp to keep us fuller for longer.
Jump to:
🧾 Ingredients
This pineapple weight loss smoothie is perfectly made with simple staple ingredients.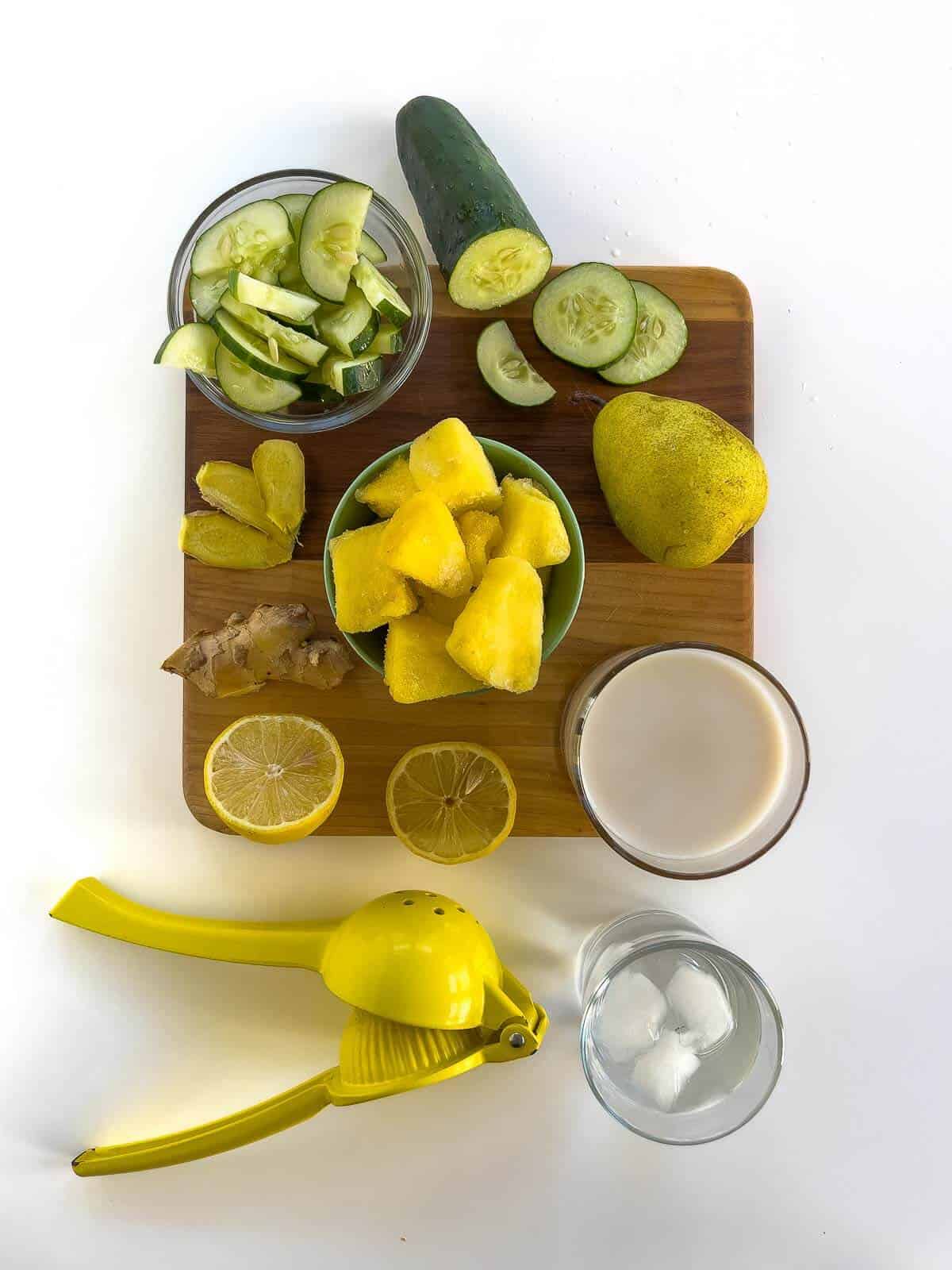 Frozen Pineapple: Adds natural sweetness and a tropical flair, while its bromelain enzyme aids digestion and reduces inflammation.
Cucumber: Low in calories but high in hydration, it helps you feel full longer and flushes out toxins.
Pear: Packed with fiber to keep you satiated, it offers subtle sweetness without spiking your blood sugar.
Lemon Juice: Acts as a natural detoxifier and gives the smoothie a zesty kick; when combined with plant milk, it creates a vegan buttermilk effect.
Fresh Ginger: Spices things up and boosts metabolism while offering anti-inflammatory benefits.
Almond Milk Provides creaminess without the saturated fats found in dairy, and it's rich in vitamin E.
Water: Keeps the smoothie light and aids in hydration, making it easier for your body to burn calories.
See the recipe card for quantities.
🔪 Instructions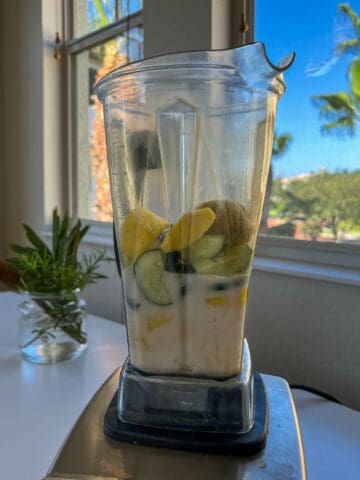 Step 1: Place all the ingredients in a high-speed blender.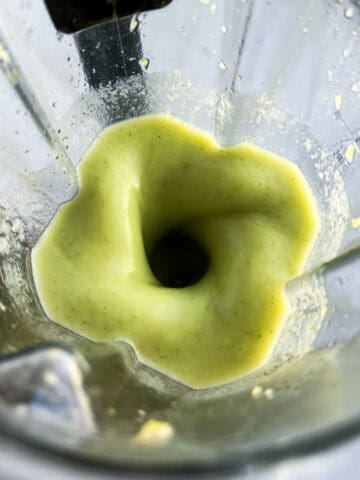 Step 2: Blend until the smoothie is creamy, and serve immediately.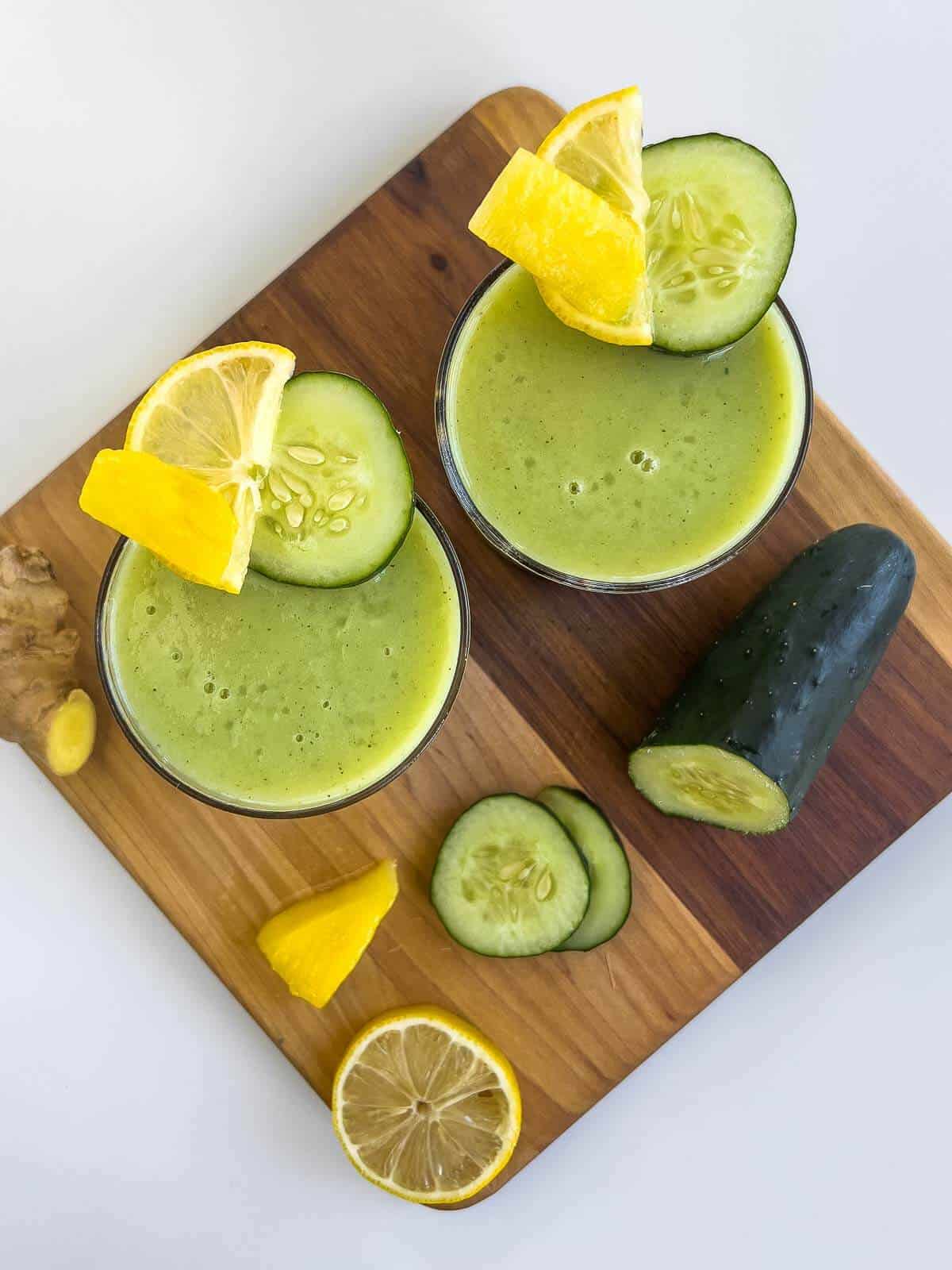 Hint: top your blended pineapple and cucumber smoothie with chunks of fruits and veggies to make it extra appealing for a summer brunch.
🍶 Substitutions
If you know how to make the recipe fit a certain diet, let the reader know here. Don't fake it - only guide topics you have actual experience with.
Pear - You can use ripe frozen banana or peach instead of ripe pear.
Lemon juice - use lime juice instead.
Cucumber - the cucumber can be replaced with celery.
Almond milk - you can use homemade oat milk, hemp, rice, light coconut milk, or soy milk instead.
Fresh or frozen pineapple - if using fresh pineapple instead of frozen pineapple, add 2-3 ice cubes per serving. Don't forget to make the most out of your leftovers; make some delicious pineapple water with the pineapple skins.
Did you know that pineapple is great for constipation and digestive issues? Include more of this wonderful fruit in your diet!
📖 Variations
Antioxidant boost - add one tablespoon of hemp seeds, chia seeds, or flax meal.
Protein powder - add one scoop of clean plant-based protein powder

(affiliate link)

, or two tablespoons of gluten-free oats.
Extra creamy - add a portion of cashew yogurt or coconut yogurt.
Tropical flavor - replace the water with coconut water or coconut beverage for an extra refreshing taste.
Green smoothie - simply add some green leaves, like one cup of frozen or fresh baby spinach or kale.
Metabolism booster - add a pinch of cayenne pepper.
Extra fresh - add 3-4 mint leaves.
See this post-workout smoothie and spinach smoothie with bananas for a plant-protein-powered smoothie.
🍽 Equipment
Using a high-speed blender such as a nutribullet (affiliate link) (affiliate) is essential to make a creamy smoothie every time.
🫙 Storage
These pineapple cucumber ginger lemon smoothie leftovers will be kept in a covered mason jar in the refrigerator for up to one day, though best when fresh.
❓FAQ
What are the pineapple and cucumber smoothie benefits?

There are a lot of benefits to drinking pineapple and cucumber smoothies. For one, they're a great way to get your daily fruit intake. Pineapples are packed with vitamins and minerals, including Vitamin C, which boosts your immune system, aiding digestion and weight loss. (source)
Cucumbers are also hydrating, full of vitamins and minerals, and have detoxifying properties.
They're refreshing zero-fat and low-calorie vegetables that can help you reach your daily recommended intake of vegetables.
Can I use pineapple juice for this smoothie?
The short answer is yes. If you are making this cucumber pineapple smoothie just for the flavor, replace the cups of pineapple chunks with pineapple juice or canned pineapple, but keep in mind that you're removing pineapples' fiber, which makes it less creamy, and filling. You are increasing the sugar content of the smoothie, which is not great if you aim to lose weight.
Adding whole fruit fiber makes you consume fewer calories, so using whole foods is vital.
📚 More smoothie recipes
Add more weight loss-promoting cucumber and pineapple to your diet by adding a carrot, cucumber, and celery juice, red cabbage juice, pineapple strawberry smoothie, strawberry banana spinach smoothie, and spinach ginger smoothie to your weekly smoothies and juices weekly line-up for breakfast or pre-work-out snacks.
If you are crazy about pineapples, try our 3-ingredient pineapple coconut smoothie!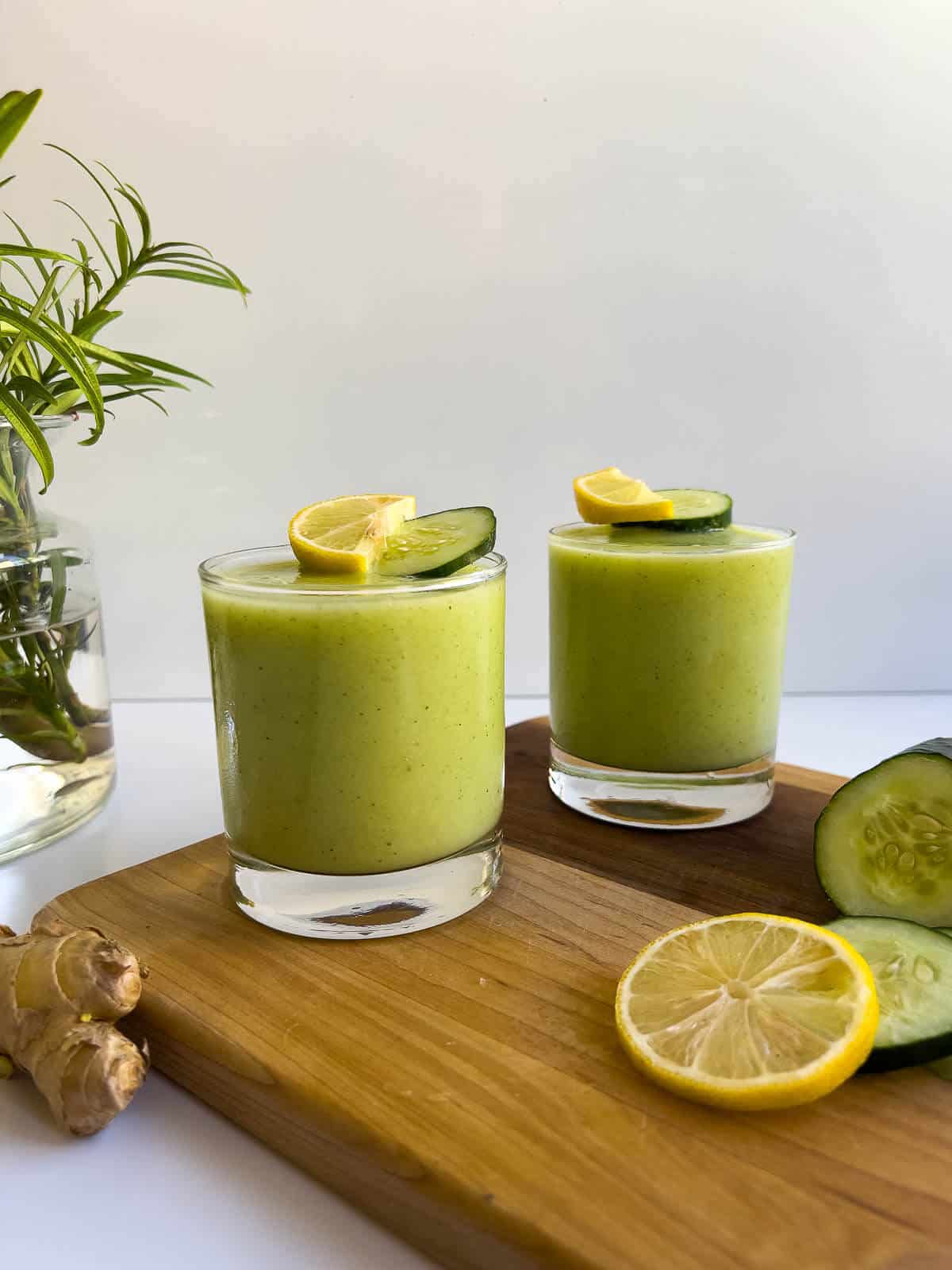 If you try this pineapple weight loss smoothie or other of our healthy recipes, let us know! Leave a comment, rate it, and tag us #ourplantbasedworld on Instagram. Cheers!
🎥 Video
📋 Recipe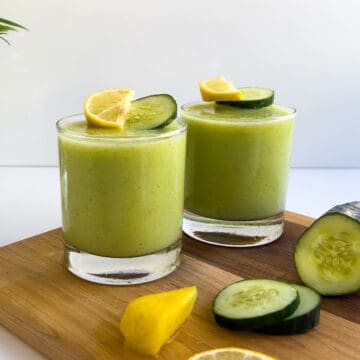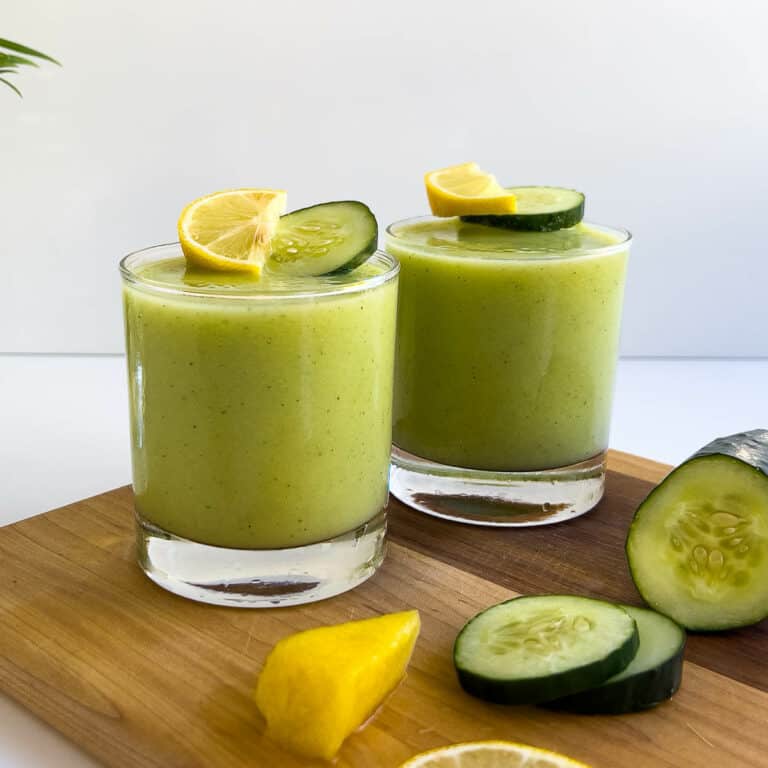 Pineapple and Cucumber Smoothie for Weight Loss
This super easy-to-make drink is the perfect way to help accelerate your weight loss goals. Packed with nutrients, blending cucumber and pineapple results in this creamy smoothie, which is ideal for satisfying your sweet tooth while helping you stay on track with your fitness goals!
Equipment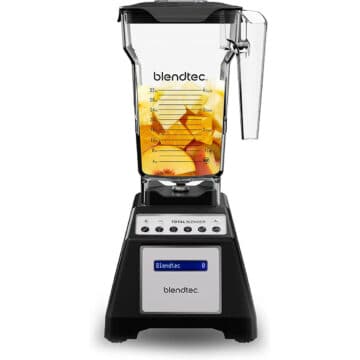 (affiliate link)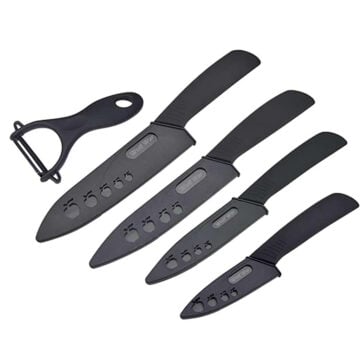 (affiliate link)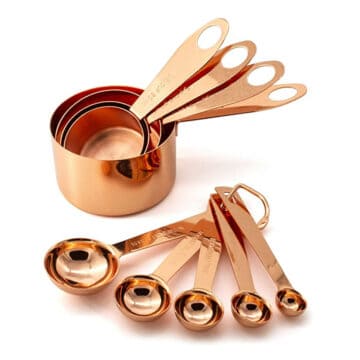 (affiliate link)
Ingredients
1

cup

cucumber

sliced, skins on

1 ½

cup

pineapple

frozen, if using fresh, add 4-6 ice cubes

1

pear

ripe, cored

½

cup

almond milk

or light coconut milk, or water

½

cup

iced water

or with 4 ice cubes

½

lemon

medium, juiced (~1 Tablespoon (15 ml) juice per ½ lemon)

3

slices

ginger

fresh, peeled, or ½ teaspoon ginger powder
Optional
1

cup

spinach

for a green smoothie

2

teaspoons

maca powder

for enhanced energy and stamina
Directions
Prepare ingredients and add cucumber, frozen pineapple, frozen pear, almond milk, water, and lemon juice to a blender and blend on high until smooth.

For a thicker smoothie, add more ripe pear, frozen banana, or peach. For a thinner smoothie, add more plant milk or water (it will affect sweetness). Taste and adjust flavor as needed, adding more pineapple for sweetness and more plant milk or optional spinach for creaminess.

Serve immediately. Smoothie leftovers will keep in a covered mason jar in the refrigerator for up to 1 day, though best when fresh.
Notes
If you experience a bitter aftertaste, consider peeling the cucumber; it will decrease the fiber content.
Vegan Clean Protein: if using the clean protein powder, add our 10% discount code OURPBWORLD10 at check-out to enjoy the benefit. (affiliate)
Nutrition Facts
Calories:
138
kcal
Carbohydrates:
32
g
Protein:
2
g
Fat:
1
g
Saturated Fat:
0.03
g
Polyunsaturated Fat:
0.4
g
Monounsaturated Fat:
0.4
g
Sodium:
88
mg
Potassium:
330
mg
Fiber:
5
g
Sugar:
22
g
Vitamin A:
145
IU
Vitamin C:
68
mg
Calcium:
111
mg
Iron:
1
mg
Nutritional Disclaimer
The information shown is an estimate provided by an online nutrition calculator. It should not be considered a substitute for a professional nutritionist's advice. See our full Nutritional Disclosure here.
Affiliate Disclaimer
Please note that some of the links here are affiliate links, and I will earn a commission if you purchase through those links. I recommend all of the products listed because they are companies I have found helpful and trustworthy.