When it comes to staying hydrated, water is always the best option. But if you're looking for something a little more flavorful and satisfying juicing recipes for detox, here are ten drinks that will help keep you hydrated without dehydrating you. From fruity smoothies to herbal tea and veggie juices, there's sure to be something on this list that you'll love. So go ahead and quench your thirst with these delicious and hydrating drinks!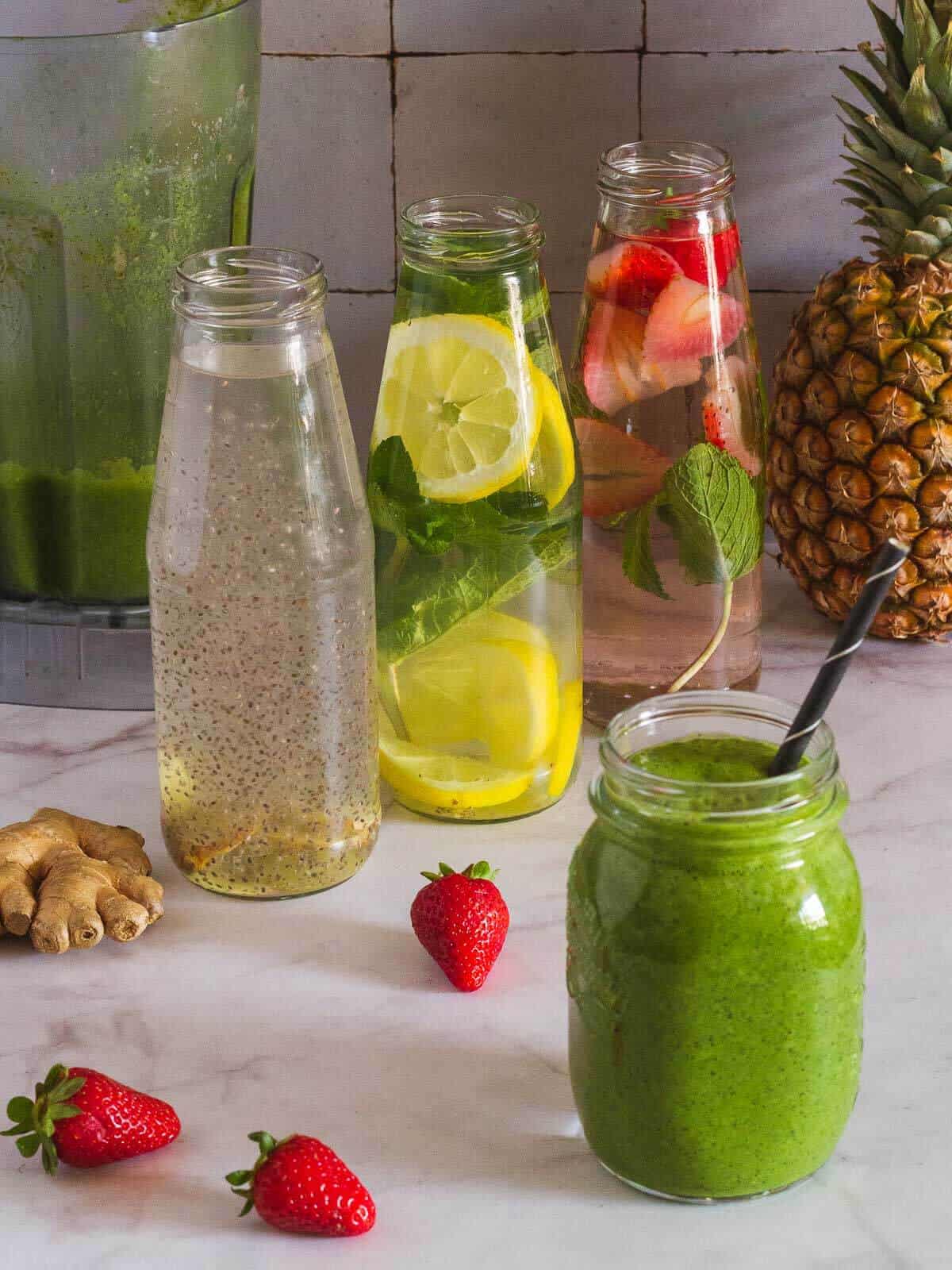 It is just as crucial to keep yourself hydrated as it is during the summer during the winter. Many people forget to do this because they don't feel as thirsty when it's cold out. However, your body needs water to function correctly no matter what the temperature is. So be sure to drink plenty of fluids and stay hydrated all winter long.
10 Drinks to Keep you Hydrated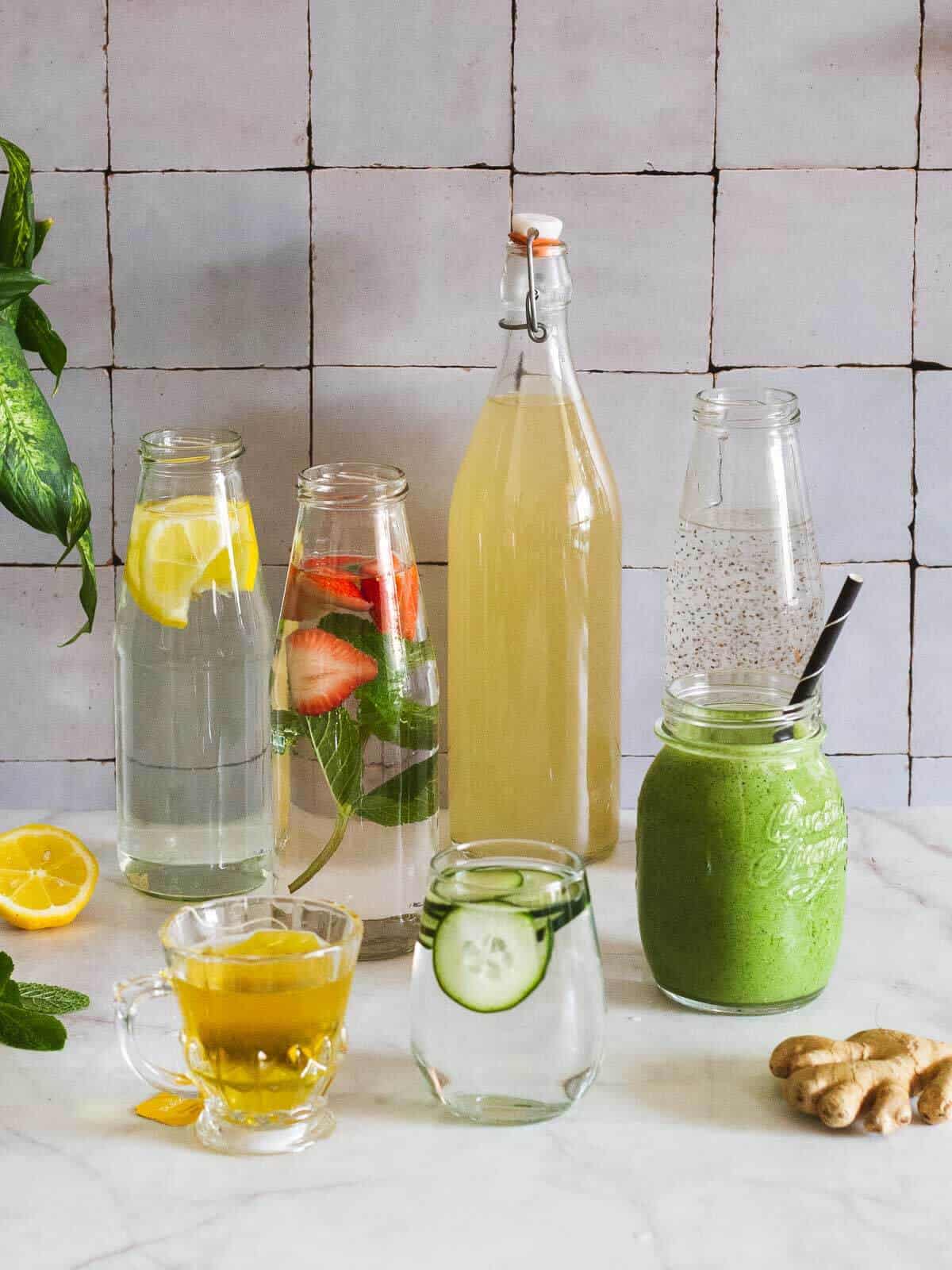 1. Pineapple Water
Looking for an easy way to stay hydrated throughout the day? Pineapple water may be the solution you've been searching for. Made from pineapple skins and pure water, pineapple water is a refreshing, nutrient-rich drink that hydrates your body while providing essential nutrients like vitamin C and magnesium.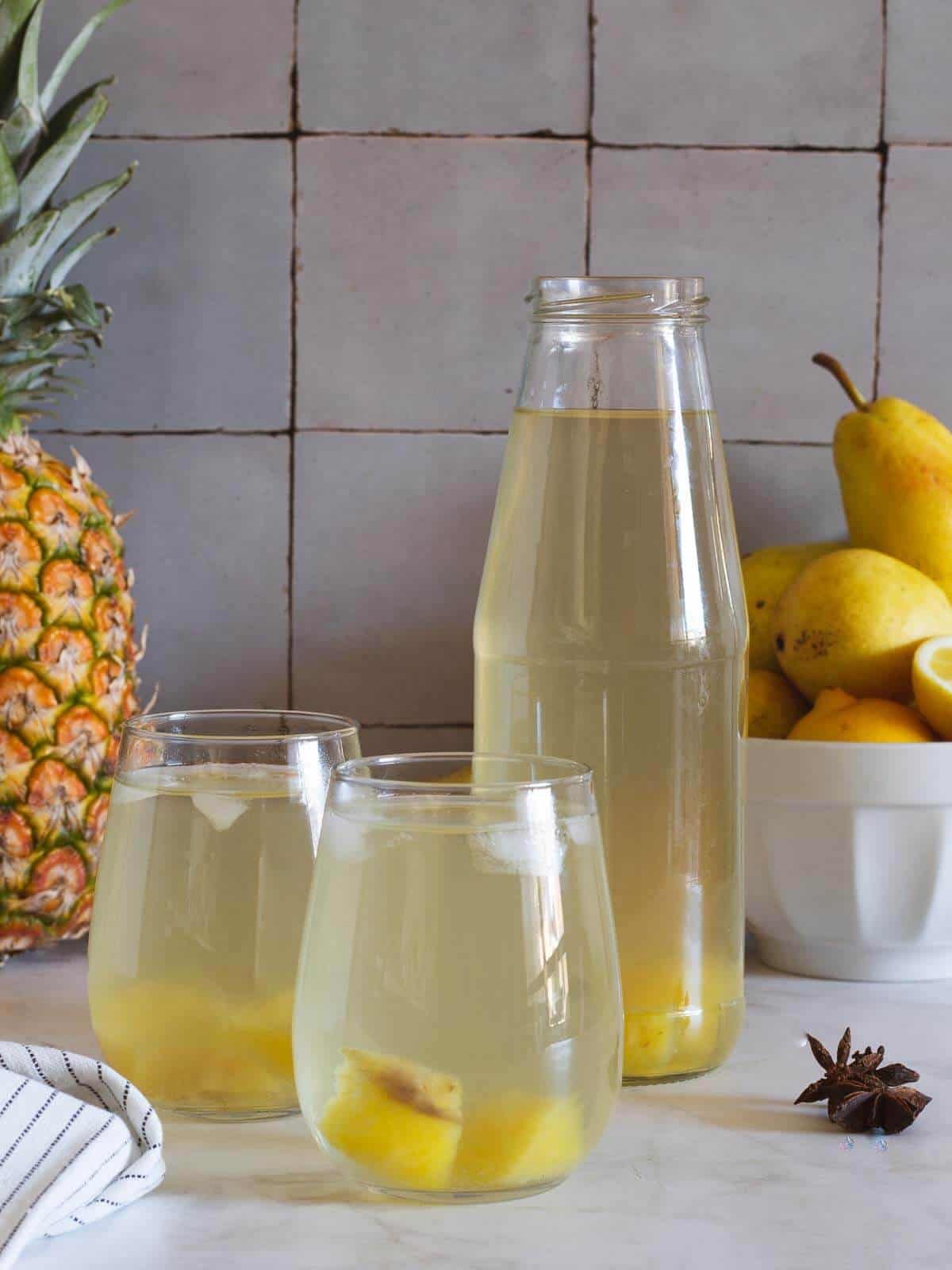 Studies have shown that pineapple water can help to improve energy levels, boost the immune system, fight inflammation, and promote healthy skin. Plus, pineapple water has a sweet and tangy flavor, making it a deliciously satisfying beverage choice.
Whether you mix up a glass in the morning or keep some bottled pineapple water on hand at all times, you'll love the way this hydrating drink keeps you feeling refreshed and energized all day long.
Read on: Drinks to boost the immune system »
2. Herbal teas and infusions
Herbal teas and infusions are popular sources of hydration, thanks to their soothing and refreshing flavors and their many purported health benefits. Herbs have been used for centuries to treat various ailments, and proponents believe that drinking herbal infusions can help boost the immune system, support digestive health, and even reduce stress levels. In addition, herbal teas and infusions contain many nutrients that can help replenish the body's water stores and other essential minerals.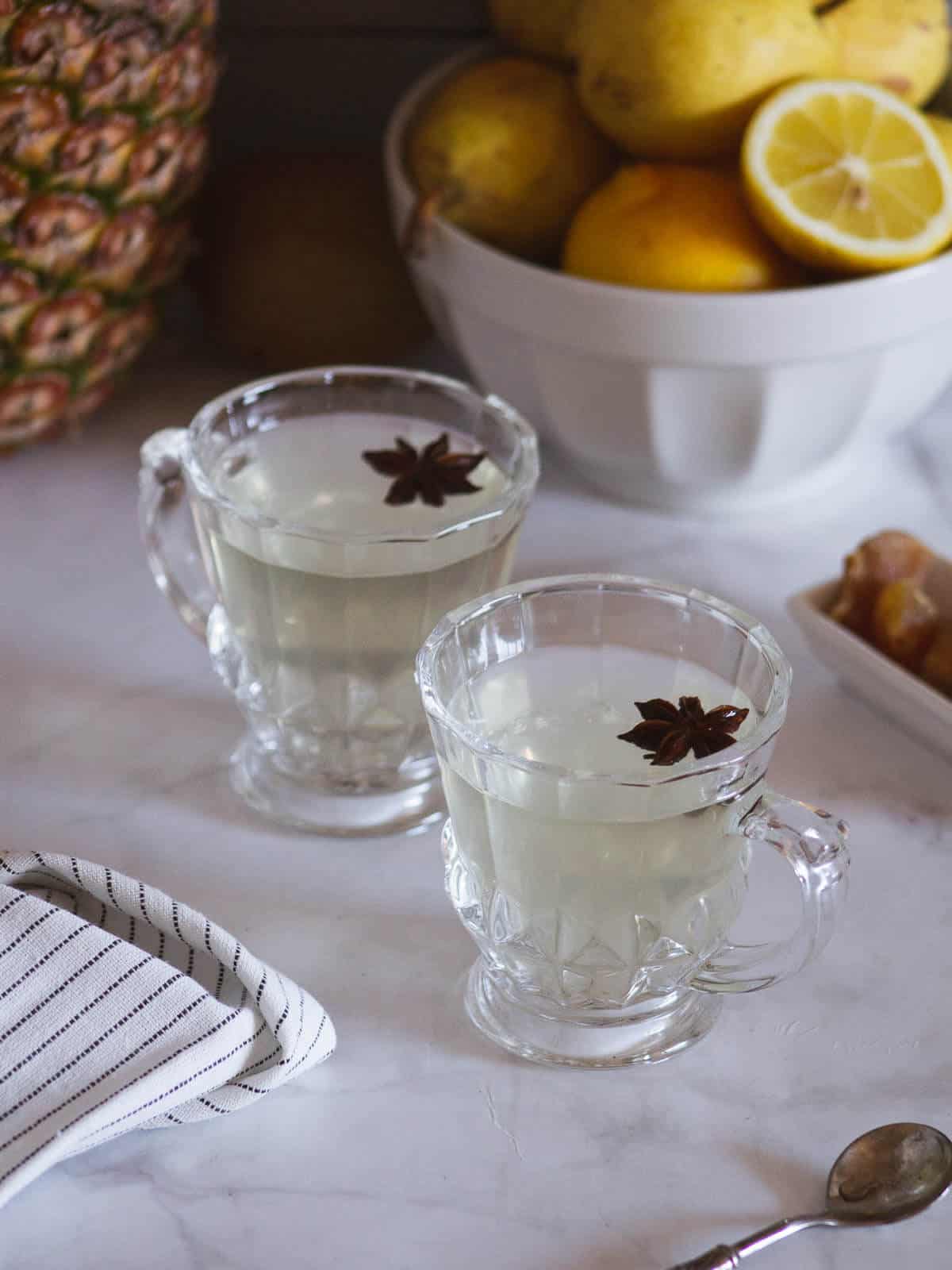 Whether you enjoy it hot or cold, plain or infused with fruit or spices, herbal tea is a hydrating beverage brimming with potential health benefits. So why not give it a try? You might discover your new favorite way to stay refreshed and hydrated!
Read on: Lemon, Turmeric, and Ginger Anti-inflammatory tea »
3. Coconut water
Coconut water is often lauded as a healthy and hydrating alternative to sugary drinks like soda and fruit juice. But what exactly is coconut water, and does it live up to the hype?
Coconut water is the clear liquid from the center of a young, green coconut. It's rich in electrolytes like potassium and magnesium, which can help replenish your body after a workout or a hot day outside. Coconut water is also low in calories and fat, making it a good choice if you watch your weight.
While coconut water is certainly healthy, it's important to remember that it's still a source of natural sugar. If you're trying to cut back on sugar, you may want to limit your intake of coconut water or choose unsweetened varieties. Coconut water is a great way to stay hydrated and get extra potassium into your diet.
4. Detoxifying green juice
For Green Detox Juice recipes for cleansing, it is preferable to use organic whole fruits and vegetables. Include leafy greens with dark green leaves like kale, swiss chard, and baby spinach.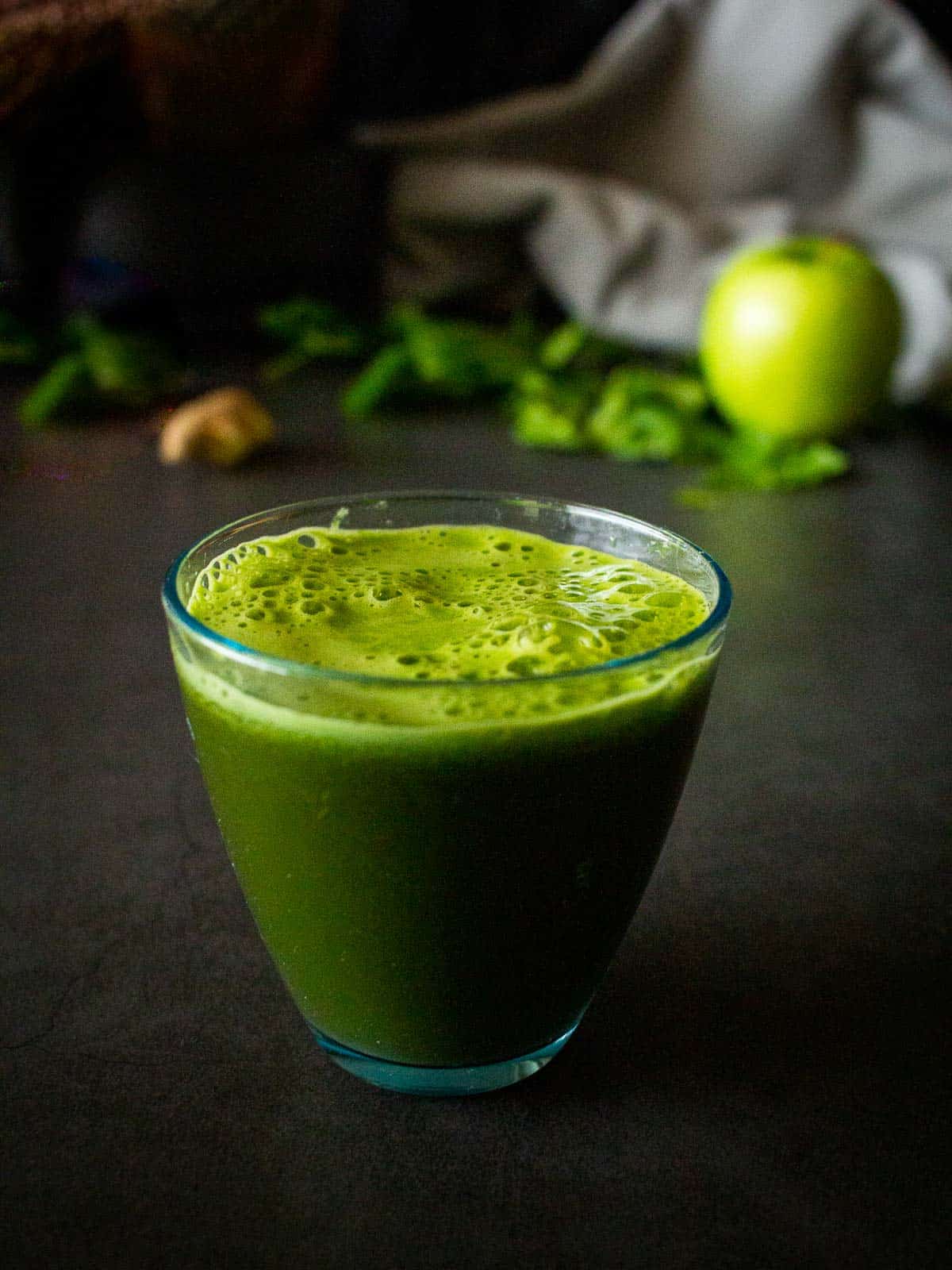 Vegetables like carrots, cucumbers, and celery are great for juicing given their high water content and vitamins like beta carotene and vitamin C.
Fruits like green apples, oranges, and mandarines are great for a green juice to cleanse since they make your healthy juicing recipes for detox taste good.
I like adding fresh ginger to all my green juice recipes because it has anti-inflammatory, diuretic, and tummy-friendly properties.
If you are interested in detox juicing recipes for weight loss, it is important to use more vegetables than fruits in your juice mix; you can limit the quantity of sugar and calories.
Try out this detoxifying green juice with kale and spinach, our celery juice cleanse recipe, carrot juice, and weight loss juice recipes for some inspiration during your detox days.
This Carrot and Beetroot Detox Juice is also one of our favorites allies during detox periods, along with this pick of juicing recipes for detox, healthy, refreshing, and delicious.
Read on: Homemade Liver Cleanse Juice »
5. Plant Milk
Plant milk is a hydrating drink made from nuts, seeds, or grains from plant-based sources. Unlike dairy milk, plant milk doesn't contain cholesterol or saturated fat. And it's a good source of calcium, magnesium, and other nutrients.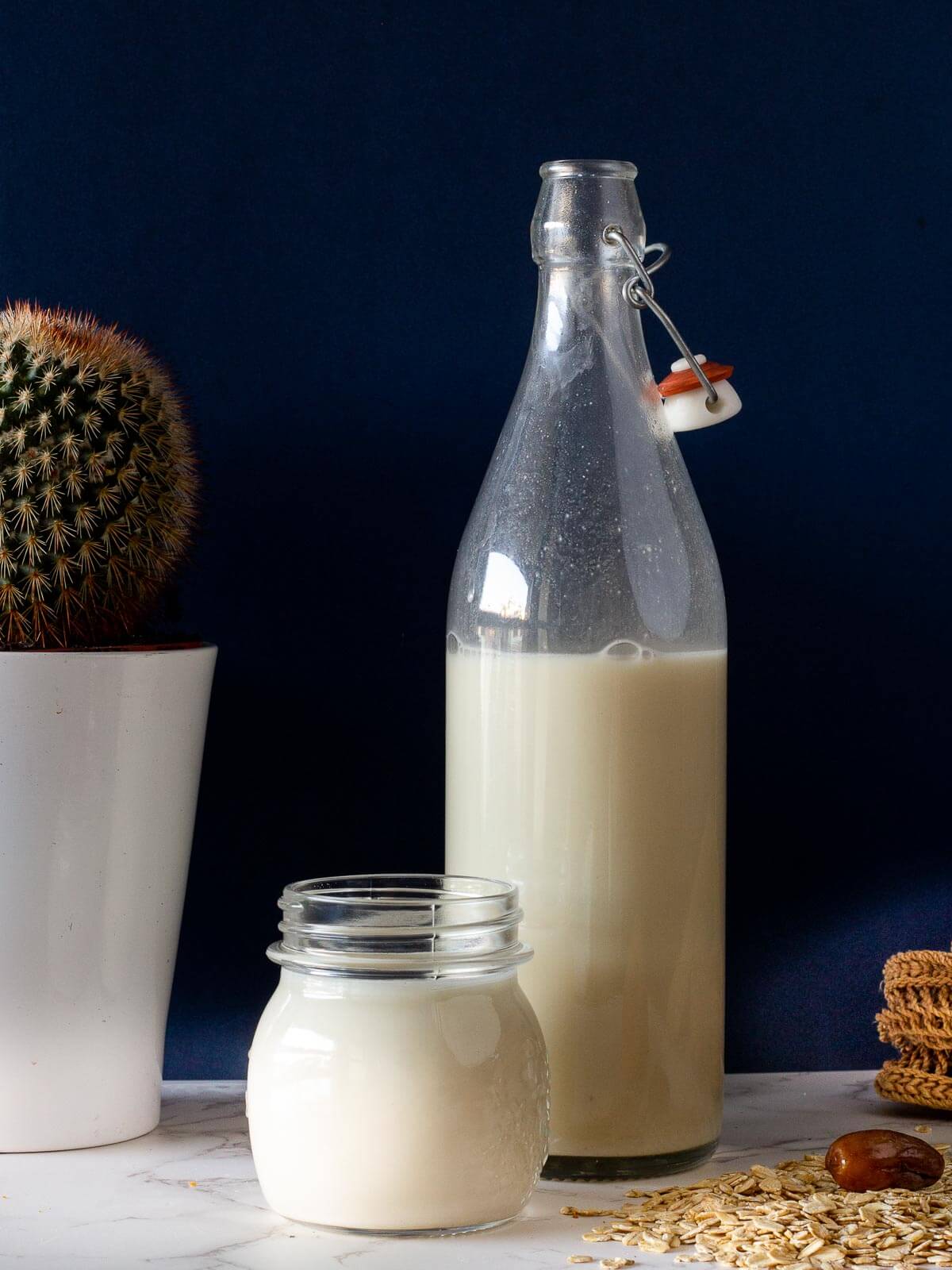 Dairy-free milk is also naturally low in calories and is usually fortified with vitamins and minerals. There are many kinds of milk to choose from, including homemade almond milk, soy milk, coconut, oat milk, and rice milk.
Non-dairy milk can be used in the same way as cow's milk - for example, in cereal or coffee - or as a plant-based alternative to dairy milk in recipes. So whether you're looking for a delicious and nutritious drink or trying to reduce your intake of animal products, plant milk is a great choice.
We like having our Vegan Golden Milk as a nurturing nighttime drink during detox periods, and it is also a great alternative to coffee.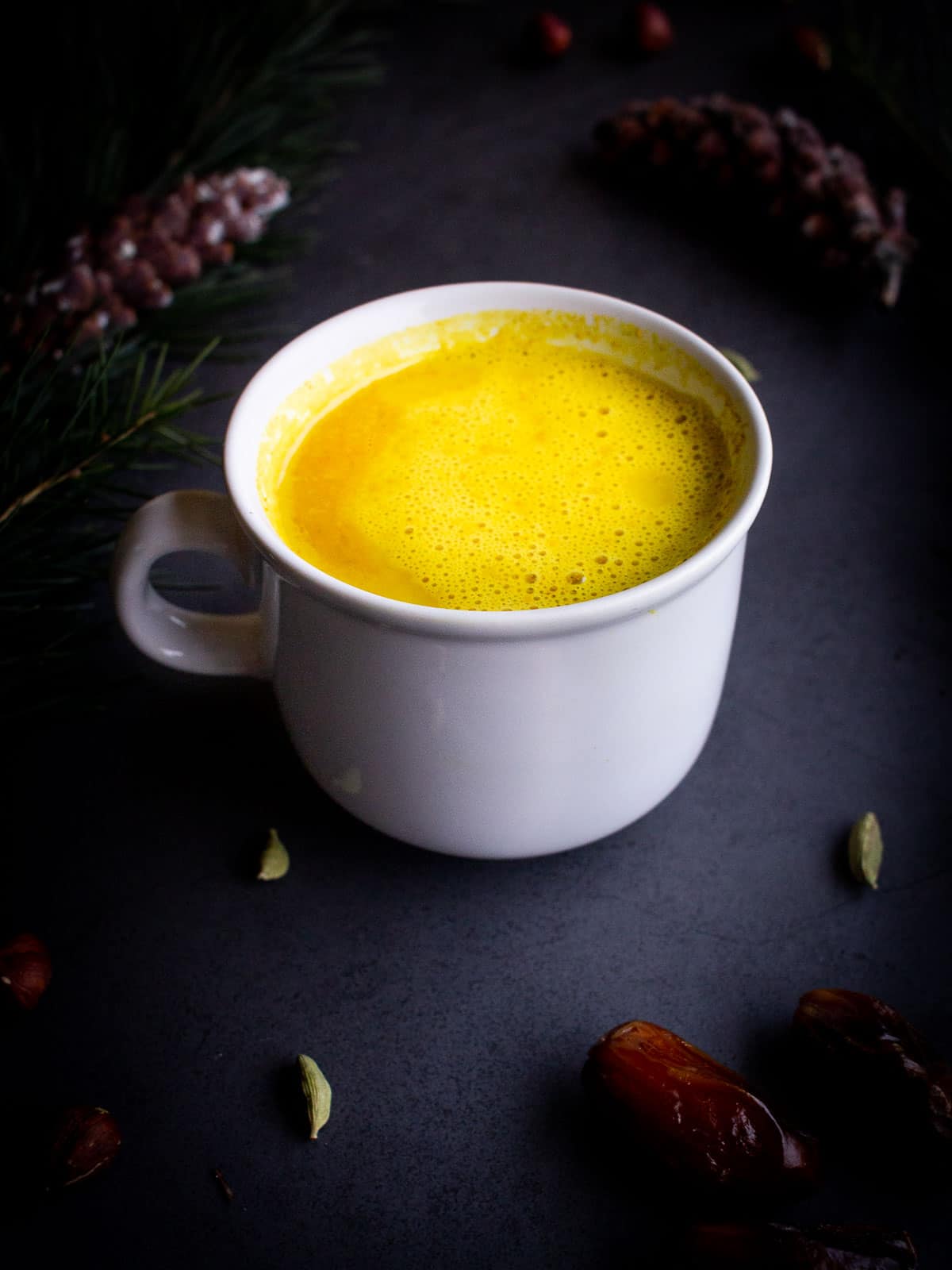 6. Lemon water
Lemon water is a popular hydrating drink; it can help you stay hydrated by adding electrolytes to your body, and lemon's vitamin C content boosts your immune system. When you are in lemon water, use fresh lemon juice and not concentrate.
In fact, you could use lime wedges, and strawberries, and add some mint leaves for extra flavor.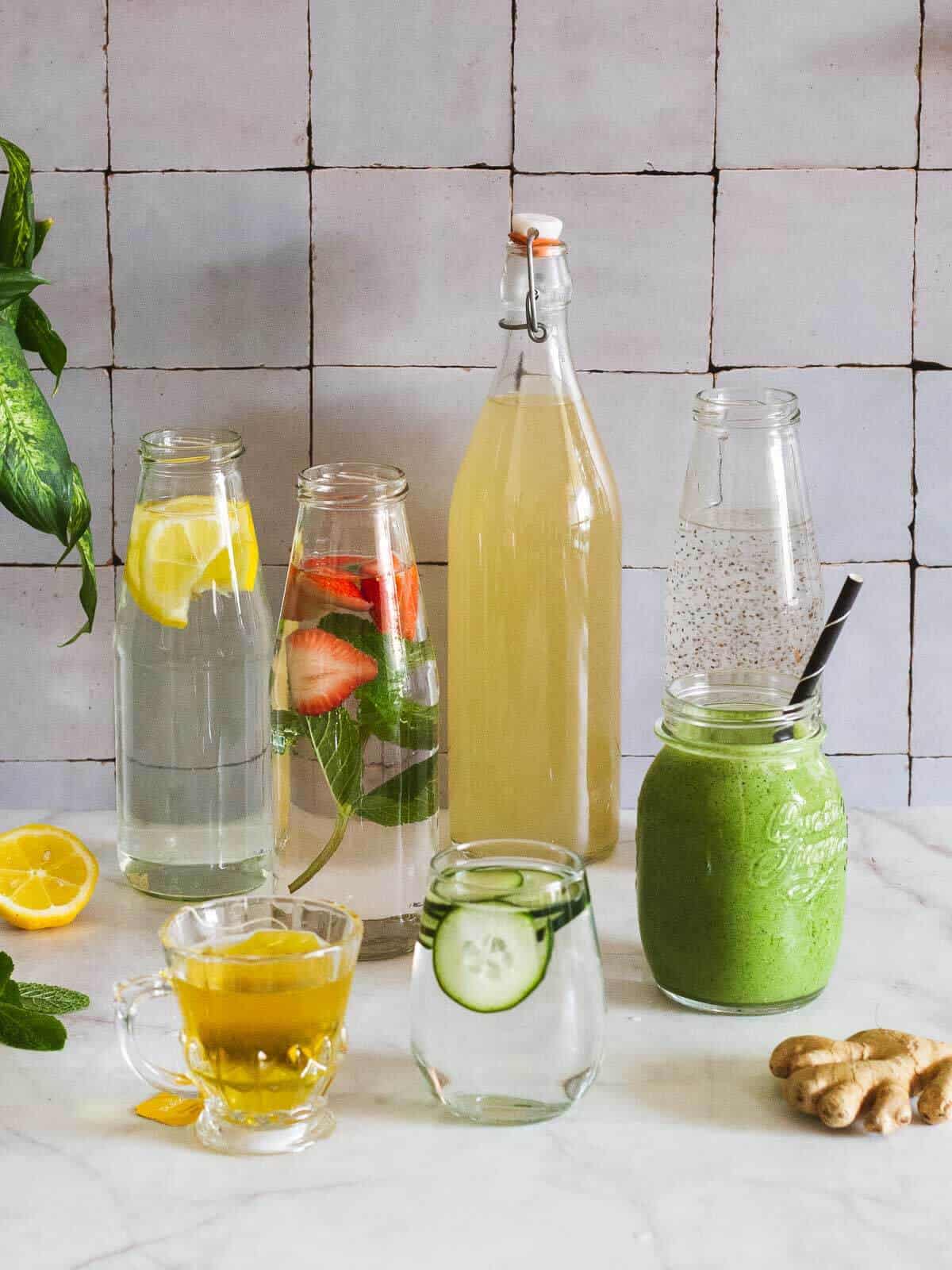 You should also be aware of the sugar content in lemon water as some commercial brands add sugar. If you are looking for a no-calorie lemon water drink, consider making it at home with sparkling water and fresh lemon juice.
7. Green Detox Smoothie
A Green Detox Smoothie is a refreshing and hydrating drink that can be enjoyed any time of day. Made with a blend of green leaves, fruits, and vegetables, this nutrient-rich smoothie is a great way to get your daily vitamins and minerals.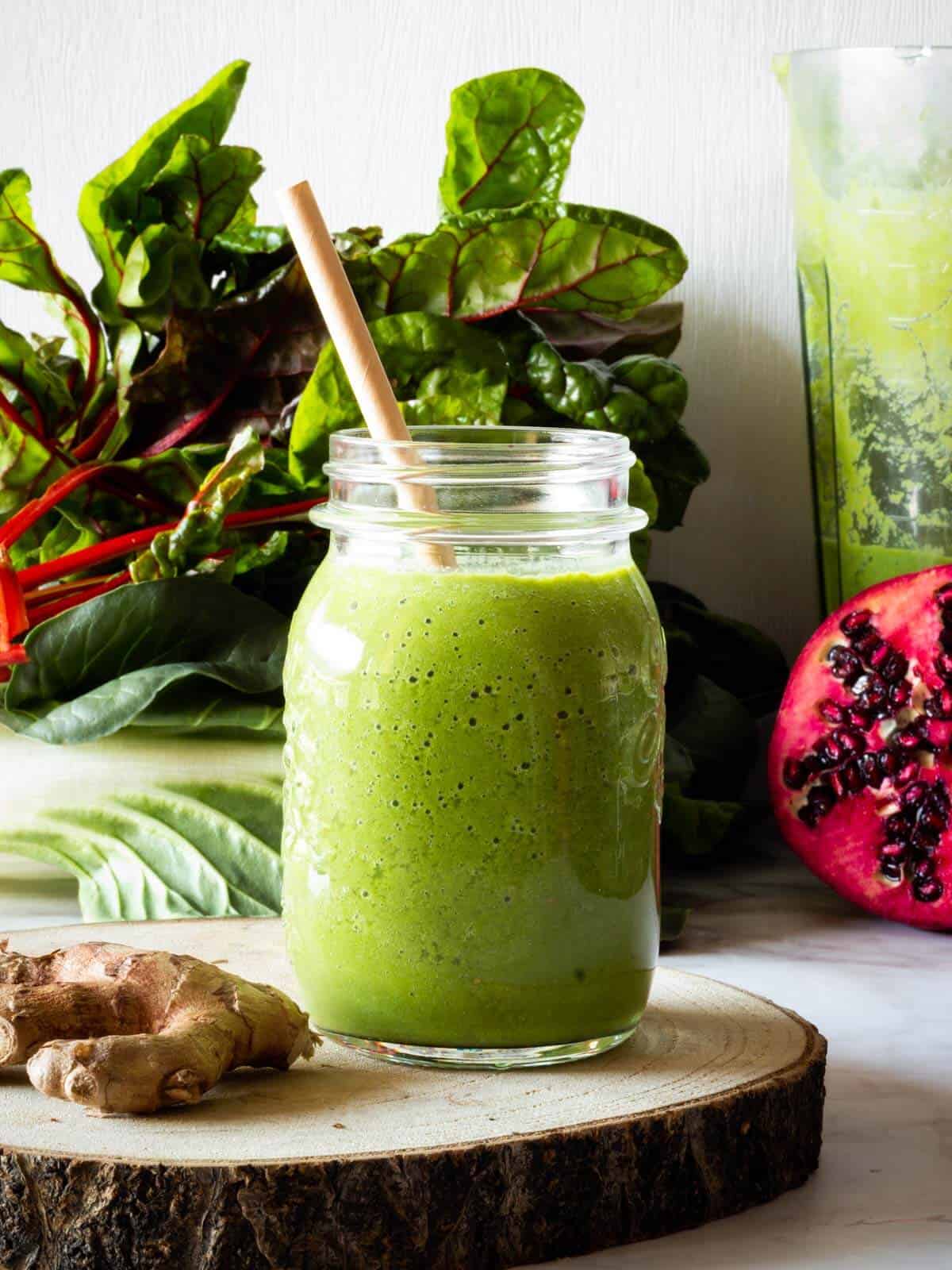 The chlorophyll in the greens helps oxygenate the blood and promote detoxification, while the electrolytes in the fruits and vegetables help replenish lost fluids and prevent dehydration. Whether you're looking for a quick pick-me-up or a healthy way to rehydrate after a workout, a Green Detox Smoothie is a delicious and nutritious choice, just as our delicious Spinach Blueberry Smoothie.
8. Cucumber juice
Cucumber juice is a refreshing and hydrating beverage loaded with vitamins and minerals. Made from the cucumber plant, cucumber juice is rich in nutrients that can help to support overall health and well-being. In particular, cucumbers are an excellent source of antioxidants, which help to combat oxidative stress and protect against disease.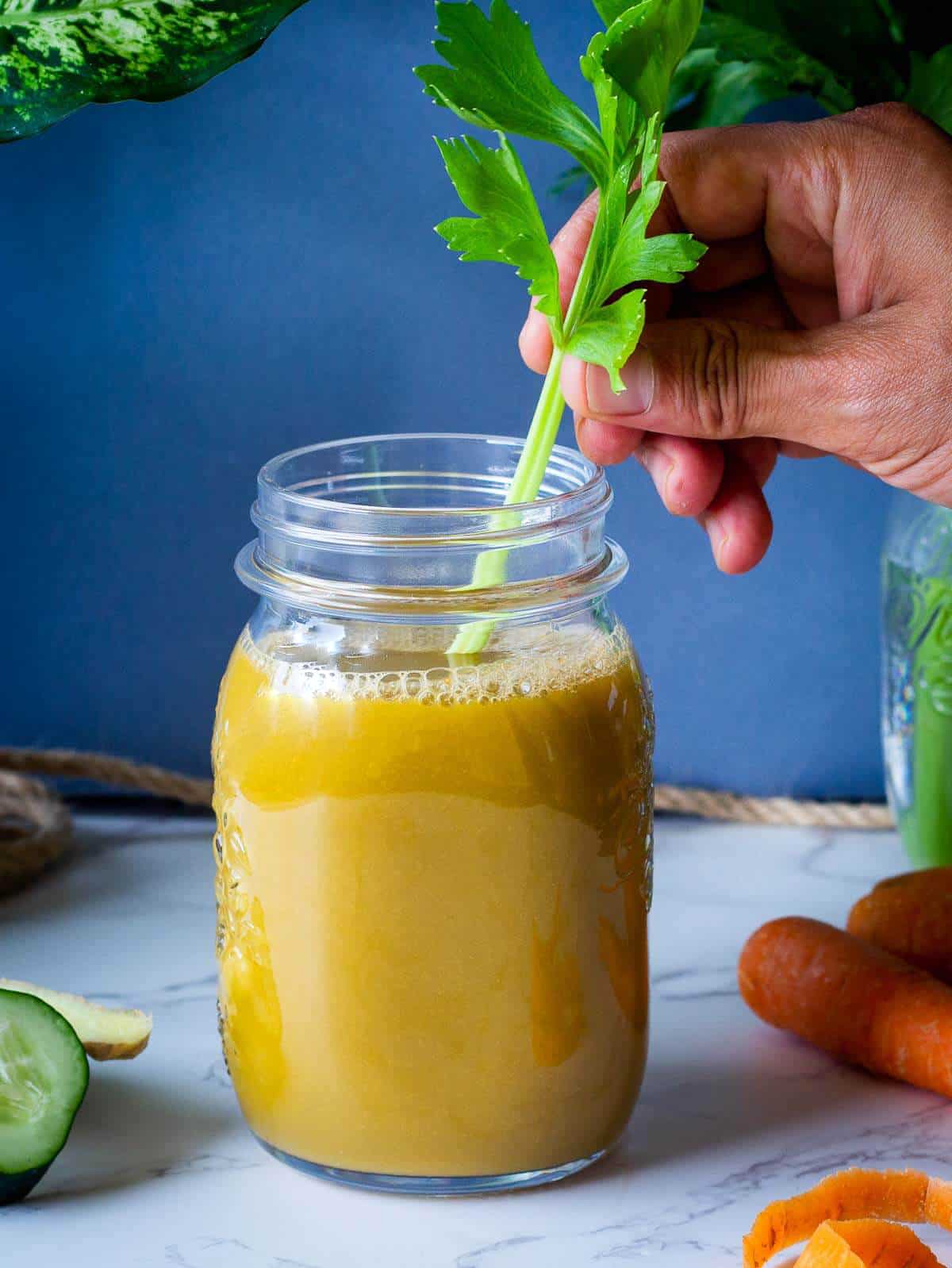 They are also high in silica, which helps support healthy skin and connective tissues, and potassium, which can help regulate blood pressure levels. And thanks to its mild flavor and mild diuretic effect, cucumber juice makes an ideal choice for anyone who needs a boost of hydration or is looking for a healthy alternative to sugary drinks.
So if you're looking for a healthy way to stay hydrated, consider adding cucumber juice to your diet today!
9. Chia Water
This is very easy to make a hydrating drink. Simply drop a tablespoon of chia seeds in water and let it sit in the fridge for a couple of hours.
Chia seeds are a great source of hydration, thanks to their high water-absorbing capacity. Known scientifically as "Saban saba," chia seeds can absorb up to ten times their weight in water, allowing them to swell within minutes quickly.
This makes chia seeds an excellent base for refreshing, hydrating drinks and smoothies. Additionally, chia seeds are a natural energy booster due to their high levels of omega-3 fatty acids and other nutrients. Whether you're heading out on a long hike or just need a midday pick-me-up, chia seeds are the perfect way to get an energy boost without any added sugar or artificial ingredients.
Next time you're looking for a delicious and hydrating drink or fuel for an afternoon workout, don't forget the chia seeds! They'll help keep you feeling your best no matter what life throws.
Since chia seeds are flavorless but packed with nutrients and antioxidants, we like to add some flavorings such as fresh ginger slices, star anise, cinnamon sticks, or peppermint leaves on them.
10. Watermelon Juice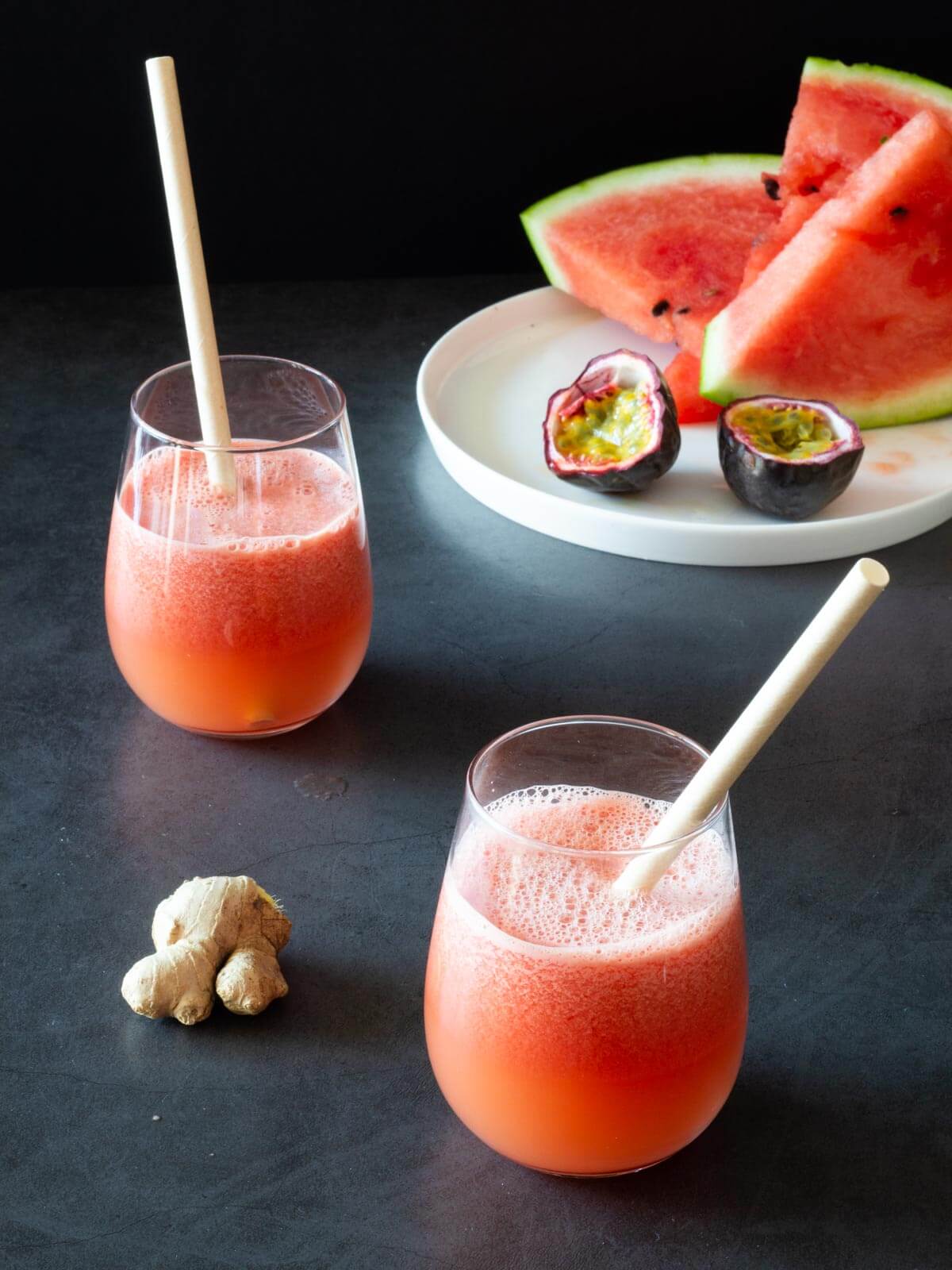 Watermelon juice is often touted as THE most hydrating juice, but is it really any better than plain old water? The answer may surprise you. Watermelons are made up of 92% water, so it stands to reason that their juice would be a great way to stay hydrated.
In addition, watermelons are rich in electrolytes like potassium and magnesium, which can help to replenish those lost through sweat. Watermelon juice also contains citrulline, an amino acid that has been shown to improve blood flow and reduce muscle soreness. So next time you're looking for a way to stay hydrated, reach for a glass of watermelon juice or a light-calorie watermelon smoothie. You'll be glad you did.
Read on:
Vegetable Juice for Diabetics »
Pomegranate Juice (diabetic-friendly juice) »
Green cabbage juice cleanse and Red cabbage juicing for weight loss and lung health »
❓ FAQ
Does orange juice hydrate you?
Yes, orange juice can be an effective way to hydrate your body. Drinking orange juice is a great way to get the essential electrolytes your body needs when dehydrating, such as potassium and sodium. Orange juice also contains antioxidants that fight free radicals in the body that contribute to cell damage and aging.

Drinking enough fluids throughout the day to remain hydrated is essential, with water being the best option for optimal hydration.
Studies show that drinking 8-10 ounces of 100% pure orange juice is just as hydrating as plain water since it provides minerals and sugar needed for proper rehydration while also supplying vitamins C and B in addition to small amounts of other micronutrients like calcium or magnesium. And because juices have fructose (a monosaccharide sugar) content, they help replenish energy levels faster than plain water does; thereby increasing one's metabolic rate significantly, which leads to better overall performance levels for extended periods of physical activity or rigorous sports activities.

However, caution should still be taken as there are many types of 'orange' drinks out there on the market, such as store-bought syrups, pre-made mixes, etc.; these usually contain a lot of artificial sweeteners/ added sugars or even artificial colorings; all these substances can potentially cause dehydration instead due their high osmolarity levels leading right up into adverse severe health conditions like diabetes type 2, etc.
So always ensure you get 100% pure Orange Juice minus any added ingredients whenever possible!
Can you use frozen fruit for infused water?
Absolutely! Infusing water with some of your favorite fruits is a great way to add flavor and nutrition to plain, boring H2O. And there's no need for fresh fruit - frozen fruit works just as well!

The method for making infused water using frozen fruit couldn't be simpler. All you'll need is a pitcher or container with a lid, some type of infuser basket (or ball), and the desired type of frozen fruit.
First, choose from any fruits such as strawberries, blueberries, blackberries, mangoes, pineapple chunks - whatever you'd like!
Simply place several tablespoons (depending on the size) into your infuser basket.

Transfer this filled infuser into the pitcher or container and fill it with cold tap water or filter if desired. Place the lid on top and allow it to sit in your refrigerator overnight; this will give all those flavors ample time to blend together perfectly. In the morning, remove your infuser device from the brew before drinking or serving - then enjoy all that delicious goodness straight away!

Infused water from frozen produce can be stored in an air-tight container within your refrigerator for up to 3 days at most; after that point, it should be discarded for safety reasons.
Making homemade infused waters is not only easy but healthy, too - without having to worry about added sugars in store-bought drinks!

Frozen fruits are often cheaper than fresh ones because they get picked during their peak ripeness while preserving them until they're ready for purchase by shoppers, so have fun experimenting with different combinations today and see what tasty new combos you come up with!
So, if you're looking for some new ideas for hydrating drinks, give these beverages a try. Not only will they help keep you hydrated, but most of them are also delicious and refreshing. Juicing detox recipes for weight loss are usually hydrating drinks that are also low in calories so you can rely on these healthy drinks for various purposes.
Start sipping! Have you tried any of these nine drinks to stay hydrated before? Let us know what you think?