Looking for a way to detox your body and get plenty of nutrients? Learn about this Green Detox Smoothie Benefits and how to make it in minutes! Made with superfoods like kale and chia seeds, it's packed with antioxidants and fiber. Best of all, it tastes great too! Whip up a batch today, add this shake to your detox smoothie plan, and enjoy the benefits of a healthy detox!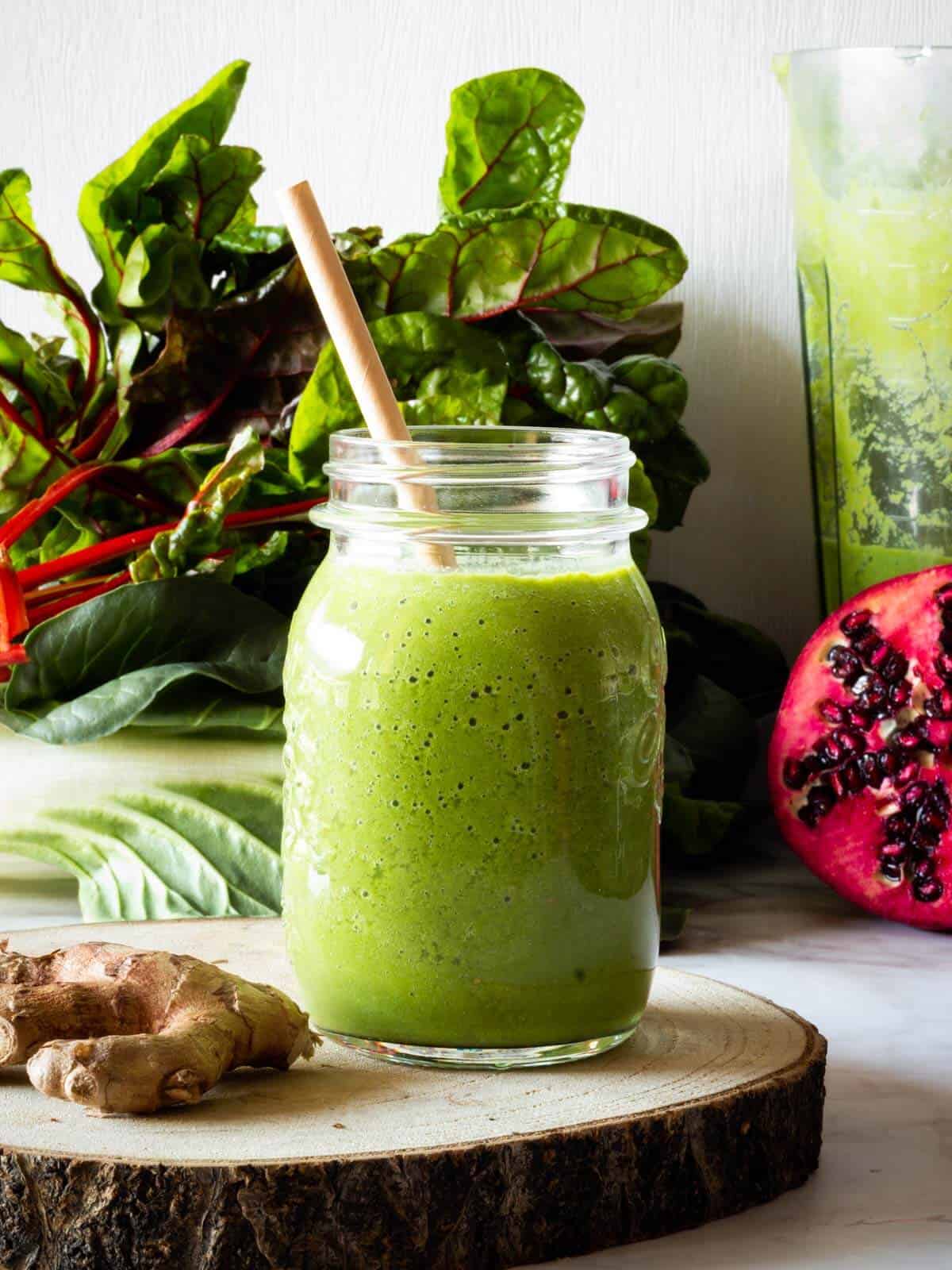 Are you feeling a little blah lately? Maybe you're not sleeping well, or your skin looks a little dull.
A Green Detox Smoothie might be just what the doctor ordered! This recipe is packed with antioxidants and nutrients to help your body feel refreshed and energized.
Green detox smoothies are a great way to improve your overall health and wellbeing. They are packed with nutrients and vitamins that give your body the energy and nourishment it needs to function at its best.
Some of the main benefits of green detox smoothies include increased hydration, reduced bloating, and more sustained energy.
Our strawberry kiwi smoothie will be a great fit if you are into healthy breakfast smoothies, and our spinach blueberry smoothie and spinach ginger smoothie are also a great way to start your day or finish your workout!
Jump to:
🧾 Ingredients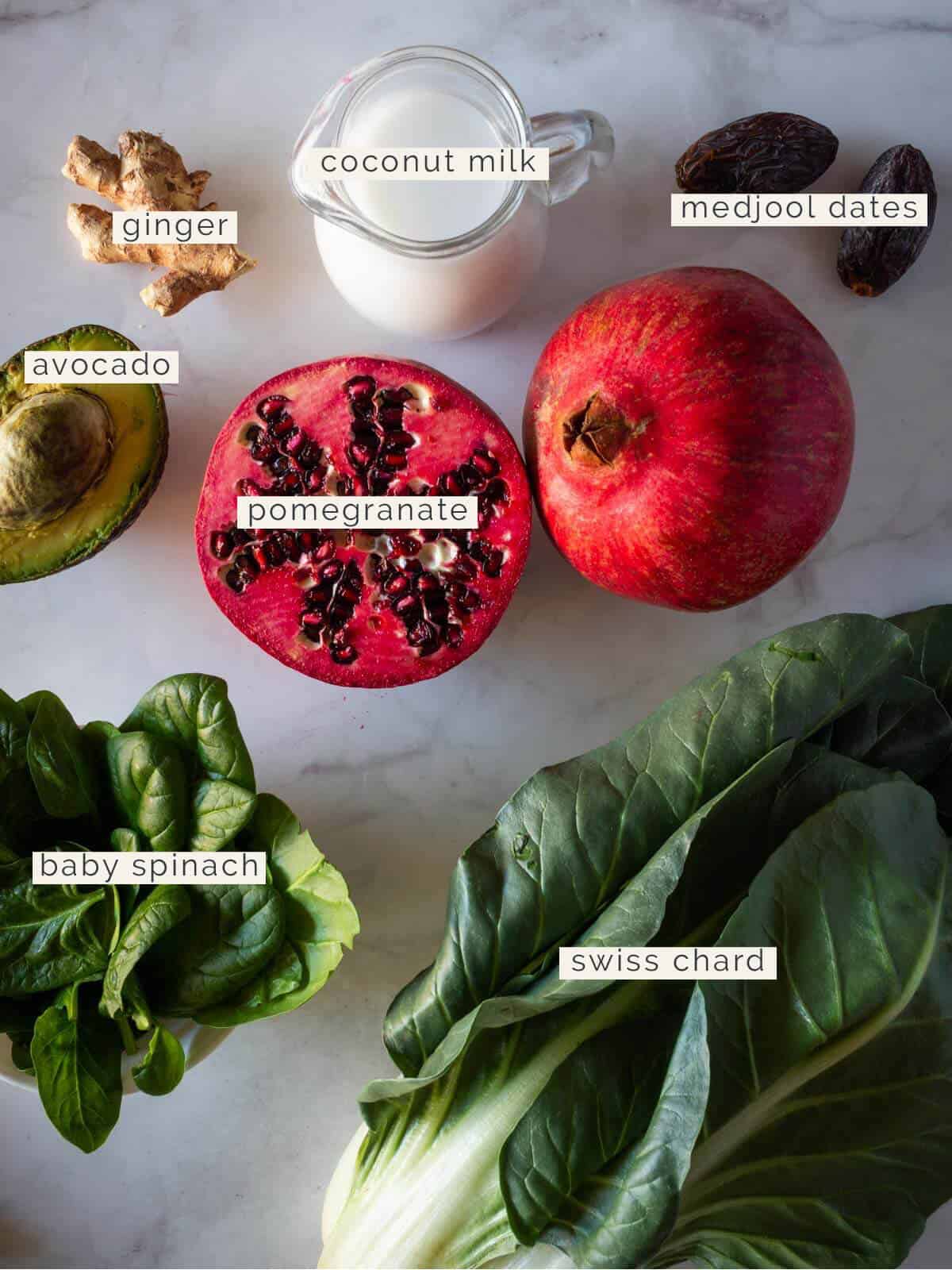 Unsweetened coconut milk (or almond milk)
Baby spinach
Fresh ginger
Swiss chard
Avocado
Pomegranate
Medjool dates (or date paste)
Optionally: add a tablespoon of chia seeds.
🔪 Instructions
To make this delicious green smoothie, start by:
Wash your greens.
Remove the stems from the Swiss chard leaves, and save them for another use. We stir-fry Swiss chard with garlic powder for a delicious and quick side dish.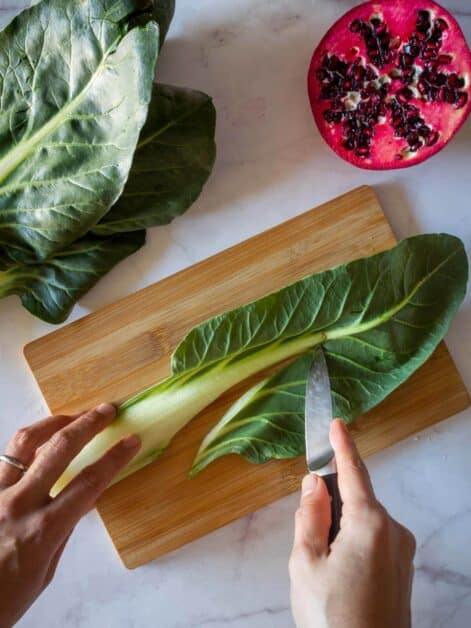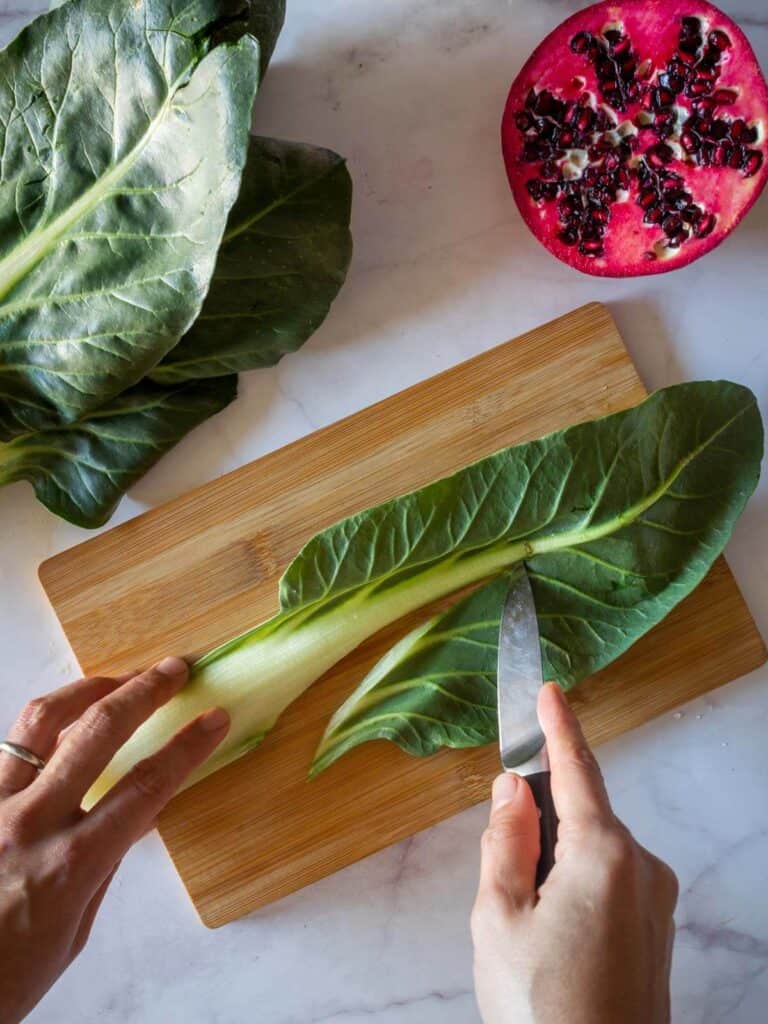 Remove the seeds from the pomegranate with a spoon. Optionally, you can juice pomegranate in a blender and then strain so no hardness is left.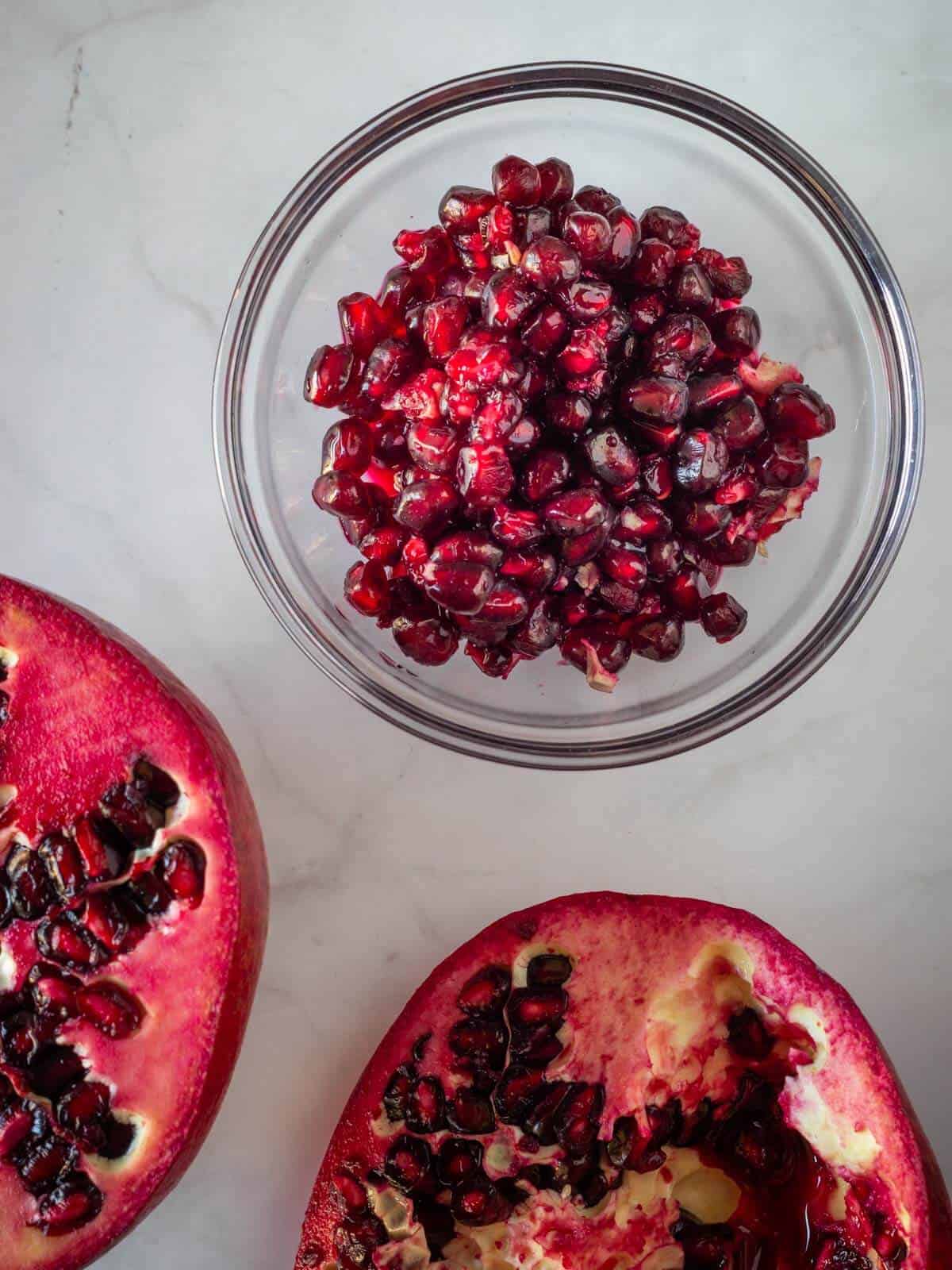 Pit both the avocado and the Medjool dates.
Add everything to the blender, and add freshly grated ginger on top, followed by the unsweetened coconut milk and ice cubes.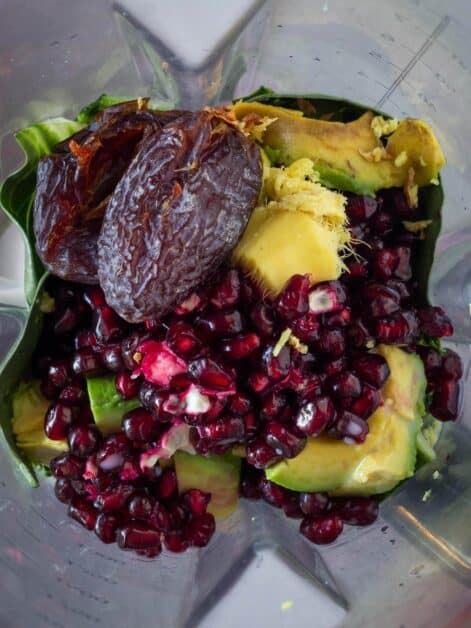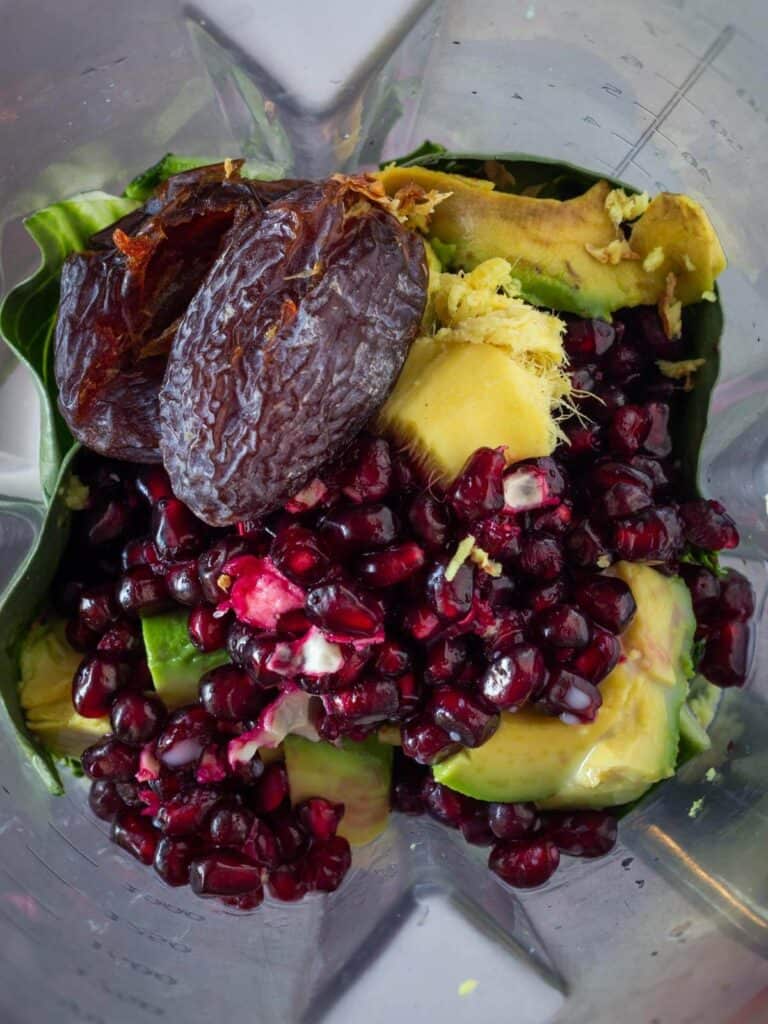 Blend until smooth.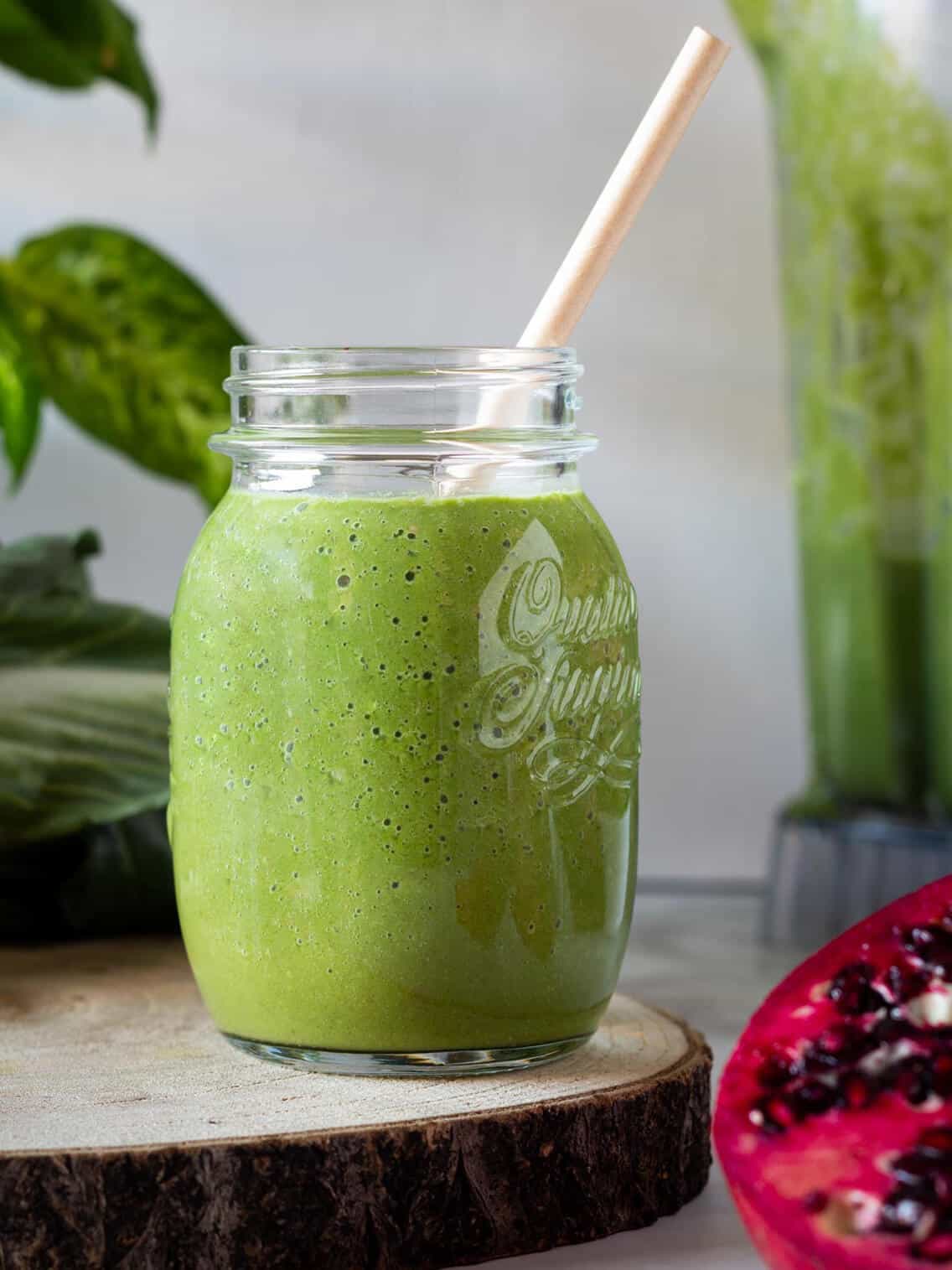 📖 Variations
Making a detox smoothie is easy, and you should work with what you have handy! That's part of the fun of making smoothie recipes at home.
What you need to master are the basics of how to make a balanced yet yummy detox smoothie.
Make sure you use healthy foods, like chia seeds, green tea, almond milk, lime juice, baby spinach, and fruits and veggies. Trying to keep the sugars low and the fiber high.
Smoothie recipes can quickly pack tons of calories if you start dumping high-calorie foods like peanut butter and sweeteners.
Try out our spinach and apple smoothie and the blueberry and spinach smoothies for more detox options.
Seeds
Add a tablespoon of flax seeds or chia seeds to add an extra portion of antioxidants.
Healthy fats
Add 2 or 3 walnuts or almonds to add some protein and healthy fats (these nuts don't have any saturated fat). Make sure to blend them well until you get a creamy texture.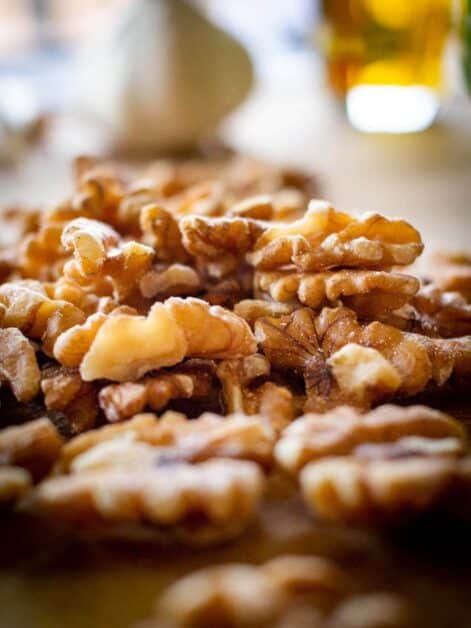 Protein
Add a scoop of your favorite plant-based protein powder (affiliate link). We like adding a scoop of hemp seeds or powdered hemp protein powder.
Sweetness
You can agave nectar or maple syrup, but we try to keep detox smoothies sugar-free.
If you feel like you need extra sweet or don't have dates, I'd rather add a ripe or frozen banana, frozen fruit, or a green apple.
Frozen mango is another excellent option to add some natural sweetness.
Fruits and vegetables
I try to stick to fresh ingredients like organic fruits and vegetables when it comes to green detox smoothies. But it is ok to go for frozen fruits to supplement, especially frozen berries, which have been found to keep all their properties.
If you don't have pomegranate or are not in season, replace it with the same amount of cubes, pineapple, or orange juice. This will make up for the acidity and sweetness.
You can use kale or any other leafy greens if you don't have fresh spinach or Swiss chard handy (March is a great season to munch on them). You can use just spinach and supplement Swiss chard's quantity.
They are completely replaceable. You can also use frozen spinach or frozen kale.
A greens smoothie recipe weight loss, can have any mix of collard greens, spinach, kale, and Swiss chard.
Plant-based milk
I love using lite coconut milk or even coconut water because it balances out the earthy and greenish flavor of the leafy greens. It pairs wonderfully with ginger and pineapple if you use it as a pomegranate replacement.
You use any dairy-free milk, like unsweetened almond milk, soy milk, or homemade oat milk, but you will miss the coconut flavor.
One thing I do when I am out of coconut milk and coconut water is add two tablespoons of shredded or powdered coconut, things that I always keep in my pantry.
Top tip: Try to keep your meal replacement drinks below 400 calories and a snack-size smoothie under 200.
🏥 Health benefits of green detox smoothie
A green smoothie recipe usually comes with many healthy ingredients and great nutritional value, making a wonderful and healthy breakfast.
If you plan to have your detox green smoothie as a meal replacement, we suggest adding a banana, some nuts, a scoop of your favorite protein, or one tablespoon of almond butter.
This way, your nutrition serving will be optimal for a meal replacement while aiding a weight loss program.
Some of the benefits of having a green detox smoothie as a replacement for one of your meals a day are:
More energy
Your body consumes a great amount of energy on digestion. I am sure you have experienced feeling lethargic after a big meal.
That's just because your body is focusing on sending blood to surround your stomach and be able to digest what you just consumed.
When you have lighter foods that are not too rich in protein and carbohydrates, your body needs to work less, and you can avoid energy deprivation.
After a meal, many individuals experience tiredness or difficulties focusing. A person's exhaustion level might be determined by what, when, and how much they ate.
This avocado smoothie recipe for weight loss helps with that, as avocado has healthy fats and fiber to keep you going for longer without nonsense snacking.
A perfect addition to your detox weight loss smoothies; alternate it with a pineapple and cucumber smoothie, another excellent detox smoothie to lose weight.
Weight loss
If you are aiming to lose weight, you need to have a calorie deficit and foods that keep you satisfied for longer periods.
A Green detox smoothie does just that. With high fiber, nutrient-dense foods, and low-calorie count, a green smoothie detox recipe must tick all those checks! Simple!
Read on: the perfect pineapple cucumber detox smoothie »
Better sleep
Eating better, in general, helps to get better sleep. If you are aiming at this benefit specifically, it is recommended to add some walnuts to your smoothie and maybe change the pomegranate for kiwi.
Having kiwifruit is great to fight insomnia; check our kiwi fruit juice, another great detox juice.
Longer life expectancy
Including lots of fresh vegetables and whole foods in your diet in replacement of processed foods and saturated fat, which has slowly but quickly made their way to our breakfast, helps to increase your life expectancy.
Make sure you include more real food recipes as part of your healthy habits and your green detox smoothie recipes.
Clearer skin
Leafy greens are packed with Carotenoids and Vitamin C and A. Great for beautiful skin. Add extra chia seeds.
Chia seeds and avocados are high in omega-3 fatty acid ALA and omega-6 fatty acid linoleic acid.
The omega-3 fatty acid EPA and the omega-6 fatty acid GLA have been shown in studies to improve moisture barrier health, particularly for individuals with dry skin disorders such as atopic dermatitis and psoriasis.
💡 Tips for making balanced drink
To make a nutritionally well-balanced smoothie, keep protein, good fats, and carbohydrates in mind.
If you want to make your smoothie more filling, especially if using them as meal replacers, add additional protein-dense ingredients.
To reduce the amount of sugar, increase the fiber, and improve the nutritional value, add more vegetables than fruit to your diet.
Add fruits such as banana, mango, or pineapple to sweeten your smoothie instead of sugar, honey, or maple syrup to avoid adding any extra sugars.
To guarantee you don't go over your high-calorie additives, measure them. Protein powders can quickly add 100-150 calories to a smoothie in one scoop.
🥬 Green Ingredients
Swiss Chard
Rainbow chard, green chard, red chard, or white chard, whichever you use for your smoothie, are considered among the best superfoods.
They are a fantastic bet on raising your nutrition game. This leafy green is packed with nutrients, and the caloric count is super low.
10 Health benefits of Swiss chard
Chard benefits include:
Loaded with fiber, which also helps to decrease insulin resistance, helps to feel full for a longer time, thus aiding weight loss, since it is very low in calories (45 calories per 100g)
Treating high blood pressure - Research shows that a flavonoid found in Swiss chard may help fight heart disease by lowering blood pressure and inflammation and also inhibiting blood clotting.
High cholesterol management is also a result of having a high fiber content (4 grams in one cup), which feeds beneficial gut bacteria and helps maintain healthy cholesterol levels.
Diabetes - as it may lower blood sugar and help decrease insulin resistance.
Skin problems - since chard is high in betacarotene, just like carrots, they are a great ally to fight skin problems and keep clear and healthy skin.
Arthritis joint protection - green, leafy vegetables like kale and Swiss chard are packed with antioxidants, which protect cells from free-radical damage that has been linked to Rheumatoid Arthritis.
Improving exercise performance - similar to beets, Swiss chard has dietary nitrates, which have been shown to make muscle oxygenation better during exercise.
Cancer prevention and treatment - chards contain chlorophyll, which may effectively block the cancer-causing substances generated when using high temperatures for grilling foods.
Eye health - Swiss chard also contains lutein and beta-carotene antioxidants, which reduce the risk of eye disorders.
Packed with disease-fighting antioxidants. Swiss chard has antioxidant properties that help protect the body from free radical damage.
Swiss chard is a dark green leafy vegetable that is part of the beet family. It is known by many different names, such as silverbeet, spinach beet, perpetual spinach, or beetroot.
Swiss chard is considered a superfood because it has a high nutrient density and a very low-calorie count.
Chard nutrition facts are amazing; they are packed with vitamins K, A, and C and many minerals such as iron, copper, magnesium, and zinc. For instance, chard iron content is a heaping 22% of the daily recommendation per serving (175 grams per cup of cooked Swiss chard).
Learn how to use white swiss chard on this delicious authentic Tuscan soup, made with hearty and healthy ingredients that make up for a full meal.
Read on: Vegetable Juice for Diabetics » and Low-sugar Strawberry Juice »
Spinach
Another excellent leafy green high in beta carotenes and similar health benefits to those of chard increases your smoothies' nutritional value, fiber, and protein content.
Pomegranate
Adding pomegranate to your diet may reduce inflammation and the risk for chronic disease and is an excellent antiviral. Pomegranate is high in nutrients and full of antioxidants.
Avocado
Since avocados are packed with potassium, which helps to take sodium out of the digestive tract through urine, they may help reduce blood pressure and regulate cholesterol. Try out our avocado hummus and traditional Mexican guacamole to learn how to include this fantastic fruit in your meals.
Dates
This natural sweetener is great for aiding gut health and bone health. They are also packed with antioxidants! You can also male date paste and use it in all kinds of recipes, even for baking!
Coconut milk
According to Medical News Today coconut milk is beneficial for weight loss, boosting the immune system, and heart health. Remember that it is a high-calorie-rich food, so use a lite coconut milk for your smoothies.
❓FAQ
Are smoothies a good way to lose weight?
An optimal weight loss program is having a balanced diet and gradually suppressing calorie intake. Twenty percent is a good start.
It is not a good idea to cut the calorie intake abruptly because the body recognizes that signal as "famine is coming, so I need to prepare and reserve my calories."
So we don't want to shock the body; we need to teach it that it needs fewer calories to function well than the amount it has been consuming so far, and that is achieved gradually.
Where does the green detox smoothie come in? On the balanced diet part.
One of the reasons for overeating is the bad quality of the food we ingest. When we give simple sugars and fats that our bodies metabolize quickly, they will soon ask for more.
With a well-balanced detox green smoothie, we can give the body what it needs to feel satiated and nurtured.
When should I drink a detox smoothie?
Use detox smoothies in two ways.
Meal replacements
For different reasons
Saving time - When you don't have much time to fix yourself a properly balanced meal, making a green banana smoothie might be one of the easiest ways to have a good meal. Making a healthy spinach smoothie is an excellent way to save time making breakfast or snacks.
Upset stomach - at times, your body needs some rest; listen to it. If you don't feel like eating or your stomach hurts, you probably need to give it something nurturing and "already chewed," which won't require much work to digest. Check our detox juice and upset stomach juice.
Lack of appetite - first, make sure to consult with your doctor to understand what the cause is. If your doctor tells you, you need to eat, either to replenish your energy or to be able to take your medication, then a smoothie would be a good resource, as it is easy to ingest.
Weight loss - smoothie recipes might be a good answer if you want an easy way to measure and control your calories and macros intake and lose weight. Just make sure you don't live on detox smoothies. It is unnatural. Your digestive system needs to chew as part of its digestive process. Don't assume you can live on liquids. Check our juice for weight loss.
Snacks
Pre or after a workout - 30 minutes before working out or until 90 minutes after you finish your exercise routine, it is a good idea to give your body a well-balanced smoothie. We have designed this post-workout green detox smoothie to do just that!
Mid-morning or mid-afternoon snack - detox smoothie recipes are great to keep handy when you are away from home and want to have your healthy snack fixed. Just remember to make it a half portion so it does not surpass the 200 kcal line. You don't need a 400 kcal snack unless you perform a high-calorie burn activity.
Is a smoothie detox good for you?
Yes, as long as the calorie count also makes sense. If you are using green smoothies as a meal replacement, make sure it has the calorie count you would have in a meal, 400-600 kcal. You can easily adjust this with chia seeds, nuts, and protein powder.
🥤 More healthy smoothie recipes
Check out these 11 Refreshing Juices and Smoothies, which are great for starting the day, or have a sneak peek at these smoothie recipes.
Easy Strawberry Banana Smoothie
For an energizing green smoothie, have this banana matcha smoothie made with protein-packed soy milk; perfect for starting the day as a coffee sub,
🧃 Healthy Detox Juices recipes
Since we are carrot lovers and admirers of great skin, the Carrot, apple, and celery juice, and health benefits is the juice that we drink the most, along with our Morning celery juice which has great anti-inflammatory benefits.
The Beetroot, apple, and celery juice is our juice of choice previous to workout, given beets' amazing recovery benefits, and after working out, we either have our Post-workout smoothie for protein or the Carrot, Cucumber, and Celery juice for enhanced hydration.
You've already learned how to make the perfect detox smoothie; let's keep the momentum going! We also have some great resources to get the best out of juicing: detoxifying! Be sure to check out these hydrating, low-calorie drinks that can help you detoxify like a pro:
Read on: 10 Most Hydrating Drinks and Juicing Recipes for Detox »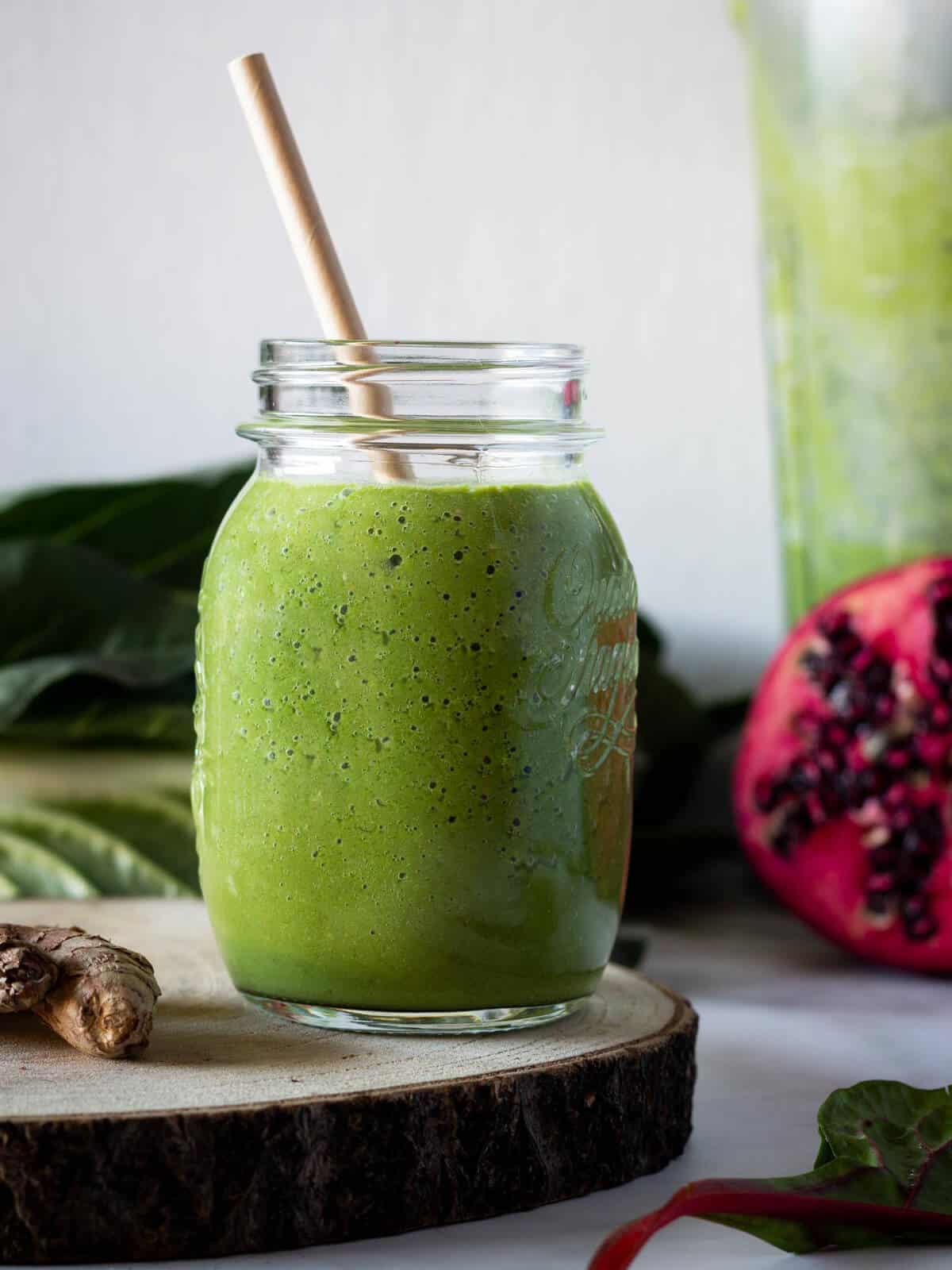 If you try this detox smoothie to lose weight, let us know! Leave a comment, rate it, and don't forget to tag a photo #ourplantbasedworld on Instagram. Cheers!
📋 Recipe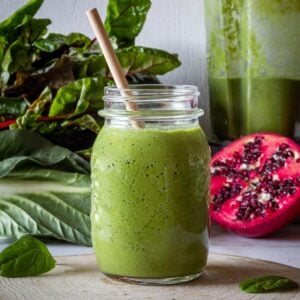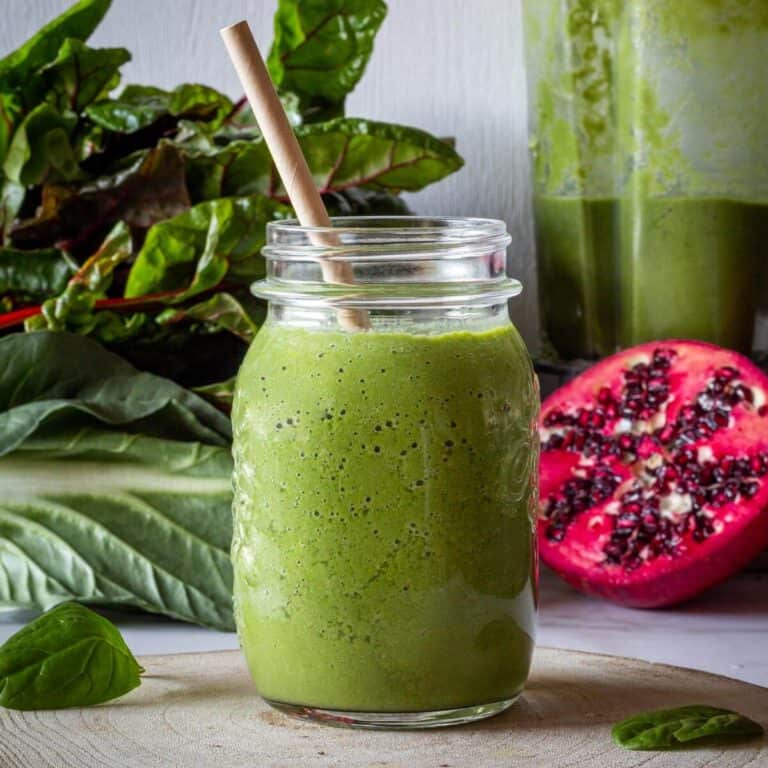 Superfood Green Detox Smoothie
Superfood Green Detox Smoothie - Made with spinach, avocado, pomegranate, Swiss chard, and coconut milk. A delicious green drink recipe for health and detoxification.
Equipment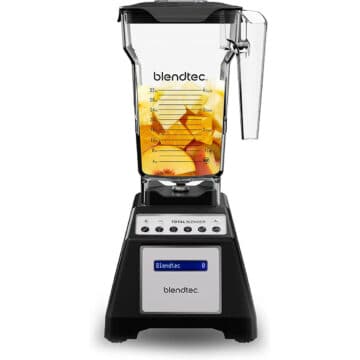 (affiliate link)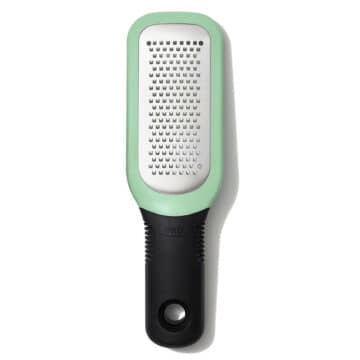 (affiliate link)
Ingredients
1

cup

Swiss chard

chopped, about 5 leaves, without the stems

½

cup

spinach

1

cup

pomegranate seeds

seeded, or juice with a citrus juicer as some blender might not blend the seeds well

¼

avocado

pit, and skin removed

1 ¾

cups

coconut milk

unsweetened lite

1

tablespoon

ginger

fresh, peeled and grated

3

Medjool dates

pitted
Directions
Cut the avocado and scoop the pulp.

Peel the ginger and pit the Meedjol dates.

Remove the stems from the Swiss chard and save them for another recipe.

Scoop the pomegranate seeds, removing the white flesh.

Layer the spinach, into the blender along with Swiss chard, avocado, and scooped pomegranate seeds.

Pour the coconut milk and ice cubes. Shred the fresh ginger on top.

Blend all the ingredients together until completely smooth, adding more water or coconut milk as needed to reach desired consistency. Enjoy immediately or store in a mason jar with a closed lid.
Notes
Total 32 oz, two 16 oz servings (945 ml)
Nutrition facts are calculated without the protein powder.
Adding the suggested protein powder adds 28 calories, 0 carbohydrates, and 5 grams of protein per serving.
Add agave or maple syrup for extra sweetness or extra dates. We like using dates because they have a ton of beneficial post-workout benefits.
Vegan Clean Protein: if using the clean protein powder

(affiliate link)

, add our 10% discount code OURPBWORLD10 at check-out to enjoy the benefit. (affiliate)
Nutrition Facts
Calories:
181
kcal
Carbohydrates:
26
g
Protein:
2
g
Fat:
8
g
Saturated Fat:
6
g
Polyunsaturated Fat:
1
g
Monounsaturated Fat:
1
g
Sodium:
98
mg
Potassium:
345
mg
Fiber:
4
g
Sugar:
18
g
Vitamin A:
947
IU
Vitamin C:
9
mg
Calcium:
26
mg
Iron:
1
mg
Nutrition Facts
Superfood Green Detox Smoothie
Amount per Serving
% Daily Value*
* Percent Daily Values are based on a 2000 calorie diet.
🌡️ Food safety
Cook to a minimum temperature of 165 °F (74 °C)
Do not use the same utensils on cooked food, that previously touched raw meat
Wash hands after touching raw meat
Don't leave food sitting out at room temperature for extended periods
Never leave cooking food unattended
Use oils with a high smoking point to avoid harmful compounds
Always have good ventilation when using a gas stove
See more guidelines at USDA.gov.
Nutritional Disclaimer
The information shown is an estimate provided by an online nutrition calculator. It should not be considered a substitute for a professional nutritionist's advice. See our full Nutritional Disclosure here.
Affiliate Disclaimer
Please note that some of the links here are affiliate links, and I will earn a commission if you purchase through those links. I recommend all of the products listed because they are companies I have found helpful and trustworthy.