Looking for an easy, delicious, and healthy recipe to make for dinner tonight? Stuffed Portobello Mushrooms are the perfect meal! This recipe is easy to follow, and it's sure to please everyone at the table. Plus, the portobello stuffing can be used for many dishes as a great way to get your daily dose of vegetables.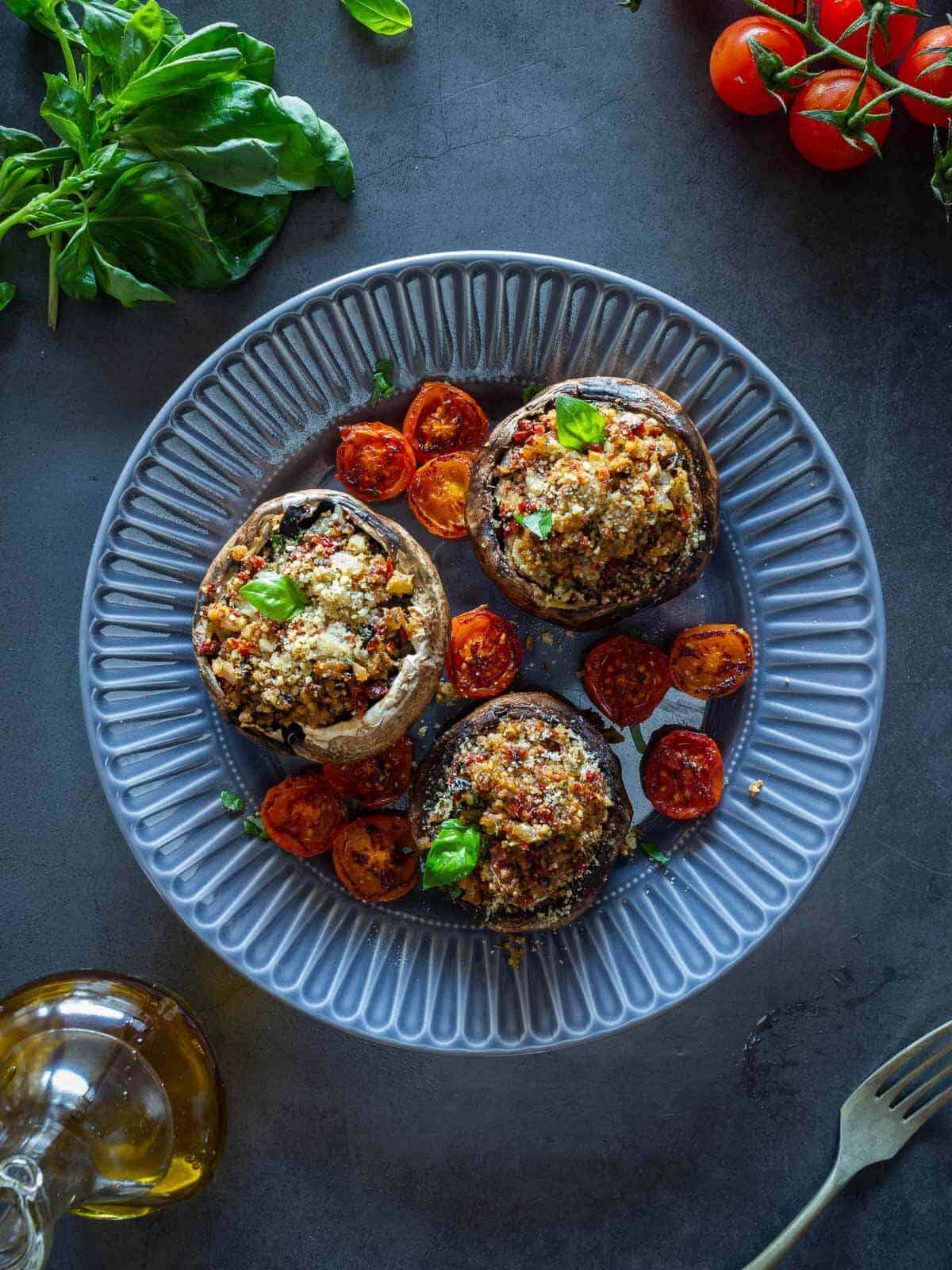 We love having a Stuffed portobello mushroom as an appetizer or side dish or having two as a main course next to a green salad. These beauties are ready in 30 minutes, and the recipe is perfect for any occasion or a meatless dinner.
They are not only present in our day-to-day lives but are also one of our fall season favorites, and they always show up on our Christmas table.
Jump to:
🧾 Ingredients
These stuffed mushrooms require a handful of simple ingredients, sautéd together to make the stuffing, and then used to top the mushroom caps.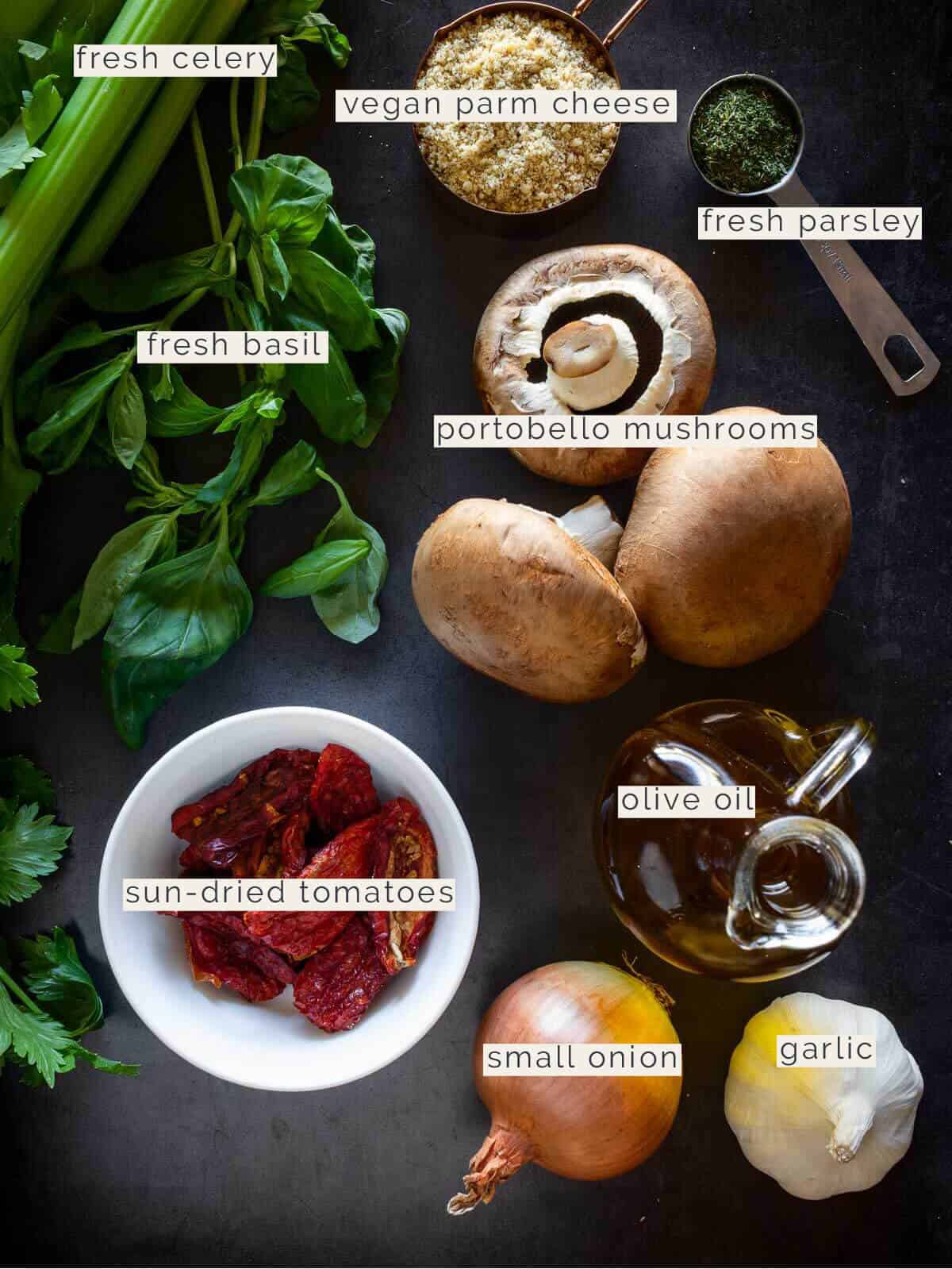 Portobello mushrooms
Sun-dried tomatoes
Small onion
Garlic cloves
Fresh celery
Fresh parsley
Tarragon leaves (fresh or dried)
Fresh basil
Vegan Parmesan cheese (our 5-mins vegan parm recipe)
🔪 Instructions
Baked portobello mushrooms are made by simply baking the caps for a couple of minutes while you make the stuffing, and as soon as the mushrooms are ready, you pile the portobello stuffing on top and then briefly bake them again for the stuffing to settle.
First Bake
Preheat oven to 350 ºF (175 ºC). Then on a lined baking sheet, place the cleaned mushroom caps, and stalk side up. Remove the stalk.
Season, sprinkling some salt and black pepper, and optionally a drizzle of olive oil. You need to remove the portobello mushrooms from the oven after 15 minutes when they are half-cooked.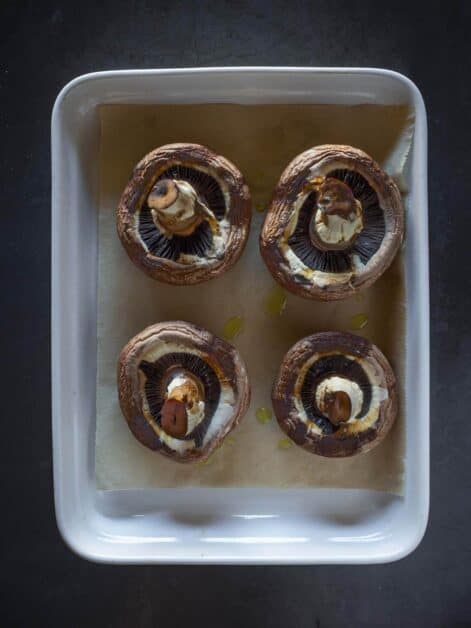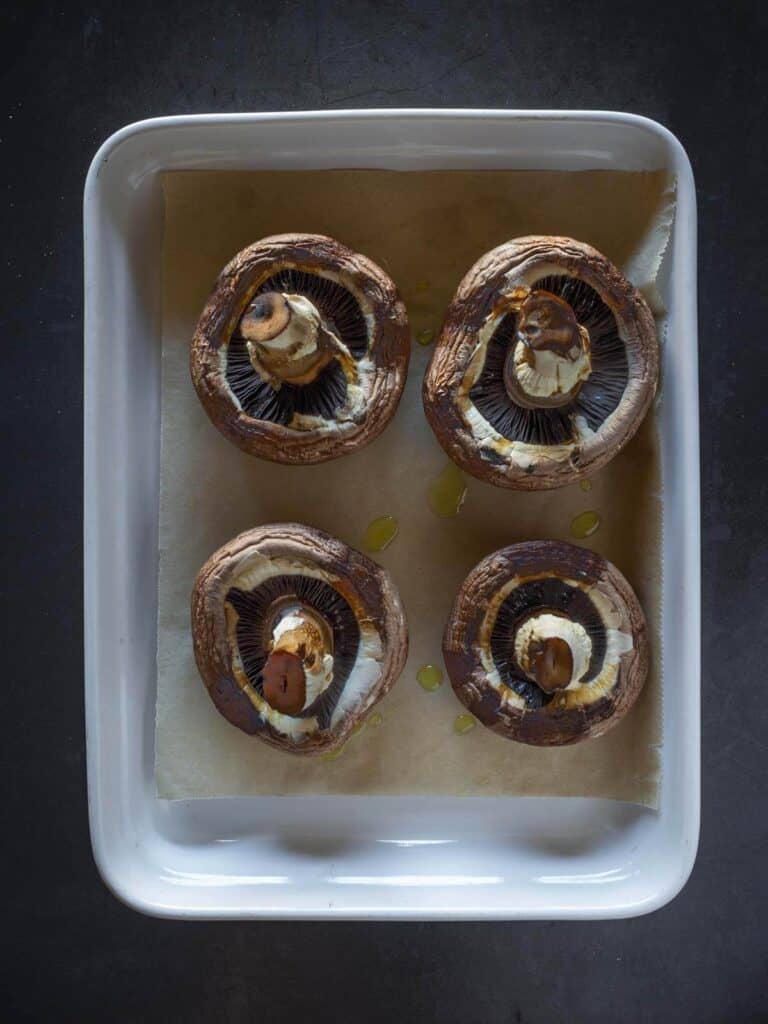 Chop the portobello stuffing ingredients
It is important to finely chop the ingredients to have a stuffing that holds together.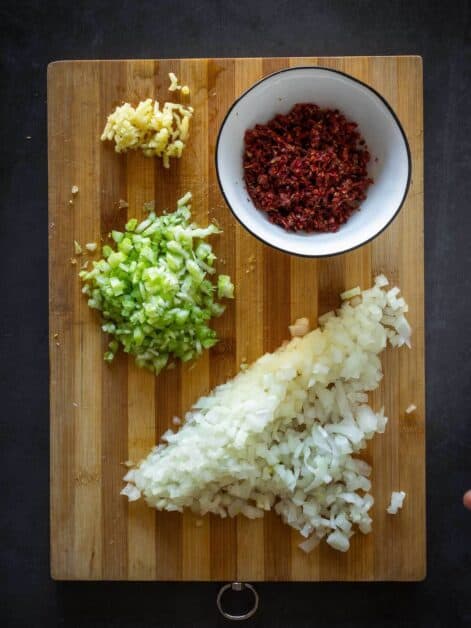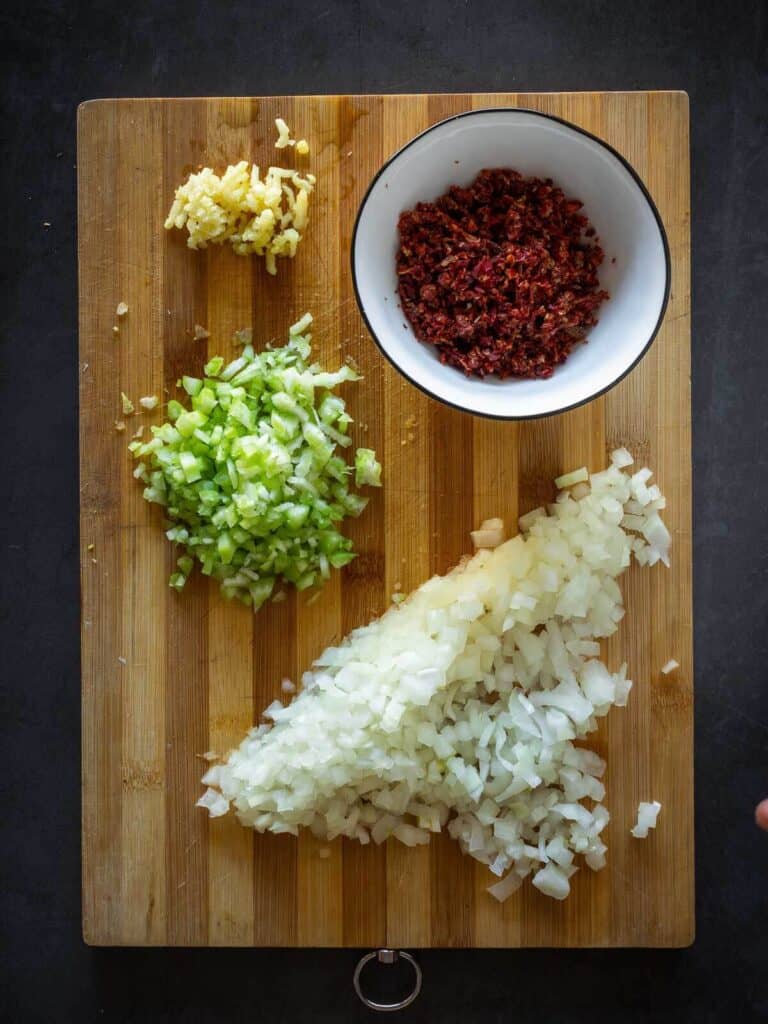 Prepare the portobello stuffing
In a saucepan on medium heat, sauté the chopped onion, celery, and garlic, and then add the chopped dried tomato, followed by the chopped herbs and vegan parmesan cheese. You can optionally add the chopped mushroom stems.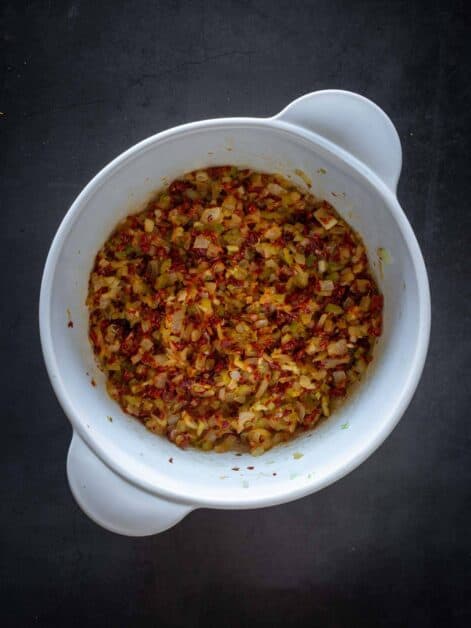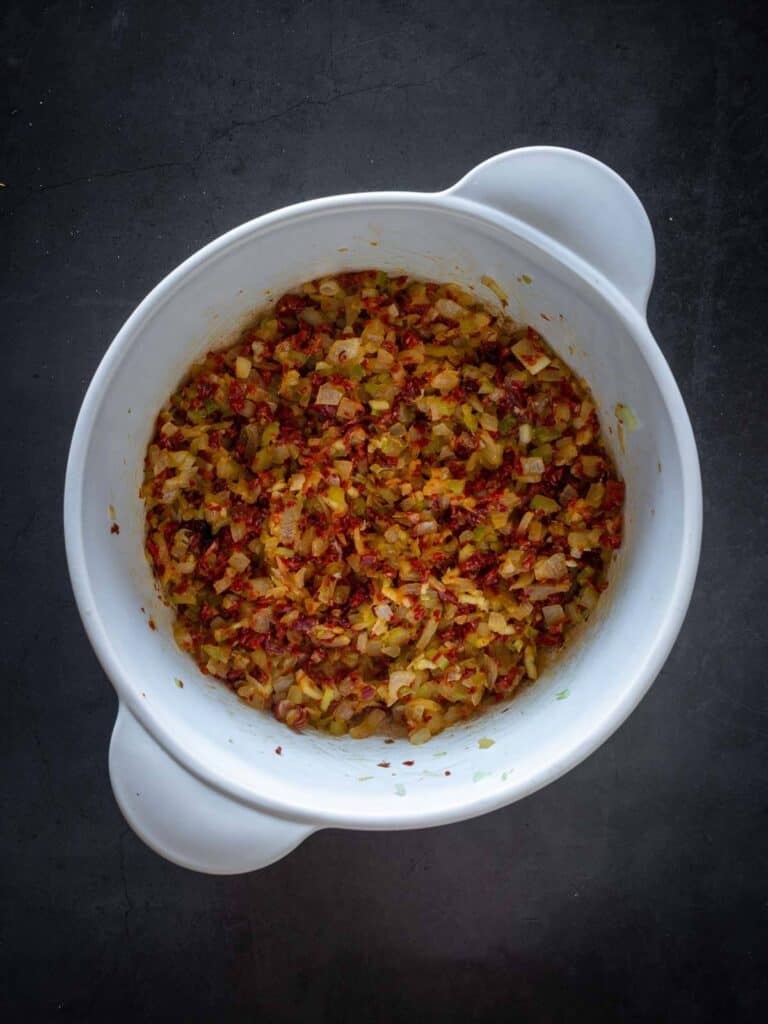 Fill the caps
With a spoon, abundantly pile up the filling on each mushroom cap. The baked portobello mushrooms' stuffing will set a bit after baking. Top with vegan parm or shredded vegan mozzarella cheese.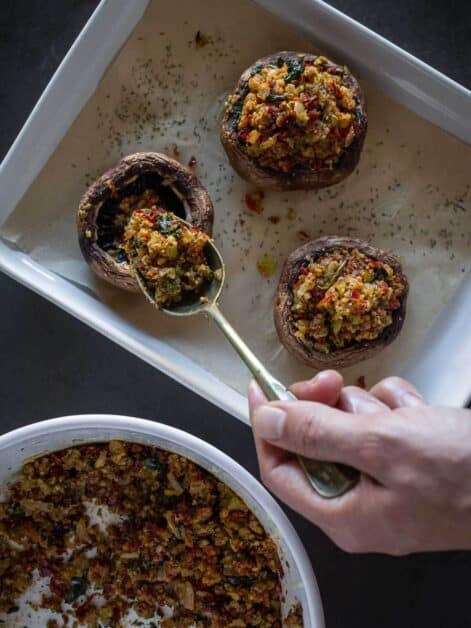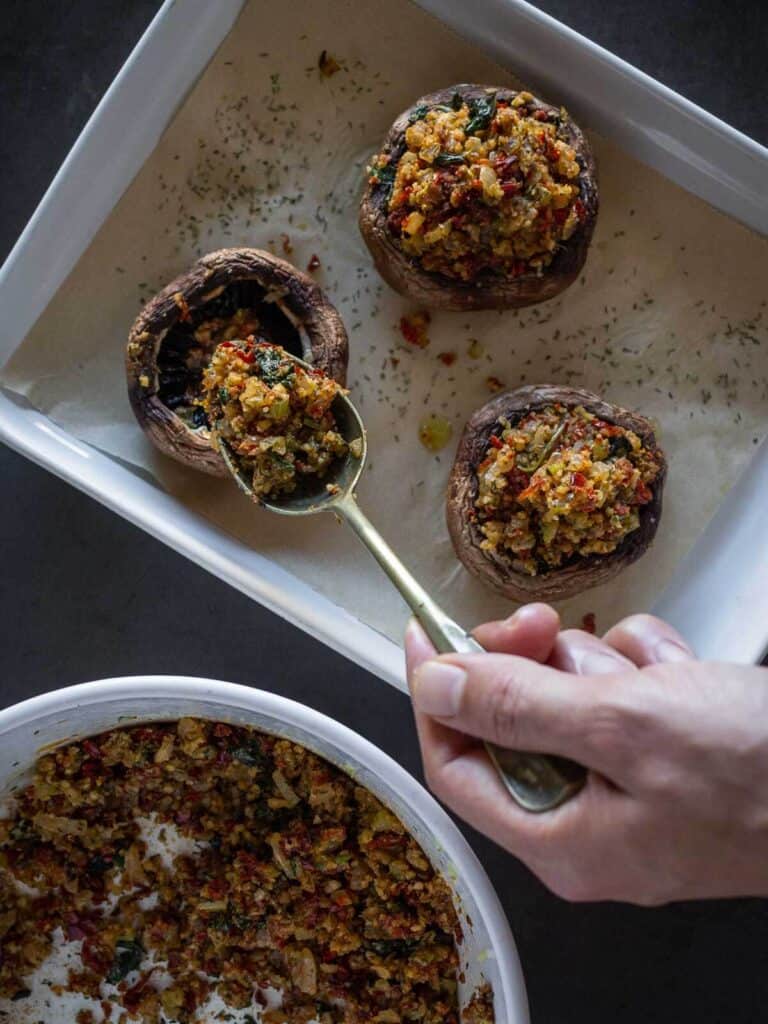 Second bake
Return the portobello mushrooms to the oven and bake for about 10 minutes or until the mushrooms are fork-tender.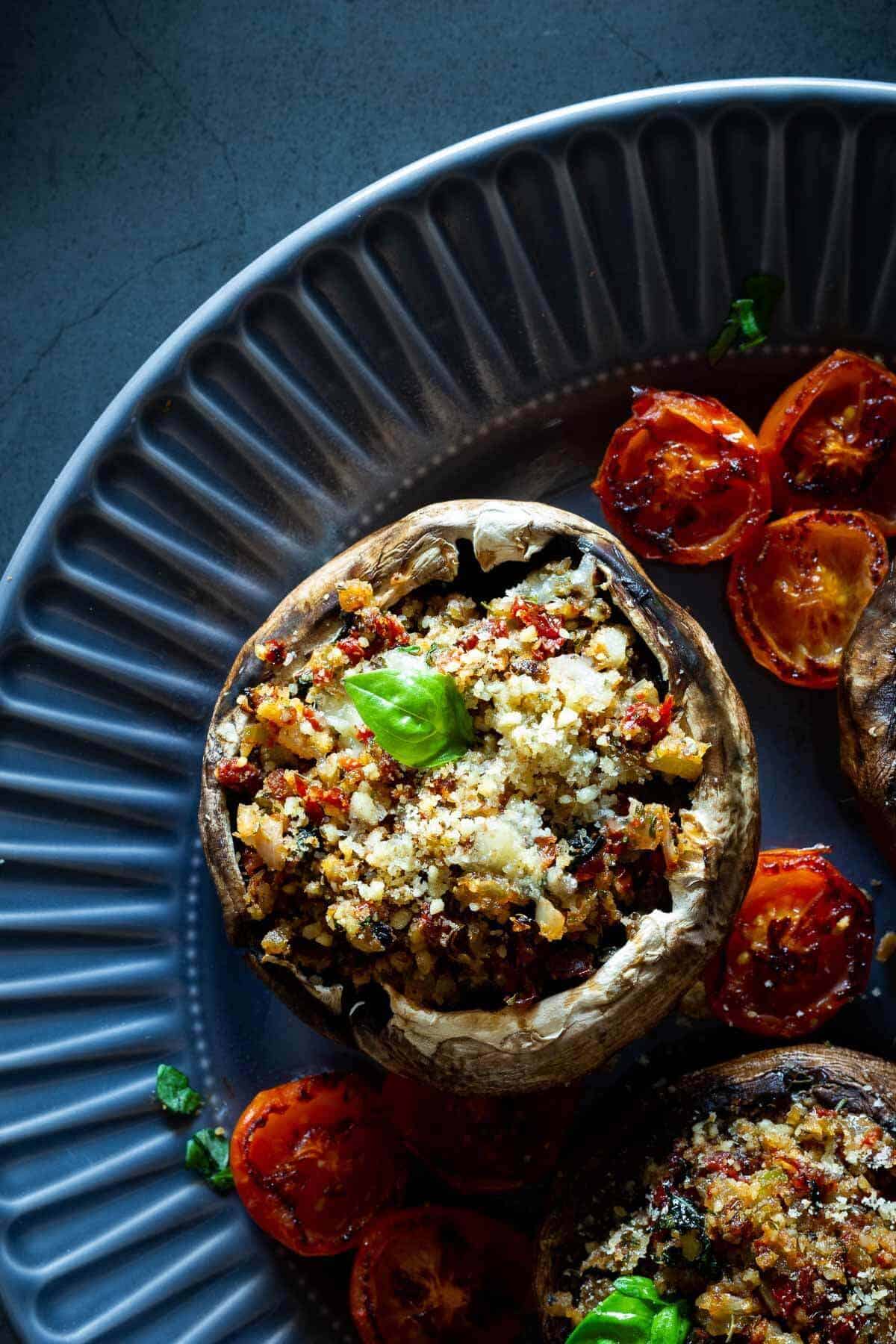 Serve
Transfer the baked portobello mushrooms to serving plates and garnish with chopped basil. Serve right away with a green salad with cherry tomatoes.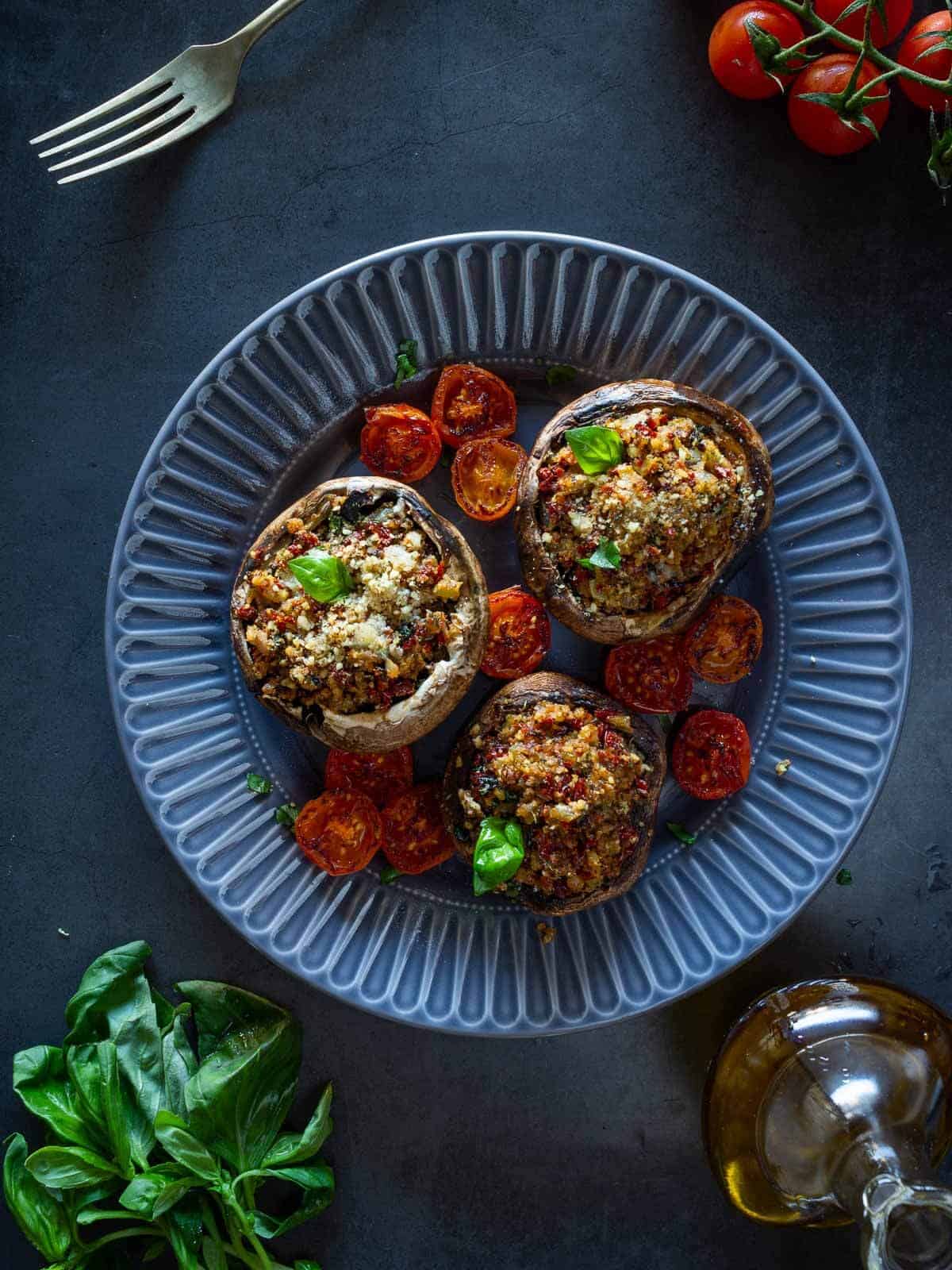 🍶 Substitutions
This Recipe for Portobello Stuffed Mushrooms is gluten-free and can also be made WFPB (Whole foods plant-based compliant), simply by removing the olive oil.
In fact, when I am cooking oil-free, I sauté the onions, garlic, and celery just with two or three tablespoons of water to prevent the veggies from sticking to the bottom of the saucepan.
📖 Variations
Vegetarian stuffed portobello mushroom recipes usually call for goat cheese, mozzarella cheese, and grated parmesan cheese. We ditch the dairy here to make these vegan stuffed mushrooms.
Goat cheese has a lot of umami, so we are using dried tomato, which adds lots of flavors, and is perfect for red risotto and sun-dried pesto pasta.
We also use our vegan parmesan cheese recipe, to replace vegan parmesan. It has a nutritional yeast base that works very nicely on this recipe.
Mushrooms
The bigger the portobello mushrooms, the most satisfying the main dish, but if you are using these stuffed portobello mushrooms as your vegan side dish, you can use medium portobellos.
Smaller mushrooms will leave you with extra stuffing that you can use for dry pasta, sandwiches, or even ravioli stuffing.
You can also use cremini mushroom caps, which are nothing more than smaller portobello mushrooms. You will just need way less filling and baking time.
Herbs
I find that tarragon is the herb that takes on this recipe, and gives it the most personality, as basil and parsley always call for our well-known Italian recipes flavors, Tarragon, on the other hand, calls for French.
For this portobello stuffing, we use both, so we are still within the Mediterranean flavor spectrum but concentrating more on the French side.
You could also replace basil or parsley with herbs such as rosemary, sage, or marjoram. Feel free to use dried basil; if you cannot find it fresh, use 2 tablespoons instead of a bunch.
Onion
We like using yellow onion, but you could also use white or red onion if you want to add some caramelized sweetness.
Spring onions, green onions, and even leeks work well for this portobello mushroom recipe too.
Garlic
Out of fresh garlic? No worries, use a teaspoon of garlic powder.
More Protein
You can add protein to this side dish by adding 4 ounces of crumbled extra-firm tofu to the mix; after sautéing the veggies, sauté the tofu together, adding 3 minutes to your prep time, always on medium heat.
You can also add one bunch of chopped spinach, which will wilt immediately while sautéing.
Make sure you adjust the seasoning, salt, and pepper. More volume calls for seasoning adjustments.
👪 Serving size
I find this portobello stuffing delicious, and sometimes I even use it to make an easy dinner, combined with boiled dry pasta or warm salads or cornbread stuffing on your holiday table.
Sometimes I switch our Stuffed Red Pepper recipe's filling for this one for a change; in that case, I like adding a cup of cooked rice to make up for the mushroom flesh that pairs very well with the stuffing.
In this side dish recipe, the portobello mushroom has less flavor and pairs with the dried tomato stuffing. In the case of red pepper, they have a lot of flavors and don't have enough flesh, to balance this rich stuffing. That's why the addition of rice balances things out on stuffed peppers.
🥢 How to serve
Enjoy your stuffed mushrooms with a green salad topped with a homemade vinaigrette, or simply with mashed potatoes or cornbread stuffing.
They also make great side dishes for pasta dishes.
🥡 Storing
Store leftover baked stuffed portobello mushrooms in an airtight container in the fridge for up to two days.
I find that after the second day, the mushrooms start smelling bad.
This recipe is not freezer friendly as fresh mushrooms don't thaw well.
🍄 How to clean portobello mushrooms
Mushrooms tend to absorb water, thus making them mushy; that's why there are two schools for cleaning mushrooms.
In one corner, you have people that say you should not have your mushrooms cleaned with water, and then the ones that say it is alright as long as you follow a couple of rules.
Both are valid; let's explore the Dry and Wet methods.
Wild portobello mushrooms can capture a lot of dirt, basically, everything the forest has to offer, including bugs; so it is essential to clean them; however, they should not be soaked.
When I attended the Gastronomy School in Mexico, I asked the Head Chef his opinion about this topic, water or no water?; he was very straight: mushrooms should be washed; Otherwise, that earth will end up on your plate, which can carry infections or forms of food poisoning.
However, you can still use water in different ways to ensure the mushrooms don't absorb any moisture, thus affecting your recipes.
Dry method
When to use: when you will cook the portobello mushrooms anyway, as is the case with this roasted portobello mushrooms recipe, and that's because the heat will kill any unwanted bacteria.
To clean portobello mushrooms, use a dry cloth or paper towel. You may also clean the mushroom with water and a brush but never soak it.
If you are really set on cleaning the whole thing, removing the gills is possible; gently scrape the inner side with a teaspoon after removing the stem. Make sure not to damage them when you are doing this.
Optional: when cleaning medium or large portobello mushrooms, you will notice that the ends of the caps have some loose skin. You can start ripping them off and pulling them out. You will end up with a white portabella, as the brownish color lies on the skin.
There are special mushrooms brushes (affiliate link) (affiliate link) available in stores or online; I like this one since, in a single tool, you have both the mushroom brush and the gills remover. You can also use a soft-bristle toothbrush.
If you've already got a pinprick or two on the cap - don't worry; it's not too big of an issue as long as you don't soak the mushroom.
Wet method
When to use: in recipes such as salads, when you have very dirty mushrooms, or when you plan to eat raw portobello mushrooms.
Soak the portobello mushrooms in a large bowl filled with water very briefly. Wash the mushroom caps delicately with the palm of your hands, removing any pieces of dirt.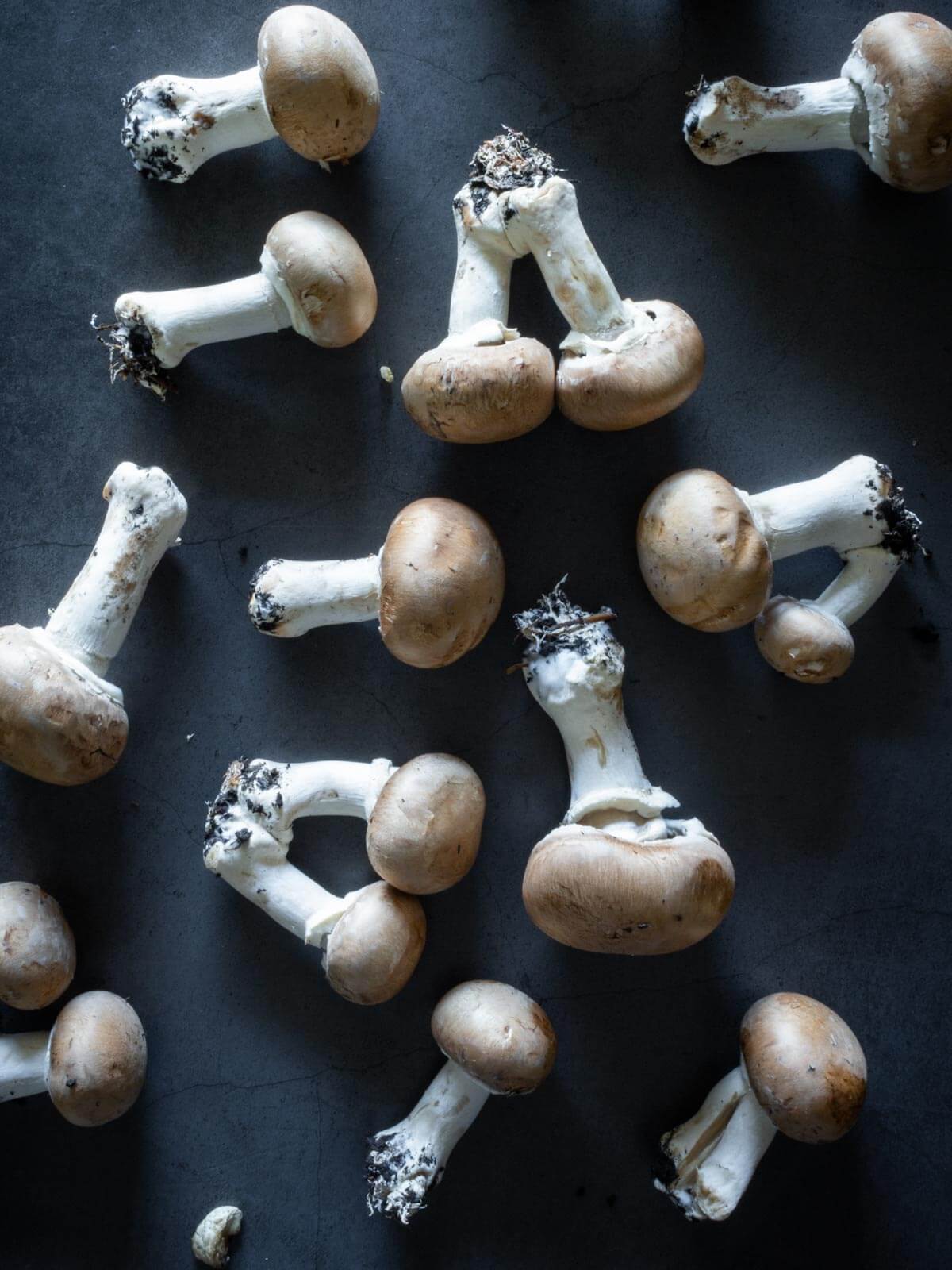 Here in Italy, it is very common to get wild mushroom stems that are extremely dirty, but I also find them to be the most delicious. They are not farmed, so they are high in nutrients. This is the case with portobello mushrooms, cremini mushrooms, and also pioppini mushrooms.
That's why I use this method often, as soaking the portobello mushrooms in water will help dissolve dirt.
The Keyword here is Briefly; the intention here is not to leave the mushrooms soaking but to wash them actively and remove them from the water. Then pad-dry with a kitchen cloth or paper towels removing any excess water.
📚 More stuffed mushroom recipes
If you like baked portobello mushrooms, I am sure you will enjoy this herb stuffed pioppini mushrooms recipe, also on this site.
In this Stuffed Onions recipe, we used the mushrooms the other way around. They become the filling for these delicious onions, cooked and baked in white wine.
Mushrooms make sumptuous fillings, and if you have been reading us, you might know that our Argentinean ties make us empanadas lovers, and our Mushrooms Empanadas recipe, made with homemade empanada dough, is a great application for this fantastic healthy food.
Last but not least, Mushrooms make great gravy for your mashed potatoes, and you can even use Truffle-infused oil to make Truffled mashed potatoes in minutes.
Mushrooms are also easily included in recipes like mushroom risotto, white polenta, or air-fried with a marinade.
Also, mushrooms have anti-cancer, anti-cholesterol, and anti-allergic properties, making them a great addition to our diets. (1)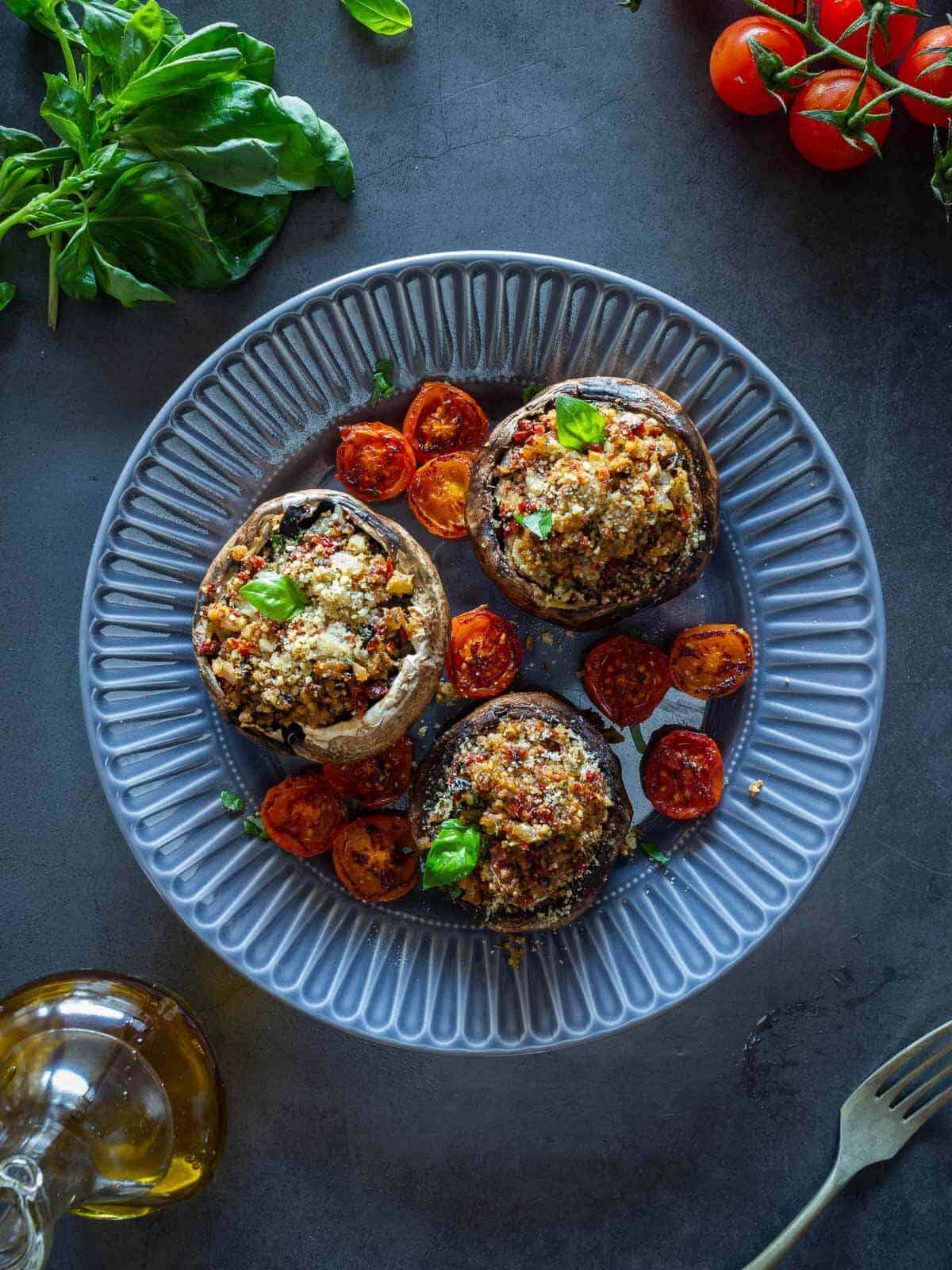 ⭐ If you try this recipe, let us know! 💬 Leave a comment, rate it, and don't forget to tag us @ourplantbasedworld on Instagram. Cheers!
📋 Recipe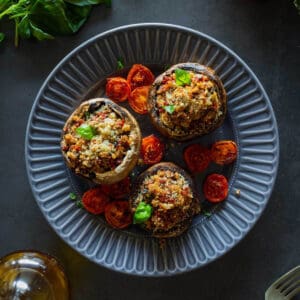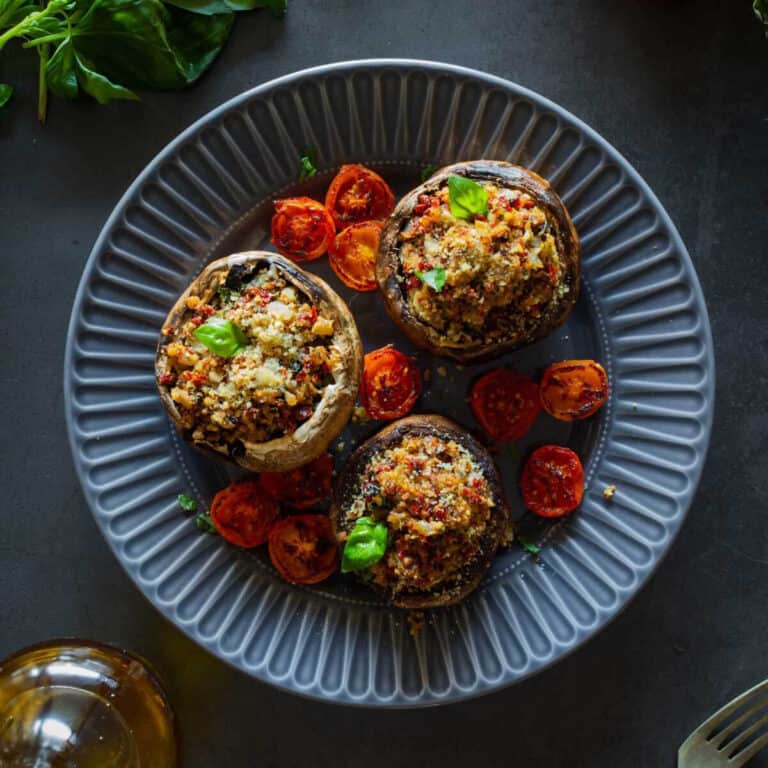 Recipe for Portobello Stuffed Mushrooms | Vegan and Gluten-Free
With only a few simple ingredients, these stuffed mushrooms can be whipped up in no time. Plus, they're perfect for satisfying your hunger without leaving you feeling weighed down.
Equipment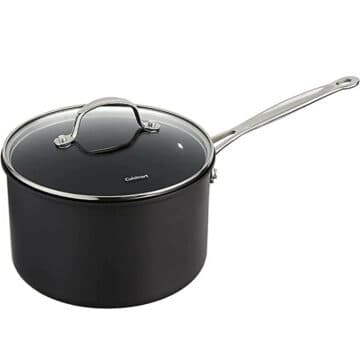 (affiliate link)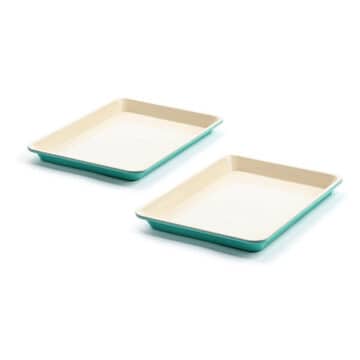 (affiliate link)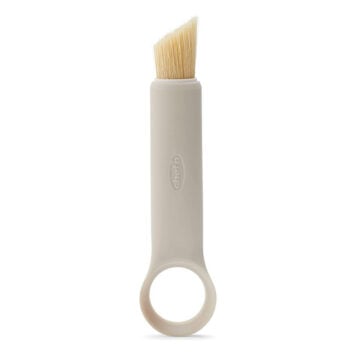 (affiliate link)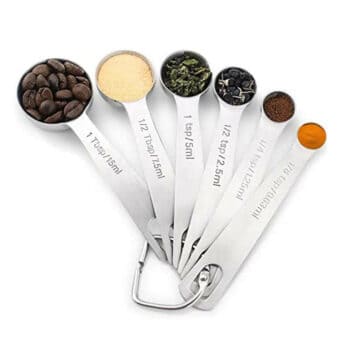 (affiliate link)
Ingredients
6

portobello mushrooms

lmedium-arge

1

cup

dried tomatoes

finely chopped

1

onion

small, finely chopped

2

clove

garlic

minced

1

stalk

celery

finely chopped

¼

cup

vegan parmesan cheese

1

tablespoon

tarragon

dried leaves

1

bunch

basil

fresh leaves

1

parsley

fresh leaves

salt and pepper
Directions
Preheat the oven to 350 Fahrenheit (175 ºC).

Line a baking sheet with parchment paper and place the mushrooms stalk side up on the baking sheet. Season with salt and pepper and optionally drizzle over a little olive oil.

Bake mushrooms. Place the baking sheet into the oven and roast for about 15 minutes or until the mushrooms begin to soften.

Make stuffing. Meanwhile, heat a tablespoon of the olive oil in a saucepan (or use 2 tablespoons of water to make it oil-free). Add the onion, minced garlic, and celery and cook on low heat for 10 minutes or until the vegetables are soft but not brown.

Add remaining dried tomatoes. Stir every few minutes during cooking, add the finely chopped dried tomatoes, and cook for a few more minutes.

Remove from the heat and let the mixture cool down.

Season. Add the vegan parmesan cheese, dried tarragon, fresh chopped parsley, and chopped basil. Taste the mix; you can add a little salt, but not too much because the dried tomatoes are usually salty.

Pile up the filling on the portobello mushrooms caps and top shredded vegan mozzarella cheese or vegan parmesan cheese.

Return to the oven and cook for about 10 minutes or until the mushrooms are tender.

Serve. Transfer the stuffed portobello mushrooms to serving plates and garnish with chopped basil serve right away with a green salad.
Notes
This recipe is an adaptation of Ottolengui's Stuffed Portobello recipe in his book Plenty. The original recipe calls for regular parmesan cheese and the Northern Italian cheese, Taleggio.
This recipe is not freezer-friendly. See storing instructions on the post.
Nutrition Facts
Calories:
134
kcal
Carbohydrates:
16
g
Protein:
6
g
Fat:
7
g
Saturated Fat:
1
g
Polyunsaturated Fat:
1
g
Monounsaturated Fat:
4
g
Trans Fat:
1
g
Cholesterol:
3
mg
Sodium:
122
mg
Potassium:
1003
mg
Fiber:
4
g
Sugar:
10
g
Vitamin A:
263
IU
Vitamin C:
9
mg
Calcium:
90
mg
Iron:
2
mg
Nutrition Facts
Recipe for Portobello Stuffed Mushrooms | Vegan and Gluten-Free
Amount per Serving
% Daily Value*
* Percent Daily Values are based on a 2000 calorie diet.
🌡️ Food safety
Cook to a minimum temperature of 165 °F (74 °C)
Do not use the same utensils on cooked food, that previously touched raw meat
Wash hands after touching raw meat
Don't leave food sitting out at room temperature for extended periods
Never leave cooking food unattended
Use oils with a high smoking point to avoid harmful compounds
Always have good ventilation when using a gas stove
See more guidelines at USDA.gov.
Nutritional Disclaimer
The information shown is an estimate provided by an online nutrition calculator. It should not be considered a substitute for a professional nutritionist's advice. See our full Nutritional Disclosure here.
Affiliate Disclaimer
Please note that some of the links here are affiliate links, and I will earn a commission if you purchase through those links. I recommend all of the products listed because they are companies I have found helpful and trustworthy.