Welcome to our crispy teriyaki tofu puffs, a delectable and easy-to-prepare dish that will tantalize your taste buds! In this post, we'll show you how to make a mouth-watering teriyaki tofu recipe with air-fried tofu puffs. Whether you're a long-time vegan or simply looking to try something new, these crispy, flavorful puffs are sure to become a favorite in your meal rotation.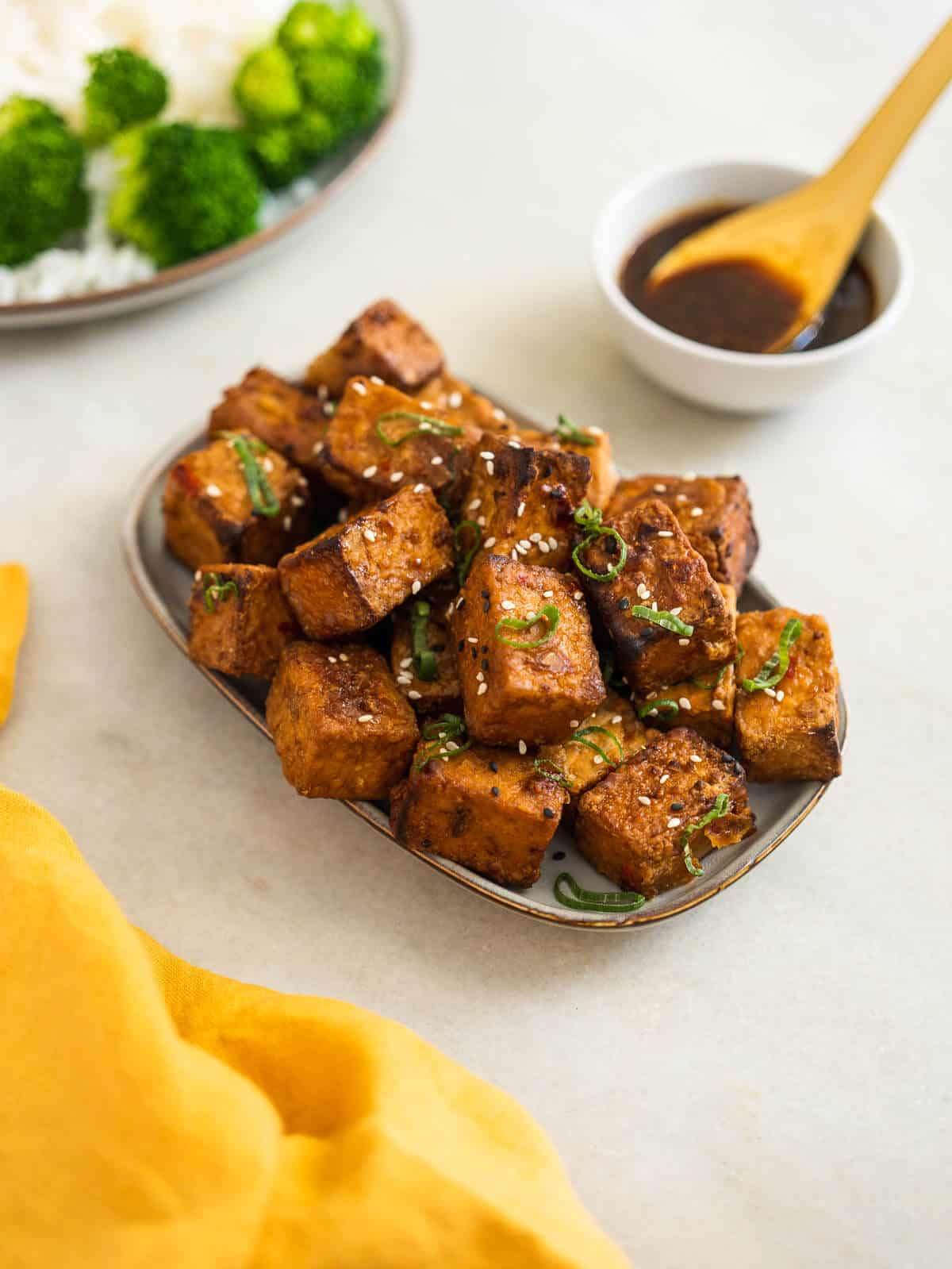 These are incredibly versatile and can be enjoyed in a variety of ways. While they make for a tasty and satisfying snack, they can also be used as a topping for a protein-rich rice bowl and serve as an entrée.
Imagine a warm, steaming rice bowl garnished with your marinated, crispy baked teriyaki tofu puffs and a drizzle of teriyaki sauce – a nutritious and utterly delicious meal. The combination of flavors and textures will undoubtedly elevate your dining experience, proving that healthy eating doesn't have to be boring or bland.
Our creative spark ignited as we drew inspiration from our classic plain oven-baked crispy tofu recipe and our Mediterranean air-fryer tofu nuggets, propelling us to craft this delectable dish.
Jump to:
💚 Why you will love it
Plant-Based Protein
Nutritious Ingredients
Baked, Not Fried
Low in Calories
Health-Conscious Choice
🧾 Ingredients
These homemade tofu puffs are made with just a few delicious ingredients: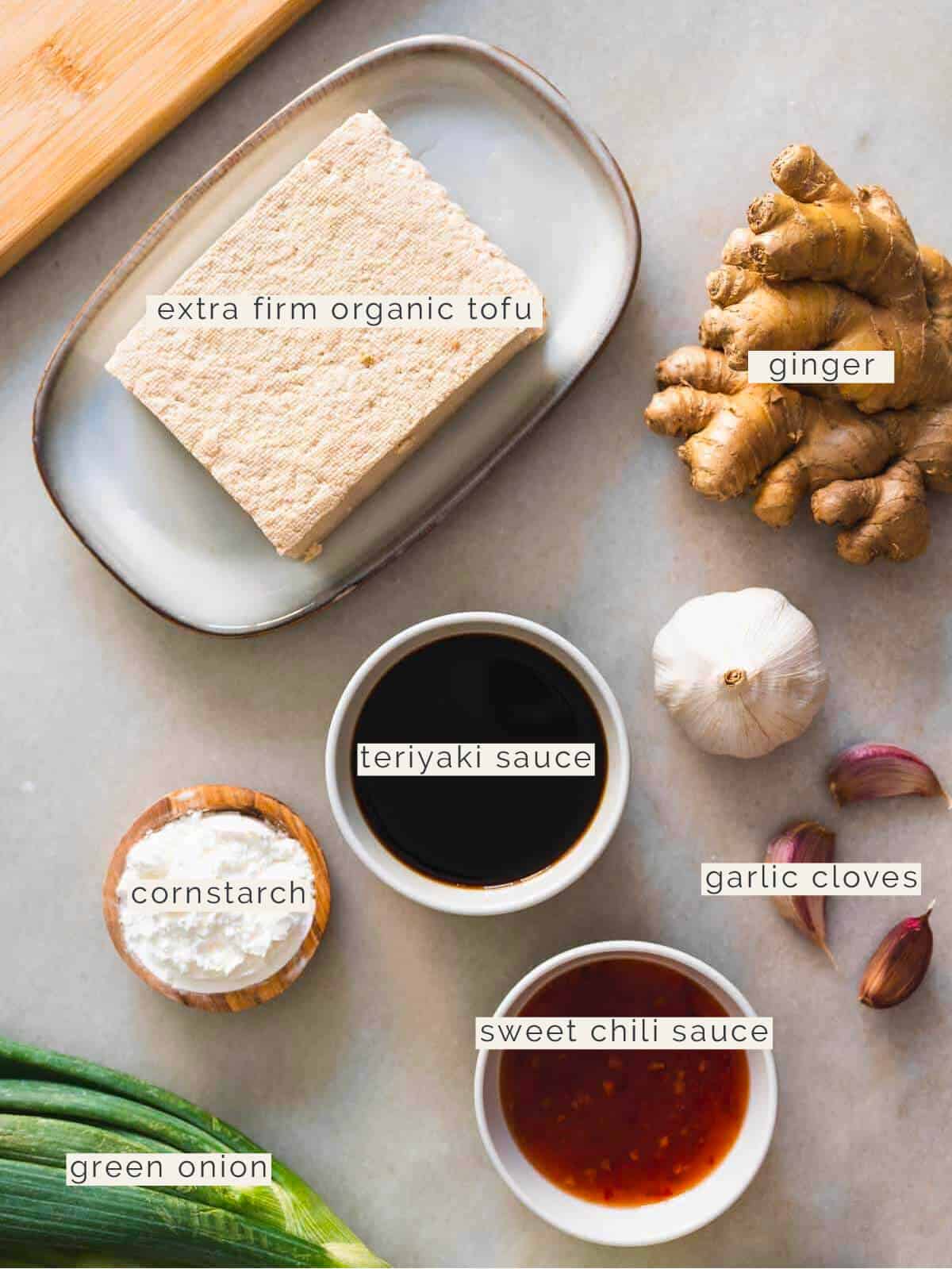 Extra firm organic tofu: We use extra firm organic tofu for its ability to hold its shape during the cooking process, ensuring a crisp and satisfying texture. Additionally, organic tofu is free from GMOs and chemical pesticides, making it a healthier meal choice. Aim for fresh tofu or vacuum-sealed tofu.
Cornstarch is essential for achieving the perfect golden-brown and crispy exterior of tofu. It also helps to bind the other ingredients and create a coating that adheres to the tofu.
Teriyaki sauce infuses our tofu with a delightful balance of sweet and savory flavors, transforming it into a delicious and crave-worthy dish that's hard to resist.
Sweet chili sauce adds a touch of heat and tanginess to the recipe, complementing the flavors of the teriyaki sauce and giving your tofu a subtle kick that elevates the overall taste.
Fresh garlic cloves bring a depth of flavor and aromatic complexity to the dish, working in harmony with the other ingredients to create a symphony of flavors that will captivate your taste buds.
Fresh ginger imparts a zesty and slightly spicy undertone to the recipe, heightening the flavor profile and adding a touch of brightness that perfectly balances the rich teriyaki sauce.
See the recipe card for quantities.
Substitutions
Cornstarch: Arrowroot powder or potato starch can be used as alternatives to cornstarch, providing a similar crispiness to the tofu puffs.
Teriyaki sauce: For a gluten-free option, use tamari or coconut aminos instead of soy sauce in your homemade teriyaki sauce. This will slightly alter the flavor but still yield a delicious result.
Sweet chili sauce: If you prefer milder heat, swap sweet chili sauce for a mild sweet and sour sauce or even mango chutney.
Garlic cloves: Use garlic powder or granulated garlic instead of fresh garlic cloves for a milder garlic flavor.
Fresh ginger: Use ¼ teaspoon of ground ginger for every tablespoon of fresh ginger.
🍽 Equipment
Air fryer or oven
Bowl
A heavy object and paper towels or tofu press
🔪 Instructions
These yummy tofu cubes require just a few steps to get them going.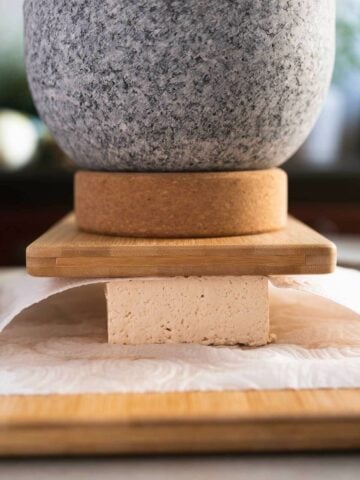 Step 1: Press the extra firm tofu.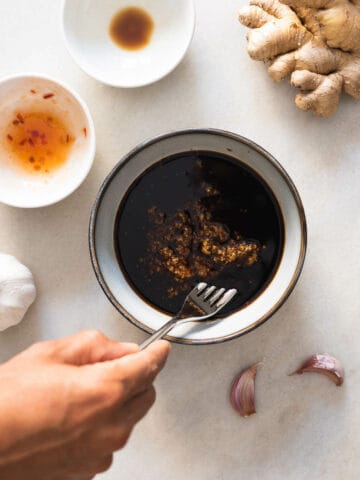 Step 2: Combine all tofu marinade ingredients in a medium bowl.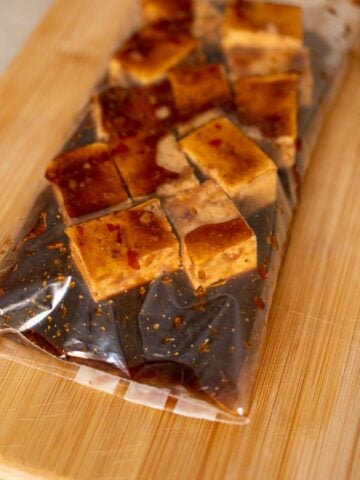 Step 3: Cut the tofu into 1-inch cubes, place them in a ziplock bag, add the marinade, and ensure they're fully coated; refrigerate for at least 15 minutes.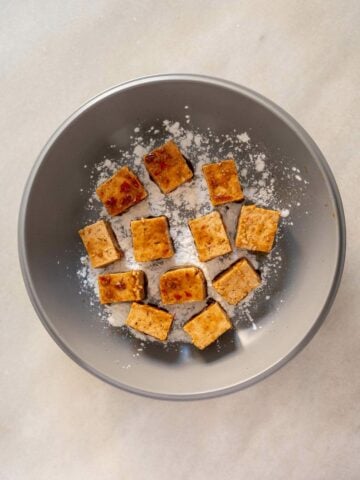 Step 4: Coat the marinated tofu in cornstarch in a flat pan or plate.
Hint: to make the best out of your ingredients' nutritional benefits, it is better to steam cauliflower than to boil it; otherwise, some of the nutrients will end up in the water.
Hint: optionally apply a cooking spray made from vegetable oil on the tofu pieces, making them crispier and more similar to deep-fried tofu cubes.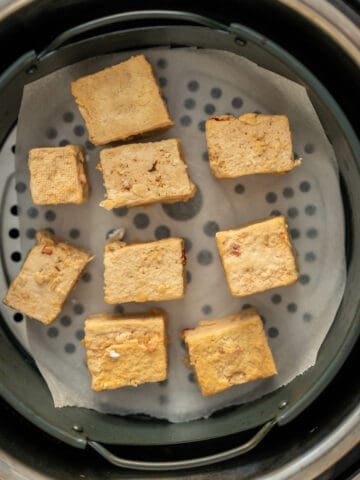 Step 5: Line the air fryer basket with parchment paper and evenly arrange tofu cubes with space between each.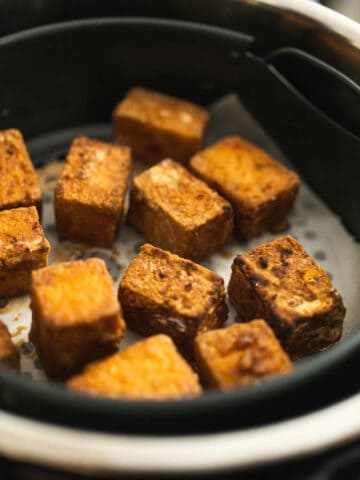 Step 6: Time to air-fry. Bake at 400ºF (200ºC) for 15 minutes, shaking the basket or carefully moving the tofu with tongs halfway.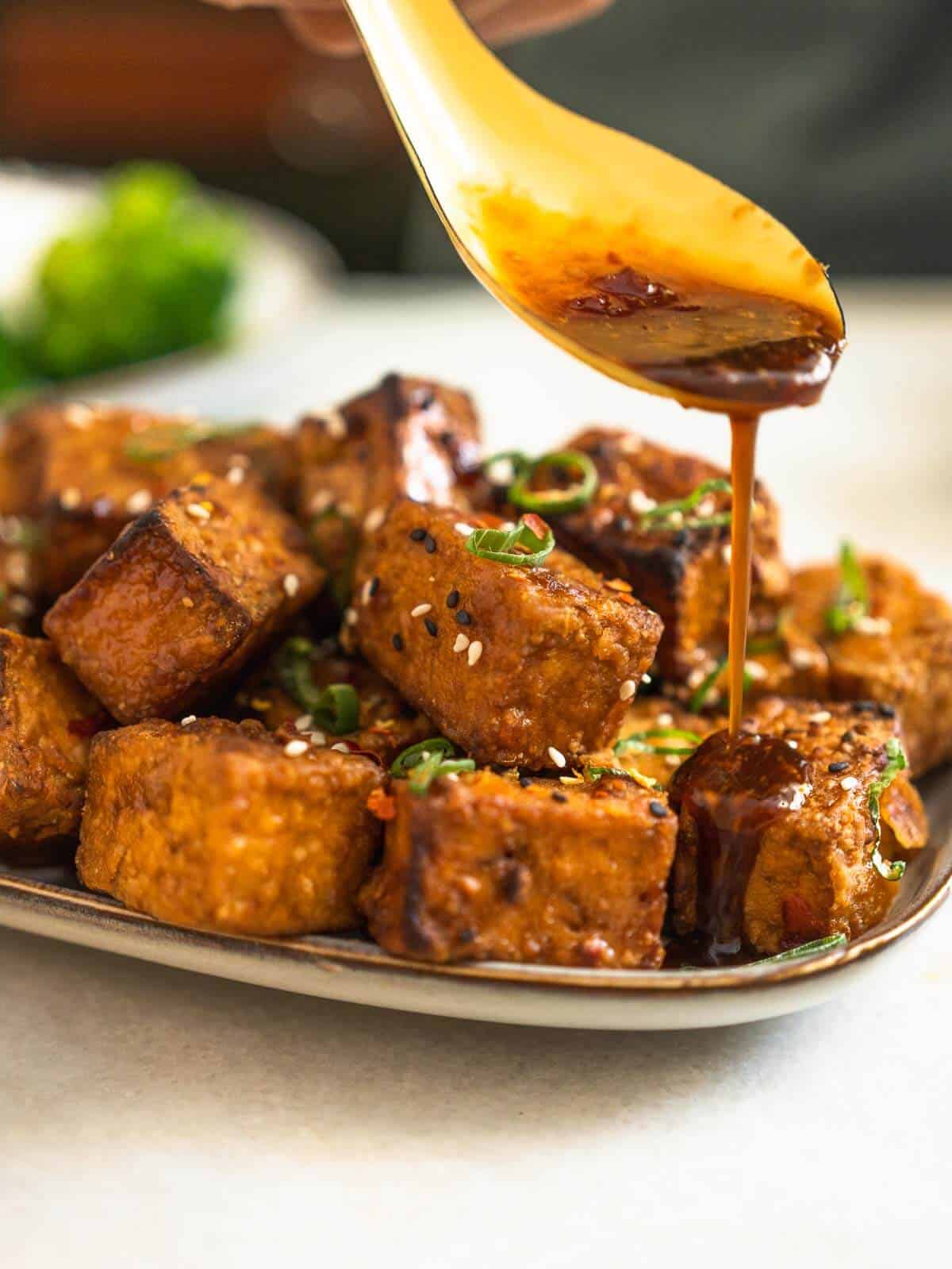 Step 7: Serve the baked tofu garnished with sesame seeds and chopped green onion tops.
💡 Top tip
To ensure your Crispy Teriyaki Tofu Puffs turn out perfect every time, be sure to press the tofu well, removing as much moisture as possible. Properly pressed tofu will absorb the marinade better and result in a crispier texture when air-fried or baked. For the best results, use a tofu press or place the tofu between layers of paper towels and apply a heavy weight on top for at least 15 minutes, ideally 30 minutes.
📖 Variations
Spicy Teriyaki: Add 1-2 teaspoons of sriracha or your favorite hot sauce to the teriyaki marinade for a spicy twist. This will add a fiery kick to your crispy tofu, perfect for spice lovers.
Sesame Teriyaki: Mix 1-2 tablespoons of tahini into the teriyaki sauce for a rich, sesame-infused taste.
Orange Teriyaki: Create a citrusy variation by adding the zest and juice of one orange to the teriyaki marinade. This will lend a sweet and tangy flavor profile to your tofu, making them even more irresistible.
🥢 How to serve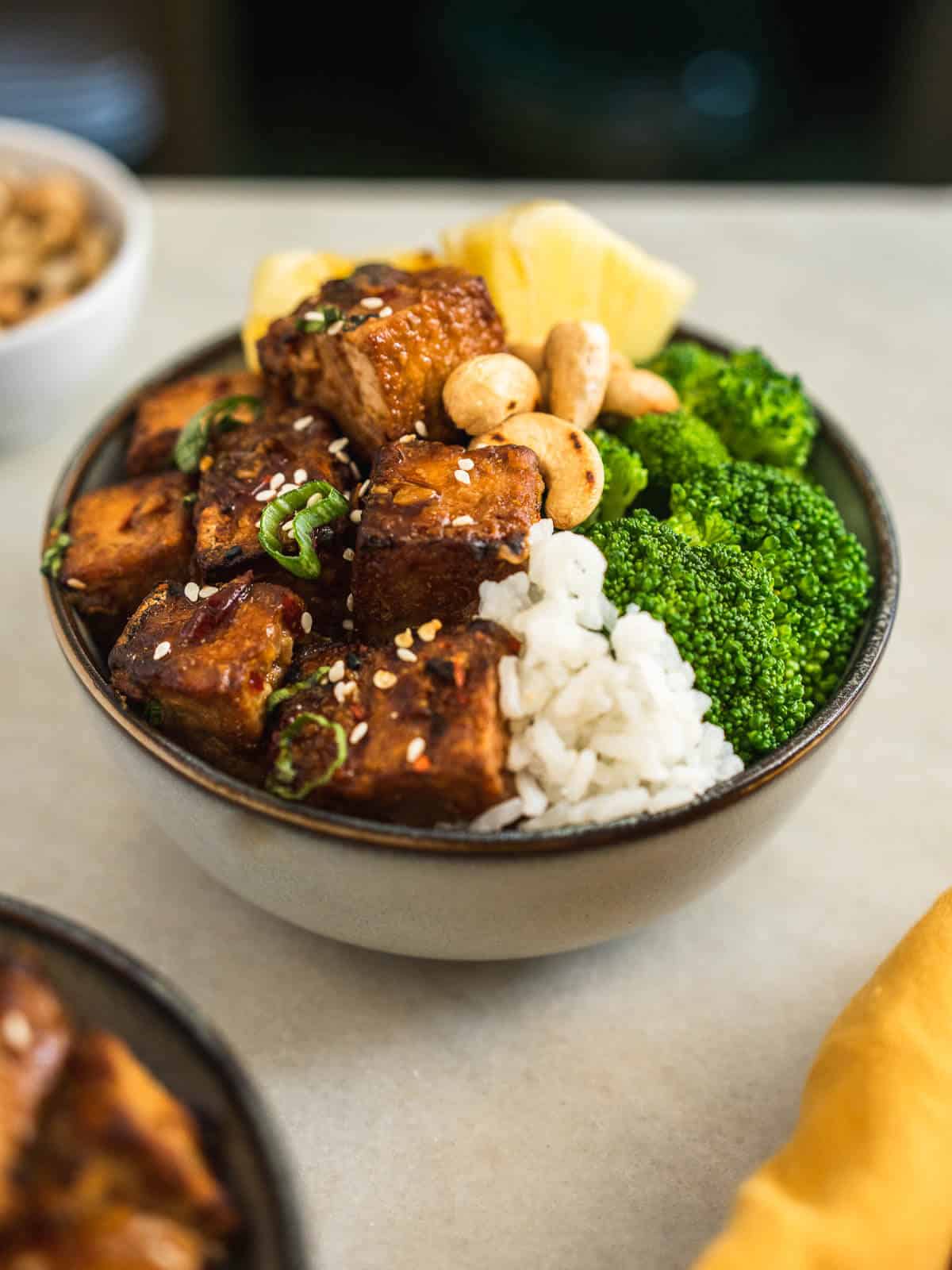 Hawaiian Tofu Rice Bowl: Create a tropical-inspired dish by layering a bowl with warm cooked rice, topped with these yummy puffs, fresh pineapple chunks, sliced avocado, steamed veggies, and a sprinkle of green onions. Drizzle with a little extra teriyaki sauce and serve.
Buddha Bowl: Assemble a nourishing Buddha bowl or poke bowl by combining your choice of grains (such as quinoa or brown rice) with a colorful array of roasted or steamed vegetables, a generous helping of these delicious beauties, and a dollop of creamy tahini dressing or a drizzle of your favorite sauce.
Snack with Dipping Sauce: Enjoy these as a delicious and satisfying snack by serving them alongside a selection of dipping sauces, such as sweet chili sauce, peanut sauce, low sodium soy sauce, or spicy sriracha mayo. Perfect for a movie night or a casual get-together with friends.
Topping for Salads: Add a protein-packed crunch to your salads using the puffs as a topping. They pair exceptionally well with mixed greens, kale or spinach salad, cherry tomatoes, cucumber slices, and a tangy Asian-inspired dressing.
🥡 Storage
Fridge storage and reheating: Store leftovers in an airtight container in the refrigerator for up to 3-4 days. To reheat, place the tofu puffs on a parchment-lined baking sheet and warm in a preheated oven at 350°F (180°C) for 5-10 minutes or until heated through. OR use the same temperature in the Air fryer and cook for 5 minutes.
Freezing and reheating: Allow the tofu puffs to cool completely, then place them in a single layer on a parchment-lined baking sheet. Freeze until solid, then transfer the frozen tofu puffs to an airtight container or freezer bag. Store in the freezer for up to 3 months. To reheat, place the frozen tofu puffs on a parchment-lined baking sheet and bake at 350°F (180°C) for 10-15 minutes or until heated through and crispy. OR use the same temperature in the Air fryer and cook for 7 minutes.
Meal prep option: Prepare the tofu puffs as per the recipe, marinade the tofu cubes for up to 2 days in the fridge, and coat them with cornstarch when ready to bake. You can also prepare a variety of sauces and veggies to pair with the tofu puffs. When you're ready, bake the tofu puffs and assemble your meal with the prepared components, such as steamed rice or cooked quinoa, steamed or roasted veggies, and your choice of sauce.
📚 More tofu recipes
Master the art of preparing tofu with our comprehensive guide, perfect for both tofu beginners and seasoned cooks looking to elevate their tofu game.
Satisfy your morning cravings with our delicious and protein-packed Tofu Scramble recipe. Don't miss out on this vegan breakfast favorite.
Reinvent your classic pesto with our creamy, protein-rich Tofu Pesto recipe. Don't miss this delicious and nutritious twist on a beloved sauce.
reat yourself to our sweet and savory Maple Glazed Tofu, perfect for a delightful dinner or holiday feast.
Explore the endless possibilities of tofu with our collection of over 25 scrumptious Chinese-inspired tofu recipes.
Savor the rich and hearty flavors of our Tofu Pasta Bolognese, a vegan twist on the classic Italian dish.
Delight your taste buds with our Tofu Stuffed Polenta recipe, a unique and satisfying combination of creamy polenta and savory tofu filling.
Impress your guests with our elegant Baked Onions with Tofu Stuffing, a delicious and sophisticated dish perfect for any occasion.
⭐ If you try this recipe, let us know! 💬 Leave a comment, rate it, and don't forget to tag us @ourplantbasedworld on Instagram. Cheers!
🎥 Video
📋 Recipe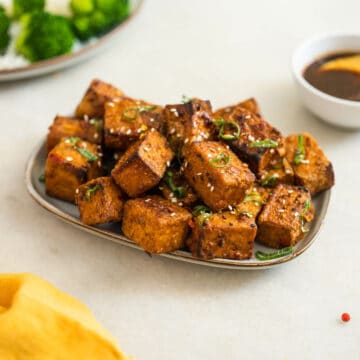 Crispy Teriyaki Tofu Puffs
Discover this easy and flavorful dish, perfect for any meal. In this post, we'll guide you through air-fried and baked methods to create mouth-watering tofu puffs that'll become a staple in your meal rotation. Let's embark on a vegan culinary adventure and whip up a healthy, irresistible dish together!
Equipment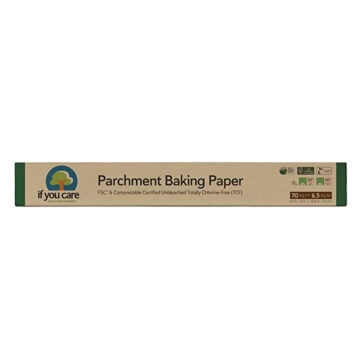 (affiliate link)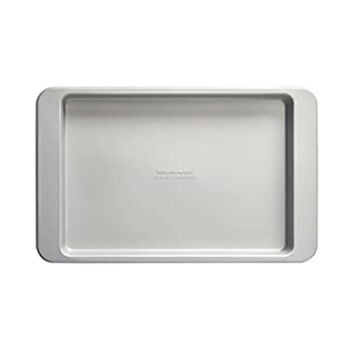 (affiliate link)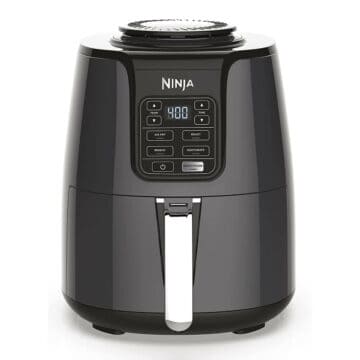 (affiliate link)
Ingredients
Optional
vegetable oil spray

2

tablespoon

toasted sesame oil

or any other vegetable oil (sesame, peanut, avocado oil)

¼

teaspoon

hot chili flakes

or ground black pepper

sesame seeds

to garnish

scallion

finely chopped
Directions
Press the extra firm tofu between paper towels, placing a heavy object on top, for at least 15 minutes (preferably 30 minutes or even overnight) before cutting it into cubes.

Combine all tofu marinade ingredients in a medium bowl.

Cut tofu into 1-inch cubes, place them in a ziplock bag, add the marinade, and ensure they're fully coated; refrigerate for at least 15 minutes.

Coat the marinated tofu in cornstarch in a flat pan, reserving leftover marinade for later use.
Air fryer method:
Line the air fryer basket with parchment paper and evenly arrange tofu cubes with space between each.

Bake at 400ºF (200ºC) for 10 minutes, shaking the basket or carefully flipping the tofu puffs with tongs halfway.
Oven-baked method:
Arrange seasoned tofu cubes on a parchment paper-lined baking sheet, leaving space between them.

Bake at 425ºF (250ºC) for 25 minutes or until golden to your liking, then serve in a Buddha bowl, stir fry, as an appetizer with dipping sauce, or atop a salad.

Serve with the remaining marinade or on top of salads.
Notes
Size of tofu cubes
Cut tofu into ½-inch  to 1-inch cubes if you prefer chunky bites and ¼- ⅓ inch cubes if you prefer tofu pop corn-sized cubes.
Crispiness
Cook in the air fryer for 15 minutes for extra-crispy tofu bites and 10-12 minutes for fluffy and still crispy ones.
Nutrition Facts
Calories:
244
kcal
Carbohydrates:
34
g
Protein:
17
g
Fat:
4
g
Saturated Fat:
1
g
Polyunsaturated Fat:
2
g
Monounsaturated Fat:
1
g
Sodium:
1761
mg
Potassium:
408
mg
Fiber:
1
g
Sugar:
19
g
Vitamin A:
0.1
IU
Vitamin C:
1
mg
Calcium:
74
mg
Iron:
3
mg
Nutritional Disclaimer
The information shown is an estimate provided by an online nutrition calculator. It should not be considered a substitute for a professional nutritionist's advice. See our full Nutritional Disclosure here.
Affiliate Disclaimer
Please note that some of the links here are affiliate links, and I will earn a commission if you purchase through those links. I recommend all of the products listed because they are companies I have found helpful and trustworthy.