Have you been looking for a way to bring more plant-based proteins into your daily diet without sacrificing flavor? Then look no further than this delicious, Crispy Air Fryer Tofu Nuggets with Mediterranean Marinade! This easy vegan meal is packed with fresh veggies, zesty herbs, and spices, providing the perfect balance of savory flavors. And with less oil than conventional frying techniques, you'll be left with a healthier alternative that keeps things light but rich in Mediterranean aromas. Keep reading to learn how to make these crispy dippers at home – it's easier (and tastier!) than you think!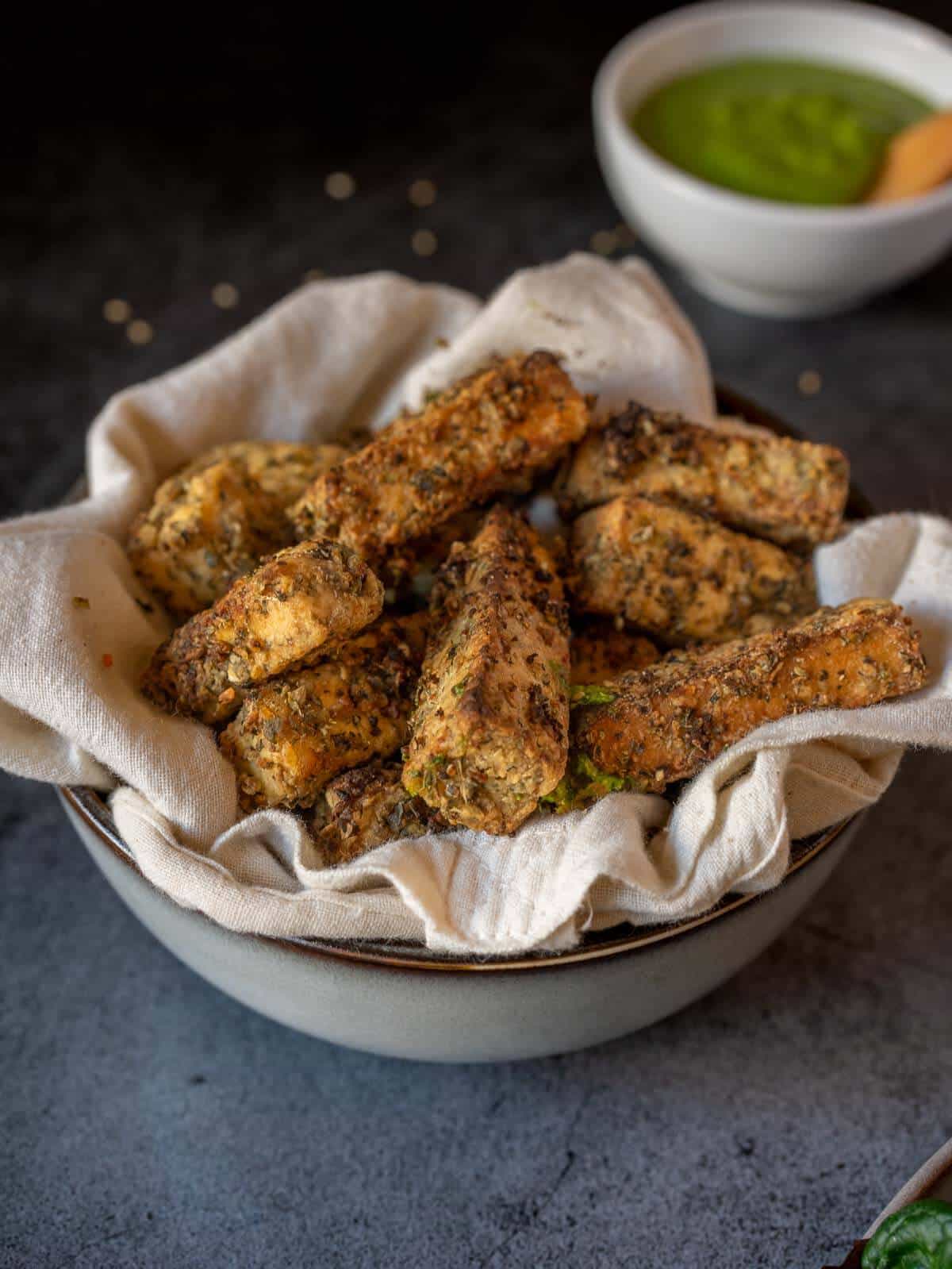 We love our tofu recipes. As we have a pretty active lifestyle and work out regularly, high-protein vegan meals are essential to building lean muscle.
Our favorite everyday plant-based protein sources are beans, sprouts, chickpeas, lentils, and our beloved tofu.
That tofu block in the fridge can be scary, but you just need to know how to prepare tofu, to realize how versatile it can be! With a little bit of planning, you can use tofu in any way you want.
You can marinate it for stir-fries, bake it for main courses on top of a salad or a veggie stir fry, make a healthier appetizer or snack, and even blend it into desserts. The possibilities with tofu are endless – the only limit is your imagination!
Tofu is the vegan's best partner to get that extra protein in their diet. It is high in protein and low in fat, but it also has many other benefits! Tofu can be used as a meat substitute and an egg replacement, so it's a great way to make dishes vegetarian or vegan. Plus, it's incredibly versatile - you can enjoy tofu cooked and uncooked, stir-fried,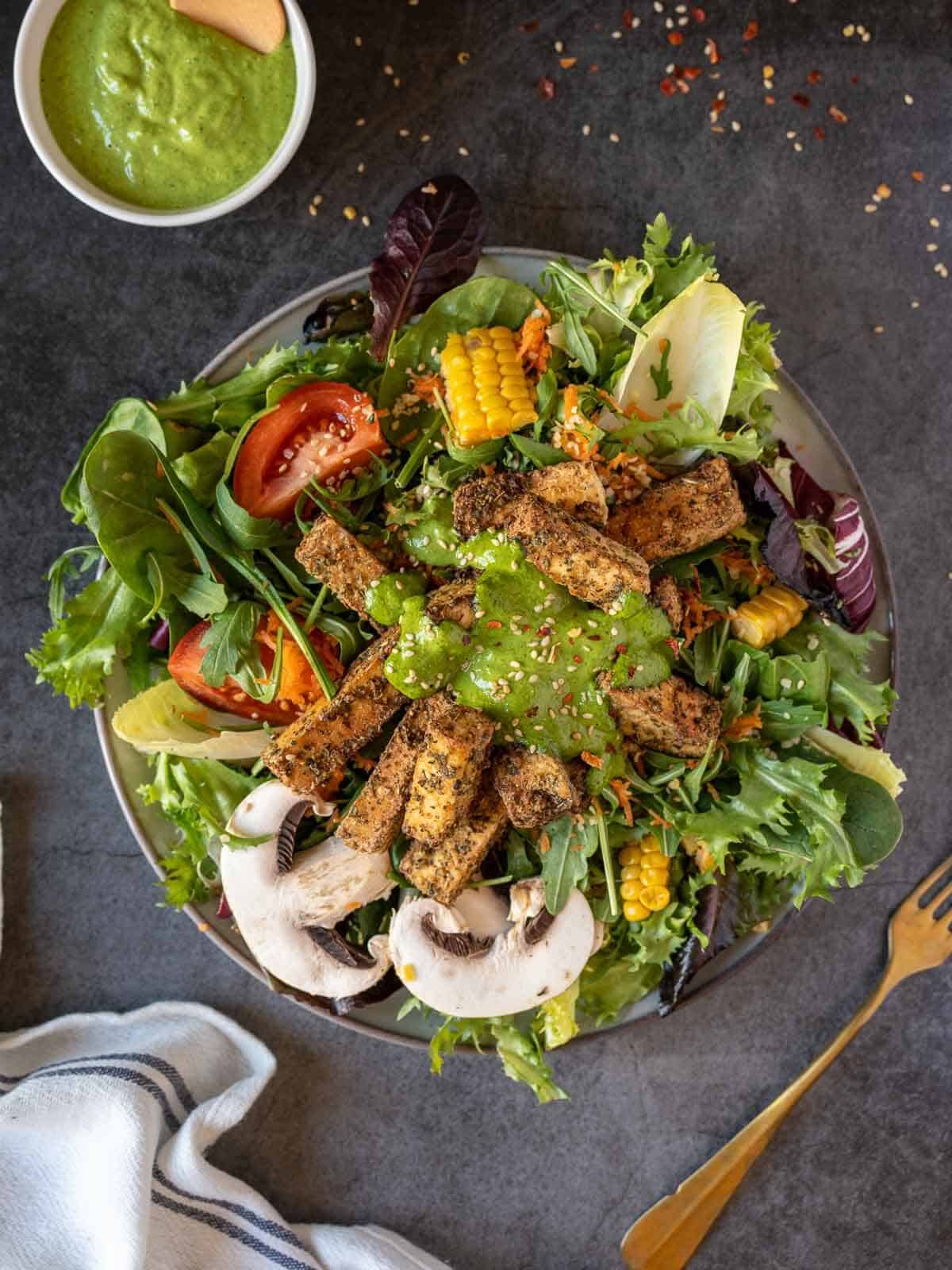 Jump to:
🧾 Ingredients
These Mediterranean tofu bites are made with just a few delicious ingredients.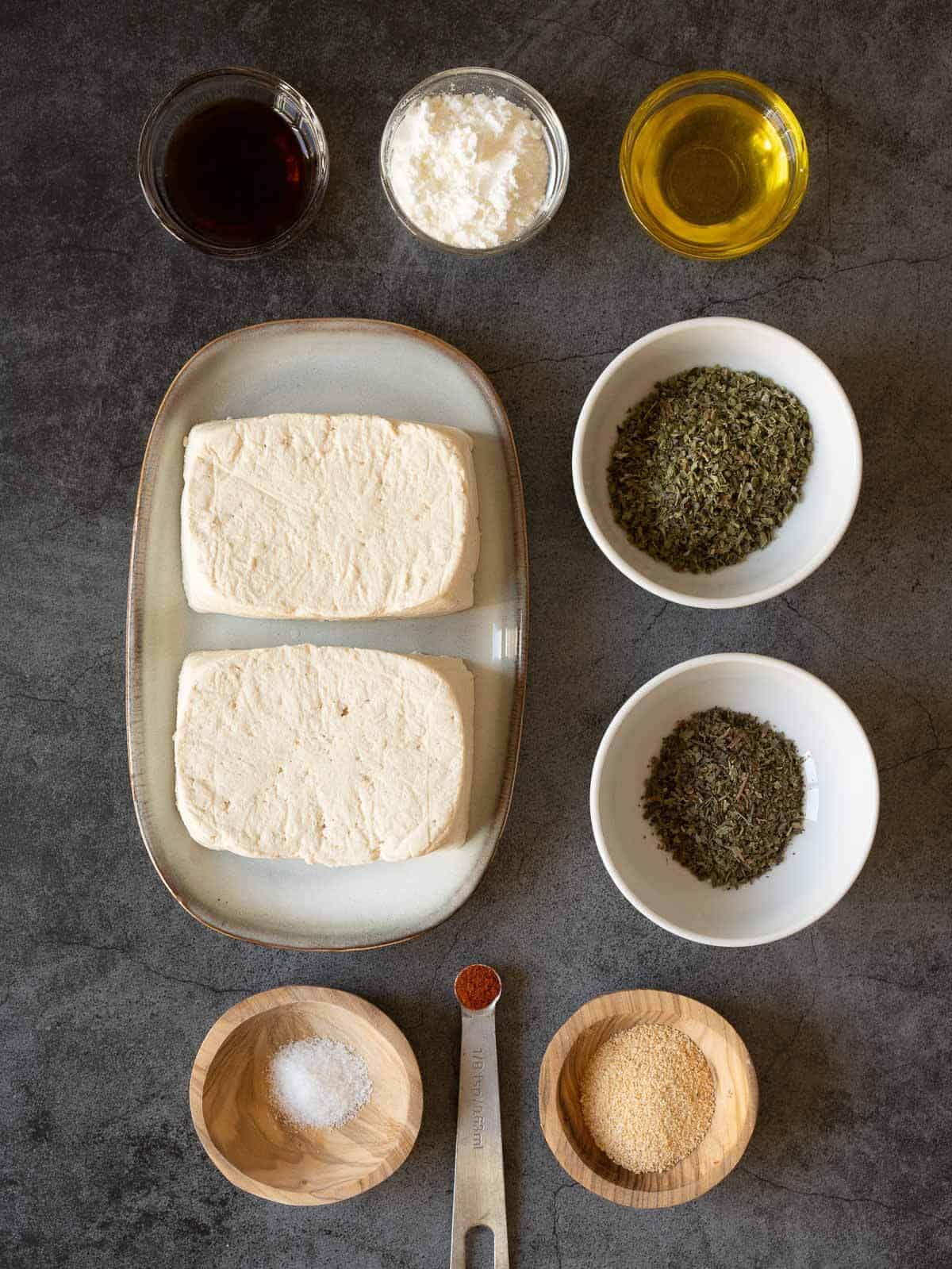 Extra firm Tofu - the key to making crispy tofu on the air fryer - is a great way to enjoy this vegan staple. This type of tofu drains most of its water and holds its shape when cooked. Before cooking, make sure to cut your extra firm tofu into cubes or slices. Then, toss it with the tofu marinade.
Oregano - an herb native to the Mediterranean - is a great choice for marinating tofu. It has a distinct, earthy flavor that pairs well with garlic and other herbs like basil, rosemary, and thyme.
Basil - yum! Dried basil is a great herb to use when marinating tofu. It contains natural oils that can help tenderize the tofu and boost its flavor.
Balsamic vinegar - a classic Italian condiment - is an excellent choice for marinating tofu. It has a sweet and tangy flavor that perfectly complements the mild taste of tofu. When used in a marinade, balsamic vinegar provides subtle complexity to each bite, adding richness without overwhelming the other flavors in the dish.
Garlic powder - one of my favorite ingredients - is the perfect way to marinate tofu. It adds the most delicious flavor to your tofu dish! Just sprinkle some onto your tofu marinade. The longer you let it sit, the more flavorful the tofu. You can also mix garlic powder with other spices.
Corn starch - is a must for making crispy tofu! I love adding it to my cooking. I've found that cornstarch is the key to getting perfectly crispy and crunchy tofu every time. All you need to do is coat your cubes of tofu in cornstarch before air frying them, and you'll get the perfect golden-brown color.
Extra-virgin olive oil - is the best choice for air-frying tofu nuggets. It has a low smoke point, which makes it ideal for cooking at lower temperatures, like those used in air frying. This helps prevent the tofu from burning and becoming too dry. Plus, it adds a delicious flavor that complements the natural taste of tofu wonderfully.
Optional - hot smoked paprika to add a spicy note.
See the recipe card for quantities.
Balsamic Tofu Marinade ingredients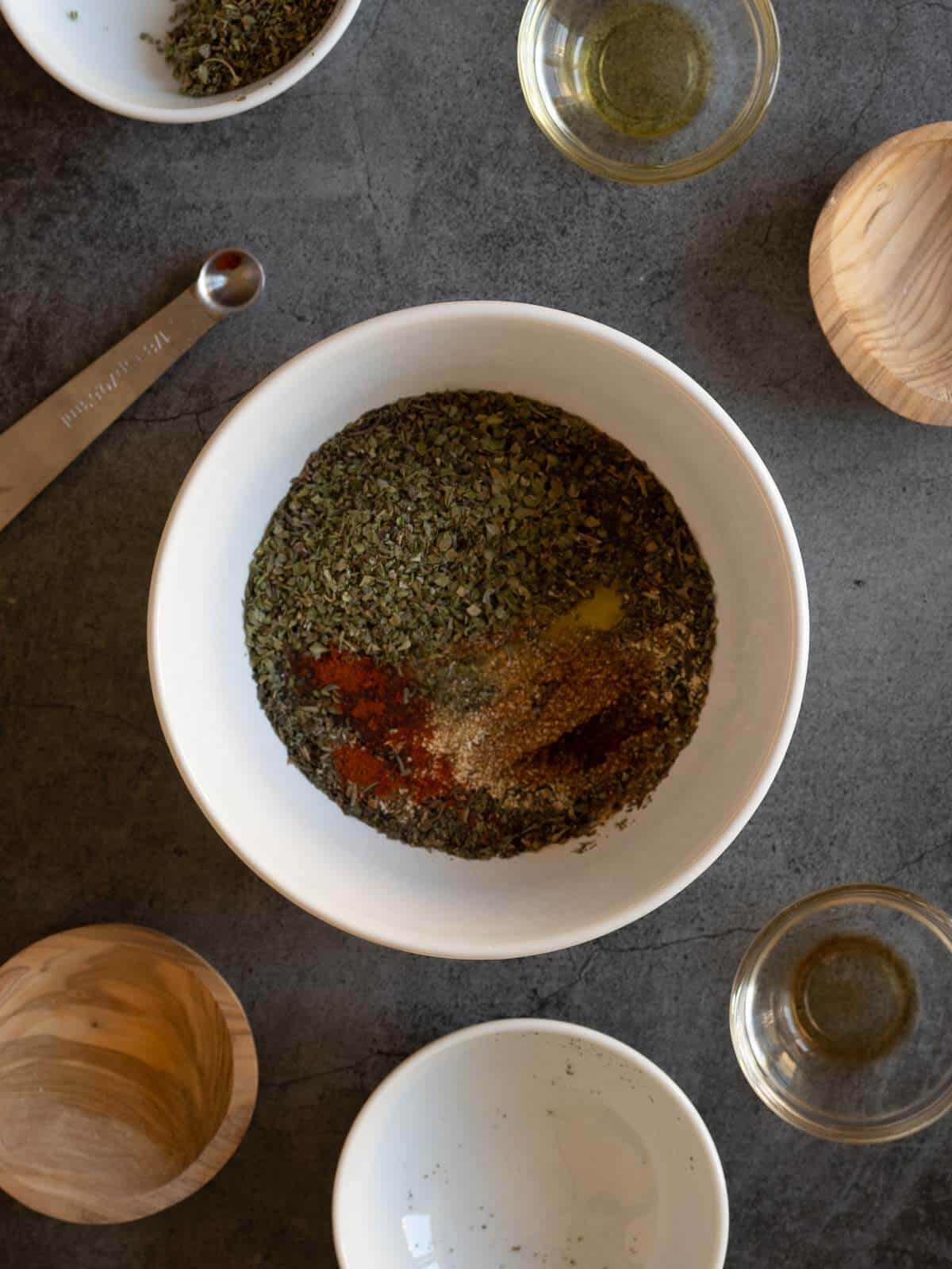 🔪 How to make crispy tofu in air fryer
This air-fried tofu involves 3 simple steps.
Pressing the extra firm tofu.
Marinating the tofu cubes on the balsamic tofu marinade.
Cook tofu by air-frying or baking the marinated tofu in the air fryer or oven.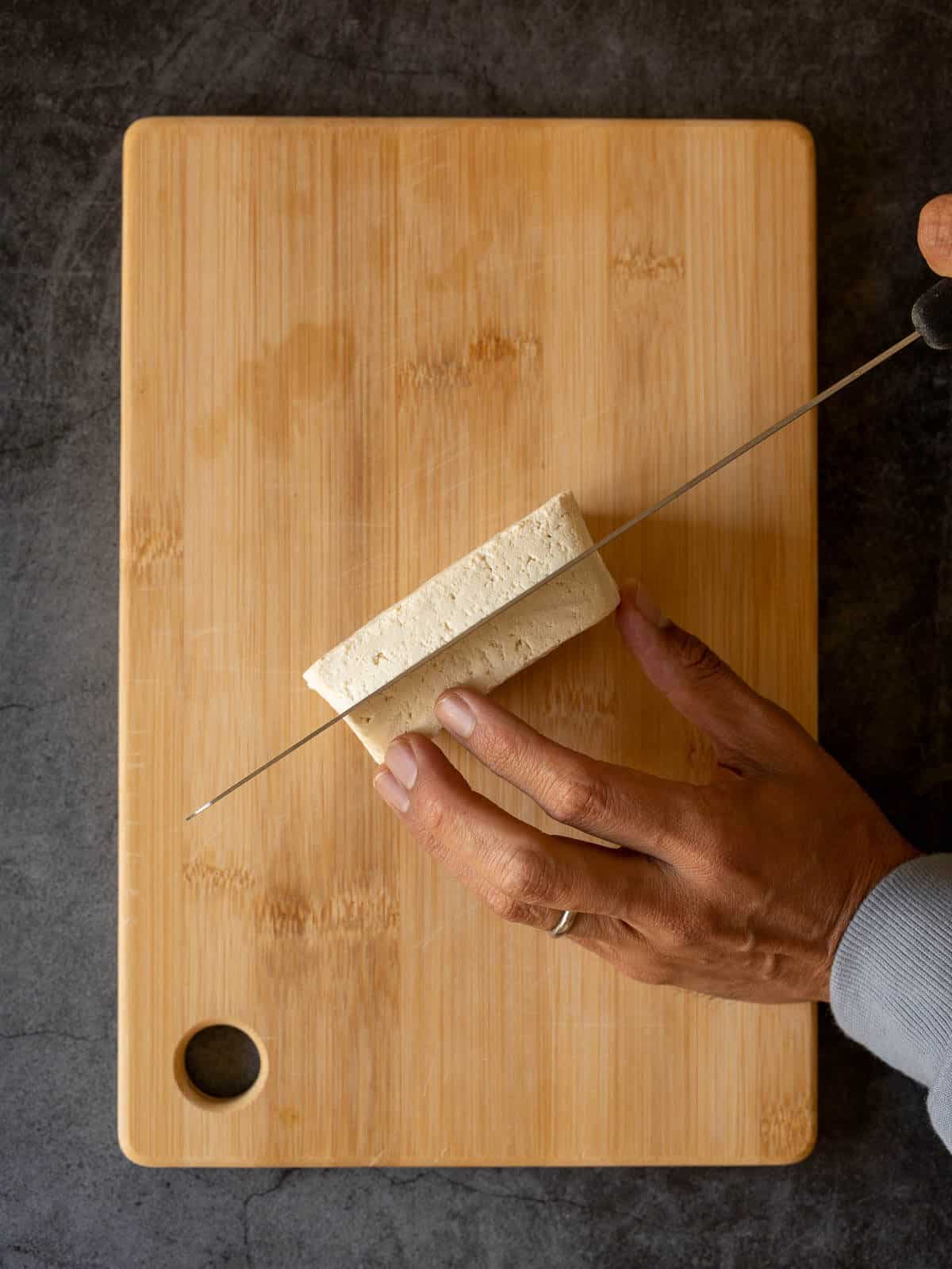 Cut the tofu in half, and place it on top of a chopping board and paper towel.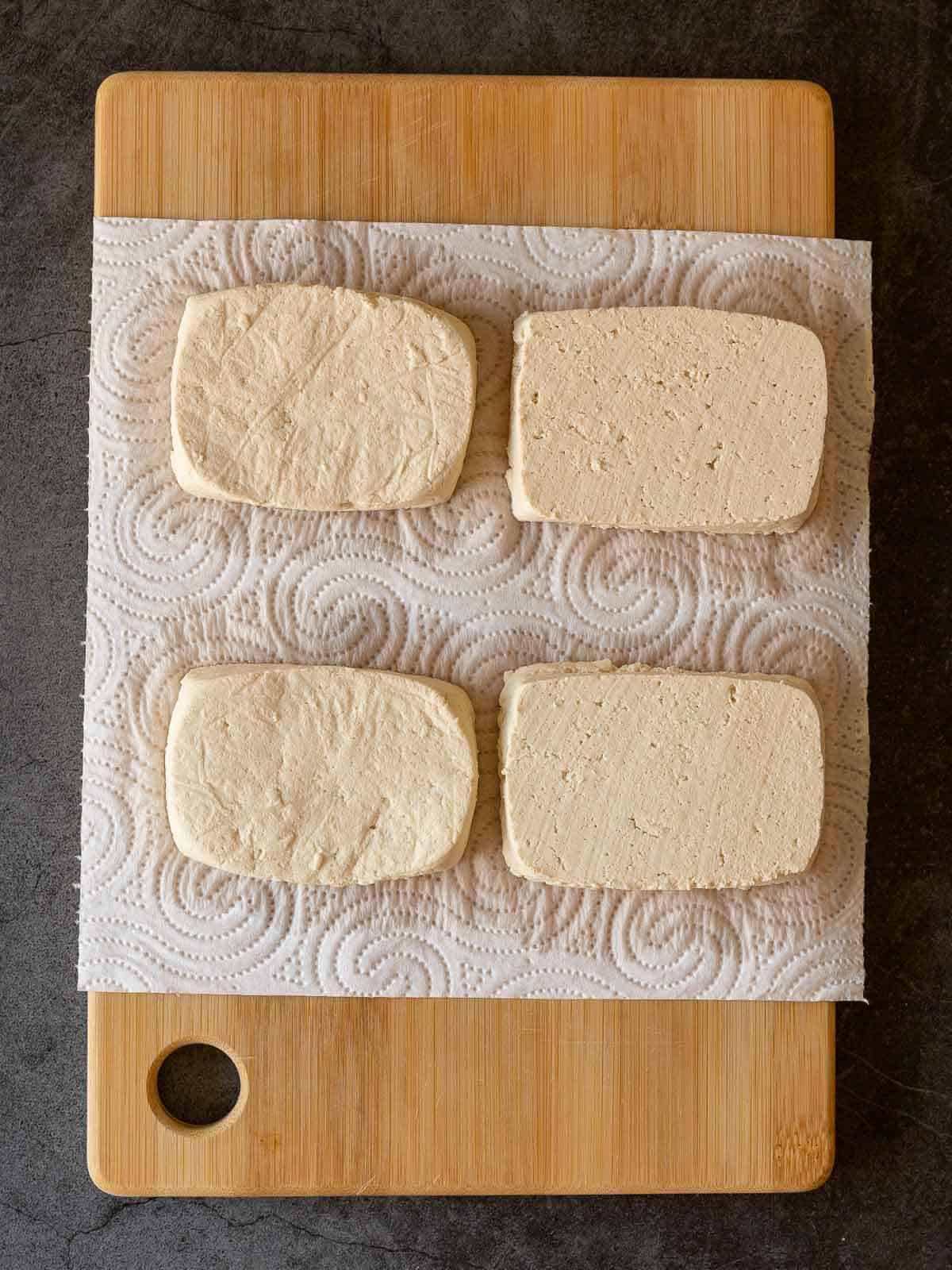 Place the cut tofu on top of the chopping board and a layer of paper towel.
Hint: for optimal results, press the tofu for 30 minutes.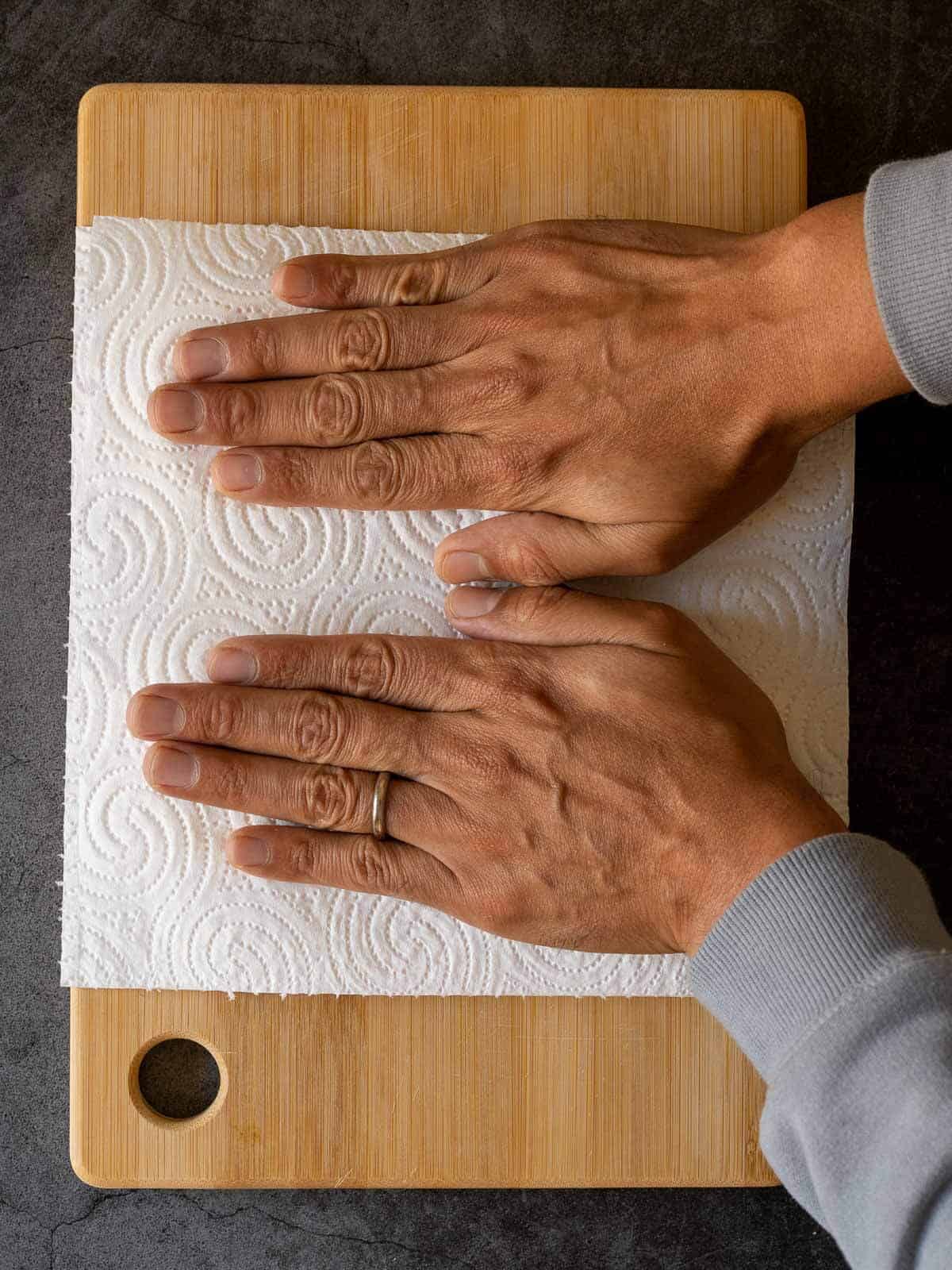 Place more paper towels and press with your hands.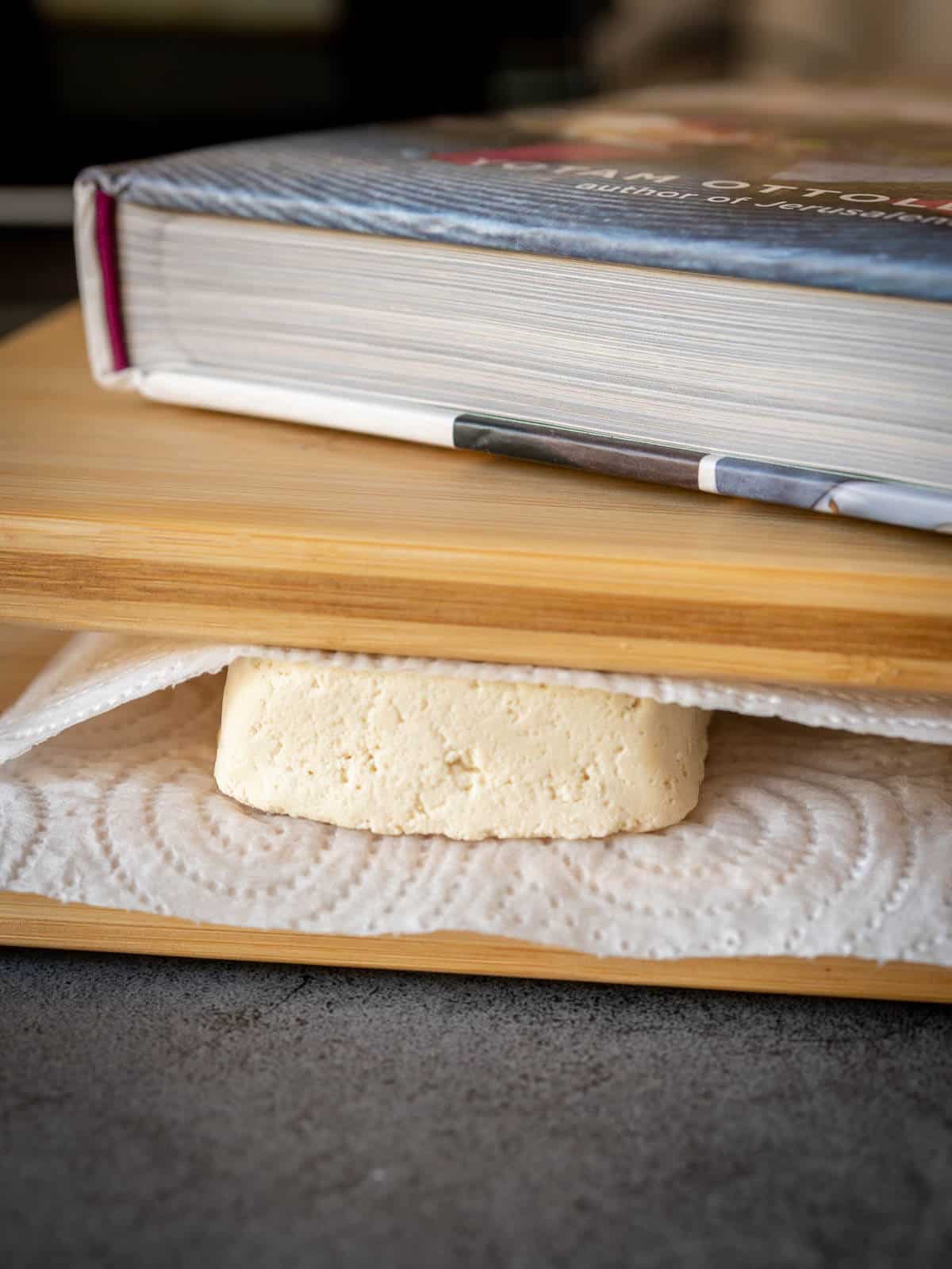 Put something heavy on top, such as books, to drain excess water for at least 15 minutes to get rid of the excess moisture. You can also use a tofu press.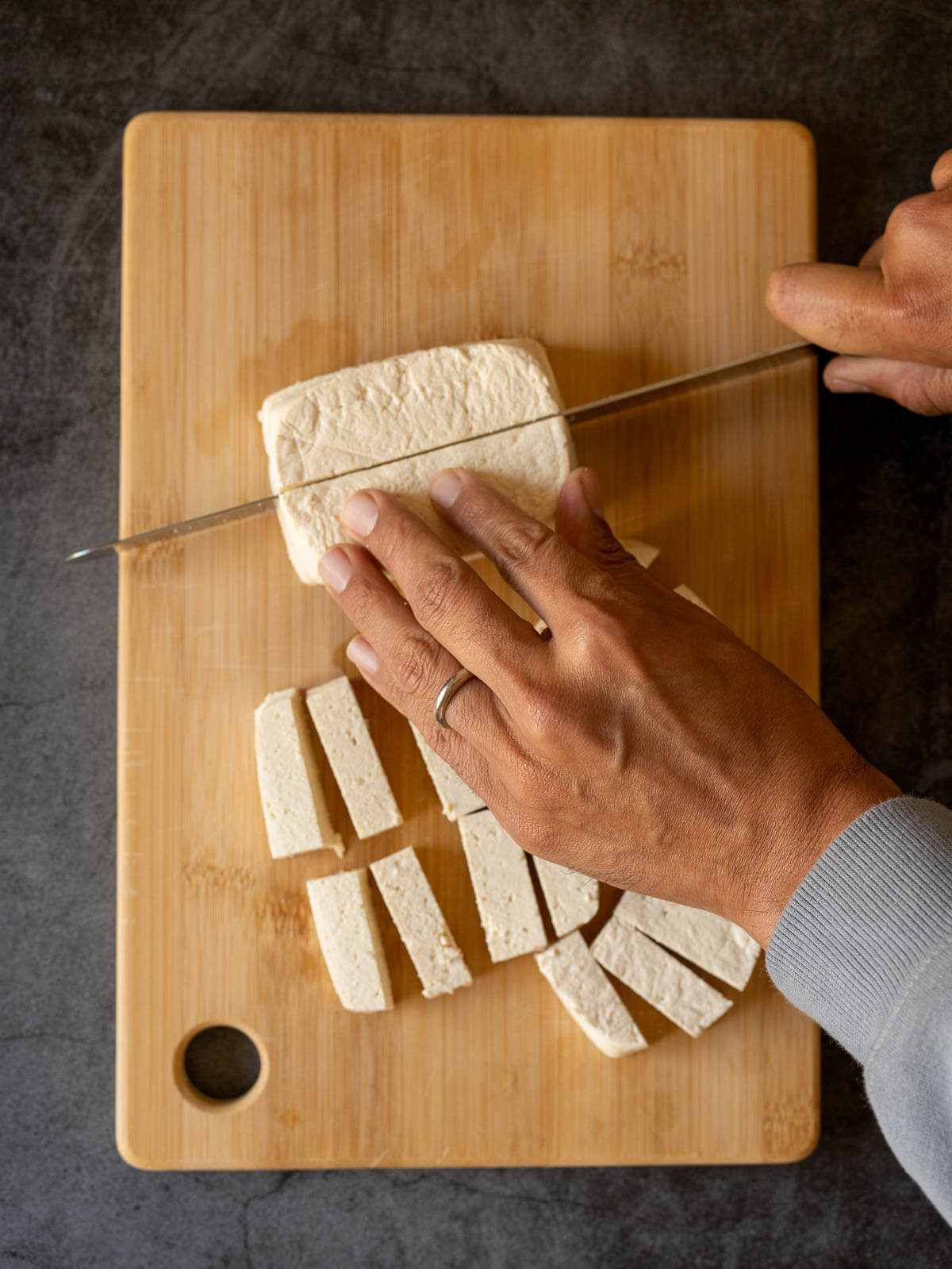 Cut the pressed tofu into tofu strips, cubes, or nuggets.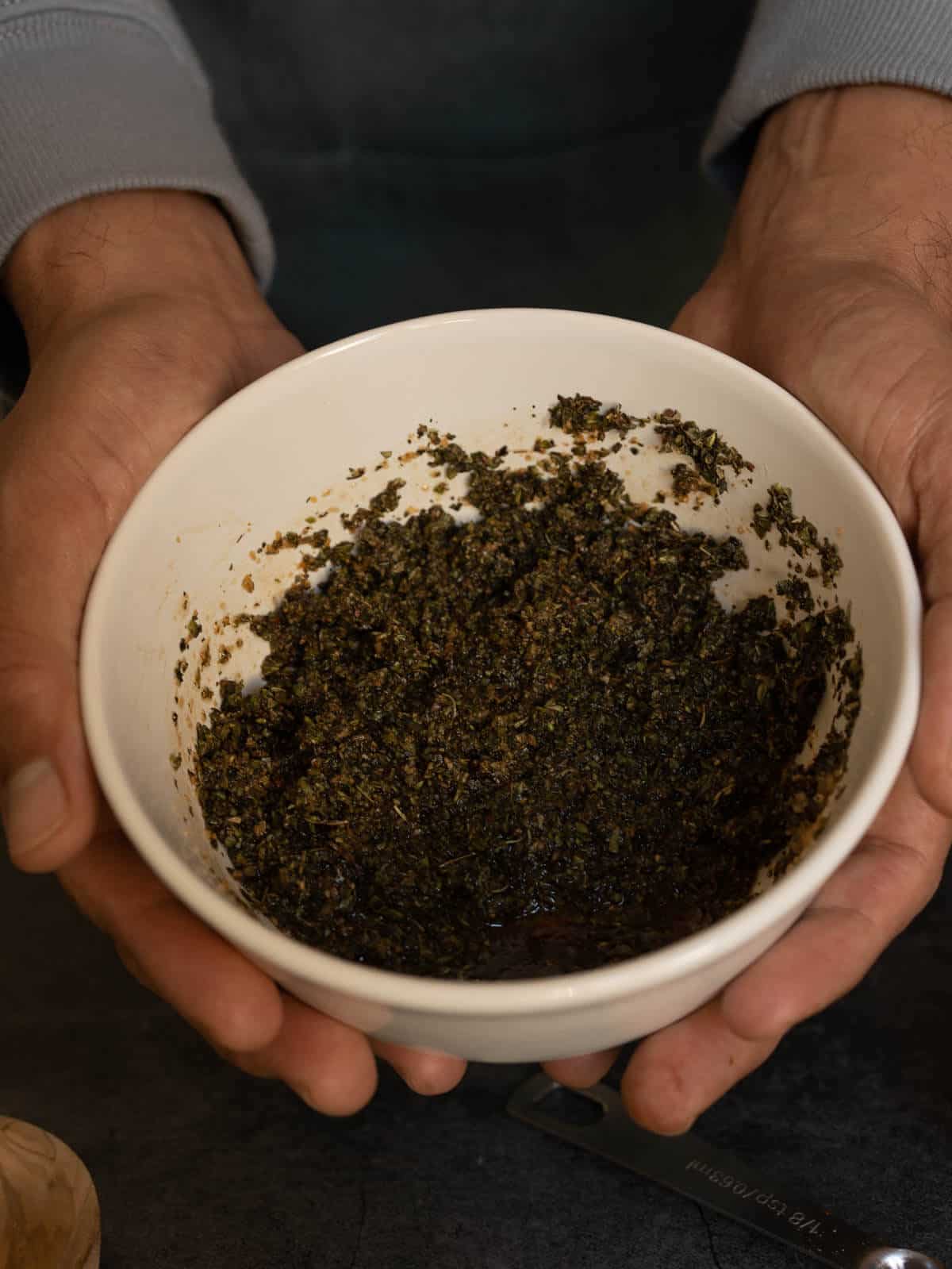 In a medium bowl, mix the balsamic vinegar, olive oil, garlic powder, dried herbs, salt, and paprika (if using).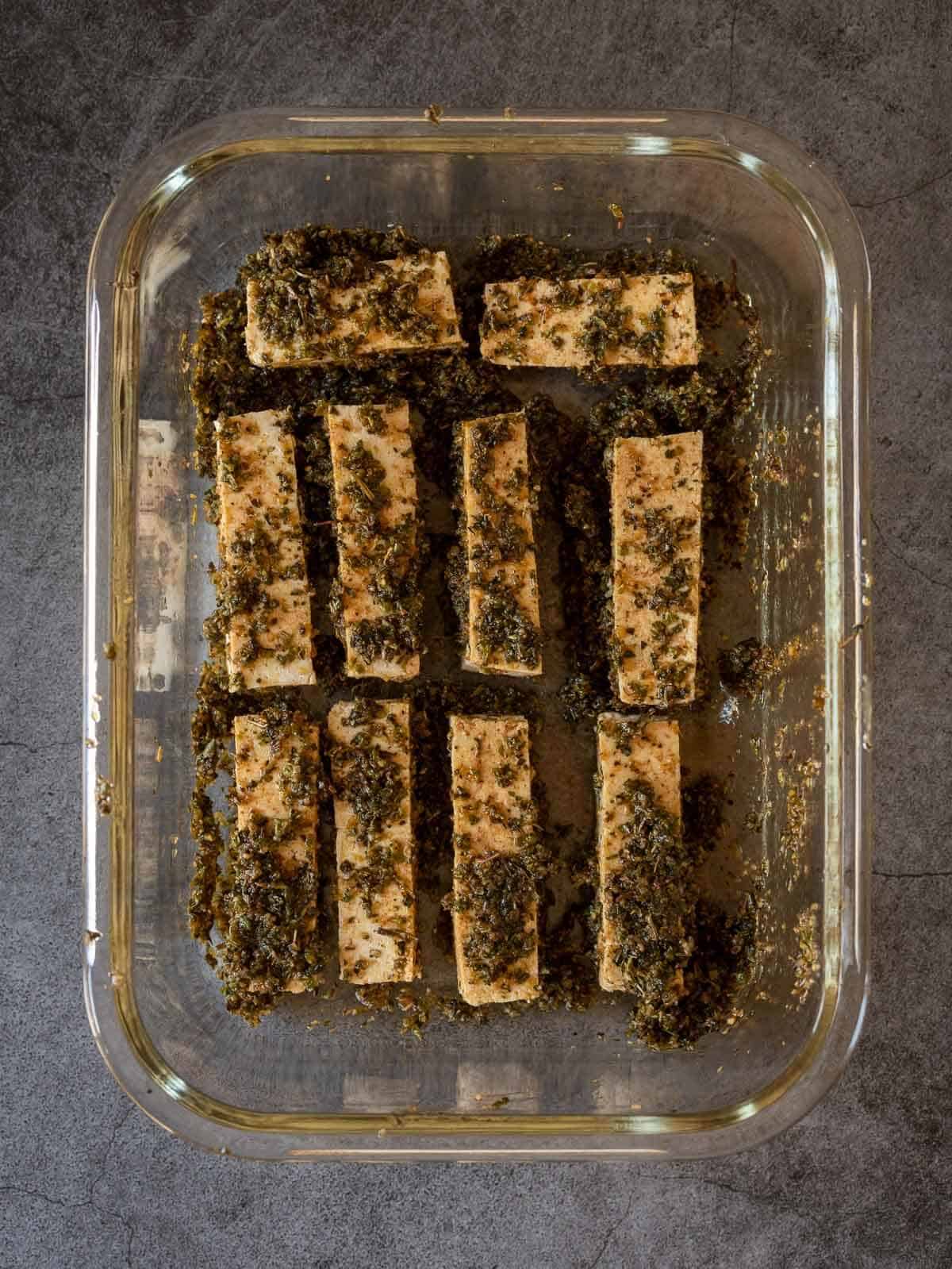 Let the tofu marinate in the herb mixture and gently toss. Let the tofu sit for at least 15 minutes.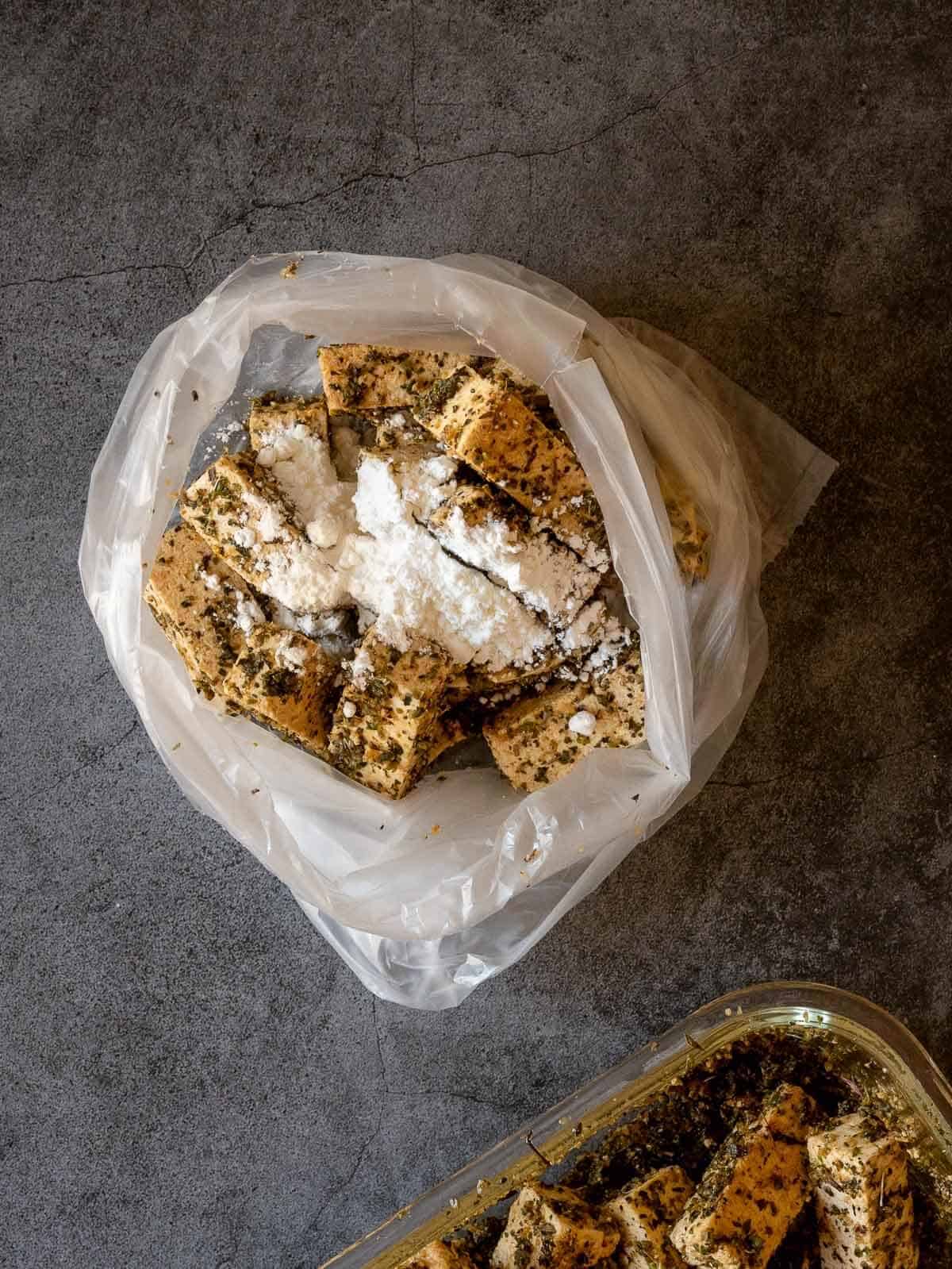 Add the marinated tofu into a plastic bag, add the cornstarch, and delicately coat the cubes.
Hint: corn starch is essential to make tofu crispy. You can choose not to use it and still go with it, but it won't be optimal.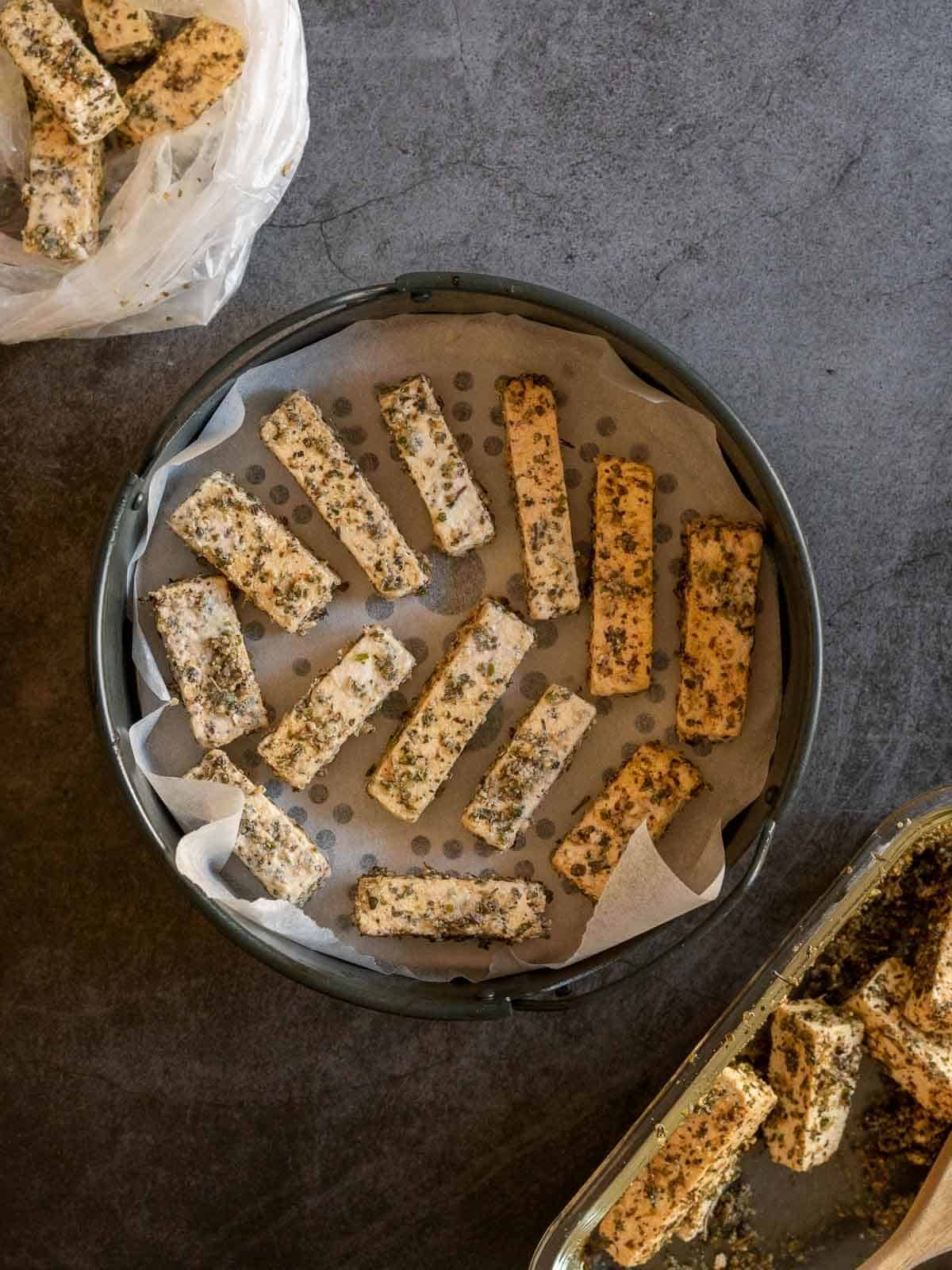 Place parchment paper on the air fryer basket, and place tofu cubes separately on a single layer.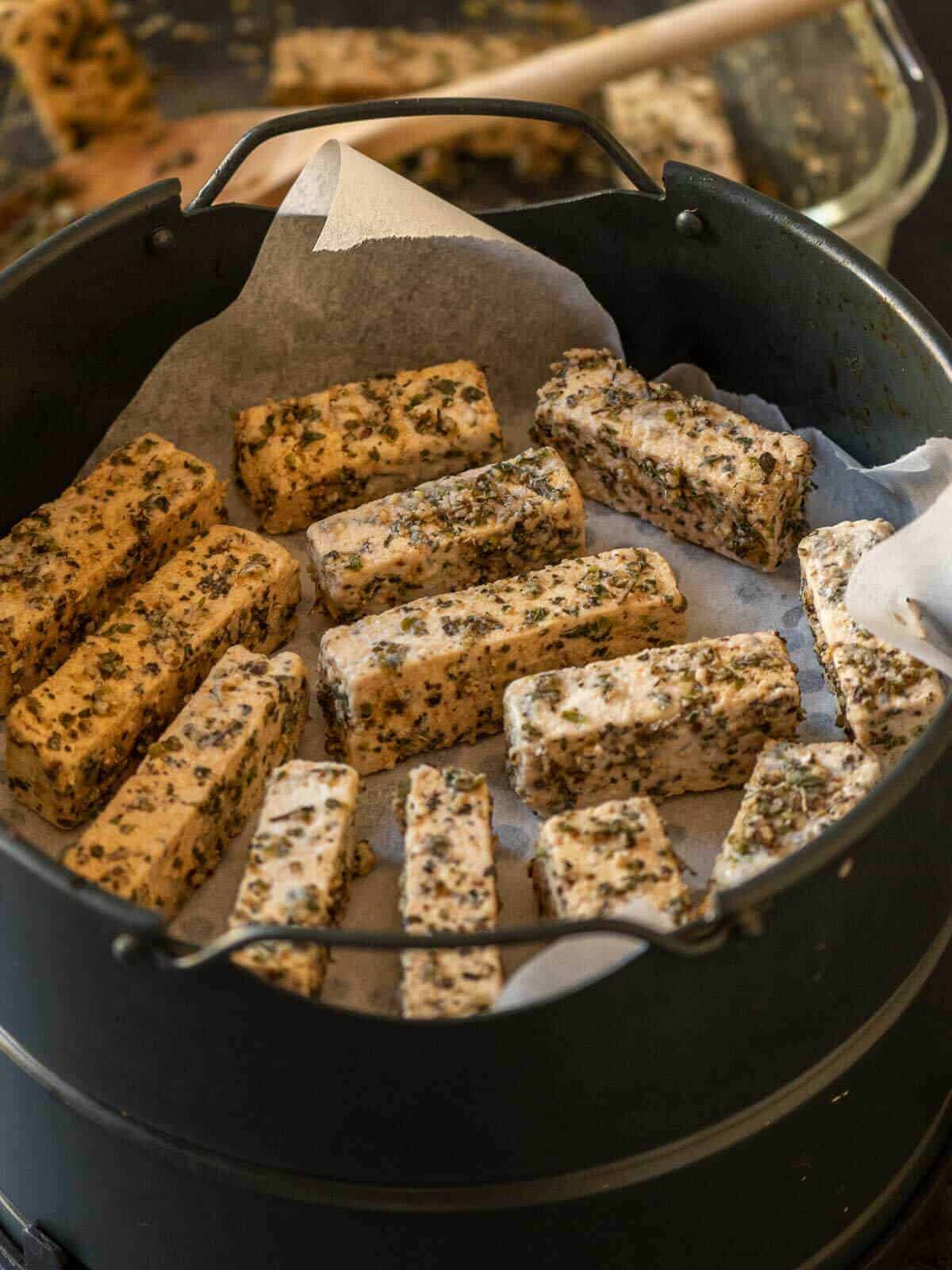 Air fry them for 15 minutes, turning them halfway.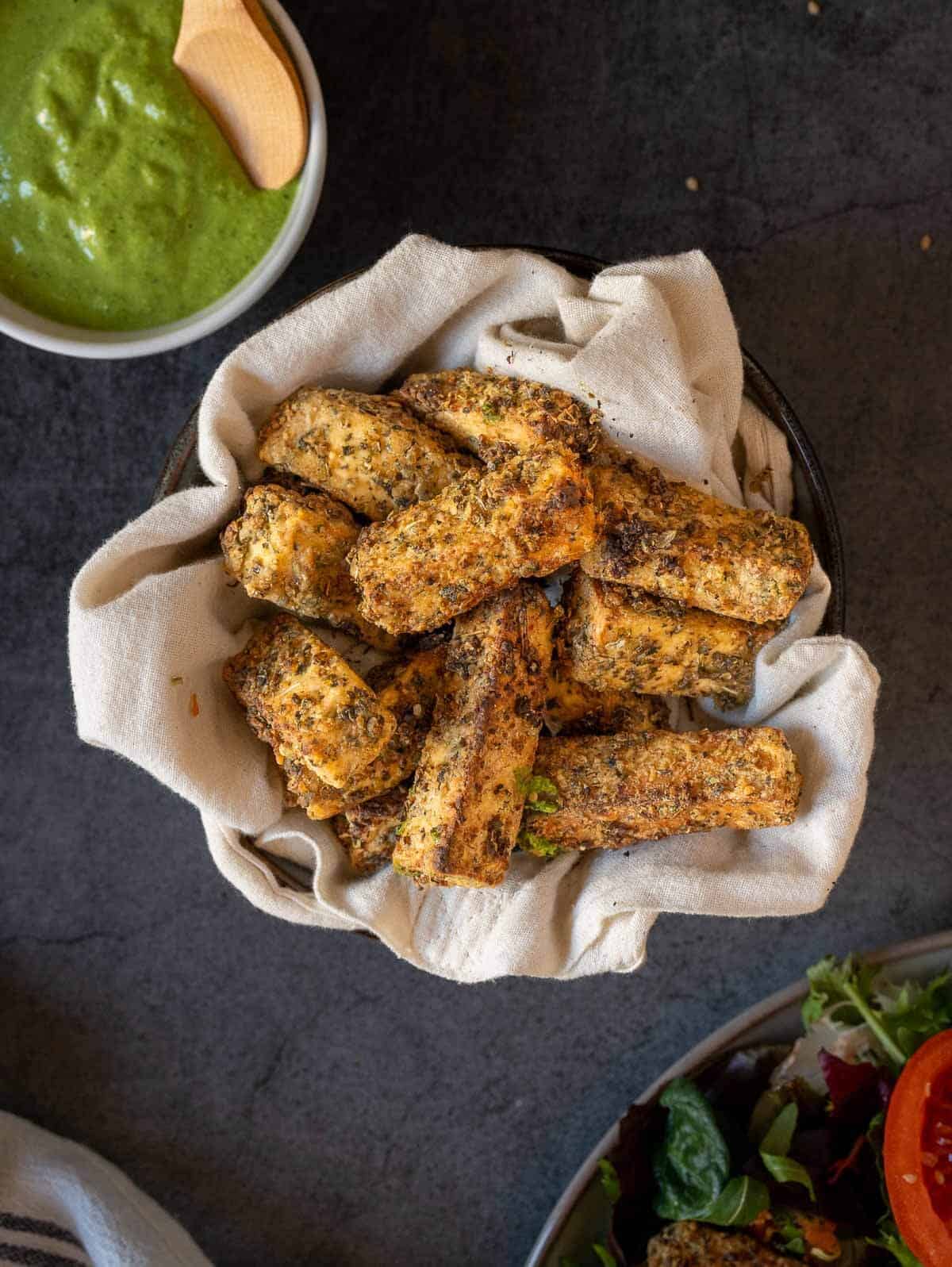 Hint: if the strips are not 100% crispy, simply leave the tofu in the air-fryer while it is off for 3-5 minutes more, and it will dry out.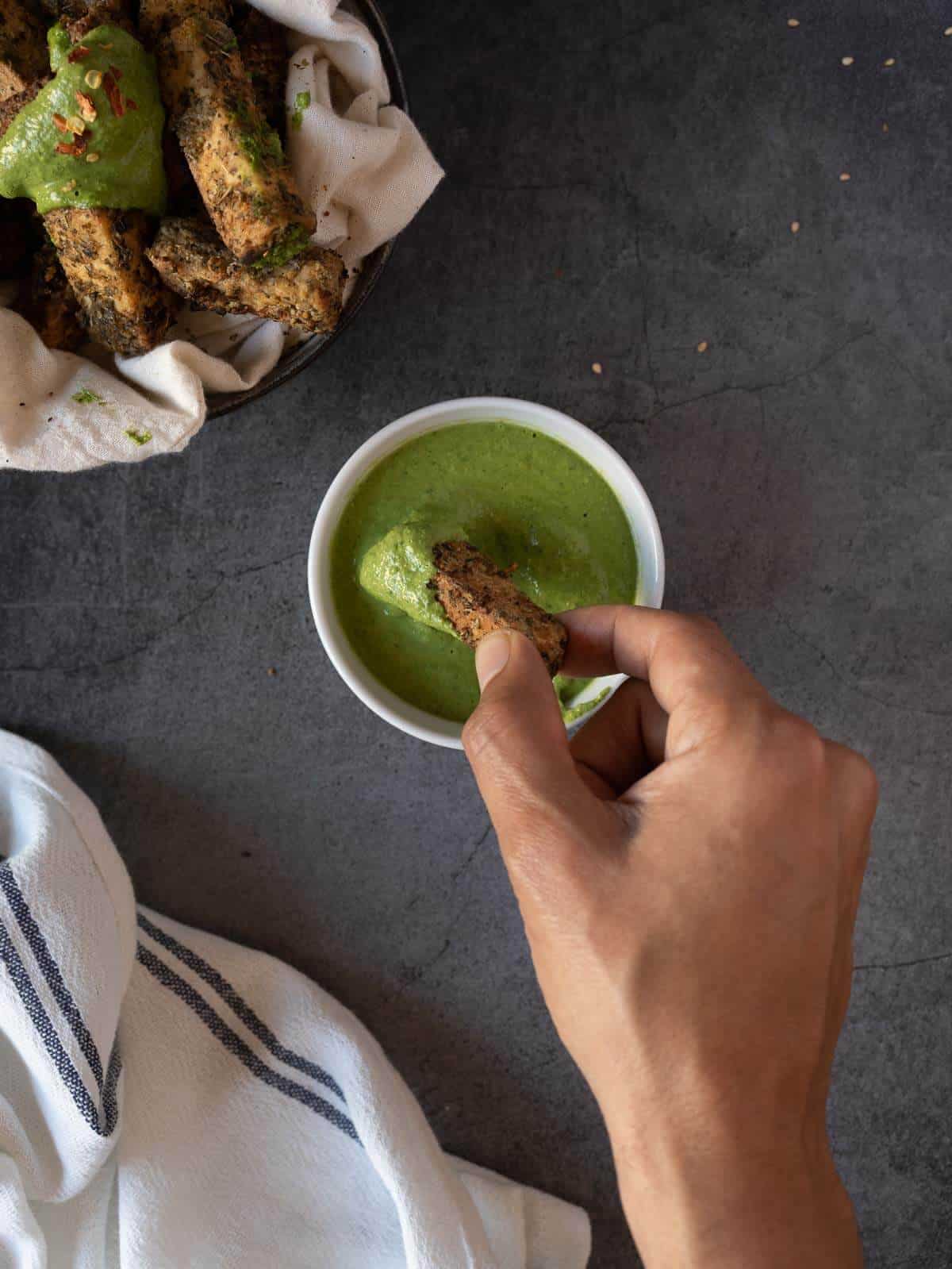 Read on: basic recipe to make crispy tofu.
🍶 Substitutions
Balsamic vinegar - use rice vinegar or lemon juice instead.
Cornstarch - use tapioca flour or arrowroot starch instead.
Dried herbs - mix Italian herbs seasoning or thyme and rosemary.
Olive oil - use non-toasted sesame oil or any other vegetable oil.
📖 Variations
If you like to add a touch of sweetness, you can add two tablespoons of pure maple syrup to the marinade. The flavor profile will be very similar to our maple glazed baked tofu.
Asian version - you can make a twist replacing some of the ingredients using the same proportions:
Replace balsamic vinegar with rice vinegar.
Make liquid aminos, coconut aminos, or low-sodium soy sauce marinade instead of dried herbs. They all have umami-like flavor. Also, add fresh minced ginger into the mix.
Toasted sesame oil can be an excellent substitute for olive oil when cooking. It has a much more distinct flavor than regular sesame oil, which makes it ideal for adding extra depth and richness to dishes. The taste of toasted sesame oil is more nutty and earthy compared to regular sesame oil.
You would use a sweet chili hot sauce or peanut sauce instead of the green one we suggest below for a dipping sauce.
♨️ Alternative cooking methods
Oven
If you want to make this crispy tofu recipe in the oven, simply preheat the oven to 450 ºF (232 ºC) and lay the tofu cubes on a baking sheet lined with parchment paper or a silicon mat, and bake for 25 minutes, turning with kitchen tongs, halfway.
Pan fry
Simply remove cornstarch from the recipe, then pan-fry the marinated tofu on a non-stick skillet, with very little oil, for a shallow fry. Toss gently the pan occasionally until golden brown.
🥢 How to serve
We like serving this dish with a dipping sauce. Our favorite is this easy-to-make creamy vegan sauce, which we use for everything, and it pairs wonderfully as it is made with fresh Mediterranean herbs.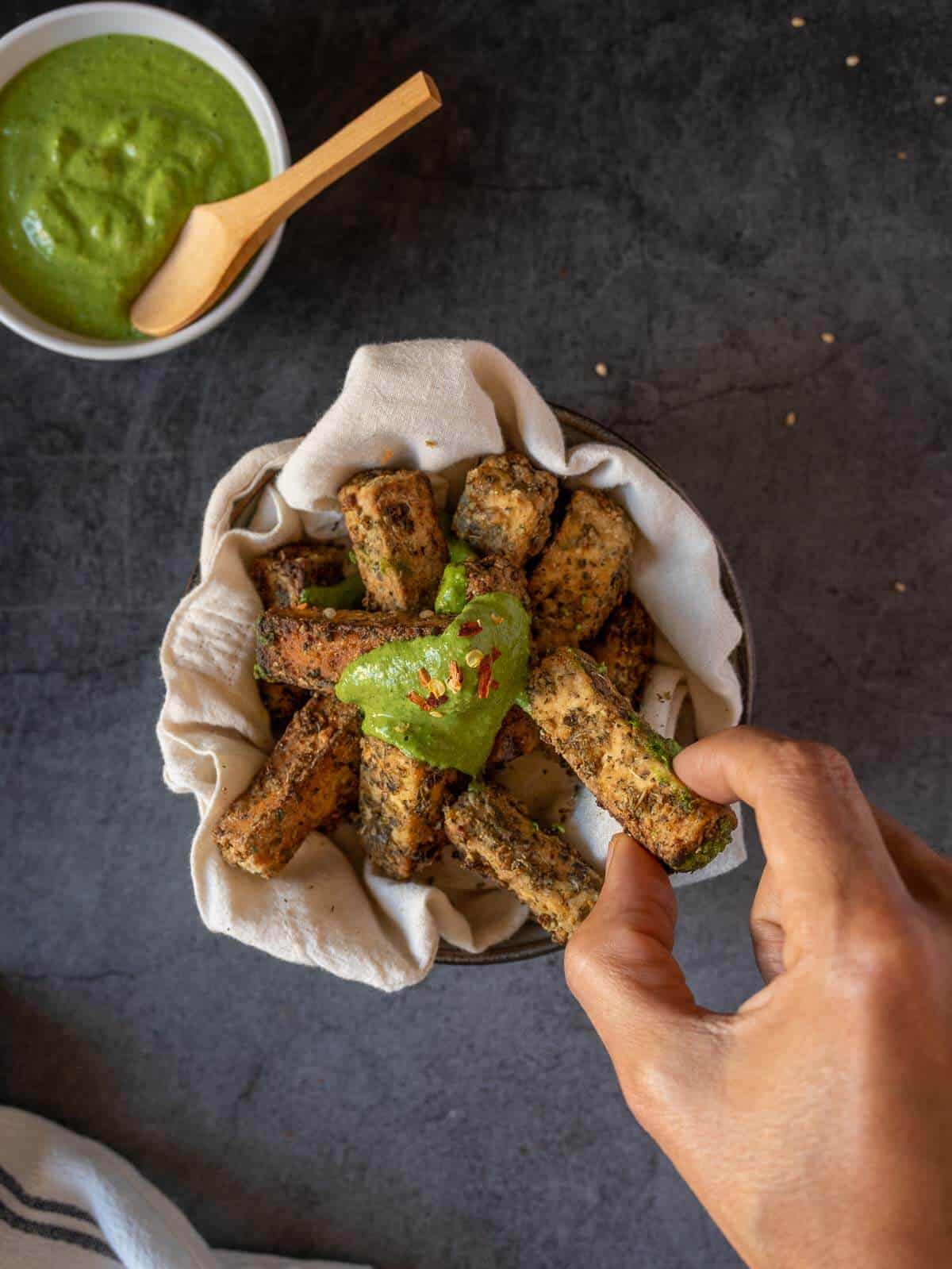 When having its air fryer tofu recipe as a main dish, we usually throw it on top of a green salad such as this vegan kale salad or a warm cous cous salad.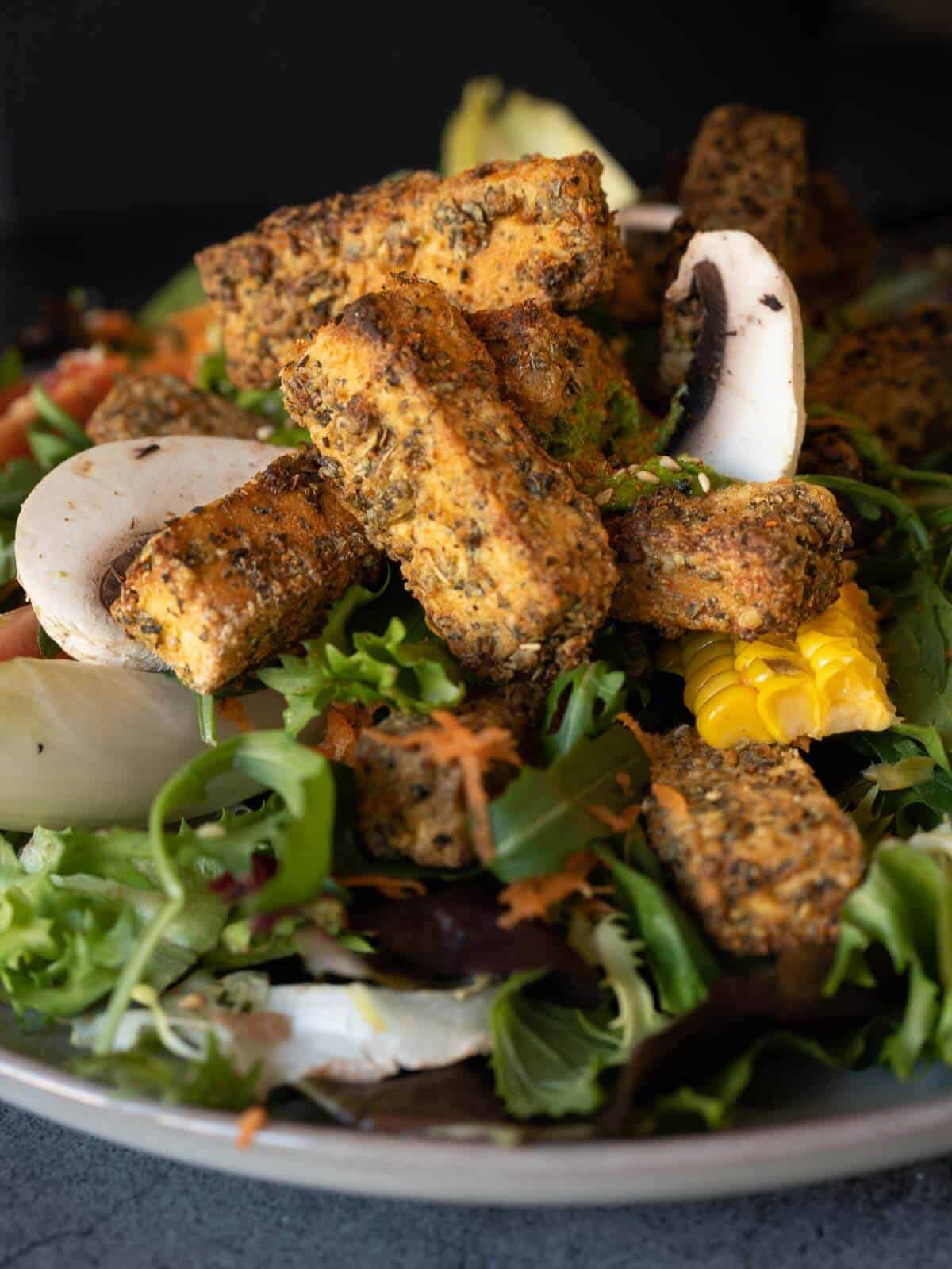 🍽 Equipment
Air fryer - we used this instant pot air fryer

(affiliate link)

for this recipe, but we also love using the more spacious Ninja air fryer

(affiliate link)

when making a bunch for game day, as you can make more in one go!
Medium mixing bowl - to make the marinade.
Flat pan - for marinating the tofu strips evenly.
Parchment paper - to avoid messing with the air-fryer, keep it clean, and also easily serve tofu nuggets.
🥡 Storage
Store uncooked marinated cubed tofu in a BPA-free, tightly sealed, air-tight container or ziplock bag in the fridge for up to 3 days.
Air-fried tofu will not keep the same consistency. If you have air-fried tofu leftovers, keep them closed in the fridge and briefly air-fry them for 5 minutes, topping them with cooking spray to get back some of the crispness.
💡 Top tip
This dish is great for meal prepping. You can leave the tofu marinating overnight and simply air fry tofu when ready to pass it through the corn starch right before cooking.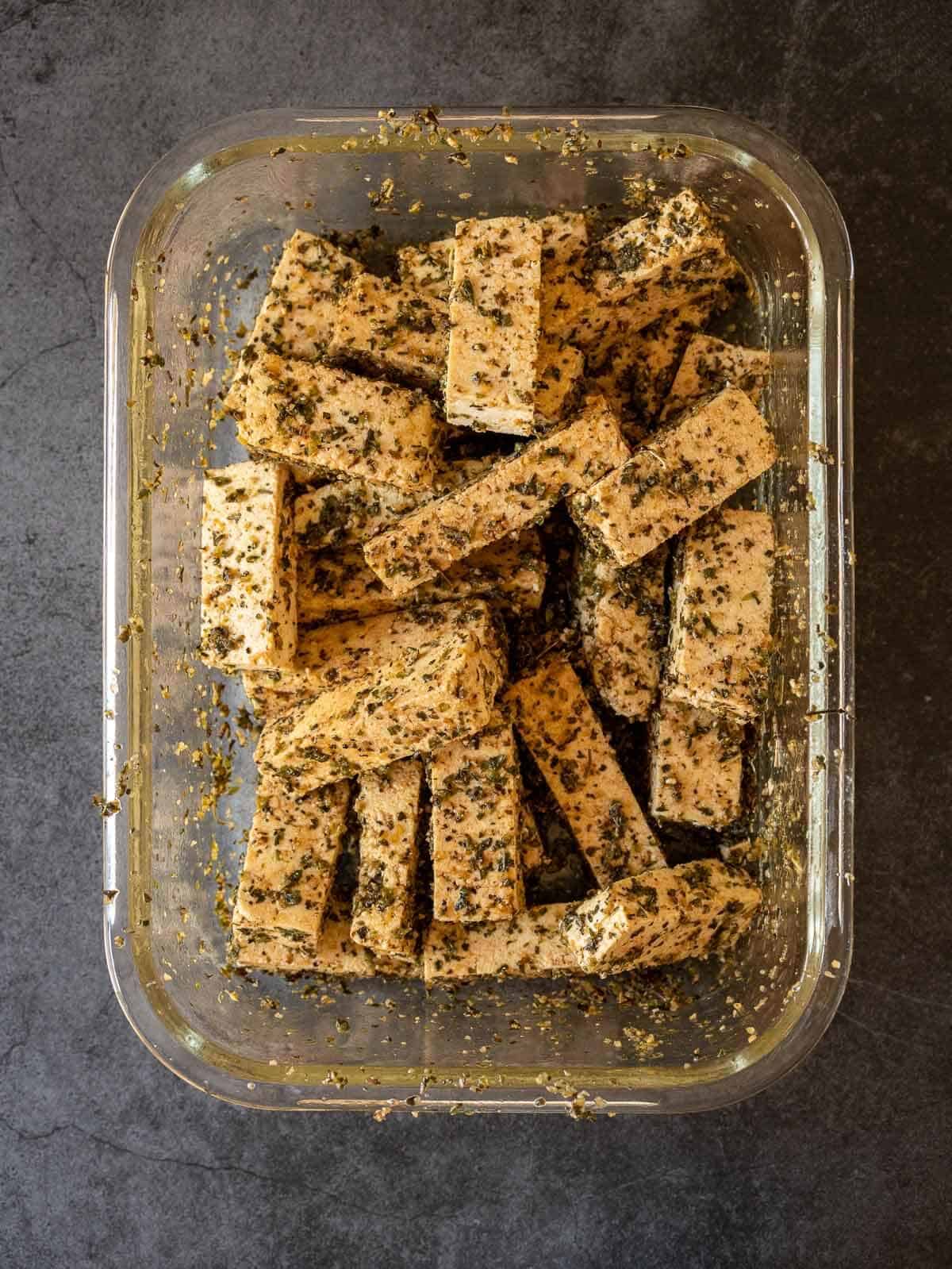 📚 More air fryer recipes
Oyster mushrooms made in an air fryer are a surprisingly delicious vegan dish! They get so crispy and flavorful when cooked in the air fryer. T Serve these as an appetizer or side dish to your favorite meal. Enjoy!
Air fyer acorn squash, a delicious and simple way to make this tasty vegetable. A perfect side dish for any meal. Enjoy!
❓ FAQ
Can you air-fry tofu?
Absolutely! Air frying tofu is a great way to get a chewy and golden crust with minimal oil. There are several key steps you'll need to consider when air frying your tofu for the best results.
How long to cook tofu in air fryer?
If the tofu is cubed, air fry for 15 minutes at 400 ºF (204 ºC), turning them halfway.
Is tofu gluten-free?
Yes, plain tofu is gluten-free. Tofu is made from soybeans, water, and a coagulant that helps it to solidify, and none of these ingredients contain any gluten proteins.
Therefore, those who are following a strict gluten-free diet can safely enjoy this delicious food item without risking any adverse reactions associated with consuming gluten.
Be aware that some flavored versions may have glutenous ingredients.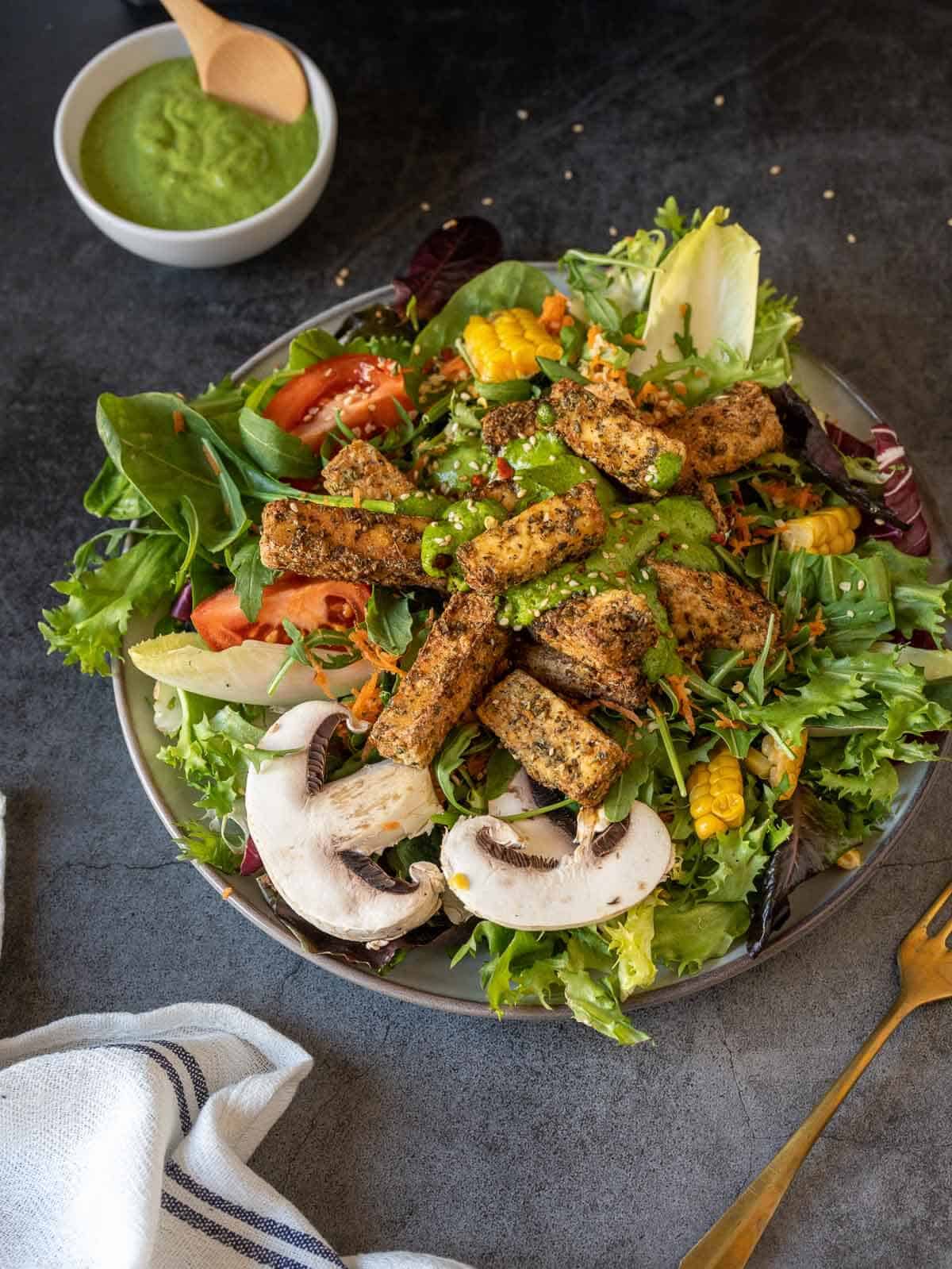 ⭐ If you learned how to air fry tofu nuggets with this post, let us know! 💬 Leave a comment, rate it, and don't forget to tag us @ourplantbasedworld on Instagram. Cheers!
📋 Recipe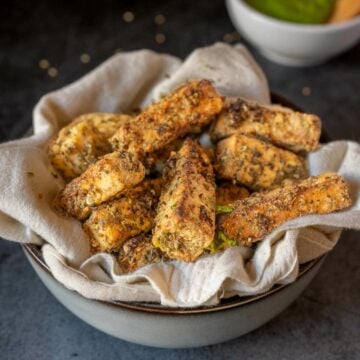 Crispy Air Fryer Tofu Nuggets with Mediterranean Marinade
Love tofu? Learn how to air-fry tofu nuggets with a delicious Mediterranean marinade. Perfect for a quick and healthy meal, appetizer, or snack.
Equipment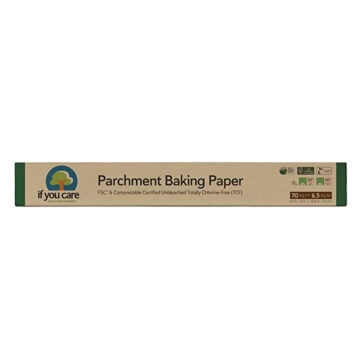 (affiliate link)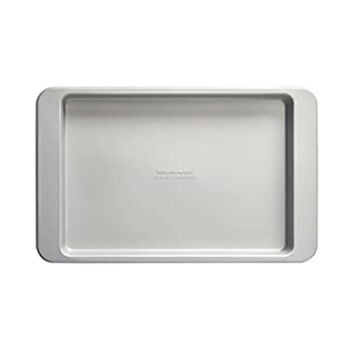 (affiliate link)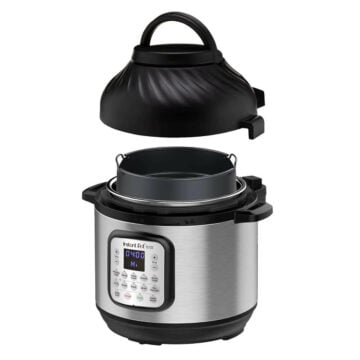 (affiliate link)
Ingredients
Optional
¼

teaspoon

hot paprika

or ground black pepper

oil spray
Serve as an appetizer with a portion of
Directions
Press extra firm tofu for at least 15 minutes (best 30 minutes). Then cut the tofu into cubes.

In a small bowl, mix balsamic vinegar and salt.

Stir the pressed tofu cubes into the bowl, followed by olive oil, garlic powder, oregano, paprika, or ground pepper (if using).

Coat everything evenly but delicately with your hands or spatula.

Leave marinating for 15 minutes.

Add the tofu cubes into a plastic bag. Stir in the cornstarch and gently shake with your hands- so it sticks to the tofu cubes but doesn't become a paste.

Cover the air fryer basket with parchment paper and distribute the seasoned tofu cubes evenly in a single layer, leaving room between each of them.

Bake at 400ºF (204ºC) for 15 minutes (see notes), shaking the air fryer basket- or moving them carefully with kitchen tongs, halfway.

Serve in your favorite buddha bowl, stir fry, or eat as an appetizer with your favorite dipping sauce or on top of a green salad.
Oven
If you want to make this crispy tofu recipe in the oven, simply preheat the oven to 450 ºF (232 ºC) and lay the tofu cubes on a baking sheet lined with parchment paper or a silicon mat, and bake for 25 minutes, turning with kitchen tongs, halfway.
Pan-fry
Simply remove cornstarch from the recipe, then pan-fry the marinated tofu on a non-stick skillet, with very little oil, for a shallow fry. Toss gently the pan occasionally until golden brown.
Notes
Size of tofu cubes
Cut tofu into ½-inch cubes if you prefer chunky bites and ¼- ⅓ inc cubes if you prefer tofu pop corn-sized cubes.
Crispiness
Cook in the air fryer for 15 minutes for extra-crispy tofu bites and 13 minutes for fluffy and still crispy ones.
Nutrition Facts
Calories:
308
kcal
Carbohydrates:
21
g
Protein:
15
g
Fat:
18
g
Saturated Fat:
3
g
Polyunsaturated Fat:
4
g
Monounsaturated Fat:
11
g
Sodium:
1295
mg
Potassium:
388
mg
Fiber:
1
g
Sugar:
5
g
Vitamin A:
87
IU
Vitamin C:
0.3
mg
Calcium:
103
mg
Iron:
4
mg
Nutrition Facts
Crispy Air Fryer Tofu Nuggets with Mediterranean Marinade
Amount per Serving
% Daily Value*
* Percent Daily Values are based on a 2000 calorie diet.
🌡️ Food safety
Cook to a minimum temperature of 165 °F (74 °C)
Do not use the same utensils on cooked food, that previously touched raw meat
Wash hands after touching raw meat
Don't leave food sitting out at room temperature for extended periods
Never leave cooking food unattended
Use oils with a high smoking point to avoid harmful compounds
Always have good ventilation when using a gas stove
See more guidelines at USDA.gov.
Nutritional Disclaimer
The information shown is an estimate provided by an online nutrition calculator. It should not be considered a substitute for a professional nutritionist's advice. See our full Nutritional Disclosure here.
Affiliate Disclaimer
Please note that some of the links here are affiliate links, and I will earn a commission if you purchase through those links. I recommend all of the products listed because they are companies I have found helpful and trustworthy.