Dive into the sweet and succulent world of our Brown Sugar Peach Cake! This isn't just any peach cake recipe; it's a delightful twist on an old-fashioned classic, made effortlessly with cake mix. Whether you're using canned peaches or fresh, this vegan peach cake, kissed with brown sugar, promises a dessert that's as easy as it is delicious.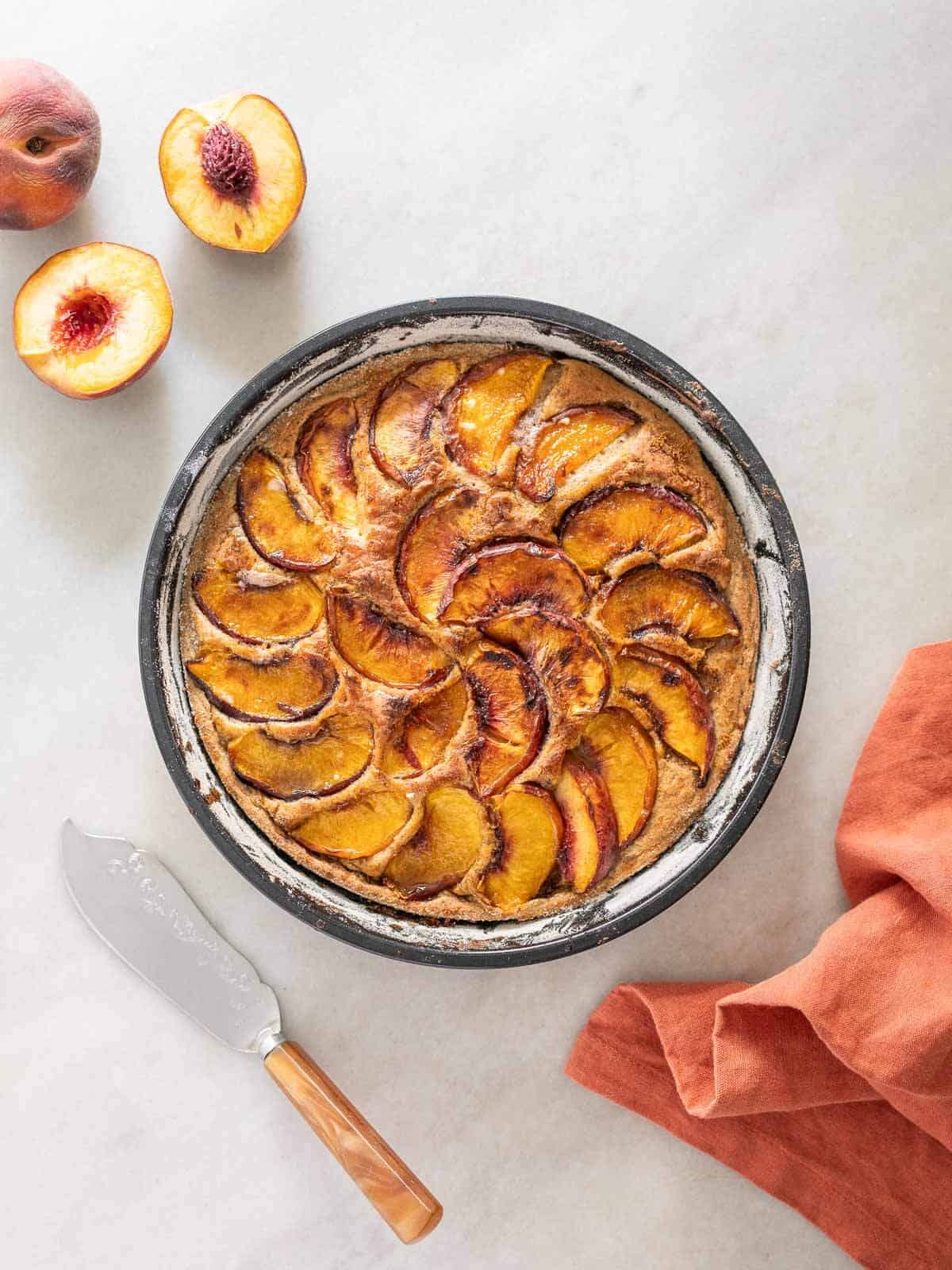 🏅 Why This Recipe is a Winner
First off, this Brown Sugar Peach Cake is a nutritional superstar. Peaches, the show's star, are juicy and delicious and packed with vitamins, antioxidants, and fiber. This cake lets you enjoy dessert while nourishing your body with wholesome, plant-based ingredients. The brown sugar adds a rich, caramel-like depth that complements the peaches beautifully.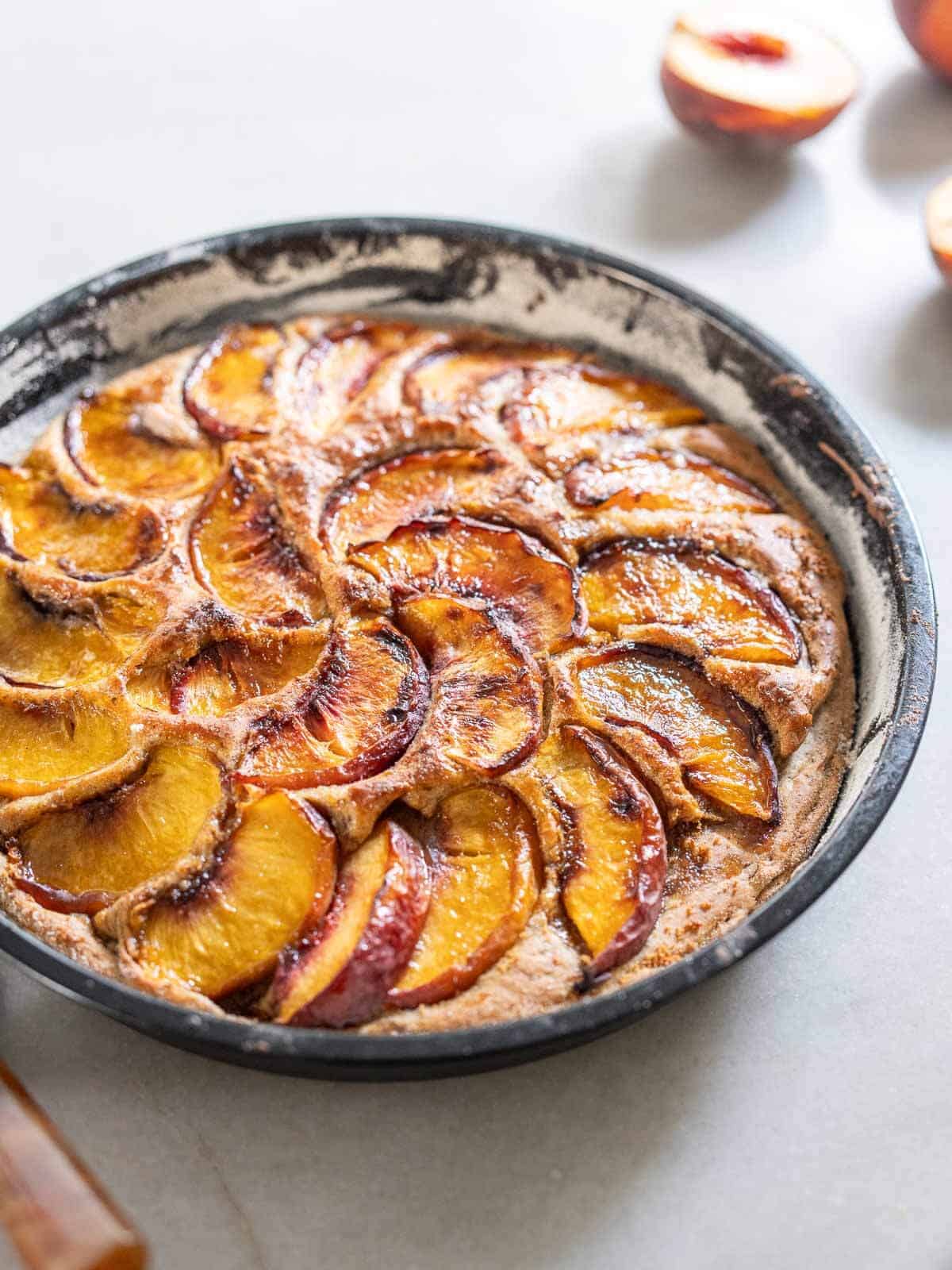 Secondly, we're all about simplicity here, and this recipe is as easy as pie—or should we say cake? With the convenience of a gluten-free cake mix, you're already halfway to a perfect dessert. It's a stress-free route to a scrumptious, crowd-pleasing vegan peach cake that even a baking newbie can master. Time-saving and delectable? That's what we call a winning recipe.
Jump to:
🧾 Ingredients
This peach cake with cake mix is made with just a few delicious ingredients: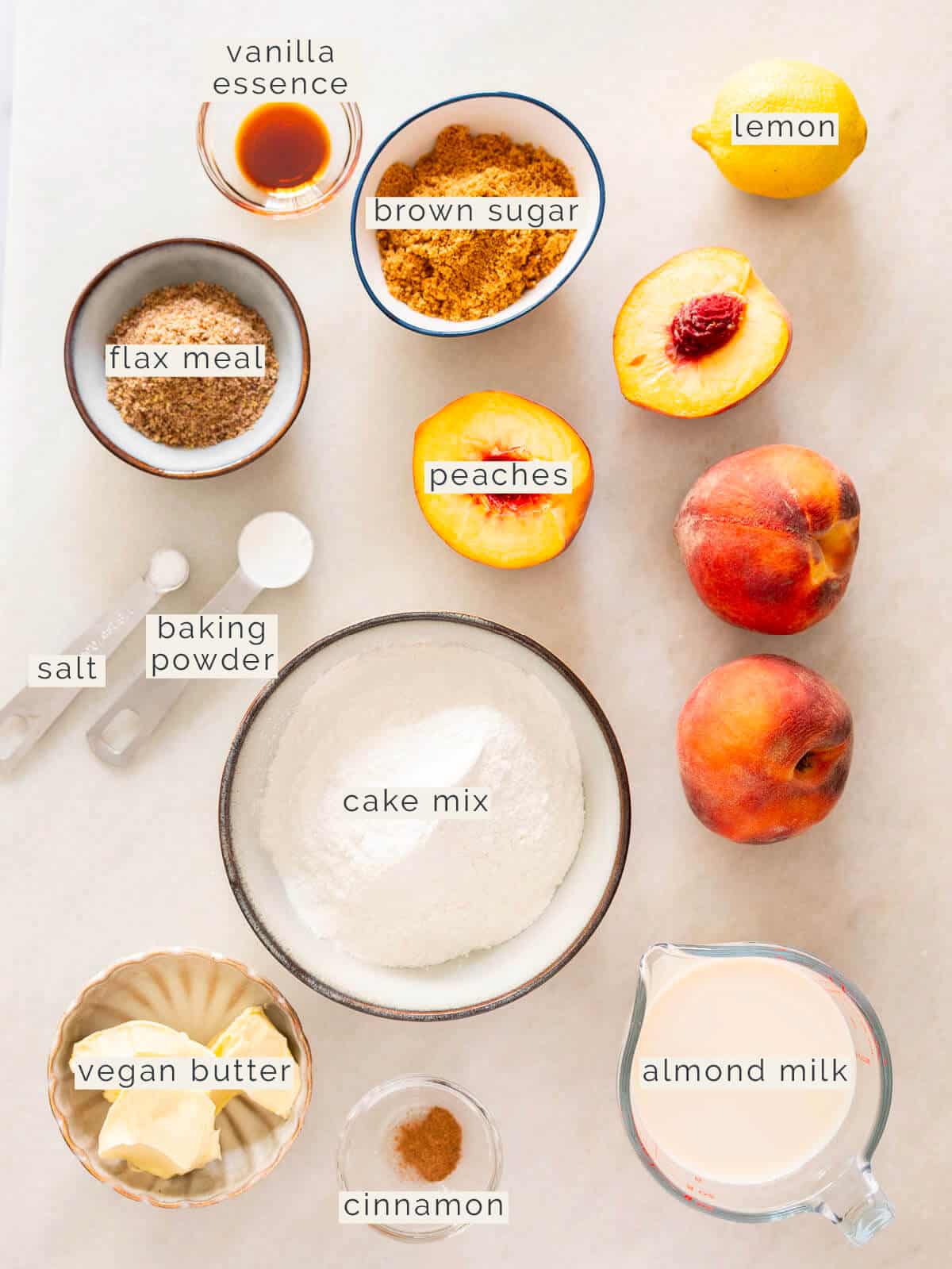 Peaches: These are the star of the cake, adding natural sweetness and a juicy, fruity flavor that is both delicious and nutritious. I used ripe fresh peaches, but you can make this peach cake with canned peaches and cake mix.
Vegan Butter or Margarine: This helps to create a rich and moist texture in the cake, making it tender and adding a buttery flavor without the dairy.
Brown Sugar: This sweetens the cake and adds a rich, caramel-like depth that complements the peaches beautifully.
Almond Milk or Soy Milk: These plant-based milk options keep the cake moist and tender, and are great dairy-free alternatives.
Lemon Juice: This adds a touch of brightness and acidity to balance the cake's sweetness and helps activate the baking powder.
Flax Meal: A key part of the vegan buttermilk-flax meal mix, flax meal is a great binding agent that replaces eggs in vegan baking.
Vanilla Essence: This adds a classic, aromatic flavor that enhances the overall taste of the cake.
Cake Mix (or Gluten-Free Cake Mix): Using a cake mix simplifies the baking process and ensures a consistently perfect texture every time.
Baking Powder: This leavening agent helps the cake rise and become fluffy.
Cinnamon: A pinch of this warm spice adds depth and a subtle spiciness that complements the sweetness of the peaches and brown sugar.
Fine Sea Salt: A small pinch enhances all the other flavors in the cake, making them more vibrant and pronounced.
Hint: The unique Buttermilk-Flax Meal Mix combination acts as a vegan egg substitute, helping to bind the ingredients together and adding moisture to the cake.
Optional ingredients
Pure Maple Syrup (Optional To Top): Drizzling this on top helps to caramelize the cake's surface further, adding a delightful, natural sweetness and a beautiful glossy finish.
See the recipe card for quantities.
🔪 Instructions
This vegan peach cake involves 5 simple steps.
Preparing your binding ingredients to make a flax egg / vegan buttermilk mix.
Chopping peaches into sizable chunks.
Preparing the peach batter, mixing all the ingredients.
First bake: before adding peach slices.
Second bake: and caramelization.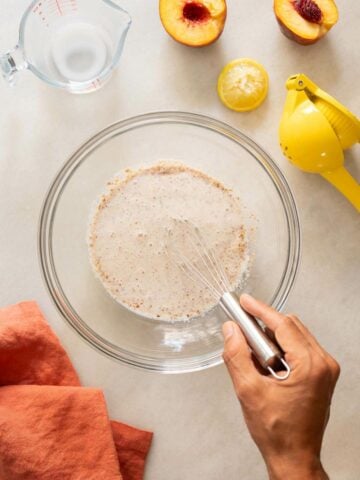 Prepare Buttermilk: Whisk together plant milk, half the lemon juice, and flax meal in a bowl. Let it sit until it curdles into a buttermilk-like texture.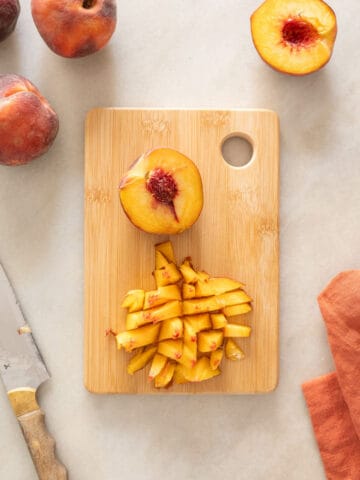 Cut Peaches: Dice up two of those juicy peaches.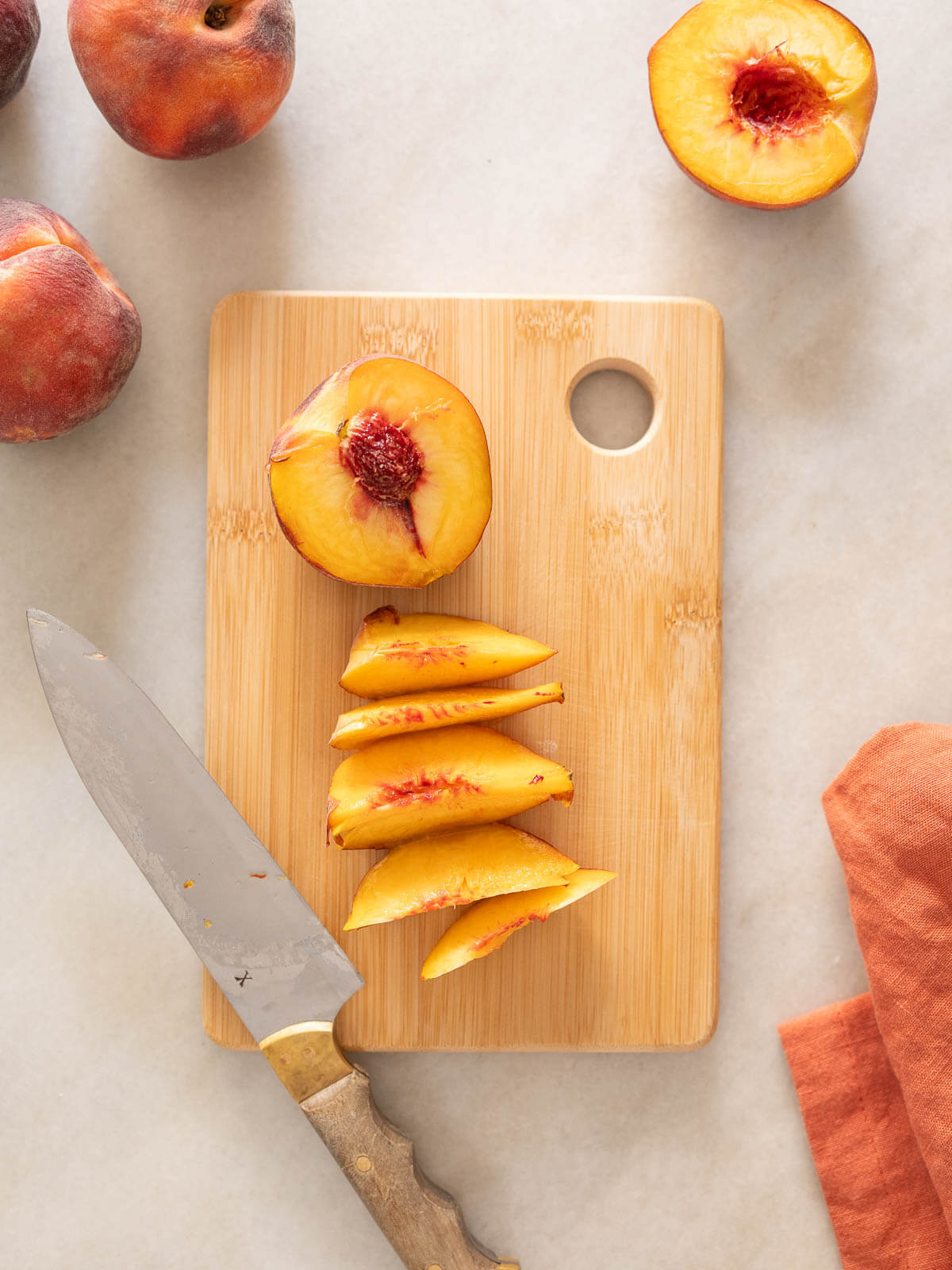 Elegantly slice the remaining two.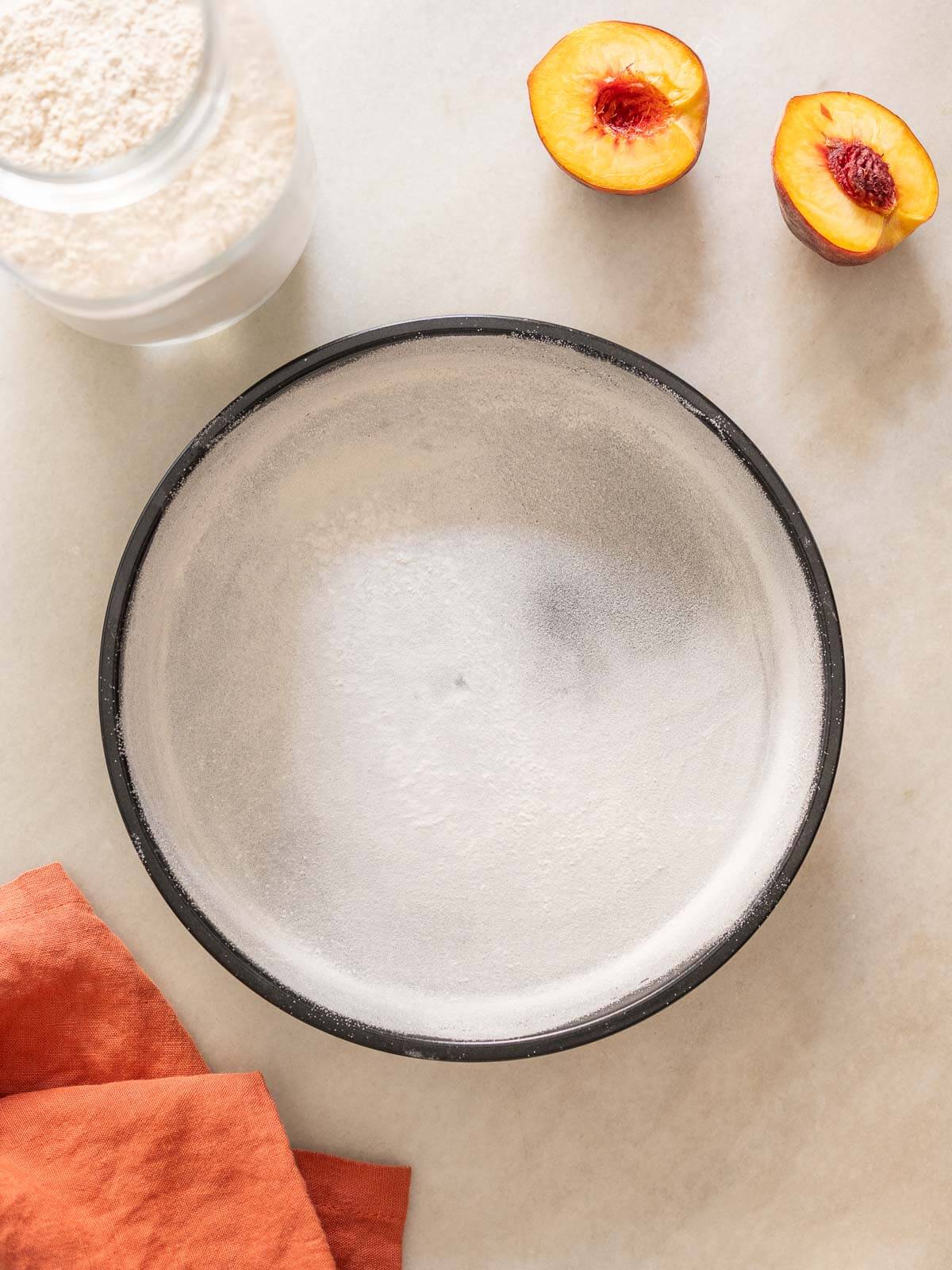 Prepare Dish: Give an 8-inch circular baking dish a little love with some oil and flour.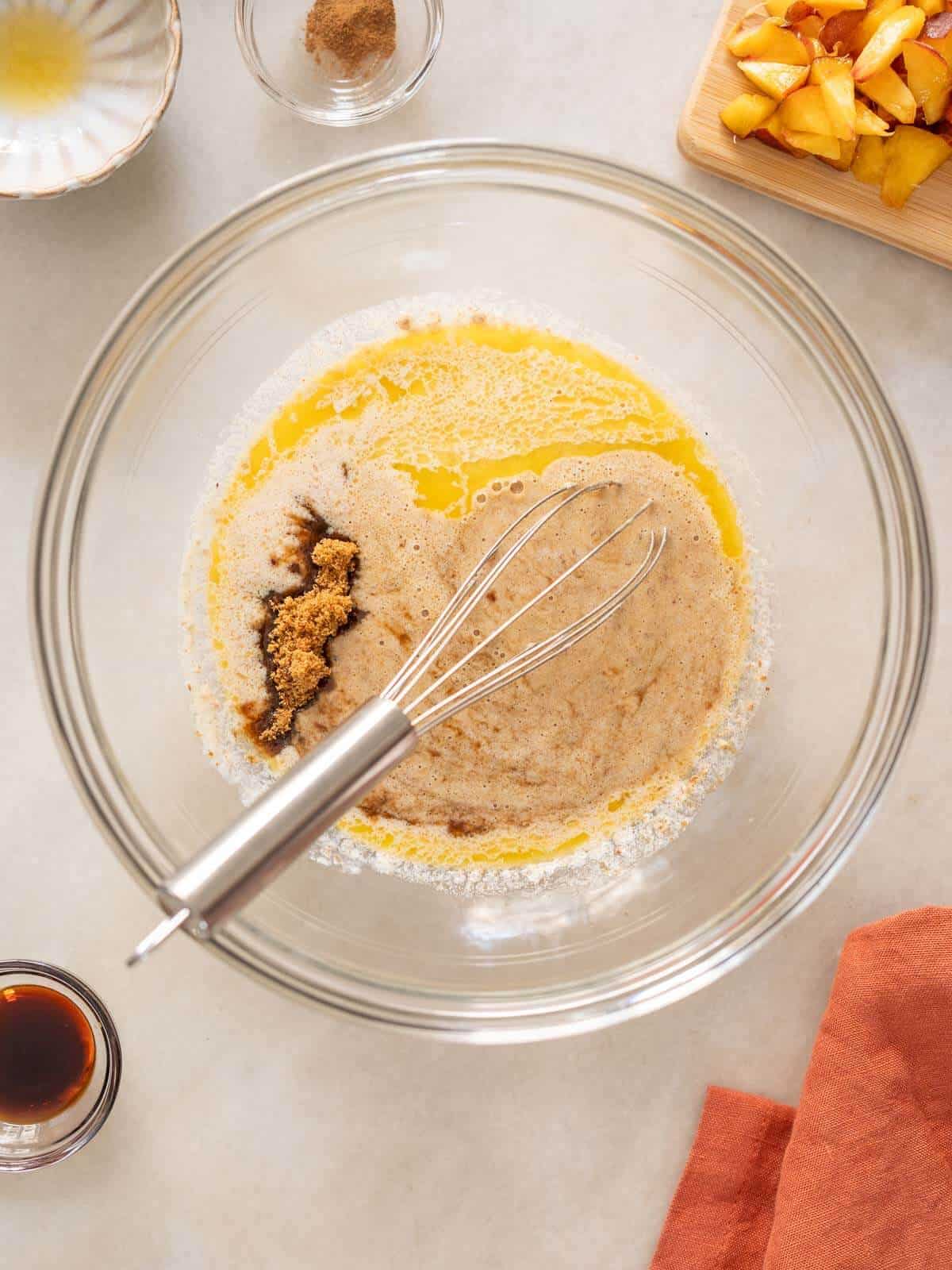 Stir brown sugar, those peach dice, and melted butter into the buttermilk mix. It's starting to smell good!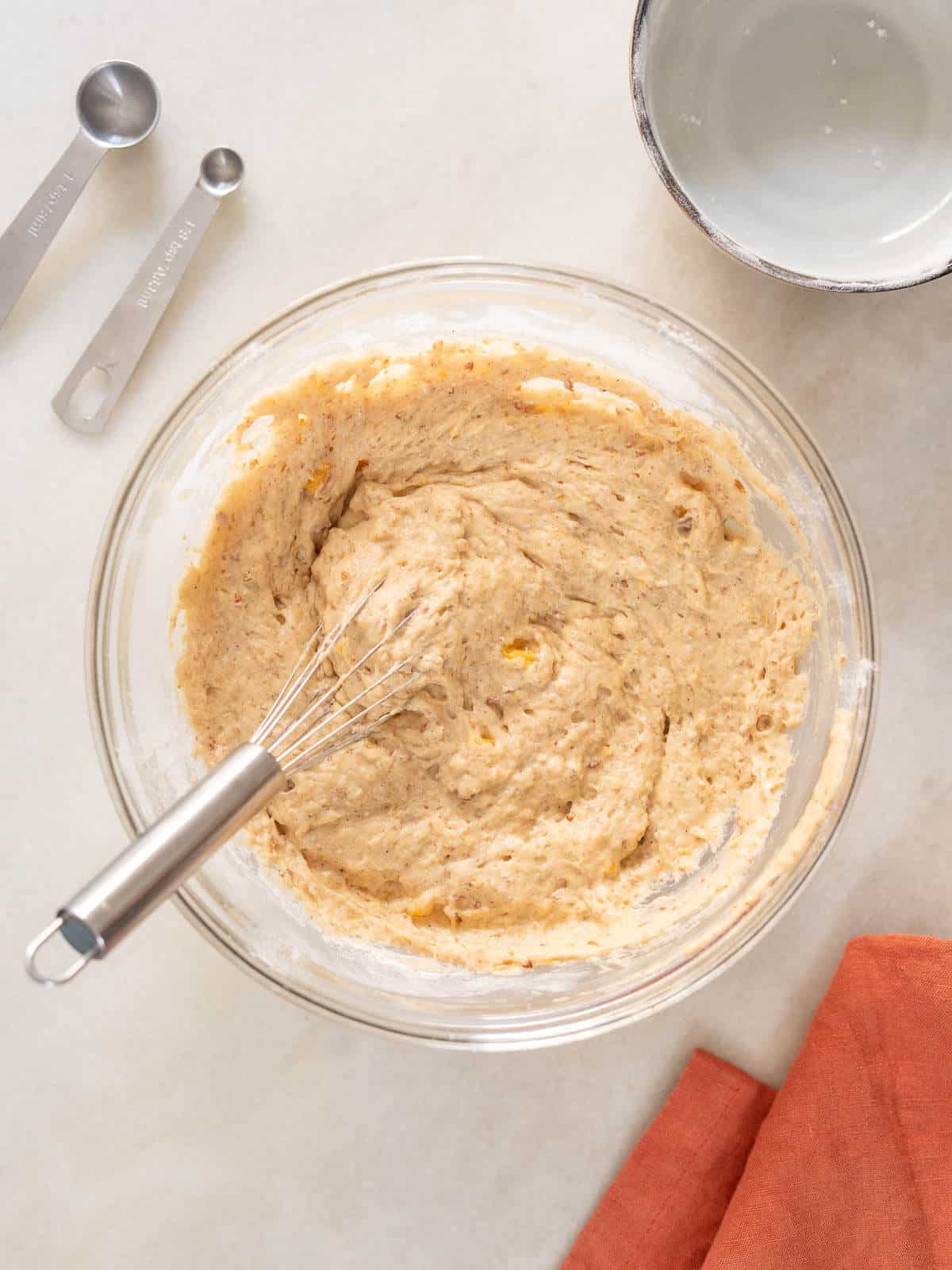 Slowly welcome the dry ingredients into the mix until they're all one big happy family.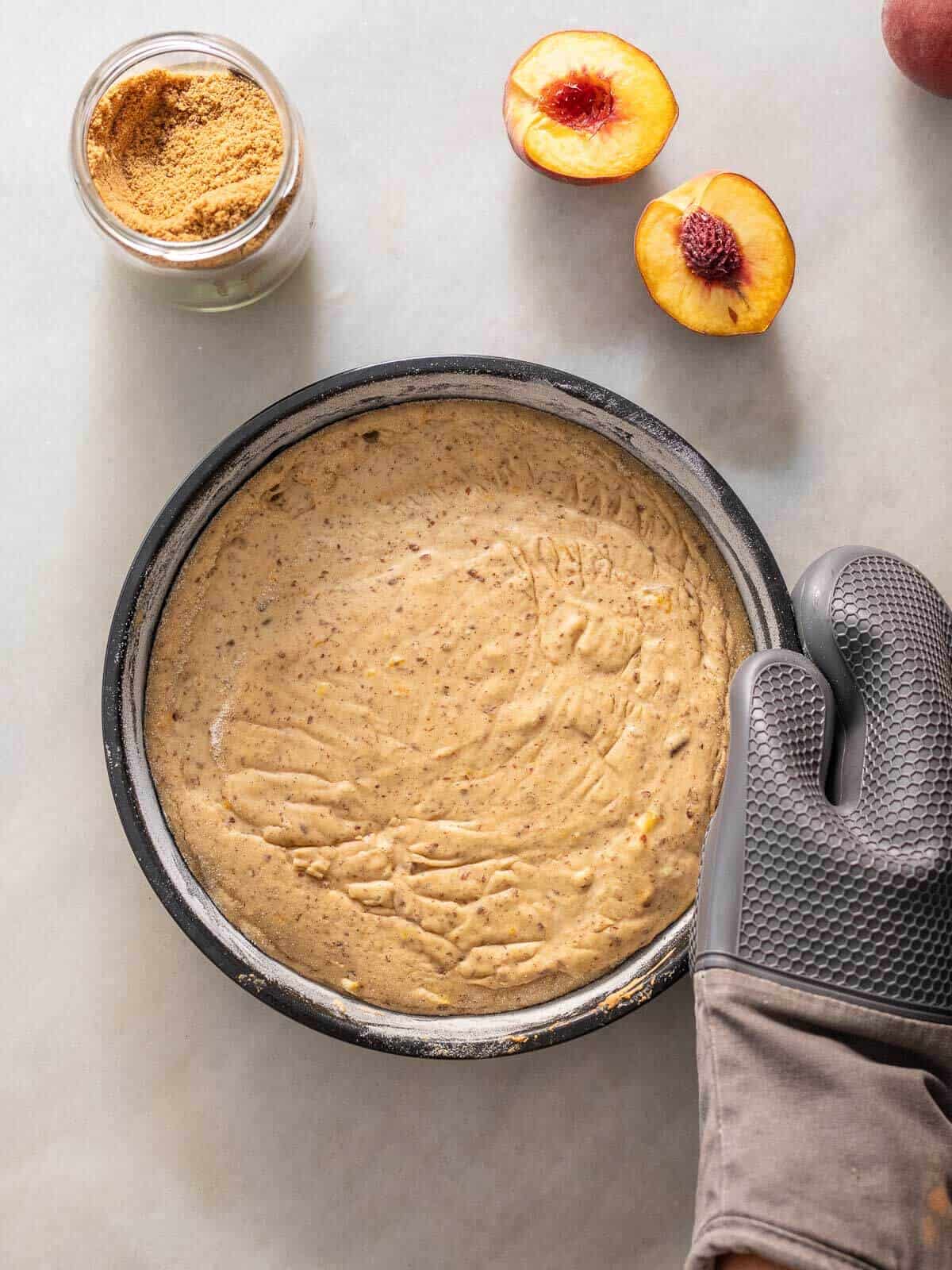 Spread that peachy batter evenly in your prepared dish with a trusty spatula. Pop it in the oven and let it bake for ten magical minutes.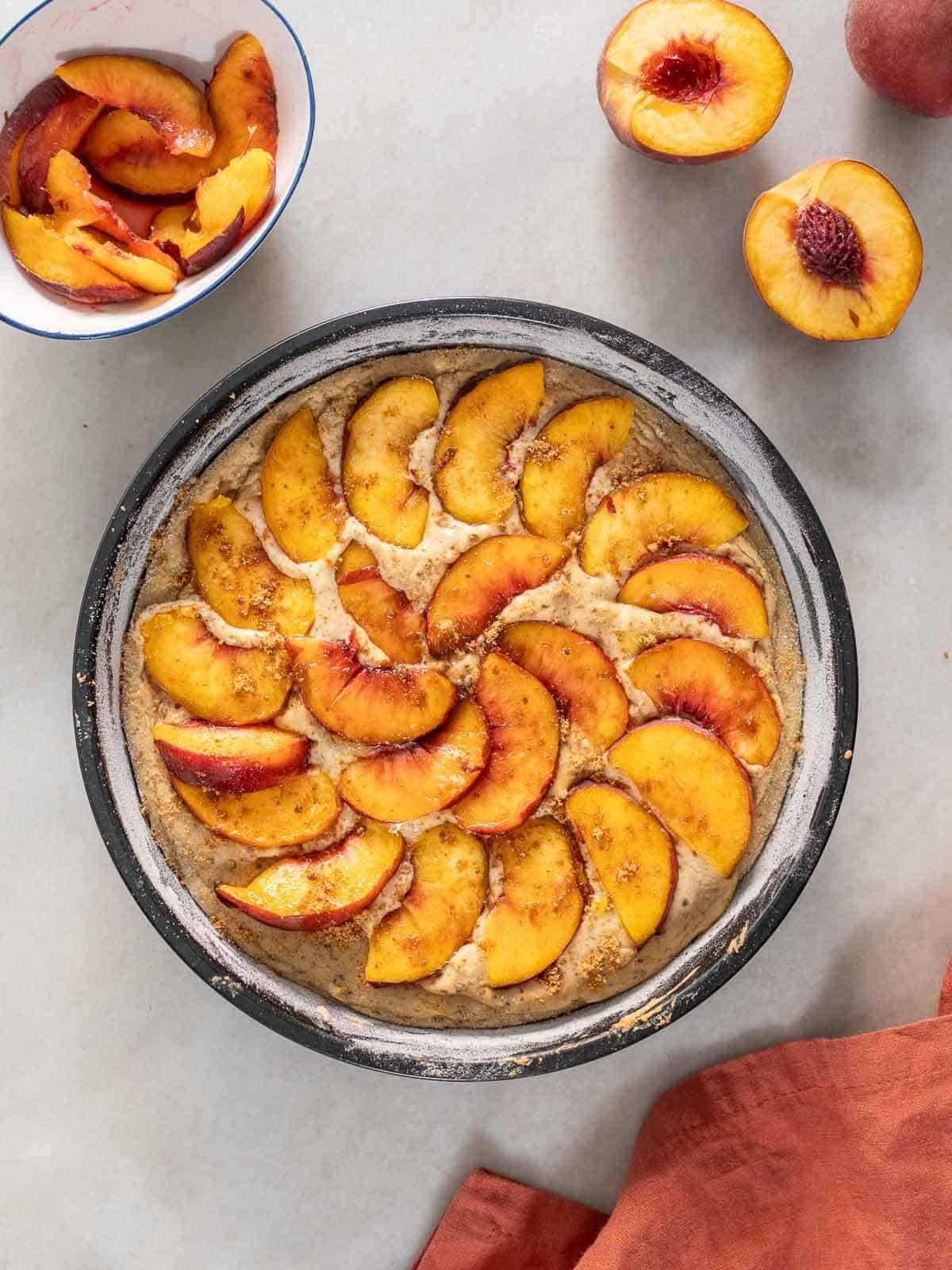 After a quick oven break, arrange those peach slices in a pretty circle and give them a sprinkle of brown sugar love.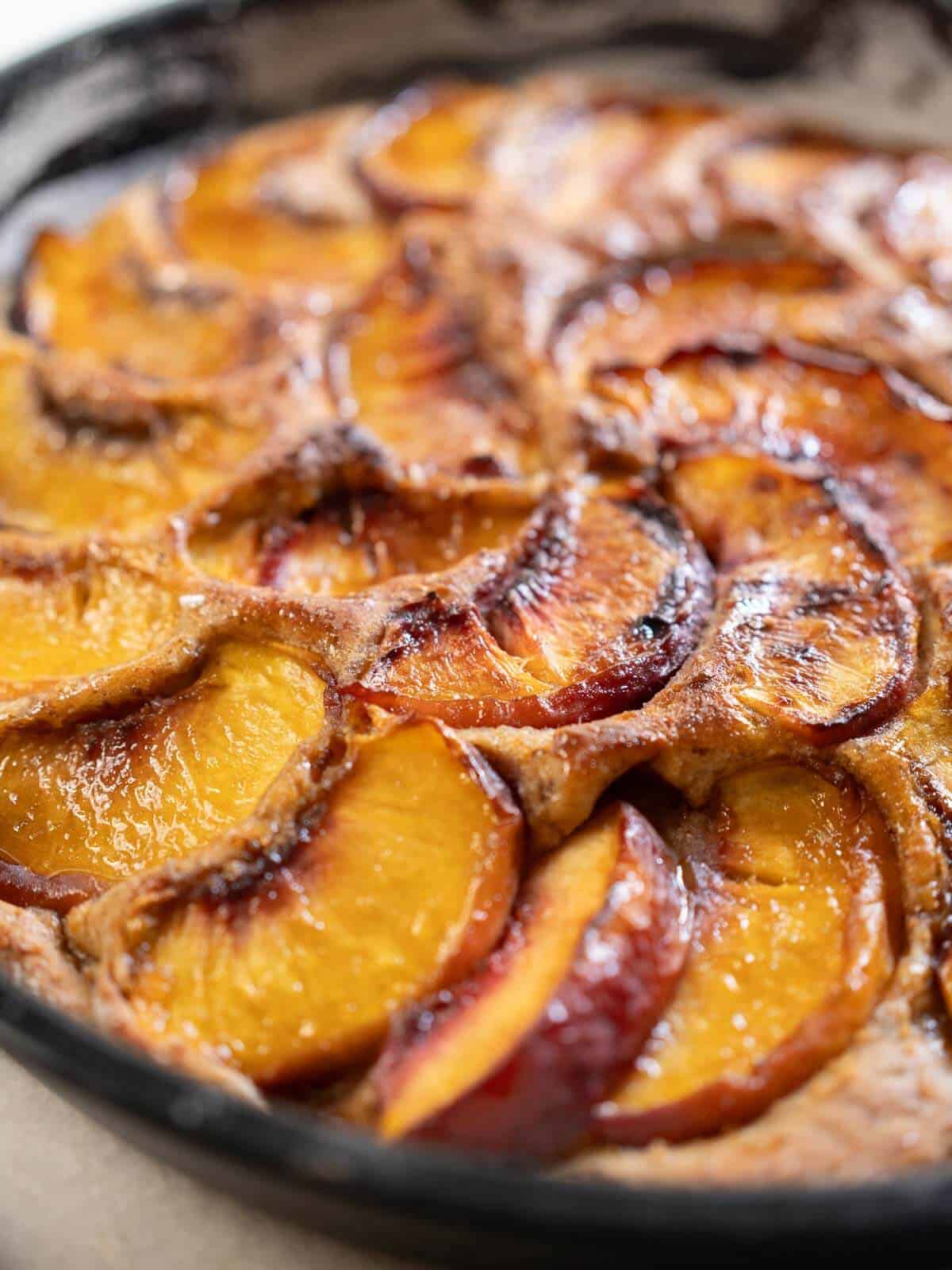 Hint: Feeling fancy? Drizzle a tablespoon of maple syrup and crank the oven to 390 ºF (190 ºC) for 3-5 minutes of caramelizing action.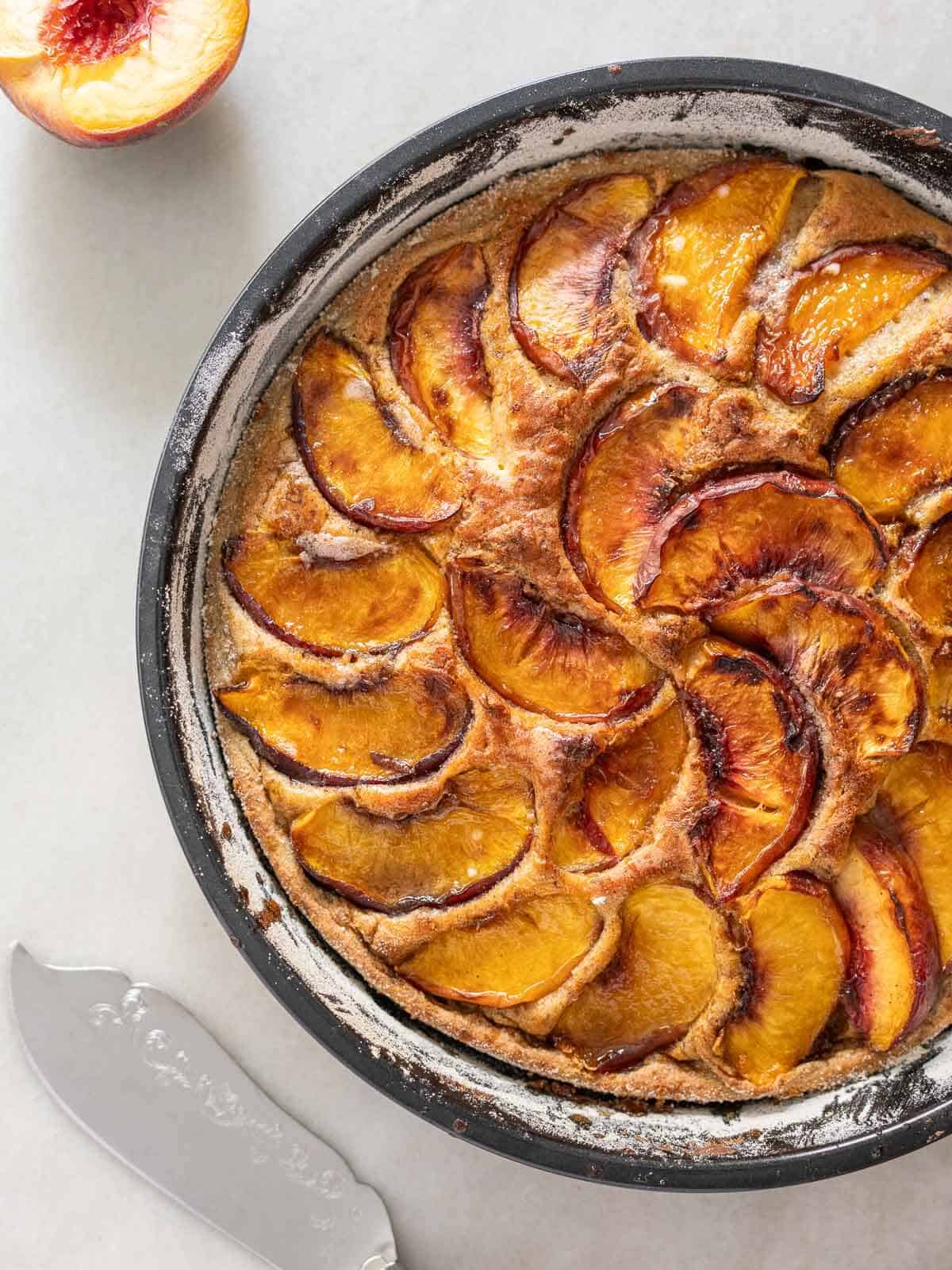 Let the cake rest before serving.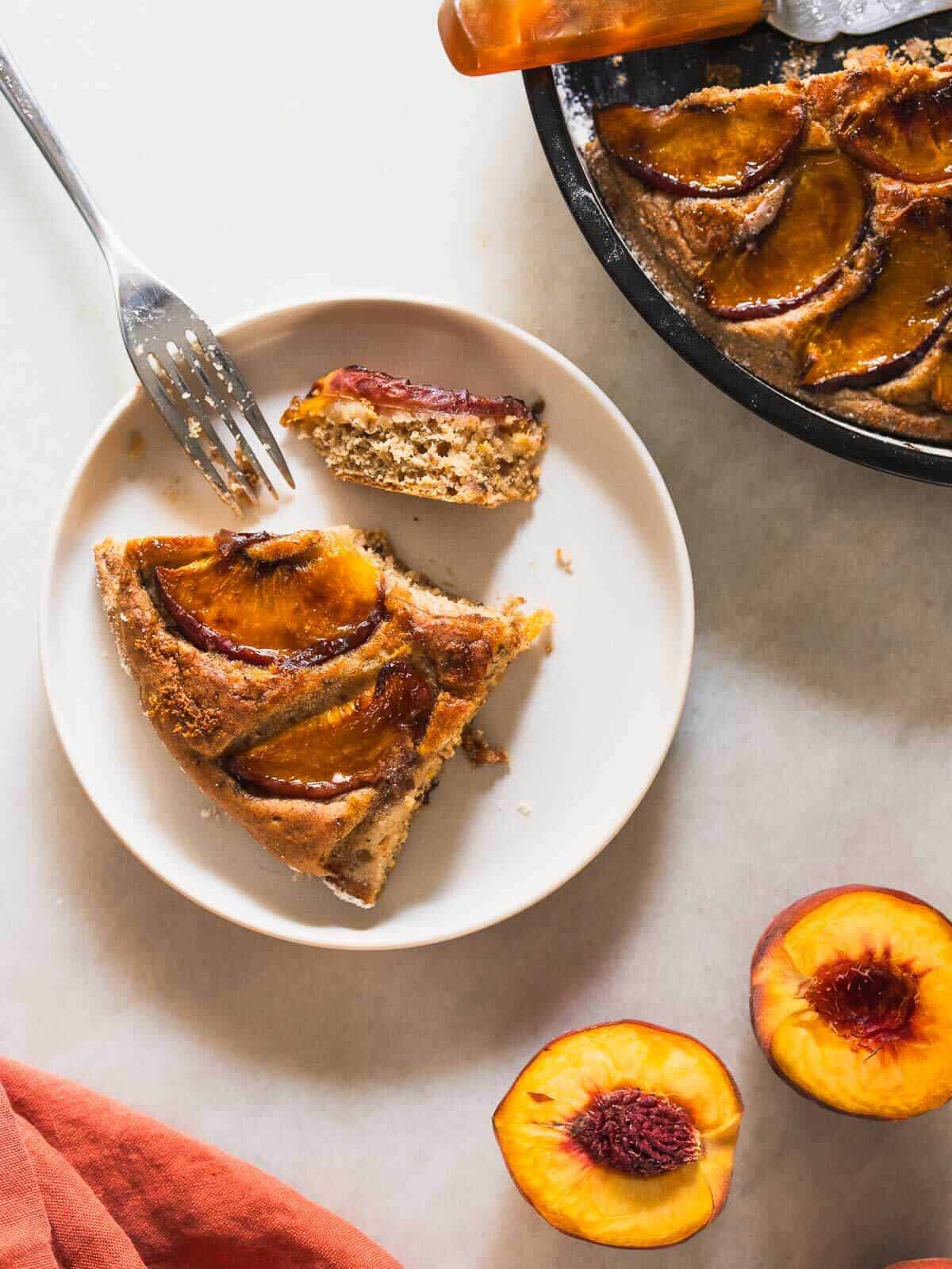 Read on: peach blueberry smoothie
The Caramelized Peaches: A Sweet Twist on Traditional Frosting
Instead of a classic cooked caramel frosting, this Brown Sugar Peach Cake features a luscious layer of caramelized peaches, making this dessert stand out. Just as simple and satisfying, these peaches are tossed in brown sugar (or the syrup from canned peaches) and arranged lovingly on top of the cake before the final round of baking.
The peaches and sugar meld together as the cake bakes, creating a divine, naturally sweet, and slightly crispy topping. When you slice into the cake, you're greeted with this golden, caramelized layer reminiscent of a classic caramel's delightful crackle. If you refrigerate the cake, this peachy layer maintains a delightful chewy texture, akin to a fudge-like consistency.
Be sure to sneak a taste of these warm, caramelized peaches straight from the oven – it's pure bliss, a moment of peach-perfect nirvana! 🍑🍰✨
💡 Top tip
For a beautifully caramelized top that's irresistibly golden and sweet, pay special attention to the peaches you lay on the surface of the cake. If you're making this peach cake with canned peaches and cake mix, consider this pro move: use the syrup from the canned peaches instead of maple syrup to drizzle over the top before the final round of baking.
This syrup is already infused with peachy goodness and will help create a luscious, caramelized finish full of flavor. Plus, it's a fantastic way to make the most of what the canned peaches have to offer, reducing waste and maximizing taste!
This tip ensures that your cake will have that signature golden, caramelized top that makes this dessert a standout while offering a clever way to utilize canned peaches to their fullest potential.
🥢 How to serve
Enjoy: Whether it's breakfast or dessert time, serve this beauty with a scoop of vegan vanilla ice cream. Pure bliss!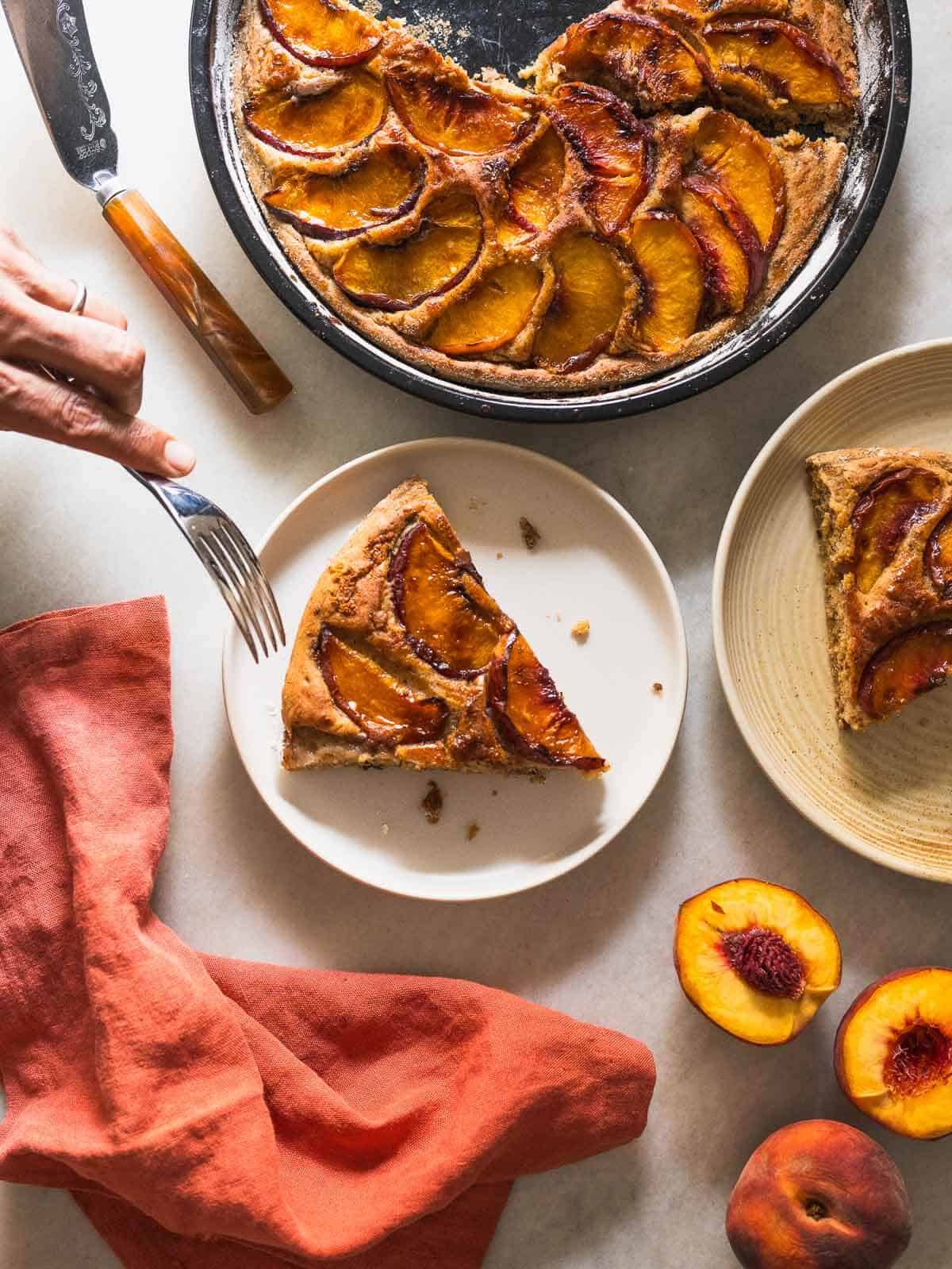 Classic Comfort: Pair a warm slice of this peach cake with a generous scoop of vegan vanilla ice cream. It's a match made in dessert heaven!
Brunch Bliss: Serve it alongside a dollop of coconut yogurt and a sprinkle of granola for an indulgent and wholesome brunch.
Creamy Dream: A spoonful of vegan whipped cream can add a light, airy touch that complements the rich flavors of the cake.
Nutty Indulgence: Sprinkle some chopped nuts (think almonds, pecans, or walnuts) for a delightful crunch that contrasts the cake's soft texture.
Coffee Companion: Serve it as the perfect partner to a steaming cup of your favorite plant-based latte or cappuccino for a cozy and satisfying treat.
Remember, the best way to enjoy this cake is with a big smile and great company!
🍶 Substitutions
Peaches:

Canned peaches are a convenient and delicious option for this cake, especially when fresh peaches are out of season. Drain the syrup from the can when using canned peaches, but don't discard it! Instead of maple syrup, use this flavorful peach-infused syrup to drizzle over the top of the cake before the final round of baking. This will help create a luscious, caramelized finish full of peachy flavor. Plus, it's a fantastic way to make the most of what the canned peaches offer, reducing waste and maximizing taste!

Frozen peaches are a fantastic option when fresh peaches aren't in season, allowing you to enjoy this delightful cake year-round. When using frozen peaches, you can add them directly to the cake without thawing. However, if you do choose to thaw them, be sure to drain off any excess liquid to avoid adding extra moisture to your batter. To achieve that beautiful caramelized top that we love, consider tossing the frozen (or thawed and drained) peach slices in a bit of brown sugar or the syrup from canned peaches before arranging them on top of the cake. This will help them achieve a delightful, golden caramelized finish as they bake, bringing out their natural sweetness and enhancing the overall flavor of your dessert.
Substitute with Nectarines or Apricots: These fruits have a similar texture and sweetness. Nectarines are virtually identical to peaches but without the fuzz, while apricots are a bit tarter.
Substitute with Pitted Cherries: Cherries will add a delightful tartness and vibrant color to the cake, making it visually appealing and slightly tangy.
Substitute with Pears: Pears are milder and softer, resulting in a more subtly flavored and moist cake.
Substitute with Plums: All stone fruits are welcome! Plums will add a rich, tart flavor and a beautiful purple hue to the cake, making it visually stunning and tangy.
Substitute with Apples: For a twist on this recipe, consider making it an apple cake. Apples will lend a classic, sweet-tart flavor and a firmer texture to the cake. For inspiration, check out our apple cake recipe!

Vegan Butter or Margarine: Substitute with Coconut Oil: This will give the cake a slightly coconutty flavor and may make it a bit denser.
Brown Sugar: Substitute with Coconut Sugar, erititrol, or Maple Syrup: Coconut sugar has a similar caramel-like flavor, while maple syrup is milder and may make the cake more moist.
Plant Milk (Almond or Soy): Substitute with Oat Milk, cashew milk, hazelnut milk, or Rice Milk: These are neutral and creamy alternatives that won't affect the flavor significantly.
Lemon Juice: Substitute with Apple Cider Vinegar or White Vinegar: These will help to curdle the plant milk similarly to lemon juice but may have a slightly different tang.
Flax Meal: Substitute with Chia Seeds; When mixed with water, chia seeds form a gel-like consistency similar to a flax egg, but they might leave small, noticeable bits in the cake.
Vanilla Essence: Substitute with Almond Extract, giving the cake a slightly nutty and aromatic flavor.
Cake Mix (or Gluten-Free Cake Mix): Substitute with a Blend of Flour, Baking Powder, and Sugar: This will require additional adjustments to proportions, and the texture might vary slightly.
Cinnamon: Substitute with Nutmeg or Allspice; These will add a warm, spiced note with a slightly different flavor profile.
Pure Maple Syrup (To Top): Substitute with Agave Syrup or Date Syrup; These are sweeter and may have a slightly different flavor, but will caramelize similarly.
📖 Variations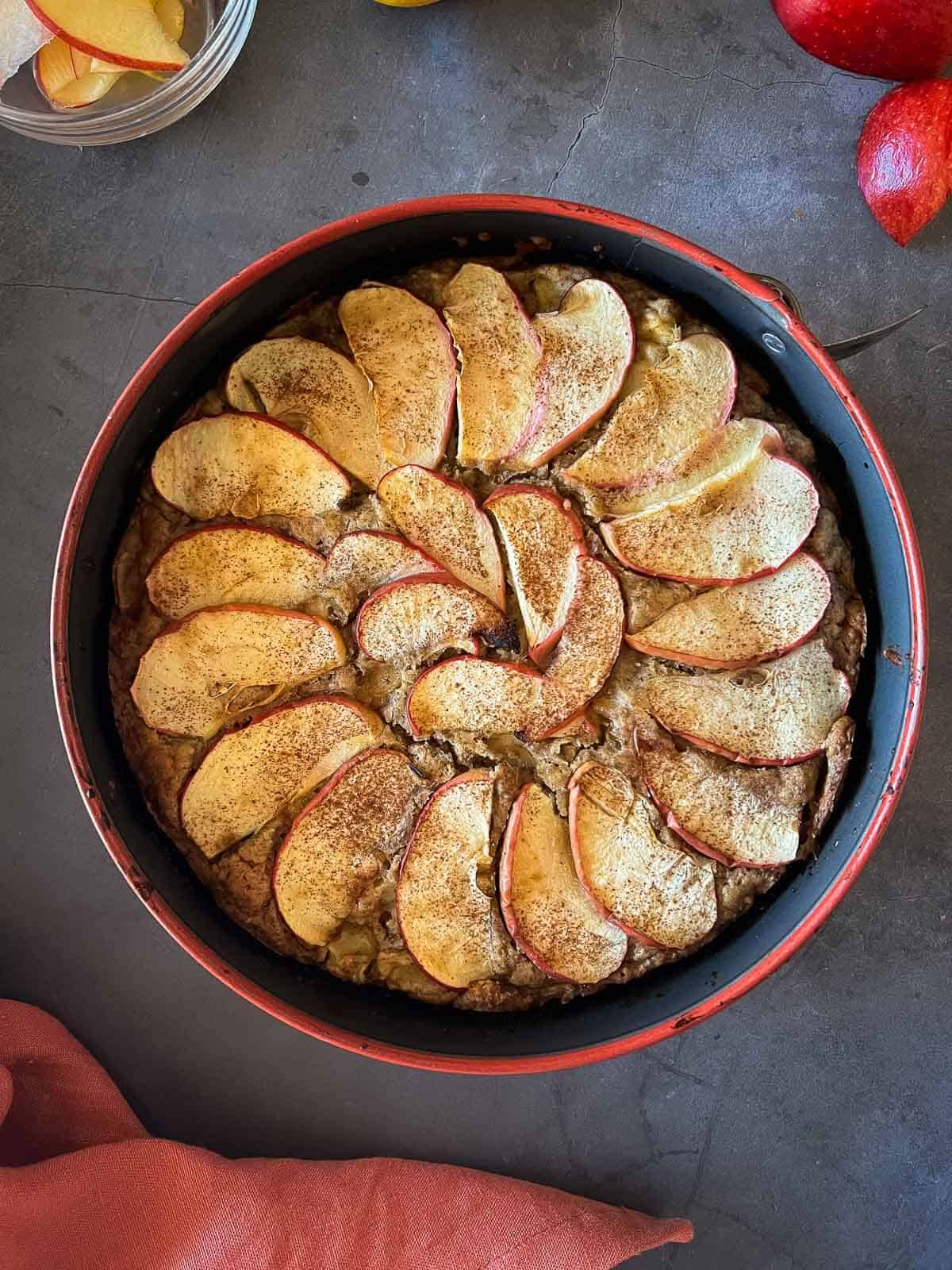 Apple Cake Variation: Swap the peaches for thinly sliced apples to transform this recipe into a comforting and classic apple cake. Add a touch of nutmeg and a sprinkle of walnuts for added warmth and crunch. Serve it warm with powdered sugar or a dollop of vegan caramel sauce for a perfect autumn treat.
Tropical Peach Cake Variation: Infuse your cake with tropical vibes by adding a layer of sliced pineapple beneath the peaches and a sprinkle of shredded coconut on top. This variation will give your cake a delightful tropical twist, making it perfect for summer gatherings or when you're dreaming of a beachy escape.
Upside-Down Peach Cake Variation
For this twist, you'll create a caramel-like layer at the bottom of your baking dish. Mix vegan butter and brown sugar (or the syrup from canned peaches) in your baking dish until they form a smooth, bubbling mixture.
Neatly arrange your peach slices (or canned peach slices) over this sugary base in a pattern that pleases your eye – this will become the top of your cake!
Prepare the cake batter as per the original recipe and gently pour it over the arranged peaches in the baking dish.
Bake as directed, but be prepared for the grand finale: once the cake is baked and slightly cooled, invert it onto a serving plate. Voila! The peaches, now caramelized and golden, are the star of the show on top of the cake.
🍽 Equipment
Large Mixing Bowl

(affiliate link)

: A large mixing bowl provides ample space for combining the wet and dry ingredients. It's essential to ensure that everything is mixed thoroughly and evenly, which is key to achieving the perfect cake texture.
Baking Dish

(affiliate link)

: The baking dish is where the magic happens! An 8-inch circular baking dish is ideal for this recipe, as it allows the cake to bake evenly and develop a beautiful golden crust. It's also the perfect size for serving and presenting your delicious creation.
Spatula

(affiliate link)

: A spatula is your best friend when it comes to cake-making. It's used to fold and mix the ingredients gently and efficiently, ensuring that the batter is smooth and lump-free. Plus, it's perfect for scraping every bit of that delicious batter into the baking dish, ensuring nothing goes to waste.
Each piece of equipment plays a crucial role in making your Brown Sugar Peach Cake a smashing success! 🍑🍰
🥡 Storage
Storing in the Fridge
Allow the cake to cool completely after baking.
Place it in an airtight container or wrap it tightly with plastic wrap or aluminum foil.
Store in the refrigerator for up to 5 days.
For a fresher taste, consider placing a piece of parchment paper between the cake and the wrap or foil to prevent it from absorbing any fridge odors.
Reheating from the Fridge
Preheat your oven to 350°F (175°C).
Place the cake on a baking sheet and warm it in the oven for about 5-10 minutes, or until it's heated and the top is slightly crispy.
Alternatively, you can reheat individual slices in the microwave for 20-30 seconds, but this method may result in a softer texture.
Freezing the Cake
Allow the cake to cool completely after baking.
Wrap it tightly in plastic wrap or aluminum foil, and then place it in an airtight container or a resealable freezer bag.
Label the container or bag with the date to track how long it's been stored.
Freeze for up to 3 months for best quality.
Reheating from Frozen
Preheat your oven to 350°F (175°C).
Remove the cake from the freezer and unwrap it, but do not thaw it beforehand.
Place the frozen cake on a baking sheet and reheat it in the oven for 15-20 minutes, or until it is heated and the top is slightly crispy.
These storage and reheating instructions will help you enjoy your delicious Brown Sugar Peach Cake at its best, whether it's fresh, from the fridge, or from the freezer!
🍑 A Guide to Different Takes on Peach Desserts
Peach Cobbler: A peach cobbler consists of a layer of fresh or canned peaches topped with a biscuit-like dough or a simple cake batter. The peaches become tender and juicy as it bakes, while the topping becomes golden and slightly crisp. It's a rustic, comforting dessert, often served warm with a scoop of ice cream.
Peach Clafoutis: A clafoutis is a classic French dessert that features a layer of fruit (in this case, peaches) covered with a thin, flan-like batter. It's baked until puffed and golden, resulting in a dessert that's a delightful blend between a cake and a custard. It's often dusted with powdered sugar before serving.
Peach Dump Cake: A peach dump cake is one of the easiest desserts to make. It involves "dumping" canned peaches (with their syrup) into a baking dish, sprinkling a box of dry cake mix over the top, and dotting it with butter before baking. The result is a crumbly, sweet, and slightly crunchy topping over a layer of tender, syrupy peaches.
Peach Upside-Down Cake: For this dessert, a layer of peach slices is arranged at the bottom of a baking dish, often with a caramel-like mixture of butter and sugar. The cake batter is then poured over the peaches, and the cake is baked and inverted after baking, so the beauties end up on top, beautifully caramelized, and showcased.
Brown Sugar Peach Cake (This Recipe): This cake is a tender and moist dessert that features a delightful combination of peaches and brown sugar. In this recipe, peaches are incorporated into the cake batter, sweetened with brown sugar to give it a rich, caramel-like depth. The cake is designed to be simple yet sophisticated, focusing on the caramelized top that the brown sugar and peaches create as they bake together.
❓ FAQ
Can I add fruit to my cake mix?
Absolutely! Adding fruit to your cake mix is a fantastic way to infuse natural sweetness and moisture into your cake and add bursts of flavor and color. Fresh, frozen, or canned fruits like berries, apples, pears, and, of course, peaches, work wonderfully. Just be mindful of the moisture content; extra juicy fruits may require a slight reduction in other liquid ingredients to balance the batter. If using frozen fruit, consider tossing them in a small amount of flour before adding to the mix; this helps to prevent them from sinking to the bottom of the cake as it bakes. Whether you fold them into the batter or arrange them on top for a beautiful finish, fruits can elevate your cake to a whole new level of deliciousness.
What makes a cake mix light and fluffy?
Achieving a light and fluffy texture in a cake made from a mix involves a few key factors:
Proper Mixing: Mixing the batter just until the ingredients are combined helps avoid overdeveloping the flour's gluten, which can lead to a denser cake. Overmixing can make the cake tough, so mix just until smooth.
Leavening Agents: Cake mixes typically contain leavening agents like baking powder or baking soda. As it bakes, these create gas bubbles in the batter, causing the cake to rise and become light and airy.
Fat Content: The fat in the recipe (like vegan butter or oil) plays a crucial role in creating a tender crumb in the cake. It shortens gluten strands and adds moisture, contributing to a softer texture.
Liquid Ratio: The amount of liquid (such as plant milk) in the mix is essential. Too little can dry the cake, while too much can make it dense. Following the mix instructions precisely ensures the right balance.
Oven Temperature: Baking the cake at the right temperature ensures it rises properly and cooks evenly. Preheating the oven is a must, and placing the cake in the center of the oven promotes even baking.
📚 More vegan desserts
⭐ If you try this easy peach cake recipe, let us know! 💬 Leave a comment, rate it, and don't forget to tag us @ourplantbasedworld on Instagram. Cheers!
📋 Recipe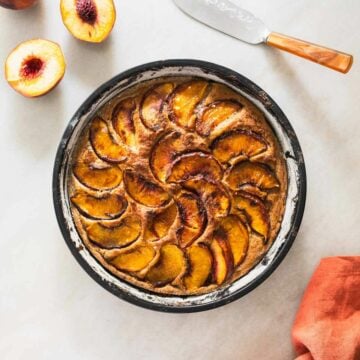 Vegan Brown Sugar Peach Cake with Cake Mix (Old-Fashioned)
Indulge in this delightful vegan peach cake, perfect for breakfast or dessert. A simple recipe featuring a flaxseed buttermilk blend, fresh peaches, and a hint of caramelized maple syrup. Enjoy with a scoop of vegan vanilla ice cream!
Equipment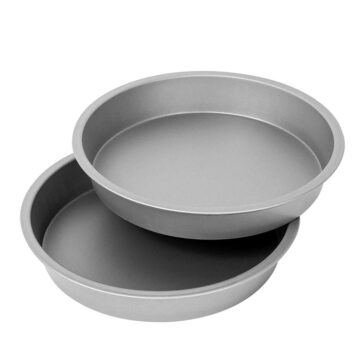 (affiliate link)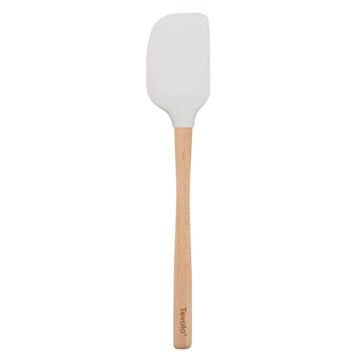 (affiliate link)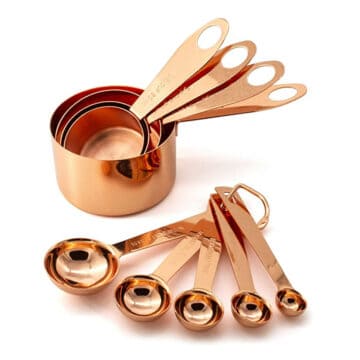 (affiliate link)
Ingredients
To Top
1

tablespoon

pure maple syrup

to further caramelize.
Directions
Preheat Oven: Set the oven to 360 F (180 ºC).

Prepare Buttermilk: In a bowl, mix plant milk, half-lemon juice, and flax meal. Let it curdle.

Cut Peaches: Dice 2 peaches and slice the remaining two.

Prepare Dish: Oil and flour an 8-inch circular baking dish.

Mix Wet Ingredients: Add 5 tablespoons of brown sugar, peach dice, and melted butter to the buttermilk mix.

Add Dry Ingredients: Gradually incorporate the remaining dry ingredients until a uniform mix forms.

Pour Batter: Use a spatula to spread the peach batter evenly in the prepared baking dish.

Bake Initial: Place in the oven and bake for 10 minutes.

Add Toppings: Remove from oven, arrange peach slices in a circle, and sprinkle with 1 tablespoon of brown sugar.

Caramelize (Optional): After 20 minutes, drizzle 1 tablespoon of maple syrup evenly and return to the oven at 390 ºF (190 ºC) for 3-5 minutes.

Enjoy: Serve for breakfast or as a dessert with a scoop of vegan vanilla ice cream.
Nutrition Facts
Calories:
218
kcal
Carbohydrates:
36
g
Protein:
3
g
Fat:
8
g
Saturated Fat:
2
g
Polyunsaturated Fat:
3
g
Monounsaturated Fat:
3
g
Trans Fat:
1
g
Sodium:
282
mg
Potassium:
197
mg
Fiber:
2
g
Sugar:
25
g
Vitamin A:
364
IU
Vitamin C:
12
mg
Calcium:
146
mg
Iron:
1
mg
Nutrition Facts
Vegan Brown Sugar Peach Cake with Cake Mix (Old-Fashioned)
Amount per Serving
% Daily Value*
* Percent Daily Values are based on a 2000 calorie diet.
🌡️ Food safety
Cook to a minimum temperature of 165 °F (74 °C)
Do not use the same utensils on cooked food, that previously touched raw meat
Wash hands after touching raw meat
Don't leave food sitting out at room temperature for extended periods
Never leave cooking food unattended
Use oils with a high smoking point to avoid harmful compounds
Always have good ventilation when using a gas stove
See more guidelines at USDA.gov.
Nutritional Disclaimer
The information shown is an estimate provided by an online nutrition calculator. It should not be considered a substitute for a professional nutritionist's advice. See our full Nutritional Disclosure here.
Affiliate Disclaimer
Please note that some of the links here are affiliate links, and I will earn a commission if you purchase through those links. I recommend all of the products listed because they are companies I have found helpful and trustworthy.