Hey there, cake enthusiasts! If you've been on the hunt for the ultimate Italian Plum Cake Recipe, your search ends here. We're talking Italian flair, vegan goodness, and a moist crumb that's literally packed with luscious plum flavor.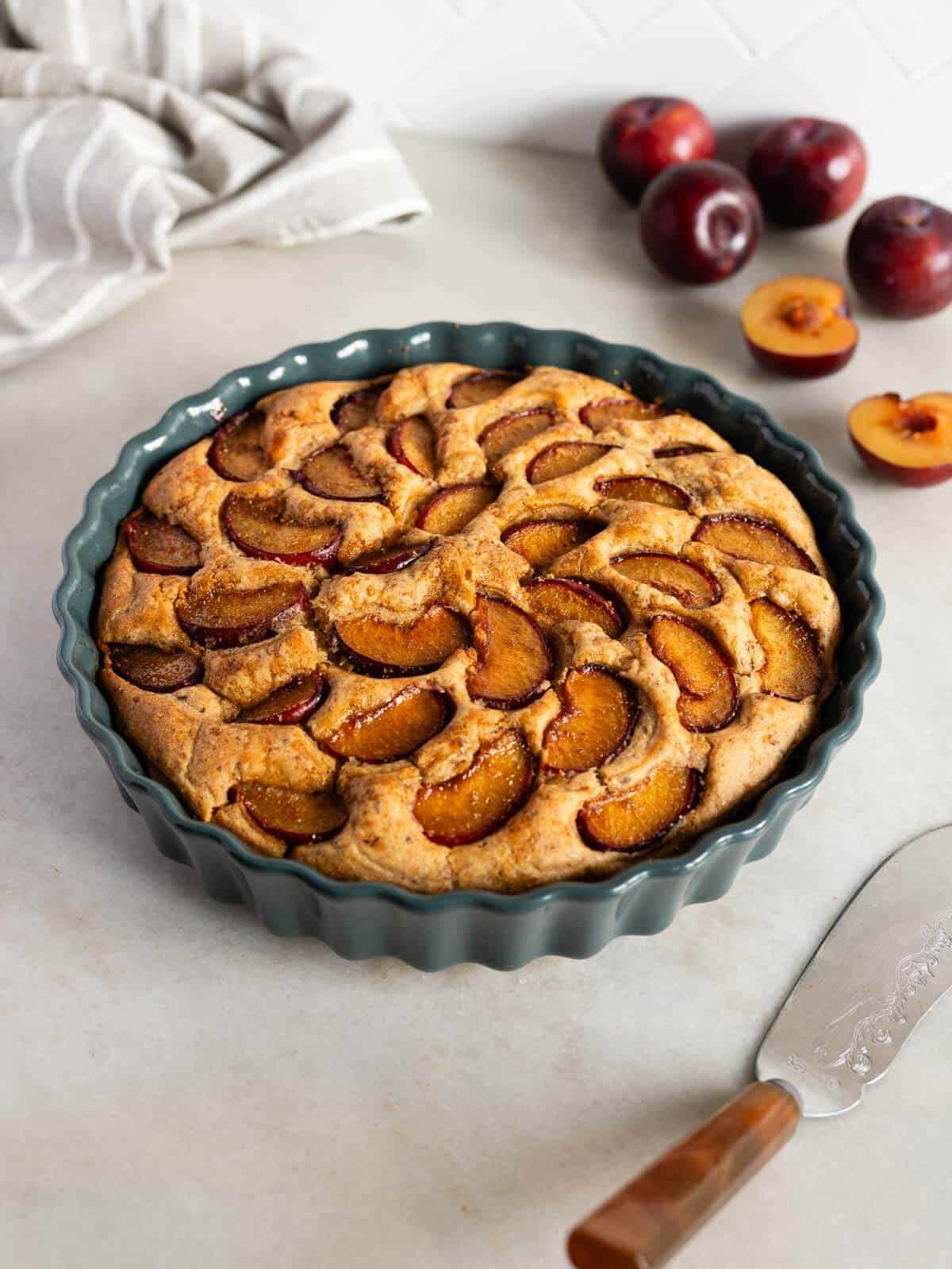 Ah, the beauty of this plum cake recipe lies not just in its mouth-watering taste but also in its nutritional profile. We're talking about a cake that's rich in antioxidants, fiber, and plant-based goodness. The flax meal and plant milk work in harmony to give you a dose of Omega-3 fatty acids and calcium. So, while you're indulging in this scrumptious meal, know that you're also doing your body some good!
Now, let's talk about the "easy factor." This cake is a breeze to make, and the prep time is minimal. You don't need to be a pastry chef to nail this one. Just follow the straightforward steps, and you'll have a delicious cake ready in no time. Plus, the variations are endless! Want to switch it up? You can easily make substitutions to suit your taste buds or dietary needs.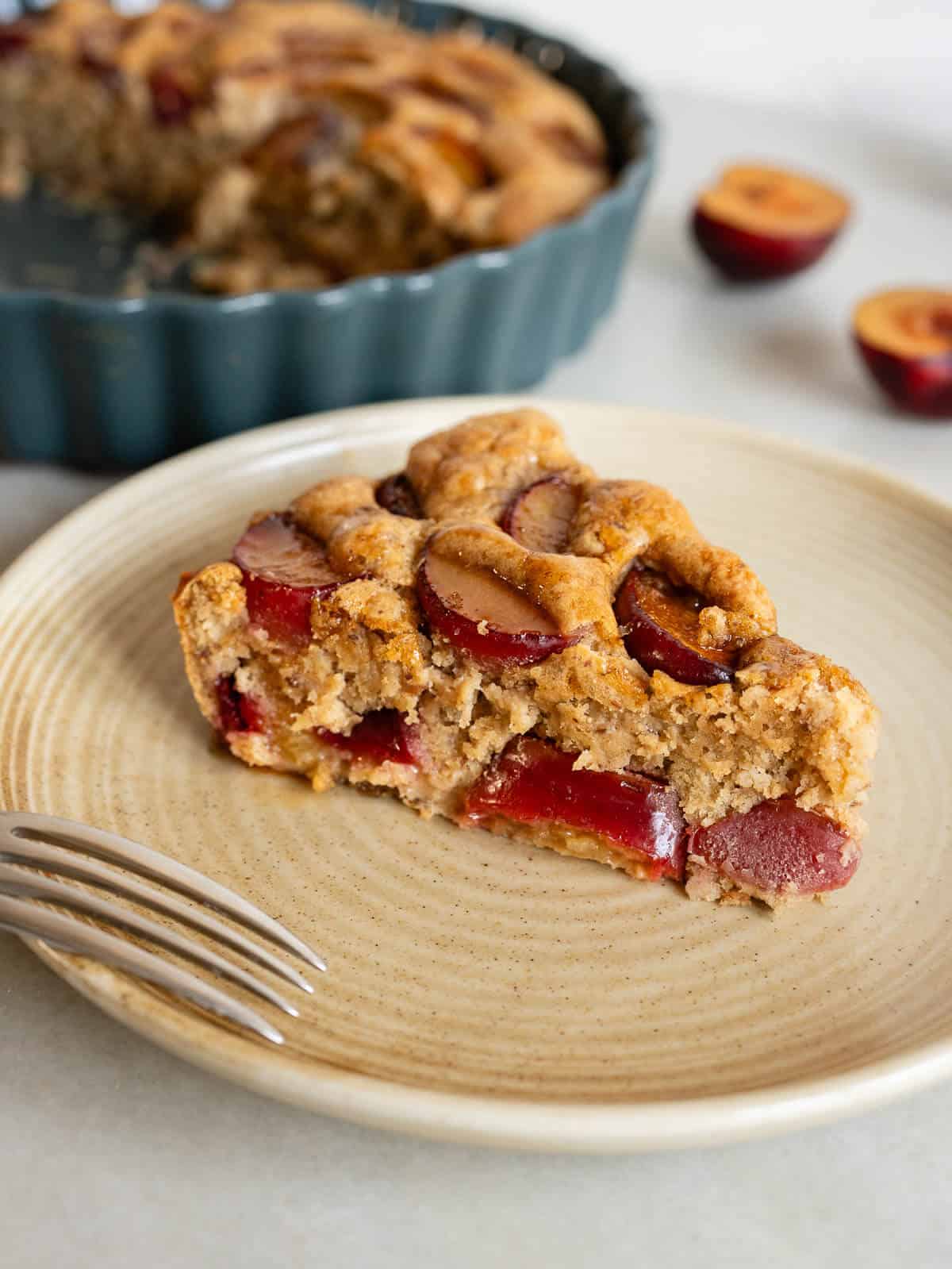 This versatile plum cake can serve as both a delightful breakfast treat and a sumptuous dessert, giving you the best of both worlds. Inspired by our popular apple cake and peach cake recipe, this stone-fruit cake is a top tip for anyone looking to impress without spending hours in the kitchen. And when it comes to storage, wrap it up, and it stays moist and flavorful for days. So, go ahead and make this your go-to recipe for any occasion!
Jump to:
🧾 Ingredients
This recipe for plum cake is made with just a few delicious ingredients: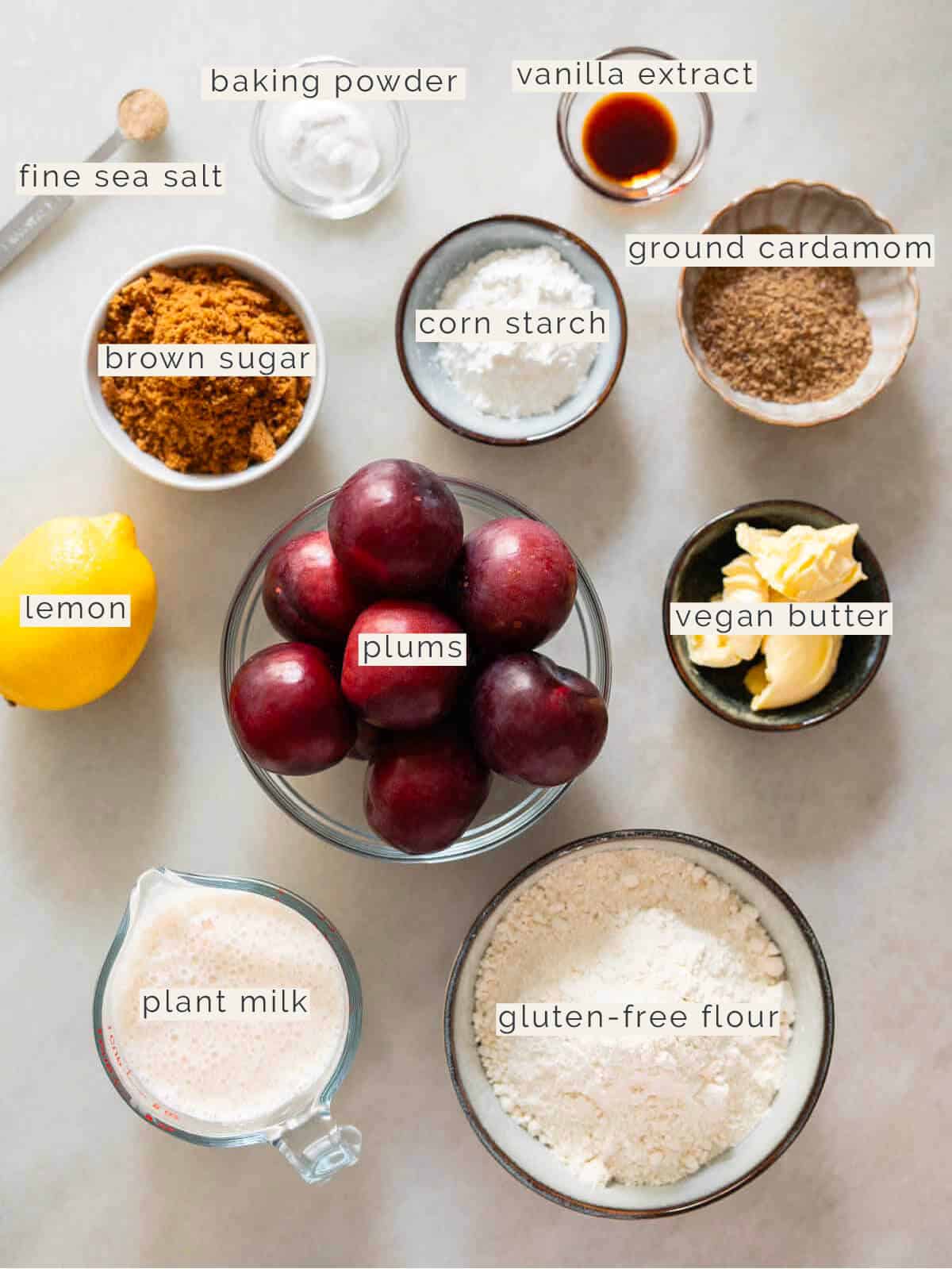 Fresh Plums: These juicy gems are the star of the show, providing natural sweetness and vibrant color. Plus, they're packed with antioxidants and fiber, making this cake a bit more guilt-free.
Vegan Butter: It gives the cake its rich, buttery flavor without any dairy. It also helps in creating that dreamy, moist texture we all crave in a cake.
Brown Sugar: This adds a caramel-like sweetness and moisture to the cake. It also helps in giving the cake a beautiful golden-brown crust.
Plant Milk: A dairy-free alternative that keeps the cake moist and tender. It also acts as a binding agent, especially when combined with flax meal. We like using our homemade soy milk, oat milk, and coconut milk.
Flax Meal: Our egg substitute helps bind the cake together. It also adds a subtle nutty flavor and some extra fiber.
Lemon Juice and Zest: These add a zesty kick that balances the sweetness of the plums. The zest also infuses the cake with a lovely citrus aroma.
Corn Starch: This acts as a thickening agent, ensuring that the cake holds its shape. It also makes the cake's crumb finer and softer.
Vanilla Extract: Adds a layer of aromatic sweetness that complements the fruity plums. It's like the background singer that makes the lead vocals shine.
Gluten-Free Flour: Offers a lighter texture and makes this cake accessible for those with gluten sensitivities. You can also use all-purpose flour if gluten isn't a concern.
Ground Cardamom: This spice adds a unique, slightly citrusy flavor that pairs wonderfully with plums. It's the secret ingredient that makes this cake stand out.
Baking Powder: The leavening agent that gives our cake its fluffy, airy texture. Because nobody likes a flat cake, right?
Fine Sea Salt: A pinch enhances all the other flavors, making them pop. It's like the final brushstroke on a masterpiece.
See the recipe card for quantities.
Substitutions
Plums: we used purple plums, but prune plums and yellow plums also work, as well as other stone fruits like apricots and peaches.
Vegan Butter: If you're out of vegan butter, you can use coconut oil as a substitute. It'll still give you that rich, moist texture.
Brown Sugar: Maple syrup or agave nectar can work as a liquid sweetener alternative. Just be mindful of the liquid ratio in the recipe.
Plant Milk: No soy or almond milk? Oat milk or rice milk can easily take their place.
Flax Meal: Chia seeds soaked in water can act as a binding agent if you're out of flax meal.
Lemon Juice and Zest: Orange juice and zest can be used for a different citrusy kick.
Corn Starch: Arrowroot powder is a great alternative if you're looking to avoid corn-based products.
Vanilla Extract: Almond extract can add a different but delightful aroma if you're out.
Gluten-Free Flour: You can use regular all-purpose wheat flour if gluten isn't an issue.
Ground Cardamom: Nutmeg or cinnamon can be used for a different spice profile.
Baking Powder: A mixture of cream of tartar and baking soda can serve as a homemade leavening agent to replace baking powder on this delicious plum cake. You can also simply use self-raising flour.
🍽 Equipment
9-inch Ceramic Baking Dish or Springform Pan
Spatula
Whisk
Large Bowl
🔪 Instructions
Whipping up this juicy, easy plum cake recipe is as easy as one, two, three! Just a couple of straightforward steps, and you're good to go.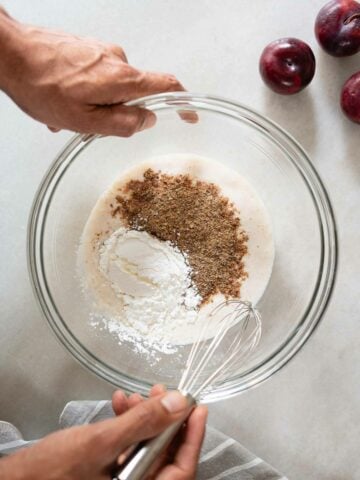 Step 1: Make flax eggs and vegan buttermilk mixture with flax meal, lemon juice, your choice of plant milk, and cornstarch.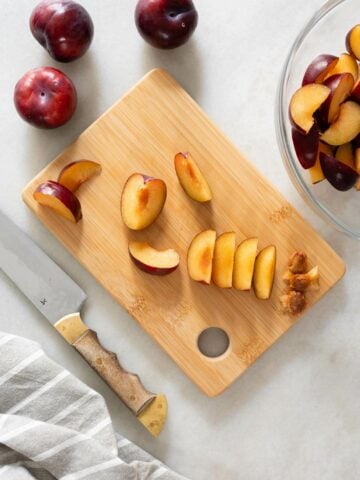 Step 2: Slice plums into quarters and eights.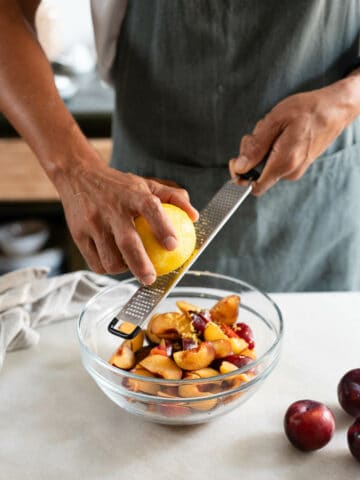 Step 3: Zest lemon on top of the sliced plums.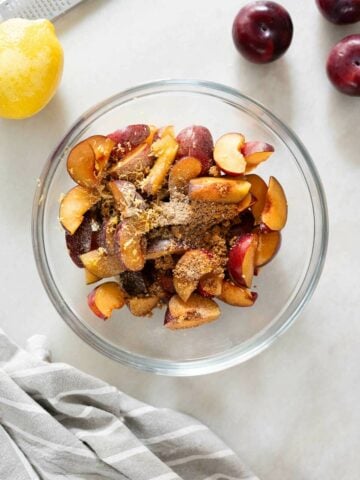 Step 4: Season the plums with cardamom, sugar, a pinch of salt, and lemon zest.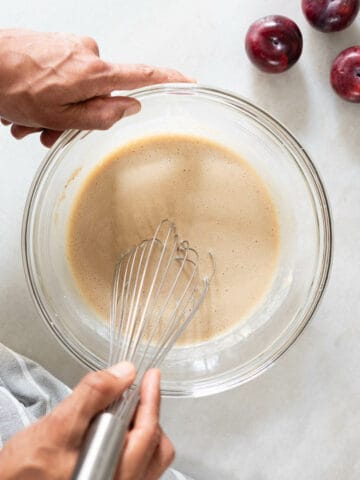 Step 5: Incorporate the rest of the batter ingredients into the flax meal mixture.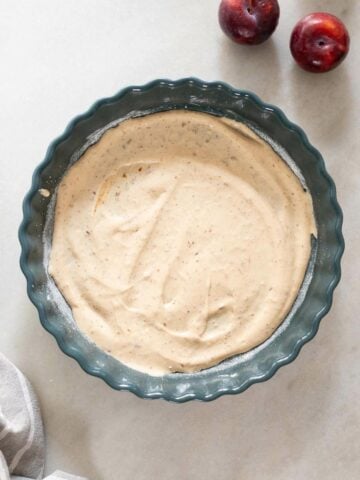 Step 6: Add a layer of cake batter to a prepared pan.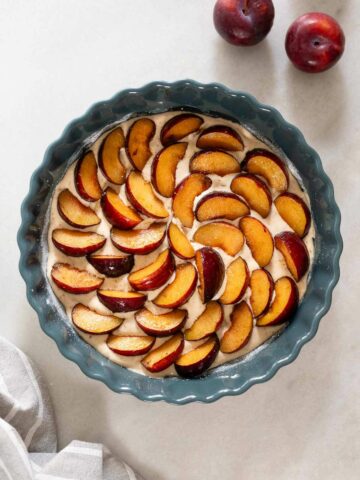 Step 7: Add one layer of seasoned plums.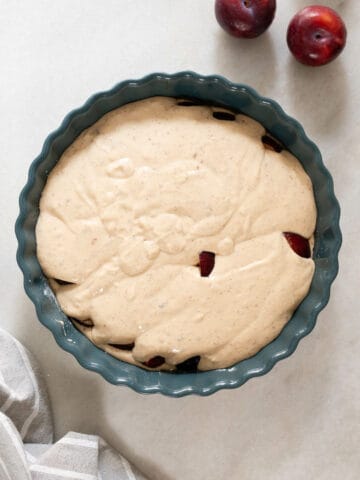 Step 8: Pour batter evenly on top.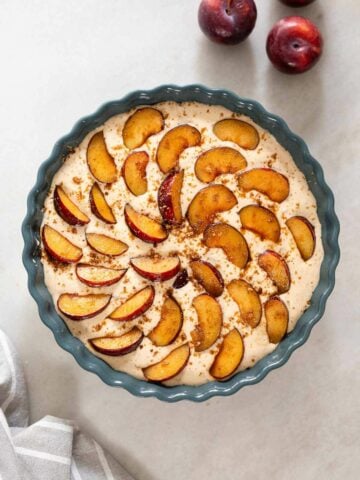 Step 9: Add another layer of plums and sprinkle the remaining sugar.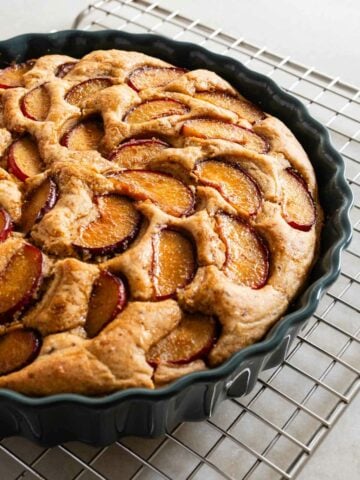 Step 10: Bake until a toothpick inserted comes out clean, and let cool.
Hint: For an extra cozy experience, serve plum cake warm with gelato, ice cream, or whipped cream.
💡 Top Tip
To ensure your plum cake turns out perfect every time, make sure all your ingredients are at room temperature before you start mixing.
This helps everything blend together seamlessly, giving you that dreamy, moist texture we all love. Trust us, this simple prep step is a game-changer!
📖 Variations
Nutty Overload: Mix in some chopped almonds or walnuts for an added crunch and a boost of healthy fats. It's a texture game-changer!
Tropical Fusion: Swap out half of the plums for slices of fresh mango. This tropical twist will make you feel like you're on a beach vacation with every bite.
🥢 How to serve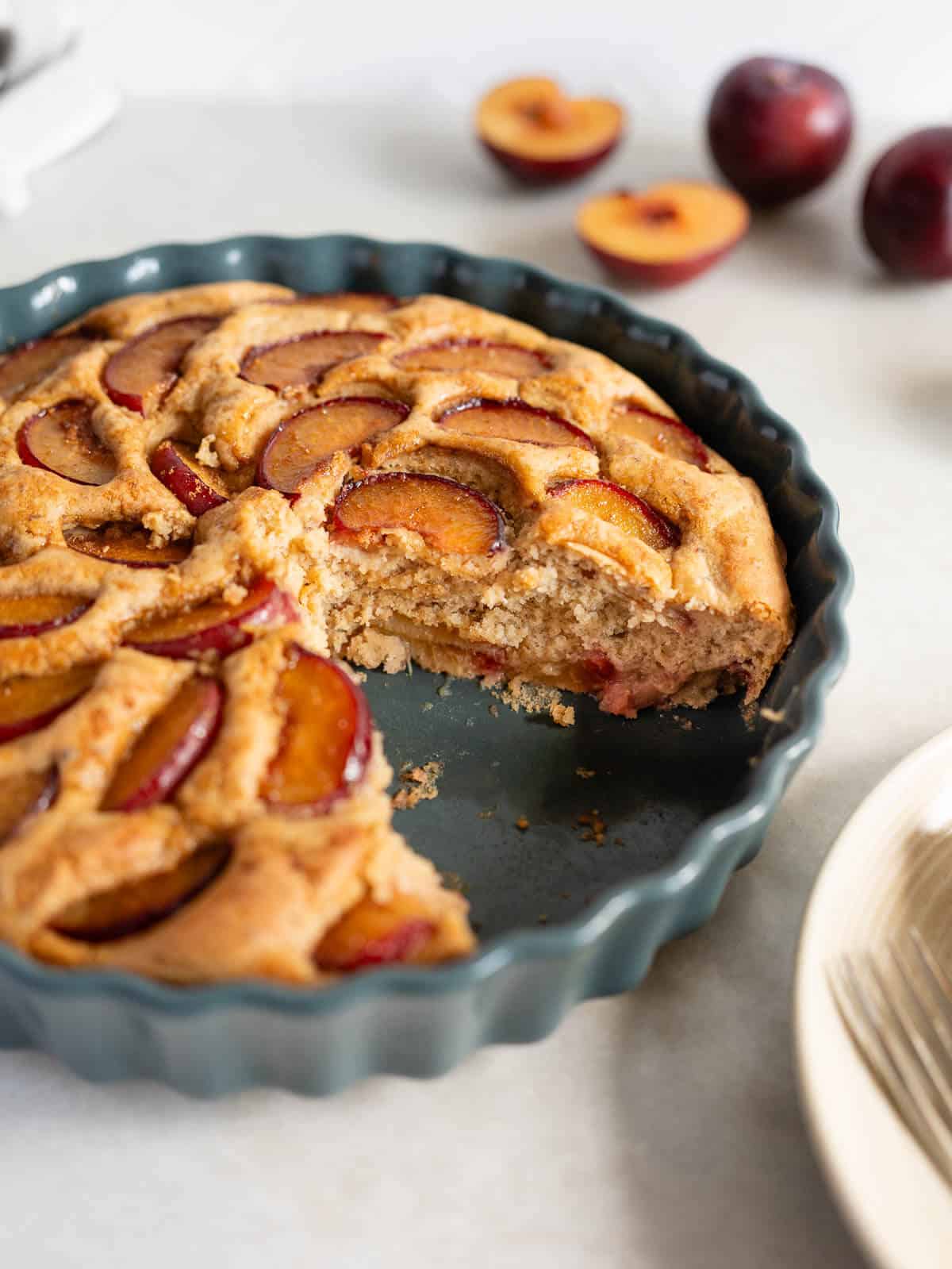 Vanilla Ice Cream: Elevate your plum cake experience by serving it with a scoop of vanilla ice cream. The creamy texture and vanilla notes perfectly complement the cake's fruity flavors.
Coconut Whipped Cream: For a tropical twist, top your slice with a dollop of coconut whipped cream. The light, airy cream adds a layer of richness without overpowering the cake.
Berry Compote: Want to get a little fancy? Drizzle some homemade berry compote over your slice. The tartness of the berries balances the sweetness of the cake, making each bite a flavor explosion.
❓ FAQ
What if my ripe plums are not sweet enough?
No worries! If your ripe plums aren't as sweet as you'd like, you can sprinkle a little extra brown sugar or drizzle some maple syrup over them before adding them to the batter. This will enhance their natural sweetness and balance out the flavors.
🥡 Storage
Fridge Storage: To keep your moist plum cake fresh in the fridge, wrap it tightly in plastic wrap or store it in an airtight container. It will stay moist and delicious for up to 5 days.
Reheating from Fridge: When you're ready to enjoy it again, let it come to room temperature or quickly zap it in the microwave for about 20-30 seconds. Preheat the oven to 350°F and warm the cake for about 5 minutes if you prefer the oven.
Freezing: If you want to extend the cake's life, you can freeze it. Just slice it into individual portions, wrap each slice tightly in plastic wrap, and then place them in a zip-top bag. It'll keep well for up to 3 months.
Reheating from Frozen: To reheat, you can either let it thaw in the fridge overnight or go straight from the freezer to the oven. Preheat your oven to 350°F and bake for 10-15 minutes, or until it's warmed.
📚 More great vegan dessert recipes
Craving more plum-centric dishes? Don't miss our red wine risotto featuring plums and our mouth-watering fresh plum juice.
⭐ If you try this vegan plum cake recipe, let us know! 💬 Leave a comment, rate it, and don't forget to tag us @ourplantbasedworld on Instagram. Cheers!
📋 Recipe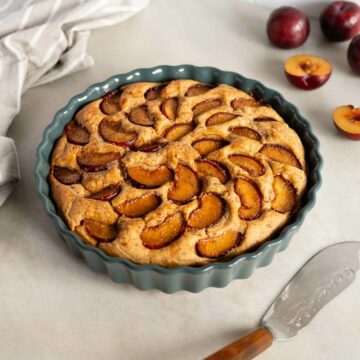 Best Italian Plum Cake Recipe
Get ready to bake the most mouth-watering, moist, and flavorful Italian plum cake you've ever tasted. Vegan-friendly and oh-so-delicious!
Equipment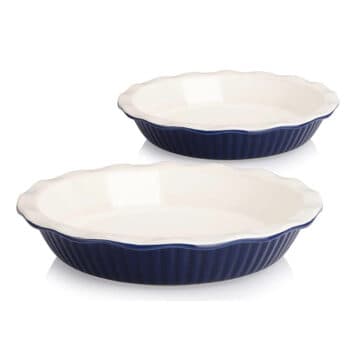 (affiliate link)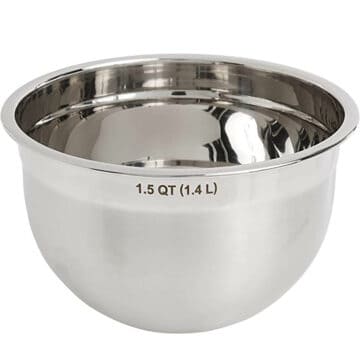 (affiliate link)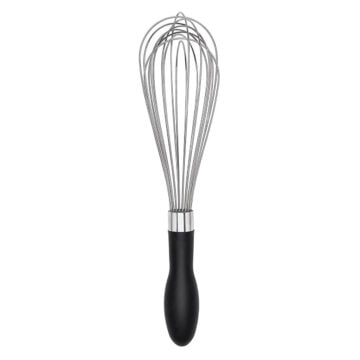 (affiliate link)
Directions
Preheat Oven: Set the oven to 360 ºF (180 ºC).

Make Flax egg-Buttermilk mixture: In a lage bowl, mix plant milk, half-lemon juice, flax meal, and cornstarch. Let it curdle.

Prepare Plums: Slice plums into wedges, then season with cardamon, one tablespoon sugar, lemon zest, and a pinch of salt.

Prepare Dish: Oil and flour a 9-inch circular baking dish.

Toss in the rest of the ingredients: Gradually add 6 tablespoons of brown sugar, flour, baking powder, melted butter, vanilla extract, and a pinch of salt to the buttermilk mix, gradually, until a uniform mix forms and no white spots can be noticed.

Pour Batter: Use a spatula to spread some of the mixture onto the prepared baking dish, then arrange one layer of the seasoned plums, pour the rest of the batter on top, and then add the remaining plums in an esthetic pattern, pushing each one with your thumbs so it integrates into the whole mixture.

Sprinkle the remaining brown sugar tablespoon to give the cake a caramelized look.

Bake for 40 minutes: until a toothpick comes out clean. Let the cake sit and cool for at least 15 minutes before slicing.

Enjoy: Serve for breakfast or as a dessert with a scoop of vegan vanilla ice cream.
Notes
Storing in the Fridge: Keep that plum cake tasting like it's fresh out of the oven by sealing it in an airtight container or wrapping it snugly in plastic wrap. It'll stay scrumptious and moist for up to 5 days. Warming it Up: Ready for round two? Either let the cake chill at room temp or give it a quick 20-30 second spin in the microwave. If you're Team Oven, set it to 350°F and heat the cake for a quick 5 minutes. Freeze and Feast Later: Want to savor the goodness for longer? Slice the cake into individual servings, wrap 'em up tight in plastic, and stash them in a ziplock bag. They'll be good to go for up to 3 months. From Frozen to Fabulous: When you're ready to dive back in, you've got options. Thaw it in the fridge overnight or go for the oven straight from the freezer. Just preheat to 350°F and bake for 10-15 minutes until it's warm and inviting.
Nutrition Facts
Calories:
228
kcal
Carbohydrates:
37
g
Protein:
4
g
Fat:
8
g
Saturated Fat:
1
g
Polyunsaturated Fat:
3
g
Monounsaturated Fat:
3
g
Trans Fat:
1
g
Sodium:
142
mg
Potassium:
219
mg
Fiber:
4
g
Sugar:
20
g
Vitamin A:
431
IU
Vitamin C:
11
mg
Calcium:
143
mg
Iron:
1
mg
Nutritional Disclaimer
The information shown is an estimate provided by an online nutrition calculator. It should not be considered a substitute for a professional nutritionist's advice. See our full Nutritional Disclosure here.
Affiliate Disclaimer
Please note that some of the links here are affiliate links, and I will earn a commission if you purchase through those links. I recommend all of the products listed because they are companies I have found helpful and trustworthy.