If you're looking for a dairy-free alternative to traditional milk or simply want to try something new, making your own delicious hazelnut milk at home is a great option. Not only is it easy to do, but it's also a healthy and delicious alternative to dairy milk that can be used in a variety of recipes. In this post, we'll show you how to make hazelnut milk at home using either a juicer or blender. With just a few simple steps, you'll have a fresh batch of hazelnut milk ready to use in your favorite drinks and dishes.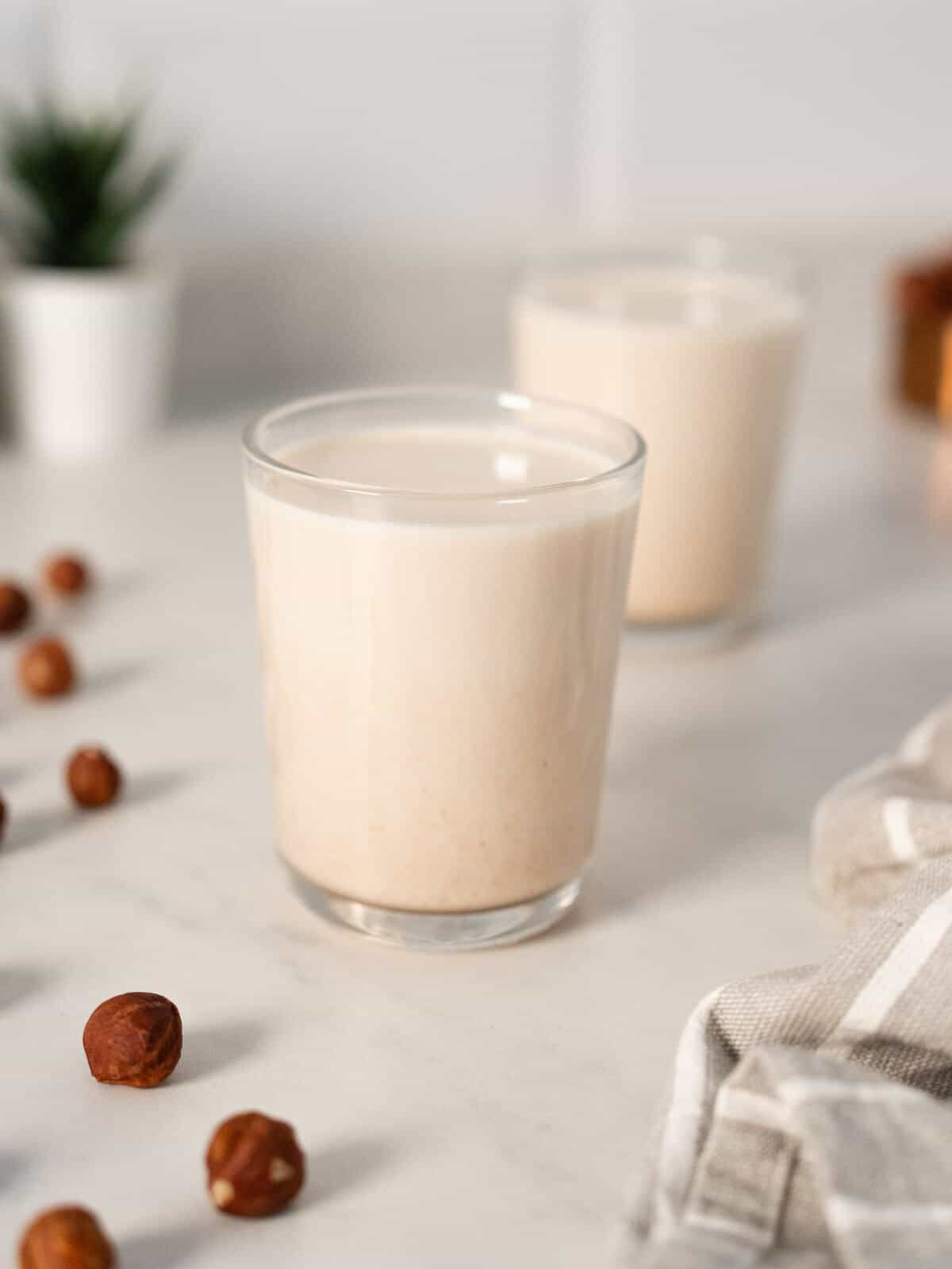 This hazelnut milk recipe is super adjustable and perfect for your smoothies. You can make it creamier, sweeter, or flavor infused.
One of the standout features of this homemade hazelnut milk recipe is its rich nutritional profile making it a great dairy-free milk alternative. Hazelnuts are brimming with essential nutrients, including vitamins, minerals, and beneficial fats. Making this beverage at home ensures that you retain these nutrients, free from the additives and preservatives that are often present in commercial versions.
The natural fiber content is excellent for digestive health, while the healthy fats promote heart well-being and radiant skin. This milk is not just an alternative to dairy but a healthful addition to any diet.
Beyond the impressive nutritional benefits, the simplicity of this recipe is truly commendable. There's no need for intricate procedures or elusive ingredients. A handful of hazelnuts and a few straightforward steps are all it takes to produce a batch of fresh, creamy hazelnut milk. It's a recipe that caters to both seasoned chefs and kitchen beginners alike.
The convenience of this recipe ensures that anyone can enjoy this wholesome beverage regularly without it feeling burdensome. As you prepare to explore the ingredients, remember that this recipe prioritizes both nourishment and ease of preparation.
Jump to:
🧾 Ingredients
This homemade hazelnut milk recipe is entirely adjustable, at a minimum, it has only two ingredients and requires 5 active minutes and a slow juicer or blender.
Raw hazelnuts: the main ingredient in hazelnut milk, providing a rich nutty flavor and creamy texture.
Filtered water: used to blend and thin out the hazelnut mixture, creating a smooth and consistent milk-like consistency.
Optional ingredients
Dates (recommended): added for sweetness and to balance the nutty flavor of the hazelnuts. Dates also add a boost of fiber and other nutrients.
Salt (recommended): enhances the overall flavor of the hazelnut milk, bringing out its natural sweetness.
Vanilla extract (optional): adds a subtle, sweet aroma and flavor to the hazelnut milk.
Cocoa powder (optional): adds a chocolatey flavor to the hazelnut milk, perfect for making chocolate hazelnut milk or adding to smoothies.
Note: keep your hazelnut milk unsweetened if you plan to make vegan buttermilk.
🔪 Instructions
Soak the hazelnuts at room temperature or in the fridge.
If you need to make it the same day, pour warm water into the hazelnut milk to accelerate the process and leave them soaking for 15 minutes.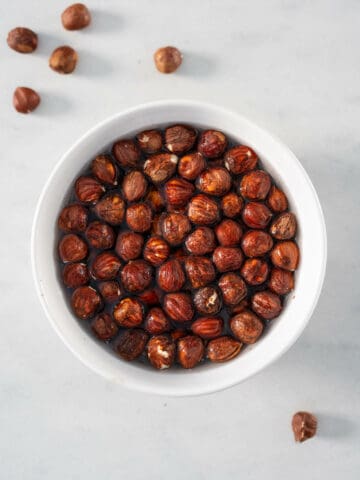 Soak the raw hazelnuts in water overnight.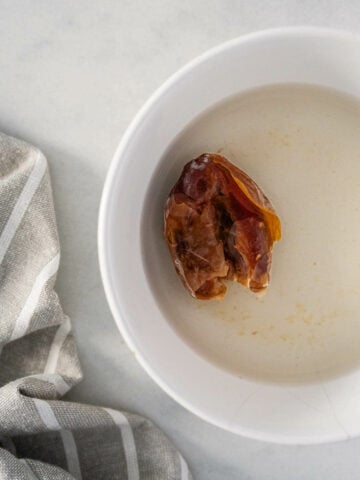 Optionally soak a date or two in warm water to sweeten your hazelnut milk.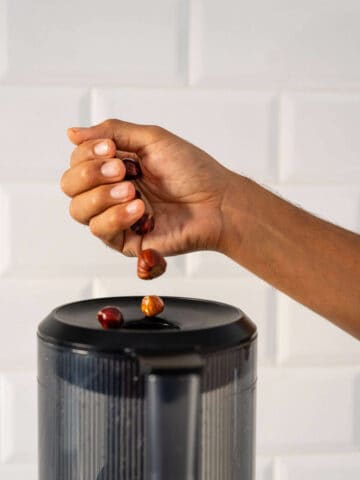 You then need to drain the hazelnuts and add them into the cold-press juicer along with water and an optional soaked date.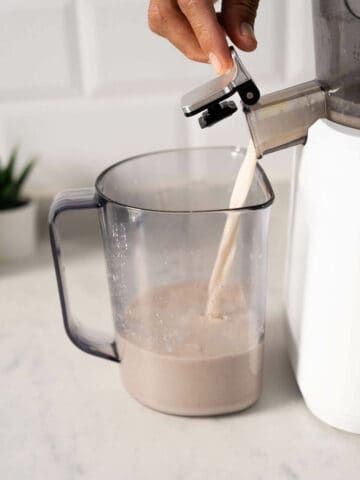 Open the juicer compartment and let the milk out.
Alternatively, add a pinch of salt and your preferred sweeteners such as maple, syrup, dates, or flavor enhancers like cocoa.
Hazelnut milk is typically a little sweet, but you can add one or two pitted dates if you want sweetened homemade hazelnut milk. Remove the inner stone from the dates, as the stone can break your blender, or use homemade date paste.
Then it would be best if you strained through a nut milk bag or fine-mesh sieve lined with cheesecloth. Or even better, a clean t-shirt or canvas fabric bag squeezes out as much liquid as possible.
I like using a piece of fabric for hazelnut and macadamia Milk because it is thinner, and nuts kinds of milk strain more pulp.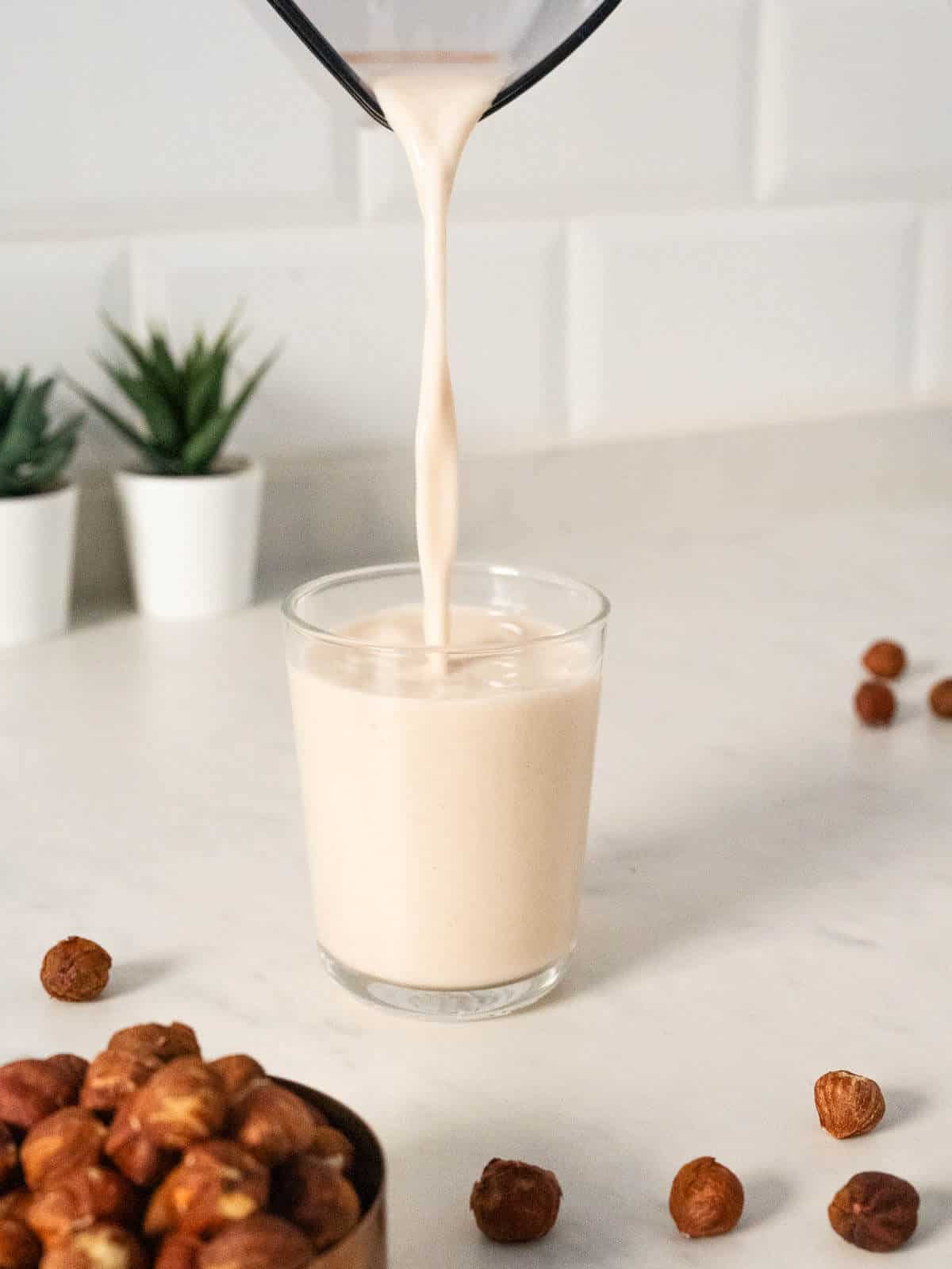 👨🏻‍🍳 Flavor variations: hazelnut milk recipes
Vanilla-Cinnamon Hazelnut Milk: Add 1 teaspoon of pure vanilla extract and a ½ teaspoon of ground cinnamon to the blending process. This combination gives a warm and aromatic flavor, perfect for a comforting drink.
Chocolate Hazelnut Milk: Incorporate 2 tablespoons of unsweetened cocoa powder or raw cacao powder during blending. For added sweetness, you can also include a touch of maple syrup or agave nectar. This variation is reminiscent of a classic chocolate hazelnut spread.
Golden Turmeric Hazelnut Milk: Blend in 1 teaspoon of ground turmeric, a pinch of black pepper (to enhance turmeric absorption), and ½ teaspoon of ground ginger. This variation not only adds a vibrant golden hue but also offers anti-inflammatory benefits. See our vegan golden milk recipe as a base.
Suggested sweeteners: dates, raisins, agave syrup, or maple syrup.
Add in ideas: cocoa powder, vanilla extract, banana, strawberry, or hazelnuts.
❓ How to use leftover hazelnut pulp
Like leftover almond pulp from homemade almond milk, hazelnut pulp can be repurposed for various recipes, especially when combined with chocolate. This includes making raw protein balls, cookies, crackers, brownies, muffins, tart bases, and a vegan Nutella spread and granola.
Additionally, hazelnut pulp can be used as toppings for cereal, yogurt, and smoothies.
You can also dry the pulp (see how in our almond meal recipe, follow the same procedure), to make hazelnut flour.
🫙 Storing
It depends on whether you sterilize your equipment and how fresh your ingredients are. In general, we have found it lasts about 2-3 days in the fridge.
We often use our own hazelnut milk for our morning smoothies or Homemade Granola and overnight oats, so one batch only makes it to the third day. If you are like us, you don't need to sterilize your ingredients as it reaches the 3rd day without any problem.
If you find that it goes off before expected, easily sterilize your bottles either:
Pour boiling water inside, ensuring the jars are not cold so they won't break.
Then, put them in the dishwasher.
If you have unexpectedly left home or didn't use your milk soon enough and want to prevent it from going off.
You can freeze homemade nut milk in ice cube trays and save them to add to your morning smoothies.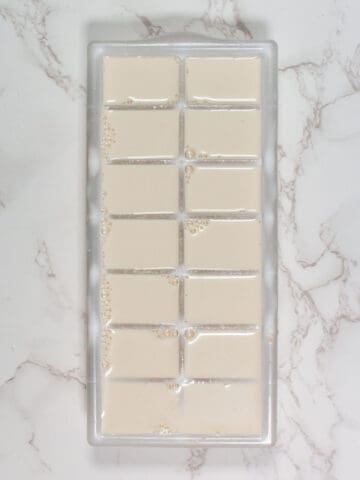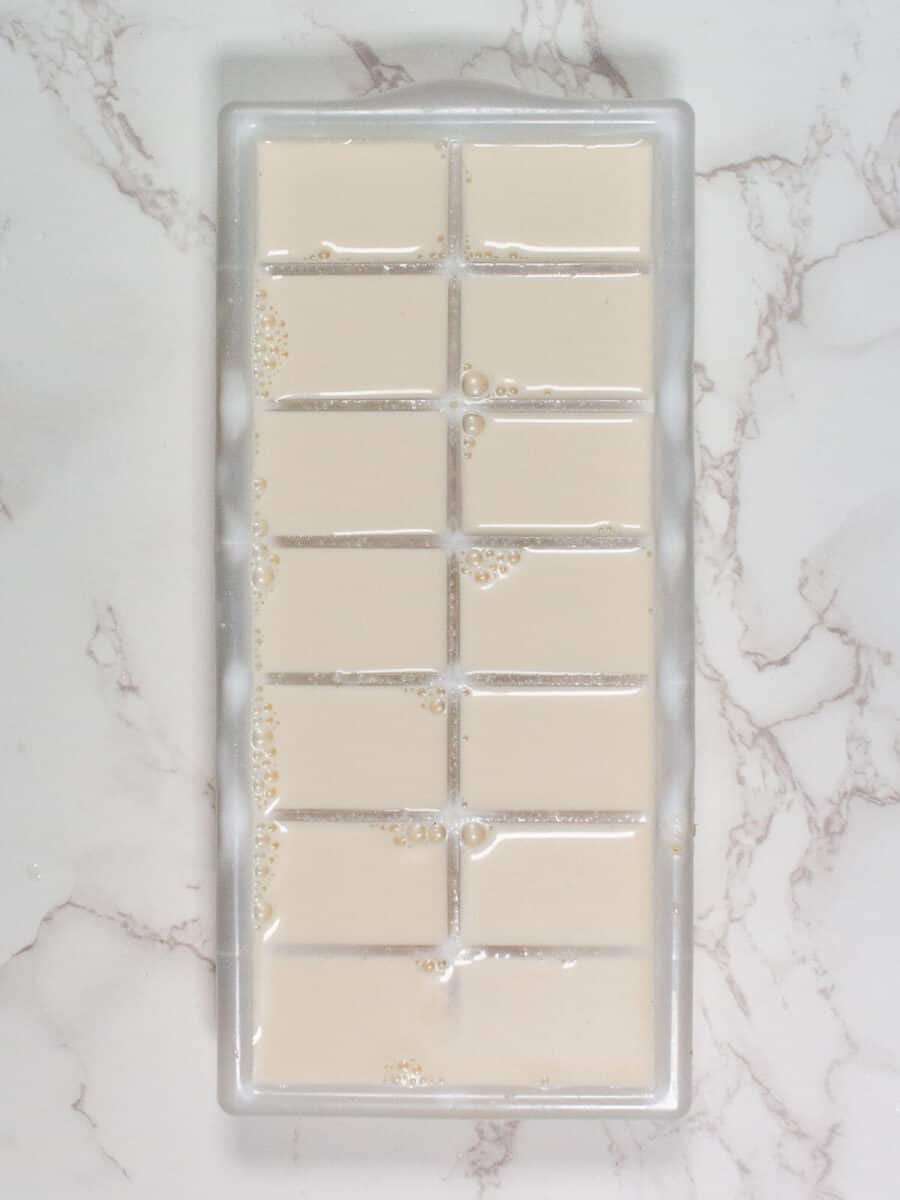 👨🏻‍🍳 How to use it
I like drinking hazelnut milk as it is, as unsweetened hazelnut milk is naturally slightly sweet, just like rice milk.
You can use it the same way you would use regular milk: in smoothies, in your morning granola or breakfast fruit bowl, in bechamel sauce, or in baking.
Lastly, you can also make vegan chocolate milk with hazelnut milk.
🥛 Why make homemade hazelnut milk?
It is easy to make and wholesome!
Cost-effective.
You are in full control of what is in.
Adjust thickness and flavor to your liking.
Using the leftover elevates your environmentalism game!
✅ Benefits of hazelnut milk
Hazelnut milk, which is made from ground hazelnuts and water, is a popular alternative to cow's milk and has gained recognition for its various benefits. Here are some potential benefits of hazelnut milk:
Nutritional Profile: Hazelnuts are a good source of healthy fats, protein, fiber, and several essential vitamins and minerals. Hazelnut milk retains some of these nutrients, including vitamin E, magnesium, calcium, and potassium. It also contains monounsaturated fats, which are considered heart-healthy.
Lactose-Free: Hazelnut milk is naturally free of lactose, making it an excellent alternative for individuals who are lactose intolerant or have difficulty digesting lactose, a sugar found in cow's milk. It can be a suitable replacement for those who experience digestive issues or discomfort after consuming dairy products.
Plant-Based and Vegan-Friendly: Hazelnut milk is entirely plant-based and suitable for those following a vegan or vegetarian diet. It provides a creamy texture and nutty flavor, making it a versatile option for various culinary uses, such as in coffee, smoothies, cereals, and baked goods.
Potential Allergen Substitute: Hazelnut milk can be a viable alternative for individuals with dairy or soy allergies. It offers a rich and creamy consistency that resembles cow's milk, making it an attractive option for those seeking to replace allergenic ingredients in their diet.
Antioxidant Content: Hazelnuts contain antioxidants, particularly vitamin E and phytochemicals, which can help combat oxidative stress in the body. These antioxidants contribute to the potential health benefits associated with hazelnut consumption, such as reduced inflammation and improved cardiovascular health.
Weight Management: Hazelnut milk can be a suitable choice for individuals aiming to manage their weight or reduce calorie intake. Compared to cow's milk, hazelnut milk typically has fewer calories and less saturated fat. However, it is important to check the labels as some commercial brands may contain added sugars or other ingredients that could affect the overall nutritional profile.
It's worth noting that individual experiences and dietary needs may vary, and it's always advisable to consult with a healthcare professional or a registered dietitian to determine the best choices for your specific dietary requirements.
❓FAQ
Hazelnut milk benefits are vast, but let's answer some of the common questions about the occasional drawbacks.
How to thicken hazelnut milk?
We find the perfect thickness for our taste is 1 cup of hazelnut for 1 cup of water.
Suggested thicker hazelnut milk options:
1 cup of hazelnut / ¾ cup of water, if you don't mind sacrificing the final volume.
If you want thinner hazelnut milk, add an extra cup of water.
Does hazelnut milk have fiber in it?
Yes, homemade hazelnut milk contains fiber, primarily derived from the hazelnuts. However, the exact amount of fiber can vary based on the preparation method and whether the pulp is strained out or left in the milk.
🥛 More plant milk recipes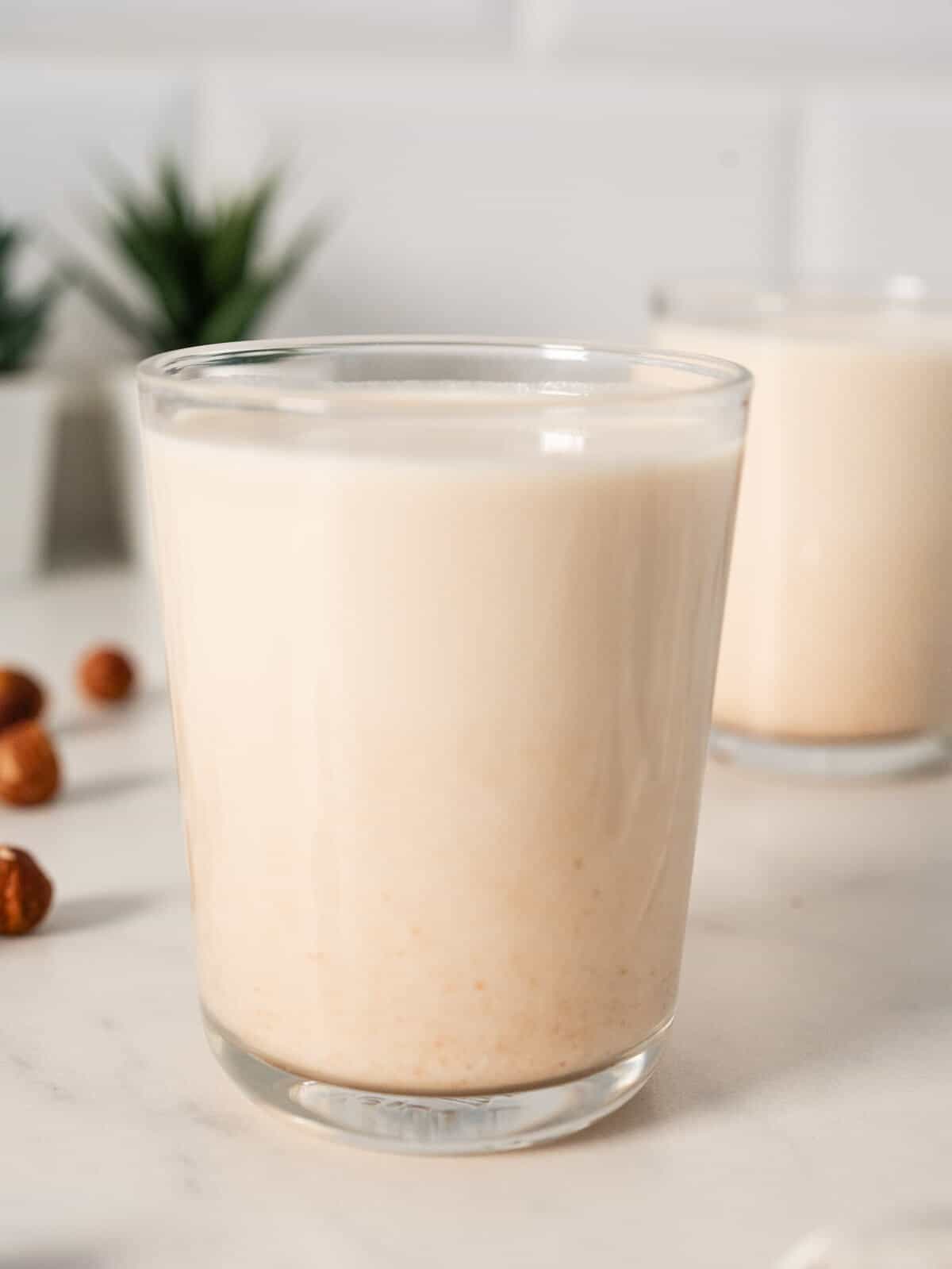 Read on How to make oat milk, almond milk, and soy milk with a blender.
How to make vegan buttermilk with plant milk.
⭐ If you try this recipe, let us know! 💬 Leave a comment, rate it, and don't forget to tag us @ourplantbasedworld on Instagram. Cheers!
📋 Recipe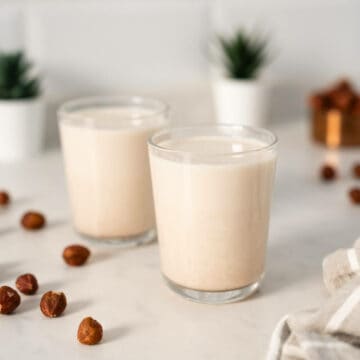 How to Make Hazelnut Milk at Home with a Juicer or Blender
Learn how to make hazelnut milk at home with a juicer or blender in just a few easy steps! This dairy-free milk is creamy, delicious, and perfect for vegan and lactose-intolerant diets. Discover our simple recipe and enjoy the rich taste of homemade hazelnut milk.
Equipment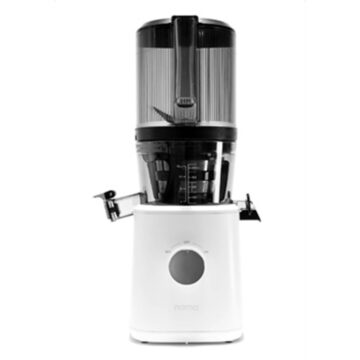 (affiliate link)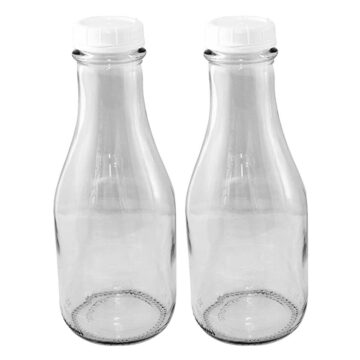 (affiliate link)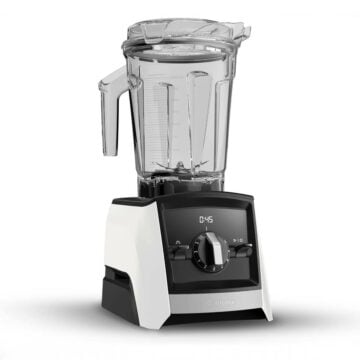 (affiliate link)
Ingredients
1

cup

nuts

raw, Gluten-Free (if in a GF diet)

4

cups

water
Optional (as flavor enhancers):
Directions
Soak hazelnuts in water overnight or for 6-8 hours in a bowl. This makes the nuts softer for optimal juicing. We recommend juicing 2 cups of hazelnuts to make 3.5 cups of cashew milk (28 oz).

Soak dates with pits removed in warm water to soften for 20-30 mins. If using soft Meedjol dates, you can skip this step.

Pour out the water and rinse the cashew nuts. Add back equal parts of fresh water into the bowl.
Slow Juicer Method
Turn on your slow juicer and add cashew nuts, dates, and equal parts fresh filtered water into the juicer. For best results, add ingredients through the hole in the hopped lid while in the closed position.

Keep going until you've put in all the hazelnuts and water. Watch the nuts turn into milk and let it flow out.

Pour yourself a glass and enjoy!
Blender Method
After soaking your ingredients, add all the ingredients into a blender and mix for a minute.

Serve. No need to strain the nut milk.
Notes
Use the exact instructions for other plant products such as hazelnuts, almonds, walnuts, macadamia, and cooked soybeans.
Adjust the amount of water to achieve your desired texture.
Use our 10% discount code OPBW10 limited time only! NamaWell.
Nutrition Facts
Calories:
116
kcal
Carbohydrates:
7
g
Protein:
3
g
Fat:
9
g
Saturated Fat:
1
g
Polyunsaturated Fat:
2
g
Monounsaturated Fat:
6
g
Sodium:
8
mg
Potassium:
125
mg
Fiber:
2
g
Sugar:
2
g
Vitamin A:
3
IU
Vitamin C:
0.1
mg
Calcium:
17
mg
Iron:
1
mg
Nutrition Facts
How to Make Hazelnut Milk at Home with a Juicer or Blender
Amount per Serving
% Daily Value*
* Percent Daily Values are based on a 2000 calorie diet.
🌡️ Food safety
Cook to a minimum temperature of 165 °F (74 °C)
Do not use the same utensils on cooked food, that previously touched raw meat
Wash hands after touching raw meat
Don't leave food sitting out at room temperature for extended periods
Never leave cooking food unattended
Use oils with a high smoking point to avoid harmful compounds
Always have good ventilation when using a gas stove
See more guidelines at USDA.gov.
Nutritional Disclaimer
The information shown is an estimate provided by an online nutrition calculator. It should not be considered a substitute for a professional nutritionist's advice. See our full Nutritional Disclosure here.
Affiliate Disclaimer
Please note that some of the links here are affiliate links, and I will earn a commission if you purchase through those links. I recommend all of the products listed because they are companies I have found helpful and trustworthy.