When the temperature drops, there's nothing quite like cradling a bowl of homemade soup to beat the chill. Our recipe offers a delectable vegan pumpkin soup without coconut milk, masterfully substituting it with tahini for an unexpectedly delightful twist. This ingredient swap introduces a subtle nod to the creamy texture and nutty flavor often found in hummus, creating a harmonious blend in this comforting dish. It's a perfect meal to savor the warmth and richness of pumpkin, enhanced with the earthy depth of tahini, without straying from a plant-based lifestyle.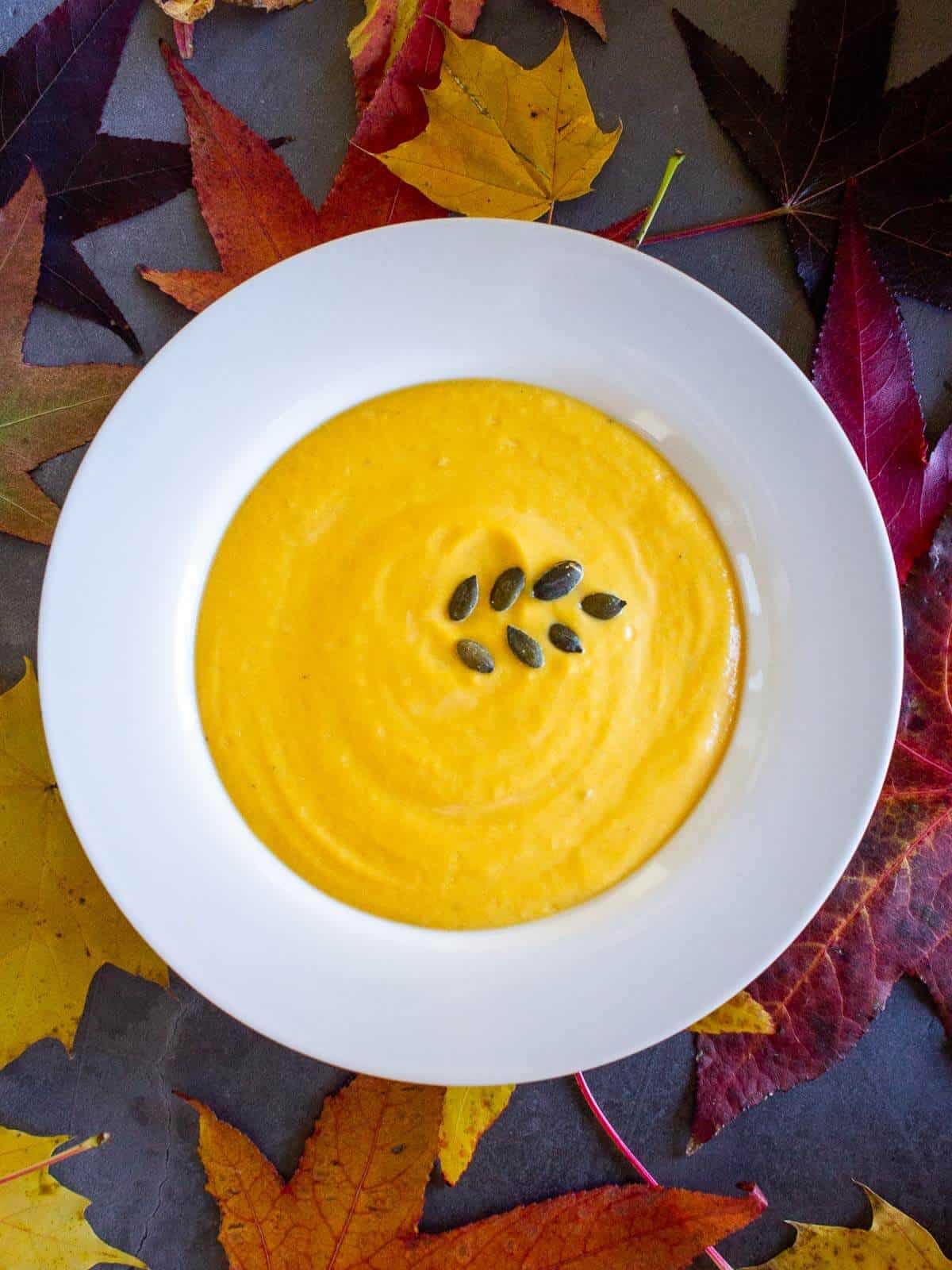 I love Pumpkin, Butternut Squash, and these kinds of vegetables that are so full of flavor on their own that you can have them either roasted, steamed, or as the main ingredient in any preparation like homemade butternut squash ravioli. I just love homemade pumpkin soup.
Pumpkins and butternut squashes are naturally creamy when steamed or boiled, so they are great options for a silky textured soup. They equally work for this recipe.
Every time I go back to my hometown in Panama, my mom never fails to make me one of my favorite yet simple dishes from her kitchen: pumpkin soup. It is one of the easiest and yummiest fall recipes you will find.
Jump to:
🧐 Making it vegan
My mom's original pumpkin soup recipe featured whole milk, evaporated milk, and bits of stir-fried ham, seasoned with Culantro—an herb popular in Panama but less common elsewhere. It's distinct from Cilantro, despite what some may say.
I've crafted a vegan version of this classic, swapping out the non-vegan items while maintaining the soup's signature zing, thanks to a secret weapon: Tahini. Known for its role in Hummus and Middle Eastern dishes, Tahini brings a unique flair to this comforting dish.
And so, I present to you the ultimate quick pumpkin soup.
For more pumpkin delights, check out our pumpkin cooking guide.
🧾 Ingredients
Pumpkin or Butternut Squash: This gourd is the star of the show, offering a creamy texture and a rich, earthy flavor. Plus, it's packed with beta-carotene, which converts to vitamin A in the body—hello, glowing skin!
Onion: Adds a layer of savory depth to balance the sweetness of the pumpkin. It's also a good source of antioxidants and helps build the foundational flavor of the soup.
Almond Milk: This plant milk makes the soup creamy without the dairy. It's also a lighter option that complements the robust flavors without overpowering them.
Nutritional Yeast: Think of this as your vegan Parmesan! It adds a cheesy, umami kick and is a great source of B-vitamins.
Tahini: This sesame seed paste brings in a nutty richness that elevates the soup's complexity. It's also loaded with healthy fats and amino acids. If not using tahini, you can replace with a can of full-fat coconut milk or extra virgin olive oil.
Sage: This herb is your aromatic wingman, adding a subtle earthiness that pairs beautifully with pumpkin. Sage is also known for its anti-inflammatory properties.
Nutmeg: A pinch of this spice goes a long way in adding warmth and a hint of sweetness. It's like a cozy sweater for your taste buds!
See quantities and complete instructions in the recipe card.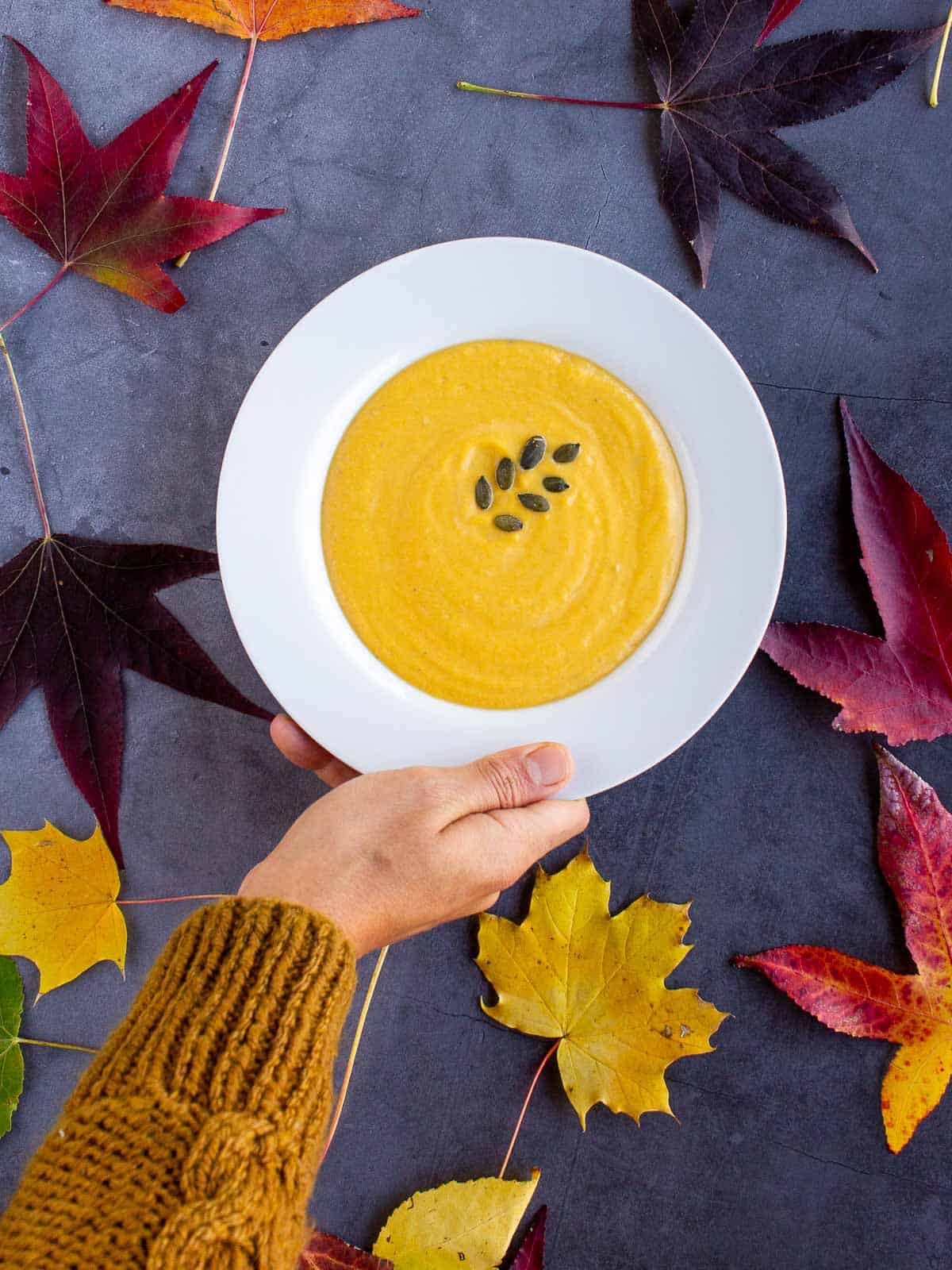 🔪 Instructions
Prepare the Base: For this rich pumpkin soup, you'll start by steaming or boiling the pumpkin and onion. While boiling can sometimes reduce a vegetable's nutritional content, with soup, there's no need to worry—you'll be keeping the nutrient-rich water in the mix.
Blend It Up: Once your pumpkin is ready, toss it into a blender or food processor with the remaining ingredients. It's that easy! This method is the foundation of a classic pumpkin soup and works just as well for a no-frills 4-ingredient potato soup and carrot ginger soup.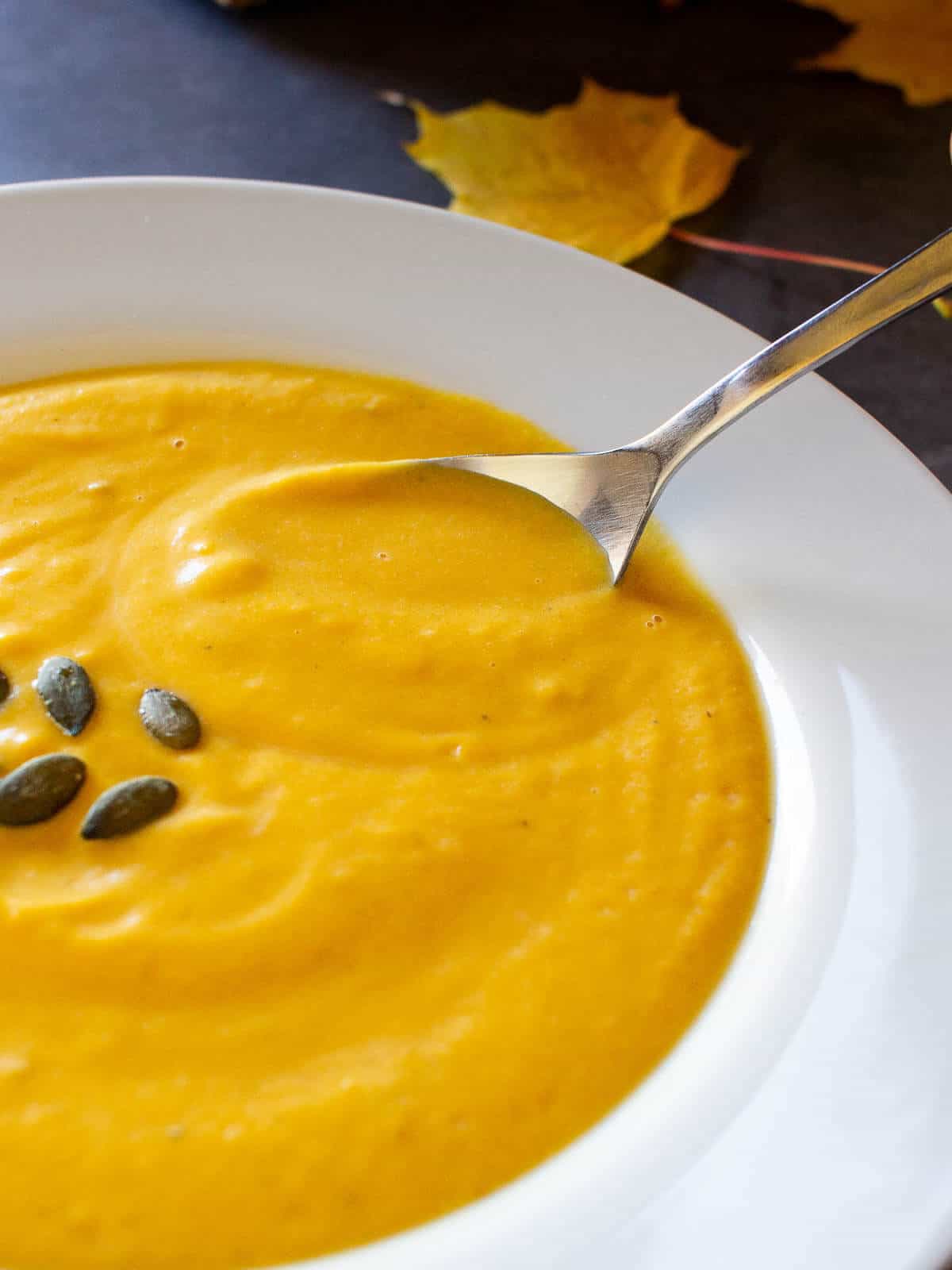 🥢 How to serve
Classic Comfort: Serve this soul-warming soup with a slice of crusty vegan sourdough bread, such as our Italian Artisan Bread. It's the perfect duo for a cozy night in. Don't forget to sprinkle some extra nutritional yeast on top for that cheesy finish!
Salad Sidekick: Pair your soup with a vibrant, seasonal salad. Think mixed greens, roasted beets, and a handful of pumpkin seeds, all drizzled with a tangy balsamic vinaigrette. It's a match made in plant-based heaven!
Creative Twist: How about soup in a pumpkin bowl? Hollow out mini pumpkins and pour the hot soup right in. It's not just delicious; it's an Instagrammable moment waiting to happen!
🍶 Substitutions
Onion: Swap it out for shallots or leeks if you're looking for a milder, sweeter flavor profile.
Almond Milk: Coconut milk or oat milk can be used for a different kind of creaminess. Coconut milk will add a tropical twist, while oat milk offers a nut-free option.
Nutritional Yeast: If you're out of nutritional yeast, you can use vegan Parmesan cheese for that cheesy flavor. Just make sure to adjust the salt accordingly.
Sage: Fresh rosemary or thyme can be used in place of sage. These herbs will give the soup a different aromatic note but still keep it in the earthy realm.
Nutmeg: A dash of cinnamon or allspice can be used if you're out of nutmeg. These spices will still add that warm, comforting aroma to your soup.
Tahini: Sunflower seed butter or cashew butter can be used as a tahini substitute. These will offer a slightly different but still delicious nutty flavor.
Tahini isn't just for hummus and soups! Check out our easy Maple Tahini Dressing recipe to drizzle a little extra yum on your salads. It's quick, simple, and oh-so-tasty!
📖 Variations
Spicy Kick: Add a swirl of sriracha or a dash of cayenne pepper to give your soup a spicy kick. This version will warm you up from the inside out, perfect for those chilly days!
Protein-Packed: Stir in some cooked quinoa or lentils for added protein and texture. This turns your soup into a hearty, one-bowl meal that's as filling as it is flavorful.
Exotic Twist: Incorporate a spoonful of curry paste or a sprinkle of za'atar spices for an exotic flair. These additions will transform your soup into a global culinary adventure.
🍽 Equipment
Blender

(affiliate link)

: This is your magic wand for turning chunky ingredients into a velvety smooth soup. A high-speed blender works best for achieving that restaurant-quality texture. Just toss everything in and blend away!
Steamer Basket

(affiliate link)

: This nifty tool ensures your pumpkin and onion chunks cook evenly and quickly. Steaming also retains more nutrients compared to boiling, making your soup not just tasty but also super nutritious.
📚 More cozy soup recipes
Sprouted lentils are a game-changer! Dive into our Sprouted Lentils Soup recipe for a nutritious twist on comfort food: Sprouted Lentils Soup. Fresh, hearty, and wholly satisfying!
Explore the flavors of Greece with our Fasolada White Bean Greek Soup. It's a simple, rustic dish packed with heritage and taste: Fasolada White Bean Greek Soup. Wholesome ingredients, timeless tradition.
Embrace the coziness of Italian cuisine with our Ribollita, a Tuscan Winter Heart Soup. It's thick, it's hearty, and it's brimming with veggies: Ribollita, a Tuscan Winter Heart Soup. A bowl of this is like a warm hug!
⭐ If you try this recipe, let us know! 💬 Leave a comment, rate it, and don't forget to tag us @ourplantbasedworld on Instagram. Cheers!
📋 Recipe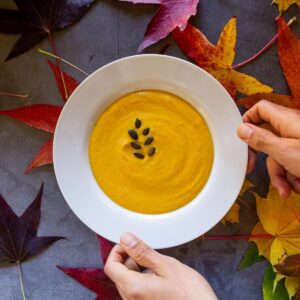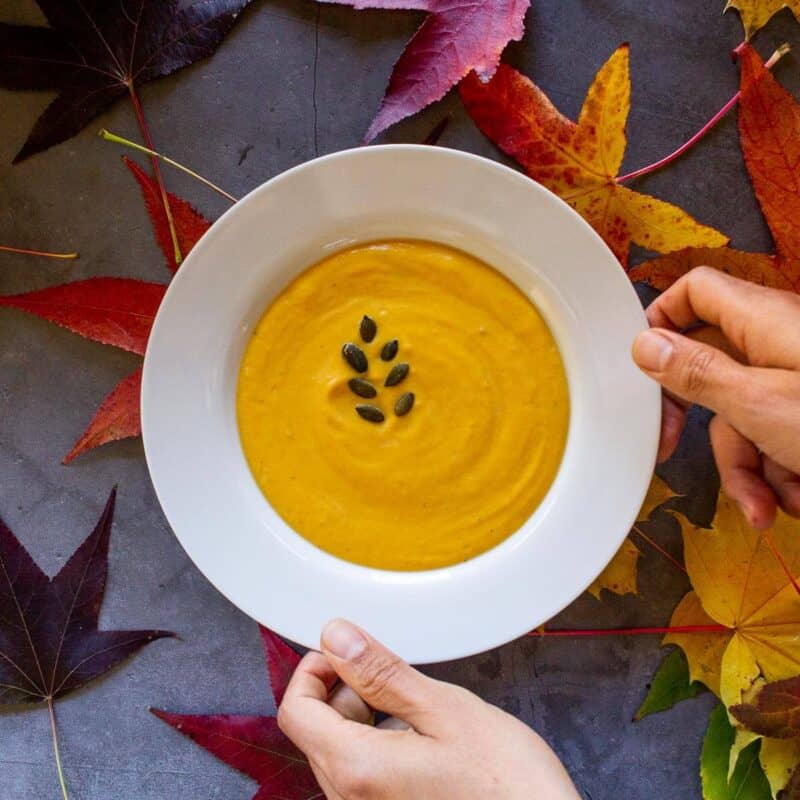 Creamy Vegan Pumpkin Soup without Coconut Milk
This creamy, easy, and hearty Pumpkin Soup is all you need to satisfy your need for something savory and creamy this autumn.
Equipment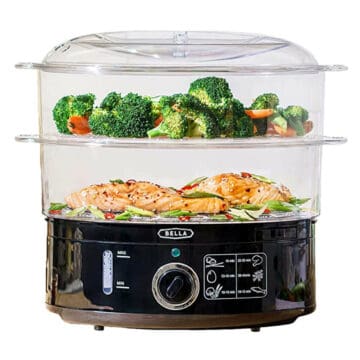 (affiliate link)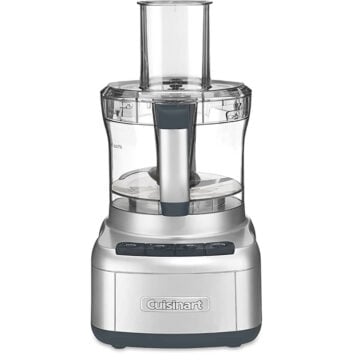 (affiliate link)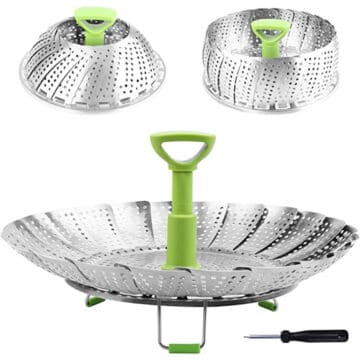 (affiliate link)
Directions
Peel the pumpkin and the onion cut them into big chunks.

Steam (or boil) them until tender. Shouldn't take more than 10 minutes.

Place all your ingredients in a blender, and mix until it looks smooth.

Adjust. Taste for texture and adjust with warm water or plant milk as needed.
Notes
Tips for Leftovers:
Storage: Store any leftover soup in an airtight container in the fridge. It'll keep well for up to 4-5 days.
Freezing: This soup is freezer-friendly! Just make sure to let it cool completely before transferring it to a freezer-safe container. It should keep well for up to 3 months.
Reheating: When you're ready to dive back into this deliciousness, reheat the soup on the stovetop over low heat. You can also use a microwave, but be sure to stir it well to ensure even heating.
Refresh: If the soup thickens up in the fridge, feel free to add a splash of plant milk or water while reheating to bring it back to your desired consistency.
Nutrition Facts
Calories:
171
kcal
Carbohydrates:
20
g
Protein:
9
g
Fat:
8
g
Saturated Fat:
1
g
Sodium:
710
mg
Potassium:
859
mg
Fiber:
5
g
Sugar:
6
g
Vitamin A:
14489
IU
Vitamin C:
18
mg
Calcium:
171
mg
Iron:
2
mg
Nutrition Facts
Creamy Vegan Pumpkin Soup without Coconut Milk
Amount per Serving
% Daily Value*
* Percent Daily Values are based on a 2000 calorie diet.
Nutritional Disclaimer
The information shown is an estimate provided by an online nutrition calculator. It should not be considered a substitute for a professional nutritionist's advice. See our full Nutritional Disclosure here.
Affiliate Disclaimer
Please note that some of the links here are affiliate links, and I will earn a commission if you purchase through those links. I recommend all of the products listed because they are companies I have found helpful and trustworthy.