This vegan pumpkin tahini soup is a delicious, healthy, and easy-to-make fall dish. Packed with fiber, protein, and vitamins, this soup is perfect for a quick dinner or lunch. And with only six simple ingredients, it's a great way to use up leftover pumpkin puree.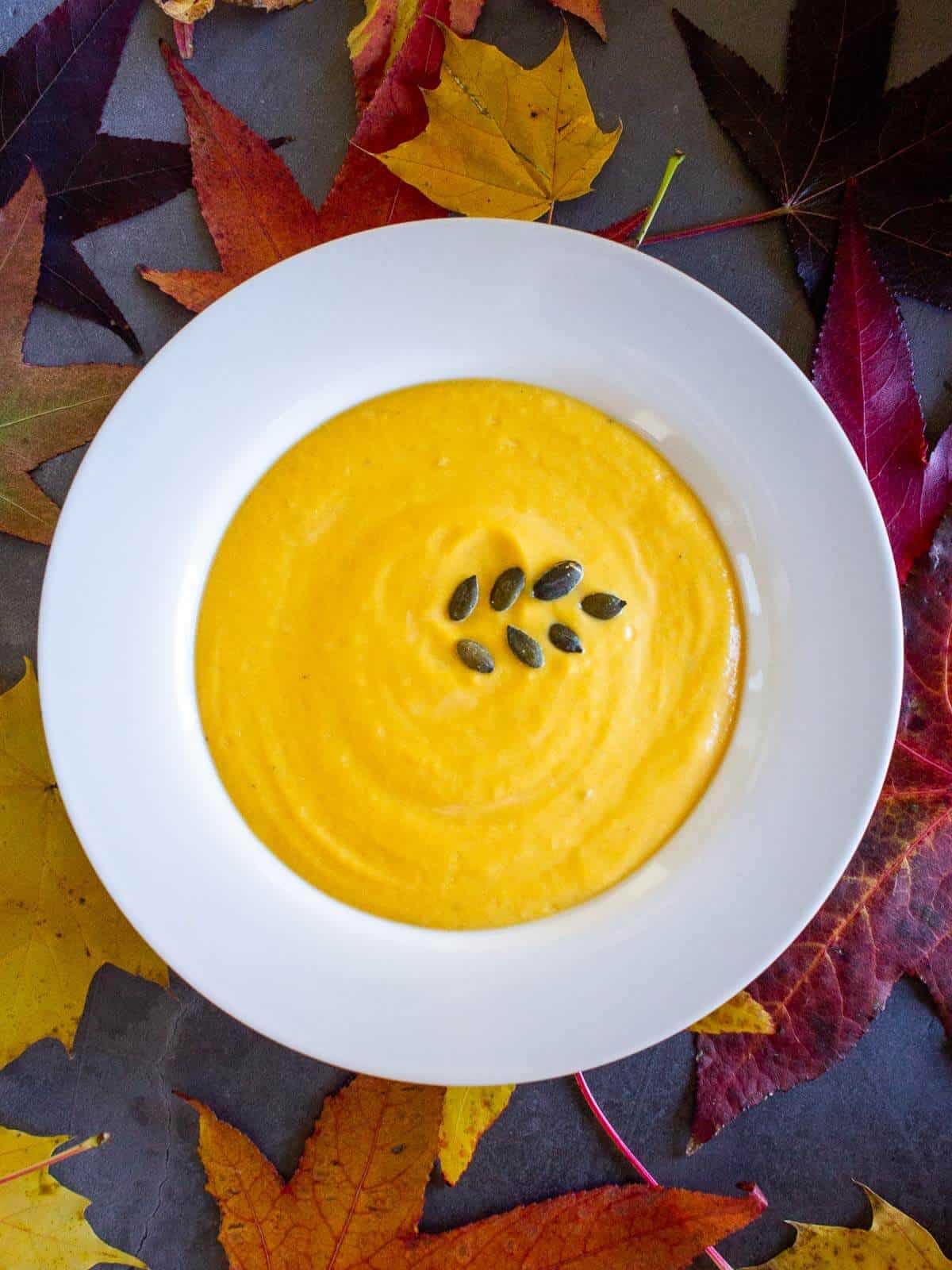 I love Pumpkin, Butternut Squash, and these kinds of vegetables that are so full of flavor on their own that you can have them either roasted, steamed, or as the main ingredient in any preparation like homemade butternut squash ravioli. I just love homemade pumpkin soup.
Pumpkins and butternut squashes are naturally creamy when steamed or boiled, so they are great options for a silky textured soup. They equally work for this recipe.
Every time I go back to my hometown in Panama, my mom never fails to make me one of my favorite yet simple dishes from her kitchen: pumpkin soup. It is one of the easiest and yummiest fall recipes you will find.
Jump to:
🧐 Making it vegan
Her version has always contained whole and evaporated milk, plus little pieces of stir-fried ham and Culantro, a commonly found herb in Panama but hard to find in other parts of the world. It is not Cilantro; although some people find some similarities, I don't.
The non-vegan ingredients of my mom's soup are easily exchangeable or taken off a vegan recipe version. Still, I wanted to find a replacement for that extra kick characteristic flavor that the Culantro provides.
So, I came out with Tahini, this great special ingredient that most of us know from Hummus, or Middle Eastern Cuisine.
Here I bring you the best ever pumpkin soup; it is also a quick pumpkin soup.
Learn how to cook with pumpkin in our special guide to cooking with pumpkin.
🧾 Ingredients
Pumpkin or butternut squash
Onion
Almond milk
Nutritional yeast
Tahini
Sage
Nutmeg
See quantities and complete instructions in the recipe card.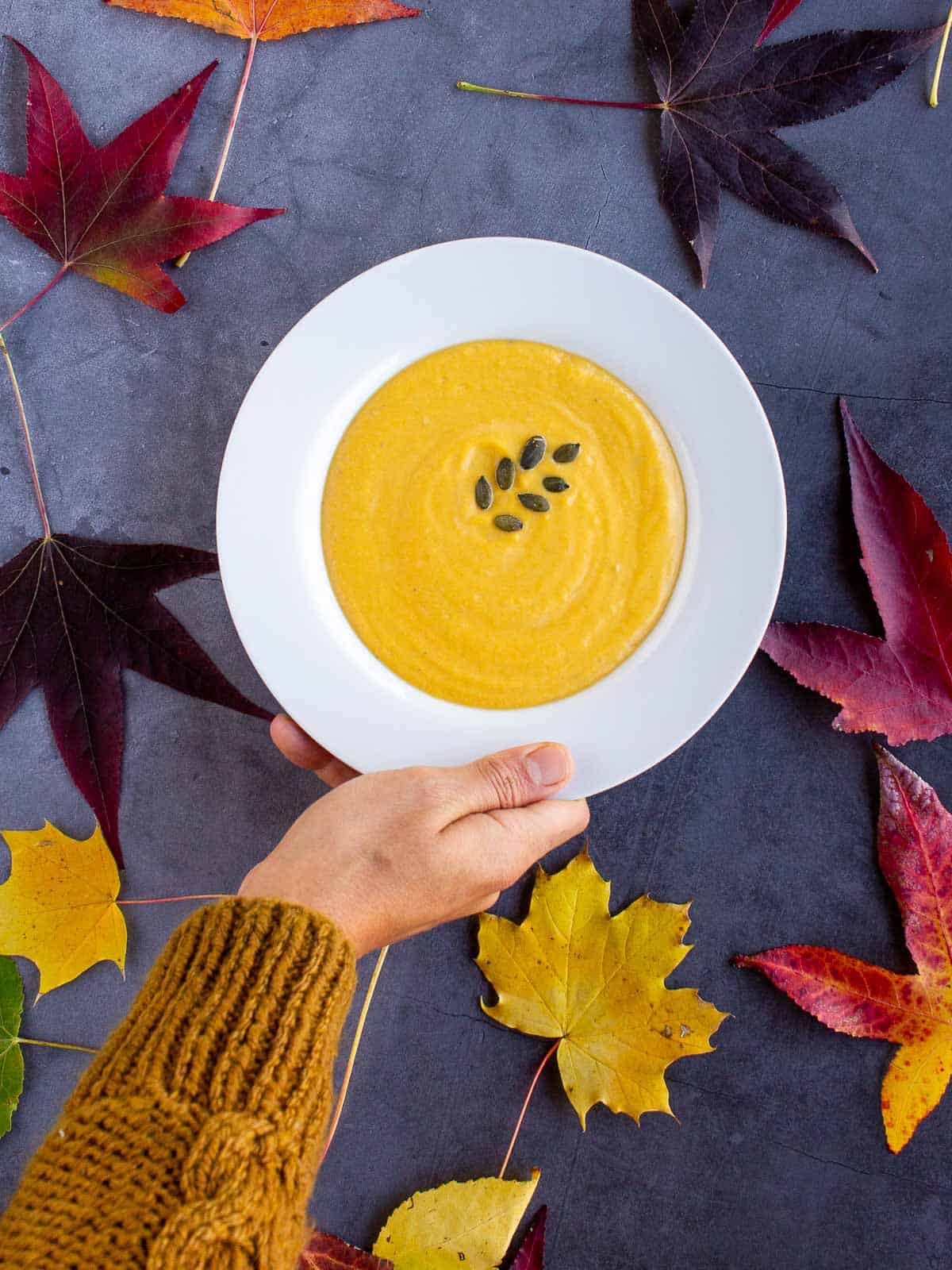 🔪 Instructions
Making pumpkin or butternut squash soup.
This thick pumpkin soup is also simple. You need to steam or boil the pumpkin and the onion. I usually don't recommend boiling the vegetables since you lose part of their nutritional properties (read more about preserving your vegetables' nutrients here). Still, you keep the water where the nutrients have gone after boiling when you make soups, so no problem here.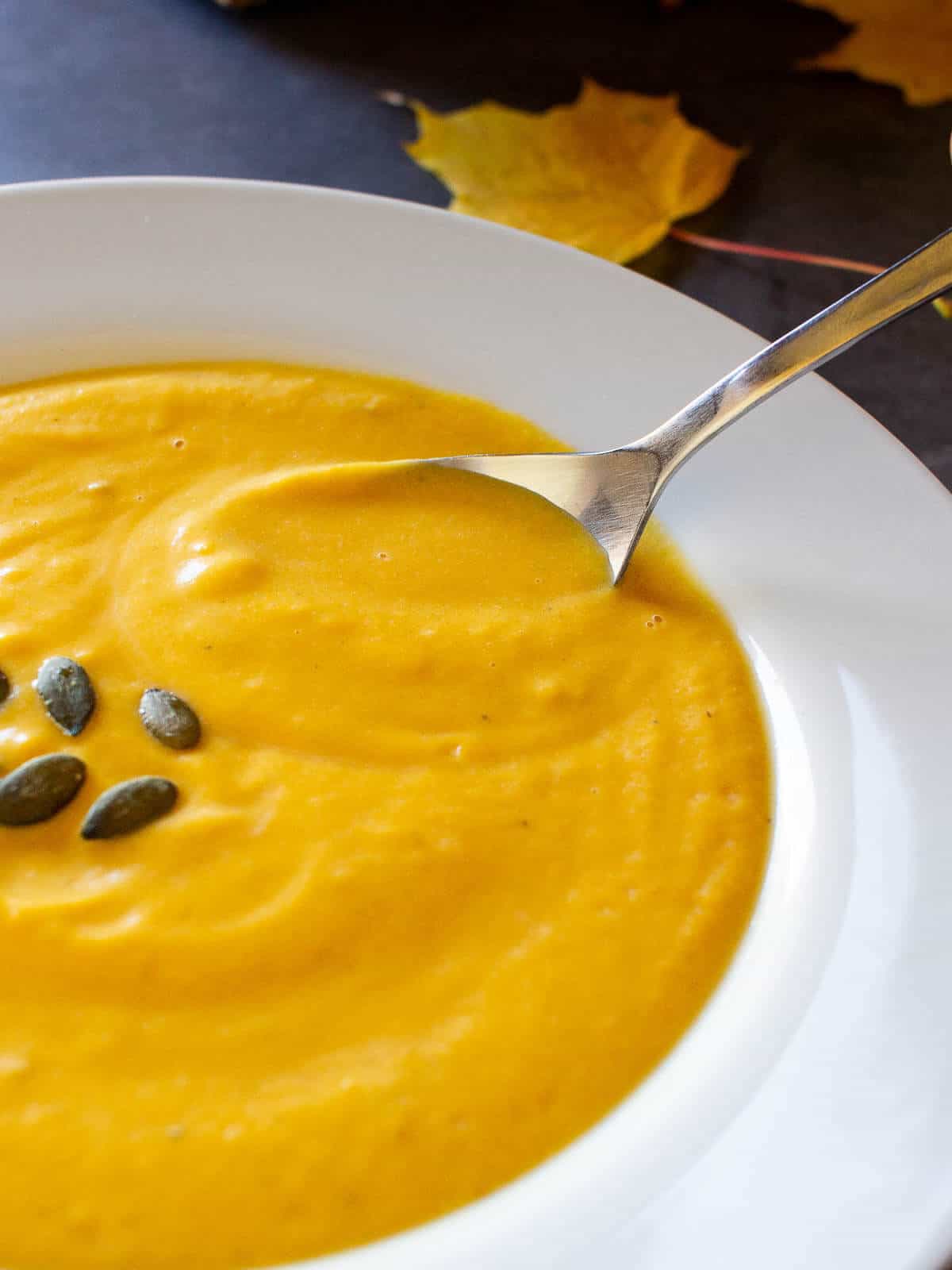 Blend. After you have your pumpkin boiled or steamed, you have to dump the rest of the pumpkin soup recipe ingredients in a blender or food processor that is simple! That's the principle of a basic pumpkin soup. You can follow the same technique to make an easy 4-ingredient potato soup.
If you are looking for a summery soup try out the Andalusian Gazpacho recipe or the Watermelon Rinds Gazpacho recipe, also on this site. Both are delicious and made in minutes!
❓ 5 Benefits of eating pumpkin and butternut Squash
For this recipe, both butternut squash and pumpkin work well.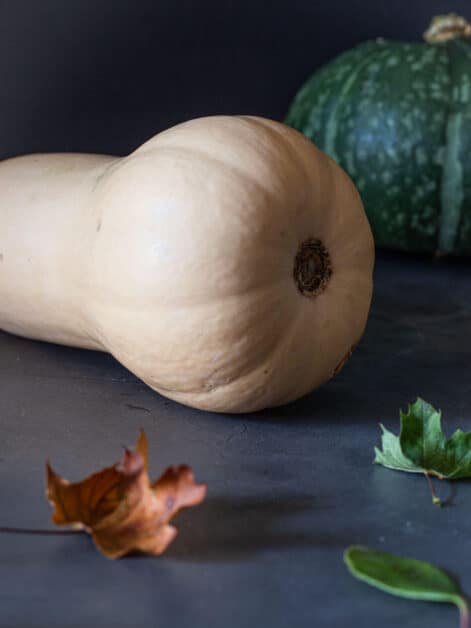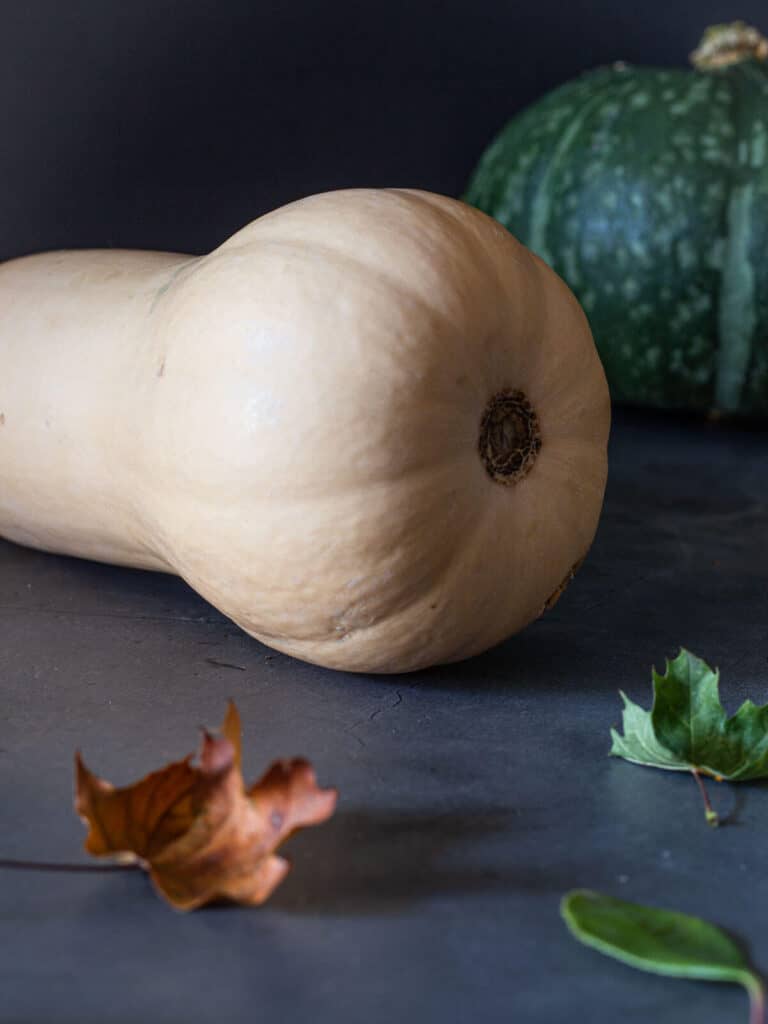 1. High in Beta Carotene
Your body changes this antioxidant to vitamin A. You need vitamin A to see, ward off germs, and for your reproductive system to work the way it should.
2. Soothe Skin
The antioxidant power of beta carotene in pumpkin works to combat the effects of aging on your skin. It also helps ease inflammation, which keeps your skin -and your body - calmer and happier.
3. Sharpen Your Sight
Vitamin A helps you have healthy eyes and see more clearly, especially in low-light conditions.
4. Keep your waistline
Pumpkins are high in fiber and low in calories. That means they make you feel full without adding to your overall food intake for the day. So if you're looking for a healthy way to fill up, nutrient-rich pumpkin is an excellent go-to choice.
5. Sleep Better
Pumpkin seeds help your body make serotonin. In addition to making you feel good, serotonin is also a key player in promoting good sleep.
📚 Best Ways to Eat Pumpkin
Experts say that the best way to get pumpkin's health benefits is to avoid the sugar and processing of baked goods or pumpkin flavor. Instead, always opt for more wholesome choices, like roasted pumpkin or butternut squash, pumpkin puree, pumpkin hummus, pumpkin pie, or pumpkin soup.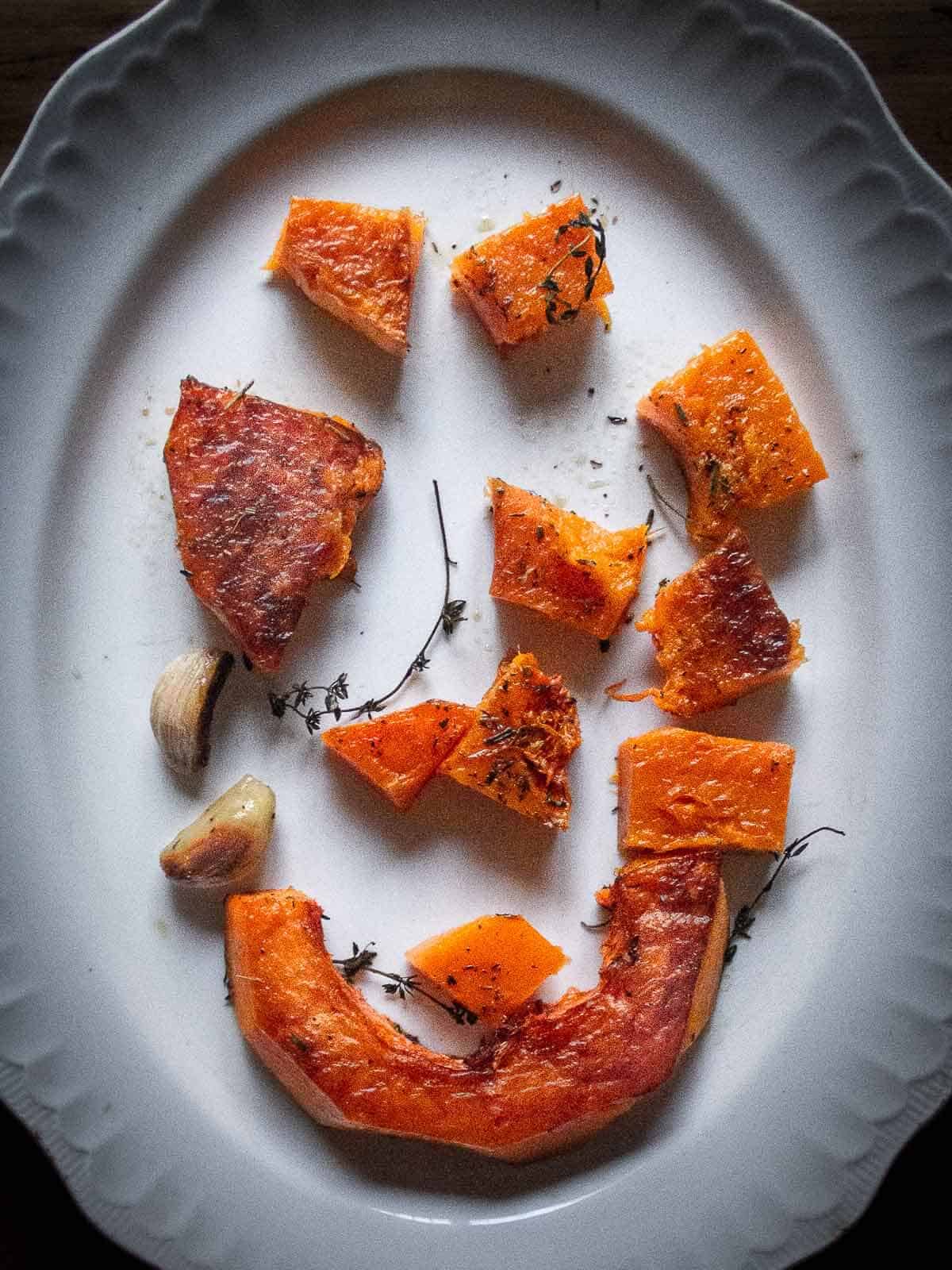 I can't tell you how delicious this soup is. Perfect for Autumn and Winter Seasons.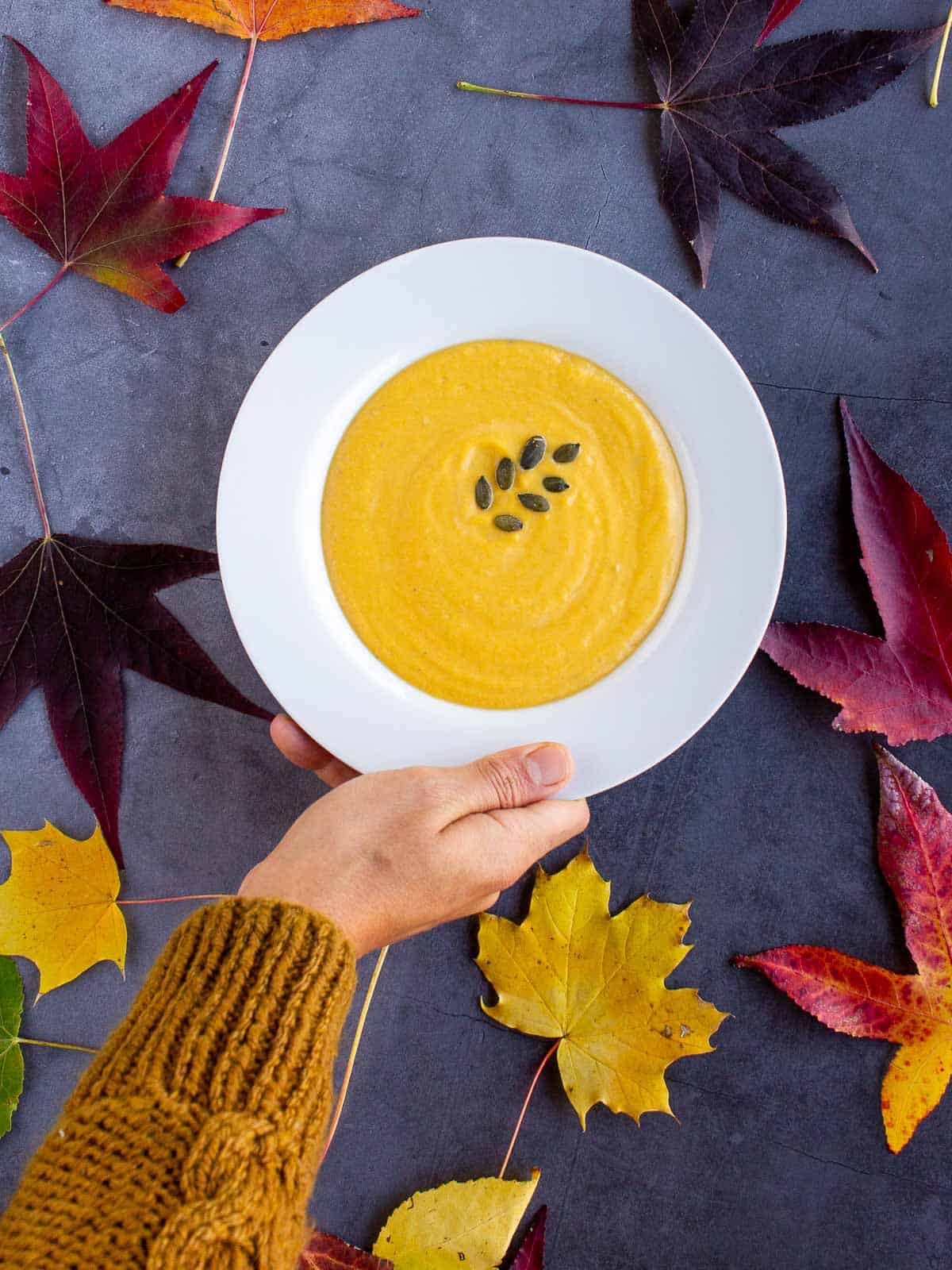 Note: These benefits are my shortened abstract from WebMD.
Want to know more about the benefits of pumpkin?
Here I bring you the best pumpkin soup; it is also a quick pumpkin soup.
Want more Hearty Soups Recipes? Check out our:
⭐ If you try this recipe, let us know! 💬 Leave a comment, rate it, and don't forget to tag us @ourplantbasedworld on Instagram. Cheers!
📋 Recipe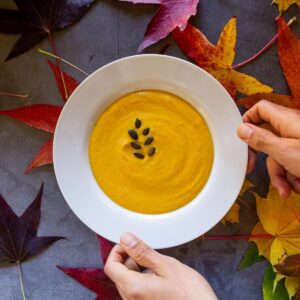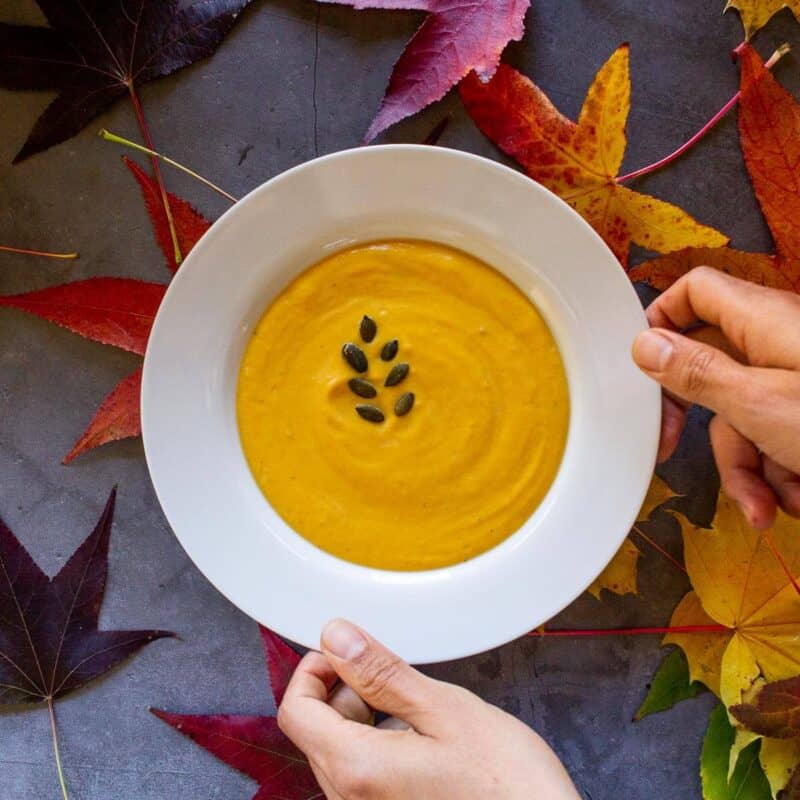 Vegan Pumpkin Tahini Soup
This creamy, easy, and hearty Vegan Pumpkin Tahini Soup is all you need to satisfy your need for something savory and creamy this autumn.
Equipment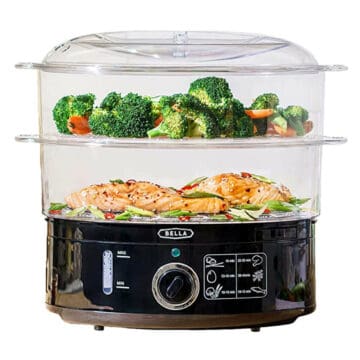 (affiliate link)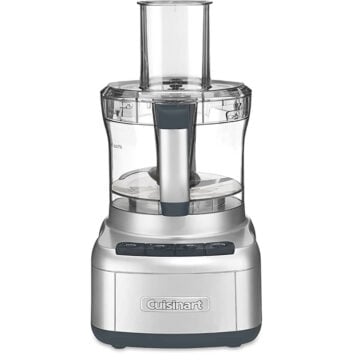 (affiliate link)
Directions
Peel the pumpkin and the onion cut them into big chunks.

Steam (or boil) them until tender. Shouldn't take more than 10 minutes.

Place all your ingredients in a blender, and mix until it looks smooth.

Adjust. Taste for texture and adjust with warm water or plant milk as needed.
Nutrition Facts
Calories:
171
kcal
Carbohydrates:
20
g
Protein:
9
g
Fat:
8
g
Saturated Fat:
1
g
Sodium:
710
mg
Potassium:
859
mg
Fiber:
5
g
Sugar:
6
g
Vitamin A:
14489
IU
Vitamin C:
18
mg
Calcium:
171
mg
Iron:
2
mg
Nutrition Facts
Vegan Pumpkin Tahini Soup
Amount per Serving
% Daily Value*
* Percent Daily Values are based on a 2000 calorie diet.
🌡️ Food safety
Cook to a minimum temperature of 165 °F (74 °C)
Do not use the same utensils on cooked food that previously touched raw meat
Wash hands after touching raw meat
Don't leave food sitting out at room temperature for extended periods
Never leave cooking food unattended
Use oils with high smoking points to avoid harmful compounds
Always have good ventilation when using a gas stove
See more guidelines at USDA.gov.
The information shown is an estimate provided by an online nutrition calculator. It should not be considered a substitute for a professional nutritionist's advice. See our full Nutritional Disclosure here.
Please note that some of the links here are affiliate links, and I will earn a commission if you purchase through those links. I recommend all of the products listed because they are companies I have found helpful and trustworthy.