Have you ever had Fasolada? It's a Greek white bean soup that is absolutely delicious! This hearty soup is perfect for a cold winter day. It's easy to make and full of flavor. Plus, it's loaded with fiber and protein, making it a healthy meal choice. If you've never tried a Fasolada recipe before, I highly recommend it. You won't be disappointed!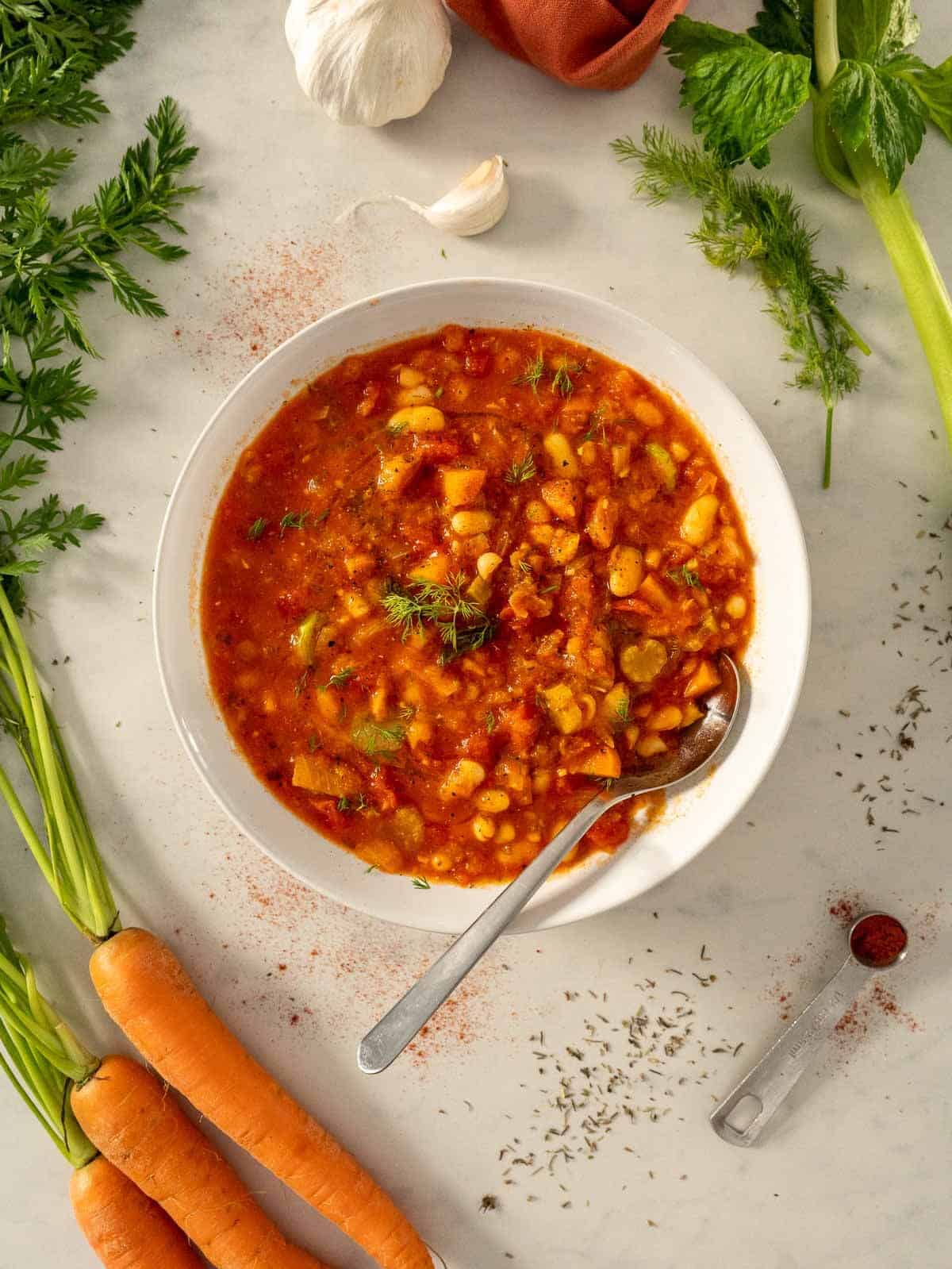 White bean soup recipes are popular during the fall and winter seasons because they are hearty, packed with protein, and low in calories. We love that they are filling, creamy, and easy to make.
Soups are also a great way to make kids eat beans.
We love our Mediterranean recipes, and we are always up for nourishing soup; they straightforwardly rely on good quality ingredients like the Tuscan vegetable white bean soup on this site and pair well with crusty bread like a rustic bread loaf chunk and a fresh Greek Salad.
Jump to:
🧾 Ingredients details
Although "Traditional Greek bean soup" might sound like oh! I need to get unique ingredients; that's not the case with this vegan white bean soup. You will likely get all the ingredients you need at your nearest supermarket.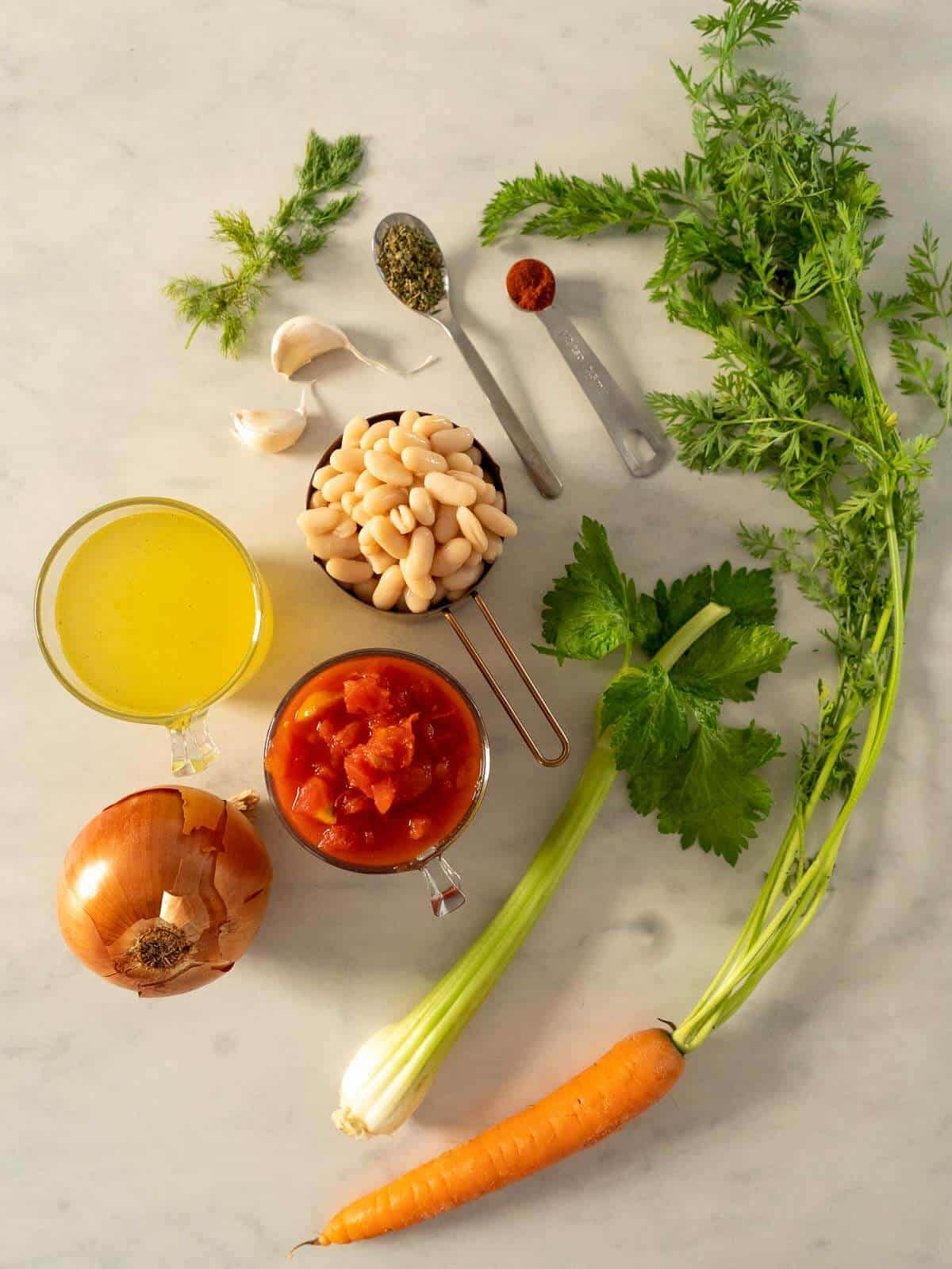 White beans - you can use canned beans (look for cannellini beans), or you may simply cook a batch of dried beans, unseasoned like we regularly do, with all types of beans, including chickpeas. You can then store them in the freezer in portions. This way, you can make various meals with a single pack of dried white beans.
Celery - I think this vegetable is so underrated when cooking. Still, the truth is that it is key for so many beloved ingredients, like bolognese, cornbread stuffing, and vegan tuna salad, just to name a few. Use a fresh and crispy stalk.
Carrot - the sweetness and soft textures on this vegan white bean soup come from this fantastic root veggie. Don't worry if they have been for some time in your fridge; they'll work.
Onion - white or yellow onions. I like to cut them finely and leave some medium-sized chunks to give the fasolada soup some extra texture.
Tomato - fresh is always better, but remember that you need extra ripe tomatoes for this soup; otherwise, use good quality organic canned tomatoes, whole or in chunks, and they will work.
Vegetable broth - I love making my own with leftover onion, carrots, celery tops, and anything I can find on my fridge before it gets to my compost. Still, you can use a good quality organic vegetable cube.
Oregano - dried oregano works well, and fresh is even better.
Garlic - use fresh garlic; dried ground garlic is the last resource, but it doesn't let me keep it from making your fantastic Greek soup. The second time, go for fresh.
Fresh dill - I wouldn't use dried dill on this one. I think this fantastic herb is the star of the show here. If you have ever tried flaky spanakopita pie, this is the flavor that you most likely remember. If you don't like dill, just skip it.
Smoked paprika - adds depth to this soup. You can use hot paprika for a spicy variant!
Optional: lemon juice to serve
🔪 Instructions
Wash your veggies thoroughly.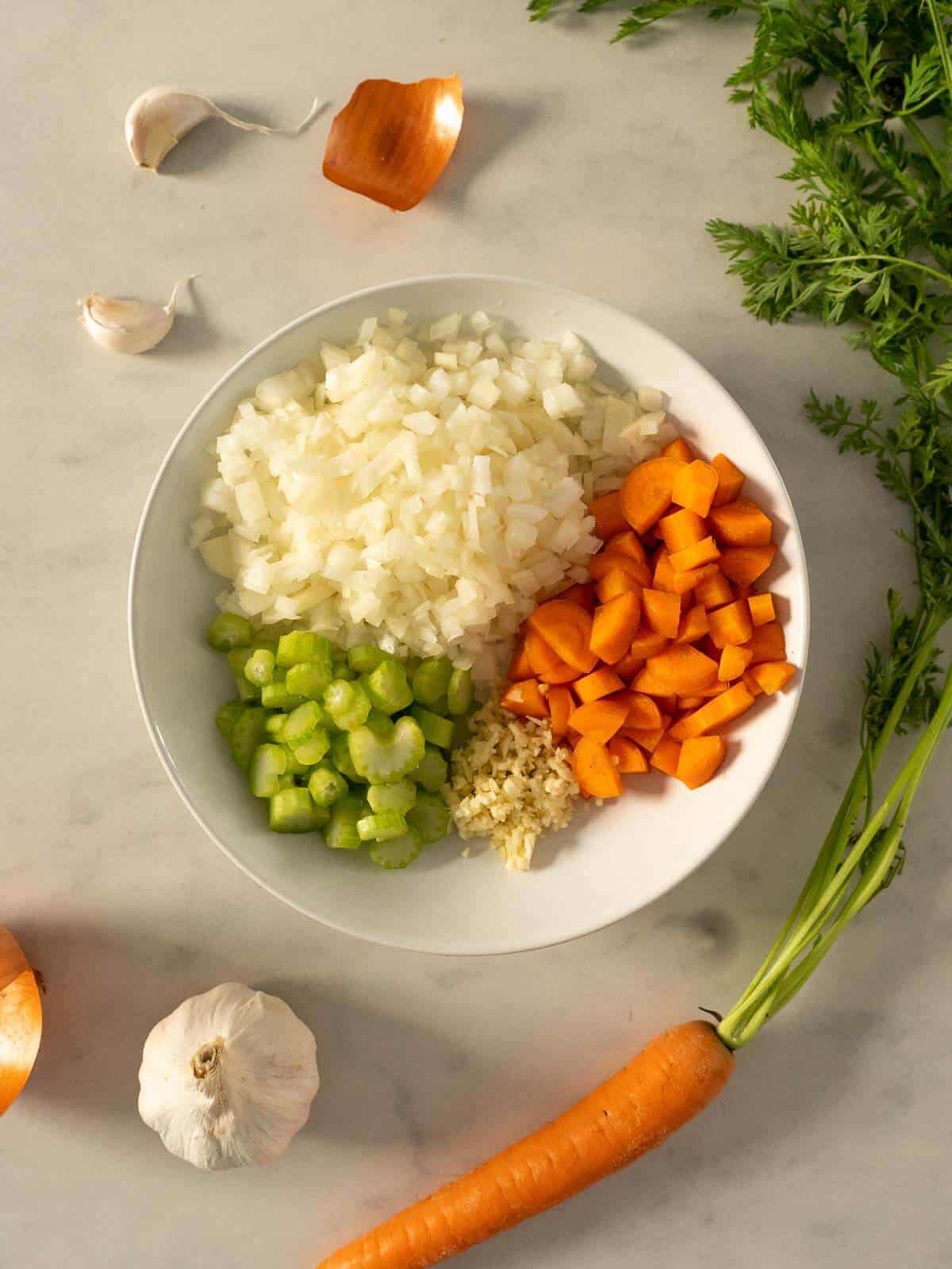 Chop all the vegetables into small and medium-sized dice.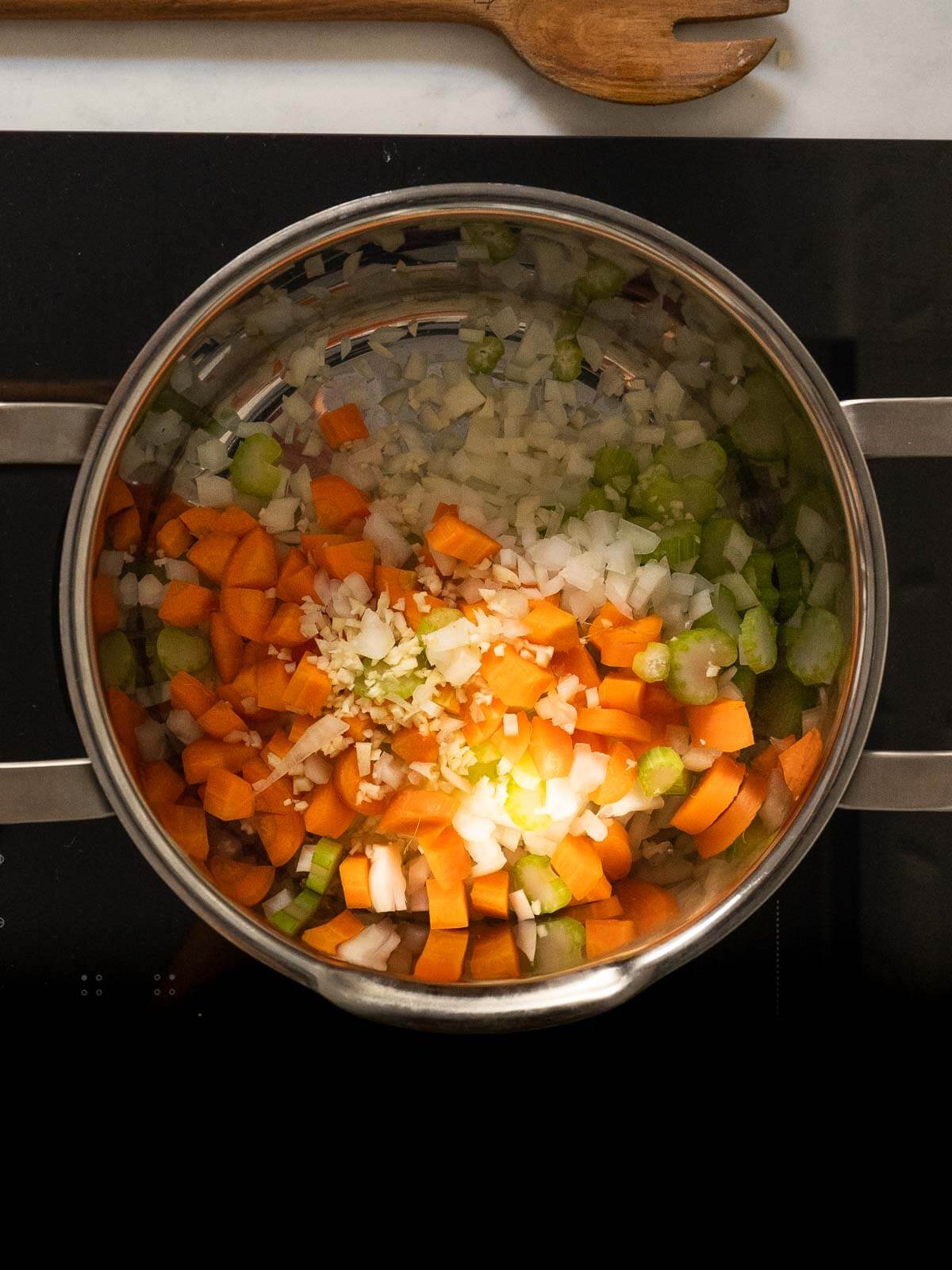 Stir fry the chopped onion with the rest of the vegetable dice.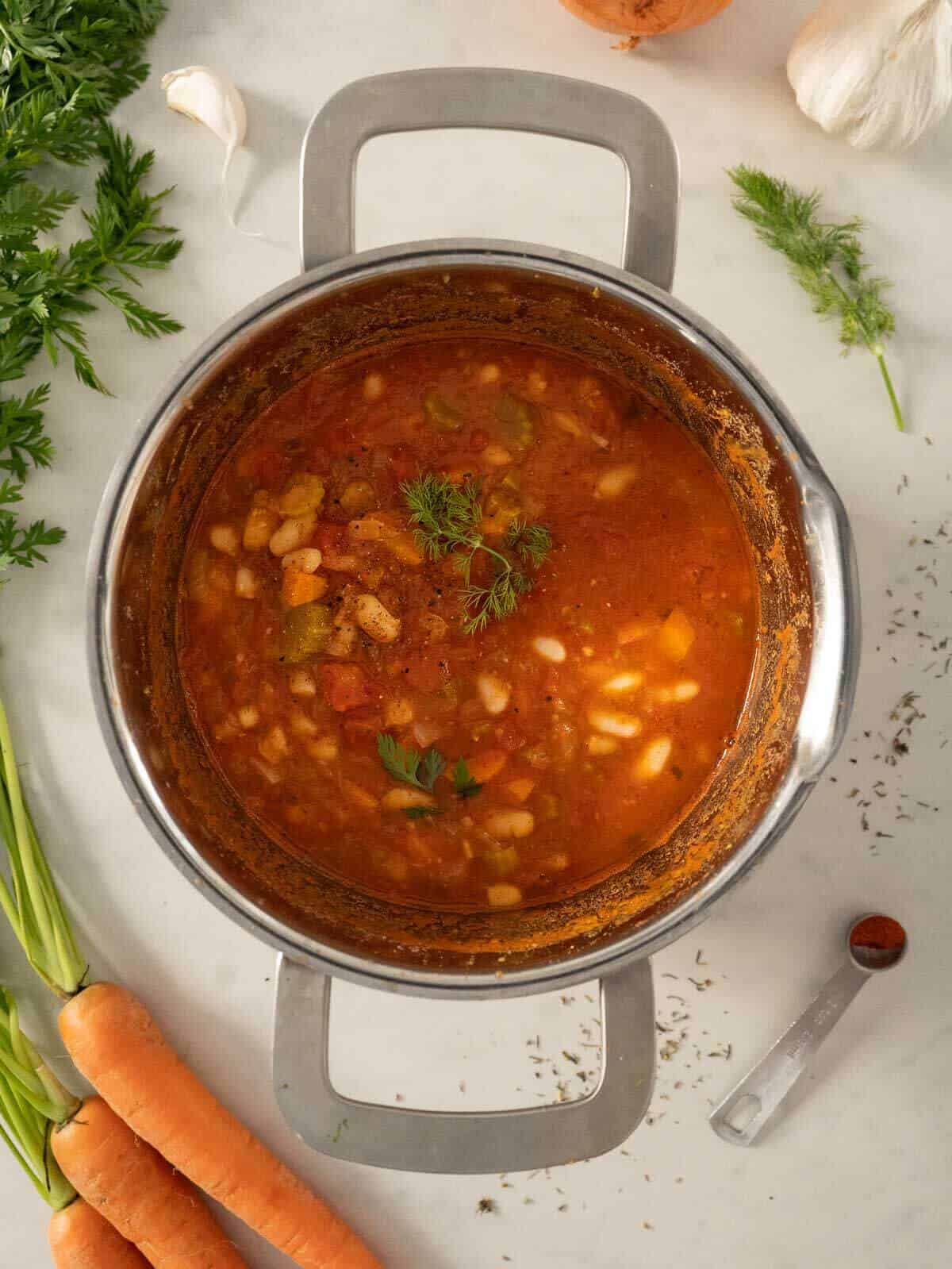 Toss the tomato paste if using, and stir for one minute, then add the tomato dice and herbs. Cook on medium-high heat until it starts to thicken.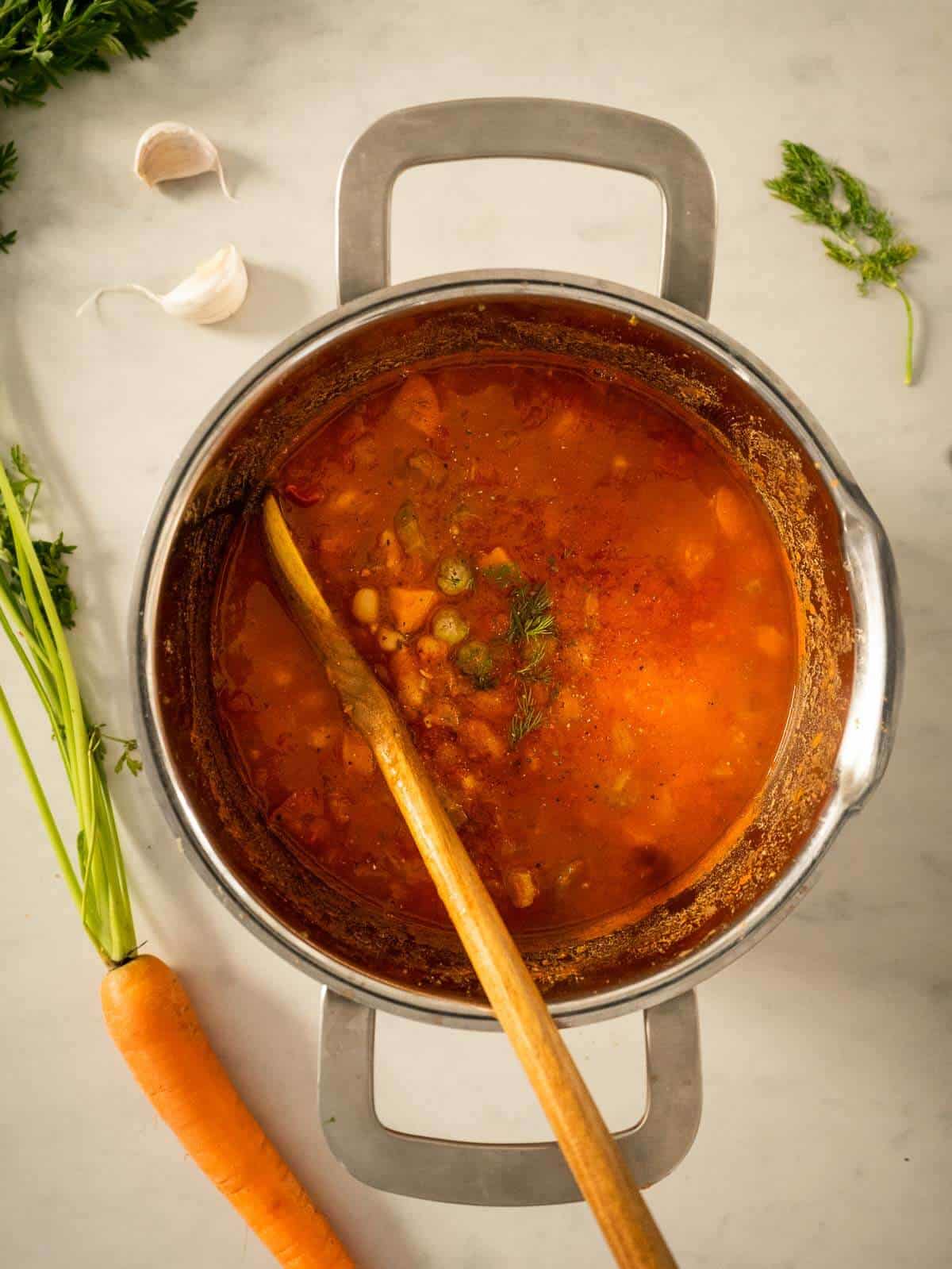 Bring to a low boil and simmer for 15-20 minutes, stirring occasionally.
Garnish with freshly ground pepper, lemon juice (or lemon zest), and a swirl of extra virgin olive oil. You can also add some fresh parsley and lemons zest on top.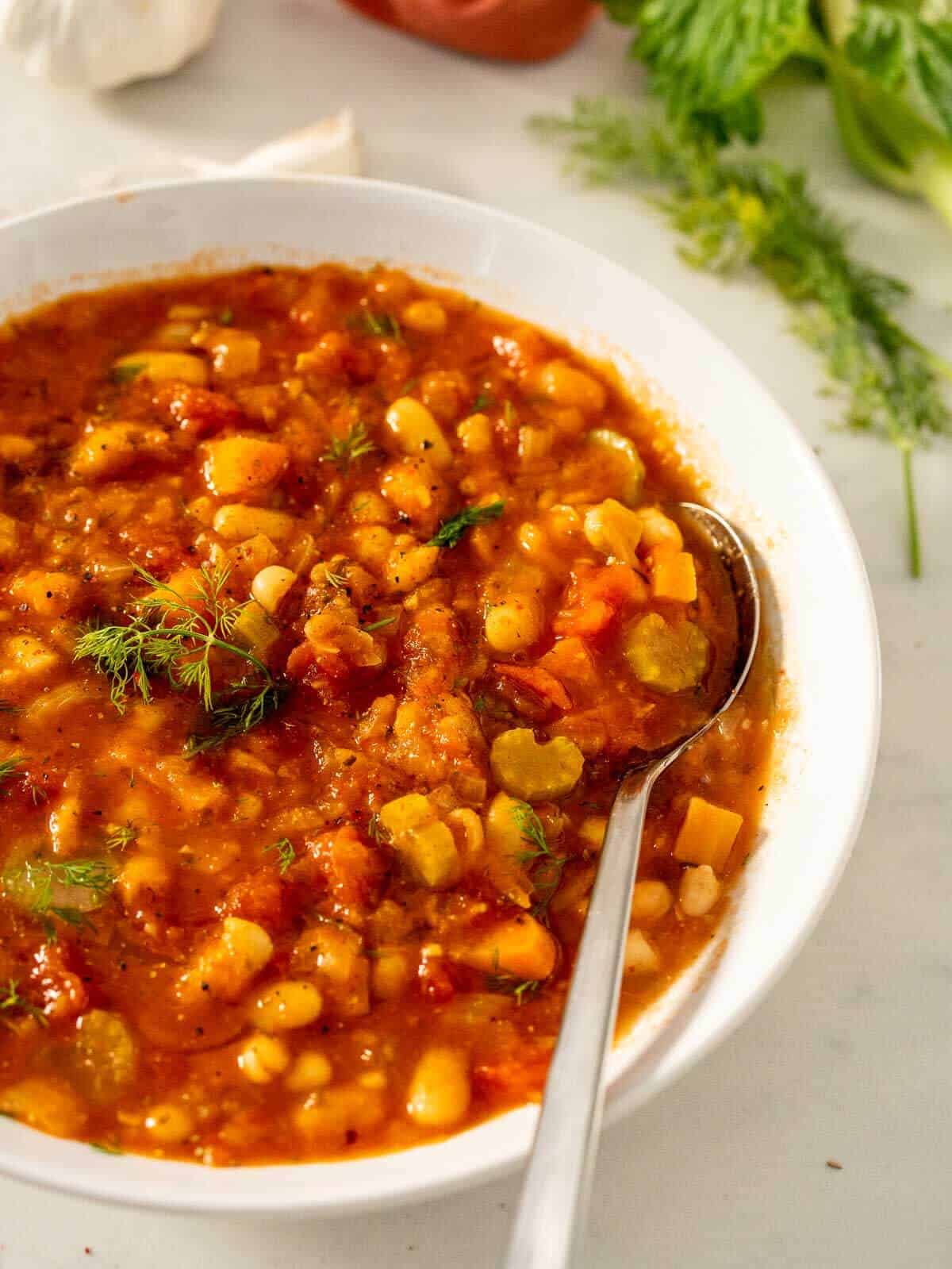 🍶 Substitutions
White beans - instead of the regular cannelini beans, you could use navy beans or great northern beans.
Herbs - fresh is always best but feel free to use dried herbs.
📖 Variations
Spicy - add cayenne pepper or red chili flakes.
Heartier - add more extra virgin olive oil.
🍽 Equipment
You only need a medium to large saucepan if you have a dutch oven, which is even better.
🥡 Storage
Store in the fridge for up to three days and in the freezer for up to three months.
Always store leftovers in an airtight container.
💡 Top tip
To make this vegan bean soup memorable, use fresh herbs, especially dill.
If you use dry beans instead of canned beans, let them soak overnight and cook them before in boiling water before making the traditional Greek bean soup.
❓ FAQ
How do you thicken white bean soup?
If you want the bean soup fasolada or any other bean soup to be thicker, you can blend a portion of the beans with an immersion blender and add it directly into the boiling components.
What are the origins of Fasolada?
The origins of Fasolada are not entirely clear, but it is thought to have originated in the Ionian Islands of Greece. It is one of the most popular dishes in Greece and is commonly served as a main course or side dish.
📚 More soup recipes
Try our carrot and ginger soup, curried spicy lentil sprout soup, or butternut squash soup recipes; they are perfect for a cozy fall-season dinner.
Try our pea pottage for a protein-packed and easy-to-make soup; it is hearty and filling.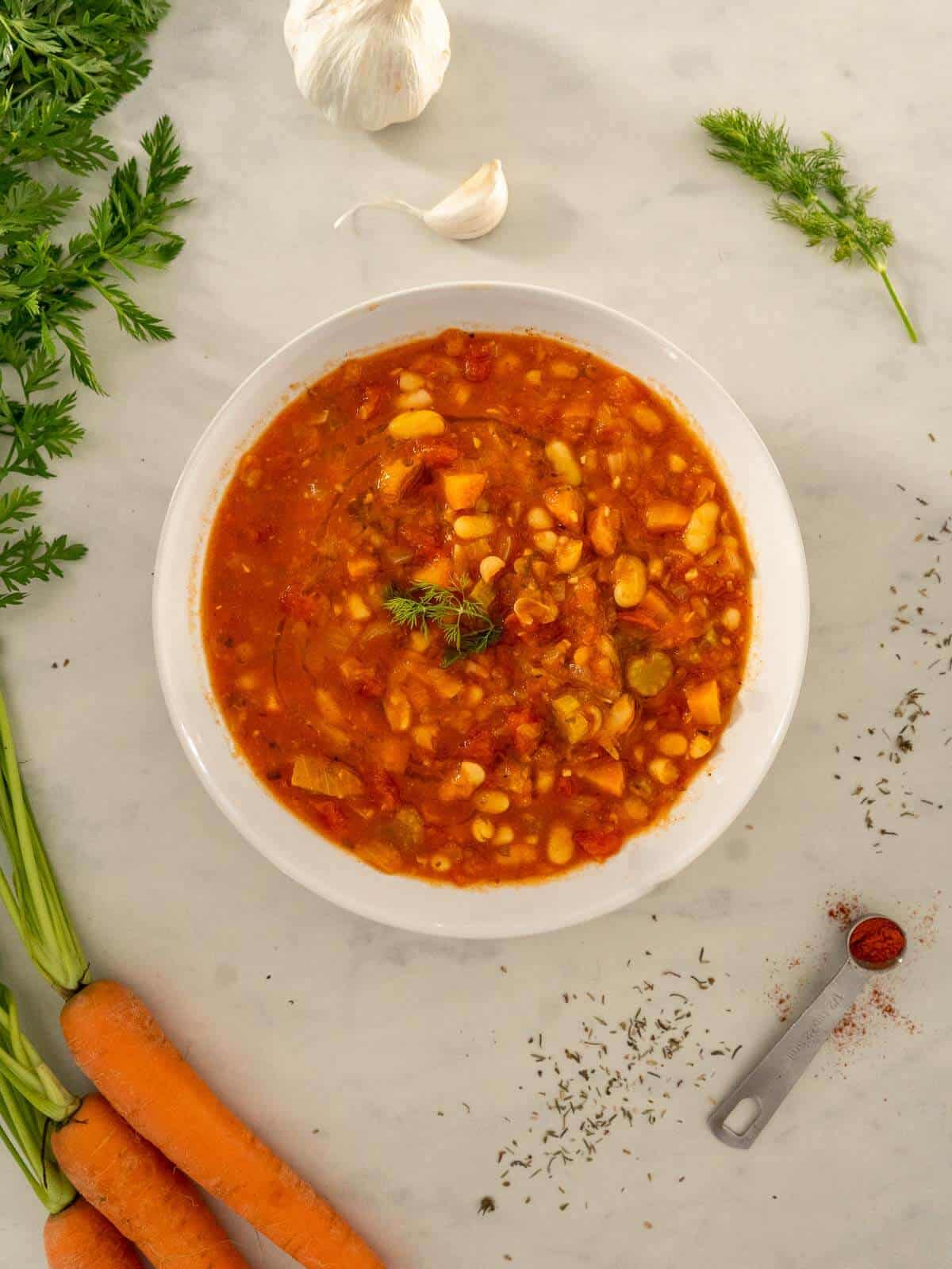 ⭐ If you try White Bean Soup Vegan Recipe, let us know! 💬 Leave a comment, rate it, and don't forget to tag us @ourplantbasedworld on Instagram. Cheers!
📋 Recipe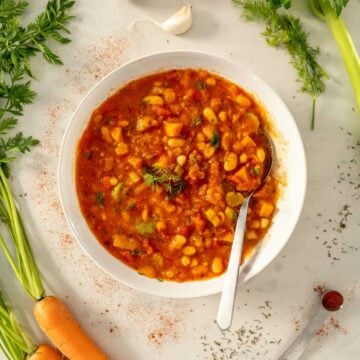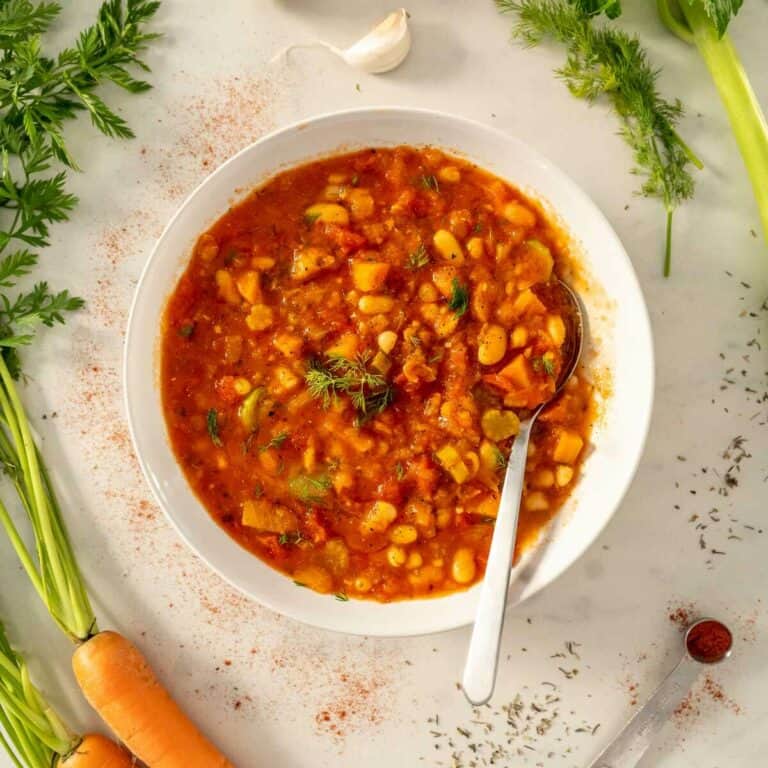 Fasolada Recipe, Greek Bean Soup (Vegan, Creamy, Quick + Gluten-Free)
Fasolada is a traditional Greek soup made with beans and rice. The perfect dish to get you ready for the cold winter months! A simple, light yet hearty soup that will please everyone at your table!
Equipment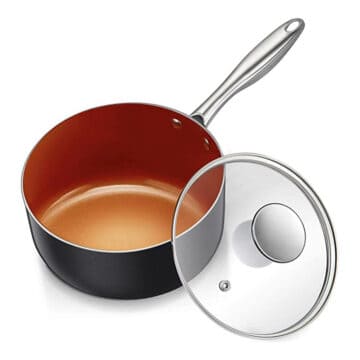 (affiliate link)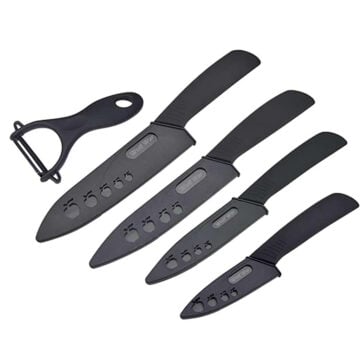 (affiliate link)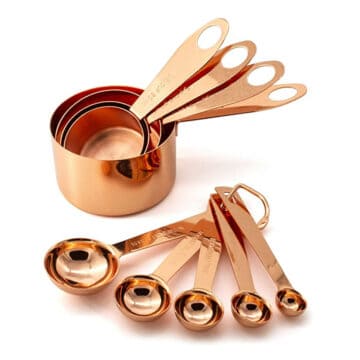 (affiliate link)
Directions
Sautée onion, celery, carrot, and garlic for 2-3 minutes, in a medium saucepan, on medium-high heat, until the onion looks translucent, stirring frequently.

Toss the tomato paste if using, and stir for one minute.

Add diced tomatoes, canned beans, and vegetable broth.

Stir in herbs and spices. Starting with the dried oregano, chopped dill, and smoked paprika. Stir well. Bring to a low boil, then simmer with a lid on low to medium heat for 15-20 minutes, until carrots and celery are soft.

Optionally add one tablespoon of olive oil and whisk into soup.

Serve in a bowl and garnish. Serve with a lemon wedge to squeeze over the soup if you'd like to add some tangy notes.
Nutrition Facts
Calories:
165
kcal
Carbohydrates:
33
g
Protein:
9
g
Fat:
1
g
Saturated Fat:
0.1
g
Polyunsaturated Fat:
0.2
g
Monounsaturated Fat:
0.1
g
Sodium:
427
mg
Potassium:
817
mg
Fiber:
7
g
Sugar:
6
g
Vitamin A:
2986
IU
Vitamin C:
14
mg
Calcium:
129
mg
Iron:
5
mg
Nutrition Facts
Fasolada Recipe, Greek Bean Soup (Vegan, Creamy, Quick + Gluten-Free)
Amount per Serving
% Daily Value*
* Percent Daily Values are based on a 2000 calorie diet.
🌡️ Food safety
Cook to a minimum temperature of 165 °F (74 °C)
Do not use the same utensils on cooked food, that previously touched raw meat
Wash hands after touching raw meat
Don't leave food sitting out at room temperature for extended periods
Never leave cooking food unattended
Use oils with a high smoking point to avoid harmful compounds
Always have good ventilation when using a gas stove
See more guidelines at USDA.gov.
Nutritional Disclaimer
The information shown is an estimate provided by an online nutrition calculator. It should not be considered a substitute for a professional nutritionist's advice. See our full Nutritional Disclosure here.
Affiliate Disclaimer
Please note that some of the links here are affiliate links, and I will earn a commission if you purchase through those links. I recommend all of the products listed because they are companies I have found helpful and trustworthy.