Sometimes you just need a delicious, simple soup to make, and this 4-ingredient potato soup definitely fits the bill. It's gluten-free and ridiculously easy to put together. You need potatoes, vegetable broth, onion, and dairy-free milk, which tastes just like an old-fashioned potato soup. That's it! I like to serve mine with any veggies I have around on top of some freshly chopped chives. Enjoy!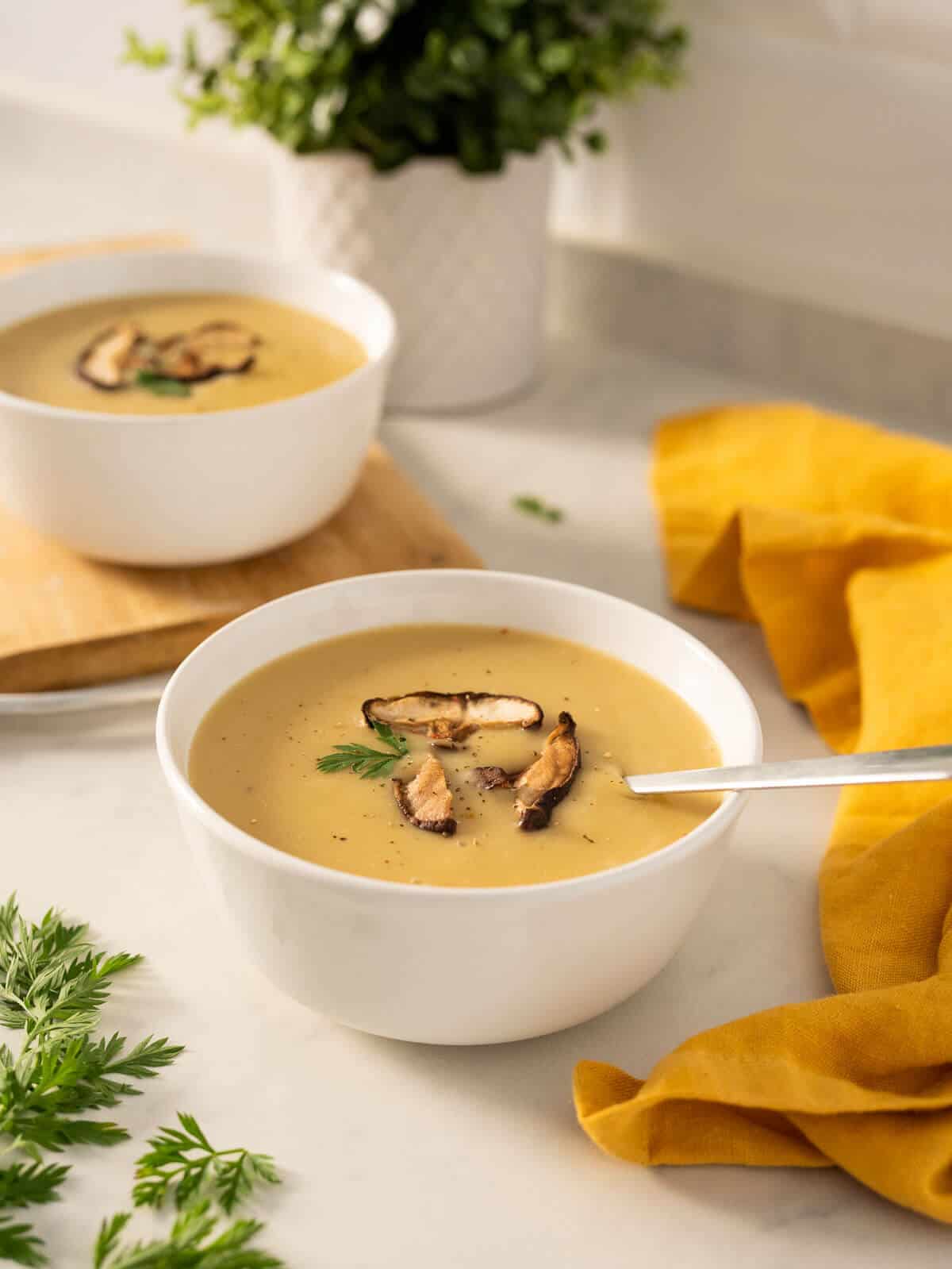 This is the perfect cozy, easy potato soup recipe for the Fall season and or cold winter nights. Just the perfect and best potato soup recipe here!
This was inspired by my creamy pumpkin tahini soup on this site and pairs well with delicious homemade bread and sautéed mushrooms.
Jump to:
🥔 Ingredients
Yep! this gluten-free potato soup is put together with only four ingredients, and it is made in one pot! Crazy uh?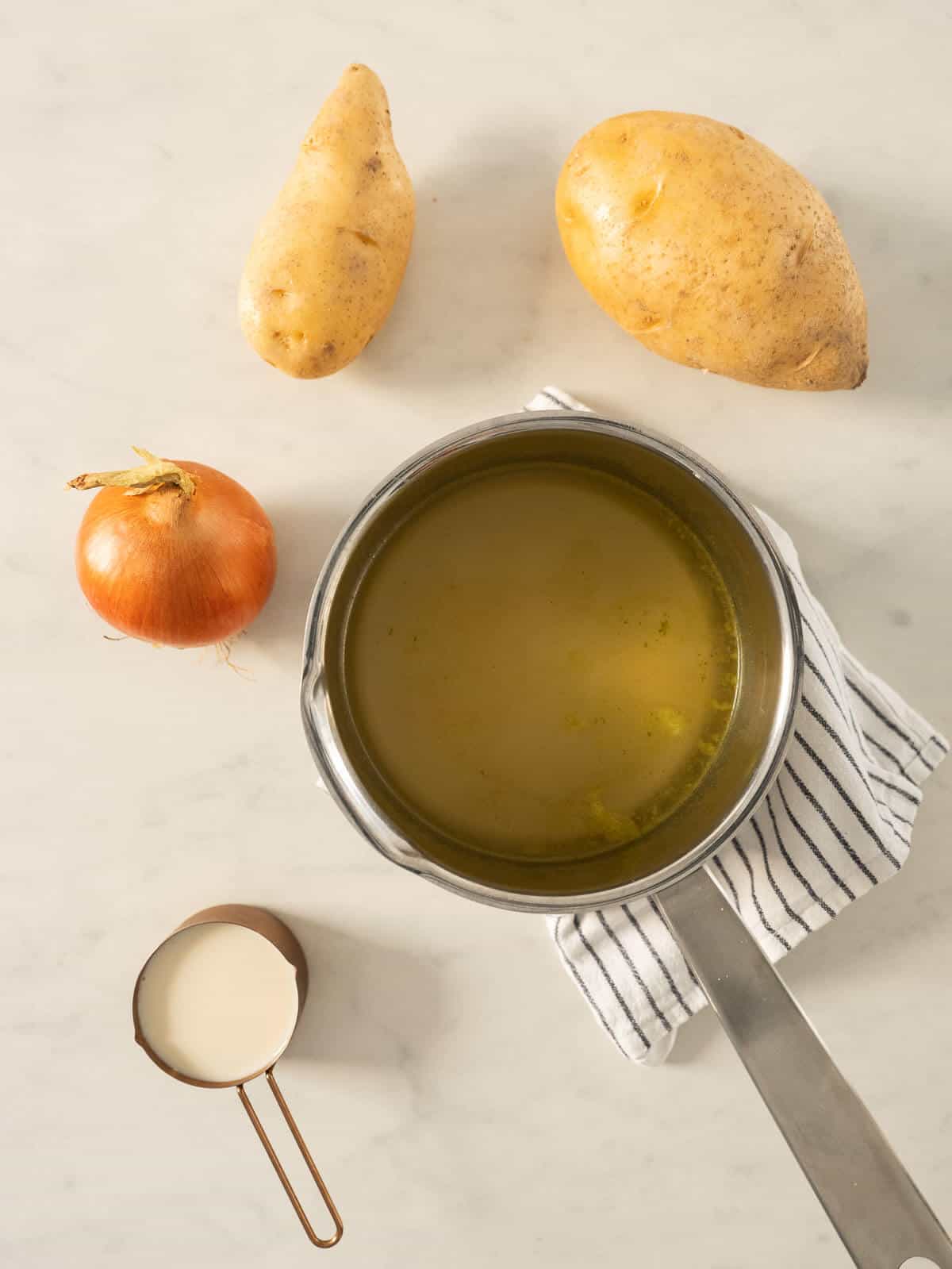 Potatoes
Onion
Vegetable broth
Dairy-free milk
See the recipe card for quantities.
🔪 Instructions
Making potato soup is easy-peasy. Just chop the ingredients and cook everything in one saucepan.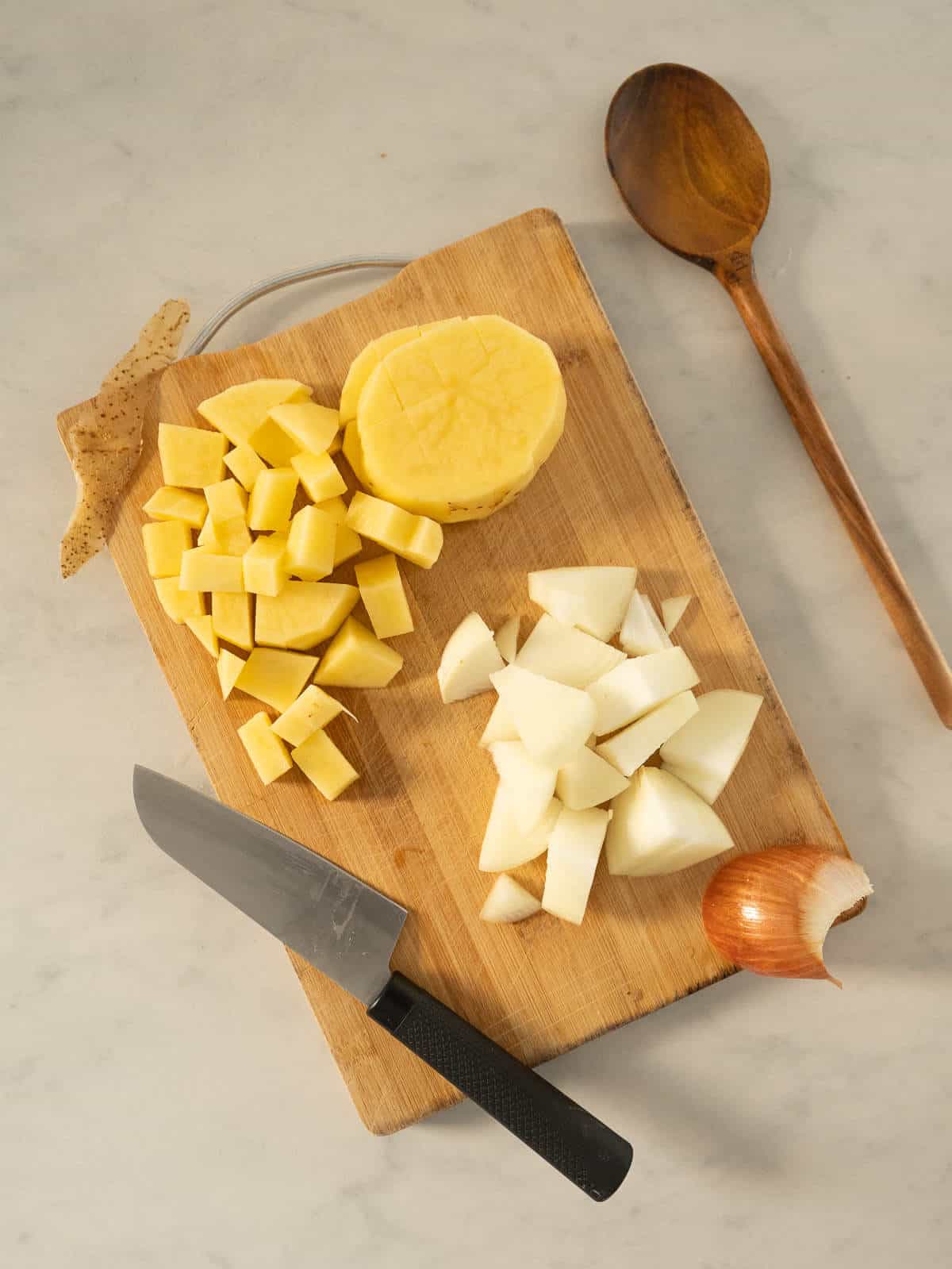 Coarsely chop the onion and dice the potatoes into cubes.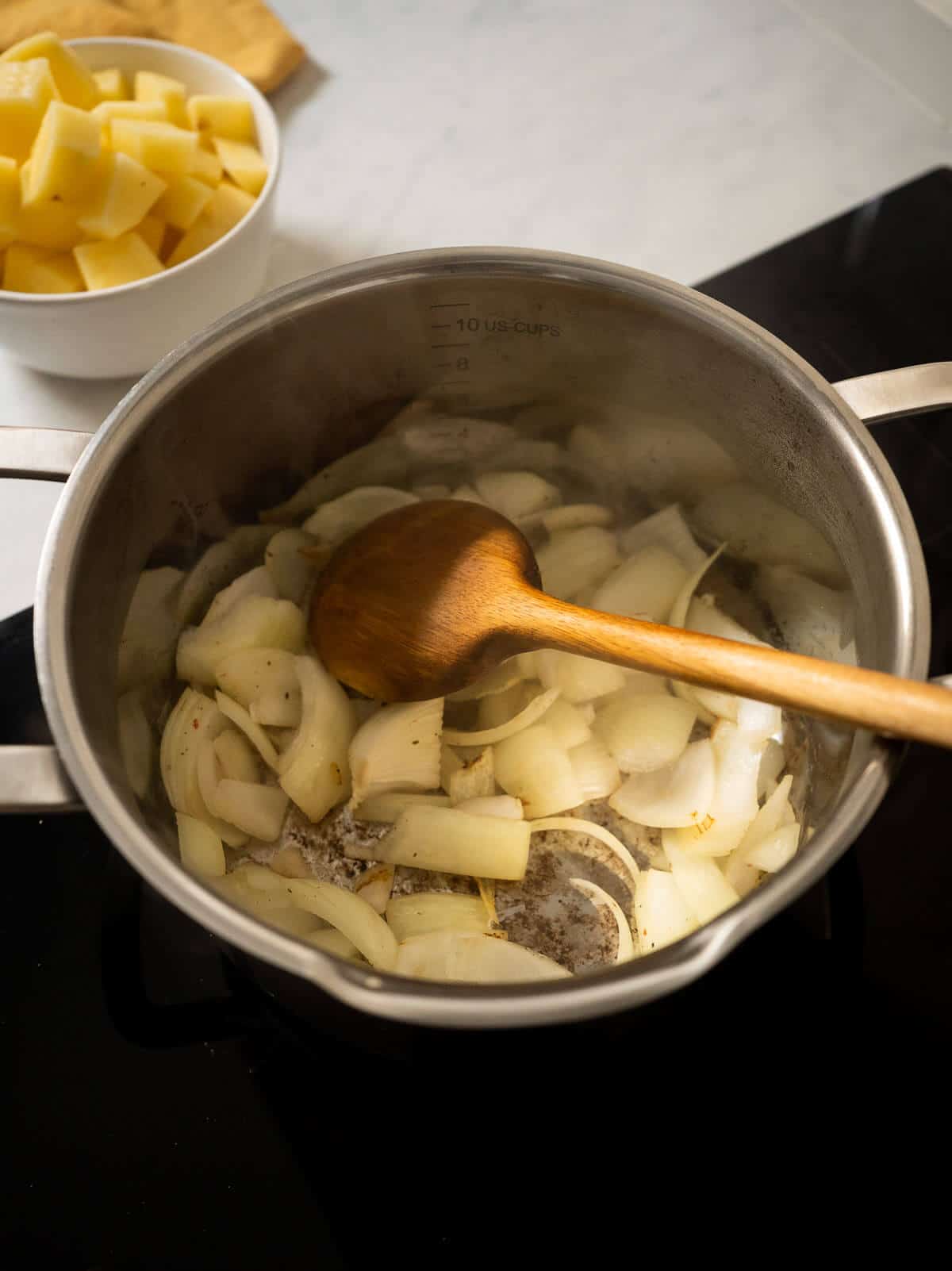 Sauté the onions for 2-3 minutes until cooked.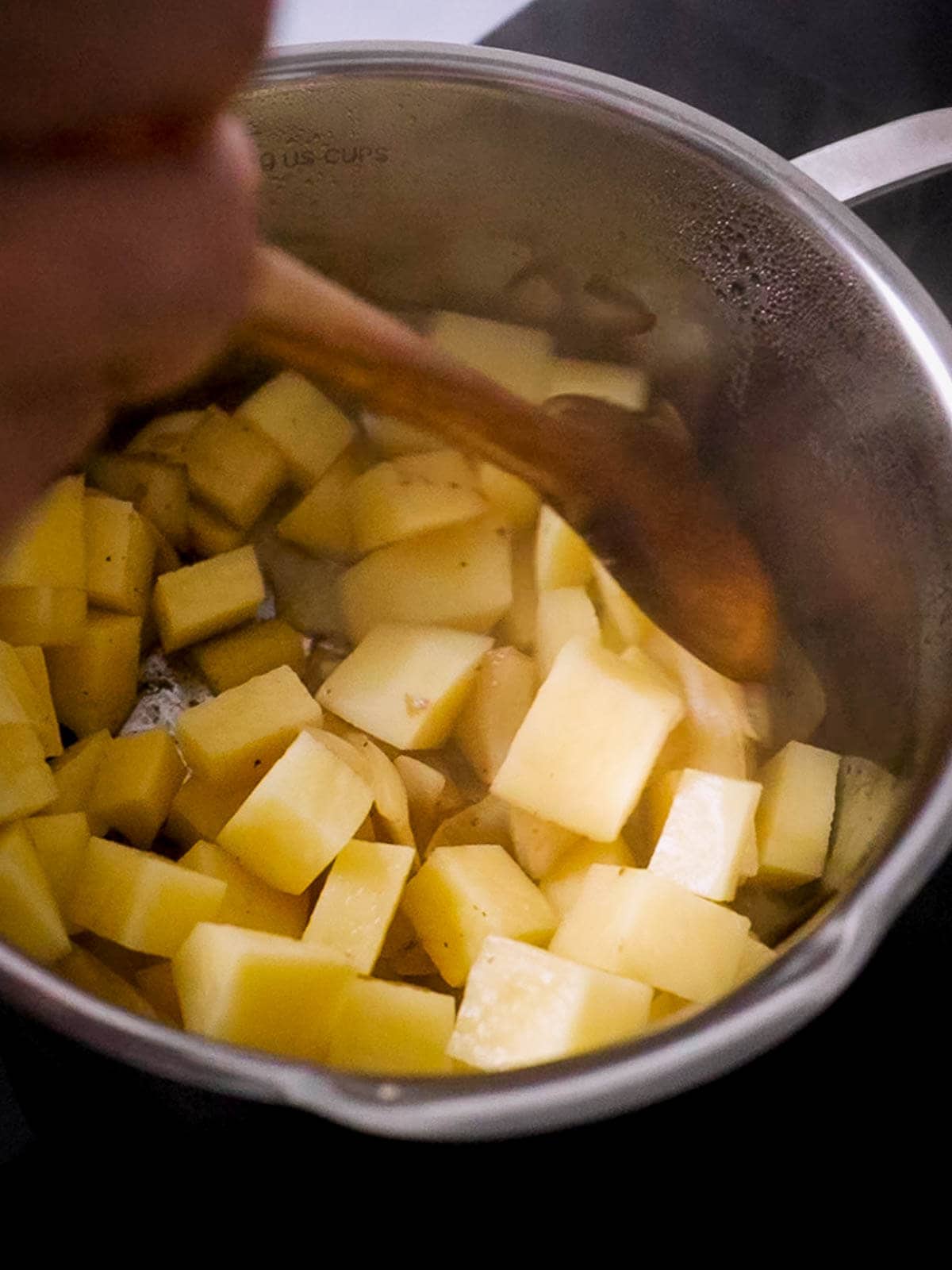 Add diced potatoes and stir.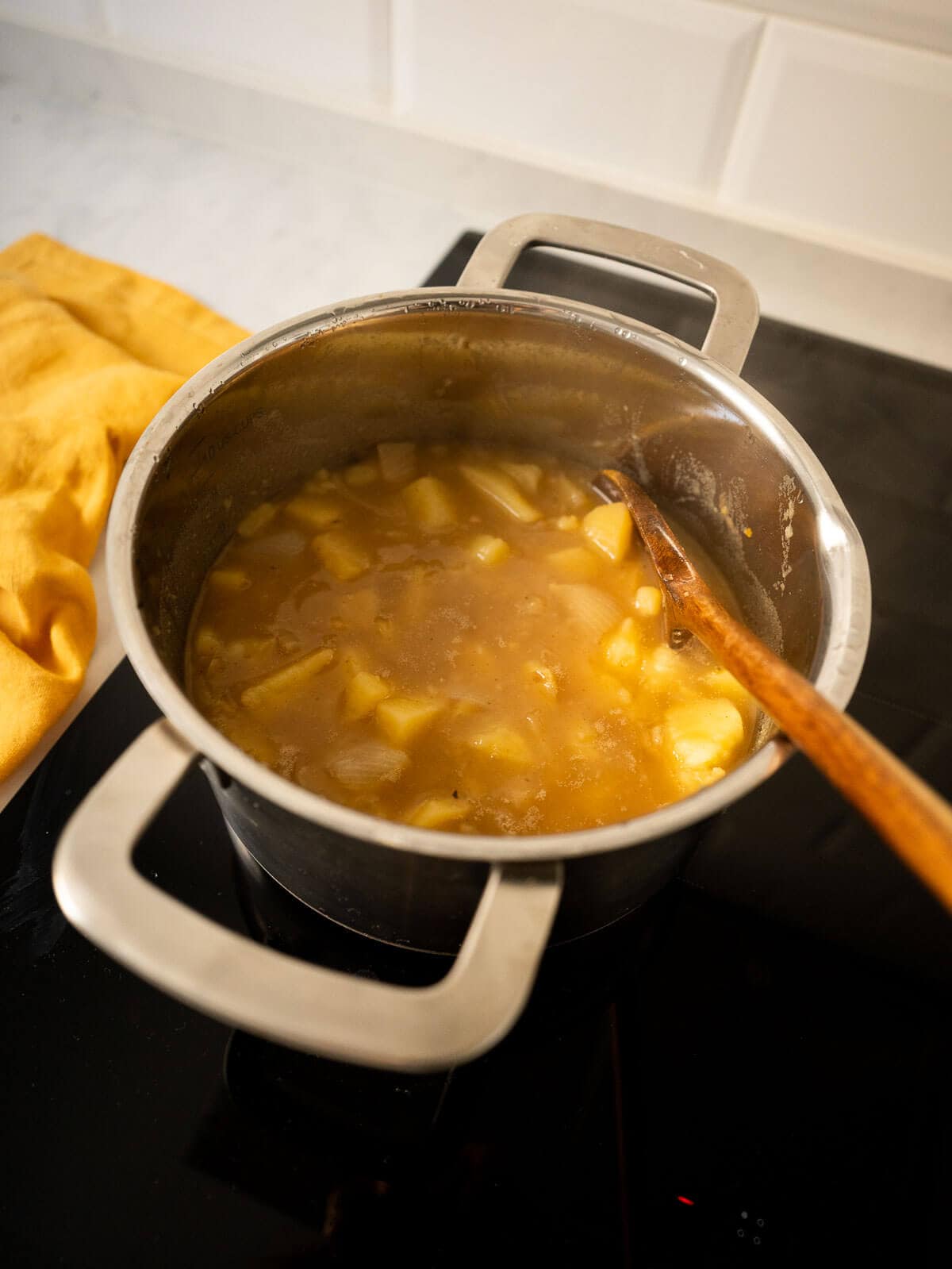 Cover the potatoes and onions with vegetable stock, and let simmer for 15 minutes, stirring occasionally.
Hint: dicing the potatoes into similar-sized cubes will allow cooking evenly. Also, the smaller the dice, the quicker this delicious soup will be made.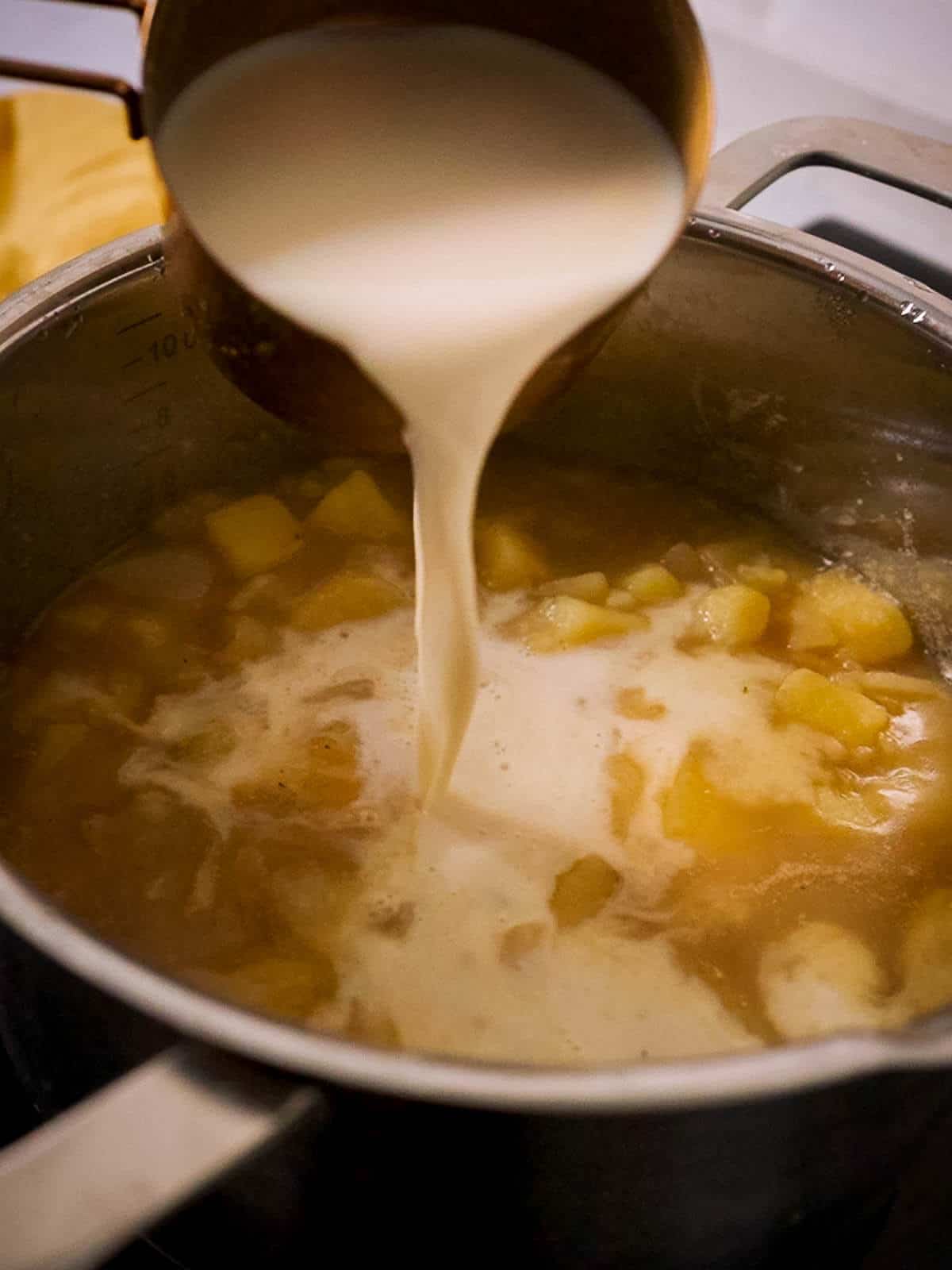 Remove from heat, and add dairy-free milk.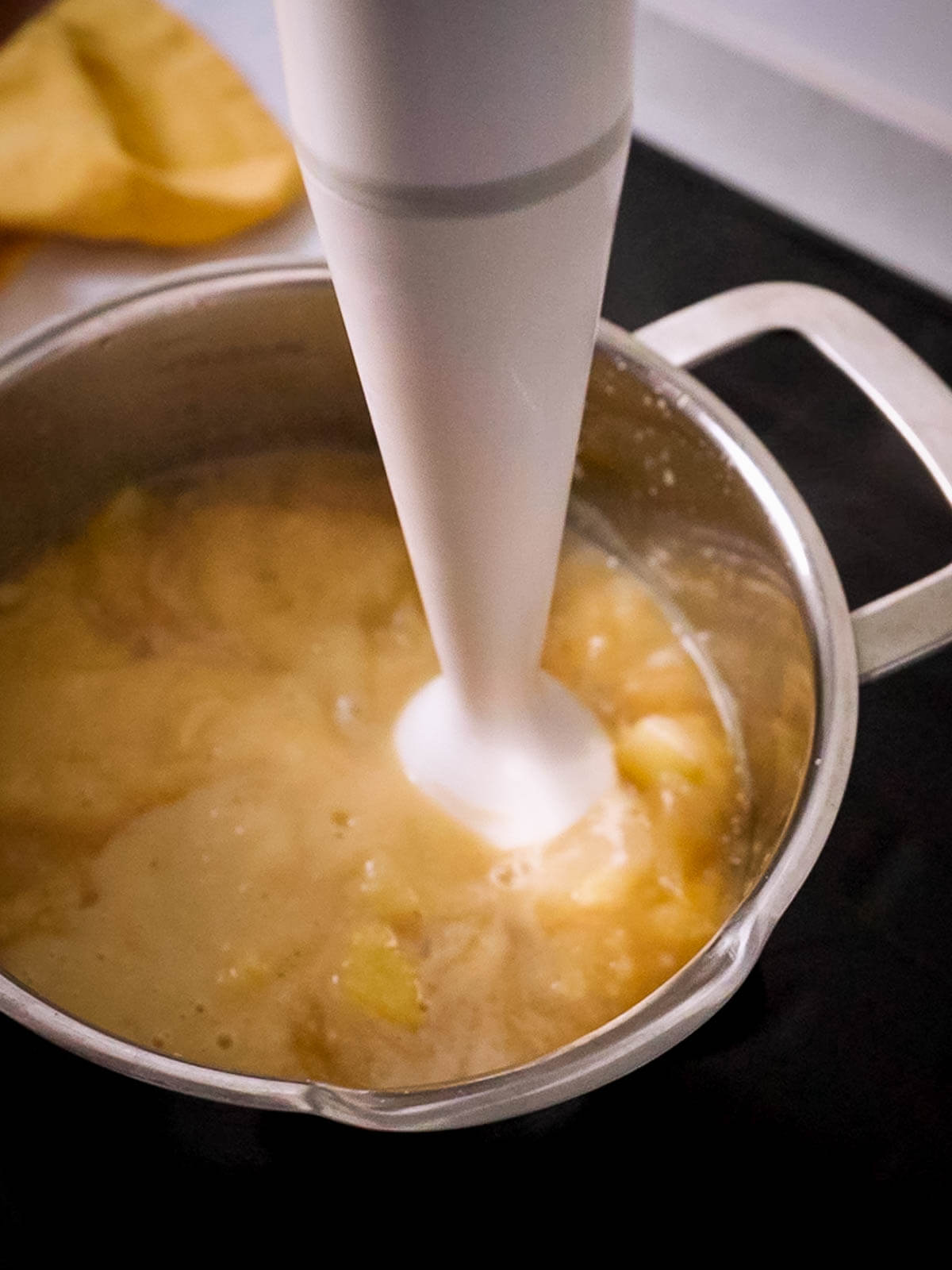 Blend with an immersion blender until sufficiently creamy.
👨🏻‍🍳 Optional Toppings
Mushrooms - sautéed.
Chives or green onion tops
Vegan parmesan cheese
Sweet corn
Vegan sharp cheddar cheese
Fried shaved garlic
Caramelized onions
Chopped green onions tops
Vegan sour cream
Drizzle truffle oil or extra-virgin olive oil.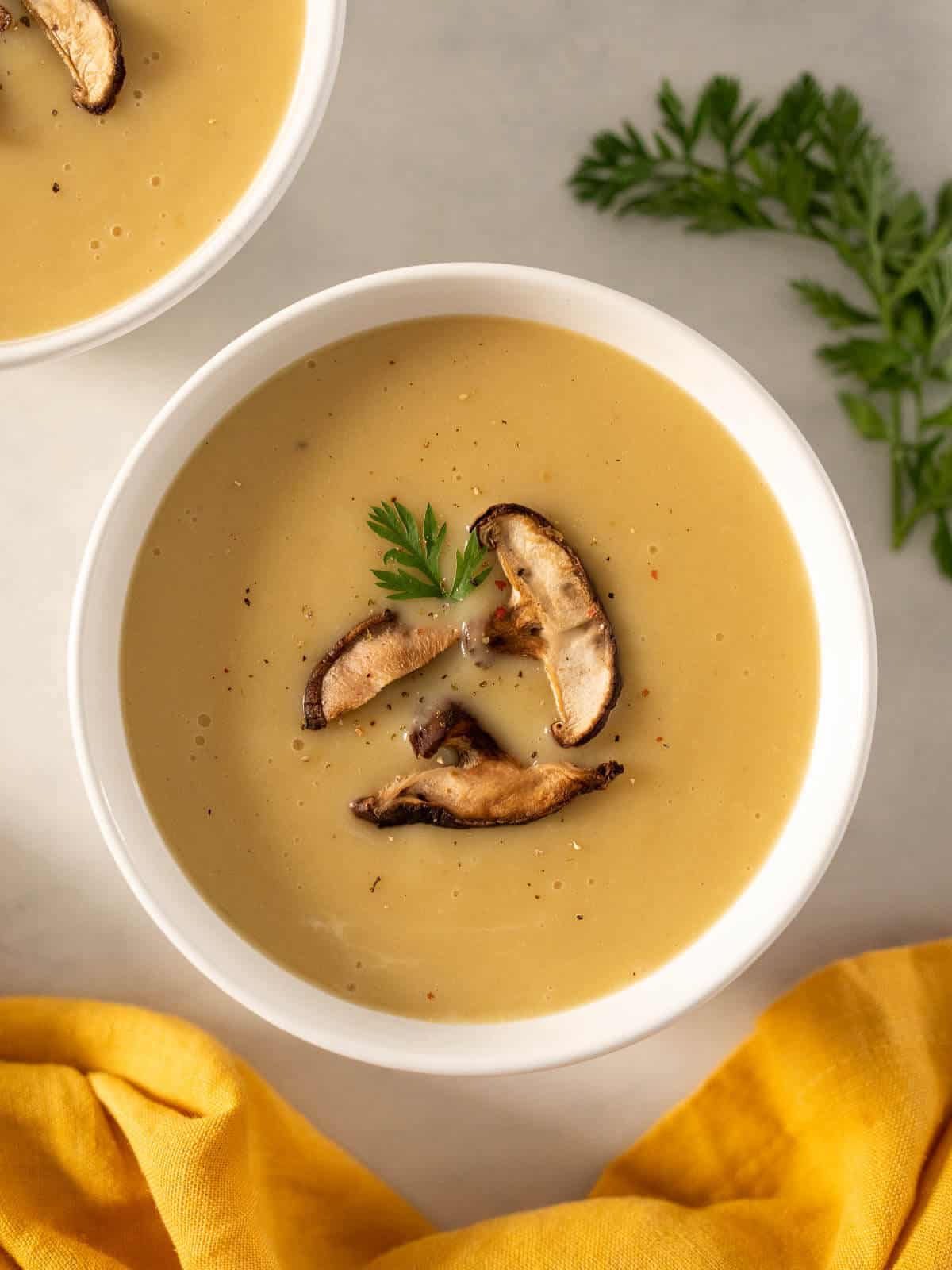 Additions
Some great wholesome additions to this vegan potato soup recipe are
Cauliflower
Zucchini
Nutmeg
Adding a quickly made mushroom gravy is also an excellent topping for making it a fantastic Thanksgiving appetizer, just as you would add it to mashed potatoes.
🍶 Substitutions
Onions - You can use leeks or green onions instead of yellow onions.
Potatoes - use sweet potatoes instead. You can even use leftover mashed potatoes.
Dairy-free milk - this is a vegan option, so we prefer using creamier and higher protein milk options such as soy milk, cashew milk, homemade almond milk, and oat milk. They are delicious and don't have cholesterol or saturated fats like regular or skim milk.
📖 Variations
Chunky soup - You can use a potato masher instead of an immersion blender for chunky potato soup.
Deluxe - add a piece of vegan butter, shaved black or white truffles, or crispy onions.
🥢 How to serve
Serve with gluten-free garlic bread or Indian naan.
We also like adding steamed vegetables such as cauliflower and broccoli.
Adding sautéed cremini mushroom slices is fabulous and adds a chunky touch to your meal.
🍽 Equipment
In addition to a saucepan or dutch oven, you only need an immersion blender or high-powered blender.
🥡 Storage
Store leftover vegetarian potato soup recipes in an airtight container in the fridge for up to 2 days or in the freezer for up to 3 months.
Then reheat potato soup on medium heat, adding half a cup of dairy-free milk or vegetable broth.
💡 Top tip
If you don't mind, this creamy potato soup is a little darker; while cooking the onions, let them get slightly brown, and then deglaze with a bit of vegetable stock before stirring the potatoes.
This will pick up all that flavor sticking on the bottom of the pan, which will give it a smoky and more intense and rounded onion flavor.
❓ FAQ
Can you freeze potato soup?
Yes, potato soup can be frozen. It is best to freeze it in individual servings to have a quick and easy meal option on hand. Just remember to thaw it completely before reheating it so that it doesn't scorch.
How long can you freeze homemade potato soup?
It should be safe to eat after 3-4 months in the freezer.
However, frozen food can lose its quality over time. The taste, texture, and nutrient content may change, so it's best to use frozen food within a few months.
What goes with potato soup?
There are many different potato soup types, depending on the recipe. However, some common ingredients that can be paired with potato soup include grilled cheese sandwiches, croutons, veggie ham and cheese sandwiches, and vegan carrot bacon-wrapped dates.

How do I fix bland potato soup?
To fix a bland potato soup, you can add vegetable bullion and robust vegan shredded cheese options, such as Monterrey jack, cheddar, parmesan, or Havarti.
Garlic salt, onion, and garlic powder is also fantastic flavor enhancers.

How do you thicken potato soup without flour?
You can thicken potato soup without flour by using a roux.
A roux is a mixture of fat and flour that is used to thicken sauces, soups, and gravies. The most common fat to use in a roux is butter, but you can also use olive oil. A dairy-free potato soup roux can be made with any plant milk, like oat milk, and you can keep it gluten-free using chickpea flour. This is exactly like you make a vegan bechamel sauce.
To make a roux, start by melting the fat in a saucepan over low heat. Then add the flour and whisk until it's well combined. Cook the roux for 1-2 minutes or until it turns light brown. Then slowly add the broth to the saucepan while whisking continually. Bring the soup to a boil and cook for 2-3 minutes or until it has thickened
What are the best potatoes for soup?
We like using Yukon gold potatoes and russet potatoes, but any will work.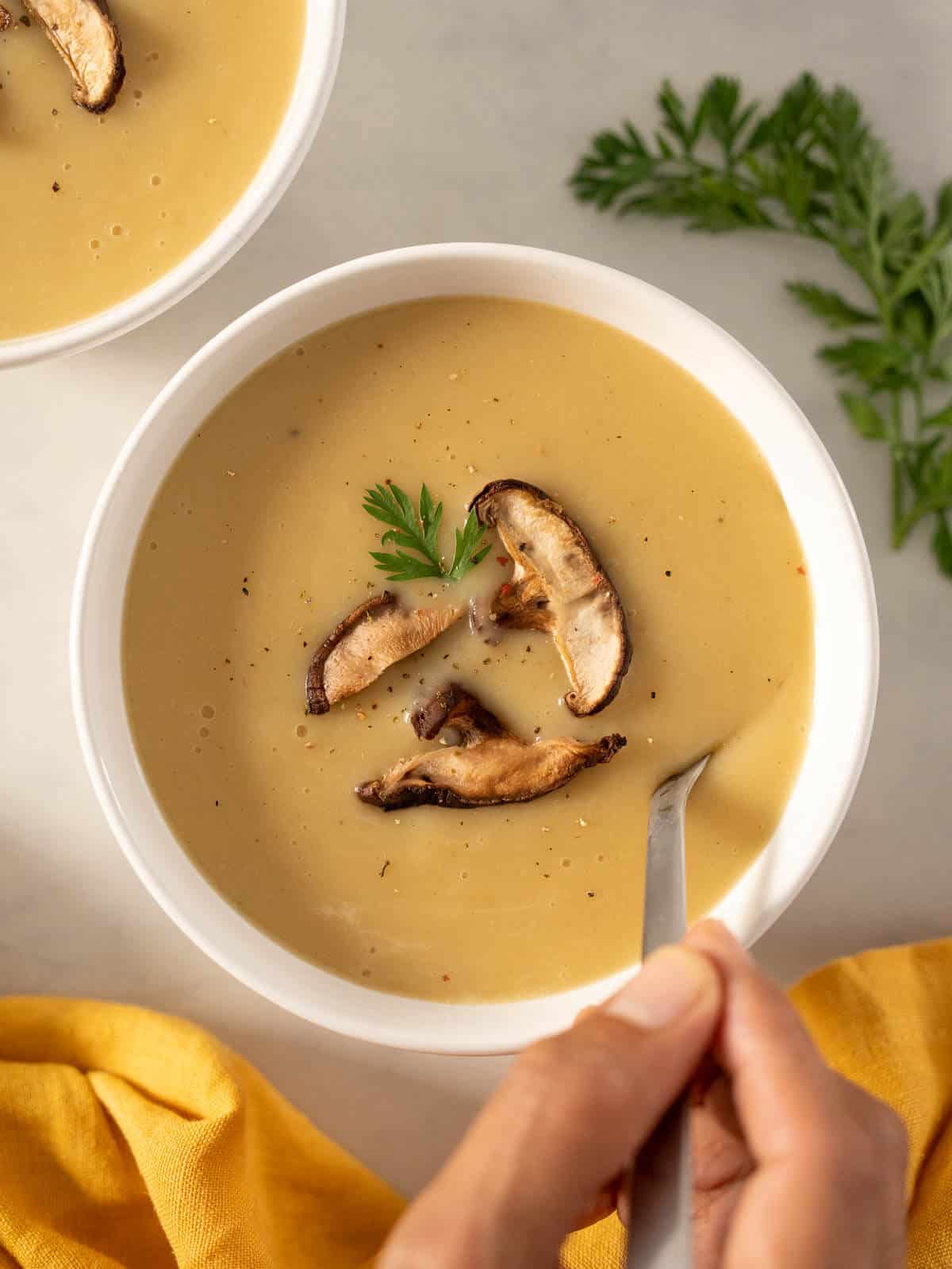 🍲 More soup recipes
Try out other super easy soup recipes, such as our creamy carrot and ginger soup, or the lighter curried lentils soup.
If you like cold soups, we suggest you take a look at the traditional Andalusian Gazpacho or its watermelon rind particular version.
Not a soup but a potato delight are there roasted garlicky potatoes that you will love!
For a protein-packed and easy-to-make soup try our pea pottage, it is hearty and filling.
⭐ If you try this recipe, let us know! 💬 Leave a comment, rate it, and don't forget to tag us @ourplantbasedworld on Instagram. Cheers!
📋 Recipe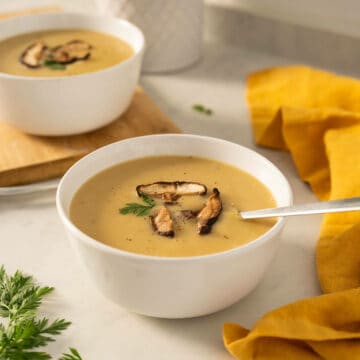 4-ingredient Potato Soup (Gluten-Free)
This easy and fast recipe for a vegan potato soup is perfect either as a meal on its own or as side dish. It's also dairy free and gluten-free!
Equipment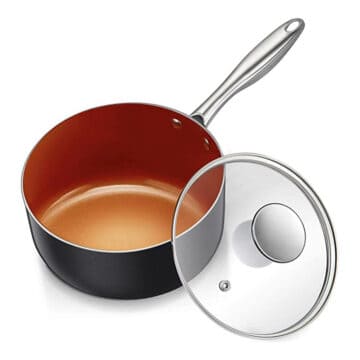 (affiliate link)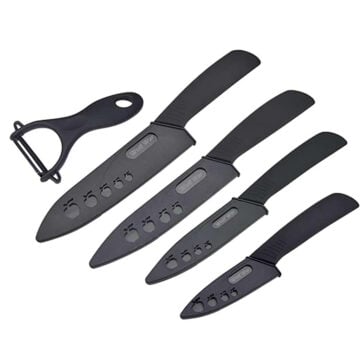 (affiliate link)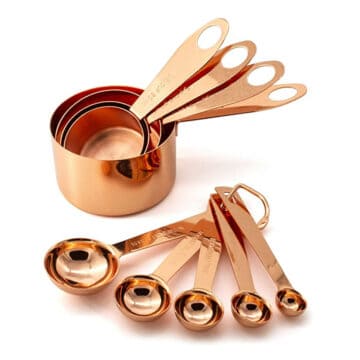 (affiliate link)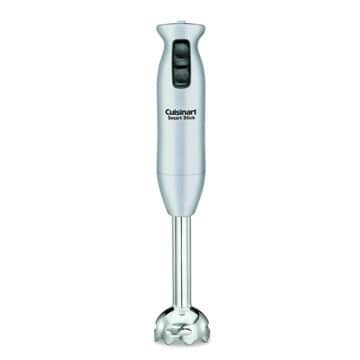 (affiliate link)
Ingredients
30

oz

potato

~ 2 medium potatoes, diced

3

cups

vegetable broth

6

oz

onion

~ ¾ medium onion, chopped

1

cup

soy milk

or other dairy-free milk
Optional
Salt and pepper

pinch

nutmeg

chives

chopped
Directions
Coarsely chop the onion.

Peel the potatoes and chop them into small to medium dice.

Stir-fry the onions in a medium saucepan over medium-high heat (7 convection). Sauté for 5 minutes, until softened; add a couple of tablespoons of vegetable broth if they stick. Stir frequently.

Add the potatoes and season with salt and pepper. Add vegetable broth to cover the potatoes and bring them to a boil. Reduce heat to medium, cover, and simmer for 15 minutes, stirring a couple of times, until the potatoes are fork-tender.

Remove from heat and add the plant milk to the saucepan.

Using an immersion blender, blend the vegetables and liquids until smooth. Alternatively, you can place the contents in a blender until smooth, holding the lid with a tea towel since hot liquids tend to explode when mixed in a blender. Taste and adjust seasonings as desired.

Stir additional optional ingredients until well combined and serve with your favorite toppings.
Nutrition Facts
Calories:
450
kcal
Carbohydrates:
64
g
Protein:
7
g
Fat:
21
g
Saturated Fat:
3
g
Polyunsaturated Fat:
8
g
Monounsaturated Fat:
8
g
Sodium:
1695
mg
Potassium:
698
mg
Fiber:
6
g
Sugar:
5
g
Vitamin A:
617
IU
Vitamin C:
22
mg
Calcium:
122
mg
Iron:
1
mg
Nutrition Facts
4-ingredient Potato Soup (Gluten-Free)
Amount per Serving
% Daily Value*
* Percent Daily Values are based on a 2000 calorie diet.
🌡️ Food safety
Cook to a minimum temperature of 165 °F (74 °C)
Do not use the same utensils on cooked food, that previously touched raw meat
Wash hands after touching raw meat
Don't leave food sitting out at room temperature for extended periods
Never leave cooking food unattended
Use oils with a high smoking point to avoid harmful compounds
Always have good ventilation when using a gas stove
See more guidelines at USDA.gov.
Nutritional Disclaimer
The information shown is an estimate provided by an online nutrition calculator. It should not be considered a substitute for a professional nutritionist's advice. See our full Nutritional Disclosure here.
Affiliate Disclaimer
Please note that some of the links here are affiliate links, and I will earn a commission if you purchase through those links. I recommend all of the products listed because they are companies I have found helpful and trustworthy.