Have a batch of blueberries starting to pick mold in the fridge? No worries, here is how to make blueberry juice. This organic blueberry juicer recipe is packed with antioxidants and other health benefits; this tasty drink is perfect for any time of day. Plus, with easy-to-follow instructions, you can quickly whip up a batch. Learn more about the benefits of blueberry juice and try this recipe for yourself today.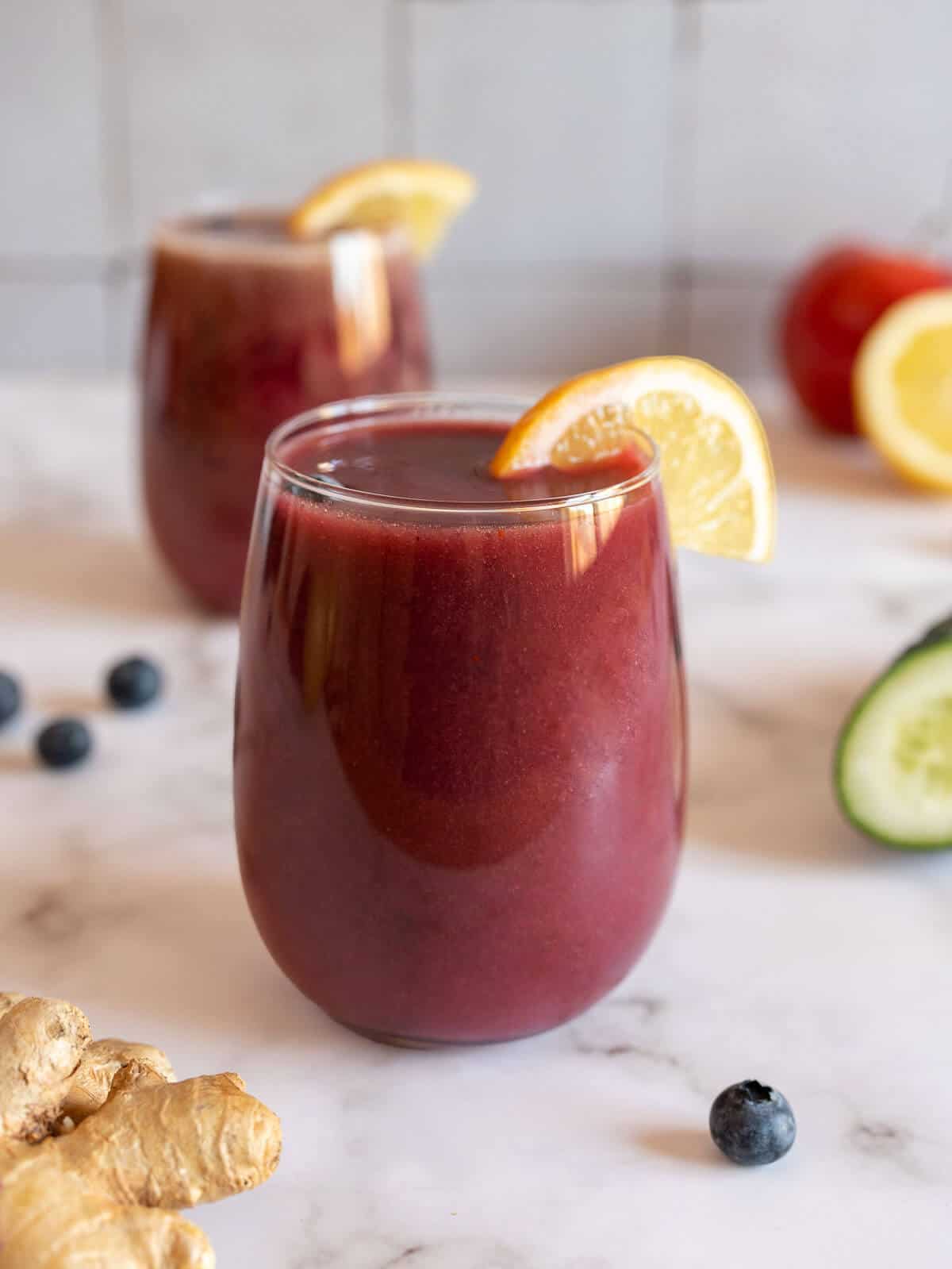 Our mission is constantly innovating with juices that are delicious, tasty, and packed with health benefits.
.We believe that drinking healthy and nutritious beverages should be an enjoyable experience, and we work tirelessly to develop delicious and beneficial recipes for the body.
By combining our passion for health and wellness with the finest ingredients, we strive to offer various functional juices that can help support a healthy and active lifestyle.
And as May comes and blueberries are so cheap and readily available everywhere, we indulge with freshly made blueberry juice!
Jump to:
🧾 Ingredients
This homemade blueberry juice recipe is made with just a few nutritious ingredients: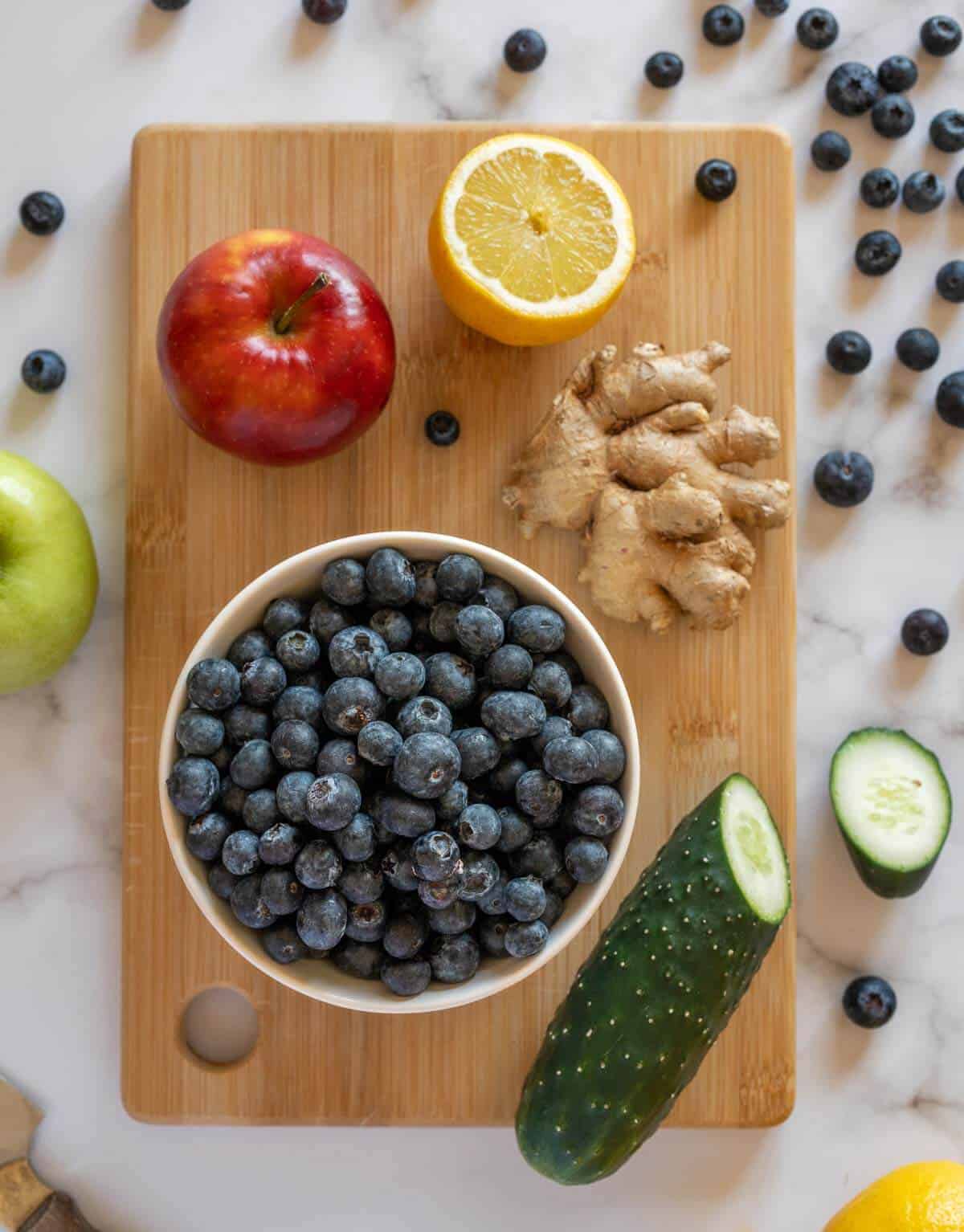 Organic blueberries 🫐 - adds sweetness and color. XXX
Cucumber 🥒 - helps to make the juice more watery
Lemon juice 🍋 - brings lots of Vitamin C, acidity, and citrus goodness.
Apples 🍎 - adds sweetness and a juicy texture to your dishes. They taste delicious, and apples are packed with antioxidants and vitamins like Vitamin C that help keep you healthy. Use red, green, or yellow. The blueberry juice will be equally good; the green apples make it tarter.
Ginger root 🌱 - yum! adds spicy, peppery, and warm notes.
See the recipe card for quantities.
🔪 Instructions
Blueberry juicing involves 3 simple steps.
Washing and preparing your ingredients. Remove the lemon's skin.
Chopping in sizable chunks.
Juicing your veggies, fruit, and ginger roots.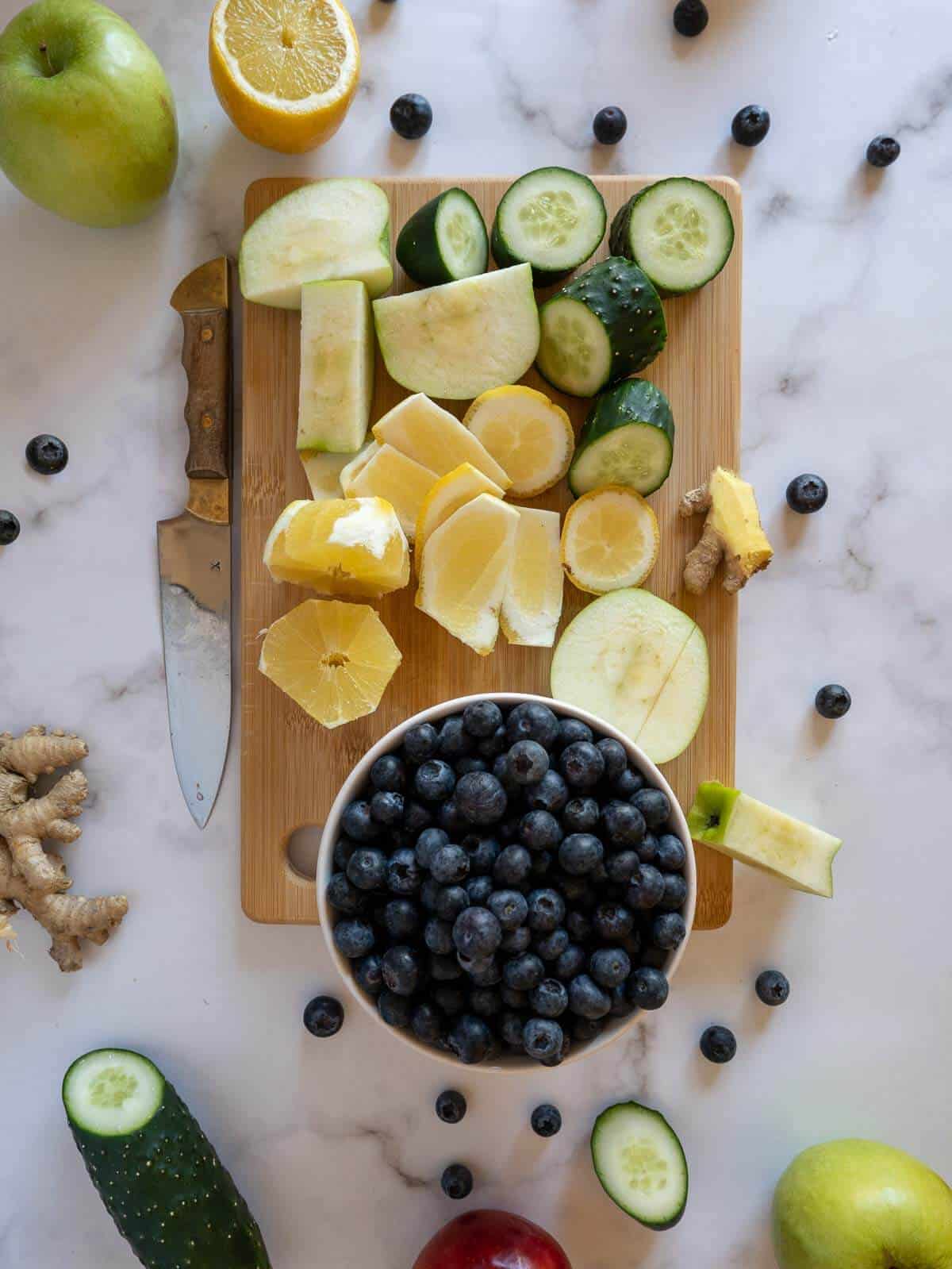 Peel the lemon, pick a fresh ginger knob, chop the cucumber and core, and chop the apple.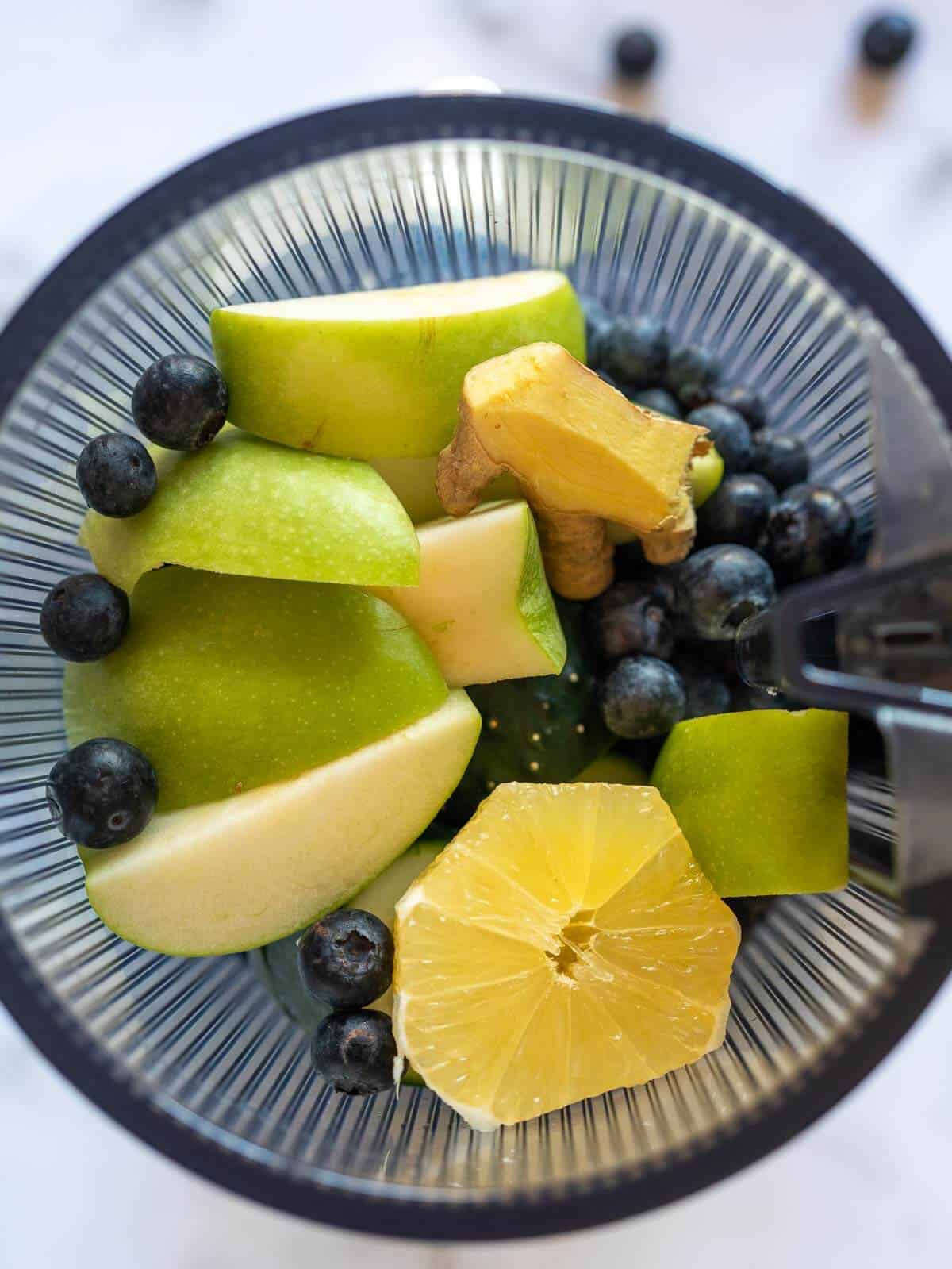 Place all the chopped veggies and fruit into the juicer's vase, starting with the softer ones (lemon and blueberries).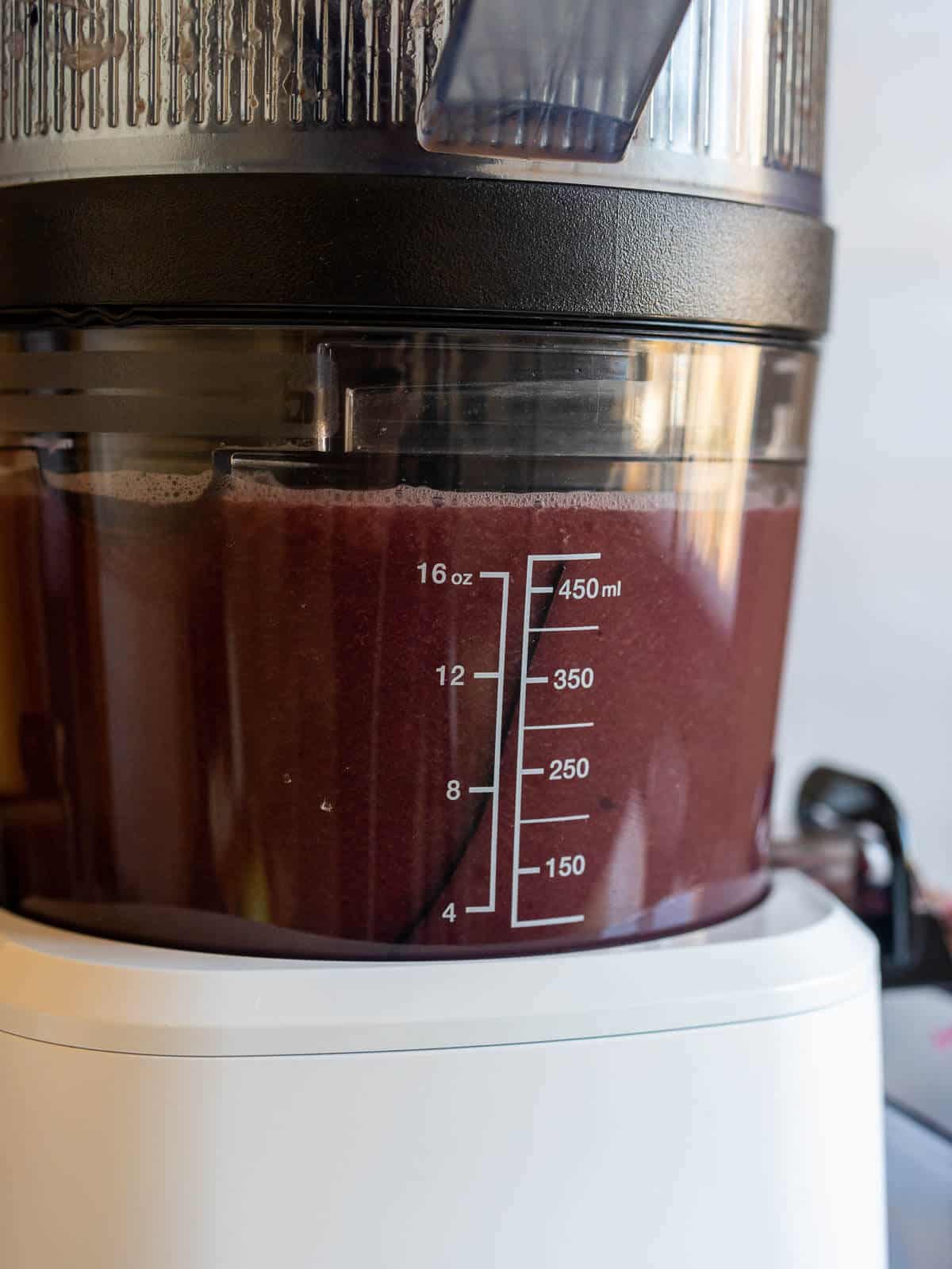 Hint: if you want to make this juice with frozen blueberries instead of fresh berries, place them in a bowl with water for a couple of minutes so they thaw, and then drain them.
Serve blueberry juice immediately and garnish with a lemon wedge or mint leaves.
We prefer making our own blueberry juice, naturally sweetened, but you can add a teaspoon of maple syrup if you want to raise its sweetness.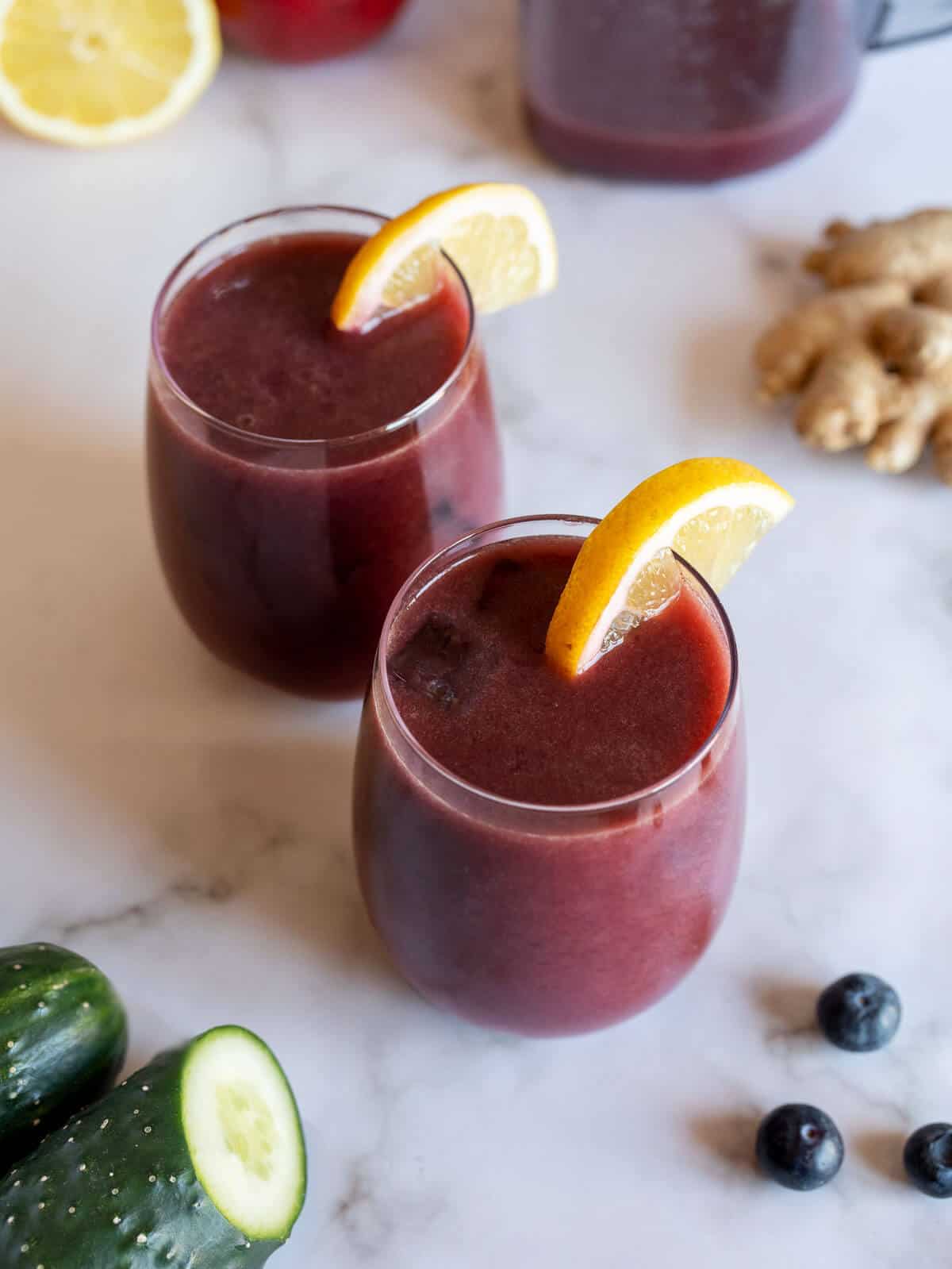 Hint: if you want to make this blueberry juice but don't have a juicer yet, you can use a blender and a colander to separate the remaining pulp from the fresh juice.
Read on: how to juice without a juicer (fully-explained technique) or see how to do it for this drink on the recipe card.
See our juice storing tips to understand better how to keep your leftover juice and retain as many of their ingredients' nutrients as possible.
🍶 Substitutions
Lemons - use any other citrus such as orange or grapefruit.
Cucumber - use two celery stalks instead.
Apples - use kiwis instead; they make up for sweetness and acidity.
If you like cucumbers s as part of your juices, you should try this Carrot Cucumber Juice and Pineapple Cucumber Juice.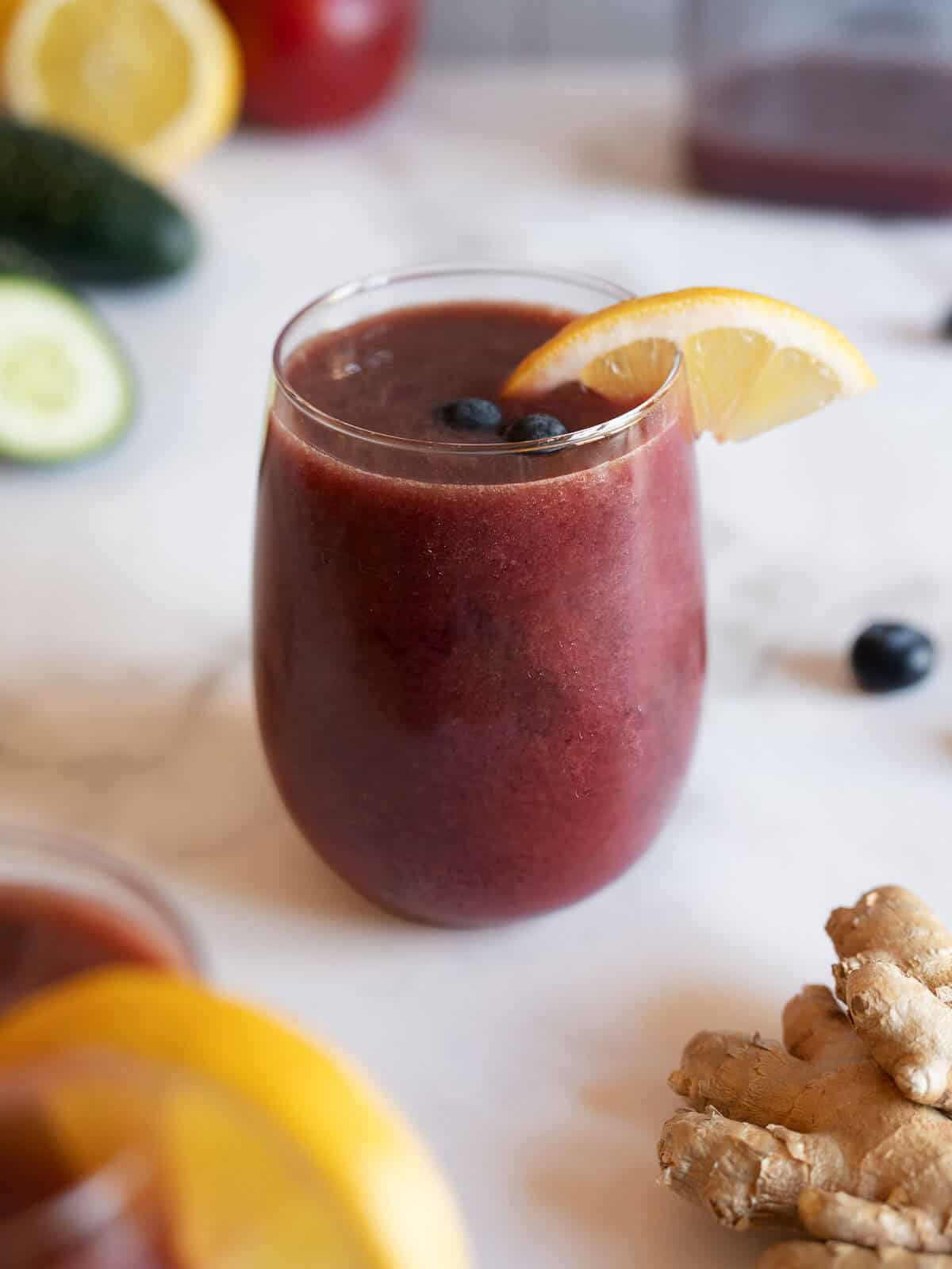 🍽 Equipment
Juicer - choose a cold-pressed juicer over a centrifugal juicer. they are a little more expensive but are definitely the best option in the long run. They yield more juice, and since there is no heat involved as there is in centrifugal users, your juice preserves more nutrients and oxidizes slower (lasts more).
OR
Blender- if you don't have a juicer, you will need a high-speed blender

(affiliate link)

and,
Fine mesh Strainer - when making juice, use regular colander or nut milk bag. We recommend using the same ones we use to make almond milk.
Bowl - It is always better to use a large bowl

(affiliate link)

to work the blender method without making a mess in the kitchen early in the morning.
🥡 Storage
Store this carrot juice in a BPA-free (affiliate link), tightly sealed container in the fridge for up to 3 days.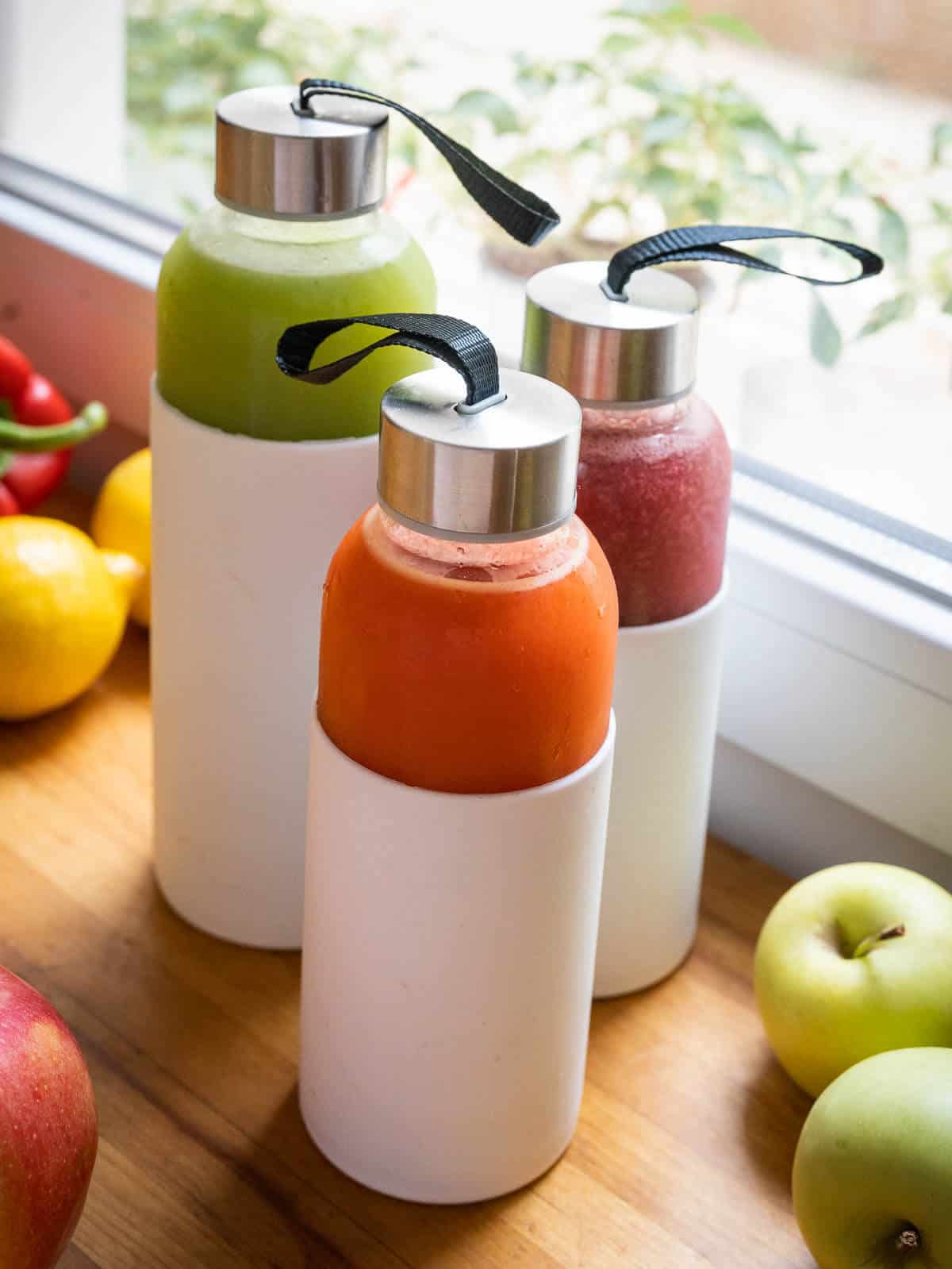 You can freeze your antioxidant-packed juice in an airtight container, but it doesn't stand up well to freezing for more than 3 months. It will never reach the same nutrient density as fresh juice, but you will still enjoy its health benefits.
💡 Top tips
We recommend avoiding letting the blueberry juice sit for too long, as it tends to thicken, and the flavor may be altered after a few minutes.
Due to the presence of pectin in the blueberries, the consistency of this blueberry juice may be somewhat thick. It is advisable not to incorporate excessive amounts of water, as it can excessively dilute the flavor.
We always add ice cubes to the juice to make it a smooth juice, but you can also add half a glass of fresh water.
Add lemon juice to preserve the color of your juices.
✅ Blueberry juice benefits
Drinking blueberry juice can bring amazing health benefits.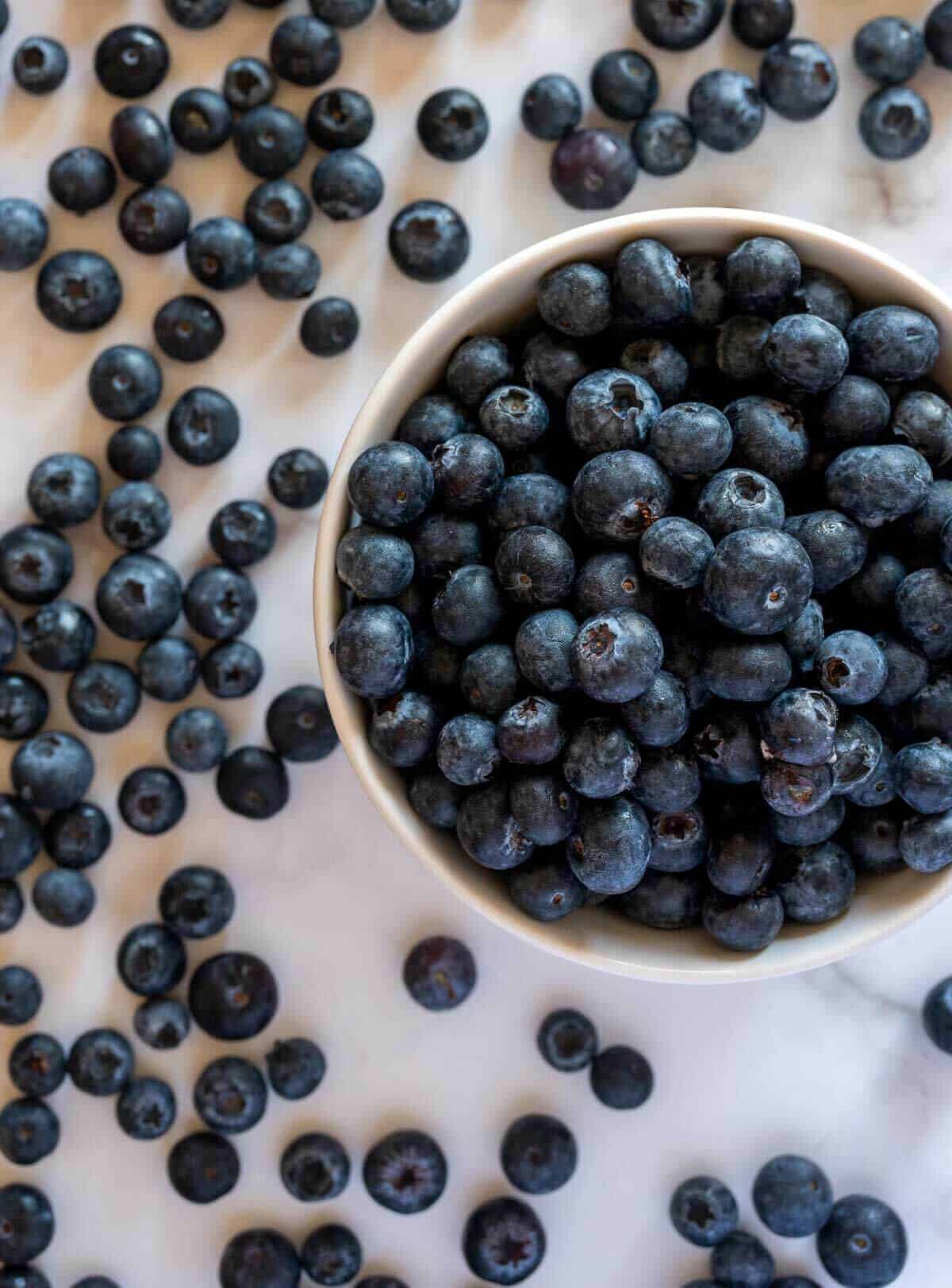 High in antioxidants: Blueberry juice is rich in antioxidants, which help to protect your cells from damage caused by harmful molecules known as free radicals and make your immune system stronger. Antioxidants can also help to reduce inflammation in the body.
Improved heart health: Consuming blueberry juice has been linked to reduced blood pressure and improved cholesterol levels, both of which are important factors for maintaining heart diseases in line.
Supports brain function: The high levels of antioxidants in blueberry juice can also help to improve cognitive function and reduce the risk of age-related mental decline.
May aid in weight loss: Blueberry juice is relatively low in calories and fiber, which can help keep you feeling full and satisfied, reducing the overall amount of food you consume throughout the day.
May reduce the risk of certain cancers: The antioxidants in blueberry juice have also been shown to have anti-cancer properties, potentially reducing the risk of certain types of cancer, such as colon and liver cancer.
Aids digestion - Blueberries have high levels of dietary fiber, which helps with digestion. They also contain antioxidants that can help protect your body from disease and improve overall health.
Fights high blood pressure - One of the most notable benefits of blueberry juice is its ability to fight high blood pressure. Regular consumption of blueberry juice has been associated with a reduction in both systolic and diastolic blood pressure, which are the two measurements used to determine blood pressure levels.
So there are plenty of benefits of blueberries , but why should we choose the organic variety? Organic blueberries have a much higher antioxidant content compared to conventional ones. They are also free from synthetic fertilizers and pesticides, making them safer for our bodies and the environment.
Additionally, organic farming practices support biodiversity by safeguarding soil health and reducing air pollution. By choosing organic blueberries, you're
❓ FAQ
What extra add-ins can I include in this juice?
You have the freedom to mix any variety of fruits to concoct a refreshing drink blend that appeals to your taste. Some examples include using fresh strawberries, chunks of pineapple, pomegranate, or cranberries.
Try using watery fruits and veggies, and blueberries tend to thicken.
Hint: combine this blueberry juice recipe with pomegranate juice in equal proportions to boost health benefits. Find the recipe for fresh homemade pomegranate juice.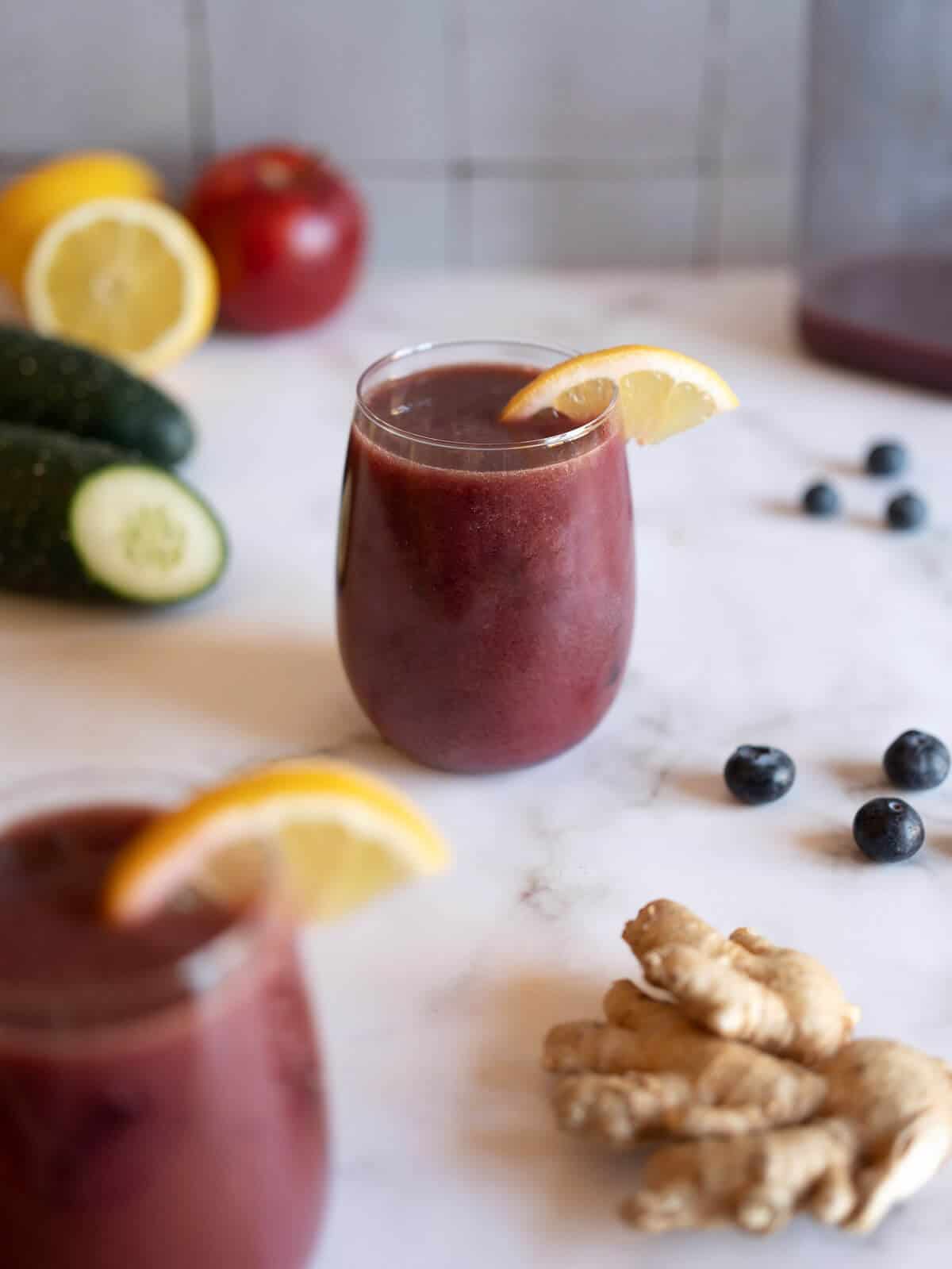 🧃 More blueberry recipes
Lemon Blueberry Overnight Oats - This simple and delicious breakfast is sure to make your morning brighter! Enjoy the tartness of lemon combined with sweet blueberries in a creamy oat mixture. All you need is your favorite plant-based milk, oats, fresh or frozen blueberries, and lemons.
Sip on a Spinach Blueberry Banana Smoothie and let the antioxidants fuel your day! This smoothie is packed with nutrients to help you reach your health goals. Enjoy this quick, plant-based breakfast or snack – it only takes a few minutes to prepare.
This almond milk berry smoothie is so delicious! The combination of almond milk and frozen berries makes for a perfect breakfast or afternoon snack. And it's full of healthy nutrients — including protein, vitamin C, magnesium, and calcium — to give you an energy boost that lasts all day! I can't get enough of this smoothie!
In conclusion, making blueberry juice at home can be a refreshing and healthy alternative to store-bought juices. With just a few simple steps, you can extract the natural flavors and nutrients from fresh blueberries and create a delicious drink that can be enjoyed anytime.
To make the juice more flavorful, it is important to select ripe and sweet blueberries and to avoid over-diluting it with water. Whether you prefer a thick or thin consistency, the addition of pectin in the blueberries can help achieve the desired texture.
So, why not give it a try and enjoy the taste of freshly made blueberry juice at home!
⭐ If you try this juice blueberry recipe, let us know! 💬 Leave a comment, rate it, and don't forget to tag us @ourplantbasedworld on Instagram. Cheers!
📋 Recipe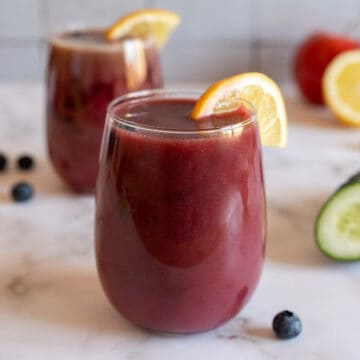 Organic Blueberry Juice Recipe and Benefits
Looking for a delicious and healthy beverage? Check out our organic blueberry juice recipe! Packed with antioxidants and other beneficial nutrients, this refreshing drink offers numerous health benefits, including improved heart health, brain function, and reduced cancer risk.
Equipment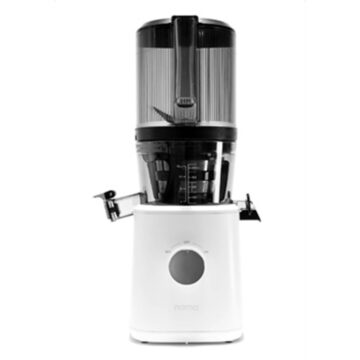 (affiliate link)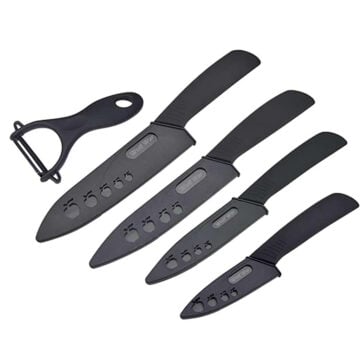 (affiliate link)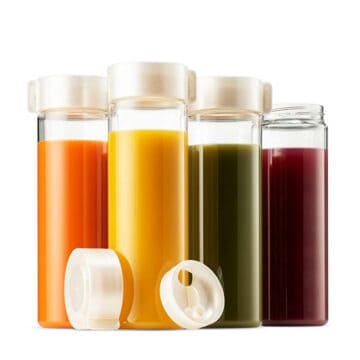 (affiliate link)
Ingredients
6

oz

blueberries

~ 8 oz, organic (if not see notes)

1

apple

red, medium. Any other apple, like green or golden work, but the color will be less pinkish.

1

cucumber

¼

lemon

peeled
Directions
Wash vegetables and fruits thoroughly.

Peel lemon.

Cut all the ingredients into an appropriate size.

Juice. Add all the ingredients into the juicer, starting with the soft ones, followed by the tougher ones.

You can serve immediately or store closed in an airtight container for up to 3 days if using a cold press juicer or 24 hours if using a centrifugal user.
Notes
It is unnecessary to peel the ginger; the Juicer will do it all.
If you want to thin the juice a little, you can add about half a cup of water.
Rinse fresh blueberries a couple of times in water. Soak the blueberries in water to get rid of any pesticides, to which a tablespoon of vinegar and ½ teaspoon of baking soda is added.
Nutrition Facts
Calories:
119
kcal
Carbohydrates:
30
g
Protein:
2
g
Fat:
1
g
Saturated Fat:
0.1
g
Polyunsaturated Fat:
0.2
g
Monounsaturated Fat:
0.1
g
Sodium:
5
mg
Potassium:
393
mg
Fiber:
6
g
Sugar:
20
g
Vitamin A:
206
IU
Vitamin C:
24
mg
Calcium:
35
mg
Iron:
1
mg
Nutrition Facts
Organic Blueberry Juice Recipe and Benefits
Amount per Serving
% Daily Value*
* Percent Daily Values are based on a 2000 calorie diet.
Nutritional Disclaimer
The information shown is an estimate provided by an online nutrition calculator. It should not be considered a substitute for a professional nutritionist's advice. See our full Nutritional Disclosure here.
Affiliate Disclaimer
Please note that some of the links here are affiliate links, and I will earn a commission if you purchase through those links. I recommend all of the products listed because they are companies I have found helpful and trustworthy.