Say hello to the most refreshing way to start your day: a Blueberry Pineapple Smoothie without Banana! This vibrant blend will awaken your senses, combining the sweet and tart flavors of blueberry and pineapple. It's a tropical delight that's quick, dairy-free, and perfect for anyone seeking a nutritious and delicious breakfast or snack.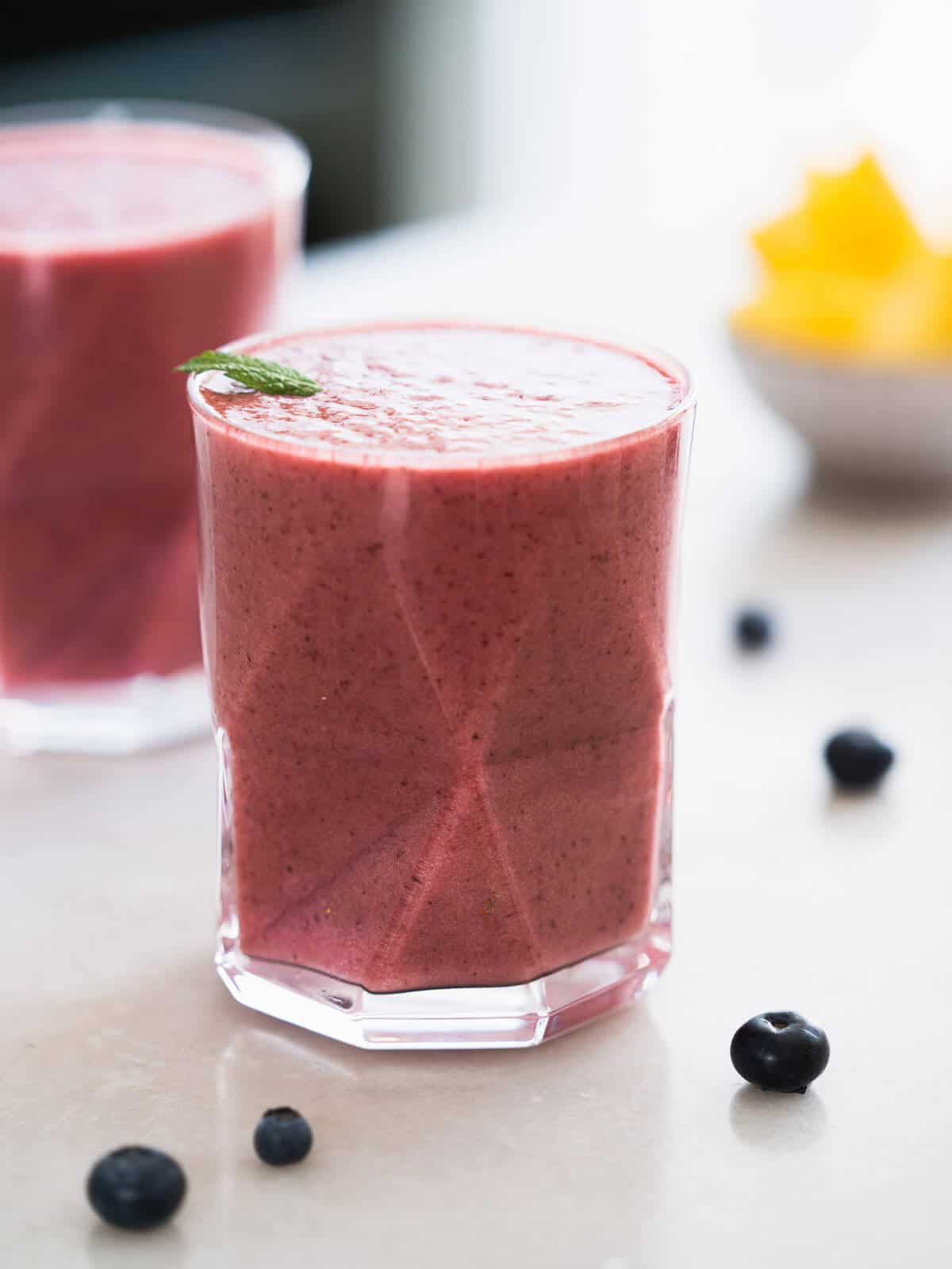 Now, why choose a pineapple smoothie without banana, you might ask? Well, the answer is two-fold. First, not everyone is a fan of the distinctive taste bananas can lend to smoothies. Secondly, by removing bananas from the equation, the tangy brightness of the pineapple and the sweet, slightly earthy notes of the blueberries really get to shine. Plus, there's a bonus! Both pineapples and blueberries are fantastic sources of essential vitamins and antioxidants.
Before we dive into this heavenly blend, let's talk a bit about the ingredients. Blueberries and Pineapple unleash a symphony of flavors but also a powerhouse of nutrients and has many health benefits. Pineapples, known for their bromelain content, aid in digestion, and are also packed with vitamin C. Blueberries, on the other hand, are antioxidant heroes, known for their ability to support heart health and brain function.
The fusion of these two fruits creates a smoothie that is as beneficial to your health as it is delicious to your taste buds.
Stay tuned as we share our secret to creating this delightful pineapple and blueberry smoothie. It's easy, it's quick, and it's ready to become your new favorite go-to drink. Let's get blending!
Jump to:
🧾 Ingredients
This fresh, healthy smoothie is made with only three healthy ingredients: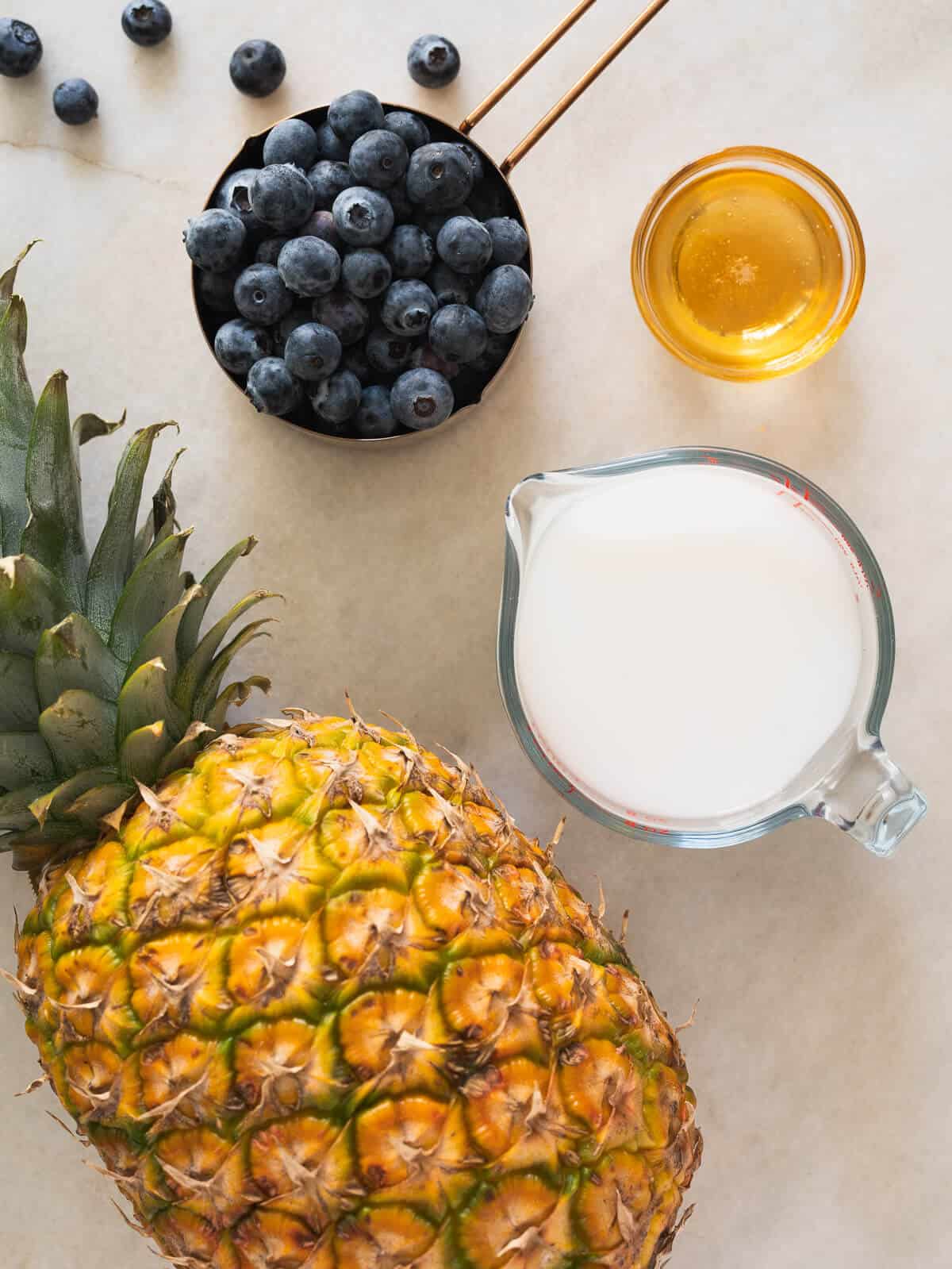 Fresh or frozen Blueberries: These small, nutrient-dense berries are an excellent source of antioxidants, supporting overall health and fighting off damaging free radicals. Plus, their sweet, slightly tart flavor adds a delicious depth to the smoothie. We like using frozen blueberries, but fresh blueberries work perfectly too.
Fresh or Frozen Pineapple: This tropical fruit is refreshingly juicy and sweet and packed with vitamin C and bromelain, an enzyme known for its digestive benefits. A ripe fresh pineapple can naturally sweeten the smoothie, reducing the need for added sugar or sweeteners; If you can use frozen pineapple chunks, even better.
Light Coconut Milk: It's our dairy-free hero, lending creaminess to the smoothie while providing a dose of healthy fats. These fats help better absorb the vitamins from our fruits, making the smoothie more nutritious.
Agave nectar: This natural sweetener is an excellent option if your pineapple isn't sweet enough. It's less processed than regular sugar, and its mild flavor won't overpower the fruit, keeping the spotlight on our blueberry and pineapple duo.
See the recipe card for quantities.
🔪 Instructions
This blueberry pineapple shake involves only 2 steps.
Chopping your pineapple.
Blending.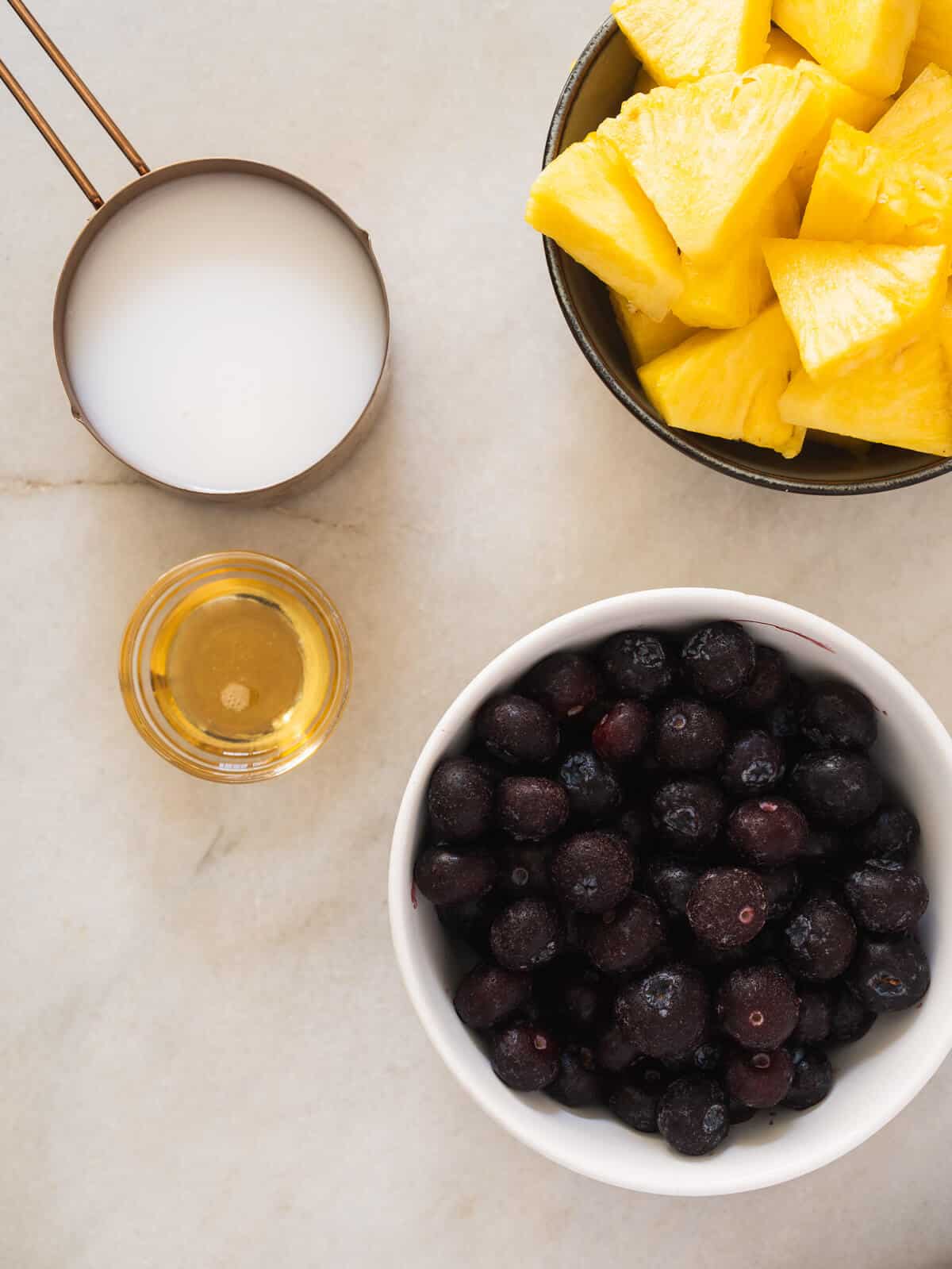 Toss the blueberries, pineapple chunks, and a splash of coconut milk into your blender's party bowl.
Press blend and watch as they twirl together into a tropical smoothie dream until you reach the desired consistency.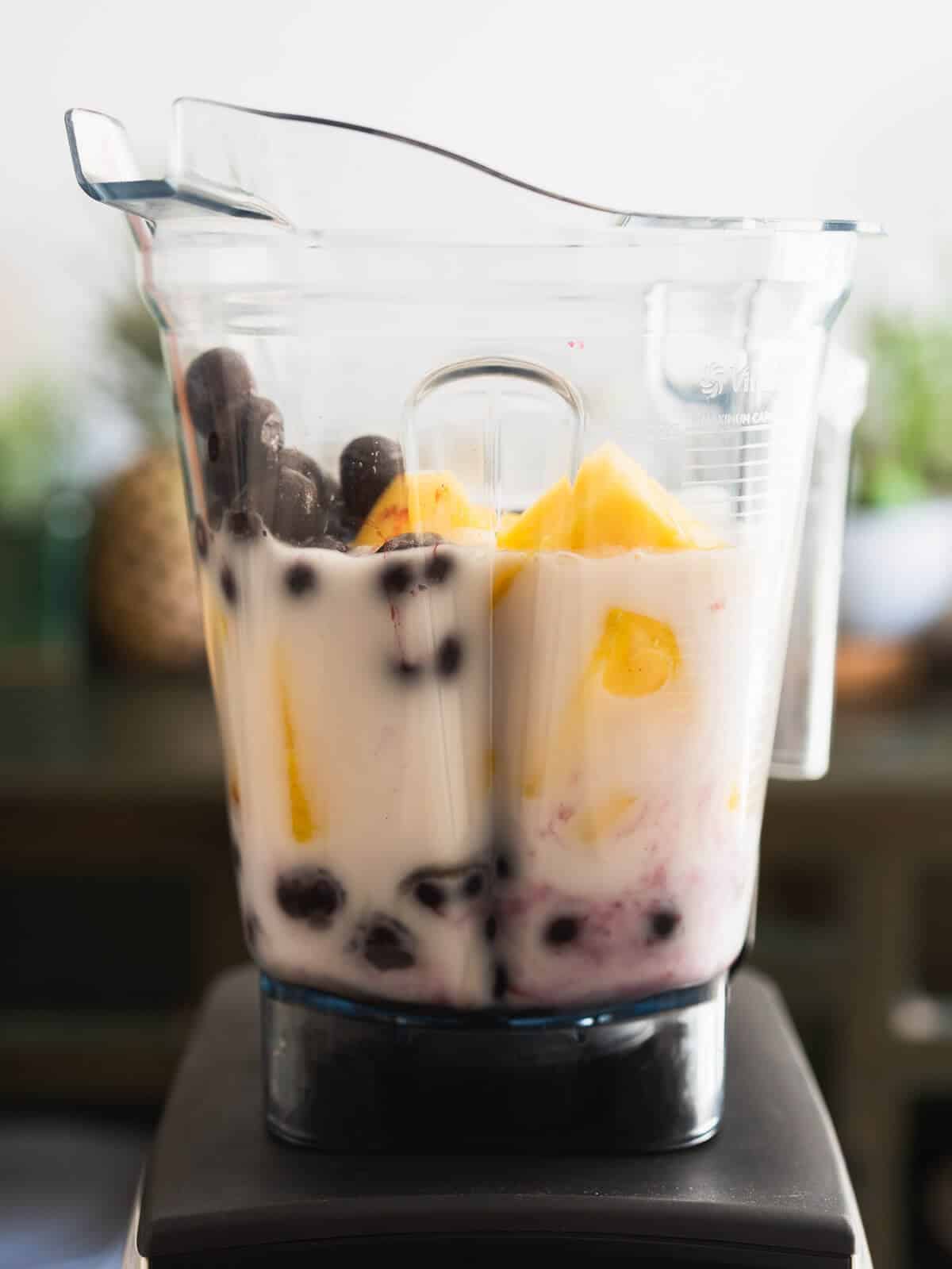 Hint: always start with the liquids so the blender doesn't get stuck when using frozen ingredients.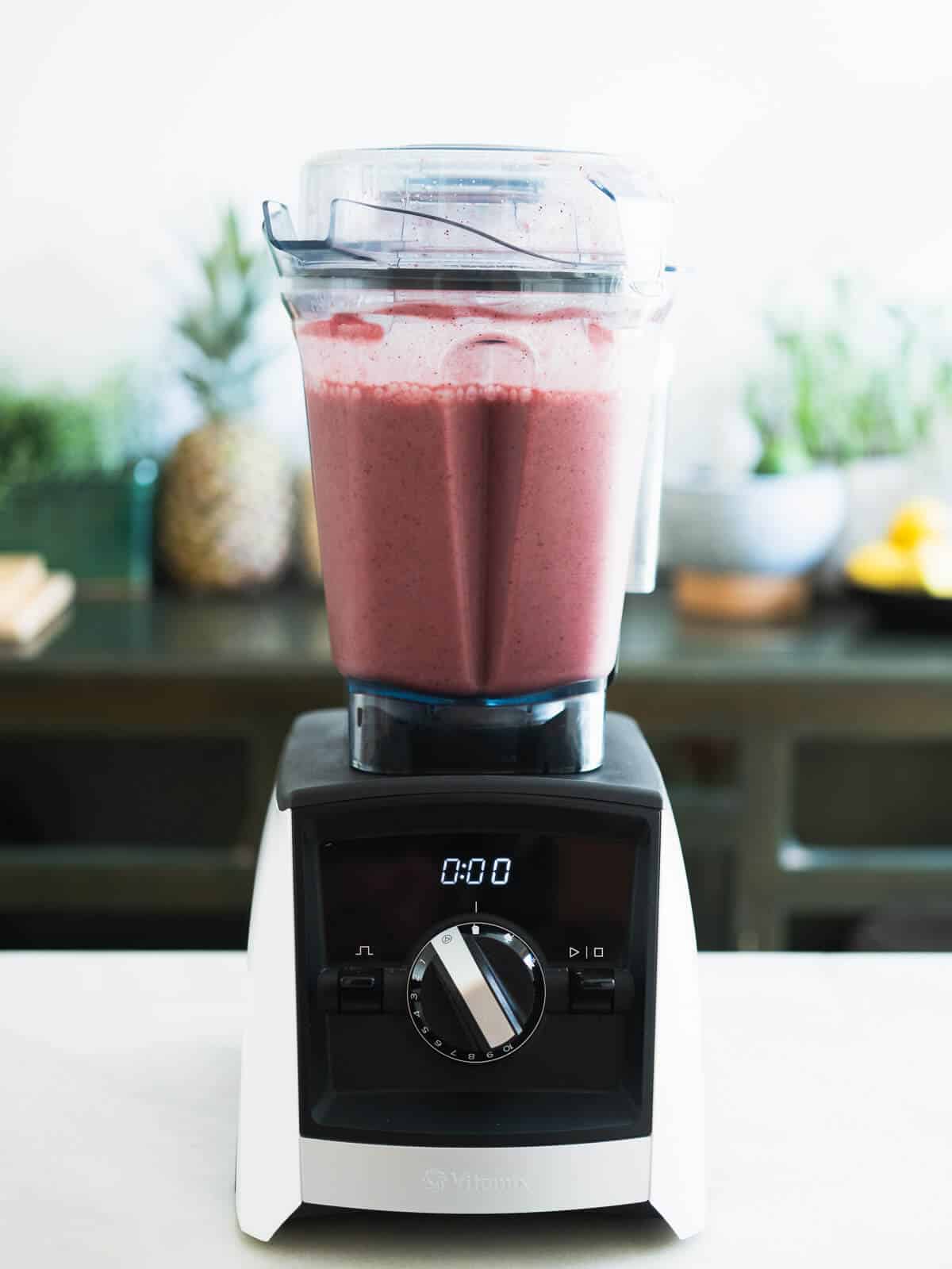 🍶 Substitutions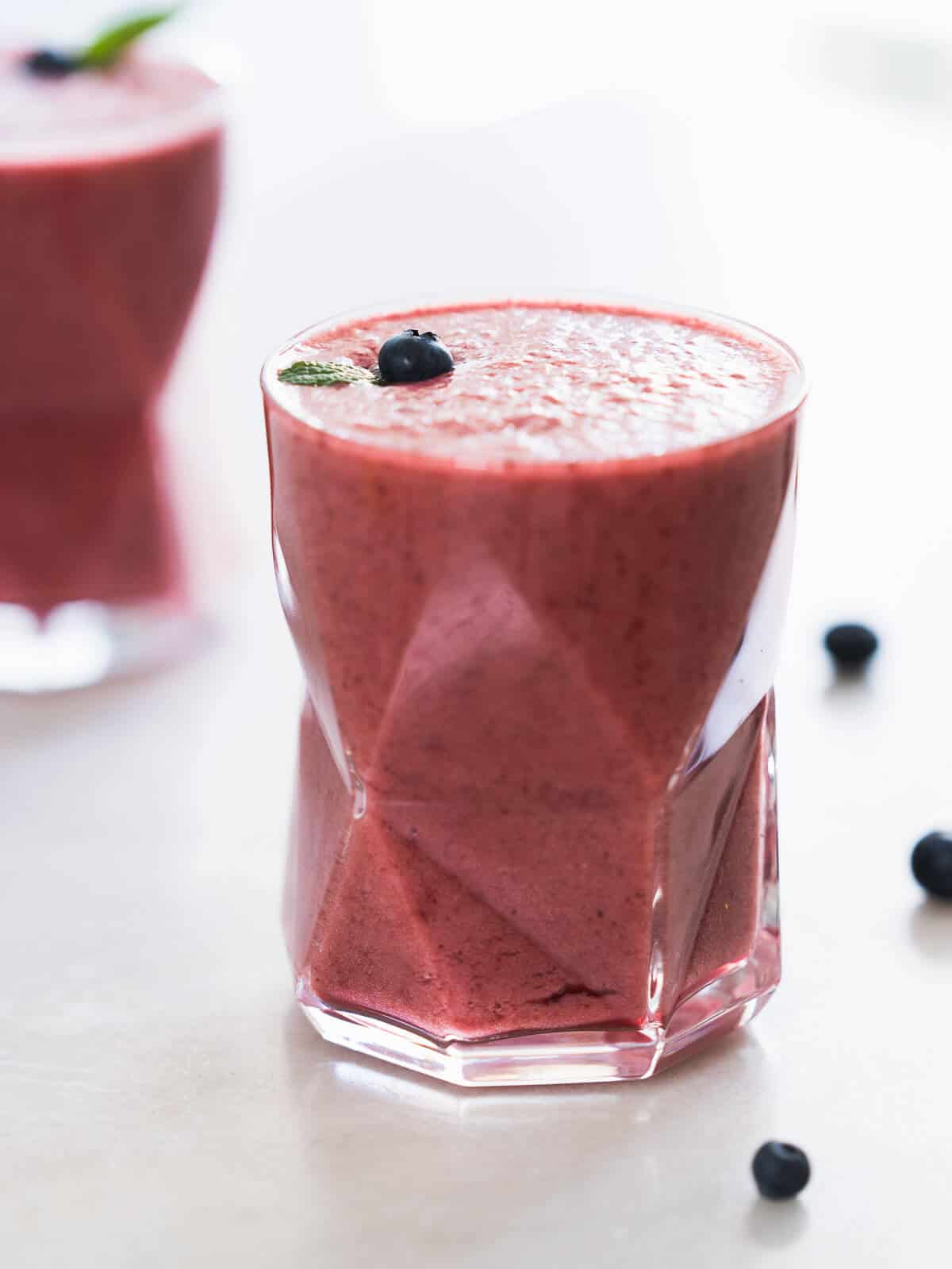 This recipe is already fully vegan, but in case you need to replace any ingredients due to allergies or personal preferences, here are some suggestions:
Blueberries: Blackberries could be a great alternative, giving your smoothie a darker hue and a slightly more tart flavor.
Pineapple: Mango can be used as a substitute, maintaining the tropical vibe while introducing a creamier texture and slightly different sweetness. Mandarines and Oranges also work.
Coconut milk: Almond milk or oat milk can be used instead. Both are vegan-friendly, but note that they will offer a less creamy texture than coconut milk. Almond milk will impart a nutty flavor, while oat milk will be a bit sweeter.
Agave nectar: Maple syrup or date syrup are excellent vegan alternatives. They may alter the smoothie's flavor slightly, with maple syrup adding a woodsy sweetness and date syrup providing a richer, more caramel-like sweetness.
📖 Variations
A smoothie is a playground of flavors, and here are a few variations to jazz things up:
Tropical Green Twist: Add a handful of baby spinach or kale to the blender. You'll barely taste these leafy greens, but they'll give your smoothie a vibrant green hue and an extra nutrient boost.
Protein-Packed Variation: Blend in a scoop of your favorite vegan protein powder. This can help make your smoothie more filling and is an excellent choice for post-workout recovery.
Banana Berry Delight: Swap half of the pineapple for frozen bananas. This will lend a creamy, almost ice-cream-like texture to your smoothie and is a great way to put an overripe frozen banana to good use. Don't forget to peel and slice the bananas before freezing them!
Yogurt Bliss: Swap out the usual plain Greek yogurt for a dollop of plant-based yogurt (like coconut or soy). This gives your smoothie an extra creaminess, and probiotics boost while keeping it 100% vegan. It's a delicious, gut-friendly choice that adds a welcome plant-based protein to your morning routine. You won't miss the Greek yogurt, we promise!
Nutty Indulgence: Stir in a spoonful of almond butter or your favorite nut butter. This not only adds a creamy, rich texture to your smoothie but also offers a good dose of healthy fats and protein. It's a heart-healthy choice that lends a subtle, nutty flavor and makes your smoothie even more satisfying!
💪🏼 Optional Add-ins
Here are a few supercharged optional add-ins that can take your pineapple blueberry smoothie to the next level:
Flax Seeds: These tiny seeds are a fantastic source of Omega-3 fatty acids and fiber. Sprinkle them in to support heart health and keep your digestive system running smoothly.
Chia Seeds: These little powerhouses pack in protein, fiber, and Omega-3s. Adding them to your smoothie will give it a slight textural twist and a major nutrient boost.
Hemp Seeds: Want to amp up the protein content? Toss in some hemp seeds. They're an excellent source of plant-based protein and have a nice, subtly nutty flavor.
Wheat Germ: This is a wonderful source of many essential nutrients, including vitamin E, folic acid, and heart-healthy fiber. Sprinkling some into your smoothie can help give your immune system a little extra support.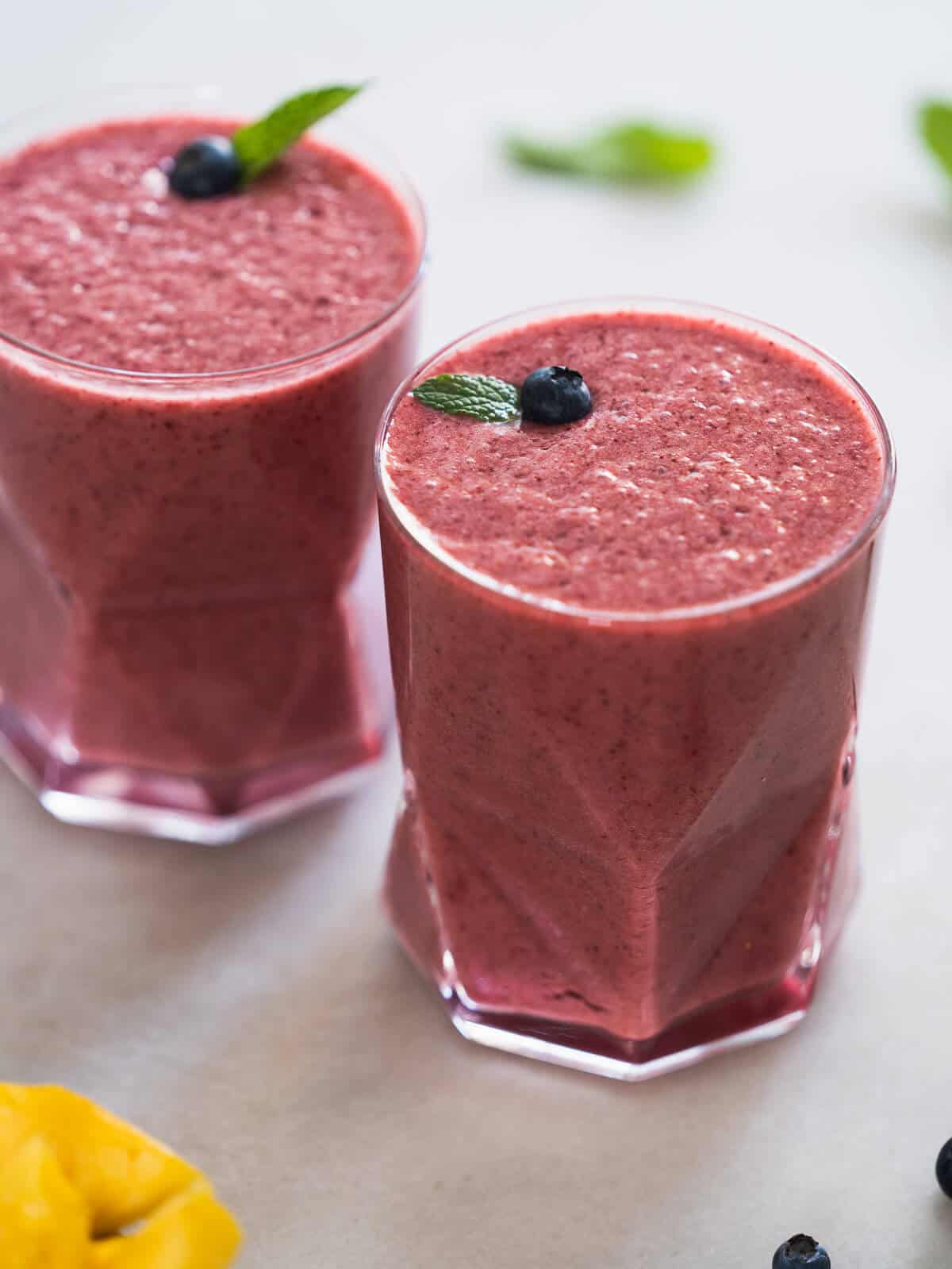 🍽 Equipment
Here's why these two tools are key players in your smoothie-making game:
High-Powered Blender: The heart of any smoothie operation! A good blender can make the difference between a chunky, uneven smoothie and a perfectly smooth, velvety blend. A high-powered blender has the strength to fully pulverize your fruits, ensuring you get the most flavor and nutrients out of them. Plus, it handles frozen fruits and added seeds like a champ.
Knife: Good knife skills make quick work of prepping your fruits. A sharp knife is needed to chop your pineapple into manageable pieces for your blender to handle. Remember, the smaller the pieces, the easier it will be for your blender to create that smooth texture we're after.
🥡 Storage
Store this pineapple smoothie without banana in a BPA-free (affiliate link), tightly sealed container in the fridge for up to 3 days.
You can freeze your immune-boosting juice in an airtight container, but it doesn't stand up well to freezing for more than 3 months. It will never reach the same nutrient density as fresh juice, but you will still enjoy its health benefits.
💡 Top tip
Here's a little food for thought when it comes to choosing between frozen and fresh fruits for your smoothies:
Fresh vs. Frozen Fruit: The smoothie world is divided into two camps – the fresh fruit enthusiasts and the frozen fruit devotees. But what's the difference, and does it really matter?
Fresh Fruit: When you use fresh fruit, you get the pure, unadulterated taste of the fruit at its peak. The smoothie will have a thinner consistency, and the temperature will be more room-like unless you add ice.
Frozen Fruit: On the other hand, frozen fruit offers a convenient advantage – it makes your smoothie thick, icy cold, and gives it a thicker consistency, almost ice-cream-like texture without diluting the flavor as ice would. Plus, frozen fruit can often be a great way to enjoy your favorite fruits out of season.
You can also turn this delicious smoothie into a smoothie bowl by reducing the liquid to half and using only frozen fruit. See how to make a thick smoothie bowl.
So, which is better? It's all up to personal preference! You can even mix and match, using some fresh and some frozen fruit in the same smoothie. The world of smoothies is your oyster (or, should we say, your berry?).
😌 Stocking up on Frozen Fruit: Your Ticket to Easy Meal Prep
Here's a little secret from our kitchen to yours: keeping a stash of frozen fruit at the ready can be a game-changer for your smoothie routine. It's the perfect way to enjoy your favorite fruits all year round, not just when they're in season. Plus, it makes smoothie prep a breeze!
Store-Bought Convenience: Many grocery stores sell reasonably priced, pre-chopped, and even organic frozen fruit. It's as simple as grabbing a bag from the freezer aisle, and you're good to go!
DIY Frozen Fruit: Prefer to freeze your own fruit? No problem! Just chop up your fresh produce, spread the pieces out on a baking sheet lined with parchment paper (making sure they're not touching), and freeze until solid. This way, you avoid creating those hard-to-use clumps of fruit.
Smoothie Bags: Once your fruit is frozen, transfer it into resealable individual clear plastic bags. This not only makes it easy to grab exactly what you need for each smoothie, but it also lets you see at a glance when your supply is running low.
With this system in place, you're always just a few minutes away from a delicious, nutritious, and refreshing smoothie. So go ahead, treat your future self to some ready-to-go smoothie prep!
✅ Pineapple Blueberry Smoothie health benefits
The starring fruits in this smoothie are nutritional powerhouses, each bringing a host of benefits to the mix.
Blueberries are packed with antioxidants and flavonoids that support heart health and brain function. They've been associated with reduced risk of heart disease and improvements in memory, making them a smart choice for your daily diet.
Pineapples, too, have their share of health benefits. They're rich in vitamin C, which supports immune health, and bromelain, an enzyme that aids in digestion. Bromelain is so effective that it's often used in treatments for digestive disorders. Plus, it's an anti-inflammatory, making pineapples a great choice for those with conditions like arthritis (Source: Medical News Today).
Together, these fruits create a smoothie that's not just a tasty treat, but a boon for your health. So the next time you're sipping on this delightful blend, remember - you're not just satisfying your taste buds, you're nourishing your body as well!
📚 More blueberry recipes
Skip the store-bought stuff and get sipping on our homemade Organic Blueberry Juice – it's a refreshing, antioxidant-packed delight that will make your taste buds sing!
Make your mornings a breeze with our Lemon Blueberry Overnight Oats, a zesty and hearty breakfast option that's as nutritious as it is delicious.
Amp up your smoothie game with our Spinach Blueberry Banana Smoothie, a vibrant blend that packs a nutritional punch and delivers an explosion of flavor with every sip!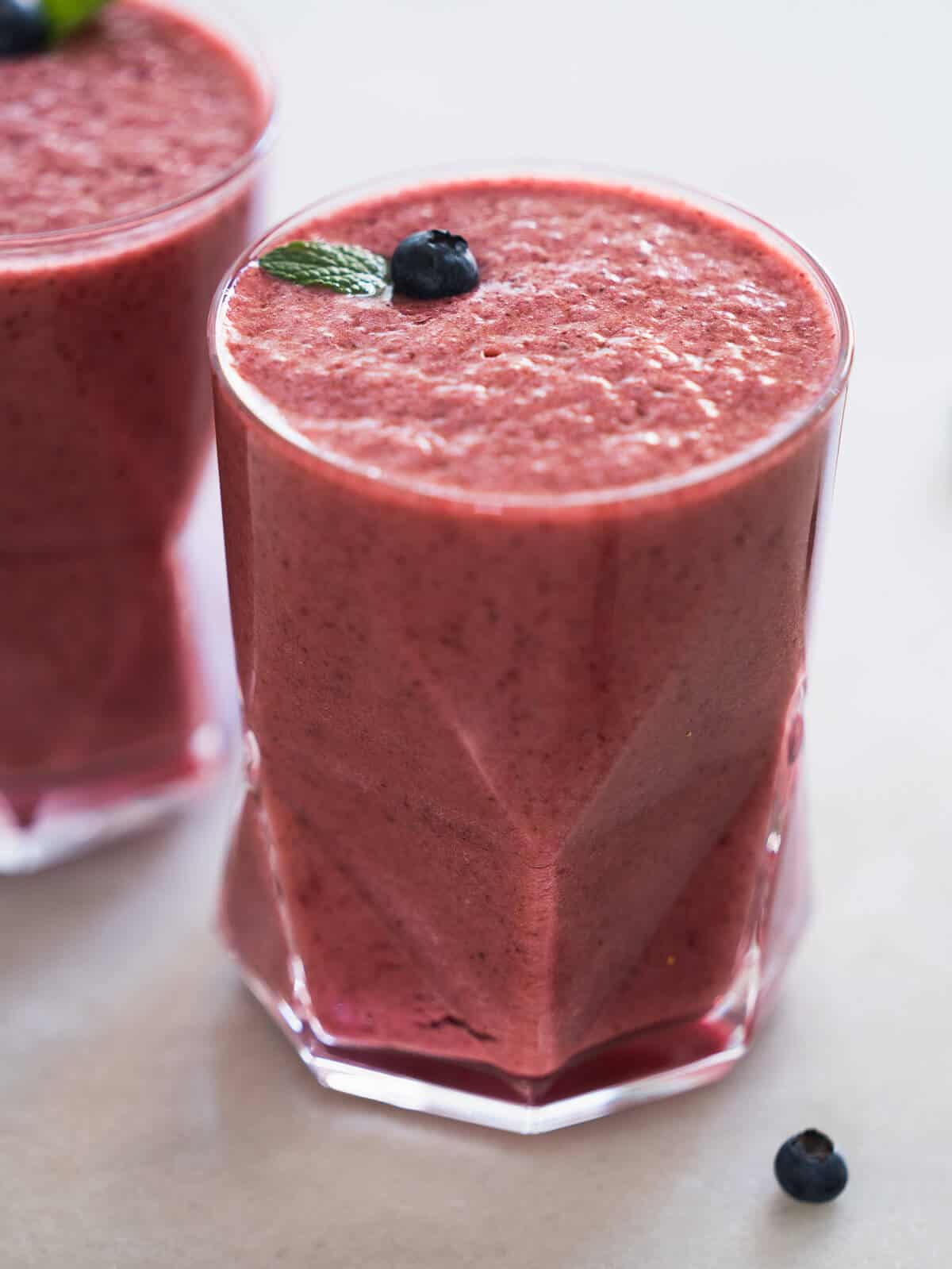 ⭐ If you try this blueberry pineapple smoothie recipe, let us know! 💬 Leave a comment, rate it, and don't forget to tag us @ourplantbasedworld on Instagram. Cheers!
📋 Recipe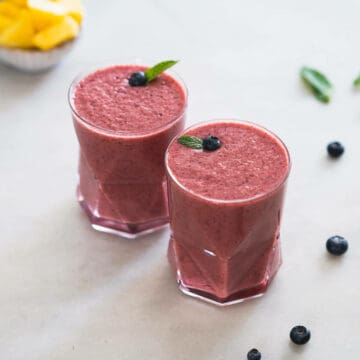 Blueberry Pineapple Smoothie without Banana (3 ingredients!)
Enjoy a refreshing, tropical getaway in a glass with this Blueberry Pineapple Smoothie! It's a delicious blend of juicy pineapple, sweet blueberries, and creamy coconut milk, with an optional dash of agave nectar for extra sweetness. This dairy-free and banana-free smoothie is not only delightful to taste but also packed with nutrients.
Equipment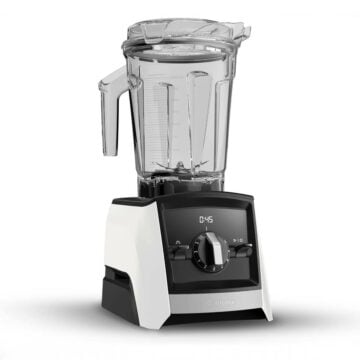 (affiliate link)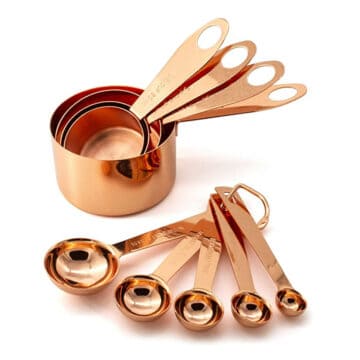 (affiliate link)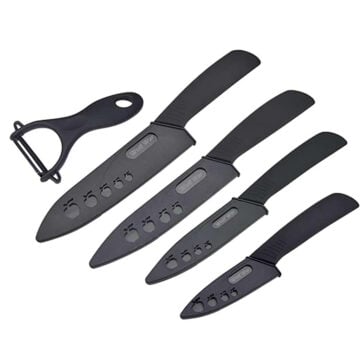 (affiliate link)
Ingredients
1

cup

blueberries

frozen, about 10 oz

9

oz

pineapple

2

cup

light coconut milk
Optional
2

tablespoon

agave nectar

maple syrup, optional if pineapple is not sweet

5

leaves

spearmint

fresh, or mint

¼

teaspoon

spirulina

1

tablespoon

almond butter
Directions
Toss the blueberries, pineapple chunks, and a splash of coconut milk into your blender's party bowl.

Press blend and watch as they twirl together into a tropical smoothie dream. Blend for 40 seconds or until the smoothie reaches the desired consistency.

For a thicker smoothie, omit water and ice cubes. For a thinner smoothie, add more plant milk or water (it will affect sweetness).

Taste and adjust flavor as needed, adding more dates for sweetness and more plant milk for creaminess.

For a thicker smoothie, add frozen banana, more pineapple, or blueberries.

Serve Cold.
Notes
Smoothie leftovers will keep in a covered mason jar in the refrigerator for up to 2 days, though best when fresh.
Add agave or maple syrup for extra sweetness or extra dates. We like using dates because they have a ton of beneficial post-workout benefits.
Vegan Clean Protein: if using the clean protein powder

(affiliate link)

, add our 10% discount code PBWORLD10 at check-out to enjoy the benefit. (affiliate)
Nutrition Facts
Serving:
20
oz
Calories:
273
kcal
Carbohydrates:
34
g
Protein:
1
g
Fat:
14
g
Saturated Fat:
13
g
Polyunsaturated Fat:
0.2
g
Monounsaturated Fat:
0.1
g
Sodium:
169
mg
Potassium:
196
mg
Fiber:
4
g
Sugar:
20
g
Vitamin A:
114
IU
Vitamin C:
68
mg
Calcium:
21
mg
Iron:
1
mg
Nutrition Facts
Blueberry Pineapple Smoothie without Banana (3 ingredients!)
Amount per Serving
% Daily Value*
* Percent Daily Values are based on a 2000 calorie diet.
🌡️ Food safety
Cook to a minimum temperature of 165 °F (74 °C)
Do not use the same utensils on cooked food, that previously touched raw meat
Wash hands after touching raw meat
Don't leave food sitting out at room temperature for extended periods
Never leave cooking food unattended
Use oils with a high smoking point to avoid harmful compounds
Always have good ventilation when using a gas stove
See more guidelines at USDA.gov.
Nutritional Disclaimer
The information shown is an estimate provided by an online nutrition calculator. It should not be considered a substitute for a professional nutritionist's advice. See our full Nutritional Disclosure here.
Affiliate Disclaimer
Please note that some of the links here are affiliate links, and I will earn a commission if you purchase through those links. I recommend all of the products listed because they are companies I have found helpful and trustworthy.