Looking for a delicious and hearty meal? Try this traditional pea pottage recipe! Made with simple ingredients like split peas, herbs, and vegetables, this recipe is easy to make and perfect for a cozy dinner or lunch. Plus, it's packed with protein and fiber, making it a healthy and filling option. Give it a try today and enjoy the comforting flavors of this classic dish!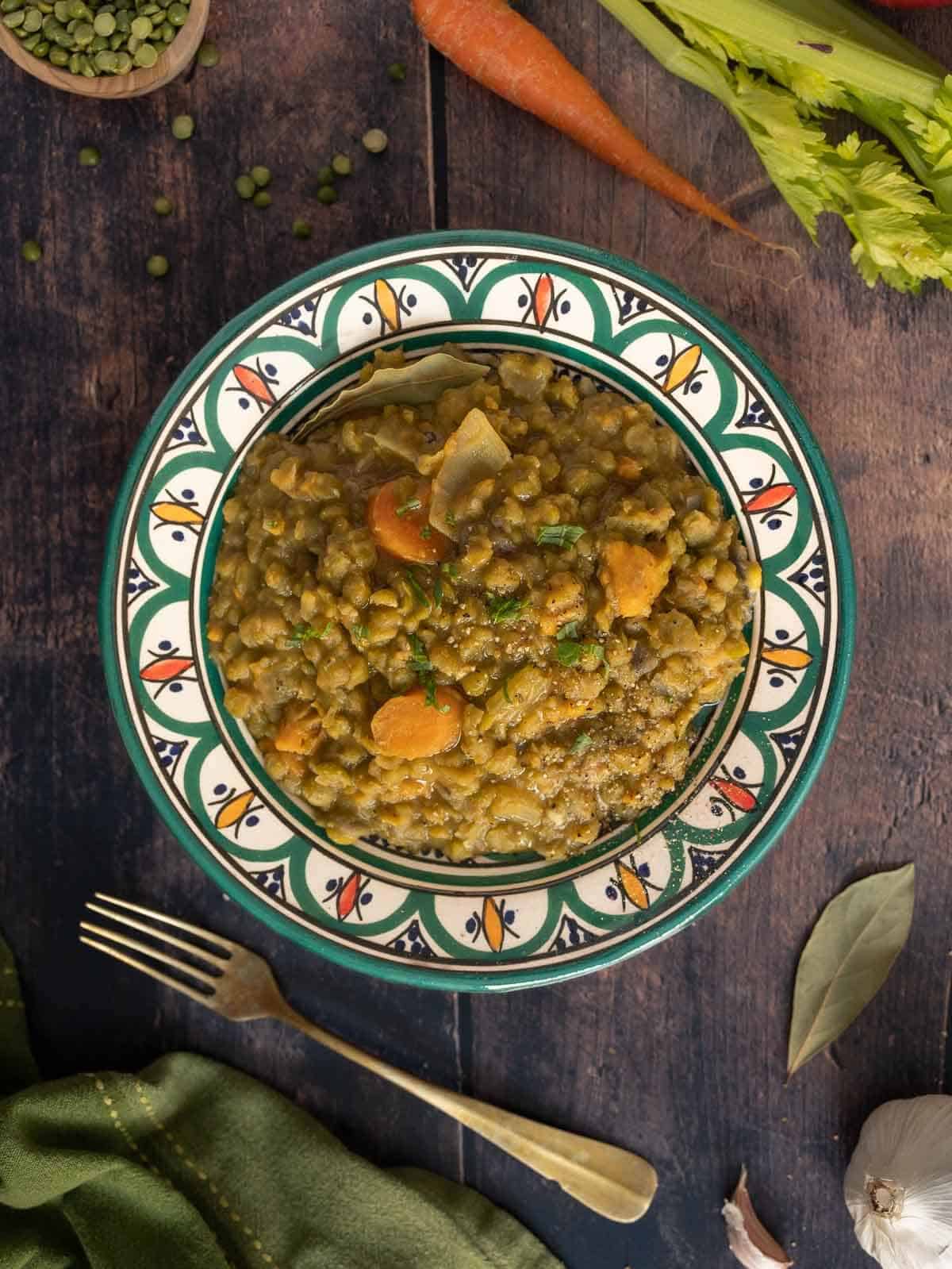 🤔 What is a medieval pottage?
Pea pottage, also known as split pea soup, is a classic comfort food that has been enjoyed for generations and is considered peasant food and an integral part of the medieval diet.
It's a simple and satisfying dish that can be made with just a few ingredients, making it a popular choice for families on a budget or those looking for a hearty and healthy meal.
We love stews, pottages, and hearty meals, not only during fall and winter months but year long; that's why we have certain recipes that, even though they use legumes, are still light and easy to put together in just a couple of minutes, without making a mess in the kitchen.
This hearty dish made from dried peas was a staple food in many European countries during the Middle Ages. Peasants tended to rely on this dish because it was cheap and easy to make, requiring only a handful of ingredients and a bit of time to cook.
These light pottages serve as appetizers in small portions or as a main meal, doubling the serving size.
Jump to:
🧾 Ingredients
This pottage recipe is made with just a few delicious ingredients.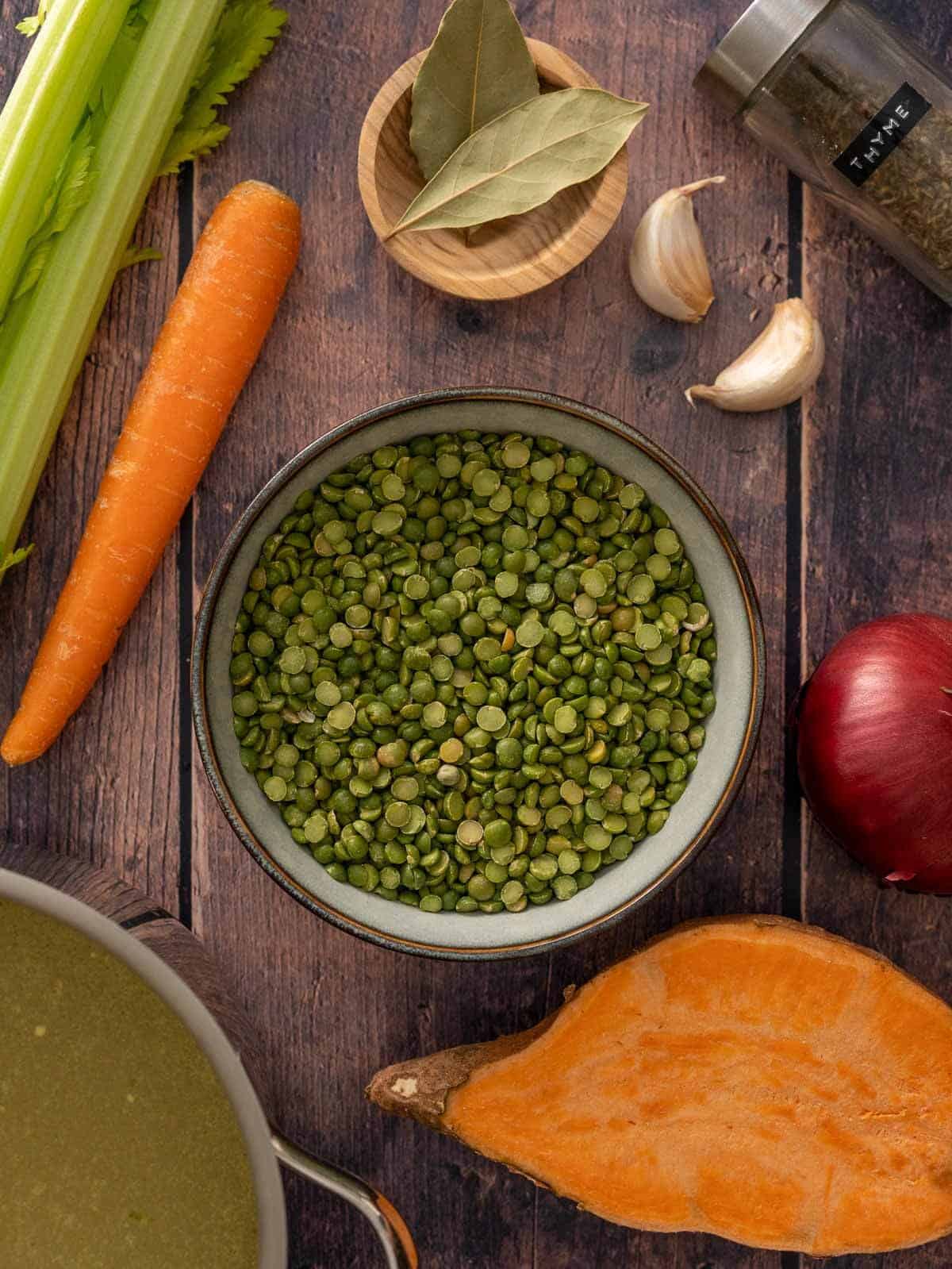 Split peas - the main recipe ingredient. Brings flavor, creaminess, color, and a delicate sweetness.
Red onion - brings color and complexity.
Garlic - adds intensity.
Sweet potatoes - adds sweetness and creaminess.
Vegetable stock - the liquid on the recipe. Try to use a good quality one without preservatives, or you can even make your own.
Celery - adds a slight flavor, volume, and texture to the dish.
Thyme - contributes to the prominent herbal flavor of this stew, but you can use any choice of fresh herbs.
Bay leaf - add a delicious herby note.
Optional ingredients
Extra virgin olive oil or vegan butter to stir fry the veggies.
See the recipe card for quantities.
Did you know?
Peas were a common crop among farmers, and their high protein content made them a valuable source of nutrition for people who couldn't afford meat. To prepare the pottage, the peas would be soaked in water overnight, then boiled with onions, herbs, and other vegetables until they were soft and mushy.
The result was a thick and flavorful stew that could sustain people through the long, cold winter months. Even today, split pea pottage remains a popular dish in many parts of the world, cherished for its simplicity, affordability, and comforting taste.
Say yes to Meal Prep!
🔪 Instructions
This recipe for pottage involves very simple steps.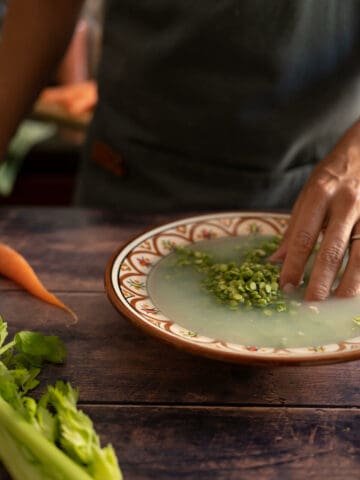 Step 1: Rinse the green peas under running water and drain.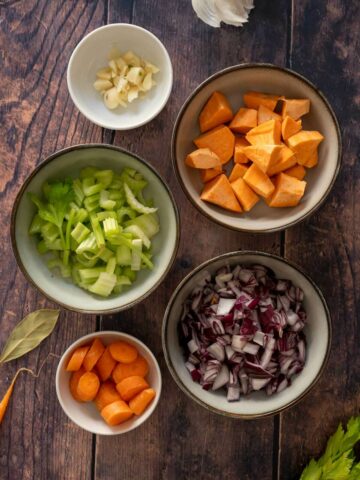 Step 2: Chop all the veggies.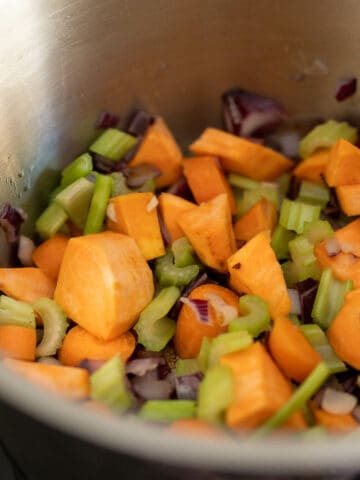 Step 3: Stir fry the onion and garlic, followed by the rest of the vegetables.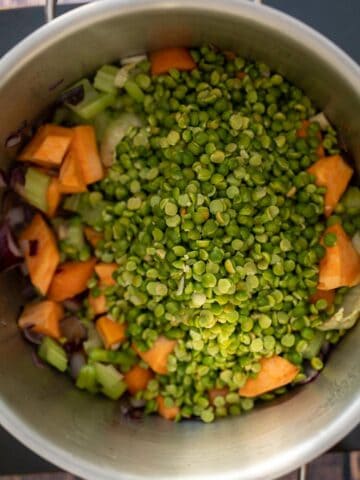 Step 4: Add the drained split peas.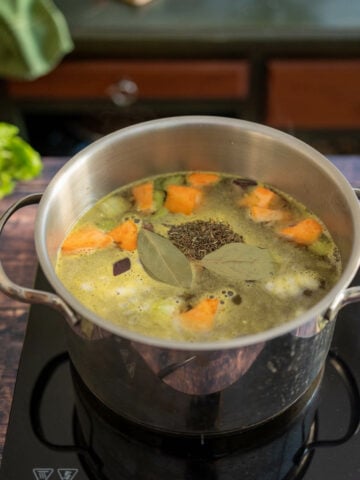 Step 5: Add the vegetable broth and bay leaf and let simmer for 20-30 minutes on medium heat.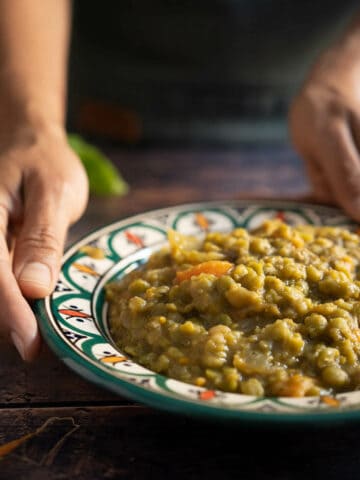 Step 6: Cook until the pottage reaches the desired consistency.
Optional cream pottage
Optionally, blend using an immersion blender if you want the texture to be creamy, or leave it as is to preserve the texture of the veggies.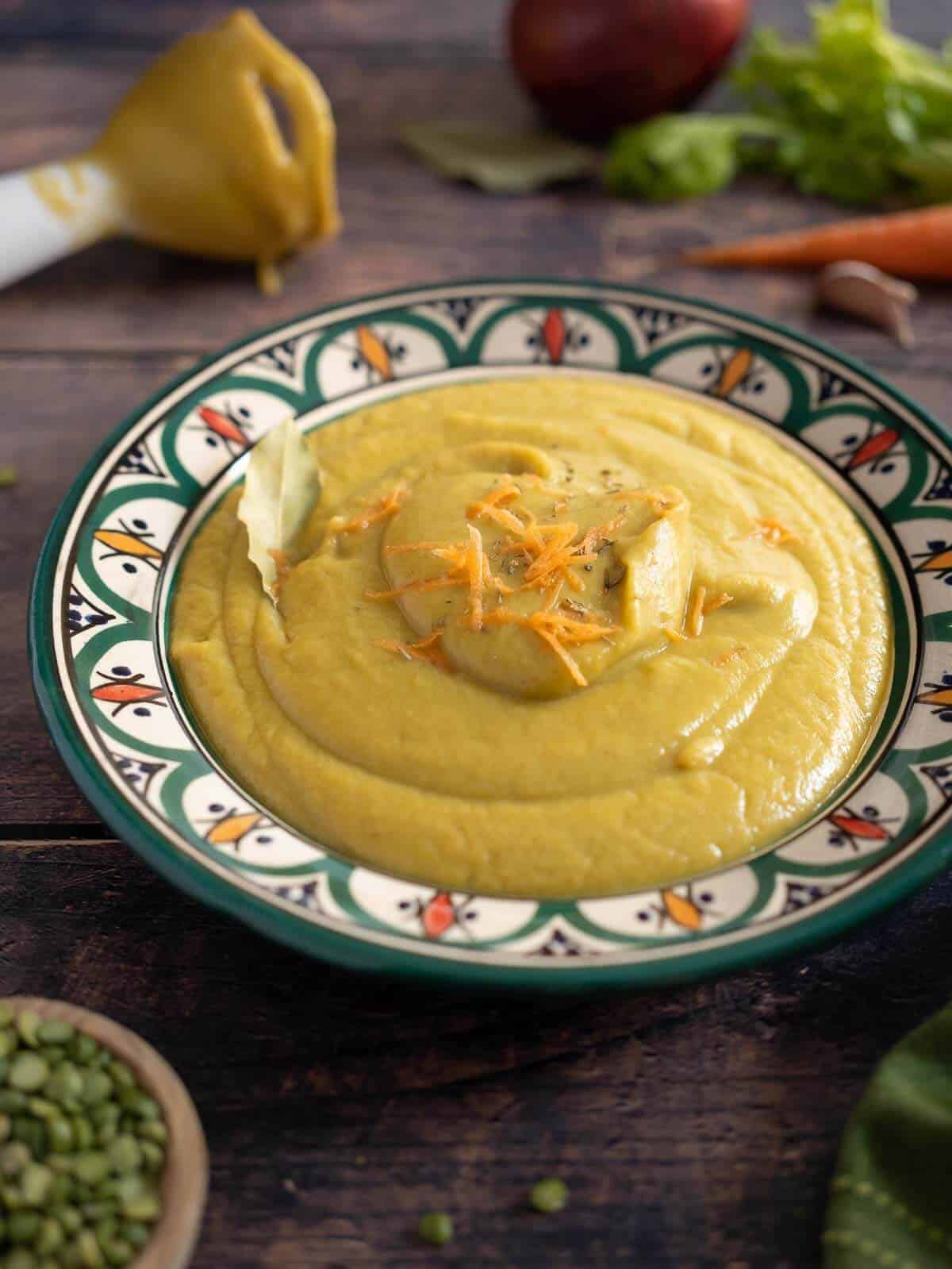 Hint: you can use any split peas to make this pottage. Our favorites are yellow and green peas. Red lentils are also a great option.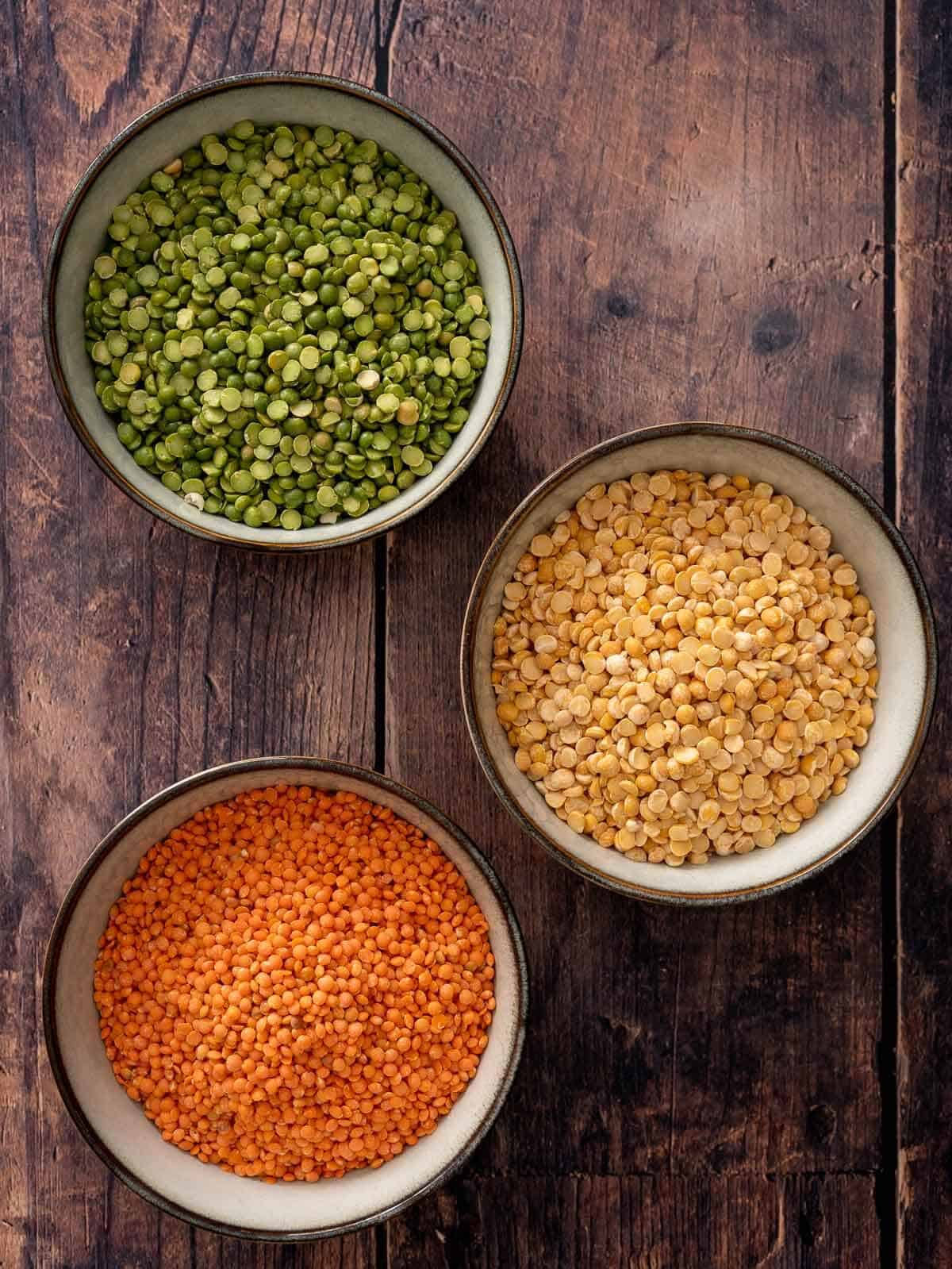 🍶 Substitutions
Red onions - use white or yellow onions instead. You can also use leeks or shallots.
Sweet potato - use carrots instead.
Thyme - substitute for Rosemary, oregano, or tarragon.
📖 Variations
Saffron strands - Definitely not traditional to medieval cooking or medieval society, as saffron is a luxurious spice that can add a rich, warm flavor and a vibrant golden color to a dish. Using saffron strands in a pottage can take this simple and hearty dish to the next level. We love using saffron for our protein chickpea stew.
Cabbage is a delicious and nutritious vegetable that can be used in a variety of dishes, including the classic pea pottage. Pea pottage is a traditional medieval times soup made with green peas and vegetables. Cabbage is a great addition to this soup as it adds both flavor and texture. When using cabbage in a pottage, it is important to chop it into small pieces so that it cooks evenly and doesn't overwhelm the other ingredients. Cabbage is also a great source of vitamin C, fiber, and antioxidants, making it a healthy addition to any dish.
Rolled oats can be a great addition to a pottage, adding texture, flavor, and nutritional value to this classic dish. The oats provide a subtle nuttiness and a pleasant chewiness that complements the creaminess of the peas. They also act as a thickener, giving the pottage a heartier, more satisfying consistency. Oats are a rich source of fiber, protein, and essential nutrients, making them an excellent choice for a wholesome meal.
Wild rice is a highly nutritious and flavorful ingredient that can be used to add a unique twist to a traditional pea pottage recipe. This type of grain has a rich, nutty flavor and a chewy texture. Combined with peas' delicate sweetness, it can create a truly delicious and satisfying dish. To make rice and pea pottage, cook it in boiling water for 5 minutes, drain, reserve, and then add them to the drained peas.
Green peas - you can use yellow split peas, green beans, or red lentils as well.
🍽 Equipment
Blender- if you don't have a juicer, you will need an immersion blender (affiliate link) if you want to make a cream-like pottage.
🥡 Storage
Store leftovers in a BPA-free (affiliate link), tightly sealed container in the fridge for up to 3 days.
You can freeze the stew in an airtight container, but it doesn't stand up well to freezing for more than 3 months.
Always add 1-2 cups of water or vegetable stock to reheat the pottage.
💡 Top tips
Play with the ingredients and add them to your medieval-style stew. Always add veggies with veggies and cereals halfway, and start with the larger grains like whole beans, continuing with small ones, like green peas.
If you will blend it, add 1-2 cups of warm water to have a creamier consistency.
Want it creamy but still with a couple of veggie chunks? Blend only half of it, and then mix it with the remaining unblinded cooked stew.
📚 More stew recipes
Vegetarian pottages and Asian curries share many similarities in terms of their use of beans, lentils, and assorted vegetables. Both dishes are typically made with a variety of vegetables, such as carrots, onions, and potatoes, and often include legumes such as lentils, chickpeas, or black beans.
These ingredients provide a rich source of protein and fiber, making them a popular choice for those following a vegetarian or vegan diet. In addition, both dishes often use spices and herbs to add flavor and depth to the dish.
Find our Massaman, Red, Green, and Yellow Thai Vegetable Curries, as well as our red lentil and green lentil stews, which are sure to make up for not only delicious both easy meals that can be made in batches with little budget.
Love your creamy soups?
Why not trying out this silky carrot and ginger creamy soup, our pumpkin and tahini soup, or the traditional summery Andalusian gazpacho?
This peas pottage recipe is a simple and delicious way to enjoy classic comfort food. It's packed with protein and fiber, making it a filling and healthy option for lunch or dinner. Plus, it's easy to customize with your favorite vegetables or seasonings. Give it a try, and enjoy the comforting flavors of this classic dish!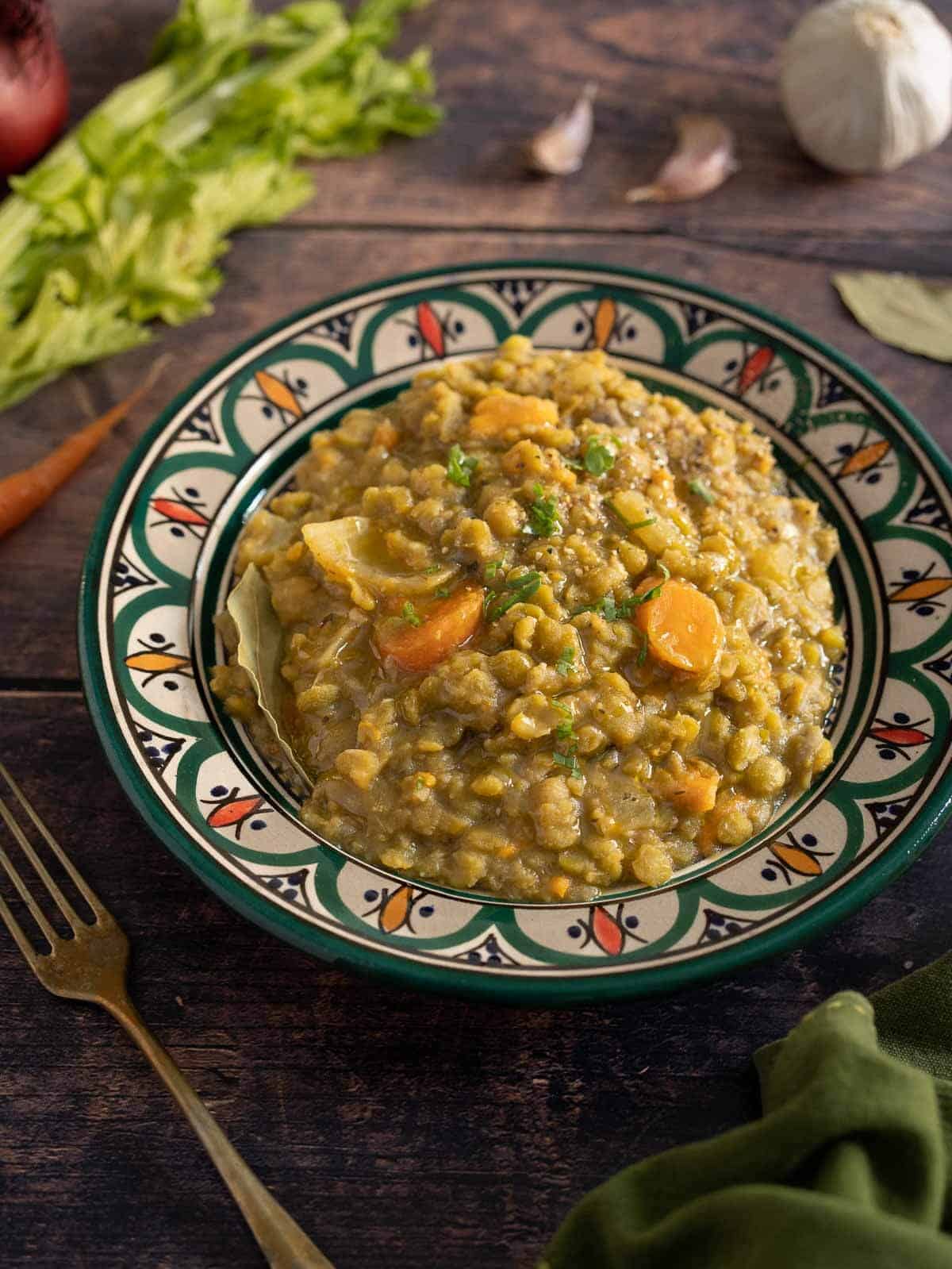 ⭐ If you try this pottage recipe, let us know! 💬 Leave a comment, rate it, and don't forget to tag us @ourplantbasedworld on Instagram. Cheers!
📋 Recipe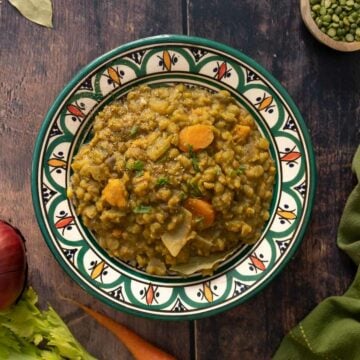 Medieval Green Pea Pottage (Thick Pease Soup)
Pea pottage is a delicious and hearty soup that has been enjoyed for centuries. Here is a recipe for a traditional pea pottage.
Equipment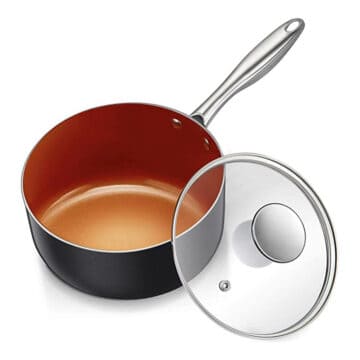 (affiliate link)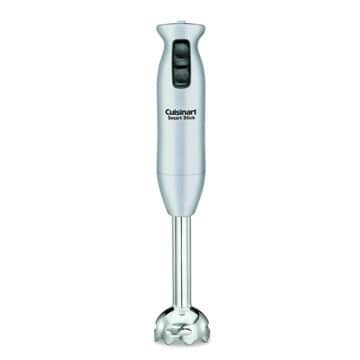 (affiliate link)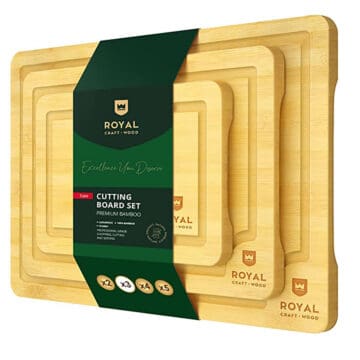 (affiliate link)
Ingredients
Optional
1

tablespoon

olive oil

extra virgin, or any other vegetable oil. Omit if WFBB

salt and pepper

to taste

2

cups

water

warm, if blending into a cream
Directions
Rinse the dried split peas and pick out any debris or stones. Set aside.

In a large pot or Dutch oven, heat the olive oil over medium heat. Add the chopped onion and minced garlic. Sauté until soft and translucent, about 5 minutes.

Add veggies. Stir in chopped carrots, and chopped celery to the pot. Cook for an additional 5 minutes, stirring occasionally.

Add the rinsed split peas, vegetable broth, bay leaves, and dried thyme to the pot. Stir to combine.

Bring the mixture to a simmer and let cook for 1 hour, stirring occasionally, until the split peas are tender and the soup has thickened.

Remove the bay leaves and discard them. Serve or blend.
Optional for a silky texture
Using a regular or immersion blender, puree the soup until smooth, adding 1-2 cups of warm water until you reach the desired consistency.

If using a blender: hold the lid tight with a towel, as hot liquids cause pressure in the jar a can sprinkle.

Season with salt and pepper to taste.

Serve hot and enjoy!
Notes
Note that once the pottage is cooked, you can blend it into a cream. We suggest adding 1-2 cups of warm water so the consistency is more liquid and not pure purée.
Nutrition Facts
Calories:
279
kcal
Carbohydrates:
53
g
Protein:
17
g
Fat:
1
g
Saturated Fat:
0.1
g
Polyunsaturated Fat:
0.4
g
Monounsaturated Fat:
0.2
g
Sodium:
1935
mg
Potassium:
847
mg
Fiber:
19
g
Sugar:
12
g
Vitamin A:
4747
IU
Vitamin C:
8
mg
Calcium:
74
mg
Iron:
3
mg
Nutrition Facts
Medieval Green Pea Pottage (Thick Pease Soup)
Amount per Serving
% Daily Value*
* Percent Daily Values are based on a 2000 calorie diet.
Nutritional Disclaimer
The information shown is an estimate provided by an online nutrition calculator. It should not be considered a substitute for a professional nutritionist's advice. See our full Nutritional Disclosure here.
Affiliate Disclaimer
Please note that some of the links here are affiliate links, and I will earn a commission if you purchase through those links. I recommend all of the products listed because they are companies I have found helpful and trustworthy.