Hola, everyone! Let's dive into a fresh creation today. Get ready for a delightful journey of tastes and textures, a culinary adventure that speaks to the heart of seasonal, plant-based eating. Yes, we're talking muffins. But not just any muffins, my friends. They're moist, fluffy, and packed with nutritious goodness. You might have guessed already - our hero today is the humble zucchini, transformed into delightful Vegan Zucchini Muffins.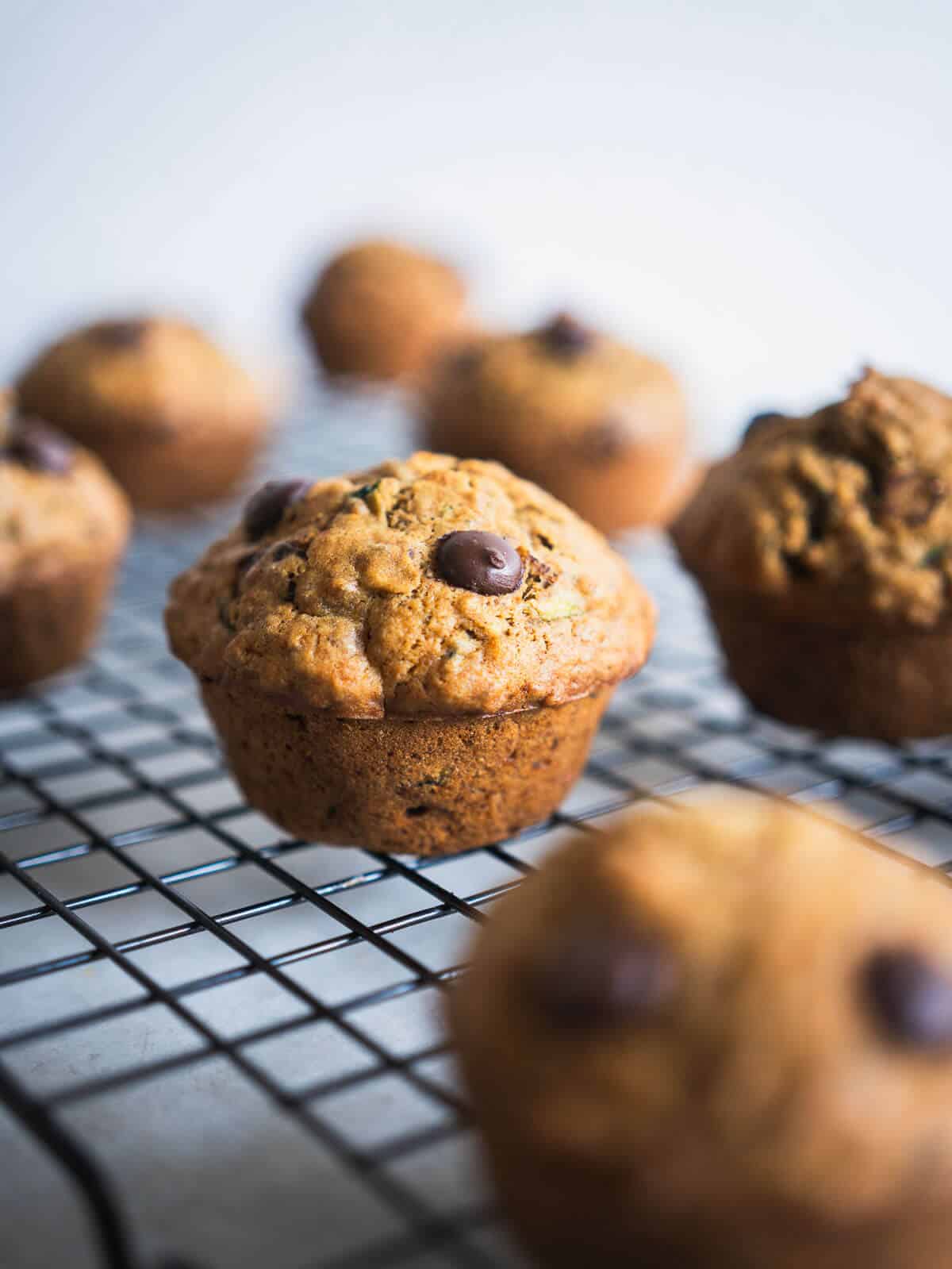 Picture this: You've got a warm mug of your favorite plant-based milk, maybe an almond latte or a soothing oat milk chai. On your other hand, a muffin with a soft crumb, a hint of cinnamon and vanilla, and bursts of semi-sweet chocolate chips. Now, wouldn't you agree that's a match made in heaven?
The beauty of these vegan muffins lies in their simplicity. They showcase the kind of magic you can create when you let seasonal, plant-based ingredients take center stage. The star of our show, zucchini, provides a soft, moist crumb and brings a whole host of nutritional benefits.
Zucchinis are low in calories and high in fiber, making these muffins a satisfying snack that won't have you reaching for another snack an hour later. Plus, they're rich in antioxidants and vitamin C, which is great for supporting a healthy immune system. And we can't forget about those chocolate chips because even in a healthy lifestyle, there's always room for a touch of sweetness, and they are easy to add to any kind of muffins, even blueberry ones!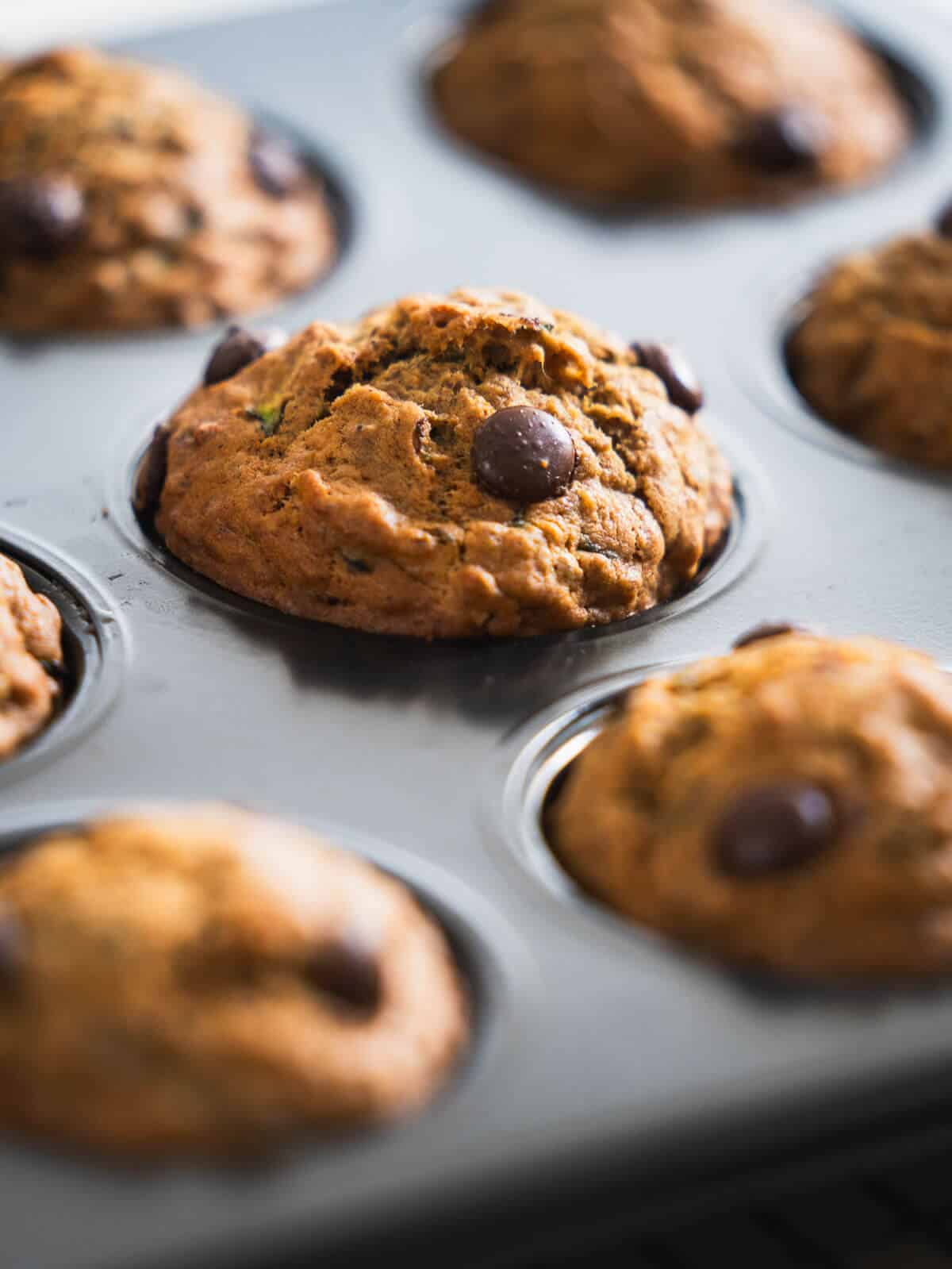 Creating these zucchini muffins is a joy, a dance of flavors and aromas filling your kitchen. The gentle sizzle as you grate fresh zucchini, the aromatic allure of cinnamon and vanilla wafting through the air, and finally, the rewarding sight of beautifully risen muffins, their tops dotted with melted chocolate chips.The perfect sweet end to a meal, picnic, or on-the-go snack.
So next time you find yourself in the kitchen, looking for a recipe that marries taste, nutrition, and environmental consciousness, think of these vegan delights. Whip up a batch, share with loved ones, or savor a moment of quiet indulgence with a muffin and your favorite brew. Trust us; these Vegan Zucchini Muffins are a sweet way to celebrate the vibrancy of plant-based eating!
Jump to:
🧾 Ingredients
These vegan chocolate zucchini muffins are made with just a few ingredients:
Zucchini: Zucchini brings moisture and nutrition to the dish, making it soft and tender while sneaking in some vegetables.
All-purpose flour: Acting as the primary dry ingredient, it provides structure and stability to baked goods, ensuring they hold their shape.
Cinnamon: Cinnamon is used for its aromatic, sweet-spicy flavor that adds depth and warmth to the recipe, complimenting the sweetness of other ingredients.
Vanilla extract enhances other flavors in the recipe, adding a subtle, complex sweetness and aroma that rounds out the overall taste.
Coconut oil: contributes to the moisture and richness of the dish, and being a plant-based fat, it makes the recipe suitable for vegans.
Baking powder: Baking powder is a leavening agent that reacts to create gas bubbles when mixed with wet ingredients, leading to a rise in baked goods, ensuring they are fluffy and light.
Baking soda: Baking soda, another leavening agent, reacts with acidic ingredients to produce carbon dioxide gas, contributing to the rise and lightness of the dish.
Coconut sugar: Coconut palm sugar or brown sugar is the main sweetener in this recipe; it provides a subtle caramel-like flavor, and its low glycemic index makes it a healthier alternative to refined sugars.
Chia seeds: Chia seeds serve as an egg substitute in this vegan recipe, providing binding properties when mixed with water and contributing extra fiber and omega-3 fats.
Optional: Vegan chocolate chips: Vegan chocolate chips can add a decadent, rich flavor to the recipe, bringing in a delightful contrast with the zucchini while keeping the dish 100% plant-based.
See the recipe card for quantities.
🔪 Instructions
To make vegan zucchini muffins follow these simple steps.
Making chia eggs.
Shredding zucchini.
Combining all the ingredients.
Baking.
First off, get your oven warming up to 400°F (200 ºC) - it's always best to start with a hot oven and use a measuring cup to get all the ingredients proportions right.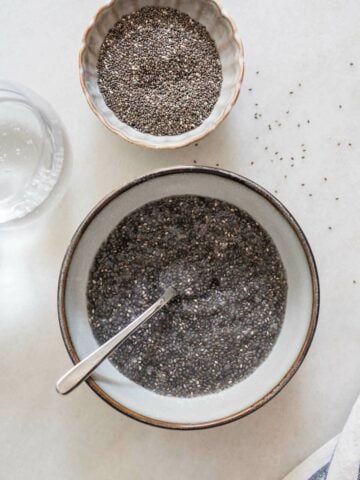 Combine the chia seeds with water and let them thicken.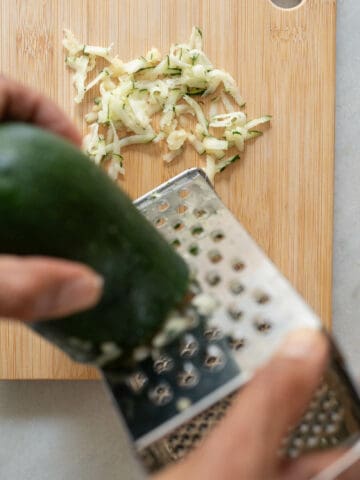 Use a box grater to shred zucchini.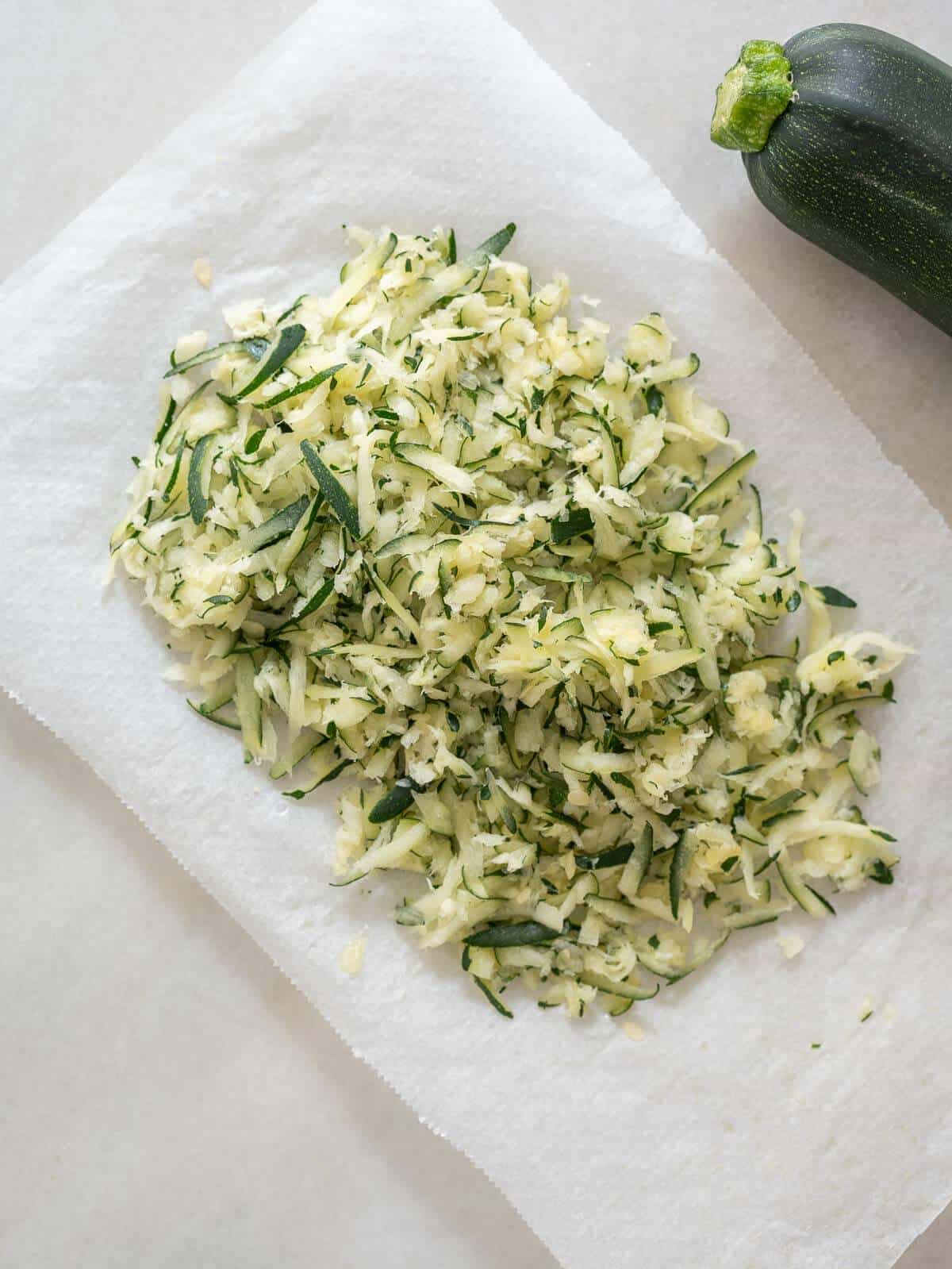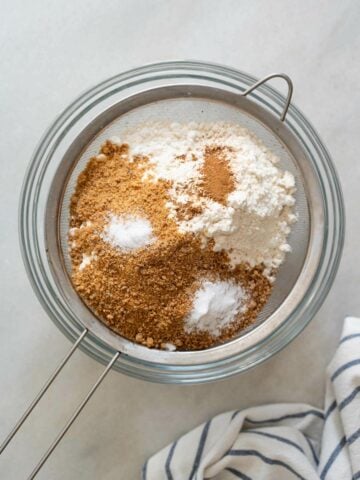 Grab a large mixing bowl and sift in your flour, cinnamon, baking powder, coconut sugar (or brown sugar), baking soda, and salt.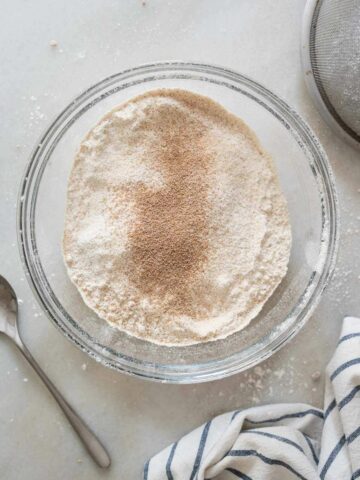 If there are clumps, use the back of a spoon to facilitate the process.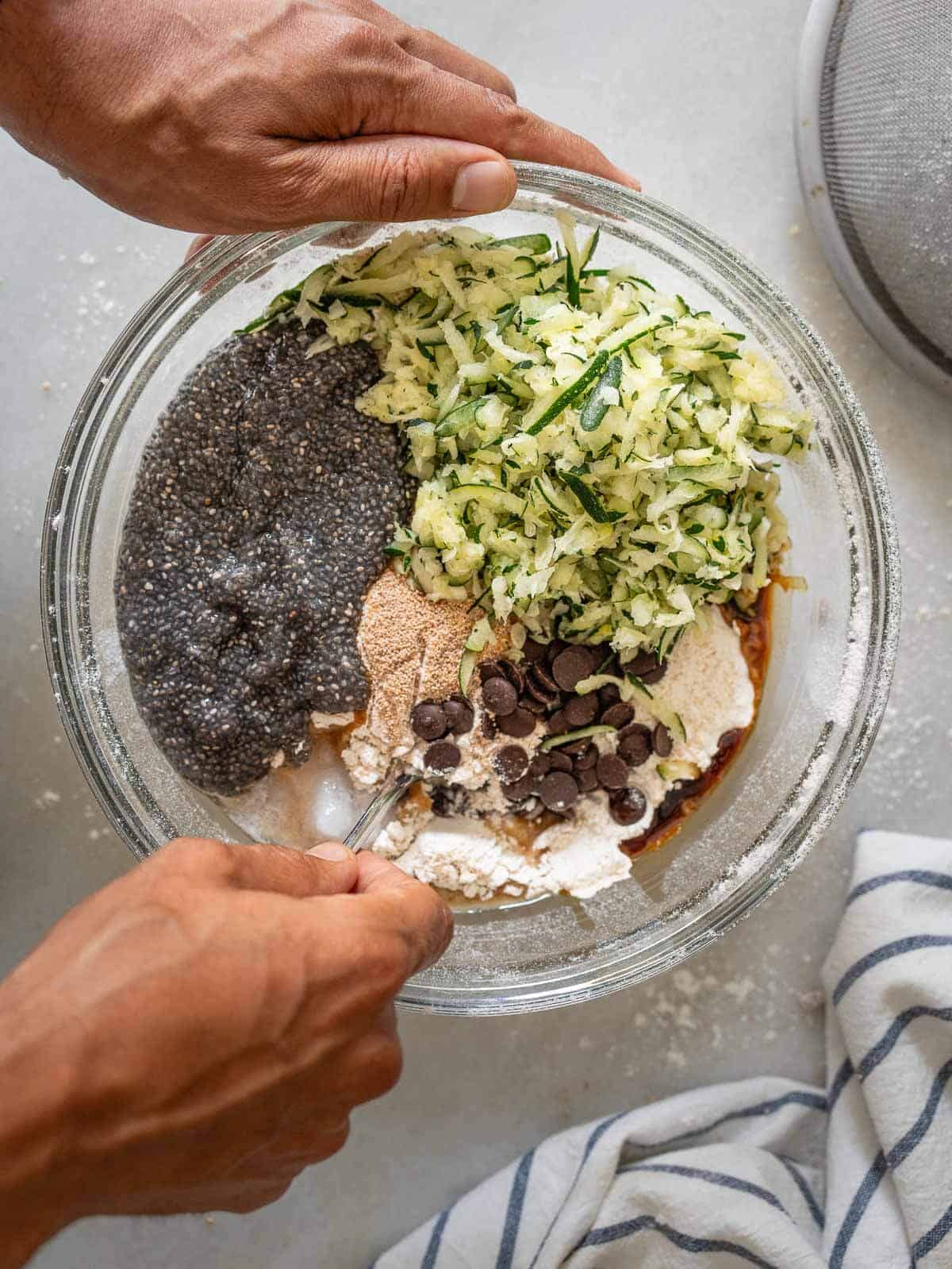 Now, it's time to add your thickened chia eggs, grated zucchini, melted coconut oil, vanilla extract, water, and half your chocolate chips.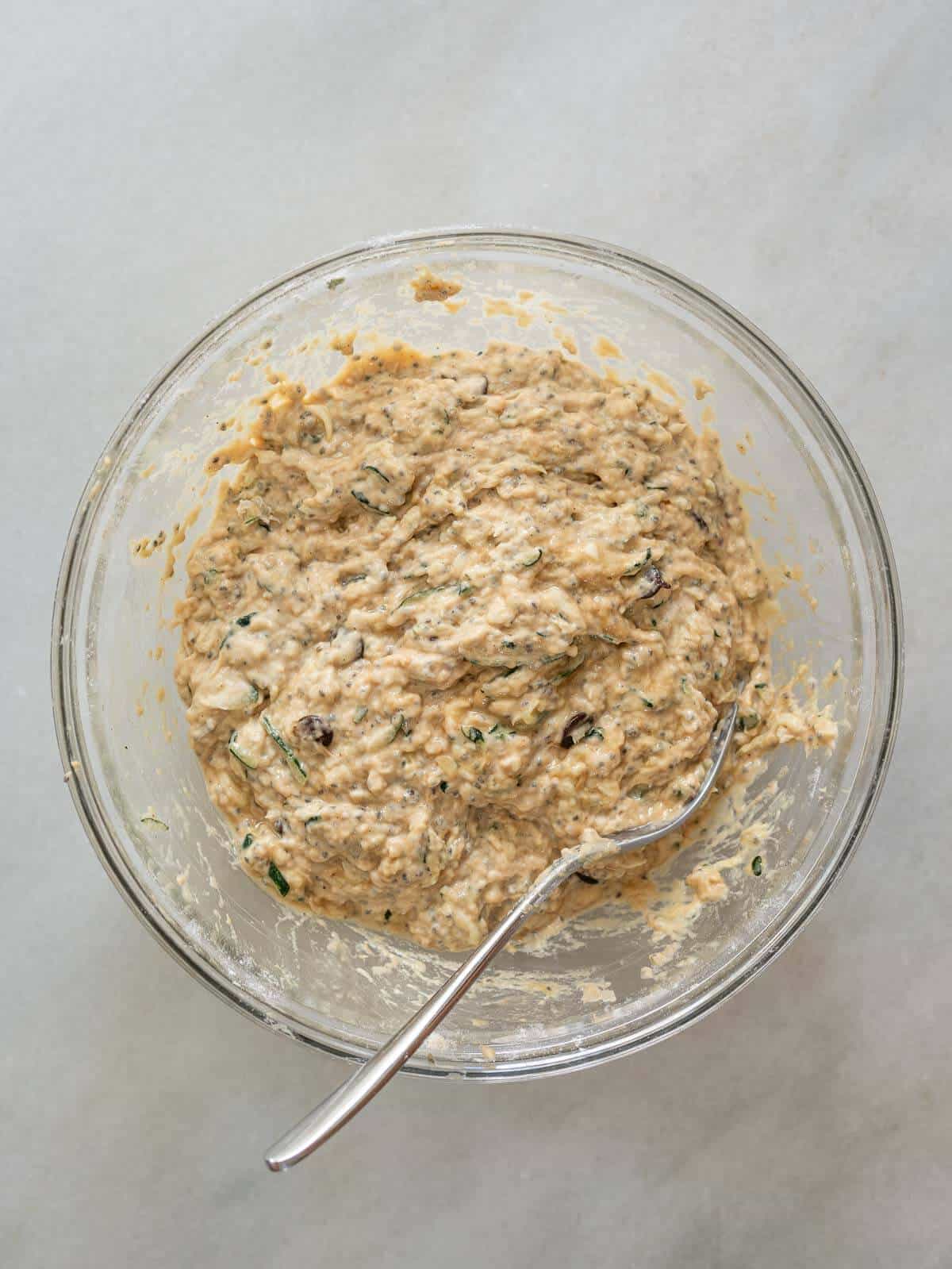 This is the fun part - mix it all up! Fold the ingredients with a spatula until you have a uniform muffin batter with no dry clumps. Avoid overmixing it.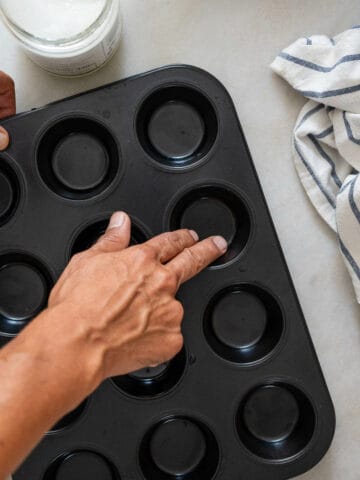 Lightly oil the muffin tin with your fingers.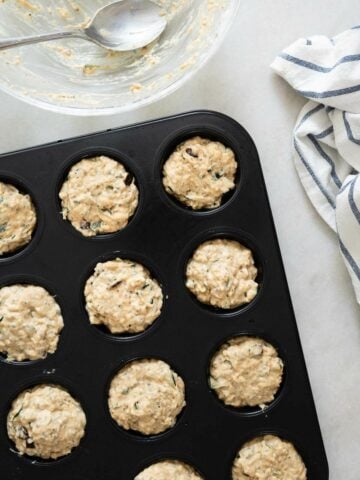 Divide the batter evenly into the prepared muffin tin; aim to fill muffin tins about two-thirds full, giving them space to rise.
Hint: if you use silicon muffin cups you don't need to oil it.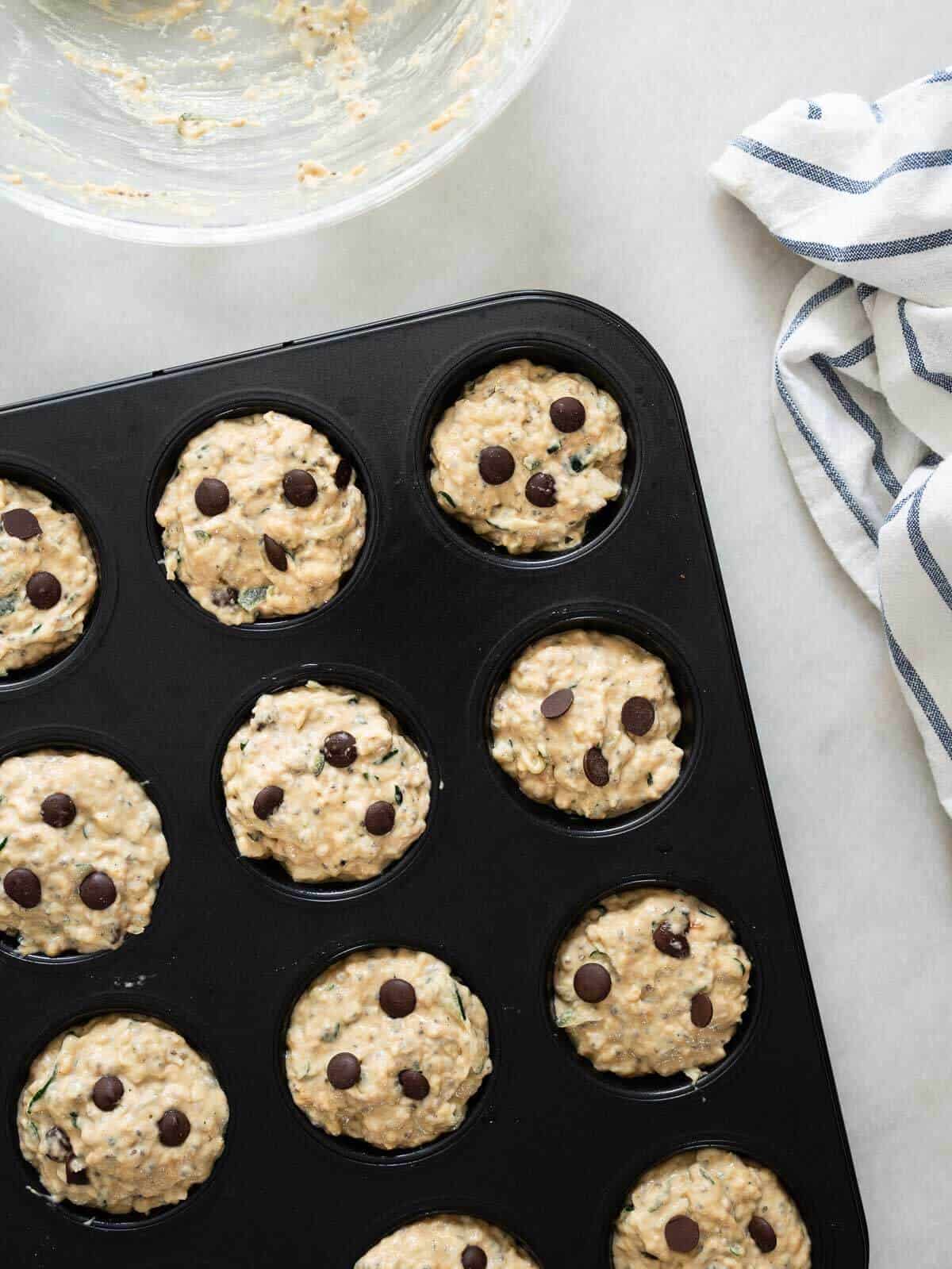 Add extra chocolate chips on top. Pop your muffin tin onto the middle rack of your preheated oven. Let them bake at 400°F for 5 minutes, then turn the heat down to 350 ºF (175 ºC). Leave them to bake for another 20-22 minutes.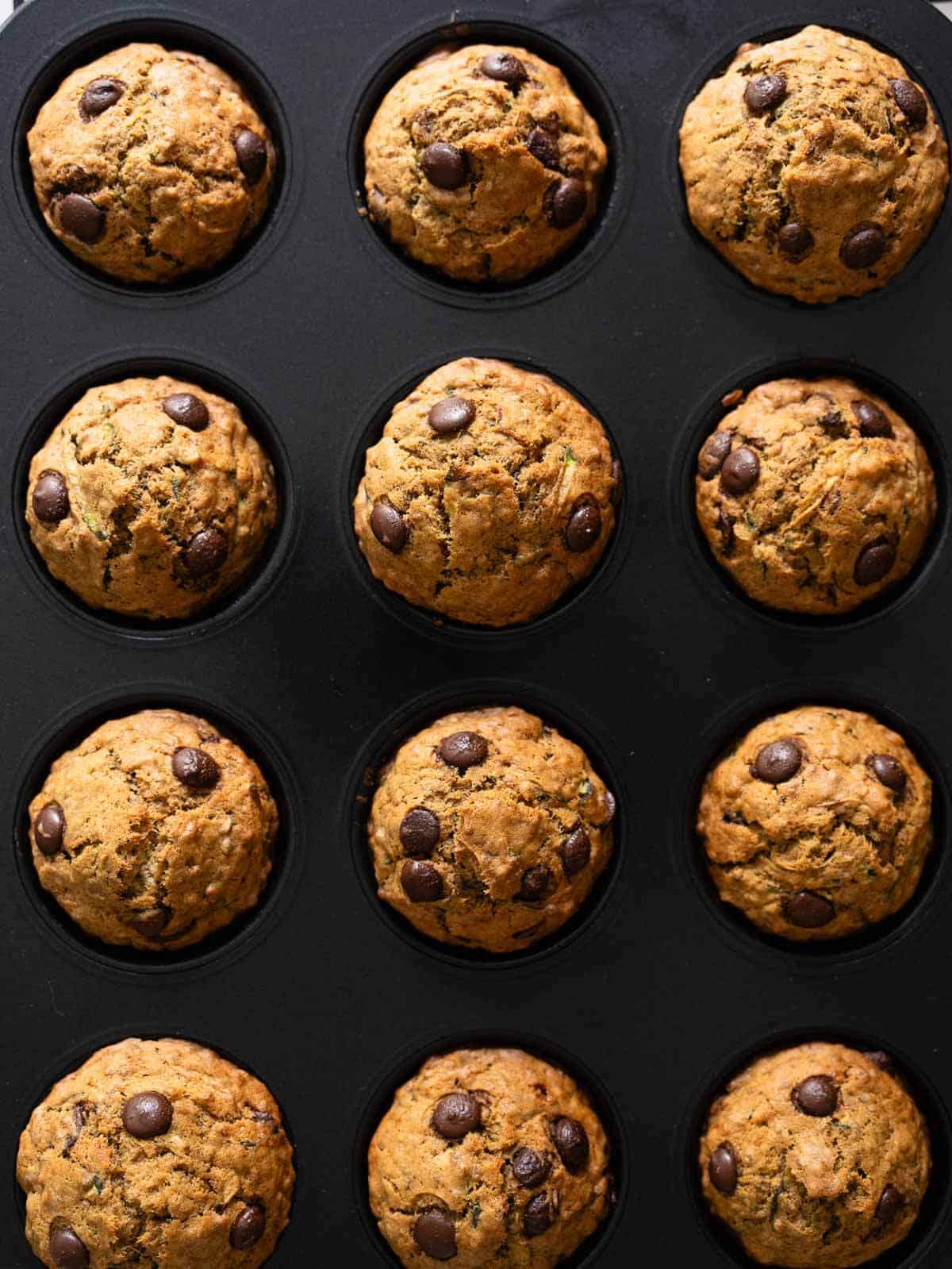 You're looking for a beautiful golden brown color and a clean toothpick after poking it in the middle. All in all, they'll need about 25-27 minutes in the oven.
Hint: Using a knife, gently ease the muffins out of the tin and transfer them to a cooling rack. Let them cool completely, at least 10 minutes before consuming it.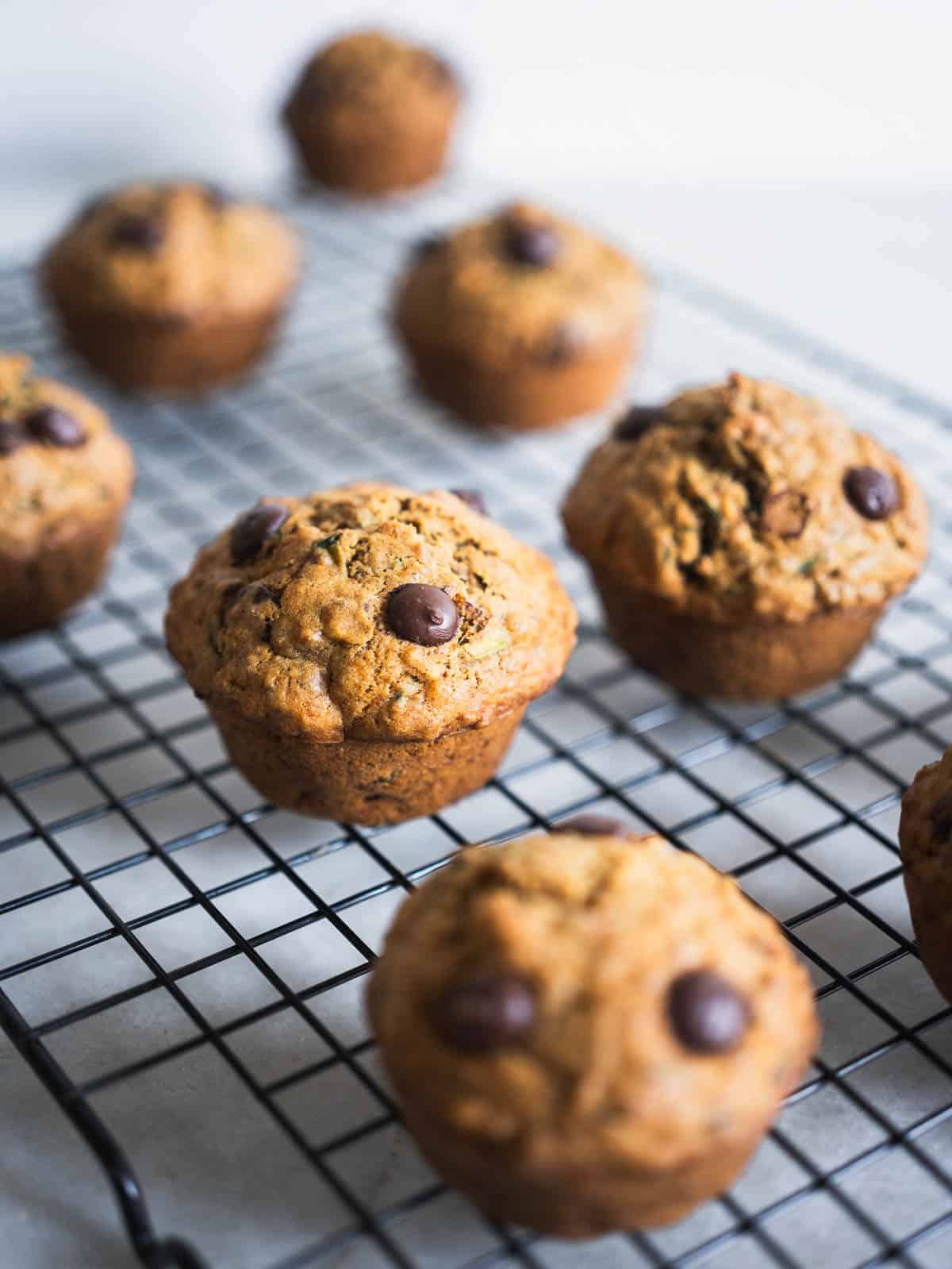 Read on: vegan protein chocolate chip cookies, banana chocolate chip muffins, and almond flour protein balls.
🥢 How to serve
Enjoying the best zucchini muffins can go beyond just a simple grab-and-go breakfast or snack. Here are some creative serving options for you to try: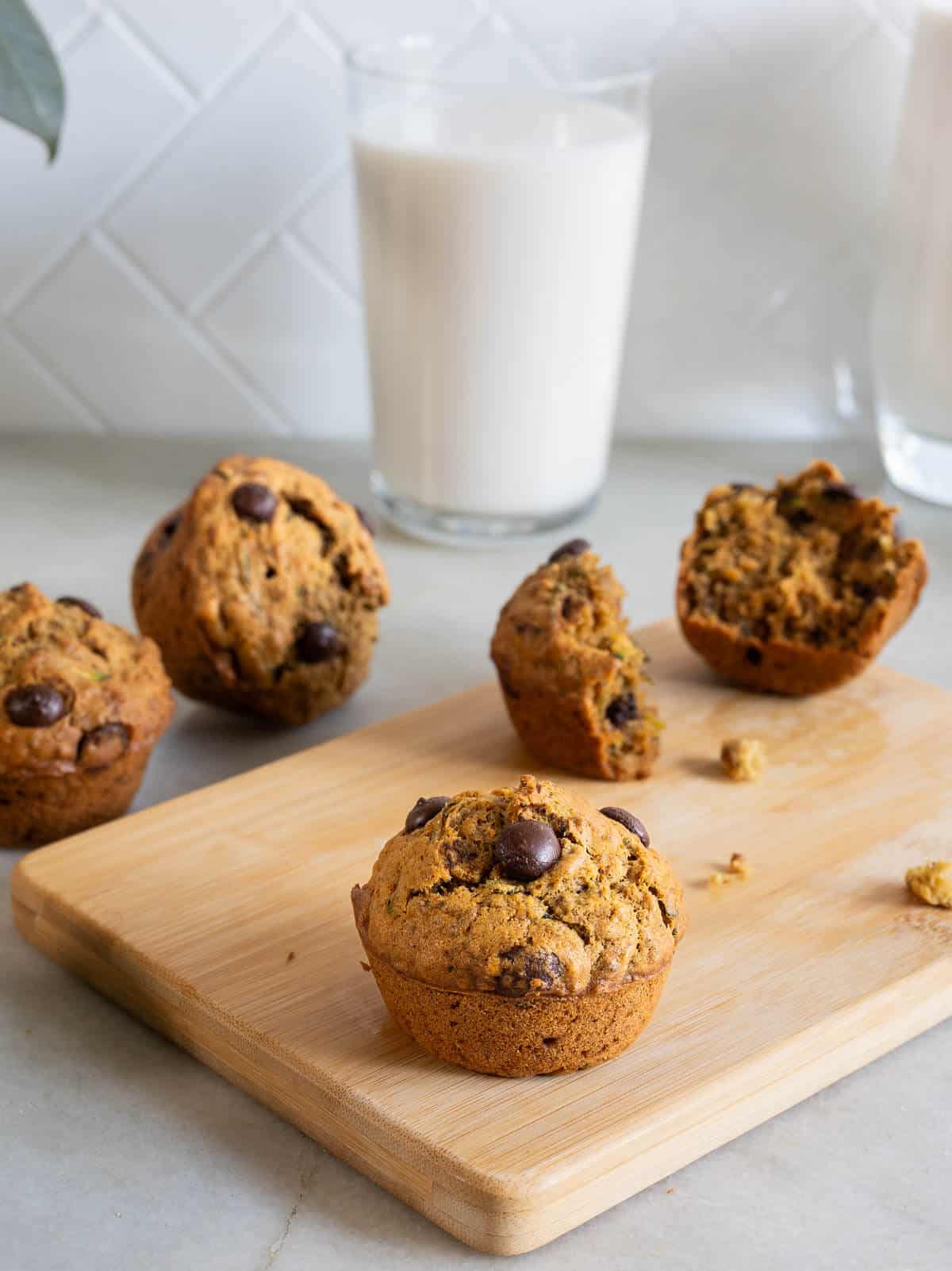 Wholesome Breakfast: Pair a muffin with a glass of your favorite non-dairy milk - oat or almond milk would work beautifully. Add some fresh fruits on the side to create a balanced, hearty breakfast.
Picnic Snacks: These muffins make perfect portable picnic snacks. Pack them with fresh-cut fruit, dark chocolate hummus, oatmeal bars, and iced tea for a refreshing outdoor meal.
Dessert Parfait: For a creative dessert, crumble a muffin into a glass and layer it with some vegan yogurt and mixed berries. Top with a sprinkle of granola for a bit of crunch - it's a unique twist on a traditional parfait!
Afternoon Tea Pairing: These muffins can also be served as a delightful accompaniment to your afternoon tea or coffee. A great pick-me-up for that mid-afternoon slump!
Lunchbox Addition: Pop a muffin into your (or your kid's) lunchbox along with a veggie wrap or salad. It adds a sweet treat to look forward to post-lunch.
Fancy Dessert: Warm the muffin slightly, place it on a dessert plate, and drizzle it with some vegan dark chocolate sauce or vegan ice cream. Add a dollop of coconut whipped cream on the side for a fancy, restaurant-style dessert at home!
Remember, these are just ideas. Feel free to get creative and enjoy your muffins in whatever way suits your taste and lifestyle best!
🍶 Substitutions
Gluten-free zucchini muffins:

Oat Flour: Swapping All-Purpose wheat flour with oat flour will create a slightly denser muffin with a mild, slightly sweet, and nutty flavor.
Spelt Flour: Using spelt flour will give your muffins a mildly nutty and sweet flavor. It's important to note that spelt flour might make your muffins a bit denser.
Almond Flour: this will create a rich, moist muffin with a nutty flavor. However, these muffins may not rise as much as those made with all-purpose flour.
Gluten-Free Flour Mix: Our quality gluten-free flour blend can offer a similar texture to all-purpose flour, but the flavor can vary based on the ingredients of the blend.

Chia Egg: flax eggs work similarly to chia eggs as a binder. The texture of your muffins will remain largely the same, but they might have a slightly nuttier flavor.
Coconut Oil:

Canola Oil: Canola oil is a neutral oil, like coconut oil, and can be used without greatly affecting the flavor or texture of your muffins.
Vegan Butter: Vegan butter can also be used as a substitute for coconut oil. It could make your muffins a bit richer and may slightly alter the flavor depending on the type of vegan butter used.

Coconut sugar: any other type of sugar, such as brown sugar or granulated sugar, works.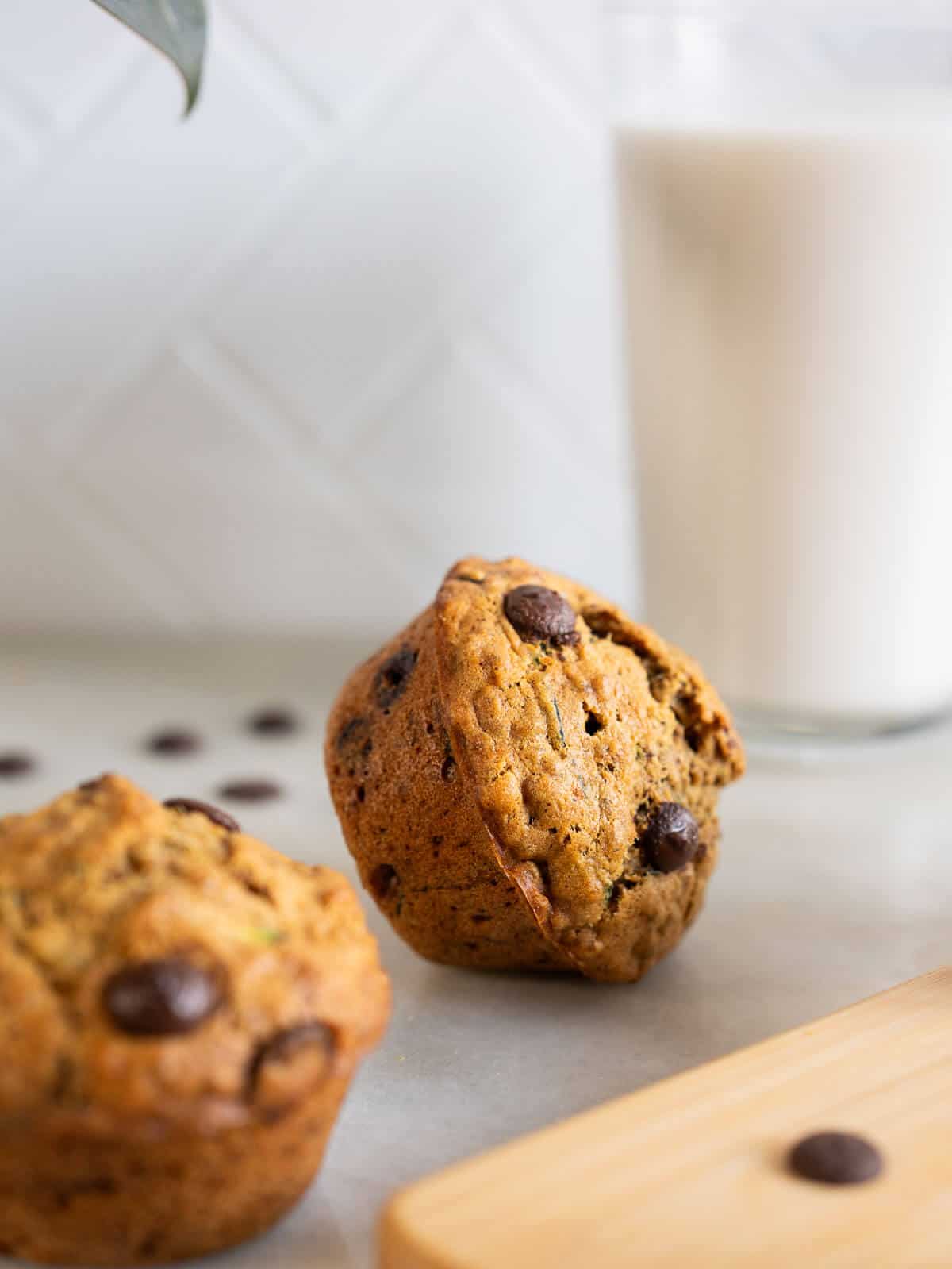 📖 Variations
Seed and Nut Variation: Substitute the chocolate chips with pumpkin seeds, chopped nuts, chopped walnuts, or chopped pecans for a delightful crunch and added nutrition.
Vegan Buttermilk Muffins: Instead of using water to thicken the chia seeds, make vegan buttermilk by combining almond or soy milk with a splash of apple cider vinegar or lemon juice. This will give your muffins a tender crumb and a slightly tangy flavor.
Double Chocolate Zucchini Muffins: If you're a chocolate lover, consider adding two tablespoons of Dutch dark cocoa powder to your mixture for an intense chocolate flavor.
Fruit Puree Variation: Add a touch of apple sauce or mashed banana to the batter. This not only brings additional sweetness but also enhances the moisture content of your muffins.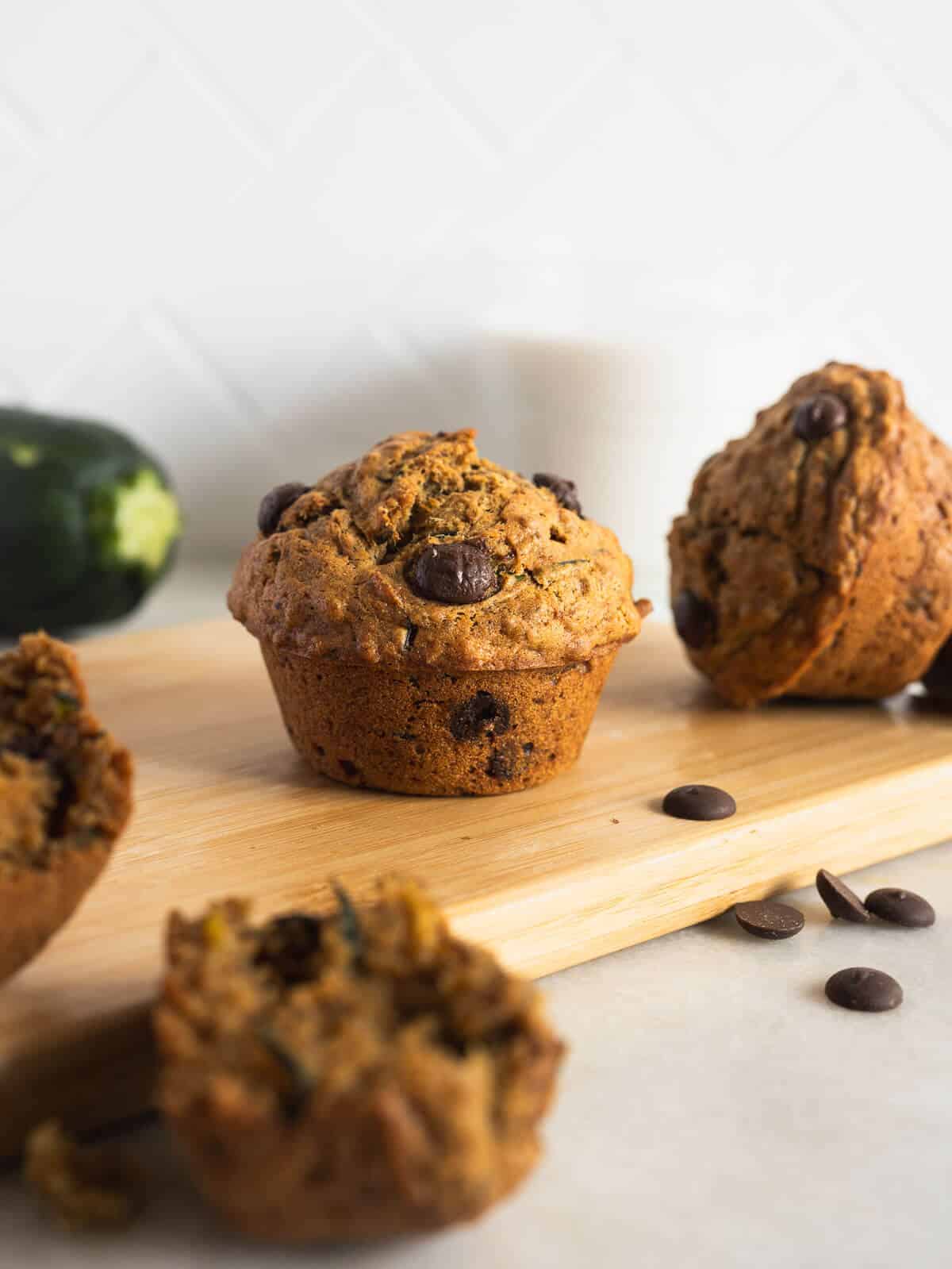 🍽 Equipment
🥡 How to store muffins?
Properly storing muffins can help retain their freshness and taste for longer. Here's how you do it and the answer to the common query, how long do muffins last?
Room Temperature: After completely cooling them, store leftover muffins at room temperature for 2-3 days. Place them in an airtight container at room temperature or a ziplock bag. Try not to stack them, but if you need to, separate layers with parchment paper to prevent them from becoming soggy.
Refrigerator: If you'd like to extend their freshness a bit longer, muffins can be refrigerated. Ensure they're fully cooled, then store them in an airtight container. They should last for up to a week in the refrigerator.
Freezer: For longer storage, cooled muffins can be frozen for up to 3 months. After they've cooled completely, wrap each muffin in plastic wrap and place them in a freezer-safe bag or container. To enjoy, thaw at room temperature or warm in the oven or microwave.
Always remember, no matter how you're storing them, make sure your muffins are completely cooled before you pack them away. Storing warm muffins can lead to condensation, making them soggy.
❓ FAQ
Can I use maple syrup or any other liquid sweetener in this recipe?
Yes, you can use maple syrup or other liquid sweeteners like agave nectar in this recipe. However, keep in mind that replacing a granulated sweetener with a liquid one may affect the texture and moisture content of the muffins.
If you decide to use a liquid sweetener, you might need to reduce other liquid ingredients in the recipe to maintain the correct balance. Alternatively, you could slightly increase the amount of dry ingredients.
It might take a little experimentation to get the proportions just right, as different liquid sweeteners also vary in sweetness level compared to granulated sugar. Start with replacing the sugar with an equal amount of liquid sweetener, then adjust as necessary for taste and texture.
Can cooling racks go in the oven?
Yes, most cooling racks can go in the oven, but it largely depends on the specific rack's material and construction. Cooling racks made from stainless steel or non-coated metal are typically oven-safe. They are often used for roasting or baking purposes to allow hot air to circulate around the food for even cooking.
However, cooling racks with a non-stick coating or made of other materials may not be oven-safe. These can potentially release harmful fumes or melt if exposed to high temperatures.
Always check the manufacturer's instructions or packaging to confirm if your specific cooling rack is oven-safe before using it in the oven.
📚 More healthy sweet recipes
⭐ If you try this vegan chocolate zucchini muffins recipe, let us know! 💬 Leave a comment, rate it, and don't forget to tag us @ourplantbasedworld on Instagram. Cheers!
📋 Recipe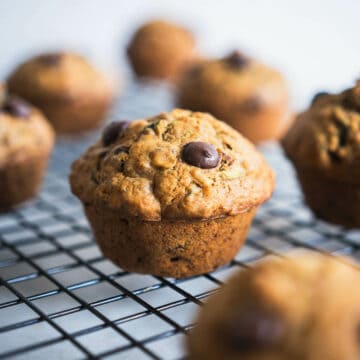 Vegan Zucchini Muffins with Chocolate Chips
Discover how to bake Vegan Zucchini Muffins with Chocolate Chips - a delightful blend of wholesome ingredients resulting in moist, flavorful muffins. This post offers step-by-step instructions, innovative variations, and helpful tips for the perfect vegan treat. Whether you're vegan or simply looking for a healthier muffin recipe, these zucchini muffins are sure to become your new favorite!
Equipment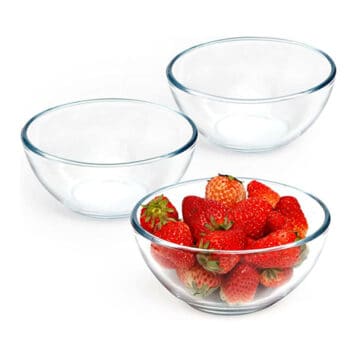 (affiliate link)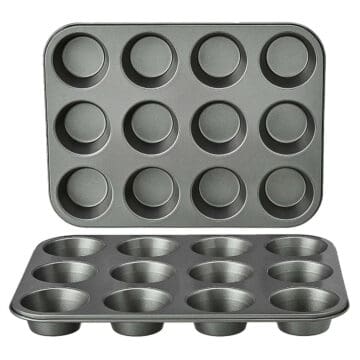 (affiliate link)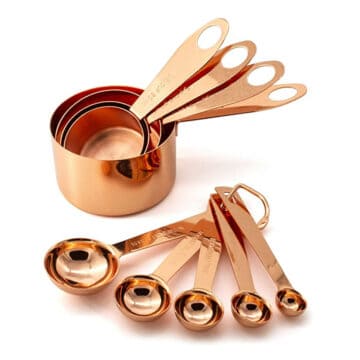 (affiliate link)
Directions
First off, get your oven warming up to 400°F (200 ºC) - it's always best to start with a hot oven.

While it's preheating, create your chia egg. Simply mix chia seeds and water in a small bowl, then set it aside to thicken.

Next up, grate your zucchini and put it aside - we'll come back to it soon.

Grab a large bowl and sift in your flour, cinnamon, baking powder, coconut sugar, baking soda, and salt. Now, it's time to add your thickened chia eggs, coconut oil, vanilla extract, water, and half your chocolate chips. This is the fun part - mix it all up!

Once that's all nicely combined, spoon your batter into your previously oiled muffin tins. Aim to fill each one about two-thirds full, giving them space to rise.

Pop your muffin tin onto the middle rack of your preheated oven. Let them bake at 400°F for 5 minutes, then turn the heat down to 350 ºF (175 ºC). Leave them to bake for another 20-22 minutes.

You're looking for a beautiful golden brown color and a clean toothpick after poking it in the middle. All in all, they'll need about 25-27 minutes in the oven.

And there you have it! Now, just let them cool on a cooling rack, and you'll soon be enjoying your delicious zucchini muffins.
Nutrition Facts
Calories:
197
kcal
Carbohydrates:
27
g
Protein:
3
g
Fat:
10
g
Saturated Fat:
7
g
Polyunsaturated Fat:
1
g
Monounsaturated Fat:
1
g
Trans Fat:
0.003
g
Sodium:
160
mg
Potassium:
76
mg
Fiber:
2
g
Sugar:
8
g
Vitamin A:
28
IU
Vitamin C:
2
mg
Calcium:
57
mg
Iron:
1
mg
Nutrition Facts
Vegan Zucchini Muffins with Chocolate Chips
Amount per Serving
% Daily Value*
* Percent Daily Values are based on a 2000 calorie diet.
🌡️ Food safety
Cook to a minimum temperature of 165 °F (74 °C)
Do not use the same utensils on cooked food, that previously touched raw meat
Wash hands after touching raw meat
Don't leave food sitting out at room temperature for extended periods
Never leave cooking food unattended
Use oils with a high smoking point to avoid harmful compounds
Always have good ventilation when using a gas stove
See more guidelines at USDA.gov.
Nutritional Disclaimer
The information shown is an estimate provided by an online nutrition calculator. It should not be considered a substitute for a professional nutritionist's advice. See our full Nutritional Disclosure here.
Affiliate Disclaimer
Please note that some of the links here are affiliate links, and I will earn a commission if you purchase through those links. I recommend all of the products listed because they are companies I have found helpful and trustworthy.