Get ready to take your taste buds on a thrilling journey as we bring to you our heavenly vegan banana chocolate chip muffins. This is not just your average muffin recipe, but an exciting spin that will give your breakfast or dessert a remarkable edge. Let's dive into the world of flavors and learn how to whip up this moist, gluten-free delight that'll have you reaching for seconds!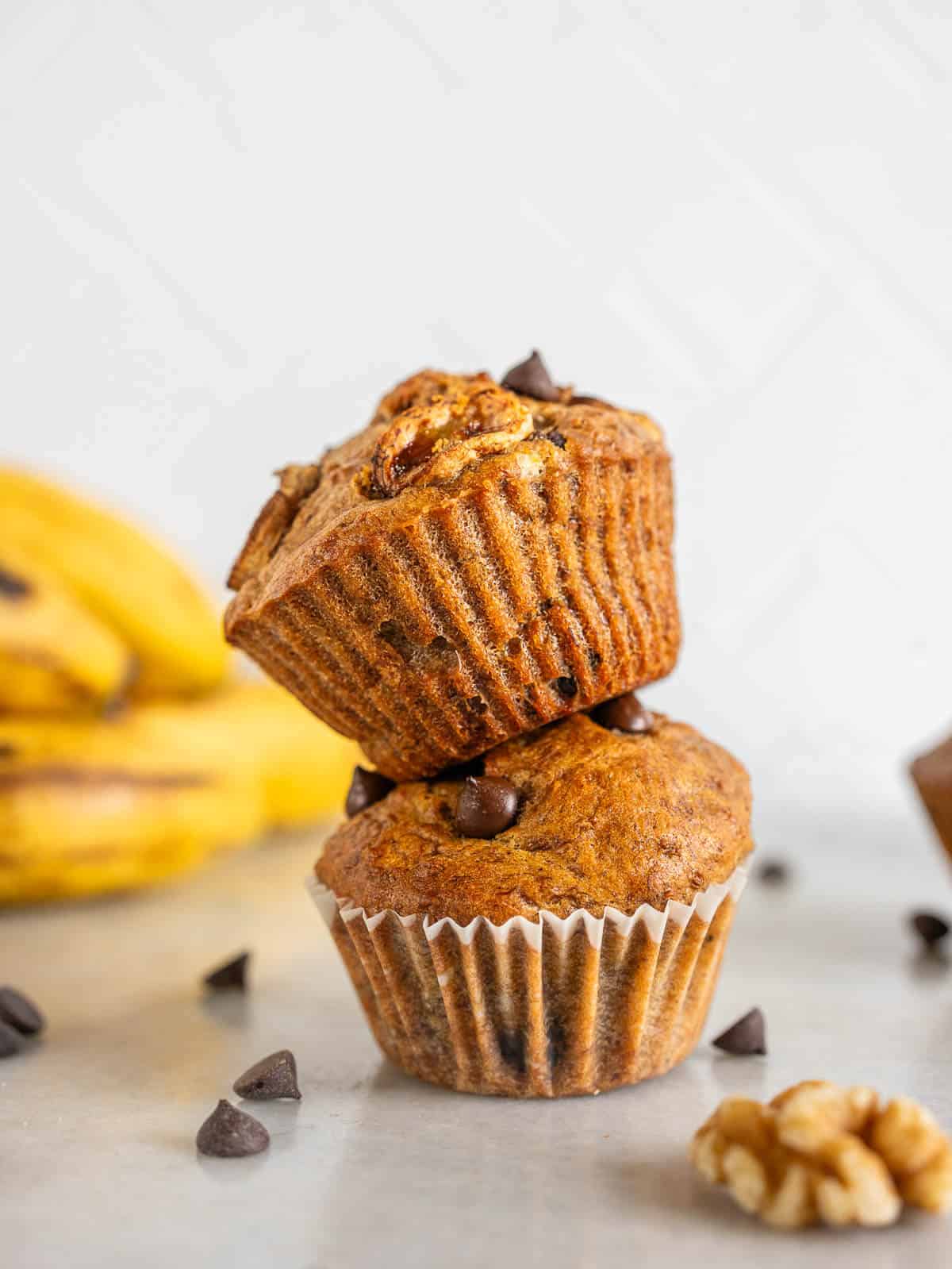 Let's talk about why this vegan banana chocolate chip muffins recipe is your ultimate ticket to a guilt-free sweet treat. Each of these muffins is bursting with the richness of bananas, a source of energy, high-quality fiber, potassium, and vitamin C. Their natural sweetness means we can keep added sugars to a minimum, while the dark chocolate chips bring in a dose of antioxidants and that indulgent chocolatey note we all crave. These muffins aren't just satisfying your sweet tooth; they're nourishing your body too.
Now, let's discuss the winning factor of this recipe - its simplicity. You don't need to be a professional chef or have fancy kitchen tools to whip up these tasty delights. With some common pantry ingredients and a little bit of time, you'll be pulling out a batch of your homemade vegan banana chocolate chip muffins. Be it for a quick breakfast, a grab-and-go snack, or a light dessert after dinner, these muffins are an easy way to incorporate nutritious and delicious plant-based food into your daily routine. Here's to tasteful baking that's straightforward and fun!
Even on those bustling mornings, whipping up these banana bread muffins, a cousin to our beloved vegan banana bread recipe, is as easy as pie. And here's a pro tip: make a batch ahead of time, and you'll always have a delectable homemade breakfast or snack within reach. They're also a fantastic addition to your special brunch spread, joining the ranks of our adorable mini blueberry muffins and zucchini muffins.
Jump to:
🧾 Ingredients
This convenient mini banana muffins recipe is made with just a few ingredients: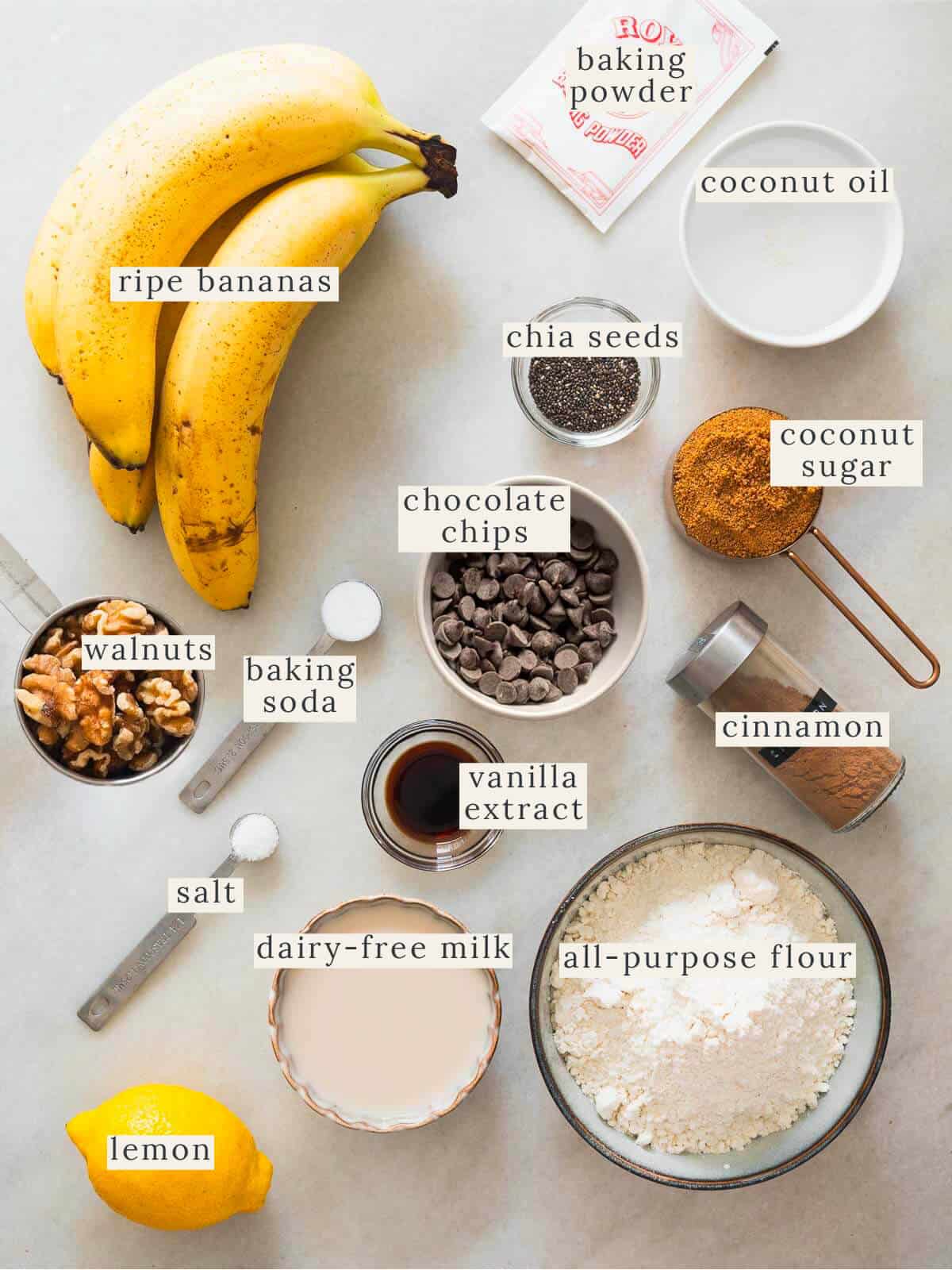 Mashed ripe bananas: Overripe bananas are key in our muffins, bringing natural sweetness to the table and lending that much-coveted moist, fluffy texture.
Vegan chocolate chips: dairy-free chocolate chips create surprise bursts of sweet, chocolatey decadence that beautifully complement the banana.
All-purpose flour: This is the structural hero of our muffins. It helps them maintain their shape while keeping the crumb tender and delicious. We like using wheat pastry flour.
Coconut sugar: This sweet touch brings a certain depth of flavor and color to our muffins, thanks to its molasses content.
Coconut oil (melted) or vegetable oil: Fat equals moistness and richness in baking. These oils give our muffins a tender and juicy texture.
Vanilla extract: This subtle, fragrant addition enhances other flavors and marries perfectly with bananas.
Baking powder & baking soda: These are our muffins' secret weapons, helping them rise to the occasion and be all light and fluffy.
Chia seeds: These little powerhouses act as a vegan egg substitute when mixed with liquid, binding the ingredients together and adding a healthful dose of fiber and omega-3 fatty acids.
Dairy-free milk: This is the secret ingredient that helps create a smooth batter and enhances the moistness of the muffins as part of the vegan buttermilk made with lemon juice.
Lemon juice: When mixed with soy milk, it slightly curdles to mimic the texture of buttermilk, ensuring our muffins are extra tender and moist.
Salt: balances the sweetness and elevates the overall flavors in the muffins.
Optional ingredients
Chopped Walnuts: Consider adding walnuts if you're all about that crunch. They not only provide a delightful texture but also contribute healthy fats and protein.
Cinnamon: This warm spice and banana are a match made in heaven, adding an inviting aroma and a depth of flavor to our muffins.
See the recipe card for quantities.
Pro tip: In general, mashing one medium to large banana will give you approximately ½ cup of mashed goodness.
🔪 Instructions
Ready to whip up these moist banana muffins? Here are the easy steps to follow:
Creating the perfect union of chia eggs and dairy-free buttermilk.
Merging the wet and dry ingredients into one harmonious mix.
Mastering the baking process.
First things first, make sure to preheat your oven to 400°F (200 ºC). A properly preheated oven is the first step to achieving baking success. And don't forget, using a measuring cup is a non-negotiable when aiming for perfect ingredient proportions.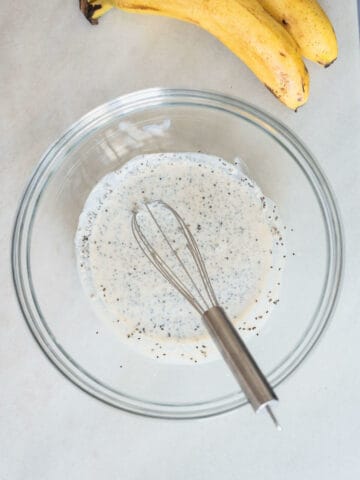 In a large mixing bowl, bring together the chia seeds, dairy-free milk, and lemon juice, then let this trio do its magic and curdle. In this step, you're crafting a blend of chia eggs and vegan buttermilk all in one place. This is the secret to making these muffins egg-free.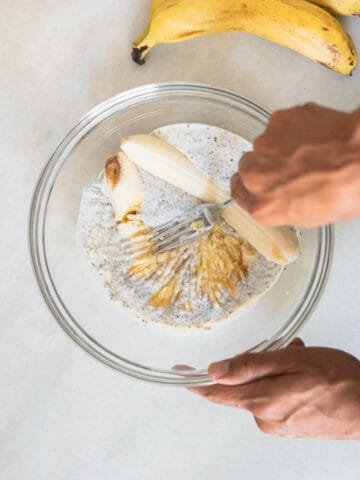 Use a fork or potato masher to transform those bananas into a soft, mashed texture, and pour the melted coconut oil and vanilla extract.
Pro tip: When it comes to coconut sugar, we suggest blending it with the wet ingredients rather than sieving it with the dry. Due to its tendency to clump, it could make your sieving task a bit challenging. But when mixed with the wet components, it dissolves and spreads evenly, resulting in a batter that's smoother and easier to work with.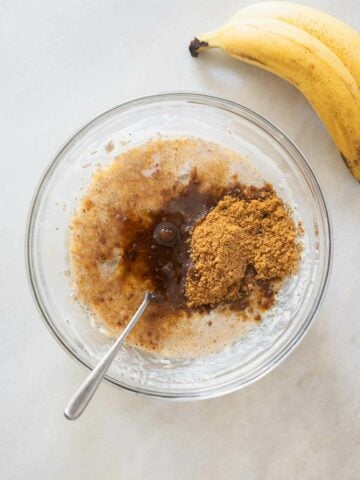 Next, toss in the coconut sugar and mix it well. Then, gently merge the wet and dry ingredients to create a consistent, unified batter.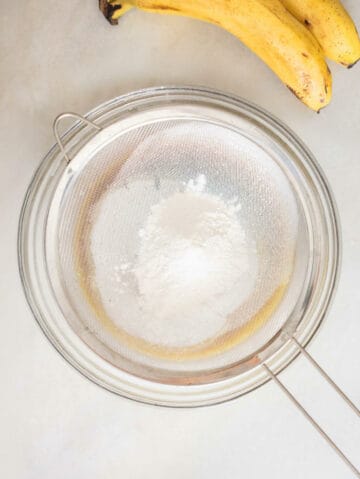 Into that same spacious mixing bowl, sieve your dry components - the baking soda, cinnamon, flour, baking powder, and salt.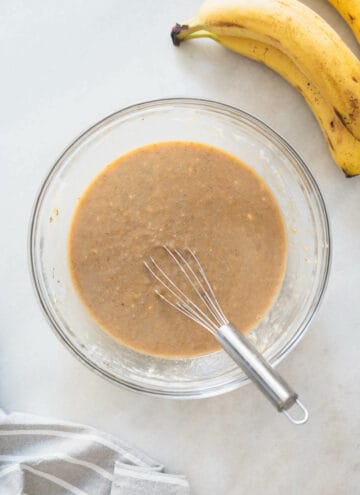 To achieve a consistent batter, combine the ingredients thoroughly until a smooth and even texture is obtained.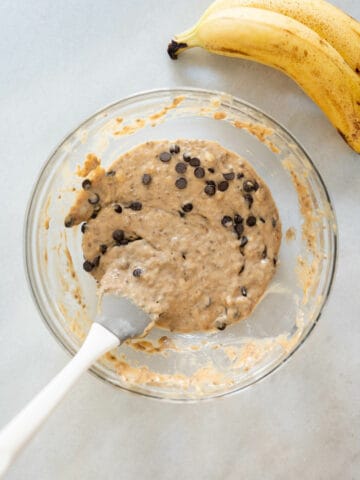 Sprinkle the mini dark chocolate chips onto the mixture, then gently incorporate them into the batter by carefully folding them with a spatula.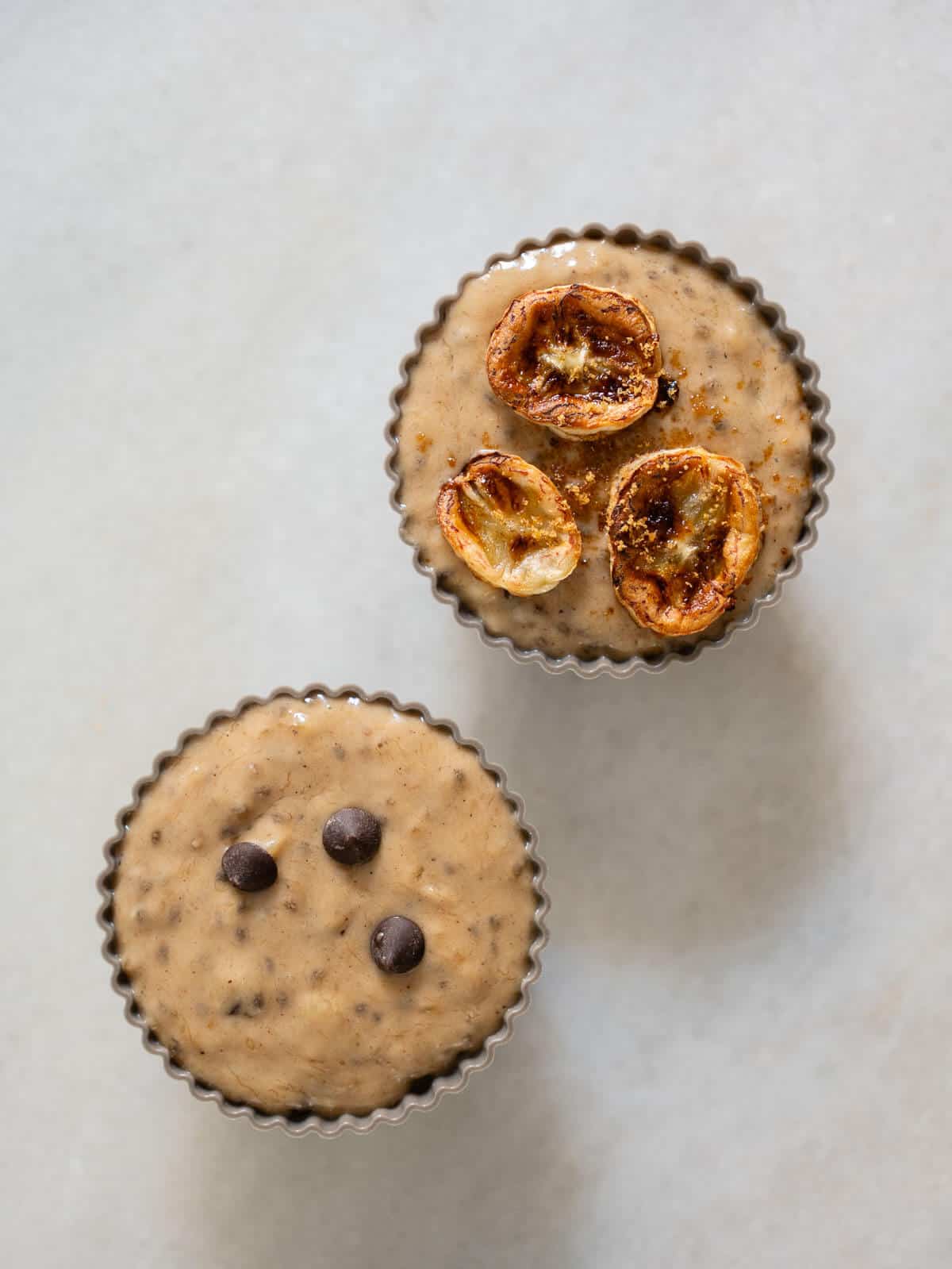 Prepare the muffin batter and divide it evenly into two muffin tins. For one tin, add a generous amount of chocolate chips on top of the batter. For the other tin, arrange thinly sliced bananas over the batter and sprinkle brown sugar on top. Bake the muffins until golden and fully cooked. Enjoy your delightful muffins with a perfect balance of chocolate and banana flavors!
Pro tip: To get the muffins out of the tin, use a knife to help them out gently. Then, put them on a cooling rack. For the best taste and texture, let muffins cool completely for about 10 minutes before eating.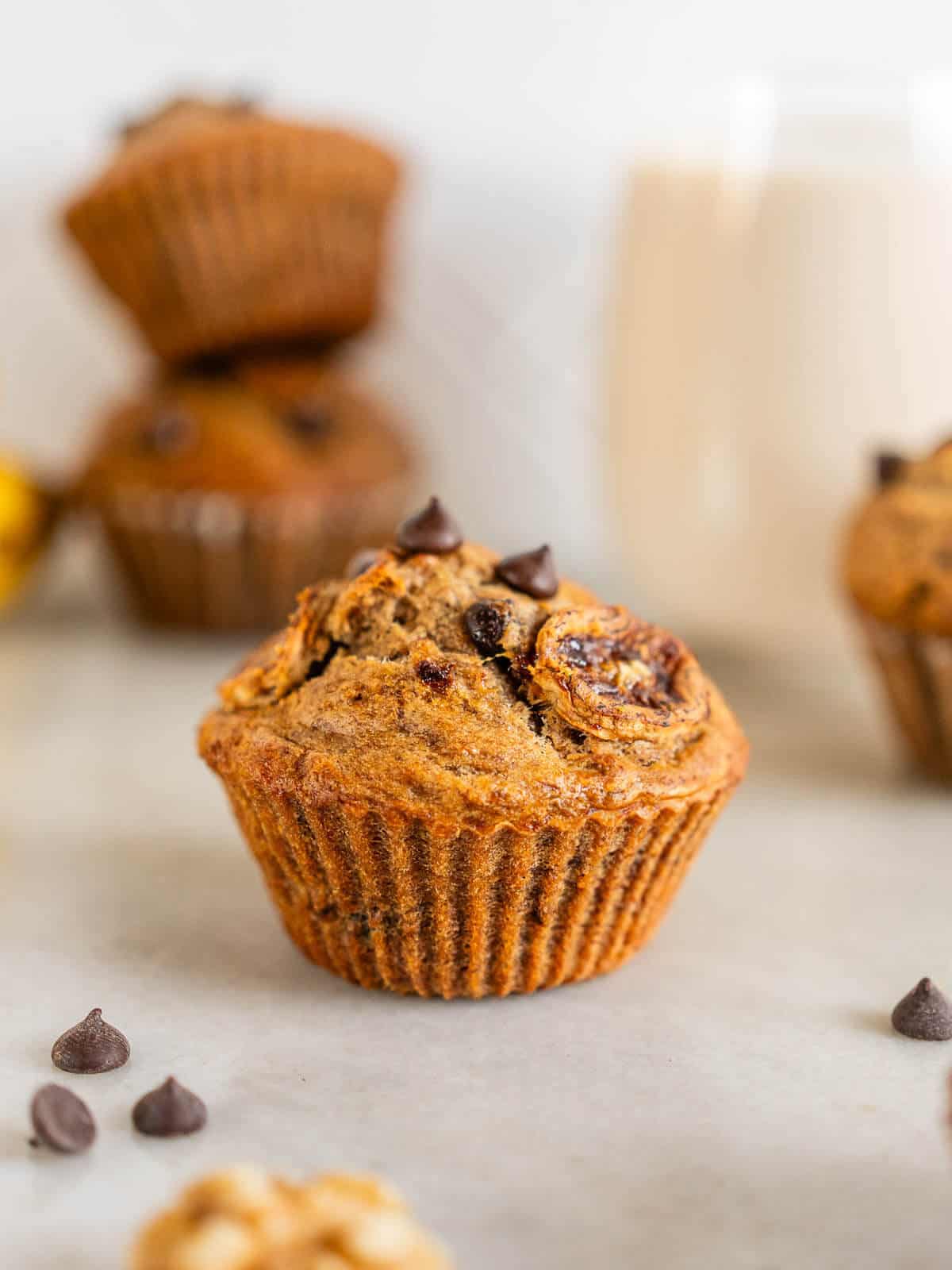 Handy Hint: Feel free to experiment with this adaptable batter to create mini banana muffins too. Just be mindful of the size difference – you'll be using a teaspoon of batter instead of a tablespoon – which means less baking time, around 15-17 minutes, will be required.
Read on: vegan protein chocolate chip cookies, vegan zucchini muffins, banana mini muffins, and almond flour protein balls.
🥢 How to serve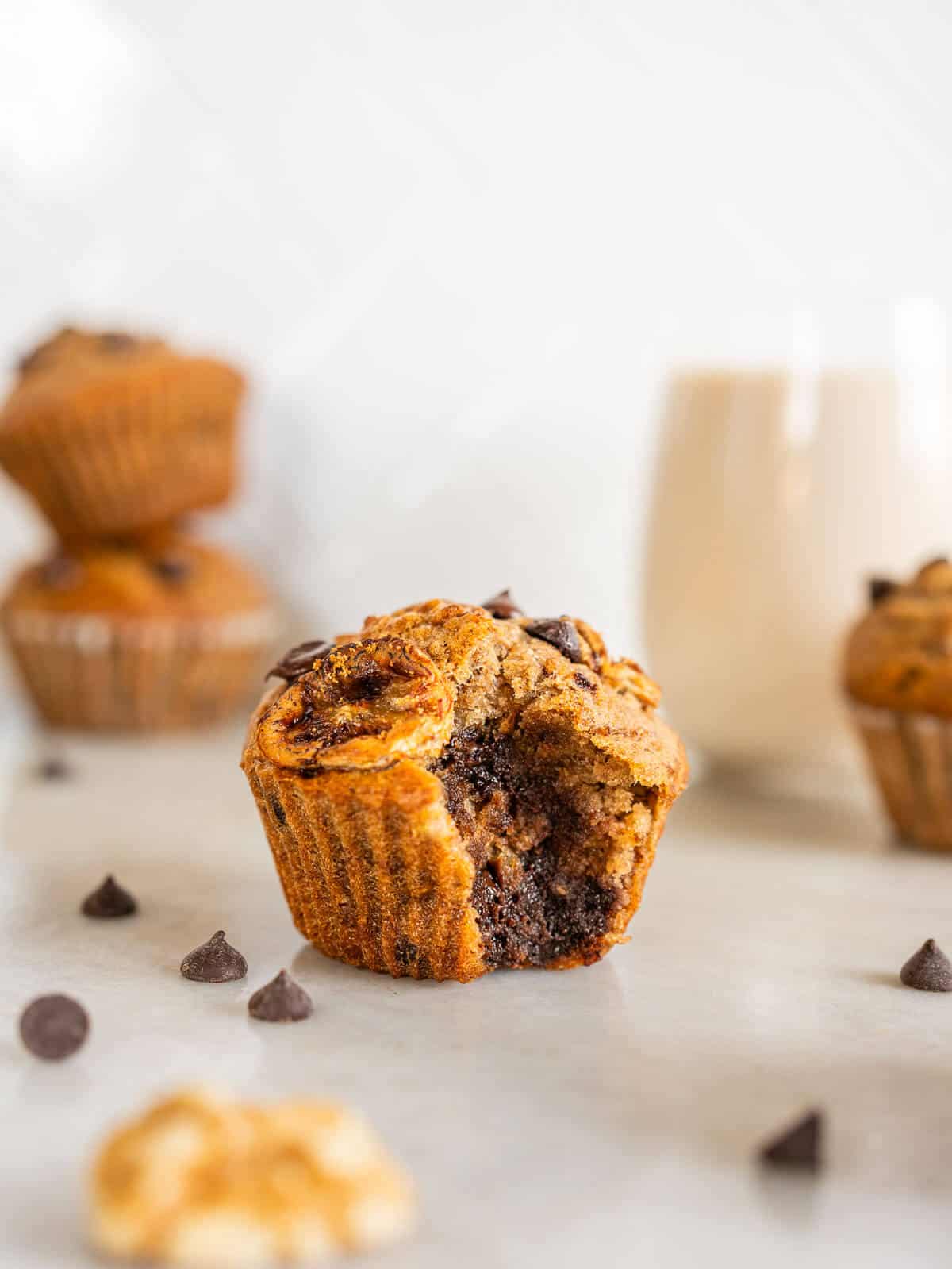 Kickstart Your Day: Pair your delicious muffins with a refreshing glass of your favorite plant-based milk – almond and cashew milk work wonders. Toss in some fresh fruit for a well-rounded, healthy start to your day.
Picnic Perfect: These muffins are just right for a picnic. Pack them with slices of fresh fruit, some dark chocolate hummus or vegan granola bars, and a jug of cold iced tea for a tasty meal in the great outdoors.
Afternoon Snack: These muffins go great with your afternoon tea or coffee. Serve them with mini vegan egg salad sandwiches.
Back-to-school season?: Slip a muffin into your or your kid's lunchbox, along with a colorful veggie wrap or salad. It's a fun lunch treat that everyone will be excited about!
🍶 Substitutions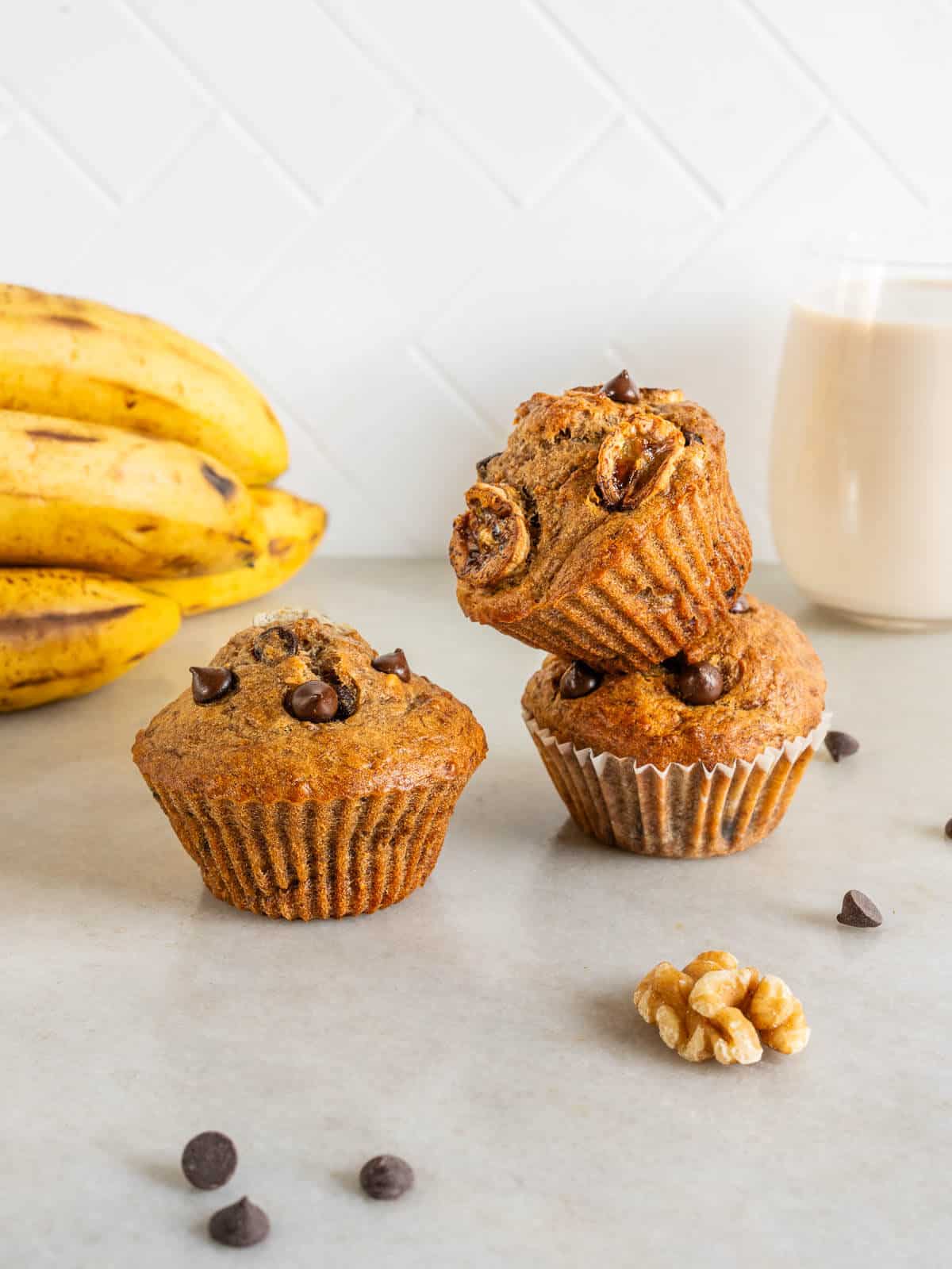 Want to tweak these banana chocolate chip muffins for a gluten-free diet? Check out these possible adjustments:
Gluten-free banana chocolate muffins
Oat Flour: Swap out all-purpose wheat flour with oat flour. It'll give your muffins a bit more density and a hint of sweet, nutty flavor.
Almond Flour: Your muffins will come out rich and moist with a noticeable nutty taste. Just note that muffins made with almond flour might not puff up as much as those made with all-purpose flour.
Gluten-Free Flour Mix: With our special gluten-free flour blend (recipe), you can come close to the texture of all-purpose flour. Keep in mind that the flavor may vary slightly depending on the ingredients in the blend.
Chia Egg Substitute: Flax eggs can take over the binding job just like chia eggs. The texture of your muffins will be nearly the same, maybe with a touch more nuttiness.
Alternatives to Coconut Oil
Canola Oil: Just like coconut oil, canola oil is flavor-neutral and won't significantly change the taste or texture of your muffins.
Vegan Unsalted Butter: Choosing melted butter over coconut oil could give your muffins an extra rich flavor. The taste might be a little different, depending on the brand of vegan butter you use.
Coconut sugar swap: You can replace coconut sugar with other sweet options like brown sugar or regular granulated sugar.
🍽 Equipment
Muffin Tins:

(affiliate link)

without a muffin tin or muffin cups, the batter would spread out, failing to create individual portions.
Measuring Cups and Spoons: As baking is a precision-driven cooking technique, accurate measurements lead to the tastiest results.
Mixing Bowl: This is the spot where all your ingredients unite. Opting for a medium to large bowl provides ample space for mixing, minimizing the chance of any messy spills.
Spatula: a spatula is ideal for scraping the sides of the bowl to ensure thorough ingredient blending. It's also quite handy for transferring the batter into the muffin tins.
📖 Variations
You can use a fruity juice pulp to replace half of the banana in the recipe, to put some of that pulp to good use, just as you can also use it to make vegan crackers to munch with hummus.
Make mini banana chocolate chip muffins using mini muffin tins to make a bite-sized portion.
🥡 How to store muffins?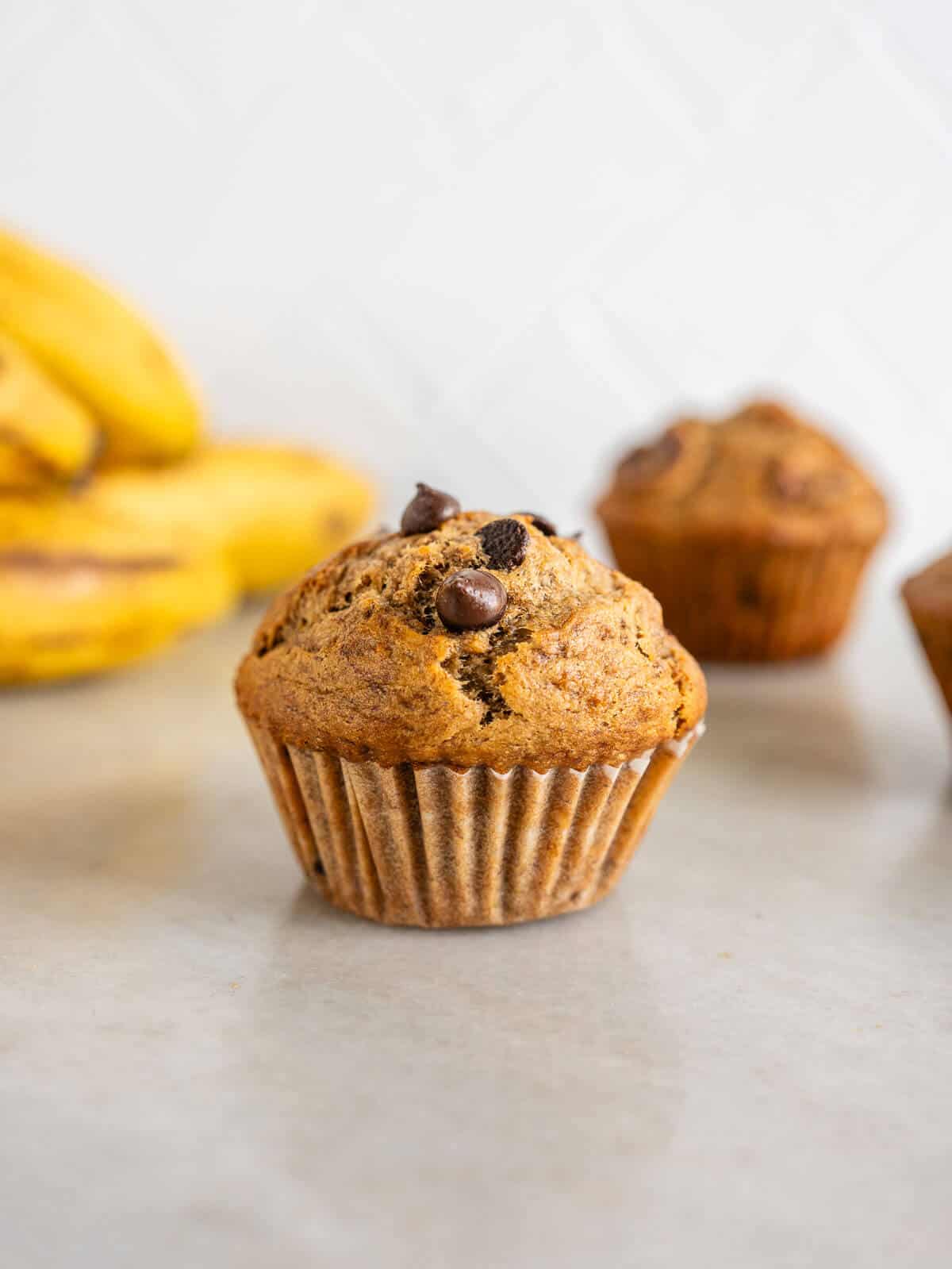 Storing At Room Temperature: Let the muffins cool down completely. Then, you can keep them at room temperature for about 2-3 days. Just put them in a closed container or a ziplock bag. To keep them from getting mushy, think about putting parchment paper between layers.
Keeping In The Fridge: If you want them to last longer, put them in the fridge. After they're totally cooled, store the muffins in a sealed container. They'll stay fresh for up to a week in the fridge.
Storing In The Freezer: banana muffins freeze for up to three months for long-term storage. Wrap each cooled muffin in plastic wrap and put them in a freezer-safe bag or container. When you're ready to eat one, let it thaw at room temperature or warm it up gently in the oven or microwave.
Remember, it's crucial to let your muffins cool all the way down before you store them, no matter where you plan to put them. If they're still warm when you store them, they could get condensation and turn into mushy, less-tasty muffins.
❓ FAQ
Can you add banana to muffin mix?
Absolutely! Incorporating mashed banana into your muffin mix is a delightful option. It brings in natural sweetness and adds moisture, resulting in soft and scrumptious muffins.
📚 More healthy sweet recipes
Try out these 3-ingredient low-calorie protein balls, no-bake pumpkin balls, and pumpkin cookies; they are gluten-free and made in minutes.
⭐ If you try these vegan chocolate chip banana muffins, let us know! 💬 Leave a comment, rate it, and don't forget to tag us @ourplantbasedworld on Instagram. Cheers!
📋 Recipe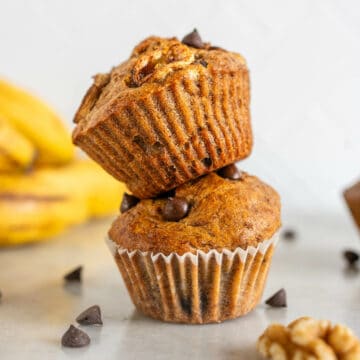 Moist Vegan Banana Chocolate Chip Muffins (Gluten-Free Variation)
Embrace the sweet symphony of our vegan banana chocolate chip muffins, oozing with natural sweetness and chocolatey goodness. Discover how easy it is to create this nutritious and irresistible vegan treat at home!
Equipment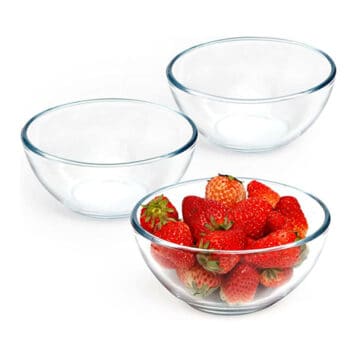 (affiliate link)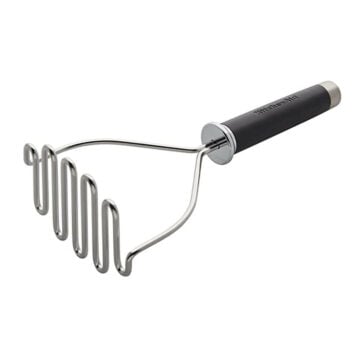 (affiliate link)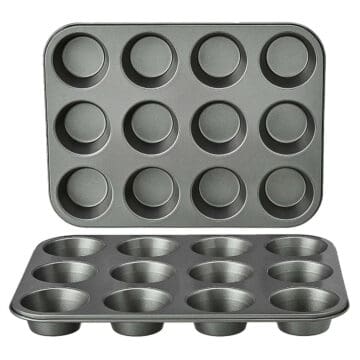 (affiliate link)
Ingredients
Optional
¼

cup

walnuts

crushed, or pecan nuts
Directions
Preheat. First off, get your oven warming up to 400°F (200 ºC) - it's always best to start with a hot oven.

Prepare the chia eggs by combining the chia seeds, lemon juice, and plant milk in a cup, then set aside to allow it to thicken.

Mash the bananas with a fork or potato masher until smooth.

Mix. In a large bowl, mix the coconut oil and coconut palm sugar, add the thickened chia mixture, followed by sieving in the flour, cinnamon, baking powder, baking soda, and salt on top of the wet mixture.

Then add ¾ of the chocolate chips and save some for decorating. Ensure all ingredients are well combined but be cautious not to overmix.

Grease a mini muffin tin lightly with coconut oil, then distribute the batter into the prepared muffin tins, filling each up to ¾ full.

Add the remaining chocolate chips on top or sliced banana, and sprinkle some brown sugar for a golden finish.

Bake. Position your muffin tin on the middle rack of your already-heated oven. Initiate the baking at 400°F for a brief 5 minutes, before dropping the temperature to a steady 350 ºF (175 ºC). Allow them to luxuriate there for another 20-22 minutes. As the beautiful golden brown hue appears and a toothpick inserted in the middle comes out clean, you'll know they're perfect. All in all, they'll need about 25-27 minutes in the oven.

Cool the muffins by gently lifting them out of the tin with the assistance of a knife and transferring them to a wire rack. Remember, it's essential to let them cool entirely before enjoying.
Notes
To make this recipe soy-free, consider using oat milk or almond milk in place of soy milk when preparing the vegan buttermilk and chia seed mixture.
Nutrition Facts
Calories:
170
kcal
Carbohydrates:
22
g
Protein:
2
g
Fat:
9
g
Saturated Fat:
7
g
Polyunsaturated Fat:
0.5
g
Monounsaturated Fat:
0.4
g
Trans Fat:
0.002
g
Sodium:
135
mg
Potassium:
100
mg
Fiber:
2
g
Sugar:
11
g
Vitamin A:
39
IU
Vitamin C:
3
mg
Calcium:
52
mg
Iron:
1
mg
Nutrition Facts
Moist Vegan Banana Chocolate Chip Muffins (Gluten-Free Variation)
Amount per Serving
% Daily Value*
* Percent Daily Values are based on a 2000 calorie diet.
🌡️ Food safety
Cook to a minimum temperature of 165 °F (74 °C)
Do not use the same utensils on cooked food, that previously touched raw meat
Wash hands after touching raw meat
Don't leave food sitting out at room temperature for extended periods
Never leave cooking food unattended
Use oils with a high smoking point to avoid harmful compounds
Always have good ventilation when using a gas stove
See more guidelines at USDA.gov.
Nutritional Disclaimer
The information shown is an estimate provided by an online nutrition calculator. It should not be considered a substitute for a professional nutritionist's advice. See our full Nutritional Disclosure here.
Affiliate Disclaimer
Please note that some of the links here are affiliate links, and I will earn a commission if you purchase through those links. I recommend all of the products listed because they are companies I have found helpful and trustworthy.