Do you ever wonder what the best snack is when feeling peckish? Look no further – these healthy Baked Chocolate Peanut Butter Oatmeal Bars are easy to make and offer an irresistibly delicious taste that will leave your taste buds tickled. Combining the creamy richness of peanut butter and the sweetness of chocolate and bananas makes these bars a dreamy and decadent treat while still being nutritious!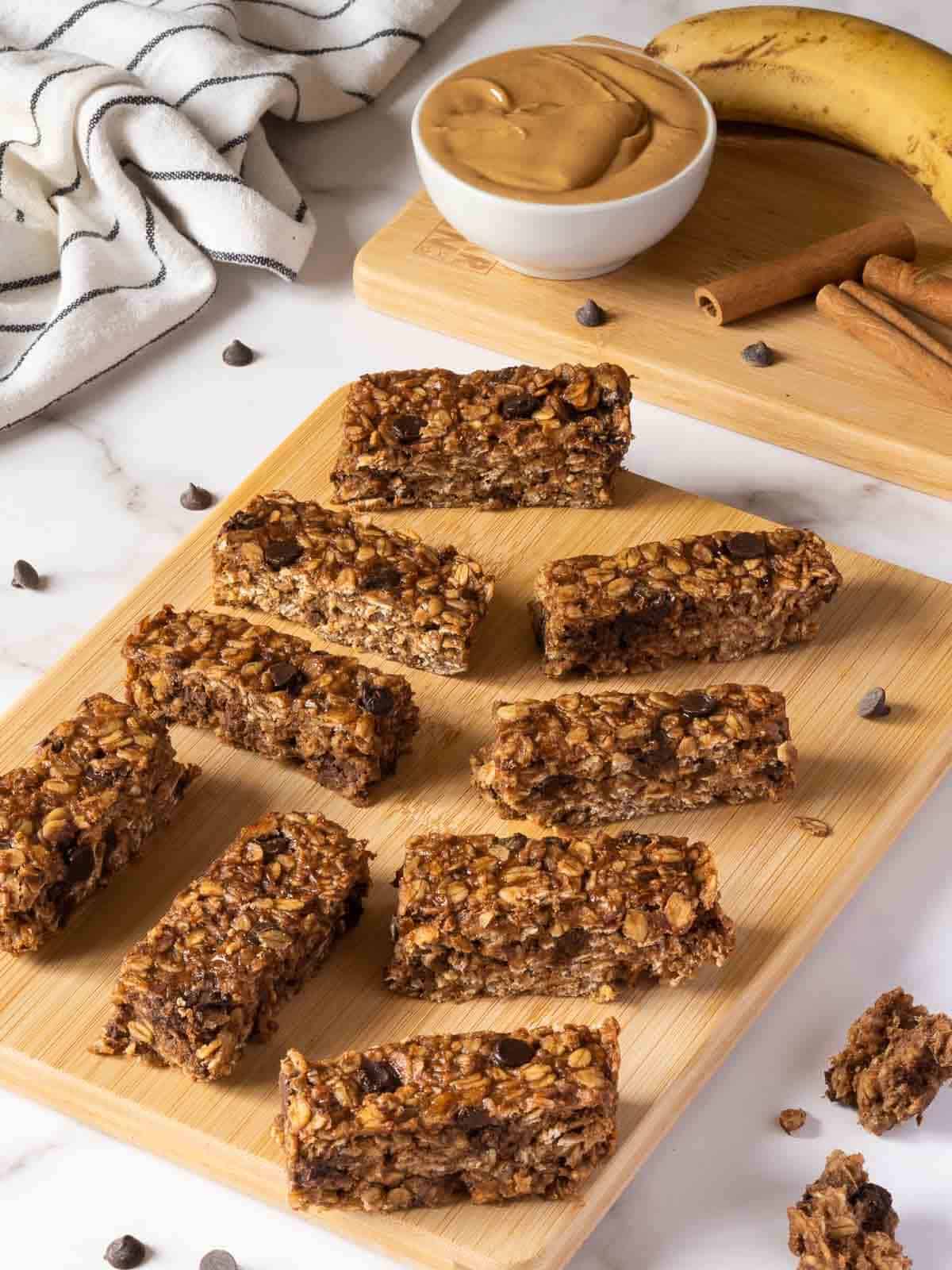 These delicious and healthy banana peanut oatmeal bars are perfect for a quick snack or breakfast on the go, made with wholesome ingredients and no added sugar. The recipe is dairy-free and gluten-free so that the whole family can enjoy it.
These chunky bars are easily customizable! For example, you can use any type of nut butter or seed butter that you prefer.

Oatmeal bars are a delicious and healthy snack option for vegans who want something sweet and satisfying. Made with oats, peanut butter, maple syrup, and vegan dark chocolate chips, these bars are sure to satisfy your sweet tooth cravings.
We like to have them as a simple snack while we sip on tea or as a quick breakfast with a cup of pumpkin spice latte or vegan golden milk.
Jump to:
🧾 Ingredients
This baked peanut butter oatmeal is made with just a few delicious ingredients.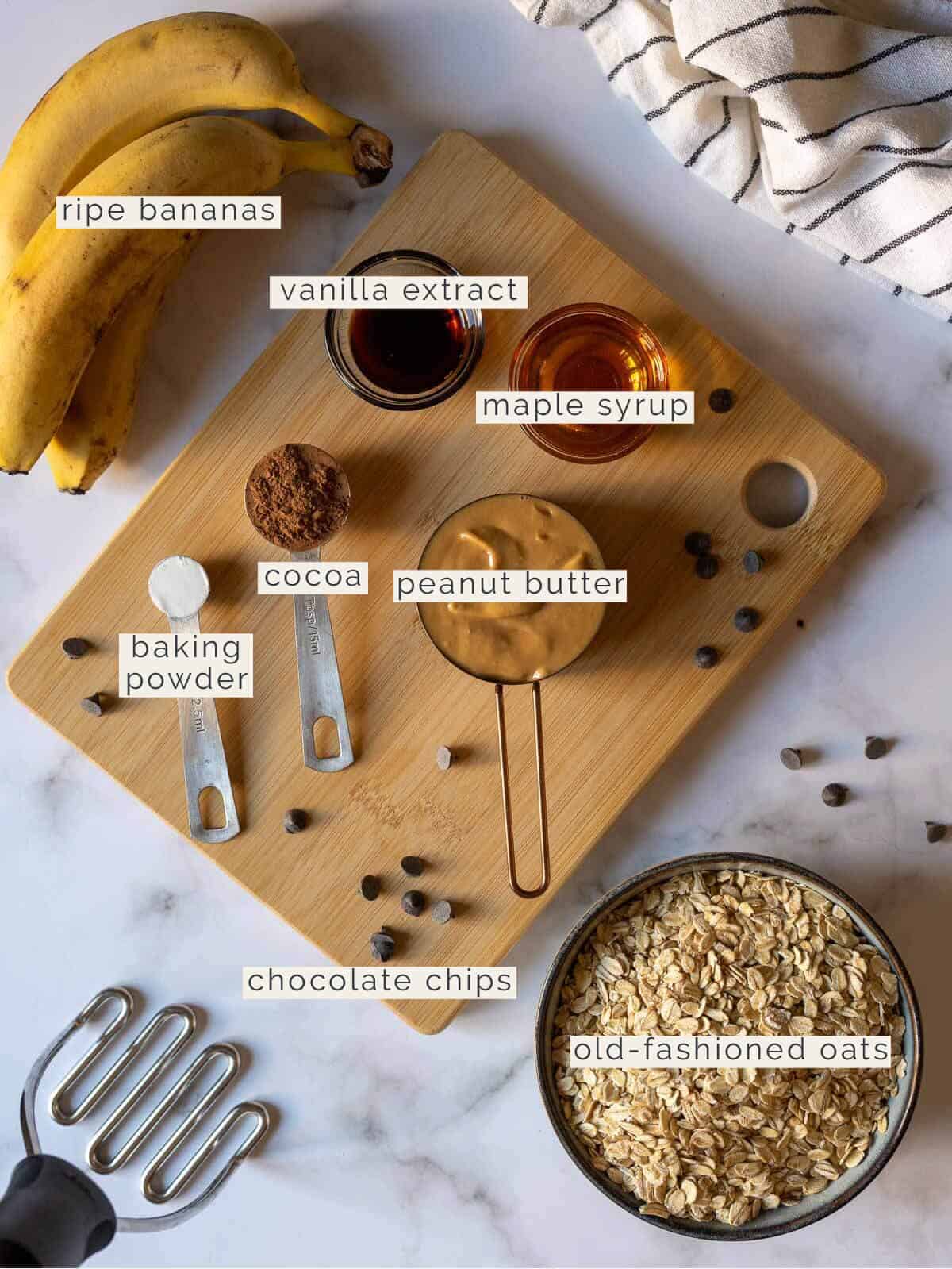 Gluten-free Old-fashioned oats - add texture fiber, iron, and zinc to these oatmeal bars.
Raw cocoa - brings color and flavor to an oatmeal bar. If you use vegan chocolate chips, you can skip it, but remember that raw cacao brings not only flavor but also great properties. The cocoanut is an excellent source of antioxidants, iron, and magnesium and provides vitamins B1, C, and E. Its consumption helps improve mental clarity, reduce fatigue and stress levels, provide energy, and help with digestive problems such as constipation.
Creamy peanut butter - adds a nutty, creamy taste with protein and healthy fats.
Ripe bananas - naturally sweeten the bars and add moisture.
Pure maple syrup - increases the sweetness, adds autumn flavors, and is a great natural binding agent.
Optional ingredients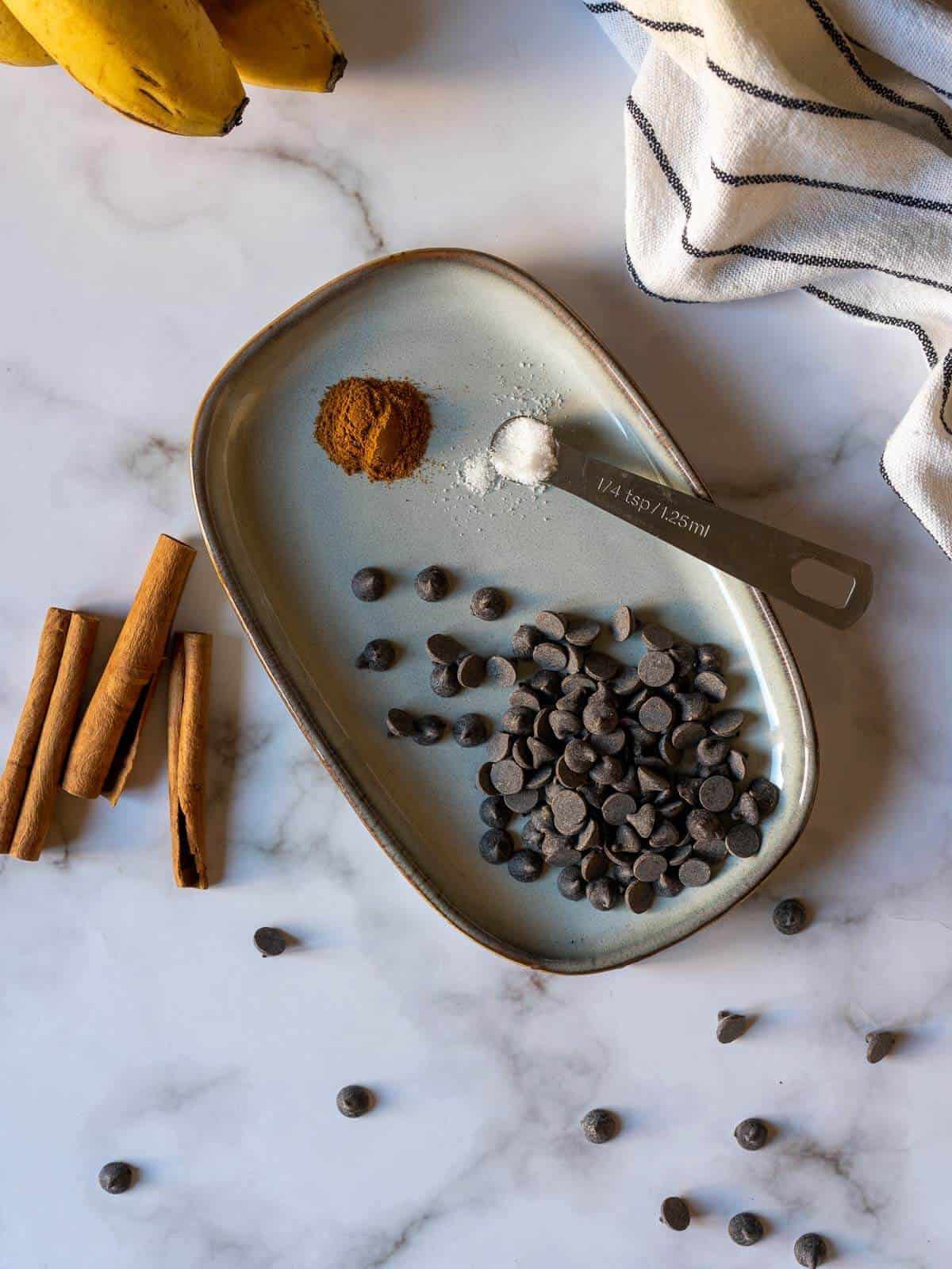 Baking powder - a rising agent made from cream of tartar, bicarbonate of soda, and usually cornflour - is essential for making cakes and other baked goods light and fluffy. It's also great for adding body to pancakes and muffins. Using a pinch on this recipe helps to make the bars chewy. If you prefer a dense bar, you can skip it.
Ground cinnamon - imbues the bars with a warm flavor.
Vegan dark chocolate chips - yum! Add another layer of deliciousness with melty and chewy textures.
Fine sea salt - helps to balance the flavor of a dish and brings out the natural sweetness in all the ingredients.
See the recipe card for quantities.
🔪 Instructions
This creamy peanut butter-baked oatmeal involves three simple steps.
Measuring your ingredients.
Mixing everything.
Baking for a few minutes.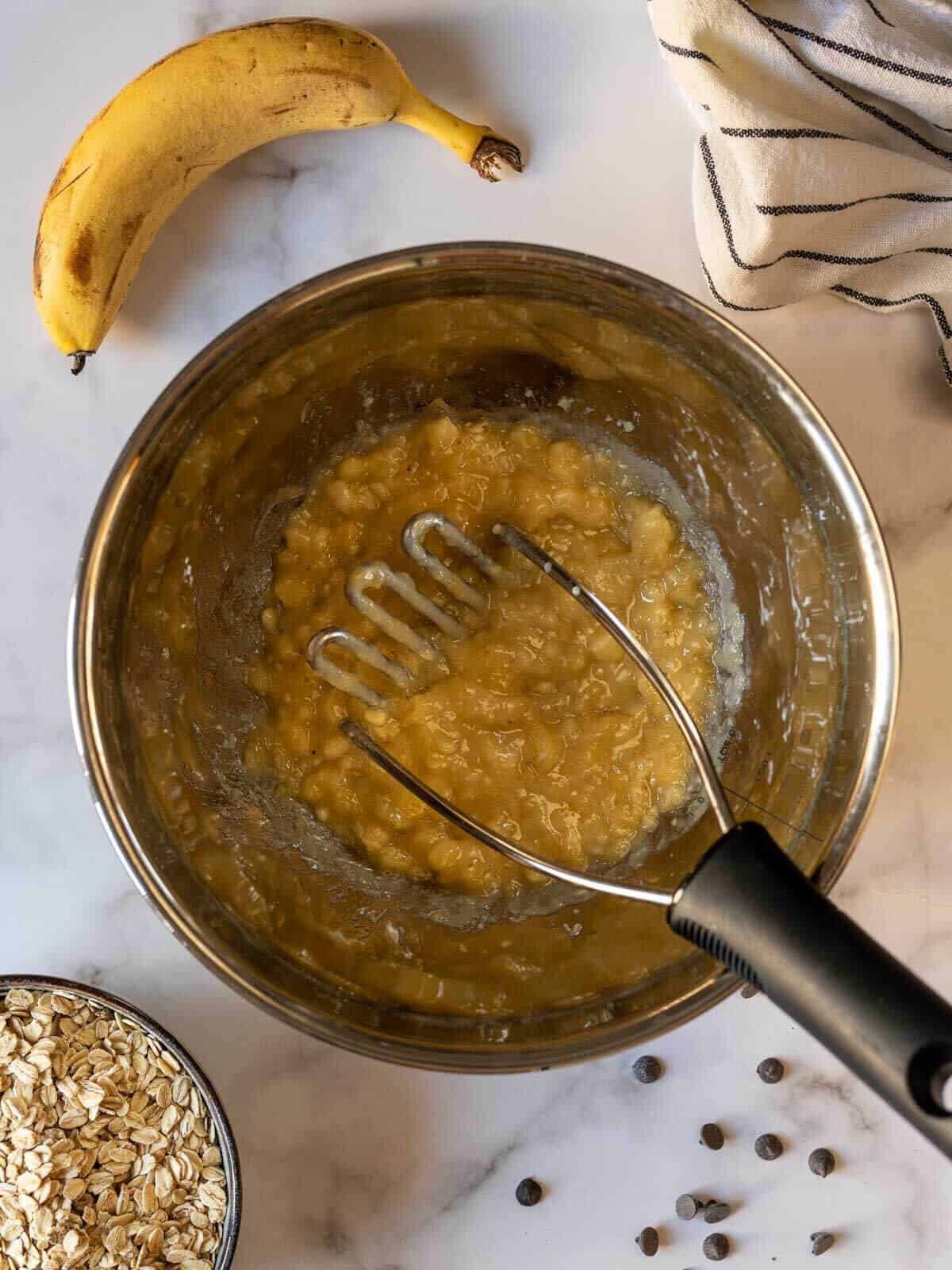 Peel and mash the bananas using a large bowl.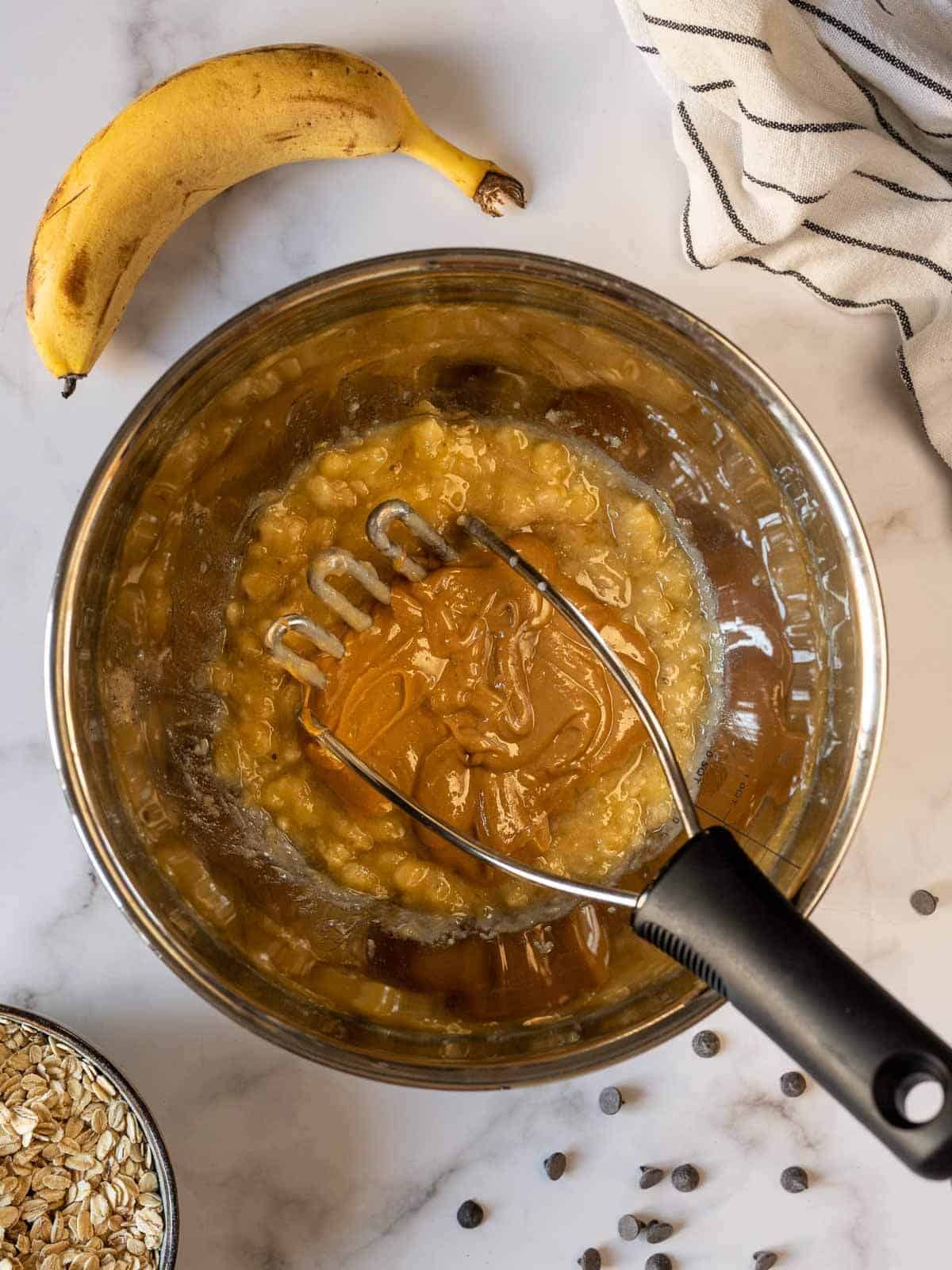 Add the peanut butter.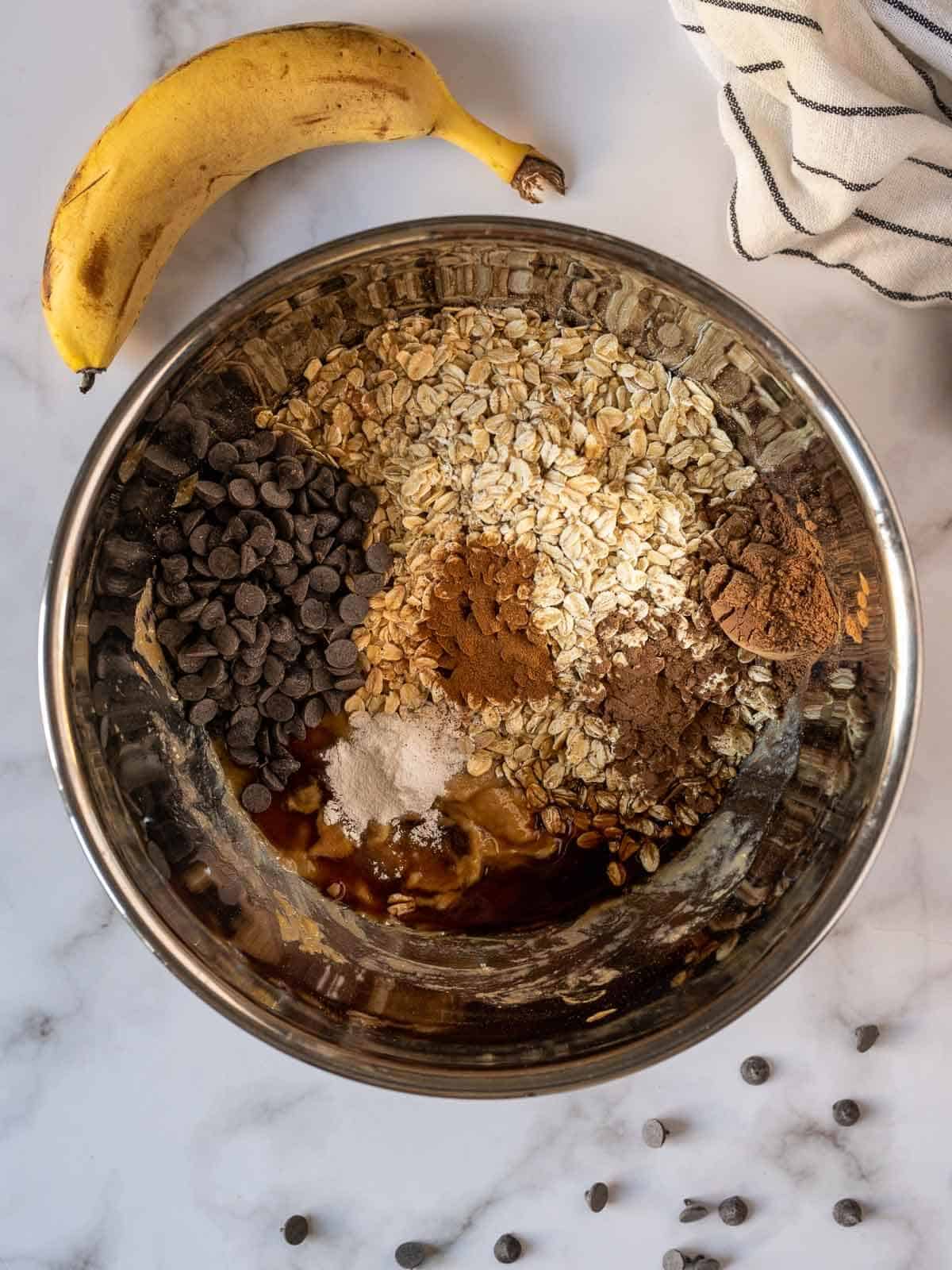 Stir in the remaining ingredients in the mixing bowl.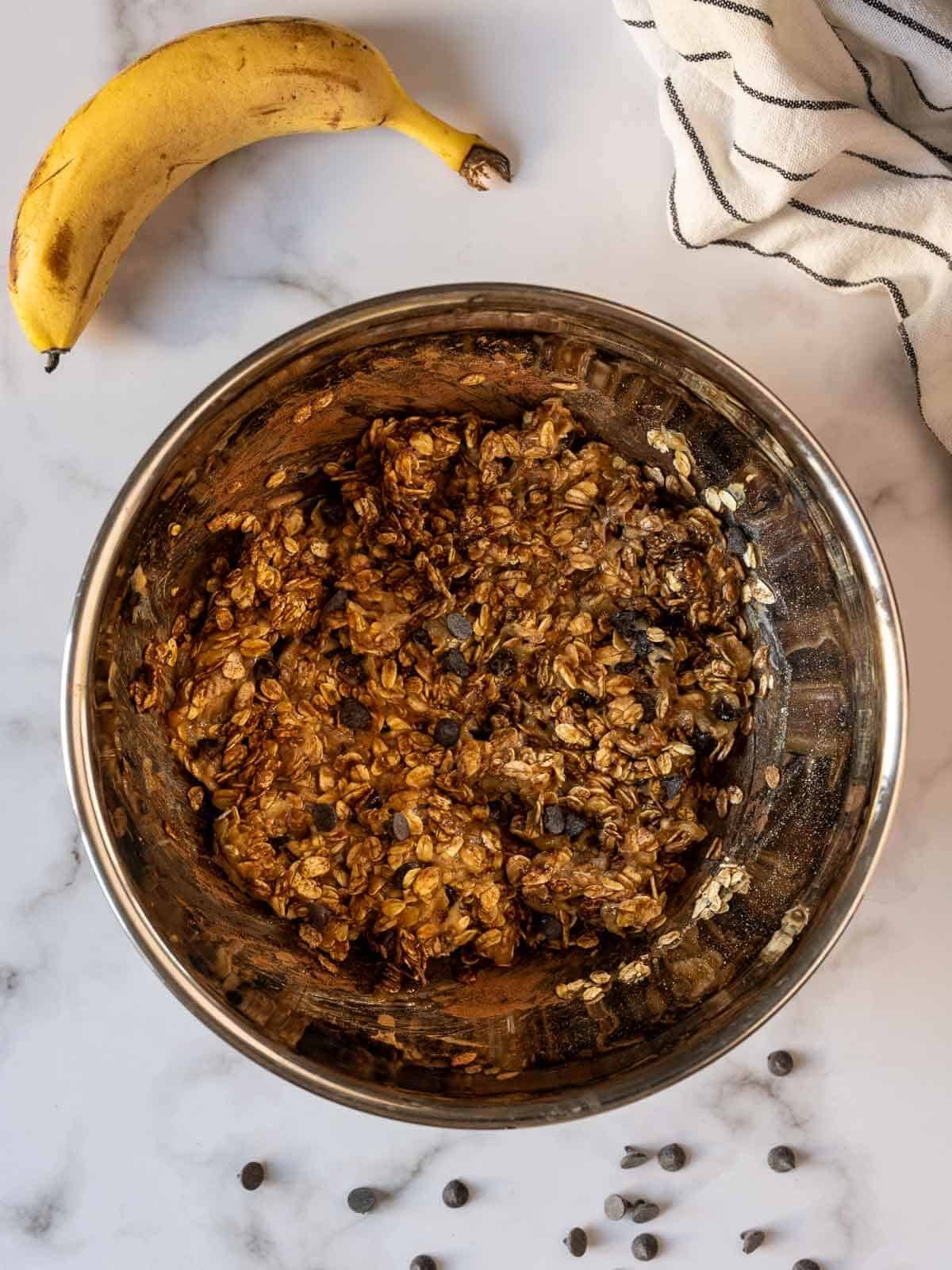 Fold well until a uniform dough is formed.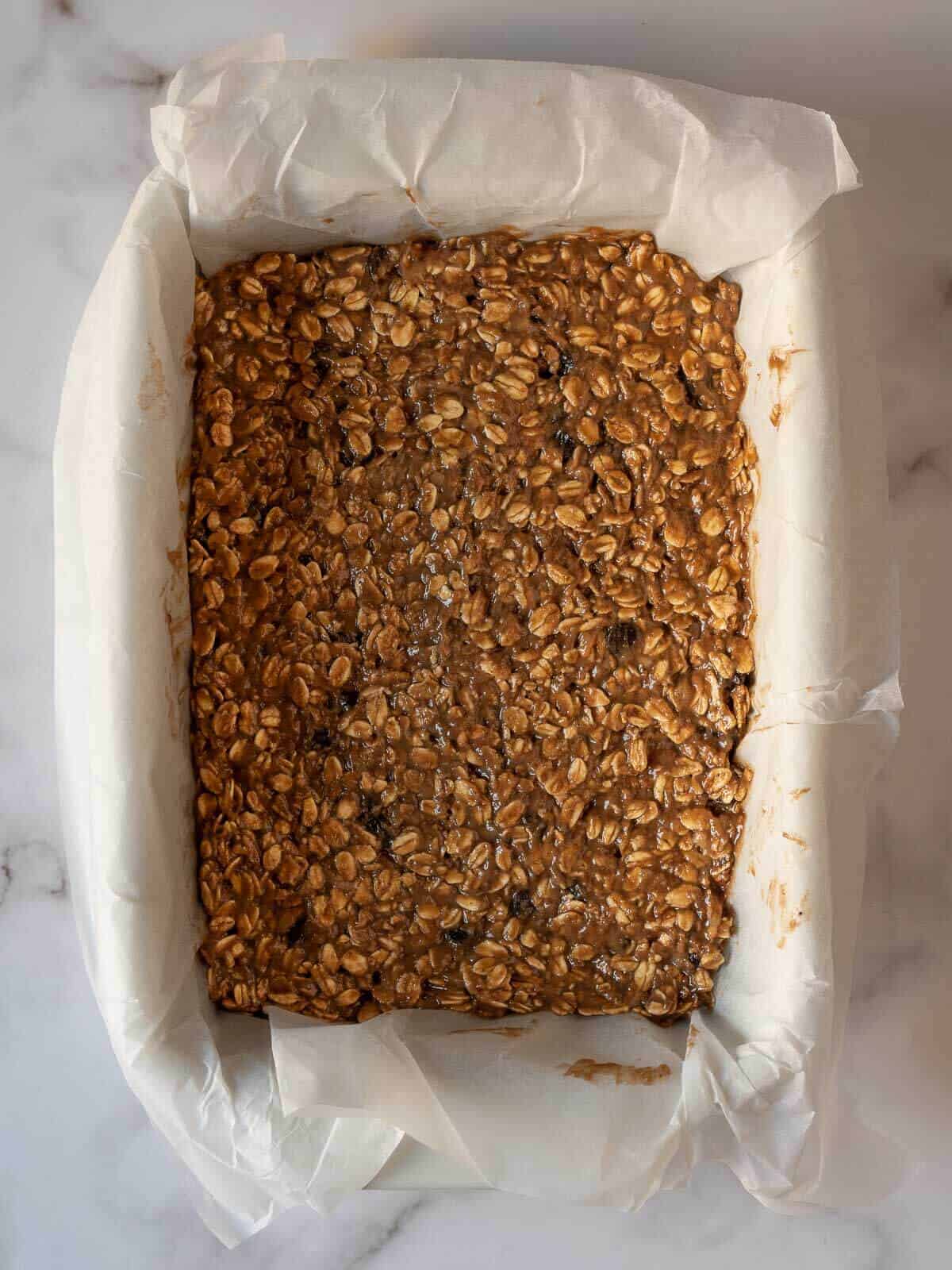 Pour the oatmeal mixture into a prepared baking dish lined with parchment paper.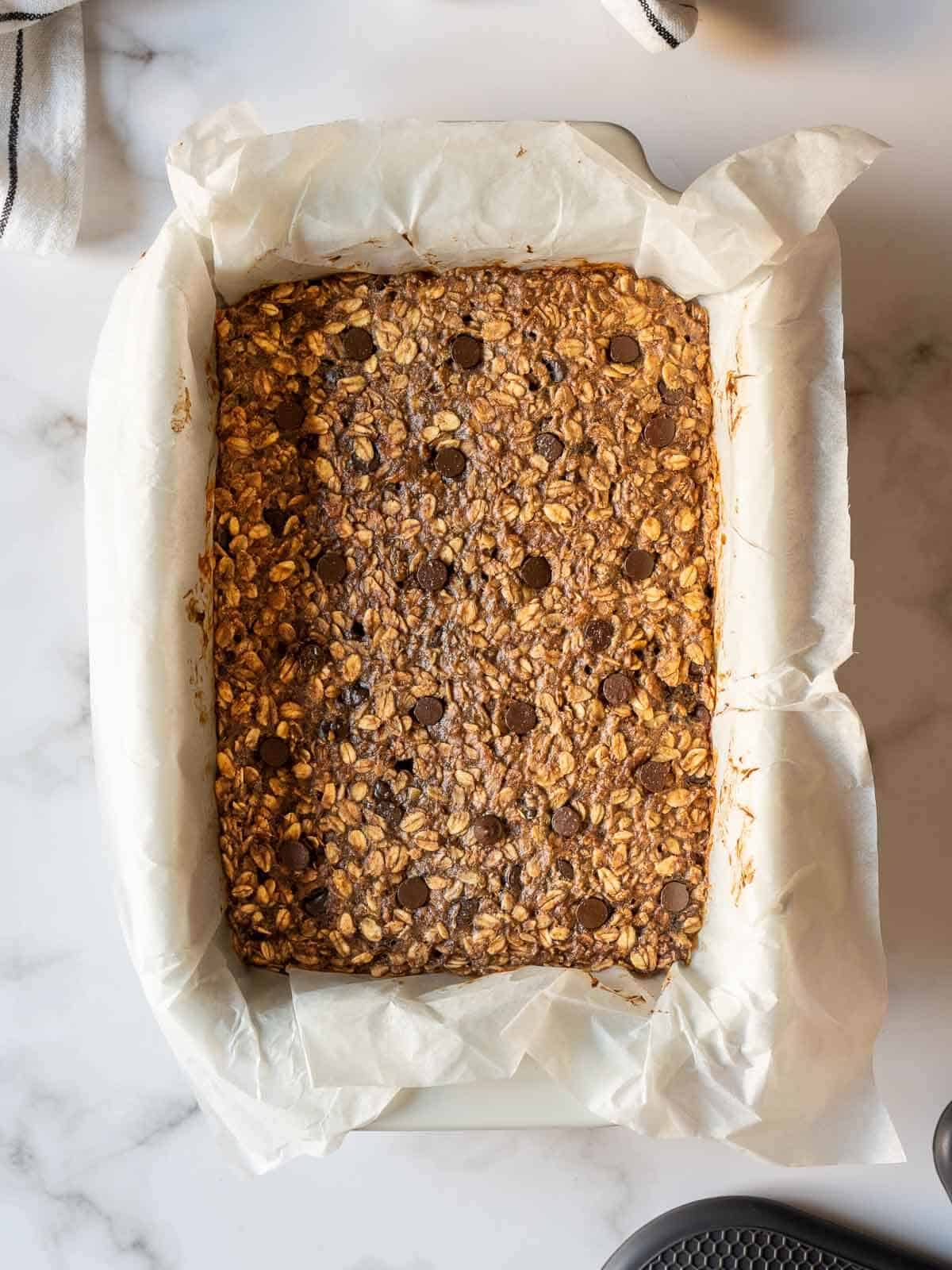 Press down the oatmeal mixture with the spatula or the bottom of a glass. Spread evenly. Optionally press chocolate chips on top.
Hint: I like placing an extra piece of parchment paper on top before pressing.
Bake for 18-25 minutes until the edges are golden brown.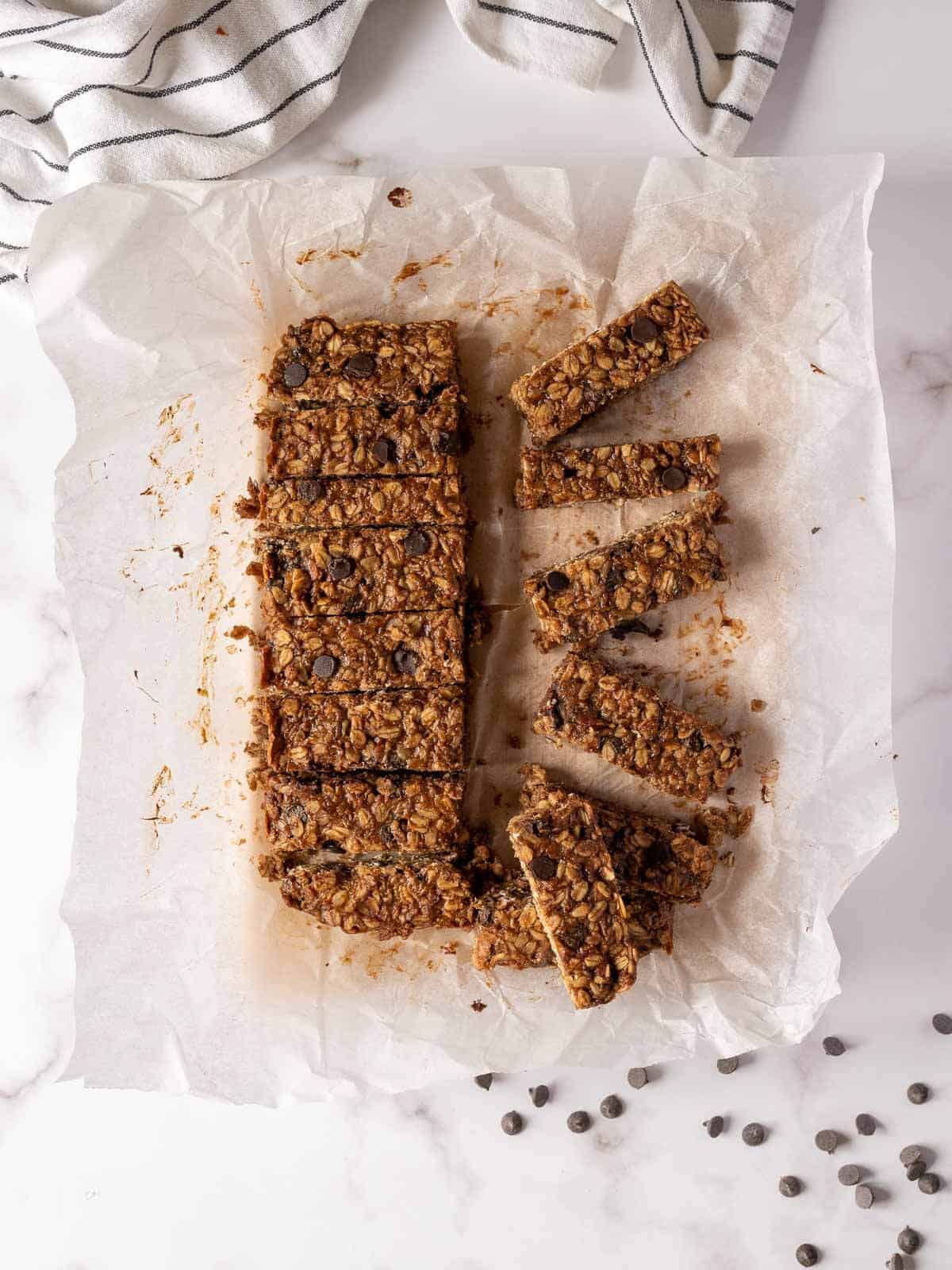 Hint: to make the best out of your ingredients' nutritional benefits, it is better to steam cauliflower than to boil it; otherwise, some of the nutrients will end up in the water.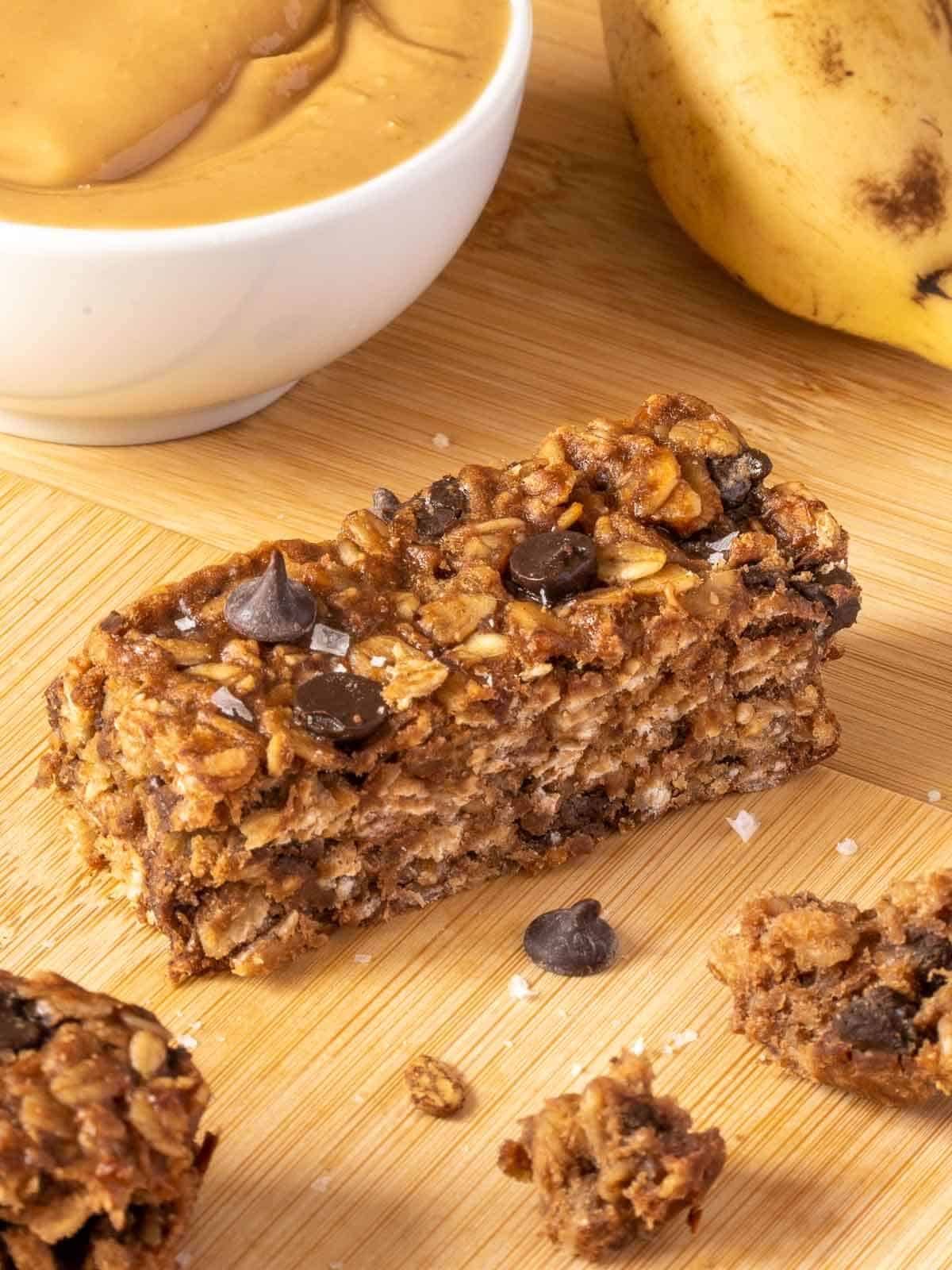 🍶 Substitutions
Rolled oats - instead of all old-fashioned, you can use steel-cut or quick oats. The texture will be more dense and less chunky.
Natural Peanut butter - you can opt for almond butter or even sunflower seed butter. Cashew butter and hazelnut butter, similar to Nutella, are also great options. You can skip the optional sea salt in the recipe if you use salted nut butter. We love the peanut butter flavor of this recipe, and our second option is hazelnut and the third almond. Cashew butter has a much milder flavor but does the job.
Vanilla extract - use almond extract instead.
Vegan chocolate chips - you can replace them with raisins, gogi berries, or dried cranberries. they will make the bars chunkier and add a little bit of acidity. The final result is similar to that of a Cadbury's dried fruit and raisins chocolate candy bar.
Ground cinnamon - feel free to replace it with nutmeg or a warm spice-like pumpkin pie mix.
Maple syrup - use agave syrup or brown sugar mixed in a tablespoon of melted coconut oil to keep the moisture syrup added. We also like using homemade date paste; just avoid using refined sugar.
Read on: brown sugar cinnamon oatmeal breakfast and our brown sugar candied walnuts.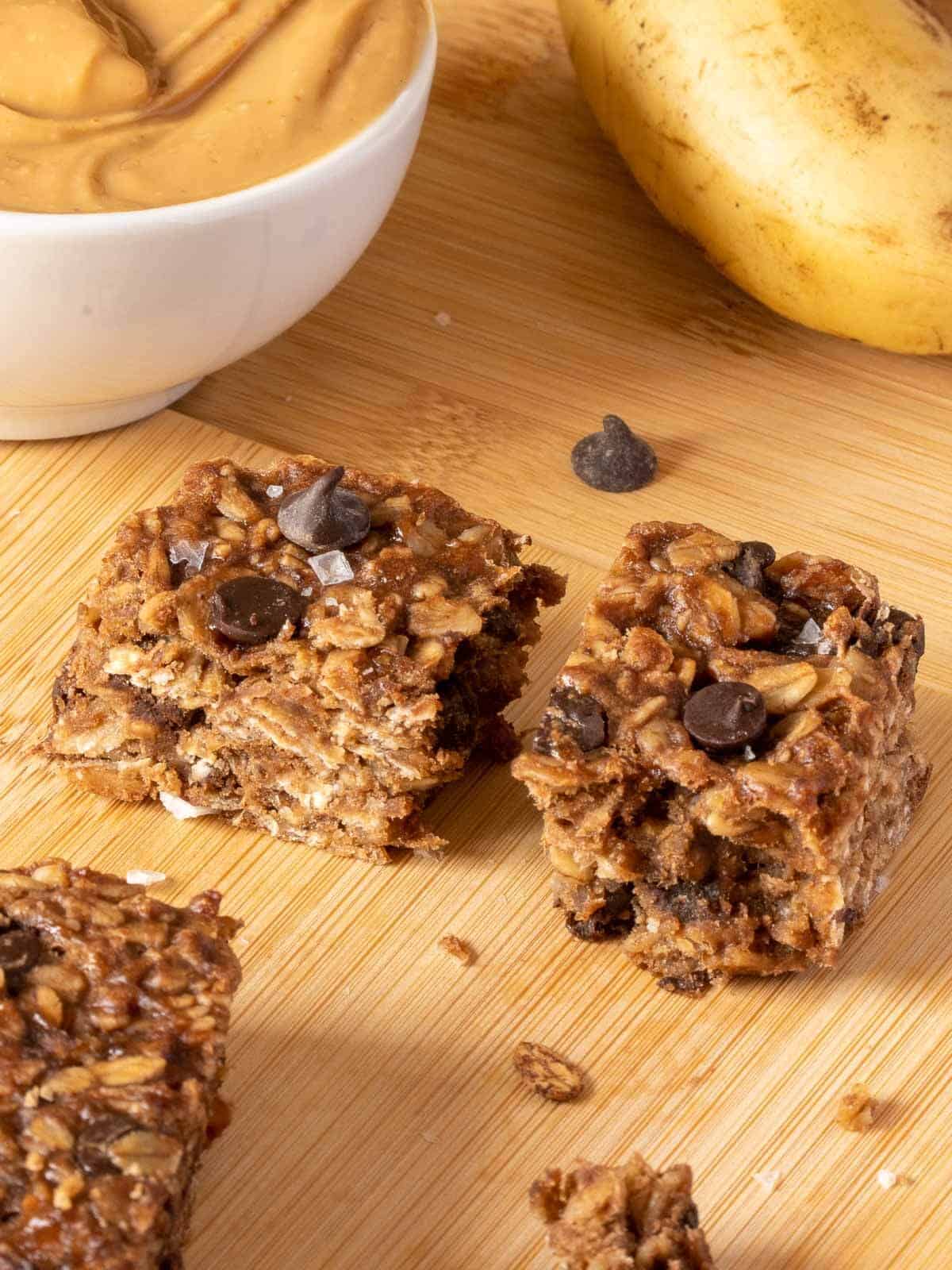 📖 Variations
Nuts - add chopped nuts, like almonds, cashews, or walnuts.
Coconutty - add three tablespoons of shredded coconut into the oatmeal mixture, or add one tablespoon on top halfway through the baking process.
More antioxidants - add two tablespoons of flax meal or chia seeds into the mixture.
More bananas - add ½ cup of unmashed additional banana slices. Dried bananas work as well.
💡 Top tip
Double batch and make muffins! Just pour your mixture's second batch into a muffin tin prepared with cooking spray. Bake for 15 minutes or until the edges are golden brown.
📚 More oatmeal recipes
If you like oatmeal as an option for a healthy breakfast or snack, you should try our tasty granola, the pumpkin spice granola, our homemade granola bars made with hazelnut butter, and the granola bars made with peanut butter.
If you like a bowl of creamy and warm goodness, this brown sugar cinnamon oatmeal is for you; otherwise, if you love meal-prepping your breakfast, you can make the oats and chia pudding, an oat milk smoothie with peanut butter, a lemon blueberry or pumpkin overnight oats.
🍽 Equipment
Baking pan- you can use any size, like 9" x 9", or 12" x 8". Just try to press the bars to reach a ½" inch thickness.
Bowl - to avoid making a mess and mix all of your ingredients in a single container.
Spatula - to mix and press the oatmeal mixture against the baking dish.
Parchment paper - to line baking pans or wrap food items - is an absolute must in my kitchen. It's great for making clean-up a breeze and keeping the delicate flavors of whatever I'm cooking intact. In addition to being easy to use, it's also environmentally friendly since it's made from natural materials such as manila hemp and cotton fibers.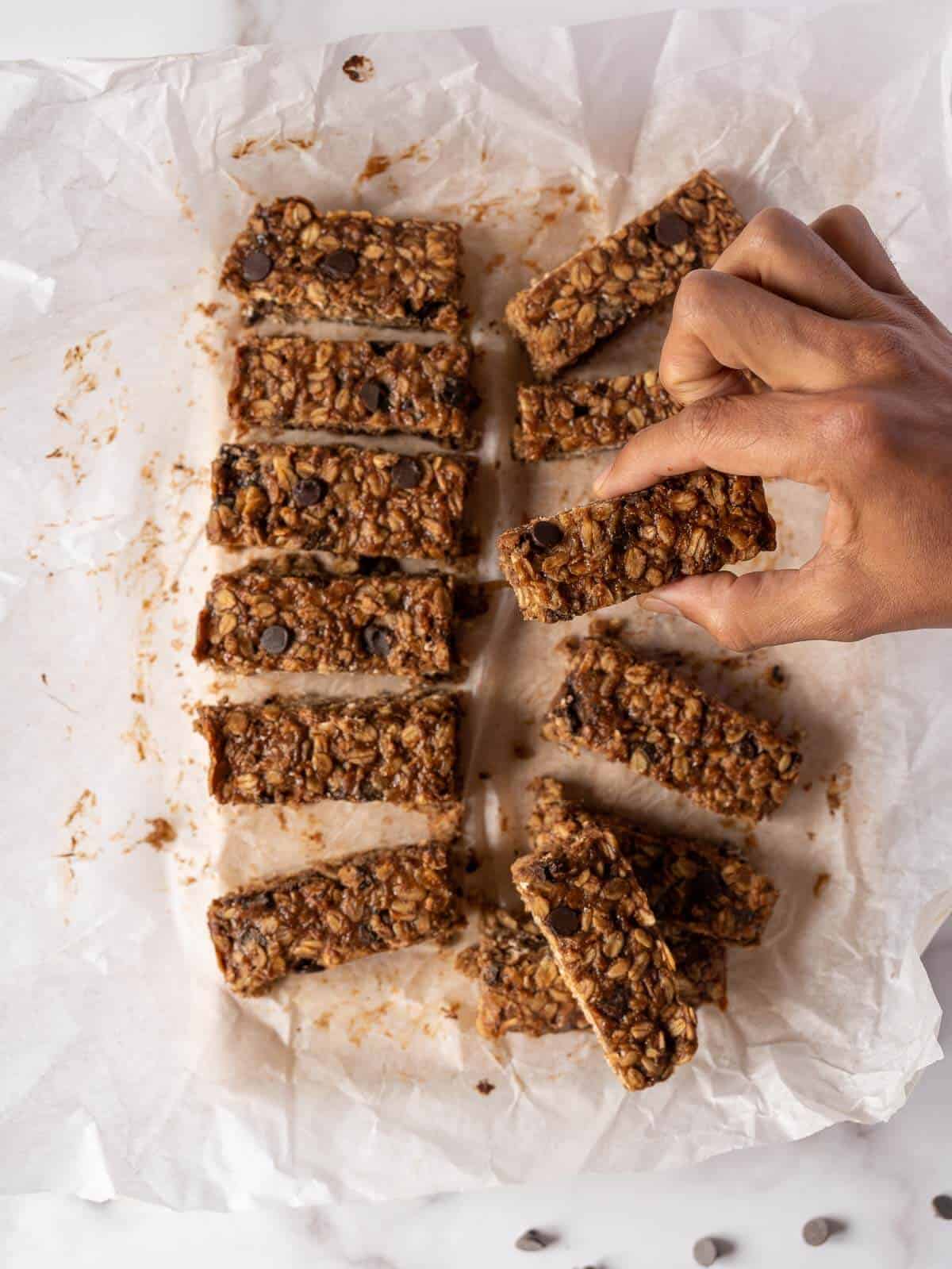 Hint: you can use cooking spray or olive oil instead of parchment paper.
🥡 Storage
Store this and any baked oatmeal recipe using a BPA-free airtight container lined with parchment paper to keep them fresh for up to one week. Enjoy!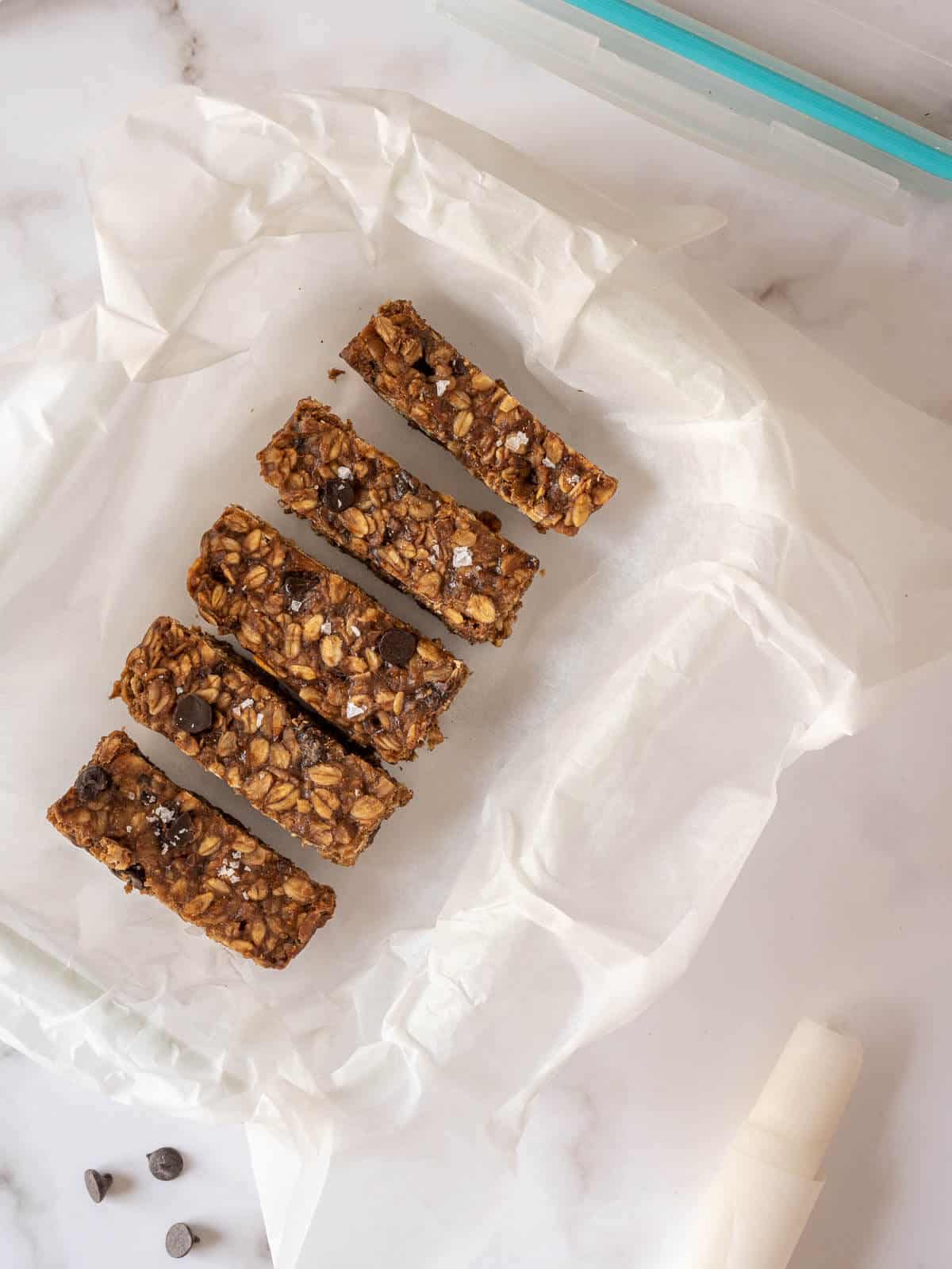 ❓ FAQ
Is this a vegan peanut butter-baked oatmeal?
Yes. There are no animal products used, so they are 100% vegan-friendly. We do not test any of our products on animals, and we only use ingredients that have been ethically sourced from sustainable sources. Our mission is to create a world where people can enjoy delicious plant-based foods without any compromise on taste or quality.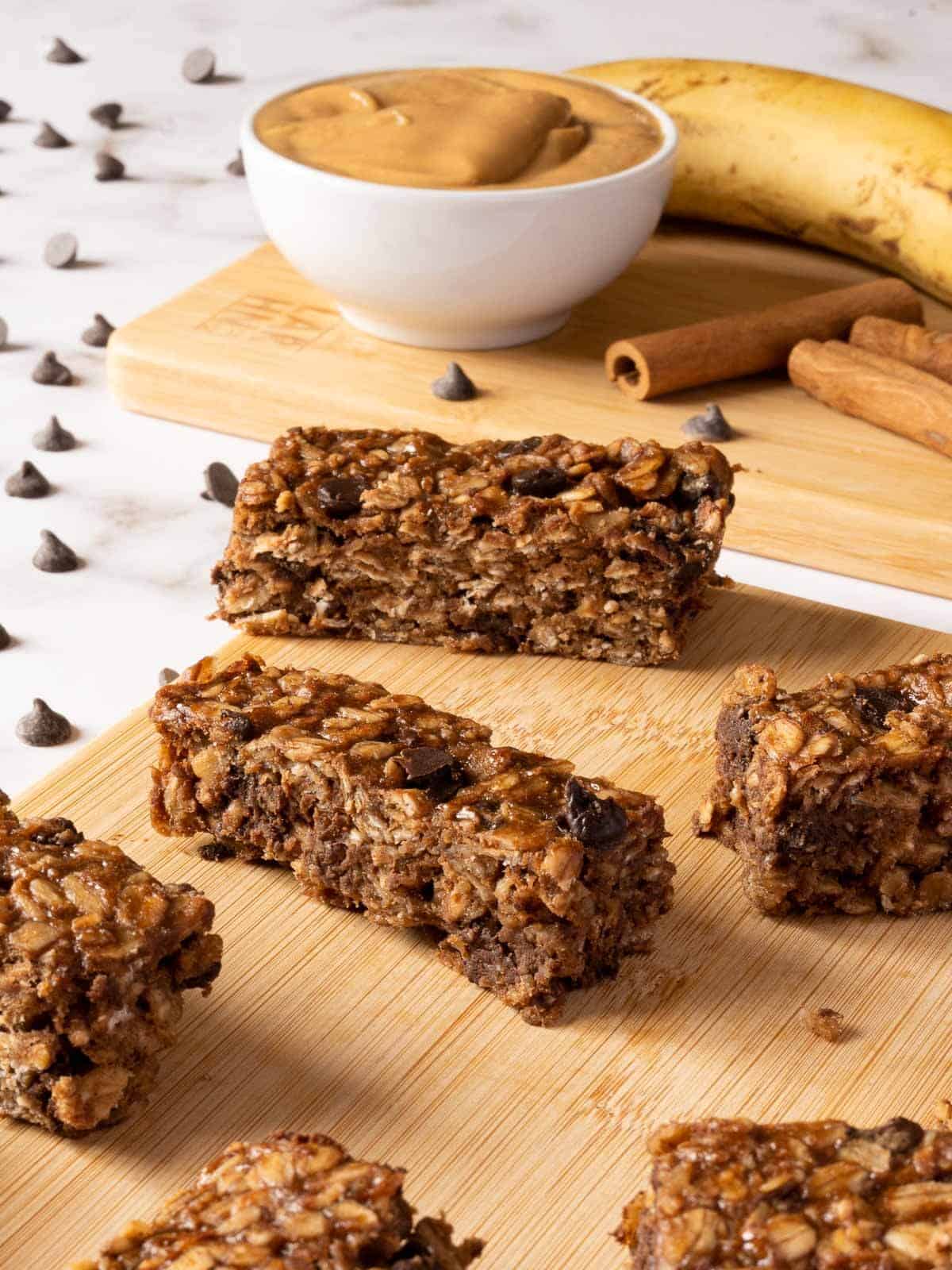 ⭐ If you try this peanut butter oatmeal recipe, let us know! 💬 Leave a comment, rate it, and don't forget to tag us @ourplantbasedworld on Instagram. Cheers!
📋 Recipe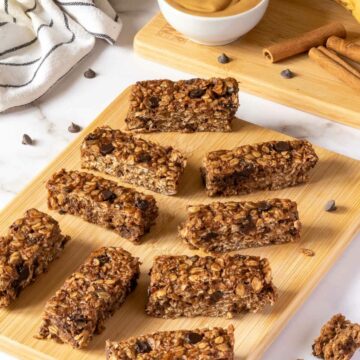 Easy Healthy Chocolate Peanut Butter Oatmeal Bars
These delicious and healthy chocolate peanut butter oatmeal bars are perfect for a quick snack or breakfast on the go.
Equipment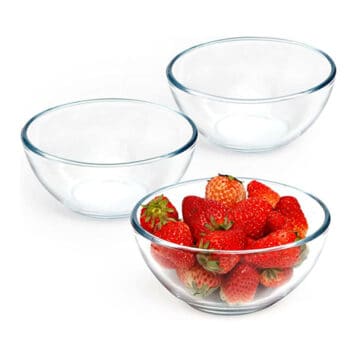 (affiliate link)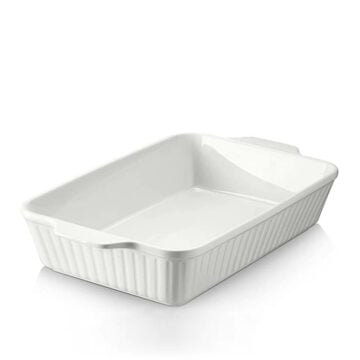 (affiliate link)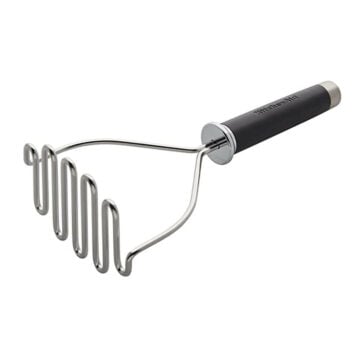 (affiliate link)
Directions
Preheat the oven to 350 ºF (175 ºC) and line a 9"x 9" baking sheet with parchment paper (any pan work, just make sure you press the mix to have a ¼" inch layer)

Mash the bananas in a medium bowl until most nice and creamy.

Stir in the peanut butter until it combines with the mashed banana.

Mix the rolled oats and the remaining ingredients (except for 2 separate tablespoons of maple syrup) until everything is well-combined.

Transfer the bar mixture to the prepared baking pan and press it into an even layer.

Bake on the center rack of the oven for 18 to 25 minutes or until the edges of the bars are golden-brown.

Let cool. Once the bars are fully cooked, remove them from the oven and let them cool for 15-30 minutes before slicing them into the desired shape and serving.

Please wait at least 30 minutes before cutting the bars so they don´t crumble. I recommend waiting hours or overnight to ensure they cut well. Don't use a sewed knife. Use a chef´s knife and make sharp cuts.

If you don´t use chocolate chips, I recommend drizzling a tablespoon of maple syrup on top, to give it an extra sweetness touch.
Notes
You can use any kind of nut butter, such as almond, cashew, and hazelnut/cocoa (AKA Nutella).
If you like salty chocolate you can sprinkle salt flakes into the mixture before baking it.
Nutrition Facts
Calories:
146
kcal
Carbohydrates:
20
g
Protein:
4
g
Fat:
7
g
Saturated Fat:
2
g
Polyunsaturated Fat:
1
g
Monounsaturated Fat:
2
g
Sodium:
85
mg
Potassium:
171
mg
Fiber:
2
g
Sugar:
9
g
Vitamin A:
15
IU
Vitamin C:
2
mg
Calcium:
30
mg
Iron:
1
mg
Nutrition Facts
Easy Healthy Chocolate Peanut Butter Oatmeal Bars
Amount per Serving
% Daily Value*
* Percent Daily Values are based on a 2000 calorie diet.
🌡️ Food safety
Cook to a minimum temperature of 165 °F (74 °C)
Do not use the same utensils on cooked food, that previously touched raw meat
Wash hands after touching raw meat
Don't leave food sitting out at room temperature for extended periods
Never leave cooking food unattended
Use oils with a high smoking point to avoid harmful compounds
Always have good ventilation when using a gas stove
See more guidelines at USDA.gov.
Nutritional Disclaimer
The information shown is an estimate provided by an online nutrition calculator. It should not be considered a substitute for a professional nutritionist's advice. See our full Nutritional Disclosure here.
Affiliate Disclaimer
Please note that some of the links here are affiliate links, and I will earn a commission if you purchase through those links. I recommend all of the products listed because they are companies I have found helpful and trustworthy.