Looking for a morning homemade detox drink after the year-end holidays and the colder months? Check out this delicious Carrot Orange Ginger Juice! Packed with vitamins and minerals, this juice helps to flush out all those free radicals that make your skin dull, and sun Vitamin D deprived. . Give it a try today!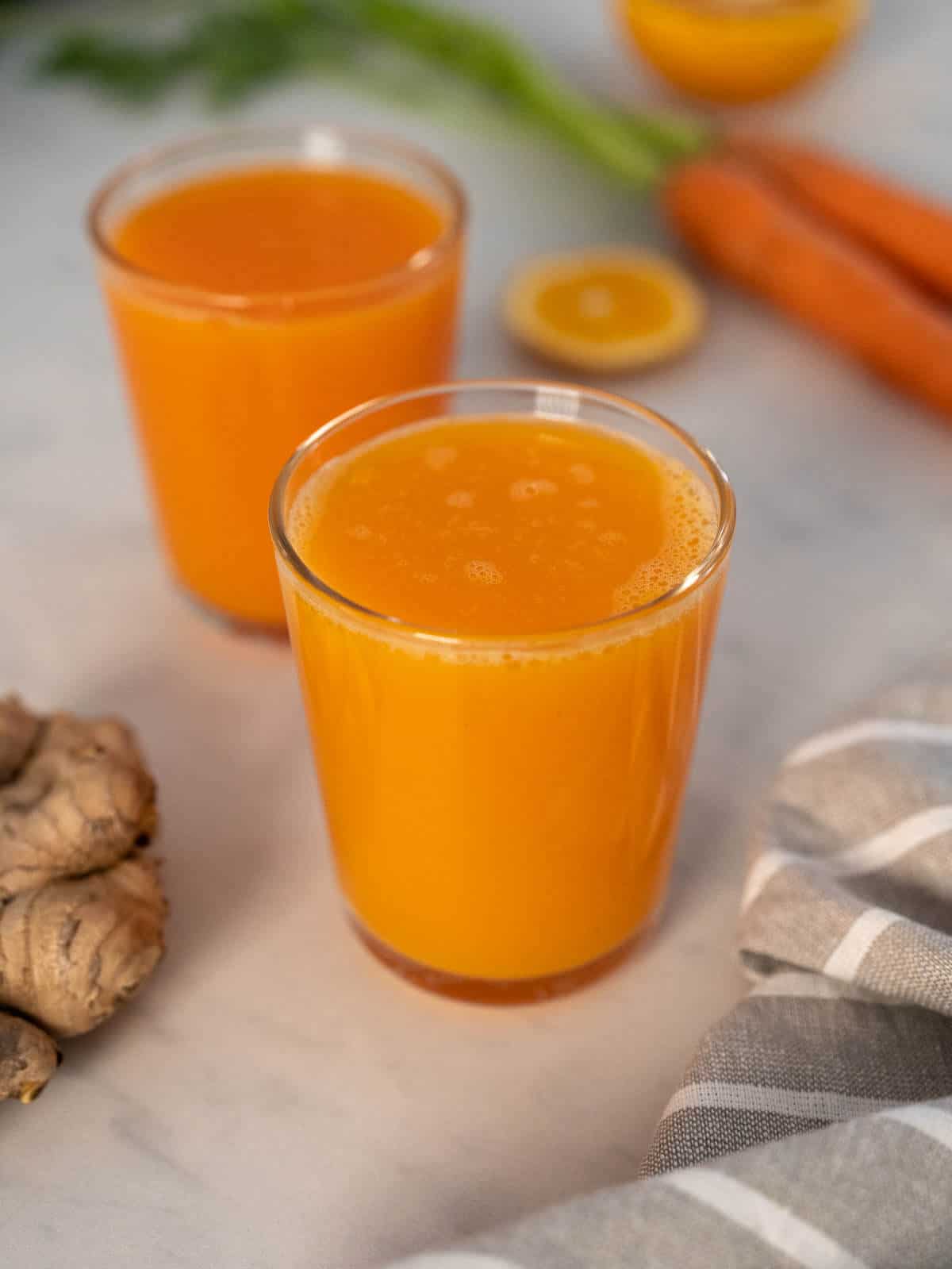 We constantly create new functional juices to fit seasons' juicing needs. We naturally tend to finish the year-end holidays with a need to clean our bodies and with this homemade detox drink.
We are overindulging in oranges as the season is at its peak. Add this orange ginger carrot juice to your detox plans as a simple and enjoyable Vitamin C-boosting drink.
During our cleansing periods which sometimes take the form of liquids-only fasting as a meal replacement.
We combine highly antioxidants-packed orange, skin and eye-health-friendly carrots, tangy immune-system-booster, and anti-inflammatory ginger.
Jump to:
🧾 Ingredients
This carrot orange ginger juice is made with just a few delicious ingredients.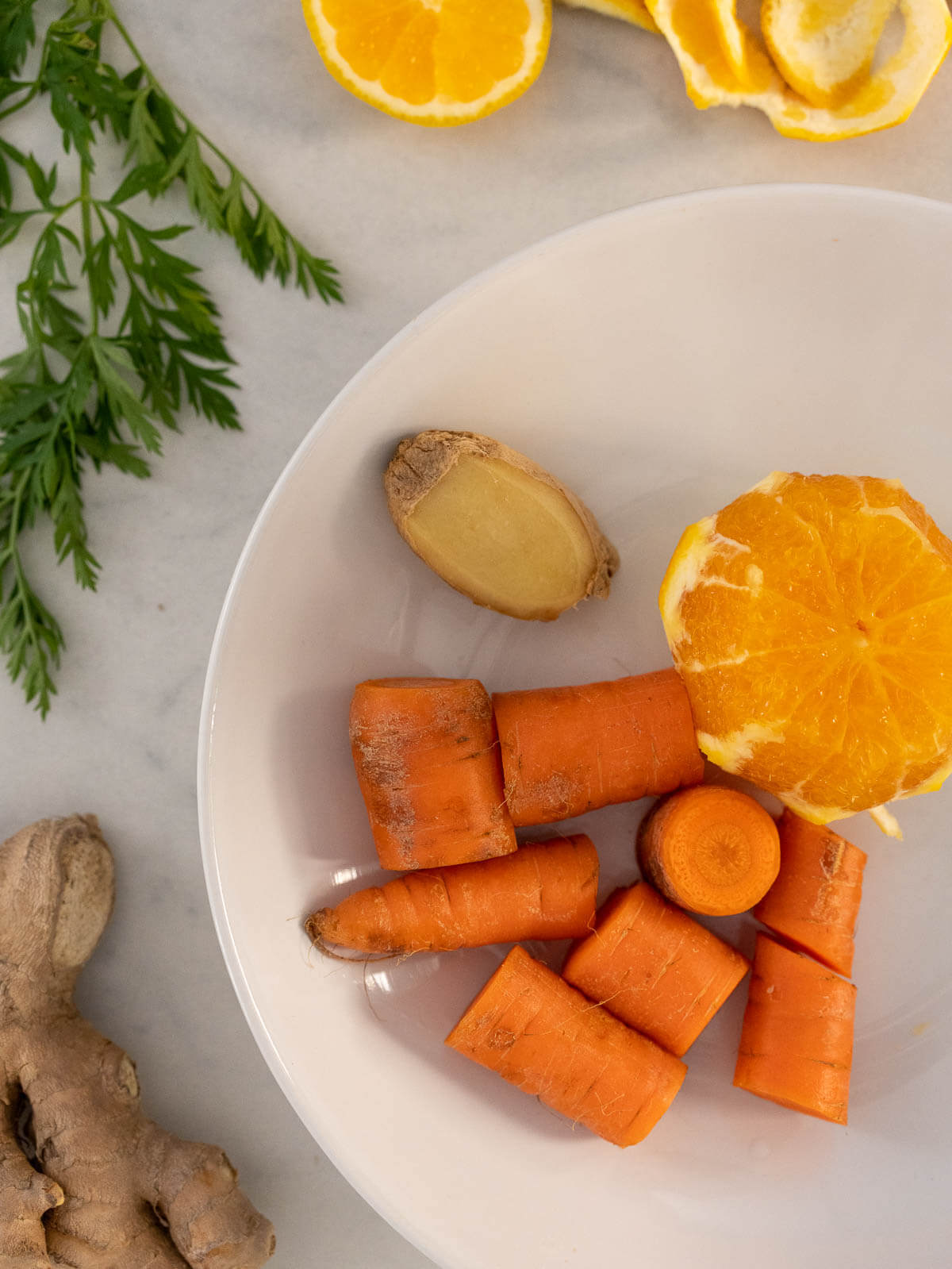 Carrot 🥕 - adds sweetness and color. One of the most versatile vegetables around. They're perfect for eating raw or cooked, and they have a wealth of benefits for your health. Skin nurturing, sight caring, and heart health are only a couple.
Orange 🍊 - brings color and citrus goodness. They are a good source of vitamin C, potassium, and thiamin. Vitamin C is an antioxidant that helps fight harmful toxins and bacteria, potassium helps regulate blood pressure, and thiamin is essential for energy production. Additionally, oranges are a good source of flavonoids, which have been shown to have anti-inflammatory and anti-cancer effects.
Ginger root 🌱 - yum! ginger adds spicy, peppery, and warm notes. It aids digestion, eases pain and inflammation, and it also helps regulate blood sugar levels.
See the recipe card for quantities.
🔪 Instructions
This morning detox drink involves 3 simple steps.
Washing and preparing your ingredients. Peel the orange. Removing the skin and white parts.
Chopping in sizable chunks.
Juicing your veggies, fruit, and ginger roots.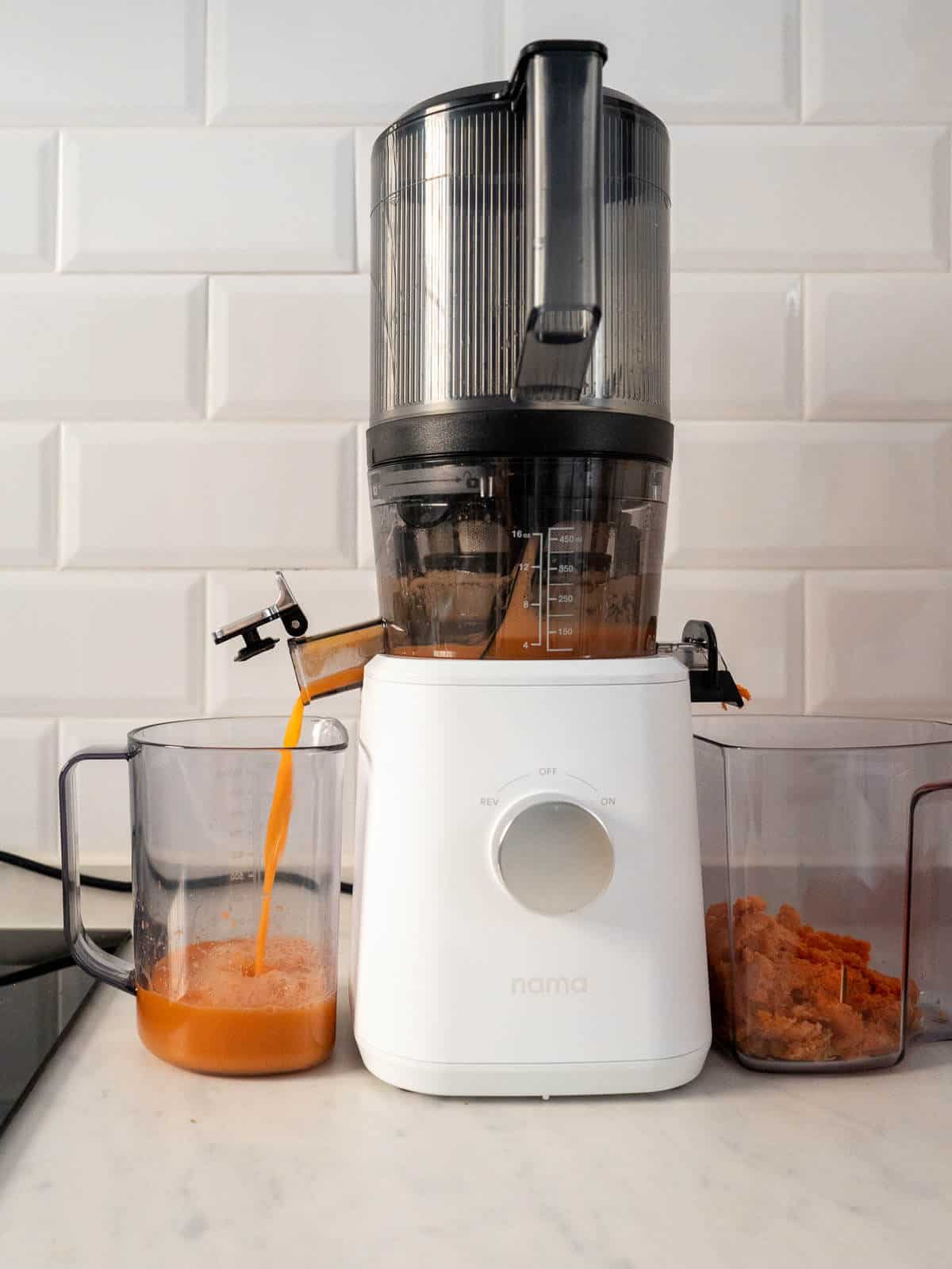 Place all the chopped ingredients on the juicer's vase.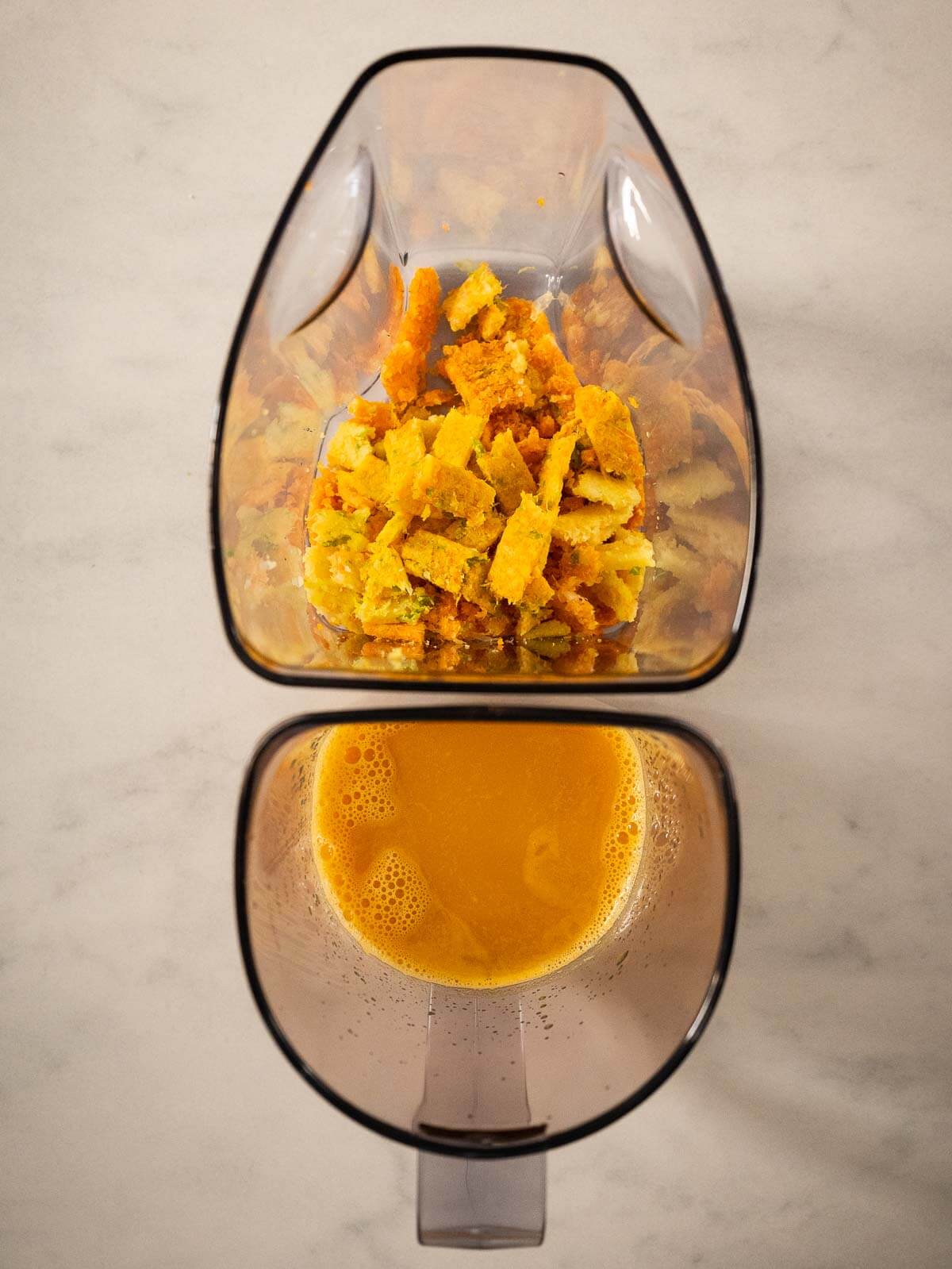 You will be left with the pulp but use it for compost or in a smoothie.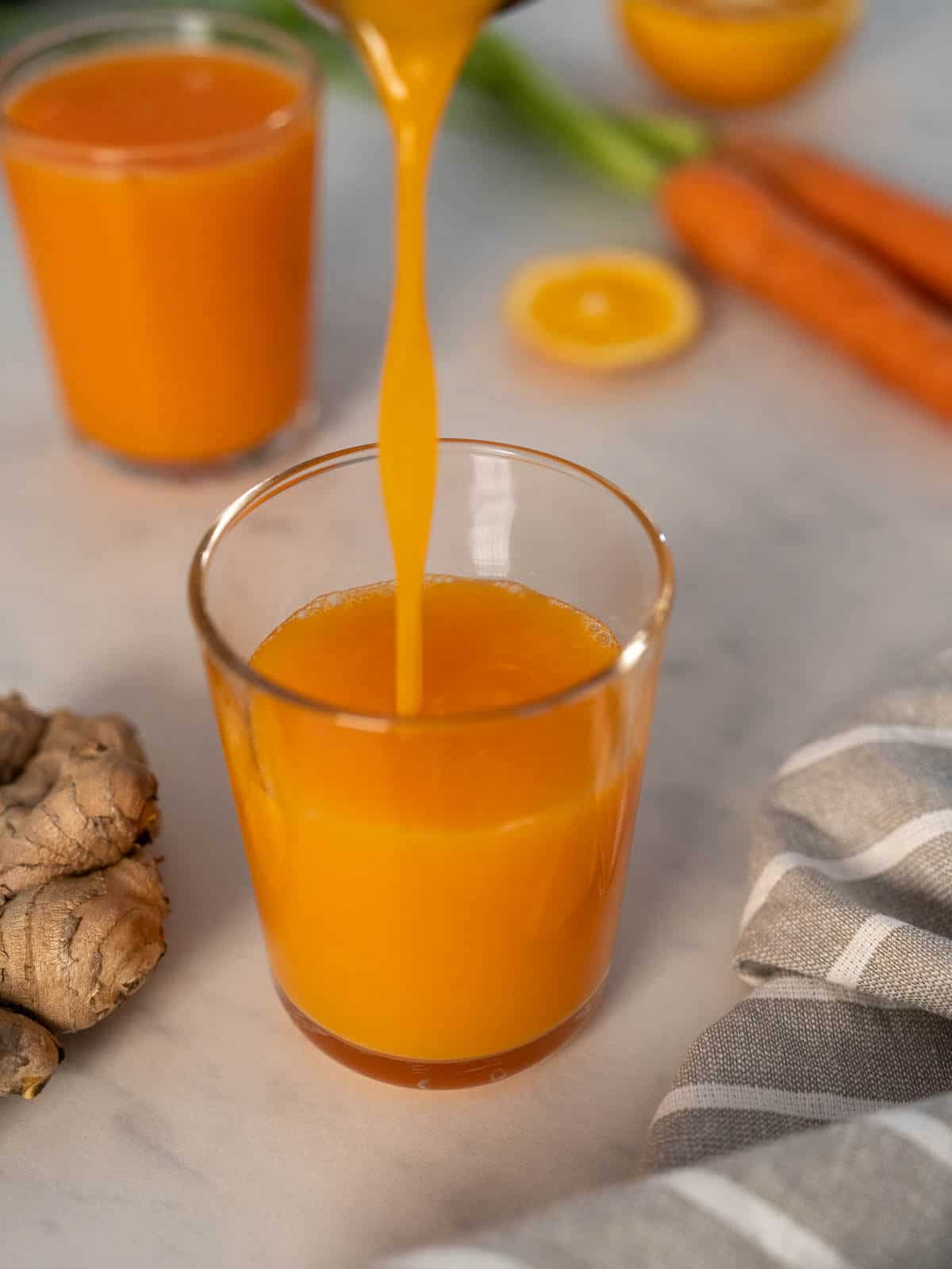 Hint: if you don't have time, you can freeze the pulp and use it for pulp muffins or carrot cake later.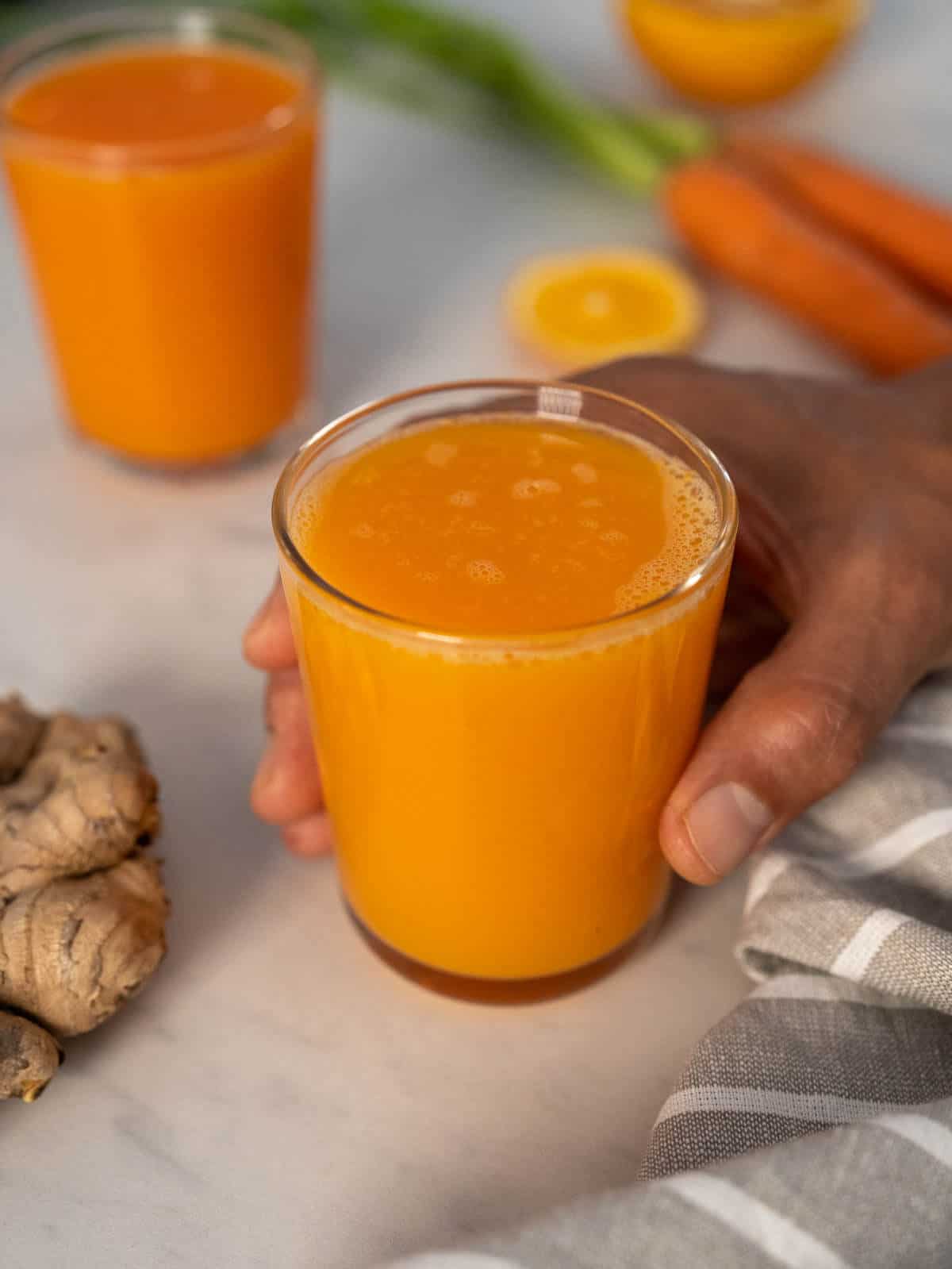 Hint: if you want to make this orange carrot ginger juice but don't have a juicer yet, you can use a blender with a nut milk bag to separate the remaining pulp from the fresh juice.
Read on: how to juice without a juicer (fully-explained technique) or see how to do it for this drink on the recipe card.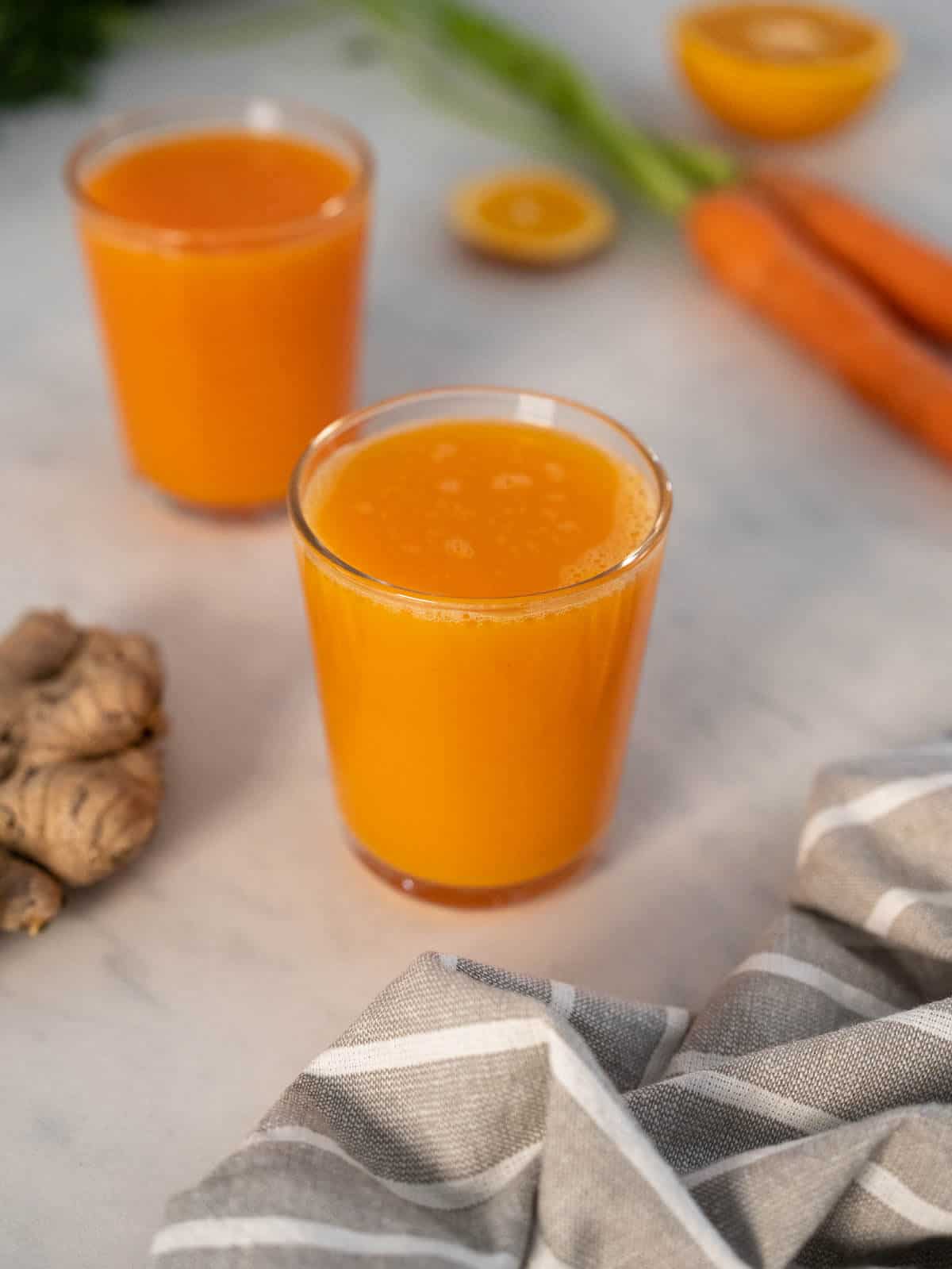 See our juice storing tips to understand better how to keep your leftover juices and retain as many of their ingredients' nutrients as possible.
🍶 Substitutions
Fresh Oranges - feel free to substitute with any type of orange, like blood orange or grapefruit. The flavor will vary slightly, but the properties will remain about the same. Also, I am not a fan of this option, but if you don't mind fresh homemade juice and you have store-bought orange juice, you can add 2 ounces of it to the carrot ginger juice recipe.
If you like oranges as part of your homemade detox drink, you should try this Golden Fresh Pineapple Ginger Juice with an unexpected ingredient you probably have on the fridge!
🥕 Variations and more carrot healthy recipes
Try out some carrot ginger juicer variations with the following: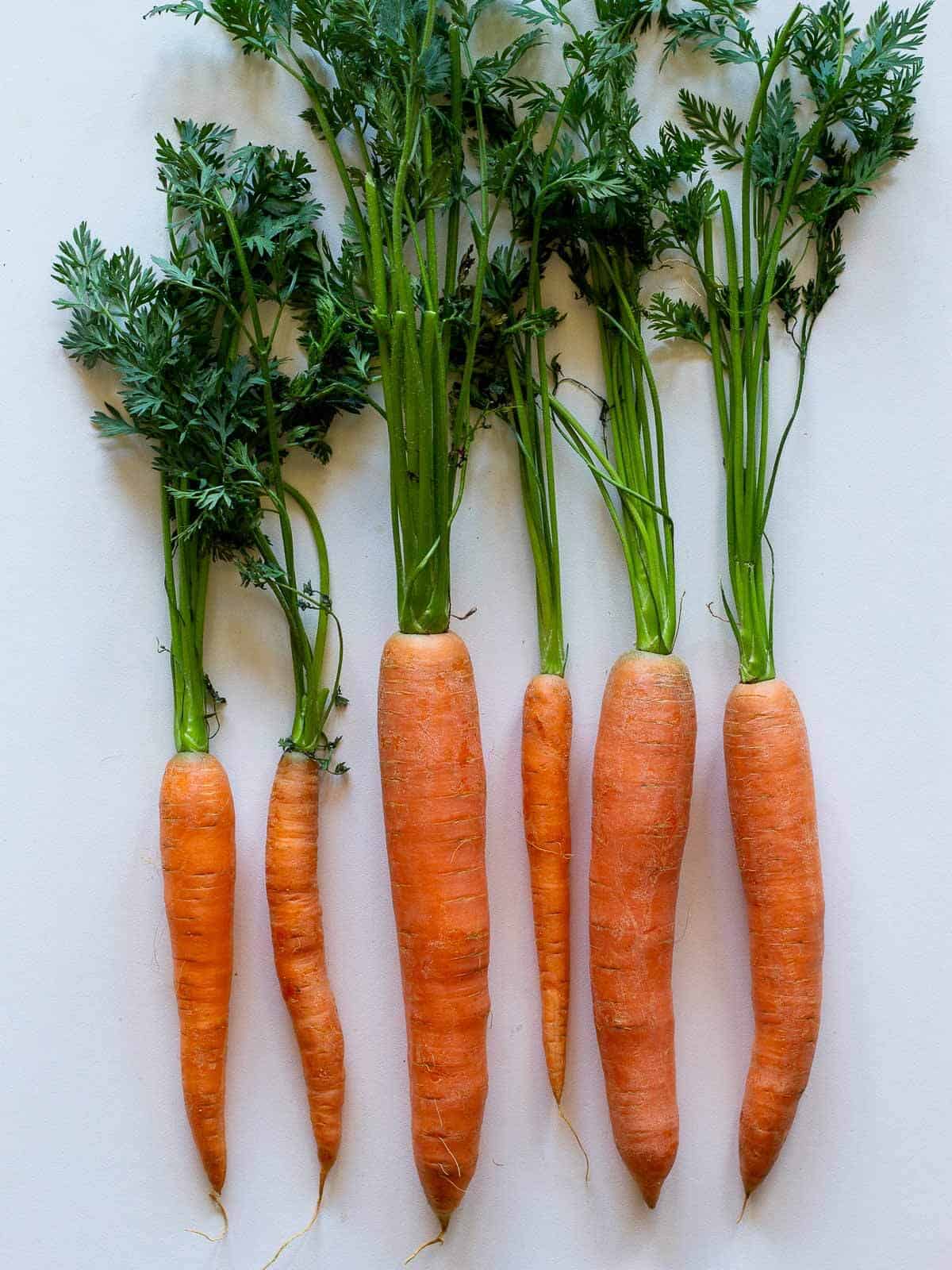 🍽 Equipment
Juicer - choose a cold-pressed juicer over a centrifugal juicer. they are a little more expensive but are definitely the best option in the long run. They yield more juice, and since there is no heat involved as there is in centrifugal users, your juice preserves more nutrients and oxidizes slower (lasts more).
OR
Blender- if you don't have a juicer, you will need a high-speed blender

(affiliate link)

and,
Mesh strainer- when making juice, use any regular colander or nut milk bags. We recommend using the same ones we use to make almond milk.
Bowl - It is always better to use a large bowl

(affiliate link)

to work the blender method without making a mess in the kitchen early in the morning.
🥡 Storage
Store this carrot juice in a BPA-free (affiliate link), tightly sealed container in the fridge for up to 3 days.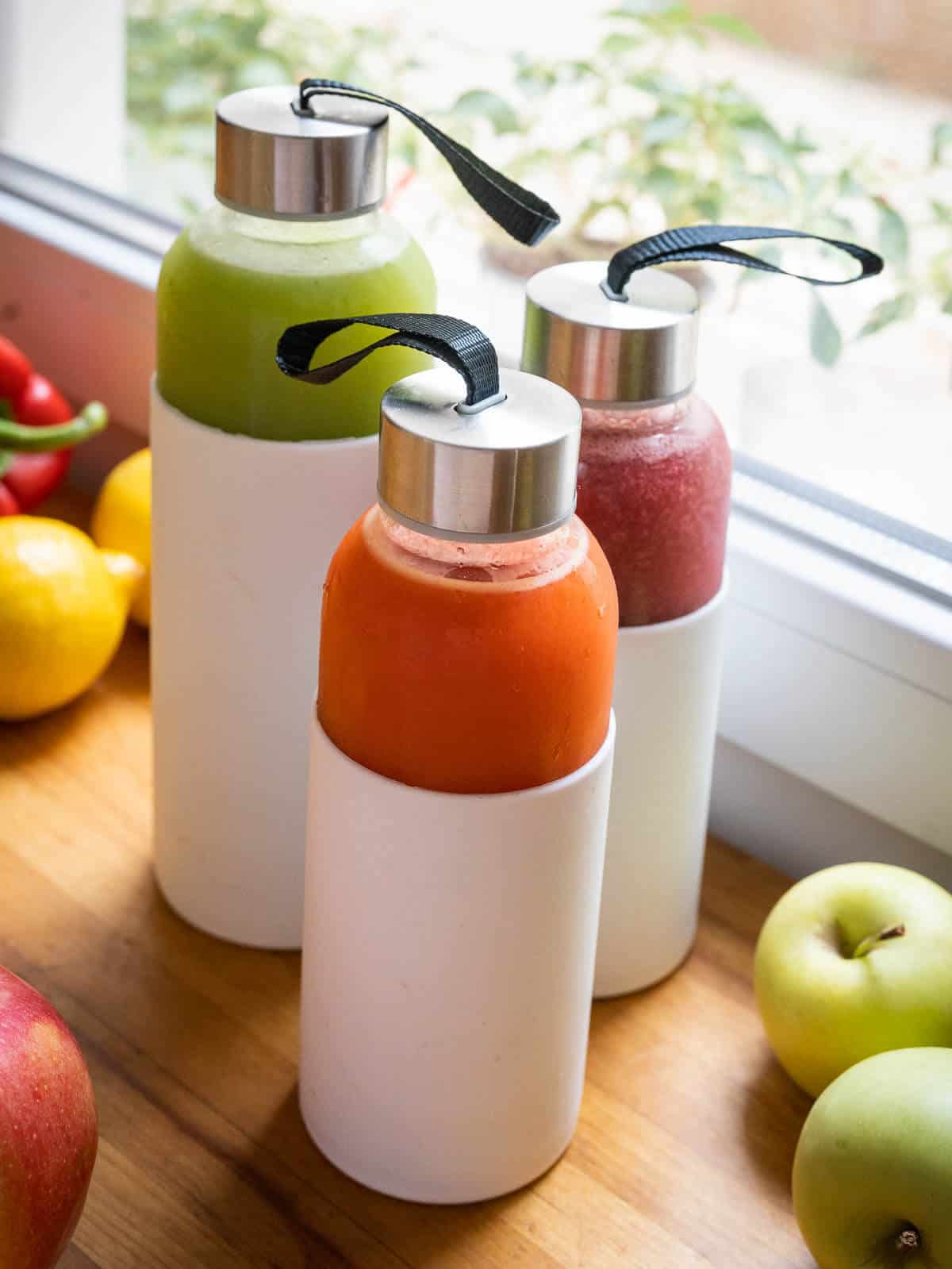 You can freeze your immune-boosting juice in an airtight container, but it doesn't stand up well to freezing for more than 3 months. It will never reach the same nutrient density as fresh juice, but you will still enjoy its health benefits.
💡 Top tip
Carrot and ginger make a great pair in sweet drinks and savory dishes too! Try out the carrot and ginger soup!
✅ Carrot and orange juice benefits
Let's talk about the benefits of this immune-boosting drink.
Oranges are a good source of dietary fiber, which can help with weight loss and control and bowel regularity. Fiber may also reduce the risk of heart disease and other chronic diseases like cancer. Vitamin C is vital for the immune system and helps protect cells from damage caused by free radicals. Potassium is vital for blood pressure control, and folate is essential for red blood cell formation and healthy function and growth.
One benefit of carrots is that they are a good source of beta-carotene, which the body converts into vitamin A. Vitamin A is important for good vision, skin tone and health, and a robust immune system. Carrots are also a rich source of antioxidants, which help protect the body from harmful toxins and oxidative stress. Antioxidants may help reduce the risk of chronic diseases like heart disease and cancer.
Ginger has a long history of use in traditional medicine and is now being studied for its potential health benefits. Some of the possible benefits of ginger include: aiding in digestion, reducing nausea and vomiting, easing pain and inflammation, helping to regulate blood sugar levels, fighting infections, and boosting cardiovascular health.
❓ FAQ
What is carrot orange ginger juice for?
This juice helps to boost immune health and is a detox drink.
Is carrot orange ginger juice good for you?
Yes! Carrot orange ginger juice is an excellent source of vitamins, minerals, and antioxidants. It's also a great way to boost your immune system and fight off infection.
Carrots are an excellent source of beta-carotene (vitamin A), essential for good vision, healthy skin, and a robust immune system. oranges are a good source of vitamin C, potassium, and folate. And ginger is known for its anti-inflammatory properties. So together, carrot and orange ginger juice make an incredibly nutritious drink that's great for your health!
Calories in Carrot Orange Ginger Juice?
There is 89 kcal in 8 ounces of this orange carrot ginger juice.
⭐ If you try this orange carrot ginger recipe, let us know! 💬 Leave a comment, rate it, and don't forget to tag us @ourplantbasedworld on Instagram. Cheers!
📋 Recipe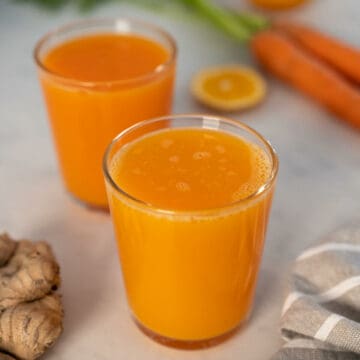 Fresh Carrot Orange Ginger Juice (Homemade Detox Drink)
This fresh carrot orange ginger juice is a simple and delicious way to make a morning homemade detox drink to help clean your body with just 3 ingredients and a punch of flavor.
Equipment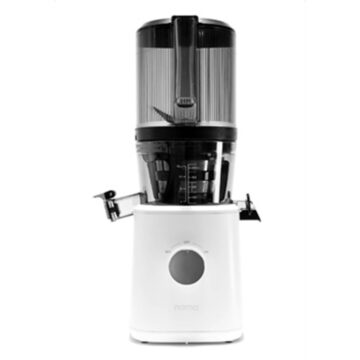 (affiliate link)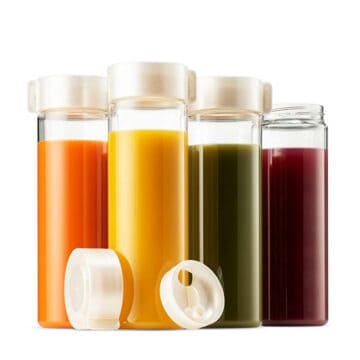 (affiliate link)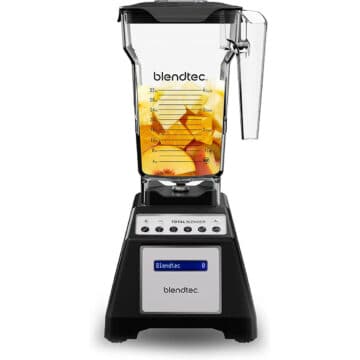 (affiliate link)
Directions
JUICER
Wash carrots thoroughly.

Remove the orange's skin.

Chop all the ingredients into the appropriate juicer size.

Add ingredients into the juicer, starting with the softer ingredients and continuing with the tougher ones.

Serve chilled with ice cubes.
BLENDER
Blend. Add the chopped carrots, orange, and peeled ginger to a blender- and blend until smooth. Then, using a nut bag, colander, or mesh strainer, strain the juice over a large bowl to remove the pulp.

Press. Use a spoon to help stir the pulp and press out the freshly squeezed juice.
Notes
We like chilling the juice for at least 15 minutes before serving.
The juice will keep in a juice bottle or airtight container for up to 3 days, although better if consumed freshly made.
Nutrition Facts
Calories:
89
kcal
Carbohydrates:
22
g
Protein:
2
g
Fat:
0.3
g
Saturated Fat:
0.1
g
Polyunsaturated Fat:
0.1
g
Monounsaturated Fat:
0.1
g
Sodium:
43
mg
Potassium:
447
mg
Fiber:
5
g
Sugar:
15
g
Vitamin A:
10485
IU
Vitamin C:
73
mg
Calcium:
73
mg
Iron:
0.3
mg
Nutrition Facts
Fresh Carrot Orange Ginger Juice (Homemade Detox Drink)
Amount per Serving
% Daily Value*
* Percent Daily Values are based on a 2000 calorie diet.
🌡️ Food safety
Cook to a minimum temperature of 165 °F (74 °C)
Do not use the same utensils on cooked food, that previously touched raw meat
Wash hands after touching raw meat
Don't leave food sitting out at room temperature for extended periods
Never leave cooking food unattended
Use oils with a high smoking point to avoid harmful compounds
Always have good ventilation when using a gas stove
See more guidelines at USDA.gov.
Nutritional Disclaimer
The information shown is an estimate provided by an online nutrition calculator. It should not be considered a substitute for a professional nutritionist's advice. See our full Nutritional Disclosure here.
Affiliate Disclaimer
Please note that some of the links here are affiliate links, and I will earn a commission if you purchase through those links. I recommend all of the products listed because they are companies I have found helpful and trustworthy.