Hey there, pumpkin lovers! Get ready to fall head over heels for this scrumptious Pumpkin Loaf Cake. It's not just any loaf; it's a Pumpkin Spiced Loaf Cake that's 100% vegan and 1000% delicious.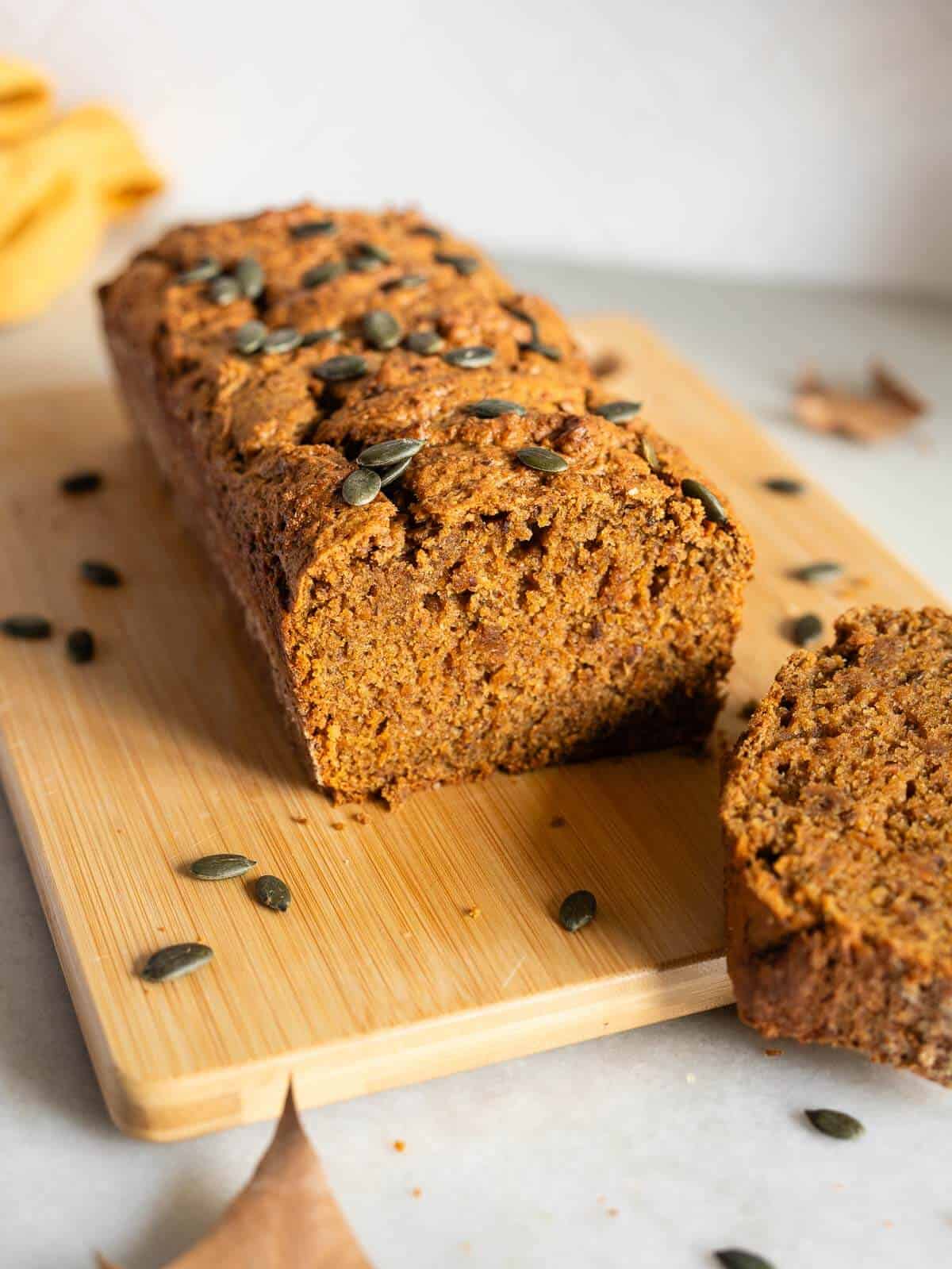 You might be wondering, "Why is this Pumpkin Loaf Cake recipe a winner?" Well, let's talk nutrition first. Packed with pumpkin puree, this loaf is a vitamin A powerhouse. Add in the flax meal, and you've got yourself a fiber-rich treat that's good for your gut. And let's not forget the coconut sugar and oil, which are healthier alternatives to their more processed counterparts.
Now, onto the easy factor. We know meal prep can be a hassle, but this recipe is as straightforward as they come. Mix your wet and dry ingredients, pour into a loaf pan, and let the oven do its magic. No complicated steps, no weird kitchen gadgets. Plus, we've got you covered with variations and substitutions to suit your pantry stock or dietary needs.
Last but not least, let's talk versatility. This loaf can easily be a breakfast or dessert dish, depending on how you choose to serve it.
Drizzle some vegan white chocolate frosting for dessert, or enjoy it plain with your morning coffee. And if you loved our banana bread and Pumpkin Spice Latte recipe, this loaf is inspired by those same cozy flavors. So go ahead, add this to your meal prep list, and enjoy a slice of autumn goodness any time of the day!
Jump to:
🧾 Ingredients
This pumpkin spiced loaf cake is made with just a few delicious ingredients: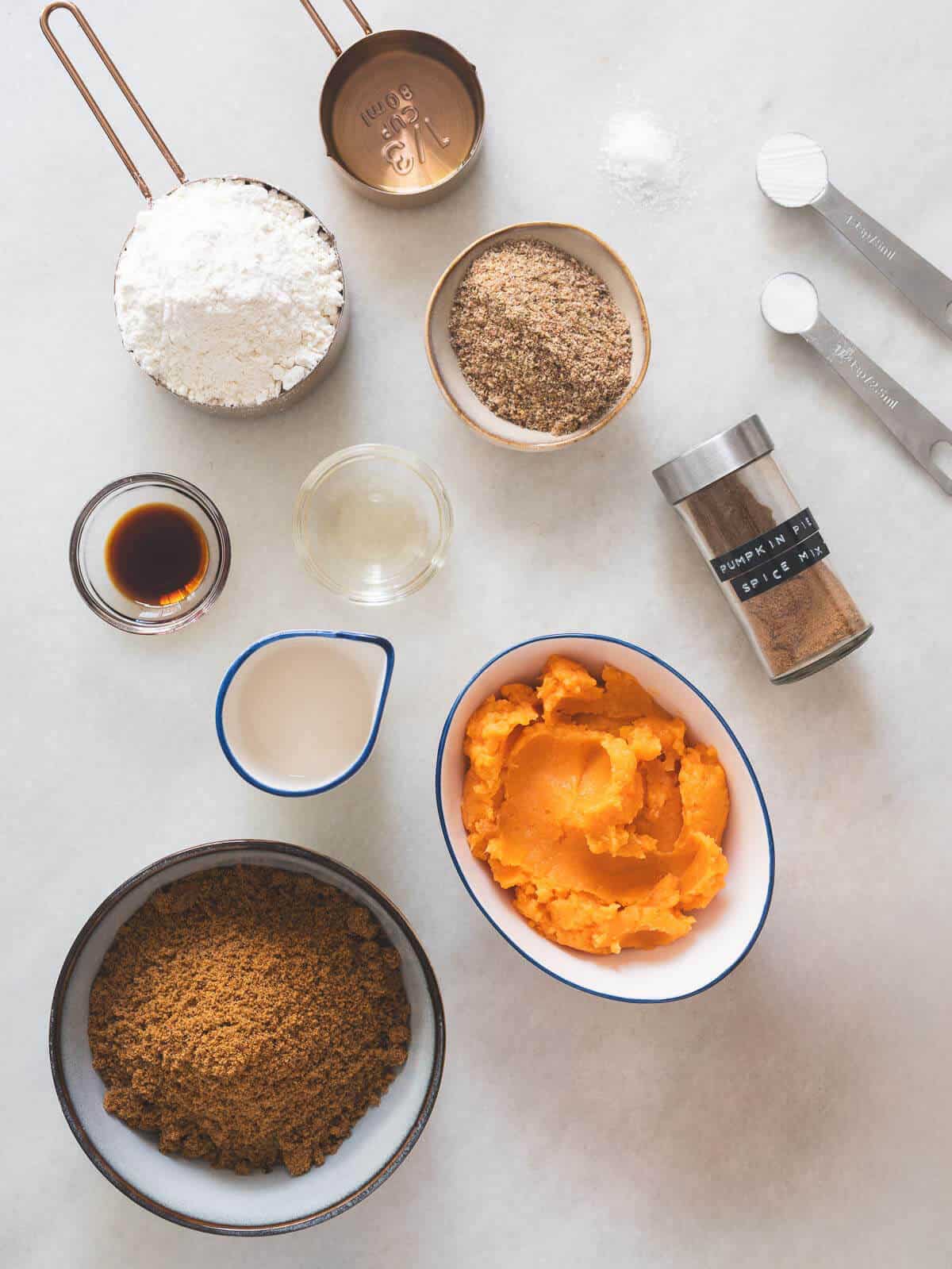 Pumpkin Puree: The star of the show, adding moisture and that quintessential autumn flavor. Plus, it's packed with vitamins A and C!
All-Purpose Flour: The foundation that gives our loaf its structure. It's versatile and works well with the flavors we're mixing in.
Coconut Sugar: Adds a subtle, caramel-like sweetness and it's a bit lower on the glycemic index compared to regular sugar.
Coconut Oil: Gives the loaf a moist, tender crumb. It also complements the tropical notes of the coconut sugar.
Soy Milk: Adds creaminess and helps with the overall texture. You could also opt for oat milk if you prefer.
Flax Meal: Acts as our egg substitute, providing binding power and a bit of extra fiber.
Apple cider vinegar: Reacts with the soy milk, crudling to help the loaf rise. It also adds a subtle tanginess that balances the sweetness.
Baking Powder: Helps our loaf rise and become fluffy. It's the leavening agent that makes all the difference.
Baking Soda: Works with apple cider vinegar for that extra lift, ensuring our loaf is anything but dense.
Pumpkin Pie Spice Mix: Adds that warm, spicy kick we all crave in fall treats. It's a blend of cinnamon, nutmeg, and other cozy spices.
Fine Sea Salt: Enhances all the other flavors in the loaf. Just a pinch makes everything pop!
Vanilla Extract: Adds a layer of aromatic sweetness that ties all the flavors together. It's like the cherry on top but for loaf cakes.
See the recipe card for quantities.
🔪 Instructions
This pumpkin bread recipe involves 3 simple steps.
Preparing dry and wet mixtures.
Folding together and baking.
Cooling down before serving.
Preheat Oven: Crank that oven up to 355°F (180°C) and give your loaf pan a quick spritz with some non-dairy cooking spray. Easy peasy!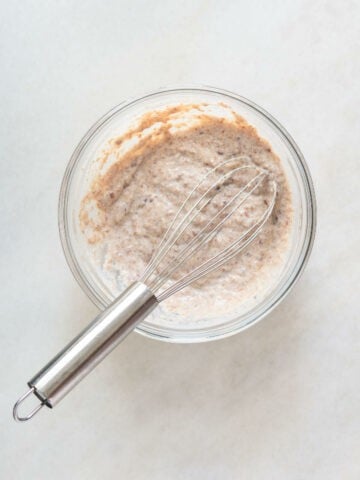 Mix flax meal with plant milk and a splash of apple cider vinegar in a medium bowl. Let it chill for about 5-10 minutes to get all eggy. This is our flax eggs - vegan buttermilk mixture.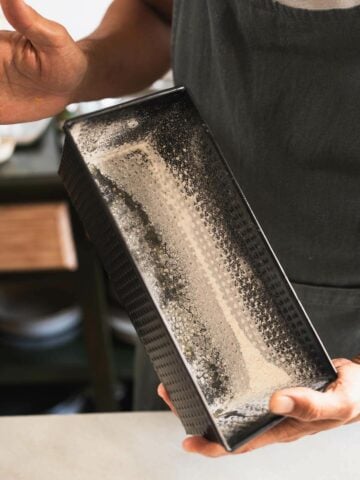 Oil and dust a loaf pan with flour. I use kitchen baking spray and any choice of flour.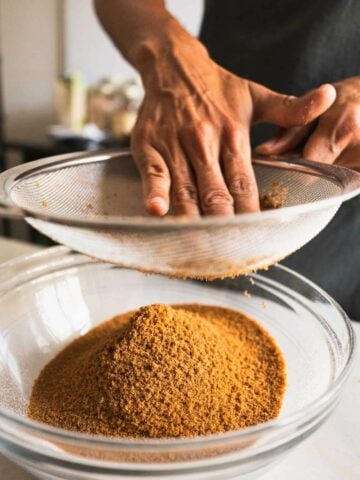 Sift together your flour, baking powder, soda, salt, and spices. Whisk it up and then continue with the coconut or brown sugar.
Add pumpkin puree, coconut oil, and those flax egg mixture you made earlier. Make sure it's all buddy-buddy.
Hint: Sift together your flour, baking powder, soda, salt, and spices. Whisk it up and then sprinkle in that coconut sugar.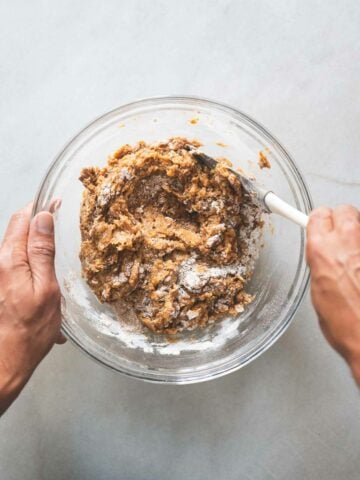 Time to marry the wet and dry mixes.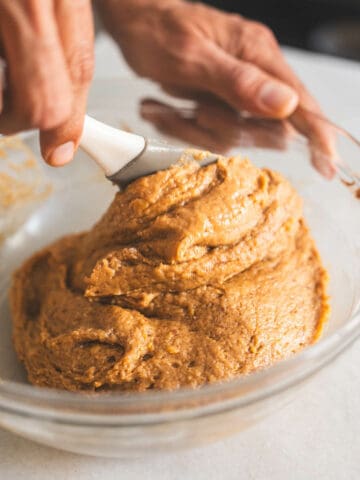 Fold them together, but don't go crazy—we don't want any dry spots or overmixing.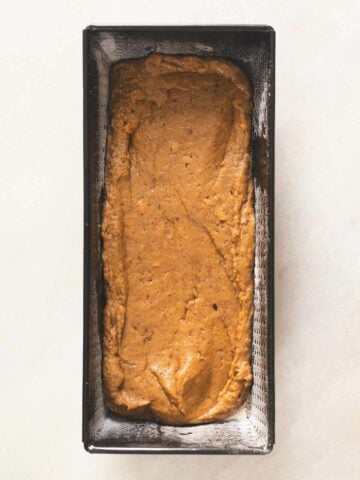 Get that cake batter into your prepared pan pan, ensuring it's nice and even.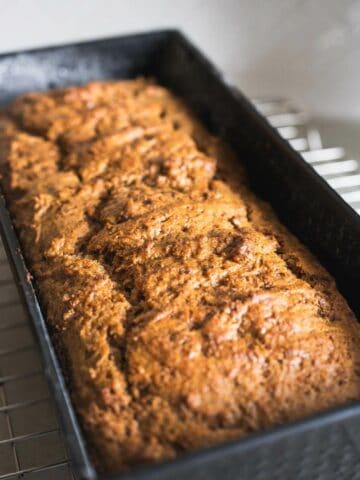 Into the oven rack it goes! Bake for 35-40 minutes until a toothpick inserted comes out clean: the classic toothpick test to ensure it is done.
Place in a wire rack to cool completely on a wire rack before serving. I like to place a tablecloth on top and flip it upside down to unmold.
Hint: Optionally sprinkle dark brown sugar for a caramelized finish. You can also sprinkle pumpkin seeds on top during the last 10 minutes of baking (not before, otherwise they will burn!)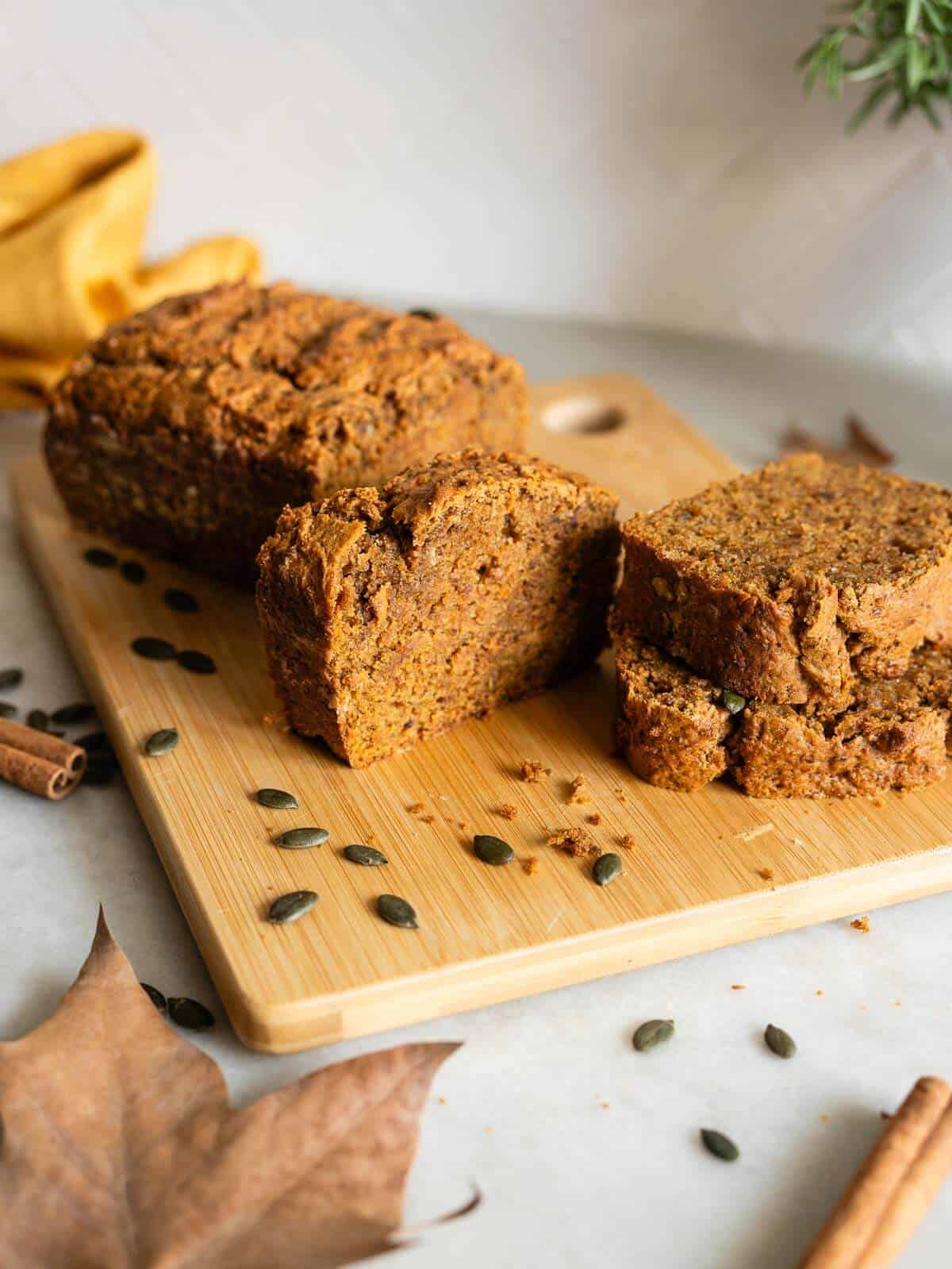 Slice the cooled cake and enjoy!
Read on: moist apple cake, banana loaf cake, and carrot loaf cake.
🥢 How to serve
This baked pumpkin bread can be served in many ways.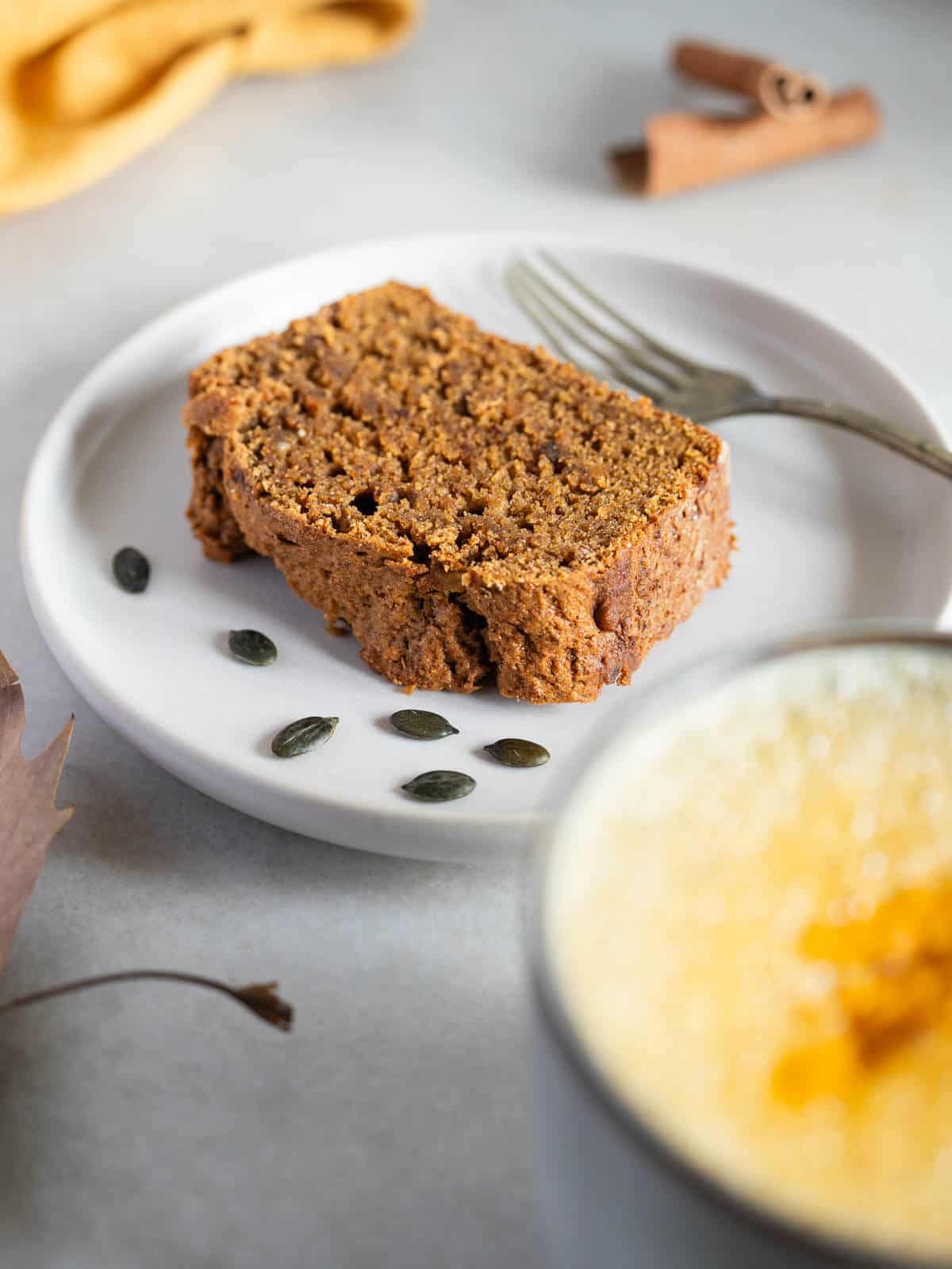 Straight-Up Classic: Enjoy a slice of this pumpkin loaf cake as is, letting the flavors shine. Perfect with a cup of coffee, warm golden milk, or tea for a cozy morning or afternoon treat.
Frosted Decadence: Slather a generous layer of vegan cream cheese, dark chocolate, or vegan buttercream frosting on top of this delicious pumpkin bread. It adds a creamy, tangy contrast that elevates each bite.
Pumpkin Loaf Sundae: Get adventurous by turning a slice into a dessert sundae. Warm it up and top it with vegan vanilla ice cream, a drizzle of caramel sauce, and a sprinkle of toasted pecans. Voila, dessert is served!
💡 Top tip
The key to a flawless pumpkin cake every time is not to overmix the batter. Overmixing can lead to a dense, chewy texture. So, when you combine the wet and dry ingredients, fold them together just until no dry spots remain. Trust us, your taste buds will thank you! 🌟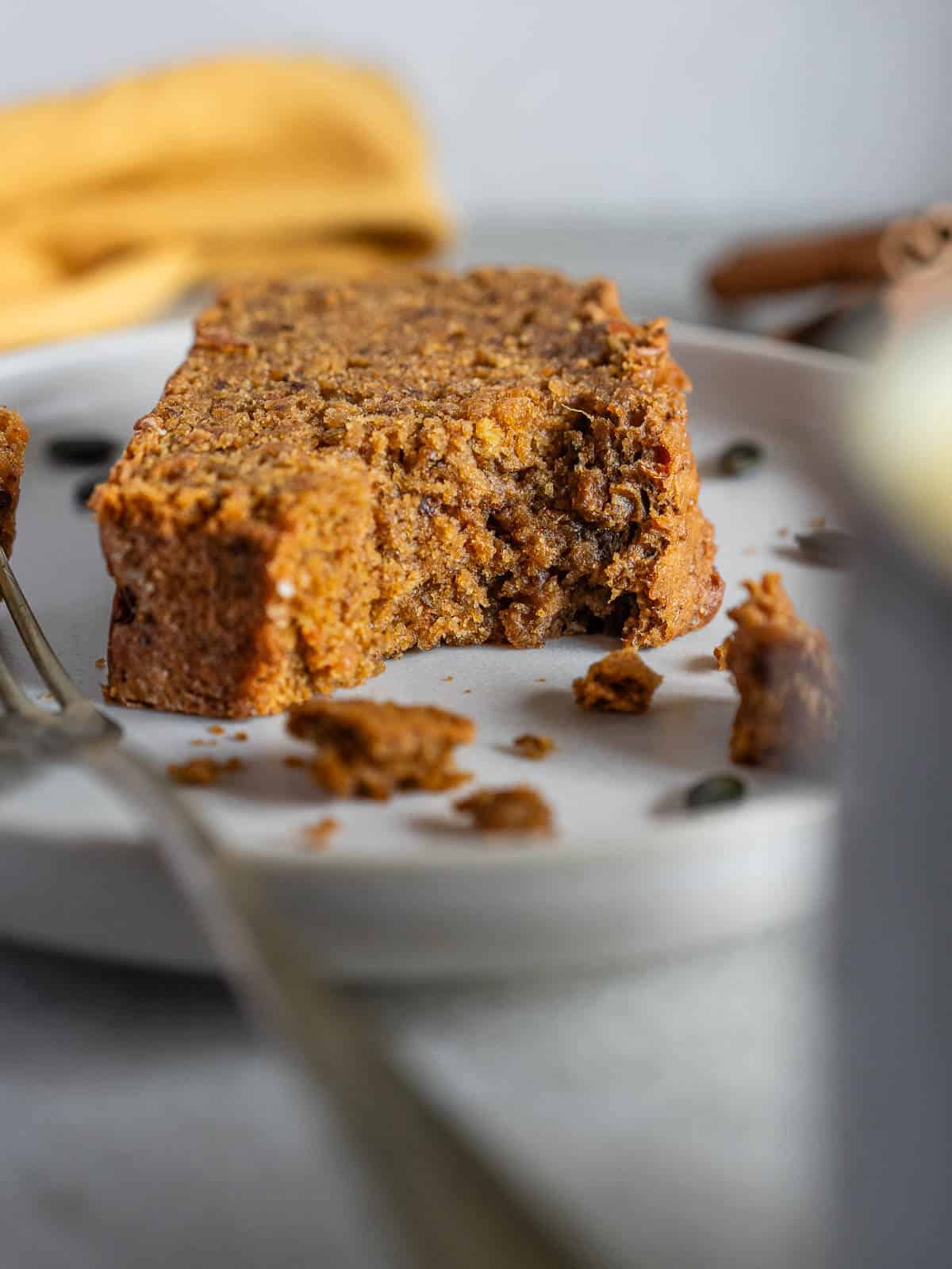 🍶 Substitutions
Pumpkin Puree: For a twist, you can use sweet potato, butternut squash, or baked pumpkin puree instead of cooked pumpkin or canned pumpkin puree for a deeper flavor. Each brings its own unique taste and nutritional benefits to the table.
All-Purpose Flour: You can swap it out for whole wheat flour or gluten-free flour blend for a different texture and nutritional profile.
Coconut Sugar: Maple syrup or agave nectar can be used as a liquid sweetener alternative, just adjust the liquid ratio in the recipe. To keep everything else intact, use brown sugar. You can also use melted butter.
Coconut Oil: If you're not a fan of coconut, vegetable oil or even homemade applesauce can work as a fat substitute, so you have a fat-free pumpkin bread.
Soy Milk: Oat milk, almond milk, or any other plant milk can easily take the place of soy milk.
Flax Meal: Chia seeds soaked in water can serve as a flax egg substitute for binding.
Apple cider vinegar: lemon juice can be used instead of apple cider vinegar to activate the baking soda and make the plant milk curdle.
Baking Powder: If you run out, a mix of cream of tartar and baking soda can be a quick fix.
Baking Soda: You can use double the amount of baking powder as a substitute, but it may affect the texture.
Pumpkin Pie Spice Mix: A blend of ground ginger, cinnamon, nutmeg, and cloves can mimic the flavors of a pumpkin spice mix.
Fine Sea Salt: Himalayan pink salt or kosher salt can be used as an alternative.
Vanilla Extract: If you're out, almond extract or even a splash of bourbon or orange juice can add a different but delightful aroma. You can also use vanilla bean paste.
📖 Variations
Chocolate Chip Indulgence: Add a cup of vegan semi-sweet chocolate chips to the batter for that extra oomph of chocolatey goodness. It's like a pumpkin-chocolate hug in every bite.
Nutty Adventure: Toss in a handful of chopped pecans or walnuts for a crunchy twist. The nuts add a delightful texture and a boost of healthy fats.
Tropical Twist: Mix in some shredded coconut and swap the pumpkin spice mix for a pinch of cardamom. It's like a tropical vacation in loaf form!
Sweet Potato Swap: Replace the pumpkin puree with an equal amount of sweet potato puree. It brings a different kind of sweetness and a vibrant orange hue, making it a unique yet equally delicious treat.
🍽 Equipment
Loaf Pan

(affiliate link)

: The unsung hero of this recipe! A good loaf pan ensures even baking and easy release, giving you that picture-perfect pumpkin loaf cake every time.
Potato Masher

(affiliate link)

: If you're going for that homemade pumpkin puree, a potato masher will help you achieve the perfect consistency. It's also great for mashing sweet potatoes or butternut squash for variations.
Spatula

(affiliate link)

: A spatula is essential for folding the wet and dry ingredients together. It helps you scrape every last bit of batter into the pan, ensuring nothing goes to waste.
🥡 Storage
Fridge Storage: Keep your pumpkin loaf cake slices in an airtight container in the fridge for up to a week. When you're ready for another slice, just let it come to room temperature or give it a quick zap in the microwave.
Freeze & Reheat: If you've got more loaf than you can handle right now, no worries! Wrap individual slices in plastic wrap and store them in a zip-top bag in the freezer. When the craving hits, thaw in the fridge overnight and reheat in the oven at 350°F for about 10 minutes.
Meal Prep: Make a double batch of the batter and pour it into silicone muffin cups. Bake and once cooled, store them in the fridge. Now you've got grab-and-go pumpkin loaf cake muffins for the week! Just reheat in the microwave for about 20 seconds when you're ready to enjoy.
❓ FAQ
What is sieving where is it used?
Hey there, sieving is like the VIP entrance to the texture party of your dish! It's a process where you pass dry ingredients like flour, cocoa powder, or spices through a sieve or sifter. This helps to break up any lumps and aerate the ingredients, making them lighter and easier to mix into your batter or dough.
Where's It Used?
Baking Central: Think fluffy cakes and cookies. Sieving aerates the flour, making your baked goods rise like they're on cloud nine. 🍰
Spice It Up: Got a spice blend for your vegan BBQ rub? Sieve it to make sure it's lump-free and evenly mixed. 🌶️
Smoothie Operator: Making a fruit powder for your smoothies? Sieving ensures you only get the finest particles. 🍓
Saucy Business: For ultra-smooth sauces and gravies, sieving removes any unwanted bits, leaving you with liquid gold. 🍲
Cocktail Hour: Some fancy cocktails use sieved juices for that ultra-smooth sip. 🍸
Pro Tip: Always tap the sieve gently. No need to Hulk-smash it! 💪
Why sieving ingredients in bakery?
Ah, the art of sieving! It's not just an extra step to make you feel like a pro baker; it serves some legit purposes. Let's break it down:
Aerate the Flour
Sieving helps to incorporate air into the flour, making it lighter. This results in a fluffier and softer baked good. Think of it as giving your cake a little "lift" without the gym membership.
Even Mixing
When you sieve ingredients like flour, cocoa powder, or powdered sugar, you're breaking up any lumps. This ensures that your dry ingredients mix evenly with the wet ones. Nobody wants a chocolate chip cookie with a random pocket of flour, right?
Texture Game Strong
Sieving can significantly improve the texture of your baked goods. We're talking smooth, melt-in-your-mouth goodness. Say goodbye to gritty or lumpy textures.
Flavor Distribution
Spices like cinnamon or that pumpkin pie spice mix for your seasonal loaf? Sieving helps distribute them evenly throughout the batter. This means every bite is a perfect blend of flavors.
No Unwanted Bits
Sometimes flour bags can have tiny impurities. Sieving acts as a final quality check, ensuring that only the finest particles make it to your batter.
Pro Tip:
If you're making something that requires precise measurements, like macarons, sieving is a must. It ensures that you're working with the exact amount of each ingredient, down to the gram.
So, the next time you're tempted to skip the sieving step, remember: it's like the yoga of baking. It might seem unnecessary, but it brings balance and harmony to your culinary creations. 🧘‍♀️🍞
📚 More Pumpkin Recipes
Don't forget to check our vegan pumpkin pie and our sweet potato cake, perfect for the year-end holidays!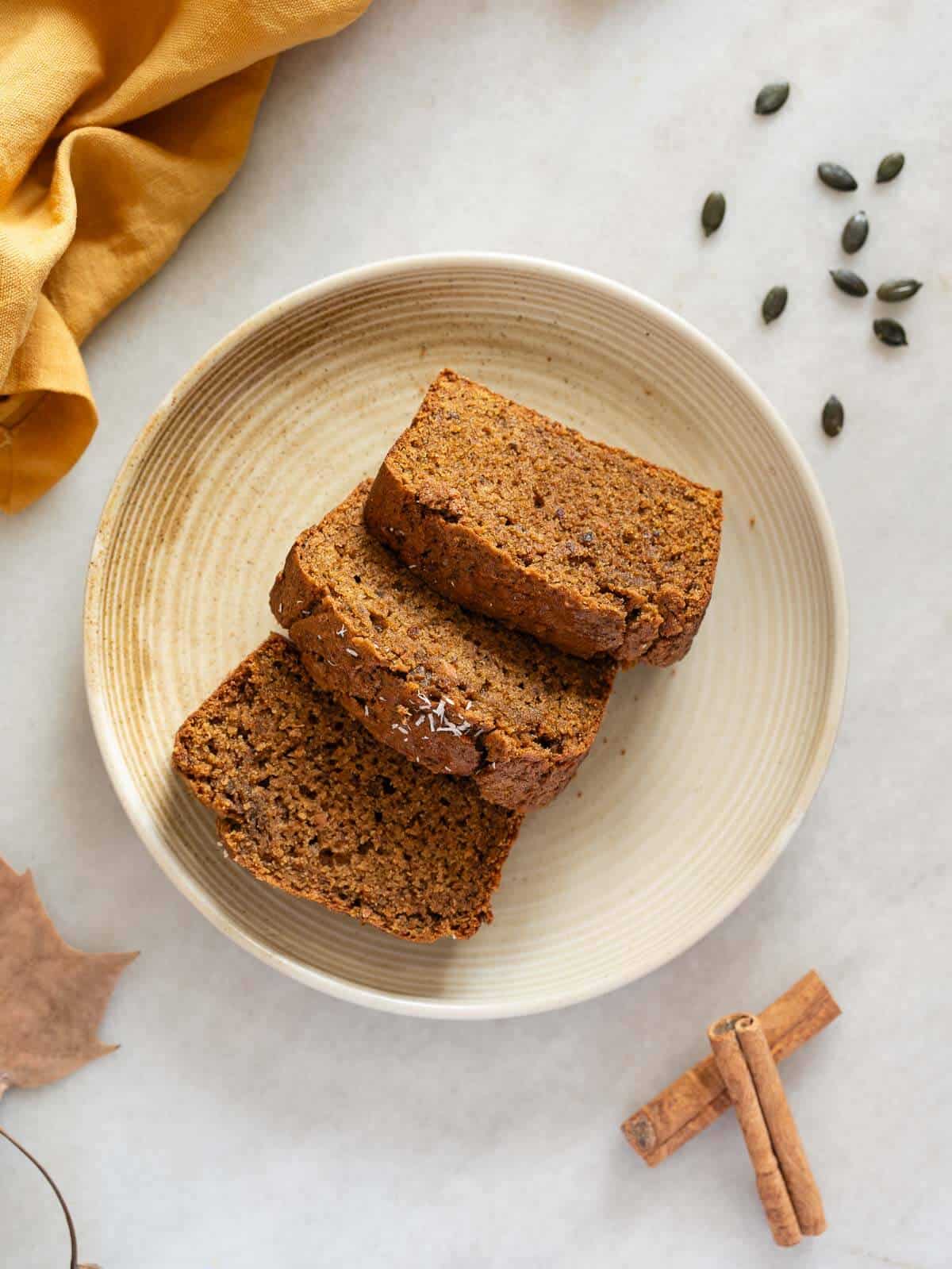 ⭐ If you try the best pumpkin bread recipe we have crafted for you here, let us know! 💬 Leave a comment, rate it, and don't forget to tag us @ourplantbasedworld on Instagram. Cheers!
📋 Recipe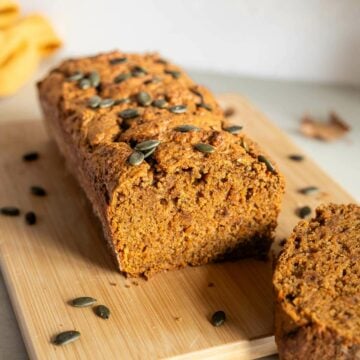 Easy Pumpkin Loaf Cake
Indulge in the ultimate Pumpkin Loaf Cake, a fall favorite packed with rich flavors and spices. Perfect for any occasion but especially warming during the Fall Season!
Equipment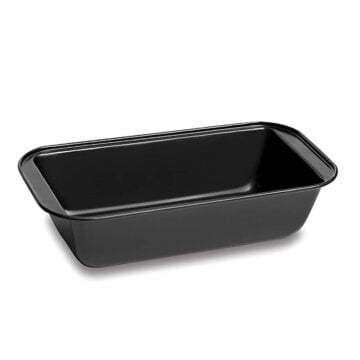 (affiliate link)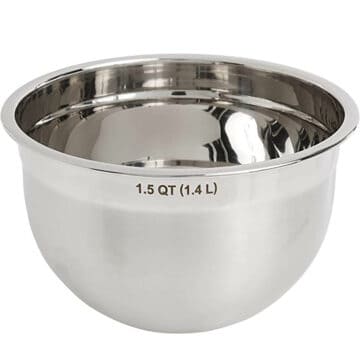 (affiliate link)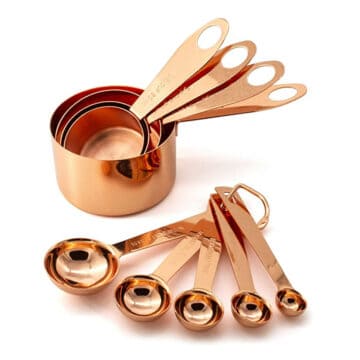 (affiliate link)
Directions
Preheat Oven. Preheat your oven to 355°F (180°C). Spray a rectangular loaf pan with non-dairy cooking spray.

Make flax eggs. Combine flax meal, plant milk, and lemon. Let the mixture sit for 5-10 minutes.

Dry Mix. Sieve the flour, baking powder, baking soda, salt, and spices in a large bowl. Give it a good whisk to make sure everything is well-mixed. Then, sieve coconut sugar on top.Pro tip: Sieving ingredients in baking serves three main purposes: it aerates the flour for a fluffier texture, ensures even mixing of all elements, and removes any impurities or lumps. Think of it as the secret sauce for achieving smooth, well-blended, and airy baked goods.

Wet Mix. Whisk together the pumpkin puree, coconut oil, and flax eggs in a separate bowl. Make sure it's all well combined.

Combine ingredients. Pour the wet ingredients into the dry ingredients and fold them together. Don't overmix; make sure there are no dry spots.

Pour batter. Evenly distribute the batter into the two prepared loaf pans.

Bake Time. Pop them into the preheated oven and bake for 35-40 minutes. You'll know they're done when a toothpick inserted into the center comes out clean.

Cool Down. Let the loaves cool in the pans for about 10 minutes. Then, remove them from the pan and let it cool completely on a wire rack.

Serve & Enjoy. Slice it up and serve slightly warm or at room temperature. You can even add a dollop of vegan cream cheese frosting if you're feeling fancy!
Notes
Tips & Tricks
Storage: Keep the loaf in an airtight container for up to 5 days.
Reheating: If you prefer it warm, a quick 10-15 seconds in the microwave will do the trick.
Nutrition Facts
Calories:
243
kcal
Carbohydrates:
31
g
Protein:
3
g
Fat:
13
g
Saturated Fat:
9
g
Polyunsaturated Fat:
2
g
Monounsaturated Fat:
1
g
Sodium:
333
mg
Potassium:
131
mg
Fiber:
2
g
Sugar:
12
g
Vitamin A:
4460
IU
Vitamin C:
3
mg
Calcium:
75
mg
Iron:
2
mg
Nutrition Facts
Easy Pumpkin Loaf Cake
Amount per Serving
% Daily Value*
* Percent Daily Values are based on a 2000 calorie diet.
🌡️ Food safety
Cook to a minimum temperature of 165 °F (74 °C)
Do not use the same utensils on cooked food, that previously touched raw meat
Wash hands after touching raw meat
Don't leave food sitting out at room temperature for extended periods
Never leave cooking food unattended
Use oils with a high smoking point to avoid harmful compounds
Always have good ventilation when using a gas stove
See more guidelines at USDA.gov.
Nutritional Disclaimer
The information shown is an estimate provided by an online nutrition calculator. It should not be considered a substitute for a professional nutritionist's advice. See our full Nutritional Disclosure here.
Affiliate Disclaimer
Please note that some of the links here are affiliate links, and I will earn a commission if you purchase through those links. I recommend all of the products listed because they are companies I have found helpful and trustworthy.