Have you ever wanted to make easy homemade unsweetened applesauce but were unsure about the process? We've got you covered with this easy and simple recipe! You need 3 ingredients: apples, lemon, and pumpkin pie spice mix (or simply cinnamon).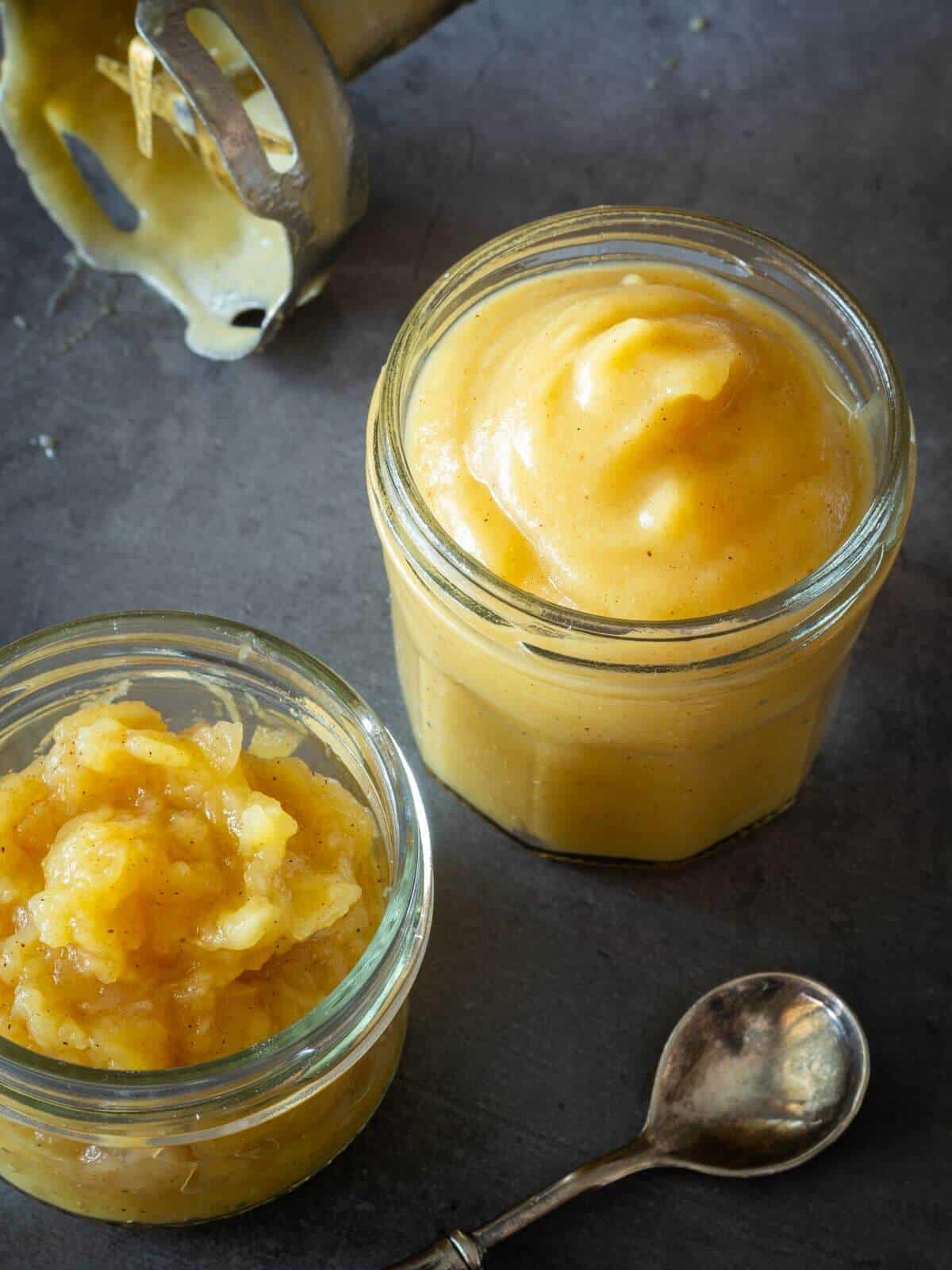 Once we list the steps for how to make it on your stovetop, we'll provide recipes where it can be used.
Whether these easy-to-make apple sauces are used as an easy side dish for dinner or dessert topping for ice cream sundaes - they're sure to please!
Use this recipe as part of your Thanksgiving table, next to your Vegan Buttermilk Cornbread, cornbread stuffing, maple-glazed carrots, spiced cranberry sauce, and veggie roast. You can also mix it with your favorite granola for a healthy breakfast.
You can also use it to make a vegan apple cake or apple pie.
Jump to:
🤔 What is applesauce?
Applesauce is a cooked fruit puree. It can be used to replace butter or oil in baked goods like muffins and cakes and just eaten by itself - similar to apples!
What are the origins of applesauce?
Applesauce originated in Asia, the Middle East, and Europe. It is believed that applesauce became popular in America in the 1700s.
The Northwest states of Pennsylvania and Michigan are famous for their apple orchards. There are over 800 varieties of apples.
Applesauce has become a staple in American homes. It is easy to make, inexpensive, and can be used as an accompaniment or a base for many other recipes.
📋 Healthy Applesauce Recipe
There are many benefits of applesauce. This easy homemade apple sauce recipe is made without any sugar, preservatives, or additives.
Apples naturally contain pectin, a form of fiber that helps lower cholesterol. Apples are also considered an anti-inflammatory food and can help with weight loss.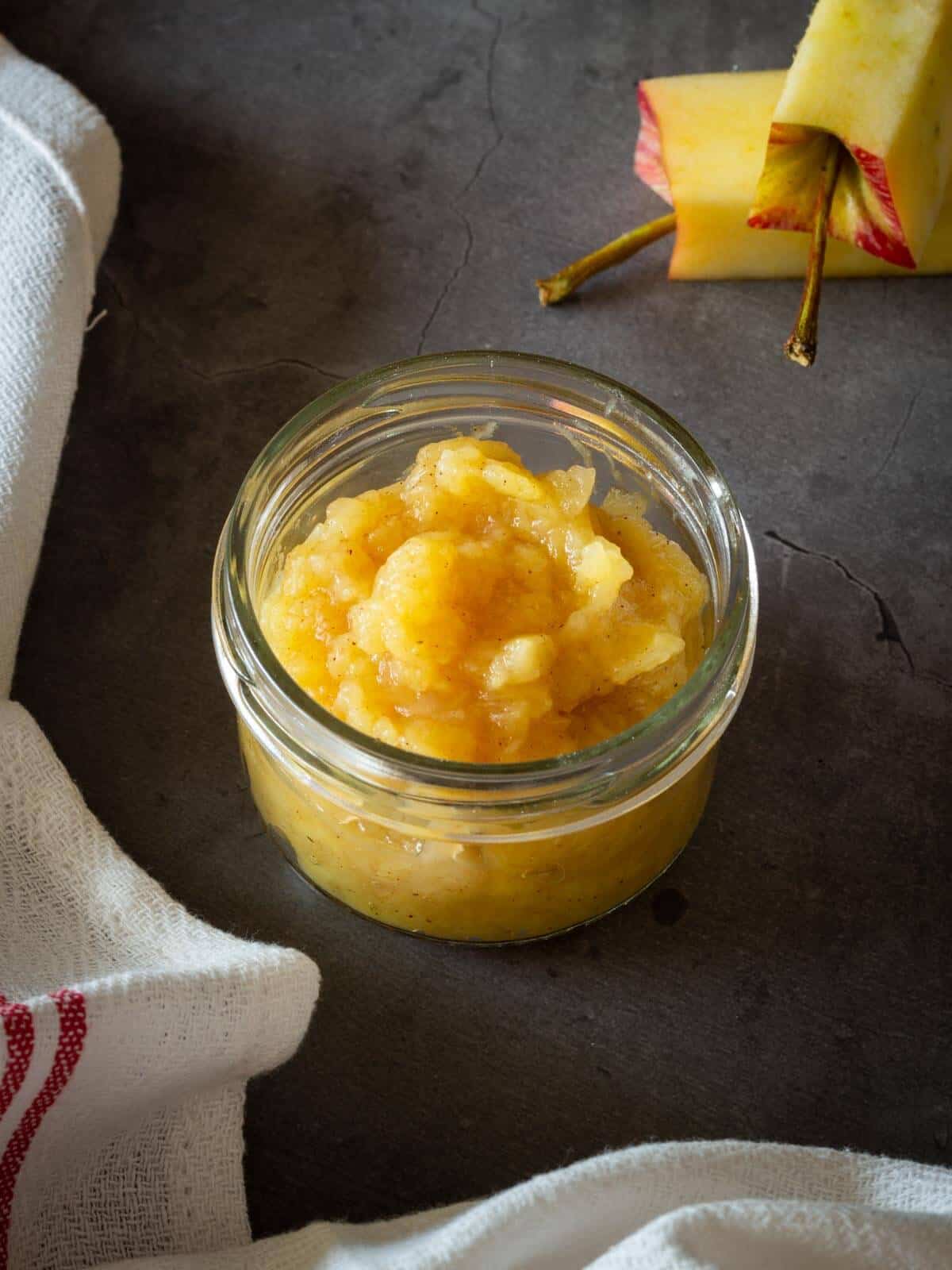 To make easy homemade apple sauce, you will need three ingredients: apples, pumpkin pie spice mix or cinnamon, and water. That fantastic mix that works for everything from apple cake to cinnamon apple smoothies.
You may want to add salt if desired, but it's not necessary for the recipe.
🍎 Why make homemade unsweetened applesauce?
While store-bought apple sauce may be easy, it's not the healthiest option. Many commercial brands contain added sugar and preservatives to prolong shelf life - so you get less of a nutrient bang for your buck!
Making easy homemade unsweetened applesauce is easy!
This homemade apple sauce recipe has a sweet and tart flavor. Still, if you don't fancy any tartness, you can skip the lemon juice, making it a 2-ingredient no-sugar-added applesauce.
You need just apples, lemon, and spice mix (instead, add cinnamon for cinnamon applesauce); how cool is that?
⭐ Why applesauce (unsweetened) works
Homemade applesauce (unsweetened) is tastier and healthier than store-bought, and you can make it in 15-20 minutes, and there is no added sugar.
Customizable. Use sweet apples or different varieties and cuts to blend tart and sweetness flavors with firm and soft textures.
Peel or no peel, both work. You can peel them to give a smoother consistency, but we also like the flavor preserved peels provide, making you keep all of the apples' fiber and nutrition.
Adjustable texture. If you like smoother applesauce, you must blend it with any type of blender, such as a food processor or immersion blender.
Versatile seasoning. This homemade applesauce is easily adjustable and versatile. You only need fresh lemon juice and the suggested spice mix, which can easily be replaced with cinnamon. Even lemon can be committed, but it provides a delightful tangy note.
It works for everything. You can use it to eat applesauce on its own or as an egg replacement wherever you need a thickening agent on baked goods.
For every season. When it's cold, you can also use it as a spread for your toast or bagel and top with some extra cinnamon if that is how you like to eat them!
It can be used warm or cold. The sauce is great cold or warm and is warm or cold during summers or winters.
You can use your not-so-tasty apples. For this unsweetened applesauce recipe, you can use soft apples that are not crisp and would otherwise end up in the trash bin.
Good for everyone. Last but not least, kids love this homemade unsweetened applesauce, and even babies can eat it since it has no preservatives or strange ingredients. It also works for people with diabetes and eating a WFPB (whole foods plant-based diet).
Hint: Combining various types of apples creates a delightful combination of tastes and textures while keeping the skin intact enhances the flavor and reduces the effort required.
🧾 Ingredients
If you are wondering, What is unsweetened applesauce made of? How do you make unsweetened applesauce taste good? Or maybe, What can I add to unsweetened applesauce? Good news! You have come to the right place!
Apples: The star of the show, apples provide natural sweetness and moisture, eliminating the need for added sugar or oil.
Cinnamon or Pumpkin Spice Mix: These spices add a warm, aromatic kick to the applesauce, elevating its flavor profile without any added calories.
Lemon Juice: A splash of lemon juice not only preserves the vibrant color of the apples but also adds a subtle tartness that balances out the sweetness.
How many apples do you need? This amazing recipe can use three small apples or two medium to large ones.
See quantities and instructions in the recipe card.
It's not sweetened apple syrup, so there's no added sugar. Lemon juice keeps the apple color and prevents the sauce from turning brown. See how to keep fresh apples from turning brown.
We are making a simple twist to the regular applesauce that you will find out there; we use pumpkin pie spice mix, which includes cinnamon, to give it an extra festive touch.
But if you like cinnamon alone, you can replace it with the same quantity of the pumpkin spice blend.
Add it while the apples are cooking. Be sure to try the apples first to ensure they are sweet enough, as the sweetness may vary depending on the variety of apples used.
This recipe is extremely versatile; you can always add a sweetener or flavorings later. In this recipe, we add lemon juice to our applesauce, but it's optional and dependent on your taste.
Applesauce without cinnamon
If you are not a fan of cinnamon, we recommend either using just apples and freshly squeezed lemon juice, or you can use the following spice mix, which works very well: ground ginger, nutmeg, and cloves. Use the same quantity to replace the pumpkin spice mix or cinnamon (1 teaspoon every 3 small apples or 2 small apples).
👨‍🍳 How to make sugar-free homemade applesauce: Stovetop Method
We love making applesauce. It is super easy and quick, and everyone loves it. The cooktop method uses three elements: pumpkin pie spice mix or adds cinnamon, fresh lemon juice for tartness and to keep it for longer, and of course, sweet apples. We use some water to let the apples steam faster.
Peel the apples
If you don't want to keep the fiber. Then core and slice into small or medium chunks. If you use small apple chunks, you certainly won't need a blender unless you want to achieve a purée consistency.
If you decide to keep the peels, you may want to briefly blend the cooled homemade applesauce to reach a smooth consistency.
I personally love textures and don't like blending my own applesauce.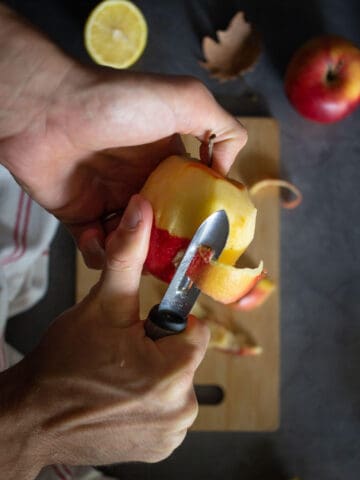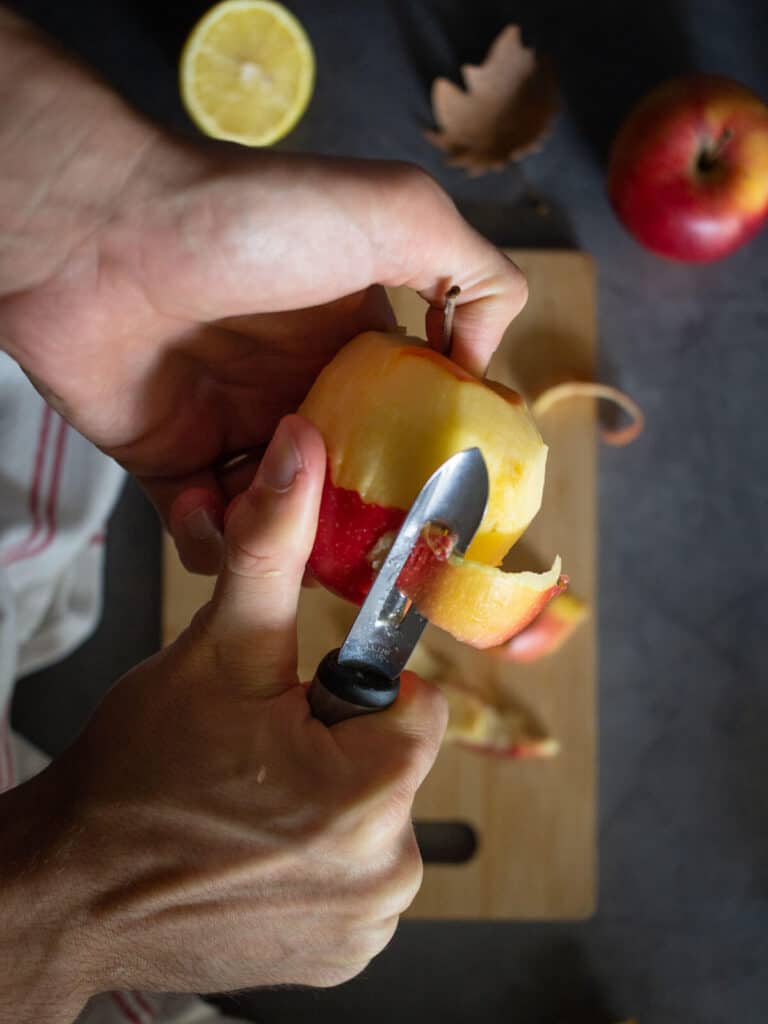 Peel with a potato or apple peeler.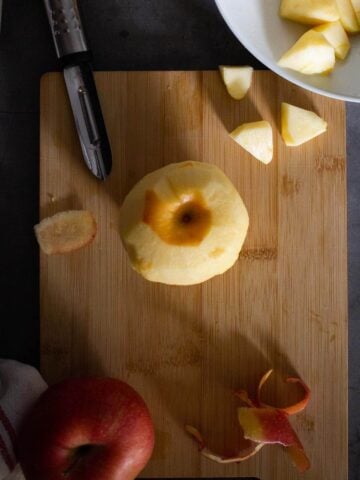 Then, cut into chunks.
Combine the ingredients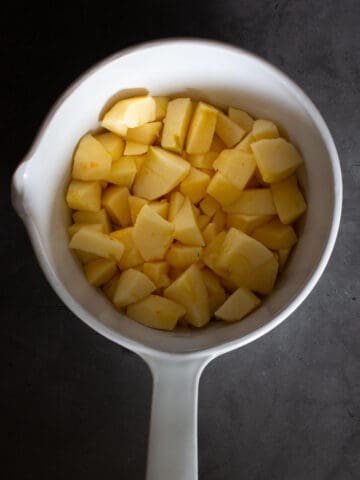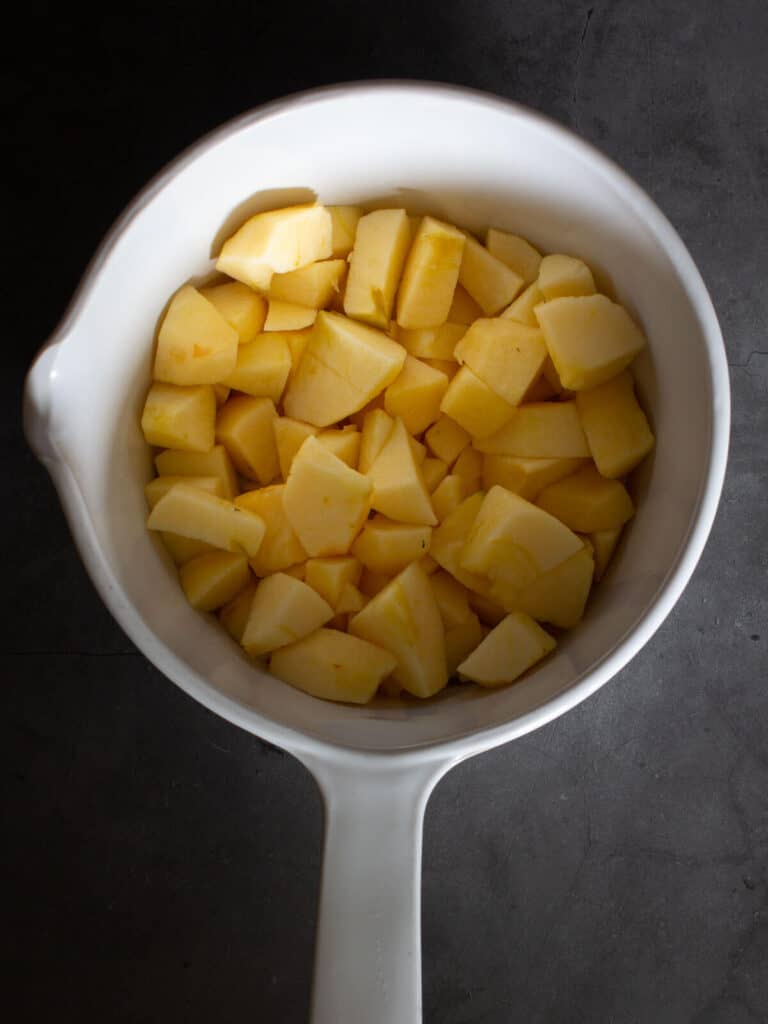 Mix apples in a large pot with freshly squeezed lemon juice, water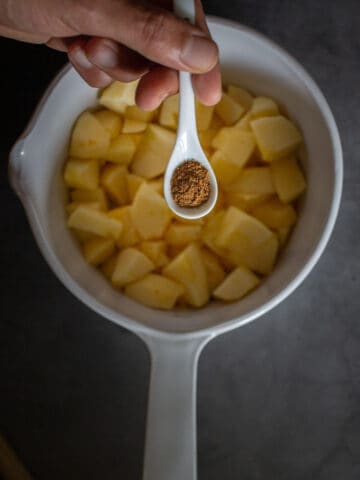 Add your pumpkin spice mix or cinnamon; you can also add a cinnamon stick. Then, bring to a boil, stirring occasionally.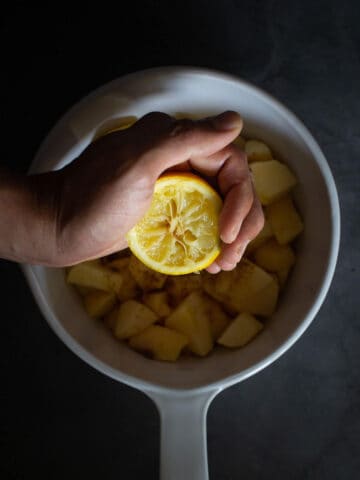 Add fresh lemon juice.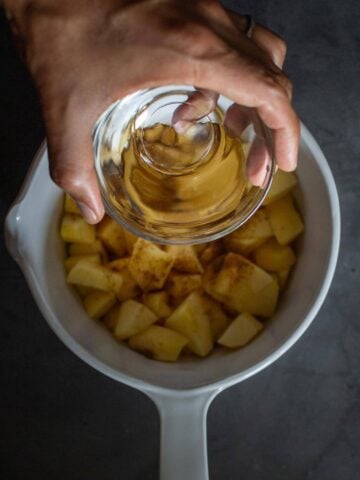 And water.
Let the apples cook for approximately 15-20 minutes at low-medium heat. Stirring occasionally. (timing can be either less or more, depending on how thick the pieces and the shape are). This is done by using a wooden spoon or potato masher.
Mash
Mix the cooked apples into an apple purée-like mixture using a potato masher, wooden spoon, or a fork until the apples break entirely.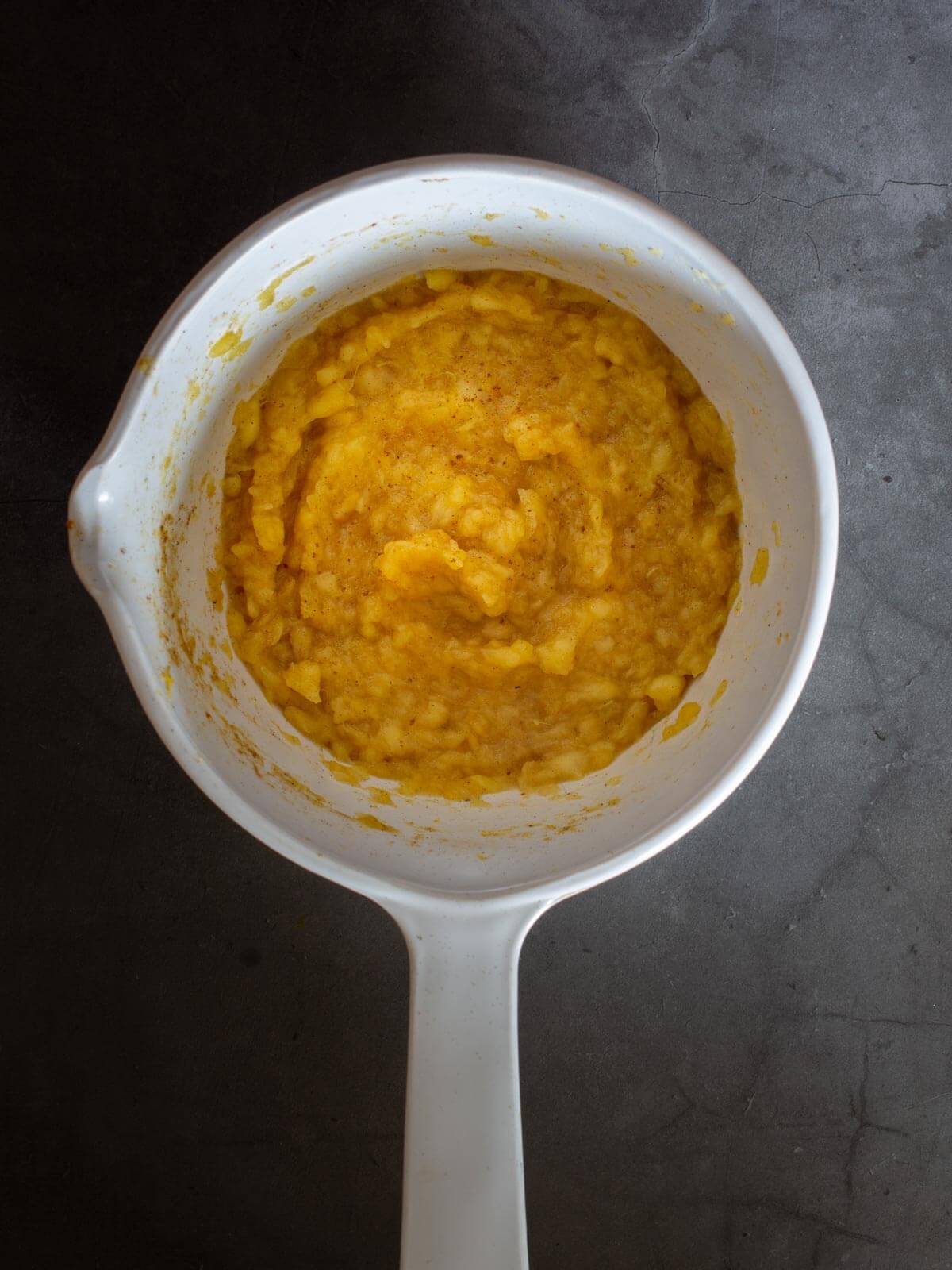 For smooth homemade applesauce, use an immersion blender. Serve warm or cold with chunky applesauce or mashed with potato mash or fork to maintain some smoothness until you reach the desired consistency.
Mash the apples according to your desired texture to prepare a smooth paste.
Blend - optional for a smoother texture
Wait about 10 minutes until the applesauce has cooled down, and using an immersion blender, blend the sauce, starting with the lower speed, until you reach high speed, which should only take 30-60 seconds.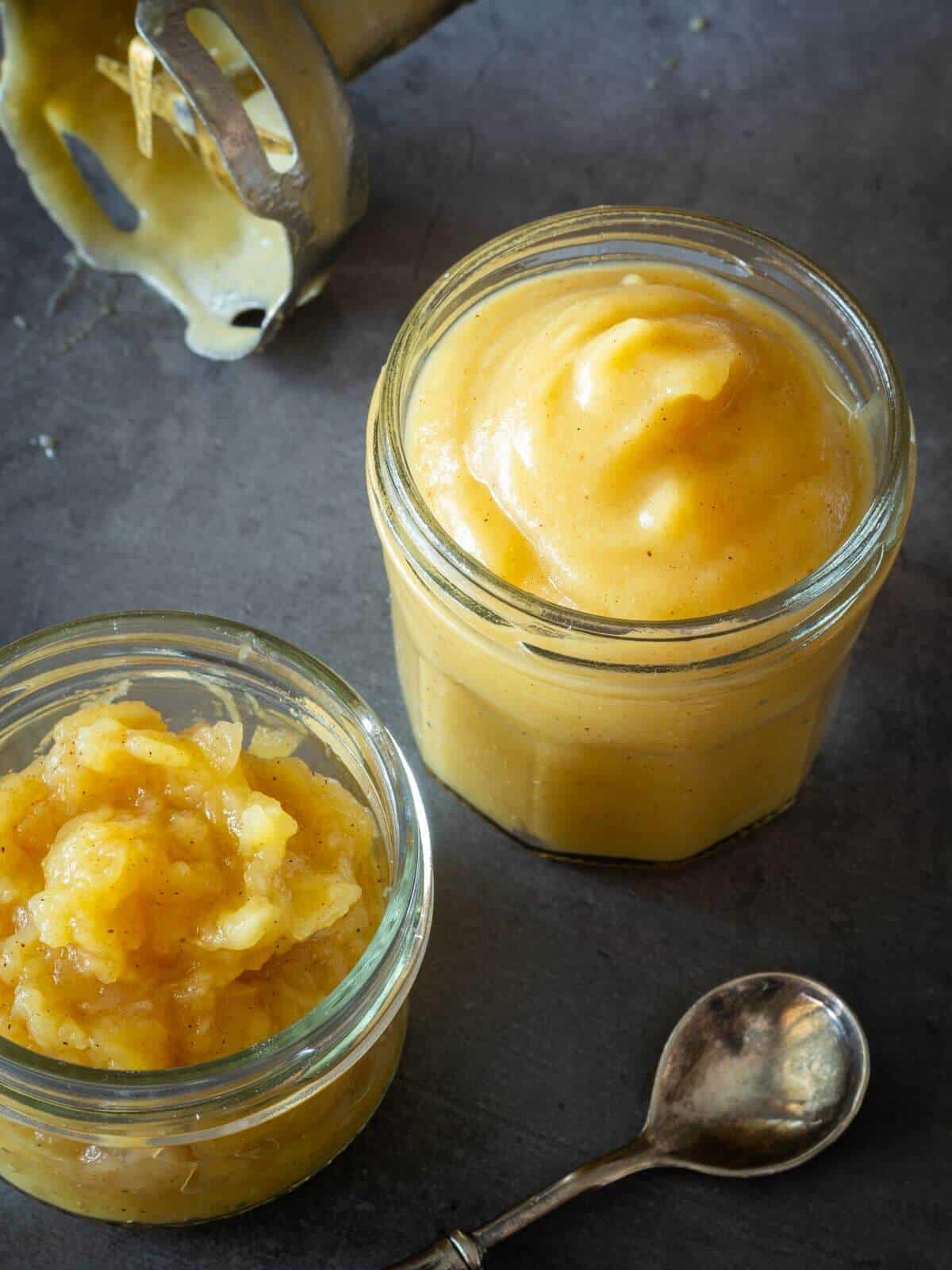 🔪🍎❓Do you need to peel apples for applesauce?
In short, not, you don't. Especially if you want to keep the fiber and make the most out of apples' nutritional value.
Just make sure to cut the apples into small pieces so that you can cook them fast, I also recommend covering the saucepan so the steam helps to make the skin softer.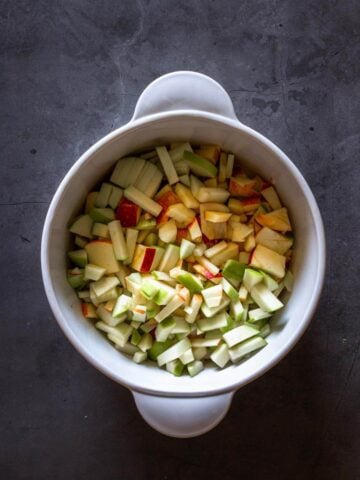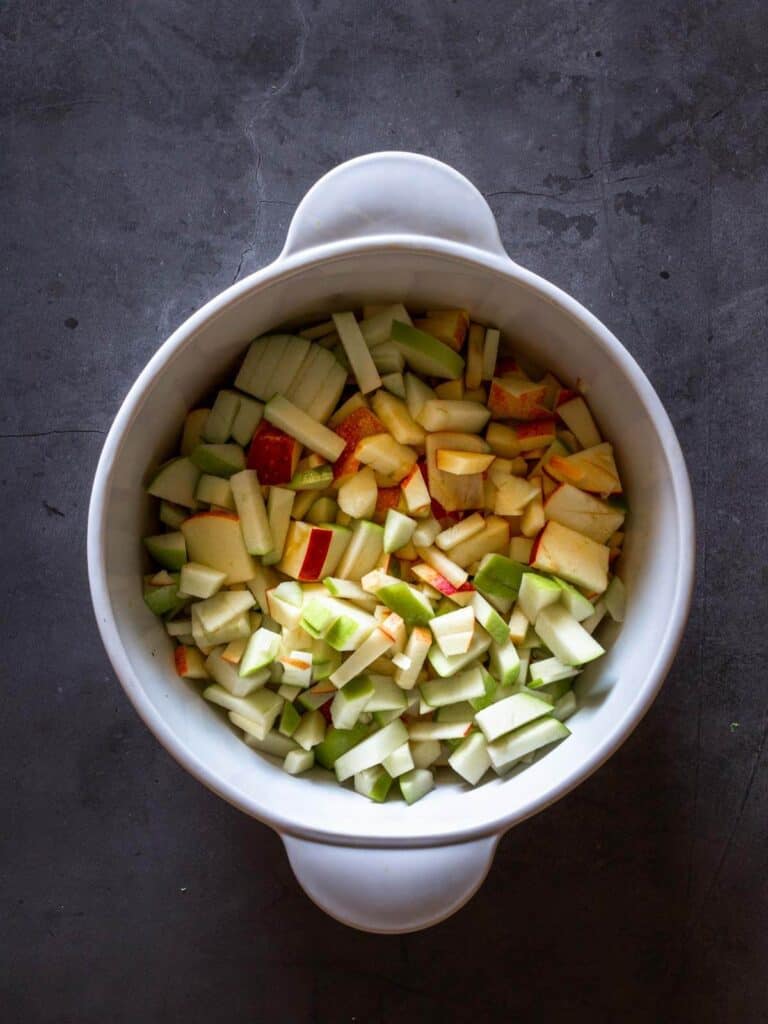 Also, your applesauce will be darker as the pigment from the skin will remain. Below, you can see applesauce made with the skin on and the same version after blending it with an immersion blender to make it smoother.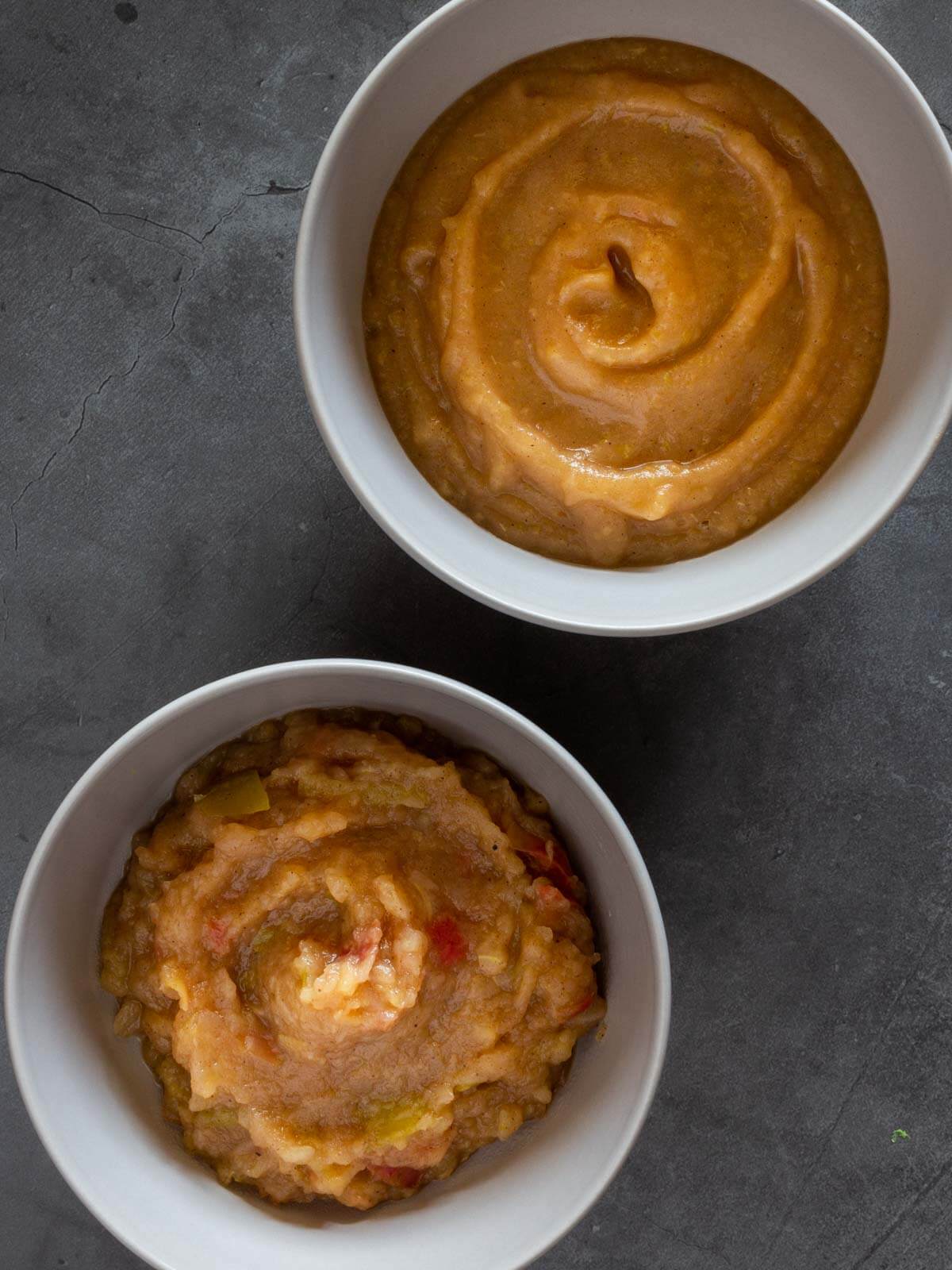 🍎 vs 🍏 Applesauce comparison
Below you can see the following comparisons:
Example 1: Peeled Red Gala apples, applesauce. Chunky. Best apples for granola and to serve as dessert with ice cream.
Example 2: Peeled Red Gala apples, applesauce. Puréed. Best for baking and babies. Also known as applesauce for gut healing.
Example 3: Unpeeled mix of 2 Red Gala Apples and 1 Green Apple, applesauce. Chunky. Best if you like it tart. Best for granola, and overnight oats.
Example 4: Unpeeled mix of 2 Red Gala Apples and 1 Green Apple, applesauce. Puréed. Best for baking with an extra tart flavor. It is also an applesauce for gut health.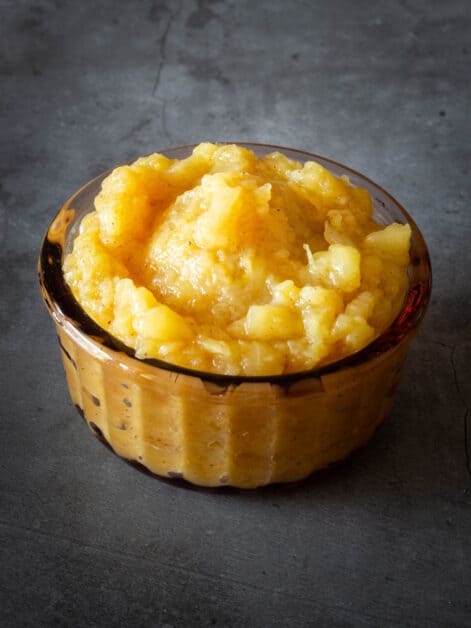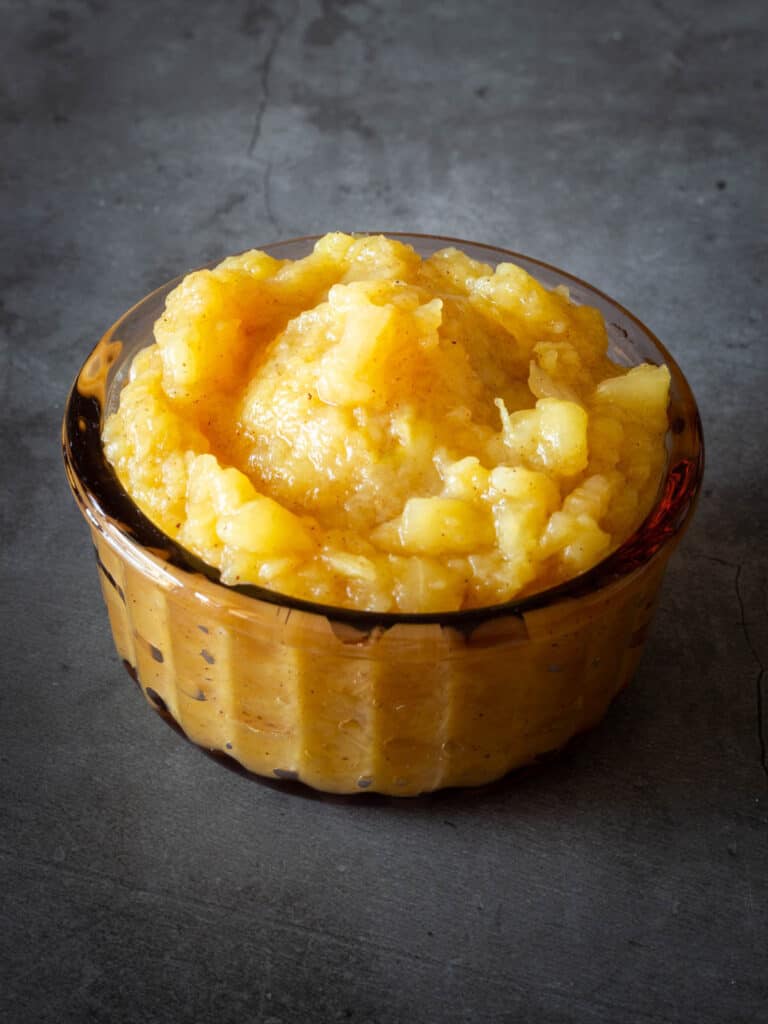 Simply follow the same directions outlined above, and ensure you ladle the applesauce into a clean jar or container. This version is also applesauce for gut healing.
💯 What kind of apples are best to make homemade unsweetened applesauce?
Sweet applesauce
The greatest homemade applesauce recipe is simple to prepare with whatever apple you have in your garden. You can take apples and make your own applesauce using the apples for your local farmers' market or groceries.
For sweet applesauce, use Gala, Fuji apples, or Honeycrisp apples. Fuji and golden make a wonderful combination of homemade unsweetened applesauce.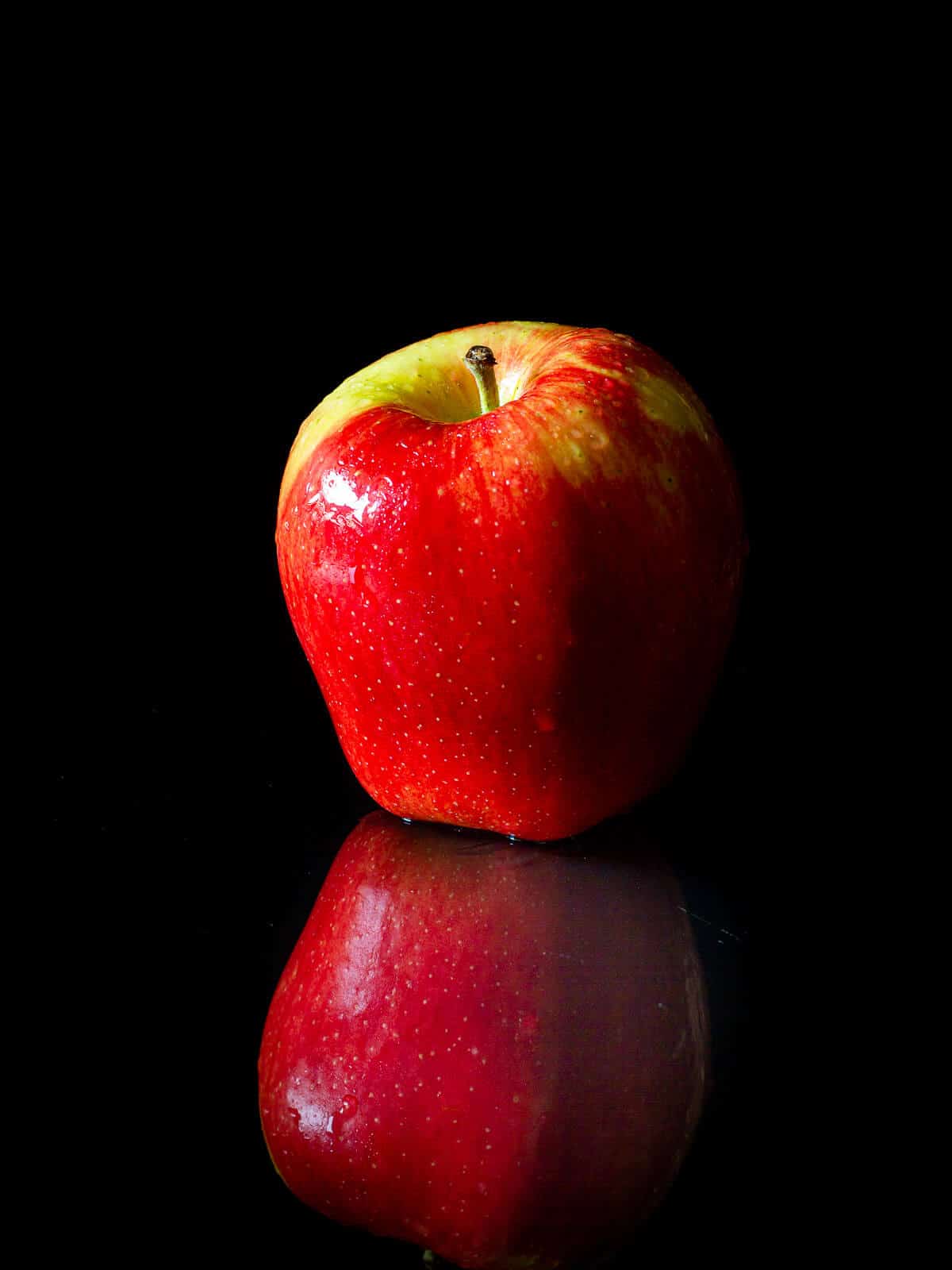 Most apples come during the regular apple season between late July and early November, depending on the apple variety. So make your plans to go apple picking and make the best applesauce.
Besides using apples in season and ripe, it is a simple recipe without adding some sweetness to applesauce to make it sweet.
The best Apple pick is usually available at the local farmer markets and they might be cheaper than the grocery store.
Tart applesauce
Pick a combination of apples that are tart and sweet for a perfect flavor. I like making a combination of 2 sweet varieties and 1 tart variety.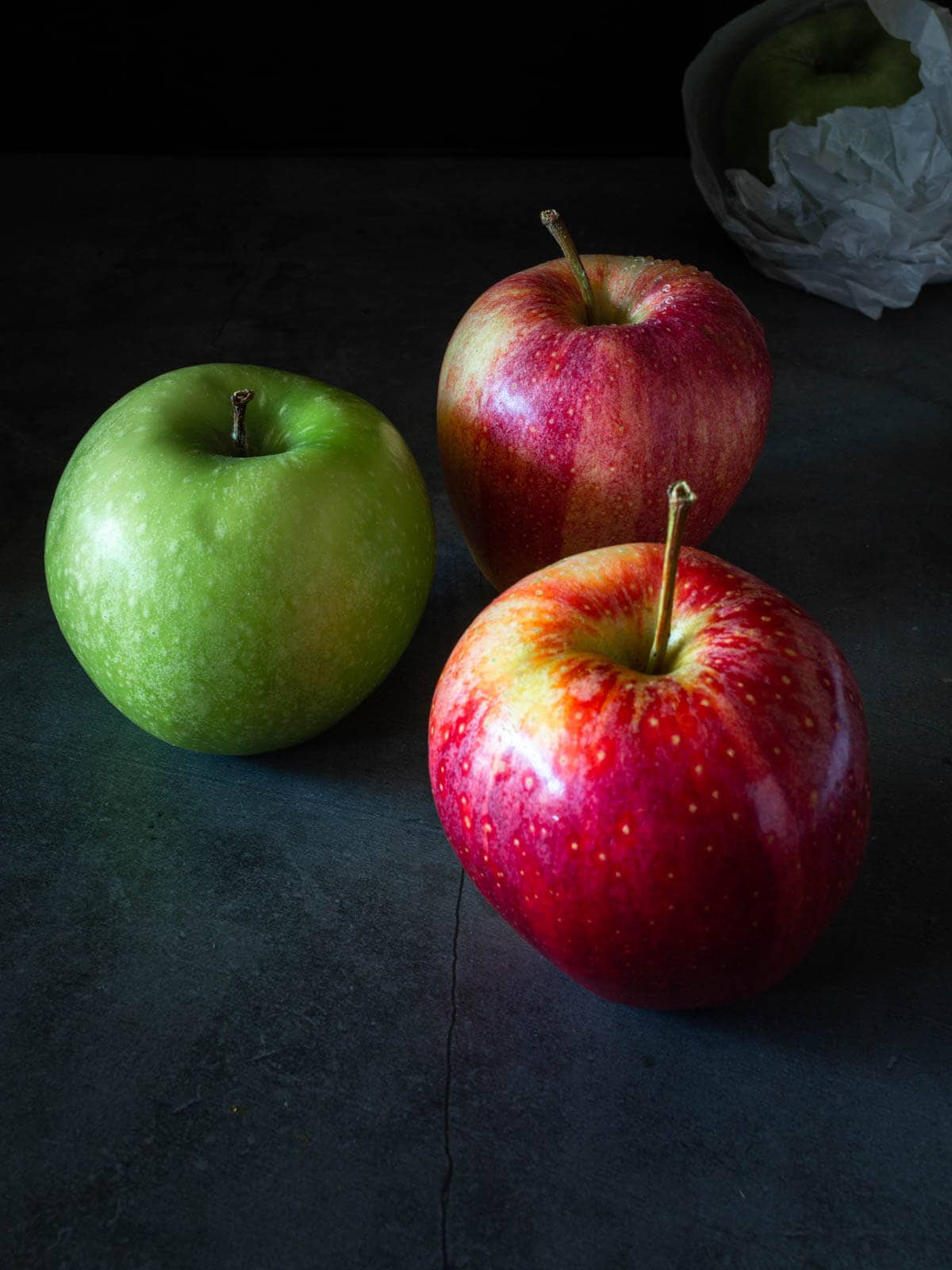 Combine sour and tart apples makes unsweetened applesauce somewhat more interesting. Try a sweeter variety mentioned previously such as gala or golden delicious; this will ensure you need no added sugar.
Tip: Green apples are great for juicing, they are tart, acid, sweet, and juicy.
Sweet Apple Varieties
Golden Delicious, Fuji, Gala, Honeycrisp, Red Delicious, and Rome Beauty work great for making easy homemade unsweetened applesauce.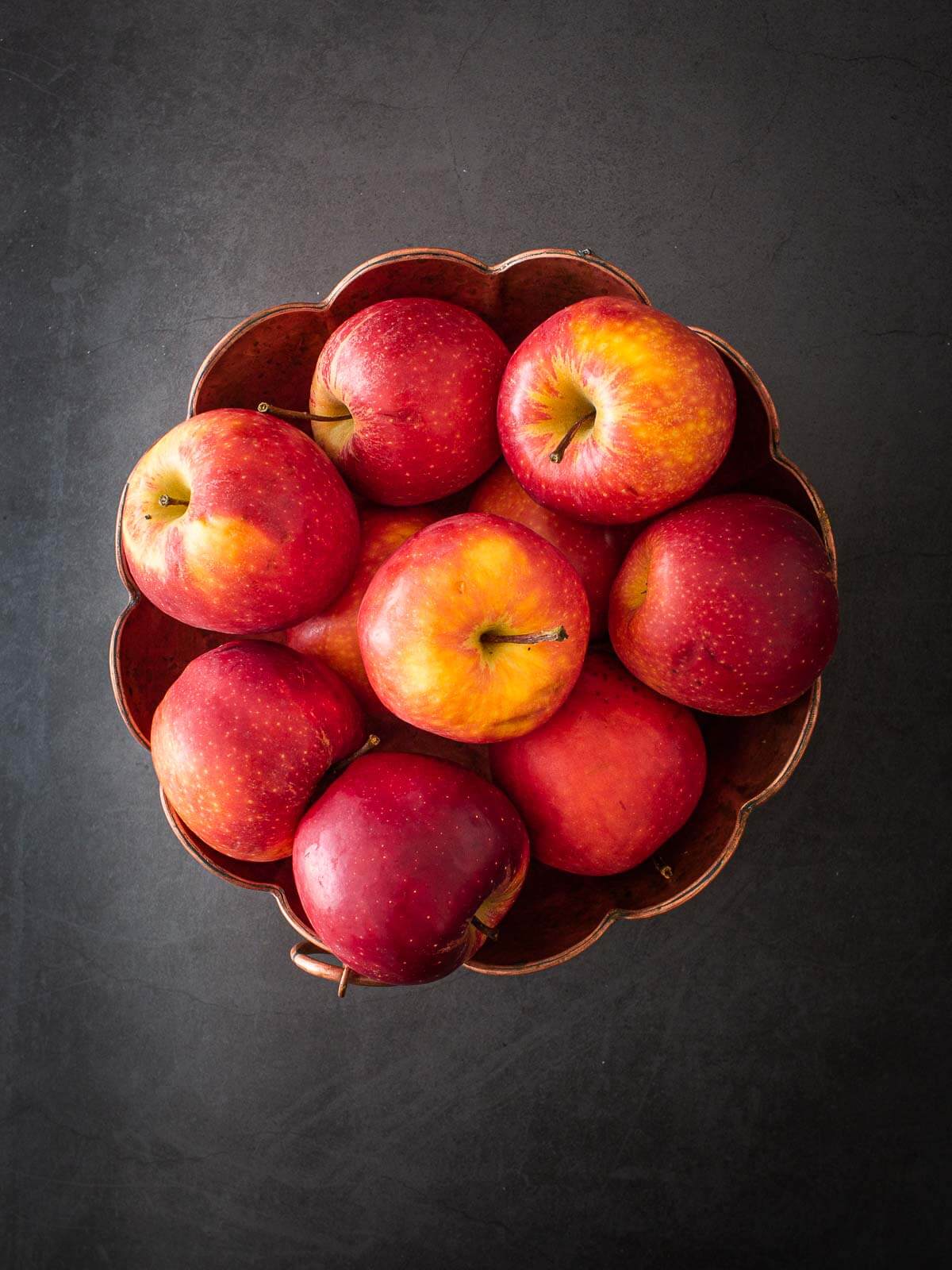 Use them in combination with a tart variety for tarter applesauce. Here are some options for making someone suitable.
Tart Apple Varieties
Granny Smith apples, Braeburn, or Pink Lady are some easy-to-find tart apples that will make great homemade unsweetened applesauce.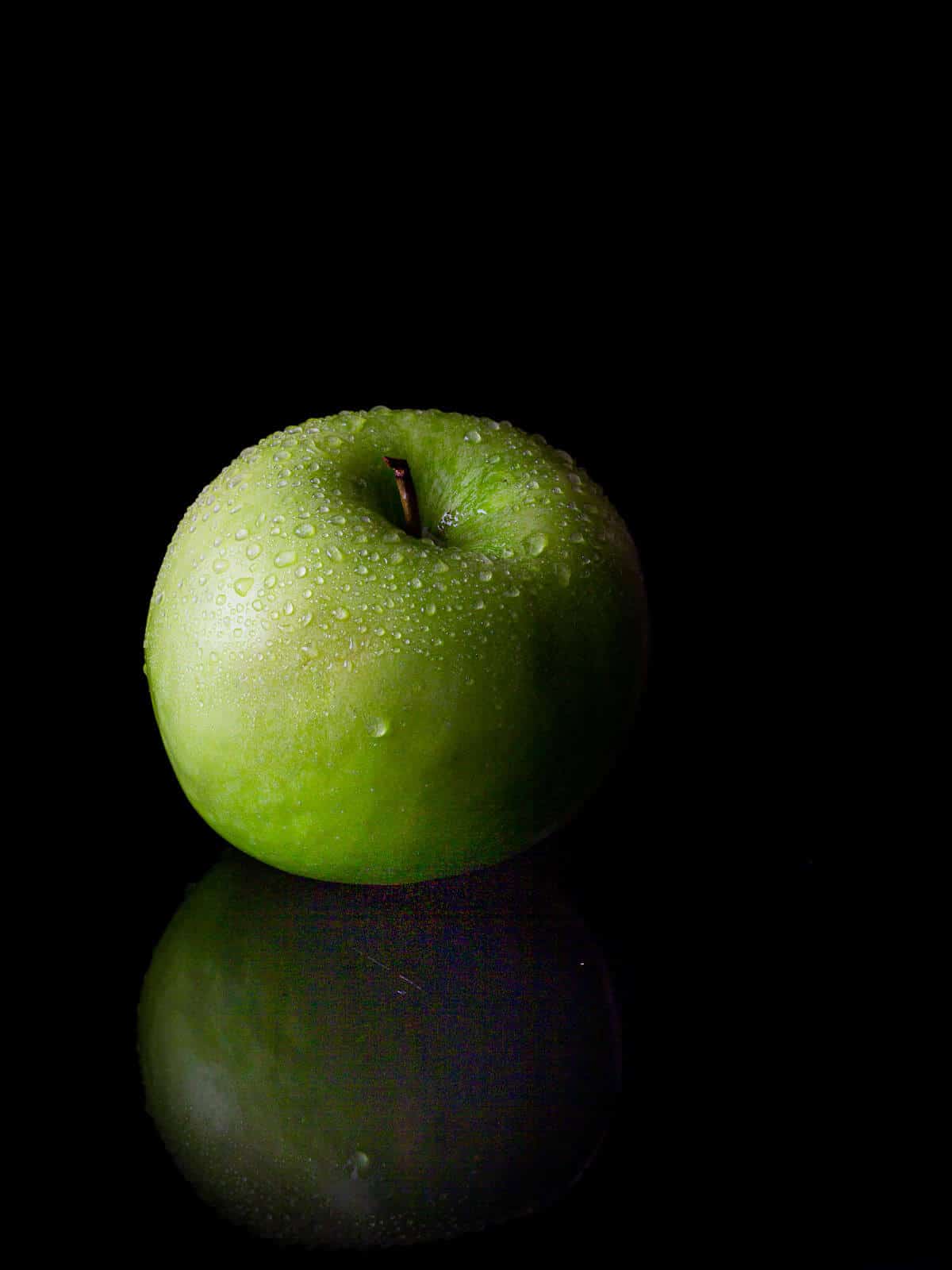 Our easy and healthy homemade applesauce recipe is perfect for those who like more tart flavors since we use lemon juice and optionally a dash of apple cider vinegar.
⏲️ How long can you keep the cooked apples?
This homemade applesauce recipe will be good for up to four to five days covered or in a mason jar in the refrigerator. If you plan to keep them for longer, we recommend adding one teaspoon of organic apple cider vinegar to the apple mixture, which will help prevent molding.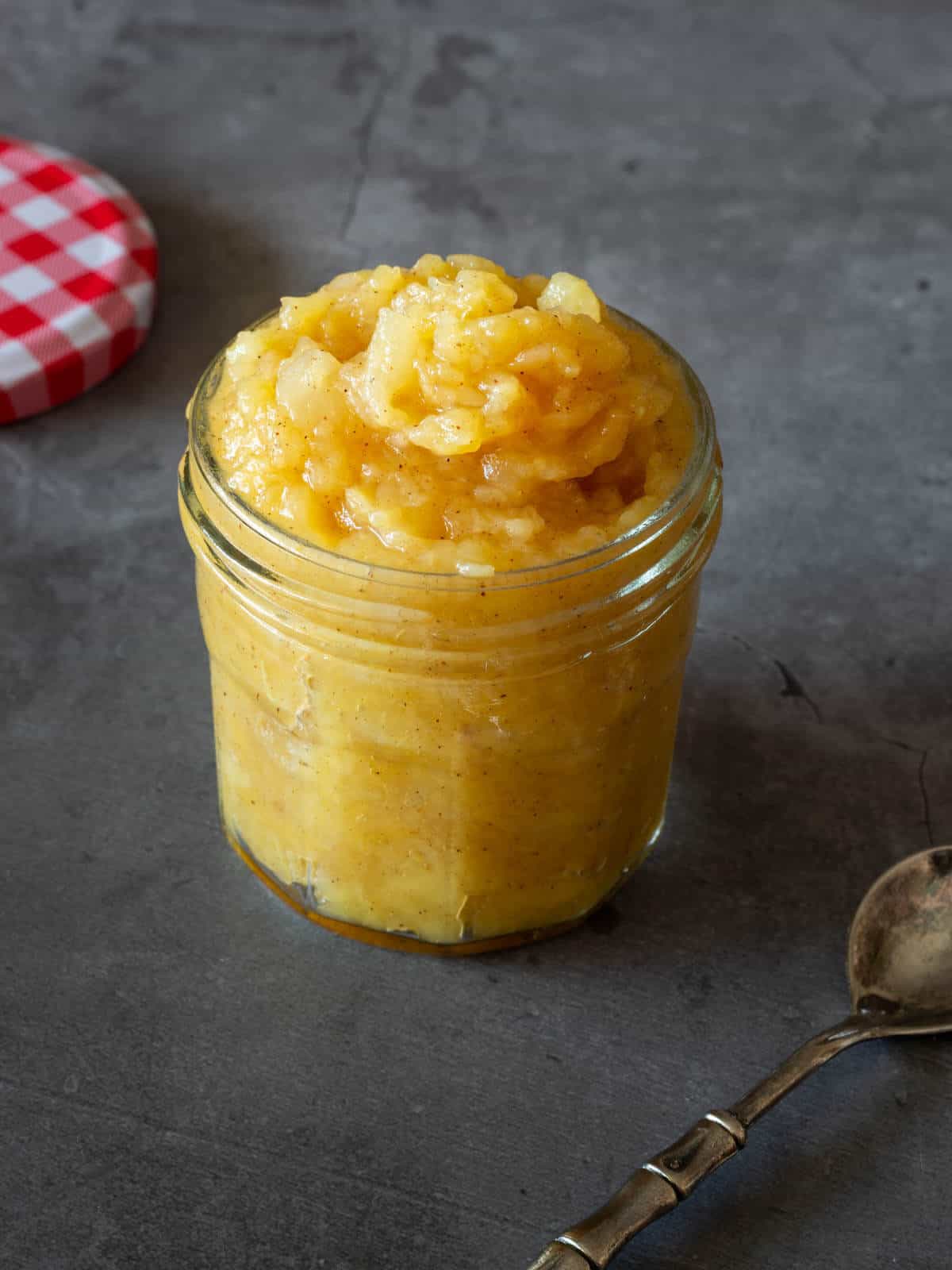 After you make easy homemade unsweetened applesauce, it is easy to freeze the leftovers in small containers or freezer bags. If using glass containers, let the applesauce cool and then pour the homemade unsweetened applesauce into containers.
🫙 Storing + Variations
Stored inside an airtight container or jar, homemade applesauce lasts for 7 days. It can be frozen for up to six months if frozen. Allow space on your container as the applesauce is larger when you freeze it.
Why not make things different? You can customize them by adding a few different dry fruits like raisins and cranberries. Our favorite fruit is peaches and mango.
The flavor combinations are endless, though traditional apples & cinnamon are classic; that's why we decided to go for pumpkin pie spice mix, which contains cinnamon already. Still, it also has ground ginger, nutmeg, and cloves! Heaven!
❓ Applesauce Canning FAQ's
Cutting into the fruit peel will be more nutritional than usual, and the flavor might increase. I prefer a smoother purée for baking or other recipes, so I peel the apple. Add apple slices and lemon juice at the bottom of the pot for softer browning.
Cook the apple pieces until tender. It cools, and you can hear a good pop as it opens the container. To test the contents of the jar, push on the top layer of the lid using your hand. A concave lid will not change position when held tightly. Unless otherwise stated, the container should remain uncovered and used within 5-7 days.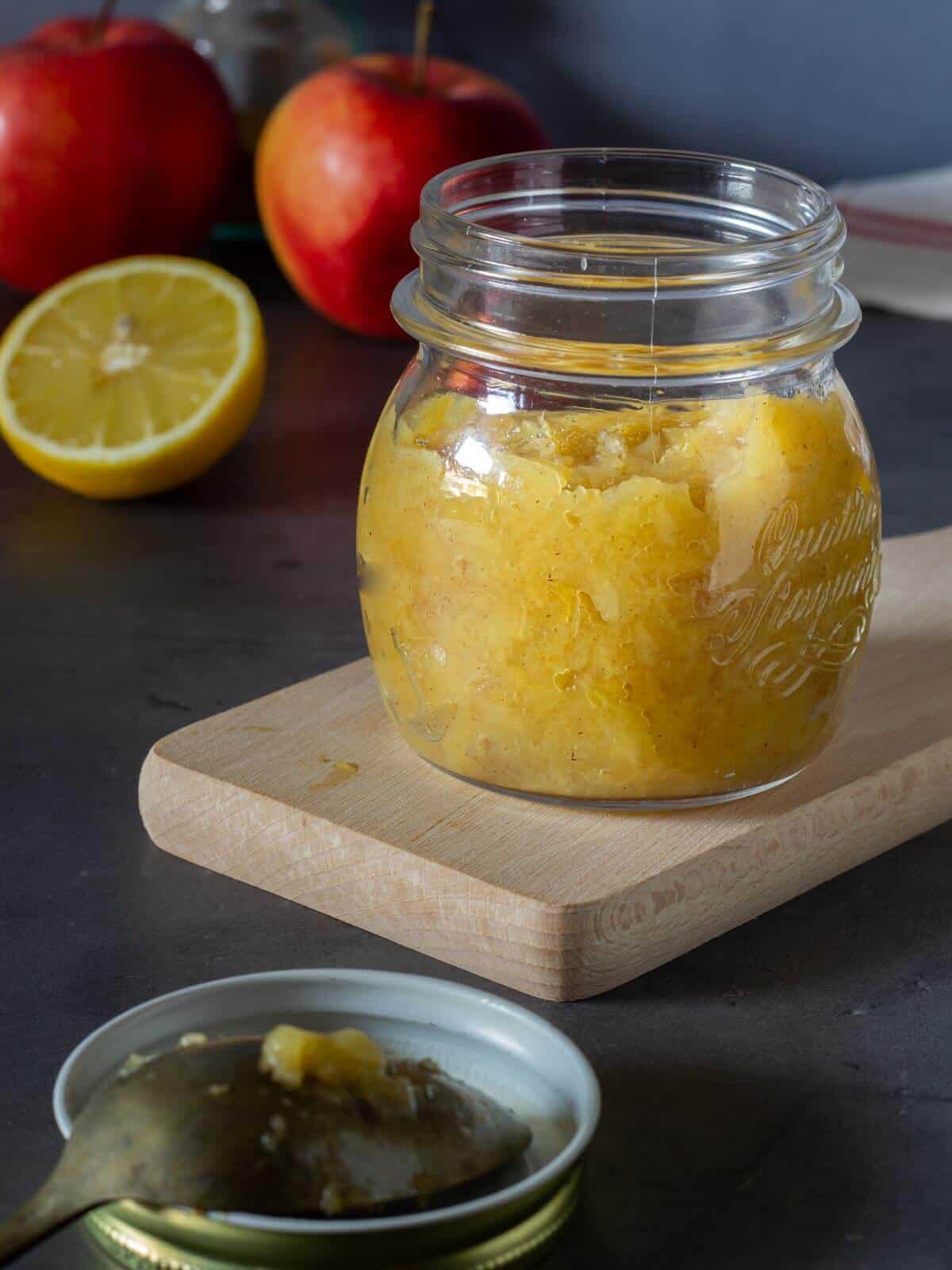 You can store easy, homemade sugar-free applesauce for up to six months in your freezer.
If you are preparing it for a party, I recommend making a homemade unsweetened applesauce recipe one day before so that all of its flavors have time to develop.
You can also freeze your own homemade applesauce into easy-to-use portions, which will last several months if frozen properly. This is easy.
🪶 What is smooth applesauce?
Homemade applesauce can be served on either side of the way. If you want a smooth consistency, use a potato masher, fork whisk, immersion blender, or food processor.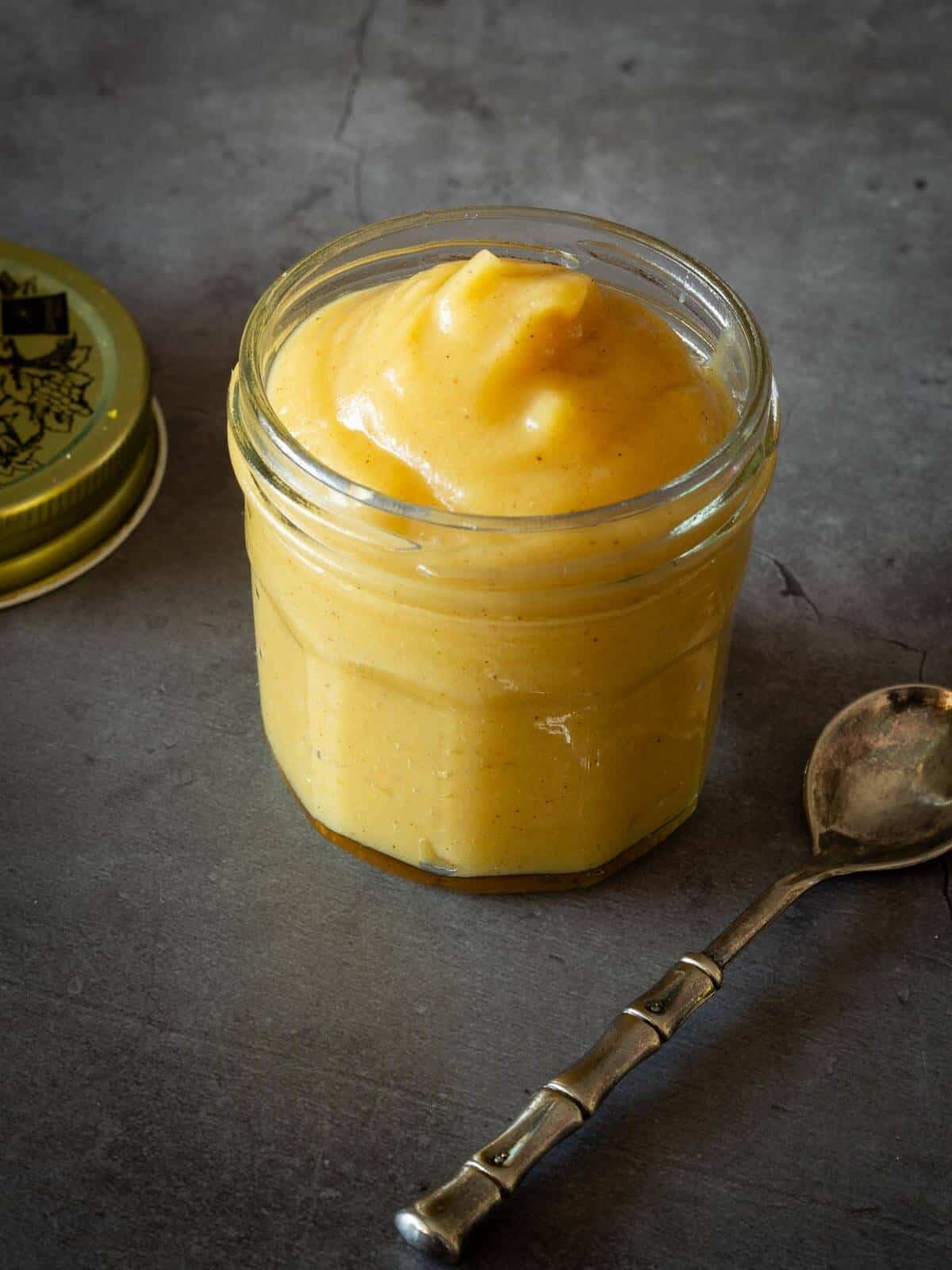 Use a spoon or fork to combine the mixture. You can also use a whisker or an immersion blender to create a clean, silky finish.
🖍️ Kids love applesauce
This naturally sweet applesauce recipe will satisfy every age group. My nephew is obsessed with this sugar-free applesauce. He loves it all year round and loves eating it during breakfast with granola, plain yogurt, or as a dessert with vanilla ice cream.
📚 Recipes with Applesauce
How to make applesauce for baking?
We recommend using the puréed version because the chunky version might affect the end result you are looking for. As suggested above, use an immersion blender or food processor for the best results.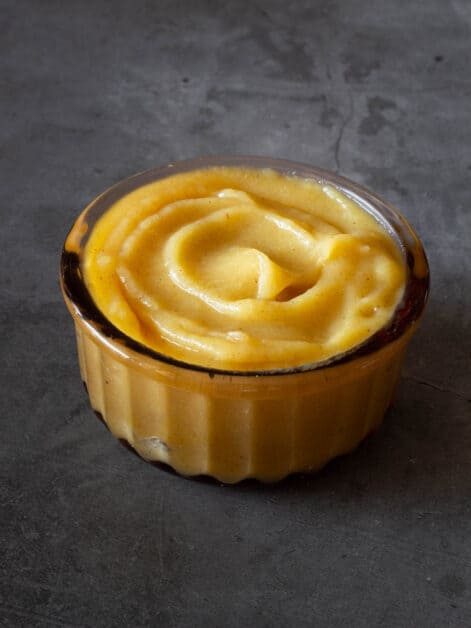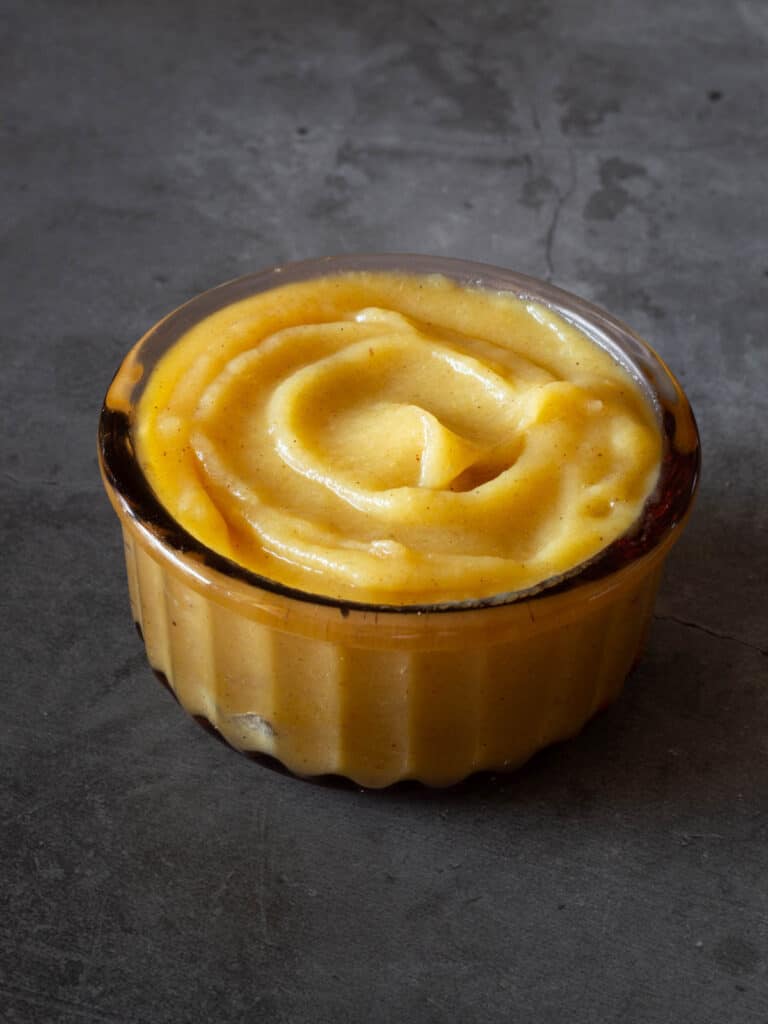 Use applesauce to add moisture. Replace one egg with ¼ cup of applesauce in sweet desserts like a 3-ingredient chia pudding. If you want a lighter texture, add an extra ½ teaspoonful of baking powder, as fruit purées tend to make the final product denser than the original recipe.
Once you have some easy homemade unsweetened applesauce on hand, there are many ways to use it! Mix with nuts for an easy homemade trail mix, and add it to your morning granola or porridge.
🏥 Benefits of apples for skin
Many people know that apples are rich in vitamins, but it is not widely known that they also have many other benefits for the body. These fruits contain large amounts of antioxidants and beneficial acids. Apples improve digestion, help to reduce blood pressure, relieve muscle spasms, strengthen the immune system and even give you beautiful skin!
The principle of operation unlocking the Benefits of apples for skin is in the pectin contained in apples. This substance cleanses the intestines and removes toxins from the body, strengthens blood vessels, and improves microcirculation.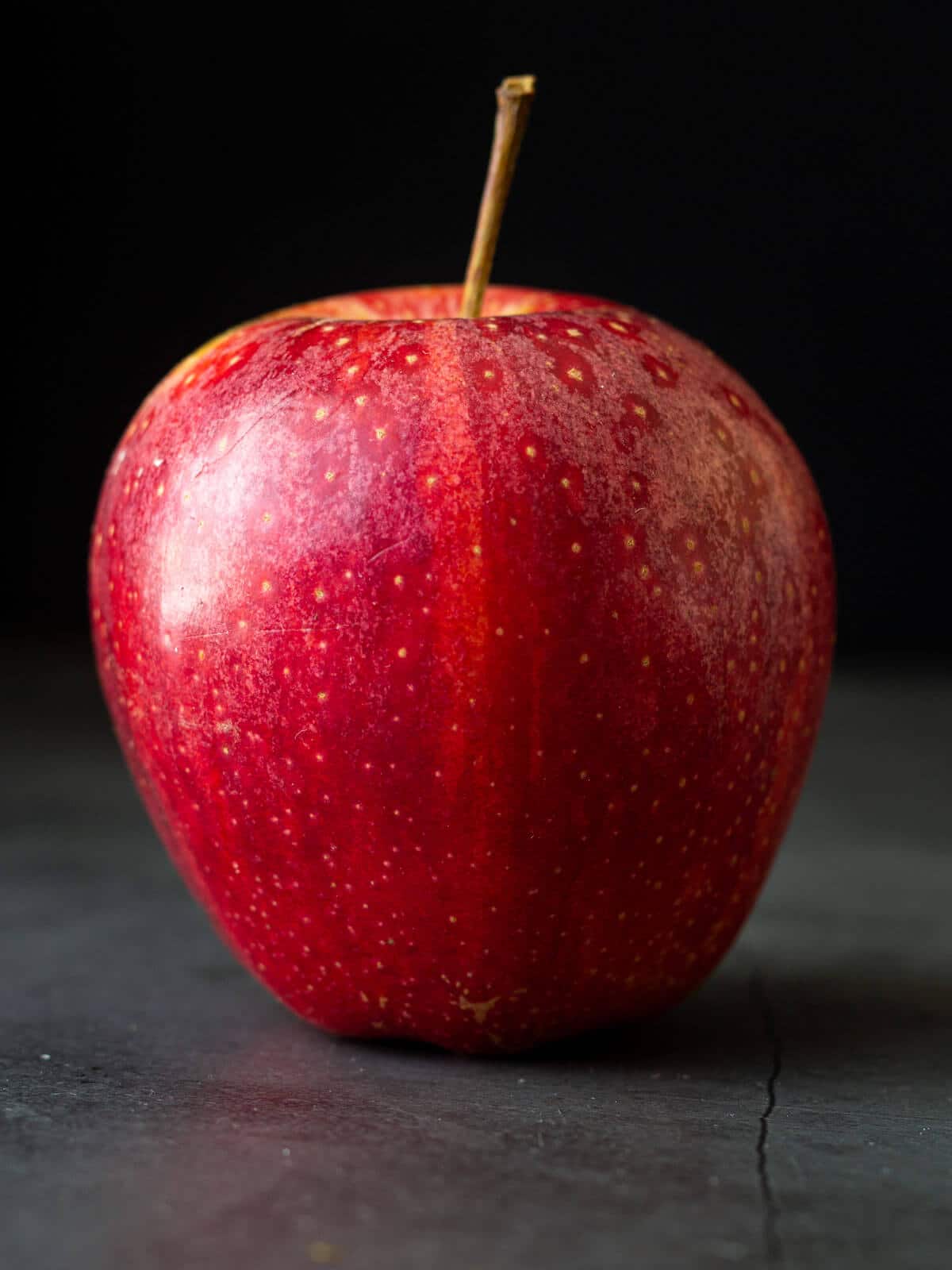 Apples contain large amounts of natural vitamins. These include A, B1, B2, and PP, improving hair and nail condition. Eating apples regularly will make your hair more healthy and more shiny.
Apples contribute to building a strong immune system by producing leukocytes that fight harmful bacteria in the mouth cavity, preventing dental disease and mouth ulcers.
Apples help to lose weight as they contain large amounts of nutrients and fiber, which purify the body from the inside and make the skin look more beautiful.
Pectin in apples helps reduce cholesterol levels and blood pressure, thus preventing cardiovascular disease.
In summary, the Benefits of apples for the skin are great, as Apples also contain large amounts of antioxidants that protect cells from free radicals that cause aging and skin blemishes.
❓ FAQ
Is unsweetened applesauce as healthy as apples?
Yes, to make sure you get the same nutritional value as apples, use the skin since that is where most of the fiber and nutrients from apples are. Do not use any added sugar.
How many carbs are in unsweetened cinnamon applesauce?
One nutrition serving (¼ cup = 2 oz) of this applesauce has 23 grams of carbs, 1 gram of fat, and 1 gram of protein.
Unsweetened applesauce calories: 87 nutrition calories.
What's the Difference Between Applesauce and Apple Butter?
Applesauce and apple butter may both come from apples, but they're like distant cousins in the culinary world. Applesauce is a lighter, less concentrated form of apple goodness, often used as a substitute for eggs or oil in baking. It's cooked for a shorter time and may have a chunky texture. On the other hand, apple butter is applesauce's richer, spicier sibling. It's cooked down for hours with added spices and sugar, resulting in a smooth, paste-like texture that's more of a spread than a baking ingredient. So, while applesauce is your go-to for healthier muffins, apple butter is what you'll want to slather on your morning toast.
How to make applesauce without sugar for babies?
If you are making it for a baby, we surely recommend not using the peel, blending it and using an immersion blender for best results. You can avoid using cinnamon and lemon to make it as plain as possible. See below the difference between a chunky or blended applesauce texture. We use Red Gala apples for this applesauce.
Is applesauce healthy?
Apple fiber is derived mostly from the peel. When peeling apples, you lose some of the natural fiber of apples.
Health benefits exist for apples and this unsweetened applesauce recipe, as we use no additives or artificial flavors.
Try to use organic apples, as apples tend to be amongst the dirty dozen, as they are commonly sprayed with pesticides.
🍂 Fall recipes
Our favorite fall-season healthy snack is definitely the oven-baked chestnuts.
We have many fall recipes, that you will surely love, from Vegan Pumpkin pie to roasted butternut squash, vegan buttermilk cornbread to vegan chili.
You can also use this unsweetened applesauce recipe with your overnight oats, chia pudding, or homemade granola for a cozy fall breakfast. Mix it with homemade almond milk, and you are off for the ultimate self-made treat.
Also, try our quick brown sugar cinnamon oatmeal ! It's made with wholesome ingredients and is super easy to make. Plus, it's vegan, so everyone can enjoy it!
We are sure your family and friends will love these easy recipes, and it's the perfect time to share them.
Making homemade sugar-free applesauce is easy, effortless, and the healthiest way to eat it. It's also good for any diet - even kids and babies love it! With as little as two or three ingredients, you can have delicious applesauce that tastes fresh from your own kitchen in less than ten minutes.
What are you waiting for? Make some today!
📚 More apple recipes
Carrot, apple, and celery juice
If you love this recipe...
⭐ If you try this recipe, let us know! 💬 Leave a comment, rate it, and don't forget to tag us @ourplantbasedworld on Instagram. Cheers!
📋 Recipe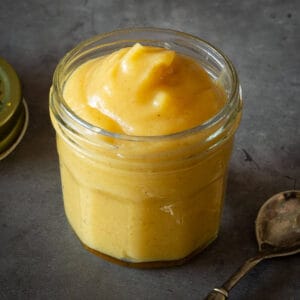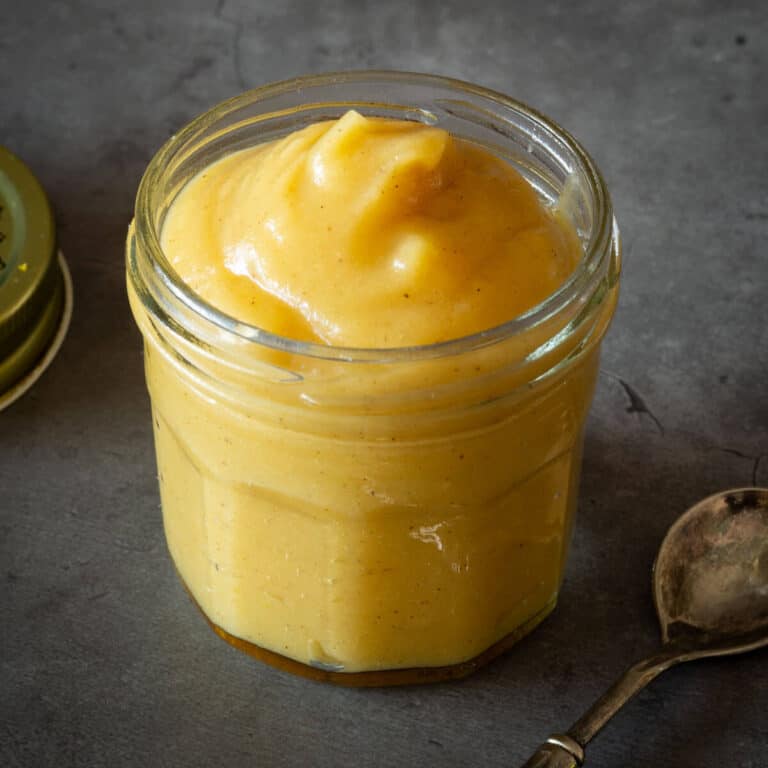 How to make unsweetened applesauce
All you need to make this delicious applesauce is 3 ingredients: apples, lemon, and pumpkin pie spice mix (or simply cinnamon).
Equipment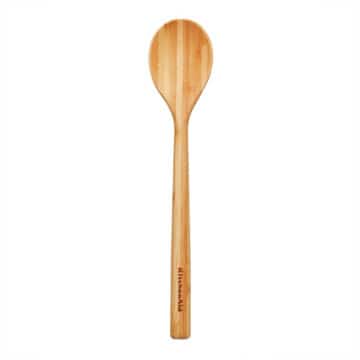 (affiliate link)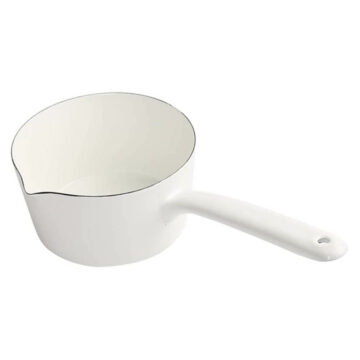 (affiliate link)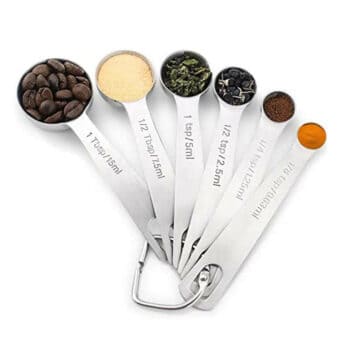 (affiliate link)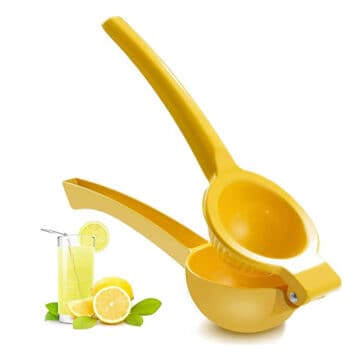 (affiliate link)
Ingredients
3

small gala apples

peeled, cored, and chopped in bite-size pieces (sweet apples work better, otherwise you may need to add a sweetener you can leave the peel on for more fiber and texture)

1

teaspoon

pumpkin spice mix

or ground cinamon, plus more to taste

2

teaspoons

lemon juice

about half, lemon

5

tablespoons

water
Optional:
1

teaspoon

apple cider vinegar

for keeping fresh longer/tartness

1

tablespoon

maple syrup

or another sweetener of choice

citrus zest

such as tangerine or orange zest, a dash

minced ginger

dash
Directions
Peel and chop the apples with a potato peeler or small knife. Remove the core and chop them into small bits.

Add chopped and peeled apples to a medium saucepan, pumpkin pie spice mix, lemon juice, and stir.

3 small gala apples,

1 teaspoon pumpkin spice mix,

2 teaspoons lemon juice,

5 tablespoons water

Cook over medium heat and bring to a boil, then reduce heat to medium-low and continue cooking until the apples are tender and slightly brown — they will take about 15-20 minutes. Watch closely and stir now and then to prevent sticking. Add apple cider vinegar if you plan to store it for more than 4 days.

1 teaspoon apple cider vinegar

Mash. Use a wooden spoon or potato masher to mash. You can choose to blend with an immersion blender for a smoother texture – if you leave the apple skins on, I recommend using the blender once the applesauce has cooled down.

Adjust. Taste and adjust for sweetness and spice mix if needed.
Notes
Enjoy fresh, or store in the refrigerator for up to 4 days. Use it cold or reheated in the microwave or on the stovetop over low heat until hot. If it is dry, add a tablespoon of water as needed.
You can use a mix of different various types of apples to create a delightful combination of tastes and textures, while keeping the skin intact, enhances the flavor and reducing the effort required.
Nutrition Facts
Calories:
87
kcal
Carbohydrates:
23
g
Protein:
1
g
Fat:
1
g
Saturated Fat:
1
g
Polyunsaturated Fat:
1
g
Monounsaturated Fat:
1
g
Sodium:
3
mg
Potassium:
164
mg
Fiber:
3
g
Sugar:
17
g
Vitamin A:
75
IU
Vitamin C:
7
mg
Calcium:
18
mg
Iron:
1
mg
Nutrition Facts
How to make unsweetened applesauce
Amount per Serving
% Daily Value*
* Percent Daily Values are based on a 2000 calorie diet.
🌡️ Food safety
Cook to a minimum temperature of 165 °F (74 °C)
Do not use the same utensils on cooked food, that previously touched raw meat
Wash hands after touching raw meat
Don't leave food sitting out at room temperature for extended periods
Never leave cooking food unattended
Use oils with a high smoking point to avoid harmful compounds
Always have good ventilation when using a gas stove
See more guidelines at USDA.gov.
Nutritional Disclaimer
The information shown is an estimate provided by an online nutrition calculator. It should not be considered a substitute for a professional nutritionist's advice. See our full Nutritional Disclosure here.
Affiliate Disclaimer
Please note that some of the links here are affiliate links, and I will earn a commission if you purchase through those links. I recommend all of the products listed because they are companies I have found helpful and trustworthy.