A delicious and refreshing way to start your day is Golden Fresh Pineapple Ginger Juice! Packed with vitamins, minerals, and antioxidants, it's the perfect way to jumpstart your metabolism and start your day on the right foot. Plus, the sweet and spicy flavor is simply irresistible.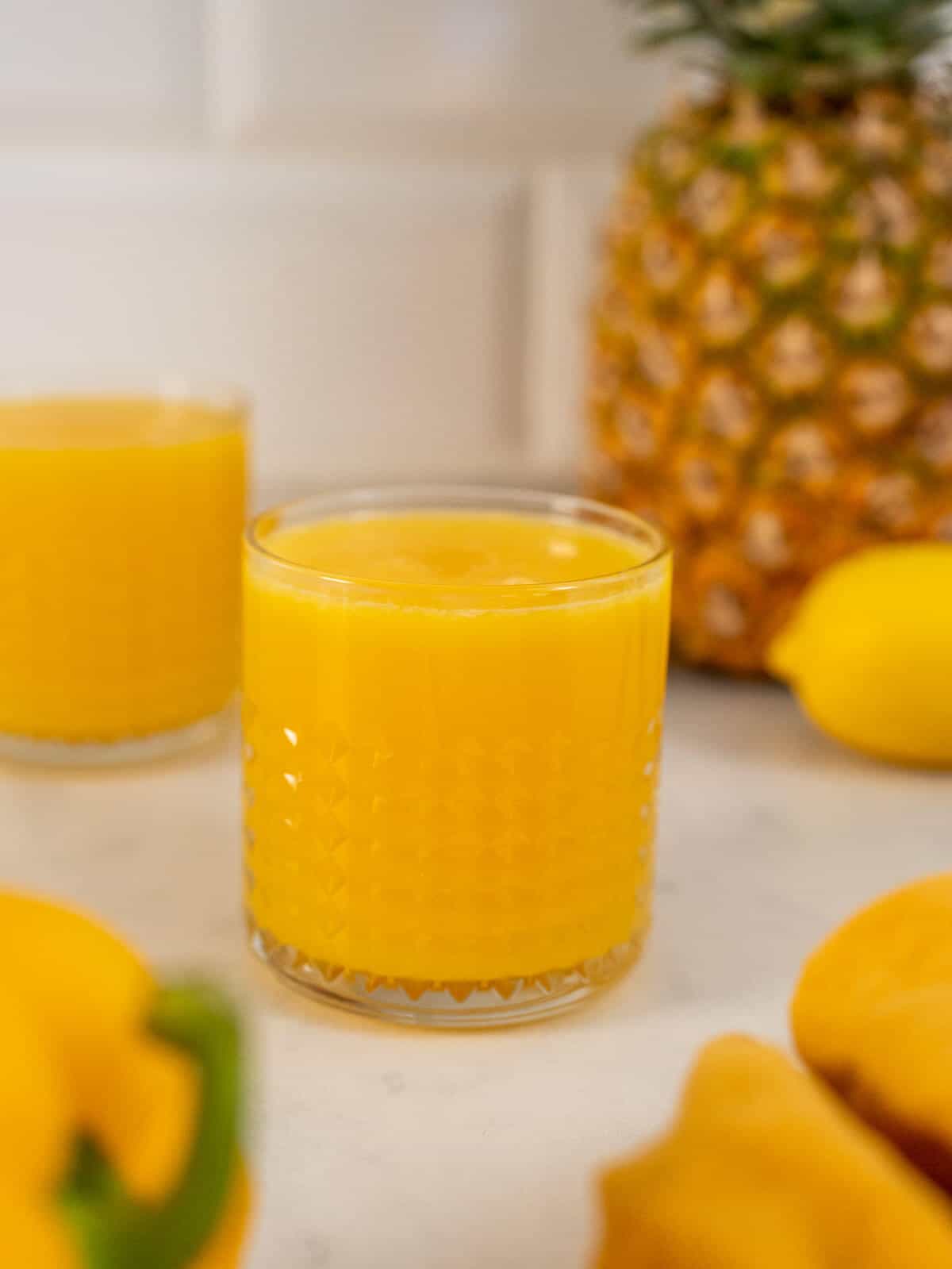 When the days get colder, we immediately start drinking more juices and smoothies with high Vitamin C and Carotenoids, like carrots and celery juice, pineapple cucumber, and ginger juice.
Not only are they delicious, but when we start paying attention to eating seasonal, we realize that Citrus fruits are at their peak during the winter. Those are the precious presents that mother nature provides to keep us going.
Jump to:
🧾 Ingredients details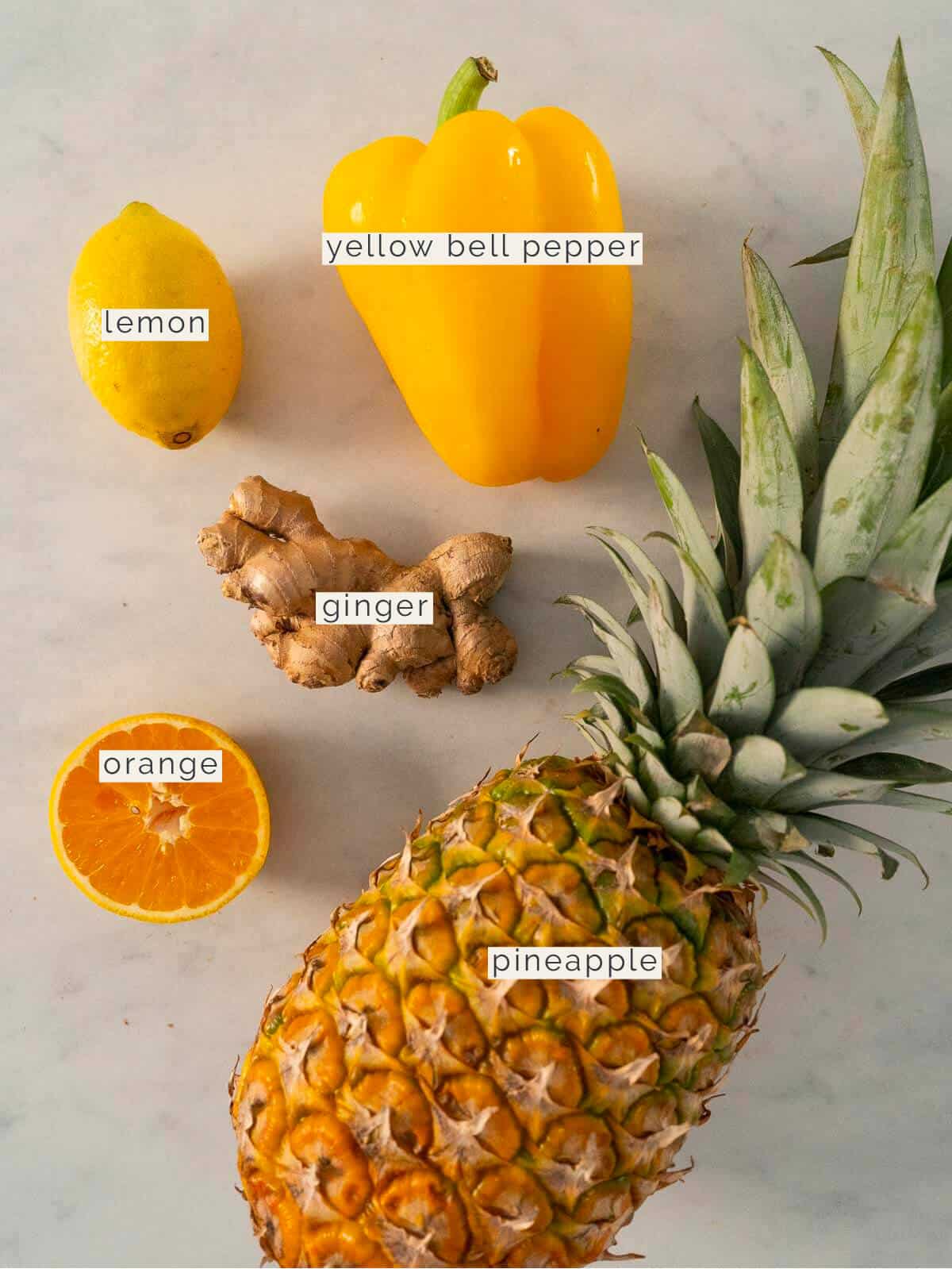 Fresh Pineapple chunks - use a ripe pineapple. If using an acid one, feel free to skip the lemon juice. Pineapple is rich in anti-inflammatory bromelain.
Fresh ginger root - we love adding lots of ginger, but you can start with a relatively small knob if you are not used to its strength. Fresh ginger juice adds potent digestion support.
Lemon and Orange - use only fresh oranges. Use less lemon juice for a lesser tart juice. Packed with the antioxidant Vitamin C.
Yellow Pepper - the unexpected ingredient in this fresh pineapple juice. This vegetable is full of carotenoids, the yellow plant pigment that gives this juice its golden yellow color. They have been found to support the vision and the immune system.
See the recipe card for quantities.
🔪 Instructions
Wash all the ingredients thoroughly, then chop them into the appropriate size to fit into your juicer.
Remove the yellow pepper stem, remove the pineapple rind, and cut both into chunks. Use the rind to make pineapple water.
Peel the citrus and chop off a slice of ginger root; no need to peel it.
Tip: you can simply add squeezed lemon juice on top if you prefer not to peel it.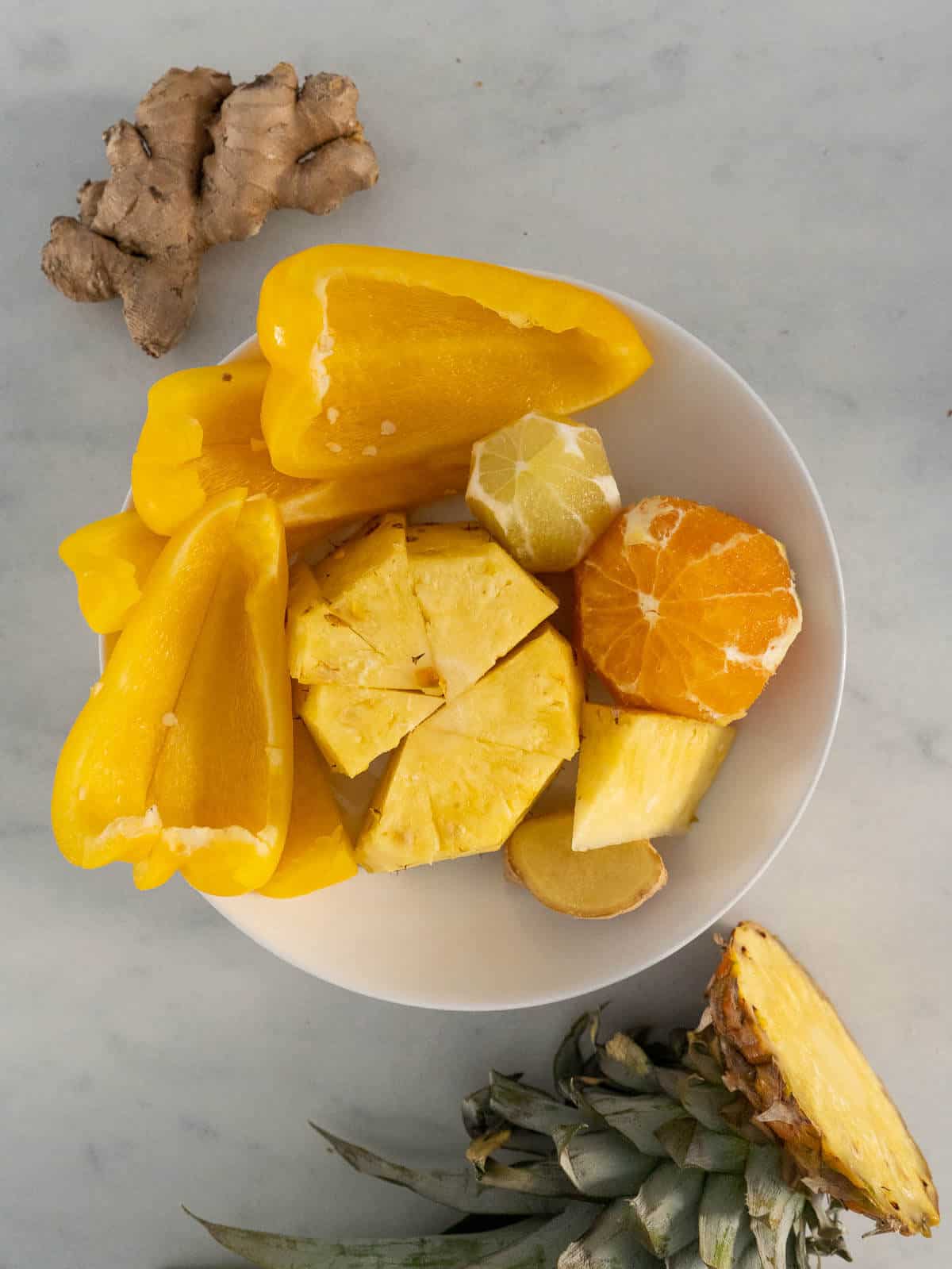 Add all the chopped ingredients into the blender jar.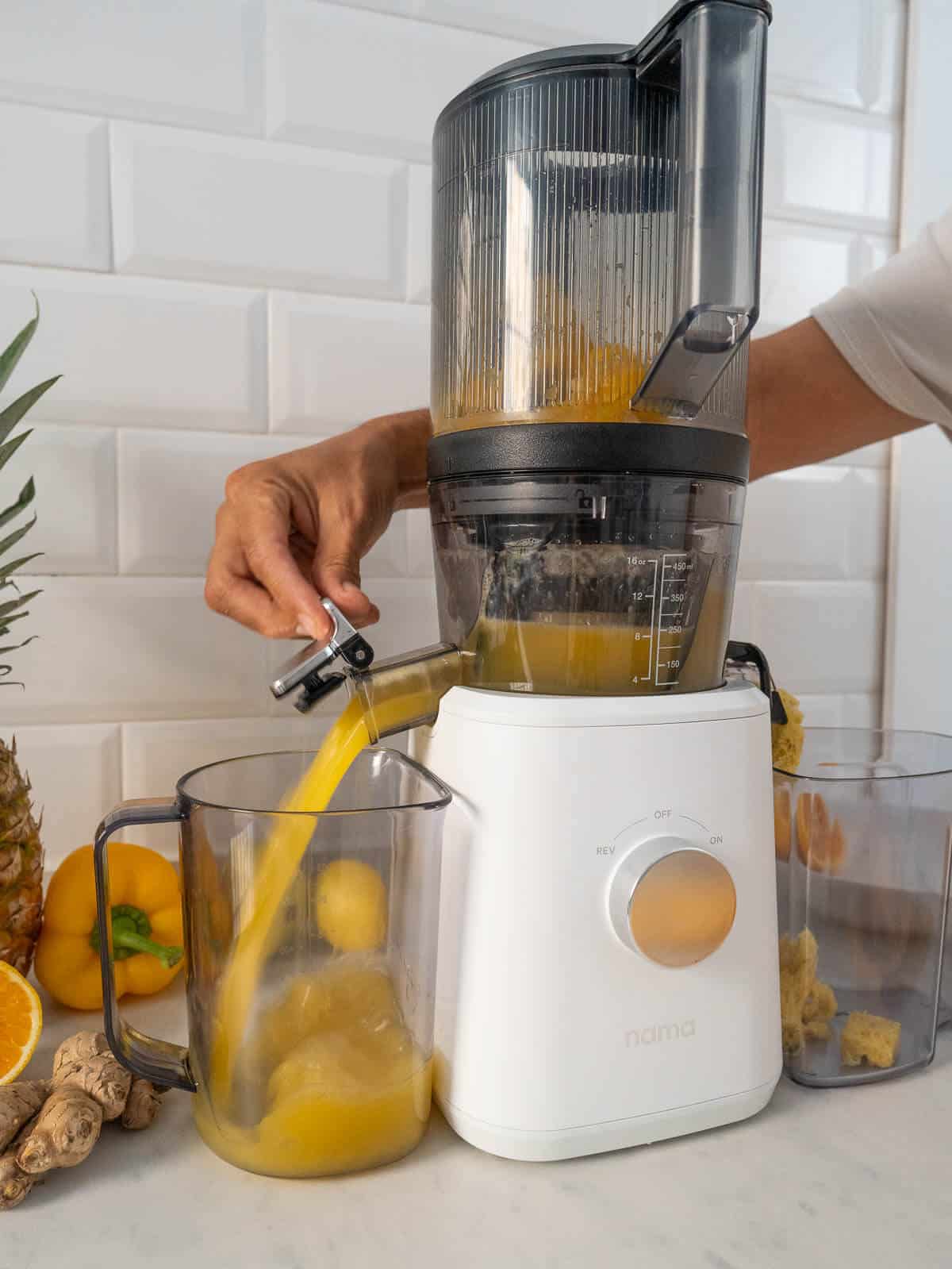 Pour the juice and serve immediately.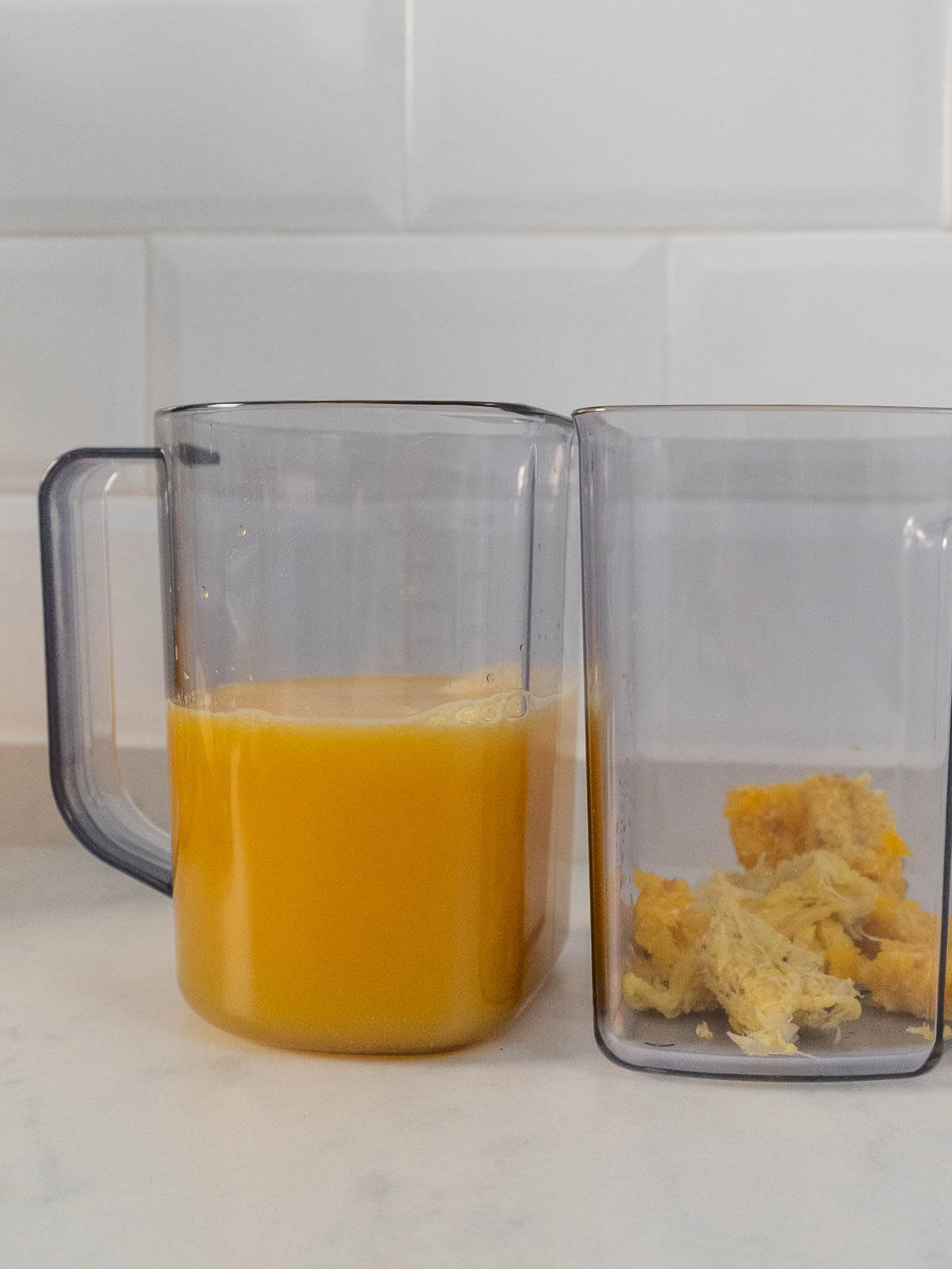 Discard your dry pulp into your compost.
Hint: enjoying this detox juice on an empty stomach is best, so your body can make the best out of the fruit juice's vitamins and minerals and their immune system-boosting properties.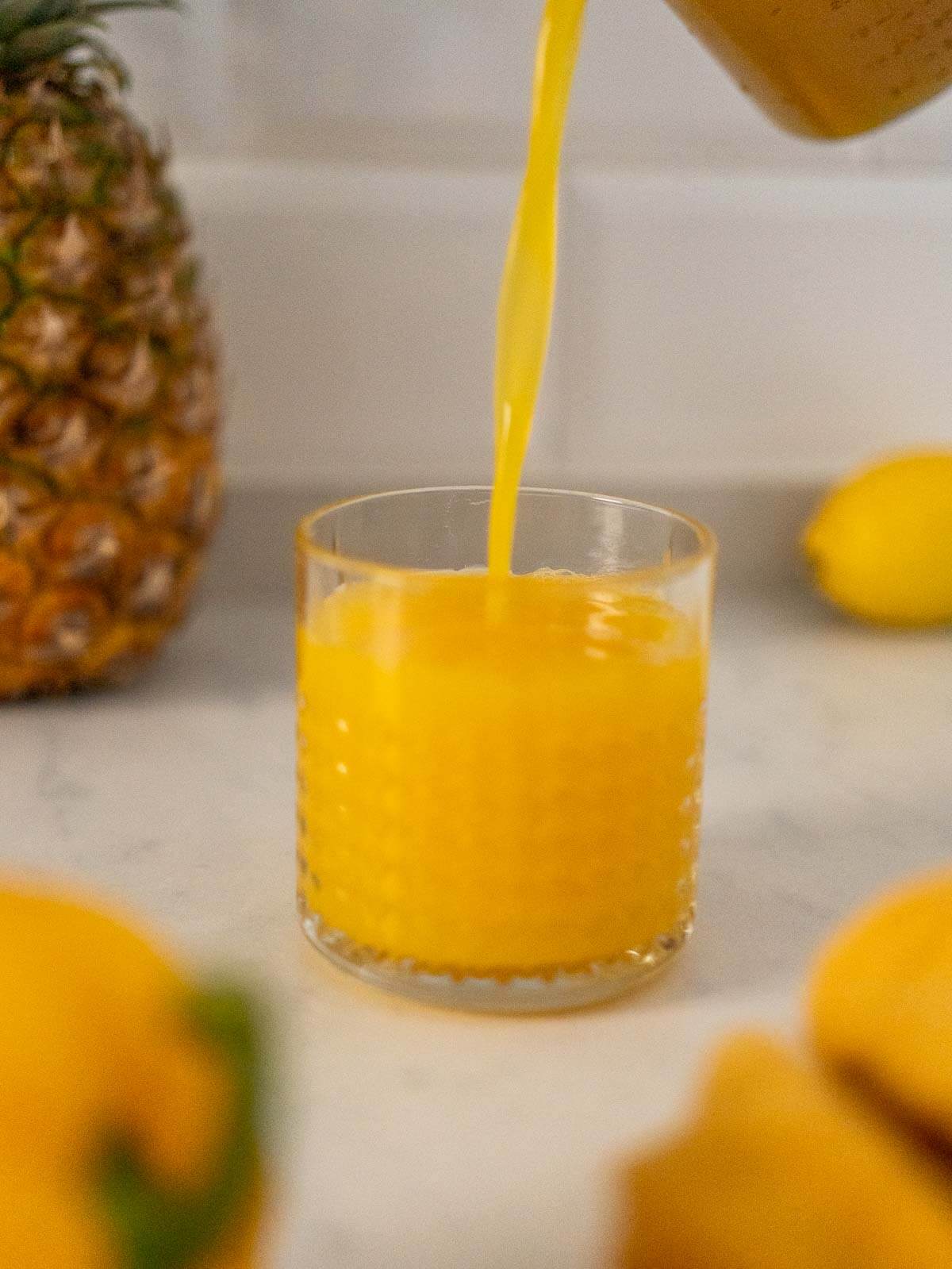 🍶 Substitutions
Some substitutions can come in handy to make this perfect pineapple ginger juice recipe.
Lemon- instead of lemon, you can substitute it for lime juice.
Orange - I wouldn't use orange juice if you don't have a fresh orange. Instead, you can add extra pineapple chunks into the juicer. You can also use fresh grapefruit.
Yellow pepper - you can substitute for sweet red bell pepper. Don't use green, as the flavor is not sweet enough and will change the flavor drastically. The color will be more on the orange spectrum. Another excellent substitution is tomato. See this recipe with citrus and tomato.
📖 Variations
Turmeric root - add turmeric to boost the immune system's protection powers. Don't forget to add a dash of black pepper to boost this detox juice root's properties. Like reducing inflammation.
Coconut water - if you want to add a twist and make the juice bring up more of a Caribbean flare, add half a cup of coconut water once you have juiced all the products.
🍽 Equipment
Use a slow juicer (AKA cold-pressed juicer) instead of a centrifugal one to make the best out of the vitamins and minerals from your fresh fruits and vegetables.
You can also make this pineapple juice recipe using a high-powered blender. If you want smooth juice, pass it through a fine sieve or mesh strainer.
Read on: how to juice without a juicer
🫙 Storage
Store this fresh pineapple ginger juice in a BPA-free airtight container in the fridge for up to 48 hours.
💡 Top tip
Extracting fresh pineapple juice is way better than simply adding store-bought because you can extract all the Vitamin C and the benefits of bromelain better when freshly extracted.
If you use fresh pineapple, don't throw away the rinds! Freeze them for later and make a delicious pineapple water or an arroz con piña (pineapple horchata)!
❓FAQ
What are the health benefits of ginger pineapple juice?
Ginger pineapple juice is a rich source of antioxidants and vitamin C, which help to scavenge free radicals and protect the body from oxidative stress. It is also a good source of manganese, dietary fiber, vitamin B6, potassium, and copper. Consumption of ginger pineapple juice has been linked with numerous health benefits such as improved digestion, increased energy levels, better skin health, reduced inflammation, and accelerated healing process
What are the benefits of bromelain?
Bromelain is a proteolytic enzyme extracted from the pineapple plant's stem. It has a variety of medicinal benefits, including:
-Improve digestion
-Reduce inflammation
-Helping to break down proteins
-Preventing blood clots
-Killing harmful bacteria and viruses
Overall, bromelain is a very effective and safe enzyme that can provide multiple health benefits. (source)
What are the benefits of ginger and lemon?
Ginger is a natural anti-inflammatory and can help reduce nausea, while lemon is high in Vitamin C and helps boost the immune system. Combined, they make a powerful detox drink that can help cleanse the liver and improve digestion. Plus, they're both delicious and refreshing!
Read: High-fiber smoothie for constipation
🍍 More pineapple recipes
Add this carrot ginger turmeric juice to your immunity-boosting recipes!
If you like adding bell pepper to your juices, try this red juice made with red bell pepper, oranges, and tomatoes.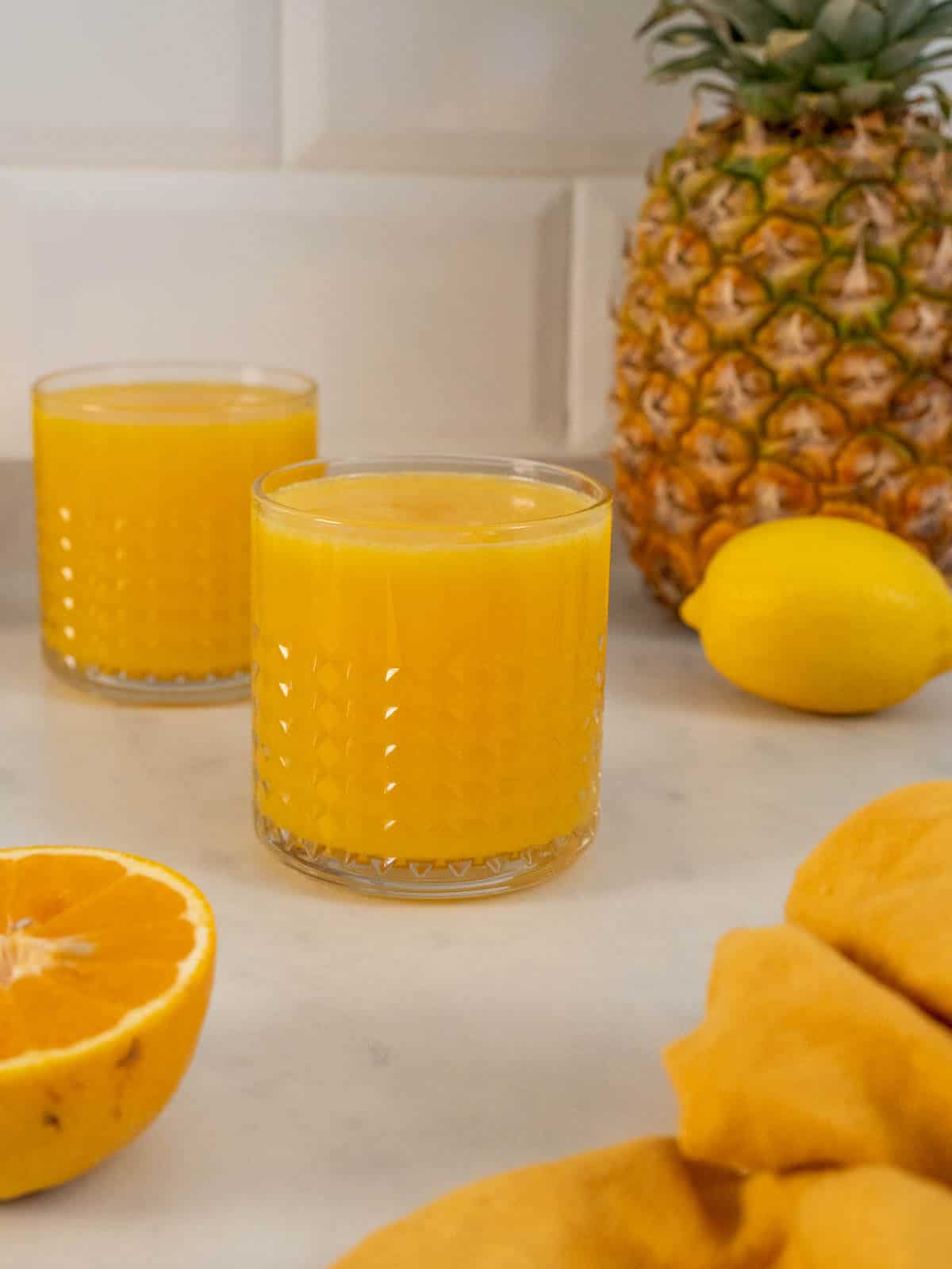 ⭐ If you try this Golden Yellow Juice recipe, let us know! 💬 Leave a comment, rate it, and don't forget to tag us @ourplantbasedworld on Instagram. Cheers!
📋 Recipe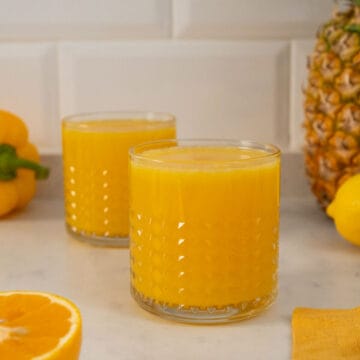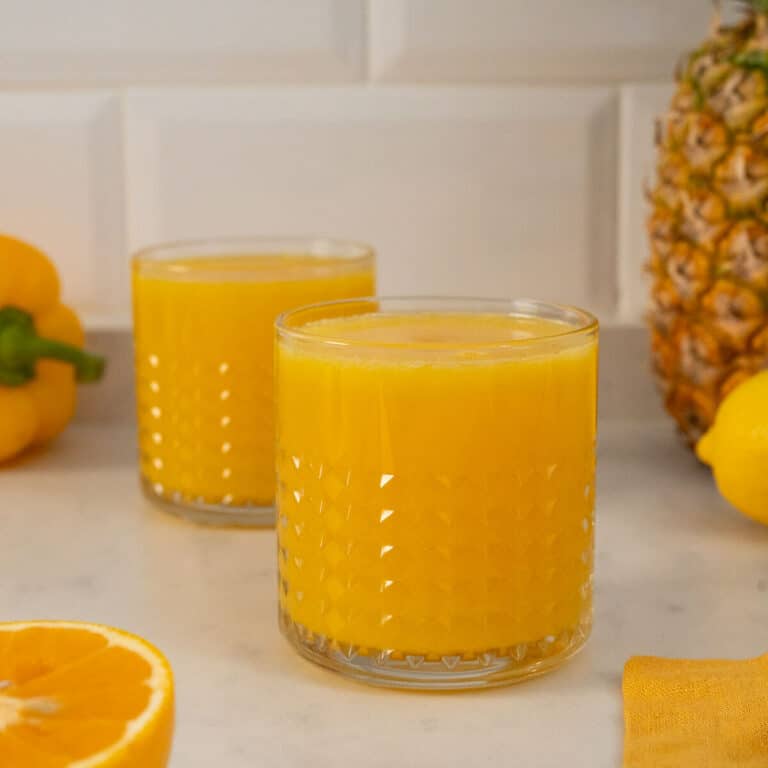 Golden Pineapple Ginger Juice
A sweet and spicy juice from the tropical combination of pineapple, ginger, citrus, and sweet yellow pepper. Packed with carotenoids and immune-boosting components, this super refreshing juice is full of plant-rich micronutrients.
Equipment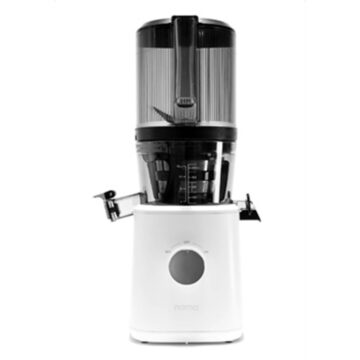 (affiliate link)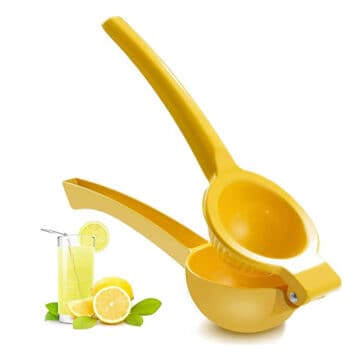 (affiliate link)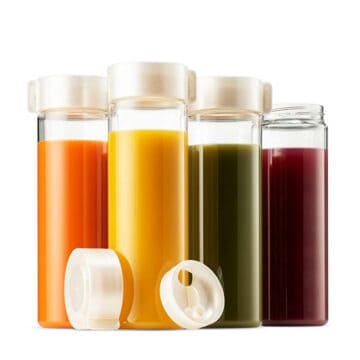 (affiliate link)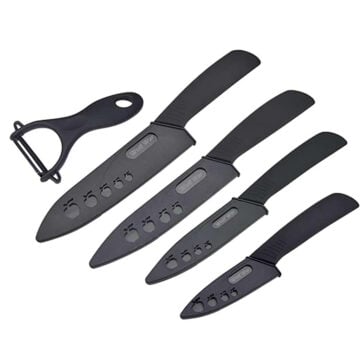 (affiliate link)
Ingredients
Directions
PREPARE THE VEGETABLES and FRUITS
Wash all your vegetables and fruits thoroughly.

Remove the stem from the yellow pepper.

Remove the rind from the pineapple and peel the lemon and orange.

Chop all the ingredients
MAKE JUICE
Turn the juicer on and push everything through, alternating between the pineapple chunks, citrus, ginger, and pepper.

When everything but the reserved lemon has been juiced, stir the juice and taste for tartness. Add the remaining lemon if you feel it can take it.
Notes
Make-ahead: fresh fruit and vegetable juice is best enjoyed soon after juicing, but you can make it a day or two in advance.
Make sure to store in glass, airtight containers. In case you have used a cold-pressed juicer, you are cashing up the expense! It should last a little longer.
Nutrition Facts
Calories:
77
kcal
Carbohydrates:
20
g
Protein:
2
g
Fat:
0.4
g
Saturated Fat:
0.1
g
Polyunsaturated Fat:
0.1
g
Monounsaturated Fat:
0.03
g
Sodium:
2
mg
Potassium:
334
mg
Fiber:
3
g
Sugar:
11
g
Vitamin A:
296
IU
Vitamin C:
178
mg
Calcium:
45
mg
Iron:
1
mg
Nutrition Facts
Golden Pineapple Ginger Juice
Amount per Serving
% Daily Value*
* Percent Daily Values are based on a 2000 calorie diet.
Nutritional Disclaimer
The information shown is an estimate provided by an online nutrition calculator. It should not be considered a substitute for a professional nutritionist's advice. See our full Nutritional Disclosure here.
Affiliate Disclaimer
Please note that some of the links here are affiliate links, and I will earn a commission if you purchase through those links. I recommend all of the products listed because they are companies I have found helpful and trustworthy.