Hey there, foodies! Ever fancied making your own vegan gluten-free crackers that are not only healthy but also bursting with flavor? Well, you're in luck! We're about to share a simple yet fantastic homemade, 100% vegan, and completely delicious recipe. So, roll up your sleeves; let's get cracking!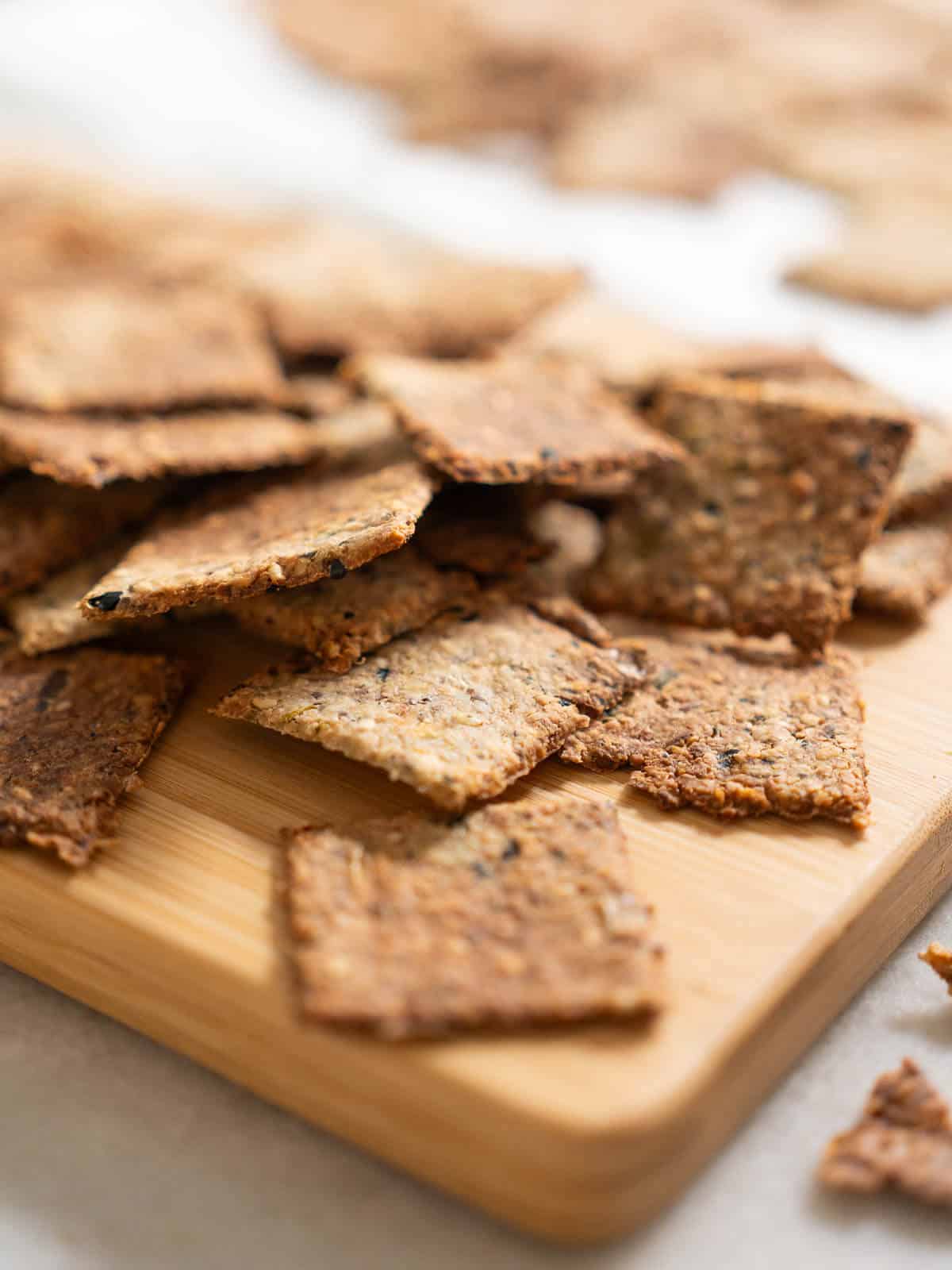 Welcome to our latest deliciously innovative snack idea: Juice Pulp Crackers, also known as Juice Pulp Chips! If you're a fan of homemade juices, you know the dilemma: what to do with all that leftover pulp or those broccoli stems? Throwing it away seems like such a waste, right? Maybe you are looking for green juice pulp recipes? Why not transform it into a nutritious, fiber-rich, and downright tasty snack?
Juice pulp crackers are a fantastic way to minimize food waste and offer a vibrant range of flavors, depending on the fruits or veggies you juice. Let's dive into this unique, earth-friendly recipe that will make you rethink your juicing habits, turning waste into a crisp, delectable treat.
Jump to:
🧾 Ingredients
These gluten-free chips are made with just a few delicious ingredients: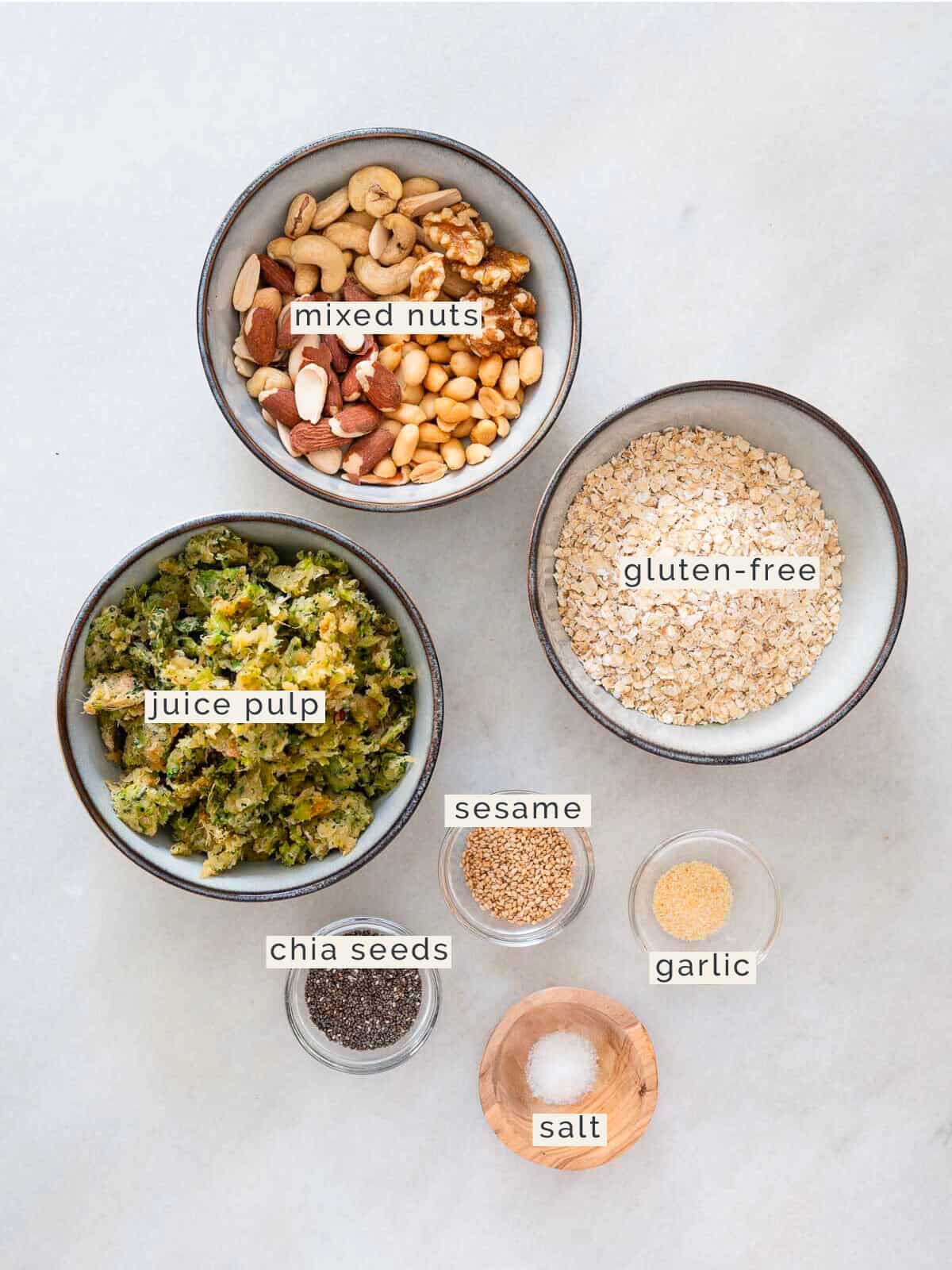 Juice Pulp or Shredded Veggies: This gives our crackers a nutritional boost and allows us to cut down on food waste, especially if you're juicing at home. They offer a fantastic texture and unique flavor, ensuring every bite is delicious. My favorite juice pulp for this recipe is from making broccoli juice and celery juice.
Mixed Nuts: These are our secret to a tasty and protein-packed cracker. They lend a delightful crunch and are a great source of healthy fats, helping you stay satiated longer and providing a delicious nutty flavor.
Gluten-Free Oats: A must-have for any gluten-free recipe, these oats are the perfect binder to hold all our ingredients together. Plus, they're rich in fiber, which aids digestion and provides a heart-friendly component to our crackers.
Chia Seeds: We love these tiny powerhouses for their ability to absorb liquid, which helps hold our crackers together. They're packed with omega-3 fatty acids and fiber, adding another level of nutrition to our snack.
Garlic Powder: It's not just about the nutrients; the flavor is paramount, and that's where garlic powder comes in. This aromatic spice infuses our crackers with a warm, savory note that pairs wonderfully with the other ingredients.
Optional - Sesame Seeds: We love the toasty flavor these seeds bring if you choose to include them. Besides, they're rich in calcium and iron, giving an optional nutritional kick to your homemade crackers.
See the recipe card for quantities.
🔪 Instructions
These low-carb gluten-free crackers recipe involves 3 simple steps.
Blending your ingredients.
Briefly Kneading and shaping the crackers.
Baking and enjoying them!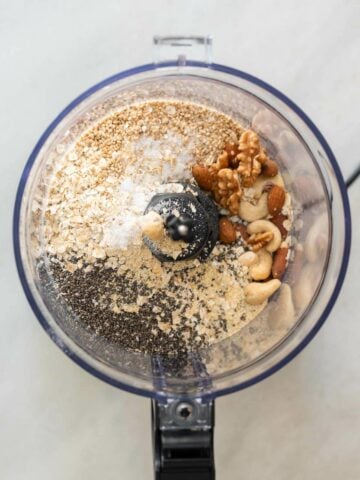 Place all the dry ingredients in a food processor.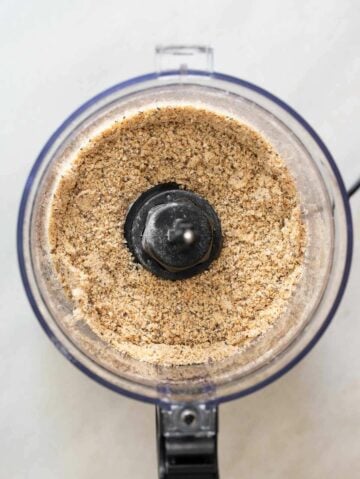 Blend until a medium coarse mixture is formed.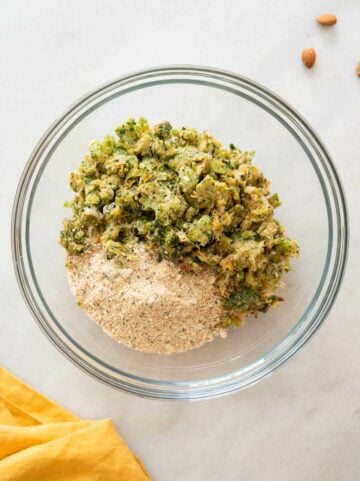 Add the green juice pulp or dried shredded vegetables.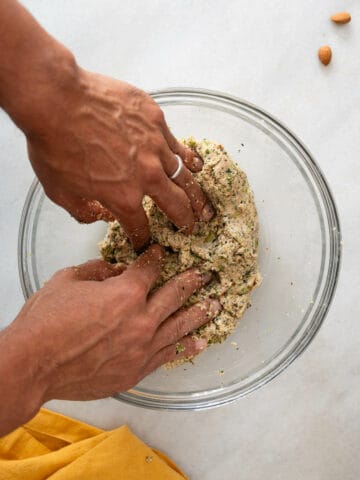 Fold in the juice pulp or shredded veggies.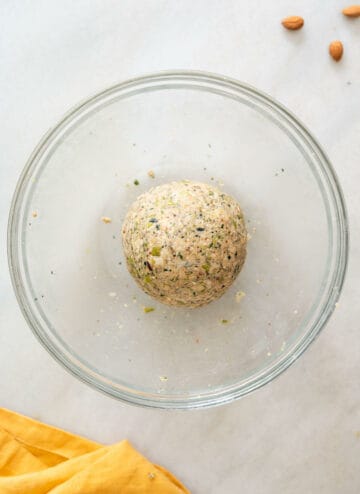 For a ball with the dough.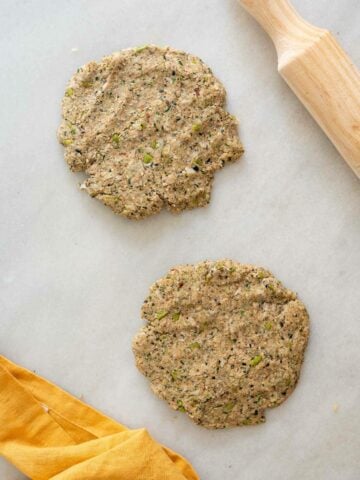 Divide the dough into two pieces and stretch it into patty-sized portions.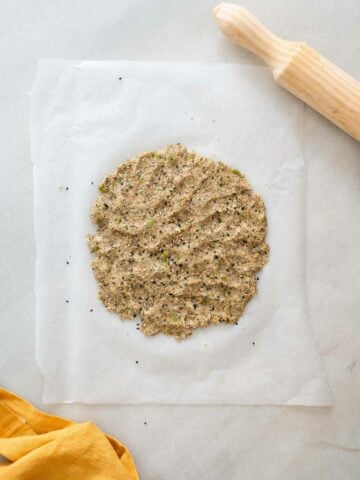 Lay a piece of parchment paper, spread the dough with your fingers, and add optional sesame seeds.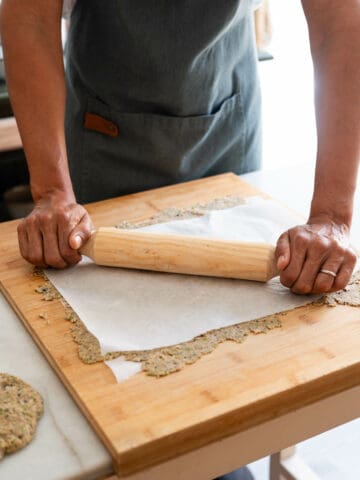 Stretch out the dough: Begin from the middle of the dough, slowly extending it into a rectangle with a thickness of approximately ⅛ inch.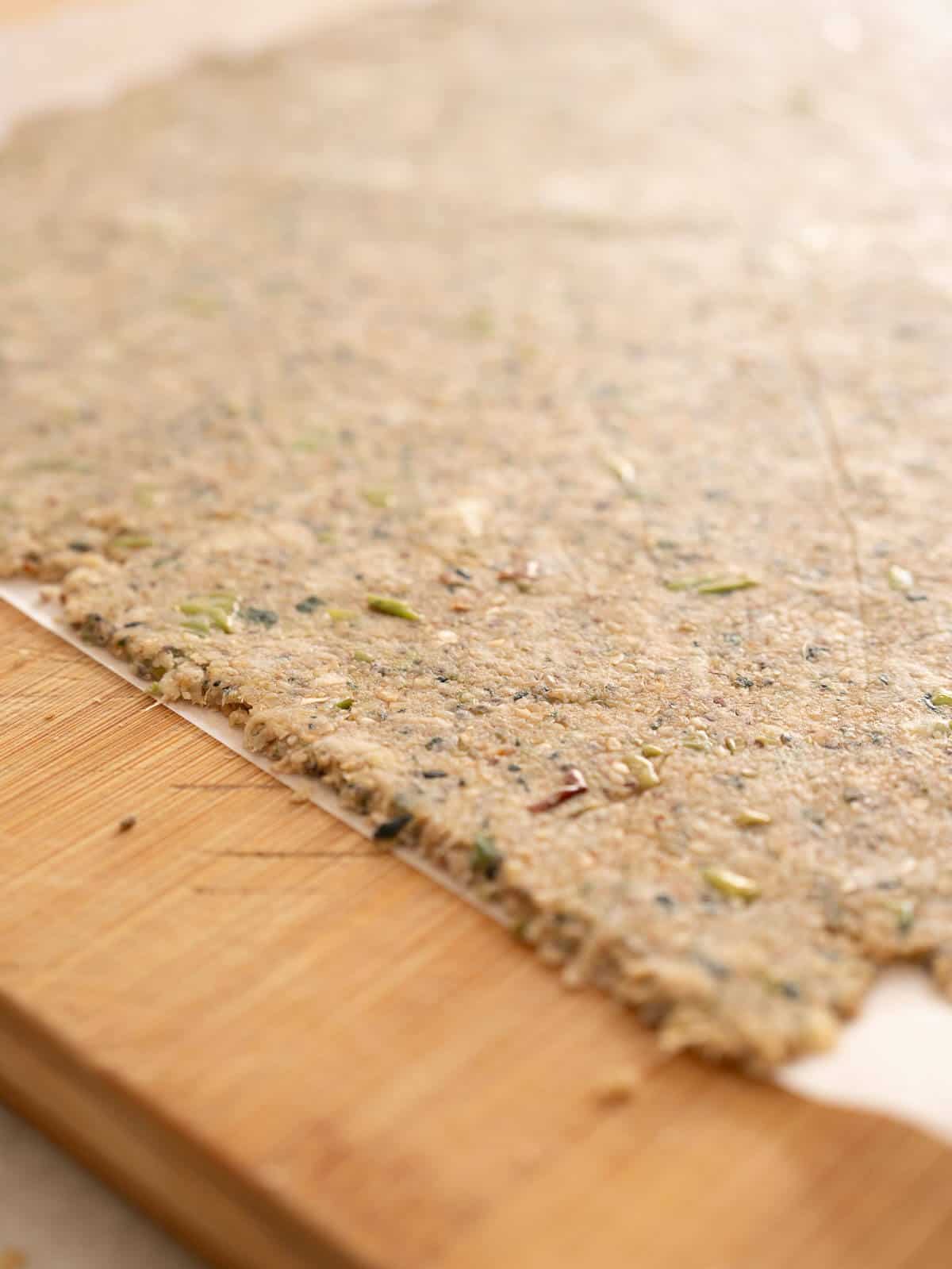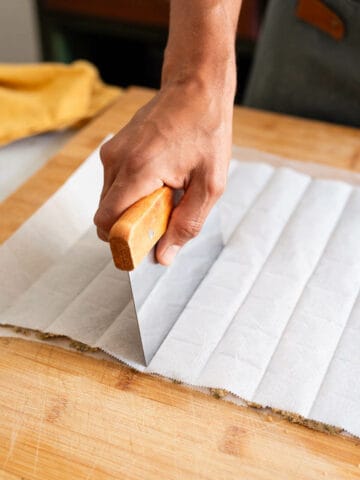 Cut the dough into cracker-size chips with the help of a knife, pizza cutter, or pasta scraper.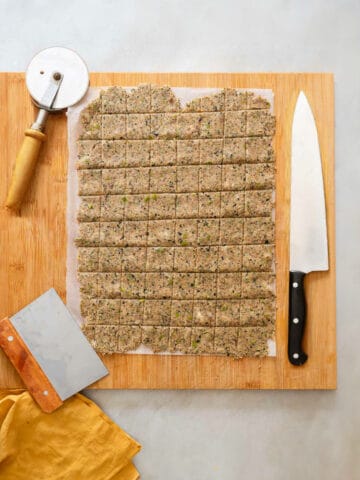 Slice the dough into cracker-sized pieces.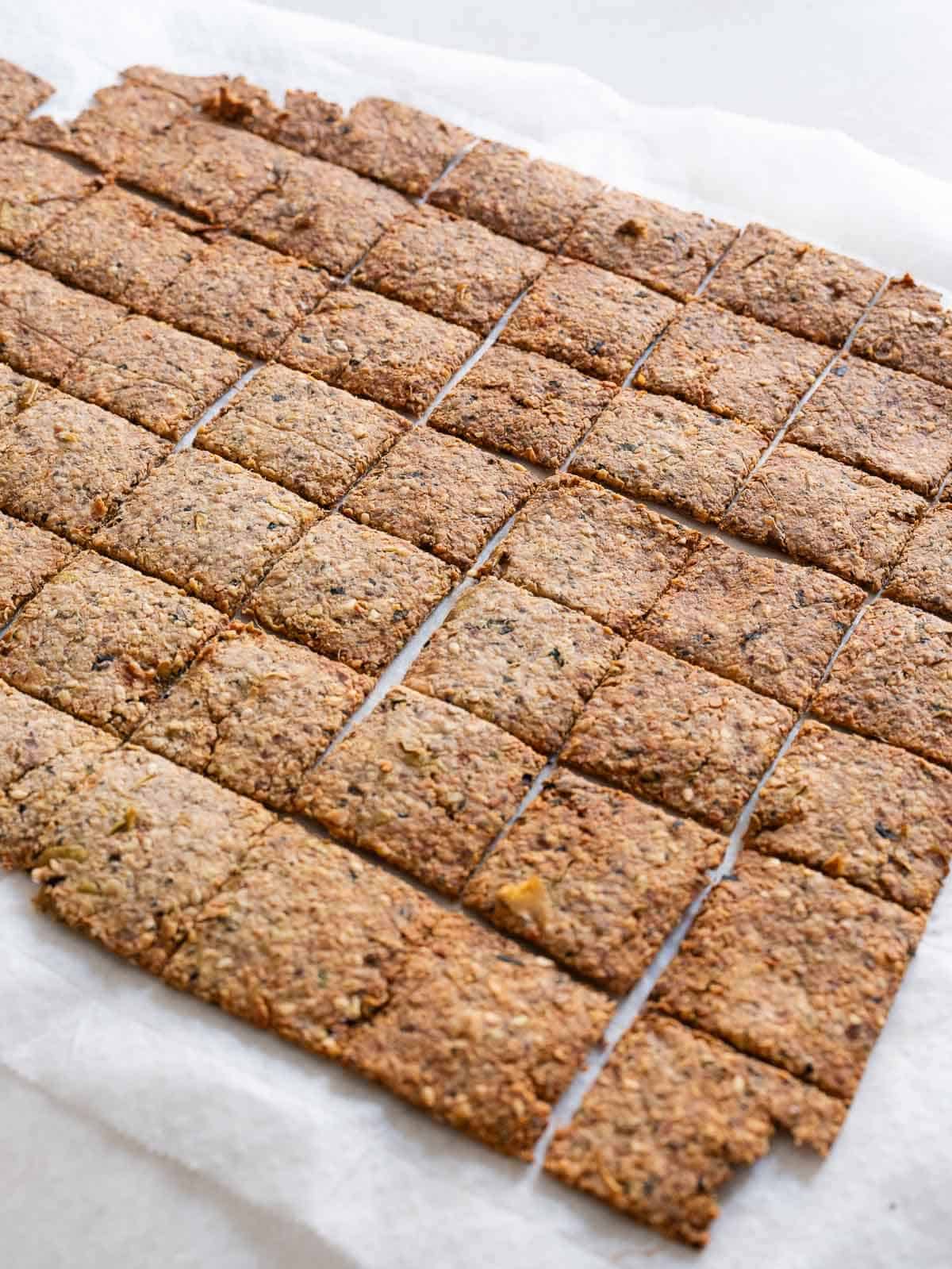 Hint: if you use shredded veggies such as broccoli, carrots, or celery, pat them dry with paper towels before combining them with the dry ingredients.
Read on: more ideas of what to make with juice pulp.
🥢 How to serve
These homemade, flavor-packed crackers are incredibly versatile and pair well with a variety of toppings and sides. Here are some creative ways to enjoy them: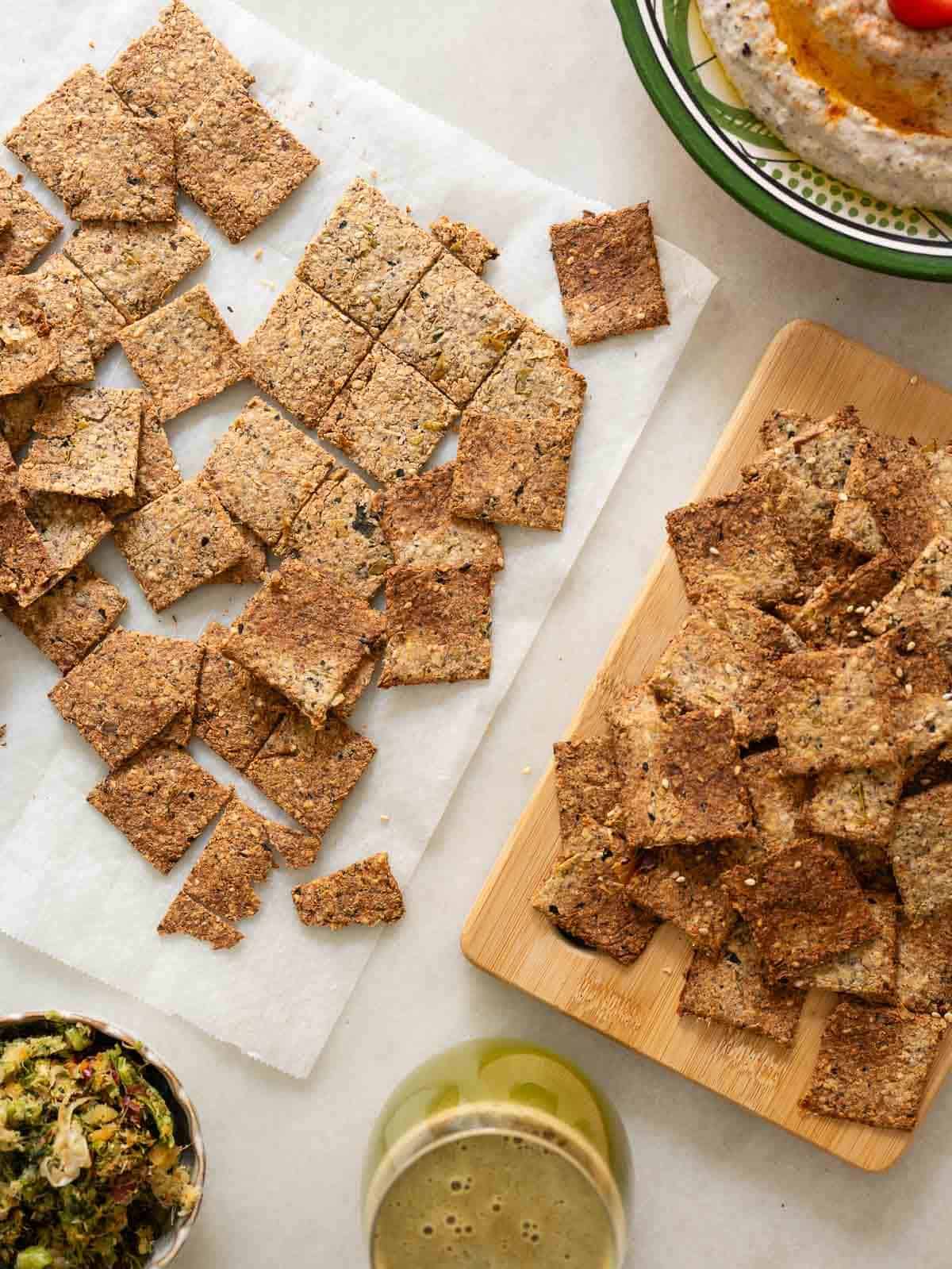 Vegan Cream Cheese: Spread a dollop of your favorite vegan cream cheese on these crackers for a tangy, creamy bite. Add some fresh herbs or a sprinkle of smoked paprika on top for an extra kick.
Hummus: Who can resist the classic pairing of crackers and hummus? The earthy, hearty hummus flavor perfectly complements our GF crackers' crunchy texture and subtle flavors. Feel free to try them also with edamame hummus, black-eyed peas, or red pepper hummus.
Vegan Cheese Plate: Why not curate a vegan cheese board with an assortment of vegan cheeses? From tangy vegan ricotta cheese to creamy vegan camembert, these crackers are perfect for a bite of cheese heaven.
Nut Butters: For a simple, nutritious, and satisfying snack, spread some almond, cashew, or peanut butter on these flavored crackers. A sprinkle of chia seeds or a drizzle of agave nectar on top can add an extra special touch.
Vegan Charcuterie Board: Elevate your snack game by including these crackers on a vegan charcuterie board. Alongside vegan meats, pickled vegetables, fruits, and nuts, these crackers add a delightful crunch and a homemade touch.
Guacamole: The rich, creamy texture and zesty flavors of guacamole make it an outstanding partner for our GF crackers. It's like having a mini fiesta with each crunchy, guac-topped bite! Plus, it's a great way to add a good source of healthy fats to your snack.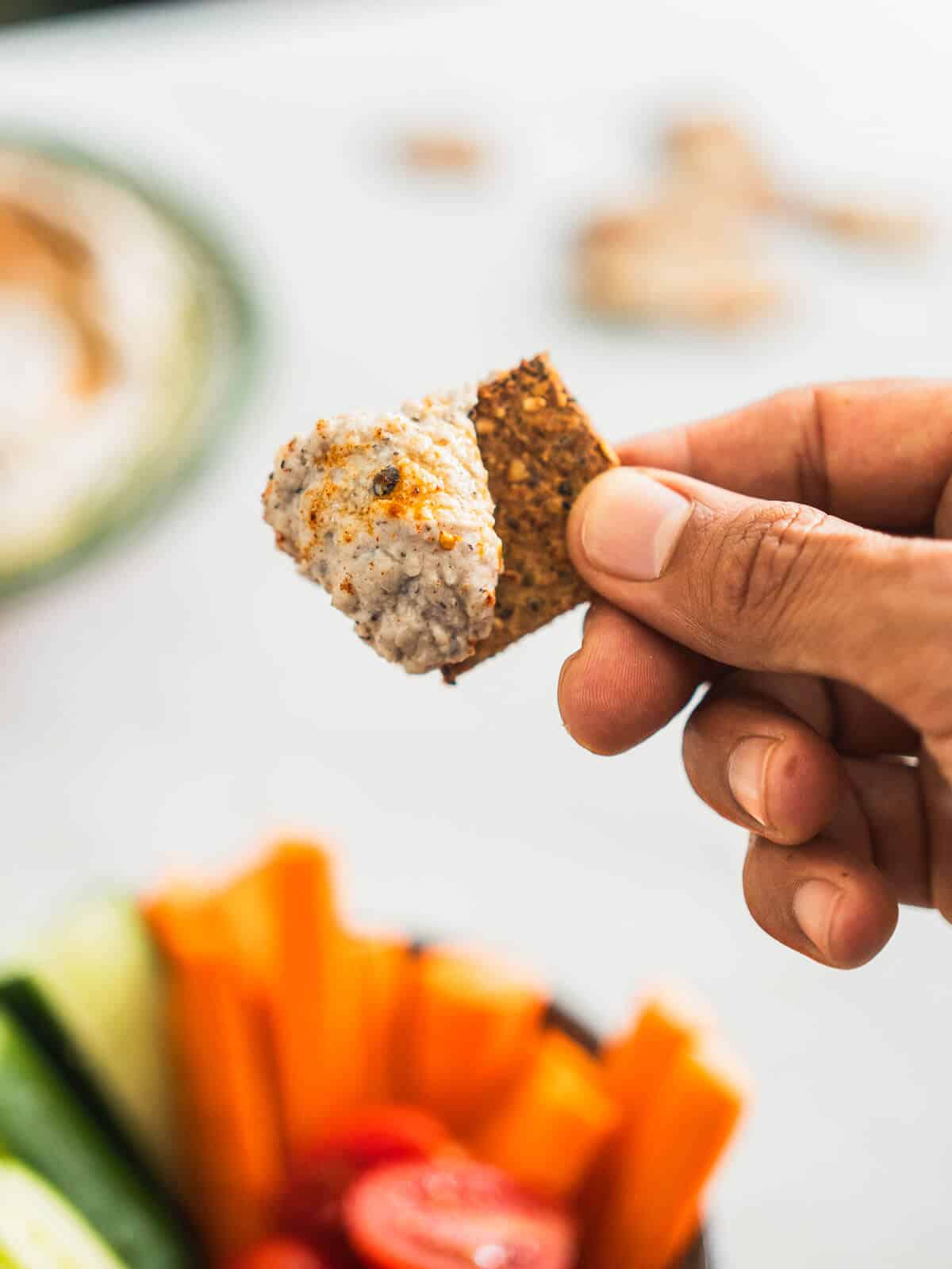 Read on: what to serve with hummus.
🍶 Substitutions
Juice Pulp or Shredded Veggies: Grated zucchini or carrot will do the trick if you don't have any juice pulp or shredded veggies. These add moisture and fiber but may slightly change the taste and color of your crackers.
Mixed Nuts: You can swap these for any seeds, like sunflower or pumpkin seeds, if you're nut-free. Keep in mind that seeds might lend a different flavor profile compared to nuts.
Gluten-Free Oats: If you're out of gluten-free oats, almond flour, almond meal made from homemade almond milk, brown rice flour, GF flour blend (recipe), white rice flour, garbanzo bean flour, and quinoa flakes are great substitutes. However, the texture might be slightly different, as quinoa flakes can lead to a slightly more dense cracker.
Chia Seeds: Ground chia seeds, poppy seeds, or flax seeds are a great replacement for chia seeds, as they also form a gel when mixed with water, and in this recipe, once in contact with the veggies' moisture, they act as the crackers binder agent. They will provide a slightly nuttier flavor to your crackers.
Garlic Powder: Onion powder, nutritional yeast, vegan parmesan cheese, Lebanese seven spices, or dried herbs like rosemary or thyme can be used as alternatives if you're out of garlic powder, adding a different but equally delightful aroma. You can also use your favorite seasoning mix, such as everything bagel seasoning.
Sesame Seeds: These can be replaced with poppy or small seeds like chia or hemp if you want a similar crunch and visual appeal. The flavor will vary slightly based on the seed used.
📖 Variations
Carrot Pulp Crackers: Substitute the juice pulp or shredded veggies with carrot pulp for a delightful twist. These crackers will have a slightly sweet undertone from the carrots, not to mention a vibrant orange hue that is sure to please the eye.
Celery Pulp Crackers: Use celery pulp instead of the standard ingredient for a cracker with a fresh and savory flavor profile. They'll be a hit with those who enjoy the unique taste of celery, and they're an excellent way to use up any leftover pulp from your green juices.
Zucchini Pulp Crackers: Swap in zucchini pulp to create a subtly sweet cracker packed with this summer squash's nutritional benefits. The zucchini adds a lightness to the crackers and a lovely green color, making them a visually appealing addition to your snack spread.
Broccoli Stem Crackers: Don't let those broccoli stems go to waste! Substitute the juice pulp or shredded veggies with finely grated broccoli stems. These crackers will have a uniquely earthy flavor and a delightful green tint. Plus, it's a fantastic way to utilize a part of the broccoli that often gets overlooked, even though it's packed with nutrients!
Feel free to add one to two good quality extra-virgin olive oil, to infuse the vegan crackers with extra flavor.
🍽 Equipment
🥡 Storage
Storing in the Fridge & Reheating:
Once your homemade crackers have completely cooled, place them in an airtight container and store them in the fridge. They can last for up to a week this way. When you're ready to enjoy them, you can eat them cold, or if you prefer them warm, pop them in a toaster oven for a few minutes until they're crispy again.
Freezing & Reheating:
If you'd like to store them longer, these crackers also freeze well. Place the completely cooled crackers in a freezer-friendly container or zip-top bag, ensuring they're well-sealed to avoid freezer burn. They can last up to 3 months in the freezer. When you're ready to enjoy them, let them thaw at room temperature or reheat them in a toaster oven at a low temperature until they regain their crispiness.
Meal Prep Option:
These crackers are a fantastic option for meal prep. You can prepare a large batch of dough, divide it into portions based on your weekly needs, and refrigerate or freeze it. Then, when you're ready to bake a batch of crackers, roll out a portion of the dough, cut it into your desired shapes, and bake. Having dough ready to go makes it easy to have fresh, homemade crackers whenever you want.
💡 Top tip
One crucial element to getting your crackers just right is the thickness of your dough. Aim for an even, thin layer - around ⅛th of an inch is ideal. If the dough is too thick, the crackers might not crisp up as desired, but if it's too thin, they may burn easily. So take your time during the rolling process to ensure the dough is evenly spread for the perfect crispy crunch every time.
❓ FAQ
What nuts to use for this recipe?
The beauty of this recipe is its flexibility. You can use any mixed nuts you have on hand or prefer. Almonds, cashews, walnuts, pecans, or even hazelnuts can all add their unique flavors and textures to these crackers. If you have a particular preference or dietary restriction, feel free to customize the mix to your liking. Just remember, each type of nut will impart a slightly different flavor and nutritional profile to your crackers.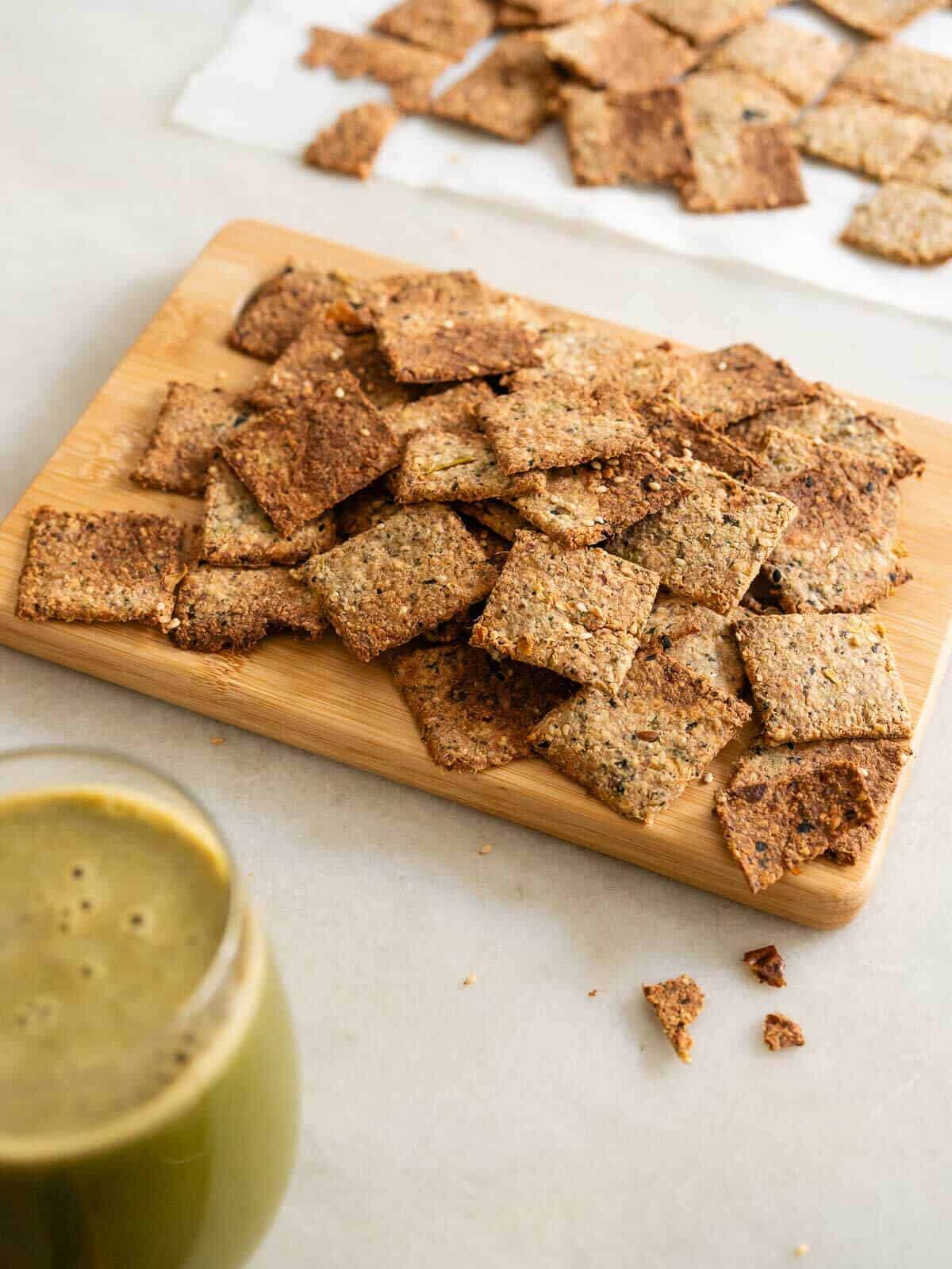 📚 More vegan dough recipes
⭐ If you try this juicing pulp crackers recipe, let us know! 💬 Leave a comment, rate it, and don't forget to tag us @ourplantbasedworld on Instagram. Cheers!
📋 Recipe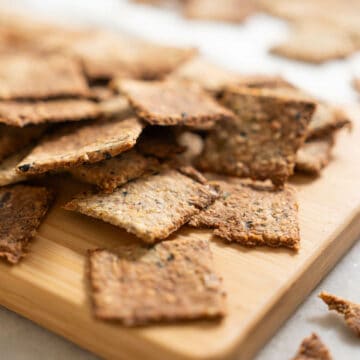 Best Gluten-Free Crackers (Easy, Homemade & Vegan)
Dive into our easy, homemade gluten-free crackers recipe. It's fully vegan and delightfully flavorful - a perfect snack for any time of day. Let's get started!
Equipment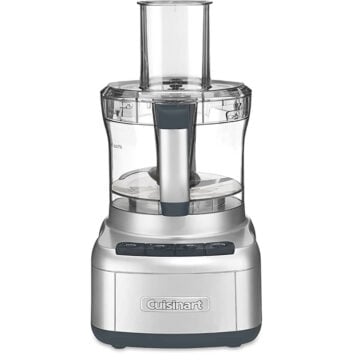 (affiliate link)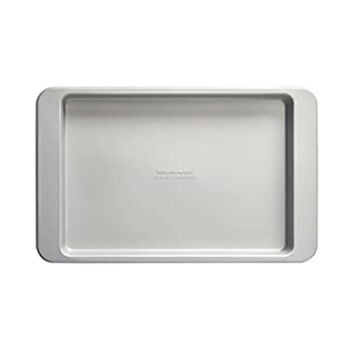 (affiliate link)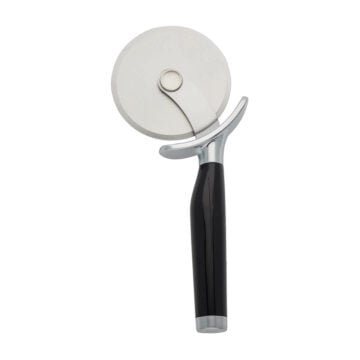 (affiliate link)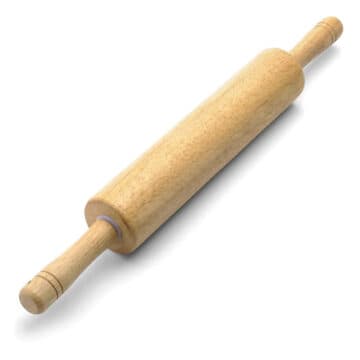 (affiliate link)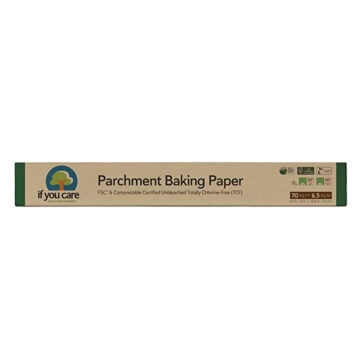 (affiliate link)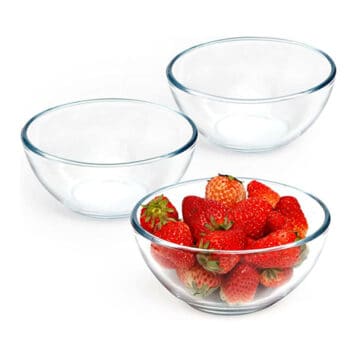 (affiliate link)
Ingredients
3 ½

oz

juice pulp

approx. Pulp of one glass of juice, or use the same quantity of grated broccoli stems- or celery.

2

oz

mixed nuts

1 ½

oz

oatmeal

Gluten-free

½

tablespoon

sesame seeds

½

tablespoon

chia seeds

½

teaspoon

fine sea salt

¼

teaspoon

garlic powder
Directions
Start by preheating your oven to 350 ºF (180 ºC).

In a food processor, blend the assortment of nuts, seeds, oatmeal, ground powder, and sea salt together.

Incorporate the pulp by using the dough blade in the food processor or manually combining the nut mixture with the pulp in a large mixing bowl.

Next, lay out a large piece of parchment paper on your work surface. Distribute the mixture across the paper, pressing it flat with your fingers.

Partition and mold the dough into a square: If you are working with a large batch, split the dough into two equal portions, putting one section to the side. Use your hands to press and shape into a thick square.

Stretch out the dough: Begin from the middle of the dough, slowly extending it into a rectangle with a thickness of approximately ⅛ inch or less. If the dough tears, revealing any gaps, simply take some excess dough from the edges to patch up these holes. Once done, replace the parchment paper and continue the rolling process.

Optional topping for the dough: Evenly scatter your chosen toppings across the dough. See the Additional Notes section for more topping and flavoring suggestions.

Slice the dough into cracker-sized pieces: Use a pizza cutter or a sharp knife to divide the dough into roughly 1x1 inch (2.5 x 2.5 cm) individual crackers. You can also opt to cut the crackers into square, diamond shapes or utilize cookie cutters for unique shapes.

Relocate the parchment paper holding the crackers to a baking tray.

Bake for 12-15 minutes: Place the tray in the oven and allow the crackers to bake for 12-15 minutes until the edges have a browning appearance. Bear in mind that thinner crackers will cook faster than thicker ones. As each cracker reaches your desired level of brownness, you can remove it and allow the others to continue baking. Meanwhile, prepare and cut the remaining dough for the next batch.

Chill and preserve the crackers: Move the baked crackers to a wire rack to cool down entirely. They will become crisper as they cool. For storage, keep the crackers in a sealed container at room temperature for up to 3-5 days.

If the crackers lose their crispness over time, you can revive them by spreading them on a baking sheet and warming them in a 350°F oven for a few minutes.
Nutrition Facts
Calories:
9
kcal
Carbohydrates:
1
g
Protein:
0.3
g
Fat:
1
g
Saturated Fat:
0.1
g
Polyunsaturated Fat:
0.2
g
Monounsaturated Fat:
0.4
g
Sodium:
24
mg
Potassium:
15
mg
Fiber:
0.2
g
Sugar:
0.04
g
Vitamin A:
13
IU
Vitamin C:
2
mg
Calcium:
3
mg
Iron:
0.1
mg
Nutrition Facts
Best Gluten-Free Crackers (Easy, Homemade & Vegan)
Amount per Serving
% Daily Value*
* Percent Daily Values are based on a 2000 calorie diet.
🌡️ Food safety
Cook to a minimum temperature of 165 °F (74 °C)
Do not use the same utensils on cooked food, that previously touched raw meat
Wash hands after touching raw meat
Don't leave food sitting out at room temperature for extended periods
Never leave cooking food unattended
Use oils with a high smoking point to avoid harmful compounds
Always have good ventilation when using a gas stove
See more guidelines at USDA.gov.
Nutritional Disclaimer
The information shown is an estimate provided by an online nutrition calculator. It should not be considered a substitute for a professional nutritionist's advice. See our full Nutritional Disclosure here.
Affiliate Disclaimer
Please note that some of the links here are affiliate links, and I will earn a commission if you purchase through those links. I recommend all of the products listed because they are companies I have found helpful and trustworthy.