One of the things that make me happy is the aroma of fresh homemade granola in the making.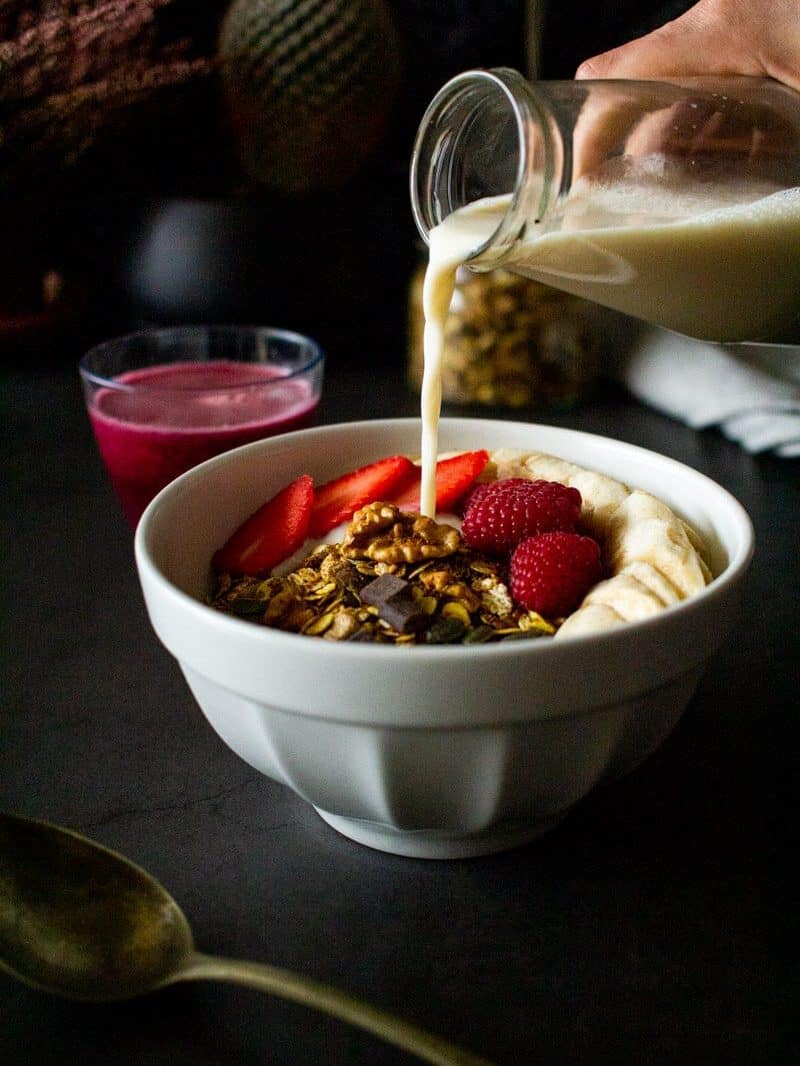 This recipe is such an easy thing to make and lasts for several days, ensuring you have a healthy and delicious breakfast in a fast and consistent way every weekday.
Homemade Granola is always better
You can make your own delicious and easy homemade granola. It is effortless, so there's no reason to buy it.
It's really good to be in full control of what's in it.
Ingredients
Rolled whole oats or spelt
Nuts (mix almonds, walnuts, and pecans)
Seeds (flaxseeds, chia and/or poppy seeds)
Spices (turmeric, cinnamon, nutmeg)
Raisins and/or cranberries
Vanilla extract
Agave or maple syrup
Optional: shredded coconut. Instead of all the spices, you can opt for using a Pumpkin Pie Spice Mix, and you will get similar results. Check our 4-ingredient, 5-minutes recipe, to stock on your multi-purpose Pumpkin Spice Mix.
Instructions
Preheat the oven to 350ªF (175ºC).
Mix all the ingredients, except for the dry fruit.
Lay granola mix on a baking tray and bake for 25-30 minutes. I like using my oven's fan function.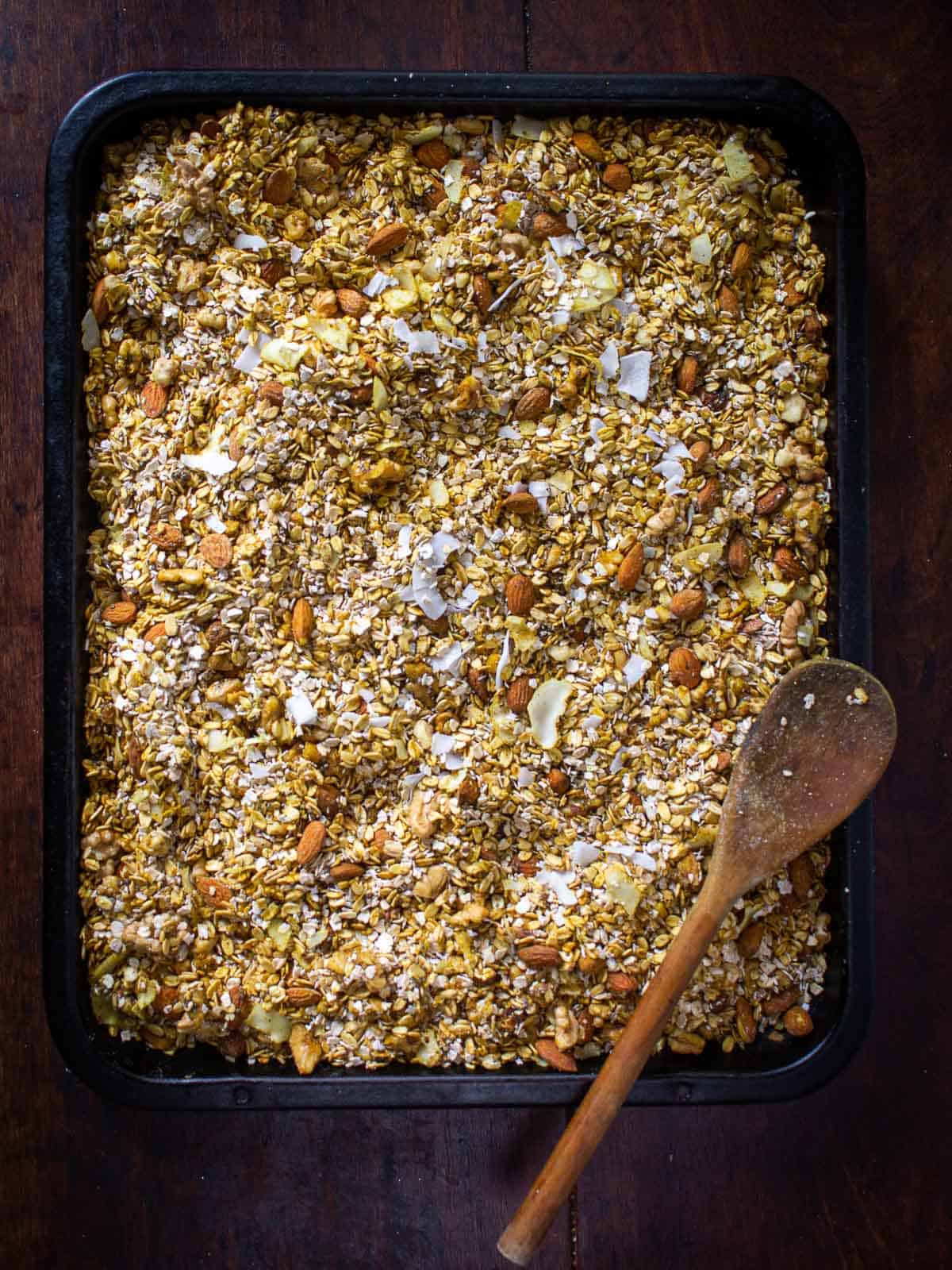 Cool down. Let the granola cool completely and top with the dried fruit.
Stir and Store. Store the granola in an airtight container at room temperature.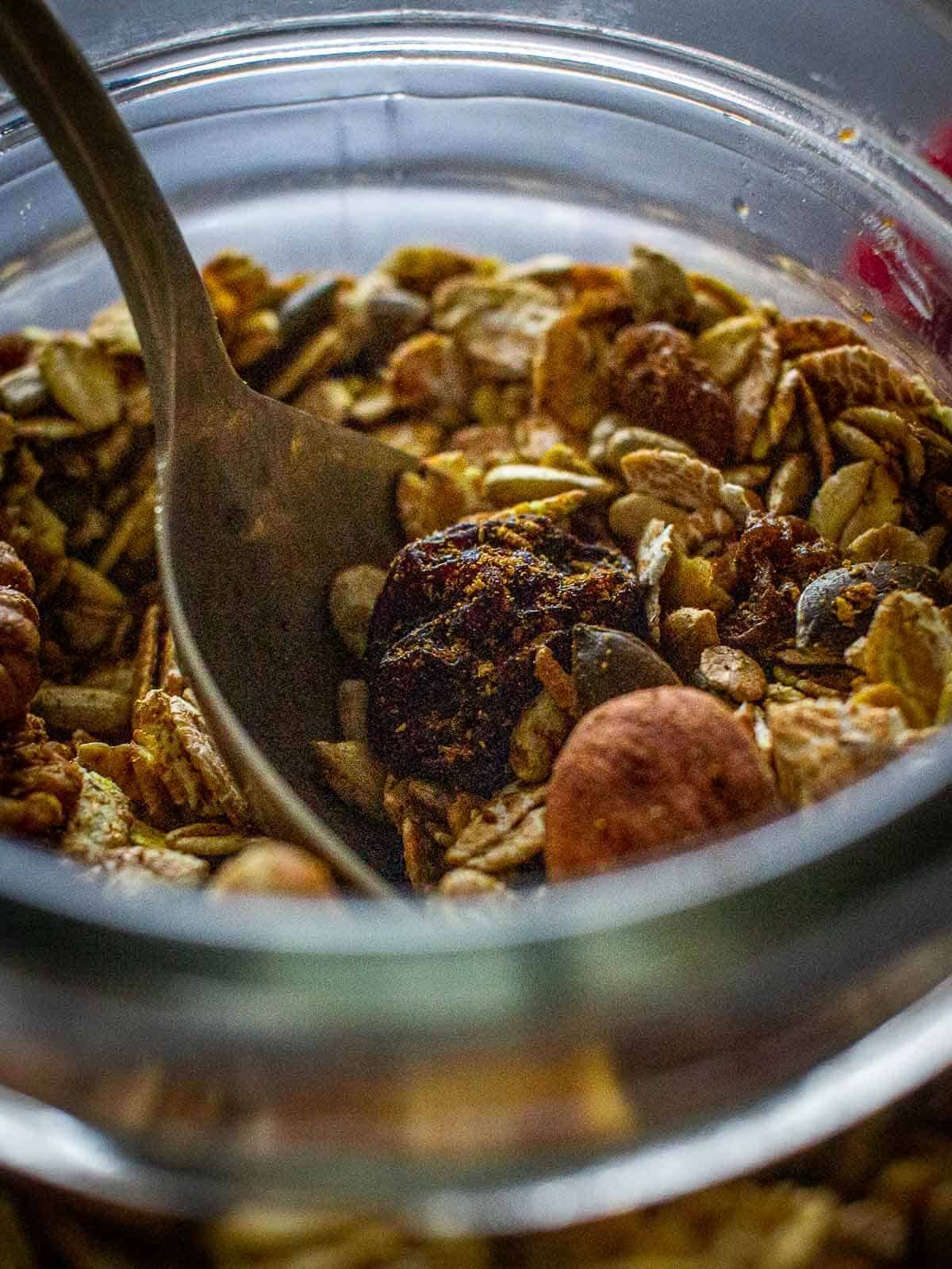 Hint: if you bake the dry fruit it will become hard.
Benefits of granola
Granola is packed with the nutrients you need to start your day in a great way. You have Oats, Nuts, and Spices.
Whole oats are very filling and may help you lose weight, may help relieve constipation. Also, they are rich in antioxidants.
The Nuts: a diet that includes one ounce of nuts daily can reduce your risk of heart disease. Nuts have also been shown to improve cholesterol profiles, prevent arrhythmias, and Contribute to satiety because they are rich in fat, fiber, and protein, all of which are more likely than foods high in carbohydrates to make you feel full.
The Spices: I use a minimum of three spices in my homemade oat granola, why?
Feel free to play with what you have available in your kitchen; add as many "sweet" spices as you have. Remember that spices are non-caloric and contribute amazingly to a healthy body and keep a great immune system.
Cinnamon to Lower Blood Sugar.
Turmeric to Fight Inflammation.
Ginger to Relieve Nausea.
7 Tips for making it budget friendly
Some people have asked me how to make their baked granola budget-friendly, as in some places, nuts have crazy prices, so I am giving you my budget hacks. I always do this exercise when moving to a new/expensive city, like we recently did to Milano.
1. Bulk
Try to find places where you can buy in bulk quantities. They are usually cheaper—stock on Rolled Oats and Nuts.
2. Seeds
This is nut-based granola, but you can also replace a fraction of the nuts called out in the recipe for the same amount on seeds; they are cheaper.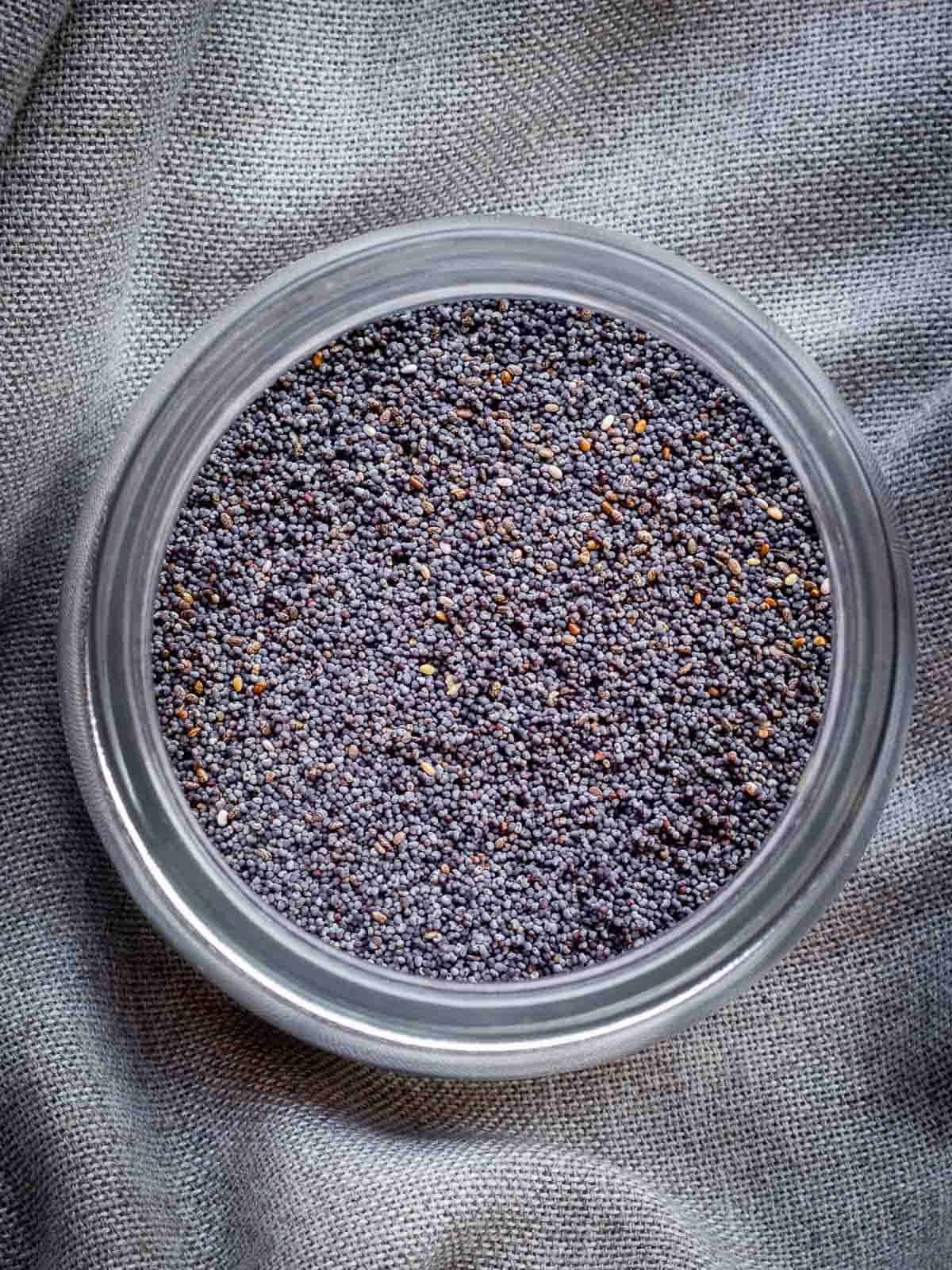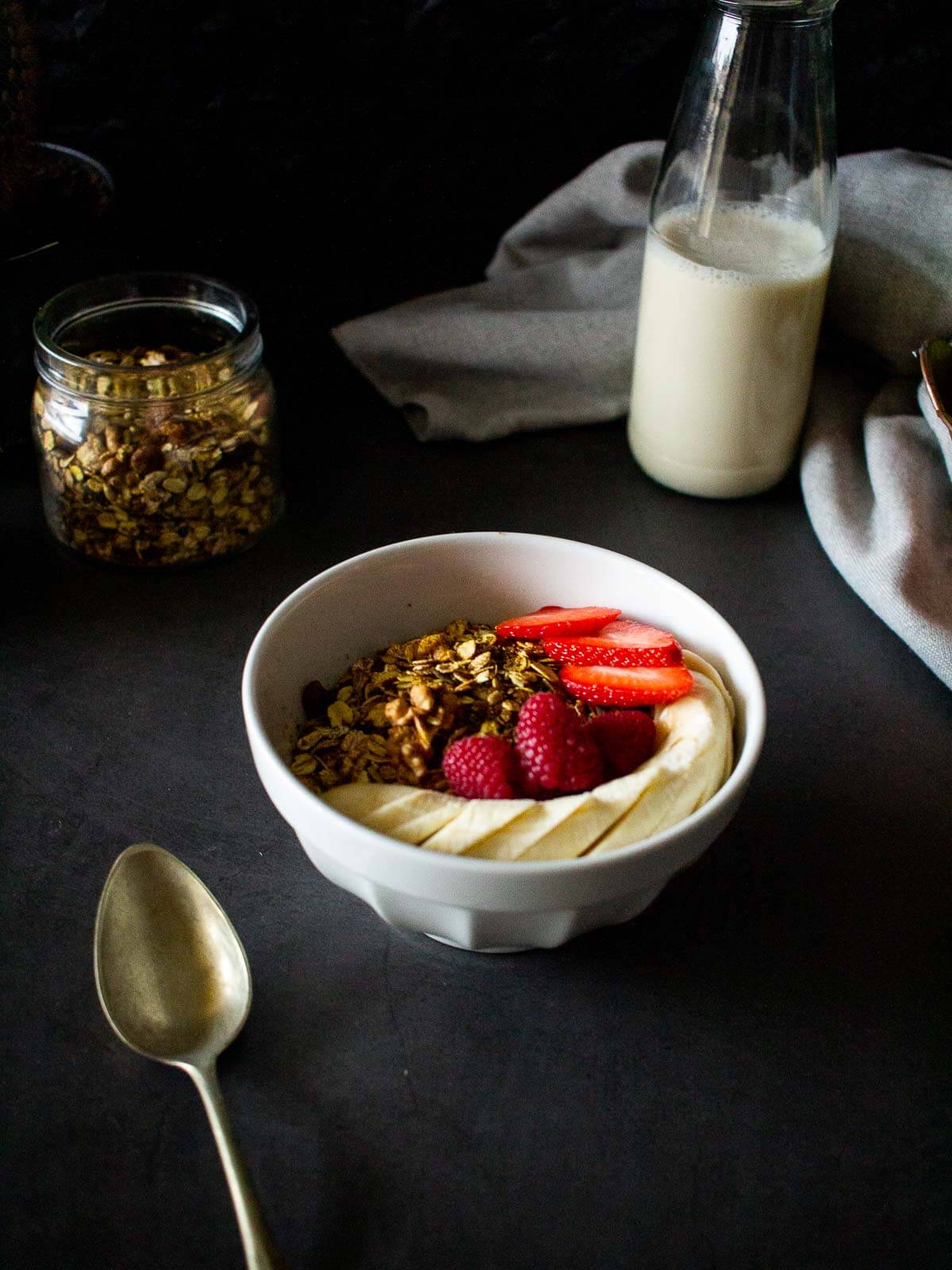 3. Budget Supermarkets
I have found that cheap retailers and supermarkets may not have fancy stuff but sometimes have very competitive prices on nuts, dry fruits, and seeds. You may not find organic stuff, but the good thing about nuts is that you can ensure they are raw and without additives.
4. Use half
Oats or Farro provide even better benefits when activated (soaking them overnight). In addition, they are the cheapest components of your quick granola recipe.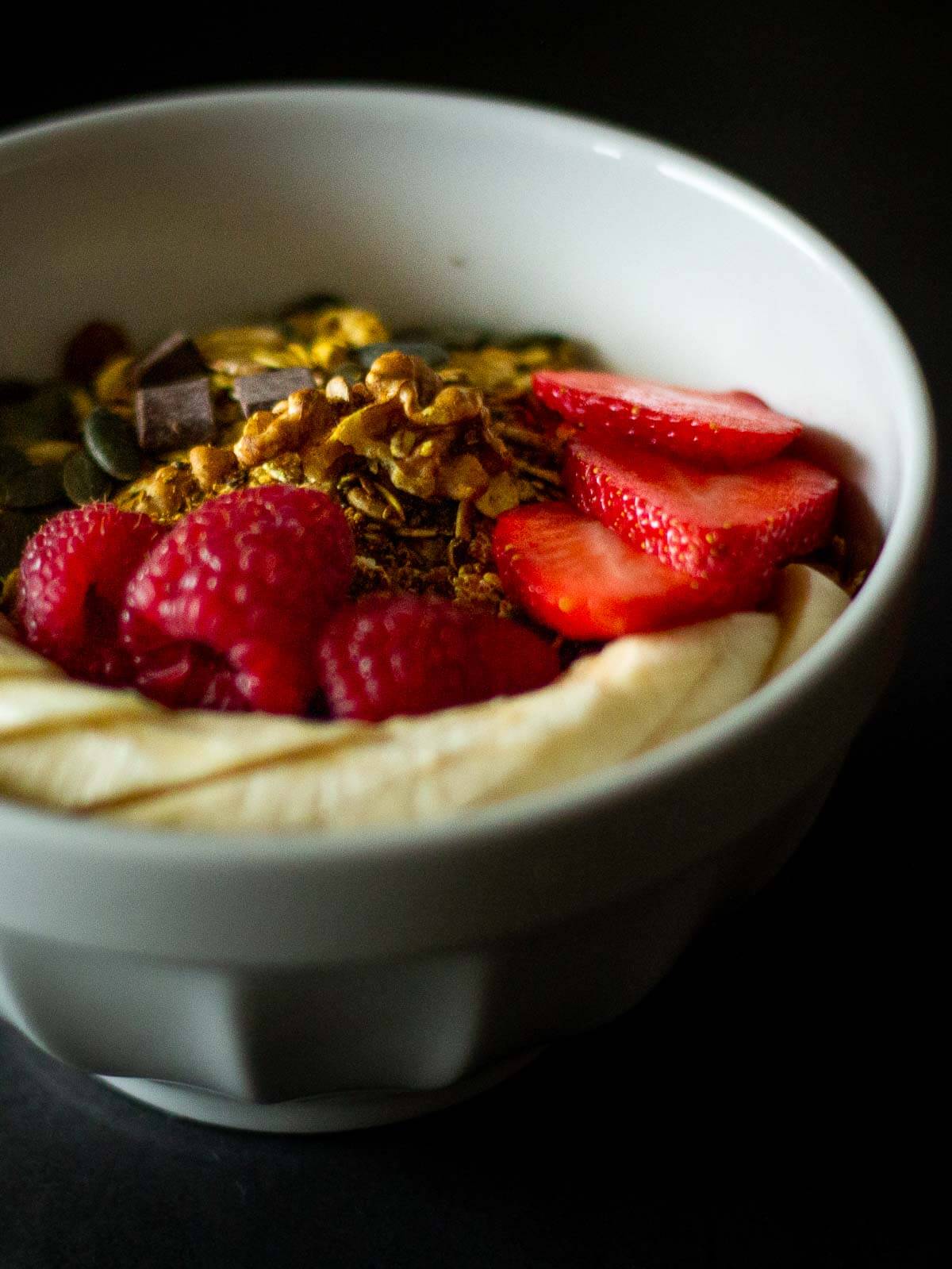 Our morning breakfast usually consists of one of these options: One cup of Granola, Porridge, Oats, and Chia Pudding + 1 Fruit.
Instead of using 1 cup of granola, let soaking ½ cup of Raw Oats, either:
Overnight at room temperature or fridge.
In the morning, 15 minutes before eating with warm water.
Add the soaked oats to ½ cup of your Granola. Now, your granola will last twice.
5. Your own plant-milk
If you leave your Oats or Farro soaking overnight with 3 times the water (i.e., ½ cup Oats + 1 ½ cups water). You will have Oats Milk in addition to the soaked oats volume, so you don't need to add milk to your quick granola bowl. If you rather have Soy Milk or Almond Milk, check them out. They are super easy to make.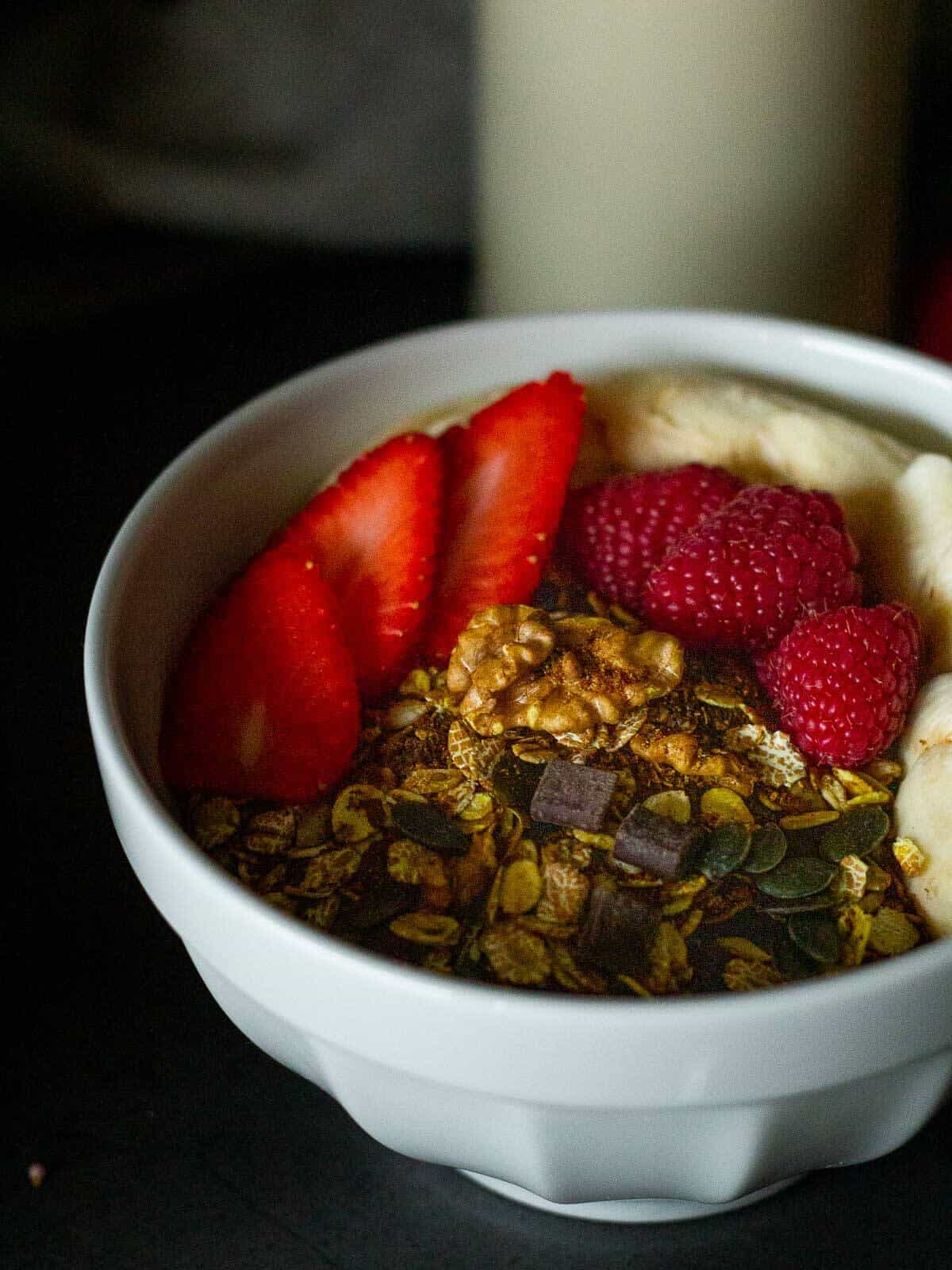 6. Fresh fruit or applesauce
Top your basic granola recipe bowl with cheap fruit like banana or apples, cut into rough pieces. You can also add a spoonful of chunky unsweetened applesauce. You are not only increasing the volume of your granola but its flavor and nutritional value.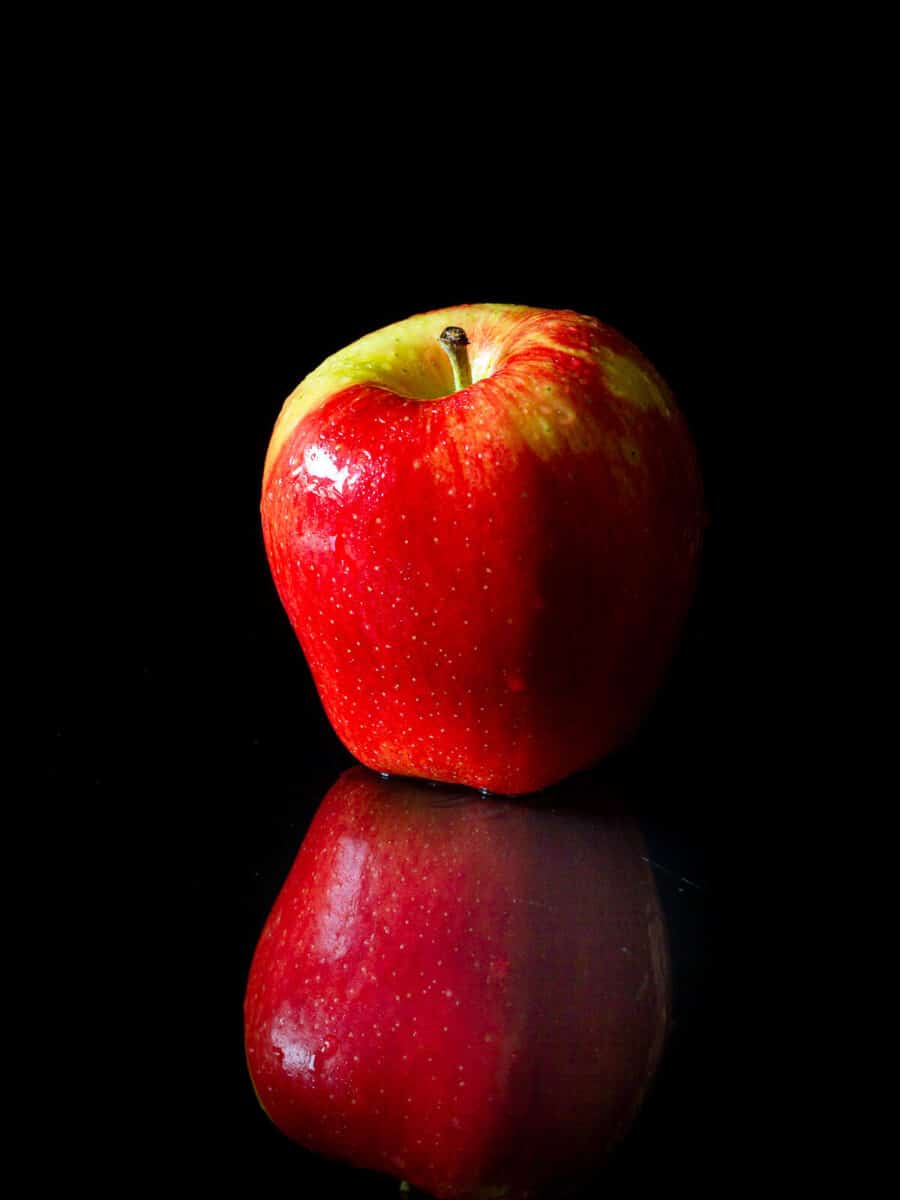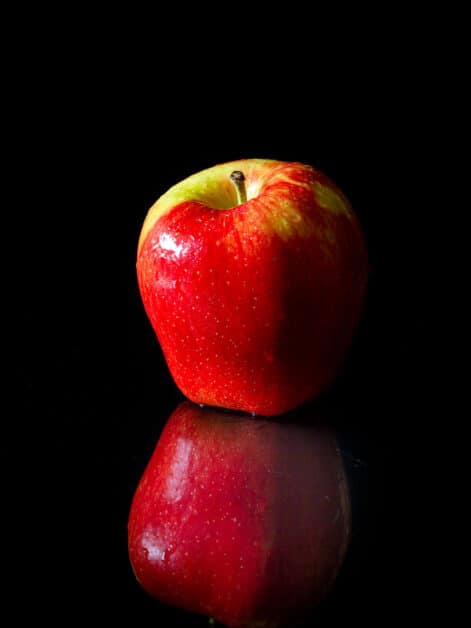 7. Flavor
Instead of using essences, grind the zest of an orange, lemon, or citrus fruit you have handy.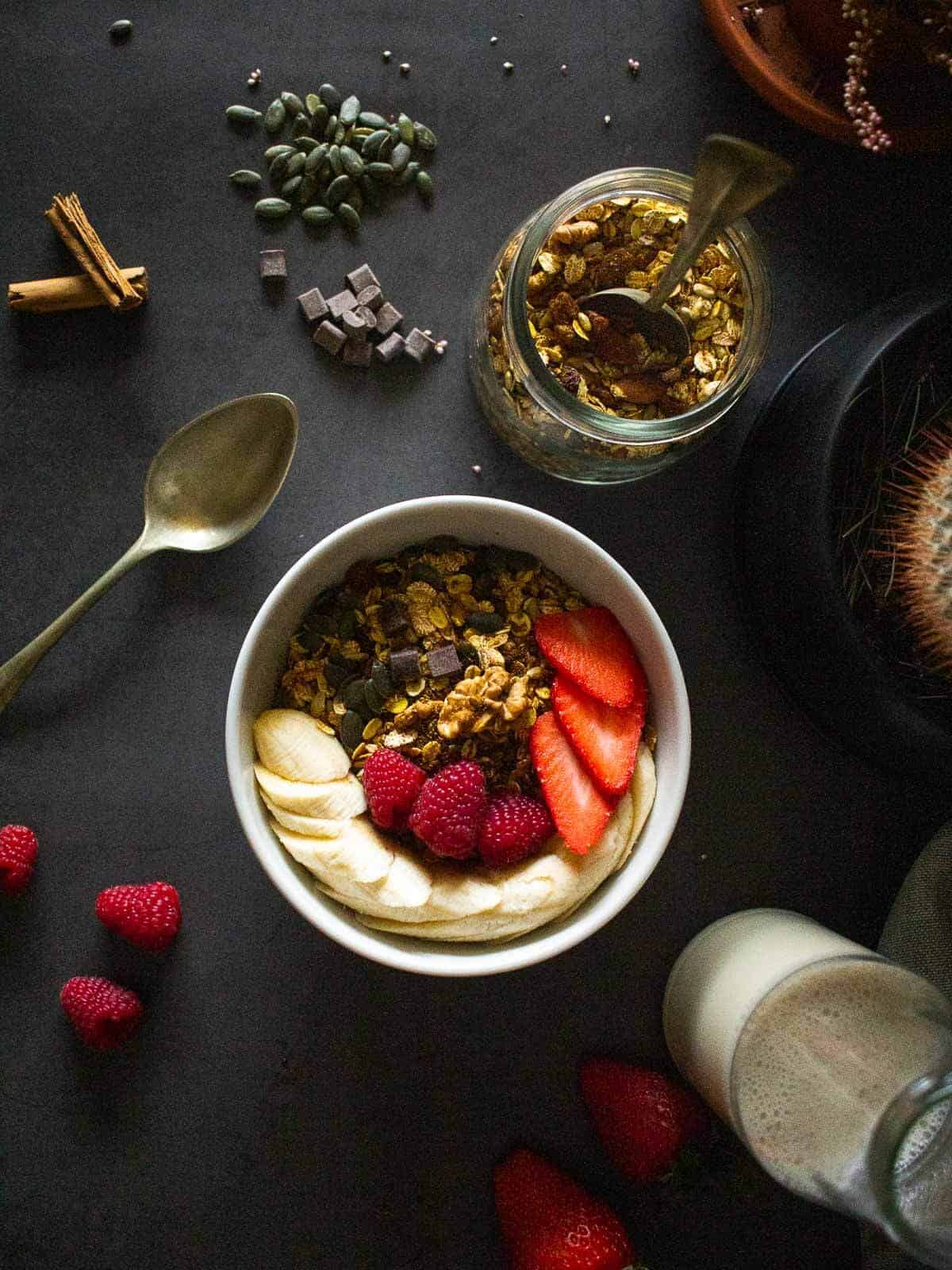 More unique granola recipes
Take a look at these additional great Breakfast Recipes:
Take a look at these Yummy Breakfast Smoothies
Try making your own plant milk in minutes:
If curious about all the benefits of Oats Learn more
Curious about all the benefits that nuts can bring to your diet? Learn more
More about the benefits of spices
If you try this recipe, let us know! Leave a comment, rate it, and don't forget to tag a photo #ourplantbasedworld on Instagram. Cheers!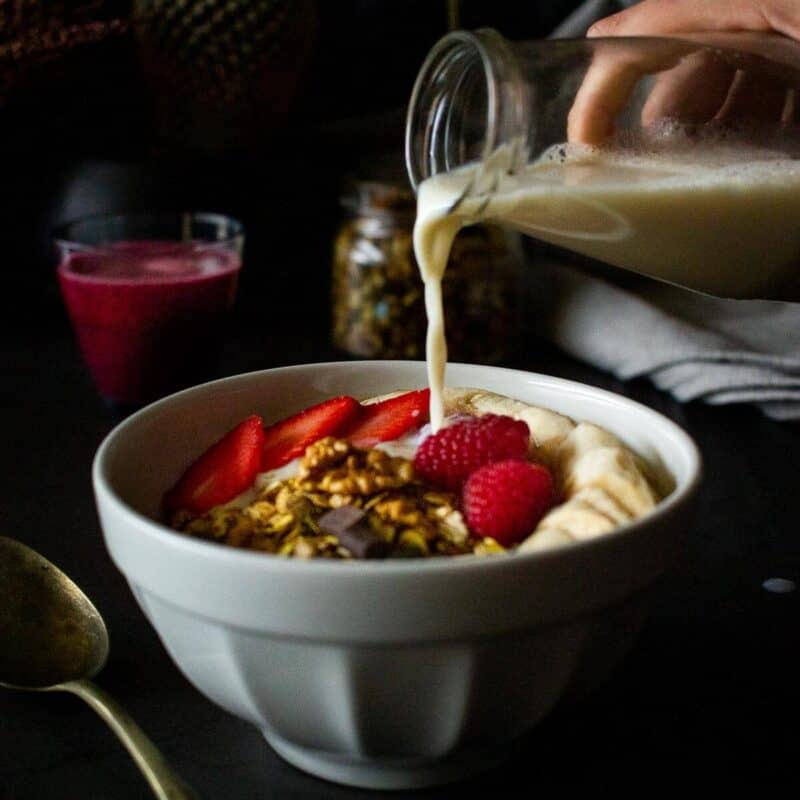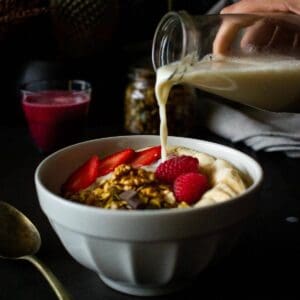 Recipe: Homemade Delicious Granola
One of the things that make me happy is the aroma of fresh homemade granola in the making.
Ingredients
4

cups

oats

old-fashioned gluten-free rolled oats or Farro

1 ½

cup

dry raisins

I use a combination of cranberries, goji, dark and white raisins.

1

cup

nuts

I use a combination of almonds, pecan, and walnuts

½

cup

mixed seeds

help to make your granola cheaper, use a variety of poppy, pumpkin, sesame, chia, sunflower, and linen seeds

1

teaspoon

turmeric powder

3

tablespoons

vanilla extract

1

teaspoon

cinnamon ground

½

teaspoon

nutmeg powder

½

cup

agave syrup

maple syrup, or organic coconut palm sugar
Instructions
Preheat oven to 300ºF (150ºC).

Mix. In a large mixing bowl, combine the oats, nuts and seeds, vanilla, essences, sweetener of choice, and cinnamon and mix well.

Place the granola onto a baking tray and spread it in an even layer.

Bake until lightly golden, about 15-20 mins, stirring halfway. Taste for crunchiness.

Cool down. Let the granola cool down completely and top with the dried fruit. (about 5-10 minutes)

Store the granola in an airtight container at room temperature.
Notes
Serve with your preferred vegetable milk and chopped fresh fruit; I usually go for a combination of berries, banana, apple, and pear.
Try making your own plant milk in minutes:
Nutrition
Calories:
247
kcal
Carbohydrates:
35
g
Protein:
6
g
Fat:
10
g
Saturated Fat:
3
g
Polyunsaturated Fat:
3
g
Monounsaturated Fat:
4
g
Sodium:
9
mg
Potassium:
307
mg
Fiber:
6
g
Sugar:
6
g
Vitamin A:
2
IU
Vitamin C:
1
mg
Calcium:
38
mg
Iron:
2
mg
Nutrition Facts
Recipe: Homemade Delicious Granola
Amount per Serving
% Daily Value*
* Percent Daily Values are based on a 2000 calorie diet.
Food safety
We sometimes take for granted that we have years (or decades) of cooking experience that the average visitor may not. Add to, or remove from, the list below with health and safety tips.
Cook to a minimum temperature of 165 °F (74 °C)
Do not use the same utensils on cooked food, that previously touched raw meat
Wash hands after touching raw meat
Don't leave food sitting out at room temperature for extended periods
Never leave cooking food unattended
Use oils with high smoking point to avoid harmful compounds
Always have good ventilation when using a gas stove
See more guidelines at USDA.gov.
The information shown is an estimate provided by an online nutrition calculator. It should not be considered a substitute for a professional nutritionist's advice. See our full Nutritional Disclosure here.
Please note that some of the links here are affiliate links and I will earn a commission if you purchase through those links. I use all of the products listed and recommend them because they are companies that I have found helpful and trustworthy.