If you're on the hunt for a delectable breakfast or snack that aligns with your dietary needs, you've come to the right place. We're excited to share our Homemade Gluten-free and Oil-Free Granola Recipe with you. This recipe not only ticks all the boxes of being gluten-free, but it's also oil-free and vegan without sacrificing any of the crunch or flavor you'd expect from a good granola. It's an ideal choice for a nutrient-packed, guilt-free start to your day. Prepare to embark on a journey of flavors and wholesome goodness with our exclusive guide. Let's get started!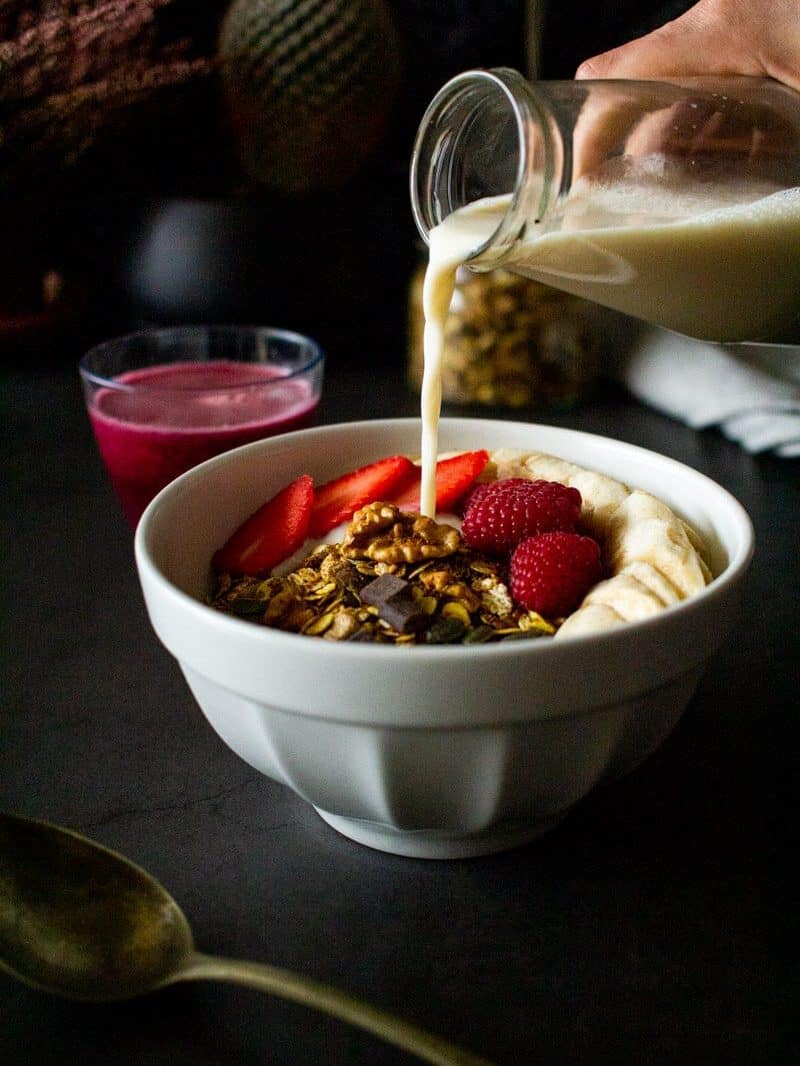 Isn't there something simply delightful about the scent of homemade granola wafting through the air as it's baking? It's one of those little joys that always brightens my day.
If you're juggling the demands of a bustling family life or simply searching for a fresh, tasty recipe to shake up your usual meal plan, this effortless granola recipe is calling your name! Brimming with beneficial fiber, protein, and good fats, it's not only a wholesome choice, but it's irresistibly delicious, too.
The beauty of this fantastic recipe is how simple it is to whip up, coupled with its lasting power. You can prepare a batch that will keep your breakfast game strong for several days in a row, offering a swift and reliable solution for those busy weekday mornings.
There's something quite special about Homemade Granola - it always hits the spot, whether enjoyed as a full meal or a smaller snack. We're such fans that we mix things up and create granola bars every couple of weeks. Because, let's be honest, granola in any shape or form is just too good to resist!
We make vegan granola bars with peanut butter, another version with hazelnut butter, or the oats-free Fig bars, also on this site.
You can make your own delicious and easy homemade granola. It is effortless, so there's no reason to consume store-bought granola.
🧾 Ingredients
Creating your own dairy-free, homemade, gluten-free granola is just as simple as whipping up the standard version. It all begins with a basic foundation of ingredients, and the best part is that you can tailor it to your liking based on what goodies you've got tucked away in your pantry.
I am giving you a full-nut granola recipe with variation options.
Certified Gluten-Free Oats: Here lies the key to making granola gluten-free. We use these as a hearty and nutritious base for our granola. They are safe for those with gluten sensitivity or celiac disease and provide a slow release of energy, keeping you full for longer.
Nuts (any mix of almonds, walnuts, and pecans): These are chosen for their rich crunchiness, boosting the granola's texture. They also add a wealth of essential fats and protein to support overall health.
Seeds (flaxseeds, sunflower seeds, chia, and/or poppy seeds): Seeds deliver a superfood punch to our granola, packed with fiber and heart-healthy omega-3 fatty acids, adding a nutty flavor and enhancing the texture.
Spices (turmeric, cinnamon, nutmeg): These warming spices are key to enhancing the flavor profile of our granola. They also come with numerous health benefits, including anti-inflammatory properties and antioxidants.
Dried fruit such as raisins and/or cranberries: We include these to add a touch of natural sweetness and a chewy texture contrast. These fruits also provide a great source of dietary fiber and essential vitamins.
Vanilla extract: It gives our granola a subtle, sweet, and aromatic depth of flavor, blending well with the other ingredients and enhancing their natural taste.
Agave or pure maple syrup: These natural sweeteners bind the granola ingredients together, creating those delightful crispy clusters while also adding a sweet yet balanced flavor.
Optional:
Hulled hemp seeds: You can add these to increase the protein content and bring a slightly nutty taste to the granola.
Shredded coconut: This adds a tropical twist to the granola, along with increasing its fiber content and providing a distinct, naturally sweet flavor.
Remember, if you'd like to simplify the spice section, you can use our quick and easy 4-ingredient, 5-minute Pumpkin Pie Spice Mix. It's a great way to get similar flavors in one go and can be a real-time-saver in the kitchen.
I used to make this granola recipe with melted coconut oil for years. After finishing a program of WFPB nutrition (Whole Foods Plant-Based), where the use of aggregated oils is discouraged due to their high caloric density, I decided to try this recipe without oil.
Surprisingly, I didn't notice any big difference, although the melted coconut oil can make your granola slightly crunchier.
I also noted that the powdered spices stick better to the oats and nuts. Since I always pour the granola directly out of a mason jar, any loose powder ends up in my bowl anyway, so I didn't see a problem with that.
If you want your Homemade Granola recipe to be extra crunchy, add one tablespoon of coconut oil to your ingredients list.
🔪 Instructions
Preheat the oven to 350ºF (175ºC). Prepare a rimmed baking sheet with parchment paper.
Mix the rolled gluten-free oats, seeds, sweeteners, and spices in a large bowl. Do not add the dried fruit (or chocolate chips if used). Add pure maple syrup at this point.
Lay the granola mixture on a prepared baking sheet and bake for 25-30 minutes. I like using my oven's fan function to ensure the heat is even inside. Bake until the granola is lightly toasted.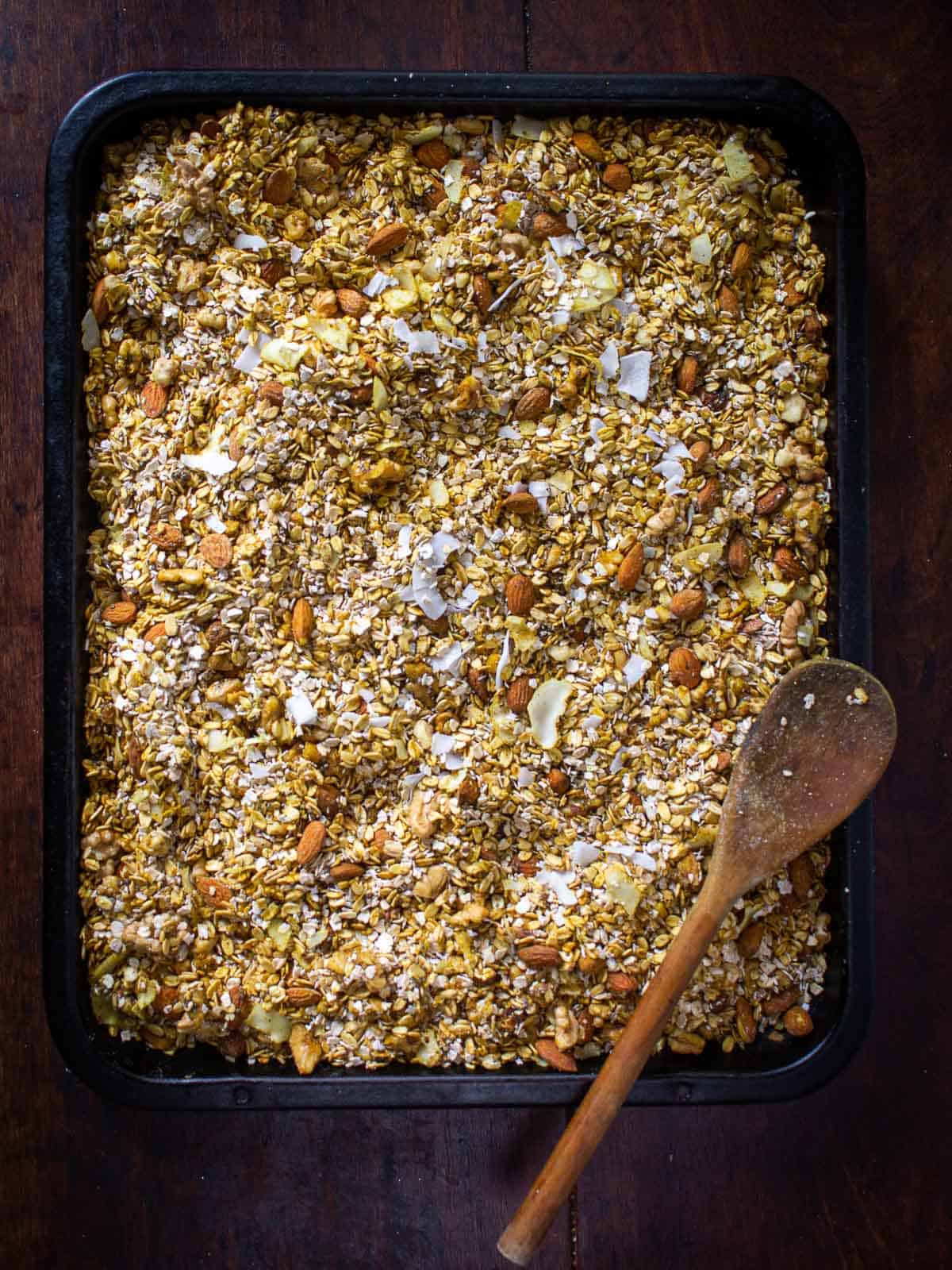 Cool down. Let the granola cool completely and top with the dried fruit (and vegan chocolate chips if used). I also like adding the coconut flakes when I use them after baking the granola batch.
Stir and Store. Store your vegan granola in an airtight container at room temperature.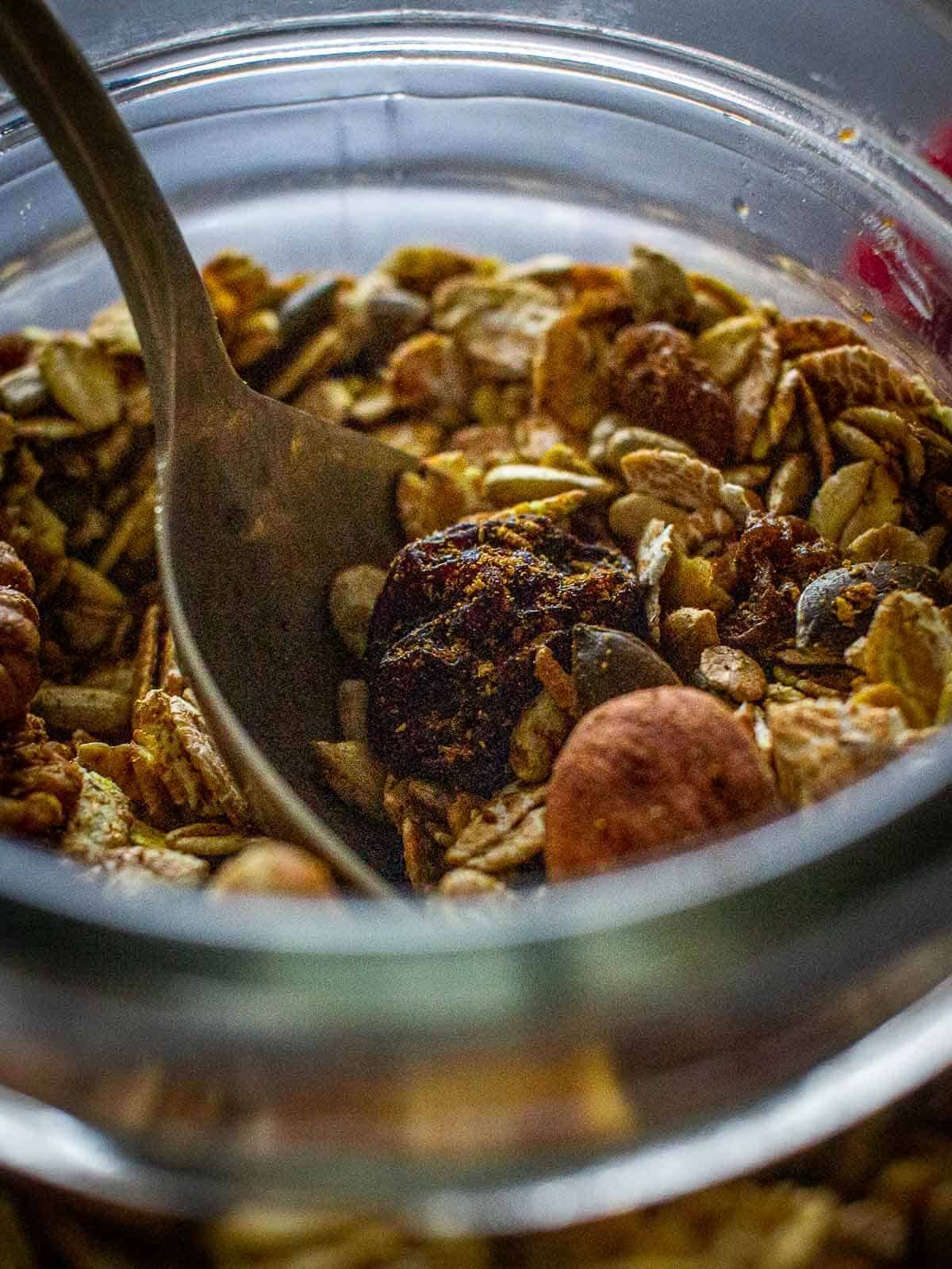 Hint: if you bake the dried fruit, it will become hard. It is only added after the baked granola has cooled down.
📖 Variations and substitutions
Making this vegan granola recipe is fun because you are in charge of making a whole new flavored batch every time. More variety, more nutrition!
Oats and cereals
You can use any oats for granola, but I recommend using old-fashioned oats, also known as whole rolled oats or oat flakes, as they make faster than steel-cut oats.
On the other hand, instant oats bake faster than the suggested time, so keep a close eye.
The reason I recommend rolled flakes is because the texture is more similar to the classic store-bought granola we all know.
Remember to buy certified Gluten-Free oats. If you want to make a Gluten-Free Granola, all other ingredients suggested in this healthy granola recipe are naturally gluten-free.
Other cereals
Spelt - when we use this ancient European cereal grain, we change half of the oats for spelt.
Farro - since we arrived in Italy, we started using farro very interchangeably with rolled oats. Farro flakes look very similar to oat flakes and are slightly different in flavor, nutritional value, and color.
Wheat germ - is another great addition to your diet since wheat germs are high in Vitamin E and antioxidants.
Dried fruit
This granola recipe calls for raisins and dried cranberries, but feel free to make a mix of different dried fruits you may already have in your pantry.
We have tried chopped dried apricots, golden raisins, dried sour cherries, tart cherries, goji berries, and dried blueberries.
You can even use dried banana flakes and coconut flakes.
Nuts
Use your favorite nuts; I always pick a bunch of all the different nuts available in the pantry. I like including variety, as more nut kinds mean more different nutrients. Just make sure the total amount of mixed nuts is the ones suggested to keep your healthy granola balanced.
If you are using slivered almonds or layered almonds, add them halfway through the baking process. Otherwise, they might get overtoasted.
Nut-free granola
For those with nut allergies or simply looking for a nut-free option, don't worry; you can still enjoy our flavorful granola. Instead of nuts, consider using a mix of seeds such as pumpkin seeds, sunflower seeds, and hemp seeds. These not only offer a similar crunch to nuts, but they're also rich in protein and healthy fats. Alternatively, you could add more texture and taste with additional dried fruits or puffed grains like quinoa or rice. You can still enjoy all the taste and health benefits of our gluten-free granola recipe, completely nut-free!
Seeds
Similar to nuts, I suggest you go crazy and add a little bit of everything to increase the load of minerals, vitamins, and antioxidants in your granola. Also, seeds add extra protein and Omega-3 to your bowl.
My seeds of choice are sesame seeds, pumpkin seeds, chia seeds, sunflower seeds, and ground flax seeds.
Spices
I love having cinnamon in my granola, so that's not negotiable, but in addition to it, we like adding turmeric and freshly ground black pepper since this combo has great health benefits.
We like adding spices like ground cloves, nutmeg, and ground ginger, but we always keep a batch of our homemade pumpkin pie spice mix, which has a little bit of each of these spices; I use it regularly to open two or three fewer spice containers.
Add a dash of fine sea salt.
If you are like us and love everything pumpkin, we suggest you give a check to our pumpkin and maple granola recipe.
Aromas
I love adding vanilla extract to my granola, but I also love using other aromas like orange extract, almond extract, and orange blossom water.
You can also simply use the zest of an orange or lemon and mix it with the oats before baking it.
Maple syrup and sweeteners
We usually go for maple syrup, but we also use agave nectar or even brown sugar when we don't have any of those.
Extras
I am not a fan of adding chocolate chips since that increases the calorie count, but if you go for it, we suggest you use dark chocolate chips.
Similarly, to drive fruit, add chocolate chips only when the oats mixture has cooled down to prevent the chocolate chips from melting.
If you decide to make your granola extra crunchy using oil, my two oils of choice are coconut oil and extra virgin olive oil.
🫙 Storage
To ensure your homemade granola stays fresh and crunchy for as long as possible, follow these steps to store gluten-free granola properly:
Let it Cool: Before storing, ensure the granola is completely cool. Storing warm granola can lead to condensation in the storage container, making it go soggy.
Airtight Containers: Store gluten-free granola in airtight containers. Glass jars with a tight-fitting lid, plastic containers, or resealable food storage bags all work well.
Store in a Cool, Dry Place: Keep the container in a cool, dry place away from direct sunlight. A pantry or cupboard is typically ideal.
Avoid Contamination: Every time you serve granola, use a clean, dry spoon. Any moisture or crumbs can shorten the granola's shelf life.
By following these steps, your perfect gluten-free granola should stay fresh for up to two weeks. If you want to keep it for longer, you can freeze it in airtight containers or freezer bags for up to three months. Just make sure to thaw it completely before serving.
✅ Granola Benefits
This Healthy Homemade Granola recipe is packed with the nutrients you need to start your day in a great way. You have Oats, Nuts, and Spices.
Whole oats are very filling and may help you lose weight may help relieve constipation. Also, they are rich in antioxidants.
Nuts - a diet that includes one ounce of nuts daily can reduce your risk of heart disease. Nuts have also been shown to improve cholesterol profiles, prevent arrhythmias, and Contribute to satiety because they are rich in fat, fiber, and protein, all of which are more likely than foods high in carbohydrates to make you feel full.
Spices - I use a minimum of three spices in my homemade oat granola; why?
Feel free to play with what you have available in your kitchen; add as many "sweet" spices as possible. Remember that spices are non-caloric and contribute amazingly to a healthy body and keep a great immune system.
Cinnamon to Lower Blood Sugar.
Turmeric to Fight Inflammation.
Ginger to Relieve Nausea.
💡 7 Tips for budget-friendly granola
Some people have asked me how to make their baked granola budget-friendly, as in some places, nuts have crazy prices, so I am giving you my budget hacks. I always do this exercise when moving to a new/expensive city, like we recently did to Milano.
1. Bulk
Try to find places where you can buy in bulk quantities. They are usually cheaper—stock on Rolled Oats and Nuts.
2. Seeds
This is nut-based granola, but you can also replace a fraction of the nuts called out in the recipe for the same amount of seeds; they are cheaper.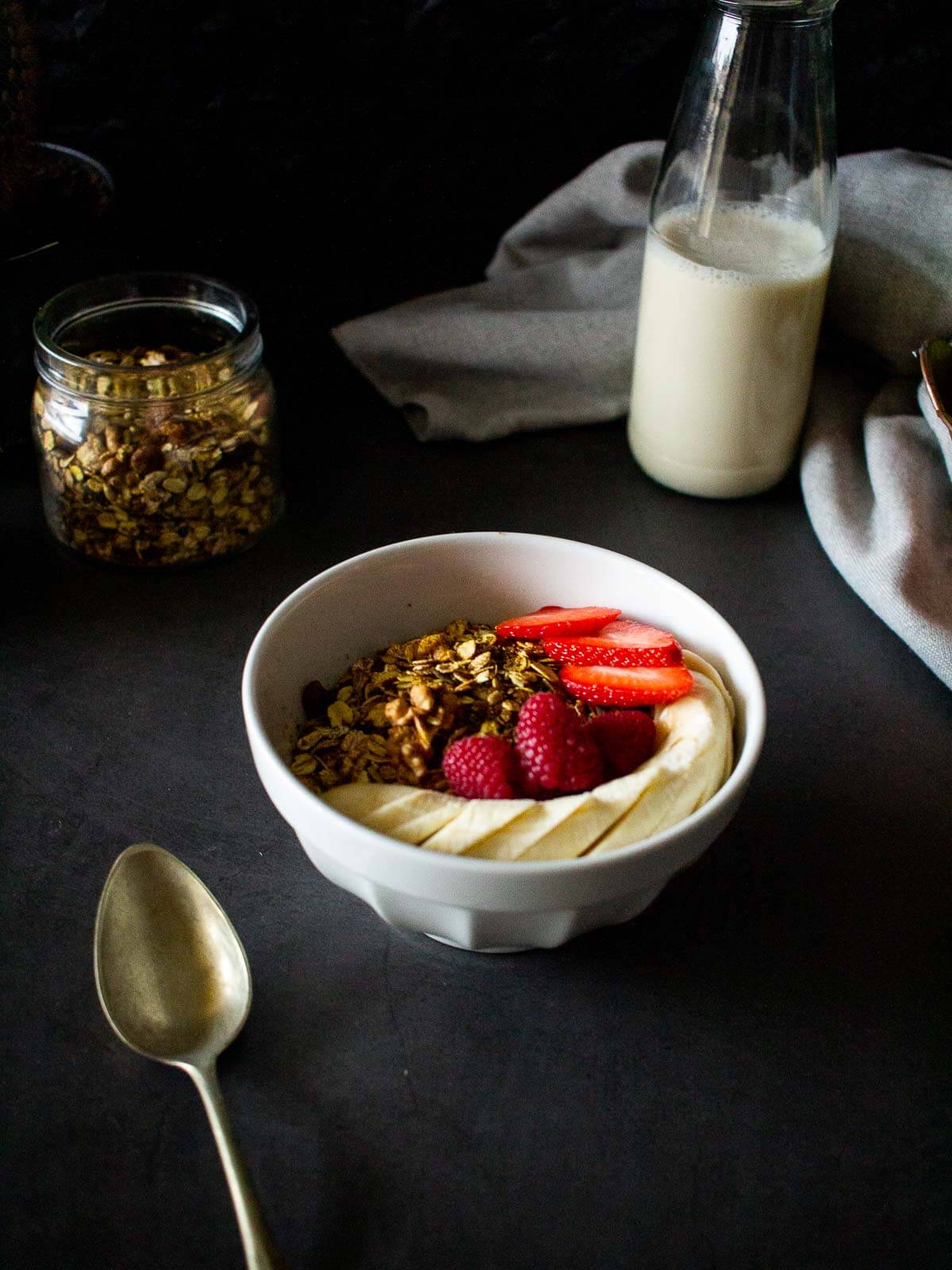 3. Budget Supermarkets
I have found that cheap retailers and supermarkets may not have fancy stuff but sometimes have very competitive prices on nuts, dry fruits, and seeds. You may not find organic stuff, but the good thing about nuts is that you can ensure they are raw and without additives.
4. Use half
Oats or Farro provide even better benefits when activated (soaking them overnight). In addition, they are the cheapest components of your quick granola recipe.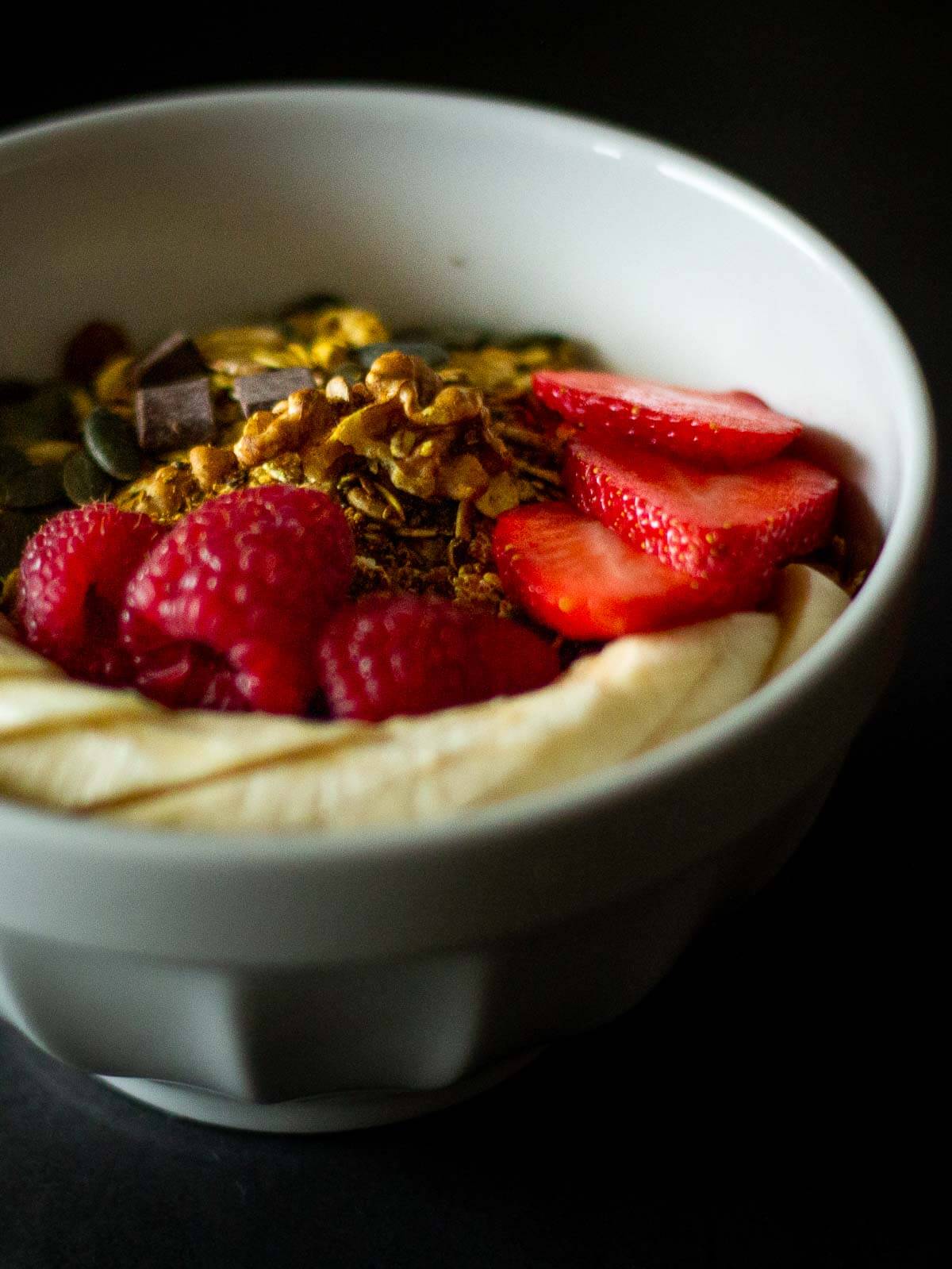 Our morning breakfast usually consists of one of these options: One cup of Granola, Porridge, Oats, and Chia Pudding + 1 Fruit.
Instead of using 1 cup of granola, let soak ½ cup of Raw Oats, either:
Overnight at room temperature or fridge.
In the morning, 15 minutes before eating with warm water.
Add the soaked oats to ½ cup of your Granola. Now, your granola will last twice.
5. Your own plant-milk
If you leave your Oats or Farro soaking overnight with 3 times the water (i.e., ½ cup Oats + 1 ½ cups water). You will have Oats Milk in addition to the soaked oats volume, so you don't need to add milk to your quick granola bowl. If you rather have Soy Milk or Almond Milk, check them out. They are super easy to make.
6. Fresh fruit or applesauce
Top your basic granola recipe bowl with cheap fruit like bananas or apples, and cut it into rough pieces. You can also add a spoonful of chunky, unsweetened applesauce. You are not only increasing the volume of your granola but its flavor and nutritional value.
7. Flavor
Instead of using essences, grind the zest of an orange, lemon, or citrus fruit you have handy.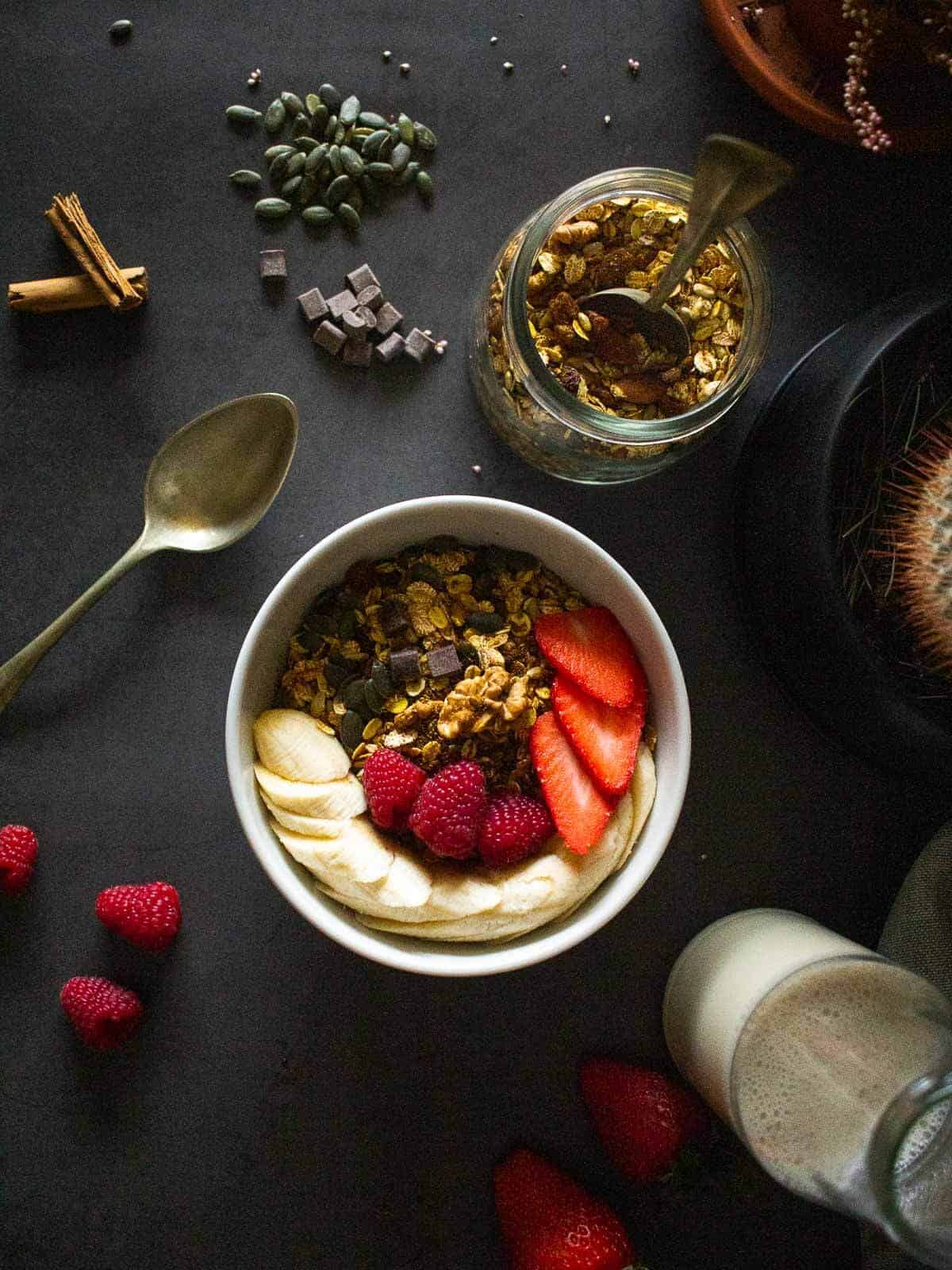 📚 More unique granola recipes
Take a look at these additional great Breakfast Recipes:
Try making your own plant milk in minutes:
If you are curious about all the benefits of Oats, Learn more
Curious about all the benefits that nuts can bring to your diet? Learn more
More about the benefits of spices
If you try this protein granola recipe, let us know! Leave a comment, rate it, and don't forget to tag a photo #ourplantbasedworld on Instagram. Cheers!
📋 Recipe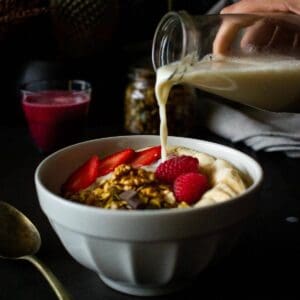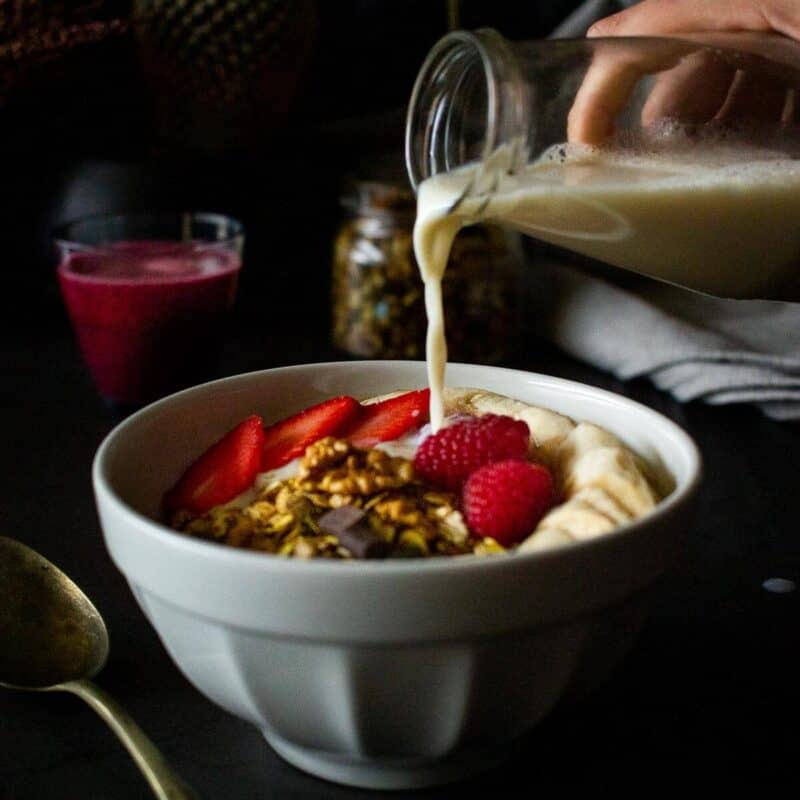 Homemade Gluten-Free Oil-Free Granola Recipe
Discover our nutritious Homemade Gluten-Free Granola Recipe, perfect for your healthy lifestyle. This oil-free and vegan guide ensures a deliciously crunchy, fiber-rich breakfast. Dive into the taste and health benefits of this gluten-free granola recipe today!
Equipment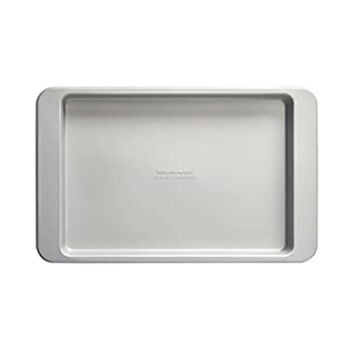 (affiliate link)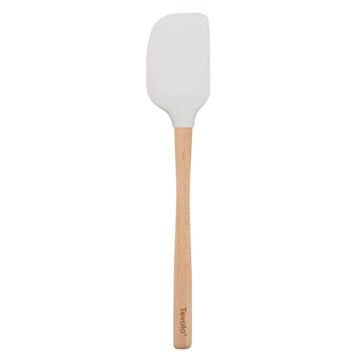 (affiliate link)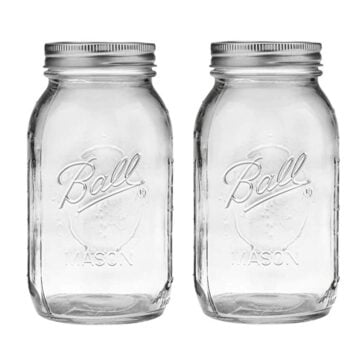 (affiliate link)
Ingredients
4 ½

cups

oats

old-fashioned gluten-free rolled oats or Farro

1 ½

cup

raisins

I use a combination of cranberries, goji, dark and white raisins.

1 ¼

cup

nuts

I use a combination of almonds, pecan, and walnuts

½

cup

mixed seeds

help to make your granola cheaper, use a variety of poppy, pumpkin, sesame, chia, sunflower, and linen seeds

3

tablespoons

vanilla extract

1 ½

teaspoon

cinnamon

ground

½

teaspoon

nutmeg

ground

½

cup

maple syrup

agave nectar, or organic coconut palm sugar
Directions
Start with Warmth: First things first, let's preheat our oven to 300ºF (150ºC). It's like warming up the stage for our granola's grand entrance!

Combine and Mix: Now, in a large mixing bowl, let's put together our oats, nuts, seeds, vanilla, your chosen sweetener, and cinnamon. Give it a good mix. If you're including oil, now's the time to pour it in. But let's save the dried fruit and hemp seeds for later.

Spread the Love: Next, we'll scatter our granola mix on a baking sheet lined with parchment paper. Make sure it's spread out nice and evenly.

Bake to Golden Perfection: Time to bake our mix until it's lightly golden. This should take about 15-20 mins. Remember to give it a gentle stir halfway through, and don't forget to check for that perfect crunch!

Patience is Key: Now for the hardest part - waiting. Let our granola cool down completely. Then, we can top it with the dried fruit and hulled hemp seeds. This should take about 5-10 minutes. If you're adding chocolate chips or anything that might melt, make sure the oats mixture has cooled down first.

Store Safely: Finally, let's keep our delightful granola in an airtight container at room temperature so it's ready and waiting for those breakfast cravings or snack attacks!

And there you have it, folks - homemade gluten-free granola made easy and fun! Enjoy!
Video
Notes
Serve with your preferred vegetable milk and chopped fresh fruit; I usually go for a combination of berries, banana, apple, and pear.
Try making your own plant milk in minutes:
Nutrition Facts
Calories:
324
kcal
Carbohydrates:
38
g
Protein:
10
g
Fat:
16
g
Saturated Fat:
3
g
Polyunsaturated Fat:
7
g
Monounsaturated Fat:
5
g
Sodium:
10
mg
Potassium:
330
mg
Fiber:
7
g
Sugar:
6
g
Vitamin A:
51
IU
Vitamin C:
2
mg
Calcium:
54
mg
Iron:
4
mg
Nutrition Facts
Homemade Gluten-Free Oil-Free Granola Recipe
Amount per Serving
% Daily Value*
* Percent Daily Values are based on a 2000 calorie diet.
Nutritional Disclaimer
The information shown is an estimate provided by an online nutrition calculator. It should not be considered a substitute for a professional nutritionist's advice. See our full Nutritional Disclosure here.
Affiliate Disclaimer
Please note that some of the links here are affiliate links, and I will earn a commission if you purchase through those links. I recommend all of the products listed because they are companies I have found helpful and trustworthy.