One of the most iconic dishes of breakfast cuisine. Call it porridge or boiled oatmeal; the flavors of brown sugar cinnamon oatmeal are perfectly balanced! This warm and soothing bowl of oats has a nutty crunch, a hint of sweetness from the brown sugar, and an aromatic scent from the cinnamon and vanilla. Plus, it's easy to make with just a few ingredients, sure to be lying around in your kitchen. So toss aside those sugary cereal boxes and give this simple but tasty oatmeal recipe a try - you won't regret it!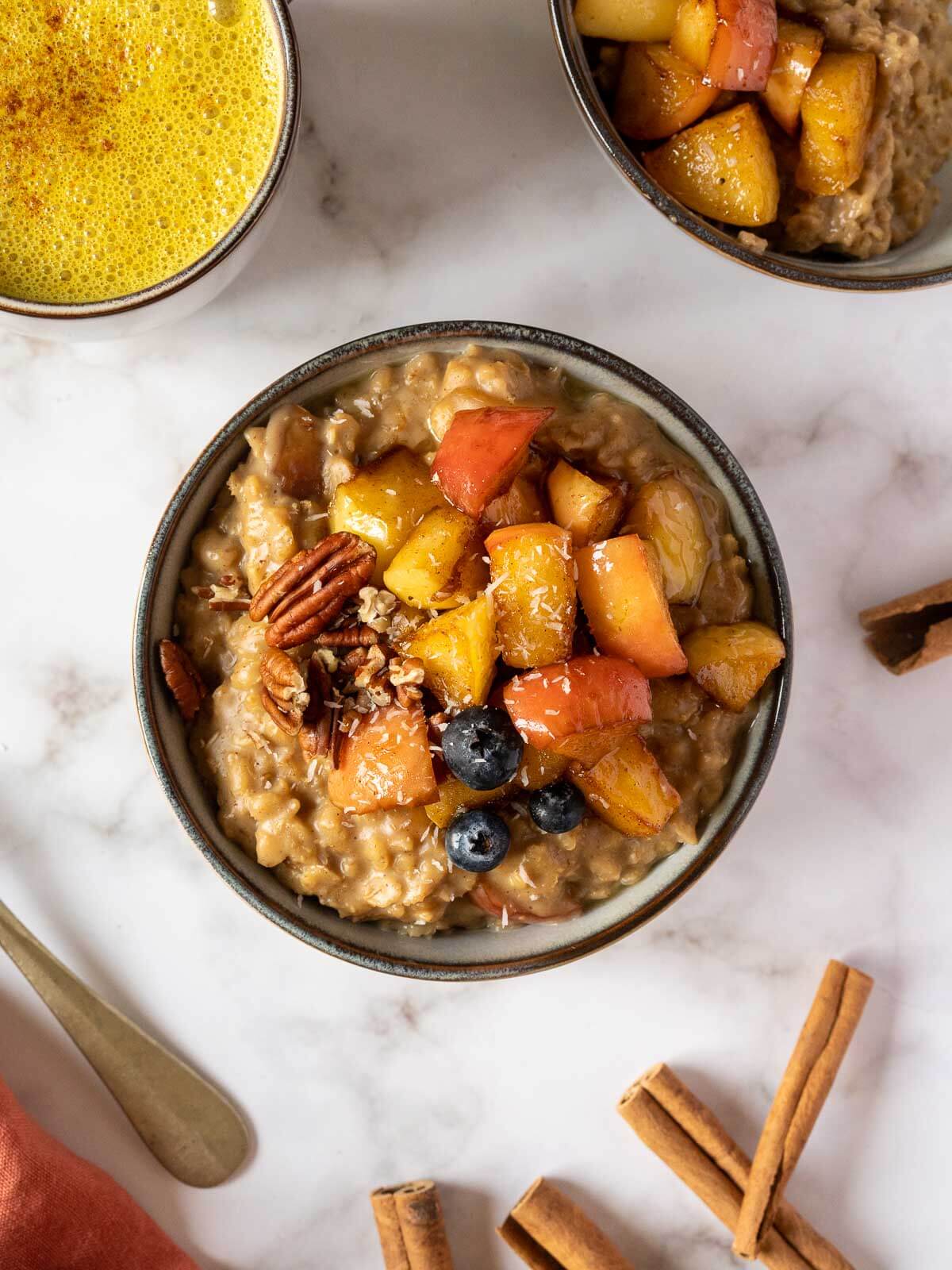 This is the healthy breakfast we have on cold, cozy mornings, just like an apple pie breakfast! Absolutely delicious, dairy-free, and balanced, packed with fall flavor!
We really encourage you to eat oatmeal to start your day, as cinnamon brown sugar oatmeal is very filling and nutritious. Adding nuts and other plant-based foods such as bananas, strawberries, or blueberries make the breakfast even better! Experimenting with different flavors of oatmeal is also fun.
This was inspired by my oatmeal rice pudding and cardamom pudding, which follow almost the same steps, substituting the oatmeal with short-grain rice.
Jump to:
🧾 Ingredients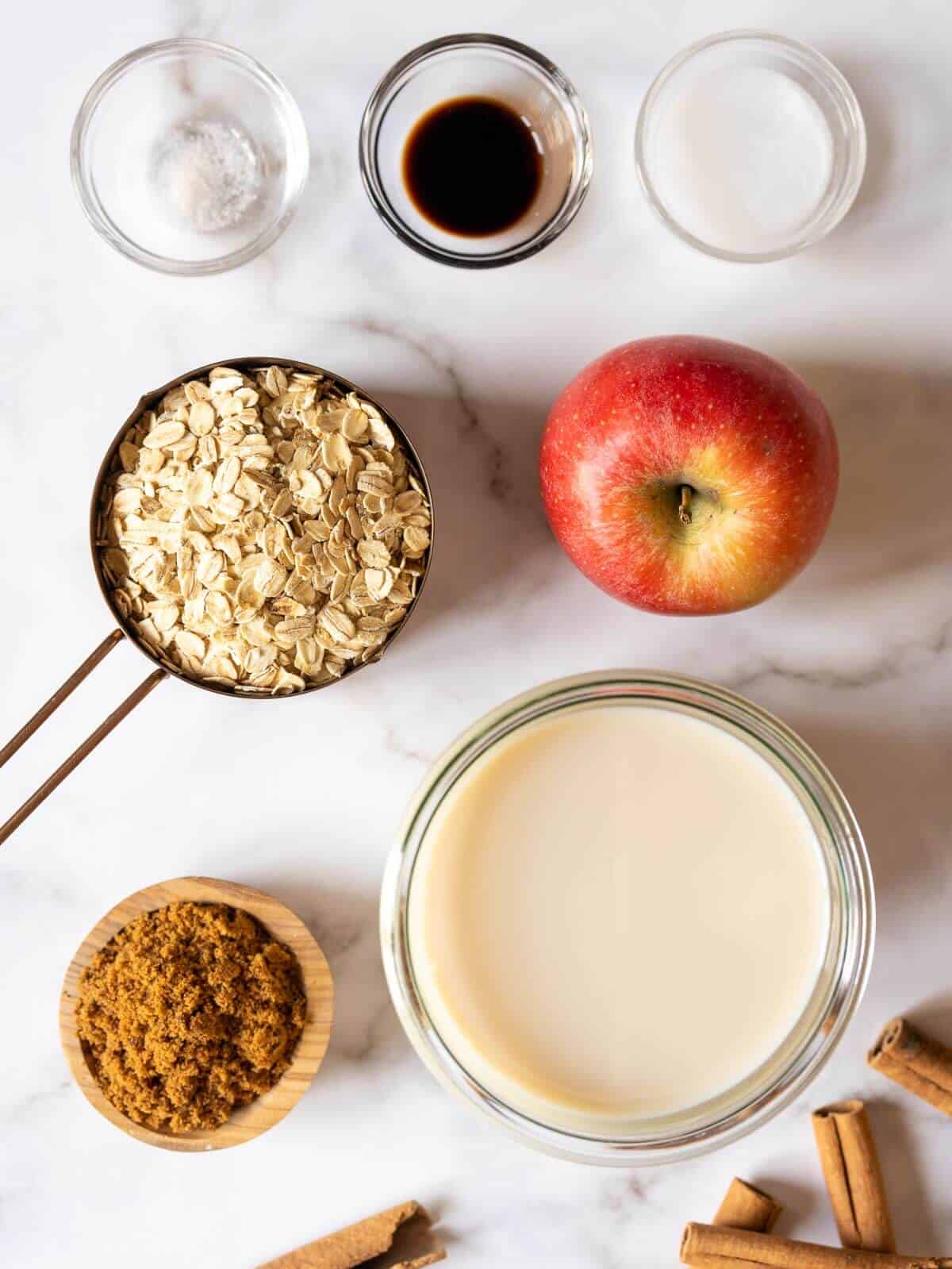 Make this Apple Cinnamon Oatmeal Recipe with just a handful of staple ingredients.
Optional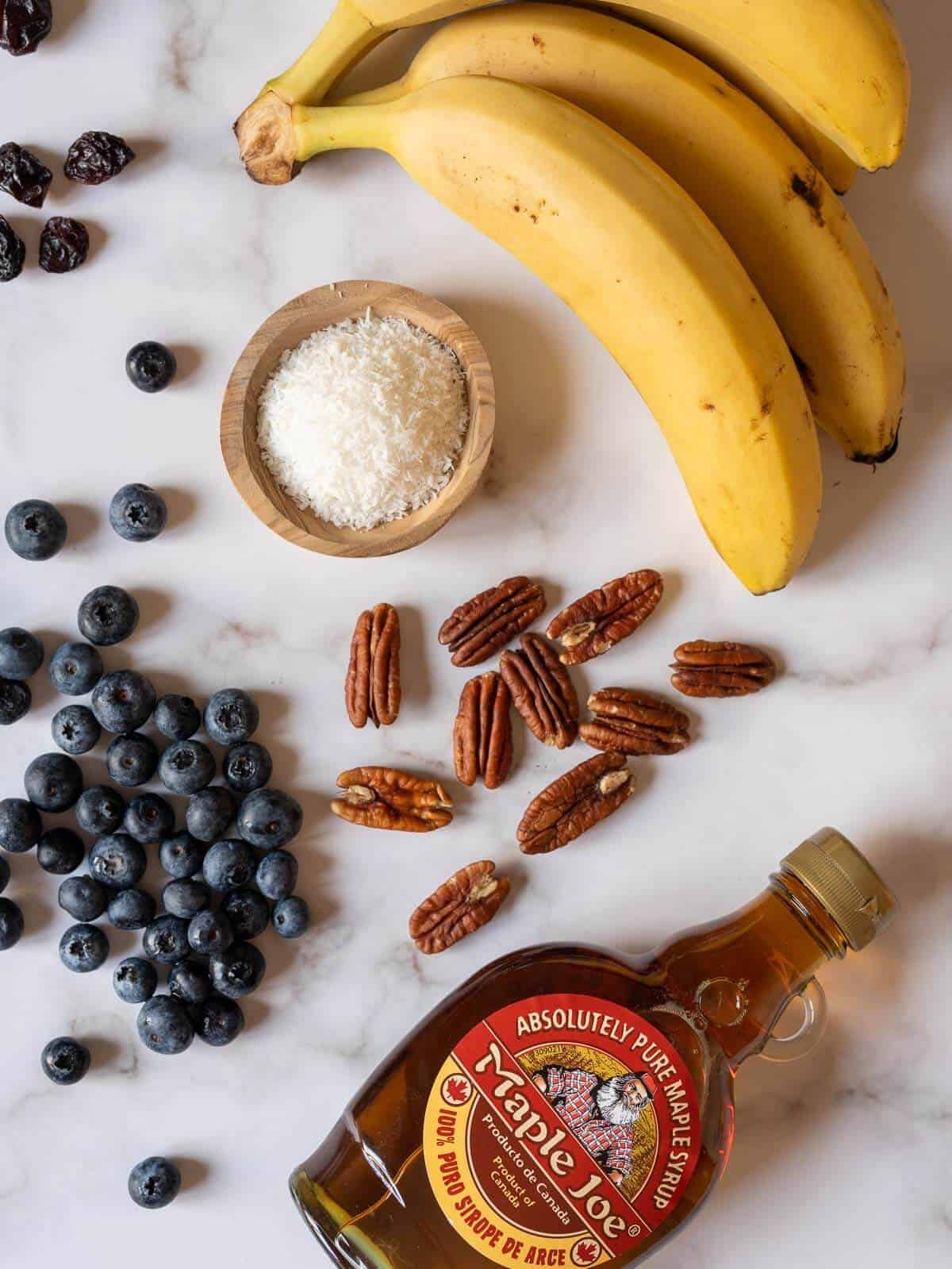 See the recipe card for quantities.
🔪 Instructions
This homemade apple cinnamon oatmeal involves three simple steps.
Stir-frying the apples.
Cooking and flavoring the oatmeal.
Garnishing with your favorite toppings.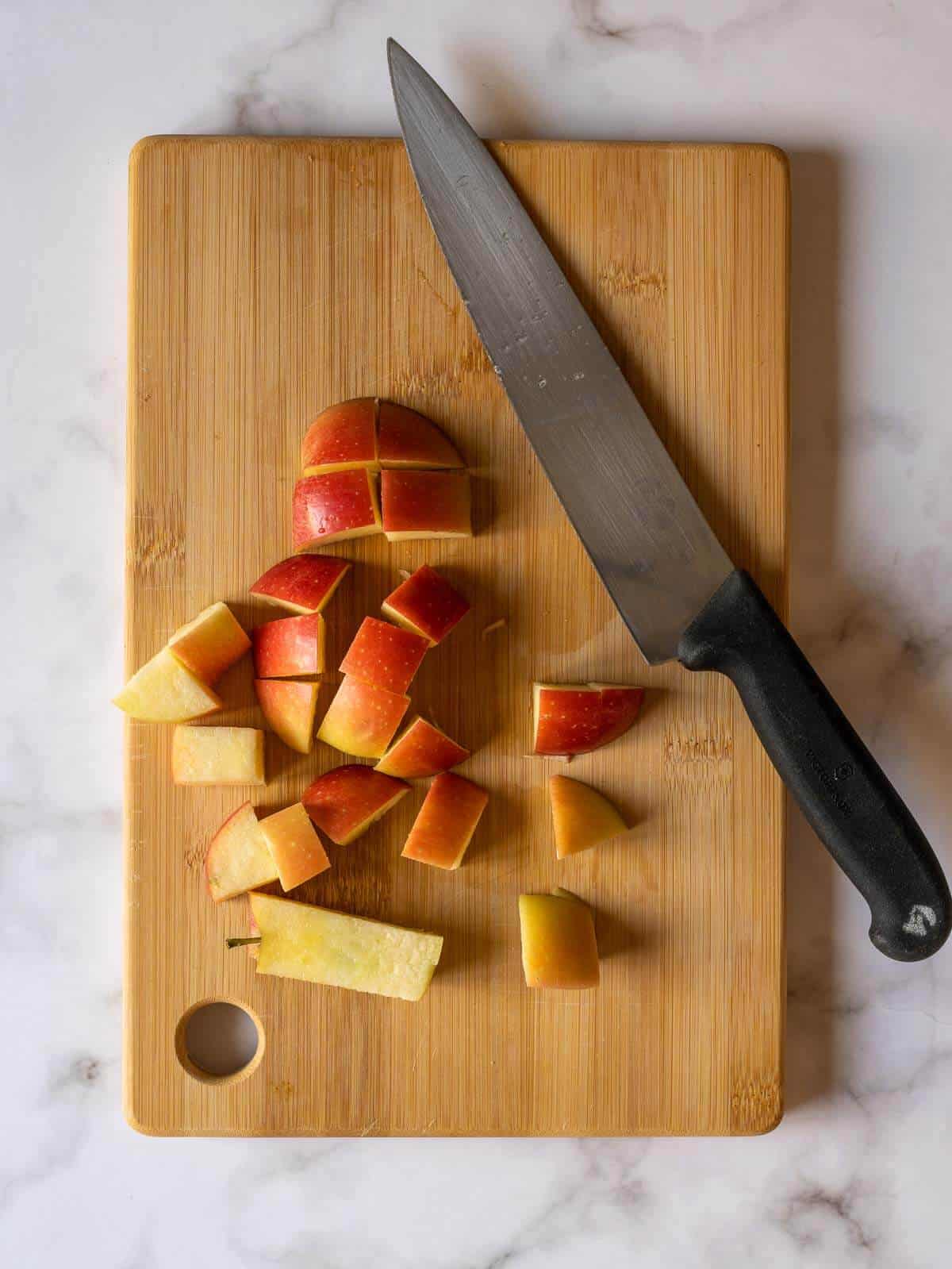 Wash, core, and dice the apples.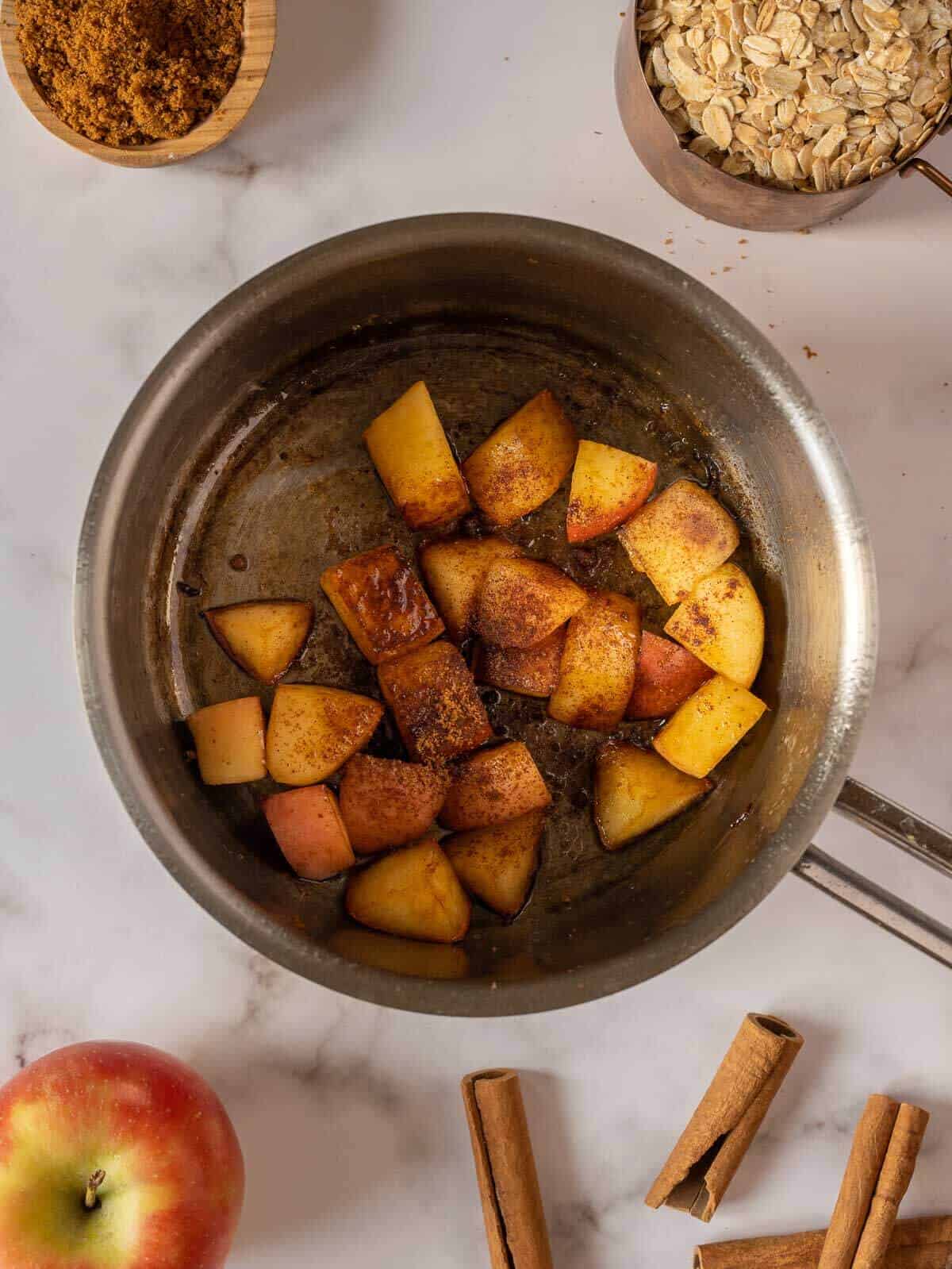 Stir fry the chopped apples in coconut oil, half the ground cinnamon, and some sugar.
Hint: you can skip stir-frying the apples if you are in a rush, but it only takes 3 minutes, giving apples a lovely color and texture.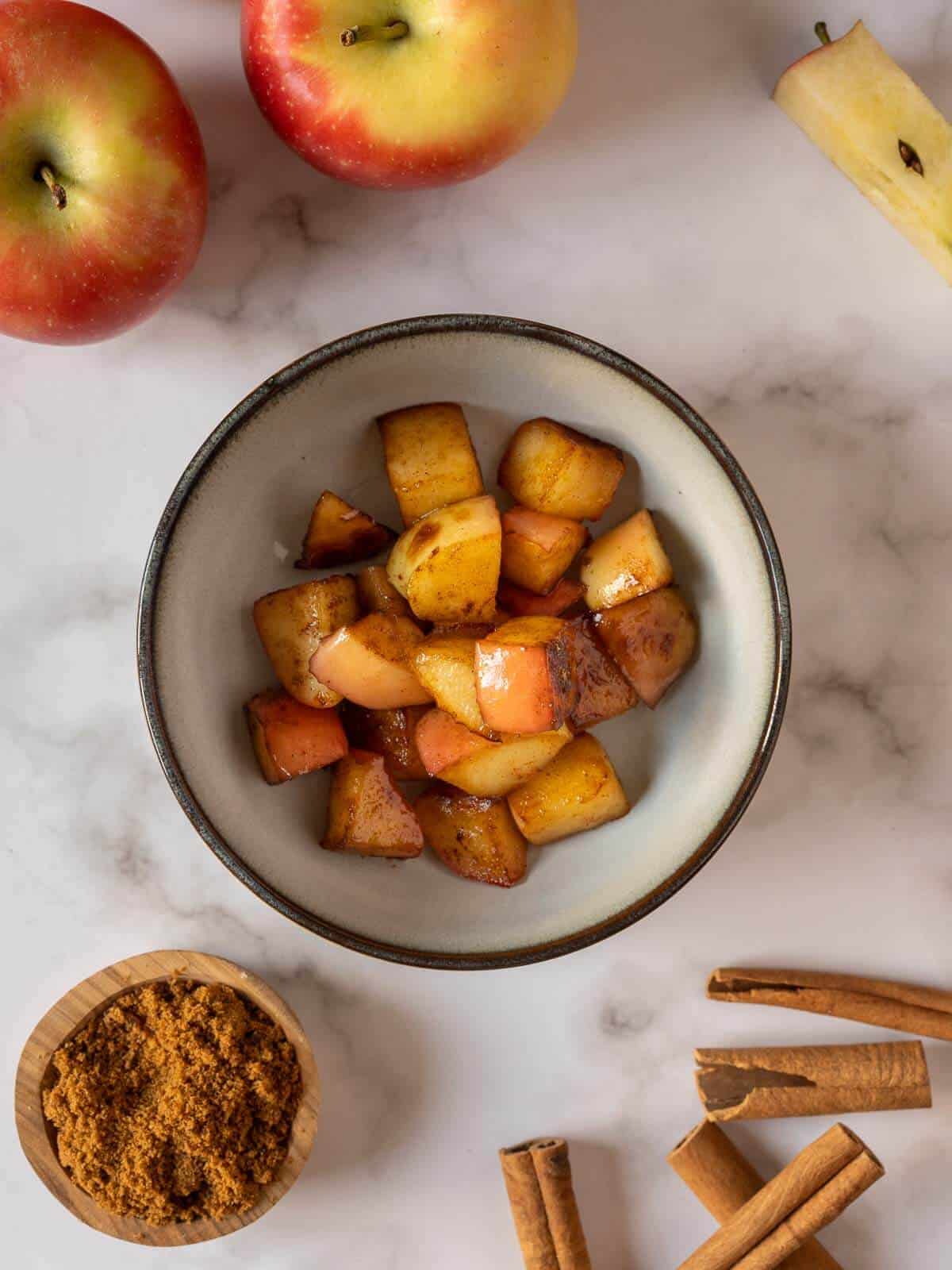 Remove the golden brown apple dice from the heat and reserve.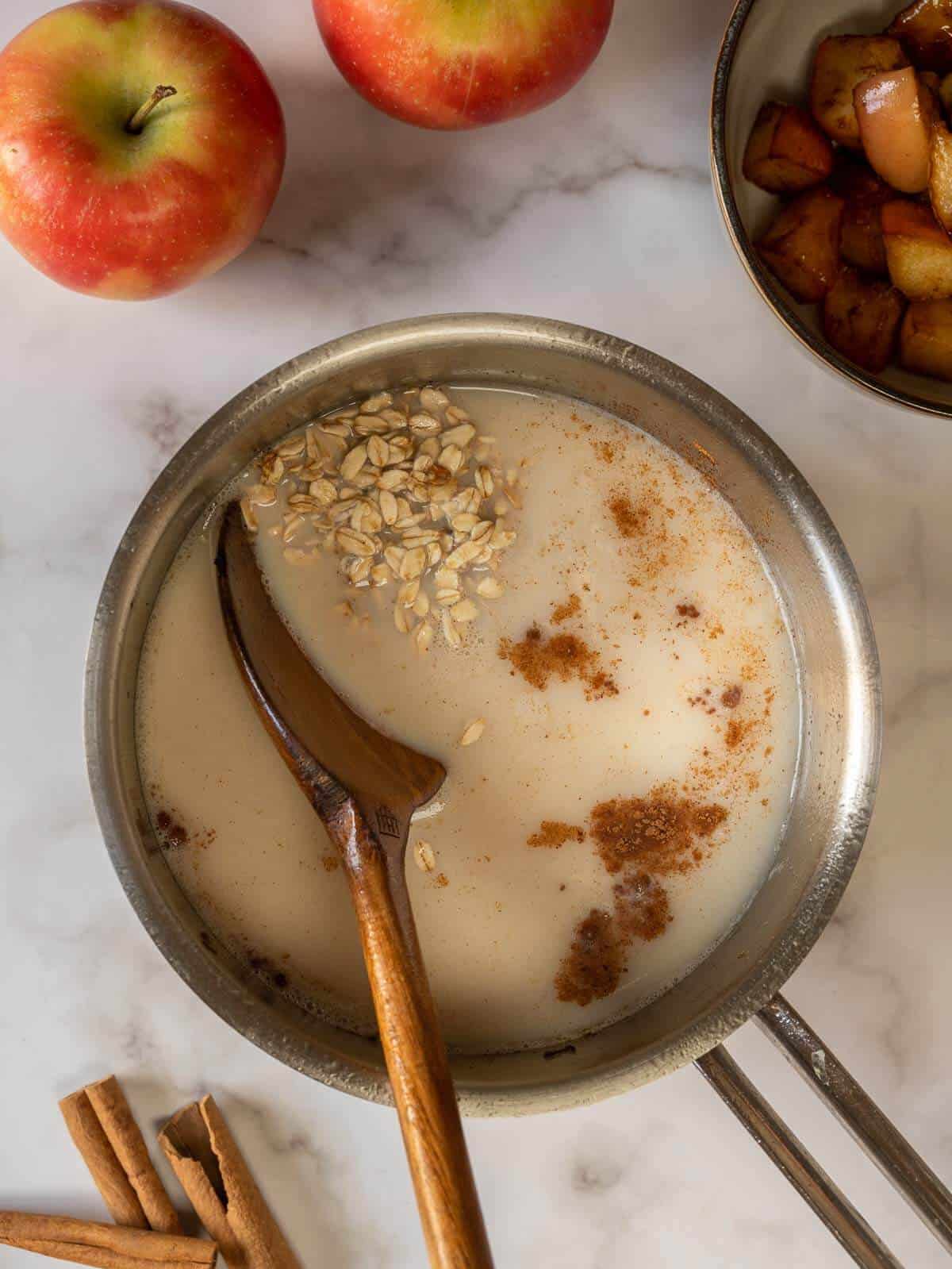 Cook the plant milk, cinnamon, vanilla extract, and water, and add oats on medium-high heat, stirring occasionally, for 5 minutes.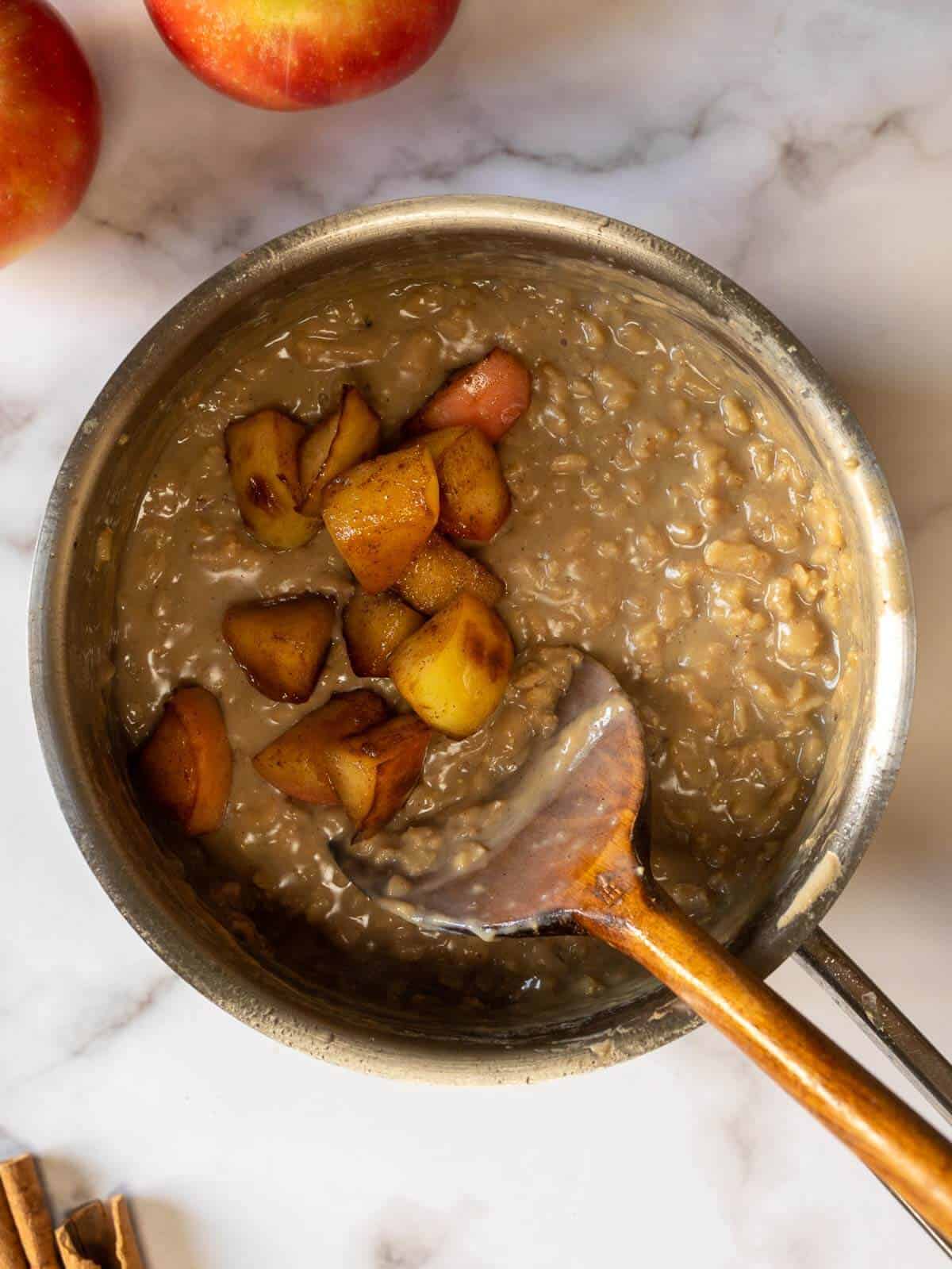 Add half of the reserved apples and reduce heat to a low boil. Cook for 2-3 minutes more until soft.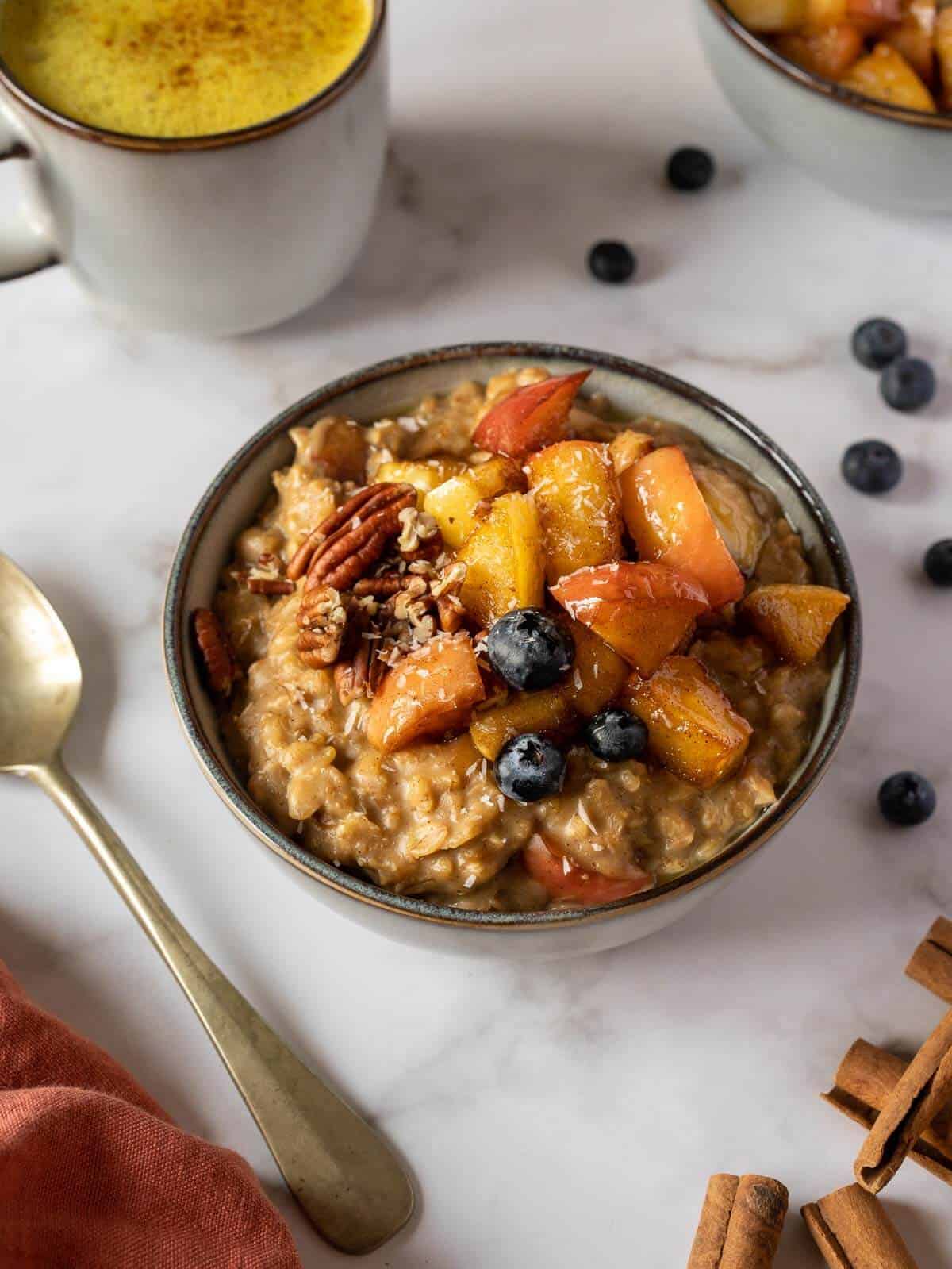 Transfer to serving bowls, and garnish the apple cinnamon oatmeal with fresh fruit, shredded coconut, chopped nuts, and the remaining apple dice.
Hint: add only half of the apples while still cooking so the flavor of the apples imbues the oatmeal.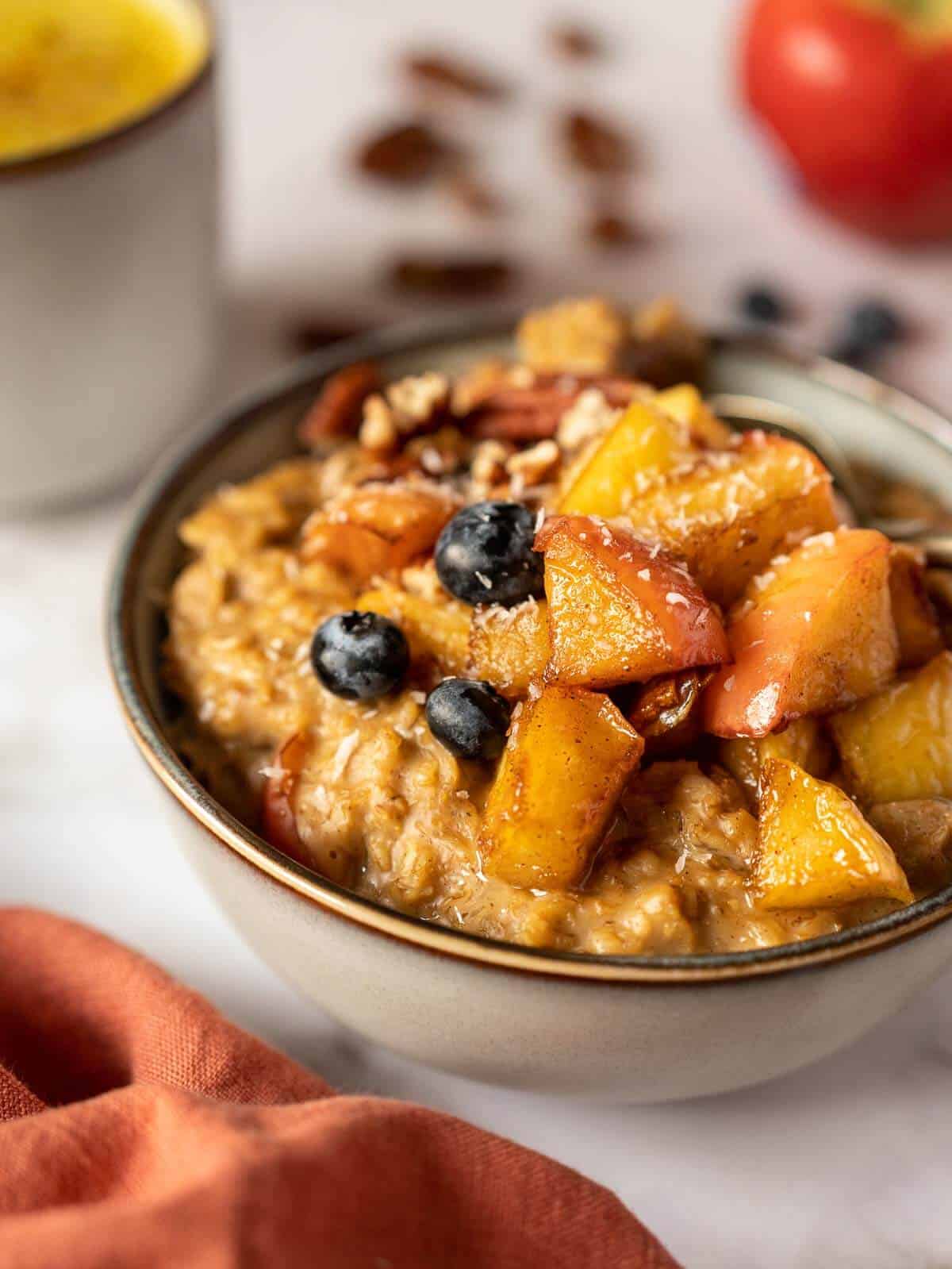 🍶 Substitutions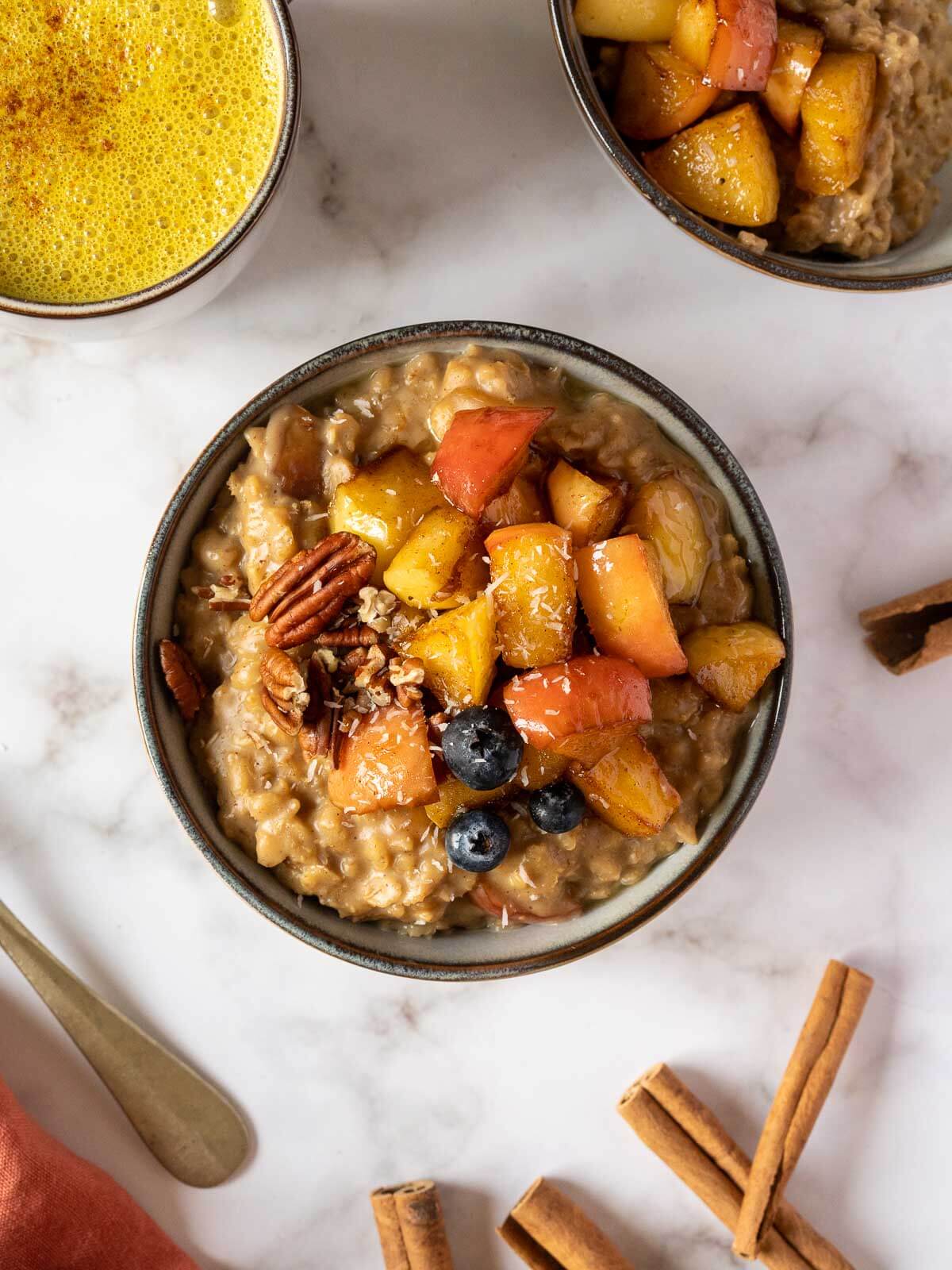 Hint: use gluten-free oats to make your apple cinnamon oatmeal gluten-free.
🌟 Using different types of oats
To make brown sugar and cinnamon oatmeal, you can use any type of oat, but the resulting texture will be different.
Rolled oats, also known as old-fashioned oats, are oats that have been flattened. They are similar to steel-cut oats, but possess a flatter shape. This characteristic facilitates easier cooking and digestion.
Steel-cut oats represent a less refined variant of rolled oats and undergo minimal processing. They require a longer cooking time.
Quick-cooking oats also referred to as quick oats or instant oats, are finely chopped rolled oats. This results in their ability to cook rapidly.
🥡 Variations
Try out some oatmeal with brown sugar delicious variations:
🍽 Equipment
Small saucepan - to cook both the apples and the whole meal.
Chopping board - to core and chop the apples or any other fruit you may want to add.
🥡 Storage
This dish is perfect for meal prep.
Store this maple cinnamon oatmeal in a BPA-free, airtight container in the fridge for up to 3 days.
Simply add ¼ cup plant milk or water and reheat in a saucepan.
🥢 How to serve
Garnish this cinnamon sugar oatmeal with blueberries or brown sugar candied walnuts, homemade applesauce, or extra apples and fresh fruit.
We like homemade oatmeal with a glass of freshly squeezed carrot, apple, sweet potato juice, an anti-inflammatory lemon-ginger turmeric tea, or a cup of vegan golden milk.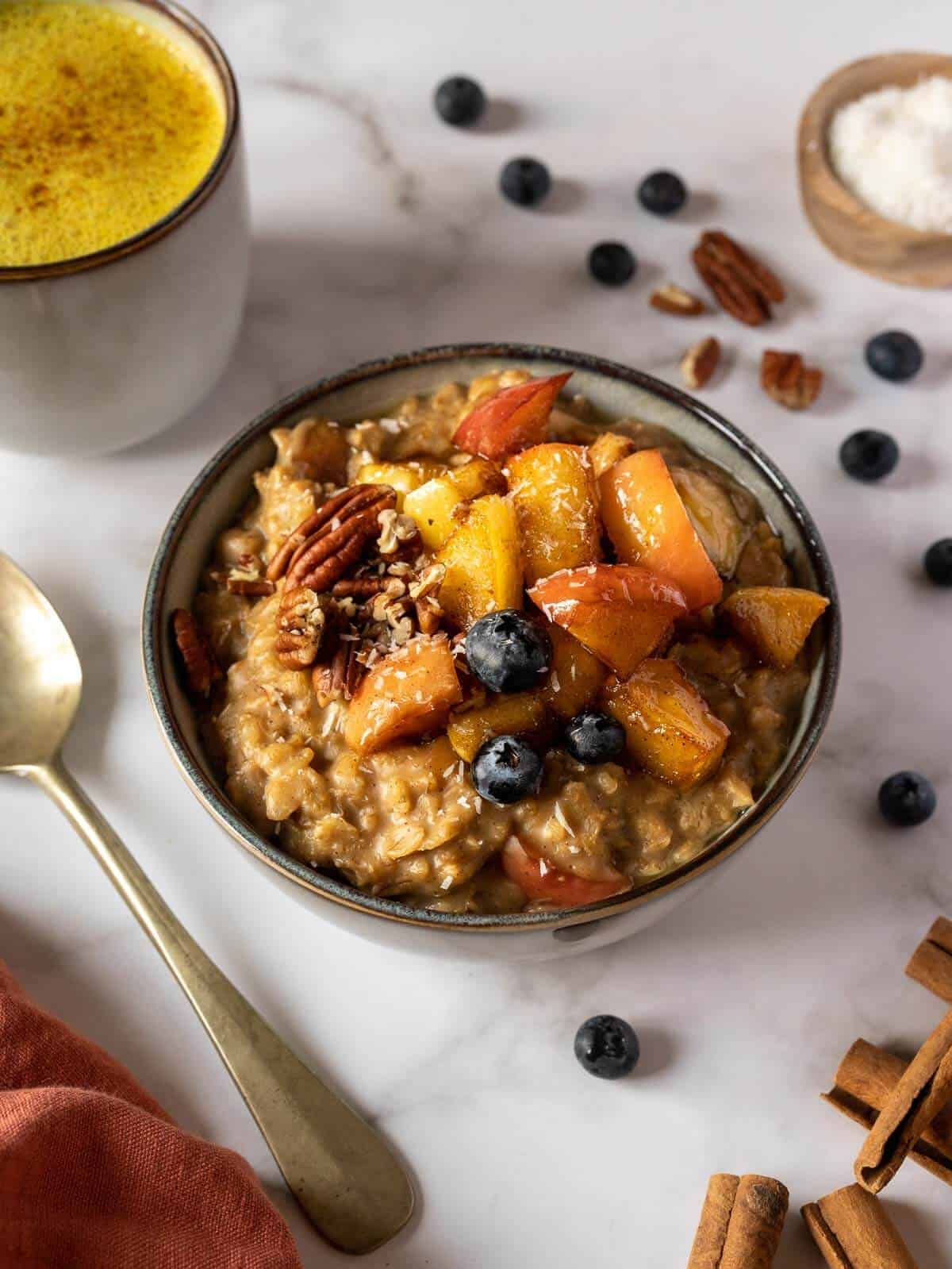 ❓ FAQ
How to sweeten oatmeal?
There are several ways to sweeten oatmeal and make it a delicious meal or snack. The simplest way is to add a spoonful of honey, maple syrup, agave nectar, golden syrup, or molasses. These natural sweeteners will bring out the sweetness in oatmeal without making it too sugary.

You could also go for non-refined sugar alternatives such as coconut sugar and date sugar, which have a shallow glycemic index (GI). These provide a slow energy release that won't spike your blood sugars like refined sugars. You can also opt for artificial sweeteners if you don't mind the processed taste of chemical sweetener tablets commonly found on supermarket shelves nowadays.
How to flavor oatmeal?
Oatmeal is a very versatile breakfast option that can be enjoyed plain or jazzed up with flavorful add-ins. Oats are naturally bland, so it's important to find the right balance of flavorings and toppings to make them delicious. Here are some tasty ways to give your oatmeal a boost:

Sweeten Up - If you have a sweet tooth, adding brown sugar, maple syrup, honey, or molasses will help satisfy those cravings while keeping your oatmeal nutritious. For more flavor and texture, you can also mix in dried fruit like raisins, cranberries, and coconut flakes.

Go Savory – For an exciting twist on the classic oat bowl, try using savory ingredients like grilled vegetables (think peppers), chia seeds (for crunch), and herbs like rosemary or dill (for flavor). Top off with a drizzle of olive oil and freshly cracked pepper for added zing!

Add Nut Butter – An easy way to add protein, healthy fats, and great flavor to oats is by stirring nut butter, such as almond butter or peanut butter, into your cooked oats before eating them. You could also top your creations with chopped nuts for an added crunch!

Spice it Up – Spices such as cinnamon and cardamom- both flavorful favorites- can be used when cooking oats for additional depth in taste that you don't get when eating traditional rolled oats alone; Toasted spices may also bring out even more flavors from these grains!

Experiment With Tea – Why not experiment with tea? Brewing tea leaves and boiling water over rolled oats give the grain its unique aroma while absorbing some of the fragrant flavors present within certain teas that make each cup absolutely fantastic! Go ahead and take this risk; we promise it won't disappoint you!

No matter which method you choose to amp up your oatmeal game, there are infinite possibilities depending on what type of 'flavor profile interests you most! Use whatever ingredients are available at home, whether sweet or savory and create something extraordinary every day.

📚 More healthy oatmeal recipes
🤎 More brown sugar recipes
If you love healthy apple recipes, don´t forget to give a go to our delicious apple cake and our cinnamon apple smoothie, which is low in calories and high in protein.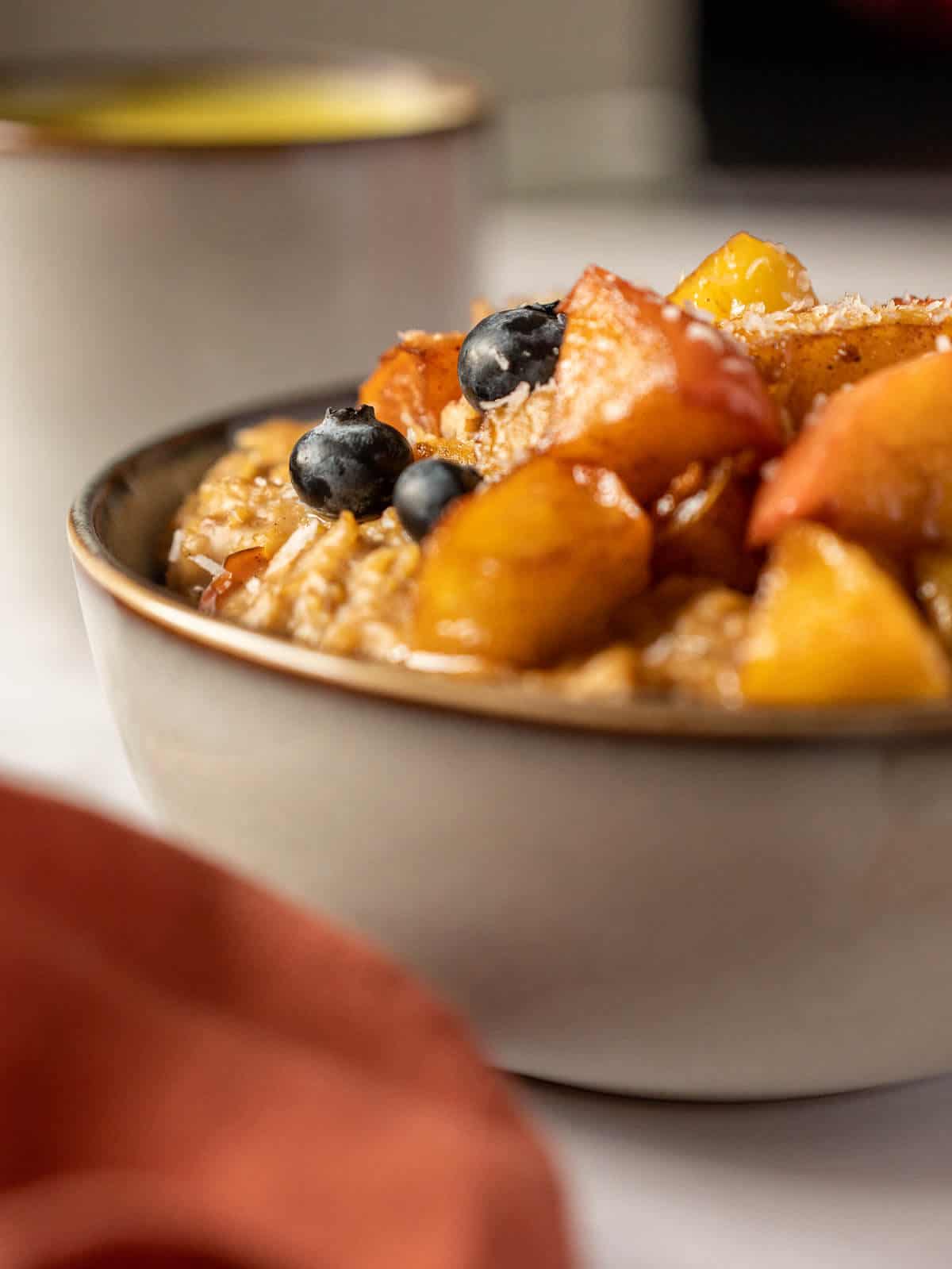 ⭐ If you try this cinnamon oats recipe, let us know! 💬 Leave a comment, rate it, and don't forget to tag us @ourplantbasedworld on Instagram. Cheers!
📋 Recipe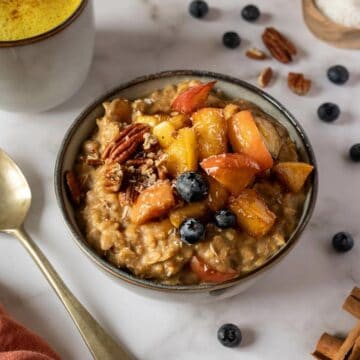 Brown Sugar Cinnamon Oatmeal Recipe
A delicious, plant-based, and healthy breakfast recipe that's perfect for chilly mornings.
Equipment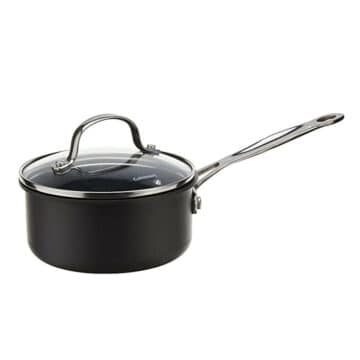 (affiliate link)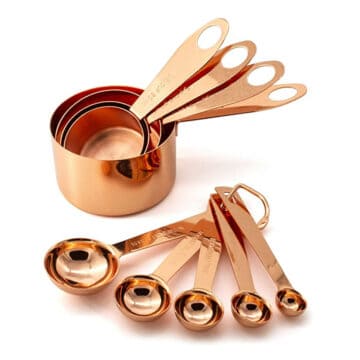 (affiliate link)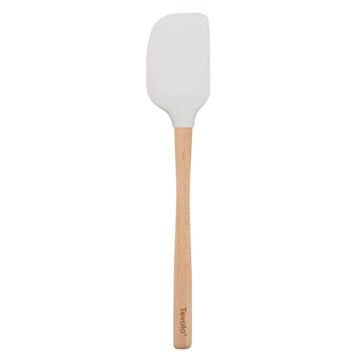 (affiliate link)
Ingredients
1

cup

oats

rolled, old-fashioned, gluten-free

3

tablespoons

brown sugar

or pure maple syrup, agave nectar

2

apples

medium, coarsely chopped

1 ½

cup

plant milk

or your favorite dairy-free milk (soy milk used for more protein)

1

cup

water

¼

teaspoon

cinnamon

ground

½

teaspoon

vanilla extract

Optional, but recommended to add another flavor layer.

1

tablespoon

coconut oil

Optional, but recommended to brown the apples better. Or any other neutral vegetable oil. Omit to make it oil-free.

pinch

sea salt

Optional, but recommended to sharpen the rest of the flavors.
Optional
Suggested toppings
2

tablesspons

chopped pecans

or candied walnuts

fresh fruit

such as sliced bananas, plums, or peaches

cacao nibs

nut butter
Directions
Core and coarsely chop the apple, leaving the skins on.

Stir fry. Add apple chunks to a small saucepan with heated coconut oil; add the brown sugar and cinnamon. Stir fry until the apples start to caramelize. (you can skip this step to save 3 minutes and jump directly into the next step).

You don't need oil, but you can add a tablespoon of coconut oil if you want the apples to have a sharp golden brown tone.

Remove from heat.

Boil. Add the oats, water, and plant milk to the same saucepan and boil (electric stove on 8), stirring occasionally. Add the cinnamon, vanilla extract, and salt—about 5 minutes.

Bring down to a gentle simmer (5 on an electric stove), and add half of the stir-fried apples. Then add the optional ingredients such as nutmeg flax meal, or chia seeds—about 3 minutes.

Remove from heat and top with optional maple syrup, shredded coconut, and blueberries; stir it and serve in small bowls.

Let the oatmeal rest for 3 minutes before eating it.
Notes
Plant milk: any milk works for this recipe. We like using soy milk to increase the protein content of our breakfast.
Spices: play with your spices. You can use only cinnamon, but we like adding cardamom, nutmeg, and ground cloves. The more spices, the more zero-calorie nutrients and minerals you get. 
We like keeping the spices to a maximum of ¼ teaspoon per serving.
Fruits and nuts: add dried fruits while the oatmeal is cooking and fresh fruit when the cooking is over.
Sweeteners: use any kind of sweeter or a mix of two. i.e., 1 tablespoon of brown sugar and 1 tablespoon of maple syrup.
Seeds: they are not necessary, but we like adding them to add antioxidants and Omega 3 healthy oils and protein to our breakfast.
Nutrition Facts
Calories:
438
kcal
Carbohydrates:
74
g
Protein:
11
g
Fat:
13
g
Saturated Fat:
7
g
Polyunsaturated Fat:
3
g
Monounsaturated Fat:
2
g
Sodium:
83
mg
Potassium:
587
mg
Fiber:
10
g
Sugar:
38
g
Vitamin A:
476
IU
Vitamin C:
8
mg
Calcium:
279
mg
Iron:
3
mg
Nutrition Facts
Brown Sugar Cinnamon Oatmeal Recipe
Amount per Serving
% Daily Value*
* Percent Daily Values are based on a 2000 calorie diet.
🌡️ Food safety
Cook to a minimum temperature of 165 °F (74 °C)
Do not use the same utensils on cooked food, that previously touched raw meat
Wash hands after touching raw meat
Don't leave food sitting out at room temperature for extended periods
Never leave cooking food unattended
Use oils with a high smoking point to avoid harmful compounds
Always have good ventilation when using a gas stove
See more guidelines at USDA.gov.
Nutritional Disclaimer
The information shown is an estimate provided by an online nutrition calculator. It should not be considered a substitute for a professional nutritionist's advice. See our full Nutritional Disclosure here.
Affiliate Disclaimer
Please note that some of the links here are affiliate links, and I will earn a commission if you purchase through those links. I recommend all of the products listed because they are companies I have found helpful and trustworthy.