Pomegranate sounds scary. However, breaking through the hard skin and getting into the juicy ruby-red seeds (also known as arils, is worth the 10 minutes of effort as the health benefits of pomegranate are extensive. These fruits are widely consumed and have been used as preventive and therapeutic agents since ancient times. Find out more about those benefits and how to juice a pomegranate.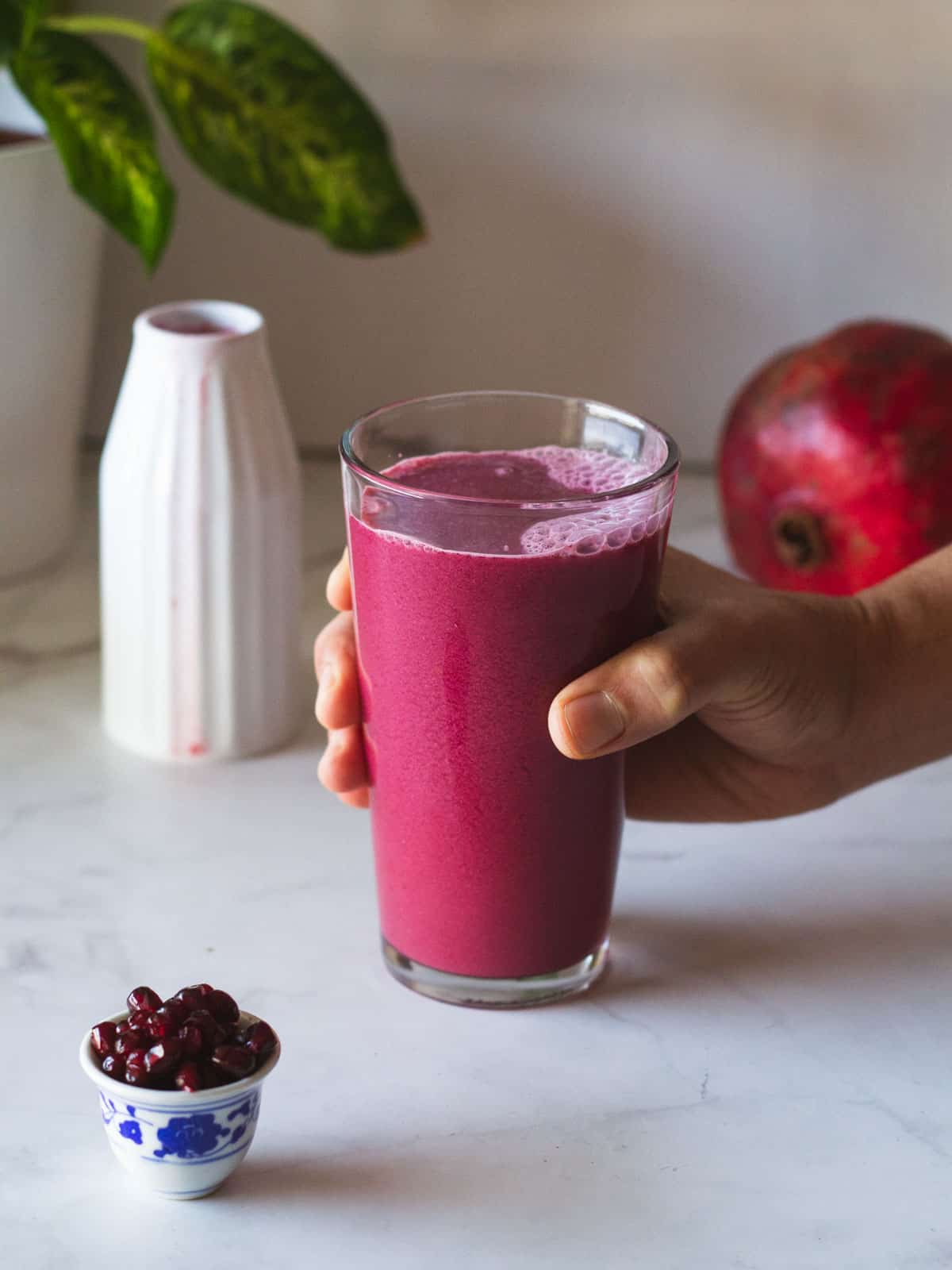 Tart arils help to maintain a strong immune system. Plus, it might help add flavor to your salads or your seltzers.
Let's take a look at pomegranates' history and health benefits and how they should be added to a diet.
Jump to:
🧐 Pomegranate origins
The pomegranate is thought to have originated in Persia, but it now grows in many countries throughout the world. It is widely cultivated for both its fruit and because the pomegranate plant is an attractive ornamental landscape specimen plant.
The botanical name for pomegranate is Punica granatum. The word "granatum" means a seed-bearing structure with seeds.
The word "pomegranate" comes from medieval Latin and means apple with many seeds.
Pomegranates are now widely grown worldwide for their health-giving properties, tolerance of heat and cold, decorative value, high productivity, and industrial usefulness.
They are cultivated in most warm temperate to subtropical regions of the world and in certain tropical areas.
Pomegranates are very drought-tolerant plants, making them well-adapted to hot climates such as those found in Southwestern Asia and California's San Joaquin Valley.
Once established, these plants will grow and fruit prolifically, with very little maintenance required.
🔪 How do I prepare and eat pomegranates?
Pomegranates can be eaten in a variety of ways. The most well-known way is to eat the seeds inside, which are full of health benefits. The taste has been described as somewhere between apple and grapefruit, perhaps a little tangy.
You can use them in smoothies, salads or desserts, pomegranate jelly, or pomegranate martinis.
While traveling in Turkey, I was amazed to watch how they used a pomegranate press to juice pomegranates in the streets in seconds. It is a more popular than orange juice; no wonder it is delicious and has tons of health benefits.
They are commonly used on top of the famous Middle East Eggplant Dip, Babaganoush, and the pomegranate molasses are also used in famous dishes like the Roasted Peppers Muhammara Dip, and the Lebanese salad, Fatoush.
Pomegranates are commonly sold in markets already prepared and ready to eat. The arils can be scooped out of the fruit's interior…
💜 Why You Will Love It
Rich in Antioxidants
Heart Health Boost
Natural Detoxifier
Easy to Prepare
Vibrant Flavor Profile
🧾 Ingredients
Although you only need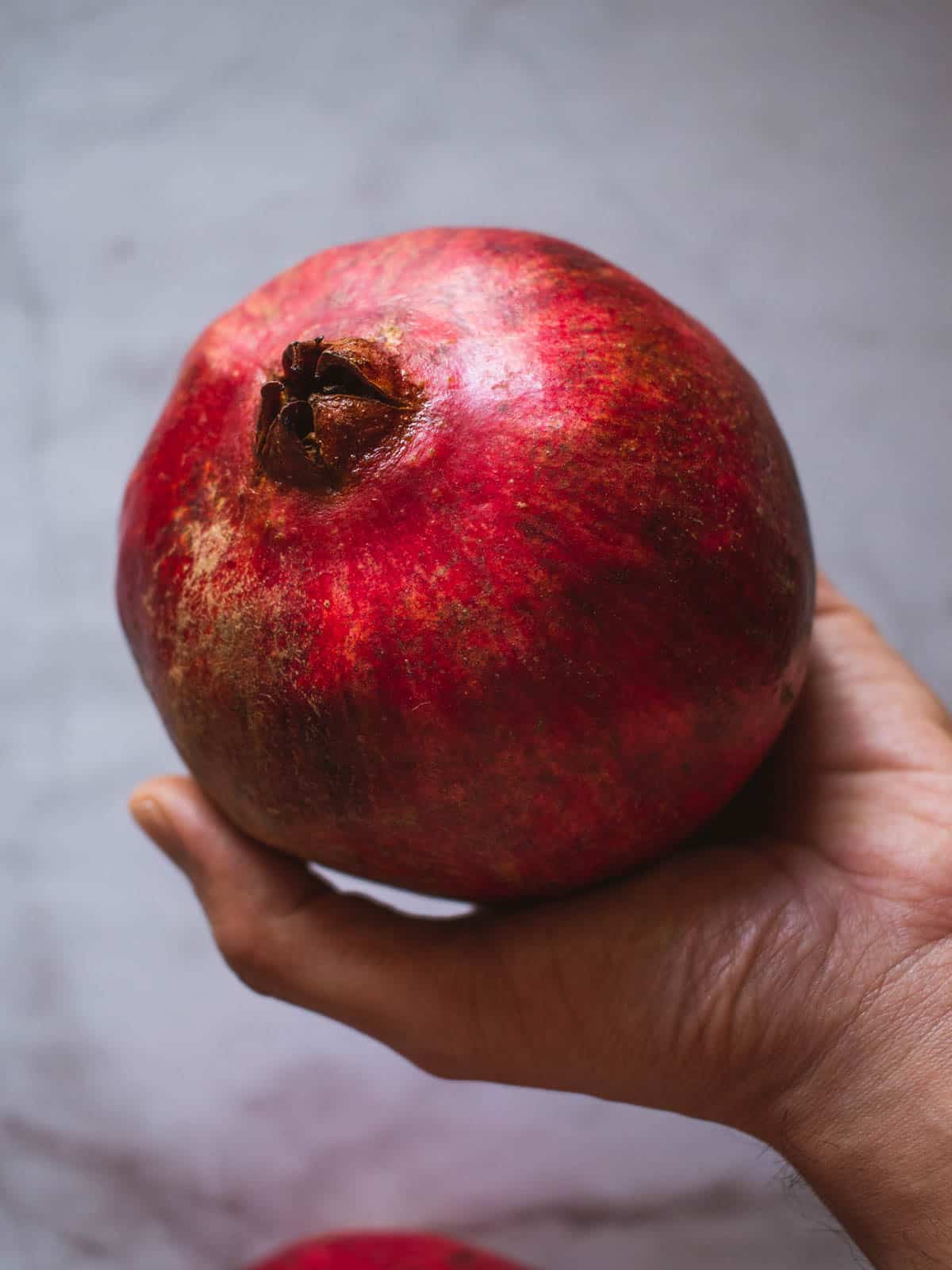 Pomegranate
Water (optional)
🍽 Equipment
To juice your pomegranate, you need a:
High-speed blender
Colander
Large or medium mixing bowl
A blender is an excellent choice for making this delicious cleanse juice, designed for Juicer-less mates!
👨🏻‍🍳 Pomegranate - how to juice
If you are looking into how to make pomegranate juice, you have arrived dot the right place. Although you only need a pomegranate fruit, I like to add some water to facilitate the blender's work and the sieving process.
I find that adding water also balances the tartness and makes the pomegranate yield more volume, but that is completely optional.
Top tip: use an apron before you start, as pomegranates tend to sprinkle. No worries, the drops look like red wine, but they don't stain permanently, but still, you will need to wash any fabric to easily get rid of the stain.
Cut the pomegranate
Step 1: Trim off the crown with the tip of a knife.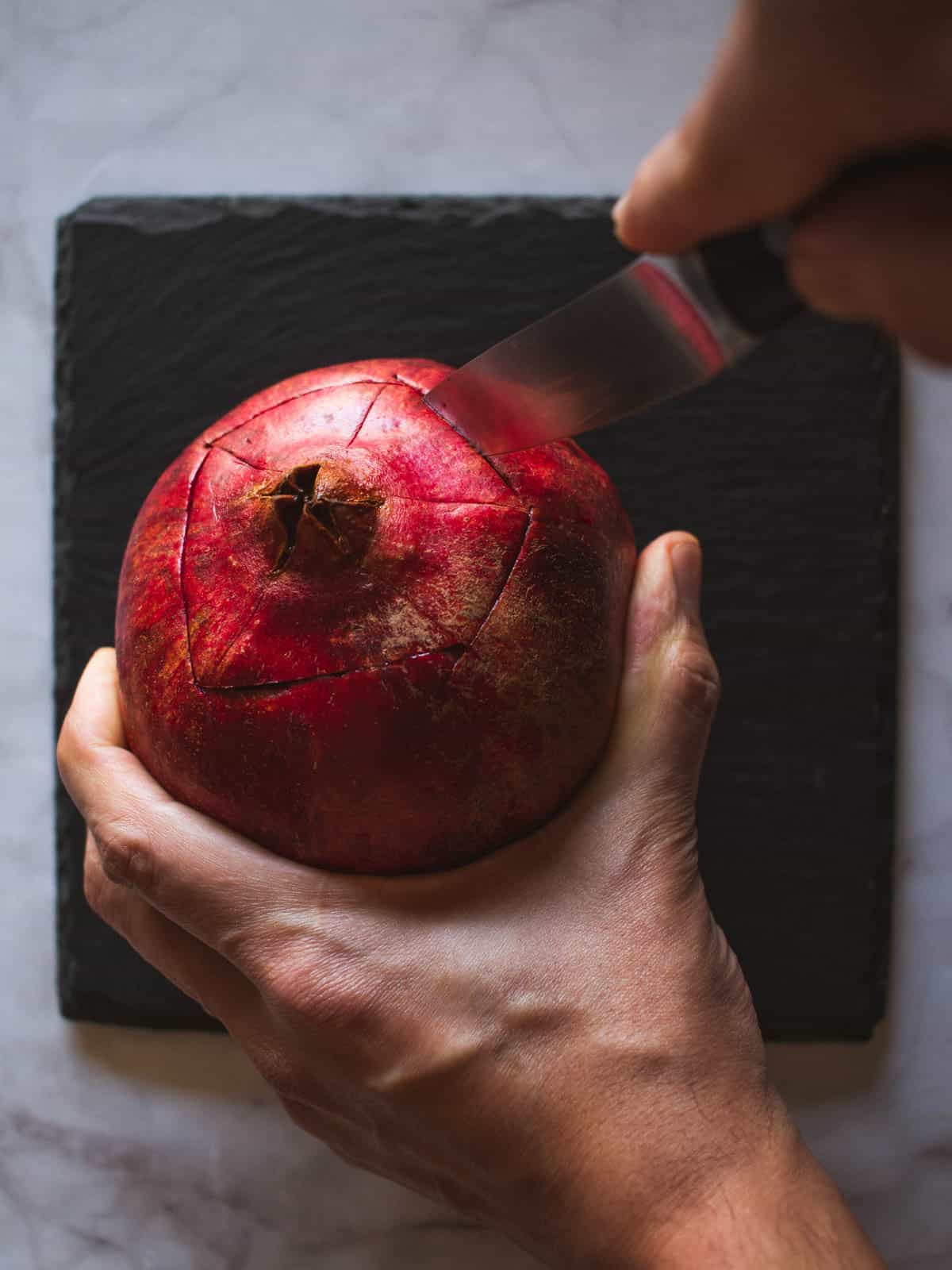 Step 2: Check where the star angles are, then cut the top in a pentagon shape.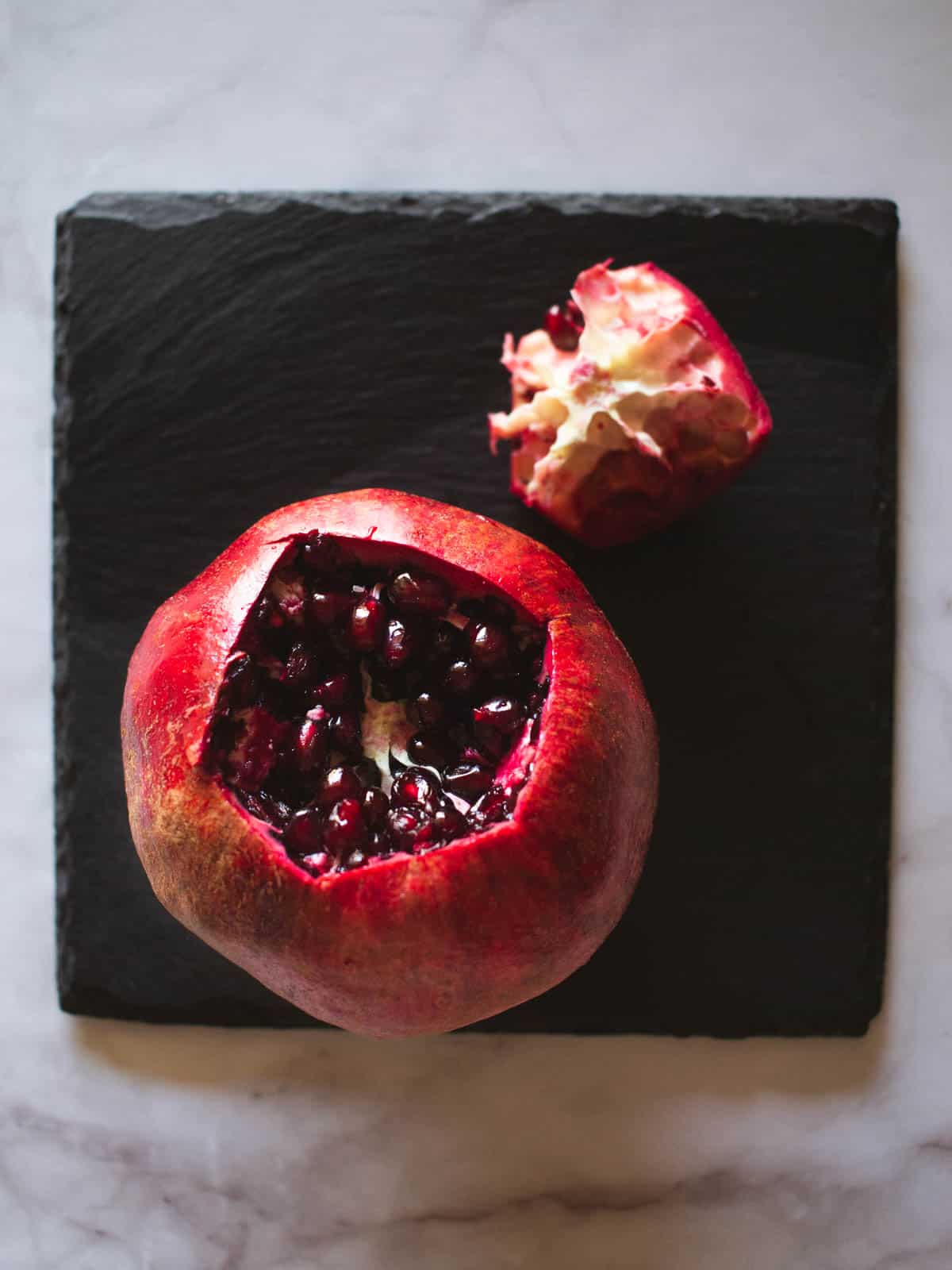 Step 3: Continue scoring the skin halfway down.
Then, open the fruit like an open flower.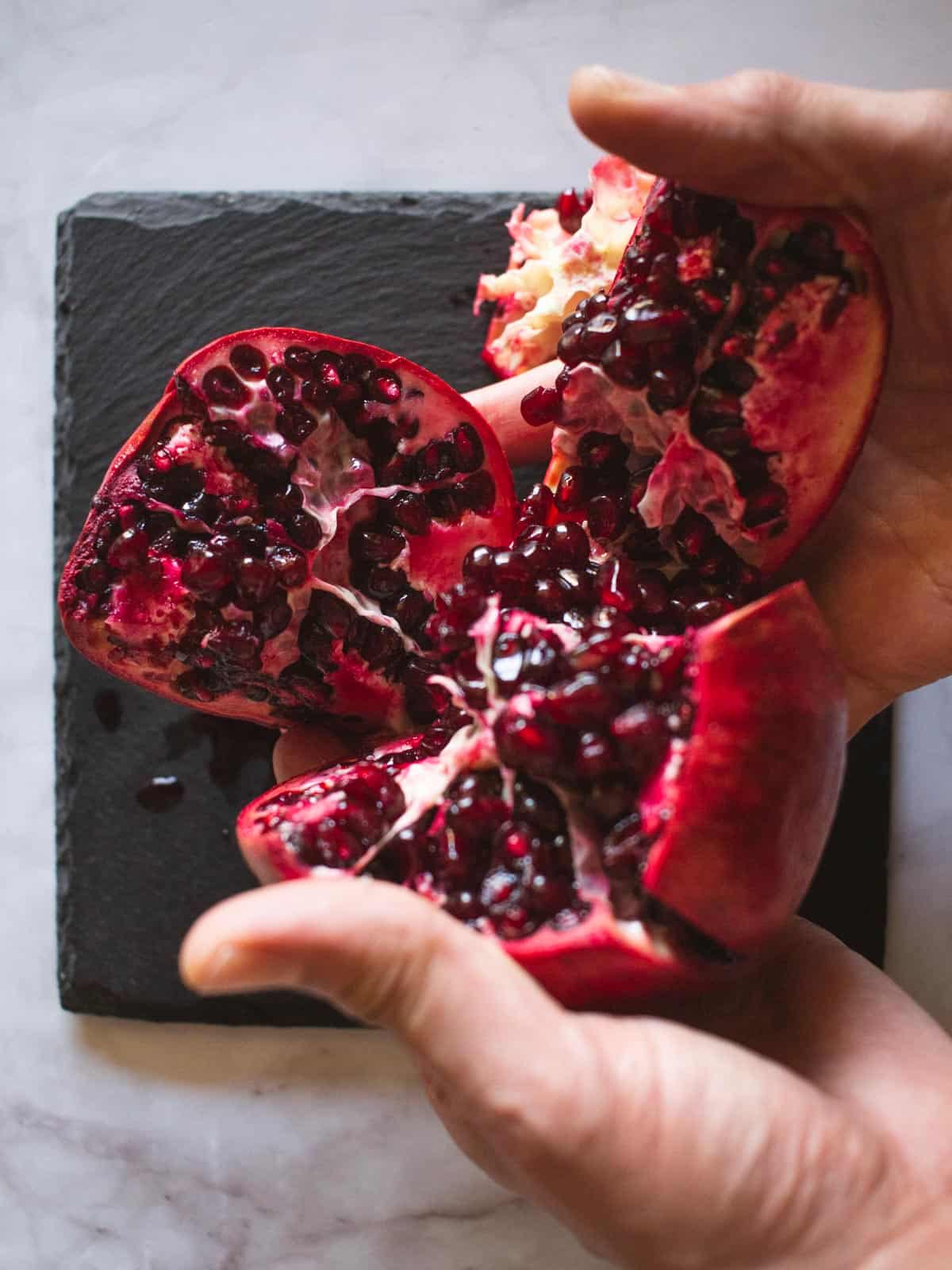 Step 4: Place the pomegranate seeds into a large mixing bowl with water and deseed.
The juicy seeds will sink while the peels (white membranes) float. Use the colander to skim peel from the top of the water and drain the arils in a colander.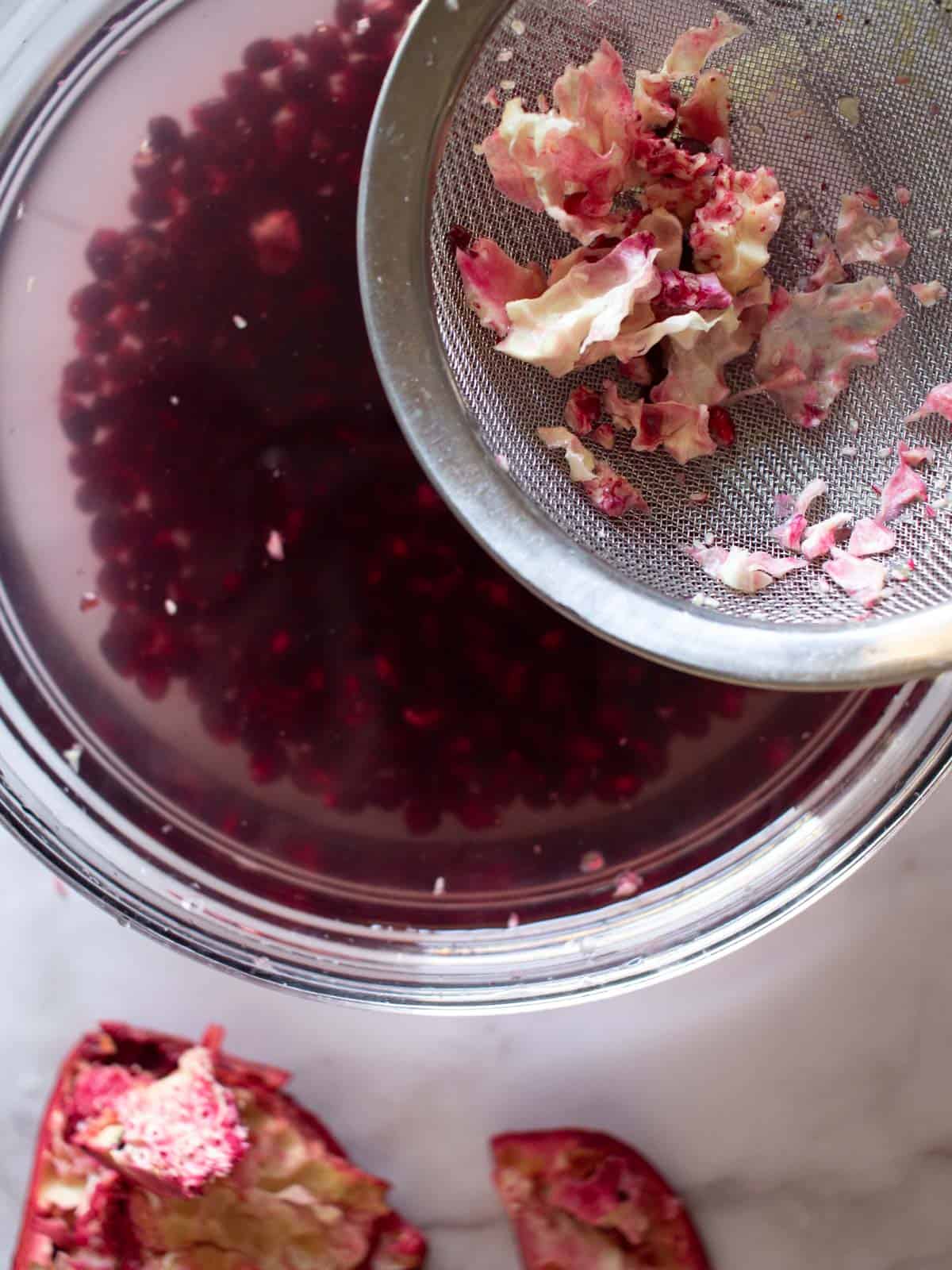 Hint: Doing the deseeding underwater helps to prevent the red drops from sprinkling all over you.
Step 5: Strain the pomegranate arils using a colander. At this point, you can use your pomegranate arils to place them on top of baba ganoush, yogurt, or desserts or blend them in a smoothie, like our superfood detox smoothie.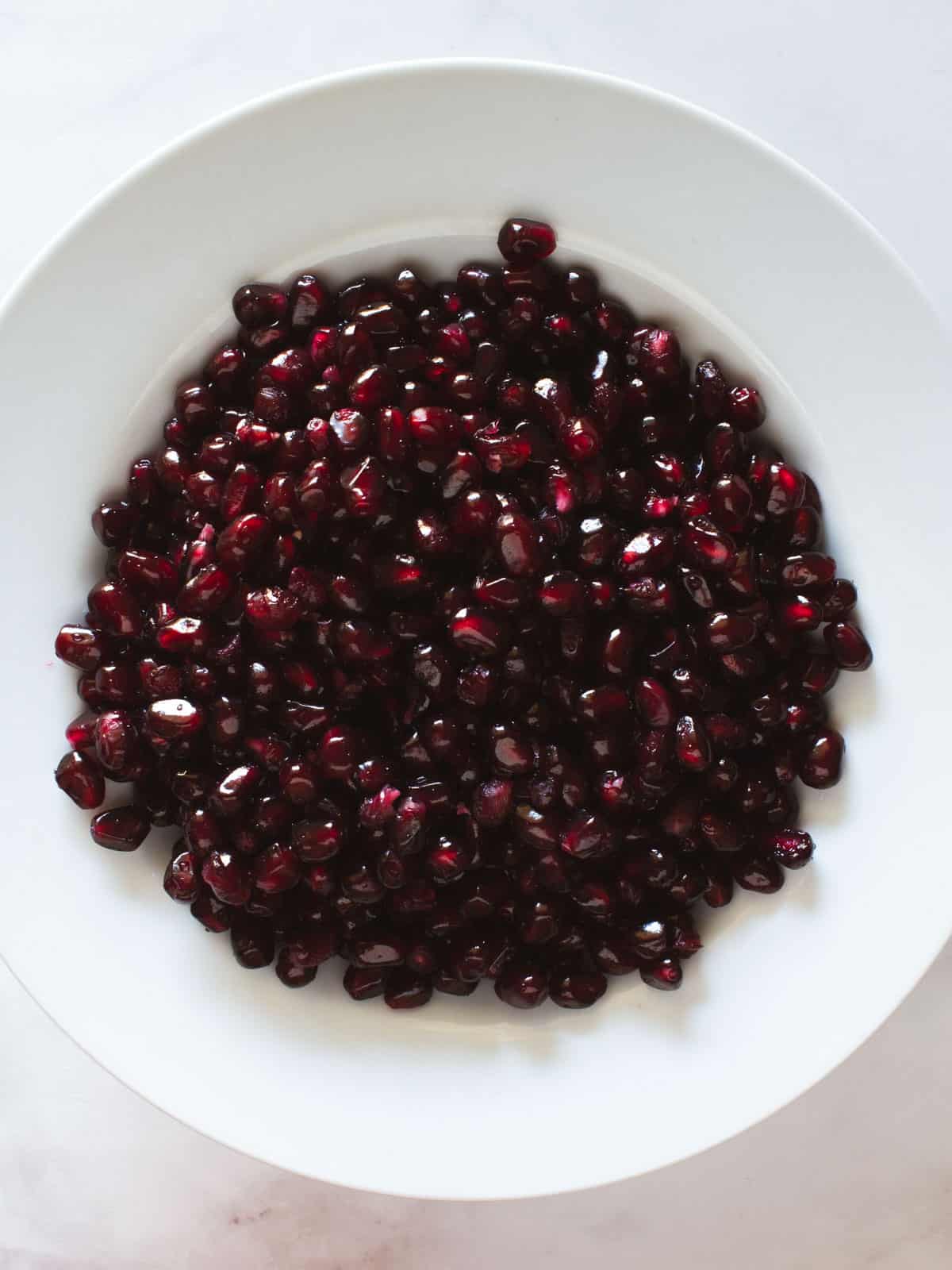 Use the pomegranate arils to top your vegan Babaganoush Dip or baked stuffed eggplant.
Juice pomegranate
Step 6: Place the pomegranate arils in a high-speed blender and add water.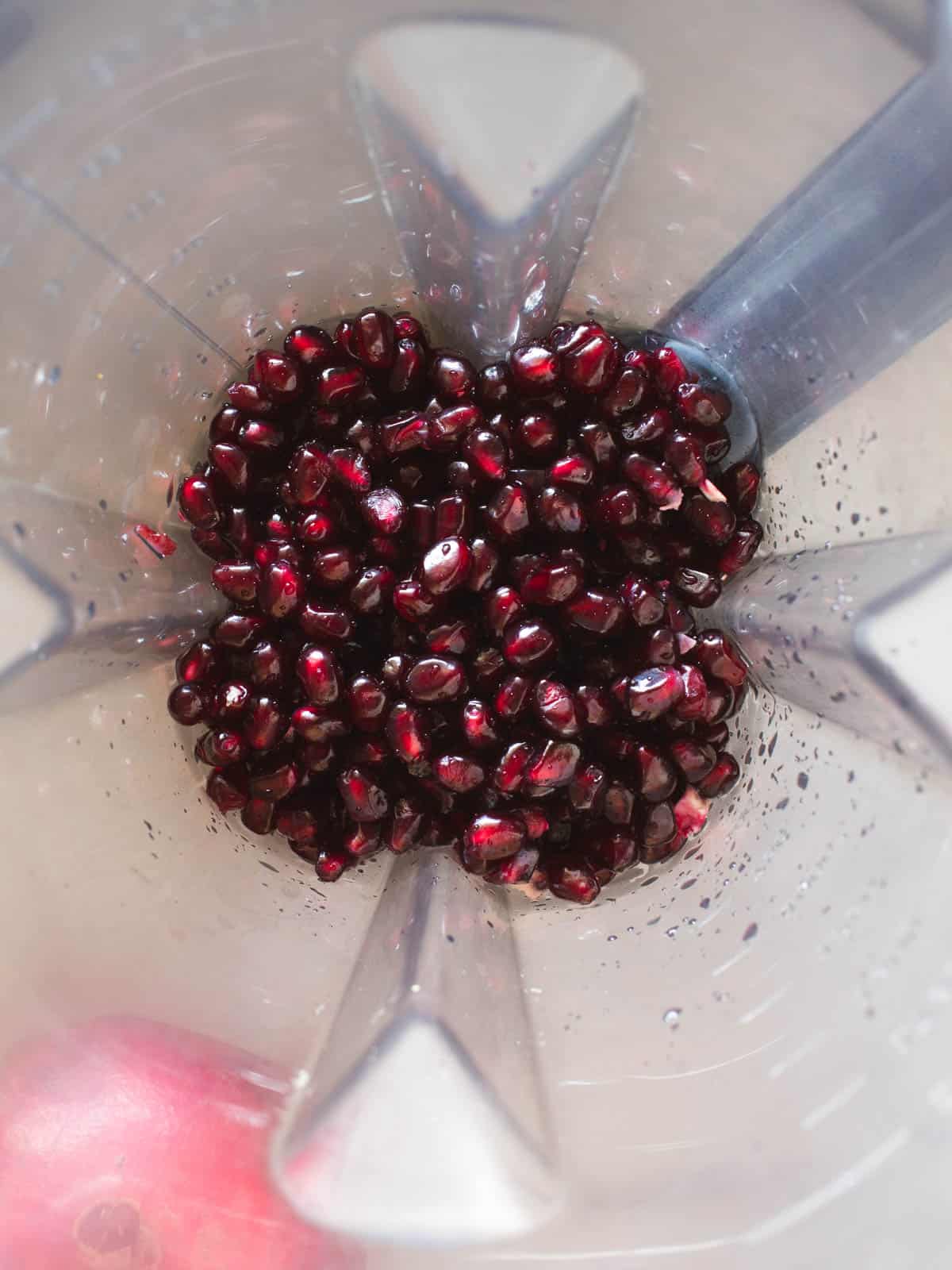 Step 7: Blend for 40 seconds until perfectly mixed. It will look creamy with a silky dark pink color.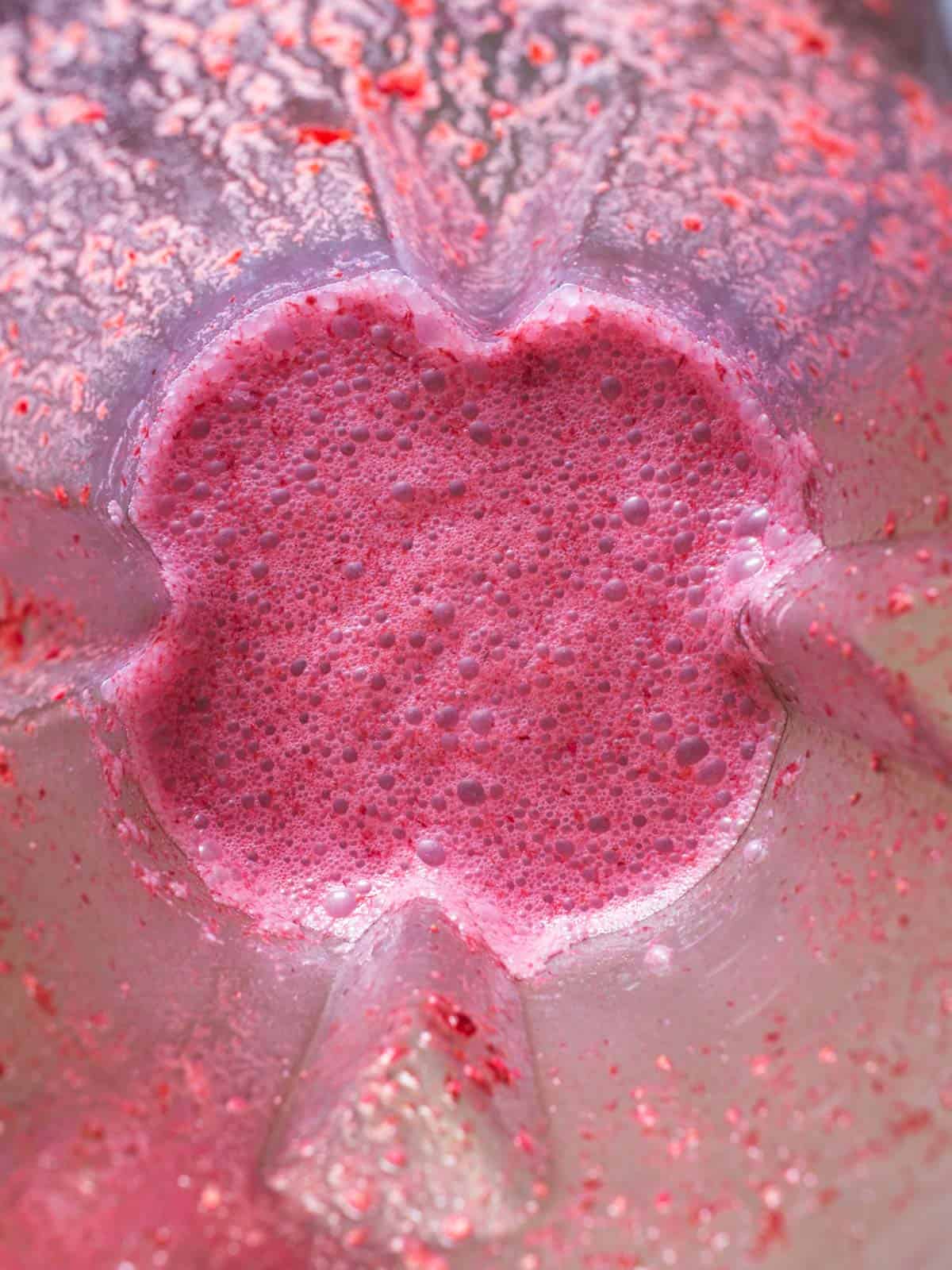 Step 8: Sieve the liquid with a fine-mesh colander. You will notice that the liquid is thick; no worries, stir with a spoon to accelerate the process; it will not take more than one or two minutes.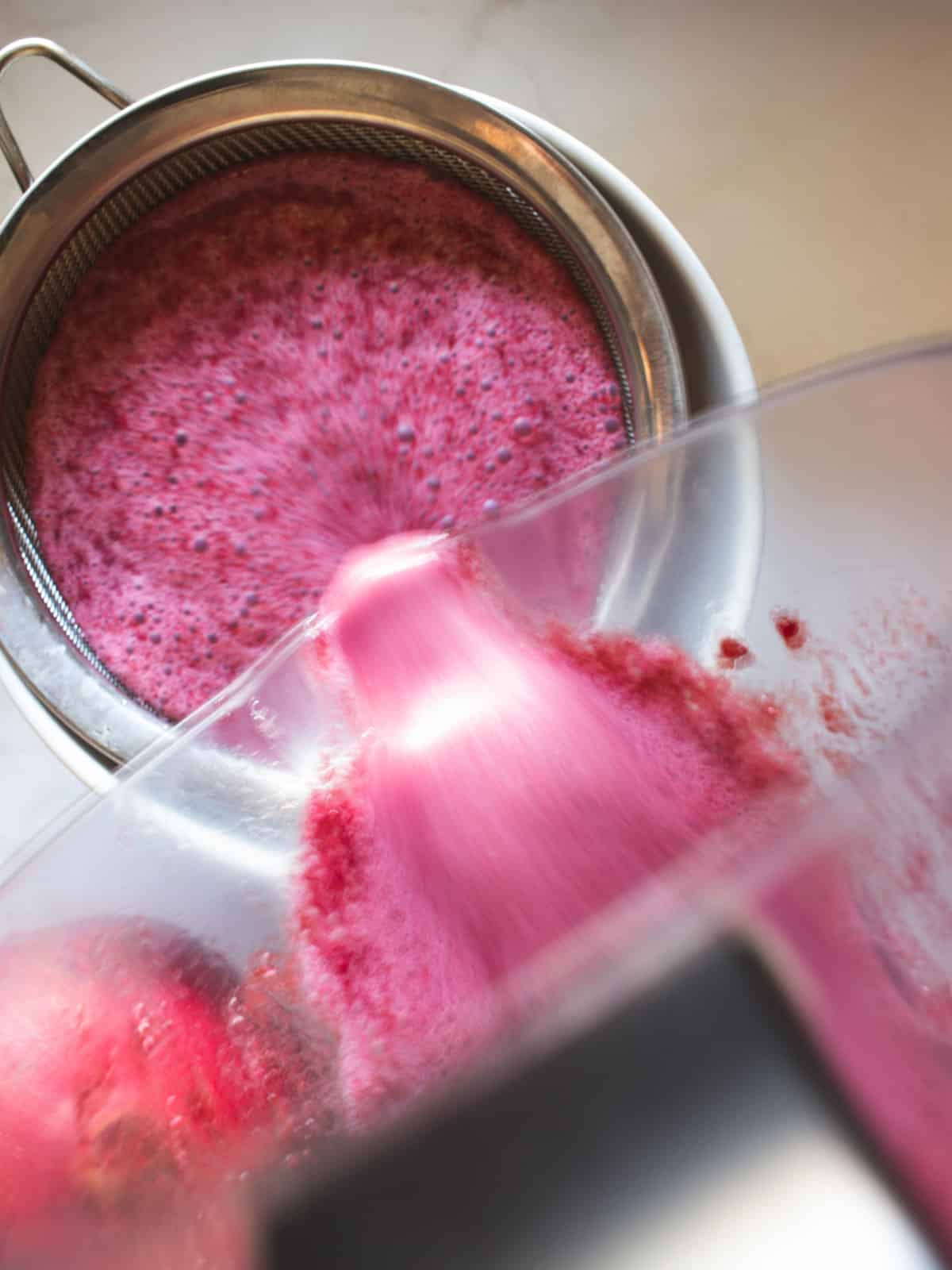 And that is it; you have a fresh pomegranate juice, ready to drink.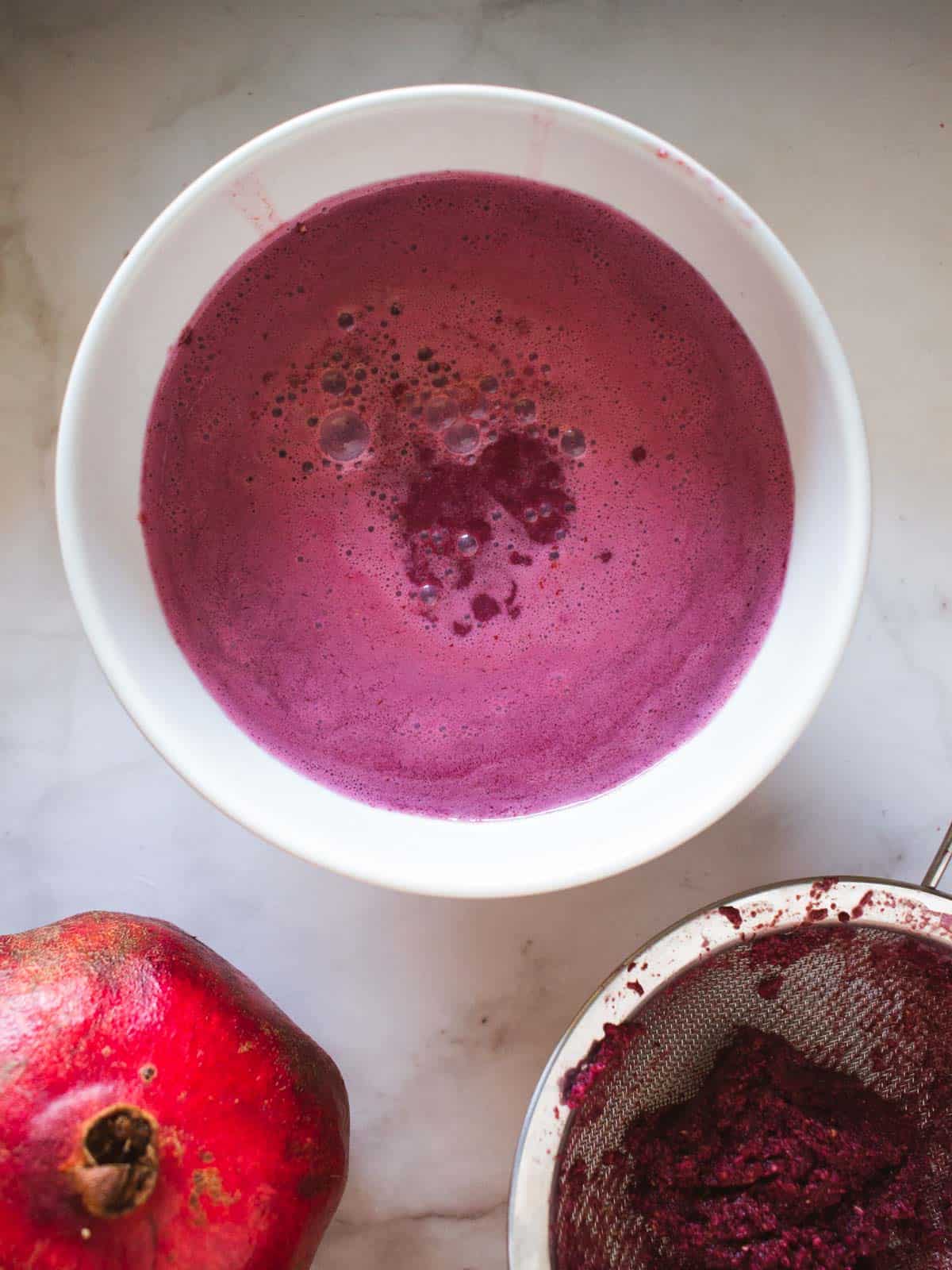 Serve in a glass or store in a mason jar or a container with a closed lid.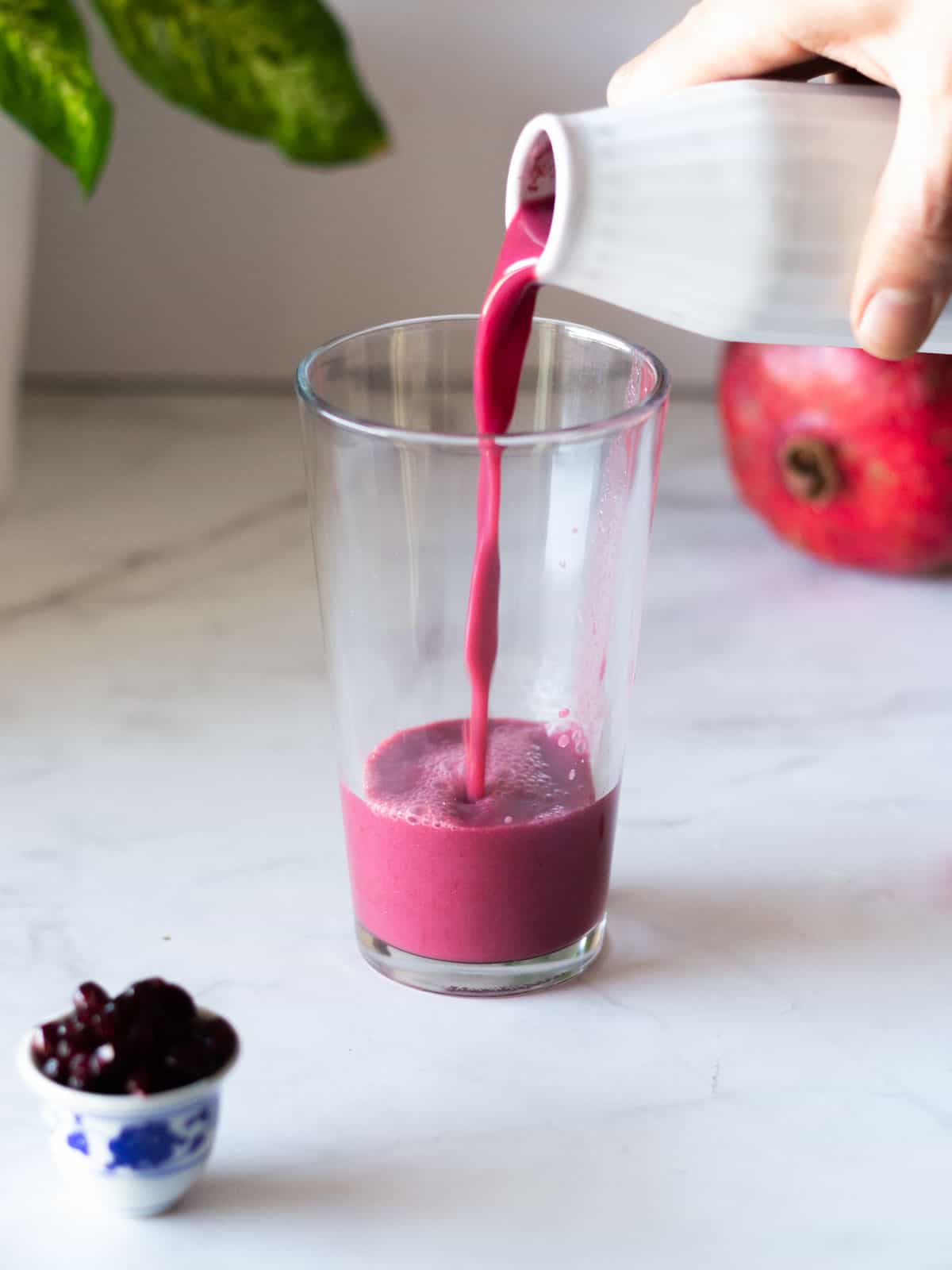 💡 Expert tips
Perfect Seed Extraction: To ensure you get the most out of your pomegranates every time, use the water bowl method for seed extraction. Cut the pomegranate in half, then submerge it in a bowl of water. Gently break it apart and release the seeds.
The seeds will sink to the bottom while the pith floats, making it easy to separate them. This method not only simplifies the process but also helps prevent the juice from splattering, keeping your kitchen clean!
Chill Before Juicing: For a refreshing taste and easier juicing, chill your pomegranates in the refrigerator before extracting the juice. Cold pomegranates are firmer, making them easier to handle and less likely to burst prematurely, ensuring a neater juicing process.
Optimal Ripeness Matters: Selecting the right pomegranates is key to the best-tasting juice. Look for fruits that are heavy for their size, indicating more juice. The skin should be deep red and slightly firm, with a bit of give. Avoid very hard or overly soft pomegranates. Ripe, juicy pomegranates will naturally enhance the flavor and sweetness of your juice.
📖 Variations
Sometimes, and just for a change, I like adding a knob of fresh ginger to the blender.
Sparkling Pomegranate Juice: Add a fizzy twist to your pomegranate juice by mixing it with sparkling water. This creates a refreshing, light beverage, perfect for warm days or as a festive, non-alcoholic drink option.
Pomegranate Citrus Blend: Combine your fresh pomegranate juice with a splash of orange or grapefruit juice. This not only adds a tangy dimension to the flavor but also boosts the vitamin C content, making it an even healthier choice.
🫙 Storing
Storing pomegranate juice
Fridge - you can store pomegranate juice in the fridge using a closed mason jar, for up to 5 days.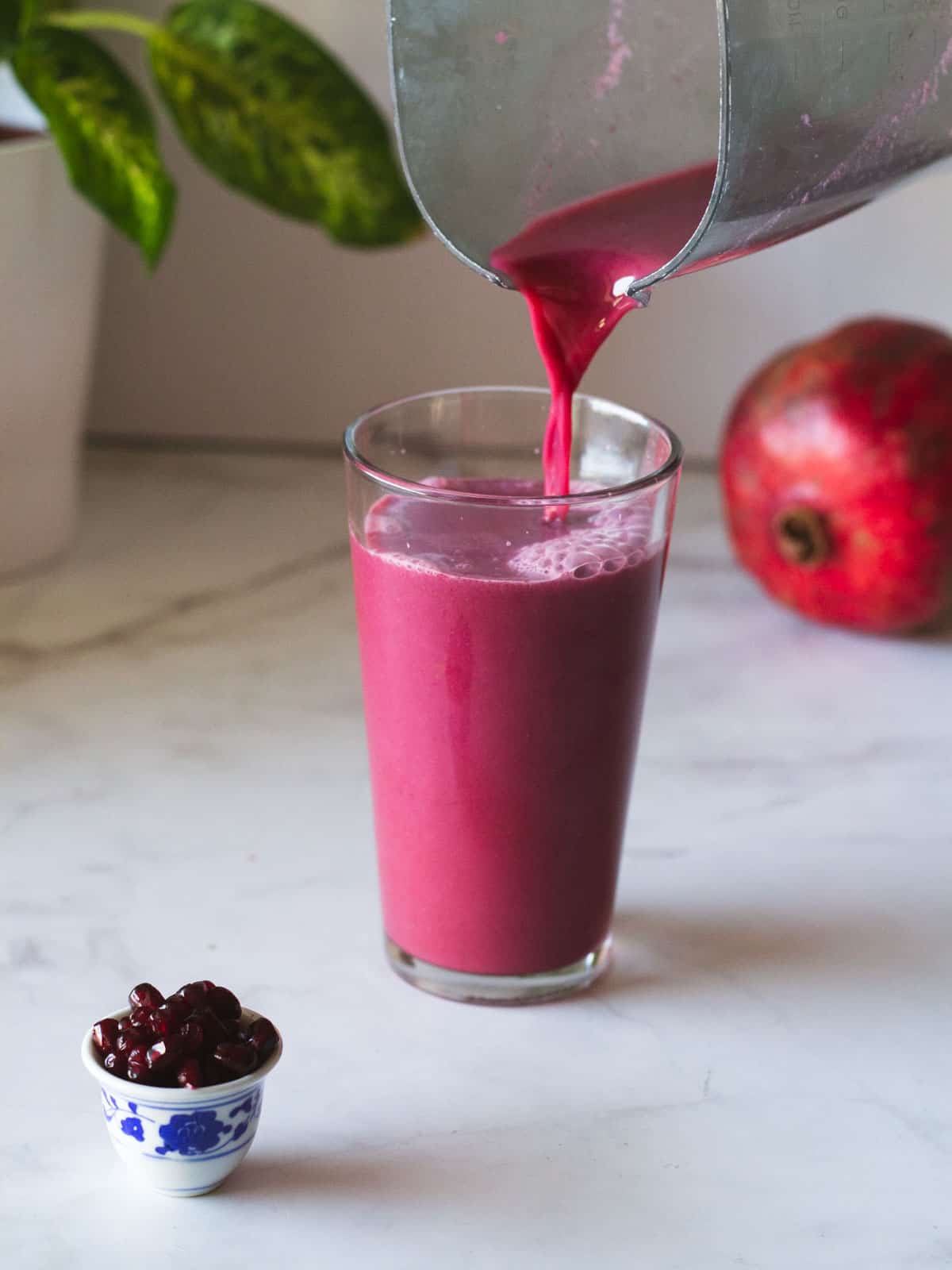 Freezer - what is nice about freezing the juice is that it holds better taste and color.
To freeze pomegranate juice, make sure you leave about ½-inch (about 1 cm) headspace to allow for expansion. Always store in an upright position until frozen.
Storing Pomegranate seeds (arils)
Fridge - use an airtight container and keep the arils in the fridge for up to 5 days.
Freezer - spread the pomegranate arils on a parchment-lined baking sheet and freeze for 1 hour. Then, transfer them to a freezer bag or an airtight container.
The arils will be good to use for up to 1 year. Simply thaw them, leaving them in the fridge overnight, or use them as they are if you add them to a smoothie where you regularly use frozen fruits.
✅ 10 Health benefits of pomegranates
Drinking pomegranate juice has many potential health benefits and helps find many serious diseases.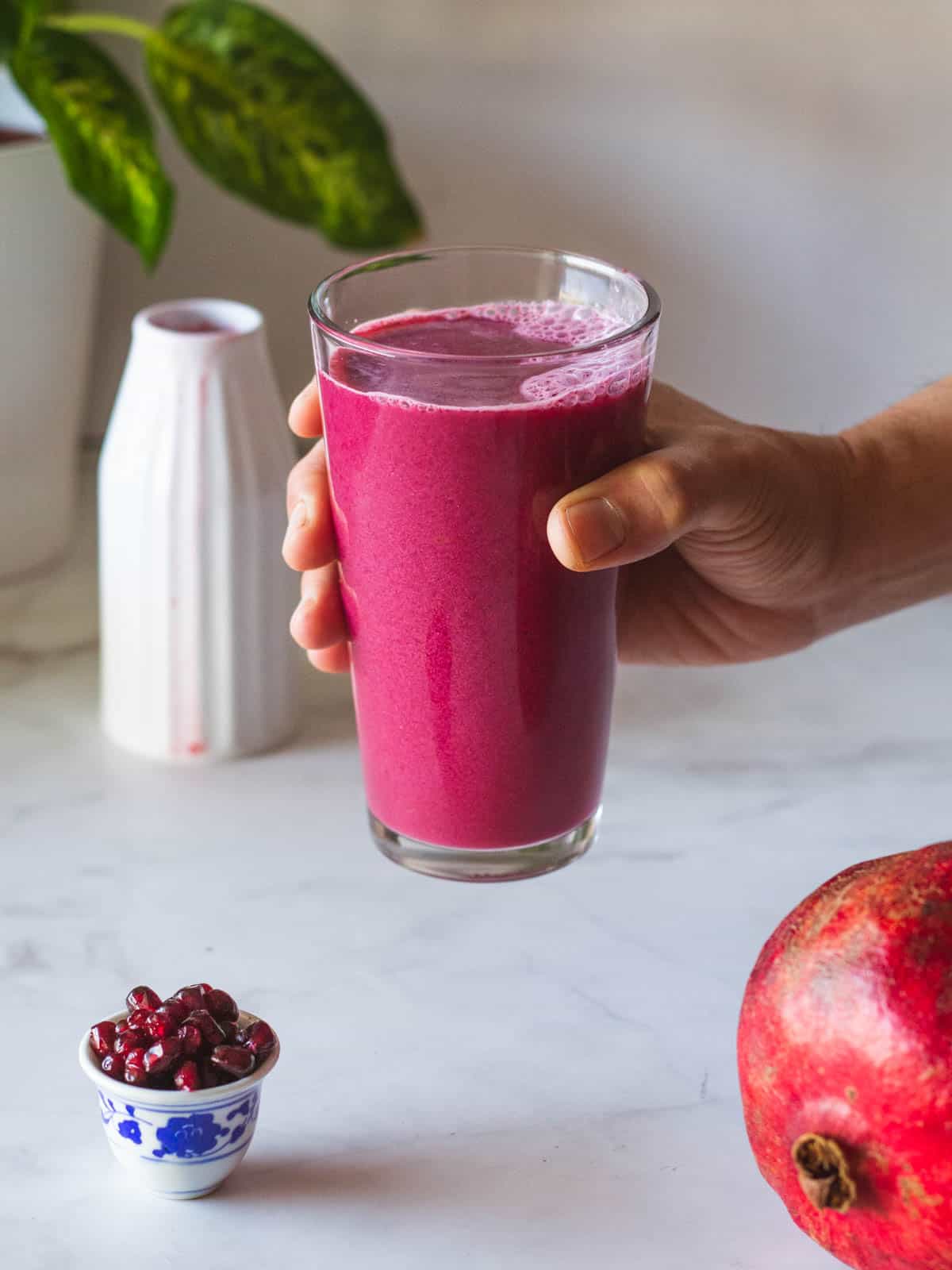 High blood pressure
The pomme is also rich in folate and potassium, a key factor in maintaining healthy blood pressure and healthy blood flow.
In one study, people suffering from hypertension experienced a reduction in blood pressure after consuming pomegranate juice daily for two weeks.
If you are fighting against high blood pressure and need to improve systolic blood pressure, pomegranate extracts or juice may help to lower blood pressure.
Heart disease
Pomegranates are great for cardiovascular health, as they help with blood flow and appear to protect the heart and arteries. This is why it is considered one of the most heart-healthy juice.
Studies have shown that pomegranate juice keeps the arteries from becoming stiff and thick, improving heart health.
If you suffer from heart disease, consuming pomegranate juice would be great. Remember to consume with your doctor, as some studies find that pomegranate juice may not interact well with certain medications.
Cancer prevention
Several studies suggest that drinking pomegranate juice may help slow the spread of prostate cancer, colon cancer, and breast cancer cells.
Reduce inflammation
Pomegranates may help fight inflammation because of their high concentration of antioxidants. This red fruit's anti-inflammatory properties can help reduce inflammation throughout the body and prevent oxidative stress and damage.
Chronic inflammation is a widespread problem that can be linked to a healthy diet.
If fighting inflammation is your main goal, alternate this juice with our anti-inflammation juice.
Improves exercise capacity
Is Pomegranate a good food for weight loss?
A significant increase in the intake of pomegranate does not necessarily result in weight loss overnight.
Currently, there is very little evidence that pomegranate can be helpful for fat loss, but the research suggesting this connection was very small or not important for conclusions.
But, a study in athletes running on a treadmill showed that one gram of pomegranate fruit extract 30 minutes before exercise significantly enhanced blood flow and lung capacity, delaying fatigue and increasing exercise efficiency.
Although more studies are needed, it seems that we can benefit from consuming pomegranate — like beetroots —for physical performance. See our pre-workout beet juice and your perfectly balanced post-workout smoothie.
Despite the weight reduction benefits, pomegranates are a vital component in healthy eating are also good for the body, and can reduce weight.
Pomegranate holds dietary fiber and may help reduce weight if eaten as a healthy sweet treat instead of more caloric-dense sweets.
Also, endurance while exercising may help contribute to higher caloric burn.
Drinking pomegranate juice for brain health
Another study in 28 older adults with mild memory complaints found that 1 daily cup (8 ounces of pomegranate juice) of pomegranate juice helped improve verbal and visual memory and may prevent Alzheimer's disease.
Erectile dysfunction
One study found that subjects consuming 8 ounces (1 cup) of pomegranate juice daily helped half of the participants to experience an improvement in their erections. The fruit's vitamin may help with erectile dysfunction.
Antioxidant properties
Antioxidants found in pomegranate juice have higher levels of nutrients than most other juices, including high levels of Vitamin K and Vitamin C, one of the most potent antioxidants.
The red color in pomegranate seeds comes from polyphenols. These chemicals are antioxidants that protect cells from damage.
Pomegranate juice has 3 times more antioxidants than green tea and red wine. The antioxidant content in pomegranates can protect cells from oxidative damage while helping remove free radicals.
Pomegranate juice's antioxidant activity is way bigger than that of common, well-known antioxidants containing fruits and vegetables.
Rheumatoid arthritis and joint pain
We know that arthritis has become a common problem in Western countries, often linked to lifestyle habits.
Some studies suggest that pomegranate extract may block the production of an enzyme that makes arthritis worse. This enzyme destroys cartilage, which is important for joint health.
Studies in mice indicate that pomegranate extract may be beneficial against arthritis and osteoarthritis, but still, human research is needed. (source)
Bone health
Promote Bone Health Milk's old campaign myth has been busted; instead, we should be drinking pomegranate juice, one of the best drinks for strong bones. A 2013 study found that pomegranate can be used to reduce bone loss in animals with osteoporosis.
Dental plaque
Pomegranates may help to stop the growth of bacteria in your mouth. This could mean that you are less likely to get tooth decay, gum diseases, and thwart plaque. (source)
Diabetes
Pomegranate was traditionally used as a diabetes remedy in India and some countries in the Middle East.
While more research needs to be done, it is agreed that pomegranate juice may help lower blood sugar and decrease insulin resistance. source.
Read on: Vegetable Juice for Diabetics » and Low-sugar Strawberry Juice »
You can widely find pomegranate juice, but we prefer fresh pomegranate juice, as its flavor is better and its Vitamin c is better preserved.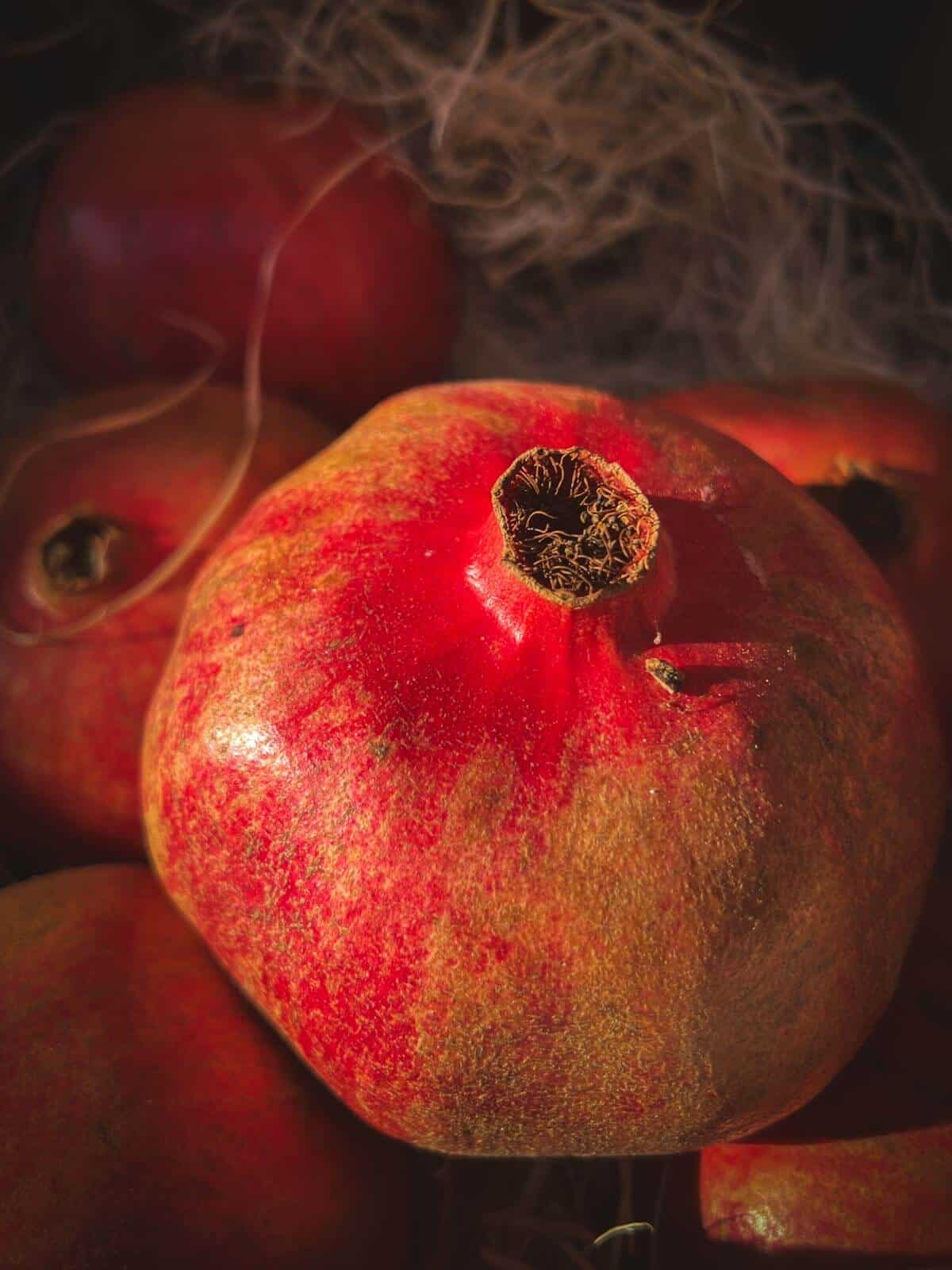 The Health benefits of pomegranate juice don't end here, we have picked the ten we consider to be the most prominent, but there are many more, including boosting fertility and weight loss.
⚠️ Side Effects of Eating Pomegranates and Potential Health Risks
Pomegranates have a good reputation. On the other hand, some people may be allergic to pomegranate and can experience the uncomfortable effects of pomegranate juice.
Typically, allergic reactions are apparent by the following symptoms: an itchy eye and difficulties breathing.
Pomegranate juice may hinder the effectiveness of other drugs, including cholesterol-lowering and blood-pressure medication.
It would make sense to check the medical practitioner before taking any form of a pomegranate; this helps determine the risks involved.
🥇 Nutrition of pomegranates
One Cup of Pomegranate seeds contains 117 calories, 6 grams of fiber, 26 grams of carbohydrates, 2 grams of fats, and 2 grams of protein.
❓FAQ
How to tell if pomegranate seeds are bad?
When it comes to determining whether pomegranate seeds are bad or not, there are a few things you should consider.
One of the most prominent indicators is the appearance and smell of the seeds. If they look shriveled or dried out and don't have a bright red color, they're likely to go bad and should be discarded.
Additionally, if the seeds have an off-putting odor, this is indicative of them being past their prime.
Another way to test for freshness is by tasting a single seed. If it's sweet and juicy with no sign of discoloration or mold inside, then chances are good that they're still good to eat! However, if they taste sour or bland in any way whatsoever, then discard them immediately, as this means that they've gone bad.
You can also check for signs of spoilage on the outside of your pomegranates as well – any brown patches on their skin could mean that some parts may have gone rancid already, so keep an eye out for these signs as well when trying to determine freshness.
Finally, one last indicator you can use to tell whether your pomegranates have gone bad is gently squeezing them; if you feel any soft spots that indicate decay, discard them immediately since bacteria have begun colonizing the fruit, which isn't safe to consume anymore.
It's important to remember, however, that all these tips will help distinguish between good and bad pomegranates. Still, at times, even perfectly ripe fruits can be infected with disease-causing microorganisms such as E coli, so always make sure to wash whatever produce you thoroughly buy before consuming it - just in case!
How to select and store pomegranates?
Pomegranates feel sturdy on top. Don't overthink the hue because it shows the pomegranates type and not their maturity - colors ranging from vibrant pinks to bright reds.
Avoid any pomegranate which shows signs of bleeding. It's easy to store pomegranates in the fridge or freezer.
The whole fruit may sit at your kitchen temperature for about a week and be stored in the freezer for two weeks.
🧃 More healthy juices recipes
We love green juices to start our day, and this Simple Detox Green Juice checks all the boxes.
Since we are carrot lovers and admirers of great skin, the Carrot, apple, and celery juice, and health benefits, is the juice that we drink the most, along with our Morning celery juice which has great anti-inflammatory benefits.
The Beetroot, apple, and celery juice is our juice of choice prior to workout, given beets' amazing recovery benefits.
Also, if you are considering joining the juicing gang, I recommend reading our blog post, Juicing for health, and our favorite 10 detoxifying drinks, for all the tips and useful information.
If you liked this post, I am sure you will love to learn how to make strawberry juice at home and learn about its health benefits.
⭐ If you try this recipe, let us know! 💬 Leave a comment, rate it, and don't forget to tag us @ourplantbasedworld on Instagram. Cheers!
🎥 Video
📋 Recipe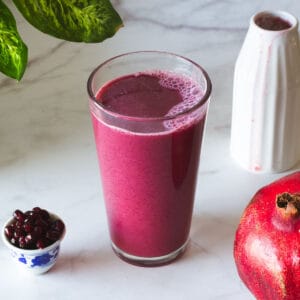 Pomegranate recipe juice
Make your own delicious and healthy pomegranate juice! Discover 10 health benefits pomegranate fruit, a fruit that has been used from ancient times to treat and prevent disease.
Equipment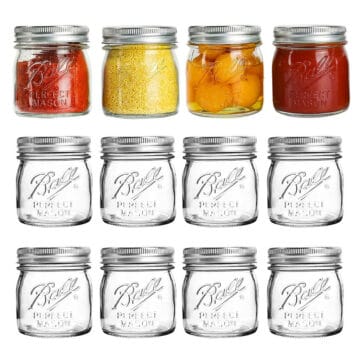 (affiliate link)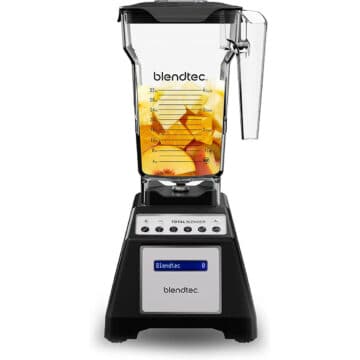 (affiliate link)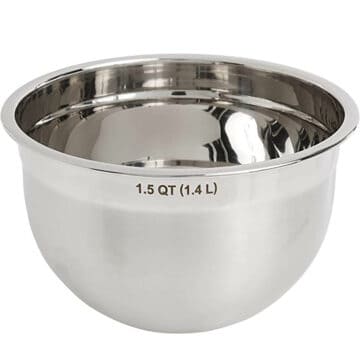 (affiliate link)
Ingredients
1

large pomegranate

about 21 ounces, 600 grams = deseeded 11.5 oz (325 grams)

5.5

oz

water

155 ml
Directions
Cut the pomegranate
Trim off the crown with the tip of a knife. Check where the star angles are, then cut the top in a pentagon shape.

Continue scoring the skin halfway down.

Then open the fruit like an open flower.

Place the pomegranate seeds into a large mixing bowl with water and deseed.

The juicy seeds will sink while the peels (white membranes) float. Use the colander to skim peel from the top of the water and drain arils in a colander.

Strain the pomegranate arils using a colander. At this point, you can use your pomegranates arils to place them on top of baba ganoush, desserts, or blend them in a smoothie, like our superfood detox smoothie.
Juice pomegranate juice
Place the pomegranate arils in a high-speed blender, add water, and blend for 40 seconds.

Sieve the liquid with a fine-mesh colander. You will notice that the liquid is thick; no worries, stir with a spoon to accelerate the process. It will not take more than one or two minutes.

And that is it; you have fresh pomegranate juice, ready to drink.
Notes
Deseeding underwater helps prevent the red drops from sprinkling all over you.
Nutrition Facts
Calories:
117
kcal
Carbohydrates:
26
g
Protein:
2
g
Fat:
2
g
Saturated Fat:
1
g
Polyunsaturated Fat:
1
g
Monounsaturated Fat:
1
g
Sodium:
8
mg
Potassium:
333
mg
Fiber:
6
g
Sugar:
19
g
Vitamin C:
14
mg
Calcium:
16
mg
Iron:
1
mg
Nutritional Disclaimer
The information shown is an estimate provided by an online nutrition calculator. It should not be considered a substitute for a professional nutritionist's advice. See our full Nutritional Disclosure here.
Affiliate Disclaimer
Please note that some of the links here are affiliate links, and I will earn a commission if you purchase through those links. I recommend all of the products listed because they are companies I have found helpful and trustworthy.