May is a beautiful month in the Northern Hemisphere, as the days grow longer and warmer, and nature begins to blossom. One of the best things about this time of year is the array of delicious fresh fruits that come into season. Bursting with vibrant colors, flavors, and health benefits, Spring fruits are perfect for adding some excitement to your meals and snacks. In this post, we'll explore a fantastic variety of Fruit in season in May. We'll also provide three ways to enjoy each fruit to help you make the most of the season's bountiful harvest.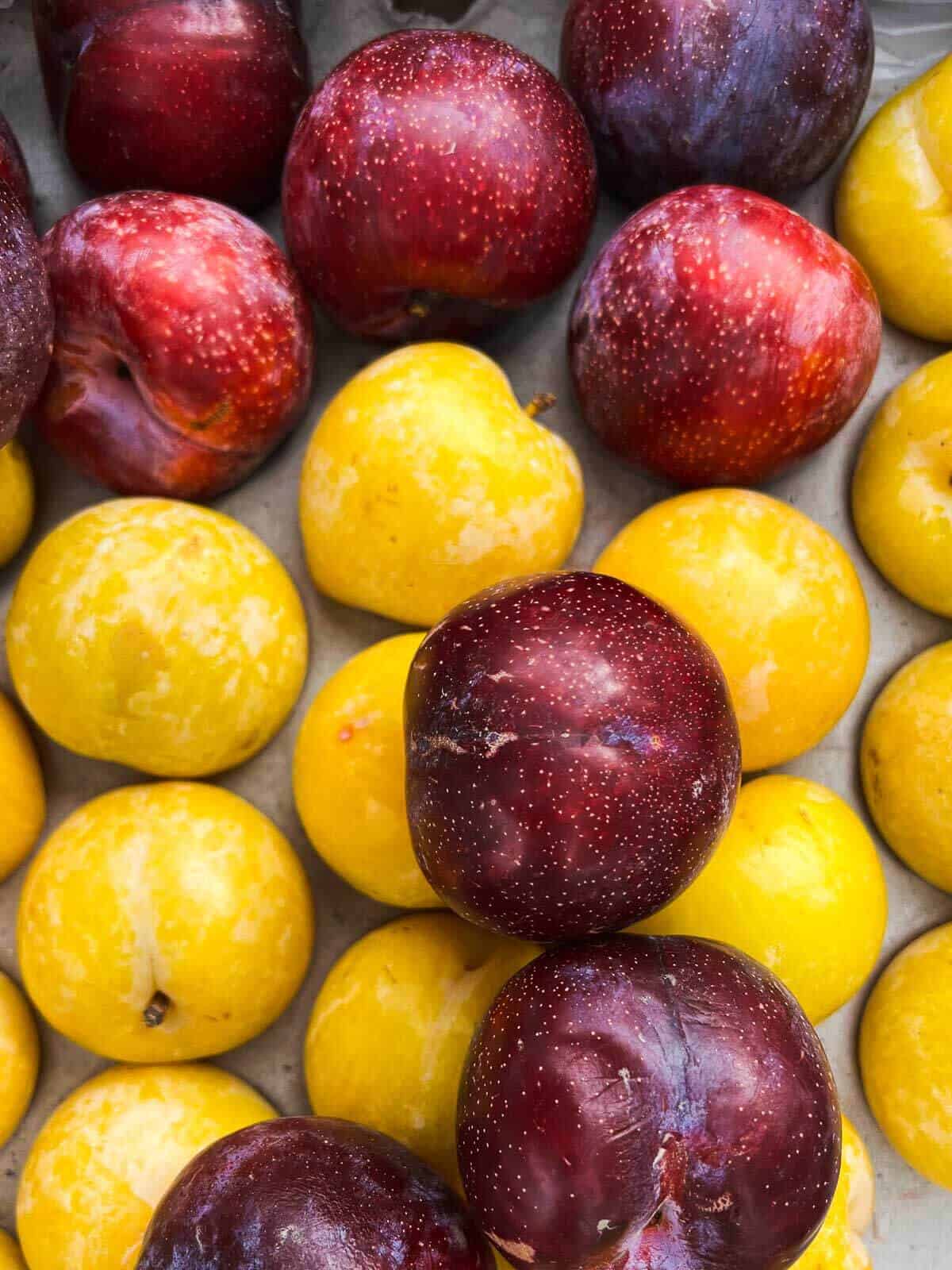 The Local Farmer's Market is our choice number one to find seasonal produce, both when we are home and even when we travel. Strolling markets reaching for seasonal fruits and vegetables, anywhere we are, is one of our unquestionable stops.
We touched base last month on the fruits and vegetables in season in April; now let's dig fully into Spring!
Jump to:
Fruits in Optimal Season
Let's explore these seasonal foods that are best enjoyed in May and healthy recipes to include them.
Strawberries
Strawberries are a popular and versatile fruit, known for their bright red color, sweet taste, and juicy texture. Rich in vitamin C and antioxidants, they're a healthy and delicious choice in May.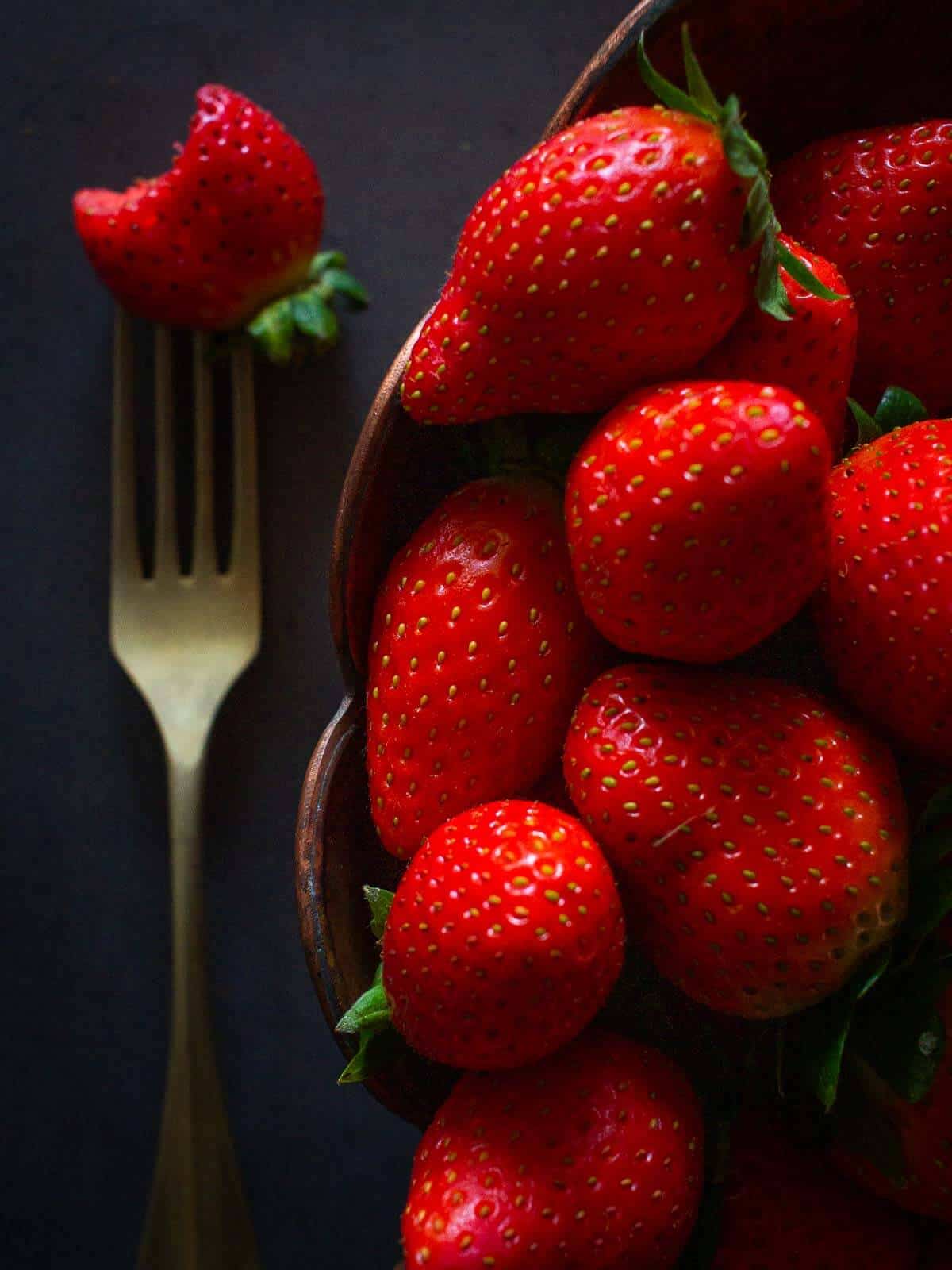 Ways to enjoy strawberries:
Strawberry shortcake: Layer sliced strawberries with whipped cream and shortcake for a classic and mouthwatering dessert.
Smoothies: probably one of the most used fruits in smoothies... head to head with bananas. We have lots of them in our smoothies section; why not try one with bananas, mandarines, and strawberries, as they are all in season?
Strawberry salad: Toss strawberries with mixed greens and a strawberry-balsamic vinaigrette for a light and flavorful salad.
Strawberry salsa: Mix diced strawberries with jalapeno, red onion, cilantro, and lime juice for a sweet and spicy salsa to serve with chips or grilled meat substitutes.
As I sit here typing away on my computer, I must admit we can't get enough of munching on fresh fruit during springtime! Strawberries, in particular, are not only low in calories and super tasty but they're also packed with fiber, making them perfect for keeping things moving smoothly. It's a real treat to enjoy these scrumptious berries!
Also, they are always available in grocery stores, and if I buy too much, I just juice them for a fantastic nutritious strawberry juice.
Blueberry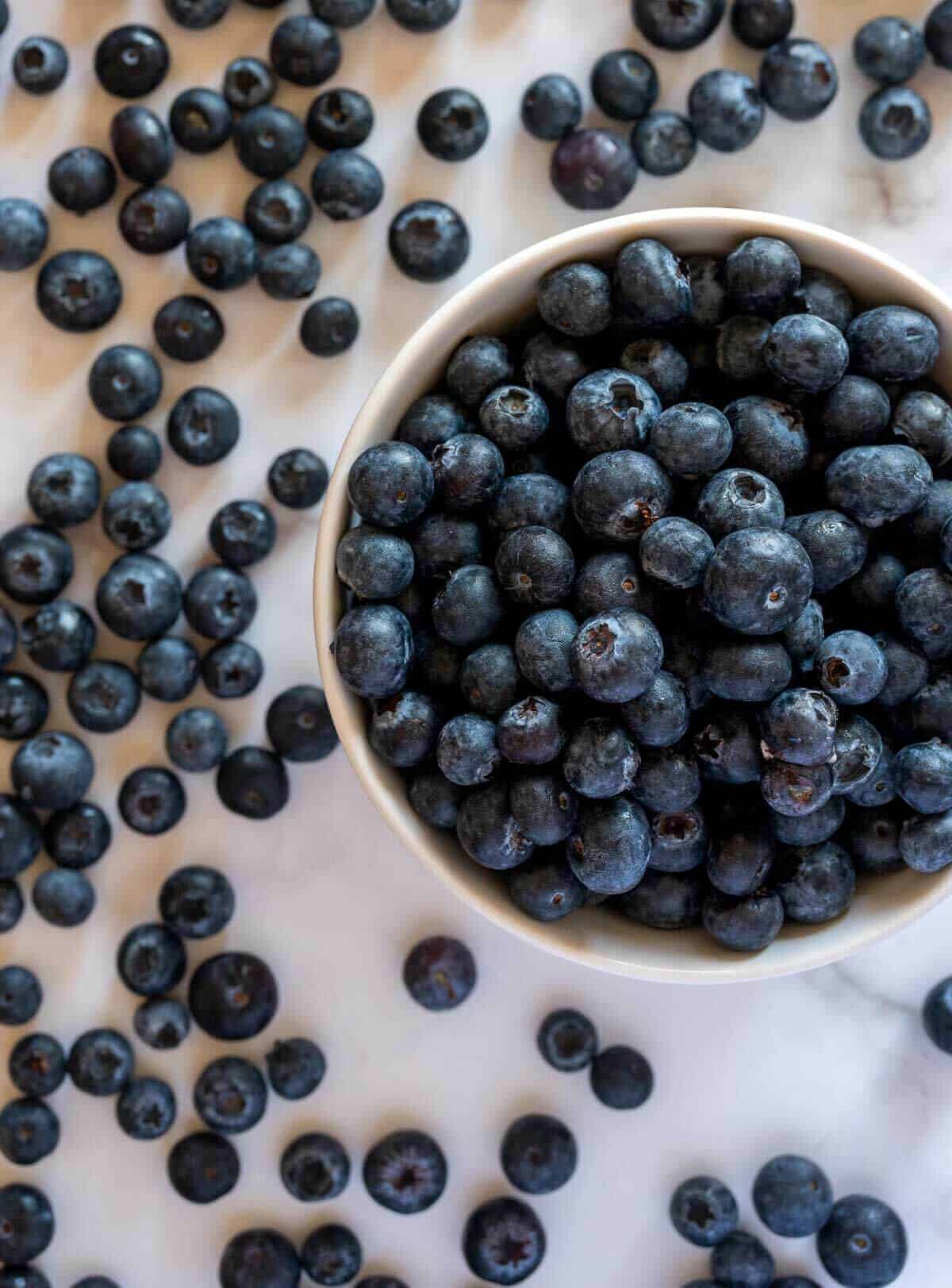 Blueberries are small, round fruits with a deep blue color and a sweet, slightly tart flavor. Rich in antioxidants, fiber, and vitamins, they're a healthy and delicious fruit to enjoy as their season begins.
Ways to enjoy blueberries:
We absolutely love snacking on fresh blueberries during this season! They're not only incredibly healthy but also easy on the tummy. Sometimes we can't help but stock up on them, so we whip up a delightful blueberry and cucumber juice for a truly invigorating start to our day.
If you haven't tried them, you're missing out on their scrumptious natural sweetness that turns healthy eating into a piece of cake! Trust us; blueberries are one of the best effortless treats to keep on hand.
Avocado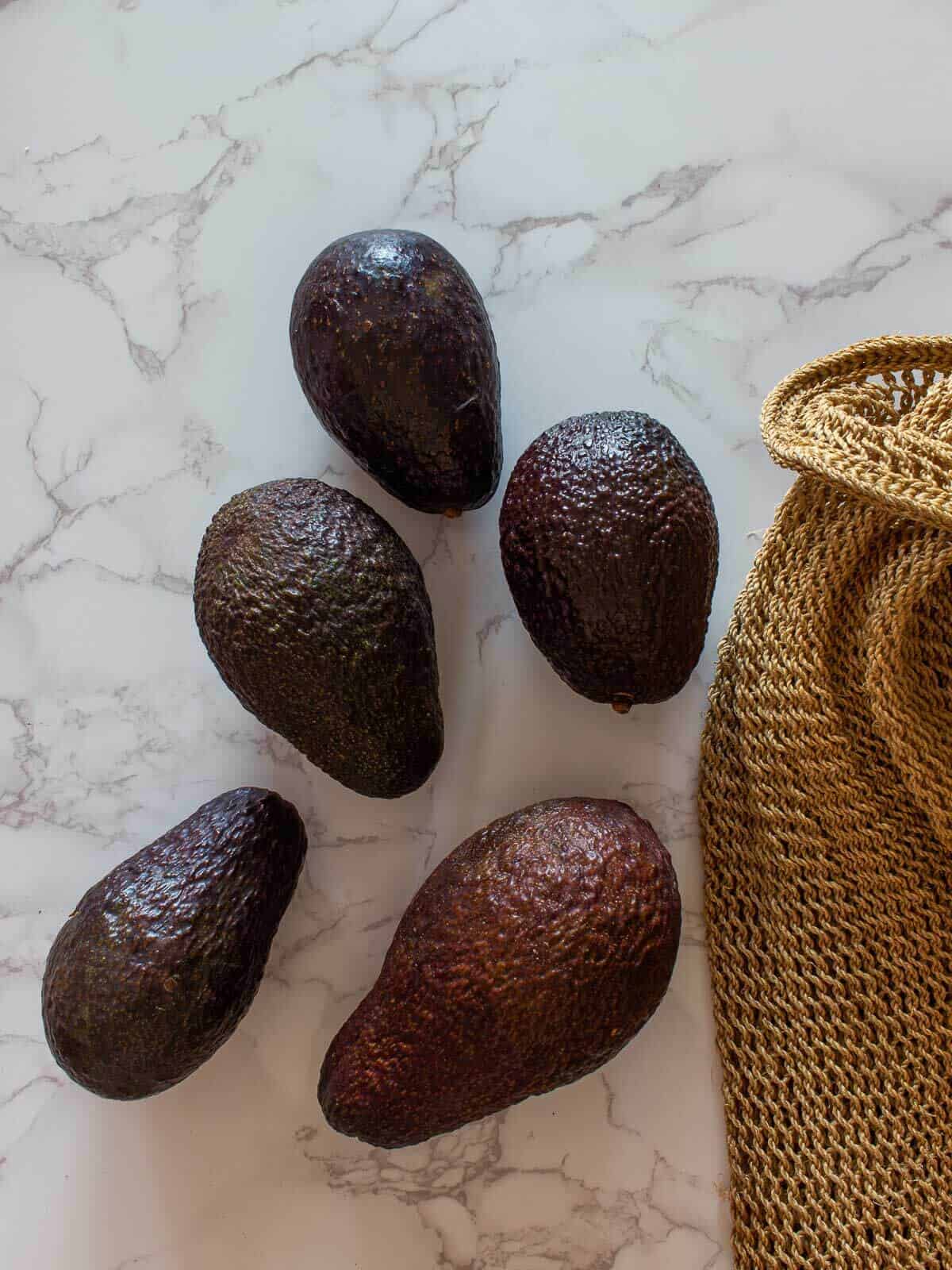 Avocados are a versatile and nutritious fruit, rich in healthy fats, fiber, and vitamins. Although available throughout the year, May is an ideal time to enjoy the freshest and most flavorful avocados.
Ways to enjoy avocado:
Guacamole: Mash ripe avocados with lime juice, salt, and your choice of seasonings to make delicious and creamy guacamole to serve with chips, vegetables, or toast.
Avocado smoothie: Blend avocado with plant milk, fruits, and greens. We love making smoothies with avocados, pineapple, blueberries, and superfoods like pomegranate juice.
Avocado salad: Dice avocado and mix it with tomatoes, red onion, cilantro, and a simple vinaigrette for a refreshing and healthy salad.
Avocados can be used in a variety of dishes, from salads to smoothies. Try making a batch of guacamole, hearts of palms salad, and hummus.
Apricot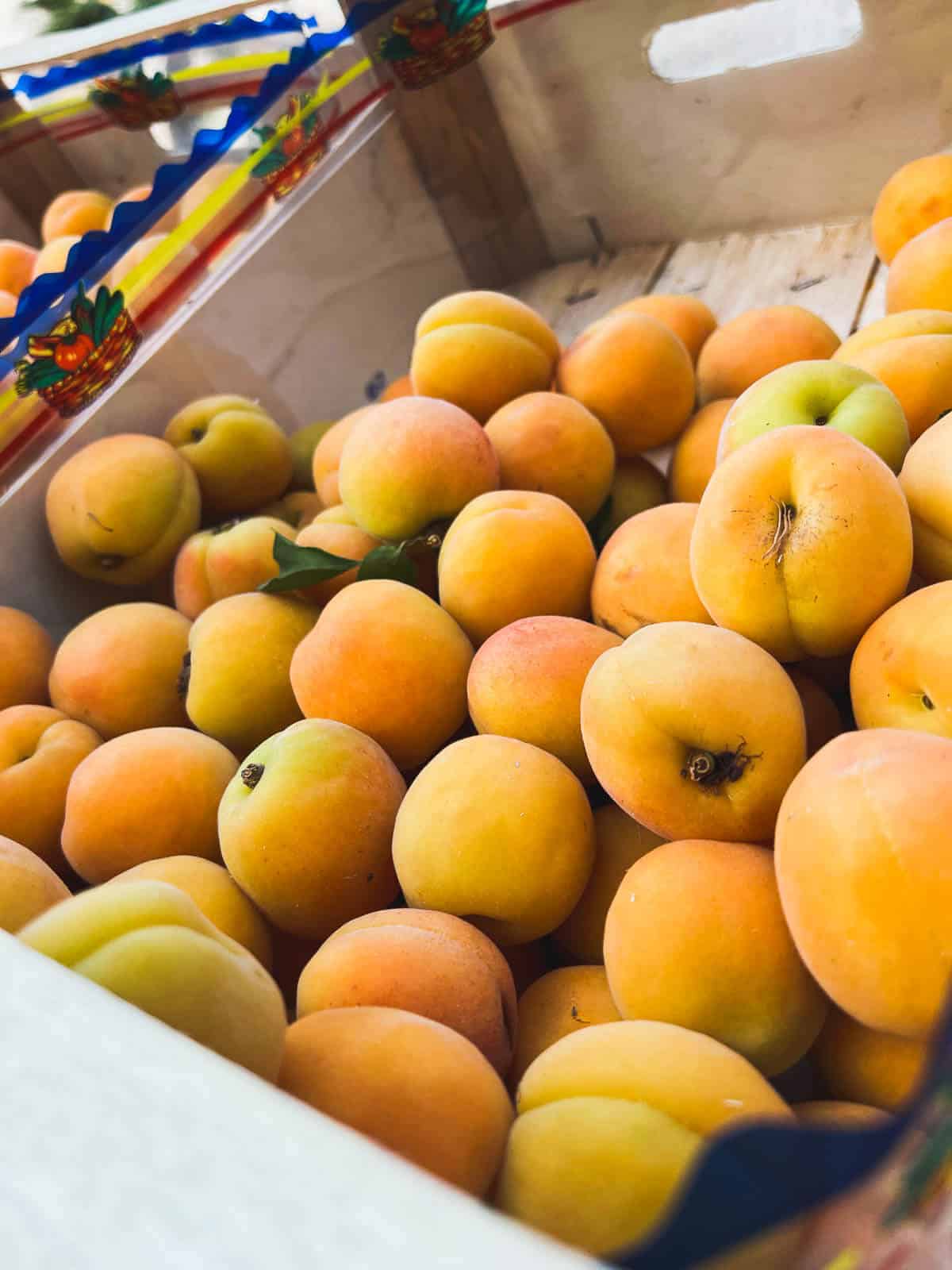 Apricots are small, golden-orange fruits with soft, velvety skin and a sweet, tangy taste. High in antioxidants and vitamins, they're a delicious and healthy choice in May.
Ways to enjoy apricot:
Fresh apricots: Simply wash and eat them as a delicious snack or add them to your breakfast cereal, homemade granola, or coconut yogurt.
Apricot jam: Cook apricots with sugar and lemon juice to make a flavorful, homemade jam to spread on toast or use as a topping for desserts.
Grilled apricots: Halve and pit apricots, then grill them for a smoky-sweet dessert or side dish.
Cherries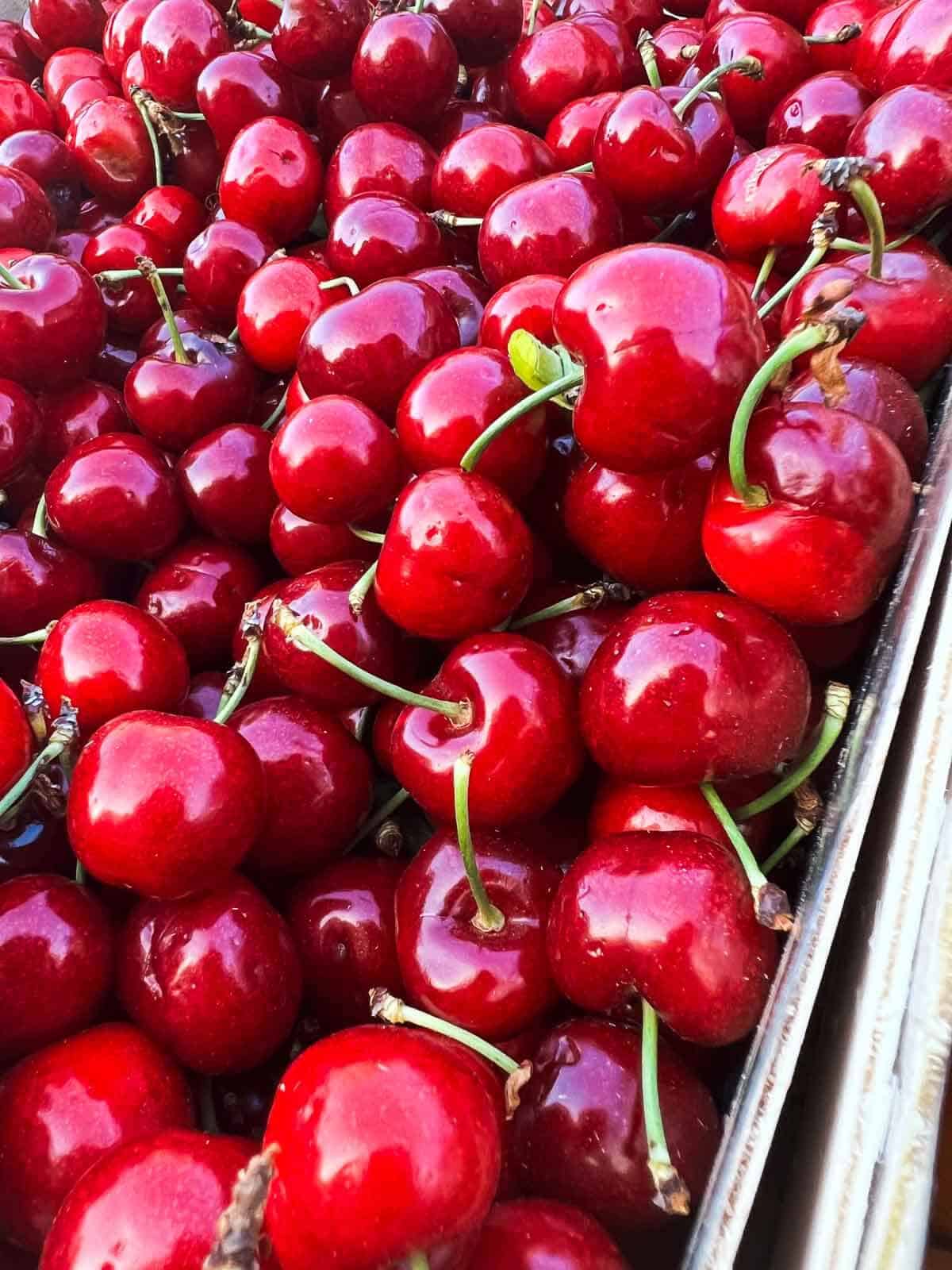 The cherry season starts in May; they are delightful, bite-sized stone fruits that come in a range of sweet and tart flavors. Their vibrant red color and sweet taste make them a favorite in May. We love that they are always available in our local grocery store and farmer's market.
Ways to enjoy cherries:
Fresh cherries: Rinse and enjoy them as a sweet and juicy snack, or toss them into a fruit salad.
Cherry pie: Bake cherries into a classic cherry pie for a delicious and comforting dessert during warmer months.
Cherry smoothie: Blend cherries with vegan yogurt, almond milk, and ice for a refreshing and nutritious drink.
Orange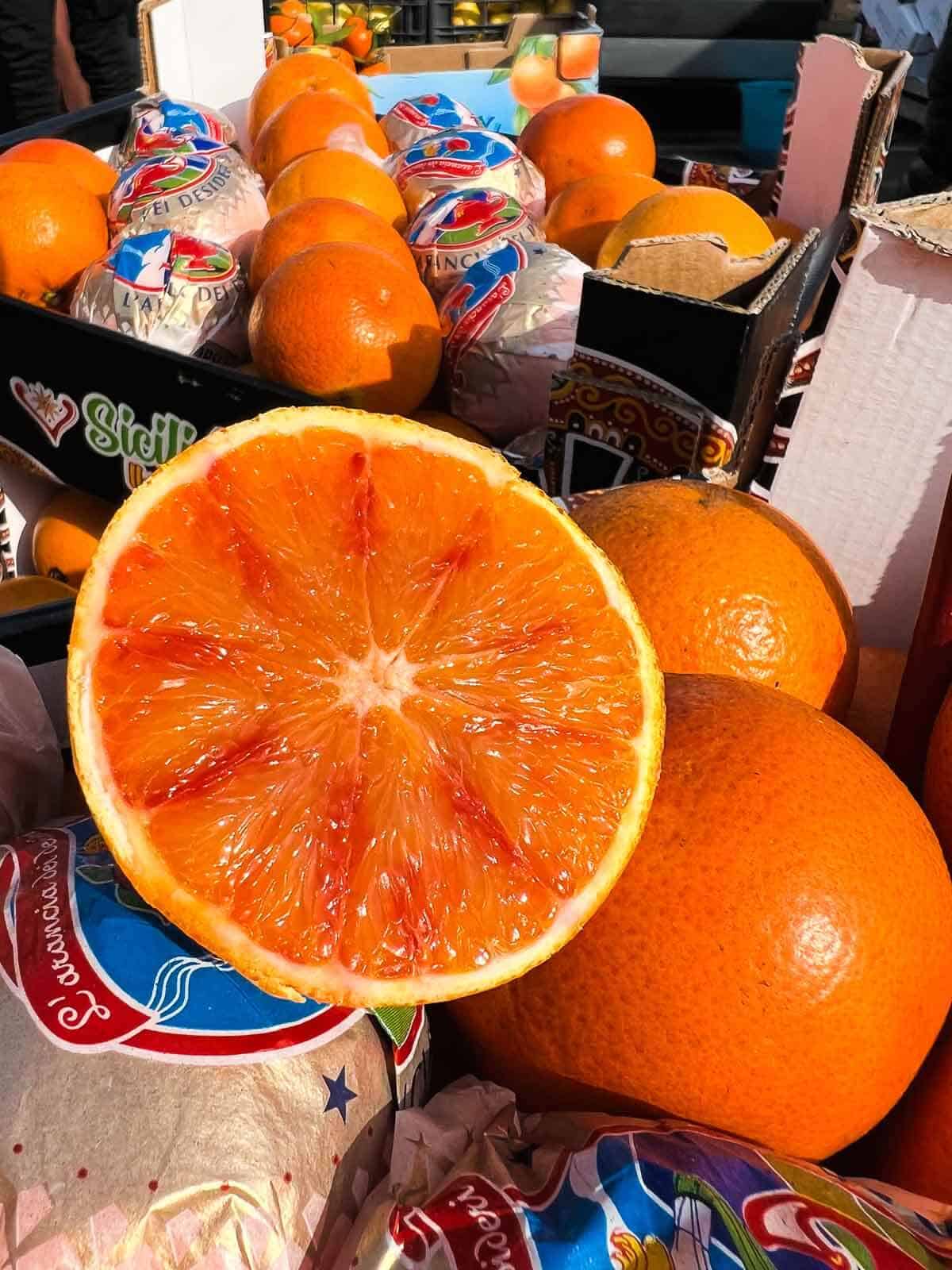 Oranges are a familiar and refreshing fruit packed with vitamin C and a zesty, sweet flavor. May is an excellent time to enjoy the juiciest and most flavorsome oranges.
Ways to enjoy oranges:
Orange salad: Combine orange segments with thinly sliced fennel, red onion, and a simple vinaigrette for a bright and flavorful salad.
Freshly squeezed orange juice: Start your day with a glass of freshly squeezed orange juice for a burst of natural energy and nutrients; you can even mix it with carrots and red pepper.
Orange zest: Grate the outer peel of an orange and use the zest to add a citrusy boost to baked goods, marinades, or dressings.
Medlar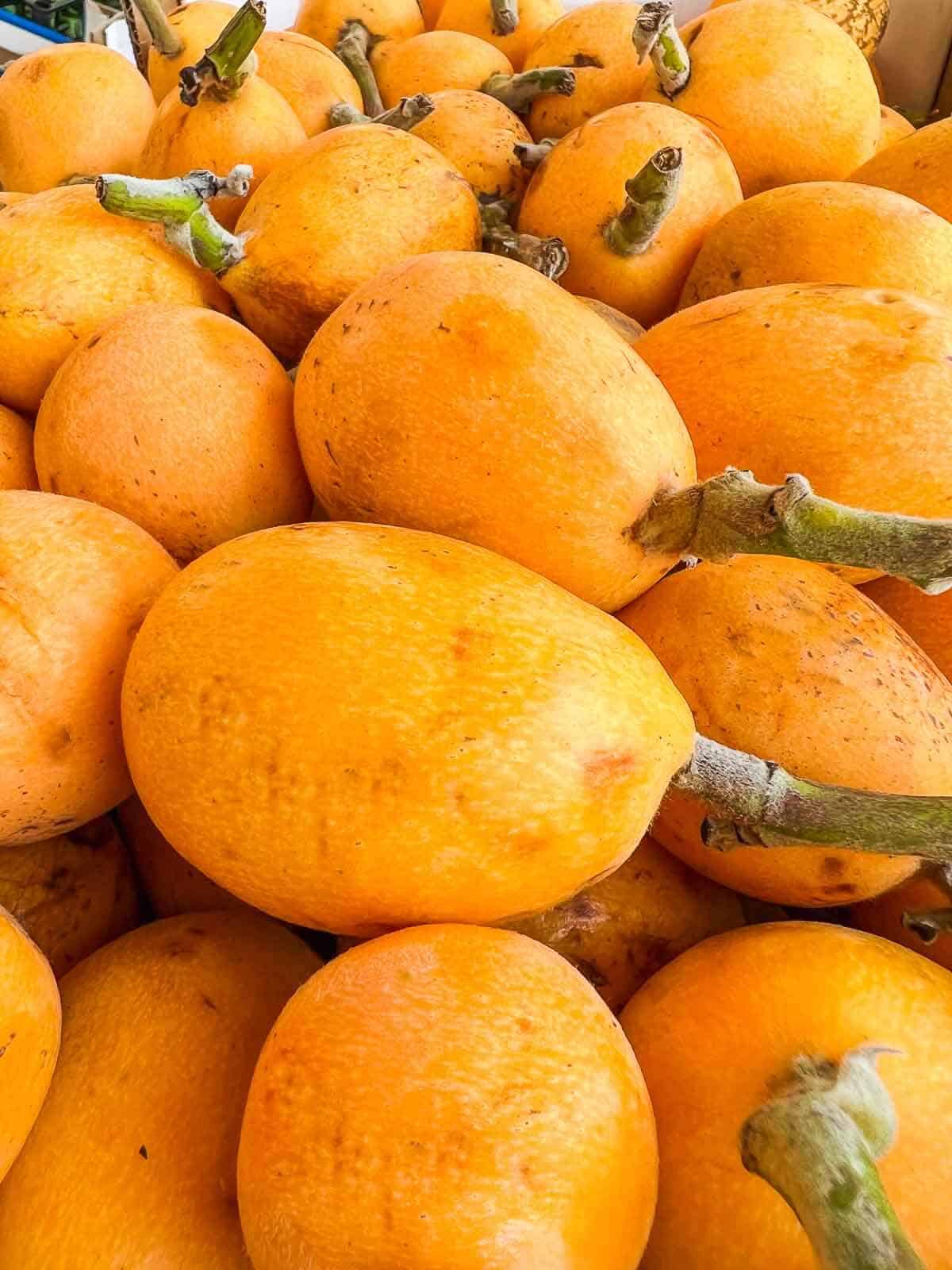 Medlars are a lesser-known fruit with a unique flavor that's been described as a mix between apples and dates. They're packed with antioxidants, vitamins, and minerals, making them a nutritious and intriguing choice in May.
Ways to enjoy medlar:
Medlar jelly: Cook medlars with sugar and lemon juice to create a flavorful jelly, perfect for spreading on toast or serving with dairy-free cheese.
Medlar compote: Simmer medlars with sugar and spices to create a rich, fruity compote that can be enjoyed with yogurt, ice cream, or pancakes.
Medlar vegan cheese: Blend medlars with cream cheese, sugar, and lemon zest for a unique and delicious spread or dip.
Banana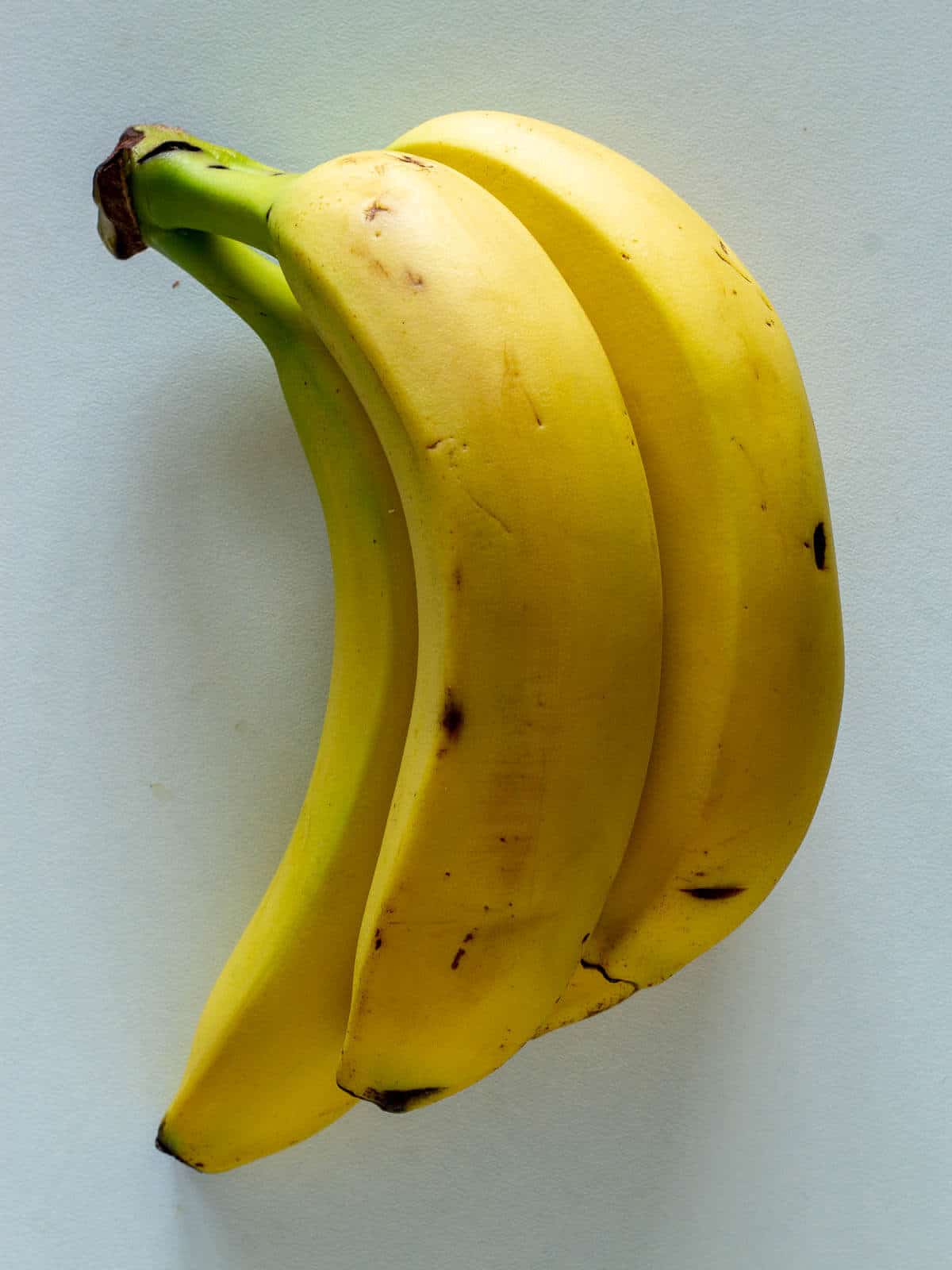 Bananas are a popular fruit that's available year-round, but their flavor and texture are at their peak in May. Rich in potassium, fiber, and vitamins, they're a versatile and healthy choice.
Ways to enjoy bananas:
Fruits Entering/Ending Season: A Transition to Savor
As we move through May, several other fruits are either entering or ending their peak season. These transitional fruits add variety and excitement to your meals, allowing you to make the most of their unique flavors while they're still available. Let's explore these seven fruits—plum, lemon, tangerine, peach, nectarine, Paraguayan, and watermelon—and discover some enticing ways to enjoy them.
Plum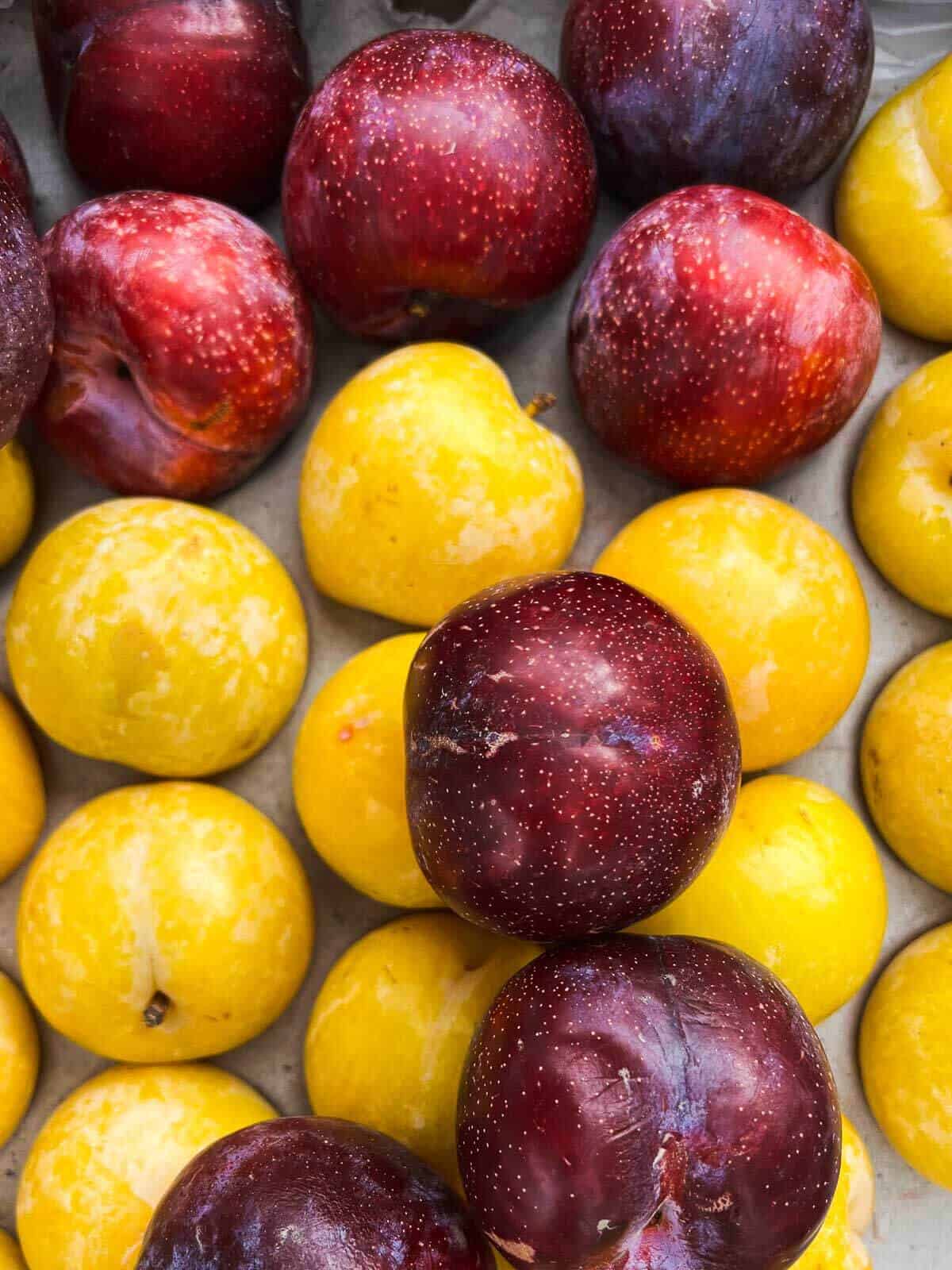 Plums are juicy, sweet fruits with a slightly tart taste. They come in various colors and sizes, making them an attractive addition to any dish. Their trees are so beautiful that they resemble cherry blossoms, sometimes finding different flower colors in a single tree.
Ways to enjoy plum:
Plum tart: Arrange sliced plums on a pastry crust and bake until tender for a simple and elegant dessert.
Plum sauce: Simmer plums with sugar, vinegar, and spices to create a tangy sauce that pairs well with seitan or tofu, or roasted vegetables.
Fresh plum salad: Toss sliced plums with mixed greens, vegan medium-soft cheese option, and a maple balsamic vinaigrette for a vibrant and flavorful salad.
Lemon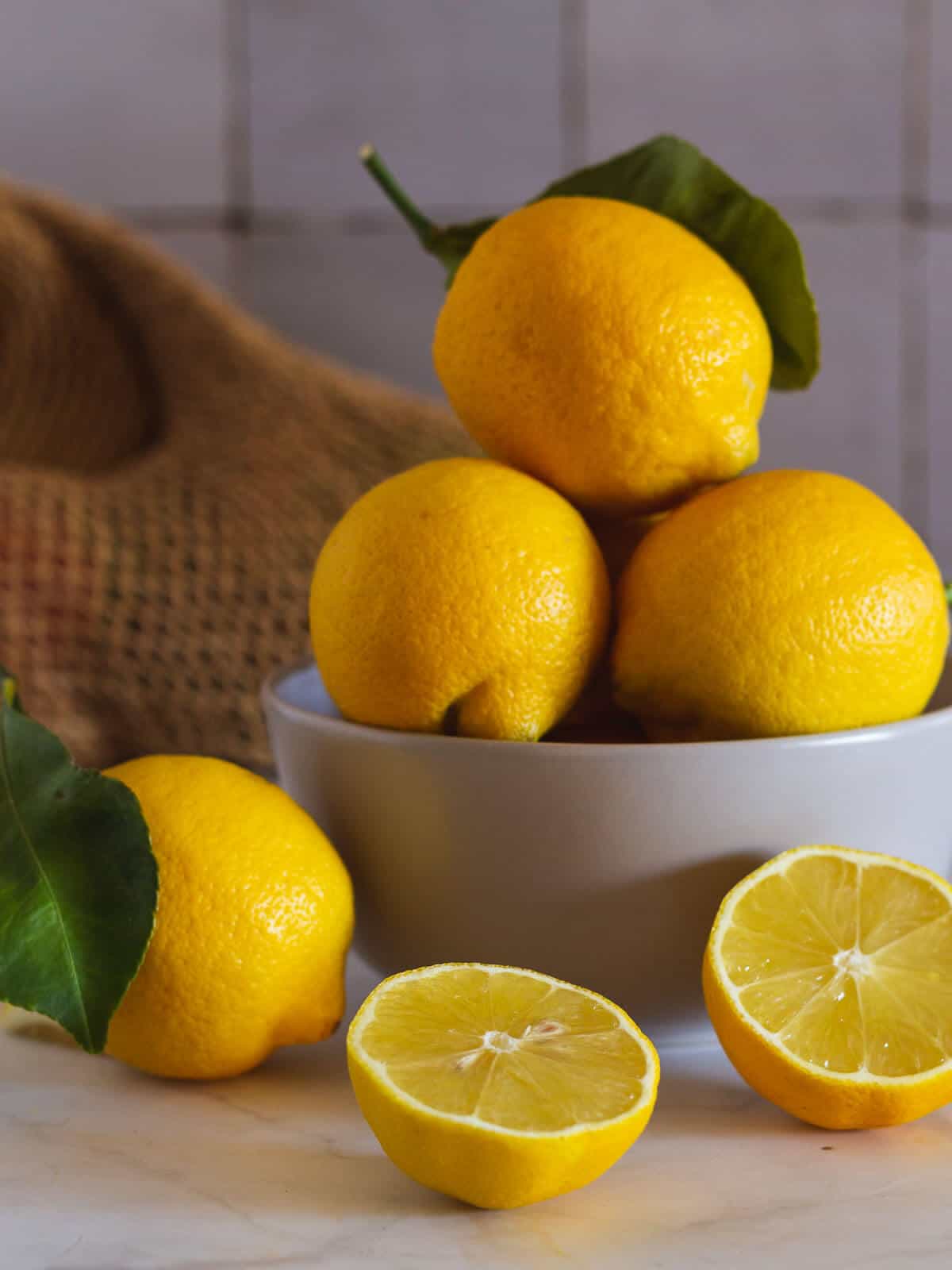 Lemons are known for their bright, acidic flavor and vibrant yellow color. Their zesty taste adds a burst of freshness to many dishes.
Ways to enjoy lemon:
Lemonade: Squeeze fresh lemon juice and mix it with water, sugar, and ice for a refreshing and classic summer drink.
Lemon pasta: Toss cooked pasta with lemon juice, olive oil, garlic, and vegan Parmesan cheese for a light and zesty meal. See our summery lemon spaghetti recipe and our lemony pasta with asparagus!
Lemon bars: Bake a buttery crust topped with a tangy lemon filling for a sweet and tart dessert. Check out our lemon bars collection.
Tangerine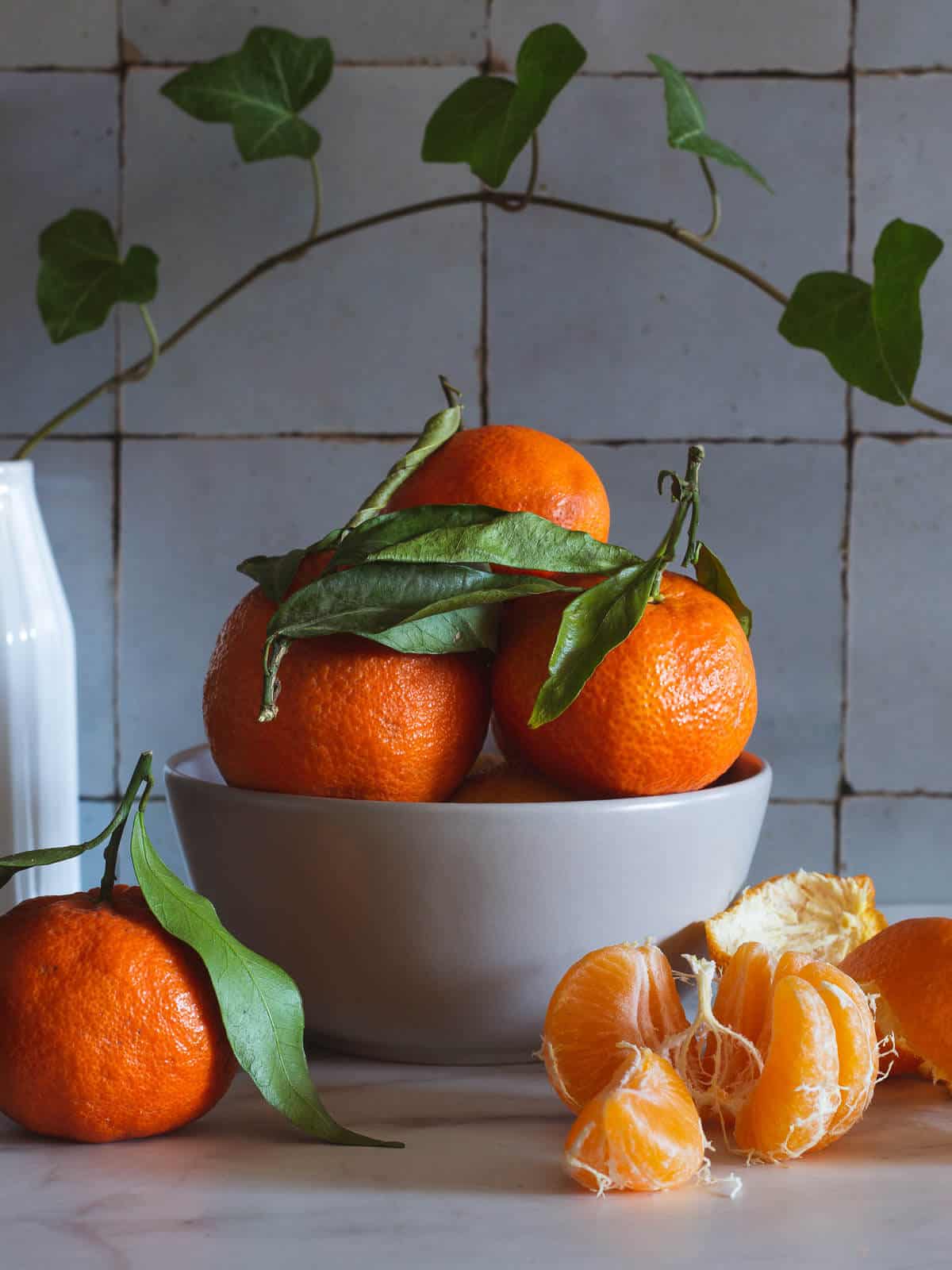 Tangerines are a smaller, sweeter variety of citrus fruit that's easy to peel and enjoy. Their bright orange color and juicy texture make them a popular snack.
Ways to enjoy tangerine:
Tangerine sorbet: Blend tangerine juice, sugar, and water, then freeze for a refreshing and fruity dessert.
Tangerine salad: Combine tangerine segments with arugula, vegan feta cheese, and a citrus vinaigrette for a light and flavorful salad.
Tangerine-glazed tofu: Glaze tofu with a mandarines marinade, maple syrup, and soy sauce for a sweet and savory dish; check out our maple tofu mandarine!
You can also make them part of your smoothies, as they pair wonderfully with strawberries.
Peach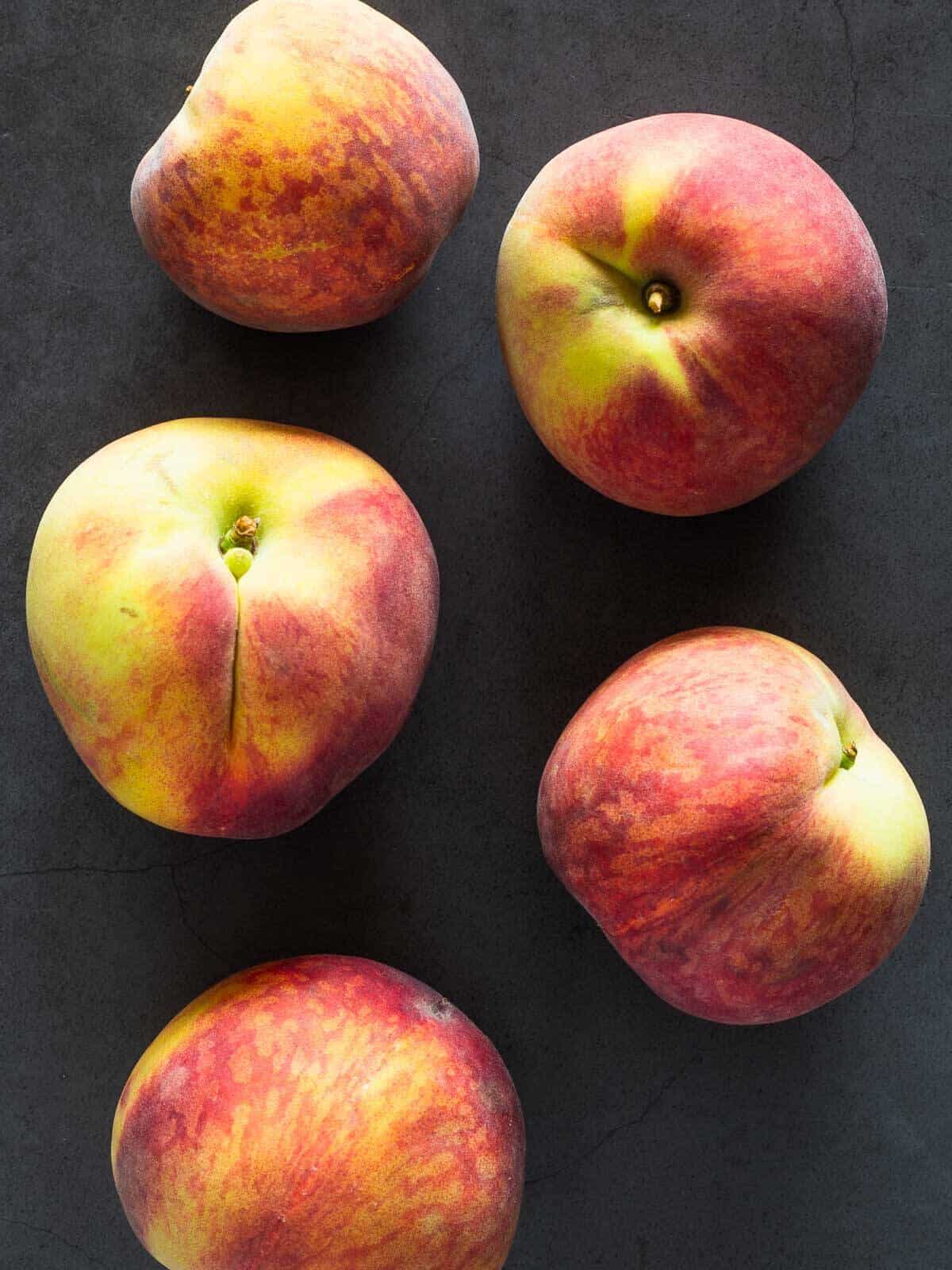 Peaches are a juicy, sweet fruit with velvety skin and delicate aroma. Their tender flesh and pleasant taste make them a summertime favorite.
Ways to enjoy peach:
Peach cobbler: Bake sliced peaches with a sweet, crumbly topping for a comforting and delicious dessert.
Peach salsa: Mix diced peaches with red onion, jalapeno, cilantro, and lime juice for a sweet and spicy accompaniment to grilled veggies.
Grilled peaches: Halve and pit peaches, then grill them for a caramelized and smoky side dish or dessert.
Nectarine
Nectarines are similar to peaches but with smooth skin and a slightly firmer texture. Their sweet and tangy flavor makes them a versatile fruit.
Ways to enjoy nectarine:
Nectarine smoothies. Just as peaches, nectarines make great smoothies!
Chutney: Cook nectarines with sugar, vinegar, and spices to create a fruity and tangy condiment for meat substitutes or medium-hard vegan cheeses.
Paraguayan
Paraguayan fruit, also known as Paraguayo peach or doughnut peach, is a flat, disc-shaped variety of peach with a sweet and succulent flavor. It's a delicious and unique option to enjoy during its brief season.
Ways to enjoy Paraguayan fruit:
Paraguayan fruit salad: Combine sliced Paraguayan fruit with other seasonal fruits and a drizzle of honey for a simple and refreshing dessert.
Paraguayan fruit and vegan ricotta toast: Spread vegan ricotta cheese on toast and top with sliced Paraguayan fruit, honey, and a sprinkle of cinnamon for a delightful breakfast or snack.
Paraguayan fruit and vegan cream cheese tart: Fill a pre-baked tart shell with vegan spreadable cheese and top with sliced Paraguayan fruit for an elegant and tasty dessert.
Watermelon
Watermelon is a quintessential summer fruit, known for its sweet, juicy flesh and refreshing taste. Its vibrant red color and high water content make it perfect for hydrating and satisfying your sweet tooth.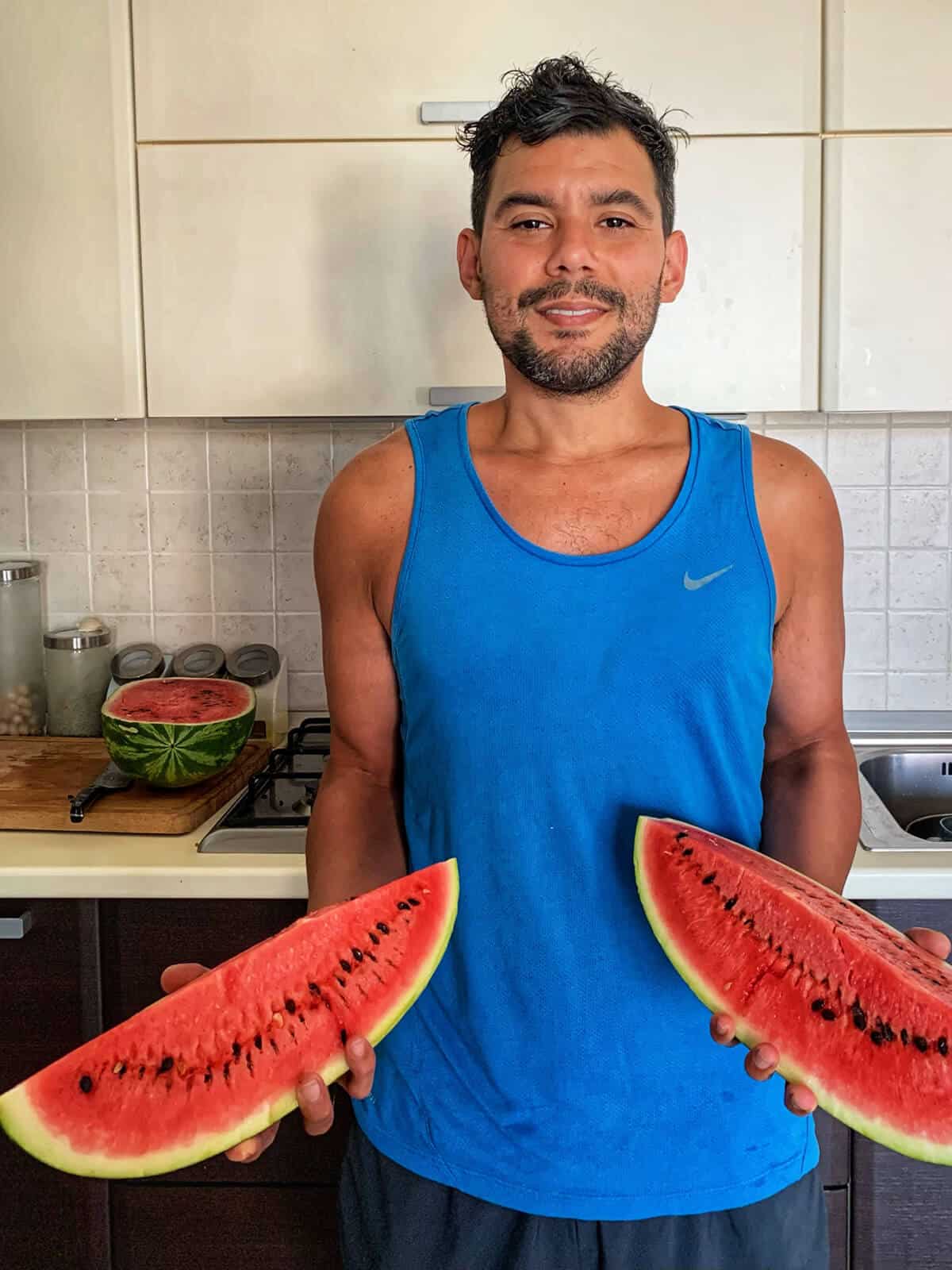 Ways to enjoy watermelon:
Watermelon smoothies: add watermelon to your Summer milk-less smoothies and mocktails. Check out our watermelon and minth smoothie, and the passion fruit watermelon one. Great refreshing options!
Watermelon salad: Toss watermelon cubes with vegan feta cheese, mint leaves, and a light vinaigrette for a sweet and savory salad.
Watermelon granita: Blend watermelon, sugar, and lemon juice, then freeze and scrape to create a slushy, icy dessert.
As May progresses, you'll find an ever-changing array of fruits entering and ending their peak season. Embrace the unique flavors and textures of these transitional fruits like plum, lemon, tangerine, peach, nectarine, Paraguayan, and watermelon, and enjoy them in various ways to make the most of their fleeting availability.
By incorporating these fruits into your meals and snacks, you'll be able to take advantage of their diverse flavors and nutritional benefits, adding excitement and variety to your culinary repertoire.
May is a fantastic time to enjoy a variety of in-season fruits in the Northern Hemisphere. Whether you prefer the creaminess of avocado, the tanginess of apricots, or the sweetness of strawberries, there's something for everyone. By incorporating these fruits into your meals and snacks, you'll be able to take advantage of their peak flavors and nutritional benefits. So go ahead and try out some of the suggested ways to enjoy these fruits, or get creative and come up with your own delicious creations!