Starting your day with your fair share of nutrients is a must for us when we have a long day ahead and packing everything in a single breakfast fruit bowl is a great way to nail it.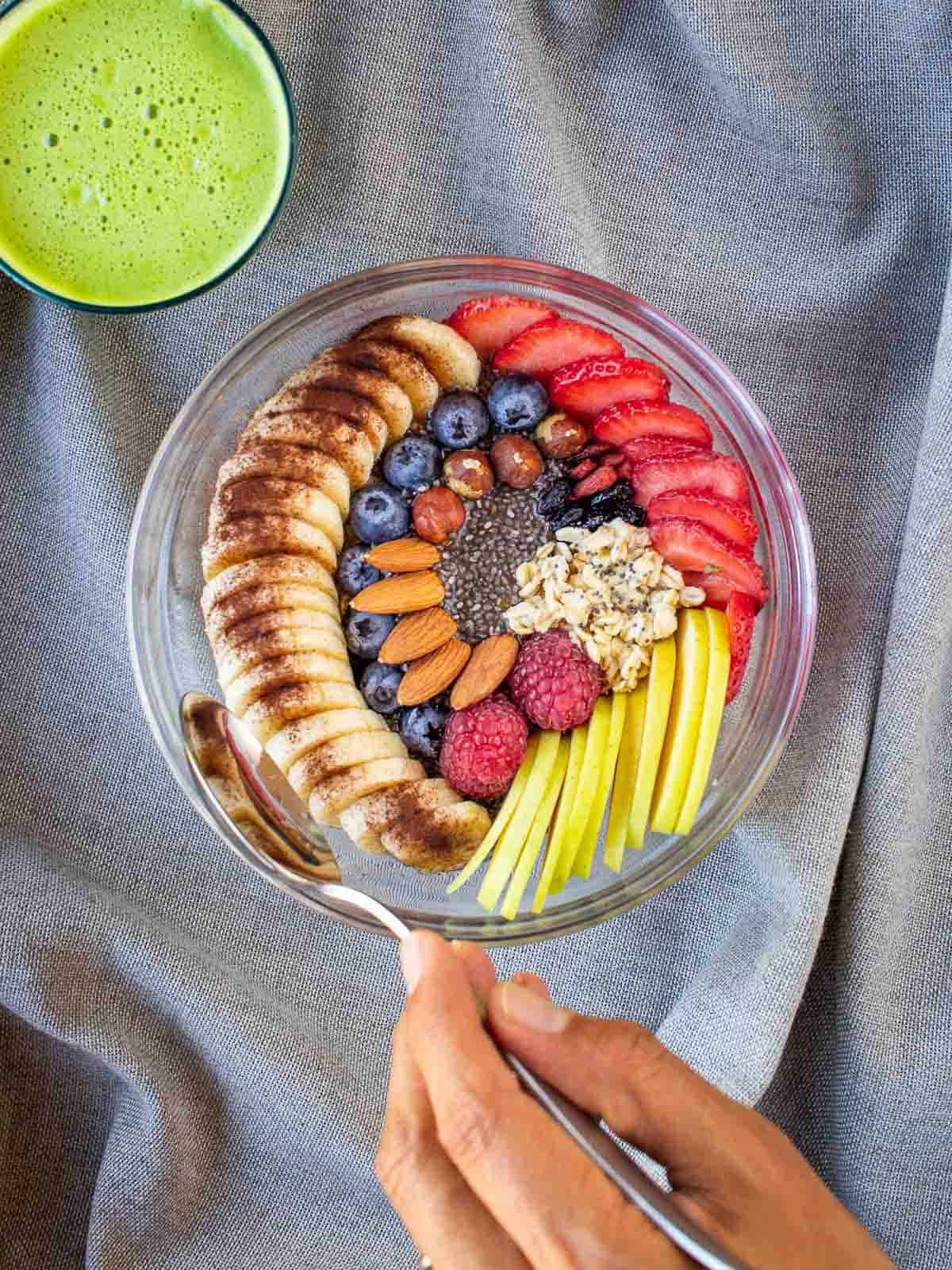 Make this with what you have at home, so just the fruits and add-ons are only directional; the aim here is to not only give you some inspiration but the right mix of kinds of ingredients but some tips on how to achieve a great result, even when you don't have prepared granola muesli.
Jump to:
🤔 Why should you eat fruit for breakfast?
When breakfast is the most important meal of the day, it may seem counterintuitive to replace breakfast cereal or toast with a breakfast fruit bowl.
Nevertheless, eating fruits in the morning will provide you with all the nutrients your body needs to function at its best in an easy breakfast that takes just minutes to prepare.
You can enjoy it as a sweet indulgence or as a dessert, but it should not be eaten as part of the main course -- breakfast, for instance. What does science say? Fruit for breakfast is a great idea! Experts agree that wholegrain cereals topped with fresh fruits appear to be the ideal combination for weight control.
Some breakfast cereals have a low glycemic index, avoiding blood sugar spikes and delivering sustained energy.
In addition, breakfast cereal is a good source of essential vitamins and minerals such as vitamin B, calcium, iron, and zinc. Fruit for breakfast plays the role of an antioxidant protective shield against free radicals that damage cells from within.
You should not be concerned about the high natural sugar content of fruit as it is combined with valuable nutrients, vitamins, and fiber that help maintain a steady blood sugar level.
Moreover, breakfast cereals provide slowly digestible starch; if your breakfast bowl includes fruits such as bananas or berries, you will notice an improvement in digestion.
We also like cooking oatmeal as dessert or breakfast, as we do for this creamy cardamom pudding recipe, or use uncooked rolled oats for an overnight lemon and blueberry, or pumpkin oats.
🧾 Ingredients
This breakfast fruit bowl recipe is super customizable. Choose your cereals, fresh fruit, power foods, and favorite toppings. The following ingredients are my favorite.
Gluten-free rolled oats
Chia seeds
Banana
Apple
Goji berries or raisins
Berries
Your choice of nuts
Cocoa powder or ground cinnamon
Maple syrup
Optionally top with applesauce.
See quantities and complete instructions in the recipe card.
🔪 Instructions
Soak your oats in water overnight. You can soak them only 15 minutes before eating them as well.
Arrange your soaked oats in a breakfast bowl, add the soaked chia seeds and your selection of fresh fruit, and top with the cocoa, and maple syrup.
💡 Tips
Add seeds or nuts
When activated in water, our bodies better digest the nuts, seeds, and oats. Nuts are plant seeds; soaking them for 12 hours can start the germination process, causing changes in the seed.
When you soak nuts and seeds, you minimize their nutritional inhibitors and toxic substances as they are absorbed into the water, making it easier for your body to absorb the great stuff.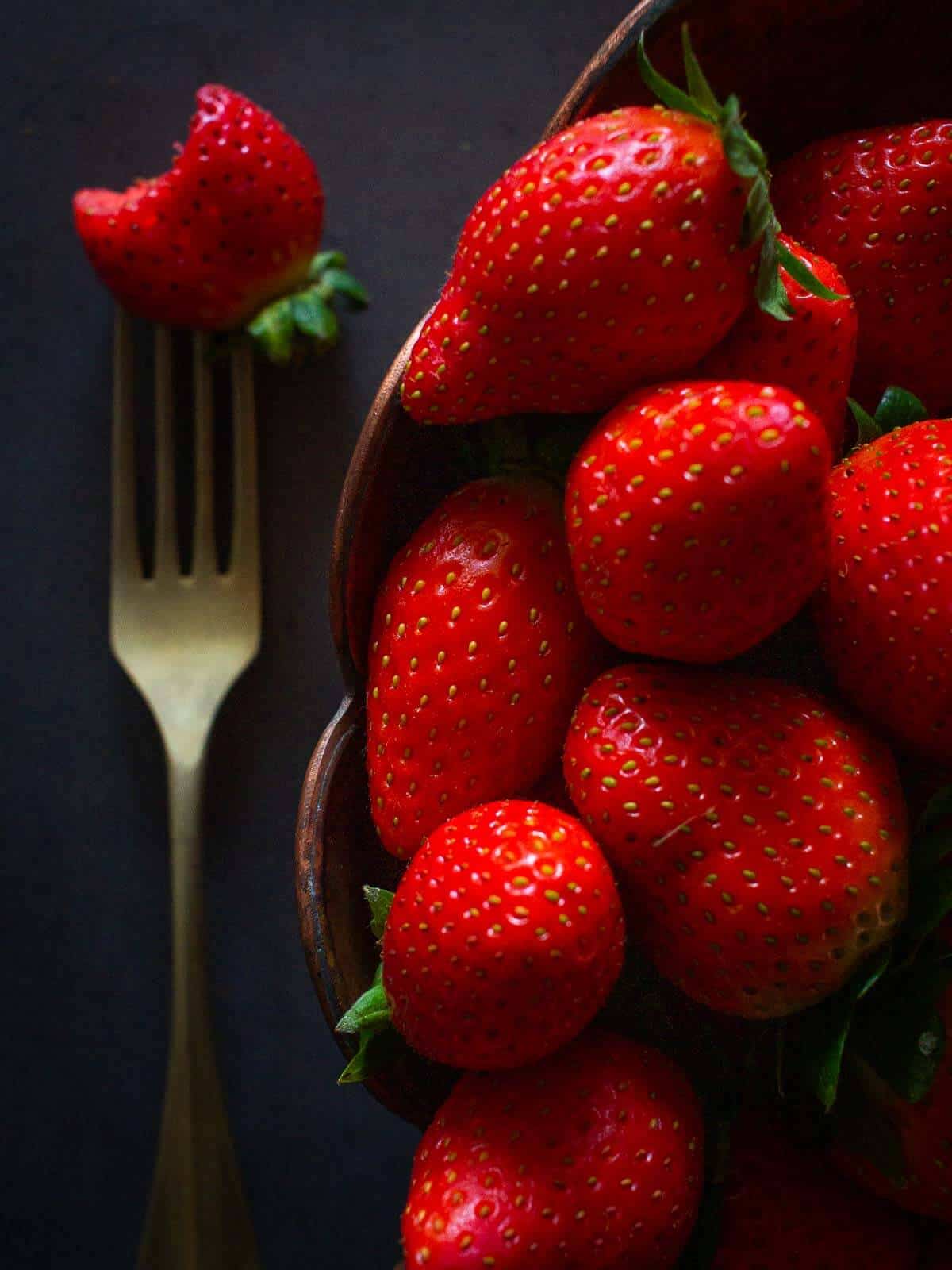 Rolled oats absorb so much water that you won't necessarily need to add milk, making it different from eating a granola bowl, which would be dry granola and needs additional moisture on it.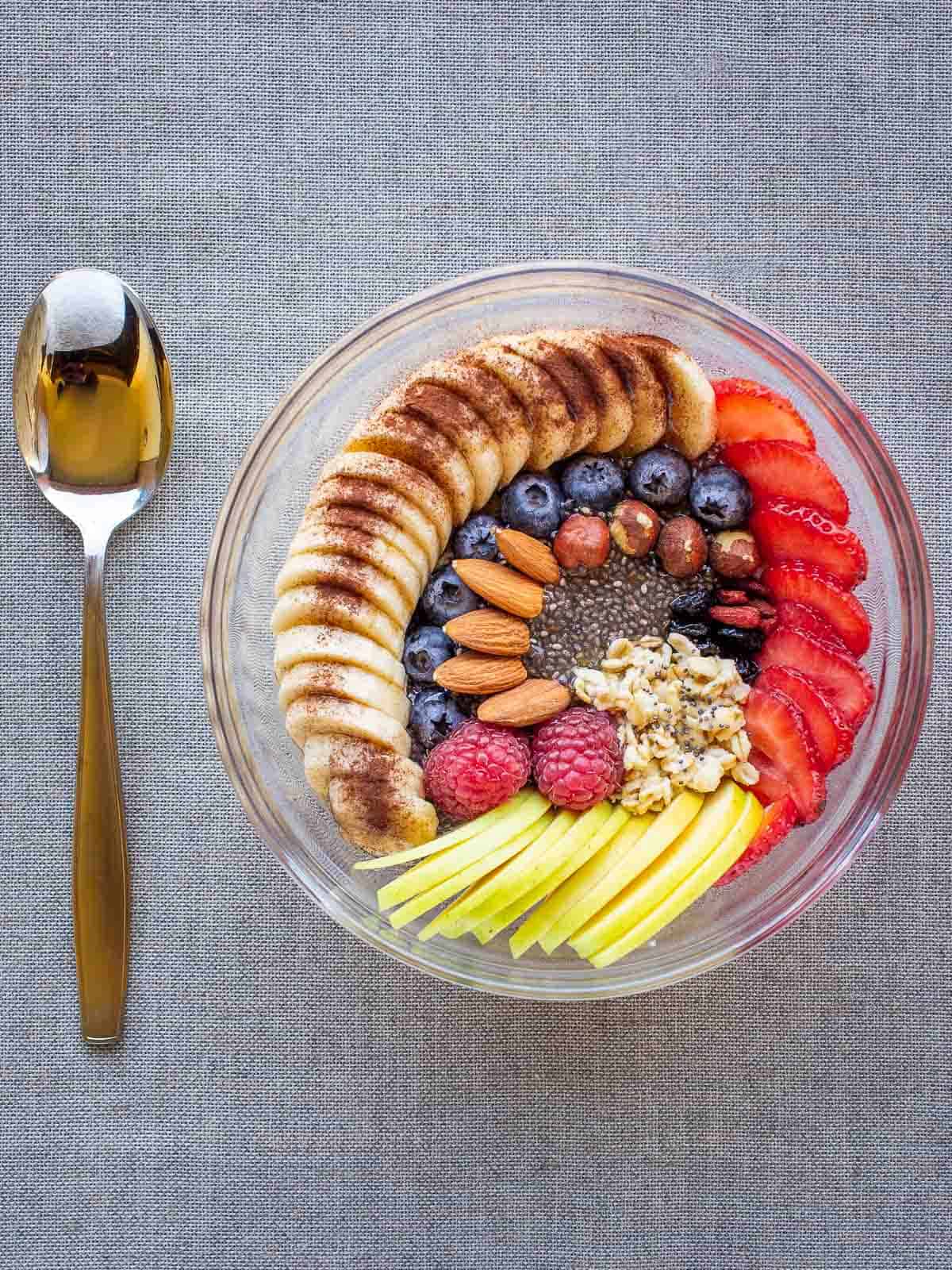 So before going to bed, leave three cups of water for every cup of dry oats, your choice of seeds, and nuts soaking, and just use it as they will be soft in the morning.
In the morning, you will have some oats milk to eat with your breakfast bowl.
Remember, you are not only what you eat; you are what you absorb.
Spice it up
Add spices such as cinnamon and nutmeg. They are calorie-free and add lots of nutrients to your food. i.e., cinnamon Lowers Blood Sugar Levels and Has a Powerful Anti-Diabetic Effect.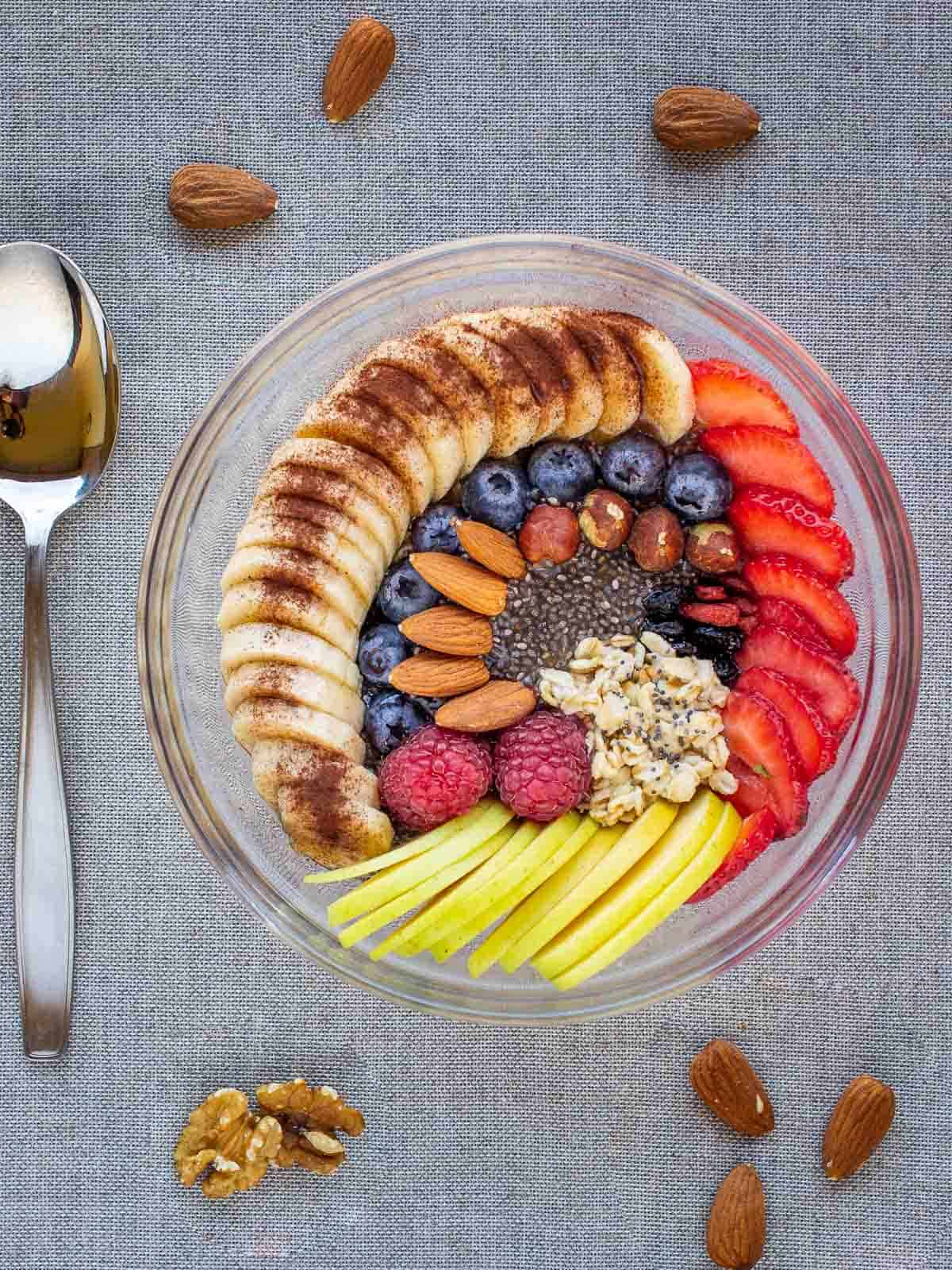 Add some berries
Add berries as they are full of antioxidants.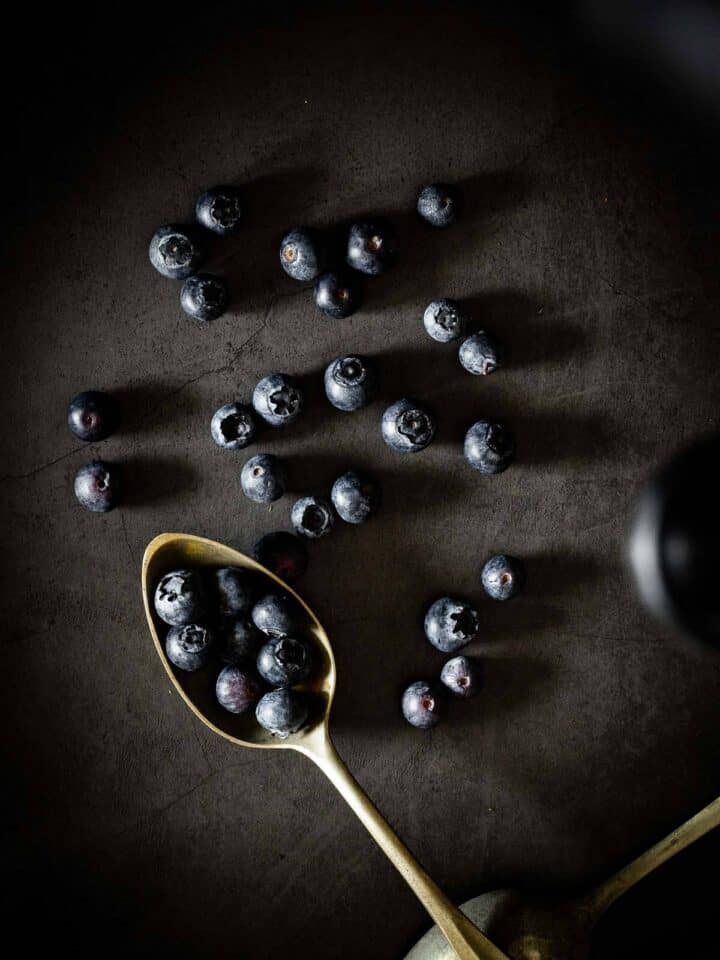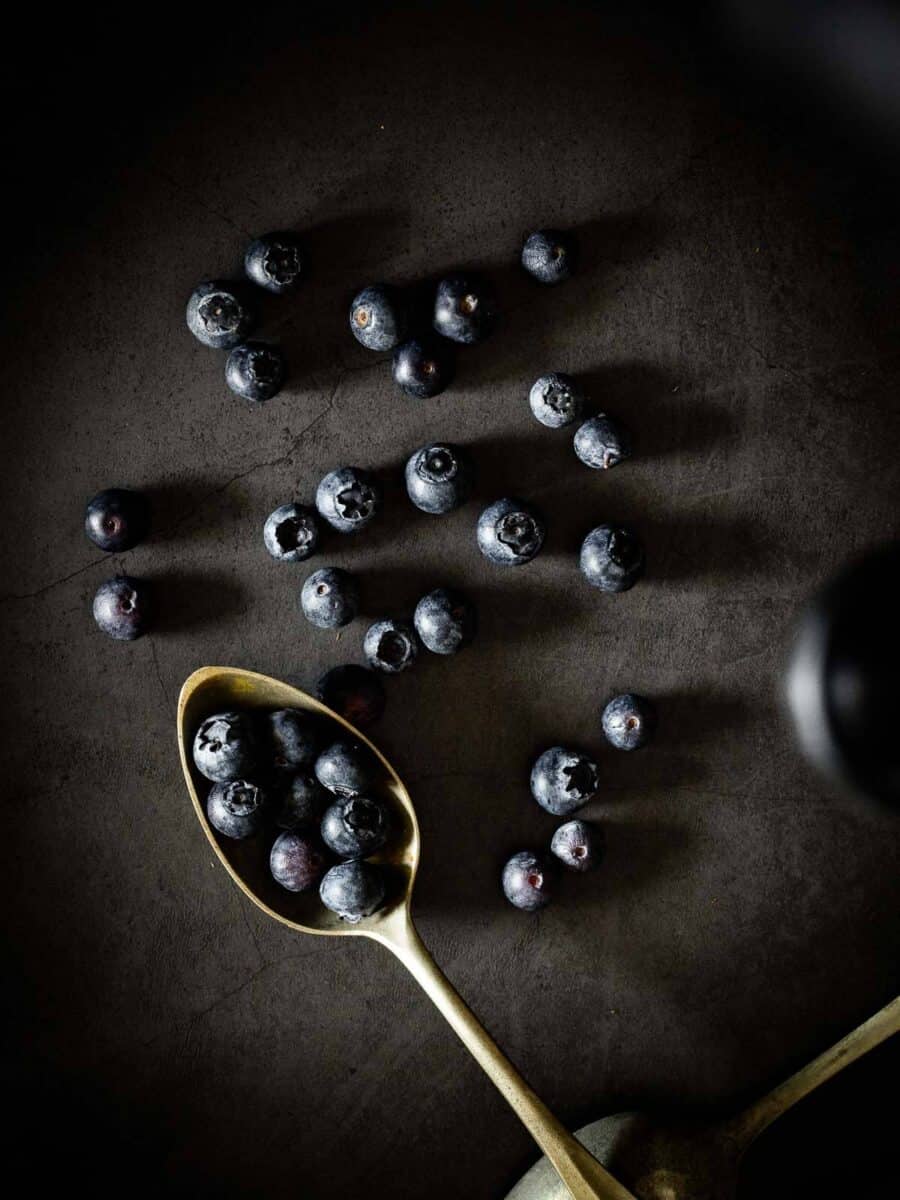 After a nice run or intense yoga workout, I have this breakfast bowl recipe paired with the perfect workout Beetroot Juice, which has great post-workout benefits.
🍓 Fresh fruit selection
We like using a combination of two groups of fresh fruit:
Group 1: soft, sweet, and creamy fresh fruit, such as mangoes, bananas, pears, or peaches.
Group 2: Citric or acidic fresh fruit, such as berries, apples, kiwi, or pineapple.
Fruit bowls are great for adding berries in a delicious way to your day and benefit from all their antioxidant effects. We love adding them to our lemon blueberry overnight oats.
🌱 Seeds selection
Remember that seeds are great antioxidants and Omega 3 powerhouses; they are also high in protein and calories. So we need to choose a nice combination, to get a little bit of all their nutrients, but choose small quantities.
Our go-to seeds are chia, flax, poppy, sesame, and sunflower seeds.
🥜 Nuts Selection
The same rule as per seeds apply, use variety and small quantities. Five units of nuts should be enough for a mid-morning snack, so we use from 5 to 10 total nuts for our breakfast fruit bowl recipe.
Go for raw almonds, walnuts, cashews, macadamia nuts, and Brazilian or pecan nuts.
You can also add brown sugar candied walnuts as a luscious topping!
❓FAQ
Can you freeze oatmeal?
Absolutely! Oatmeal is one of those perfect foods that can last long periods in the freezer. How you like your oatmeal will determine if you need to make any adjustments before freezing it.
Overnight Oats or rolled oats that have soaked overnight in the refrigerator with liquid, fruit, and yogurt will keep for about four weeks before any changes in texture begin to occur. For this reason, it is suggested to only prepare what you need and avoid storing it for a long period.
Oatmeal that has been cooked and then frozen in portions will last three to four months, but only if you have used a container with an airtight seal. Packaged oatmeal is another quick option if the package remains sealed tightly after opening. In both cases, adding any flavors, such as brown sugar, fruit, or nuts, after thawing will keep the texture of the oats from changing.
If you are making oatmeal to eat later in the week, it is best to stop and cool off your oatmeal when it has reached your preferred consistency. If you leave it on the stove too long, some of the water from the oats will evaporate, making it a bit dryer. This can be fixed by adding more liquid when reheating.
Finally, if you are cooking oatmeal for a baby or someone with an appetite who cannot eat as much as you make, freezing your cooked oatmeal is a great way to ensure they receive tasty and healthy meals. Simply place the oatmeal in an airtight container and let it thaw overnight before serving. Your baby can enjoy single-sized portions without any extra effort on your part.
The freezer is a great way to store excess oatmeal, but if you want to keep it stored for an extended time, consider purchasing vacuumed sealed containers for freezing. These will ensure that the oatmeal lasts six months without any quality degradation.
You could even use the almond pulp leftovers from making almond milk in your energy power balls.
📚 Great vegan breakfast recipes
If you like fruit bowl recipes, take a look at this thick smoothie recipe, one of my favorite ways to start the day!
⭐ If you try this recipe, let us know! 💬 Leave a comment, rate it, and don't forget to tag us @ourplantbasedworld on Instagram. Cheers!
📋 Recipe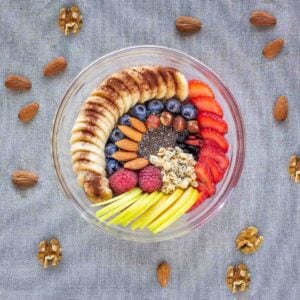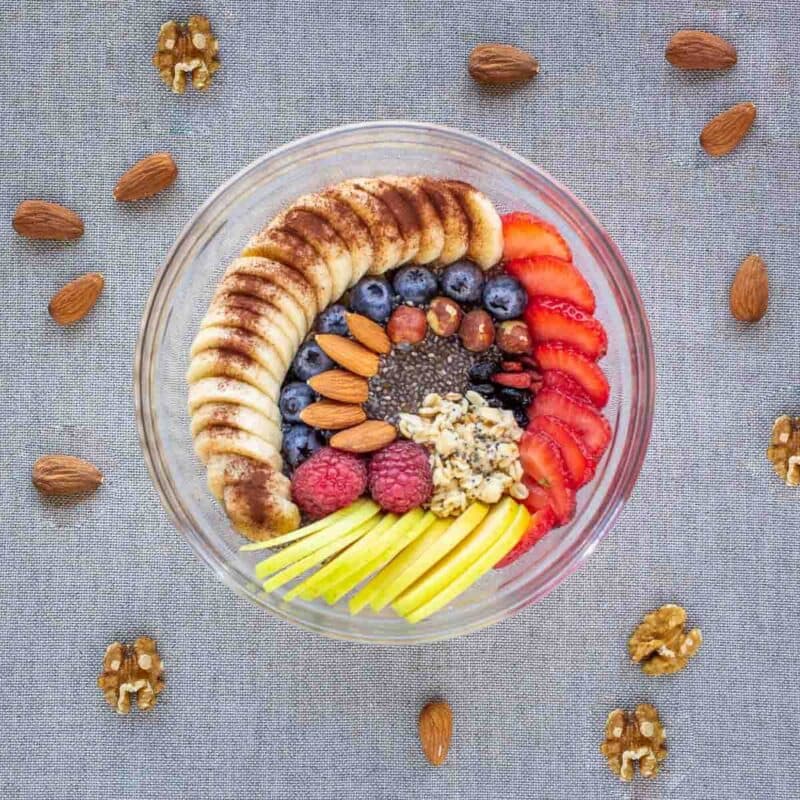 Breakfast Fruit Bowl Recipe
Starting your day with your fair share of nutrients is a must for us when we have a long day ahead and packing everything in a single bowl is a great way to make it.
Ingredients
1

cup

oats

rolled old-fashioned gluten-free

1

tablespoon

chia seeds

1

banana

½

apple

1

teaspoon

goji berries

or raisins

6

blueberries

8

almonds

4

strawberries

4

raspberries

4

macadamia nuts

1

teaspoon

cocoa powder

2

teaspoons

maple syrup
Directions
Soak your oats in water overnight. If you want to have some oats milk, so you don't need to add milk, add a ratio of 3 cups of water for every cup of oats. You can soak them only 15 minutes before eating them- but is better if you do it overnight as they are going to be softer and give you some oats milk.

Alternatively soak oats in your favorite plant milk.

Place your soaked oats in a bowl, add the soaked chia seeds and your selection of fresh fruit, top with the cocoa, and maple syrup.
Notes
Toping ideas, other than cocoa powder: coconut flakes, cinnamon, nutmeg.
Have a Great Day!!
Nutrition Facts
Calories:
328
kcal
Carbohydrates:
59
g
Protein:
8
g
Fat:
8
g
Saturated Fat:
1
g
Trans Fat:
1
g
Sodium:
6
mg
Potassium:
536
mg
Fiber:
10
g
Sugar:
19
g
Vitamin A:
72
IU
Vitamin C:
23
mg
Calcium:
90
mg
Iron:
3
mg
Nutrition Facts
Breakfast Fruit Bowl Recipe
Amount per Serving
% Daily Value*
* Percent Daily Values are based on a 2000 calorie diet.
🌡️ Food safety
Cook to a minimum temperature of 165 °F (74 °C)
Do not use the same utensils on cooked food that previously touched raw meat
Wash hands after touching raw meat
Don't leave food sitting out at room temperature for extended periods
Never leave cooking food unattended
Use oils with high smoking points to avoid harmful compounds
Always have good ventilation when using a gas stove
See more guidelines at USDA.gov.
The information shown is an estimate provided by an online nutrition calculator. It should not be considered a substitute for a professional nutritionist's advice. See our full Nutritional Disclosure here.
Please note that some of the links here are affiliate links, and I will earn a commission if you purchase through those links. I recommend all of the products listed because they are companies I have found helpful and trustworthy.