Looking for a vegan pasta dish that doesn't include eggs? You're in luck! This vegan version of noodles is easy to make and just as delicious. Best of all, it's perfect for a quick and tasty weeknight meal. So go ahead and give it a try!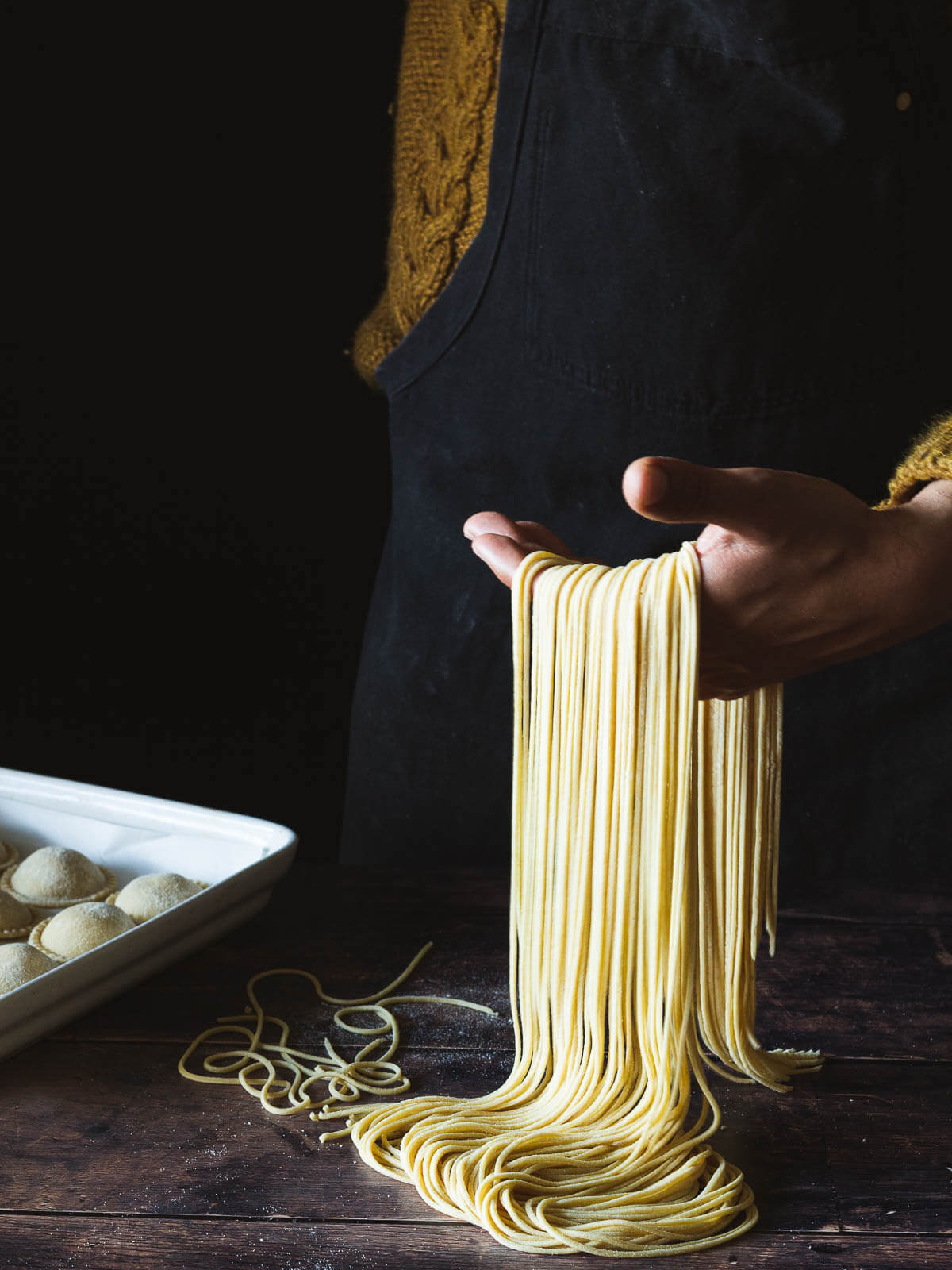 We make this pasta dough at least once every other week. Living in Italy means pasta everywhere and on every occasion, including Christmas dinner, Valentine's, Mother's Day, and Fathers' Day brunch.
So we like making our own for special dinners and always make more pasta batches of basic vegan pasta dough, to make your favorite pasta recipes like vegan tagliatelle, spaghetti, and ravioli, which we conveniently freeze for a hassle-free lunch, simply using a vegan pesto, arugula pesto, marinara sauce, simple tomato sauce, or high-quality olive oil.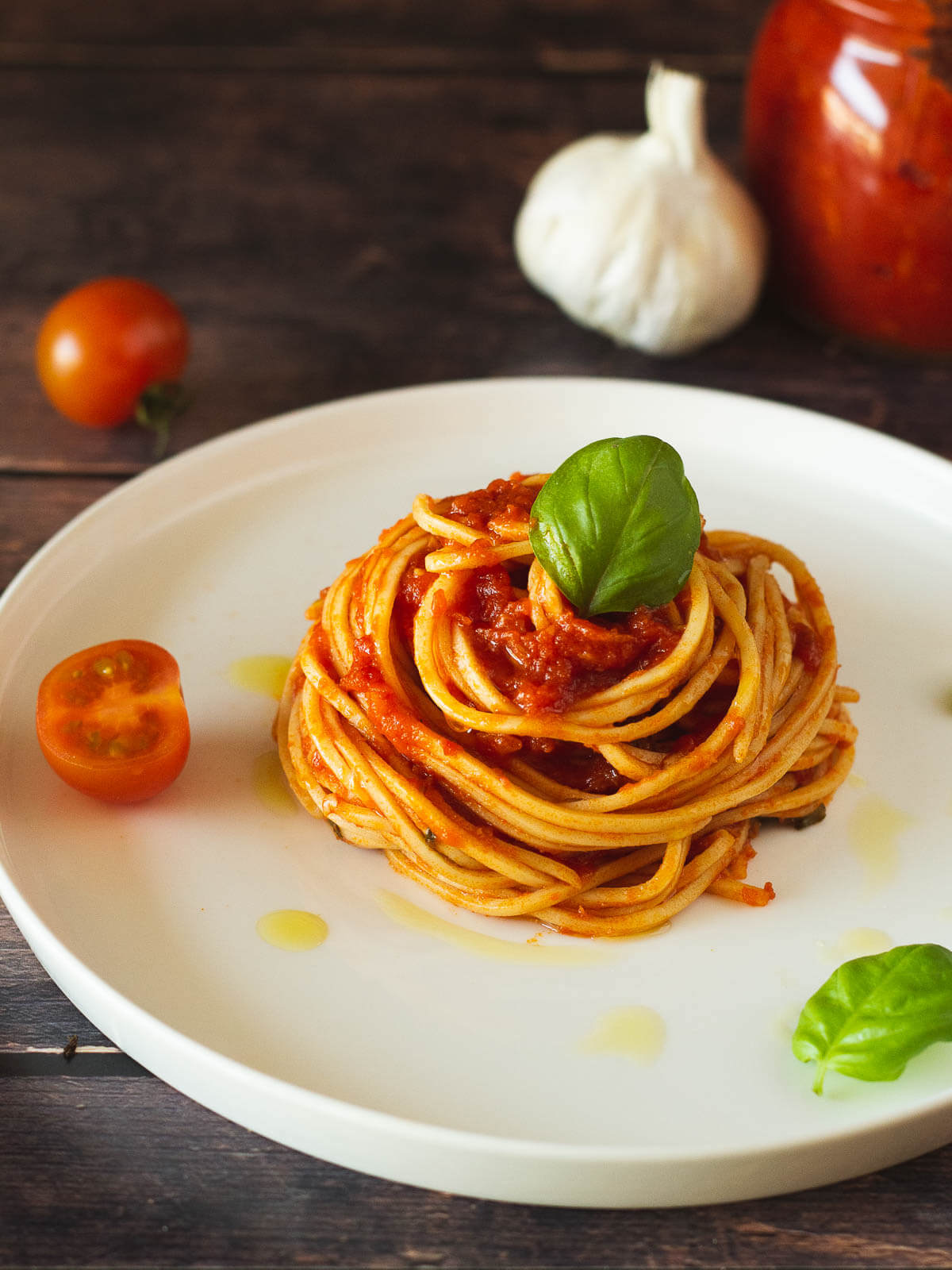 It is definitely, one of the most practical DIY recipes that are super versatile and crowd pleaser, and all guests will always be impressed with fresh noodles or any homemade pasta recipe, believe me!
Jump to:
🧾 Ingredients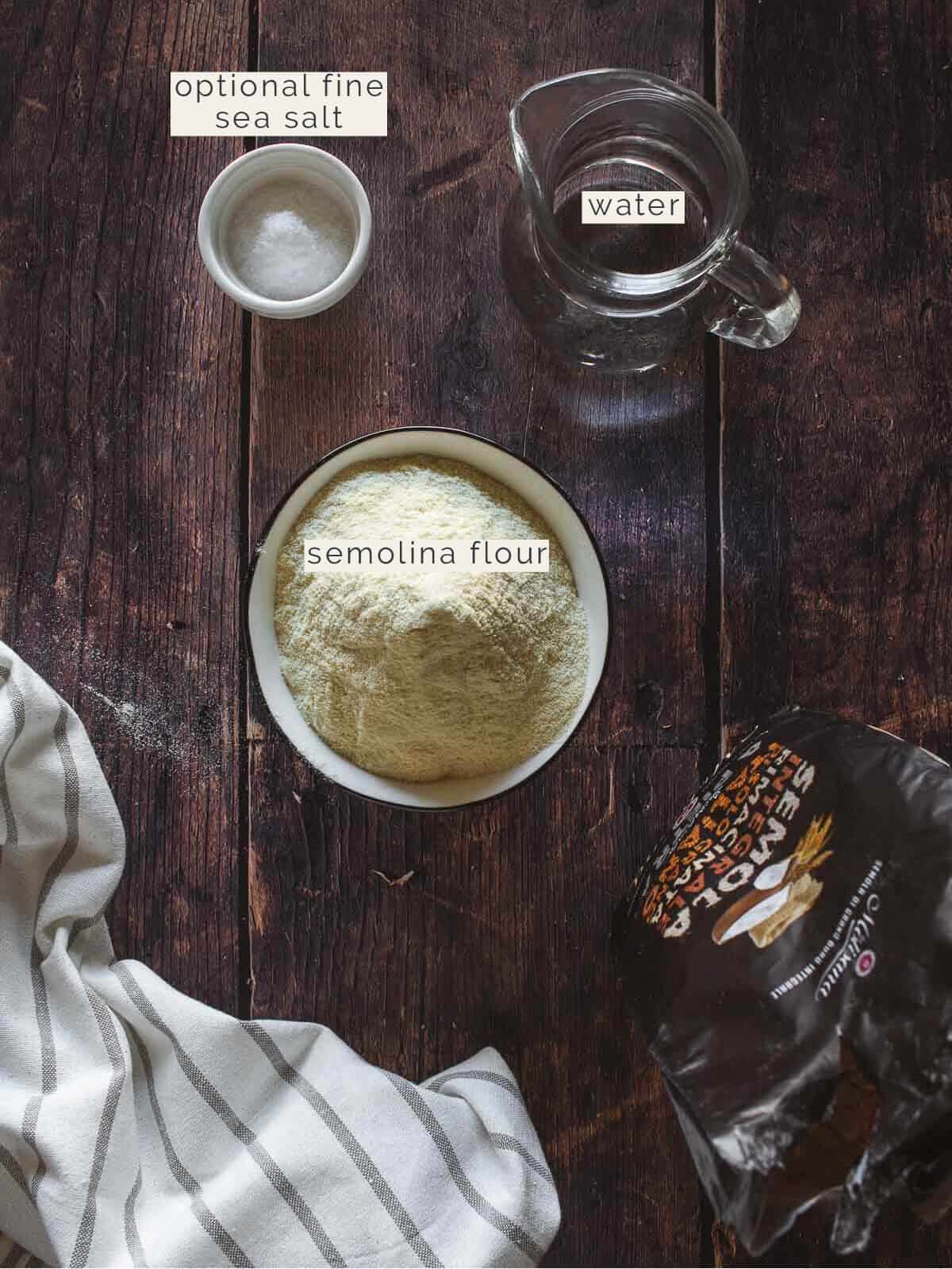 To make no egg pasta, you only need
Semolina flour (hard durum wheat)
Water
Optional fine sea salt.
See the recipe card for quantities.
🔪  How to make noodles dough
This homemade noodles recipe without eggs is such an easy recipe that you will ask yourself why you didn't get into making pasta before; buying pasta will be a thing of the past!
To make eggless noodles at home, mix all the ingredients in a bowl (see all details in our basic vegan pasta dough recipe).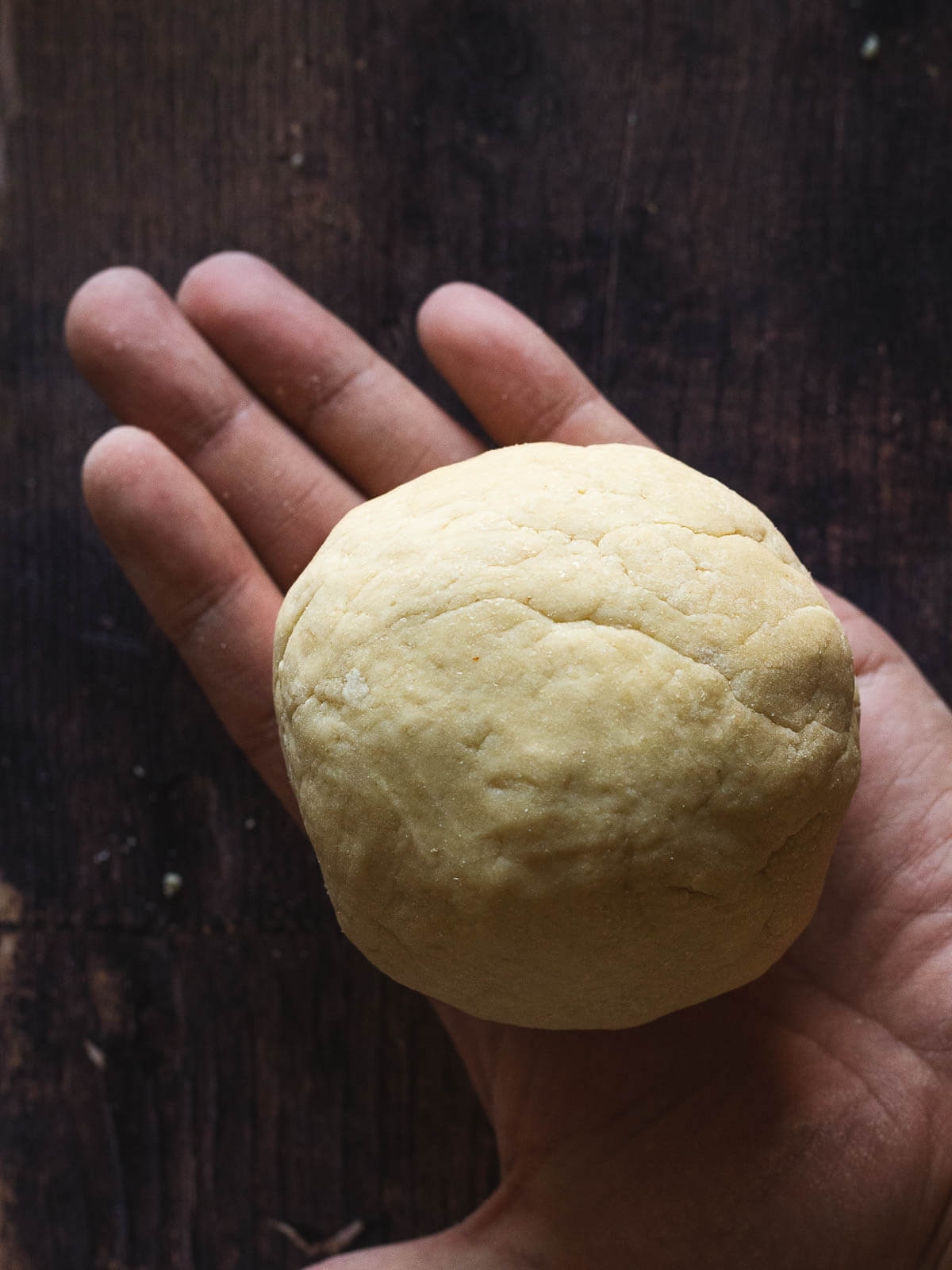 make a dough ball over a lightly floured surface adding extra flour if needed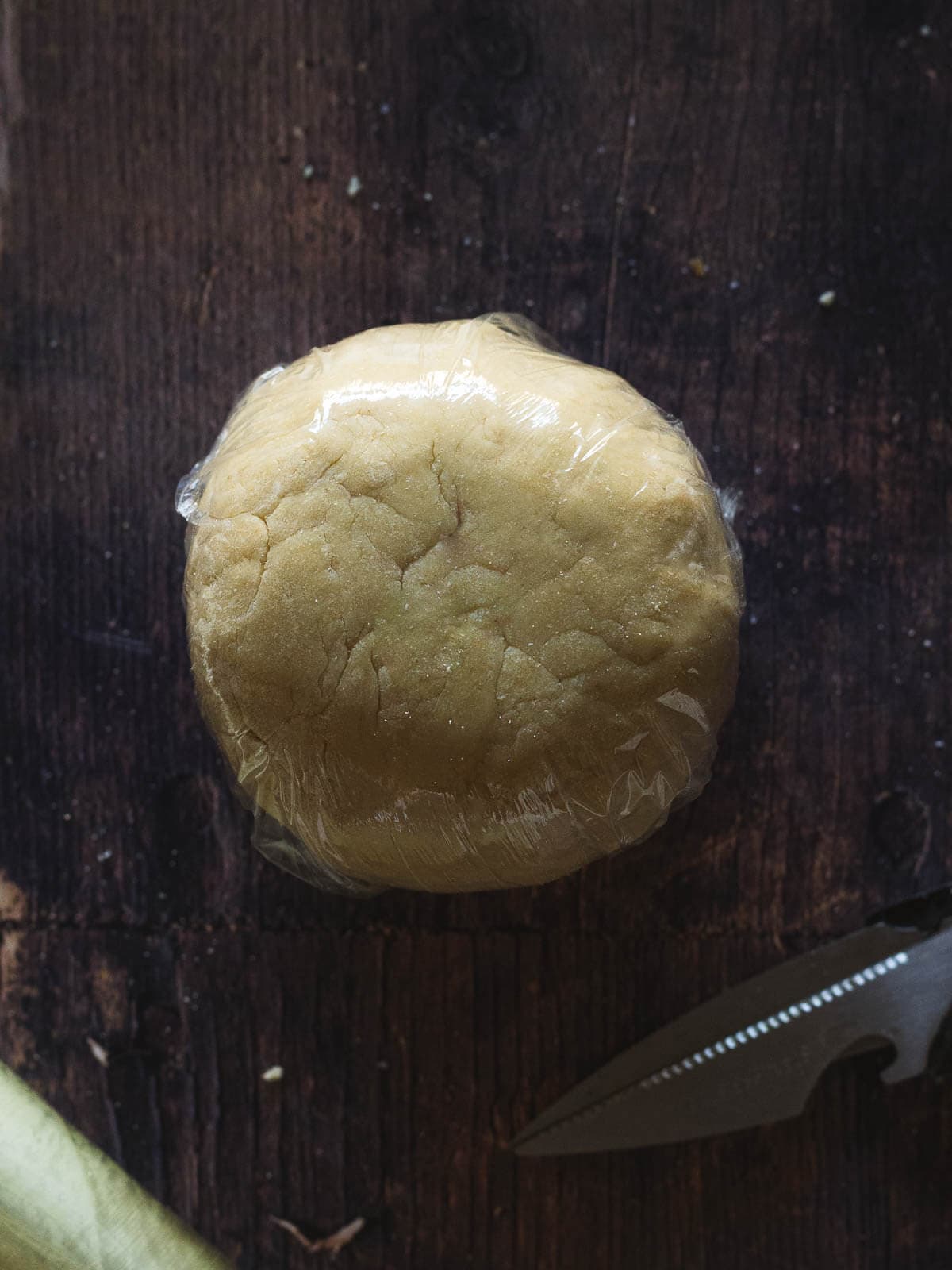 cover with plastic wrap and refrigerate to let the dough hook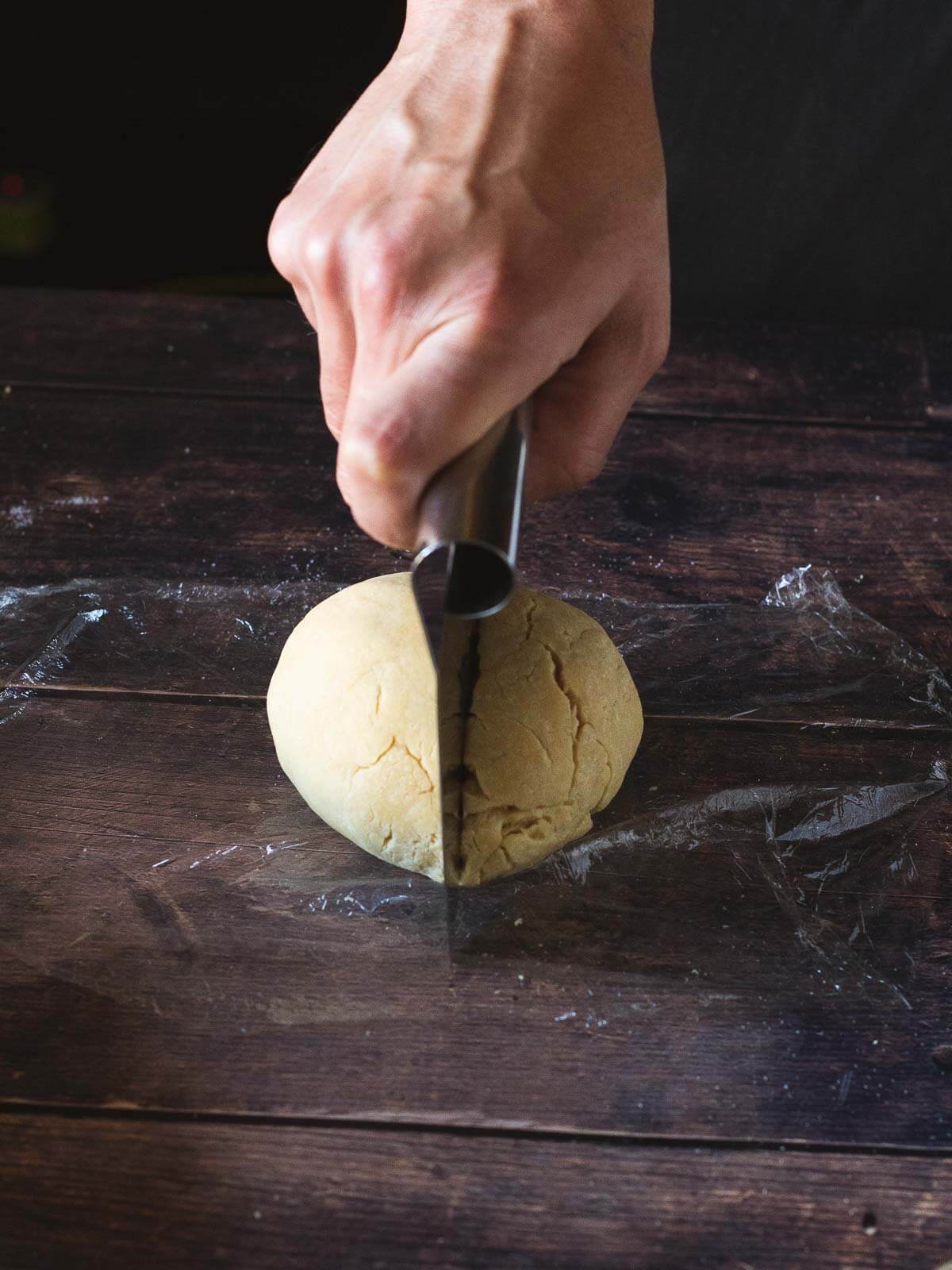 cut the dough ball into two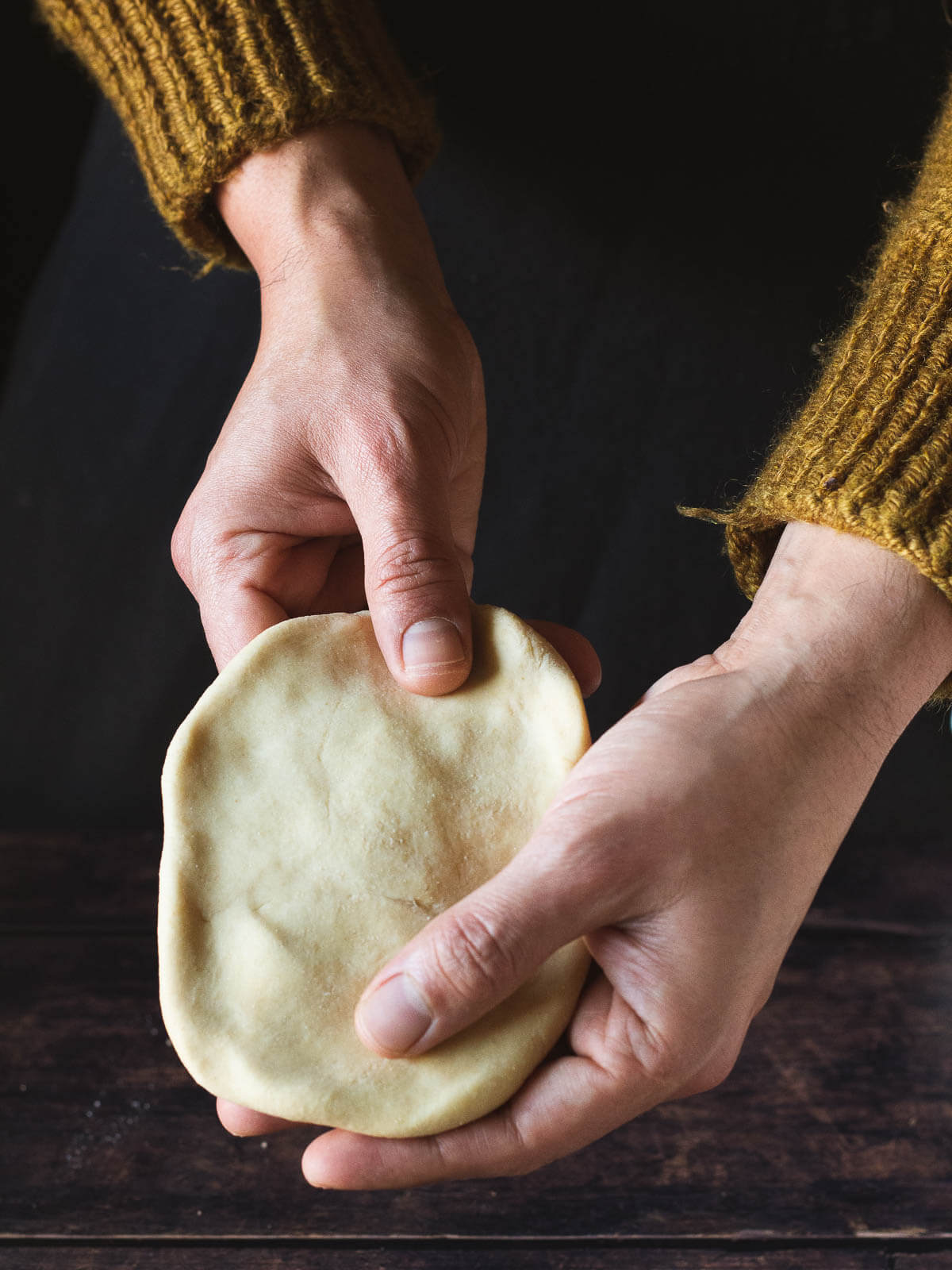 stretch the dough with your fingers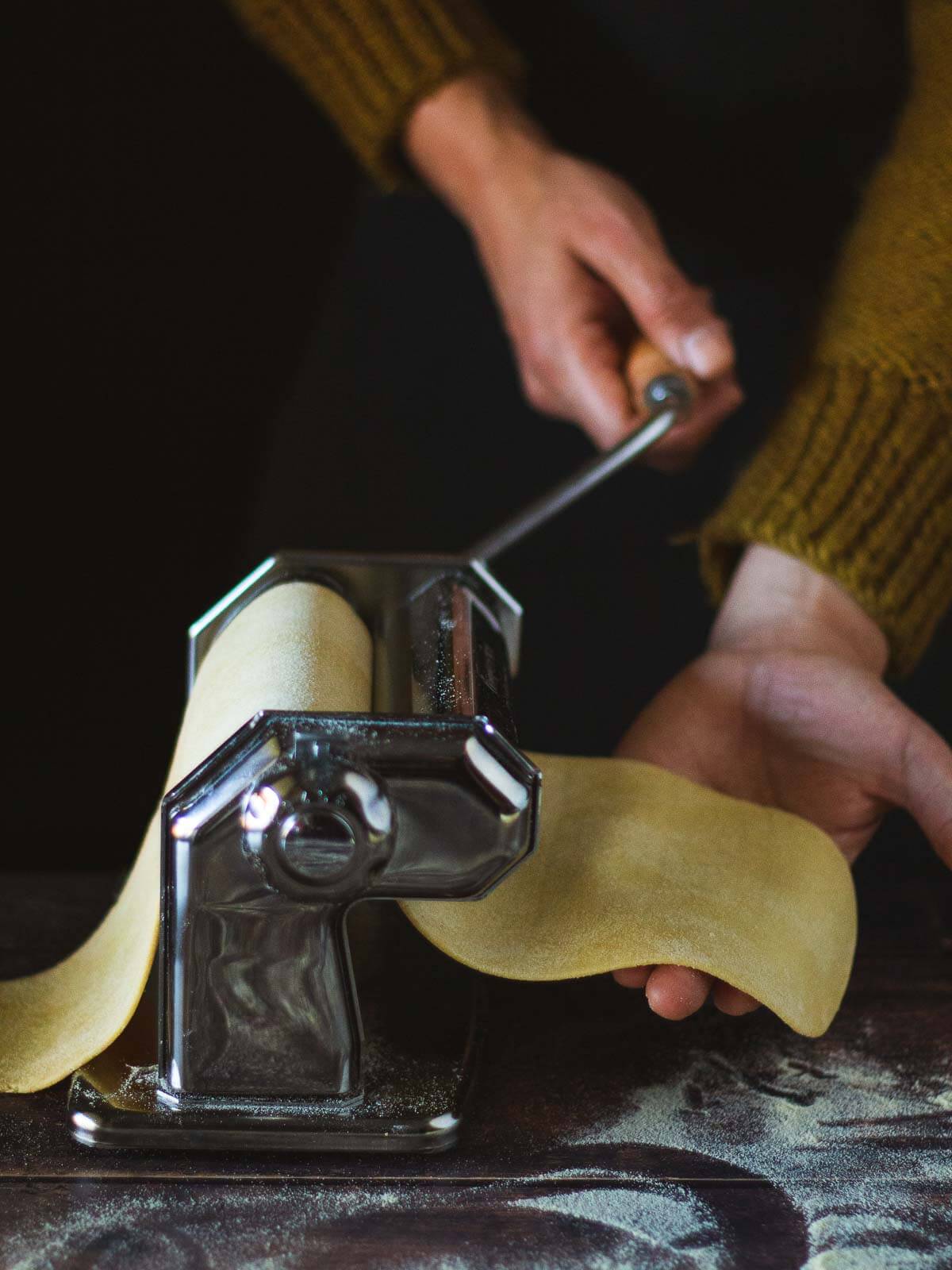 pass the dough through the pasta machine and cut the sheets into the desired length (12"-30 cm is usual)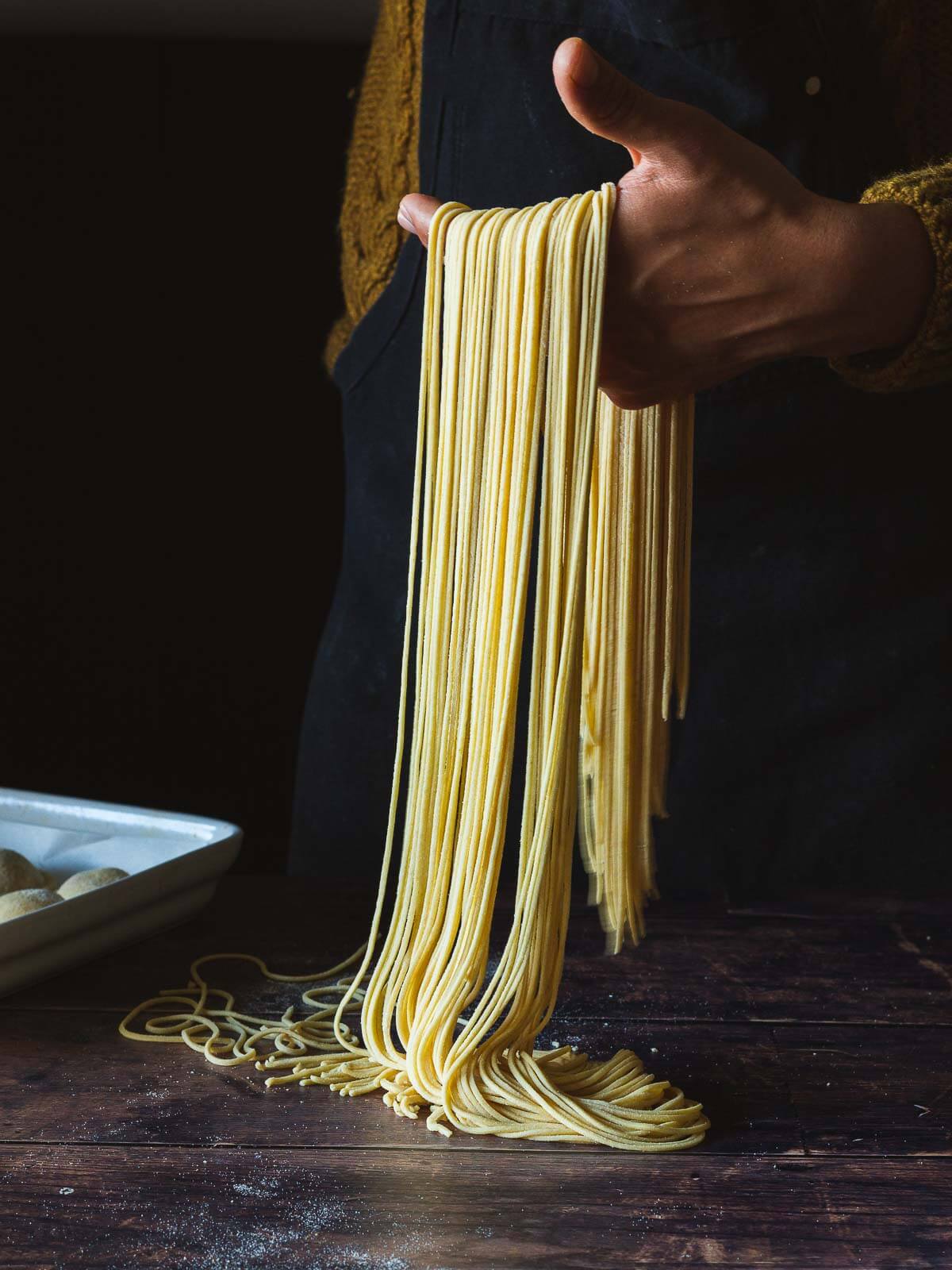 assemble the pasta cutter adapter and pass the dough through the pasta maker cutter
Tip: the vegan spaghetti noodles can be cut with different pasta machine settings. I like store-bought spaghetti Nº5, which I find is #2 in my pasta machine.
Nº1 setting in most pasta machines is the thinnest cut, but some pasta machines have exactly backward settings, being the higher number the thinnest.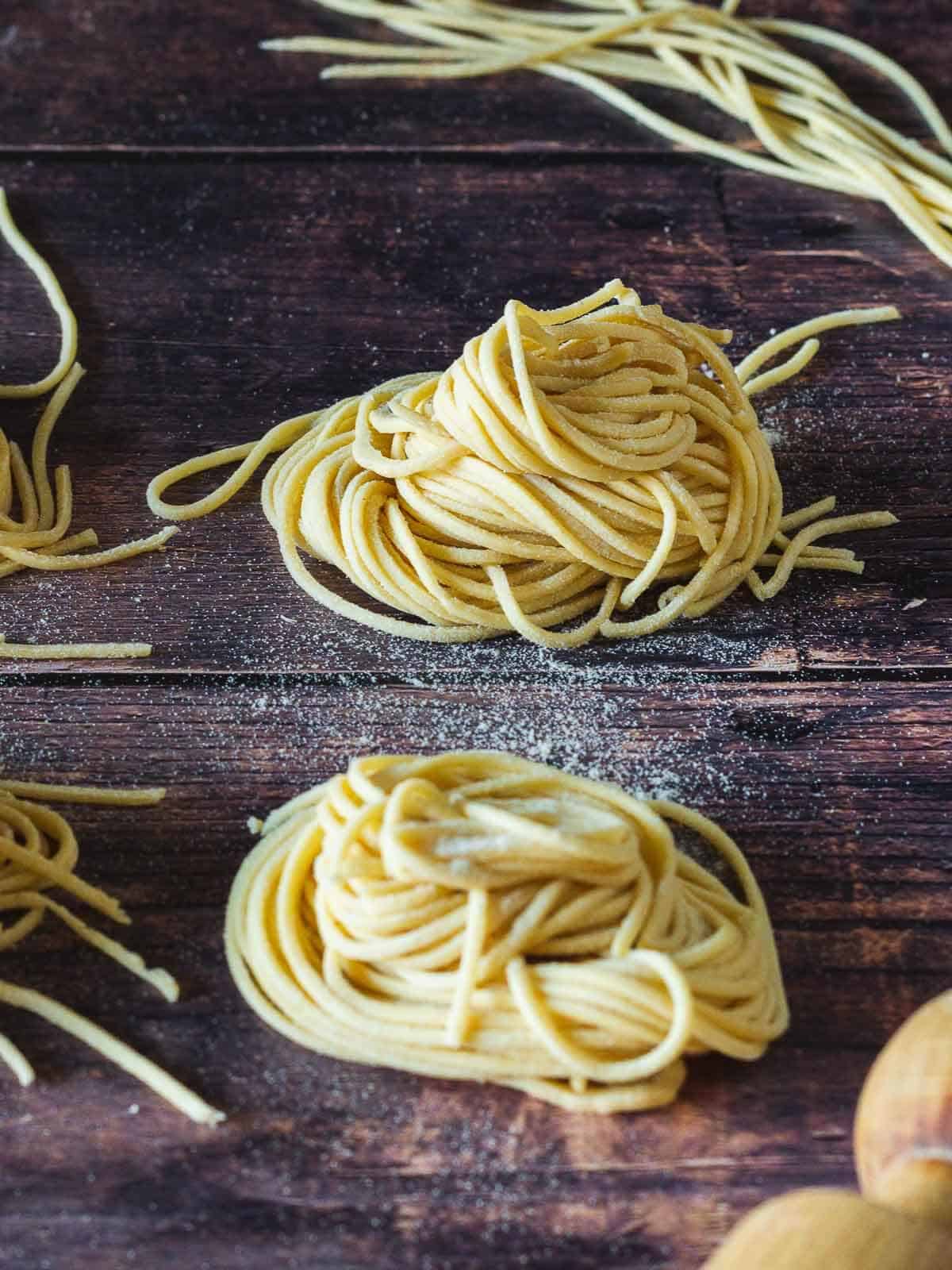 Hint: keep the pasta dough ball you are not working with wrapped with plastic so it doesn't dry out.
Vegan tagliatelle
Stretch the pasta as much as possible; then roll it up and cut it with a sharp knife into thin strips.
🍲 Cooking
Cook pasta in boiling salted water for 2-3 minutes until al dente. Homemade pasta needs significantly less cooking time than dried pasta, and the texture is absolutely delicious.
🍶 Substitutions
Semolina flour - instead of whole wheat semolina flour, you can make this noodles dough recipe with white flour, all-purpose flour, or half whole wheat flour. I always pick flour or semolina labeled for pasta making.
Gluten-free - use a mix of gluten-free flour to make this fresh pasta gluten-free. Here's our go-to recipe for gluten-free flour.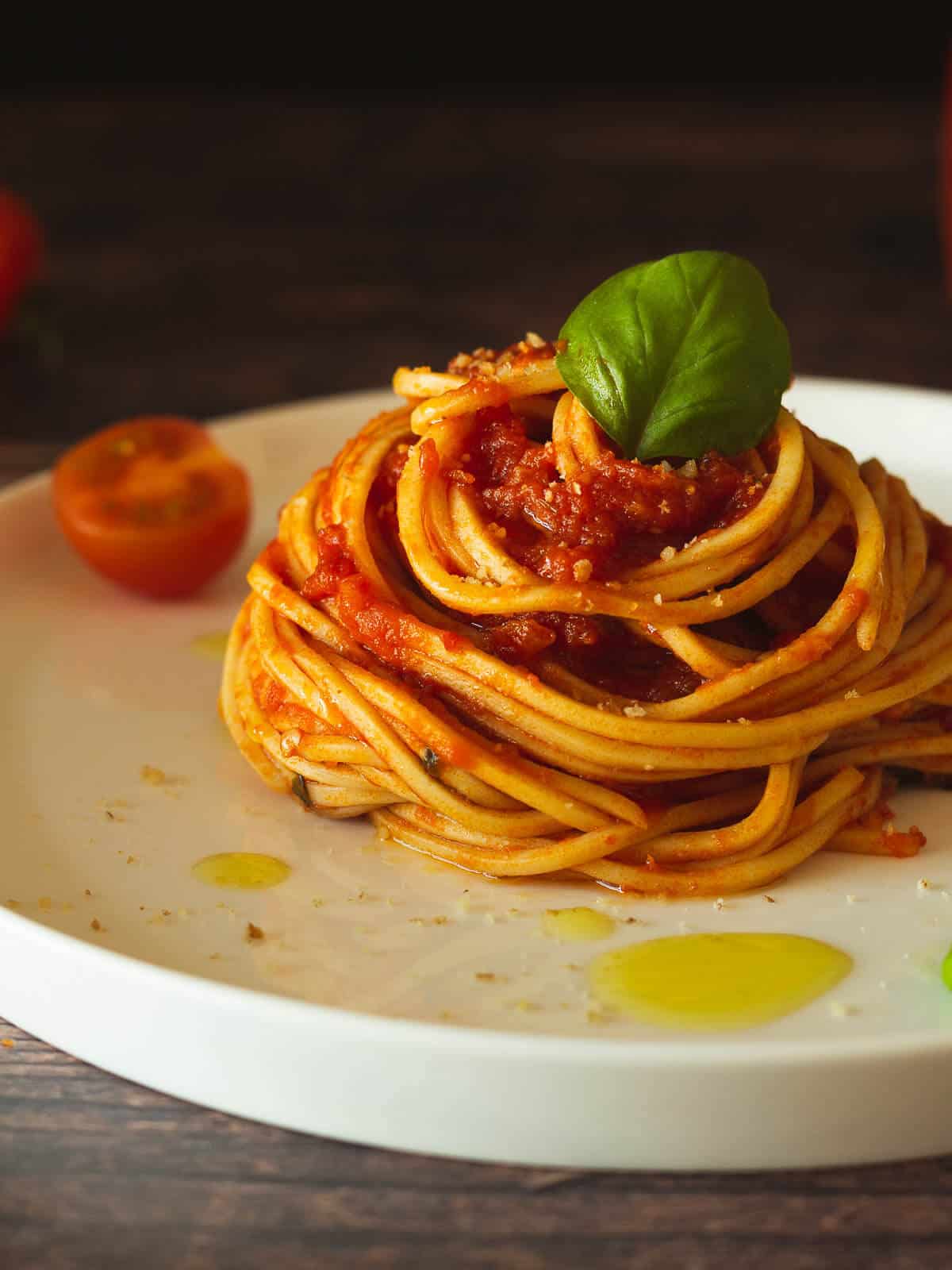 🍽 Equipment
I prefer to use a decent pasta machine (affiliate link) when making noodles. It just makes your life easier. Stretching the dough evenly is important in making great fresh pasta dough.
If you don't own a pasta maker (affiliate link) and are not ready to make an investment, you can stretch this noodles dough using a rolling pin, using as much pressure as you can, and then use a cheap wooden spaghetti pasta cutter (affiliate link) (affiliate link).
🥡 Storage
One of the best perks of making vegan noodles dough from scratch is that they freeze, store, and cook very well.
Fresh pasta is easy to store and use later. I promise you won't tell the difference, so making larger quantities pays off.
Put the noodles and pasta nests in a spacious airtight container, leaving some room between them, and put them in the freezer. When they look hardened, separate them using either parchment paper or cling and then store them.
❓ FAQ
How long can you keep fresh pasta dough?
You can make fresh pasta, shape the smooth dough into a ball, and store it in the fridge for up to two days before shaping it. Ensure wrapping it tightly in plastic wrap film and refrigerate; otherwise, it will develop mold.
After shaping pasta, toss it with little flour or semolina, package it in airtight plastic bags or containers, and refrigerate for up to two days. If you freeze the shaped pasta, you can keep it for up to a month.
Are spaghetti noodles vegan?
Yes, spaghetti noodles are vegan. They are made from semolina flour, water, and salt. There is no dairy or egg in their production.
This is the case for most spaghetti noodles, but it is common to find people adding eggs and egg yolks when making homemade noodles because their fat helps make the dough more stretchy. If you look to achieve that same result, add a tablespoon or two of olive oil before kneading.
📚 More vegan dough recipes
If you like kneading and making your own pasta, bread and pizza, check out our traditional Italian Pagnotta Bread Loaf, Eggless Pasta Dough, Focaccia, simple Margherita Pizza, and cheese-less Marinara pizza.
⭐ If you try this recipe, let us know! 💬 Leave a comment, rate it, and don't forget to tag us @ourplantbasedworld on Instagram. Cheers!
📋 Recipe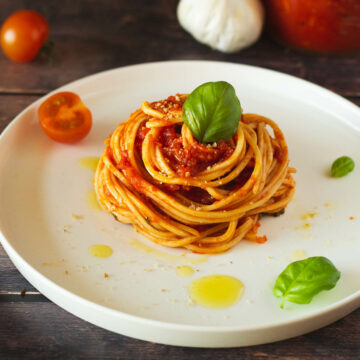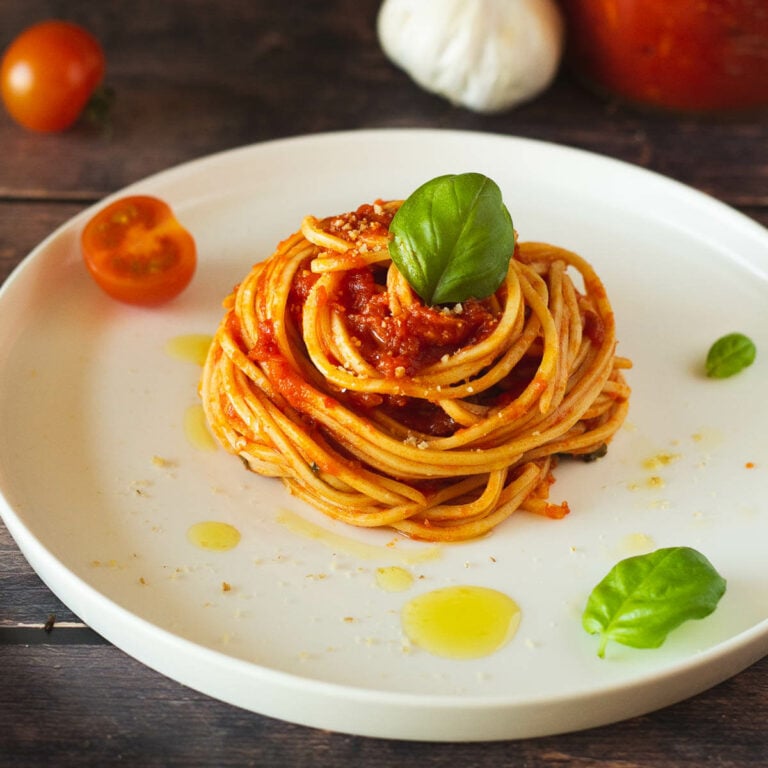 Vegan Pasta Noodles without Egg
Learn how to make noodles dough with this simple recipe. These vegan pasta noodles without eggs are perfect for a quick and easy meal!
Equipment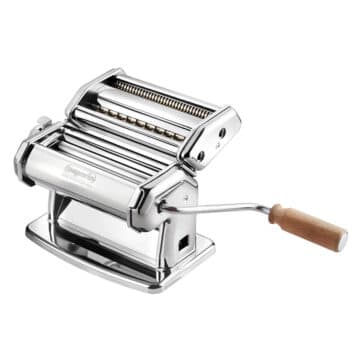 (affiliate link)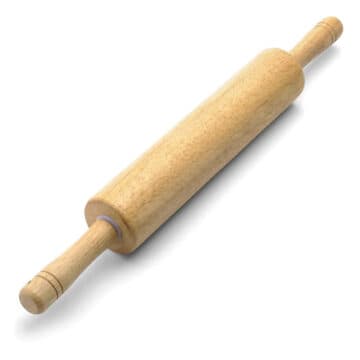 (affiliate link)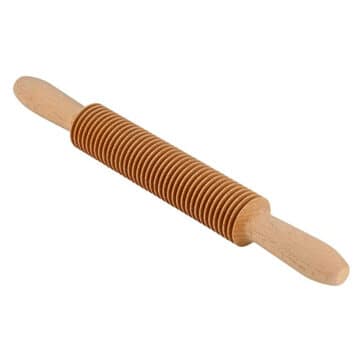 (affiliate link)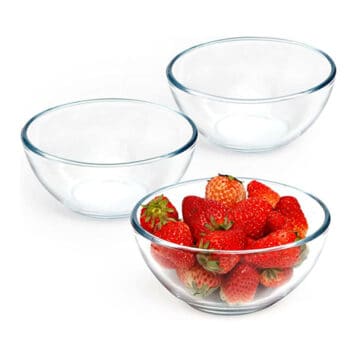 (affiliate link)
Ingredients
7

oz

whole wheat semolina

200 grams, or all-purpose flour

6.1

oz

water (¾ cups)

180 ml

½

teaspoon

fine sea salt

2

tablespoons

whole wheat flour

to manage the dough, otherwise use more semolina
Directions
Make pasta dough
Mix the salt and whole wheat semolina in a bowl, and then pour the warm water.

Transfer to a clean table and knead for 5-8 minutes. Add more semolina if the dough is too wet and water if too dry.

Cover with plastic wrap and reserve in the fridge for 30 minutes.
Cut the pasta: pasta machine method
After refrigerating your noodles pasta dough, cut the pasta into two same-sized balls (or more if you make more, keeping the proportions).

Press the balls to make small pancakes.

Set the pasta machine to the thicker mode and pass the dough.

Fold both edges of the dough inwards and pass the dough again; this way, the pasta will be more uniform. Rub some flour after passing the dough to prevent it from sticking to the machine.

Pass the dough again, and then continue passing the dough, switching to thinner settings until you reach the desired thickness.

The recommended thickness for spaghetti or fettuccine: 2. For ravioli or other dumplings: 1 (the thinnest)

Cut stretched fresh pasta into 12 inches (30 cm) sheets.

Assemble the cutter head that makes thin spaghetti and wide fettucini noodles, and pick your preferred width. Pass the pasta sheets through the machine.

Add the pasta to salted boiling water and cook the pasta for 2-3 minutes, until al dente.
Cut the pasta: rolling pin method
After chilling the dough, cut the pasta into two equal balls (or more if you make more, keeping the proportions).

Stretch the dough over a lightly floured surface using a rolling pin or a clean bottle until the dough looks very thin. Use more flour to prevent sticking.

Roll the dough up, and cut it into strips using a sharp knife. Cut broader strips if making pappardelle (1 cm = ½ inch) or ½ cm = ¼ inch if making fettuccine or tagliatelle.

Unfurl the strips and make pasta nests.

You can also use a spaghetti pasta cutter

(affiliate link)

, and roll it over the stretched pasta dough sheets.
Storing
Sprinkle some flour on top if you plan to store them or cook them immediately. You can keep them in the fridge for two days or frozen for up to one month.
Notes
Yes, you can use our gluten-free flour blend to replace the durum wheat semolina or flour for a gluten-free option.
Nutrition Facts
Calories:
357
kcal
Carbohydrates:
72
g
Protein:
13
g
Fat:
1
g
Saturated Fat:
0.1
g
Polyunsaturated Fat:
0.4
g
Monounsaturated Fat:
0.1
g
Sodium:
587
mg
Potassium:
185
mg
Fiber:
4
g
Calcium:
20
mg
Iron:
4
mg
Nutrition Facts
Vegan Pasta Noodles without Egg
Amount per Serving
% Daily Value*
* Percent Daily Values are based on a 2000 calorie diet.
🌡️ Food safety
Cook to a minimum temperature of 165 °F (74 °C)
Do not use the same utensils on cooked food that previously touched raw meat.
Wash hands after touching raw meat
Don't leave food sitting out at room temperature for extended periods
Never leave cooking food unattended
Use oils with a high smoking point to avoid harmful compounds
Always have good ventilation when using a gas stove