If you're looking for an easy vegan meal that's both grounding and detoxifying, look no further than kitchari. It is a simple dish made with rice, beans, and spices, and it's perfect for a busy weeknight. Plus, this Vegan Kitchari Recipe is a great way to detox your body! You can customize your kitchari by adding different spices or herbs. Here's my favorite recipe. Enjoy!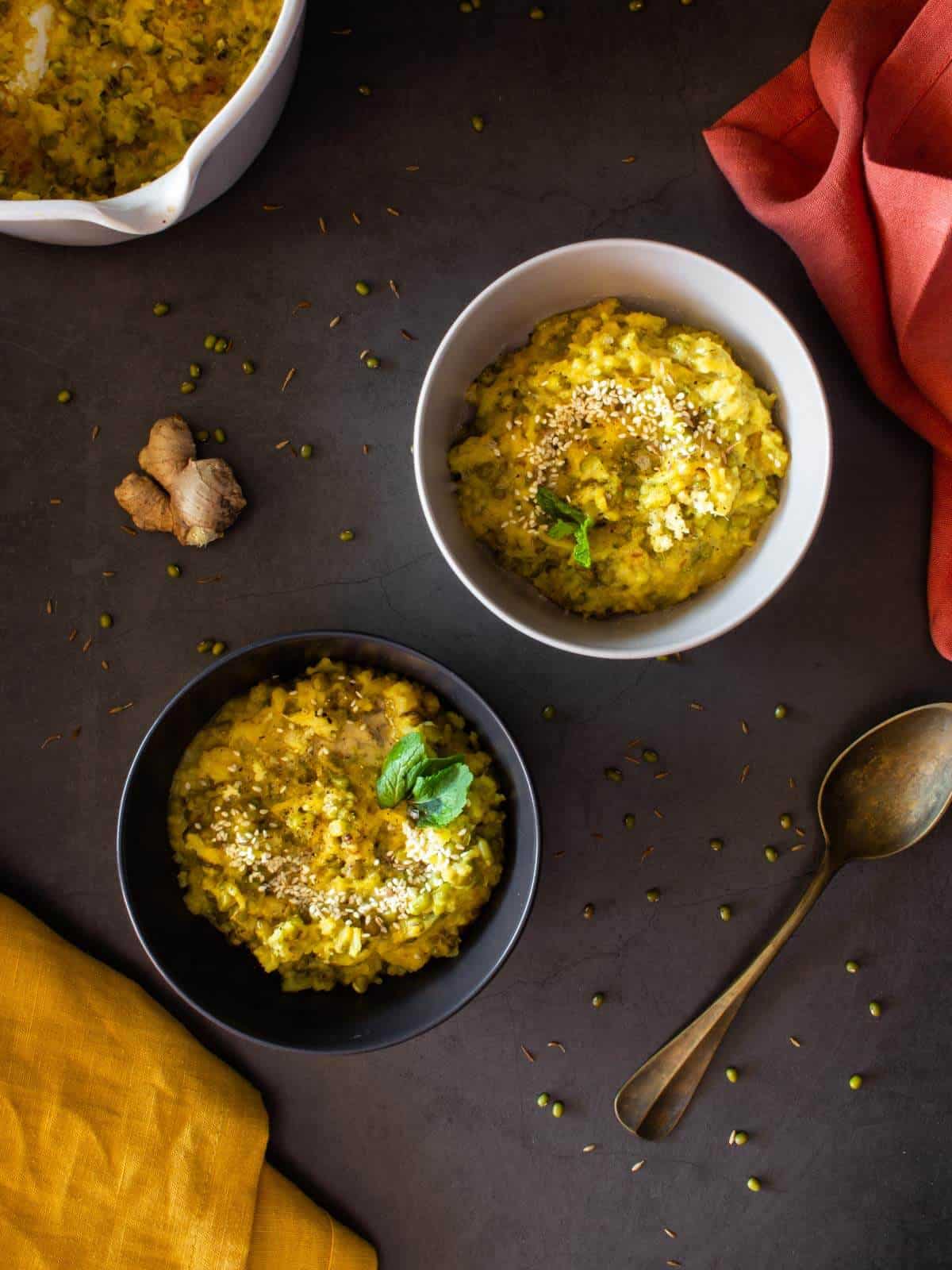 Have you ever heard about Kitchari cleansing? I hadn't, but I dogged in and loved the concept as the good researcher I am. This recipe encompasses all the Vegan Kitchari Recipe preparation basics, a great main dish for detox periods.
Our Ayurveda Lifestyle friends contacted us to develop a Kitchari Detox menu for their yoga students making a Kitchari Cleansing at their Yoga Academy.
According to the Ayurveda practice, the cleanse involves juicing and eating in a certain way for the detox duration to cleanse the gut and release the body from inflammation. By the way, we are taking part in the detox!
The idea was to develop a meal plan, including breakfast, lunch, and a light dinner, typically including juice detox, legumes, cereal-based kitchari recipe (Also known as kitcheree recipe), and soup. All are making part of a perfect kitchari bar menu!
Try also our Superfood Green Detox Smoothie on this site to complement your weekly breakfast meal plan.
Jump to:
🤔 Juicing detox
If you like to know more about juicing and how to build the perfect juice according to your needs, read our post, where we put together everything you need to know about juicing your favorite juices and vegetables and what combinations work better.
Juicing is great, but it doesn't replace our fiber needs; it just fulfills different needs. That is why making smoothies also make a lot of sense when we want to add fiber, veggies, protein, and seeds to our diet.
Here is our guide to making the perfect post work out smoothie, where we also cover how to build the perfect functional smoothie.
We loved the challenge. Having recently graduated from a Plant-based Nutrition Program made this challenge very exciting, so I am putting all my nutrition knowledge next to my kitchen skills to deliver the best, tasty, and nutritious packed recipes. This is one of them!
🧾 Ingredients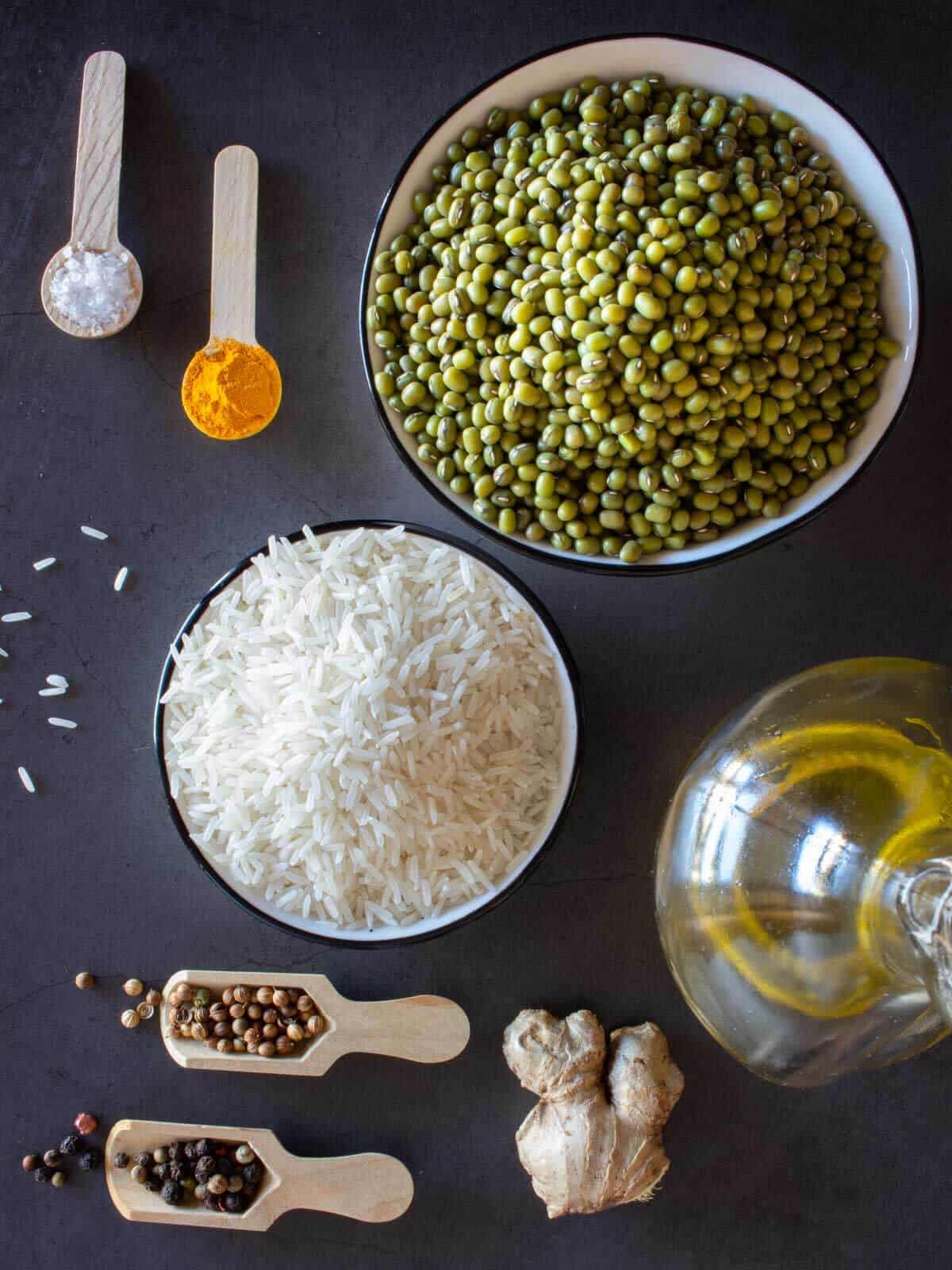 I will go one by one because I think the exercise is worth the reading. Moreover, we will explore what each ingredient contributes to the detox.
Bean base
Mung beans are easier to digest than all the legumes, making them perfect as a post-illness food option and work great for vegan stews.
Mung beans are ideal because they are high in fiber and low in calories. They are safe to eat for people with diabetes because their glycemic load is low. These green pearls also help to regulate blood sugar.
The carbs present in mung beans are digested better than the rest of the legumes, making them optimal for a cleanse period, where some changes are also taking place within our bodies and souls.
You can also find them in their yellow mung daal form. These ones are even easier to digest.
Rice – we all have been given a plain rice bowl when our stomach feels a little funny. Whole bran rice is an essential source of insoluble fiber (dietary fiber) that we humans cannot completely break down entirely. This fiber prevents constipation and colon cancer. Rice is naturally gluten-free, making it safe for people who have gluten gut irritation issues.
Seasoning
Turmeric powder
The curcumin component in turmeric helps fight inflammation and improves the strength of our immune system.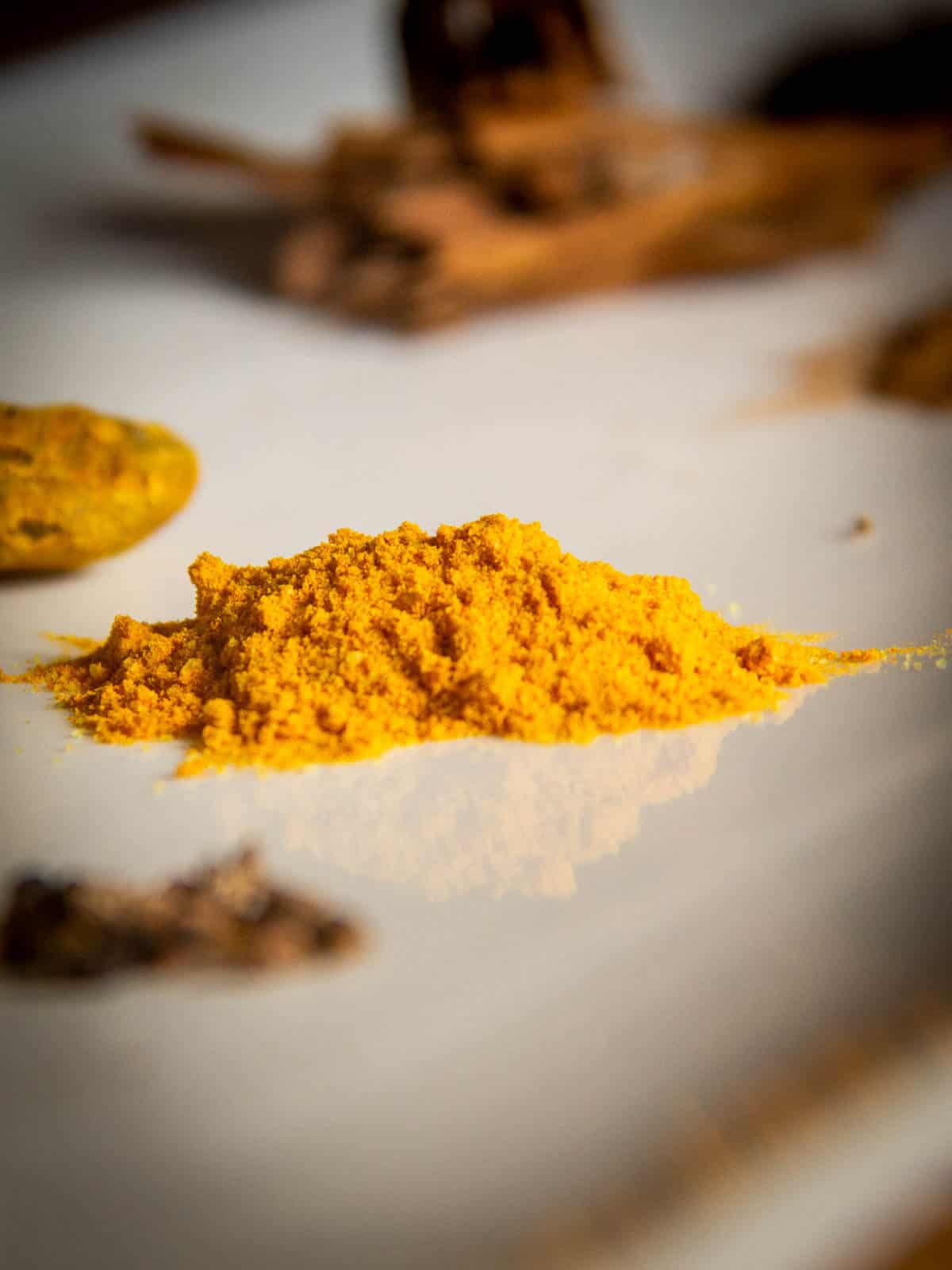 See how to include more turmeric in your diet with this morning tonic, a lemon, turmeric, and ginger anti-inflammatory tea.
Ginger root
It is an excellent anti-inflammatory as it helps in two ways. One is reducing the inflammation locally, stabilizing the while globules to release less inflammatory signals. You can alternatively use ginger powder.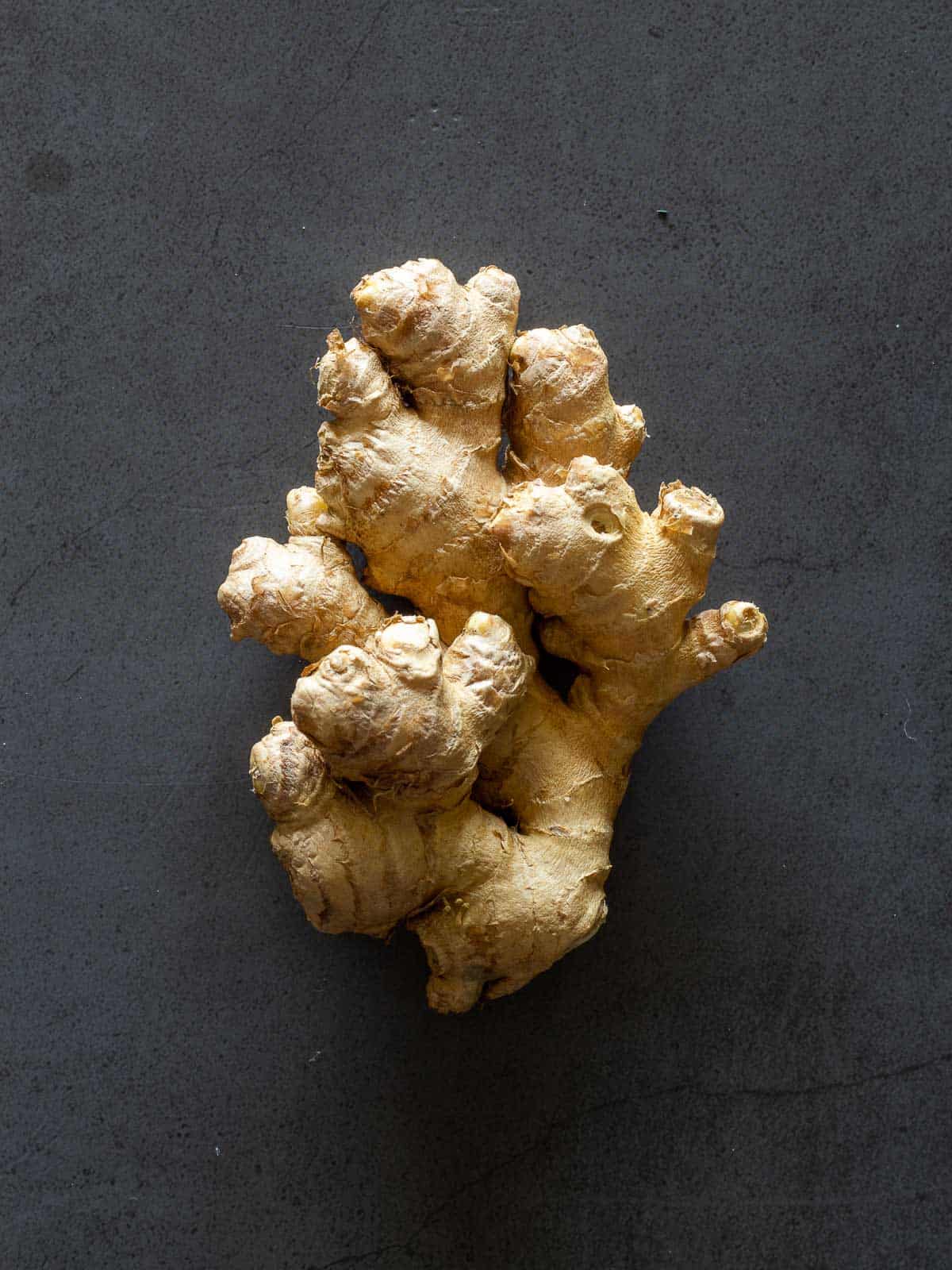 Sesame oil
The linoleic acid of this oil is also antioxidant, anti-bacterial, and anti-inflammatory. Sesame oil is especially advantageous for pacifying Vata dosha. This oil prevents the skin from getting excessively dry. I recommend you go easy on it, as it has a strong flavor.
The Traditional Ayurvedic recipe uses Ghee (clarified butter) instead of sesame oil, but we are making a Vegan Kitchari Recipe. If you are vegetarian or omnivore, you may choose to use Ghee instead of sesame oil, as although it is not dairy-free, it has a minimal amount of lactose, which we know a lot of people are intolerant to.
I once read a text I found very interesting:
"You are not lactose intolerant; you are just not a baby cow."
Since sesame oil is also part of an ayurvedic diet, we chose to take the vegan path to replace Ghee for this recipe.
Other alternatives are coconut oil and avocado oil.
Seeds
Cumin Seeds
These delicious digestive seeds are considered a cooling spice in ayurvedic medicine. It also aids digestion and helps flush toxins out of the body.
Cumin is very versatile, as you can use it either ground or as whole seeds. They can be consumed raw, dry-roasted, sautéed, and roasted. We will slightly sauté cumin seeds in this recipe to make their flavor and aroma come alive.
Although cumin has a strong flavor, it combines well with many other spices, including turmeric, coriander, ginger, fennel, and cinnamon.
Black pepper
This well-known spice activates curcumin's properties. It also has anti-inflammatory benefits on its own, together with a myriad of other benefits such as helping to control the blood sugar levels, lowering cholesterol levels, and great benefits for our brains.
Coriander Seeds (powdered)
Help to prevent flatulence and controls spasmodic pain. It also boosts the digestive system in hot seasons when our digestion seems to be weaker. Coriander seed is a digestive aid and diuretic. Although the leaves (fresh cilantro) are cooling, the seeds are slightly warming spices. Its bitterness reduces pitta, while its pungency improves digestion.
An ayurvedic spice mix is a mix of herbs and spices that accompany the cleansing process to enhance metabolism and digestion. Help prevent digestive problem issues and cleanse ama from the body.
Turmeric, cumin, coriander, fennel, mint, asafetida, black pepper, dried powdered ginger, cardamom, cinnamon, nutmeg, and cayenne are potent Ayurvedic spices that contribute to enhancing metabolism and digestion.
They also cleanse ama (undigested food that gets absorbed into our system without properly being assimilated by our bodies) and help prevent digestive disorders such as gas and bloating.
🔪 Instructions
How to Make Kitchari Recipe: Gut Healing & Anti-Inflammatory. This basmati rice and moong dal recipe are quickly put together and is a delicious dish and ideal for meal prep.
Soak. Add the rice and moong dal; then pour water until it is covered. Let the mix soak for 15 minutes.
Briefly cook spices. Warm the sesame oil on medium-low heat in a medium or large pot. Then add cumin seeds and let them cook for about a minute until they become fragrant and brown.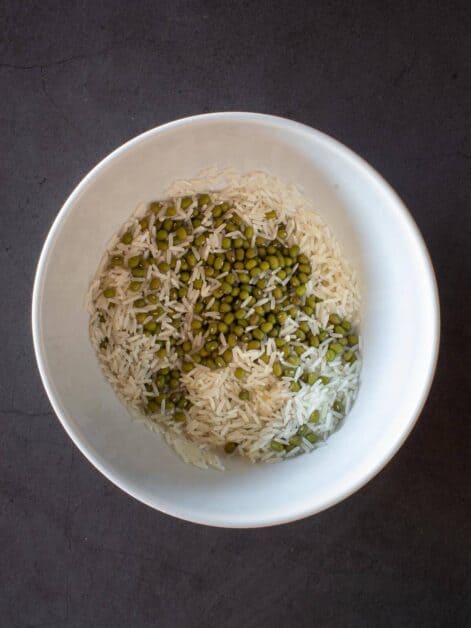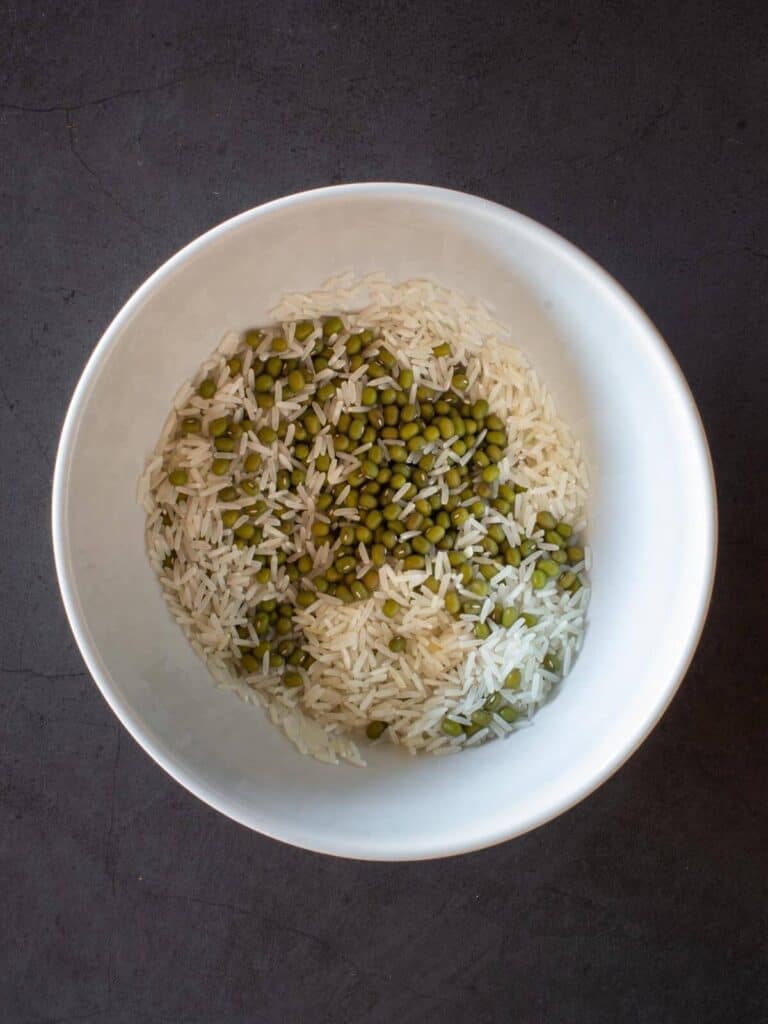 Add the rest of the spices. Add fresh ginger, ground coriander, turmeric, black pepper while stirring. If you used ground cumin instead of cumin seeds, add it at this point.
Strain. After straining the rice and mung beans, add them to the saucepan. Stir and add the water or vegetable broth.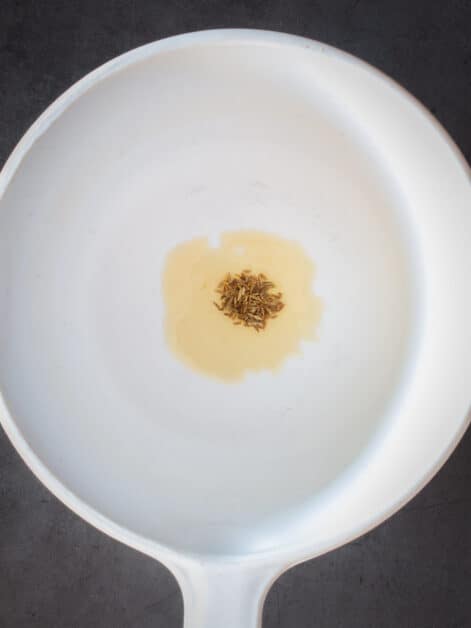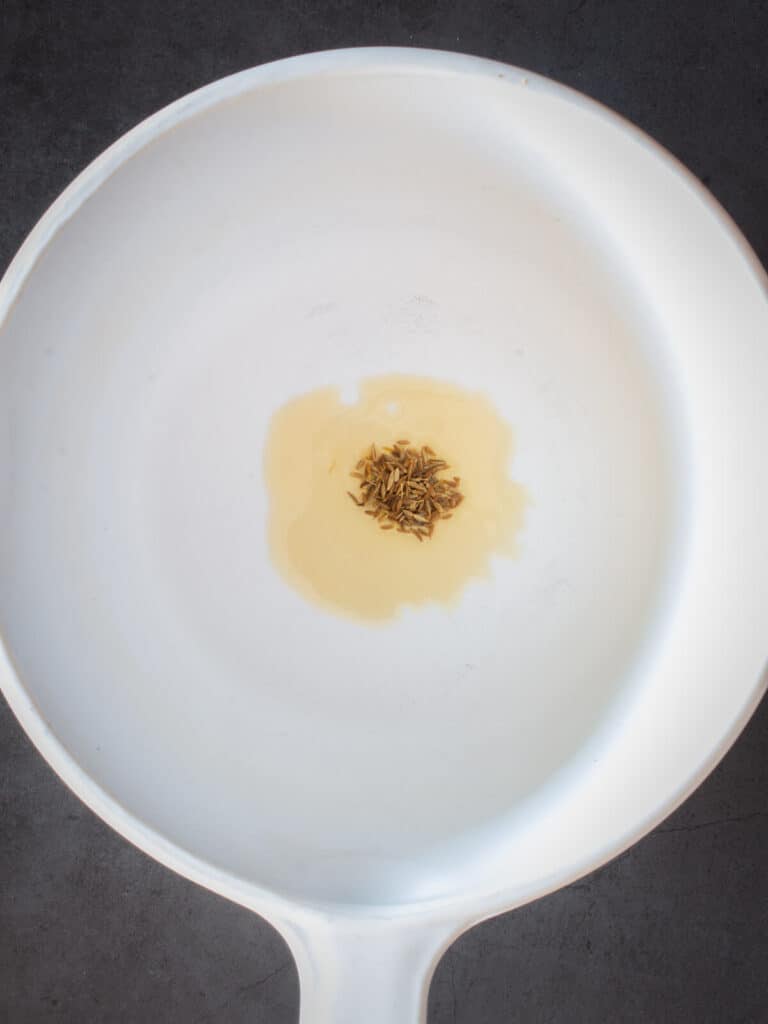 Simmer. Increase the heat to medium-high, bringing the mixture to a boil. Then turn the heat down to a gentle simmer and let it cook for 30 minutes, uncovered.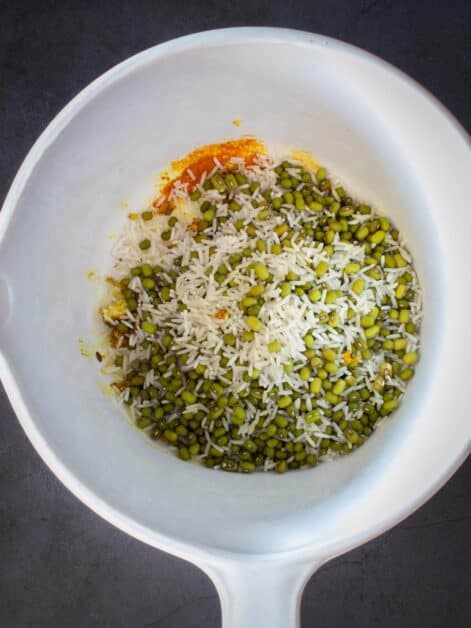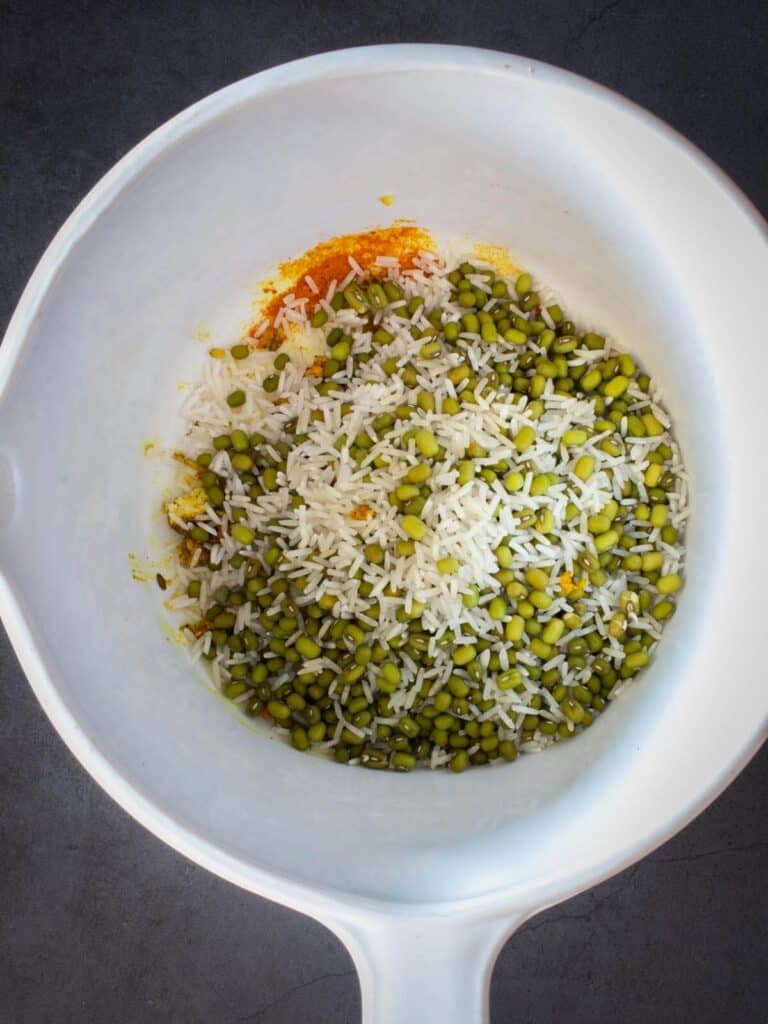 Stir occasionally until you get to your desired consistency. Usually, kitchari is eaten as creamy pure comfort food.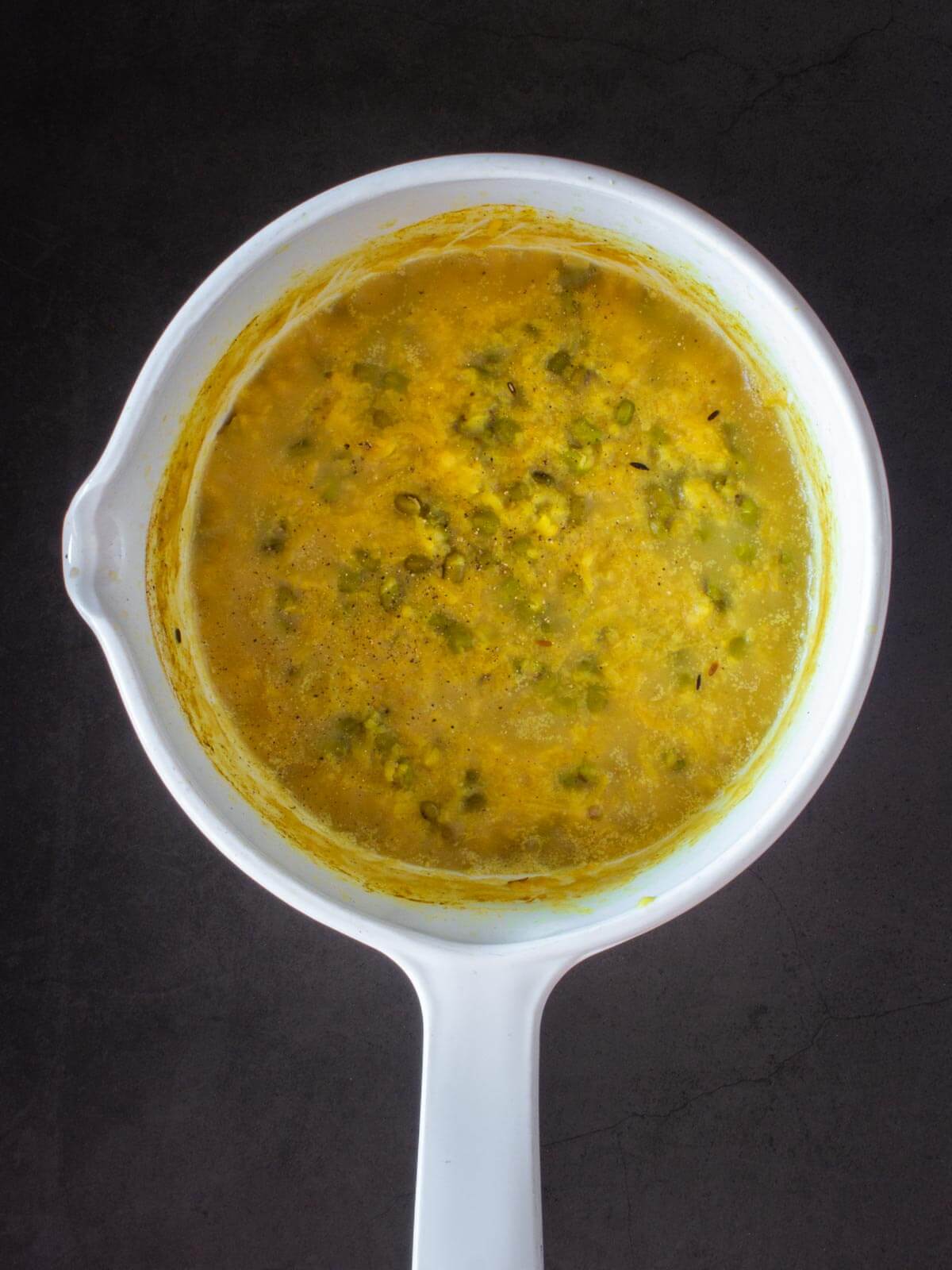 Serve. You can immediately serve it with coriander or mint leaves or cool it down to store in the fridge. Feel free to squeeze some lemon juice and fresh cilantro on top.
Garnish. Serve with your favorite sprouts on top.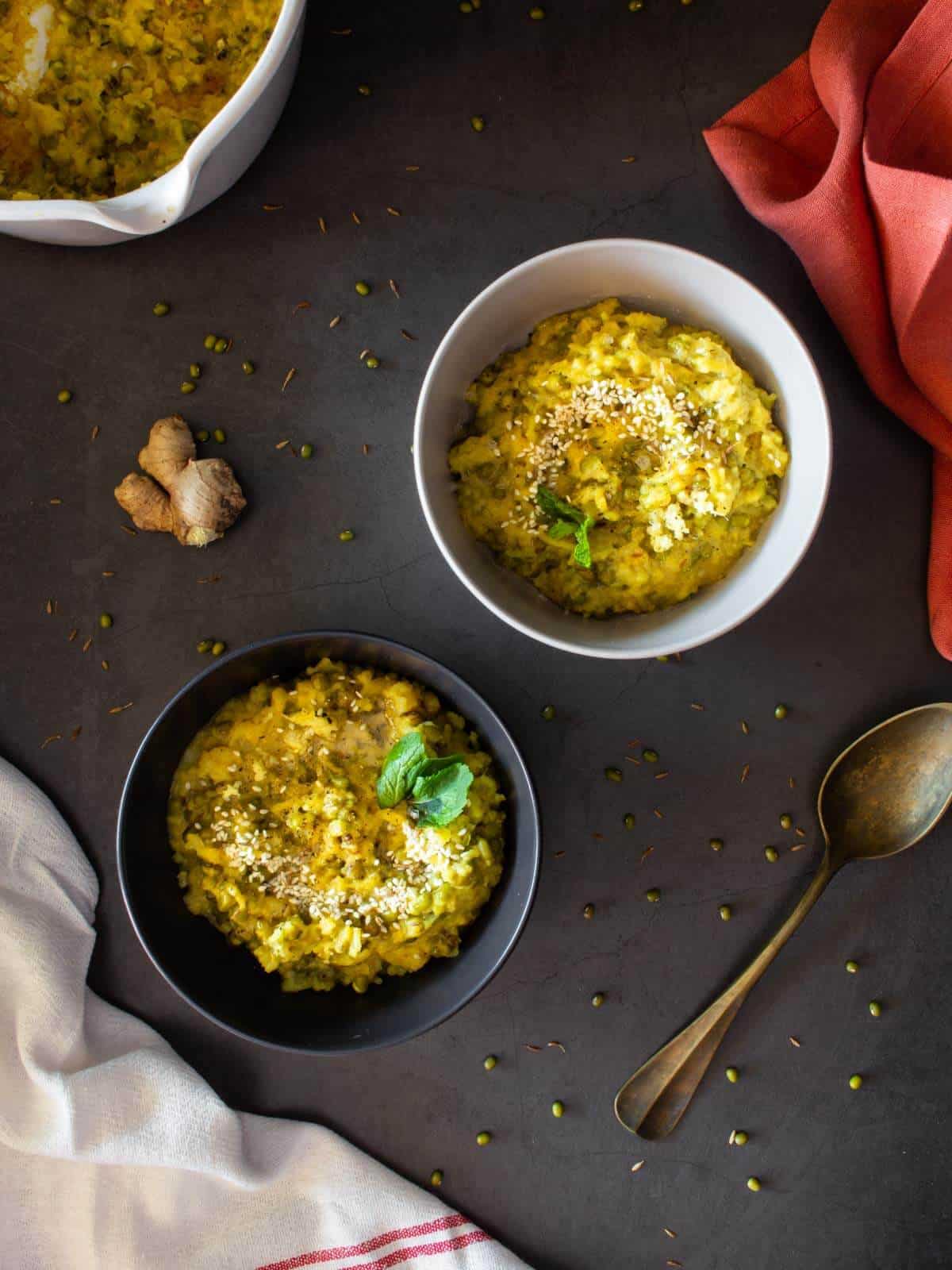 It makes a great fall season recipe, as it is cozy and flavorful. Legumes are great for providing energy during the cold seasons, and ginger boosts our immune systems.
📖 Variations
We tried and tested different spice options of kitchari. We picked the minimal spice mix for the base kitchari recipe and explored adding some optional ingredients that are also recommended for the kitchari recipe but are not "mandatory." They came out as equally delicious, which is a great way to scale it up.
Base variations: cereals and grains
Oats
These cheap flakes are powerhouses. They help keep our cholesterol levels low, fat, and high in dietary fiber. You would rarely feel constipated if these friends were part of your routine. We are used to eating oats only during breakfast, as part of a chia pudding, or porridge. Still, they are a great kitchen partner to absorb humidity without changing the flavor of meals and improving the dish's nutritional value; that is how we used them on this eggplant pie or this savory carrot tart.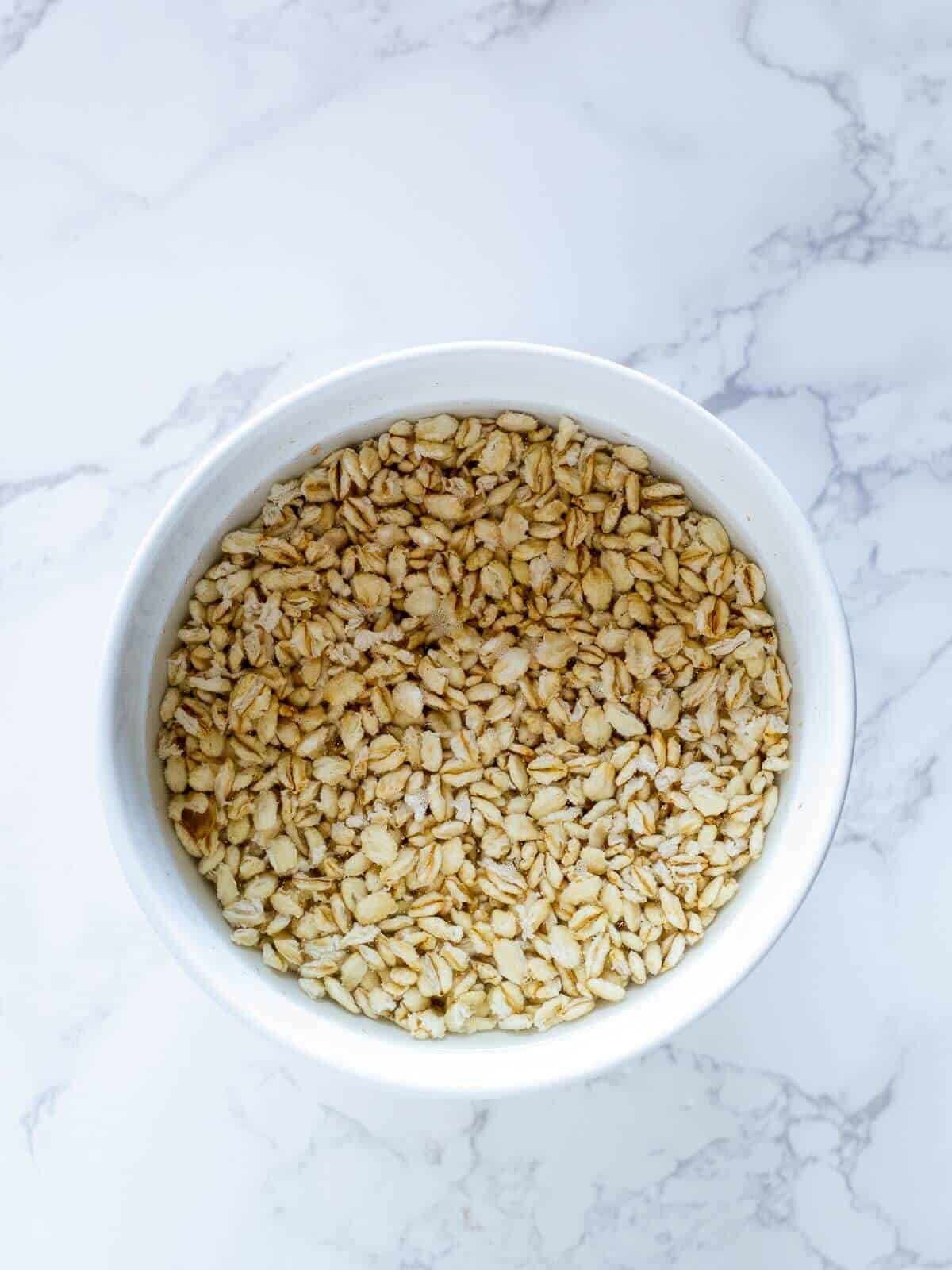 Oats are also great for making your plant milk in minutes. They are by far the cheapest and most sustainable vegetable milk out there.
Brown Basmati Rice
You can use brown rice instead of white basmati rice, it will just take longer to cook, and the beans will become more of a porridge consistency, which is OK because the idea of a Kitchari is to make it as easy to digest as possible.
Lentils and peas
This super healthy and protein-packed legume is considered the second more manageable to digest legume after split mung beans. Feel free to use lentils in replacement of mung beans. You can use any kind of lentil, such as red lentils (our favorite).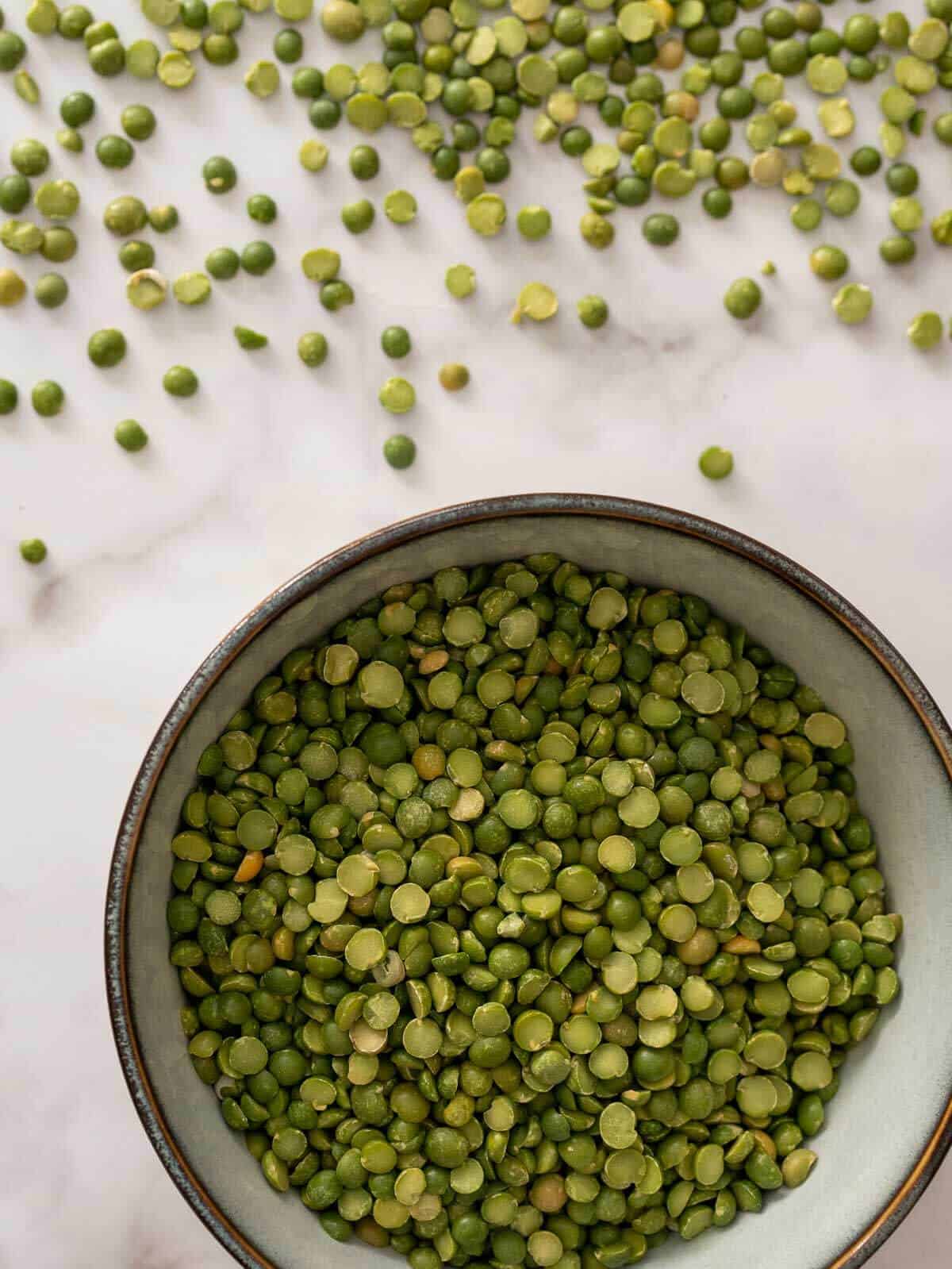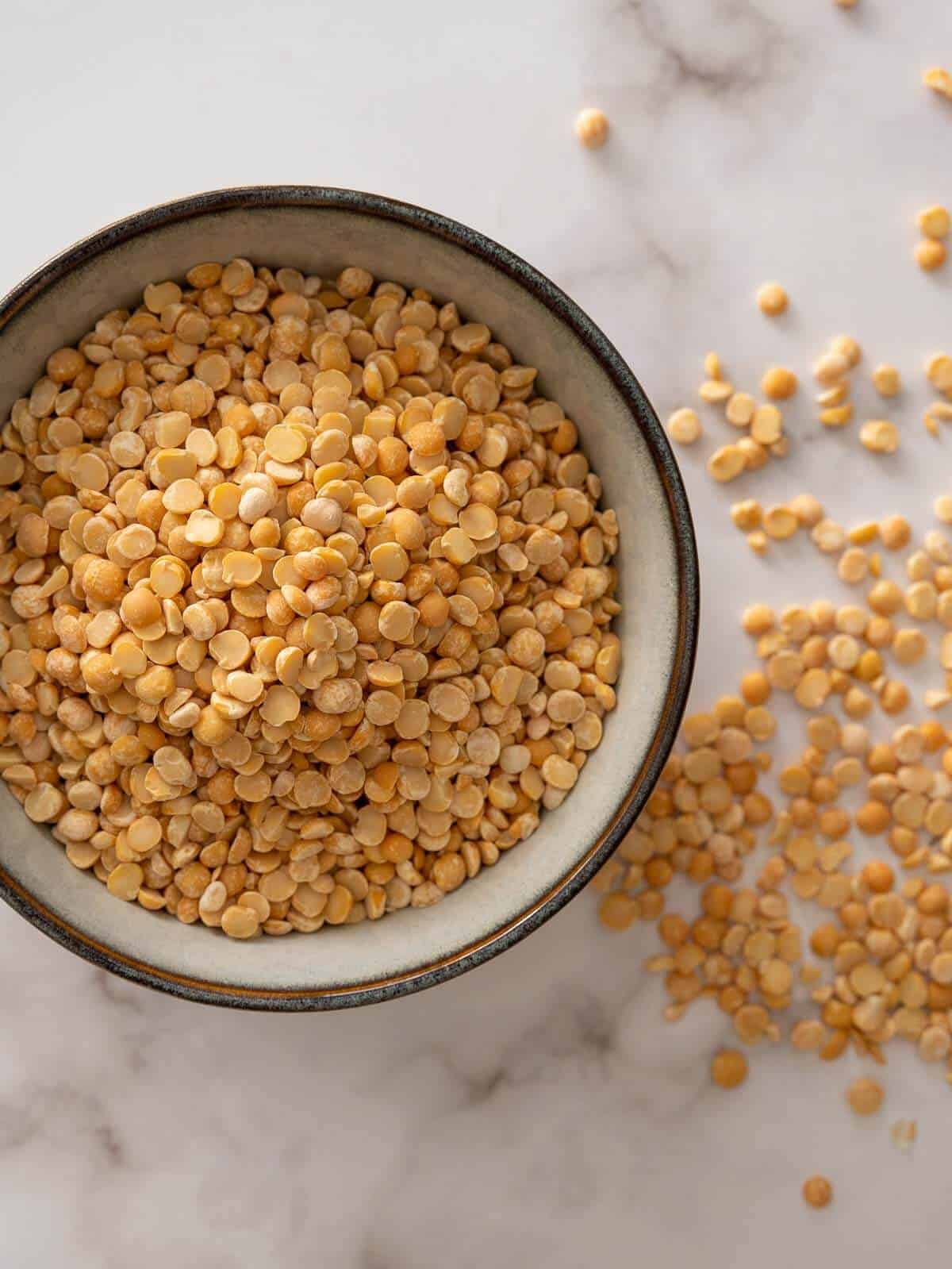 If you go for red lentils, you will save about 15 minutes, as they only need to be soaked briefly and only need to be cooked for about 15 minutes.
See our green pea pottage for a delicious and wholesome vegan meal.
Moong or Mung Beans (Mung dal)
Use yellow split moong beans (moong daal) to make the kitchari faster and easier to digest.
Other ayurvedic cleanse spices and herbs
Mint
This herb is a natural coolant. It has a sweet and intense aftertaste. Mint is great for digestion and can pacify all three doshas. Mint is also great for aiding the assimilation of food and treating colic pain.
Use a teaspoon of dry or fresh mint. If using fresh mint, add it 5 minutes before finishing the cooking.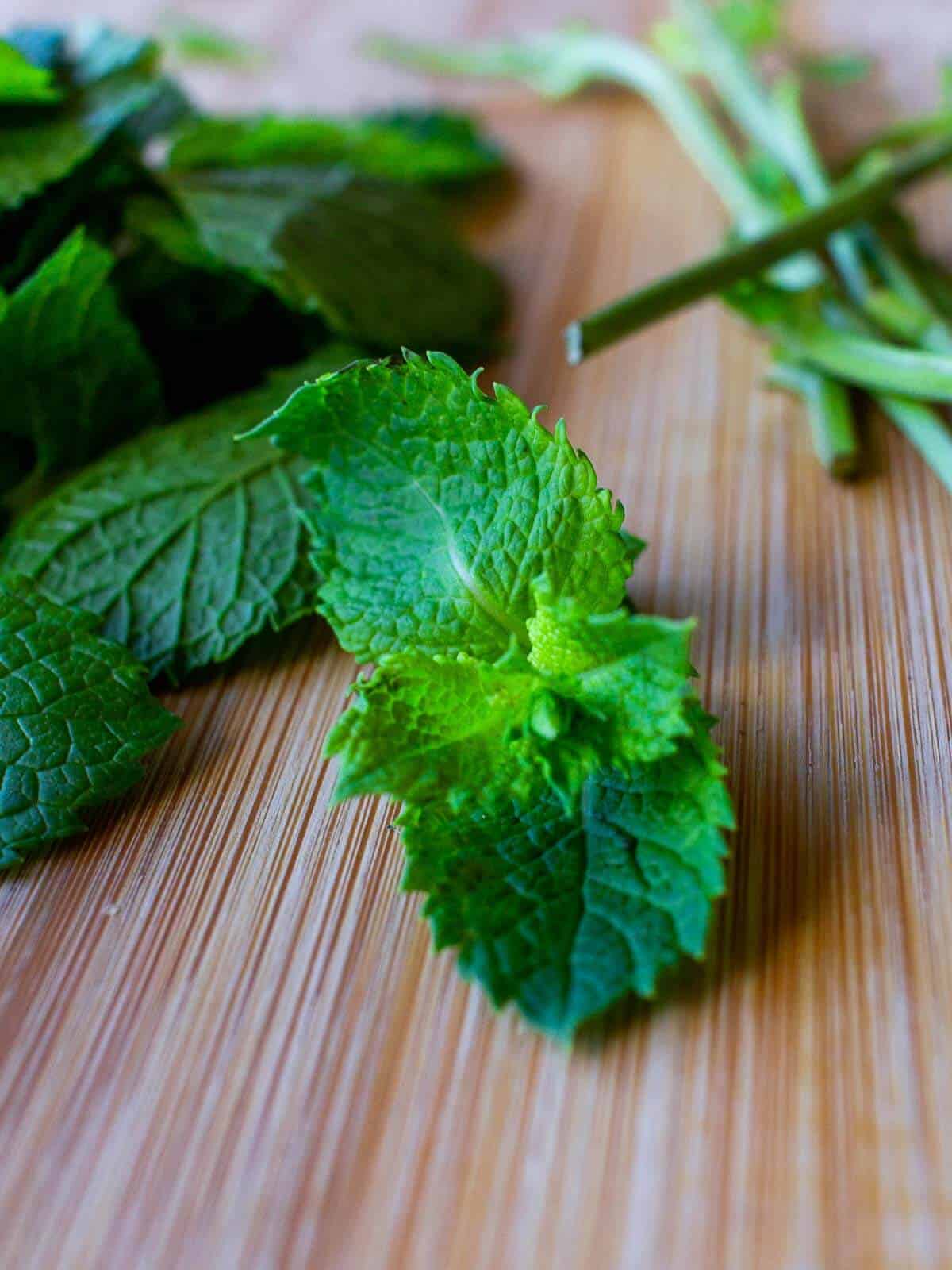 Fennel seeds
Are used in Ayurvedic medicine to treat digestive ailments and have antispasmodic effects that ease abdominal cramps. Add the same amount of fennel seeds as cumin seeds, either as a replacement or on top of it for a stronger flavored kitchari cleanse recipe. You can use fennel seeds inside a tea infuser filter to get a delicious tea that helps with a stomach ache.
Mustard seeds
Pungent foods stimulate circulation, digestion, and metabolism and promote their own metabolic rate. Eating mustard seeds enhances the distribution of heat throughout the body.
Fenugreek seeds
You can ground the seeds into a powder and use them directly. Similarly to cumin, we like to lightly toast them before using them as it helps to bring its flavor and aroma alive.
These potent seeds have a strong flavor, so use them in moderation as they can easily change the flavor profile of your kitchari cleanse instant pot. For the recommended recipe, replace coriander in the same quantity.
🥡 Storage
Cool down completely to store in the fridge for up to three days. You can also freeze in portions and thaw.
If you freeze it, you can keep it for up to a month.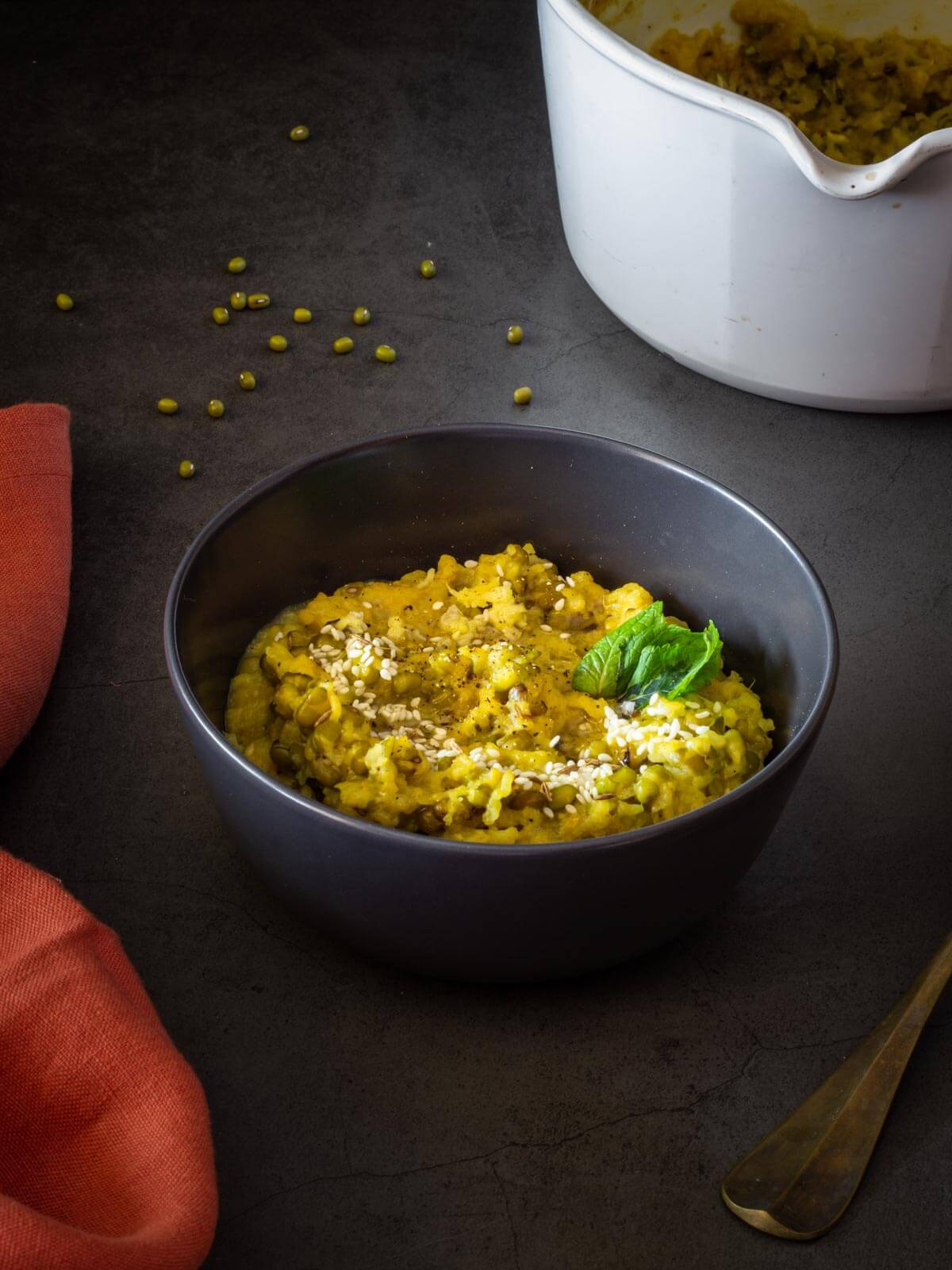 If you have problems with digestion or need to detox after over-indulging in foods and alcohol, juices can also offer great help!
🇮🇳 More easy Indian recipes
If you want to try more Indian food, check out our Indian Eggplant Curry Recipe and Cauliflower Curry, paired with white basmati rice and coconut milk, and another pure comfort food recipe.
Try out this simple green lentil curry masala for a nutritious and healthy lunch on a cozy day.
If you are interested in Ayurvedic medicine recipes, I recommend you try our Vegan Soothing Golden Milk, to fight inflammation and insomnia.
⭐ If you try this recipe, let us know! 💬 Leave a comment, rate it, and don't forget to tag us @ourplantbasedworld on Instagram. Cheers!
📋 Recipe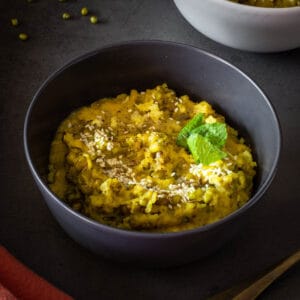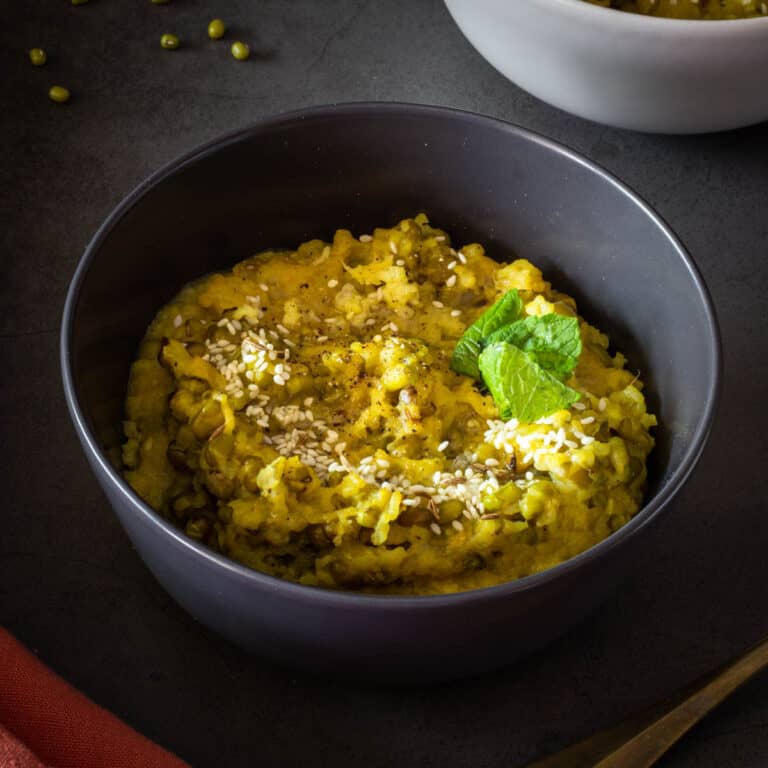 Vegan Kitchari Recipe
Have you ever heard about Kitchari cleansing? I hadn't, but I dogged in and loved the concept as the good researcher I am. This recipe encompasses all the basics of Kitchari's preparation.
Equipment
Directions
Soak. In a medium bowl, add the rice and mung beans and pour water until it is covered. Let it soak for 15 minutes. Then pour the mixture into a strainer and rinse with water until it runs clear.

Mince the fresh ginger.

Briefly cook spices. Warm the sesame oil on medium-low heat in a medium or large pot. Then add the cumin seeds and let them cook for about a minute until they start to become fragrant and brown and become fragrant. Then add the ginger, ground coriander, turmeric, black pepper while stirring.

Cook everything in the same pot. Add the rice and mung beans into the pot and optionally season with salt. Stir and add 6 cups of water. Optionally add oats.

Simmer. Increase the heat to medium-high, bringing the mixture to a boil. Then turn the heat down to a gentle simmer. Let it cook for 30 minutes, uncovered, while occasionally stirring until you get a creamy consistency. It should be soft and creamy.

Adjust. Taste the kitchari to ensure the texture is soft. If not, you may need to cook it a little longer. Feel free to add water if required.

Serve. You can serve it immediately with coriander leaves or cool down completely to store in the fridge.
Nutrition Facts
Calories:
176
kcal
Carbohydrates:
35
g
Protein:
8
g
Fat:
1
g
Saturated Fat:
1
g
Polyunsaturated Fat:
1
g
Monounsaturated Fat:
1
g
Sodium:
23
mg
Potassium:
359
mg
Fiber:
5
g
Sugar:
2
g
Vitamin A:
32
IU
Vitamin C:
1
mg
Calcium:
53
mg
Iron:
2
mg
Nutrition Facts
Vegan Kitchari Recipe
Amount per Serving
% Daily Value*
* Percent Daily Values are based on a 2000 calorie diet.
🌡️ Food safety
Cook to a minimum temperature of 165 °F (74 °C)
Do not use the same utensils on cooked food that previously touched raw meat
Wash hands after touching raw meat
Don't leave food sitting out at room temperature for extended periods
Never leave cooking food unattended
Use oils with high smoking points to avoid harmful compounds
Always have good ventilation when using a gas stove
See more guidelines at USDA.gov.
The information shown is an estimate provided by an online nutrition calculator. It should not be considered a substitute for a professional nutritionist's advice. See our full Nutritional Disclosure here.
Please note that some of the links here are affiliate links, and I will earn a commission if you purchase through those links. I recommend all of the products listed because they are companies I have found helpful and trustworthy.