This Carrot, Apple, Celery Juice Recipe is your morning bet on your sight, skin, and immune system. Who doesn't want to make sure their eyes keep doing their job, their skin keeps glowing, and their body keeps viruses and harmful bacteria away? Find out about all the Carrot Juice Benefits for your health.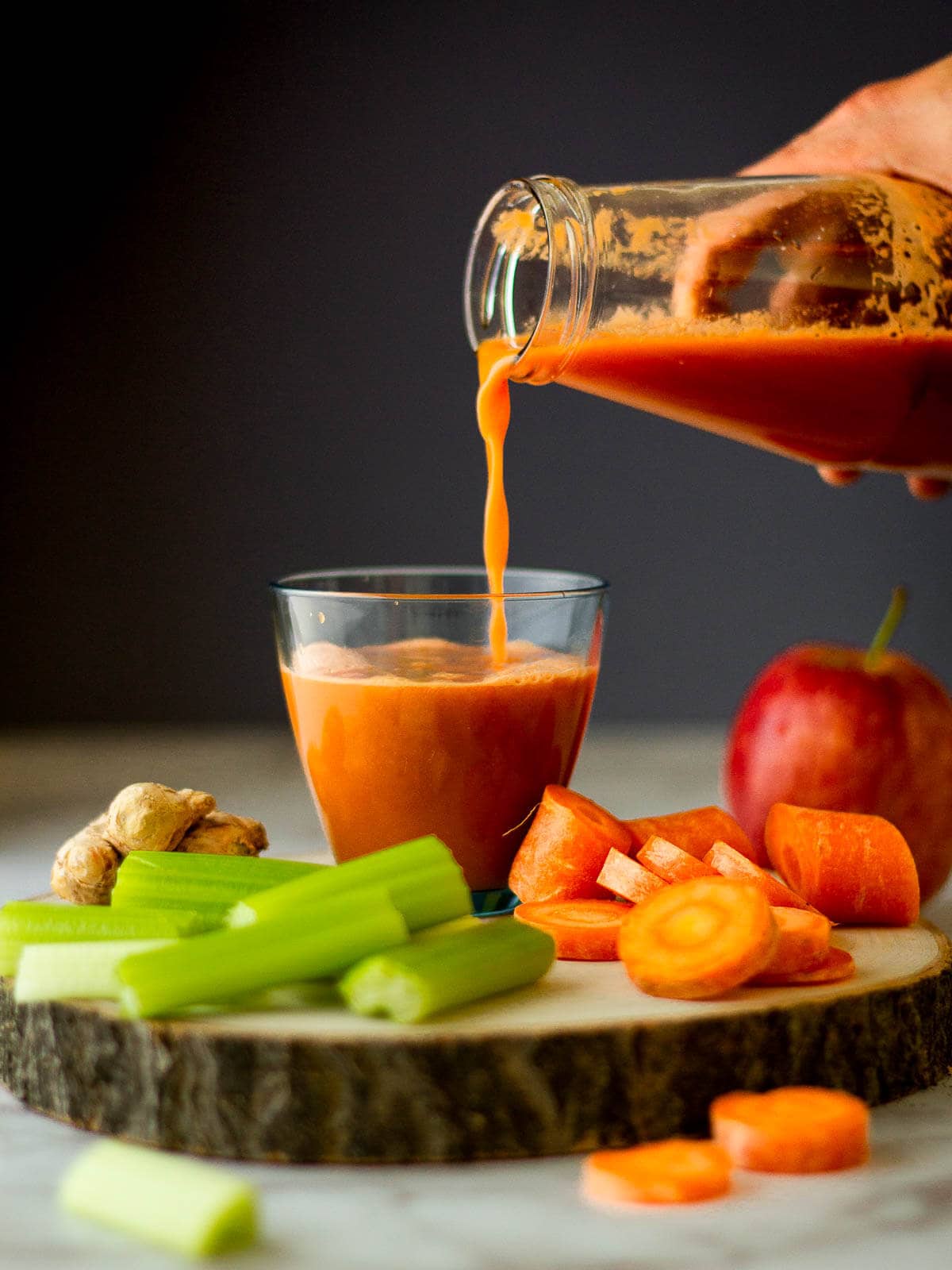 We drink juices every morning. We experienced a dramatic difference in our health and daily routine since we adopted the juicing habit.
Carrots and celery might seem like an unlikely combo, but when you blend them, they taste just right. Many people have a hard time drinking vegetables in juice, so this is a good option for those who dislike the pulp in their vegetable drinks.
The juice does yield quite a bit, but drinking it is a great way to pack your body with nutrients.
Drinking celery and Carrot juice has been known for years as an energy booster, but drinking it is just as beneficial and is highly nutritious. You can drink this any time of the day, whether drinking it alone or as a mix with other juices.
The carrot and celery combo is a little sweet due to the carrots, but drinking it is an excellent way to get in your daily servings of vegetables.
If you drink this on its own, you only need to add a little ice to thin it out, but drinking this as a mix with fruits is also good.
We add apples and ginger for extra sweetness and zing! Apple juice is naturally sweet and full of antioxidants!
Your body really rewards you with optimal health and well-being.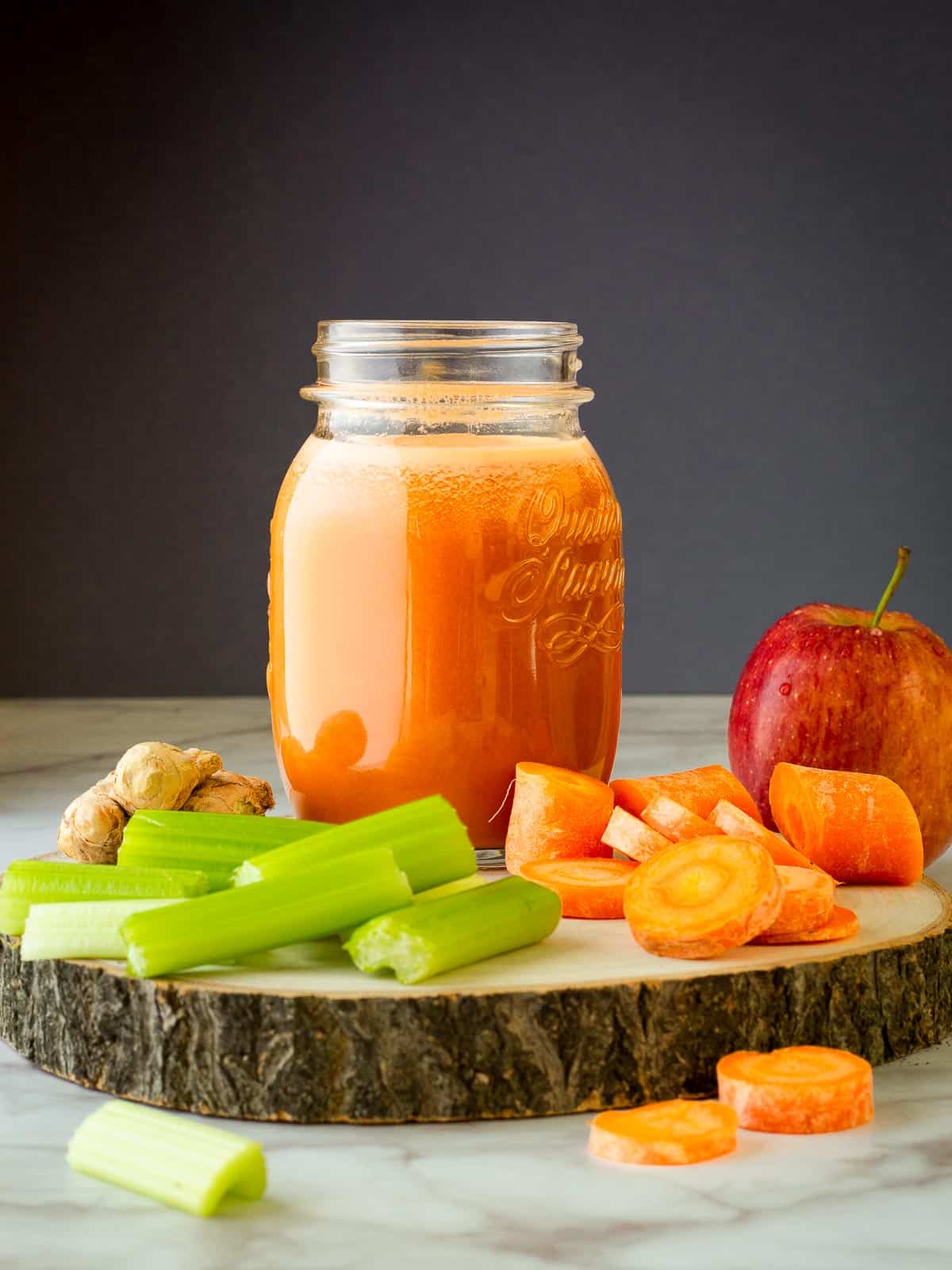 Please look at our Hangover Juice recipe and homemade strawberry juice for more excellent detox juice options.
Jump to:
🧾 Ingredients
This Carrot Apple, and Celery Juice are a refreshing, simple, and healthy recipe with only four natural ingredients. My favorite juice made with fresh produce is ready in less than 5 minutes, and even our nieces love it!
Carrots
Organic celery stalks
Apple
Ginger
See the recipe card for quantities.
🔪 How to Make Carrot Apple and Celery Juice
Carrot juice and celery juice work perfectly in any juice recipe. They complement well because carrots are creamier, sweeter, and denser than the more watery and fresh celery.
Step 1: wash and rinse your produce
Depending on your Juicer, you may be able to throw roughly chopped fruits and vegetables in the Juicer or even without cutting them, or just roughly cut your produce into big chunks. If not, remove the apple's core and the carrots' tops. And no, you don't need to peel carrots.
I usually chop off the hardtops of the carrots but do not peel them; just give them a good rinse.
Step 2: Juice Your ingredients
Most juicers work the same way: you insert the fruit or veggie into a chute, and the freshly squeezed juice comes out. However, this may vary depending on your juicer. Just follow your juicer's instructions.
Start introducing fruits and veggies, combining the leaves and solids to prevent the juicer from getting stuck.
If you want to thin the juice a little, you can add about half a cup of water in the juicer aperture, so it drags some of the rest of the fruit and veggies.
You may want to add some lemon drops to add acidity. Add ice if you like to have it cold.
Step 3: Store (if not drinking immediately)
You can reserve the carrot juice for 24 hours in a mason jar.
✅ Apple, Celery, Carrot Juice Benefits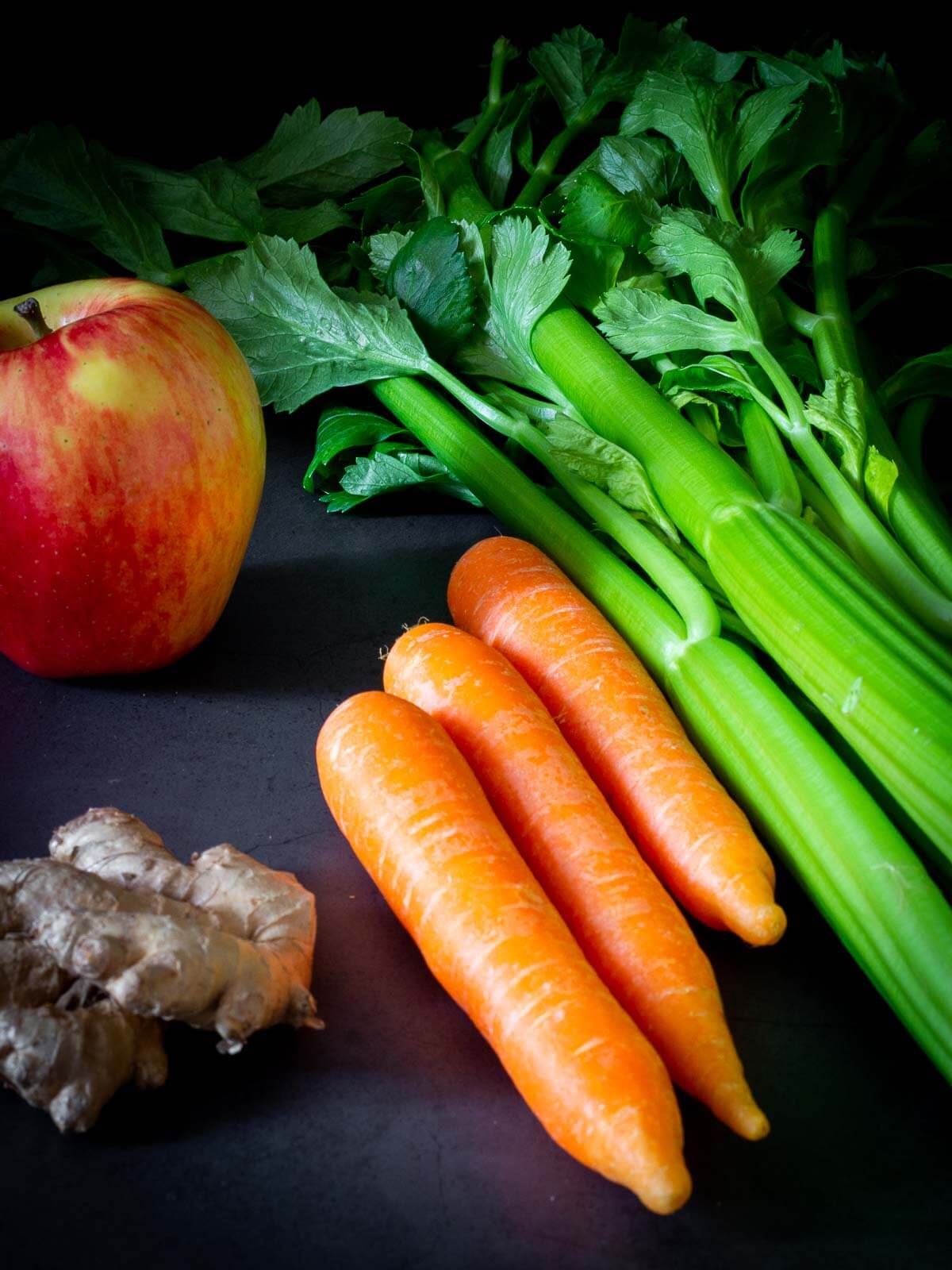 These are 10 Benefits of Carrot juice and drinking this morning's elixir
Improve skin health
Carrots have beta-carotene and Vitamin C. Both may protect your skin from damage. In addition, our body needs Vitamin C to produce collagen. (1)
Improve sight
Beta-carotene also helps to protect your eyes and lowers your chances of eye problems. (2)
Heart health
The potassium in carrots can help keep your heart health in check. (3)
Anticancer effects
Antioxidants in carrots fight harmful free radicals in your body, and that can make you less likely to have cancer. (4)
Promote liver health
Antioxidants in carrots reduce liver toxicity. (5)
Read on: Homemade Liver Cleanse Juice »
Anti-inflammatory properties
Carrots and other orange vegetables are rich in vitamin A and beta-carotene, both believed to have anti-inflammatory properties. (6)
If fighting inflammation is your main goal, alternate this juice with our anti-inflammation juice.
Improve the digestive tract's function
Carrots have a lot of fiber, which helps keep the digestive system healthy and balances our blood sugar levels. This is because fiber helps our body release energy coming from sugar more slowly. (7)
Read on: gut-healing green cabbage juice, juicing cauliflower, and red cabbage juice »
Immune booster property
Carrot celery juice may give your immune system a boost, protecting immune cells from free radical damage. (8)
Read on: Drinks to boost the immune system »
Fight insomnia
Carrots also pack several other sleep-promoting nutrients like Vitamin A, biotin, potassium, and Vitamin B6. A study found that consumption of the nutrient alpha-carotene was most closely associated with better sleep. (9)
Carrots have powerful antioxidants
This extremely nutritious root hold tons of antioxidants that are also good for your heart and help fight free radicals. (10)
Carrot juice benefits and extensive and we have just scratched the surface here, if you want to read more, check this great article.
If you are like me and love to know the nutritional aspects of juices with carrots or beets. In that case, you should check out this amazing Carrot Beet Pineapple Detox Juice, which we designed carefully for an Ayurvedic Detox Class of Yoga Practitioners.
Don't forget to check our celery juice recipe, if you are fighting inflammation.
🥕 Absorption of carotenoids present in your carrots
Our body's absorption of the carotenoids present in vegetables like carrots and spinach is positively affected by soluble fats. This means that adding some healthy fats to your breakfast will enhance the absorption of your juice nutrients. Think almonds.
We like eating about five organic almonds with our morning carrot juice; this provides extra fiber, good oils, and energy sources first thing in the morning!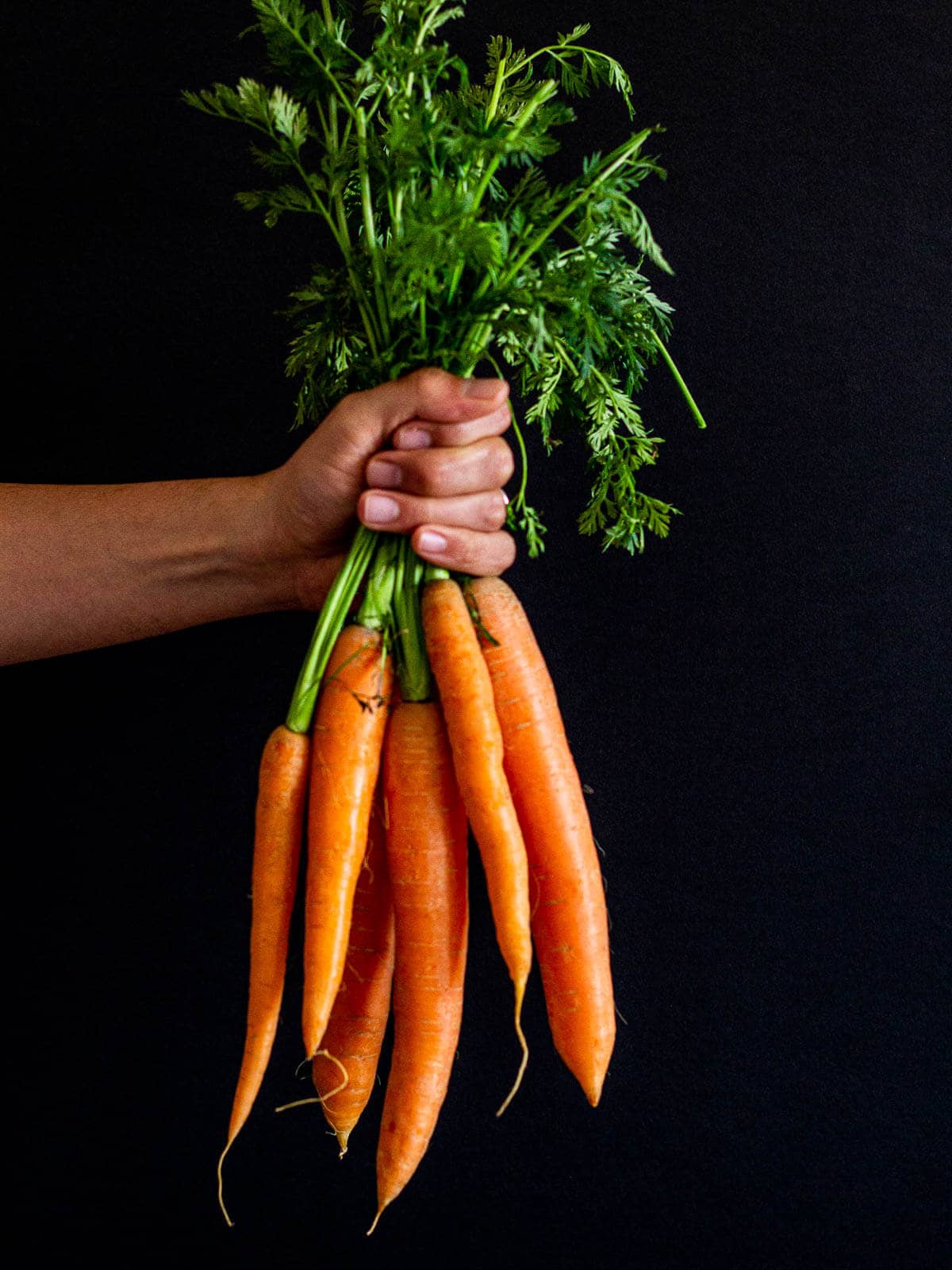 Another way is to, eat carrots and spinach with some healthy oil such as avocados, coconut oil when cooked, or extra virgin oil in your salads to enhance the absorption of the carotenoids.
If you are looking to include more carrots in your diet, you should try this super easy and delicious Carrot Savory Tart (Galette)
Blood pressure and carrot celery Juice
High blood pressure? No worries, this carrot and celery juice combo is a fan-favorite among the hypertension crowd. Carrots pack a potassium punch, which is basically the arch-nemesis of high BP. More potassium equals a more relaxed blood pressure, easy-peasy.
And don't sleep on celery—it's the unsung hero here. This lean green diuretic machine helps to flush out extra fluids, giving your blood pressure a welcome chill pill.
If you're also tracking those calories, good news: this juice is a weight-loss triple threat. Think low-cal, zero added sugar, and a knack for tackling inflammation.
So, give this power-packed duo a spin in your juicer. Your blood pressure—and maybe even your waistline—will be giving you high fives.
Check our Weight Loss juice recipe, featuring pineapples and fresh cucumber, low in calories.
🍎 Apples health benefits
Apples are rich in phytonutrients, vitamins, and minerals. They contain antioxidants, anticancer, and anti-inflammatory properties mainly due to those flavonoids and polyphenols.
As a food, apples should be part of everyone's diet, helping prevent heart disease, cancer, and other conditions like diabetes or arthritis.
Apples are high in dietary fiber, and have zero fat or cholesterol. They also contain many Vitamin C, Vitamin K, and potassium.
The tannins found in apples fight free radicals that can lead to cancer, heart disease, and other illnesses.
Today, you can find apples year-round, but they are at their best in the fall season. That's when we eat apple pies and make tons of applesauce!
🧃 Why Juicing?
Juicing for health is a great way to get your fair share of vitamins in your body efficiently and fast, first thing in the morning. However, It would be challenging to get all the nutrients of these ingredients in the morning, by chewing celery, apple, carrots, and ginger.
Want to know more about the benefits of Juicing? Check our post:
Juicing for Health: The Truth about Juicing
Get an excellent Cold-Pressed juicer; it will be one of the best investments you have made in the year! Trust me! Make sure you check the juicer's instructions before starting, as many juicers have different working mechanisms.
Use our Discount Code OPBW10 for 10% off (affiliate link)
If you don't have a juicer, you can also make juices, following these simple tips on juicing without a juicer plus three delicious recipes. You need to blend your ingredients and then pass the juice through a fine or medium-mesh colander.
Another way to juice is using a Nutribullet, and then passing the juice through a fine-mesh sieve. If Nutribullet is not in your country or you find it too expensive, there are also nutribullet alternative blenders in the market.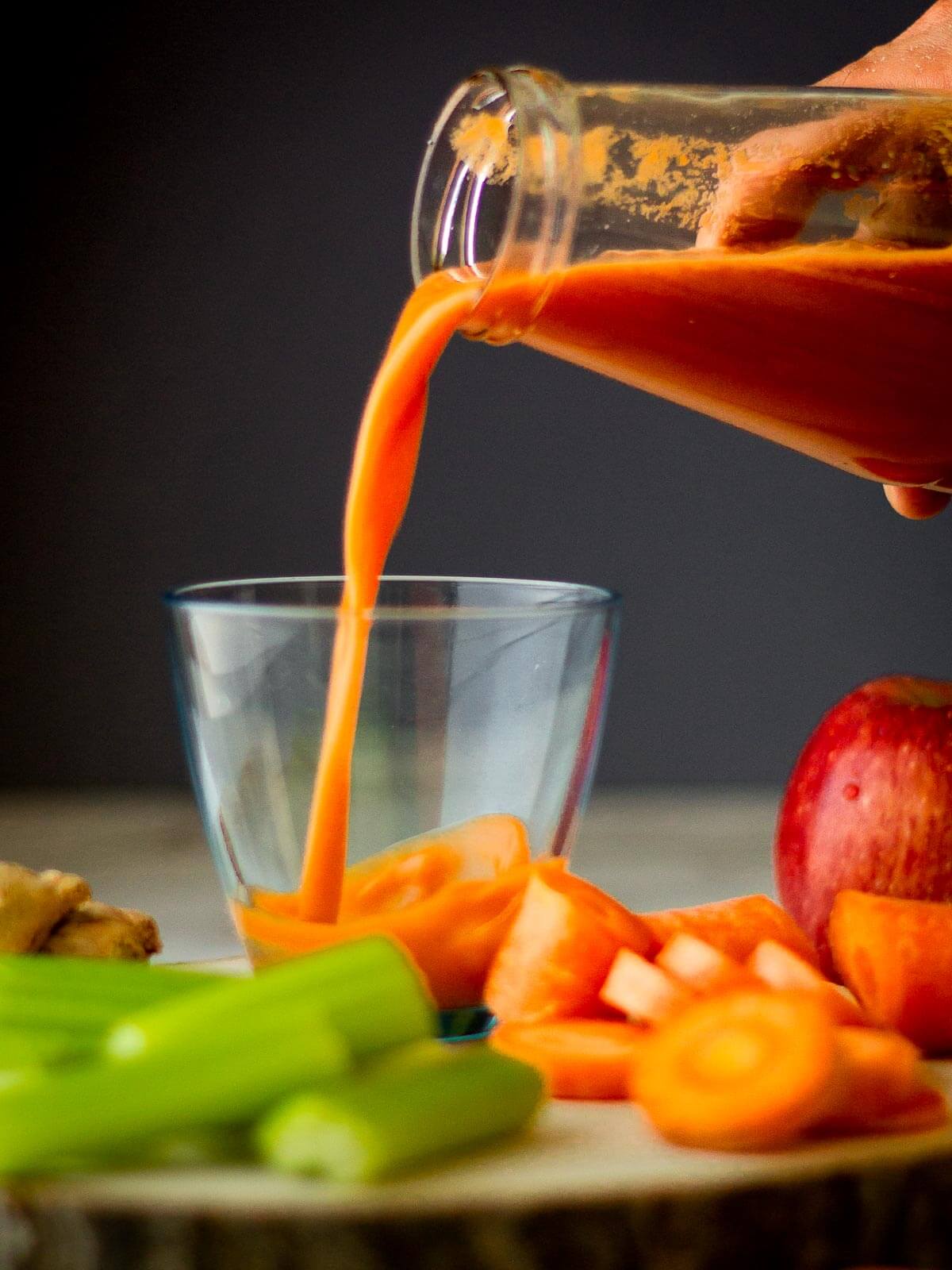 📚 More Carrot recipes
Our Savory Carrot Tart (Galette) is one of our favorite savory carrot dishes as it is very different and always impresses our guests.
Since we use carrots quite often for juicing, and we love zero-waste cooking and minimizing churn, we always use carrot tops to make carrot greens pesto, which goes perfectly with vegan tuna salads and cold pasta salads.
Sometimes we go crazy on carrots and find ourselves with more than we think we can consume until we remember making our Carrot and Ginger soup, another favorite that is made very quickly with minimal cooking time and delivers so much flavor!
If you like bacon or used to like it, until you switched to a plant-based diet, you may be heading to a new treat with this easy-to-make and healthy carrot bacon recipe.
If you love baking with carrots, you will surely love our one-pot carrot cake, made with our go-to gluten-free flour blend and a vegan white chocolate frosting, for a healthy treat or breakfast.
☀️ More Morning Juice Recipes?
Since we are carrot lovers and admirers of great skin, have juices that are rich in carotenoids.
The juice that we drink the most, along with our Morning celery juice, Mean Green Juice, and cabbage juice because they, have significant anti-inflammatory benefits.
The Beetroot, apple, celery juice, and pomegranate juice are our juices of choice previous to workout since pomegranates and beets have amazing recovery and energy-replenishing benefits.
After working out, we either have our Post-workout smoothie for protein or the Carrot, Cucumber, and Celery juice for enhanced hydration.
If you love your beta-carotene-packed juices, try this red juice, which is super pretty and will make your skin glow!
Carrot Apple and Sweet potato juice for skin health. Learn about the health benefits of sweet potatoes.
Kiwi Juice (learn how Kiwi can help you have more pleasant nights)
Simple Green Juice (great to include Kale in your diet)
Finally, if you are aiming to shed a couple of pounds, you may want to check on our weight loss juice, which is designed to be very low in calories, with fruits and veggies that have slimming properties.
⭐ If you try this recipe, let us know! 💬 Leave a comment, rate it, and don't forget to tag us @ourplantbasedworld on Instagram. Cheers!
📋 Recipe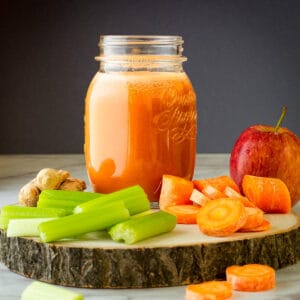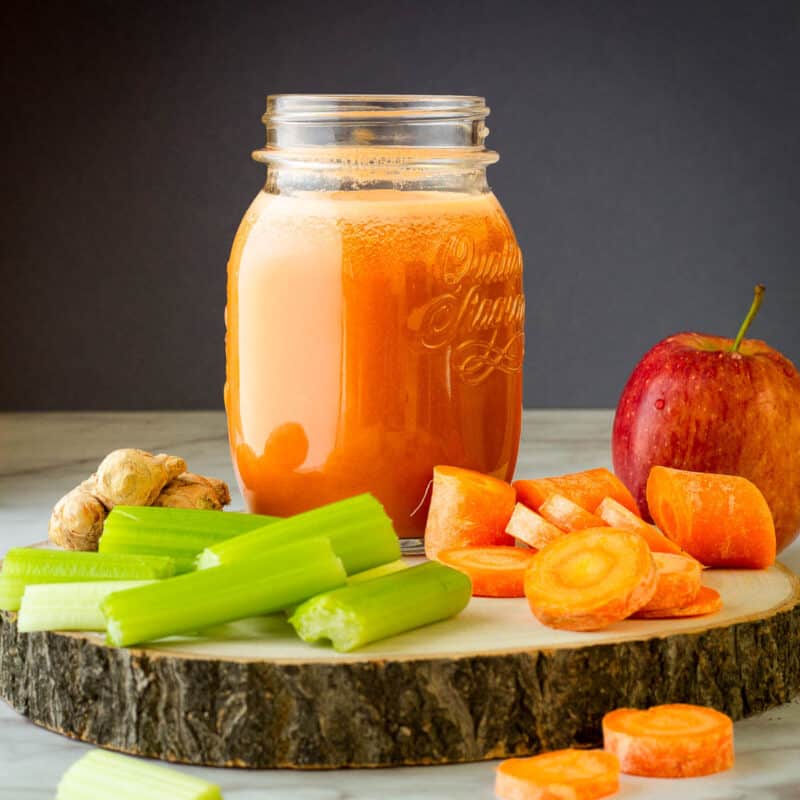 Carrot, Apple, Celery Juice Recipe
This Carrot Juice is your morning bet on your sight, skin, and immune system. It is a refreshing, simple, and healthy recipe with only 4 ingredients. Made with fresh produce, it is ready in less than 5 minutes, and even our nieces love it!
Equipment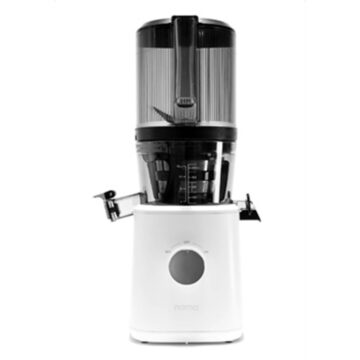 (affiliate link)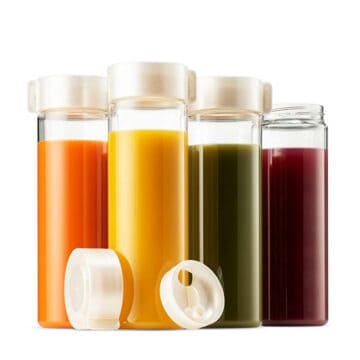 (affiliate link)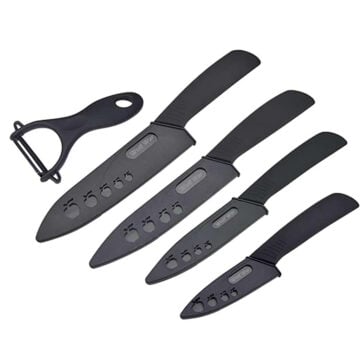 (affiliate link)
Ingredients
Optional:
lemon

add lemon drops if you like to make it more acid
Directions
Chop. Depending on the Juicer you have, you may be able to throw everything in the Juicer without cutting it; or just roughly cutting your produce in big chunks. If not, take out the core of the apple and the tops of the carrots.

Juice. Start introducing all the ingredients, combining the leaves and solids, to prevent the juicer from getting stuck.

Thin-up. If you want to thin the juice a little, you can add about half a cup of water in the juicer aperture so it drags some of the rest of the fruits and veggies.

Serve. Or you can reserve the juice for up to 24 hours in a mason jar.
Notes
It is not necessary to peel the ginger; the Juicer will do it all.
You can also add both the carrots and celery stalks and leaves.
I use this

Juicer

. Works very well but I am planning to upgrade to a

Cold-Pressed

one (the benefits are outlined in the article).
Nutrition Facts
Calories:
82
kcal
Carbohydrates:
20
g
Protein:
1
g
Fat:
1
g
Saturated Fat:
1
g
Sodium:
75
mg
Potassium:
411
mg
Fiber:
5
g
Sugar:
13
g
Vitamin A:
10419
IU
Vitamin C:
9
mg
Calcium:
42
mg
Iron:
1
mg
Nutrition Facts
Carrot, Apple, Celery Juice Recipe
Amount per Serving
% Daily Value*
* Percent Daily Values are based on a 2000 calorie diet.
Nutritional Disclaimer
The information shown is an estimate provided by an online nutrition calculator. It should not be considered a substitute for a professional nutritionist's advice. See our full Nutritional Disclosure here.
Affiliate Disclaimer
Please note that some of the links here are affiliate links, and I will earn a commission if you purchase through those links. I recommend all of the products listed because they are companies I have found helpful and trustworthy.