This is the season of giving and family gatherings; with Christmas just around the corner; it's time to add some Christmas cheer to your dinner table. We know it could be a challenge to look for something quick and delicious special enough for this festive holiday. With our creamy fettuccine pasta recipe, you can put together a meal in no time that both looks amazing and tastes divine! The creaminess of these noodles comes from vegan parmesan cheese, bechamel, and plant milk combined with fresh basil and spinach—that bring out all the flavors that scream "Christmas time!".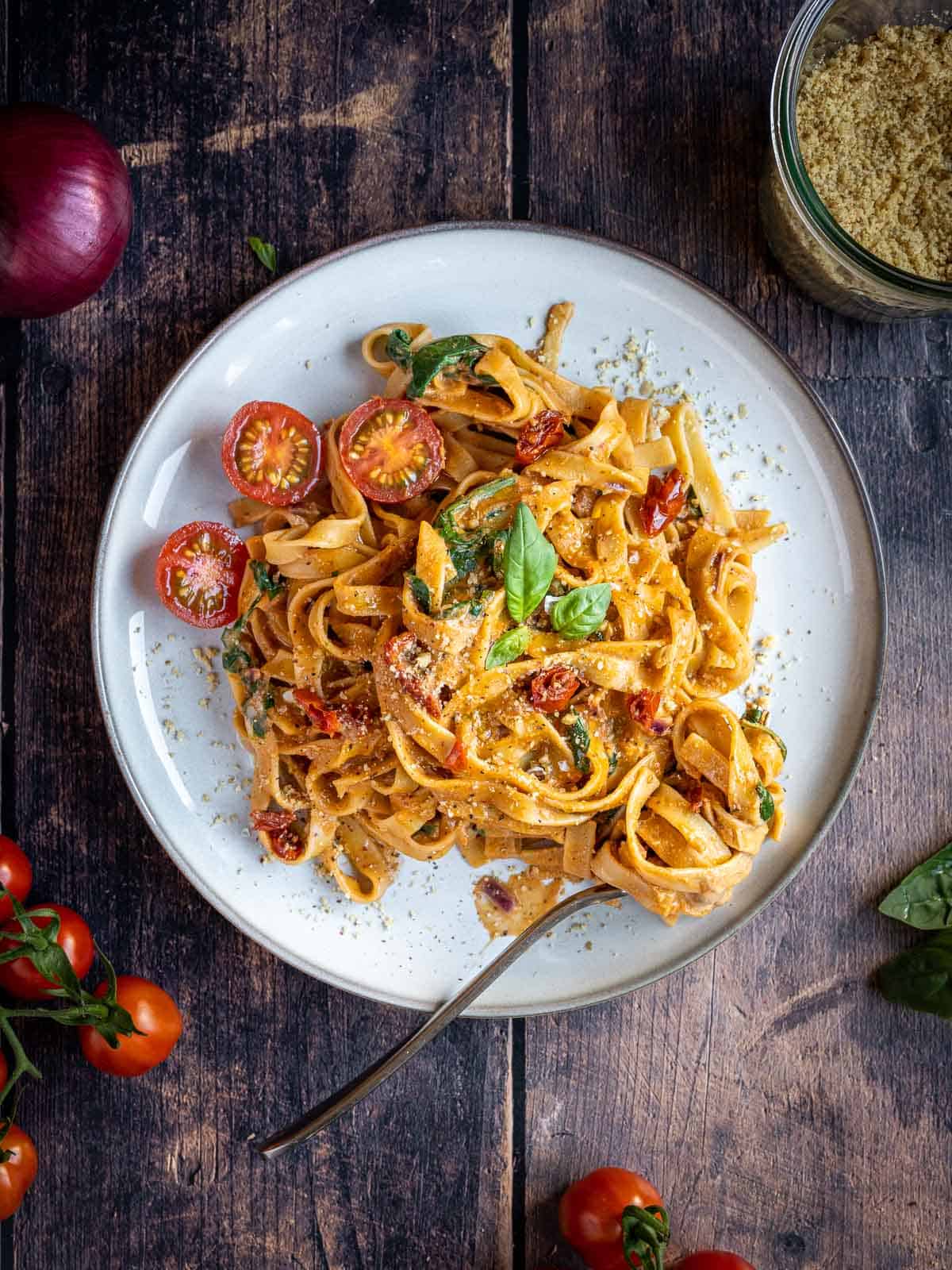 This fettuccine pasta recipe can make a simple main meal during Christmas celebrations. You can serve it with a side of romanesco broccoli, a Winter Kale salad, or Roman-style artichokes. If you want to make it extra special, you can make your own homemade noodles.
Our sun-dried tomato pesto and our creamy sun-dried risotto recipe inspired this recipe. You could say this is a vegan version of an alfredo with sun-dried tomatoes.
Jump to:
🧾 Ingredients
Make this spinach fettuccine recipe with just a handful of simple ingredients.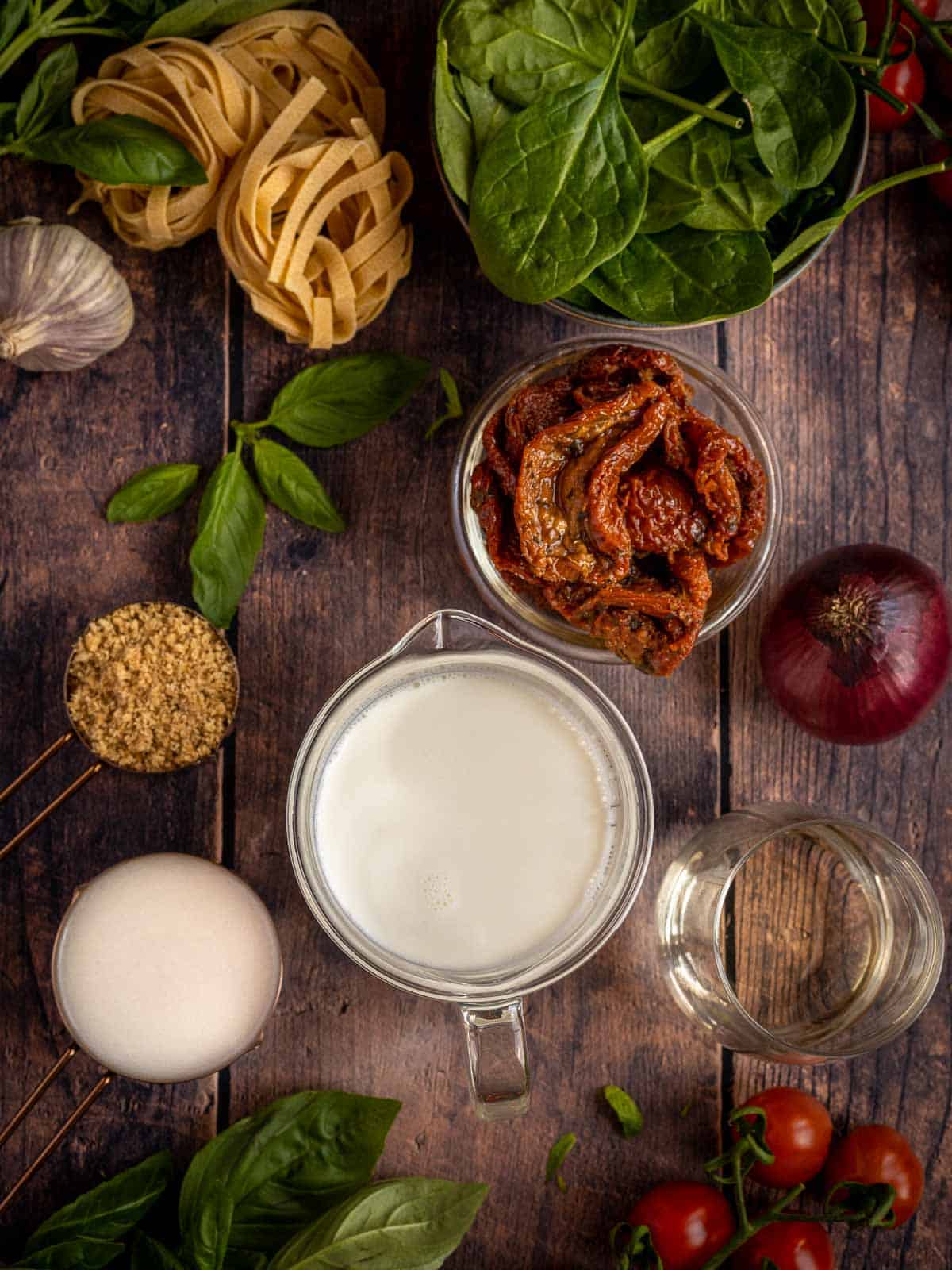 Sun-dried tomatoes - to make the rose pasta sauce, use packed dried tomatoes, sun-dried tomatoes in oil, or pesto.
Non-dairy milk- we used cashew milk, but any plant milk will work. The creamier, the better.
Vegan bechamel sauce - make our bechamel recipe, or use any store-bought plant-milk-based white sauce.
Vegan Parmesan cheese - check out our simple, 5 minutes vegan parm recipe.
Fresh basil - adds a distinctive herbal touch to this dish.
Spinach - use fresh spinach.
Red onion - we like the sweetness it adds to the recipe; shallots have a similar sweetness profile.
Fresh garlic - adds flavor and intensity.
White wine - helps to deglaze the onions and garlic to add complexity to the sauce.
Fettuccine - use your favorite brand, or make your own fresh noodles. Use gluten-free pasta to keep the recipe GF-friendly.
Add tomato paste for added flavor and color. See the recipe card for quantities.
🔪 Instructions
This spinach fettuccine recipe involves three simple steps.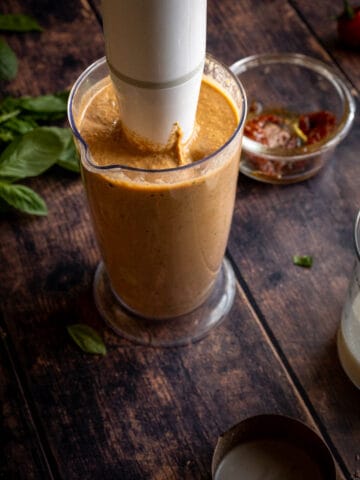 Step 1: Add all the creamy rose sauce ingredients into the immersion blender jar.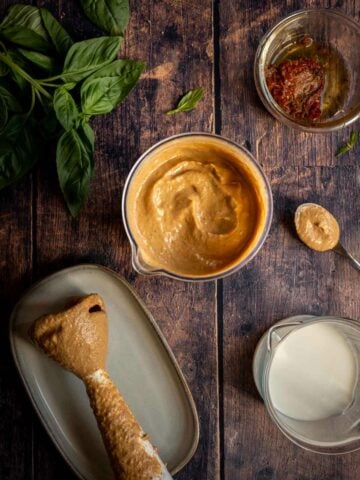 Step 2: Blend until smooth and reserved.
Hint: cook pasta in salted water in a large pot until al dente while you make the rose sauce and sautée the onions, so you save 7-8 minutes and make everything more fluid.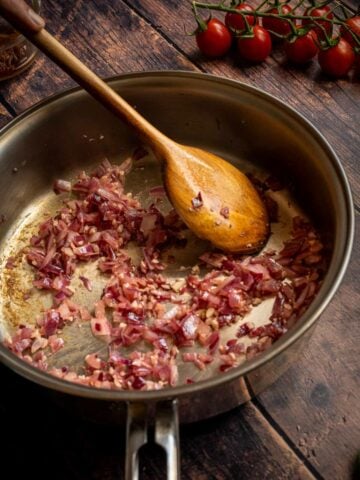 Step 3: Sautée the chopped red onions on medium heat for a couple of minutes, add garlic, and finalize with the white wine. Stir constantly, and reduce heat.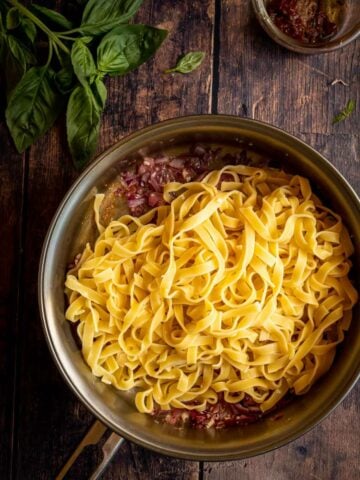 Step 4: Strain the fettuccine pasta, saving one cup of starchy water for later. Immediately toss the sautéed onions with the pasta.
Hint: we try keeping most of our recipes oil-free. Since the sun-dried tomatoes we used to come in an oil, we drained them and skip the oil, all together. You don't need olive oil or butter for sautéeing because the white wine will deglaze any sticking from the skillet.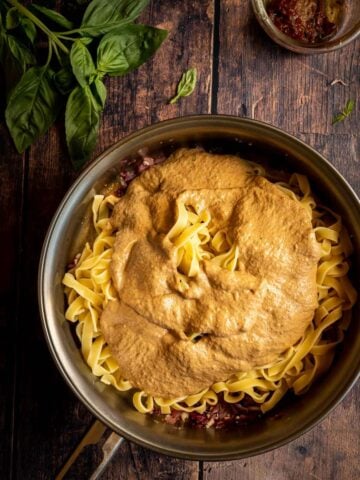 Step 5: Top the pasta with a generous amount of the creamy rose pasta sauce and fold, adding half of the reserved pasta water.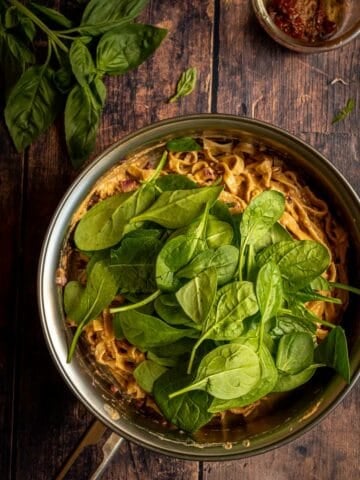 Step 6: Add the fresh spinach and let cook for 2 minutes while carefully stirring with kitchen tongs.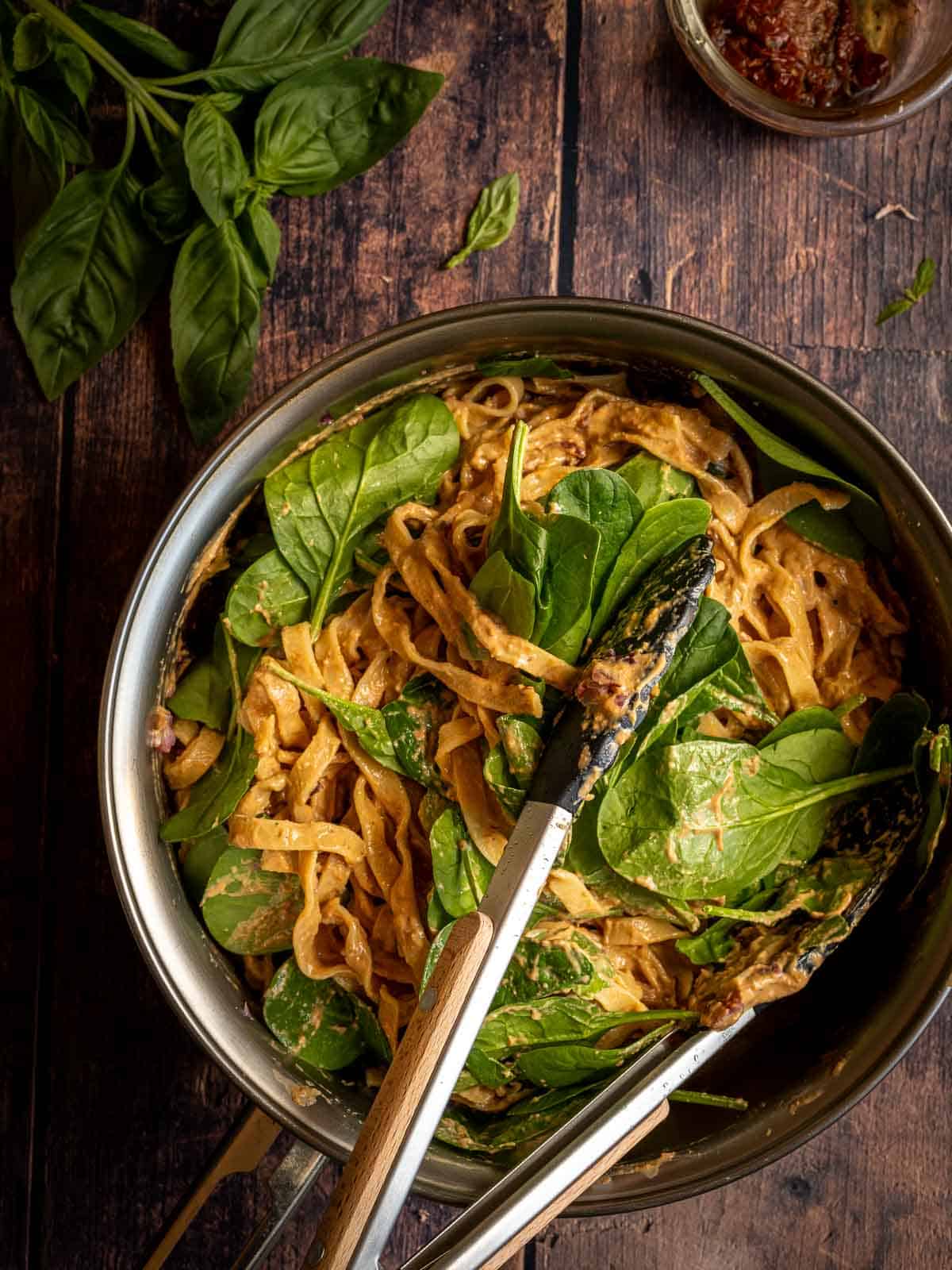 Step 7: Combine well until the spinach is completely thawed.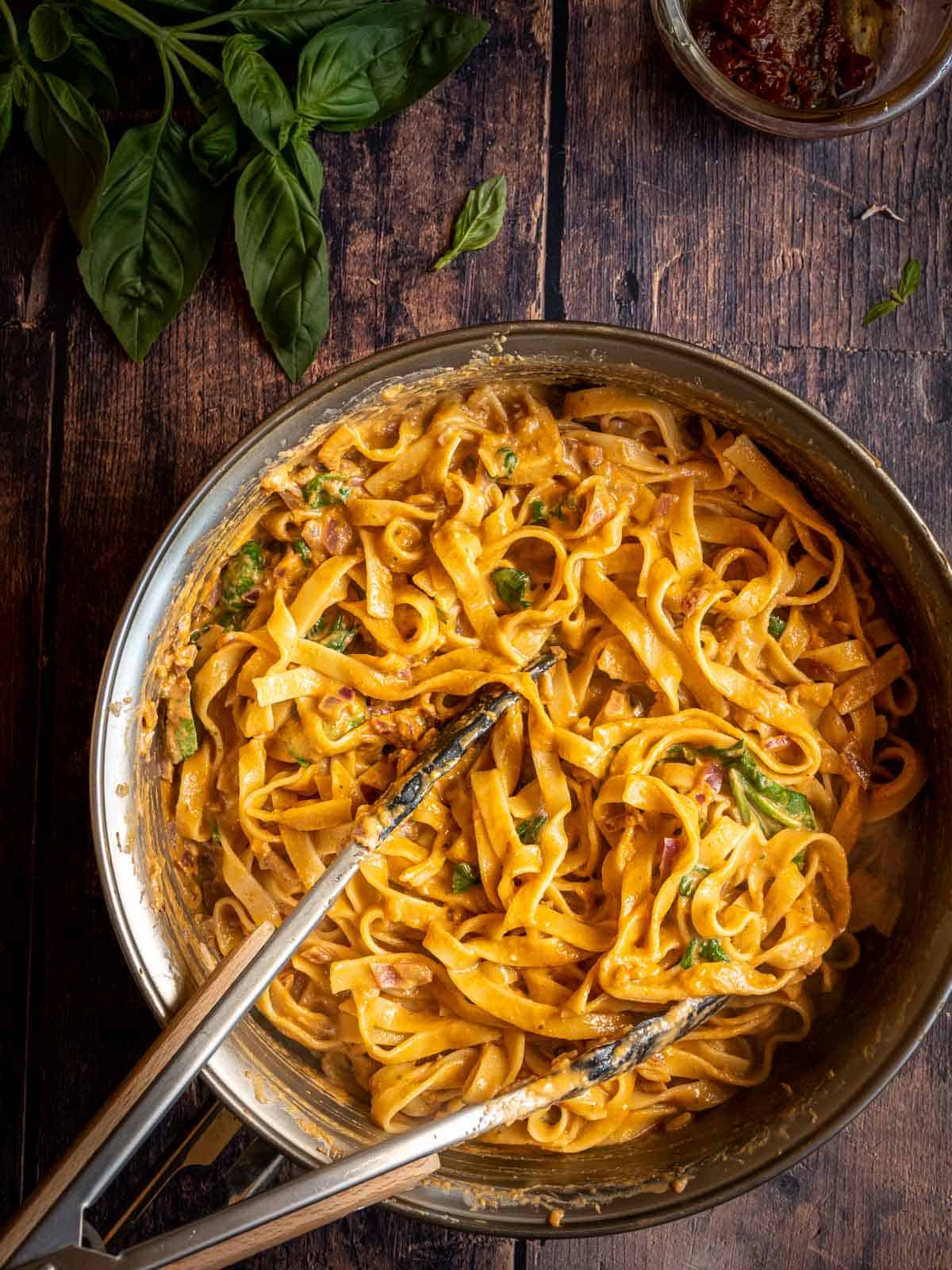 Step 8: Adjust with salt and pepper and prepare for plating.
Hint: we like serving this spinach fettuccine recipe with chopped sun-dried tomatoes, vegan parmesan cheese, and halved cherry tomatoes for a fresh tomato flavor. Chopped parsley is also an excellent option.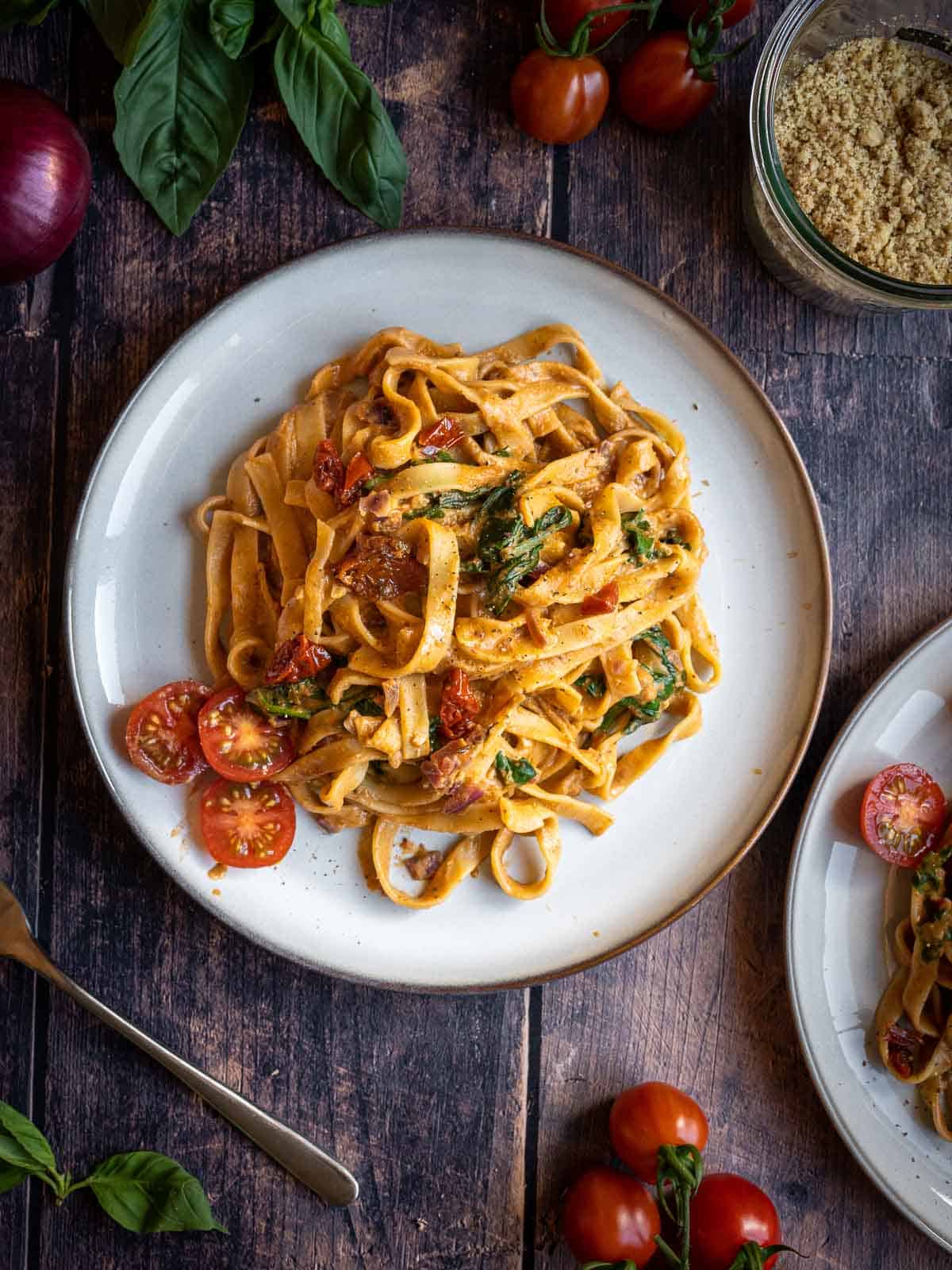 🍶 Substitutions
Sun-dried tomatoes - to make the creamy tomato sauce, we used tomatoes in oil (so we didn't have to use any extra olive oil), but you can also use packed sun-dried tomatoes. Make you hydrate them in warm water for at least 5 minutes.
Vegan bechamel sauce - we wanted to make a creamy tomato pasta sauce without cream since heavy cream and cream cheese are the standard components for thickening creamy pasta sauces. We have used regular store-bought rice, almond, and cashew milk cream. they all work.
Spinach - you can use fresh arugula, kale, or Swiss chard instead. Remember that spinach is softer than other leafy greens, so you might need to cook the bowl for extra 1-2 minutes until wilted.
Vegan parmesan cheese - you can use nutritional yeast, as it holds most of the cheese flavor of vegan parm.
Pasta - we like fettuccine for this rosa sauce, but penne pasta is also a great option. Use your favorite pasta, as they will all work. If you use fresh noodles, you only need to bring them to a gentle boil for no more than 2-3 minutes.
Red onion - yellow, green, or white onions also work.
Garlic - if you don't have fresh garlic, you can use garlic powder and Italian seasoning for extra flavor.
🥡 Variations
Spicy - add a teaspoon of red pepper flakes into the blender to add a spicy note; otherwise, you can add them directly to your serving plate.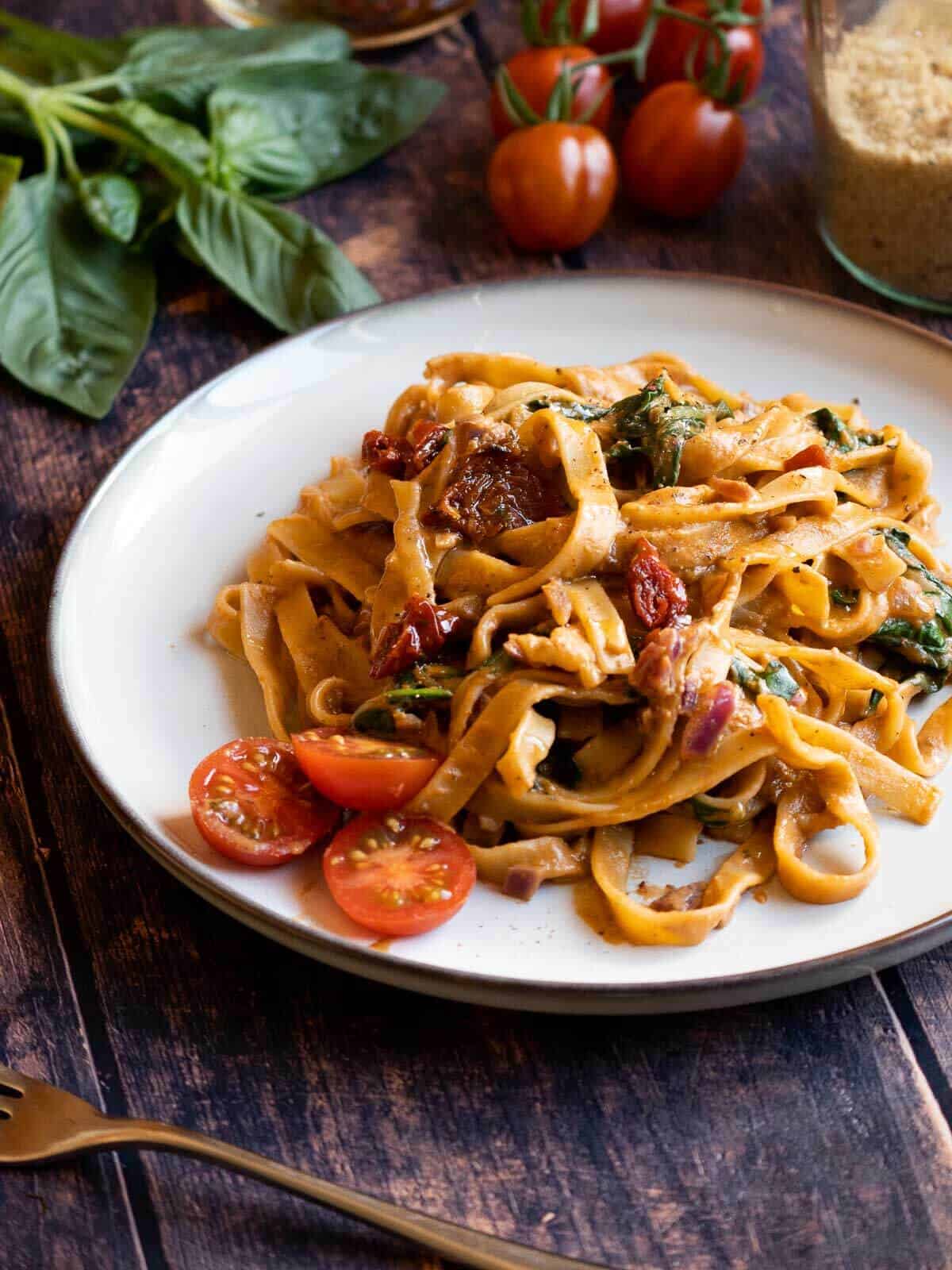 🍽 Equipment
Large pot - to boil pasta
Immersion blender - or any blender will work.
kitchen tongs - to handle the pasta.
Skillet - to sautée the onions and finalize the dish.
🥡 Storage
Store this pasta in a BPA-free airtight container in the fridge for up to 3 days.
Don't freeze cooked pasta; it won't thaw well.
You can store the leftover rose sauce in the fridge for 2-3 days or in the freezer for up to 3 months. Then let thaw overnight before using.
Hint: if you want to add more color to the rose sauce, you can add regular tomato sauce, tomato paste, or canned crushed tomatoes.
❓ FAQ
Sun-dried tomatoes substitute?
In many recipes, sun-dried tomatoes can be used as a substitute for fresh tomatoes. They are usually sold dry and packed in oil or herbs, so you'll need to rehydrate them before using them. Soak the tomatoes in hot water for about 10 minutes, then drain and chop. You can also use sun-dried tomatoes canned in oil or herbs.
If you have the time, you can also dehydrate fresh tomato wedges in the oven; see below how.
How to make oven-dried tomatoes?
To make oven-dried tomatoes. Preheat the oven to 275 °F (135 °C).
Quarter San Marzano or plum tomatoes vertically and place the skin-side down on a baking sheet with a silicon mat or lined with parchment paper. Drizzle over olive oil and sprinkle with some salt. Roast for 1 ½ hours or until semi-dried. Discard the thyme and allow it to cool down slightly.
🎄 More Christmas recipes
Try our Vegan Vegetable Casserole, which never fails as the main dish for holidays.
A nut roast or baked maple-glazed tofu, are also great options to pair with stuffed baked onions.
⭐ If you try this Alfredo with sun-dried tomatoes recipe, let us know! 💬 Leave a comment, rate it, and don't forget to tag us @ourplantbasedworld on Instagram. Cheers!
📋 Recipe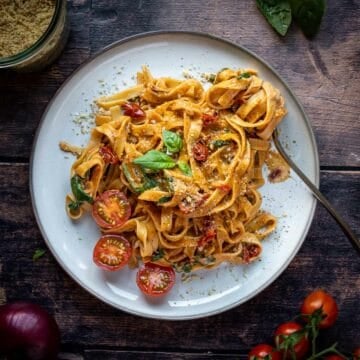 Creamy Christmas Fettuccine Pasta Recipe
Ring in the holidays with this delicious and festive Christmas fettuccine pasta dish made with sun-dried tomatoes and a creamy rose sauce.
Equipment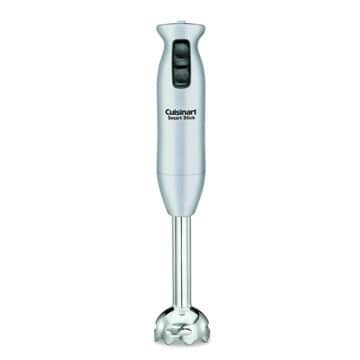 (affiliate link)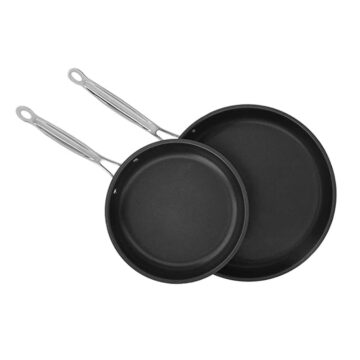 (affiliate link)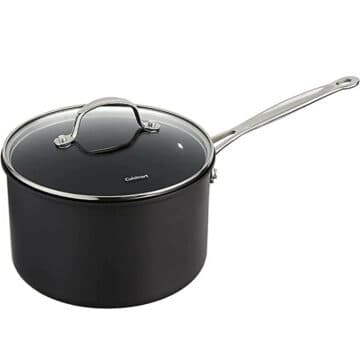 (affiliate link)
Ingredients
Optional
4

tablespoons

tomato paste

optional, or 6 tablespoons regular tomato sauce

8

cherry tomatoes

optional to garnish
Directions
Make Sauce
Blend. Place the sauce ingredients in an immersion blender and blend until smooth.
Make pasta
Boil. Meanwhile, cook the fettuccini in a large pot of salted boiling water until al dente. Scoop out a cup of the cooking water and drain the pasta.

Sautée. Heat a large skillet over medium heat. Add chopped onion and cook for 3-4 minutes, then add garlic and cook for a minute. Don't let it burn, deglaze with the white wine.

Mix. Add the pasta into the same skillet with the onion and garlic, then pour the sauce in, fold carefully and add the starchy pasta water until you reach the desired consistency.

Stir in rosé sauce. Stir with a spatula to coat the pasta in the rose sauce and until the spinach is wilted. Cook, stirring, for a minute or two until the sauce is warmed.

Serve. Remove from the stove and serve immediately with more vegan parmesan cheese, halved cherry tomatoes, and fresh basil if desired.
Video
Ring in the holidays with this delicious and festive Christmas fettuccine pasta dish made with sun-dried tomatoes and a creamy rose sauce.
Nutrition Facts
Calories:
480
kcal
Carbohydrates:
74
g
Protein:
18
g
Fat:
13
g
Saturated Fat:
3
g
Polyunsaturated Fat:
2
g
Monounsaturated Fat:
2
g
Trans Fat:
0.05
g
Cholesterol:
65
mg
Sodium:
448
mg
Potassium:
1088
mg
Fiber:
8
g
Sugar:
12
g
Vitamin A:
2024
IU
Vitamin C:
24
mg
Calcium:
179
mg
Iron:
5
mg
Nutrition Facts
Creamy Christmas Fettuccine Pasta Recipe
Amount per Serving
% Daily Value*
* Percent Daily Values are based on a 2000 calorie diet.
Nutritional Disclaimer
The information shown is an estimate provided by an online nutrition calculator. It should not be considered a substitute for a professional nutritionist's advice. See our full Nutritional Disclosure here.
Affiliate Disclaimer
Please note that some of the links here are affiliate links, and I will earn a commission if you purchase through those links. I recommend all of the products listed because they are companies I have found helpful and trustworthy.