Vegan Vegetable Casseroles make an excellent Christmas table main dish. We have created this casserole dish as our Holiday Dinner's centerpiece, and it is now considered a staple of our feast.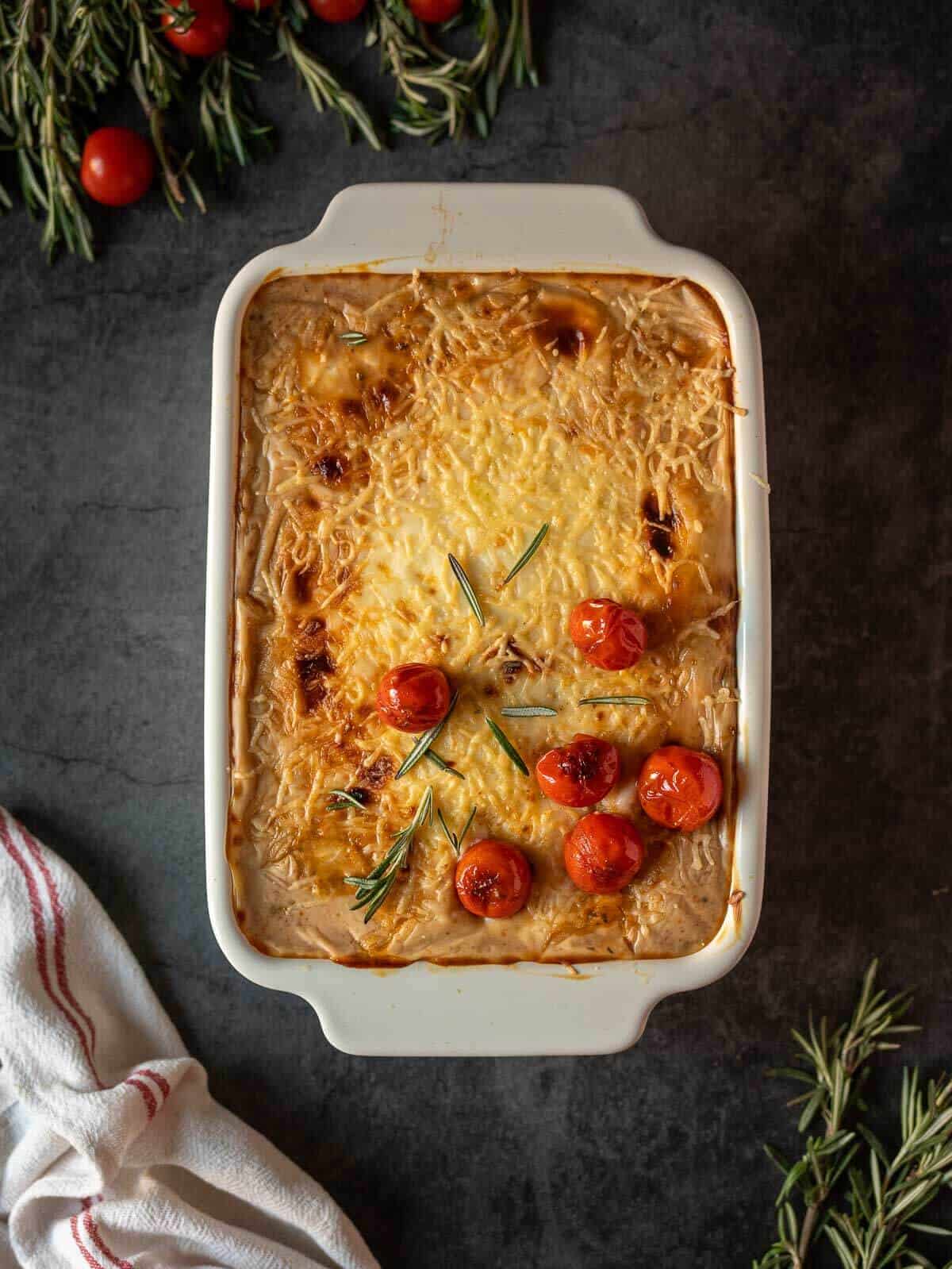 Many vegan casseroles appear in this festive season, such as green bean casserole, cornbread stuffing, vegan potato casserole, and even quinoa casserole.
We chose this combination of veggies because we are fans of eggplants and the classic Greek dish Moussaka, and you can think of this dish as a vegan moussaka. It is such a crowd-pleaser.
We love its creamy texture, and it is a pure comfort food dinner; it is budget-friendly, packed with plant protein, and the whole family enjoys it.
I promise that no one will miss the meat.
This healthy veggie casserole is full of flavor; it has the looks and makes a great holiday dish as well.
This vegan veggie bake features soft sweet potatoes and eggplants, both of which have significant health benefits. Check out our 4-ingredient Mashes Sweet potatoes recipe if you love sweet potatoes.
Jump to:
🧾 Ingredients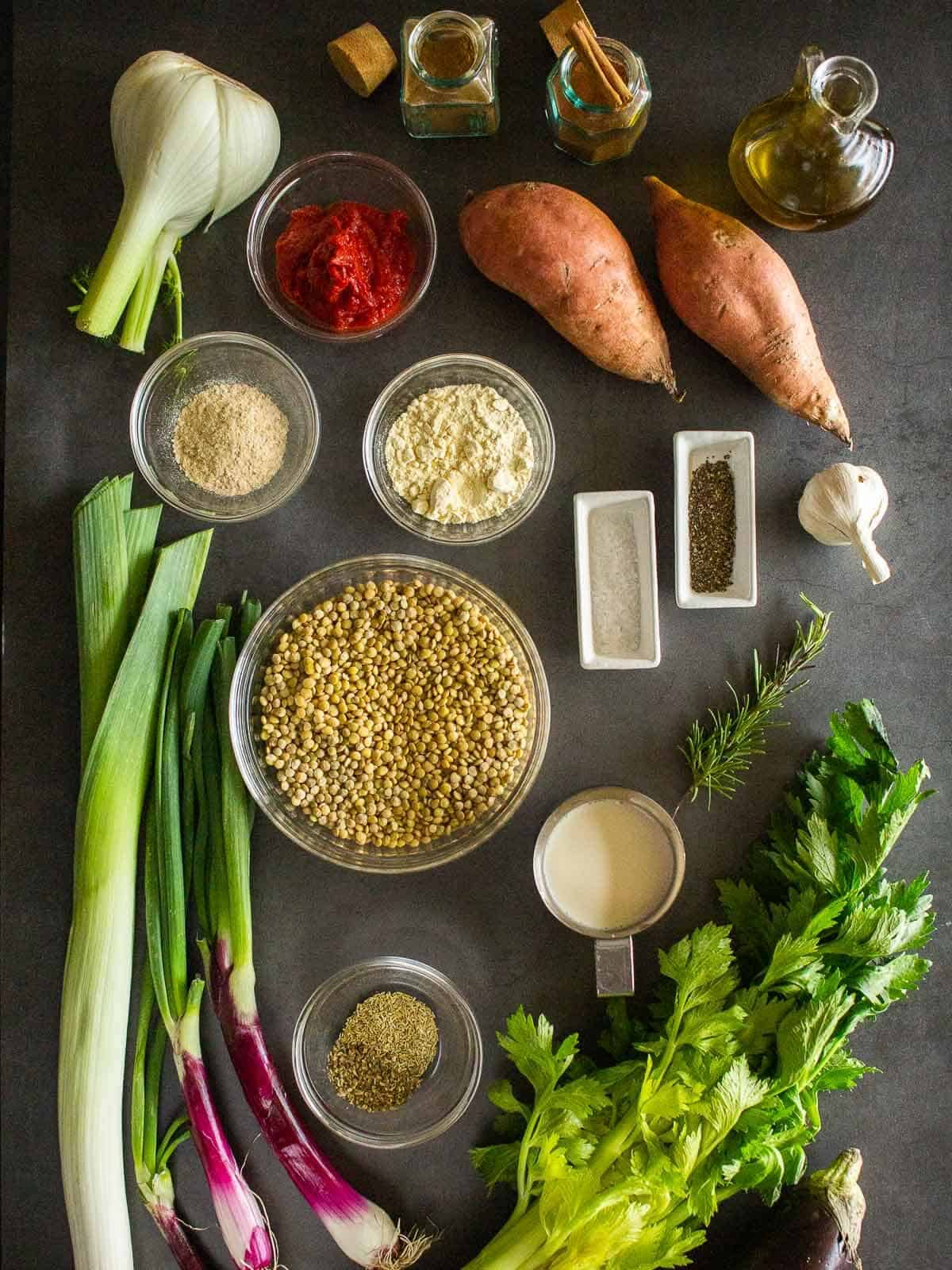 Lentils: Provide a great source of protein and fiber for the casserole, making it more filling and nutritious.
Sweet potatoes: Add natural sweetness and provide vitamins A and C, along with fiber and potassium.
Spring onions: Add a mild onion flavor and some crunch to the dish.
Celery: Adds a savory flavor and also provides some fiber and vitamins.
Fennel: Provides a subtle licorice flavor and adds to the vegetable medley.
Leek: Adds a mild onion flavor and some creaminess to the dish.
Garlic: Adds a delicious savory flavor and can also provide some immune-boosting benefits.
Tomato paste: Brings some acidity and depth of flavor to the dish, helping to tie everything together.
Oregano: Adds some earthiness and herbaceous flavor to the casserole.
Rosemary: Provides a unique flavor profile that pairs well with the other ingredients and also has some potential health benefits.
Nutritional yeast: Brings a cheesy, umami flavor to the dish while also providing some protein and B vitamins.
Ground cinnamon: Adds a touch of warmth and sweetness to the casserole.
Olive oil: Provides some healthy fats and helps cook and soften the vegetables.
See quantities and complete instructions in the recipe card.
🔪 Instructions
This sweet potato casserole recipe has three parts. The layers, the feeling, and a vegan bechamel sauce as a binder make it creamier.
Step 1. Slice your sweet potatoes and eggplants (a mandoline is handy here).
Note: if you have some extra minutes, you can lay the eggplant layer in a baking dish with coarse sea salt to let it "sweat." This way, you will get rid of eggplant's bitter taste.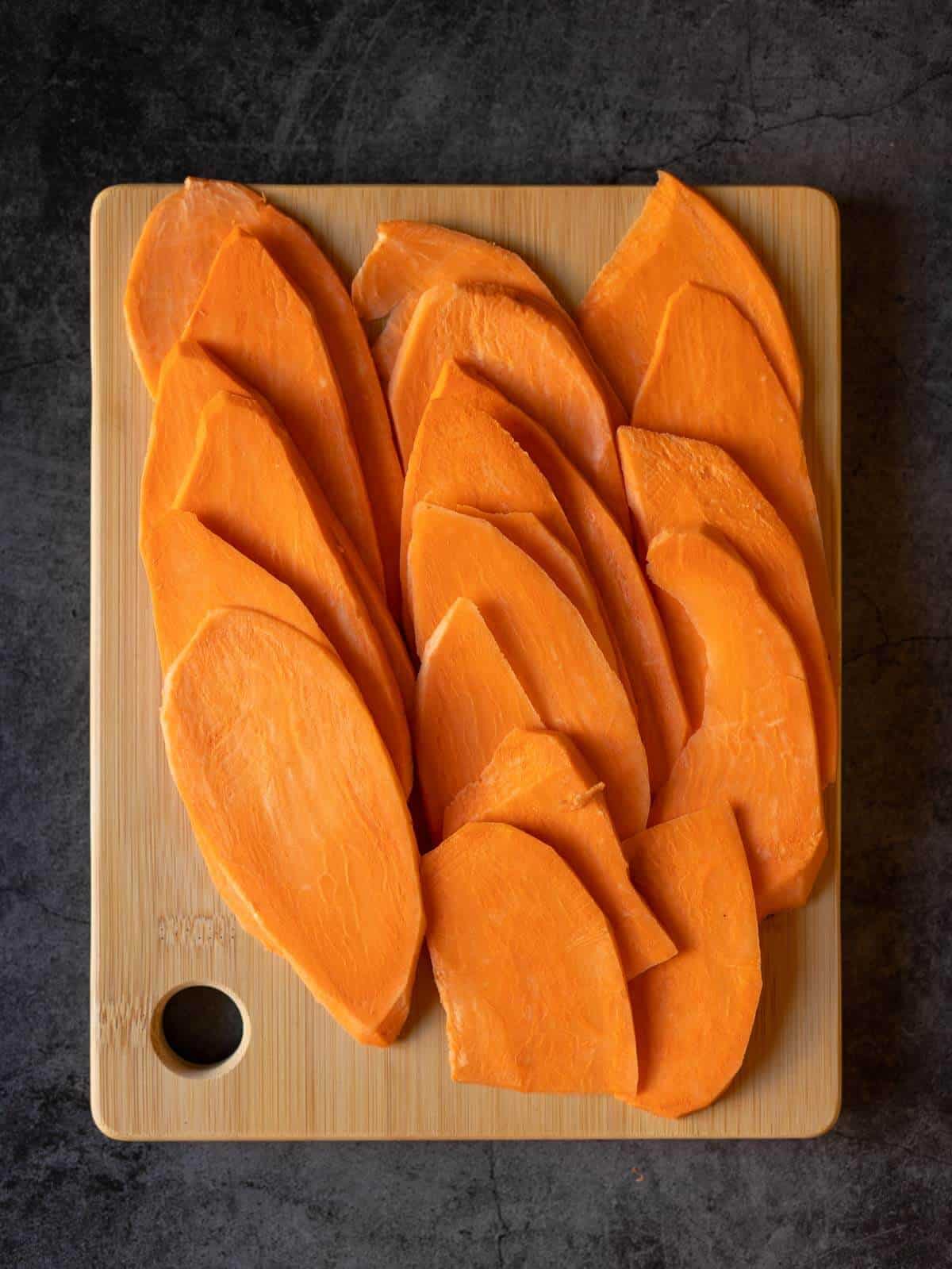 Thinly slice sweet potatoes with a mandoline.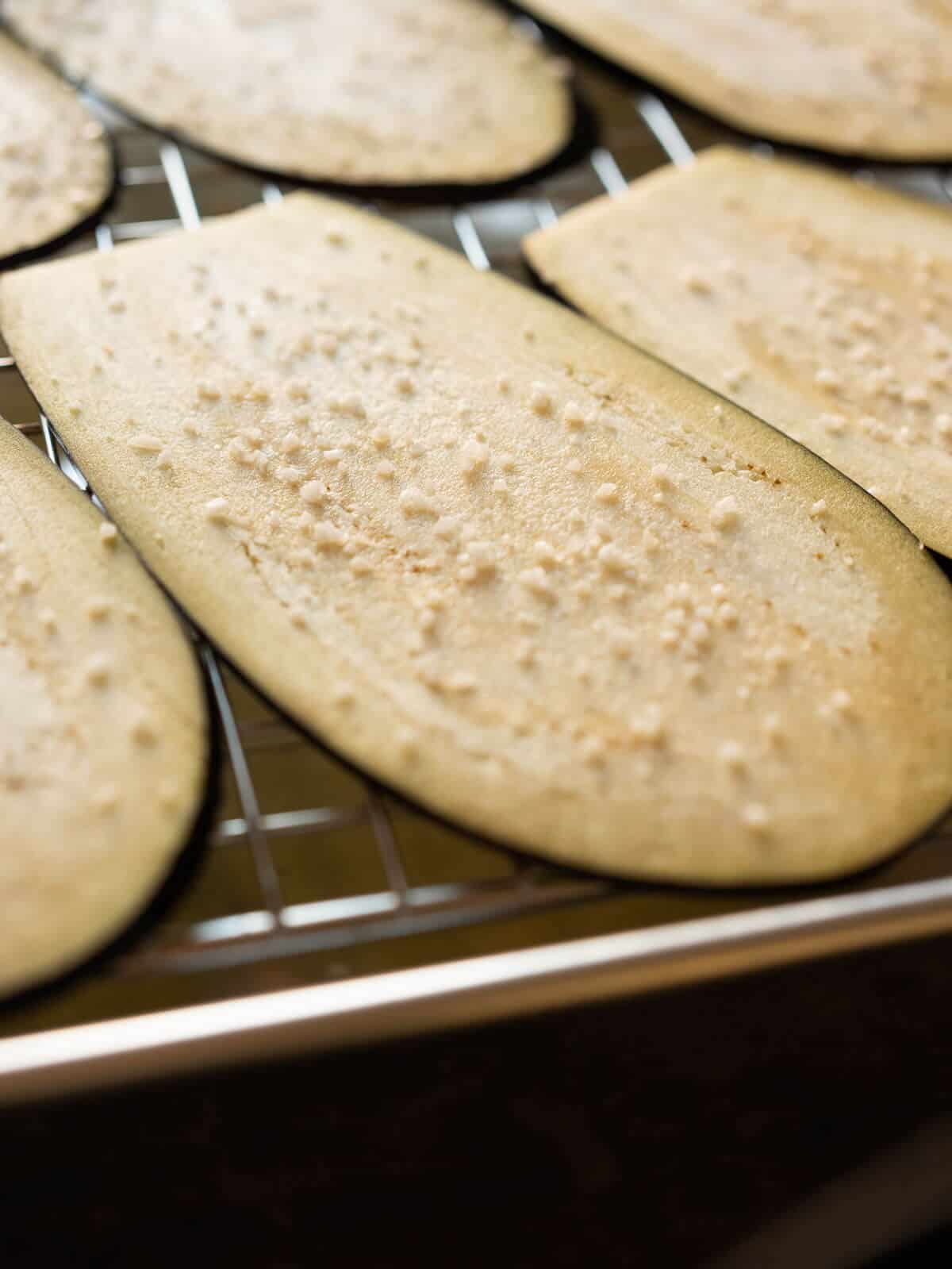 Salt the eggplants, so they lose water and their bitterness.
Step 2. Making the filling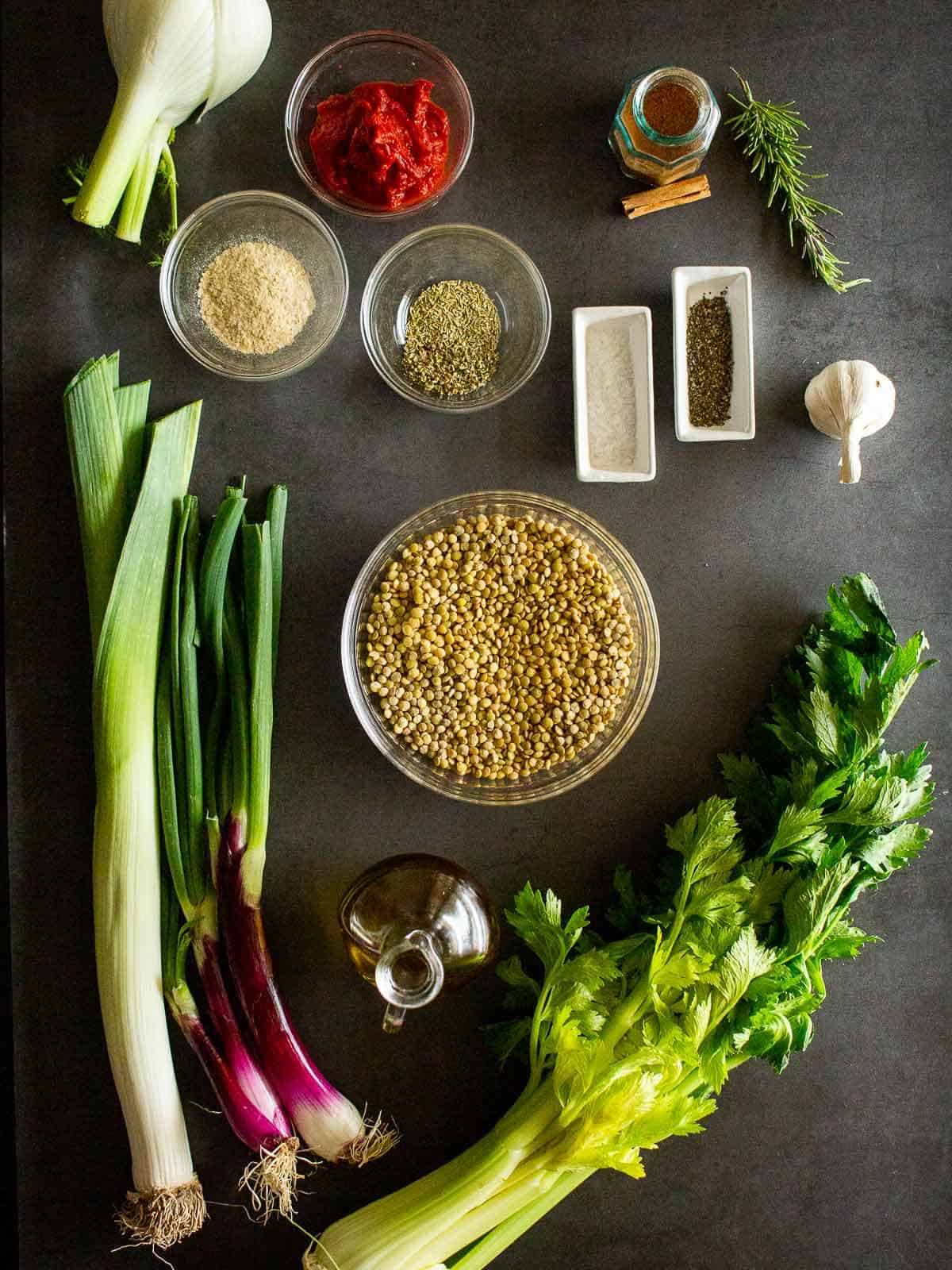 You need to chop and sauté the filling ingredients for this vegan vegetable bake and then add the hydrated lentils. Let it cook.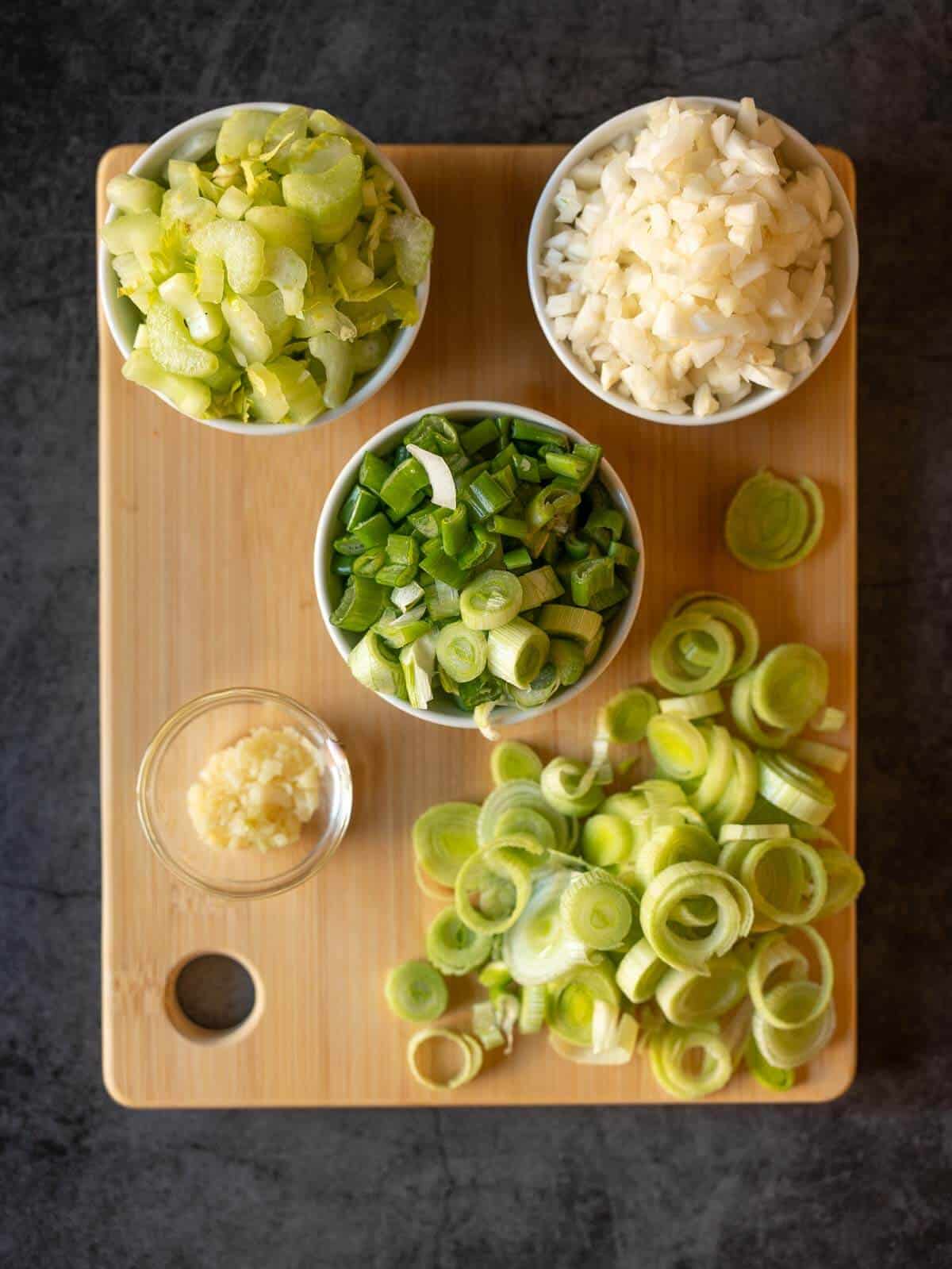 Chopp vegetables.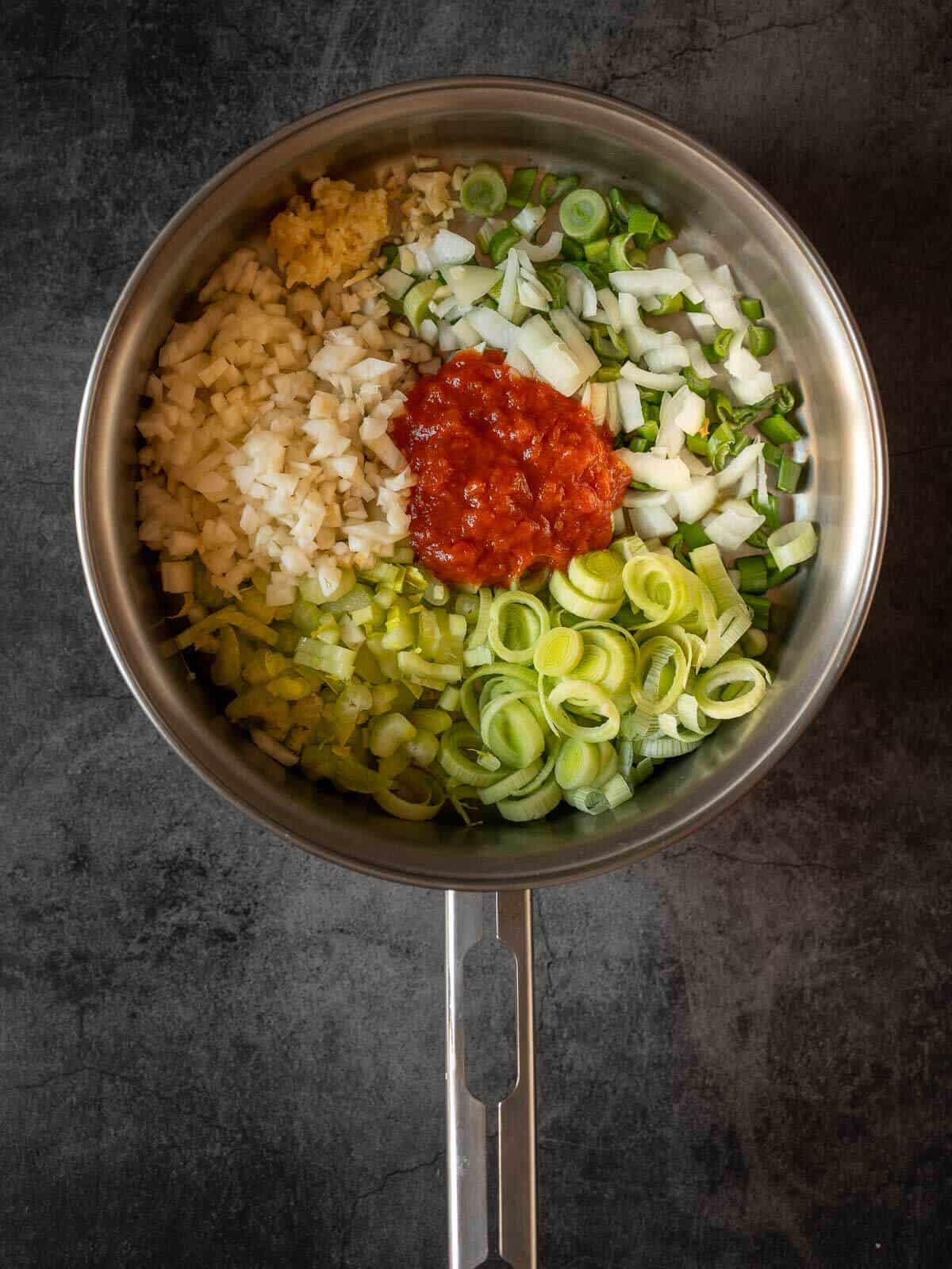 Sautée the spring onions, leeks, celery, fennel, garlic, and tomato paste.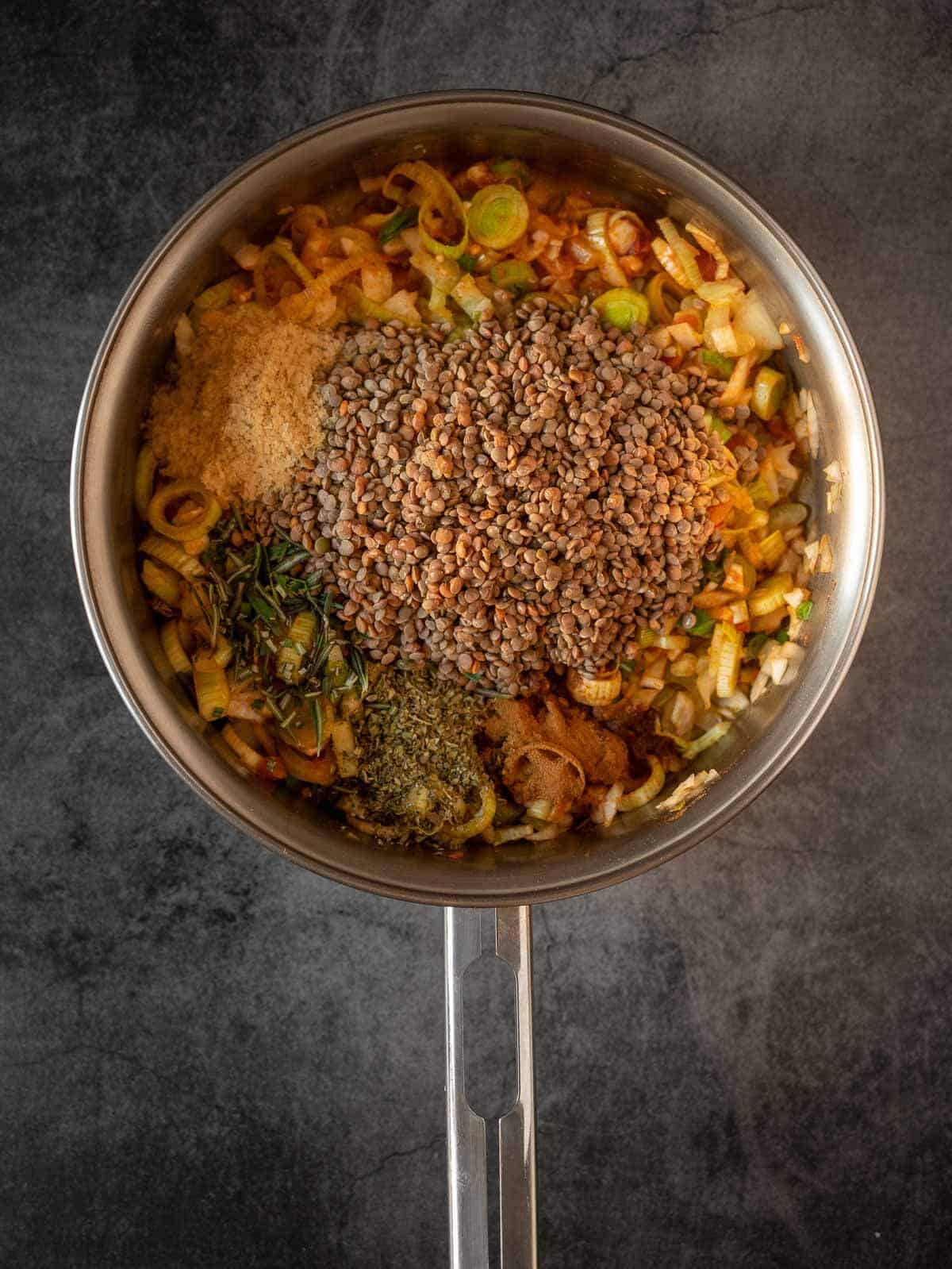 Add soaked lentils and spices.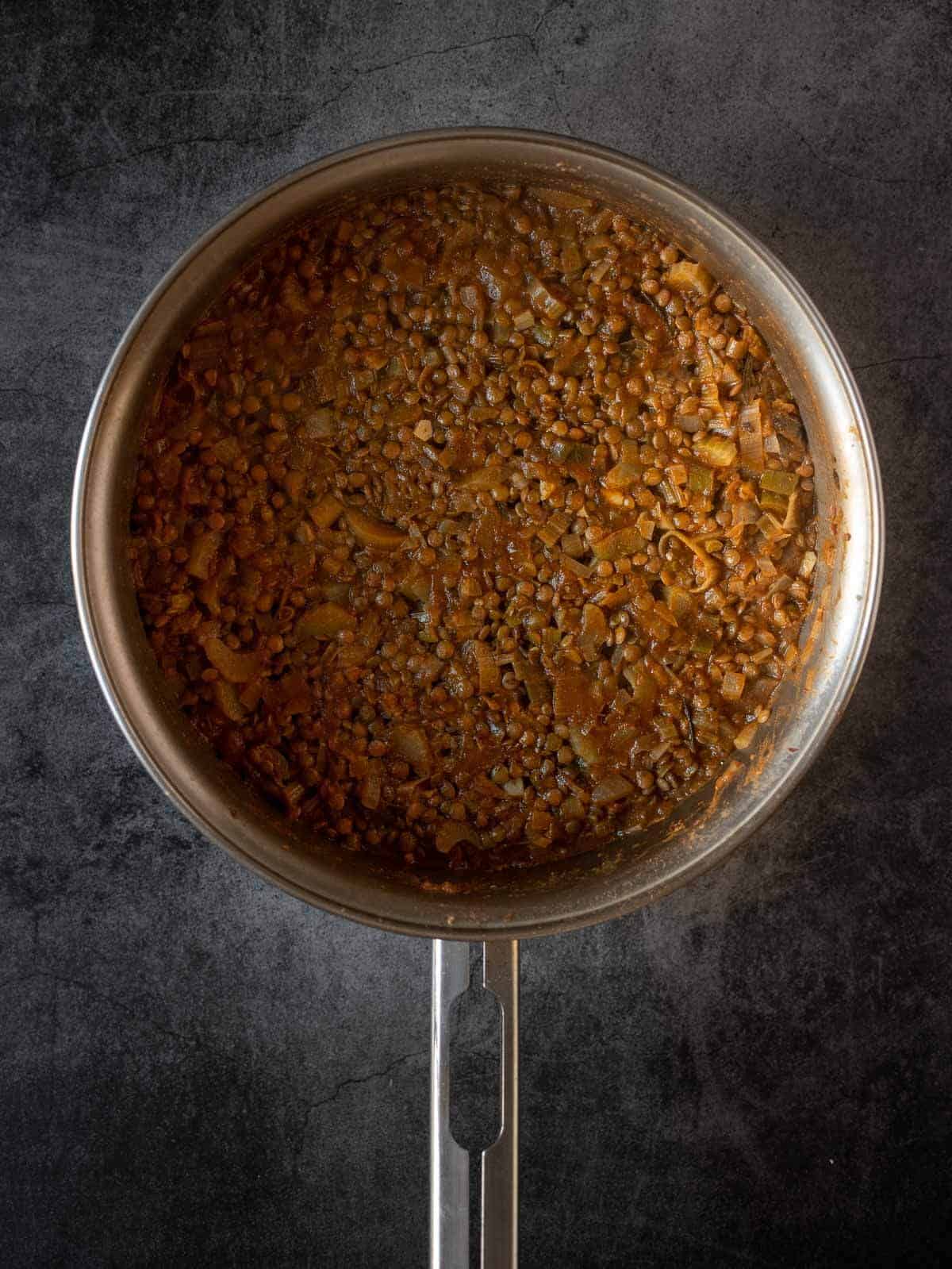 Cook lentils until they are soft and the liquid is completely consumed.
Step 3. Make the bechamel sauce (or use store-bought).
Step 4. Assemble the layers. Finishing with the vegan bechamel sauce or vegan cheese sauce.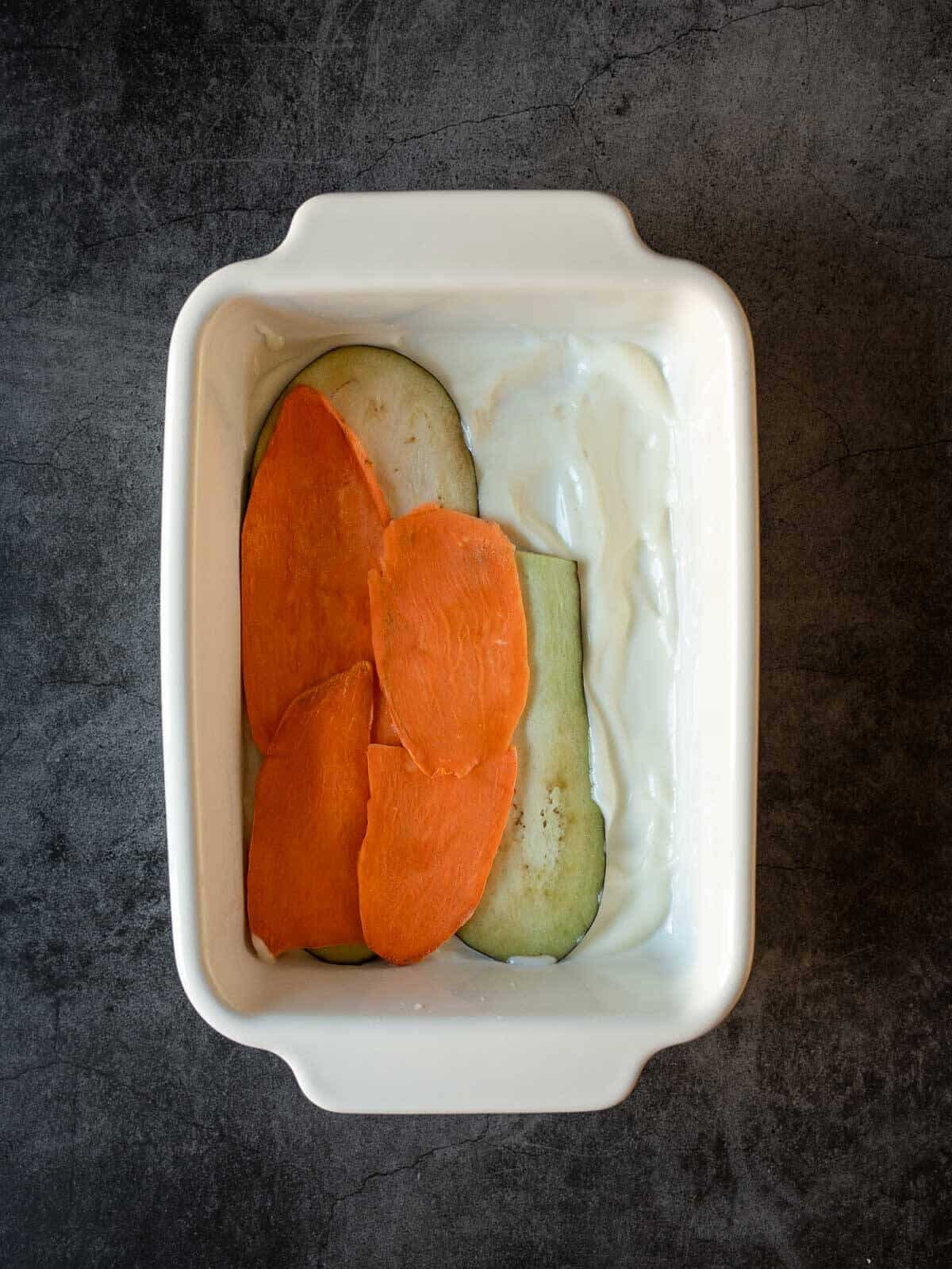 Add a layer of bechamel, followed by eggplants and sweet potatoes.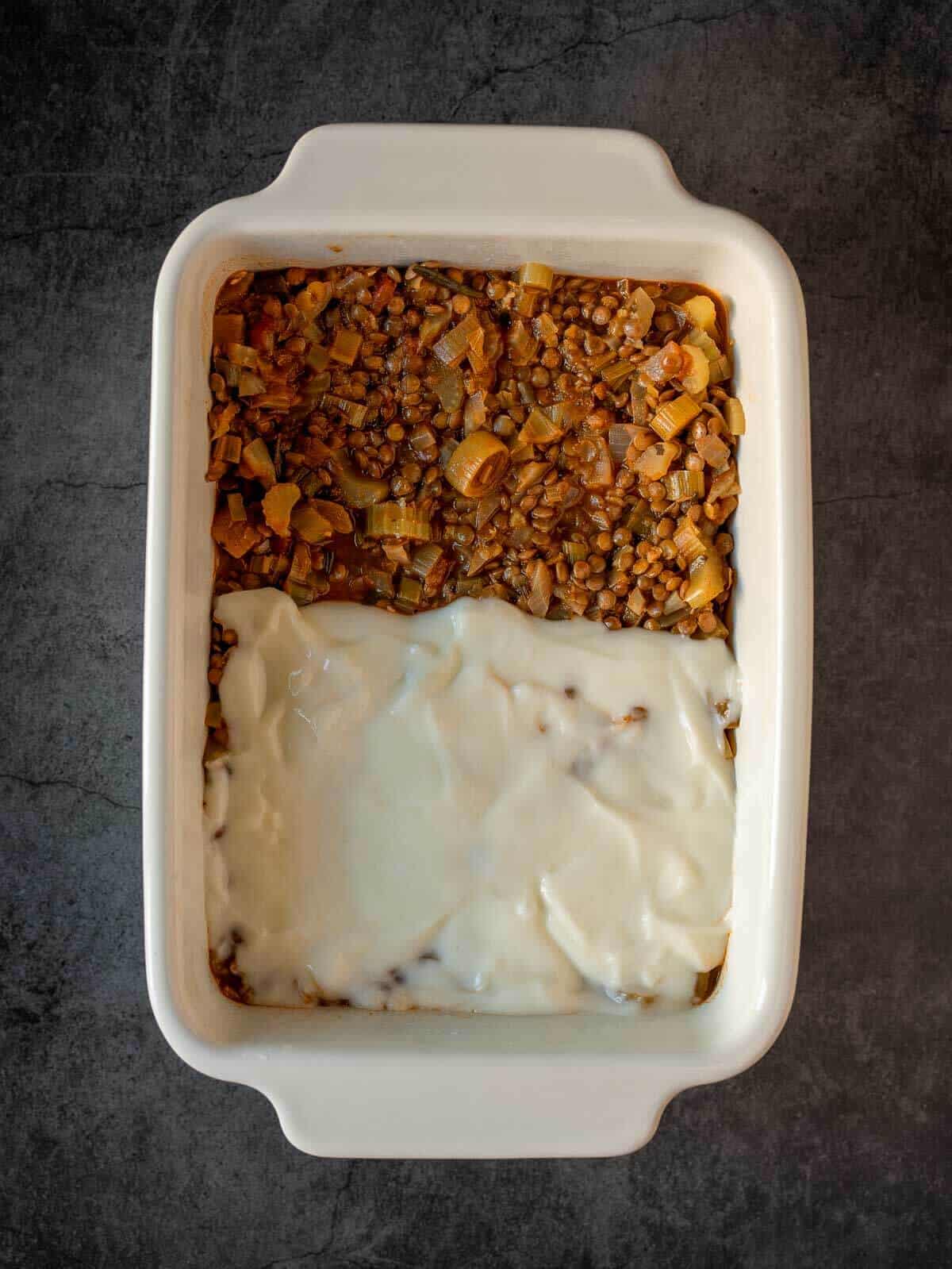 Continue with a layer of lentils and another of white sauce.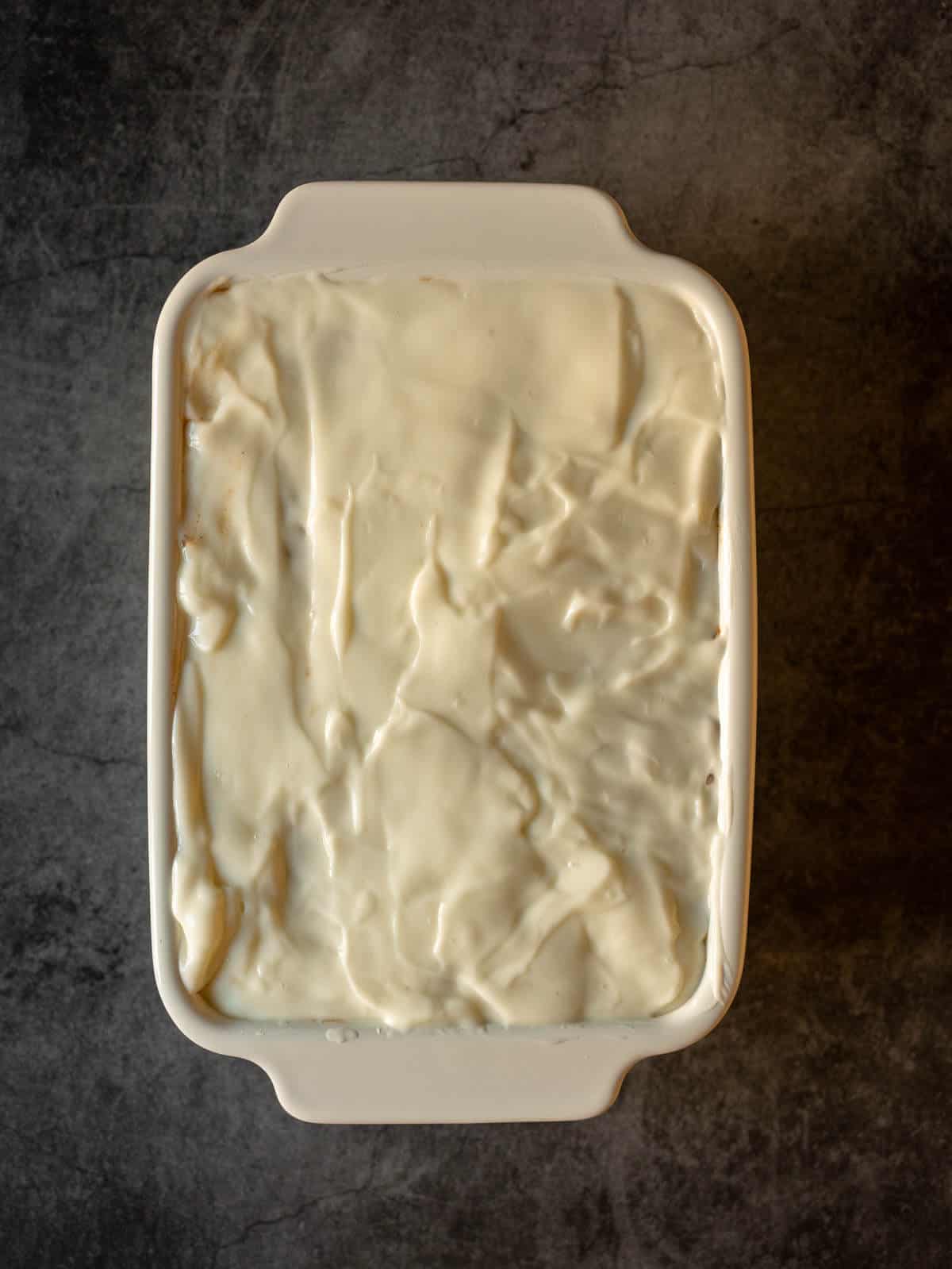 Step 5. Bake the vegan casserole as per the instructions in the recipe card below. Optionally add a layer of shredded vegan parmesan cheese.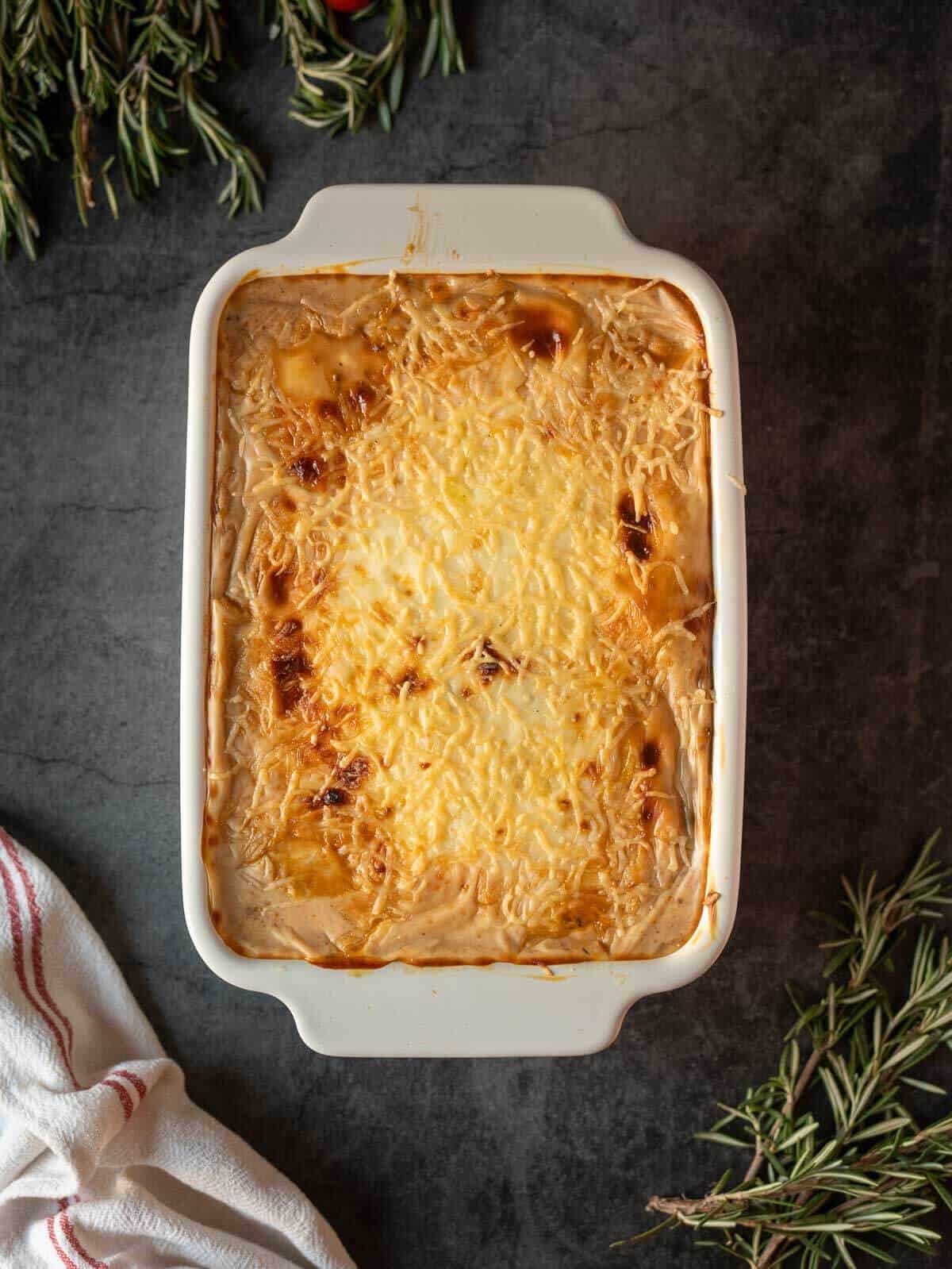 We like to blister some cherry tomatoes with olive oil in a small skillet to garnish the casserole.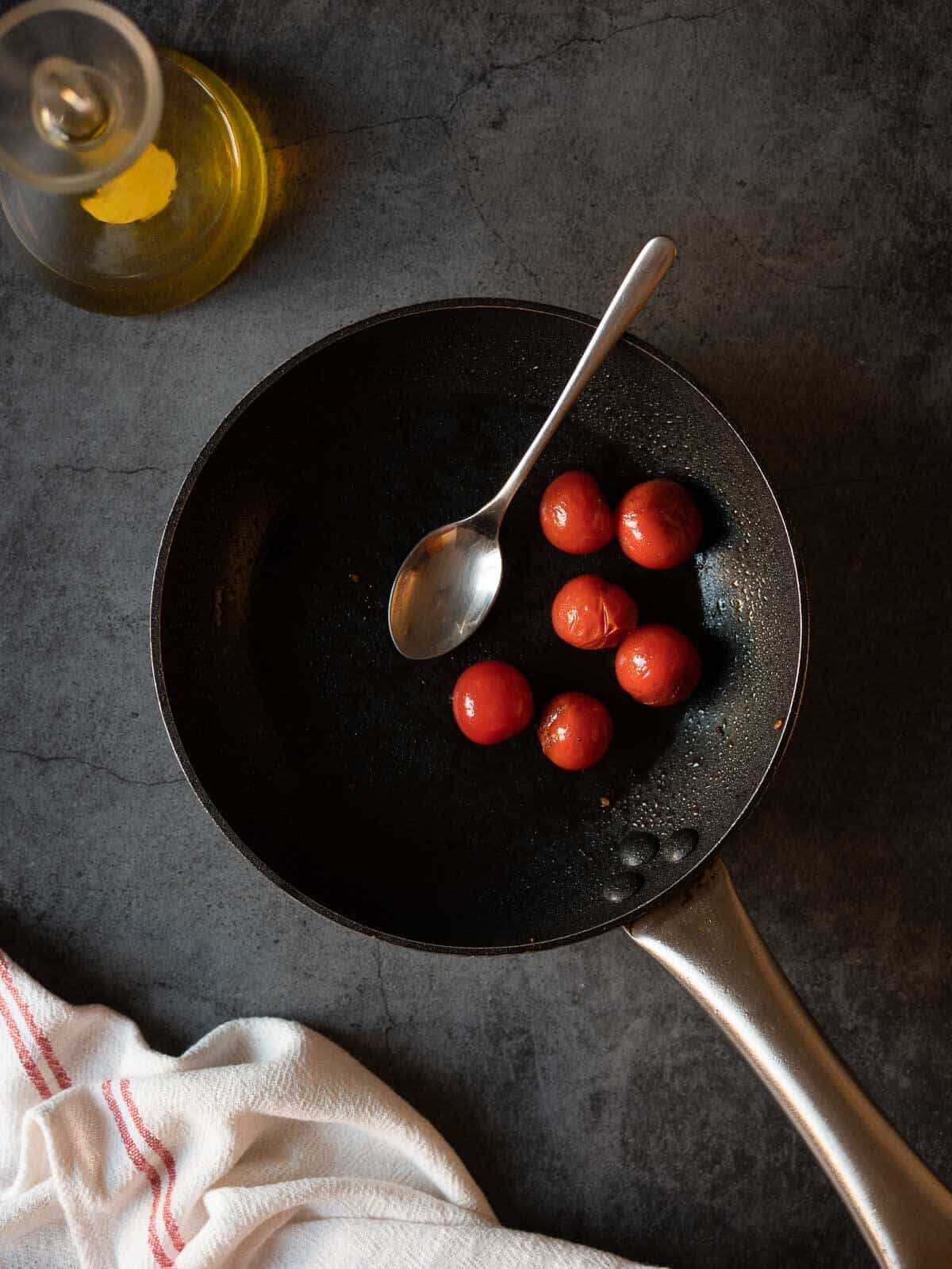 🥣 How to make the Bechamel sauce
When making a plant-based casserole, I like it to be super creamy. So we add this super simple plant-based bechamel sauce to the next level to achieve it. Make sure you make it right before you use it, so it's at its best. Vegan Bechamel Sauce Recipe can be made with any dairy-free milk, such as almond milk or coconut milk.
If you want your Bechamel to be cheesier, you can add a tablespoon of nutritional yeast to it.
You can also use store-bought vegan bechamel sauce or cheese sauce to save time. You can also use vegan ricotta or mozzarella to top your vegan casserole.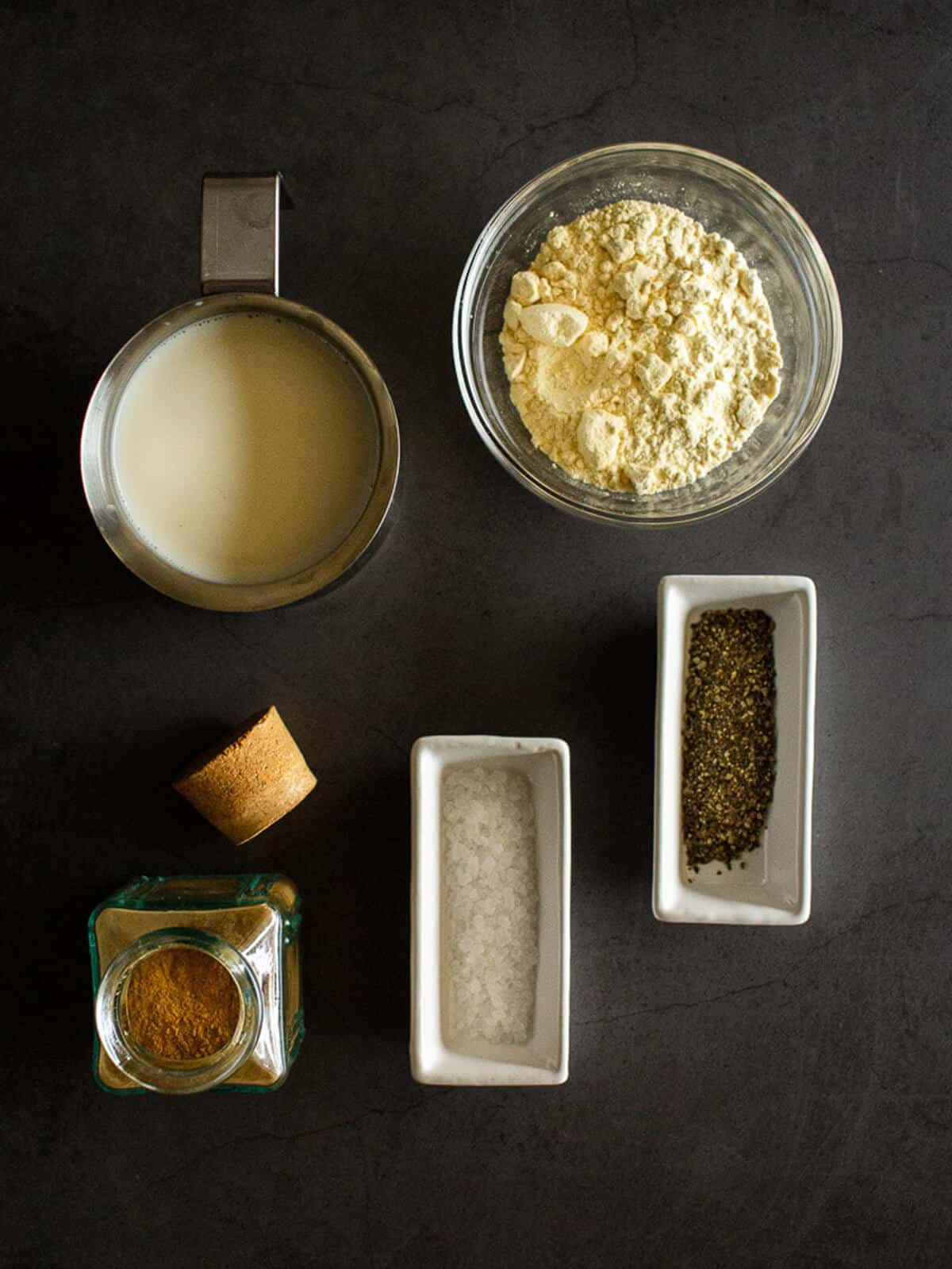 🥢 What to serve the vegan casserole with
We like having vegan casserole recipes with something light next to them, such as green beans (check our Green beans with toasted almonds recipe), roasted butternut squash, grilled asparagus, or roasted carrots).
We also love serving vegan casseroles with plant-based honey-roasted vegetables.
Serving it next to a fresh salad with kale, spinach, and tomato with a nice vinaigrette is also a great option.
This casserole can also be served as a side dish, next to another main course, or roasted veggies, like cauliflower, butternut squash, or broccoli, like these easy grilled cauliflower steaks. I would cut smaller portions, as a medium or large casserole portion is considered a complete meal, as per veggies, plant protein content, and fiber.
That's another reason why I love this comfort food recipe! It makes the perfect lunch or dinner!
Try out this Brussels Sprouts Sweet Potato hash; you will love it; so easy to make!
Read on: Hashbrown Breakfast Casserole
🍶 Substitutions
Eggplants - Zucchini is a good substitution for eggplants in this casserole dish. Treat the zucchini the same way to get the same results.
Sweet potatoes - you can substitute them with butternut squash or pumpkin, as they pack about the same texture and sweetness needed for the results. In general, vegan casserole recipes are a great way to pack nutritious vegetables with lots of umami flavors and creamy textures, making them excellent options for holidays.
Lentils - if anyone at home has lentils allergies, you can use either canned beans or black beans, to make up for the plant-based protein.
Bechamel sauce - you can replace the dressing with mozzarella vegan cheese. Shred it in the middle layer and then top the casserole before baking it.
This casserole dish is naturally gluten-free, as we use chickpeas flour for our bechamel sauce.
🥡 Storage
Refrigerator - This totally vegan casserole can be easily stored on the baking sheet in the fridge for about three days. Then you need to reheat it in the oven on medium-low heat for 10-15 minutes, sprinkling some water on top—that way, you give back some moisture to the dish.
Freezer - you can cut this casserole recipe in portions, the same way you would portion a lasagna or any classic casserole, and then freeze it in an airtight container. Then let it thaw overnight and reheat as explained above.
Microwave - we are not fans of microwave reheating; in fact, we don't have a microwave because we avoid microwave radiation. If you do, heat it as you would any other food for a couple of minutes on medium heat so the portions warm up evenly.
This casserole is one of our favorite weeknight meals, thus, having leftovers from this pure comfort food is ideal for lazy dinners.
❓ FAQ
Can I make this vegetable casserole beforehand?
Yes! When we are hosting a vegan dinner for many people, this is one of the dishes we make a couple of days beforehand. You can either:
Assemble the casserole a day or two before; then bake it right before dinner, or
Make it, store it, and put it in the fridge. Then serve as per the above directions on keeping.
Jump to Recipe
🍷 Wine Pairing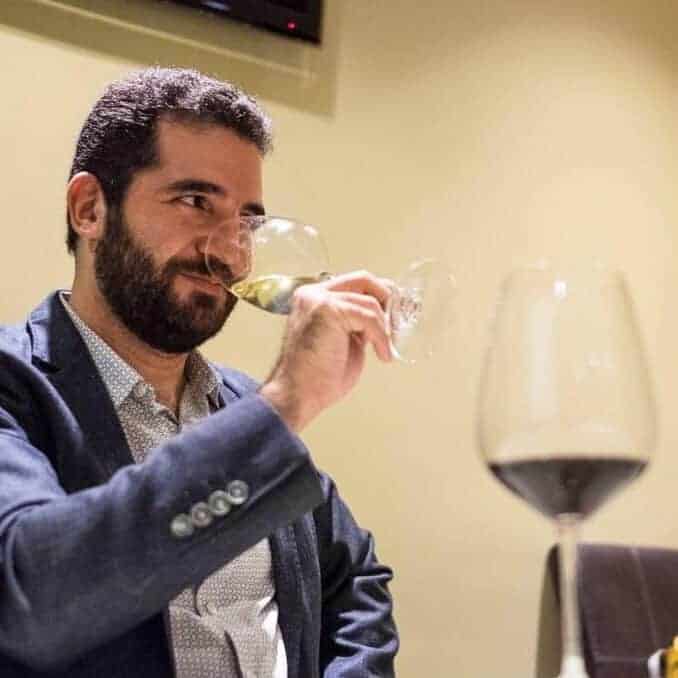 Ramón Barreiro
Wine Pairing by our Sommelier Ramón Barreiro @pejo_barreiro
It is in the Wine Culture where you will genuinely find quality wines and support sustainability. For this reason, in this blog, when we recommend wines, we do not want you to go to a supermarket shelf to buy wines for the usual varietals resulting from monoculture. Instead, we recommend wines take you to the places where they come from. Thus, we advocate for living wines, with Culture, with Terroir.
Casseroles are baked dishes that I associate with comforting and tasty food, and they are also dishes that I share at a large table, in the company of beloved people who are often dressed for a party. This dish asks me to choose a wine because there is joy, love, and flavor.
The flavors of harmony
This casserole has a protagonist of flavor and several complementary actors that stand out. Our protagonist is fennel, a delicious vegetable that I invite you to incorporate into your diet; you will find joy only in the spicy aromas and flavors that it gives, among which the anise stands out, or more specifically, the licorice.
Our featured complementary actors are the cinnamon you use in the filling and the nutmeg and white pepper you use in the béchamel.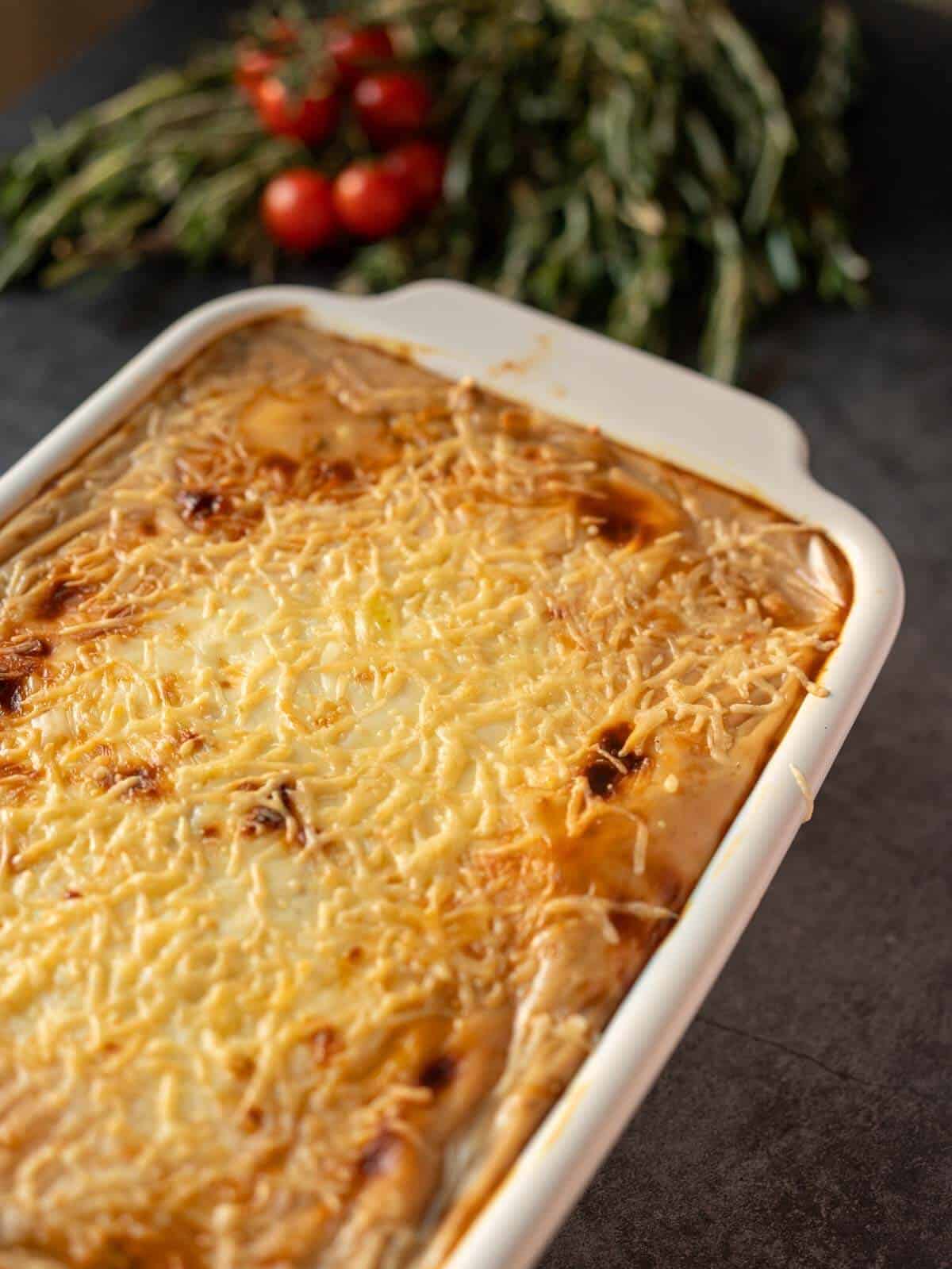 The appearance of the Umami flavor
Also, as it is a baked dish, wonderful caramelization causes the Maillard reaction to appear in the saucepan, especially its gratin surface. Consequently, the casserole tastes like umami; it is tasty and creamy, so the wine I choose has to be delicious and creamy as well.
Let's get into the Wine Pairing
When choosing wines, if you live in a producing area, always choose local, find out about your producers, the history of your location, and the winemaking practices, and explore all the styles available in your area.
If you do not live in a producing area (or close to one of them), support the specialized stores near you, just as you would support your local farmers' market. Talk to the specialists, and ask them about their wine's selection, origins, production practices, and reasons for their inclusion in their selection.
With wine, as with any food on our table, it is always good to think about the path it went through before reaching us. It is also essential to consider the kilometers and the means of transportation used. Be aware of the carbon footprint of the food and wine you consume, and you will make a small contribution to sustainability.
I recommend a Napa Valley Merlot first. With this casserole, I feel like I'm celebrating, and I deserve an exceptional wine. The Merlot grape develops notes of licorice very well in its aging in wood, and the style of the Napa Merlot is also unctuous and mellow.
Another option that I recommend is a Tinto Crianza de Rioja. This Spanish wine is traditionally made with Tempranillo and Garnacha, and to a lesser extent, with Graciano and Mazuelo. It undergoes a minimum aging of 24 months, of which at least six months must be in the barrel and up to 18 months in the bottle before being marketed. Therefore, this wine always tastes like ripe fruit and licorice, and if it spends more than the minimum time in the barrel, it can also have a coconut aftertaste. That is why I recommend choosing a Crianza and not a Reserva because more time in the wood highlights the coconut aroma too much, which does not interest me too much for this pairing.
Do you know what a Premier Cru is?
The last wine I recommend is a Burgundy Pinot Noir, classified as Premier Cru.
What does this classification mean? Burgundy wines are classified according to the valuation of their vineyard of origin.
If the vineyard is not classified and belongs to the protected geographical area of ?? Burgundy, it can be sold simply as Bourgogne; if the vineyard belongs to a municipality with specific protection within Burgundy, it can be sold as a Village, preceded by the name of the municipality. From here come the two specific classifications for vineyards. The first is Premier Cru, and the second and the most prestigious is Grand Cru. Therefore, the label of these wines will have the nickname Premier Cru, or Grand Cru, accompanied by the vineyard's name.
These wines are famous and in high demand, but I always find excellent wines among their less fashionable protected appeals and reasonably priced! Look for a Pommard Premier Cru or even a Pommard Village. Pommard is a Village that produces only Pinot Noir. It has several Premier Cru vineyards. A reclassification to Grand Cru is claimed for some of them, thus being a great bet to find that Pinot Noir aged in a barrel that shines with an aniseed aroma reminiscent of licorice.
Wine Pairing Summary
United States (California) - Red with barrel - Merlot (Napa Valley)
Spain - Red wine aged in barrel - Rioja (Tempranillo, Garnacha, and others)
France - Red aged in barrel - Burgundy (Pommard Village or Pommard Premier Cru)
Check our 5-mins Vegan Parmesan "Cheese" Recipe and Vegan Bechamel Sauce Recipe
🍠 5 sweet potato health benefits you didn't know
They are Highly Nutritious as they are a great source of fiber, vitamins, and minerals.
May Support Your Immune System.
Promote Gut Health. The fiber and antioxidants in sweet potatoes are beneficial to gut health.
Support Healthy Vision.
It may Enhance Brain Function.
🍆 Some eggplant health benefits
The benefits of eating eggplant include:
Improved bone health: the compounds that make up the purple color in eggplants have been linked to reduced osteoporosis, stronger bones, and increased bone density.
Prevents anemia: it is imperative to pay special attention to iron intake. Not getting enough iron in your diet can be very dangerous to your health. Also, as vegans, we need to ensure we get the right amount of iron, as it is more commonly found in animal products.
Helps with digestion: eggplants are high in fiber, meaning that eating eggplant is a great way to improve gastrointestinal health.
Our suggested Vegan Christmas Menu Post
Curious about a sweet potato sweet casserole? Check out this Fall season Sweet Potato Crunch recipe; it is a finger-licking holiday side dish that also works as breakfast or dessert!
🍲 More vegan casseroles with potatoes

Hey, if you're a fennel fan like us, you should definitely give our roasted fennel and pear salad a try! It's the perfect addition to any special occasion meal.
If you love vegan casserole dishes, don't forget to try our zucchini vegan, gluten-free lasagna.
⭐ If you try this sweet potato vegan casserole recipe, let us know! 💬 Leave a comment, rate it, and don't forget to tag us @ourplantbasedworld on Instagram. Cheers!
📋 Recipe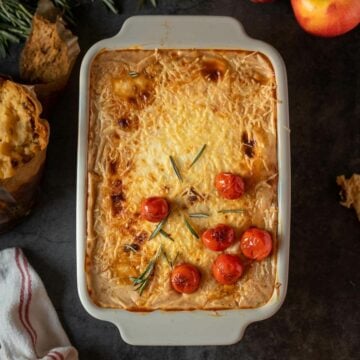 Vegan Vegetable Casserole
This Vegan Vegetable Casserole makes an excellent Christmas table main dish. We have made it our Holiday Dinner's centerpiece, and it is now considered a staple of our feast.
Equipment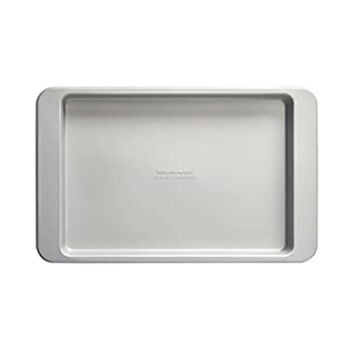 (affiliate link)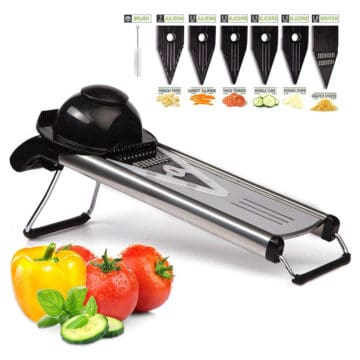 (affiliate link)
Directions
Soak the lentils for 15 minutes in warm water.

Preheat the oven to 400º F (200ºC).

Prepare the layers. Lay the eggplant and sweet potato slices on an oiled pan.

Sprinkle lightly with sea salt and roast in the oven for 10 minutes.

Make the lentil stew by heating the oil in a saucepan. Add the chopped onion, leek, celery, fennel, and garlic. Sauté for 5 minutes and add the lentils and 30 fl oz of water. Add the tomato puree, nutritional yeast, and spices.

Stir until the lentils are soft, but don't let them lose shape. It should take about 15 minutes. The stew should be on the drier side but still creamy.

Line up your eggplant and sweet potatoes and along with your lentils.

Oil a pan where you are going to assemble the casserole.
Make the bechamel
Start making the vegan bechamel by melting the vegan butter on a saucepan and adding the flour.

When it starts to brown, cook it for 1 minute more and add the vegetable milk.

Stir with a whisk until it starts to get creamy. Add the nutmeg, salt, and pepper. This sauce gets sticky very quickly, so; you should make it just when everything is ready to assemble. It all should take no more than 20 minutes.
Assemble
Reduce the oven temperature to 350ºF (175ºC).

Start assembling the dish by arranging the eggplant and sweet potato slices in the bottom of a medium baking pan.

Continue by laying a layer of lentil stew, followed by a layer of bechamel sauce.

Add another layer of sweet potatoes, then eggplants, lentils, and finish with bechamel sauce. Optionally top with grated vegan parmesan or regular one for a vegetarian version.

Bake for 35-40 minutes. Test if the sweet potatoes are tender by inserting a sharp knife down through the center. Remove from the oven and leave to cool for 30 minutes before serving.
Notes
If unsure about the cinnamon, you can either skip it or add a tiny pinch to the already prepared lentil stew and try it before putting in the whole stew. I recommend it; it takes it to another level, but I understand many people don't fancy cinnamon.
For simplicity, you can add up the amount of leeks and spring onions, and use only one. i.e. 7.5 ounces of leeks, spring onions, or simply onions
Ingredients quantities: if you want to simplify the recipe, you can add up the total amount of ounces of chopped veggies, like leaks, fennel, spring onions, and celery, and replace them with the choice of your favorite two veggies. It will work!
The reason I did not make the recipe- that way, is because we really love packing as many veggies as we can in our casseroles- to make them super nutritious.
Wine Pairing by our Sommelier Ramón Barreiro 

@pejo_barreiro
United States (California) - Red with barrel - Merlot (Napa Valley)
Spain - Red wine aged in barrel - Rioja (Tempranillo, Garnacha, and others)
France - Red aged in barrel - Burgundy (Pommard Village or Pommard Premier Cru)
Nutrition Facts
Calories:
341
kcal
Carbohydrates:
43
g
Protein:
13
g
Fat:
14
g
Saturated Fat:
2
g
Trans Fat:
1
g
Sodium:
2167
mg
Potassium:
977
mg
Fiber:
16
g
Sugar:
9
g
Vitamin A:
7864
IU
Vitamin C:
12
mg
Calcium:
219
mg
Iron:
4
mg
Nutrition Facts
Vegan Vegetable Casserole
Amount per Serving
% Daily Value*
* Percent Daily Values are based on a 2000 calorie diet.
🌡️ Food safety
Cook to a minimum temperature of 165 °F (74 °C)
Do not use the same utensils on cooked food, that previously touched raw meat
Wash hands after touching raw meat
Don't leave food sitting out at room temperature for extended periods
Never leave cooking food unattended
Use oils with a high smoking point to avoid harmful compounds
Always have good ventilation when using a gas stove
See more guidelines at USDA.gov.
Nutritional Disclaimer
The information shown is an estimate provided by an online nutrition calculator. It should not be considered a substitute for a professional nutritionist's advice. See our full Nutritional Disclosure here.
Affiliate Disclaimer
Please note that some of the links here are affiliate links, and I will earn a commission if you purchase through those links. I recommend all of the products listed because they are companies I have found helpful and trustworthy.