Get over lentil bolognese! This vegan bolognese sauce contains walnuts, tomato, tofu, and fresh herbs. We use this Vegetable Bolognese Recipe to Make Vegan Spaghetti Bolognese or as stuffing for dishes like Baked Polenta, Ravioli, or even empanadas.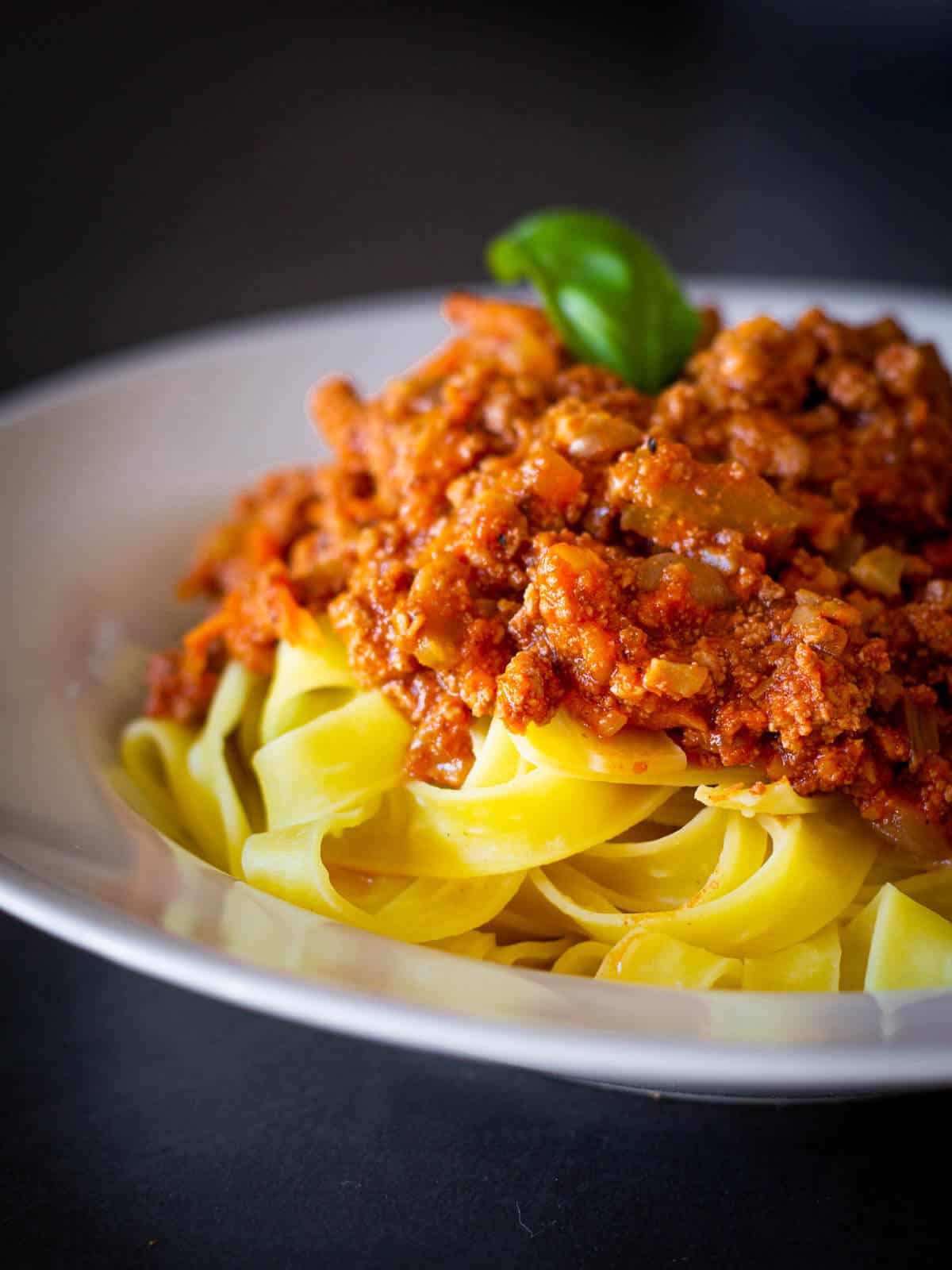 You could also call it a Tofu Bolognese recipe because we achieved our desired consistency by playing with different proportions of crumbly extra-firm tofu for texture and walnuts for richness while adding healthy fats.
We chose walnuts for this vegan bolognese sauce recipe because they have a more prominent content of fat, which helps deliver the expected creaminess of a rich and fatty meat Bolognese, which usually comes from fatty meat cuts.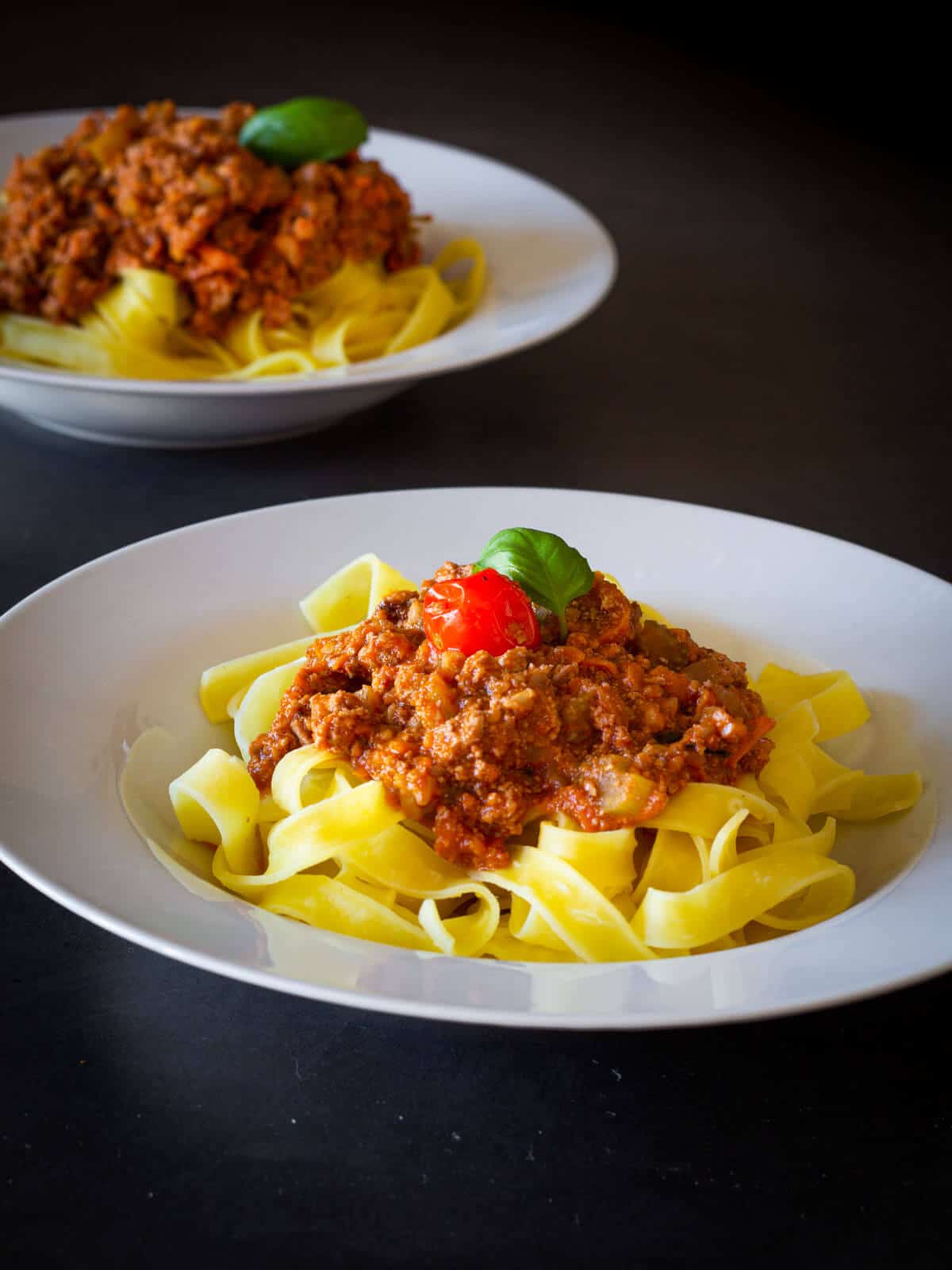 Walnuts are great for providing creamy textures in their raw state and making a high-protein vegan meal. For instance, you can simply blend them with basil or arugula, add some extra common ingredients, and get a creamy, flavourful, and preservative-free pesto.
On top of all the amazing flavor, this sauce is very nutritious, as it is high in protein, provided by the tofu, and it is also rich in vitamins and minerals provided by veggies like carrots and healthy celery.
Jump to:
🧾 Ingredients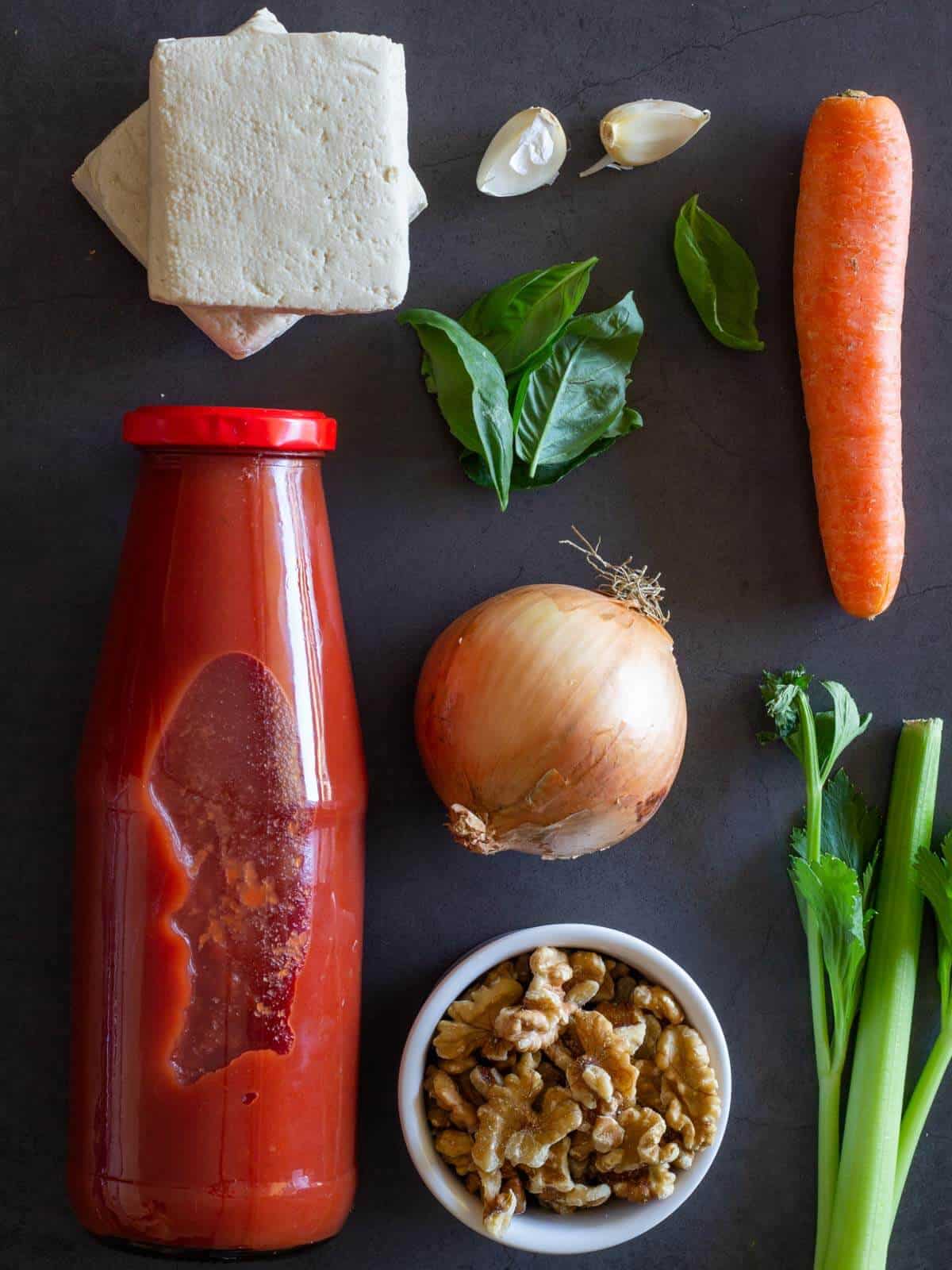 Raw Walnuts: These nutty wonders add a rich, earthy flavor that mimics the meaty essence you'd expect in a traditional bolognese. Plus, they're a great source of Omega-3 fatty acids, giving your heart some love.
Extra Firm Tofu: The real MVP for protein, extra firm tofu provides a chewy texture and absorbs flavors like a sponge. It's also low in calories and high in calcium, a win-win for your health game.
Tomato Puree: This is the soul of the dish, offering that quintessential Italian richness and acidity. Tomatoes are packed with lycopene, a potent antioxidant that's good for your skin and overall health.
Onion: Not just for tears, onions lend a sweet, aromatic base that's essential for building those complex bolognese flavors. They're also high in antioxidants and can help improve digestive health.
Garlic: Elevates the flavor profile to next-level delicious and has the bonus of antimicrobial and anti-inflammatory properties. A little goes a long way in boosting immunity and spicing up the dish.
Carrot: Adds a subtle sweetness and a vibrant color, balancing out the acidity of the tomato puree. It's a low-cal veggie loaded with beta-carotene, which converts to vitamin A in your body.
Celery: It provides a crisp texture and a peppery kick that complements the other veggies. Fun fact, it's a negative-calorie food; you burn more calories digesting it than it contains!
Basil Leaves: The herb that seals the Italian deal, basil brings a fresh, peppery aroma that takes your bolognese from "meh" to "mamma mia!" It's also rich in antioxidants and anti-inflammatory compounds.
Optional: red wine and/or tomato paste to make it richer. Plus kosher salt and black pepper to season.
See quantities and complete instructions in the recipe card.
🔪 Instructions
Making this vegan bolognese sauce is straightforward; everything goes into one pot.
Crumble the extra-firm tofu with your hands and reserve.
Clean and chop your veggies. Dice the onion, shred the carrot, mince the garlic, and finely chop the celery.
Blend the walnuts in a food processor, but not too much. We don't want it to become a paste.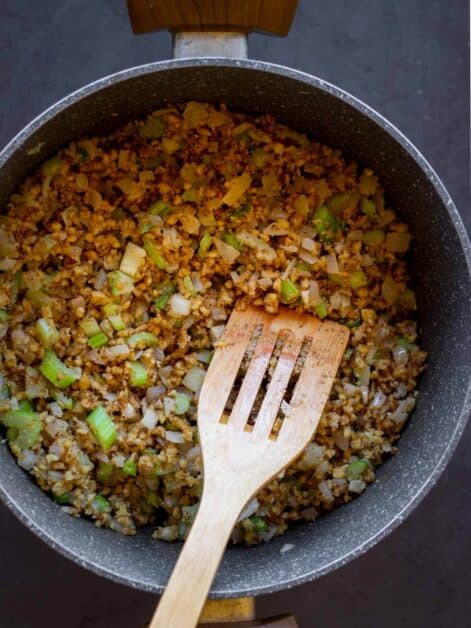 Step 1. In a medium-large saucepan or large Dutch oven, add the oil. Set to medium-high heat, and add the garlic and onion. Stir until golden brown and the onion looks translucent. Add this point, add the celery, followed by walnuts, and stir fry for a minute.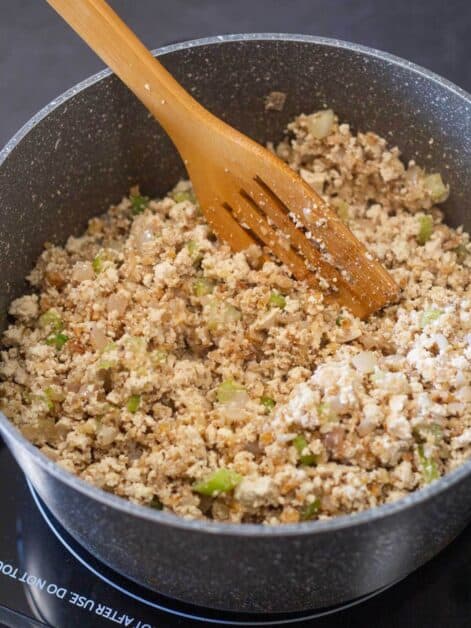 Step 2: add the crumbled extra form tofu.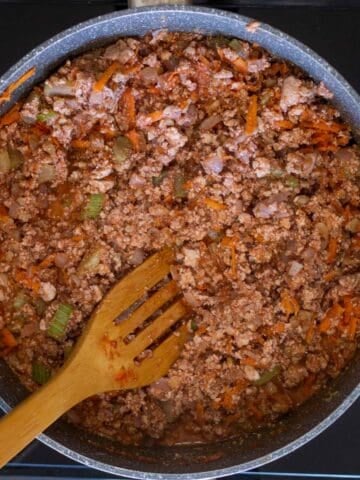 Step 3: stir in the red wine. This is optional, but we think it adds depth to the flavor and makes the sauce color a deeper red because the tofu better absorbs the wine's color than the tomato's puree. When you add the wine, you will notice that whatever might be sticking to the bottom of the saucepan will separate and become part of the sauce. This adds a lot of flavors, and it is called the Maillard reaction. This effect reduces the sugars present in the onion. You can choose to use tomato paste (extract) in replacement or in addition to the wine for a thicker and more red sauce.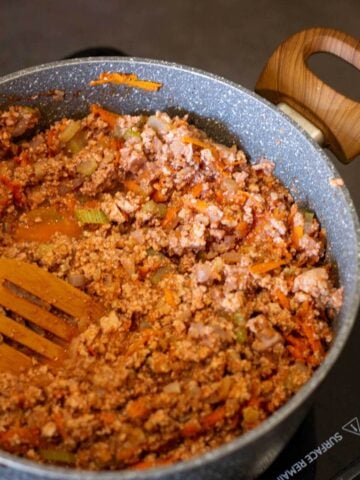 Step 4: Add the Carrot. It should be shredded.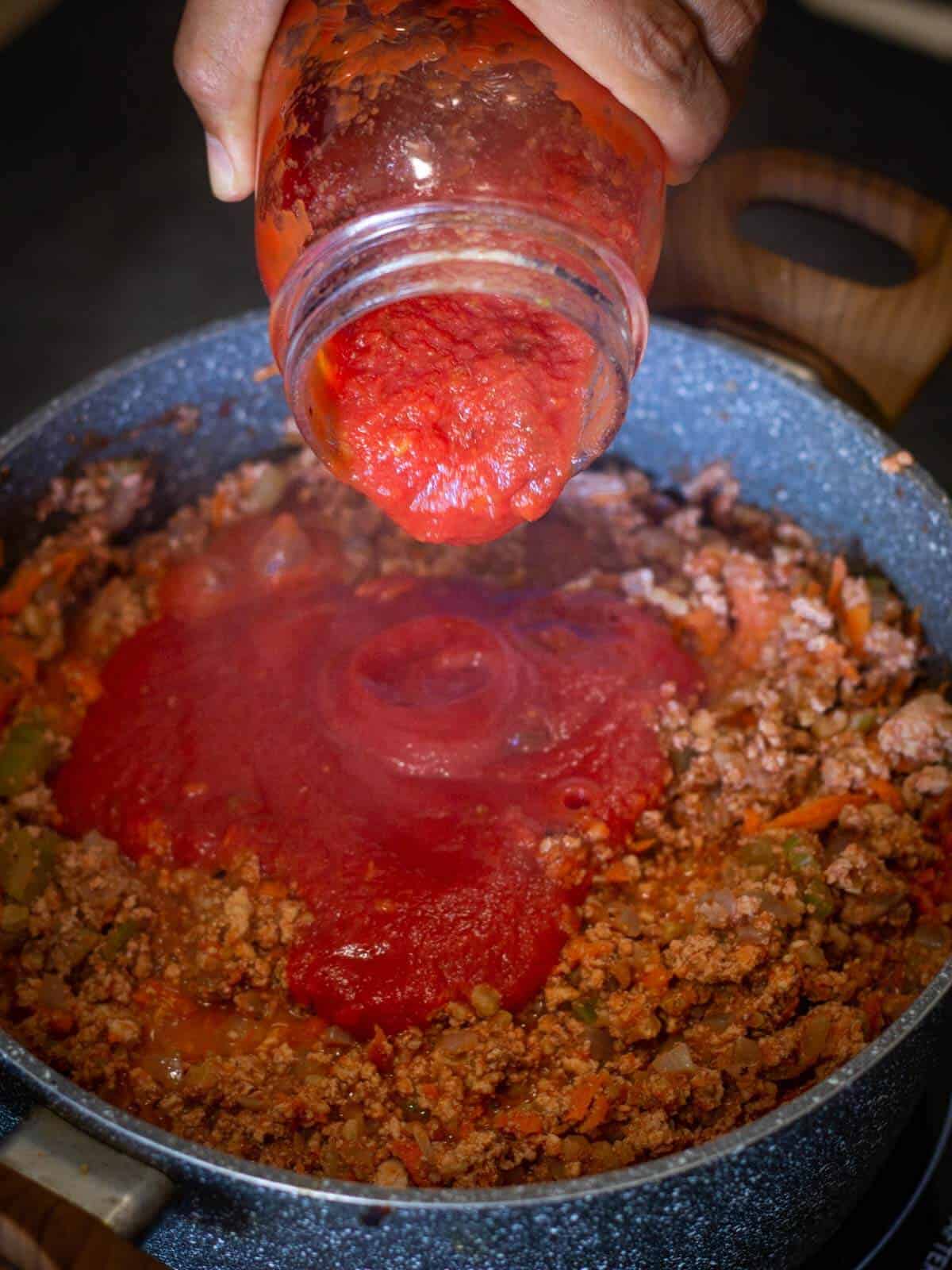 Step 5: Stir in the tomato sauce and finely chopped basil. Now lower the heat to medium-low. Keep frequently stirring to prevent the veggie crumbles from sticking to the bottom of the saucepan. Let the sauce cook for 30 minutes or until the desired consistency and flavor are achieved.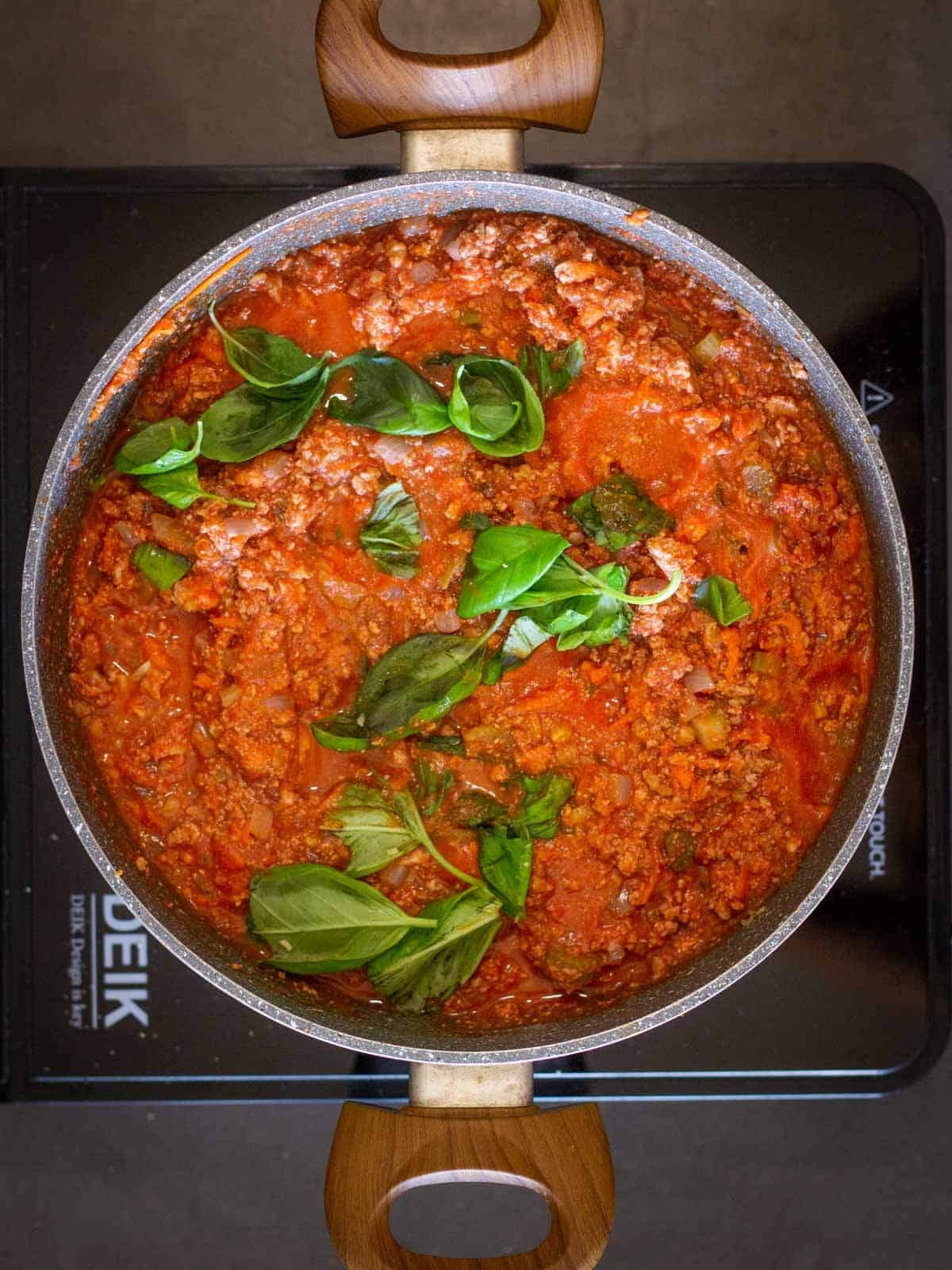 Step 6: Add fresh basil, salt and pepper to taste and serve immediately on cooked pasta. Use some pasta water to stir in the "meat" sauce.
Keep an eye out; you might want to add ½ cup of water if the sauce is too thick and the flavors are still not optional. This means more cooking is needed.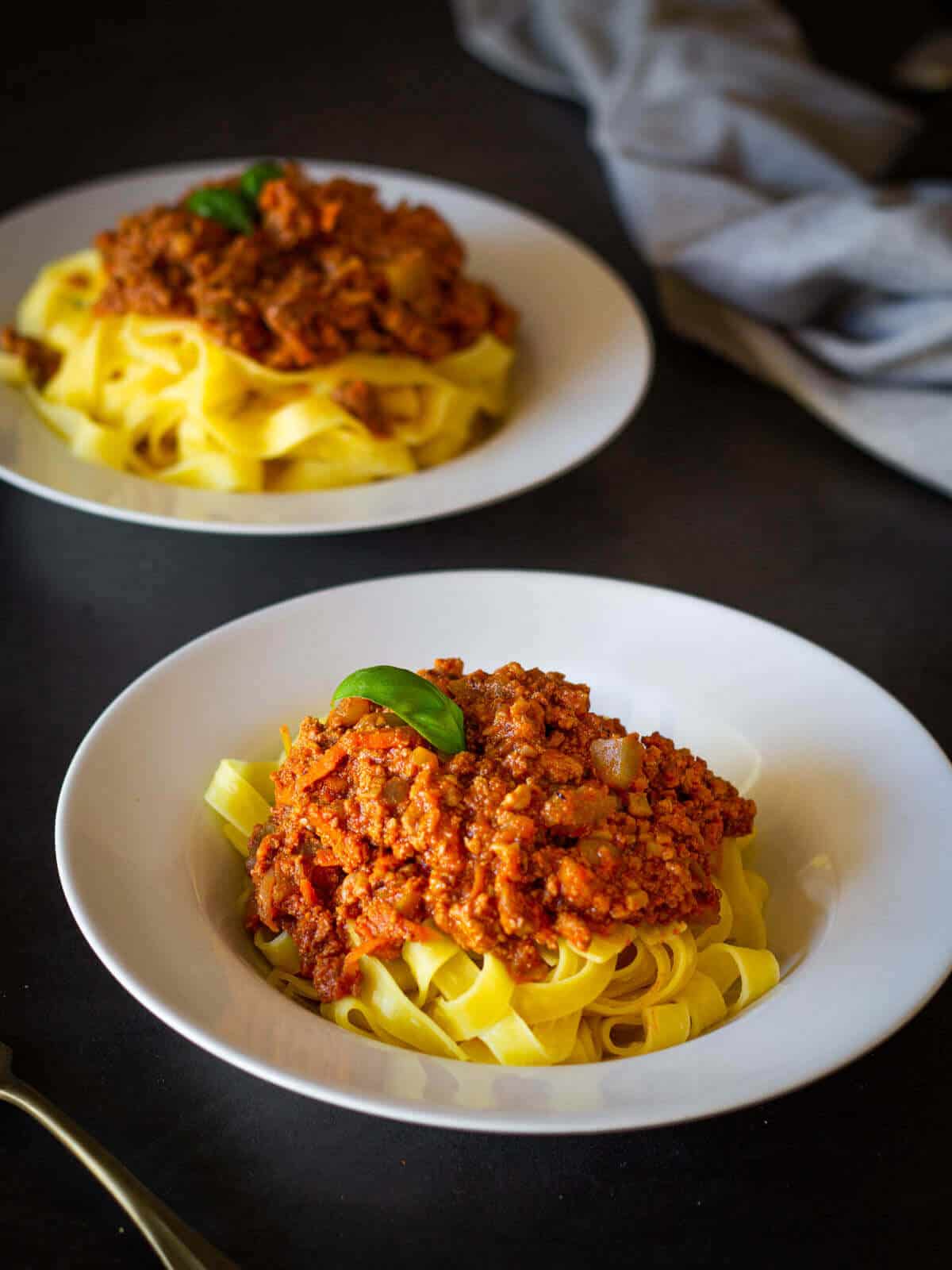 Hint: Italians say that if you don't add salt to the boiling water, your pasta will never be well-salted.
📖 Variations
Thickness: we use this recipe to make many others, such as Stuffed Vegetables, Baked Polenta, as a filling for Vegan Empanadas Dough, potato casseroles, or simply for a nice bowl of pasta.
You can adjust the thickness of the vegetarian Bolognese sauce for any recipe by simply adding ½ cup of water at a time while cooking. Then, wait until the heat evaporates as much water as you want until you reach the desired consistency.
Spicy - add red pepper flakes (pepperoncini) to add a spicy note.
🥢 How to serve
Normally you just put it on top of your cooked pasta and optionally add some olive oil and parmesan. We love topping it with our Homemade Vegan Parmesan cheese with a base of walnuts and nutritional yeast or a base of sunflower seeds, which makes it cheaper.
You can also mix it before serving to make things easier in a family setting.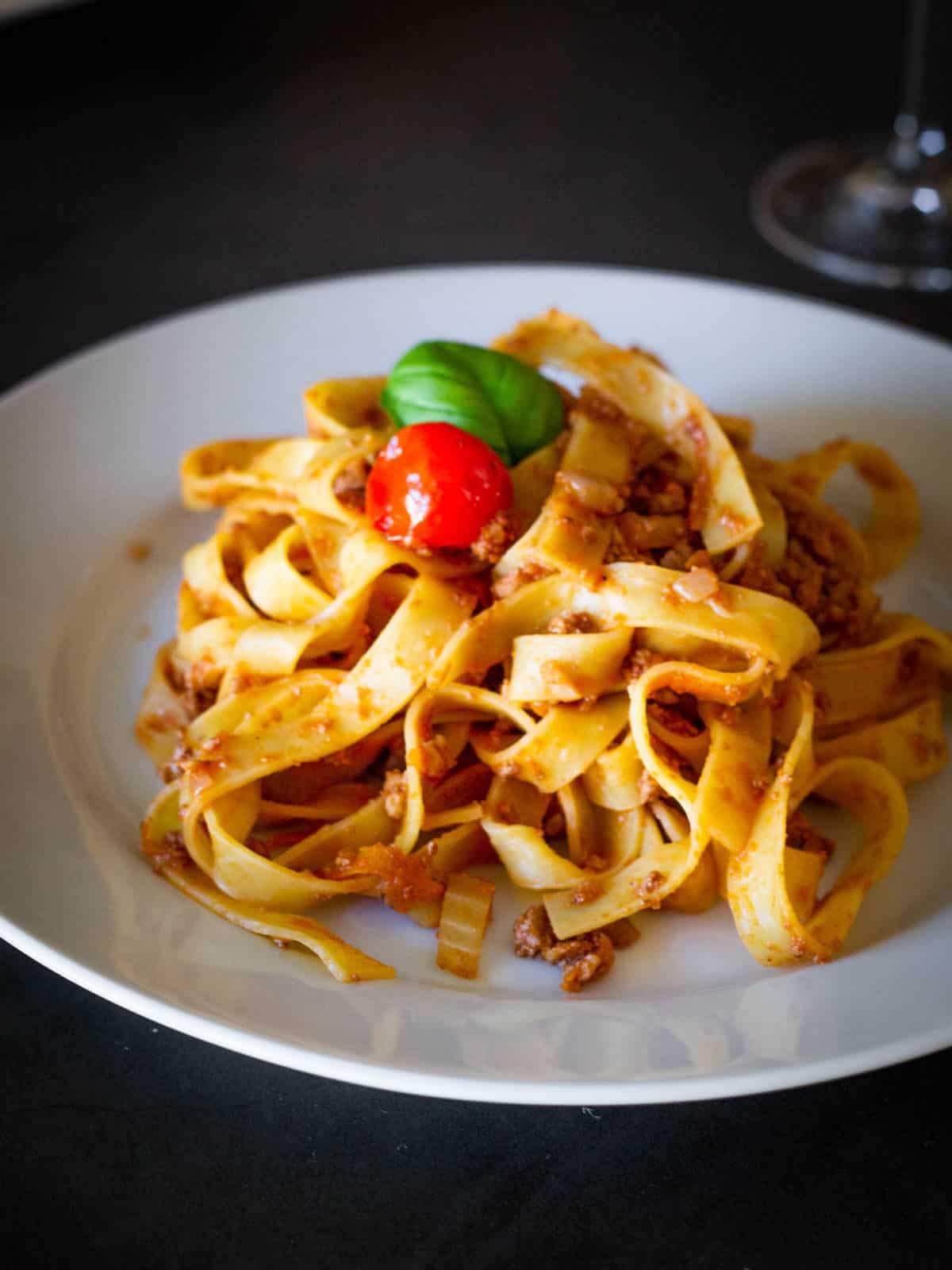 🍶 Substitutions
Nuts - if you have a nut allergy, you can substitute the walnuts for the same weight as extra-firm tofu.
Herbs - feel free to change basil for oregano. It is a matter of personal taste. I tend to use more dried oregano for this easy vegan bolognese sauce as stuffing for empanadas or polenta.
Crushed tomatoes - you can use tomato canned tomatoes instead.
Tofu - you can use your favorite vegan mince, soy curls, or mock meat.
Pasta - use gluten-free pasta for a gluten-free pasta dish. You can also serve it with spaghetti squash or zucchini noodles.
🥡 Storage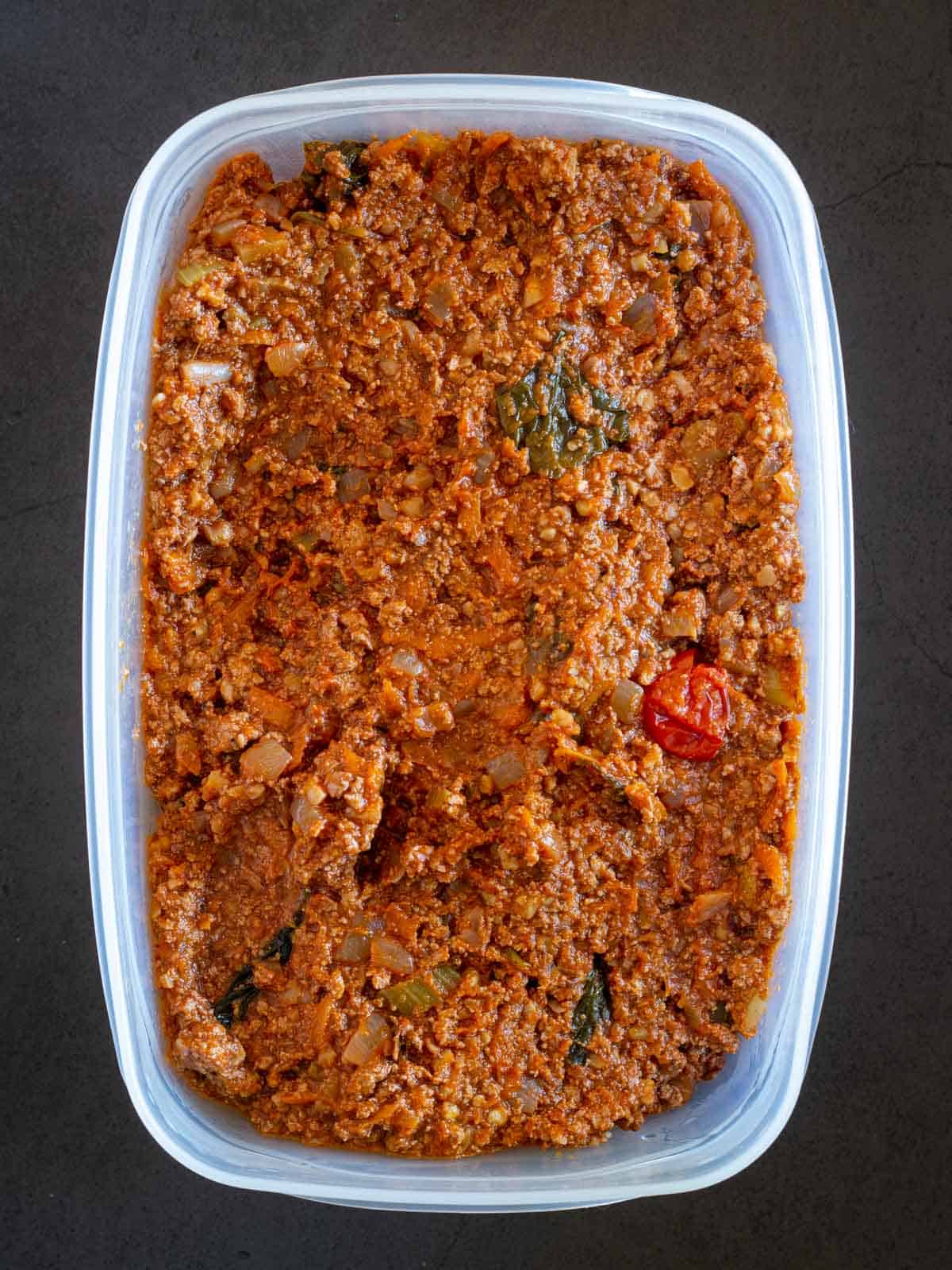 Leftover bolognese sauce freezes and thaws very well. We love making it in large quantities because we use it for many other recipes.
Simply store the tofu pasta sauce in an airtight container and keep it in the freezer for up to 3 months. To thaw, leave it in the refrigerator the night before using it. You will notice that after thawing, there will be liquid at the bottom, don't worry; it will be incorporated back into the sauce as you reheat it.
❓ FAQ
How do you add flavor to bolognese?
If you want to add some extra flavor, here are some suggestions.
You can add an organic vegetable broth cube and try some marjoram or oregano, garlic powder, and basil.
One that you would not think of but can add a very interesting note is a secret ingredient, and it will make your vegan bolognese taste as if it came straight from "la cucina della Nonna": Nutmeg. It really makes it taste like a traditional bolognese, definitely one of the best foods to eat in Italy, and also a super easy vegan sauce to make.
Just a pinch, but it will give your bolognese that special aromatic note.
What pasta to use?
You can use this tofu spaghetti bolognese for Tagliatelle, Pappardelle, or even as stuffing for your Ravioli.
Time: If you are using your veggie Bolognese sauce for dry pasta after 15 minutes have elapsed since you have added all the ingredients to the sauce, set the water to boil, add salt and a bay leaf, and then add the pasta. Cook as per package instructions.
In total, you need 5 minutes for your water to come to a boil and roughly 10 minutes for your dry pasta to be ready (read the instructions on the package). Remember to add a tablespoon of salt to your boiling water.
Fresh pasta typically needs from 3 to 5 minutes of cooking time; no more! That way, your pasta will be "al-dente."
Pasta recommendation: although it is common to eat Spaghetti Alla Bolognese, if you want to be closer to the real Bolognese, as they eat it here in Italy, more specifically, in Bologna, choose Tagliatelle (which means cut pasta, Tagliare (verb) = to cut).
Tagliatelle, are like ribbons; they have a wider cut than the spaghetti but narrower than the Pappardelle. This allows more sauce to stick to a wider surface of your pasta, allowing you to have a more flavorful bite.
If you can get fresh pasta, even better. This is how to make easy Vegan Tagliatelle at home from scratch. It takes minutes.
📚 More Veganized, delicious vegan recipes
⭐ If you try this vegan bolognese pasta recipe, let us know! 💬 Leave a comment, rate it, and don't forget to tag us @ourplantbasedworld on Instagram. Cheers!
📋 Recipe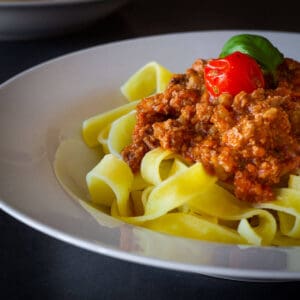 Vegan Bolognese Sauce Recipe (Tofu Bolognese)
We use this Vegetable Bolognese Recipe as the base to make Vegan spaghetti Bolognese or as stuffing for dishes like Baked Polenta, Ravioli, or even Argentinean Vegan empanadas.
Equipment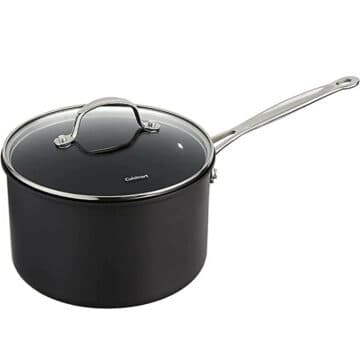 (affiliate link)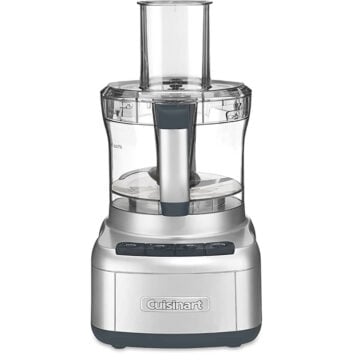 (affiliate link)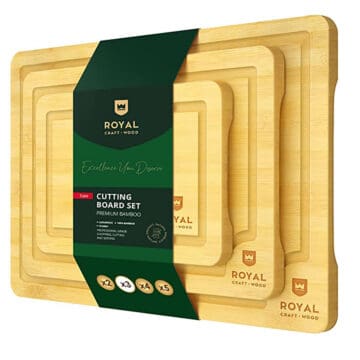 (affiliate link)
Directions
Crumble Tofu: Use your hands to crumble the extra firm tofu. Set aside.

Prep Veggies: Give the veggies a good rinse under running water. Dice the onion, shred the carrot, mince the garlic, and finely chop the celery.

Walnut Mix: Blitz the walnuts in a food processor, but be cautious; we're aiming for a crumbled texture, not a paste. Alternatively, finely chop them.

Sauté: If using oil, heat it in a medium-large saucepan over medium-high heat. Start with the garlic, followed by the onion. Cook until golden and translucent. Now, add the celery.

Introduce Protein: Fold in the crumbled walnuts, giving them a minute to integrate, then introduce the tofu.

Wine Boost: For an added depth of flavor, pour in the optional wine. It not only adds taste but also helps in un-sticking any residue at the pan's bottom.

Carrots & Tomatoes: Toss in the shredded carrots, tomato puree, and fresh basil. Reduce the heat to medium-low, stirring occasionally. Cook for 30 minutes. If desired, add tomato paste for a richer flavor. Too thick? Feel free to introduce ½ cup of water to adjust consistency.

Final Touch: Season with salt and pepper to taste.
Notes
Thickness: we use this recipe to make many others, such as Stuffed Vegetables, Baked Polenta, as a filling for Empanadas, potato casseroles, or simply for a nice bowl of pasta.
You can adjust the thickness of the vegetarian Bolognese sauce for the recipe you are using, simply adding ½ cup of water at a time while cooking and wait until the heat evaporates as much water as you want.
Nutrition Facts
Calories:
640
kcal
Carbohydrates:
23
g
Protein:
21
g
Fat:
54
g
Saturated Fat:
5
g
Polyunsaturated Fat:
37
g
Monounsaturated Fat:
10
g
Sodium:
37
mg
Potassium:
736
mg
Fiber:
8
g
Sugar:
7
g
Vitamin A:
3267
IU
Vitamin C:
12
mg
Calcium:
234
mg
Iron:
5
mg
Nutrition Facts
Vegan Bolognese Sauce Recipe (Tofu Bolognese)
Amount per Serving
% Daily Value*
* Percent Daily Values are based on a 2000 calorie diet.
Nutritional Disclaimer
The information shown is an estimate provided by an online nutrition calculator. It should not be considered a substitute for a professional nutritionist's advice. See our full Nutritional Disclosure here.
Affiliate Disclaimer
Please note that some of the links here are affiliate links, and I will earn a commission if you purchase through those links. I recommend all of the products listed because they are companies I have found helpful and trustworthy.