Cornbread stuffing is a Thanksgiving classic but can be difficult to make gluten-free. This recipe uses our basic cornbread gluten-free recipe as the base and adds ins like onion, celery, sage, and cranberries for a delicious stuffing that everyone will love. Best of all, it's simple to make and can be prepared ahead of time so you can relax on Thanksgiving day. Give this gluten-free cornbread stuffing a try this year!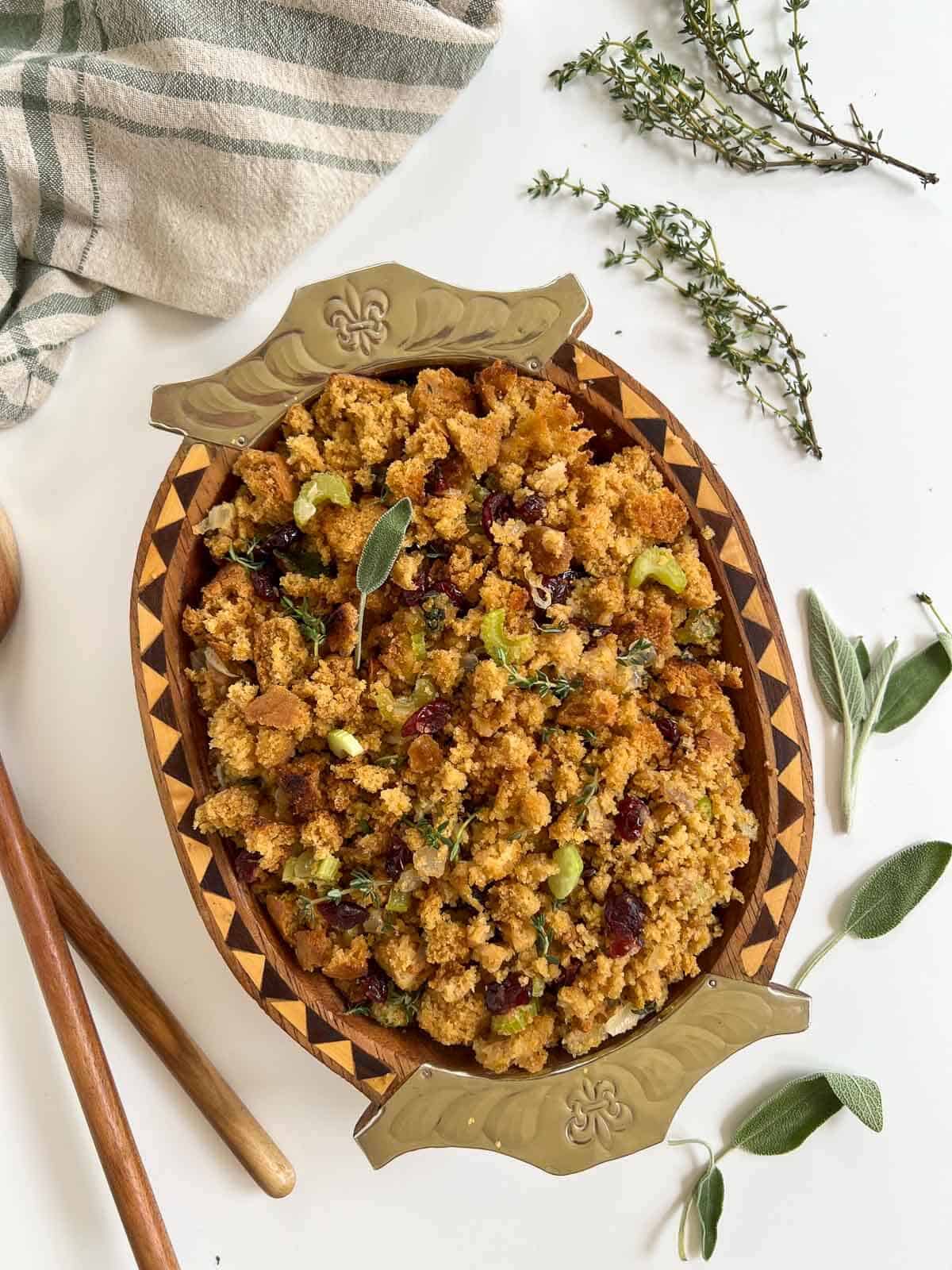 Although we love making buttermilk cornbread with bean chili year long because cornbread batter is made in one bowl and is mysteriously easy to bake, it is not until the Fall season that we start making this vegan cranberry cornbread because it pairs beautifully with sage butter, making it the dreamed Autumn delight!
This egg-free cornbread dressing side dish goes perfectly on any Thanksgiving or Christmas holiday table, served with a kale salad with maple-balsamic dressing and glazed tofu steaks.
Jump to:
🧾 Ingredients
Make this gluten-free cornbread stuffing with just a few kitchen staples and shine with pure comfort food flavors.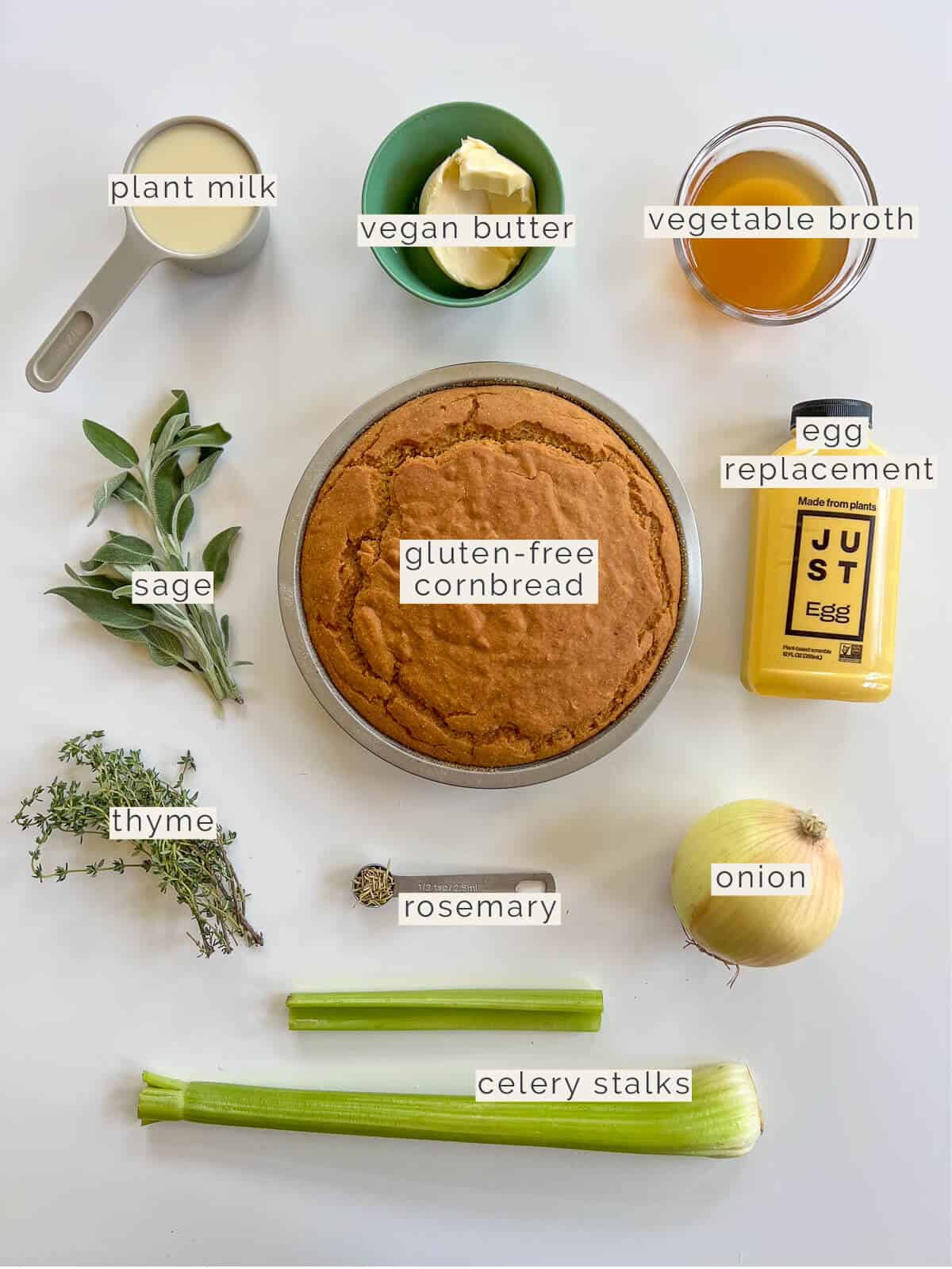 Vegan butter: It provides a rich and creamy texture, enhancing the flavor and moisture of the dish without using animal-derived ingredients.
Fresh sage: It adds a distinct earthy and savory flavor, complementing the other ingredients and adding depth to the overall taste.
Chopped fresh rosemary: It contributes a fragrant and pine-like aroma, infusing the dish with a subtle herbal taste.
Fresh thyme: It imparts a slightly floral and earthy flavor, elevating the overall taste profile of the dish.
Onion: It adds a savory and slightly sweet flavor, providing a solid base for the other ingredients and enhancing the overall taste.
Celery stalks: They offer a crisp texture and a subtle, refreshing taste, adding a mild and refreshing note to the dish.
Homemade gluten-free cornbread recipe: It serves as the main ingredient in the stuffing, providing a delicious and gluten-free base that absorbs the flavors of the other ingredients.
Egg replacement: It acts as a binding agent, replacing eggs in traditional recipes, and helps to hold the stuffing together without compromising its texture.
Vegetable broth: It adds moisture and savory depth to the stuffing, infusing it with flavors and preventing it from becoming dry during cooking.
Plant milk: It contributes moisture and richness to the stuffing, ensuring a moist and tender texture, while also providing a creamy element without using dairy products.
Optional ingredients
Dried cranberries and toasted pecans: The cranberries offer a sweet and tangy burst of flavor, while the toasted pecans provide a crunchy texture and a nutty taste, adding complexity to the stuffing.
See the recipe card for quantities.
🔪 Instructions
To make this vegan cornbread stuffing, you just need to sautee a couple of fresh veggies: bake them with the cornbread dice, and add the final touch by tossing some cranberries and chopped pecans.
Hint: make gluten-free cornbread a day ahead if you want to save some time for the Thanksgiving meal.
Read on: to make this cornbread stuffing gluten-free use our recipe for gluten-free cornbread and make your own gluten-free flour (recipe)
Preheat the oven to 375 º F (190 ºC).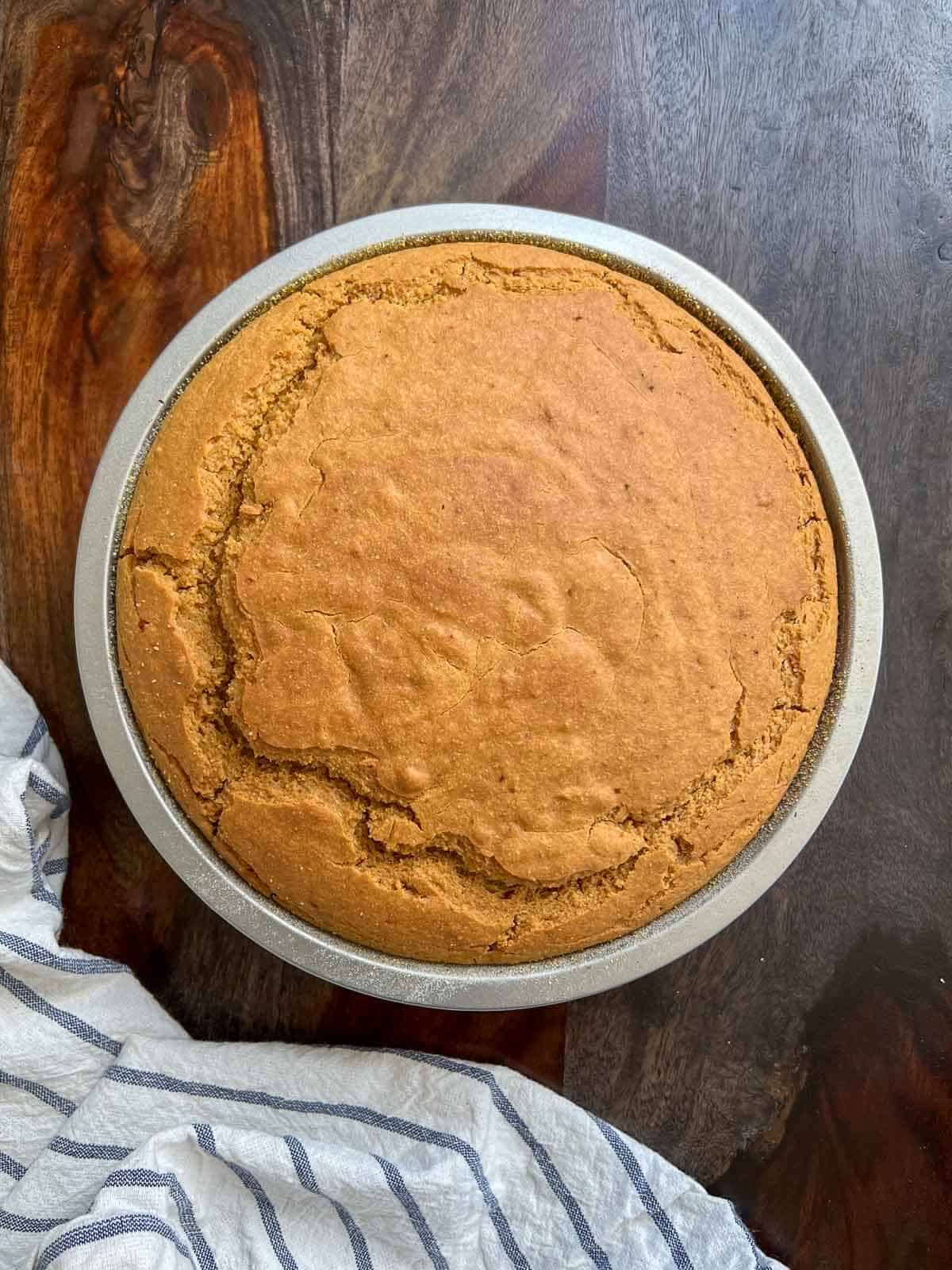 Make homemade cornbread.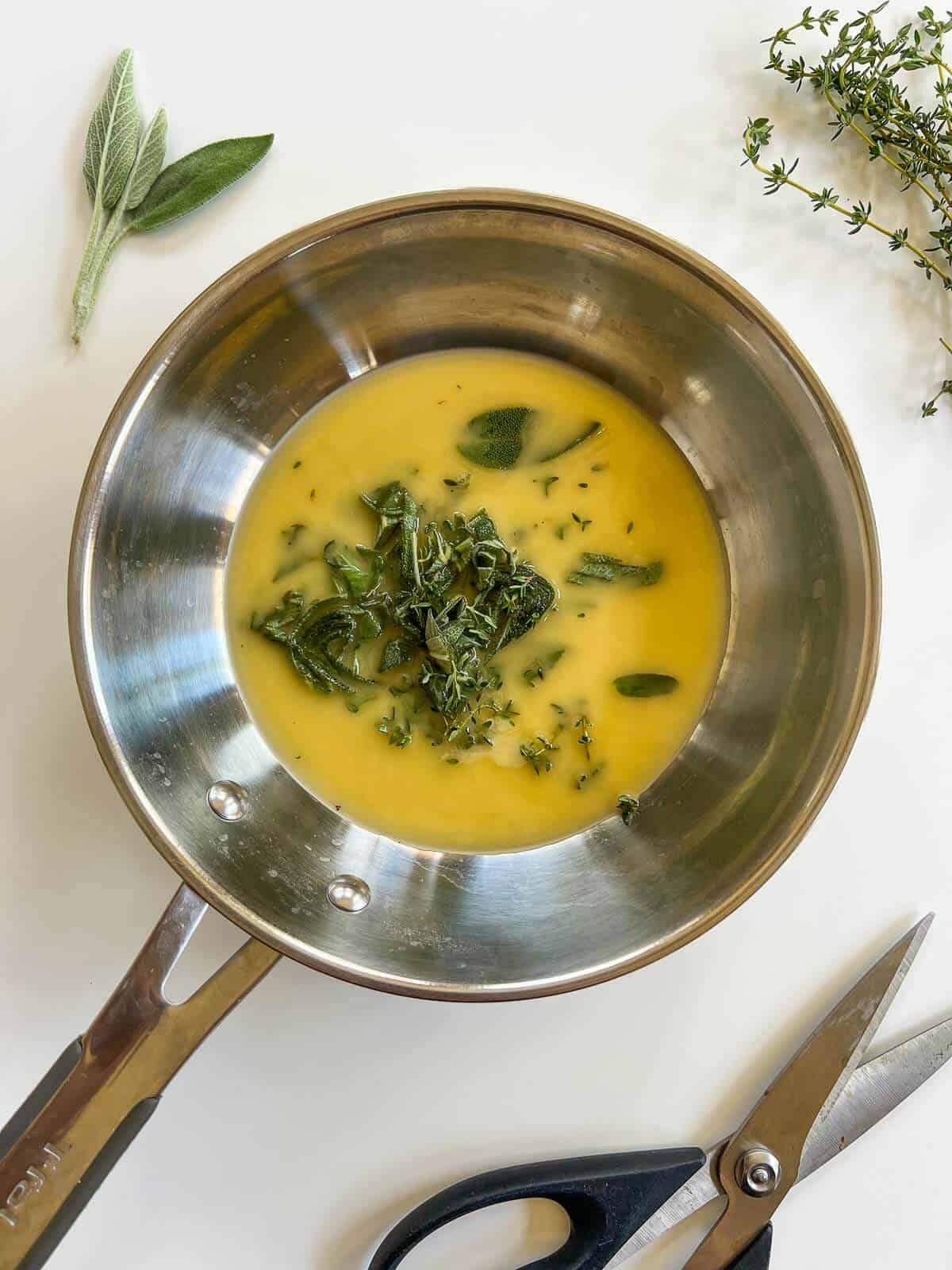 Melt butter and chop fresh sage on top, cooking on low heat for 2-3 minutes.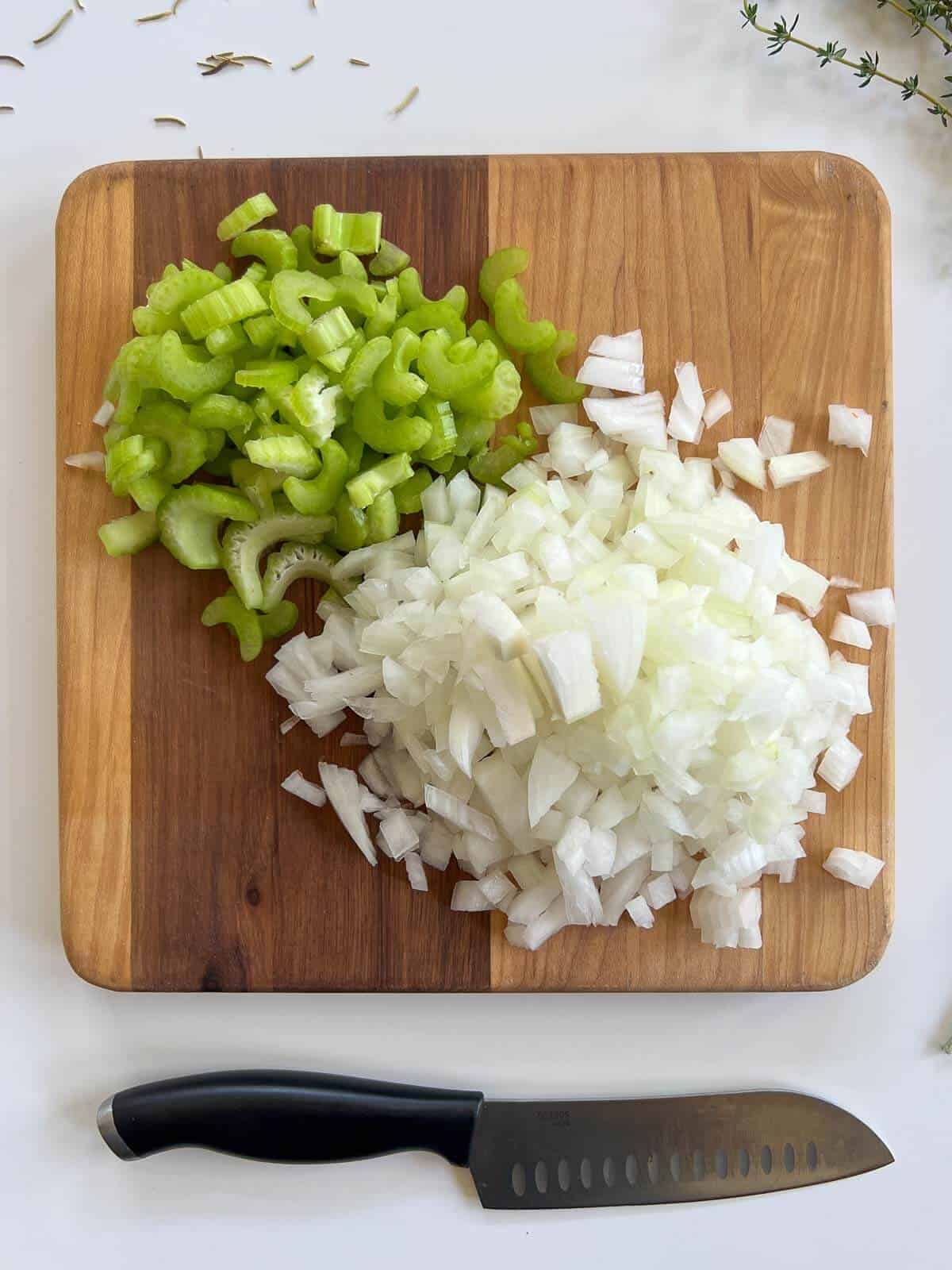 Chop onions and celery.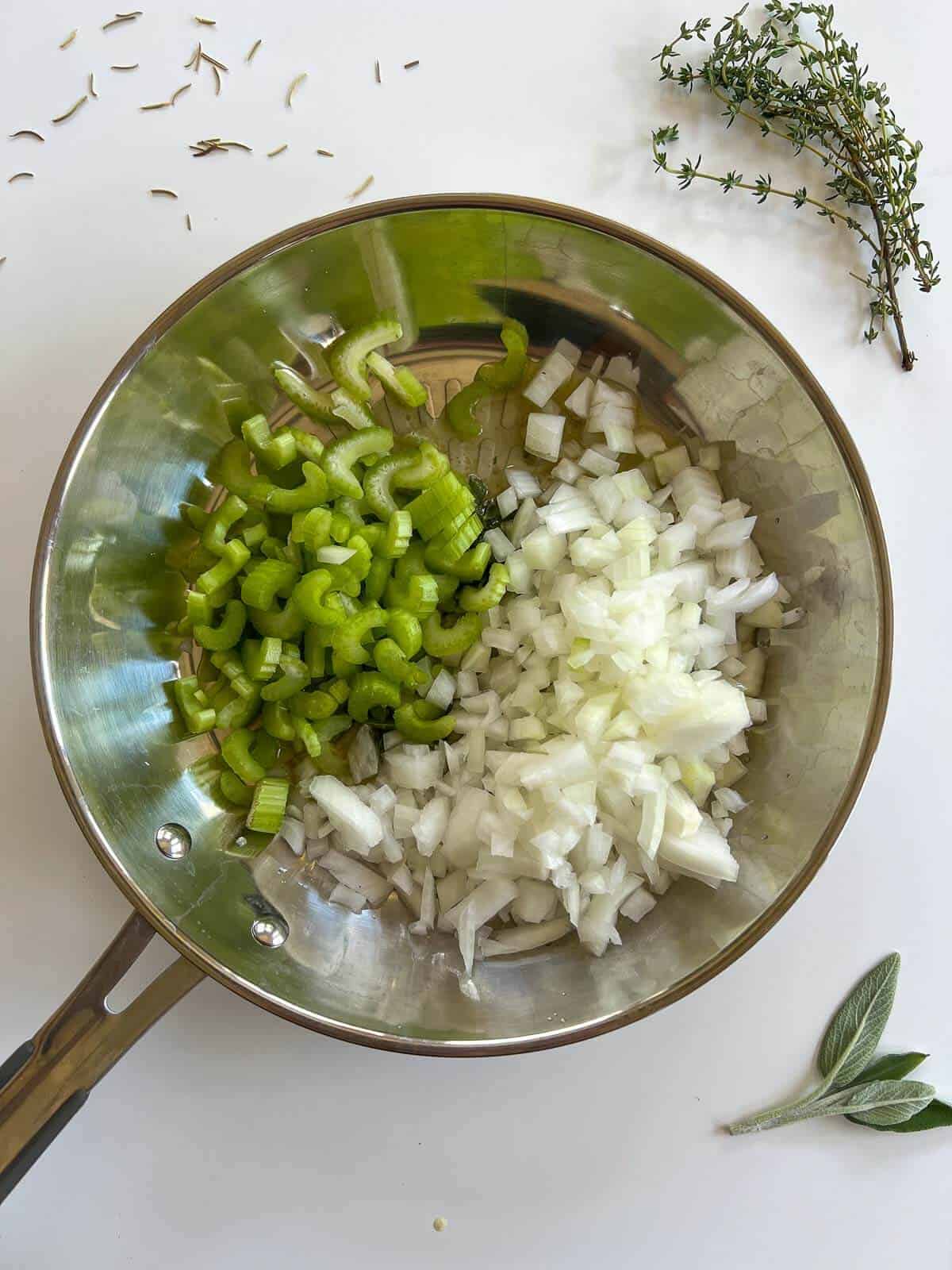 Sautee diced onion and celery in butter on medium heat in a large skillet.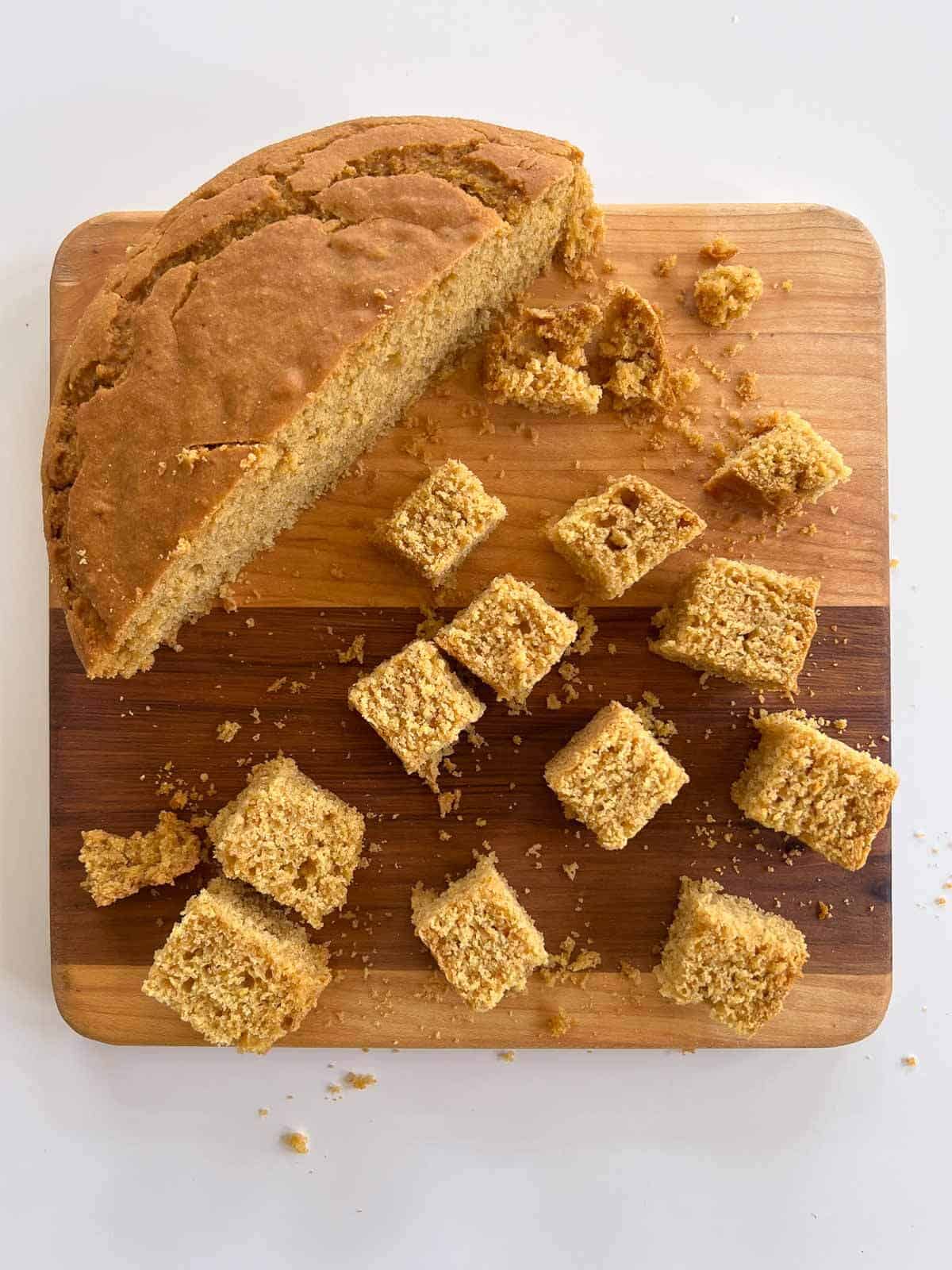 Dice the pre-made gluten-free cornbread.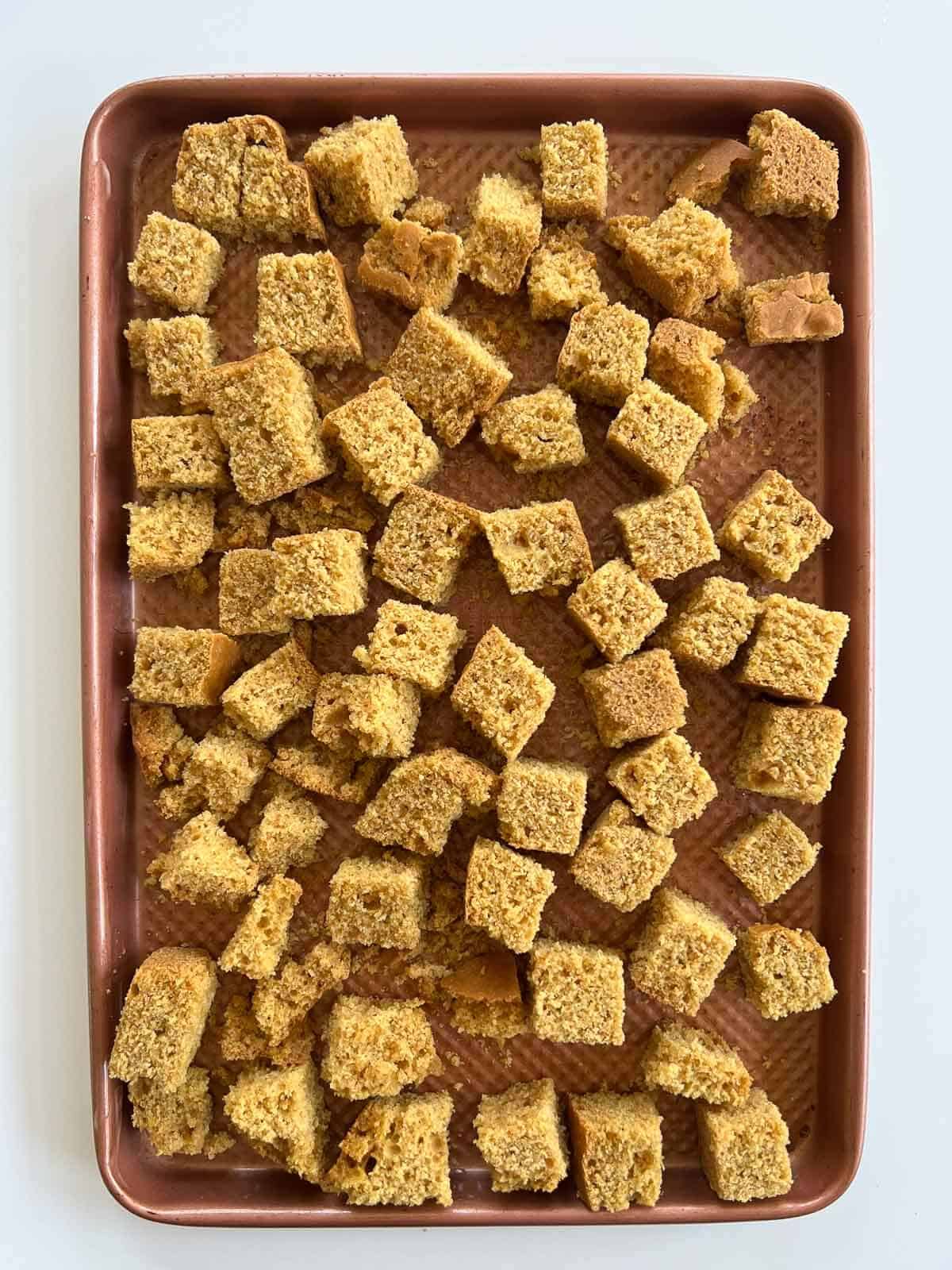 Use nonstick cooking spray and arrange cornbread cubes on a baking sheet.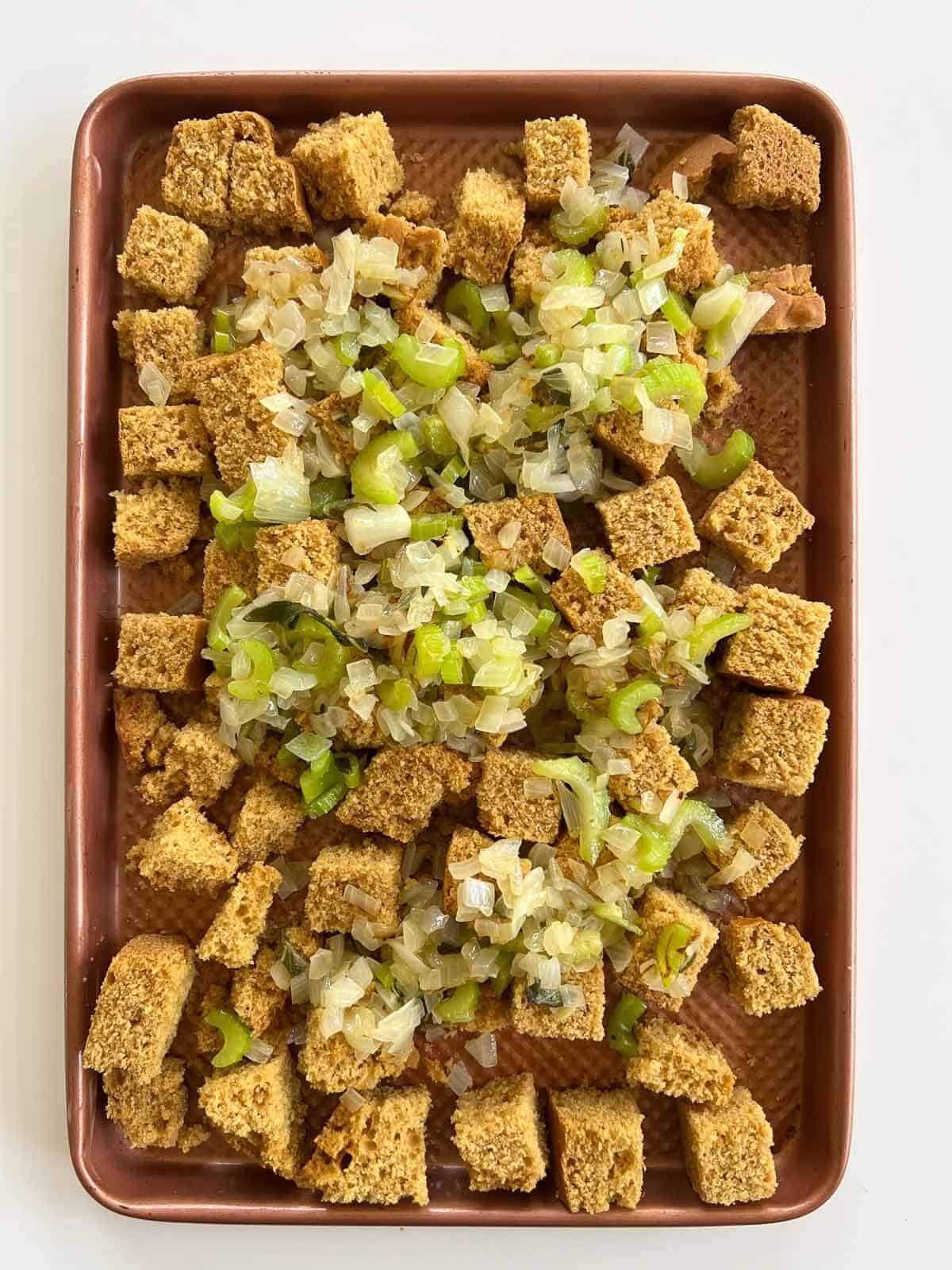 Add the cooked vegetables on top.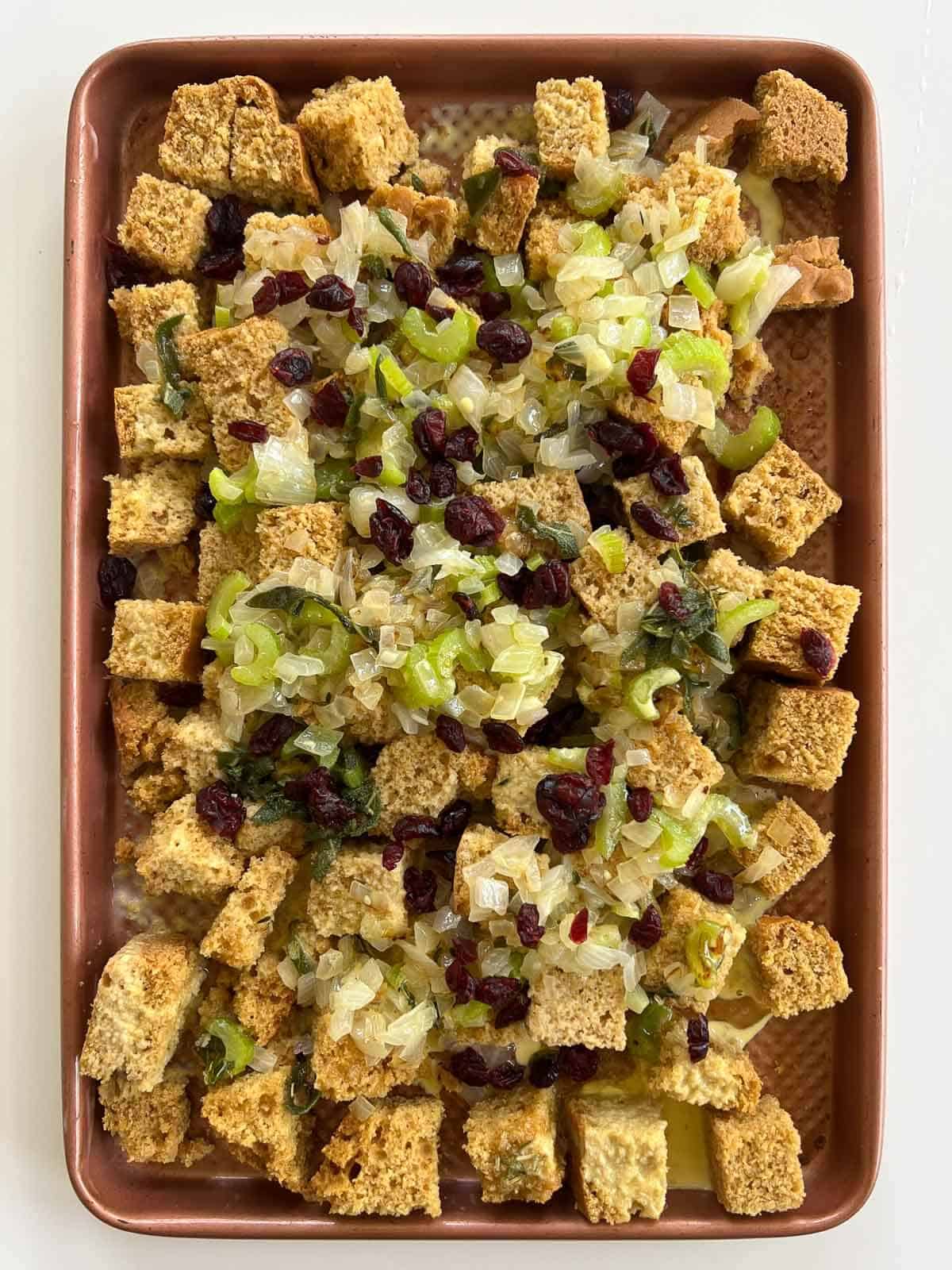 Followed by cranberries and stir egg replacement, vegetable broth, remaining melted butter, non-dairy milk, and salt. Cover with foil and bake.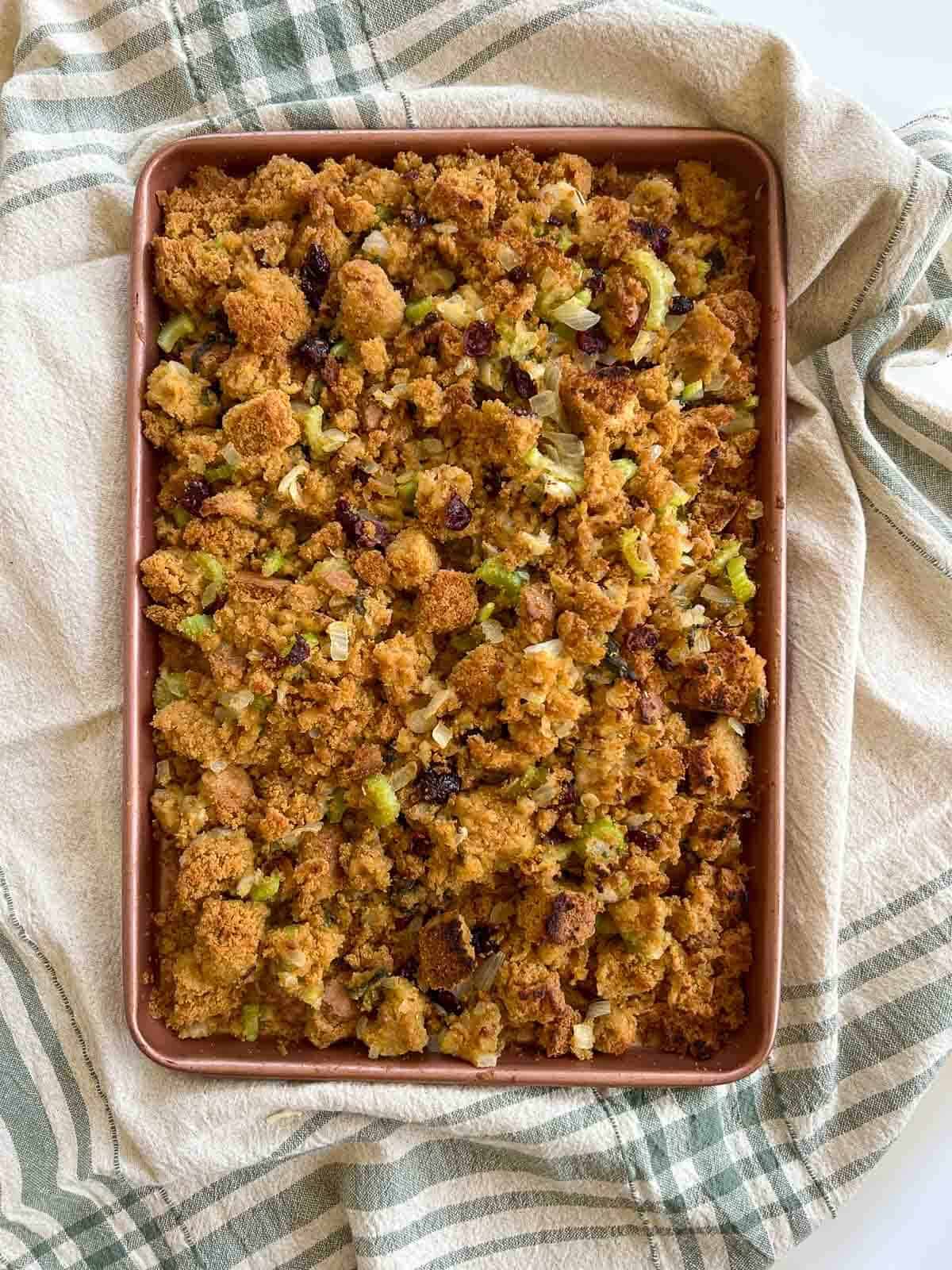 Remove the foil, and broil for another 5 minutes until golden brown. Lightly toast the pecans on a skillet.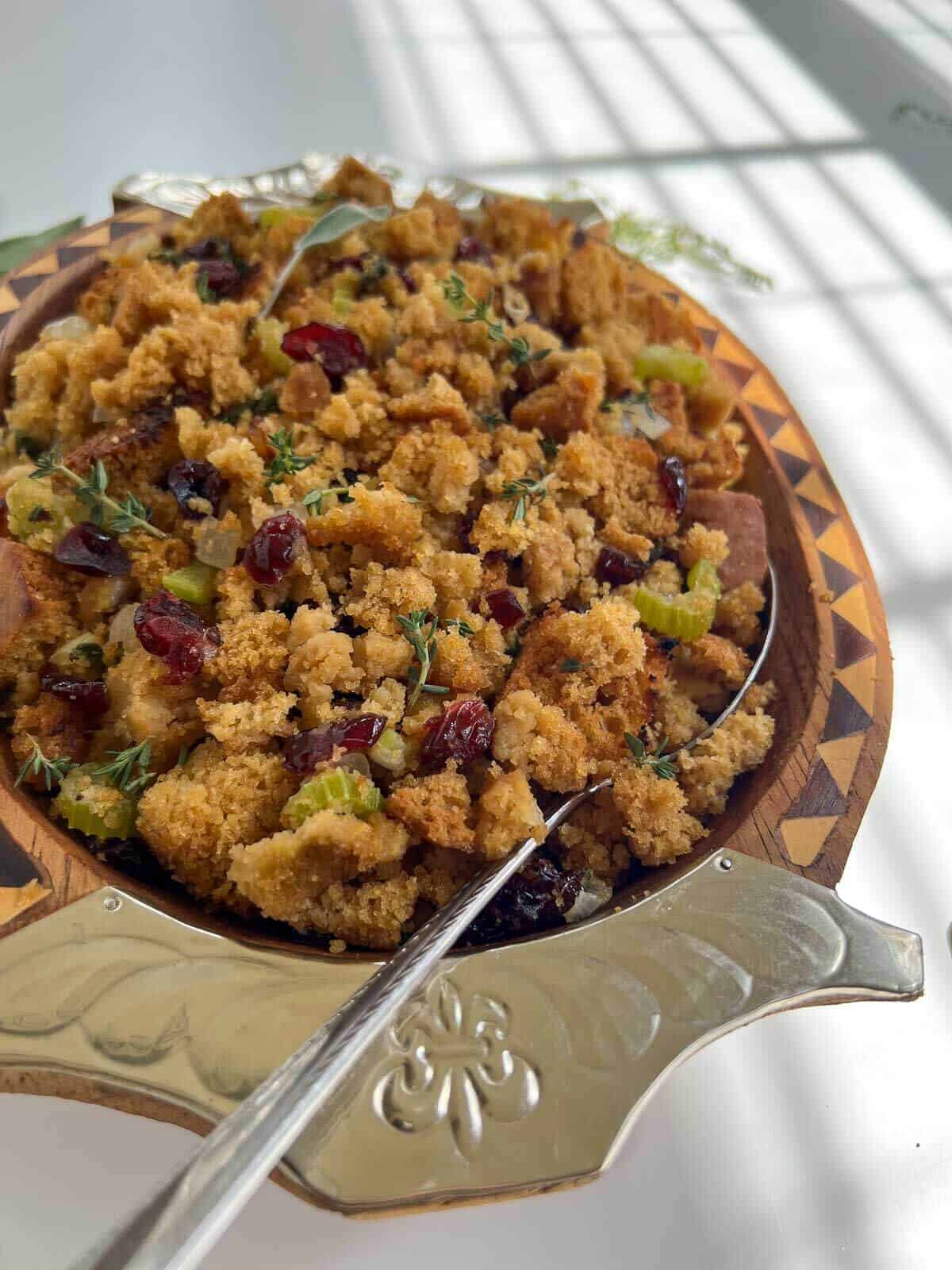 Toss the lightly toasted pecan nuts and garnish with fresh herbs in a casserole dish. Stir to combine.
Hint: For moist stuffing, sprinkle extra plant milk.
🥢 How to serve
Serve on any Holiday meal with a fresh kale salad, and roasted Brussels sprouts as side dishes for a delicious nut roast with mushroom gravy, and vegan mashed potatoes.
🍶 Substitutions
Pecans - instead of pecan nuts, you could use walnuts.
Cranberries - use sweet and sour dried raisins or black carries instead.
Egg replacer - you can replace it with flex meal eggs, combining one tablespoon of flax meal and 3 tablespoons of water for each one.
Onions - use leeks instead.
Vegan butter - use extra-virgin olive oil or melted coconut oil.
📖 Variations
🍽 Equipment
To make your gluten-free cornbread stuffing, you will need a baking dish for the bread and a rimmed baking sheet to bake the stuffing.
To mix the liquid ingredients, you can use a large bowl and a whisk: then pour the mixture over the cubed cornbread. Optionally cover with foil so the flavors meld more evenly.
🥡 Storage
Store the vegan cornbread stuffing using an airtight container in the fridge for 3-4 days. Sprinkle almond milk or vegetable broth before reheating to prevent it from drying out. Add some freshly toasted pecans before serving.
This gluten-free cornbread stuffing can be frozen, but I recommend not thawing completely and baking it in the oven while frozen so it doesn't become mushy.
💡 Top tips
To make the stuffing ahead, do everything and save some melted butter to toss right before serving.
We like having different textures, so we cut the dried cornbread cubes into different sizes. If you think it is too chunky, you can break the bigger dice with the back of the wooden spoon when plating.
Give a good stir to the vegan cornbread dressing right before serving.
📚 More Holiday Recipes
Pair this vegetarian stuffing with sweet mashed potatoes, vegetable and lentil casserole, glazed roasted carrots, and stuffed baked onions.
Don't forget to pair this add unsweetened homemade apple sauce and the most delicious pumpkin pie, a green bean sausage, and potato casserole, and a sweet potato crunch to make a memorable banquet.
Start the day using homemade pumpkin spice mix, to make pumpkin pancakes, overnight oats, and pumpkin latte!
❓ FAQ
How do you make gluten-free cornbread stuffing?
You just need to make cornbread using a store-bought gluten-free mix or make it yourself within minutes.
Is there any vegan stuffing?
Yes. Cornbread stuffing and mushroom-based stuffings are amongst the most popular vegan stuffing options.
How do you keep cornbread dressing from being gummy?
Right before serving, put in a preheated oven and broil for 3-5 minutes depending on how much moisture there is. This will evaporate the humidity and make the cornbread crunchier.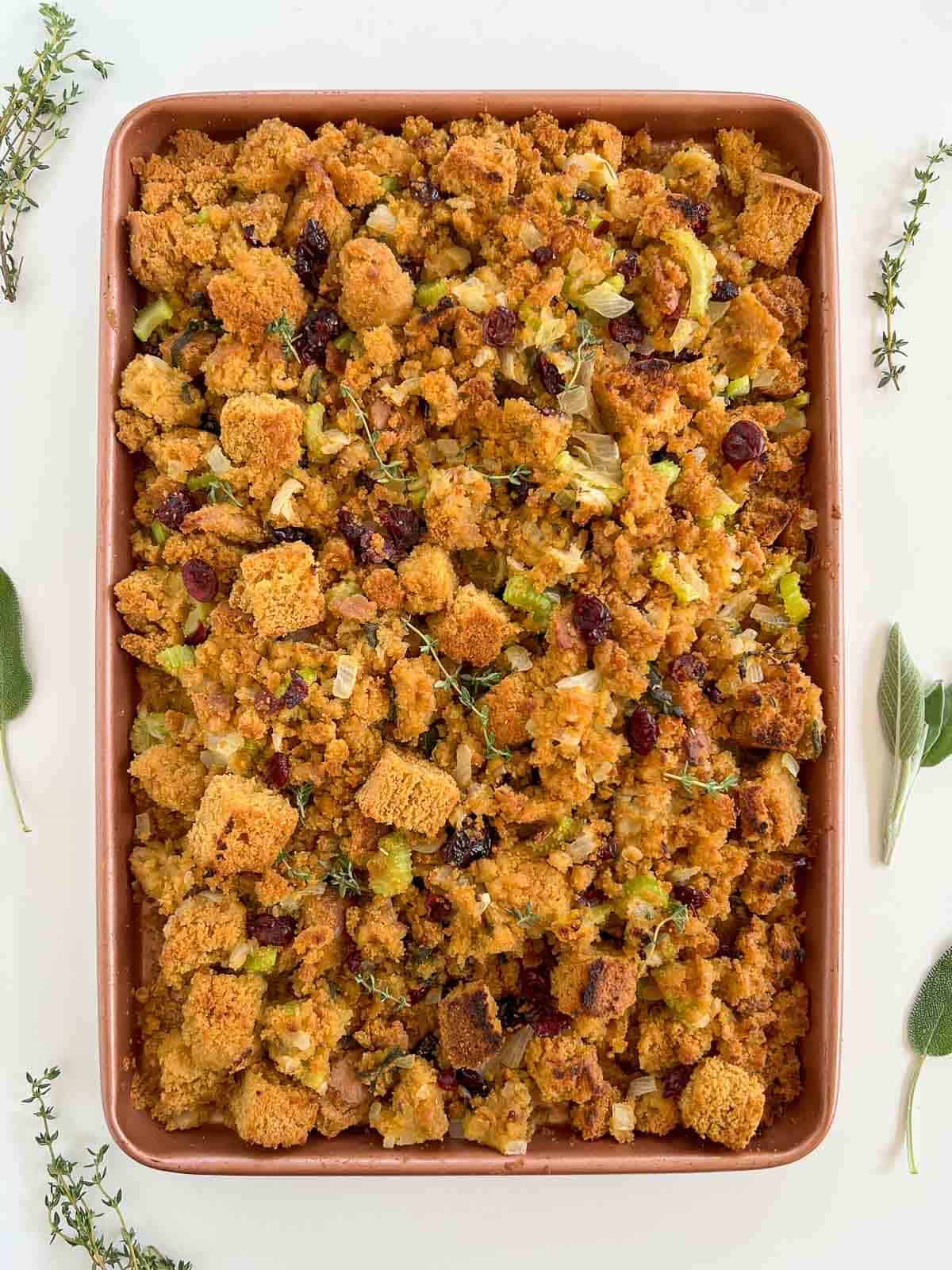 ⭐ If you try this gluten-free stuffing recipe, let us know! 💬 Leave a comment, rate it, and don't forget to tag us @ourplantbasedworld on Instagram. Cheers!
📋 Recipe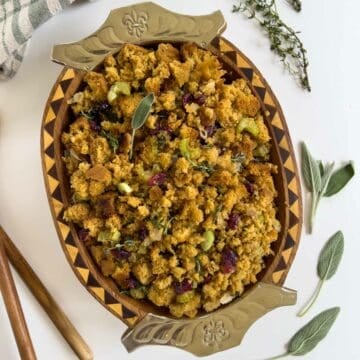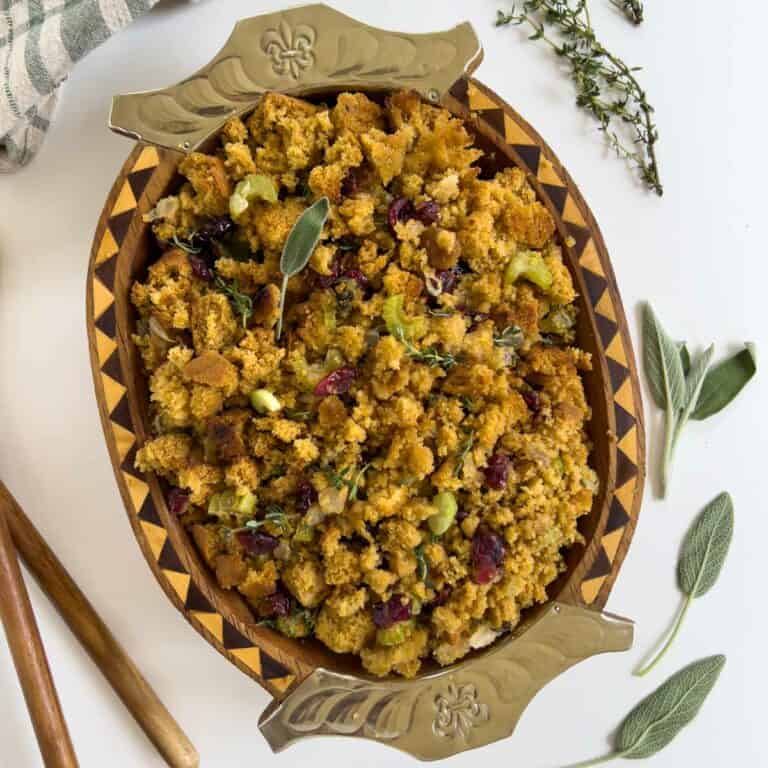 Cornbread Stuffing Gluten Free
This delicious gluten-free cornbread stuffing will be the perfect addition to your Thanksgiving dinner; made with, and herby sage butter and optional cranberries, you'll have everyone jumping over this delicious holiday side dish!
Equipment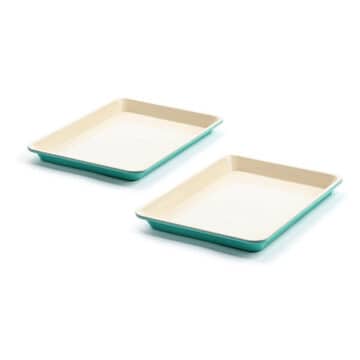 (affiliate link)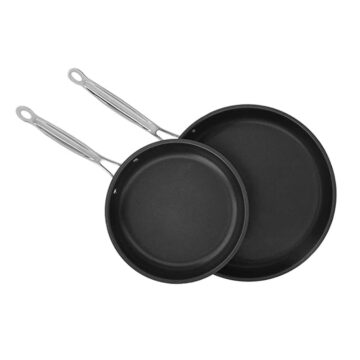 (affiliate link)
Ingredients
For the stuffing:
1

onion

large, finely diced

3

celery

stalks, finely diced

5

cups

Vegan Cornbread Recipe Gluten-free

cubed

3

tablespoons

egg replacement

like just egg

½

cup

vegetable broth

½

cup

plant milk

such as soy milk, cashew milk, or almond milk
Optional
½

cup

cranberries

dried, or dried cherries, raisins

½

cup

pecans

lightly toasted, or walnuts
Directions
Make the herb butter: melt the vegan butter in a small skillet and add the chopped sage, thyme, and rosemary. Simmer on medium-low heat for 2-3 minutes. Remove from heat.

Make the stuffing: add half of the herb butter to a large skillet and add the chopped onion and celery, occasionally stirring, until translucent, 10 to 12 minutes. Remove from the heat.

Combine the ingredients: cut the cornbread into ½-inch cubes and put them on a buttered 9" x 13" Nonstick Baking Sheet, then top them with the stir-fried onion and celery mixture; then gently stir-in and fold the vegan egg replacement, vegetable broth, remaining herb butter, non-dairy milk, and salt. Optionally, do this in a large mixing bowl.

Bake the stuffing: preheat the oven to 375 º F (190 ºC). Cover the baking sheet with foil and bake for 30 minutes; remove the foil and raise the oven temperature to broil until golden brown, about 5-10 more minutes.

Remove the foil, and broil for another 5 minutes until golden brown. Lightly toast the pecans on a skillet.

Garnish with fresh herbs
Nutrition Facts
Calories:
184
kcal
Carbohydrates:
8
g
Protein:
3
g
Fat:
16
g
Saturated Fat:
3
g
Polyunsaturated Fat:
5
g
Monounsaturated Fat:
8
g
Trans Fat:
3
g
Cholesterol:
20
mg
Sodium:
486
mg
Potassium:
81
mg
Fiber:
1
g
Sugar:
3
g
Vitamin A:
156
IU
Vitamin C:
2
mg
Calcium:
65
mg
Iron:
1
mg
Nutrition Facts
Cornbread Stuffing Gluten Free
Amount per Serving
% Daily Value*
* Percent Daily Values are based on a 2000 calorie diet.
🌡️ Food safety
Cook to a minimum temperature of 165 °F (74 °C)
Do not use the same utensils on cooked food that previously touched raw meat
Wash hands after touching raw meat
Don't leave food sitting out at room temperature for extended periods
Never leave cooking food unattended
Use oils with high smoking points to avoid harmful compounds
Always have good ventilation when using a gas stove
See more guidelines at USDA.gov.
The information shown is an estimate provided by an online nutrition calculator. It should not be considered a substitute for a professional nutritionist's advice. See our full Nutritional Disclosure here.
Please note that some of the links here are affiliate links, and I will earn a commission if you purchase through those links. I recommend all of the products listed because they are companies I have found helpful and trustworthy.