Hey there, foodies! Ever find yourself craving something comforting but don't want to spend hours in the kitchen? Say hello to our easy garlic risotto—a dish that's not just a flavor bomb but also takes less than 30 minutes to cook! Yep, you read that right. Creamy arborio rice, herby freshness, and a zesty kick come together in a flash to make your taste buds dance. It's the perfect way to turn a regular evening into something special.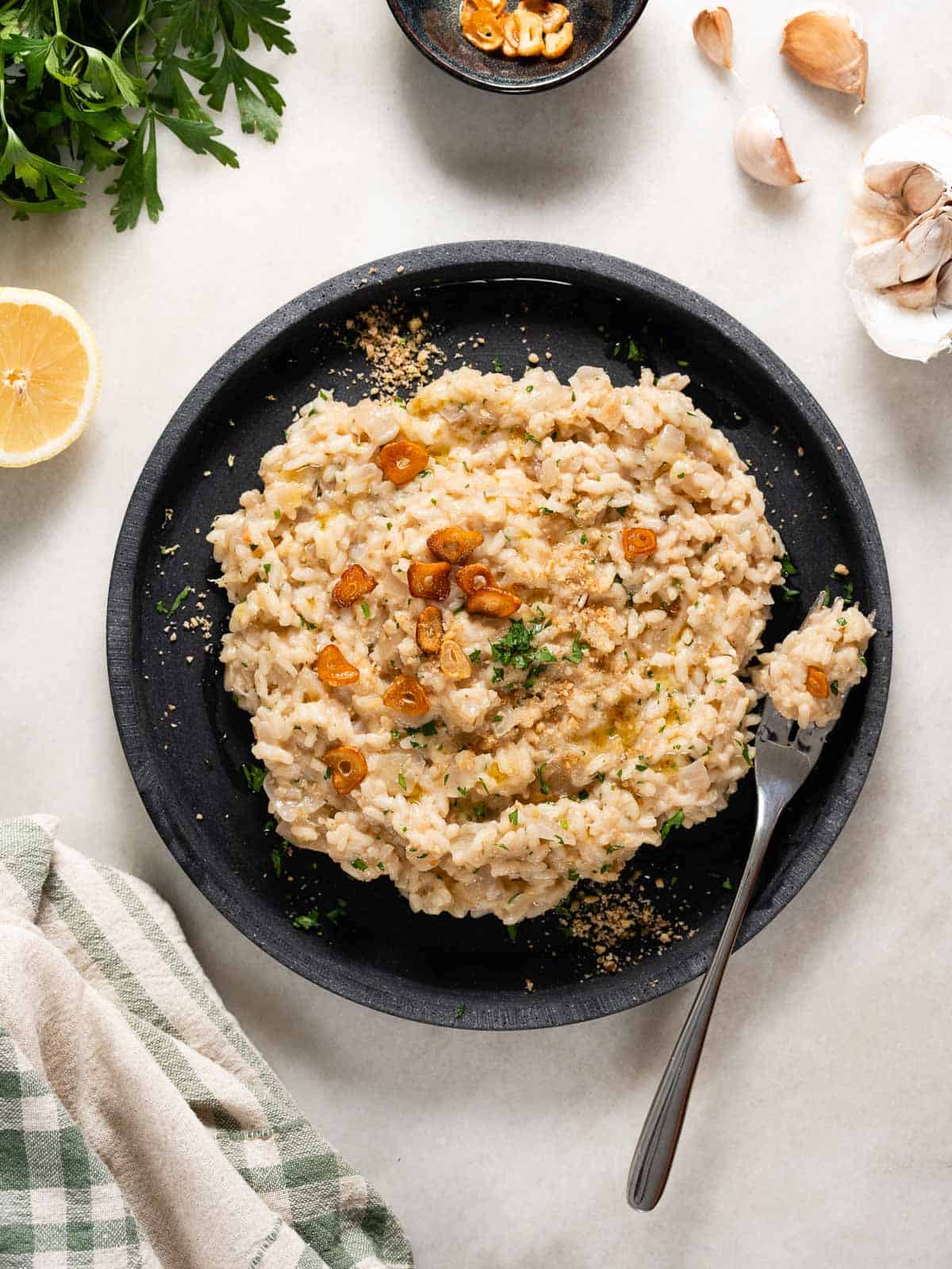 Jump to:
💚 Why you will love it
Made with kitchen staples
Flavorful Delight
Quick & Easy
Heart-Friendly Choice
Simple but elegant
This easy risotto recipe is a one-pan wonder, making cleanup a breeze. So, whether you're serving it as an appetizer, a side, or the main dish, you're in for a creamy, zesty, and incredibly easy culinary win.
🧾 Ingredients
This easy risotto is made with just a few delicious ingredients: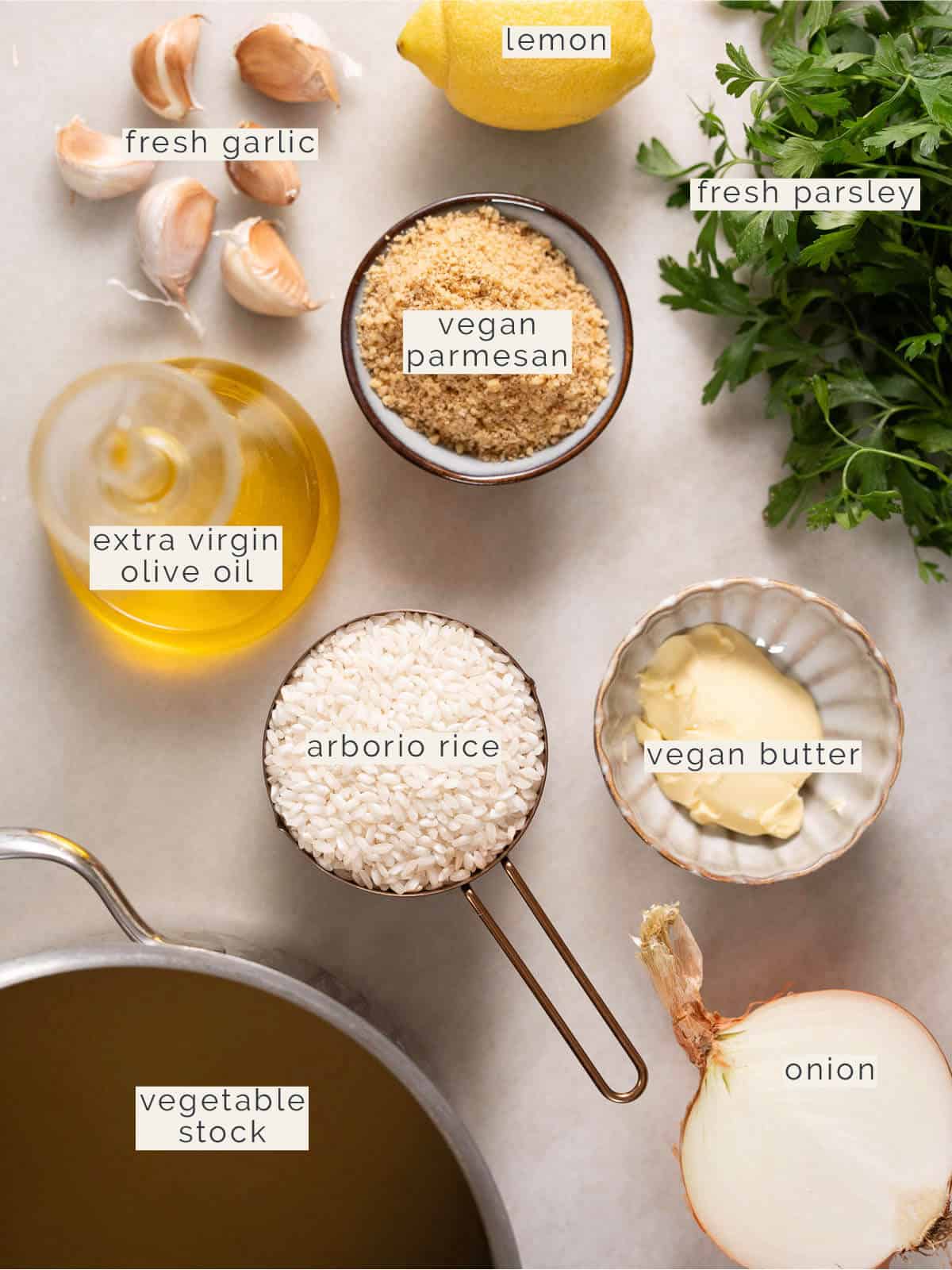 Fresh Garlic cloves: The star of the show, used in two ways: toasted slices infuse the olive oil and add a garnish with umami, while sautéed portions deepen the dish's flavor profile and offer immune-boosting benefits.
Onion: Adds a sweet, aromatic base that balances the strong flavors and is rich in antioxidants and fiber.
Extra Virgin Olive Oil: Provides a rich, fruity undertone and is a healthier fat option, rich in antioxidants.
Vegan Butter: Essential for the classic Italian "mantecatura," it gives the risotto its creamy finish while keeping the dish plant-based.
Arborio Rice: This starchy rice is the key to achieving that classic, creamy risotto texture.
Vegan Parmesan Cheese - or Nutritional Yeast: Adds a cheesy flavor without the dairy, and nutritional yeast offers B vitamins. This is our nut-based parm recipe and our seed-based parm recipe.
Fresh Parsley: Brings a burst of color and freshness, while also being a good source of antioxidants.
Lemon Zest: Adds a zesty kick that brightens up the flavors and complements the garlic.
Vegetable Stock: Serves as the liquid base that helps the rice absorb flavors while keeping the dish vegetarian.
Substitutions
Switch Up the Rice: While arborio rice is the classic choice for that creamy texture, you can also use other short-grain varieties, such as carnarolli rice. Just keep in mind that cooking times may vary.
Wine or No Wine: Prefer to skip the white wine? No worries! You can use extra vegetable stock or a splash of lemon juice for that tangy kick.
Cheese Choices: If you're out of vegan parmesan, nutritional yeast works wonders to give that cheesy flavor.
See the recipe card for quantities.
🍽 Equipment
You need only a large skillet, a sharp knife, and a laddle.
🔪 Instructions
This Northern Italian rice dish involves very simple steps.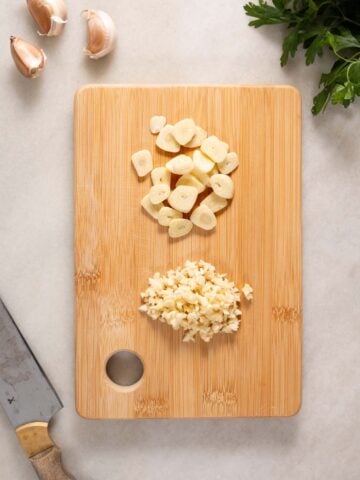 Step 1: Chop or mince half of the garlic cloves and slice the other half.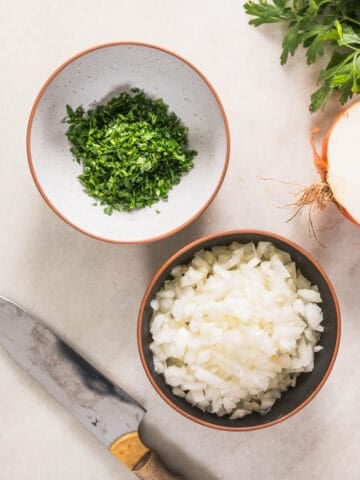 Step 2: Finely chop the parsley and onion.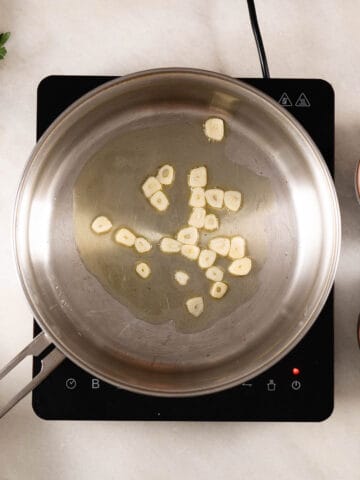 Step 3: Infuse olive oil with the fresh garlic slices so the garlic flavor is present in the dish from the start.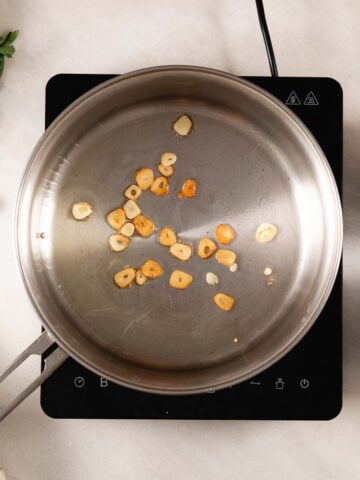 Step 4: Remove toasted garlic flakes from the olive oil and reserve.
This is the same technique we use to make our lemony garlic pasta: check it out!
Heat Broth: For an even smoother cooking process, heat your vegetable stock before adding it to the rice. Warm broth is absorbed more quickly and evenly, ensuring that your risotto turns out perfectly creamy every time.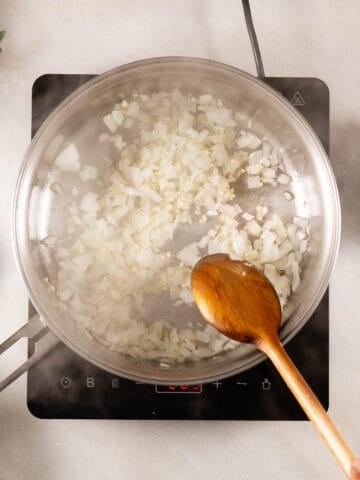 Step 5: Stir fry the chopped onions.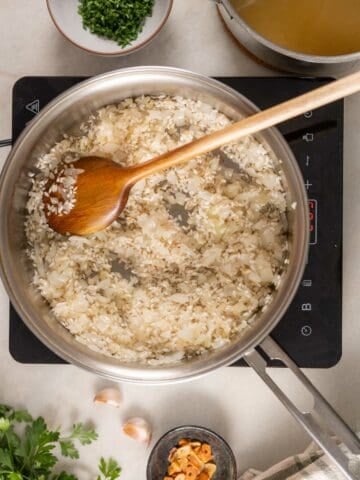 Step 6: Add the chopped garlic and rice to the sautéed onions.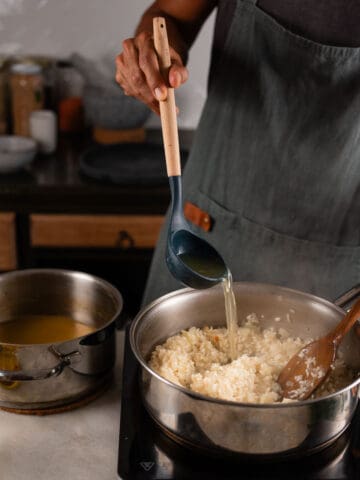 Step 7: Keep adding stock, a third cup at a time, while stirring frequently.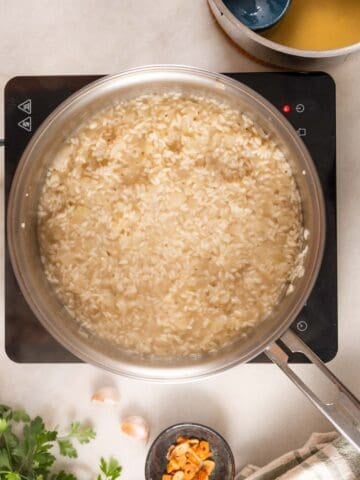 Step 8: Keep adding vegetable stock only when the liquid is consumed.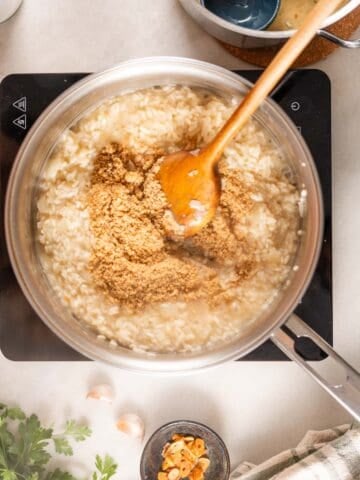 Step 9: Add vegan parmesan cheese to the risotto.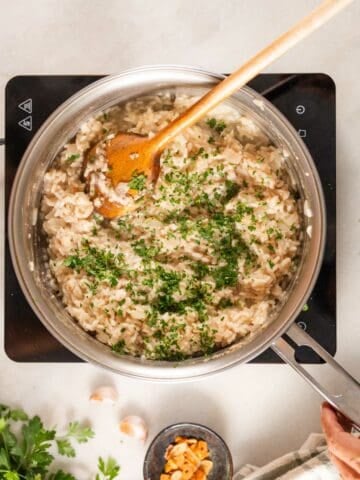 Step 10: Stir in chopped parsley.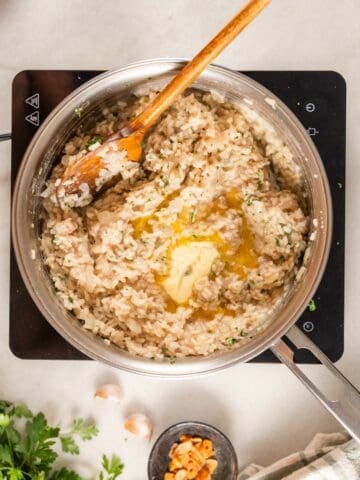 Step 11: When the rice is al dente, add butter to the garlic risotto.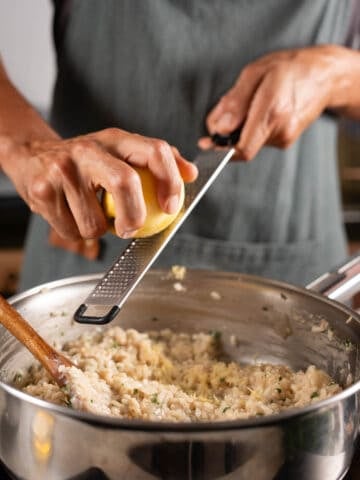 Step 12: Zest lemon on top of the garlic risotto, and adjust seasoning with salt and pepper if needed.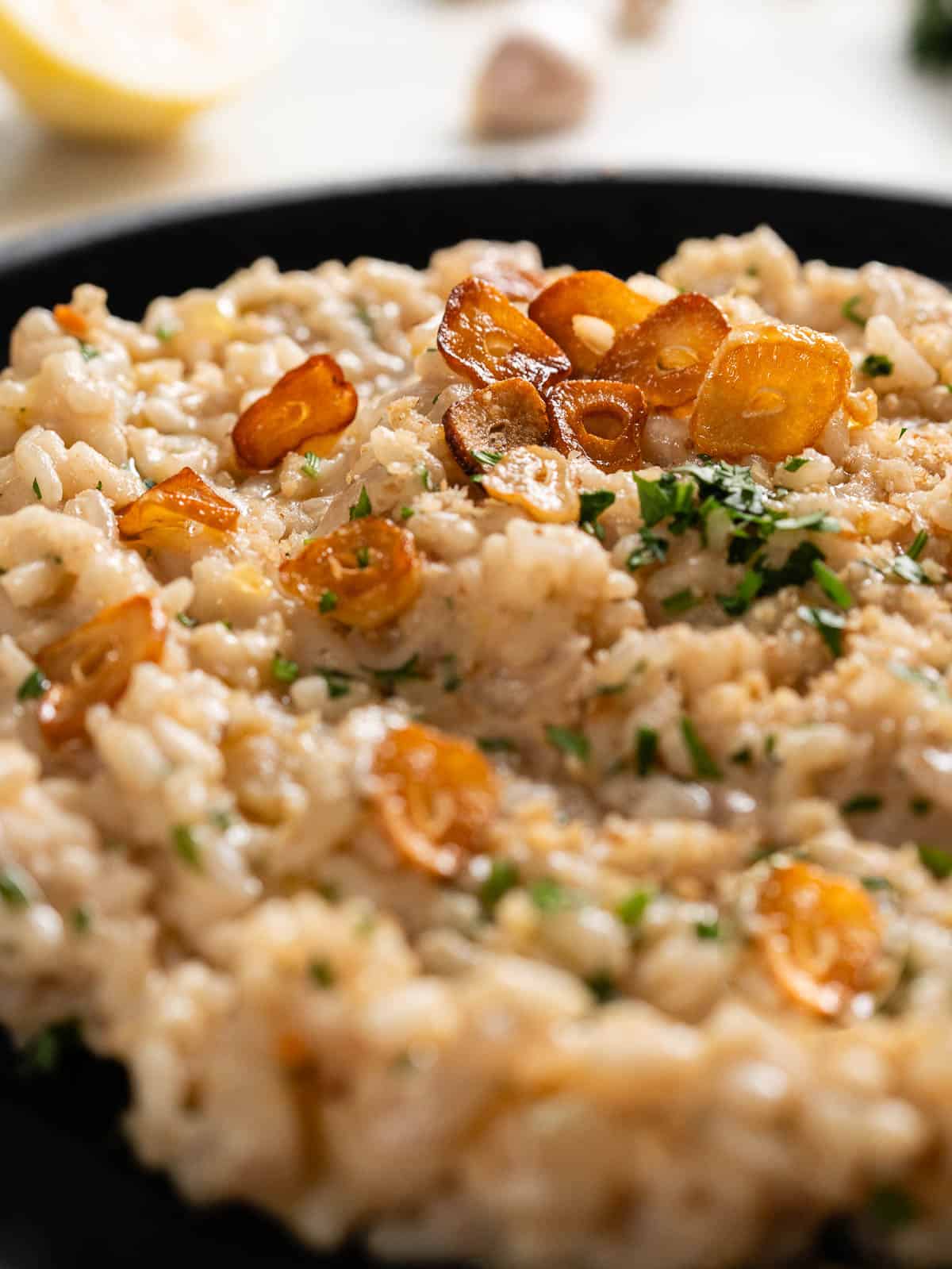 Step 13: Garnish this creamy risotto with the reserved toasted garlic slices, additional chopped parsley, and homemade parmesan cheese.
More recipes where garlic is the show's star: garlic edamame beans, and lemony garlic pasta.
💡 Expert tips
Stir Constantly: The secret to a perfect risotto is stirring frequently. This helps release the starch from the rice, giving you that dreamy, creamy texture.
Medium Heat is Key: Cooking on medium heat ensures that the rice cooks evenly and absorbs the flavors from the garlic and vegetable stock.
Taste Test: Always taste your risotto before serving. Adjust salt and seasonings as needed.
Add Broth Mindfully: Wait until the rice has absorbed most of the liquid before adding more broth. This ensures that the rice cooks evenly and achieves that creamy consistency we all love.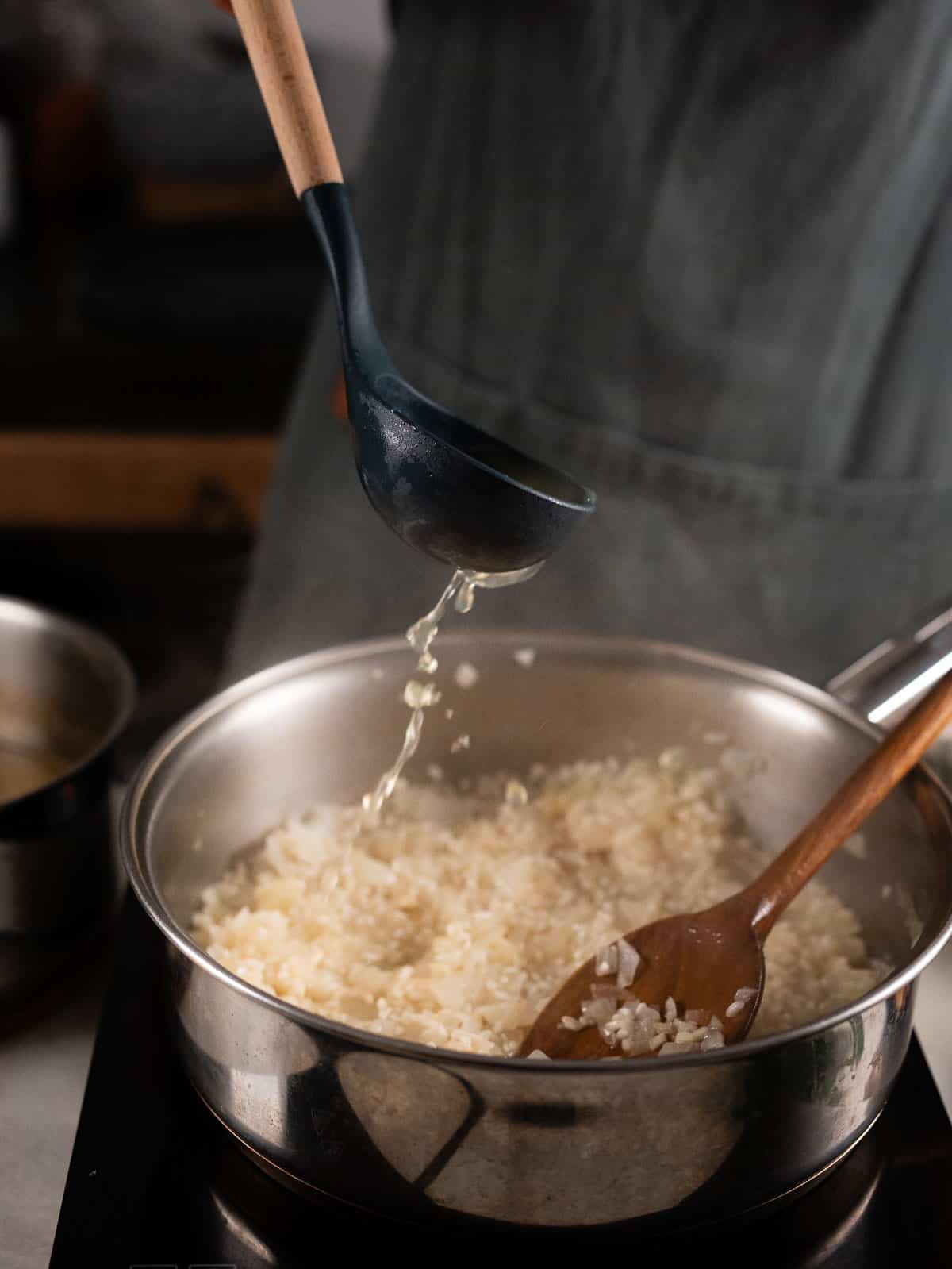 🥢 How to serve
Straight Up: Enjoy this creamy garlic risotto as is, letting the flavors shine. It's so good, it doesn't need any accompaniment.
With Veggies: Elevate your meal by serving the risotto with some roasted seasonal vegetables. A medley of Brussels sprouts, carrots, and bell peppers adds color, texture, and extra nutrition to the dish. Make a mushroom risotto by adding quartered mushrooms to the rice and searing them before tossing them into the dish.
Stuffed Peppers: Get creative and use the risotto to fill bell peppers. Roast the peppers until tender, stuff them with the risotto, and bake for an additional 10 minutes. It's a fun twist that makes for a visually stunning main dish.
❓ FAQ
Do Italians put butter in risotto?
Absolutely, Yes! In traditional Italian cooking, butter plays a crucial role in the final stage of making risotto, known as "mantecatura." This is the step where you vigorously stir in butter and freshly grated Parmesan cheese (or vegan alternatives, in our case) to give the risotto its signature creamy texture. The butter not only adds richness but also helps to emulsify the dish, making it luxuriously smooth. So, if you're aiming for an authentic Italian experience, don't skip the mantecatura!
🥡 Storage and Meal Prep
Airtight Container: Store any leftover risotto in an airtight container in the fridge for up to 3 days.
Reheat with Care: To reheat, add a splash of vegetable broth and warm it up on medium-low heat, stirring frequently to bring back its creamy consistency.
Meal Prep
Pre-Chop Veggies: Save time by chopping your garlic and onions in advance.
Stock Up: Keep vegetable stock in your pantry or make a large batch and freeze it. This way, you're always ready for a risotto night.
📚 More risotto recipes
Other risotto recipes we love include the sun-dried tomato risotto, vegan butternut squash risotto, vegan mushroom risotto, and our vegan version of the classic Milanese Saffron Risotto.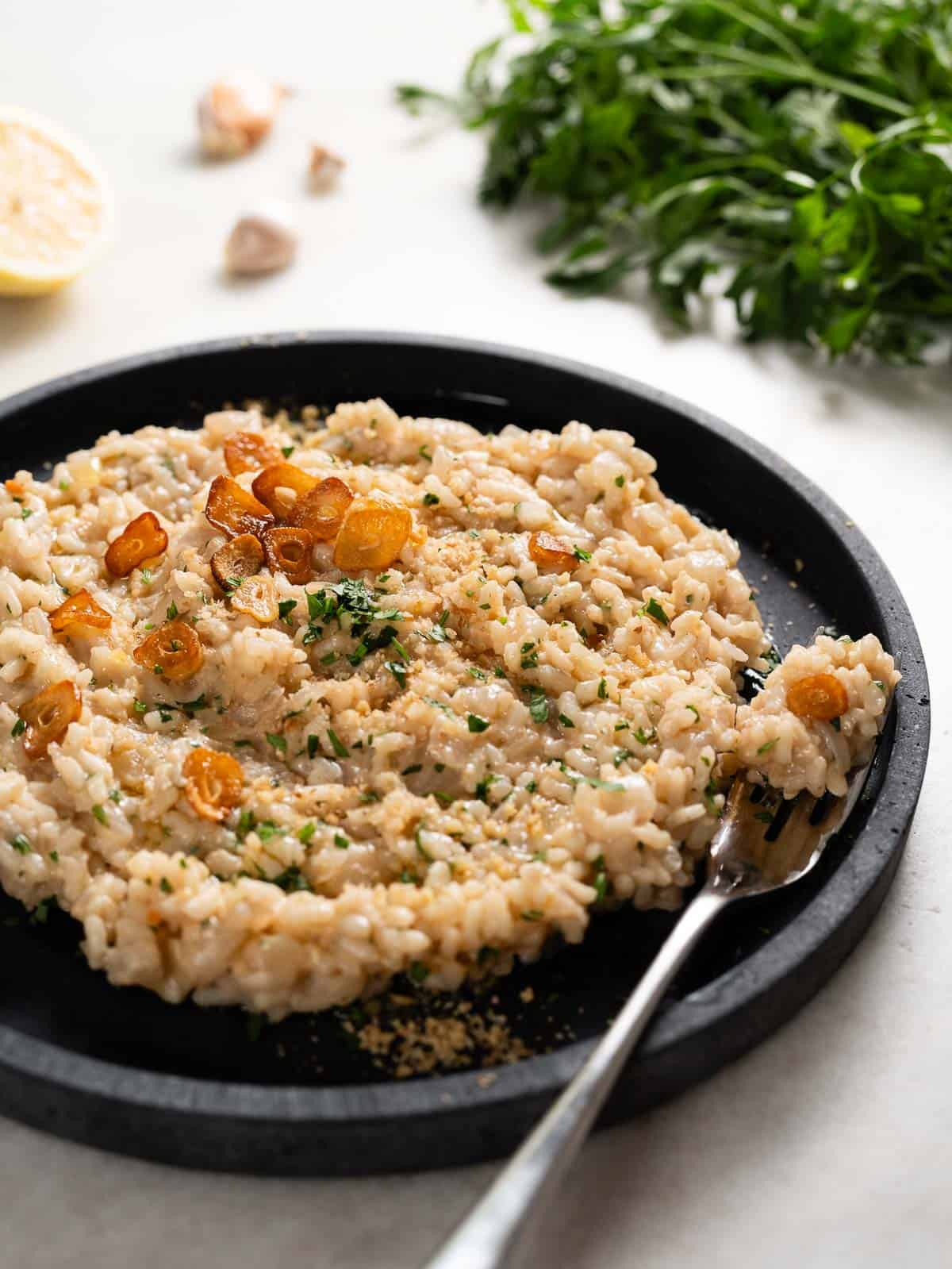 ⭐ If you try this risotto recipe, let us know! 💬 Leave a comment, rate it, and don't forget to tag us @ourplantbasedworld on Instagram. Cheers!
🎥 Video
📋 Recipe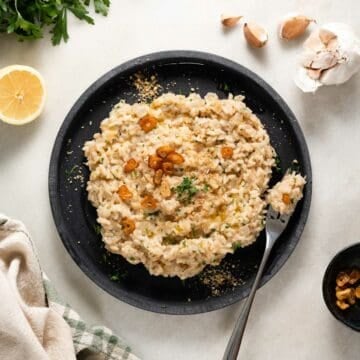 Easy Garlic Risotto (Creamy, Herby, and Zesty)
Unlock the ultimate comfort food with this Easy Garlic Risotto. It's creamy from arborio rice, herby with fresh parsley, and zestym thanks to lemon zest. Infused with garlic and topped with Parm, this dish is a quick yet luxurious meal perfect for any day of the week.
Equipment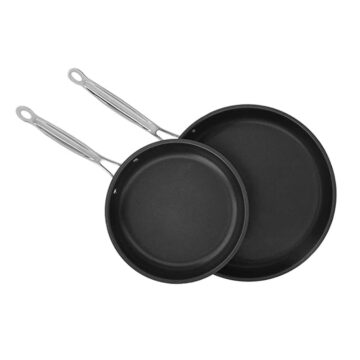 (affiliate link)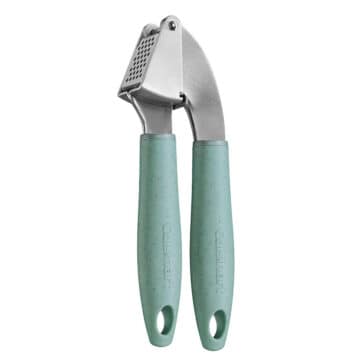 (affiliate link)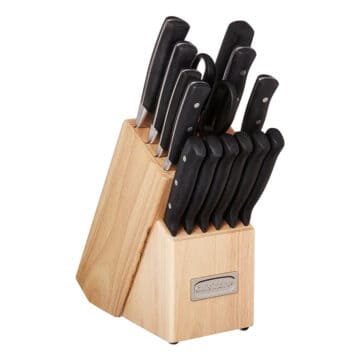 (affiliate link)
Ingredients
1

onion

medium, finely diced

8

garlic cloves

Divided (half finely chopped, half thinly sliced)

2

tablespoons

olive oil

extra-virgin

1

tablespoon

vegan butter

such as Earth Balance, or sub for olive oil

1

cup

arborio rice

or carnarolli short-grain rice

⅓

cup

vegan Parmesan cheese

and keep some extra for that final cheesy sprinkle

2

tablespoons

parsley

fresh and finely chopped (no stems, please!) or thyme.

1

lemon

zest only, for that citrusy zing. Cut wedges to garnish

5

cups

vegetable stock

hot
Optional Veggie Boosters
1

cup

mushrooms

sliced or quartered

1

cup

asparagus

stir-fried to perfection

¼

cup

white wine

dry such as Savignon Blanc
Directions
Prep the Stock: Get that veggie stock hot and keep it on standby.

Prep the veggies: Slice half the garlic cloves and mince the rest. Also, chop up the onion and parsley finely.

Garlic toasties: In a large skillet, pour the olive oil over low heat. Toss in the sliced garlic. Cook 'em till they're golden, then set them aside. Congrats, you've just made garlic-infused oil and delicious garlic toasties to garnish your dish.

Onion Time: Add the onions to the garlic-infused oil, and sauté until they're soft and dreamy. Follow up with the finely chopped garlic and give it another minute.

Rice Party: Add the arborio rice and make sure each grain gets a nice oil bath. Stir until the rice grains are sizzling.

First Stock Splash: Pour in ½ cup of your hot veggie stock—or white wine if you're feeling fancy. Stir until it's all soaked up.

Stock & Stir: Add a ladle of stock and stir until it's absorbed. Keep this dance going until you're down to the last ladle.

The Final Countdown: On your last ladle of stock, toss in the parsley. Let it absorb halfway, then hit it with that vegan Parmesan.

Creamy Finish: Stir until it's creamy but not a soup (We're talking risotto, not porridge). Add the vegan butter (or the same amount of olive oil for the "mantecatura."Zest the lemon on top.Taste and adjust with salt and pepper. The rice should be al dente, not overcooked.

Serve It Up: Dish it out, sprinkle the reserved toasted garlic slices, and top with optional extra vegan Parmesan.
Notes
It is best when fresh, though leftovers will keep covered in the fridge for 2-3 days.
Reheat instructions
On the stovetop over medium heat, add vegetable broth or water as needed to rehydrate. You can also reheat it in the microwave, adding some liquid.
Pro Tips & Recipe Notes 🌟
Wine Wisdom: Choose a white wine you'd actually sip on a Friday night. Skip anything labeled "cooking wine" like you'd dodge a bad date. If the wine's not good enough for your glass, it's not good enough for your risotto.
Stock It Easy: Don't stress about exact measurements for the vegetable stock. Just make sure it's enough to give the rice a little swim. No need for a deep dive.
Simmer Down: Keep it chill with a gentle simmer. A rapid boil is like a party crasher—totally not what we're going for.
Hot Stock, Hotter Risotto: Use stock that's as hot as your playlist. The heat helps keep the rice's starch content on point, making your risotto creamy and dreamy.
Stir Smart: Stir often, but don't go overboard. Think of it as a casual catch-up with a friend, not a 24/7 texting spree.
With these tips, you're all set to make a risotto that's not just tasty but also Insta-worthy! 📸🌱
Nutrition Facts
Calories:
335
kcal
Carbohydrates:
51
g
Protein:
5
g
Fat:
13
g
Saturated Fat:
2
g
Polyunsaturated Fat:
2
g
Monounsaturated Fat:
7
g
Trans Fat:
1
g
Sodium:
1044
mg
Potassium:
189
mg
Fiber:
3
g
Sugar:
4
g
Vitamin A:
677
IU
Vitamin C:
21
mg
Calcium:
32
mg
Iron:
3
mg
Nutritional Disclaimer
The information shown is an estimate provided by an online nutrition calculator. It should not be considered a substitute for a professional nutritionist's advice. See our full Nutritional Disclosure here.
Affiliate Disclaimer
Please note that some of the links here are affiliate links, and I will earn a commission if you purchase through those links. I recommend all of the products listed because they are companies I have found helpful and trustworthy.