If you're looking for an easy side dish that's packed with flavor, you'll love these roasted garlic and rosemary potatoes with marmite. This dish is simple to make and tastes great, served warm or cold. Plus, it's a great way to use any leftover potatoes for a tasty brunch or holiday side dish.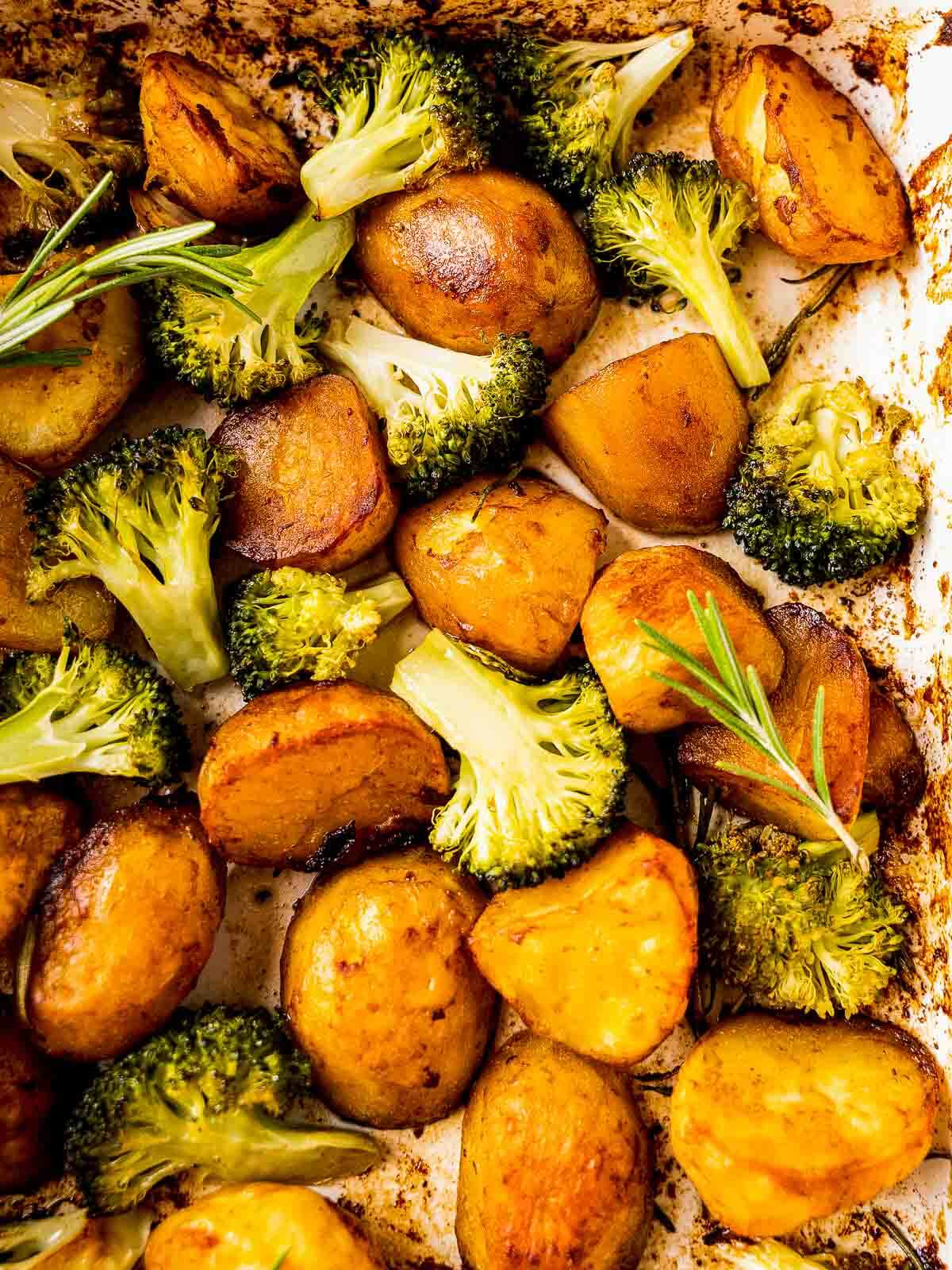 Who doesn't love potatoes? But cooking them well is something else. With just the proper techniques and a few flavor-popping ingredients, you can make your potatoes shine like never before.
You will have your guest raging over this simple dish that you can make for Thanksgiving, Christmas, or any given celebration with no hassle.
We recently published a similar sliced sweet potato side dish version using thyme as the main herb, but we think rosemary and garlic work best with savory potatoes. Have them both, and let us know your winner!
Jump to:
🧾 Ingredients
To make these vegan roast potatoes you only need a couple of simple ingredients.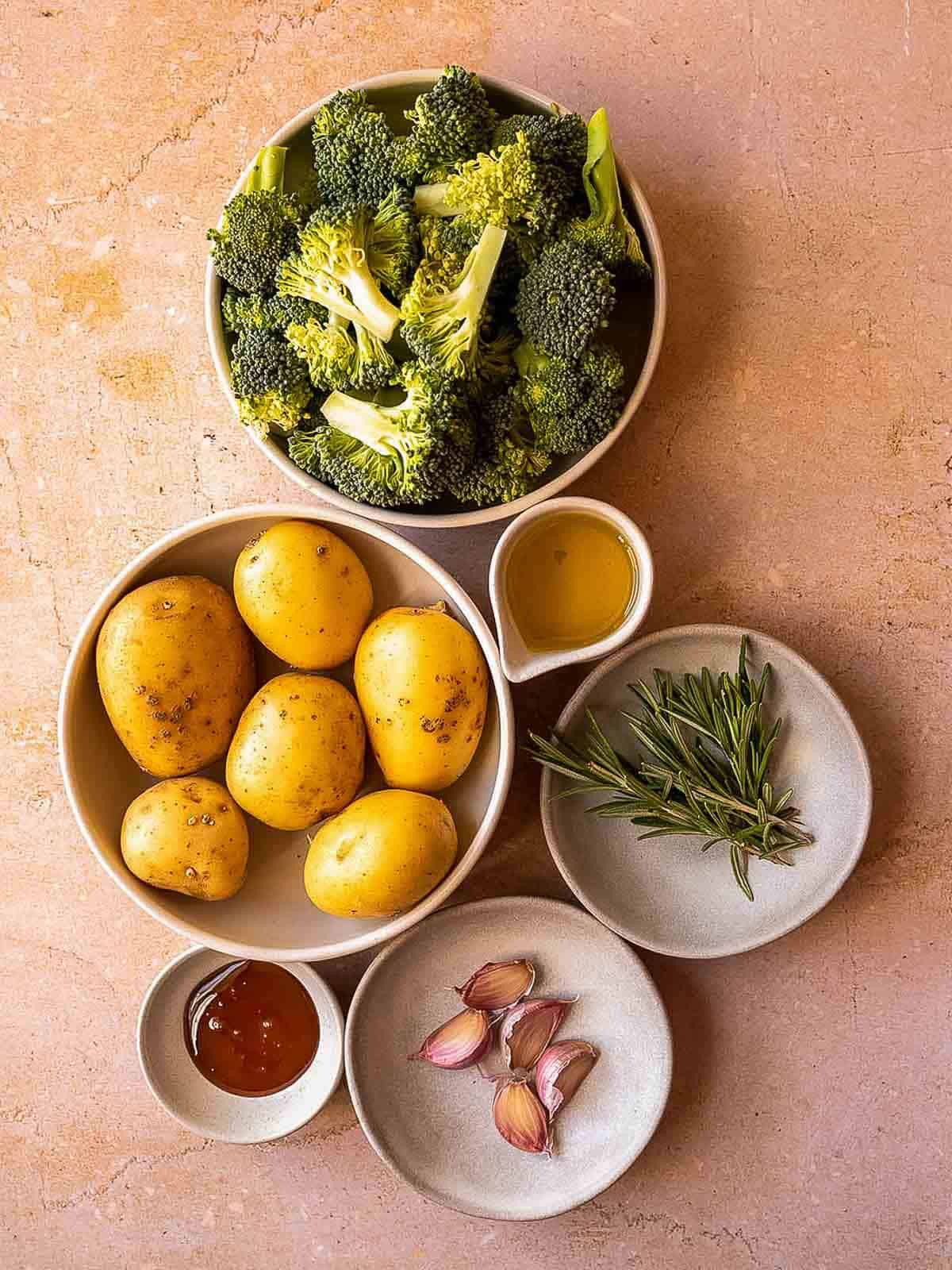 Russet potatoes
Fresh garlic cloves
Fresh rosemary
Broccoli
Marmite spread
Olive oil
See the recipe card for quantities.
🔪 Instructions
Making these roasted potatoes is super easy and requires very little hands-on time.
First, preheat oven to 400 °F (205° C), and prepare potatoes by optionally peeling them and cutting them into evenly sized chunks.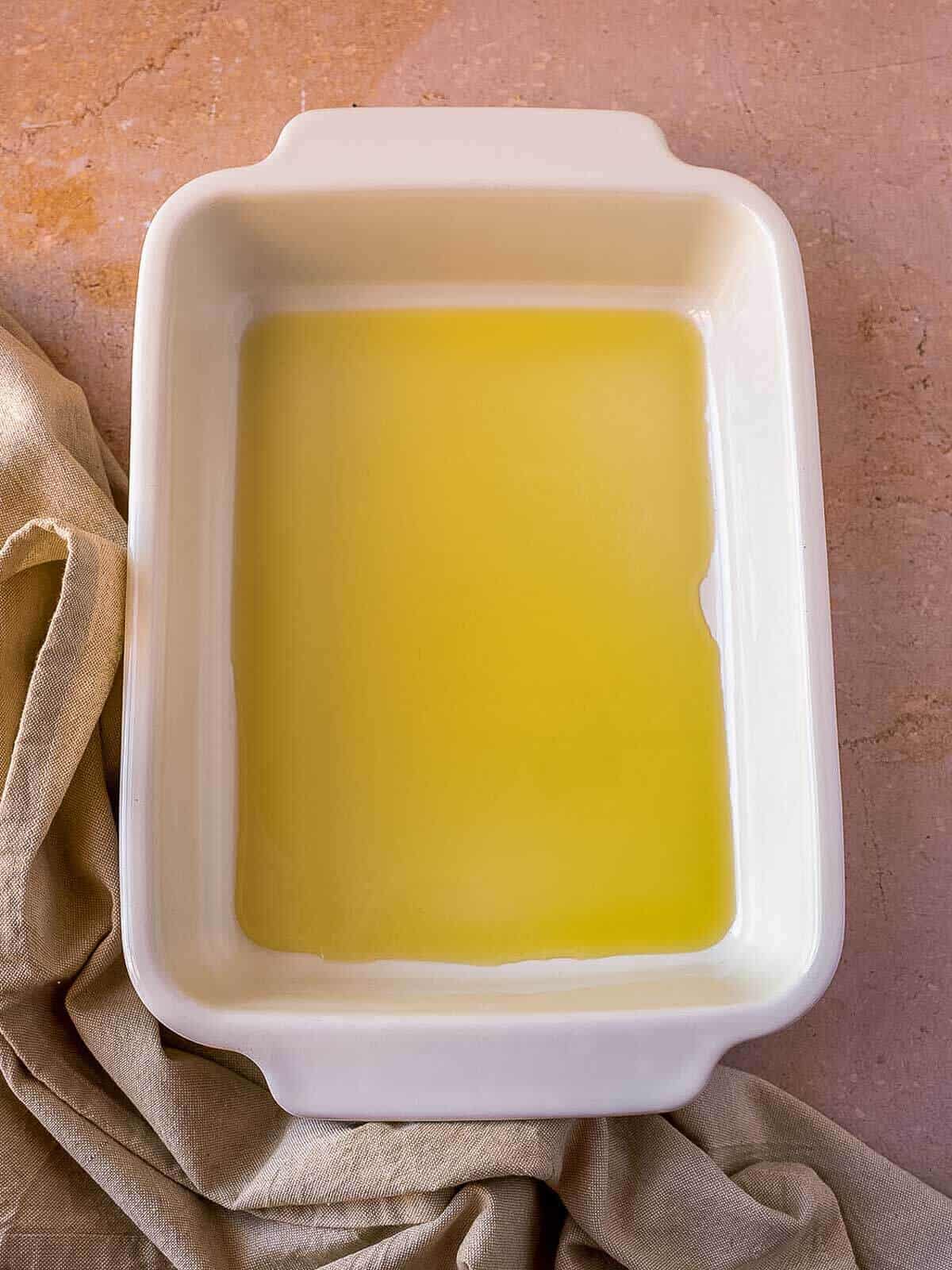 Pour the olive oil into a large prepared baking sheet or sheet pan.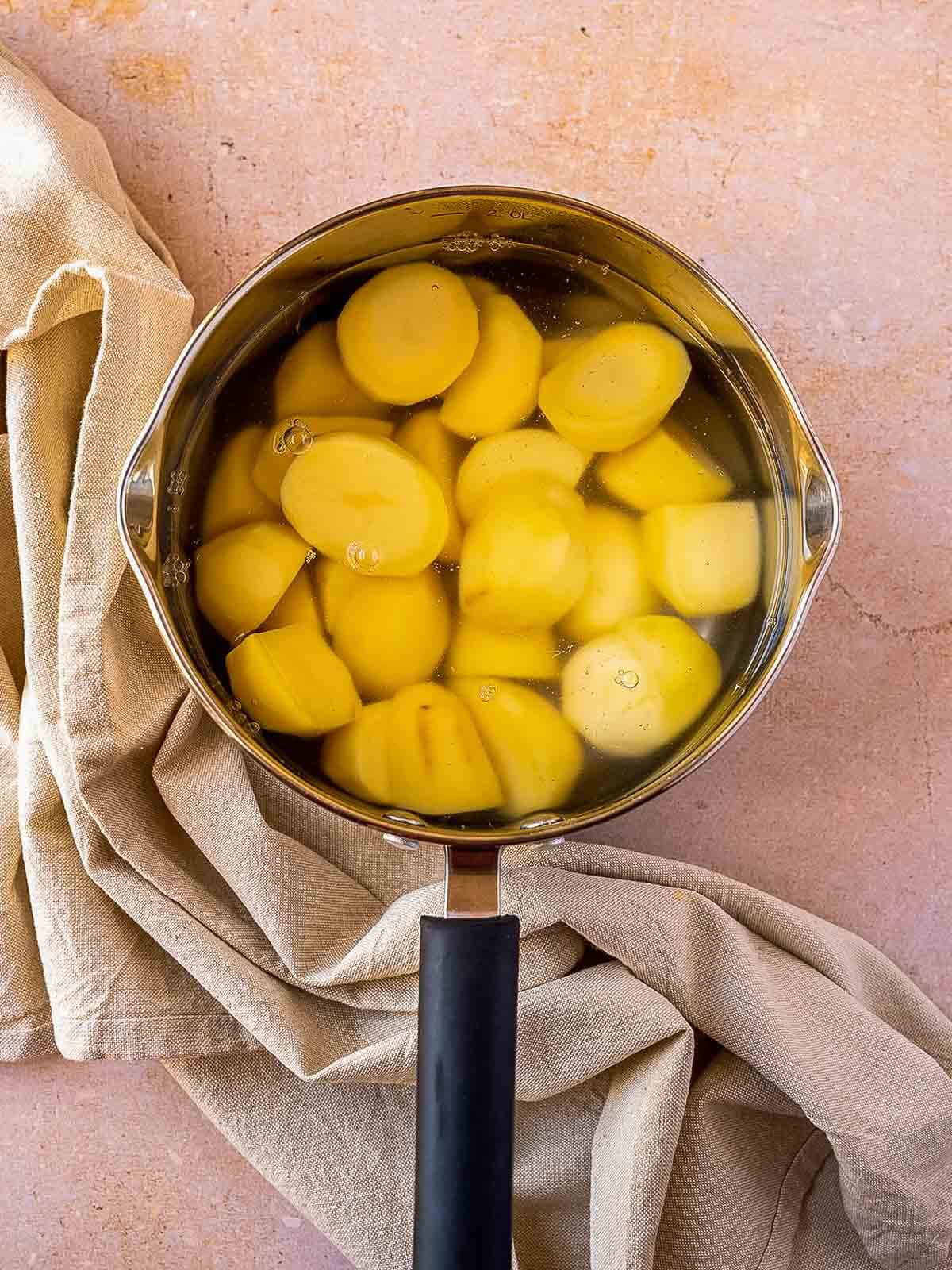 Put the potato chunks in a large pot of salted boiling water and simmer.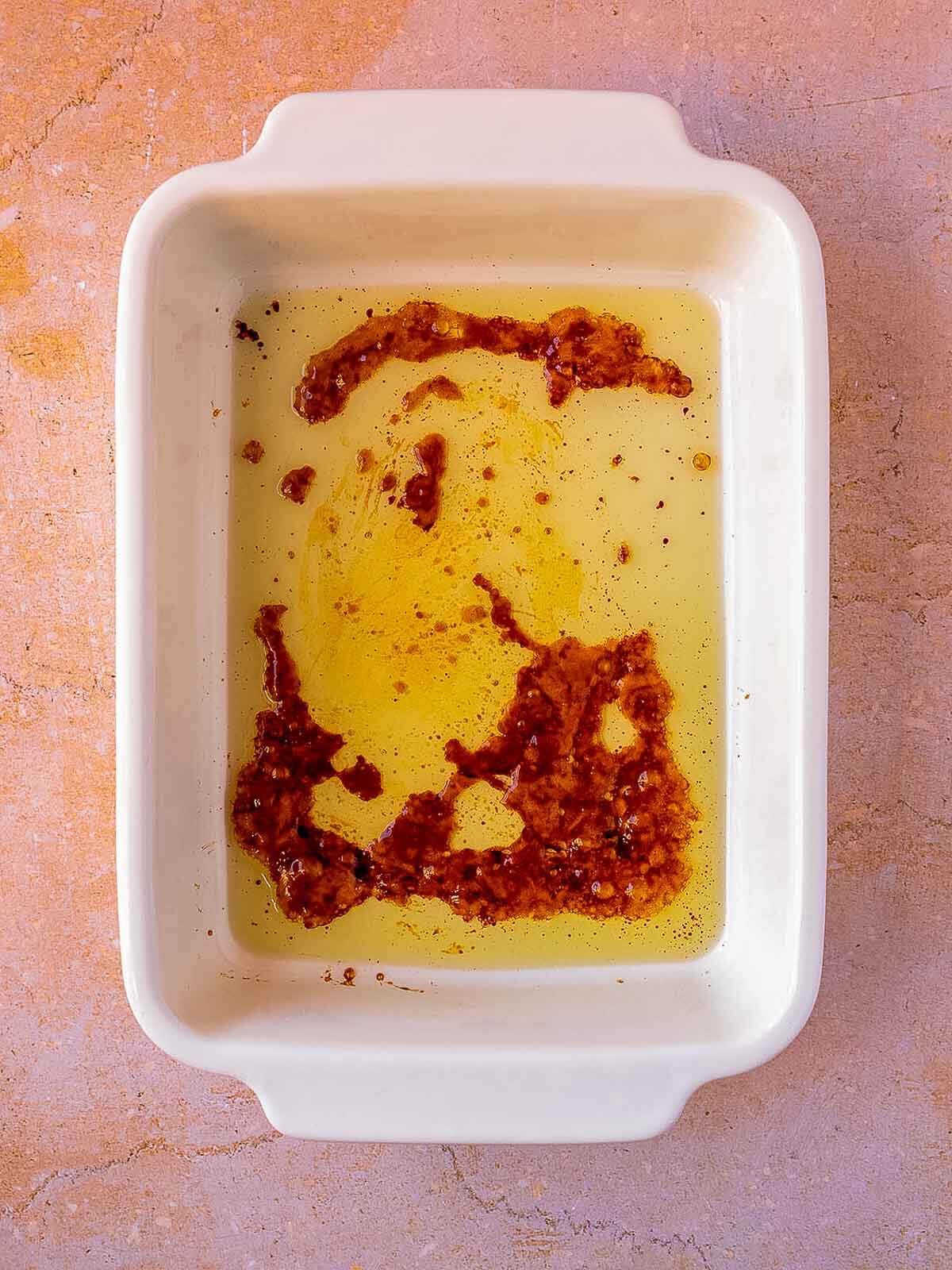 Once the oil is hot, remove it from the oven and stir in the marmite.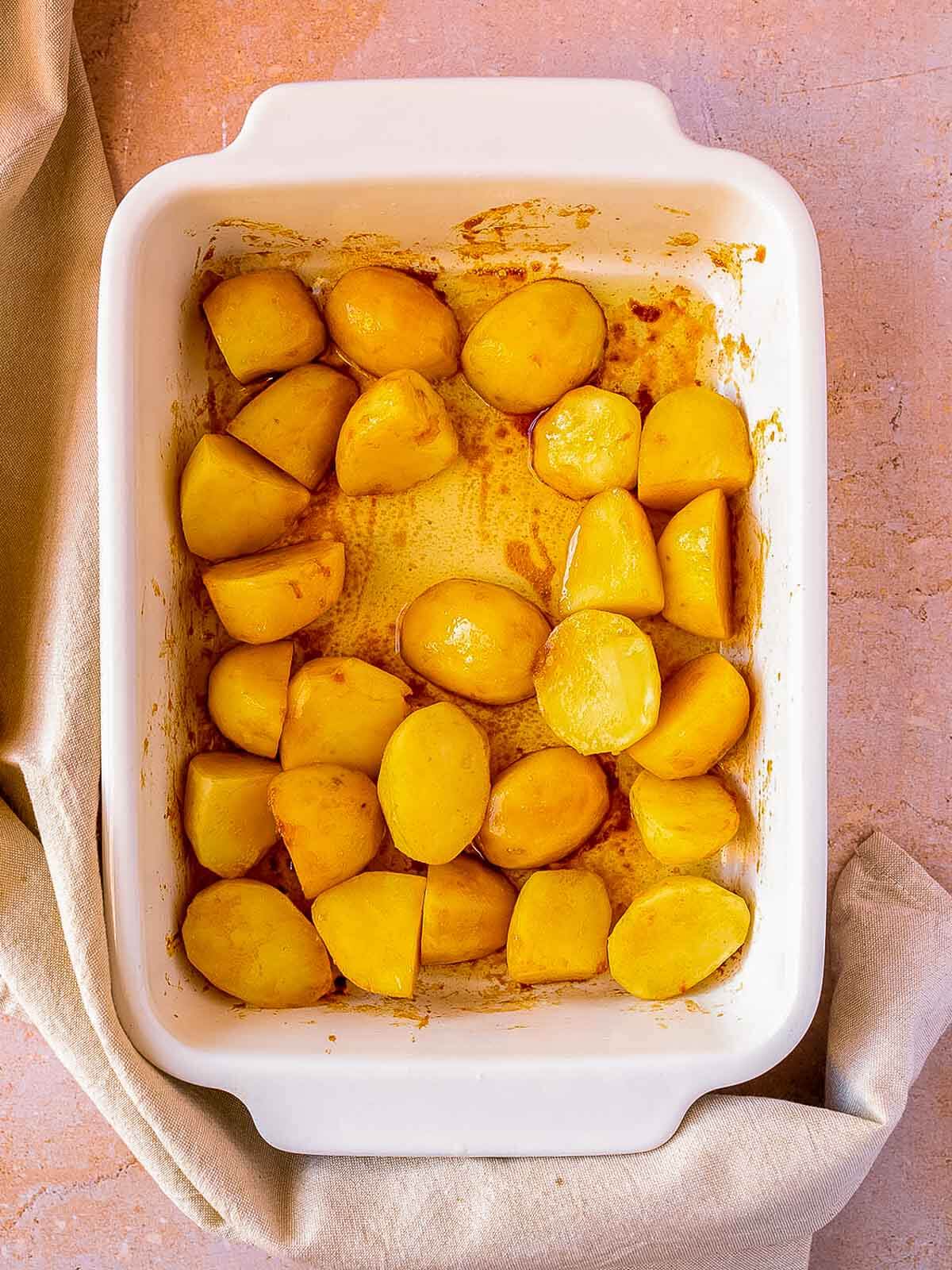 Add the potatoes to the dish and stir well until completely coated.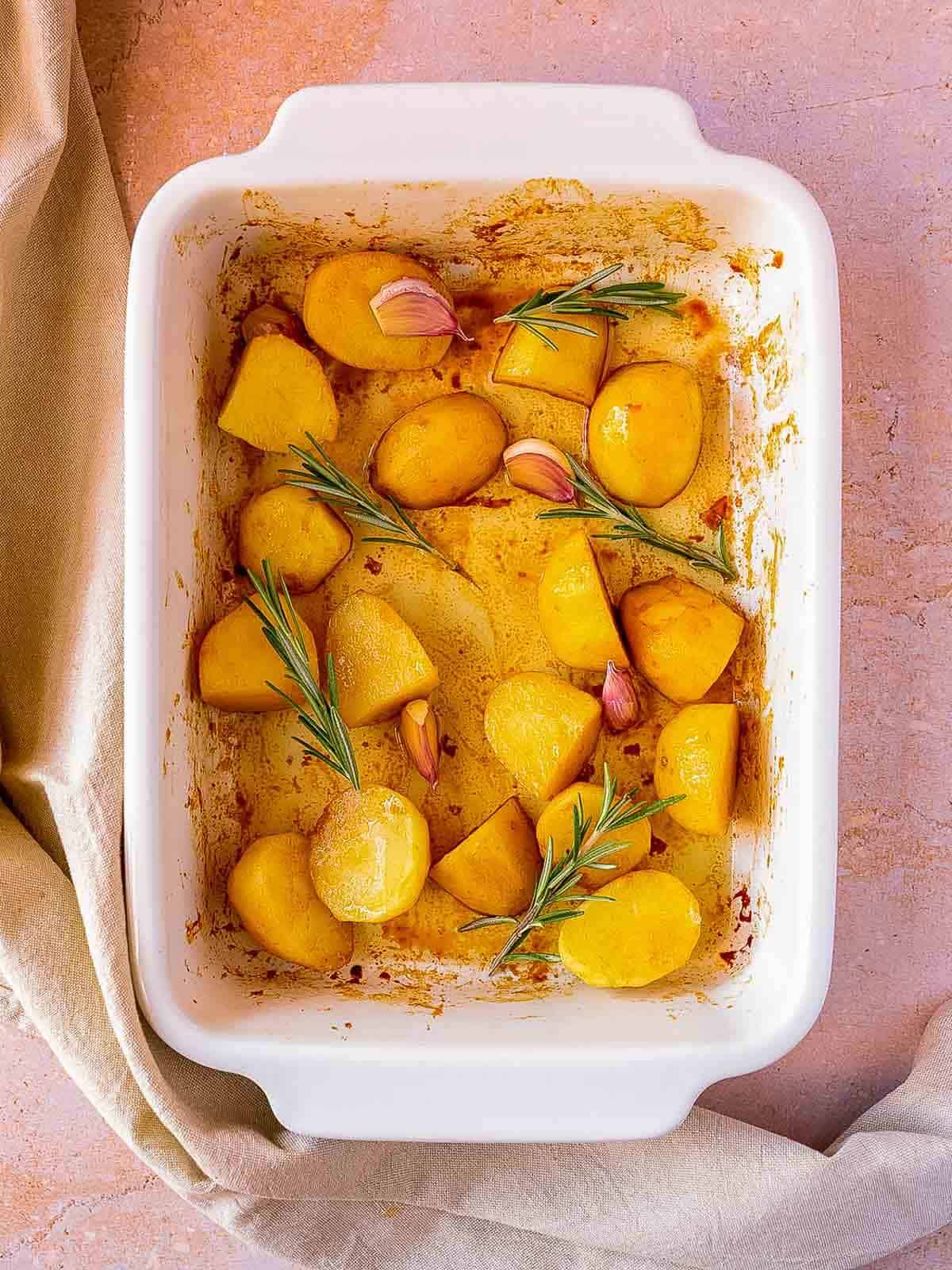 Add the rosemary sprigs and garlic cloves.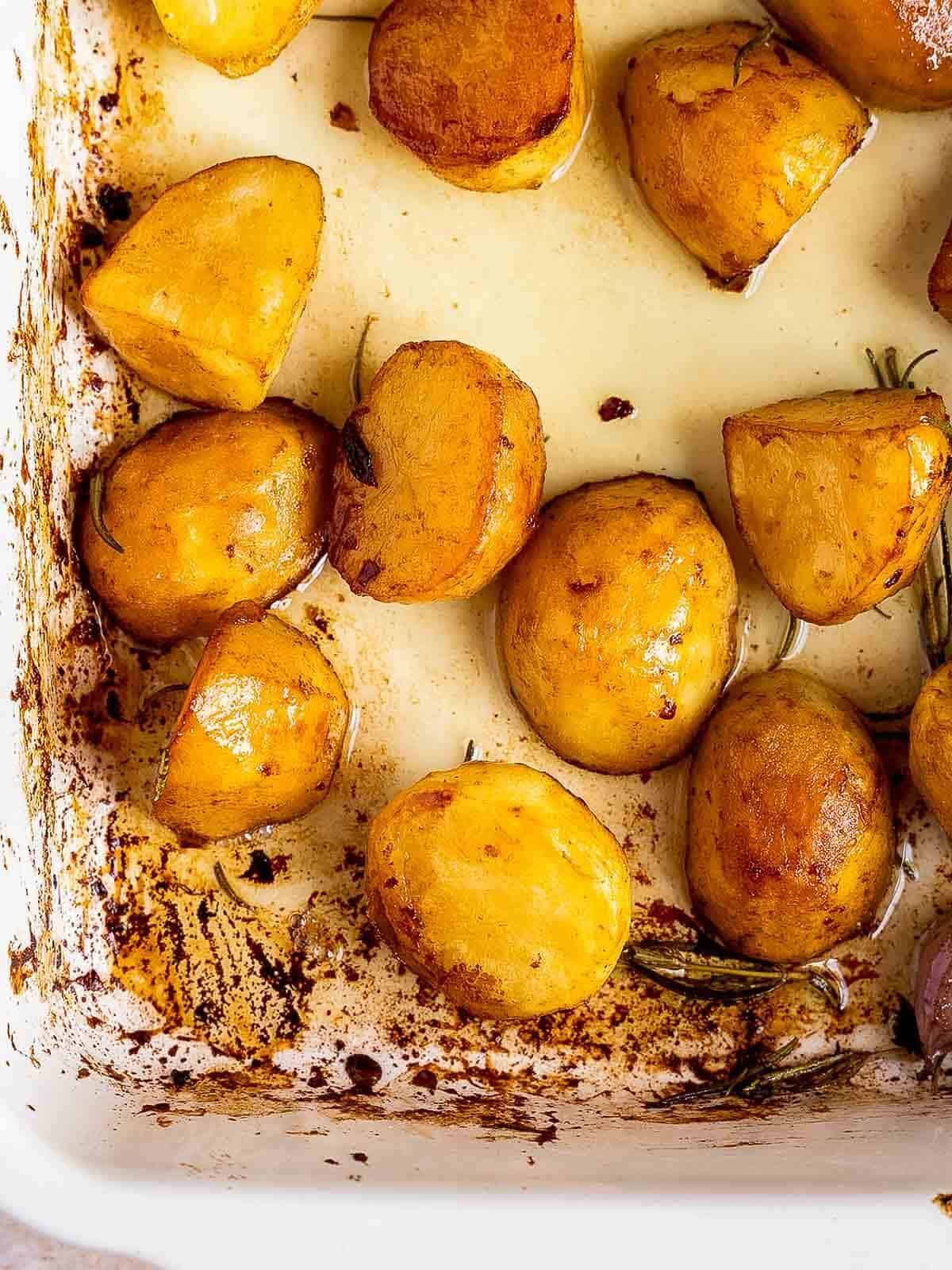 Remove from heat after 30 minutes.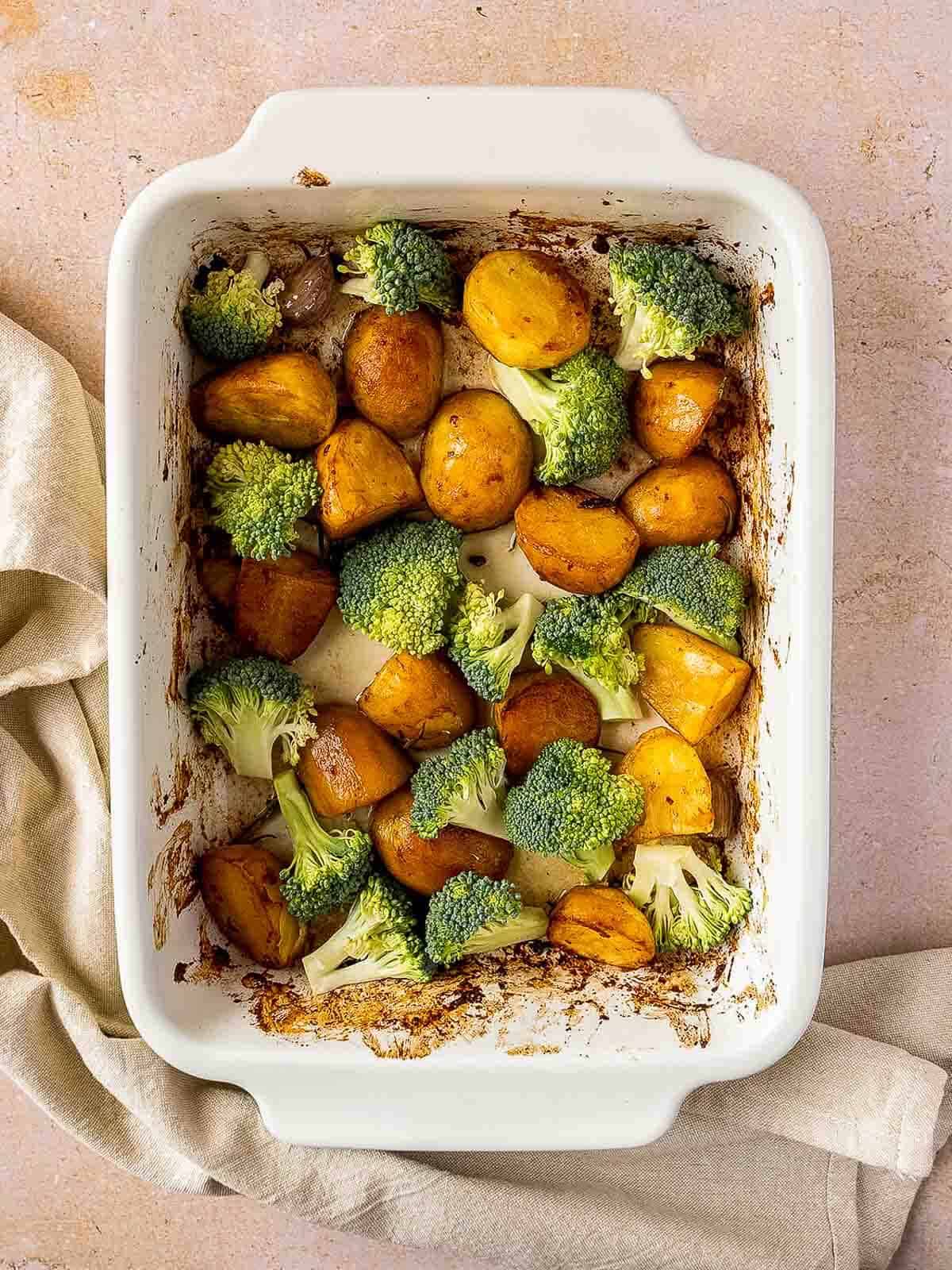 Stir in the broccoli florets and put them back in the oven.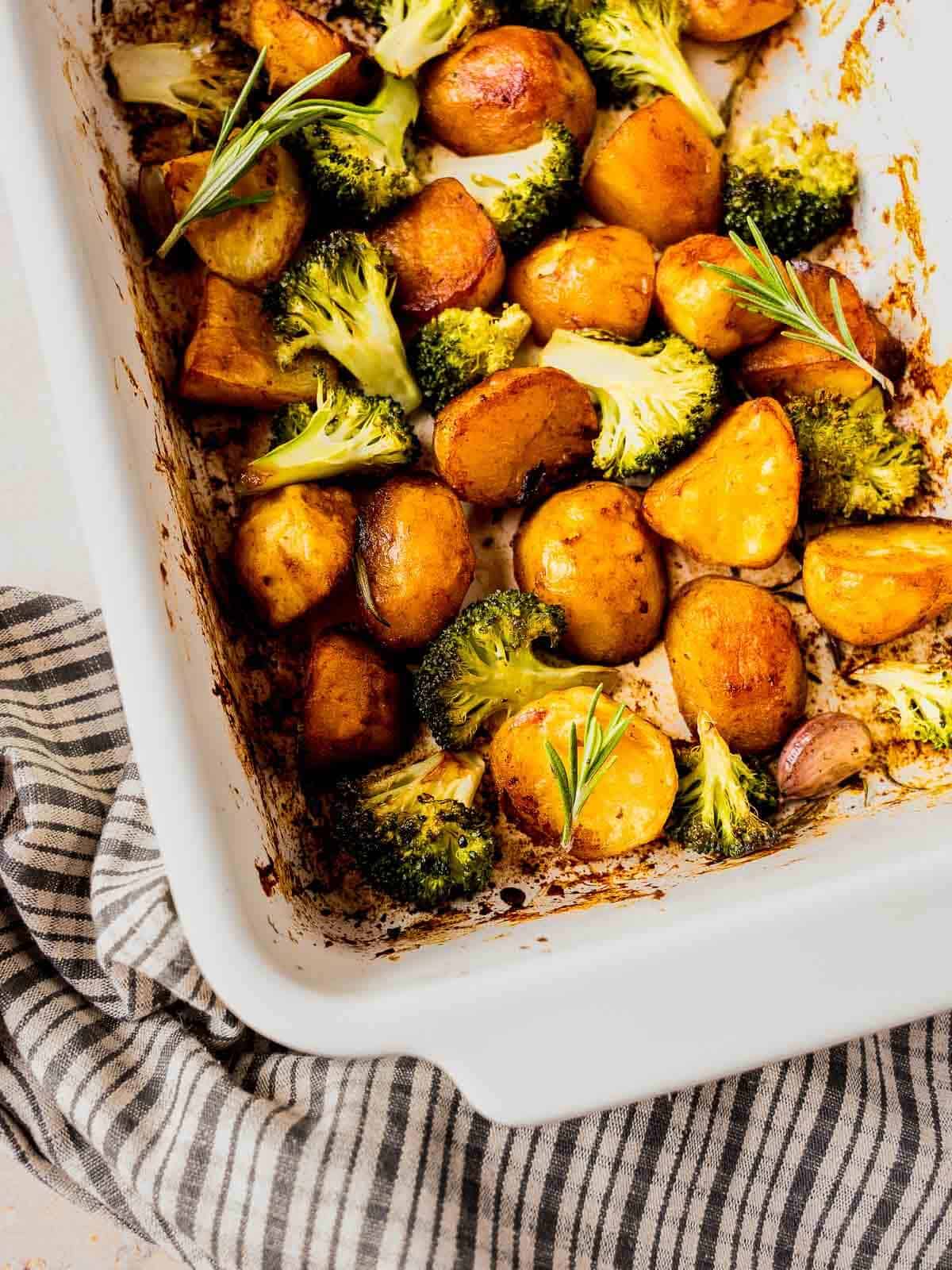 Remove from the oven and serve immediately.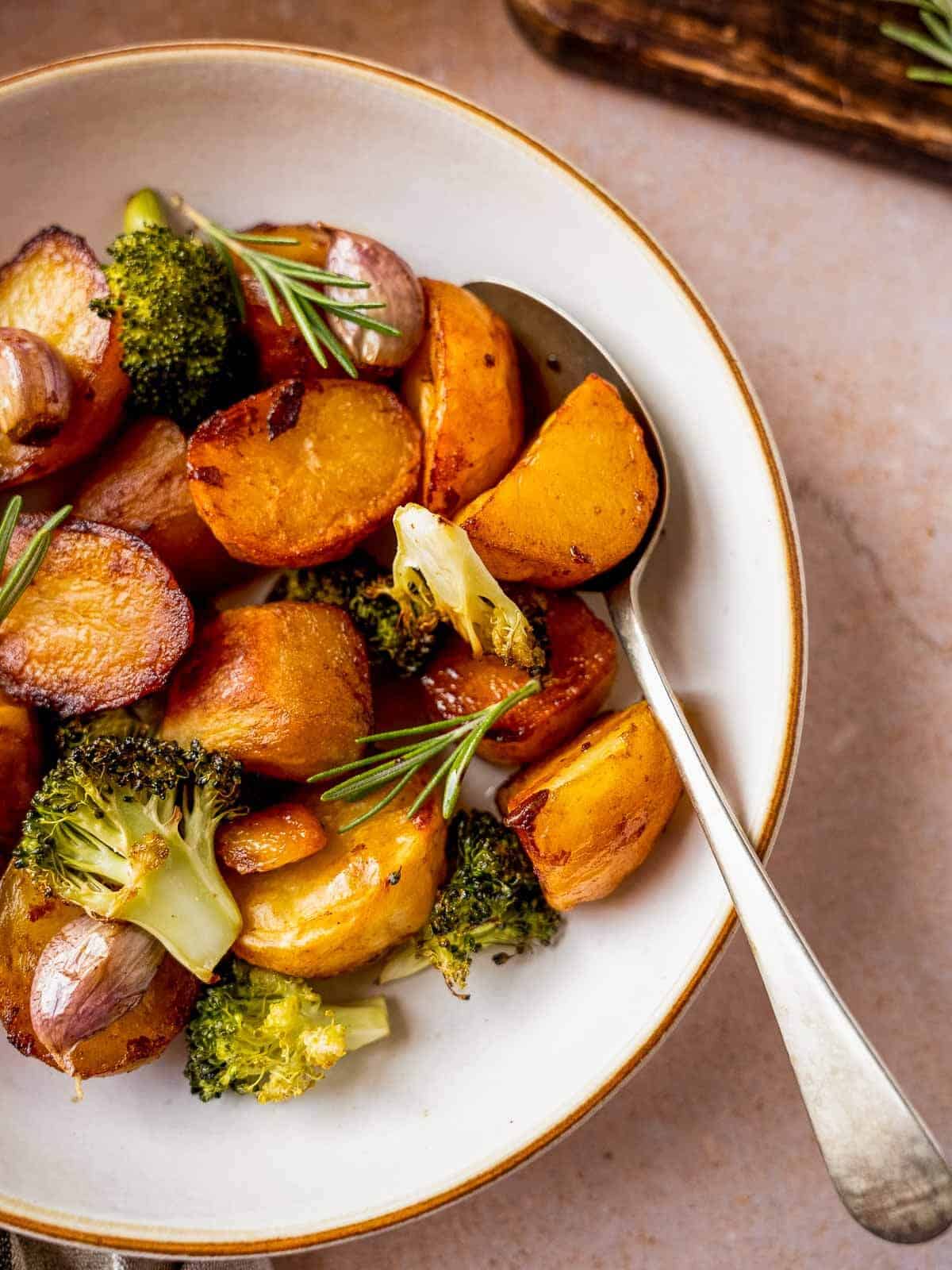 🍶 Substitutions
Russet potatoes - instead, Maris Piper, King Edward, red potatoes, or Yukon Golds are excellent roast potatoes. You can also use baby potatoes and leave them whole.
Marmite - use vegemite or nutritional yeast. If you use the latter, add them when adding the broccoli florets.
Fresh garlic - use garlic powder instead.
Olive oil - grapeseed oil and avocado oil are suitable high-smoking point oil substitutes.
Rosemary – a classic herb for roast potatoes, but thyme would also be a great choice (or both!). Dried basil, oregano, or Italian seasoning also work.
Broccoli - you can easily change these for cauliflower florets or carrot chunks.
📖 Variations
Zesty - if you like to add a zing, add some lemon juice to the oil and marmite mix, or add lemon zest when adding the broccoli florets.
Sweet potatoes - this recipe also works with this sweeter option.
No oil option - if you want to keep this recipe WFPB compliant. Use a parchment-lined baking sheet, and dilute the marmite in 2 tablespoons of warm water. Since the oil makes the potatoes crispy, I recommend you use an air fryer instead of a regular oven to reach the same results.
Cheesy - add vegan parmesan cheese right before serving. Here's our veggie parm recipe.
Marmite - if you love truffled dishes, we recently found a Truffle-favored marmite yeast extract, that is so good! Be sure to try it out!
See this sweet potato version on my website!
To make this recipe gluten-free, be sure to use a yeast extract brand explicitly marked as so.
🥢 How to serve
Serve these marmite roast potatoes as a side dish with a Holiday Nut Roast, or maple glazed tofu block, and with additional vegetable side dishes like grilled asparagus with toasted almonds, perfectly blanched and buttery white asparagus, and sautéed romanesco broccoli (in case you decide to leave broccoli out of the vegan roast potatoes dish).
🍽 Equipment
Make sure you use a large baking sheet since the potatoes need "air" to cook evenly; otherwise, the moisture will cause them to become soggy.
🥡 Storage
This roasted potatoes and broccoli dish can be stored both in the fridge or freezer.
Fridge – store in an airtight container for up to 3 days. Reheat and crisp back up in the oven or air fryer.
Freezer – can be stored in an airtight container for up to 3 months. It can be reheated from frozen.
💡Top tip
Cut potatoes into even pieces to ensure they cook evenly and are tender inside.
❓FAQ
What Marmite tastes like?
Marmite is a yeast-based spread that's popular in the United Kingdom. It has a robust, salty flavor that some people love and others hate. It's also a good source of B vitamins.
Its taste has been described as being similar to beef bouillon, black licorice, or soy sauce.

What is a good marmite substitute?
Alternative yeast extracts, such as Vegemite or a supermarket brand. Depending on the recipe, you can substitute marmite with nutritional yeast flakes for a cheese flavor or soy sauce or tamari for a more Asian flare.
Is it better to boil potatoes before roasting them?
There is no definitive answer to this question. Some people believe that boiling potatoes before roasting them makes them crispier and drier, while others believe that it makes them moister and less crispy. I prefer to quickly boil the potatoes before roasting them to ensure they are all cooked evenly and you're not left with any hardened ones, but I know many people who swear by the boiled-before-roasted method. Try both methods and see which you prefer.
What are the best potatoes for roasting?
Russet potatoes, Maris Piper, King Edward, Red potatoes, or Yukon Gold are excellent potatoes for roasting. Baby
How do you cook broccoli and potatoes?
When cooking potatoes and broccoli together in the same dish, it is better to cook potatoes halfway first and then stir in the broccoli, as we do in this recipe. This is because broccoli florets are more delicate and require significantly less cooking time.
Read on: how to cook broccoli and cauliflower and keep their color
Bought too many potatoes? See how to store potatoes, so they last for months!
🥔 More potatoes recipes
These are our Perfect vegan mashed potatoes, and if you would like a truffled mashed potatoes version, here is our go-to version.
This Green beans potatoes, and sausage casserole is another excellent option for your Thanksgiving table!
This 4-ingredient potato soup is so easy to put together that it will become your favorite fall season soup.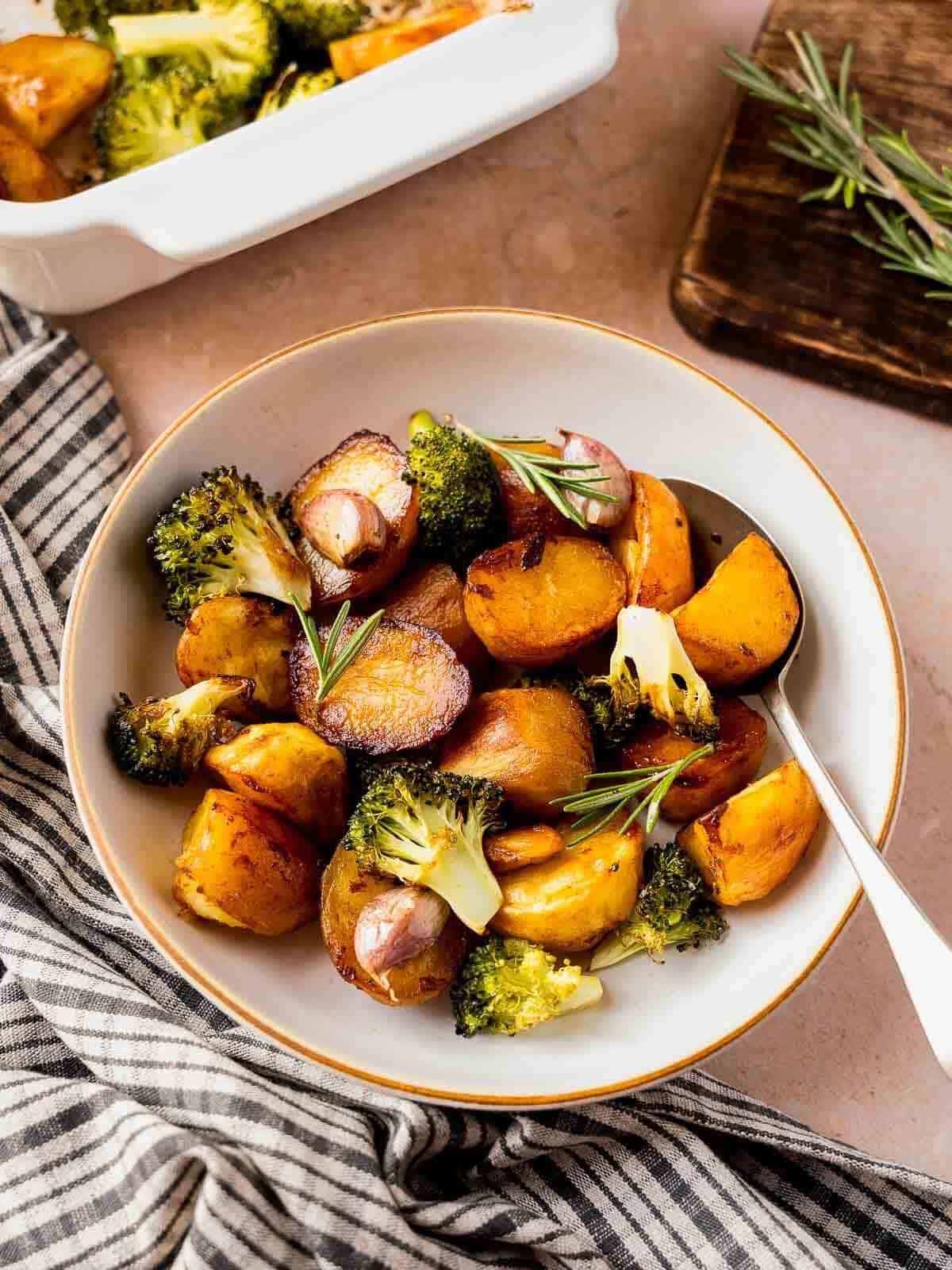 ⭐ If you try this marmite roast potatoes recipe, let us know! 💬 Leave a comment, rate it, and don't forget to tag us @ourplantbasedworld on Instagram. Cheers!
📋 Recipe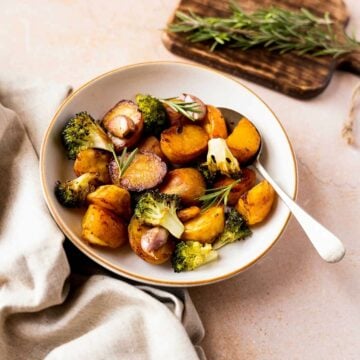 Roasted Garlic and Rosemary Potatoes with Marmite
Not only does marmite make roast potatoes extra delicious, but it gives them an even richer golden color once roasted. And there's no better combination of flavors to add to roast potatoes than rosemary and garlic! The broccoli florets are perfect for adding some wholesome vegetables to this all-time classic.
Equipment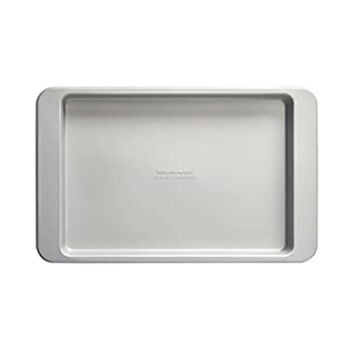 (affiliate link)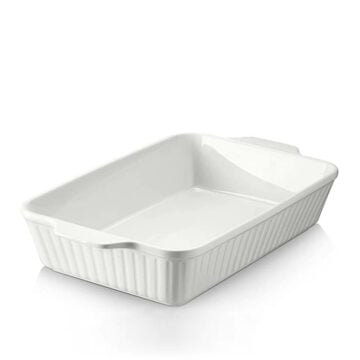 (affiliate link)
Directions
Preheat the oven to 400 °F (205° C).

Pour the olive oil into a large baking sheet and put it in the oven to heat up for about 10 minutes.

Boil. Meanwhile, put the potato chunks in a large pot of salted boiling water and simmer for 8 minutes until starting to become tender. Drain in a colander and set aside.

Remove. Once the oil is hot, remove it from the oven.

Stir in the marmite, don't worry if you see some bubbles. Be careful, as it might spit.

Add the potatoes to the dish and stir well until completely coated in the marmite oil.

Add in the garlic cloves and rosemary sprigs, scattering them evenly, then put back into the oven for 30 minutes, turning the potatoes halfway through. Feel free to sprinkle some garlic powder or onion powder for a more intense and garlicky flavor kick.

Pop in the broccoli florets and stir, then season with salt and pepper and put back in the oven for 10-15 minutes until the broccoli florets have started to brown but not wilt or burn.

Take a sample; the potato chunks should be crispy and golden but soft on the inside.

Adjust with salt and pepper.
Nutrition Facts
Calories:
318
kcal
Carbohydrates:
43
g
Protein:
7
g
Fat:
15
g
Saturated Fat:
2
g
Polyunsaturated Fat:
2
g
Monounsaturated Fat:
10
g
Sodium:
159
mg
Potassium:
1151
mg
Fiber:
5
g
Sugar:
3
g
Vitamin A:
473
IU
Vitamin C:
76
mg
Calcium:
72
mg
Iron:
3
mg
Nutrition Facts
Roasted Garlic and Rosemary Potatoes with Marmite
Amount per Serving
% Daily Value*
* Percent Daily Values are based on a 2000 calorie diet.
🌡️ Food safety
Cook to a minimum temperature of 165 °F (74 °C)
Do not use the same utensils on cooked food, that previously touched raw meat
Wash hands after touching raw meat
Don't leave food sitting out at room temperature for extended periods
Never leave cooking food unattended
Use oils with a high smoking point to avoid harmful compounds
Always have good ventilation when using a gas stove
See more guidelines at USDA.gov.
Nutritional Disclaimer
The information shown is an estimate provided by an online nutrition calculator. It should not be considered a substitute for a professional nutritionist's advice. See our full Nutritional Disclosure here.
Affiliate Disclaimer
Please note that some of the links here are affiliate links, and I will earn a commission if you purchase through those links. I recommend all of the products listed because they are companies I have found helpful and trustworthy.