When you think of ceviche, thoughts of the ocean may come to mind. But have you ever tried hearts of palm ceviche? This recipe is a fun and easy way to switch up your seafood routine. The heart of palm is a versatile ingredient that can be used in many different dishes - give it a try!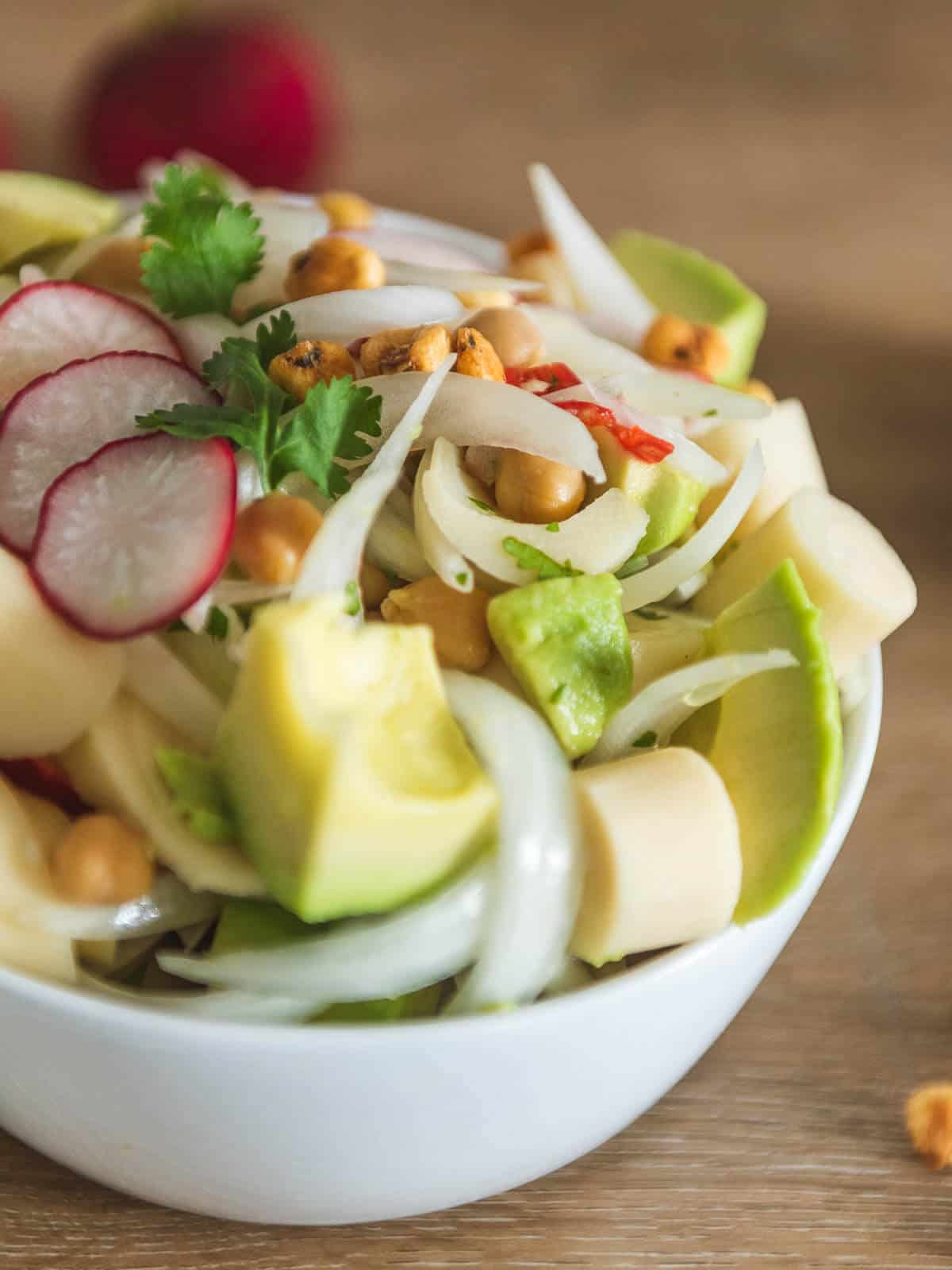 For all those vegan hearts around, if you missed the times when you ate fish, the good news is that most of what makes up for traditional ceviche flavor is limes and onions.
They are the actual holders of all that flavor.
Some people may call this vegetarian ceviche a hearts of palm avocado salad, and we are OK with that; we love salads. The magic of ceviche relies on the "cooking" method.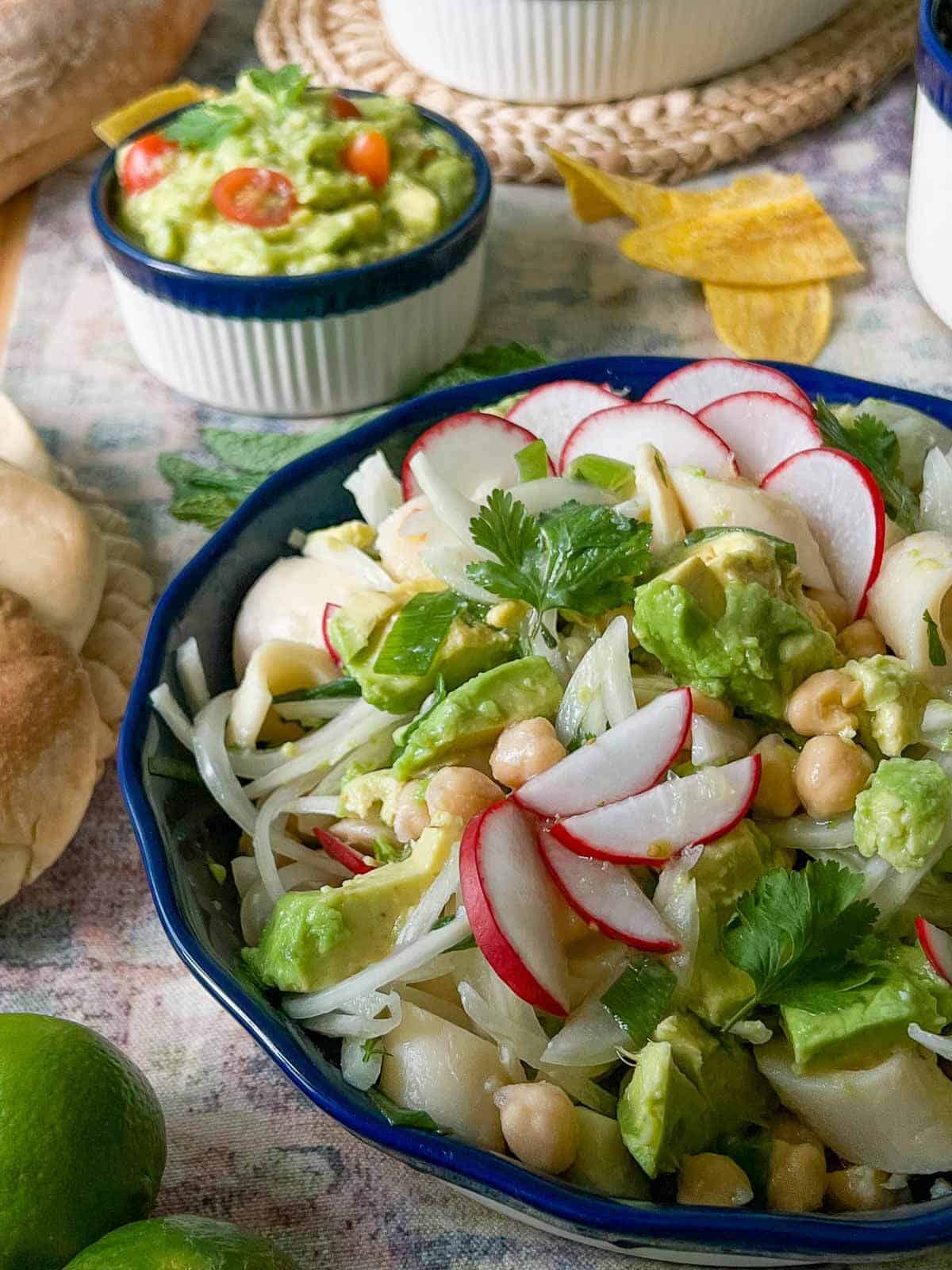 In a fish ceviche, the lime juice marinates the fish, and here it marinates the onions, vegetables, and palm hearts.
One way or the other, ceviche is indisputably one of the best summer recipes; head to head with our vegan chickpea salad, our vegan chickpea burgers, and a hummus avocado dip.
Jump to:
🤔 Why you will love it
The prep time is minimal. You can get the recipe ready just right before your guests arrive.
Ingredients are easy to get
The flavor is surreal!
🧾 Ingredients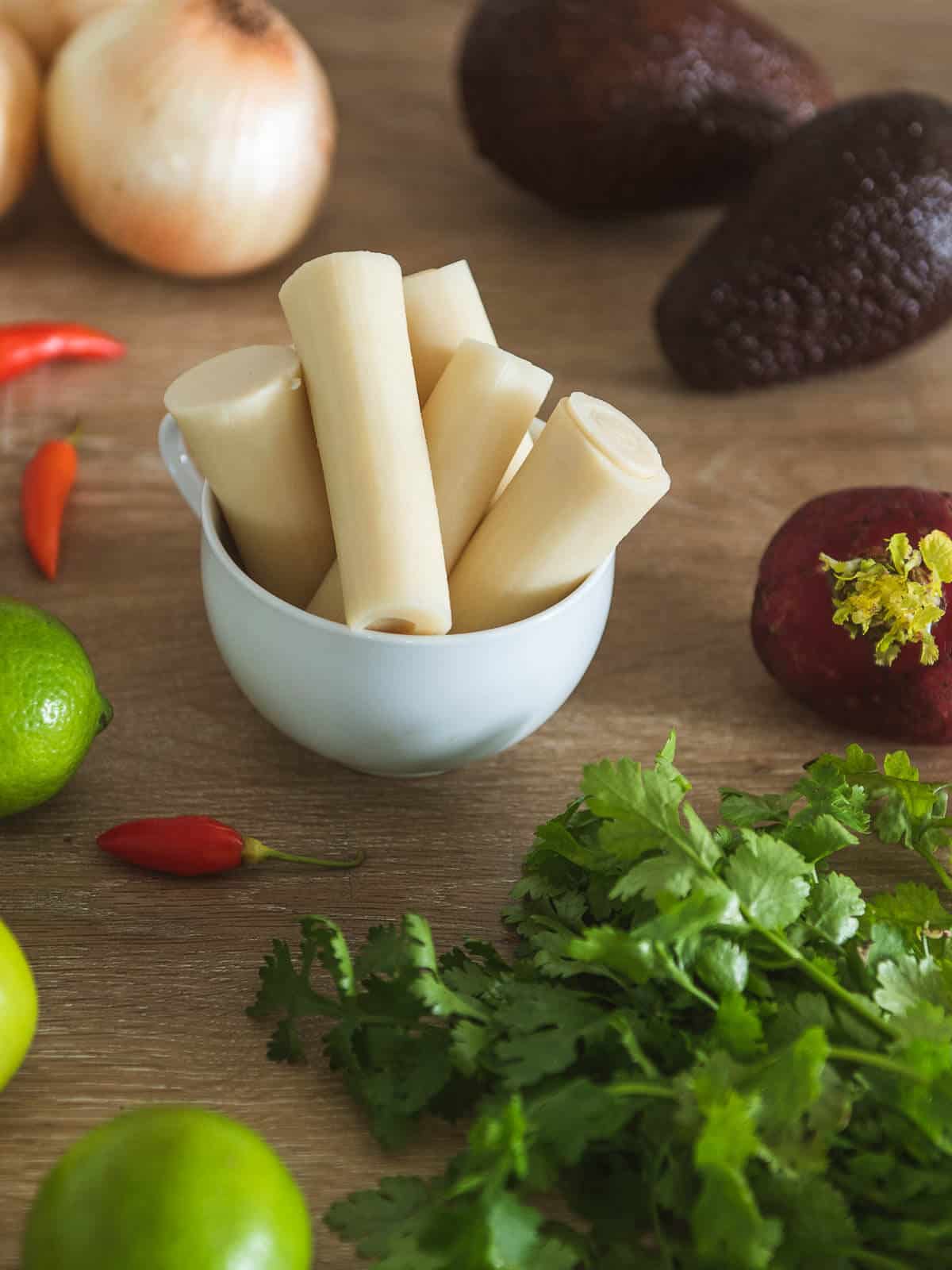 Canned hearts of palm is a great way to add unique flavor and texture to salads, pastas, soups, and more! It's also easy to find at most grocery stores. Plus, it's a fantastic source of healthy plant-based protein and fiber.
White onion is a widely cultivated type of onion that is known for its white papery skin and mild flavor. It has a round shape with multiple layers of fleshy rings.
Fresh lime juice and coriander (cilantro) are two ingredients that can create a delicious and healthy salad dressing.
Avocados are a great source of healthy fats, fiber, and many vitamins and minerals. They're also delicious and easy to incorporate into almost any plant-based meal. I like to use them in salads, sandwiches, guacamole, smoothies, and everything in between! They are best when in season, and March is the avocado season!
Orange bell pepper adds sweetness to this salad, while the lettuce gives it some crunch. The combination of fresh ingredients creates a light and flavorful dish that is perfectly suited for summertime!
Red chili or jalapeño peppers bring to this salad a nice kick and some heat. If that's too much, you can substitute them with red bell peppers or omit them altogether.
Kosher salt and black pepper round all the flavors.
Optional: Chickpeas (garbanzo beans), radishes, and corn kernels.
See the recipe card for quantities.
🔪 Instructions
What's great about making ceviche is that there is no cooking involved. You only need to prepare your ingredients and let the lime juice do its work.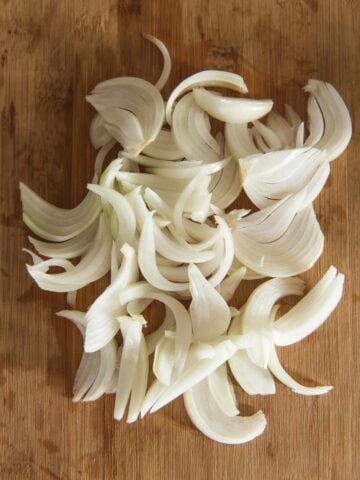 Cut the radishes and onions into half moons.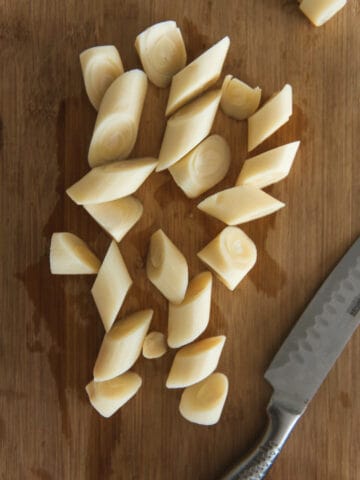 Prepare the hearts of palm cutting them into chunks and slices.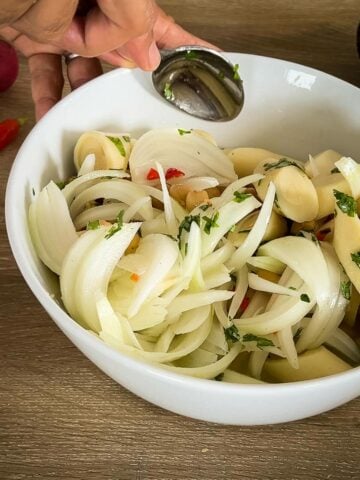 Mix all ingredients with the drained hearts of palm; finely chop the coriander and toss it into the bowl.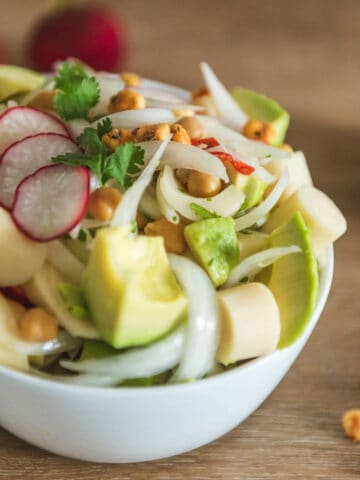 Reserve in the fridge for 15-30 minutes until the flavors meld.
Right before serving, add avocado dice! Taste and adjust salt, chili, and lime juice. Feel free to add freshly ground black pepper if desired.
Hint: I usually double the batches as I am a big fan of ceviche, so I like to use two cans, one can of whole hearts of palm cut into chunks and another one cut into slices to add more textures.
🍶 Substitutions
Chickpeas - instead of garbanzo beans, you can use cannellini beans, navy beans, or black beans.
Bean-free - whenever we want something even lighter, we skip the chickpeas, and the ceviche turns out equally delicious. Reduce the lime by one.
White onions - all kinds of onions work on this avocado hearts of palm salad. Use red onions if you want to give your ceviche more color.
Avocados - I strongly recommend using avocados, but you can substitute them with olive oil or skip them altogether.
Limes - ceviche is traditionally made with limes, but this is already an adaptation; some people may say this is a palm salad, so feel free to substitute for lemon juice.
📖 Variations
Spicy - add deseeded jalapeño chillis or habanero.
Garlicky - add minced garlic or a pinch of ground garlic.
More veggies - other ingredients you can include are sliced radishes, artichoke hearts, and halved cherry tomatoes, grape tomatoes, or a cored tomato. Zucchini and cucumber are great additions; in fact, they are the main ingredients on our cucumber vegan ceviche.
Deluxe - add one can of artichoke hearts and black olives.
Tangy - add more lime juice.
See this zucchini and cucumbers version of this recipe on our website!
🥢 How to serve
This vegetarian ceviche can be served as a palm salad, appetizer, or side dish.
When we serve it as an appetizer, we always serve it with something to scoop it, either our baked green plantains, cassava chips, nacho chips, plantain chips, lettuce cups, or mini edible baskets.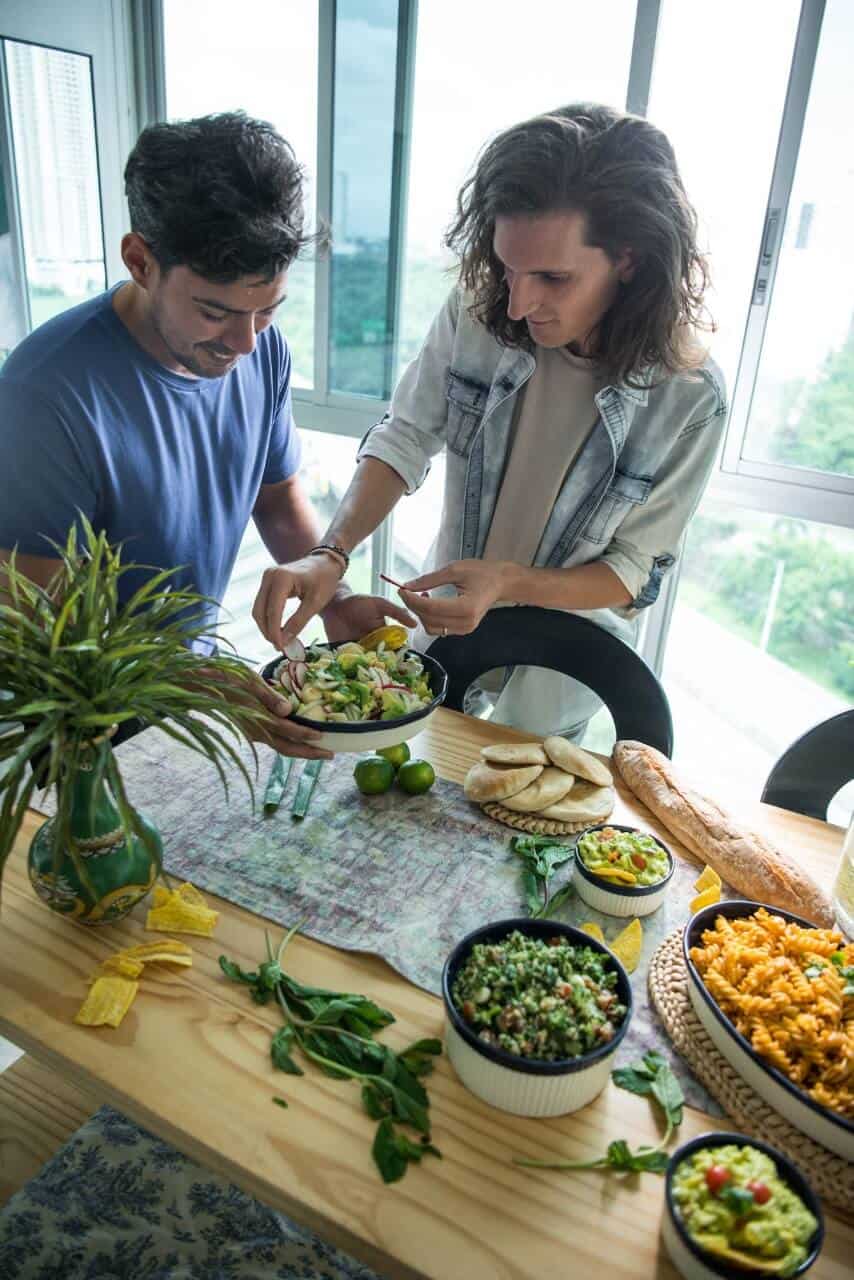 If you have leftover ceviche juice, you can use it as a salad dressing or drink it, as they do in Peru, and call it Leche de Tigre.
We also love adding some crunch to the dish by tossing some corn kernels into it, which is very common in traditional Peruvian ceviche.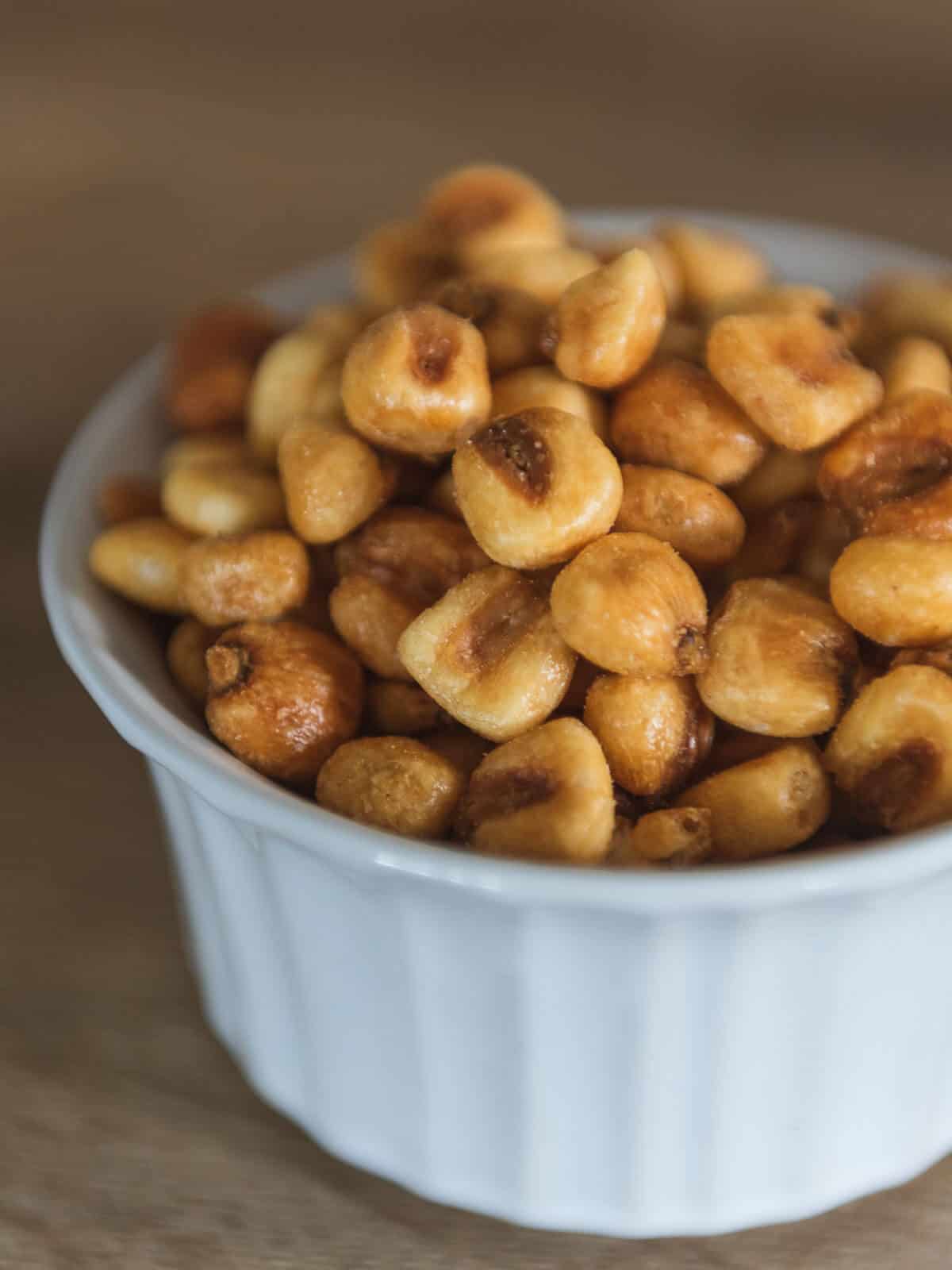 🍽 Equipment
I am sure you have almost, if not all, the kitchen utensils you need. A large or medium bowl, knives, and so on.
I find a lemon press (affiliate link) (affiliate) is very useful when making ceviche because you need to squeeze a lot of limes.
🥡 Storage
Store hearts of palm and avocado salad leftovers for 2-3 days in the fridge covered with plastic wrap.
Remember that avocado will turn darker, add extra lemon to minimize its darkening, as you would with homemade guacamole.
The vegan ingredients on this palm salad don't freeze well.
💡 Top tip
When using red or purple veggies like red onions or radishes, add them 15 minutes before serving if you want to maintain the colors of this vegetarian ceviche. Otherwise, lime juice will make these veggies' colors blend into the mix.
🥗 Hearts of palm health benefits
The hearts of palms are a good source of potassium, magnesium, and vitamin C. They are also a good source of dietary fiber. Additionally, the hearts of palm are a vegan source of omega-3 fatty acids.
Omega-3 fatty acids are essential for maintaining heart health and preventing chronic diseases such as heart disease, stroke, and cancer.
❓ FAQ
What to do with hearts of palm?
Apart from making ceviche and salads, you can have them grilled. Their flavor pop even more!
You can also slice them thin and add them to pasta dishes or use them as a base for vegetarian pâtés. Here we are using it in vegetarian ceviche, but it can also be used in vegan "tuna salad" instead of chickpeas.
How long should ceviche be marinated?
Like this palm recipe, a vegetarian ceviche doesn't need more than 15-30 minutes; however, a seafood ceviche should be marinated for about two hours. This will give the seafood enough time to cook in the acidic citrus juices and allow the marinade flavors to penetrate the seafood.
What does heart of palm taste like?
Heart of palm tastes similar to artichokes, albeit a bit more delicate and with a slight nutsedge flavor. They're usually sold canned, so they have a slightly spongy texture that's perfect for absorbing sauces.
If you can find the fresh heart of palm, they'll have a crisp texture closer to celery. Either way, we love hearts of palm as they make a delicious and healthy addition to your meals.
Is hearts of palm a healthy snack?
Hearts of palm are a healthy snack food, but they do contain quite a bit of sodium. They're also low in calories and a good source of fiber, vitamins C and B6, folate, potassium, and manganese.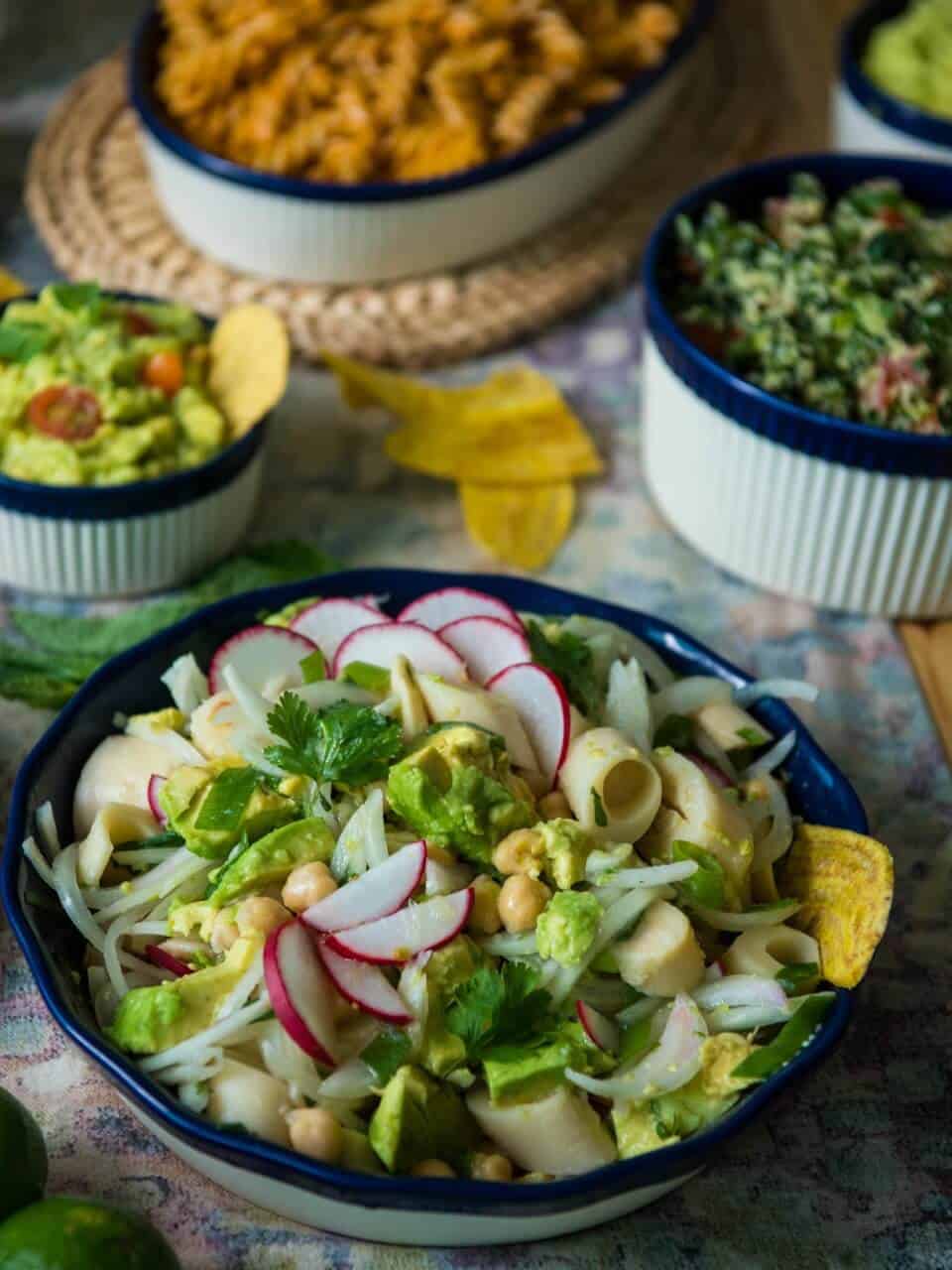 🥗 More salad recipes
Elevate your meal with our quick and flavorful spicy Korean cucumber salad or the marinated mushroom salad! Ready in minutes, it packs a punch of freshness that will leave you wanting more. Don't miss out on this delicious sensation!
⭐ If you try this recipe, let us know! 💬 Leave a comment, rate it, and don't forget to tag us @ourplantbasedworld on Instagram. Cheers!
📋 Recipe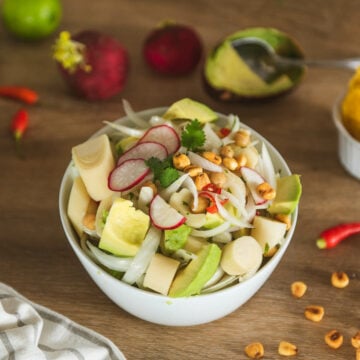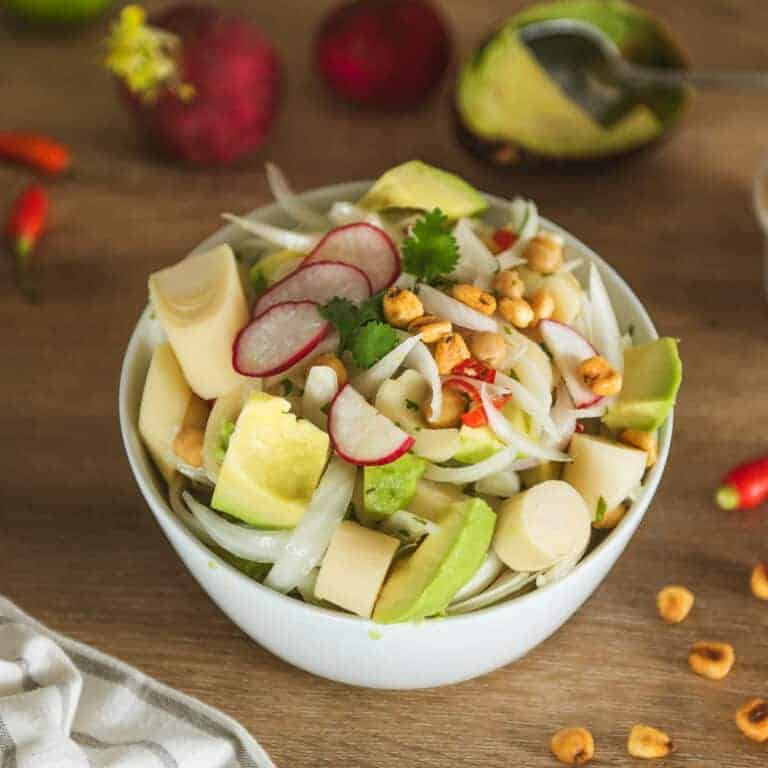 Hearts of Palm Ceviche Recipe
This vegetarian ceviche recipe is made with hearts of palm, lime juice, onion, and avocado. It's perfect for a light lunch or appetizer!
Equipment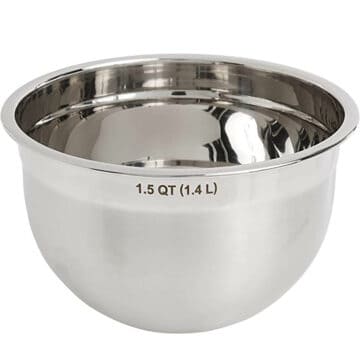 (affiliate link)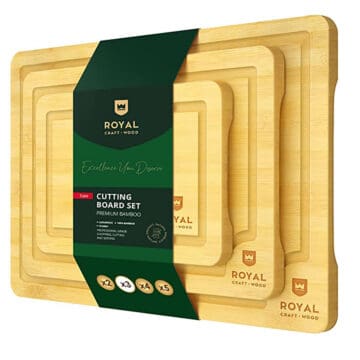 (affiliate link)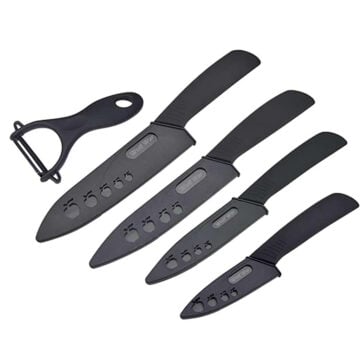 (affiliate link)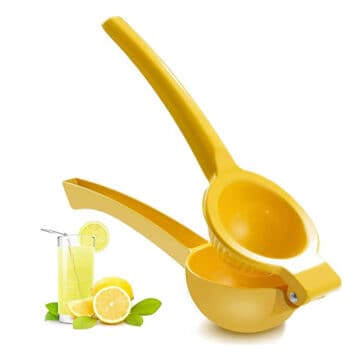 (affiliate link)
Ingredients
Optional:
1

orange bell pepper

small, thinly sliced lengthwise

5

cherry tomatoes

1

cup

pineapple

fresh chunks

1

cup

artichokes

hearts
To Garnish (optional):
1

radishes

sliced

1

handful

corn

toasted kernels

avocado

chunks
Directions
Thinly slice the white onion.

Cube the avocado and juice the limes on top.

Thinly slice the bell peppers and chili. Slice the palm hearts in thick slices.

Place the veggies in a glass bowl and mix. Sprinkle with a little bit of salt and pepper. To minimize the acidity of the limes, you can add a couple of ice cubes.

Refrigerate the ceviche for at least 30 minutes, but you can also serve it immediately.

If garnishing with sweet potato, cut it in half put them to boil, or steam.

Top with the remaining freshly chopped cilantro and extra avocado dice.
Notes
If you add more vegetables, keep in mind you might have to adjust the amount of lime juice, chili, salt and pepper.
Nutrition Facts
Calories:
215
kcal
Carbohydrates:
37
g
Protein:
6
g
Fat:
6
g
Saturated Fat:
1
g
Polyunsaturated Fat:
1
g
Monounsaturated Fat:
4
g
Sodium:
198
mg
Potassium:
1547
mg
Fiber:
8
g
Sugar:
13
g
Vitamin A:
138
IU
Vitamin C:
30
mg
Calcium:
65
mg
Iron:
3
mg
Nutrition Facts
Hearts of Palm Ceviche Recipe
Amount per Serving
% Daily Value*
* Percent Daily Values are based on a 2000 calorie diet.
🌡️ Food safety
Cook to a minimum temperature of 165 °F (74 °C)
Do not use the same utensils on cooked food, that previously touched raw meat
Wash hands after touching raw meat
Don't leave food sitting out at room temperature for extended periods
Never leave cooking food unattended
Use oils with a high smoking point to avoid harmful compounds
Always have good ventilation when using a gas stove
See more guidelines at USDA.gov.
Nutritional Disclaimer
The information shown is an estimate provided by an online nutrition calculator. It should not be considered a substitute for a professional nutritionist's advice. See our full Nutritional Disclosure here.
Affiliate Disclaimer
Please note that some of the links here are affiliate links, and I will earn a commission if you purchase through those links. I recommend all of the products listed because they are companies I have found helpful and trustworthy.