I'd like to introduce you to a delicious side dish that is often overlooked. Italian Pickled Eggplant! This unique dish can be enjoyed as an appetizer or side dish. It's perfect for any occasion and easy to make at home. Pickles are also easy to make and great to pimp up your dishes.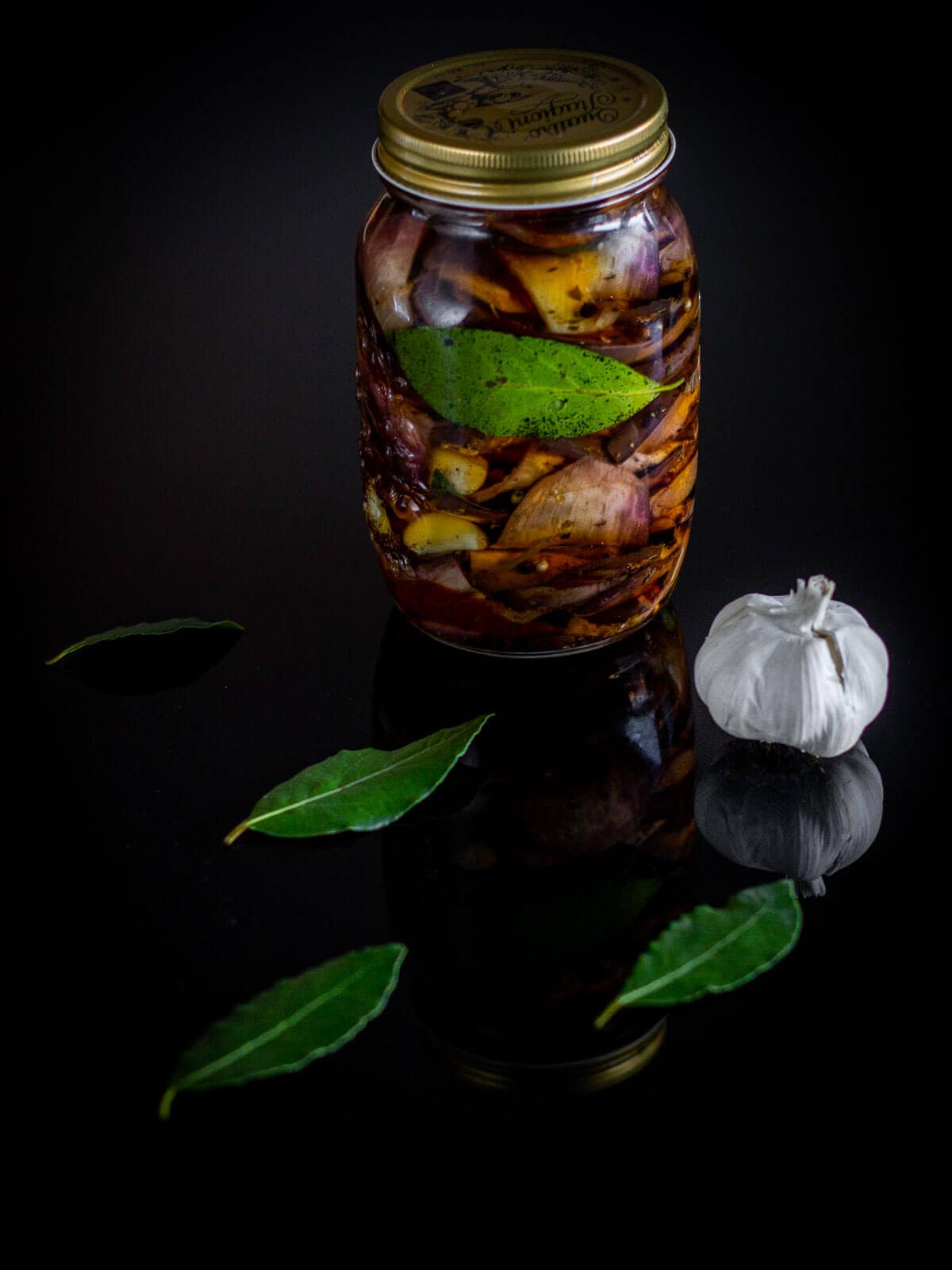 Pickled eggplant is marinated eggplant pickled and kept completely covered under olive oil, flavored with garlic and oregano as is done in Italy.
After making your pickled eggplants, you can use them in many different pickle recipes; pickled eggplant is a vital ingredient in many spicy pickles.
This is one of the authentic Italian dishes made in Argentina through our Italian mother and is a staple in every house; and also one of the most widely known as the eggplant parmigiana.
Pickling eggplant is a great idea to preserve fresh produce for the pickling season, and pickled eggplant is such a versatile pickle ingredient. You can pickle almost anything, but for me, pickled eggplant will remain my favorite pickles throughout the year, and we always have this appetizer readily available in the fridge.
Jump to:
🧾 Ingredients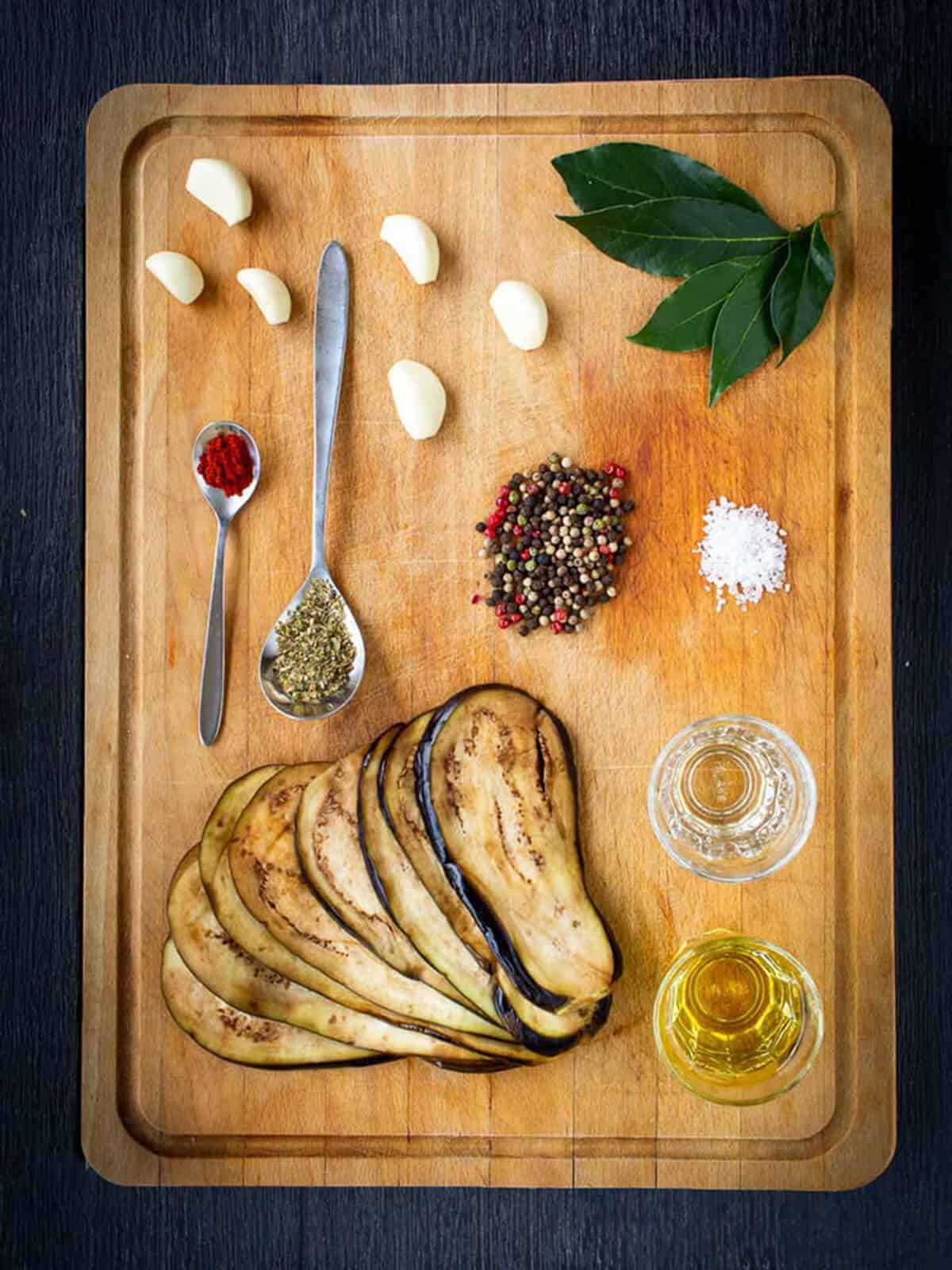 Eggplants
Coarse kosher salt
White wine vinegar
Vegetable oil
Peppercorns or red pepper flakes
Bay leaves
Garlic cloves
Oregano leaves
Smoked paprika
Optional variations
Dry Tomatoes
Fresh herbs (such as thyme, rosemary, or parsley)
Basil
🔪 How to pickle eggplant
It is a straightforward method; it doesn't take much time hands-on.
Salt the eggplant
What takes time is getting rid of the eggplant's excess liquid. After that step, everything unfolds in less than 30 minutes.
It would be best if you started either the day before or 8 hours in advance, so make the best of your time, doubling your quantities, as you should leave it to rest in the fridge for a month before starting to eat it.
I say the day before because you need to salt the eggplants and remove their excess moisture. You can do it 8 hours in advance, which will work well.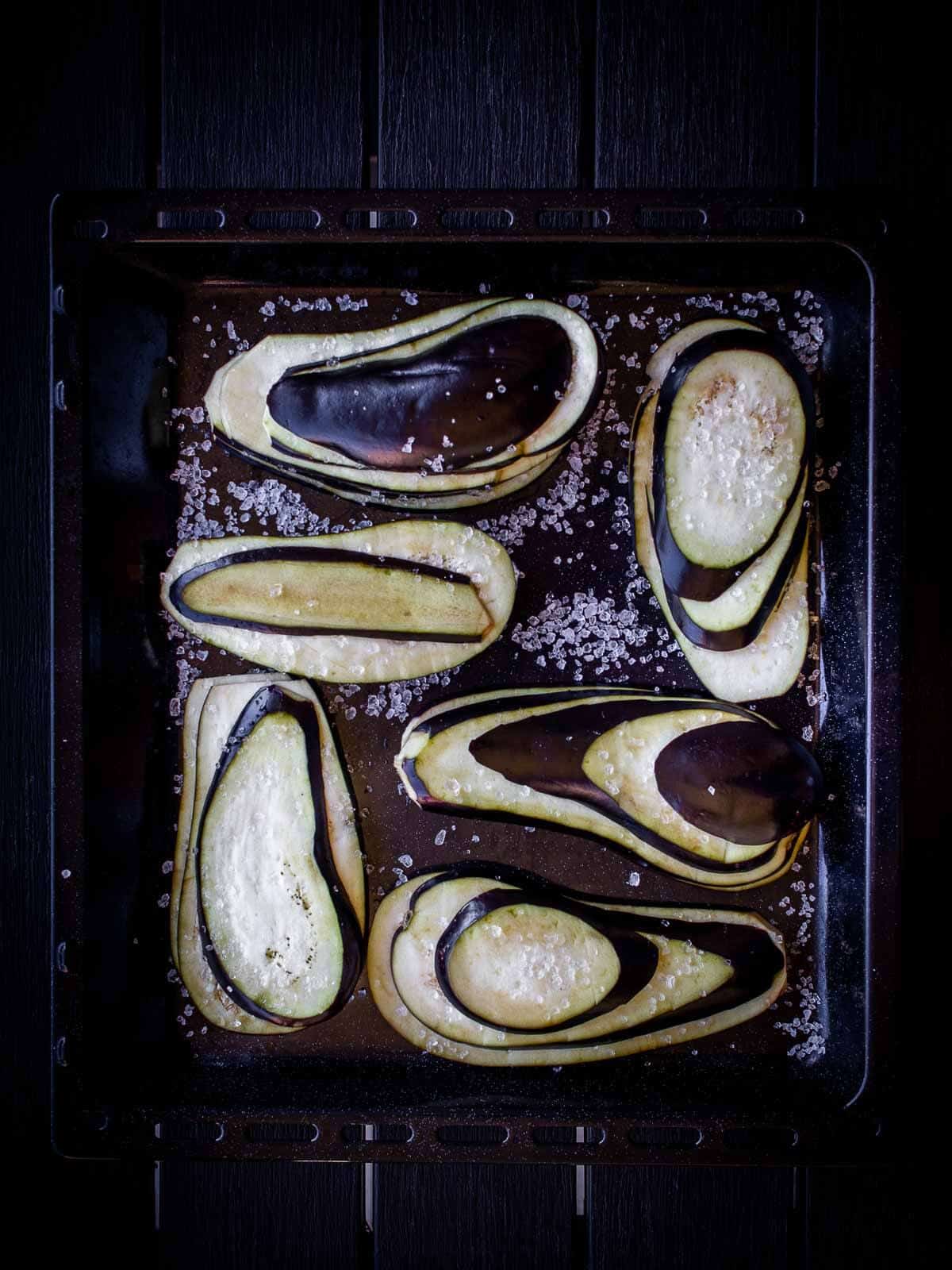 Slice the eggplant in your preferred shape. We like cutting them following the eggplant's length, but feel free to make long strips and even remove their skin.
You can also make discs. We leave the peal, but you can cut it off if you like. Use a mandolin if you have one.
We place something heavy on top of the eggplants, like a pile of heavy books or a dutch oven filled with grains.
Sprinkle coarse salt on the eggplant strips, line a plastic bag, and put something heavy on top; this helps drain more water from the eggplants.
Put them in a place where excess water can drain freely. I put the baking sheet slightly inclined towards the sink overnight.
Sterilize your container
Bring to a boil two liters of water on a large saucepan, and put your mason jar and lid to boil upside down for a minimum of 10 minutes.
Slightly cook eggplant
Using the same boiling water, add the white vinegar and give the eggplant strips or slices a vinegar and water bath to remove the excess salt.
Squeeze out as much liquid as possible by taking a handful of eggplant strips at a time and squeezing them with your hands., removing excess vinegar as well.
Canning
Start filling the sterilized jars with layers of squeezed eggplant dried or fresh oregano and herbs. (see video). Depending on your liking, you can use sliced garlic, or you can choose to leave the garlic cloves whole.
Make sure you cover everything completely with enough oil.
🫙 Storage
Store in a cool dark place or the fridge closed with a lid in an airtight container or mason jar for up to 6 months. They may last even longer; I have just not tried more than that.
Make sure they are always covered with oil. Feel free to add extra oil if the oil in the jar is not enough after consuming a portion.
📖 Variations
Like you make your eggplant pickle recipe, you can make pickled vegetables out of other veggies, such as zucchini, onions, and cucumbers. Try eggplants and zucchinis so you can taste the difference and pick your favorite.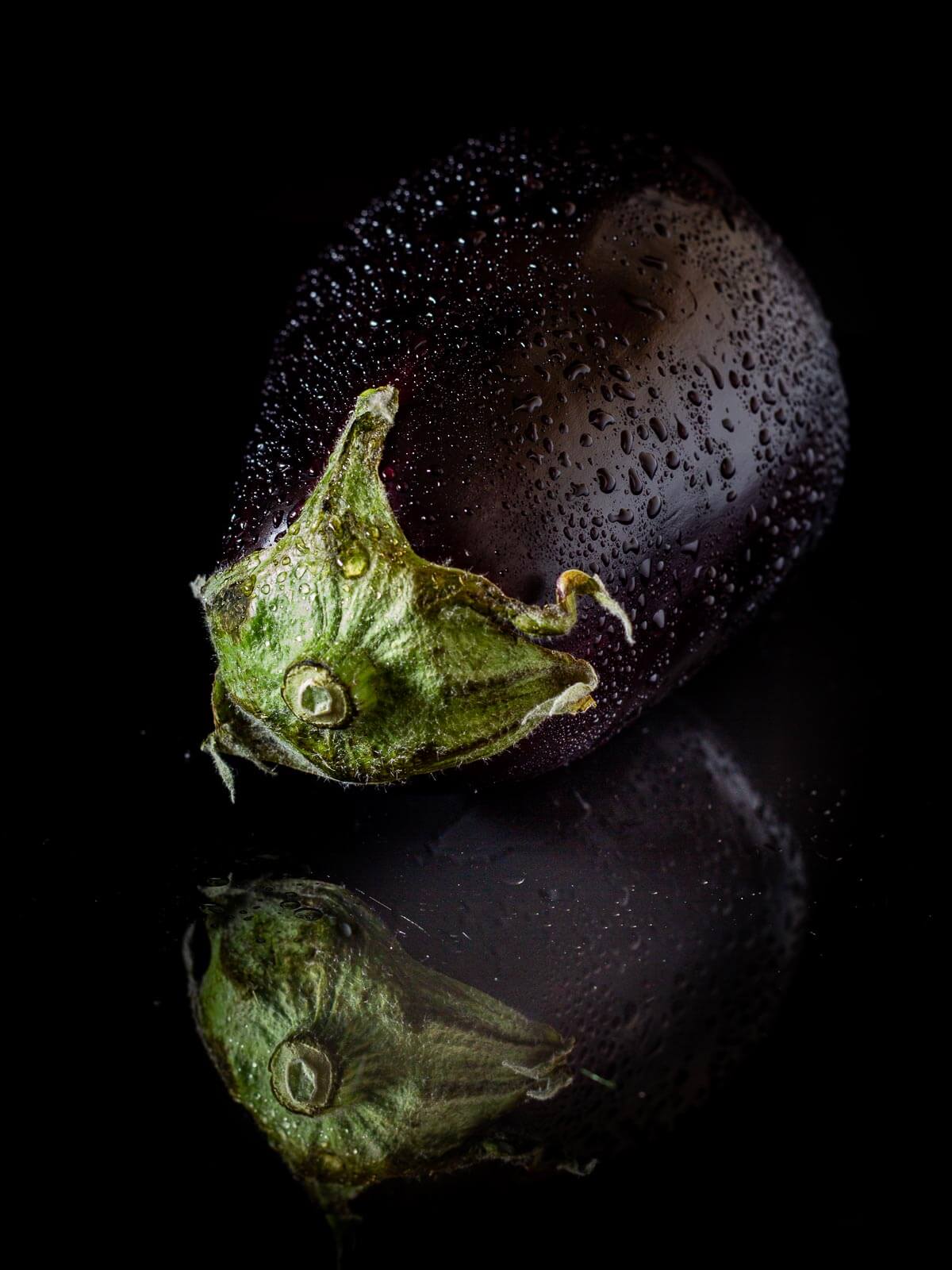 📚 Notes on oil
If you want a healthier option to make this eggplant pickle recipe, you could also use Extra Virgin Olive Oil. It will just change the flavor a little bit! Olive oil tastes great! The recipe is traditionally done with neutral vegetable oil so all the rest of the flavors can emerge better.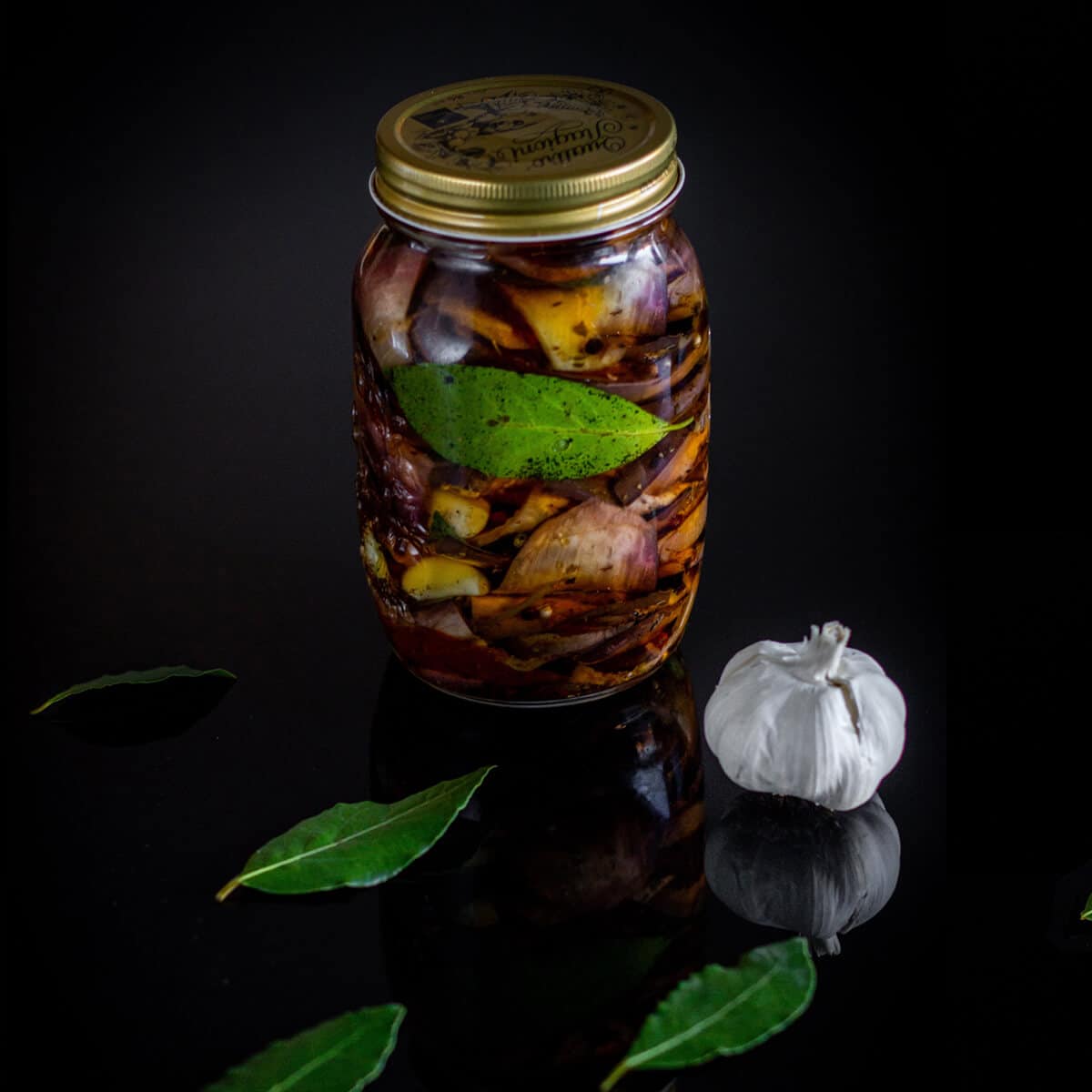 I like to use olive oil that is not super aromatic, avocado oil, or grapeseed oil (it will turn out greener if you go for this one). These last two options have almost no aroma and are healthier options than mainstream vegetable oil.
We usually can't wait and start munching after 2 or 3 days. That's why we typically fix a second pot which will be optimal in a month. If you munch on your first jar before the month has passed, skip the garlic, as its flavor might still be strong.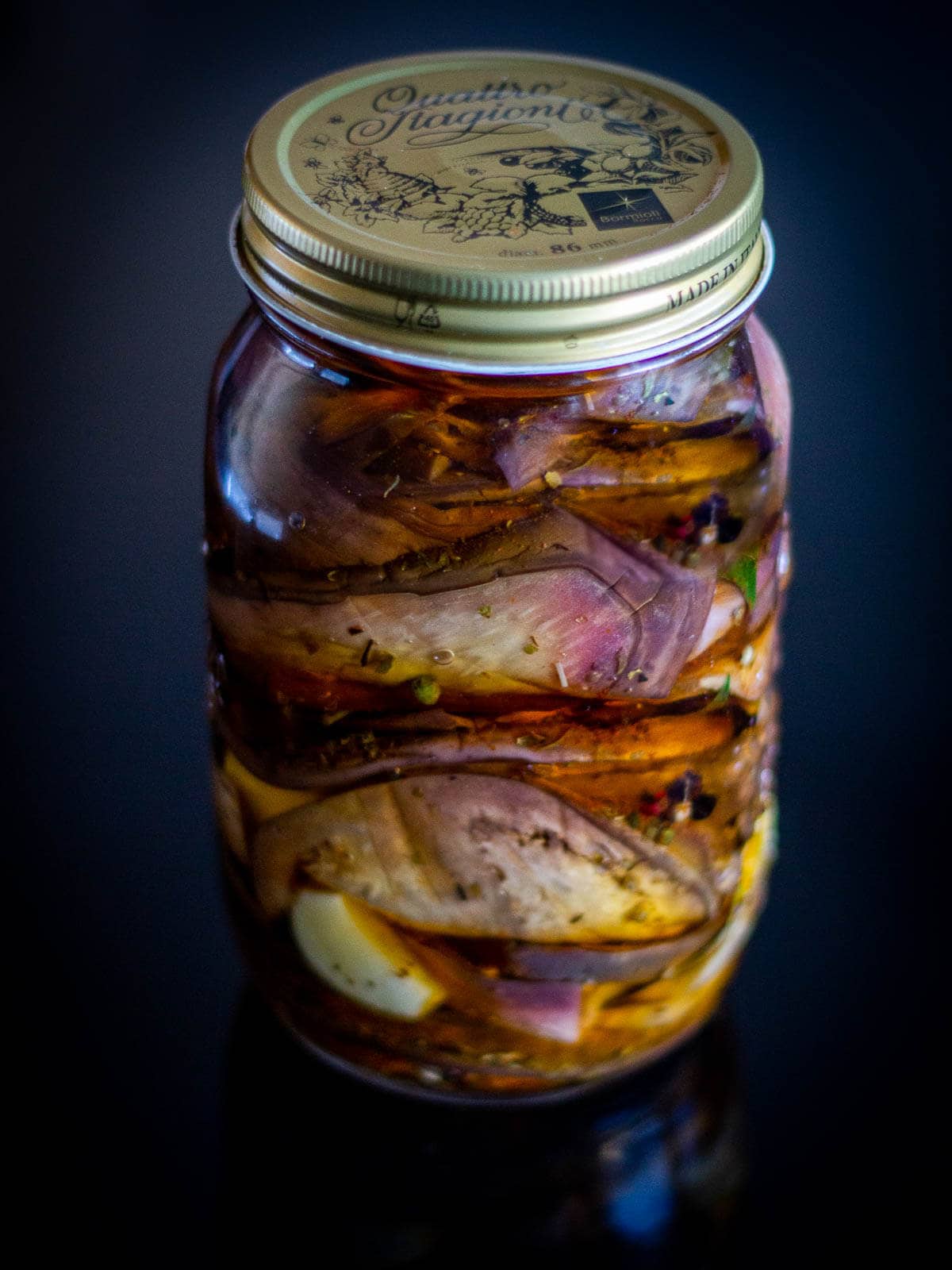 🥢 What to do with pickled eggplant
We usually have a Pickled Eggplant jar in the fridge year long since they go well with everything.
Italian pickled eggplant is easy to include in any antipasto platter, as this eggplant recipe is easy to eat as a snack with crackers, Focaccia, or rustic Italian bread (see our simple Italian Pangnotta Recipe).
Add to any pasta, sandwich, or potatoes for a flavor punch.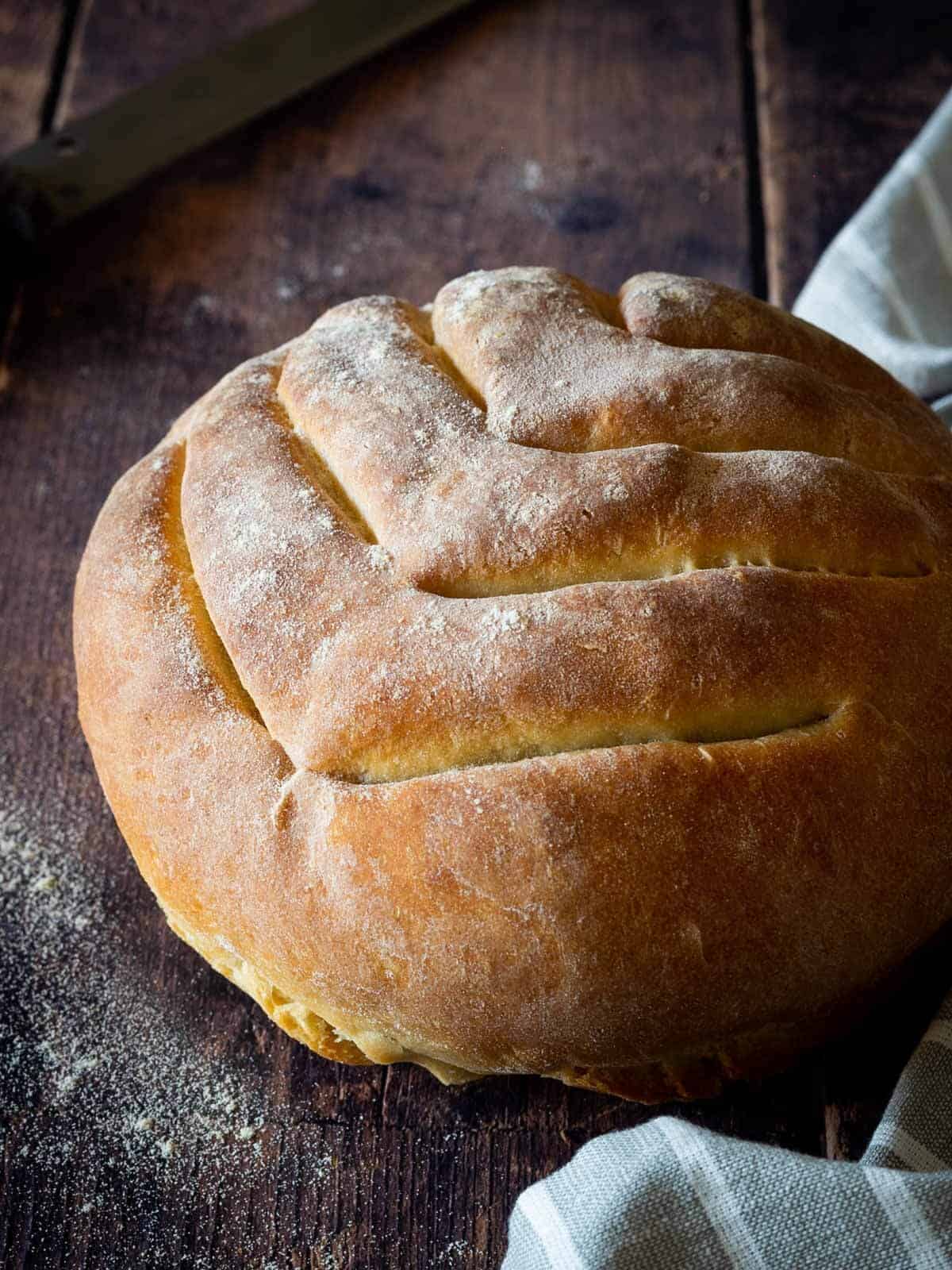 I also use their oil for additional daily preparations, like simple pasta.
Sometimes we chop one or two eggplant slices and a clove of pickled garlic from the jar and add them to spaghetti or rigati pasta for a lazy pasta night.
We usually have a tapa at the beginning of a meal, like a mini appetizer. Pickles are fantastic hassle-less options.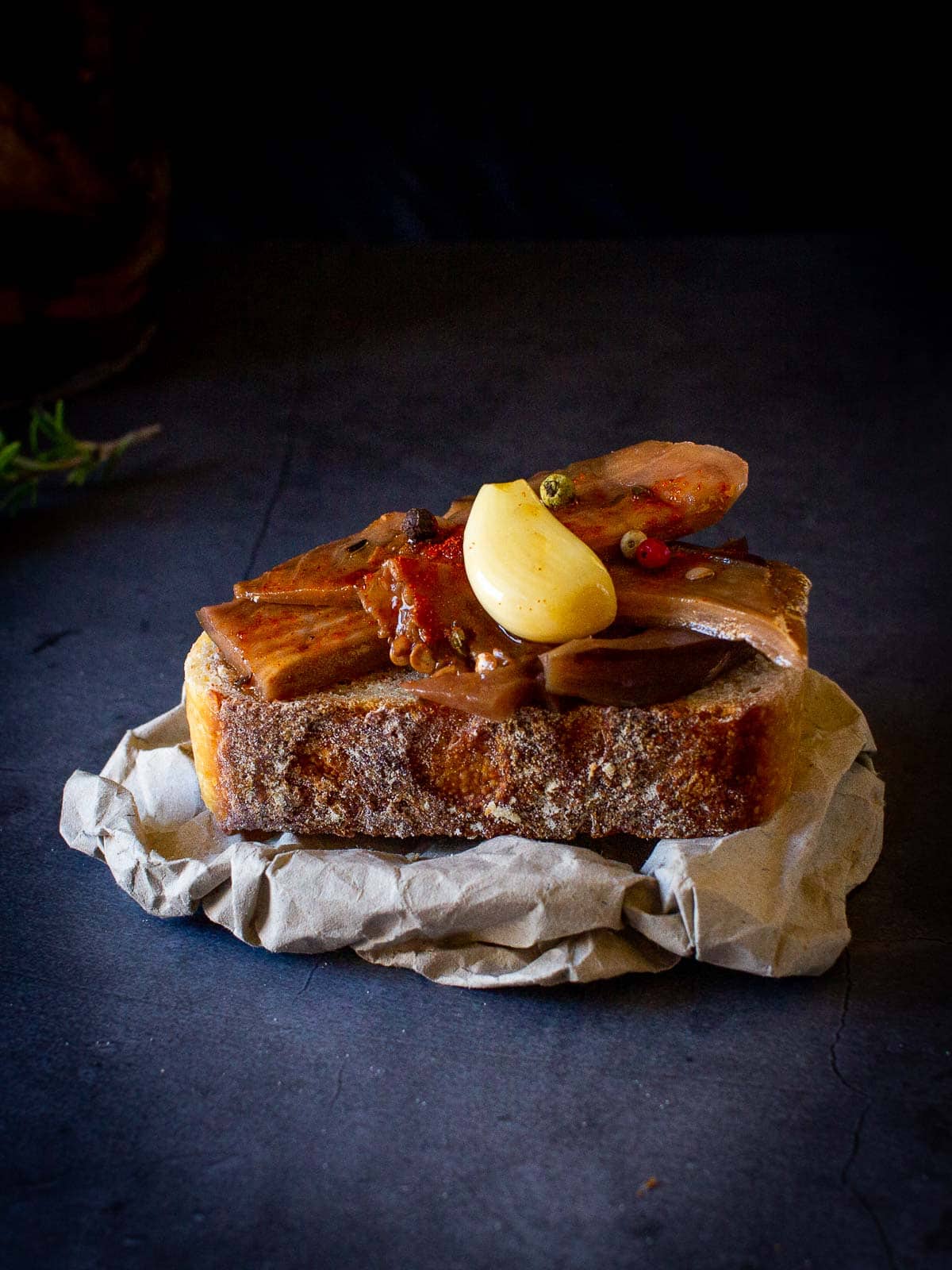 You can serve these Eggplants on an appetizers table next to Hummus, Baba Ganoush, Olives, assorted nuts, and Roman Style Artichokes (Carchiofi alla Romana)
Sometimes we just have some vegan empanadas, either with lentil filling or mushroom. We then serve these pickles on the same table and use them as a condiment.
Two of our favorite ways to eat eggplant pickles are to dice them and mix them with a nice bowl of pasta for an easy dinner or pair them with plain mashed potatoes.
🍆 More eggplant recipes
See our eggplant recipe collection.
If you try this recipe, let us know! Leave a comment, rate it, and don't forget to tag a photo #ourplantbasedworld on Instagram. Cheers!
📋 Recipe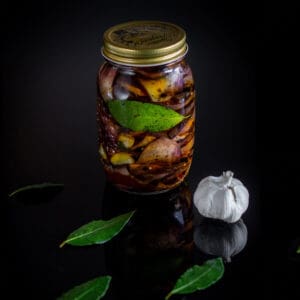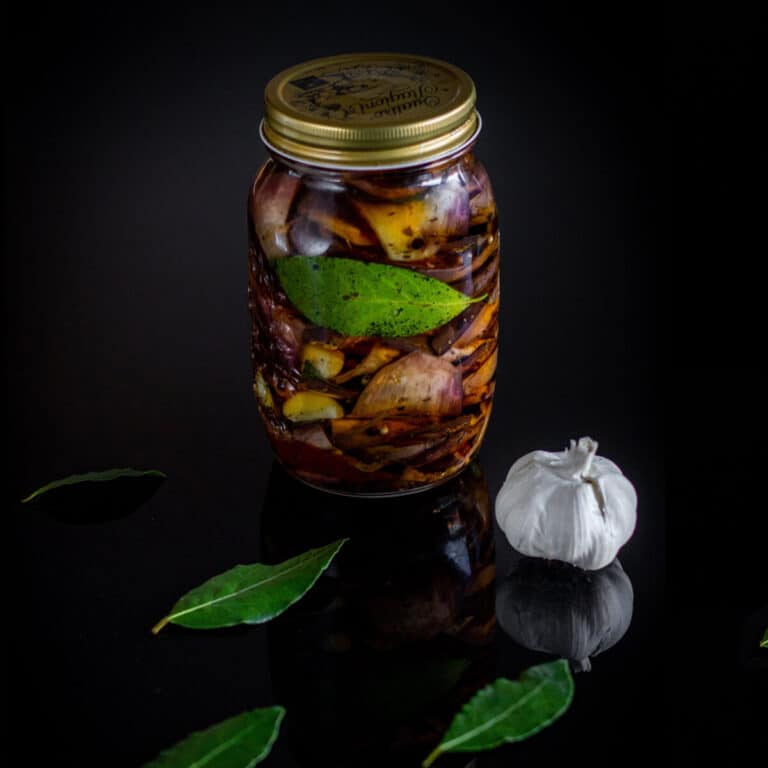 Recipe for Pickled Eggplant
A must in every fridge! Pickled Eggplants are Joaco's favorite snack. They are also easy to make and a great addition to pimp up your dishes.
Equipment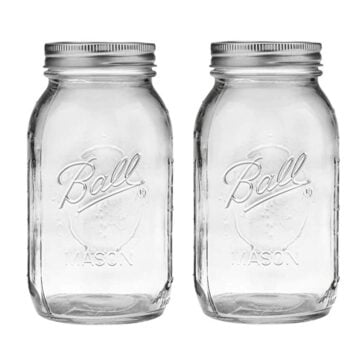 (affiliate link)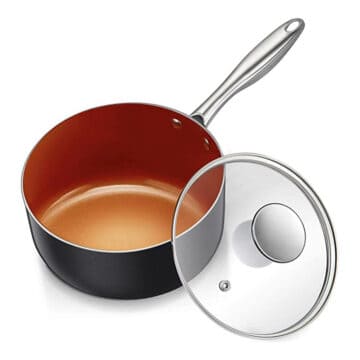 (affiliate link)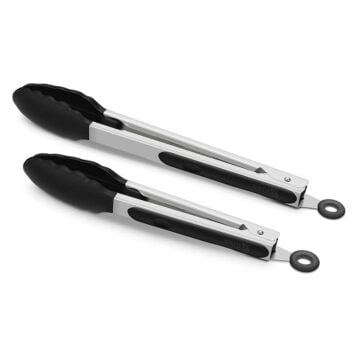 (affiliate link)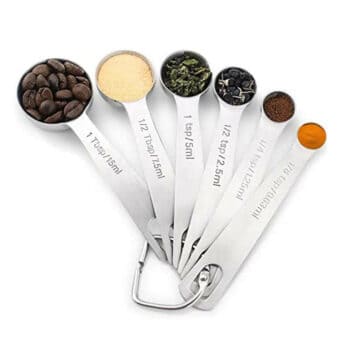 (affiliate link)
Ingredients
Optional (Son's version):
5

tomatoes

(dry)

fresh herbs

(such as thyme, rosemary, or parsley)

basil

(dry or fresh)
Directions
The night before (or minimum 8 hours): Cut your eggplants the way you like them. We like cutting them following the eggplant's length, but feel free to cut them transversally (discs) or even strips. We leave the peal, but you can cut it off if you want. Use a mandolin if you have one.

Place the Eggplants on a tray. Add the salt on top and put another tray on top. Place some heavy stuff on it, such as books. The idea is that the salt dehydrates the eggplants. It will drain water, so make sure you place them somewhere where the water won't spill overnight, for a minimum of 3 hours.

Sterilize. You need a sterilized mason jar (glass). Below is how.

Boil. Bring 2 liters of water to boil on a pot, and put your jar and lid to boil upside down for a minimum of 10 minutes.

Boil aside. Bring to boil 1 liter of water + ½ liter of vinegar. Boil the eggplant strips for 3 minutes and take them off; let them drain in a colander.

Start assembling: Start filling the mason jar with layers of all the ingredients (watch the video).

Fill it with vegetable oil, making sure you cover all the ingredients, and close the lid.

Store. Put them on the fridge and start craving!
Notes
Suggestion: double the quantities, as you should leave it to rest in the fridge for a month before starting to eat it, but we usually can't wait and start munching after 2 or 3 days, so your 2nd jar will be full of flavor in a month.
Nutrition Facts
Calories:
248
kcal
Carbohydrates:
7
g
Protein:
1
g
Fat:
25
g
Saturated Fat:
20
g
Sodium:
1419
mg
Potassium:
254
mg
Fiber:
3
g
Sugar:
3
g
Vitamin A:
289
IU
Vitamin C:
6
mg
Calcium:
26
mg
Iron:
1
mg
Nutrition Facts
Recipe for Pickled Eggplant
Amount per Serving
% Daily Value*
* Percent Daily Values are based on a 2000 calorie diet.
🌡️ Food safety
Cook to a minimum temperature of 165 °F (74 °C)
Do not use the same utensils on cooked food that previously touched raw meat
Wash hands after touching raw meat
Don't leave food sitting out at room temperature for extended periods
Never leave cooking food unattended
Use oils with high smoking points to avoid harmful compounds
Always have good ventilation when using a gas stove
See more guidelines at USDA.gov.
The information shown is an estimate provided by an online nutrition calculator. It should not be considered a substitute for a professional nutritionist's advice. See our full Nutritional Disclosure here.
Please note that some of the links here are affiliate links, and I will earn a commission if you purchase through those links. I recommend all of the products listed because they are companies I have found helpful and trustworthy.