This Vegan Eggplant Involtini (aubergine involtini) recipe is the veganized version of the classic Italian dish.
This dish is the definition of comfort food. This eggplant involtini recipe is very creamy, soft on the inside, and full of flavor.
To make this dish, you need to make a Vegan Bechamel Sauce (10 minutes) and optionally a Vegan Parmesan Cheese for the finishing (5 minutes).
The Eggplant is the Queen of this Recipe; get a nice, firm one so you can cut the slices easily!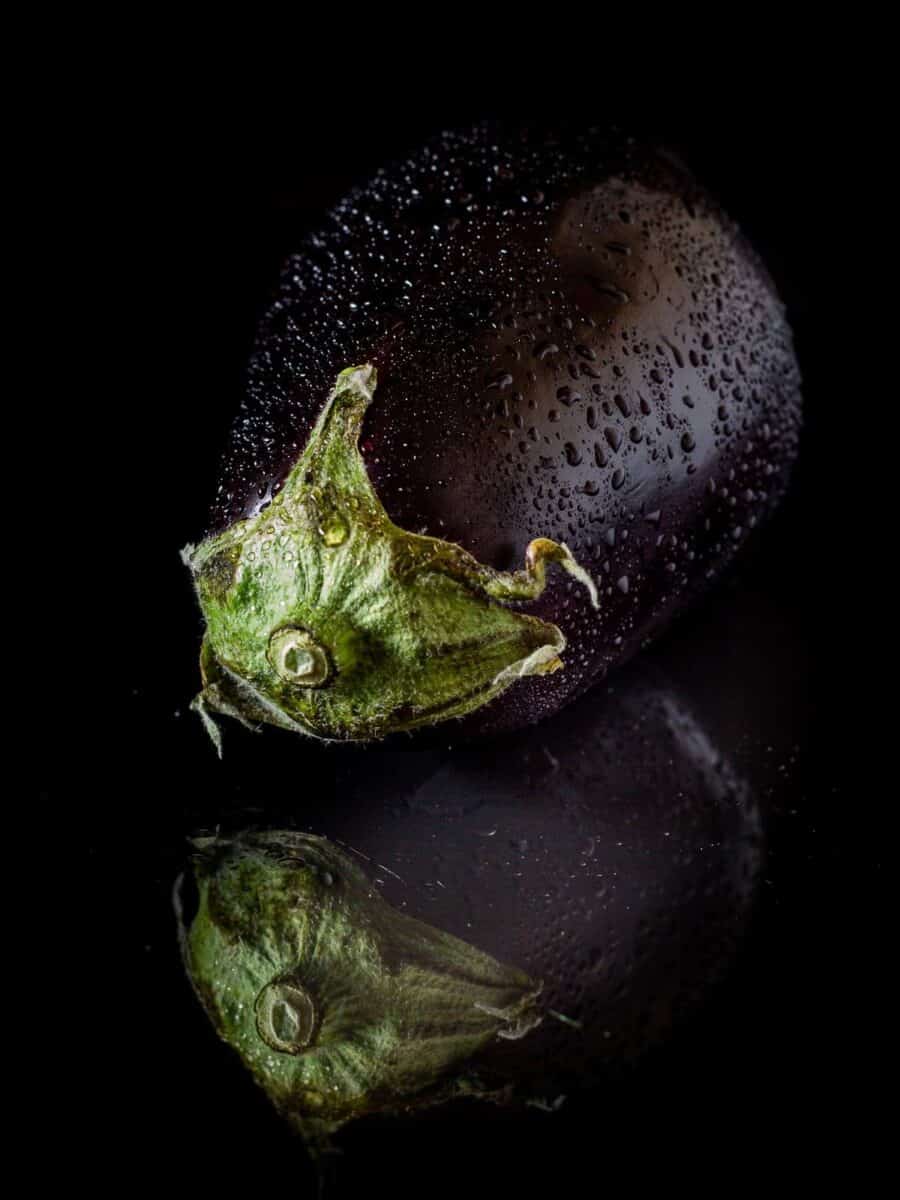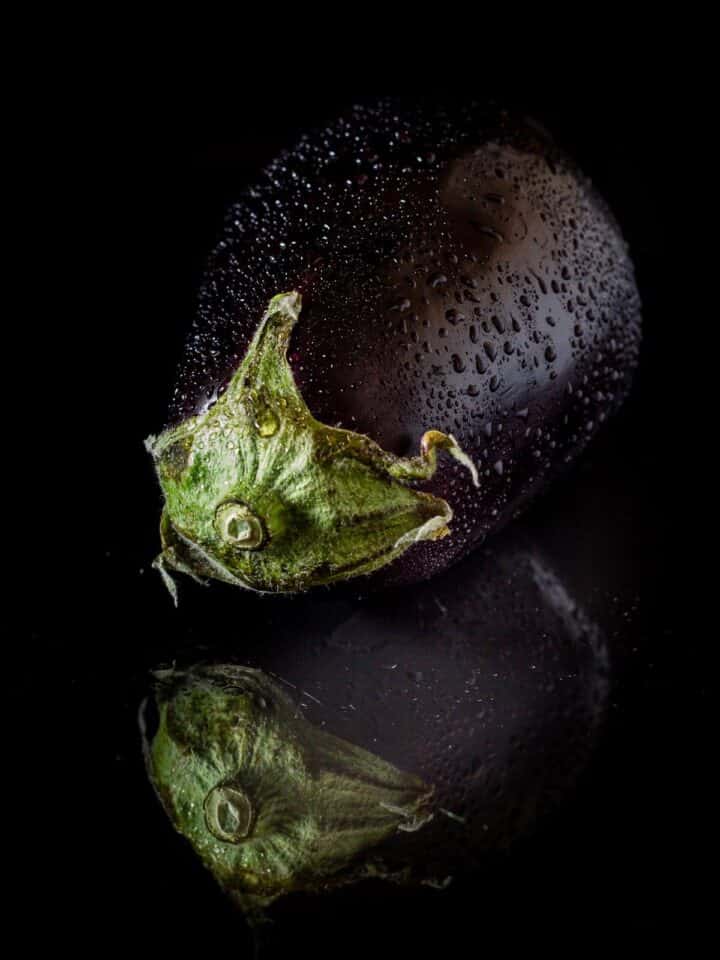 Ingredients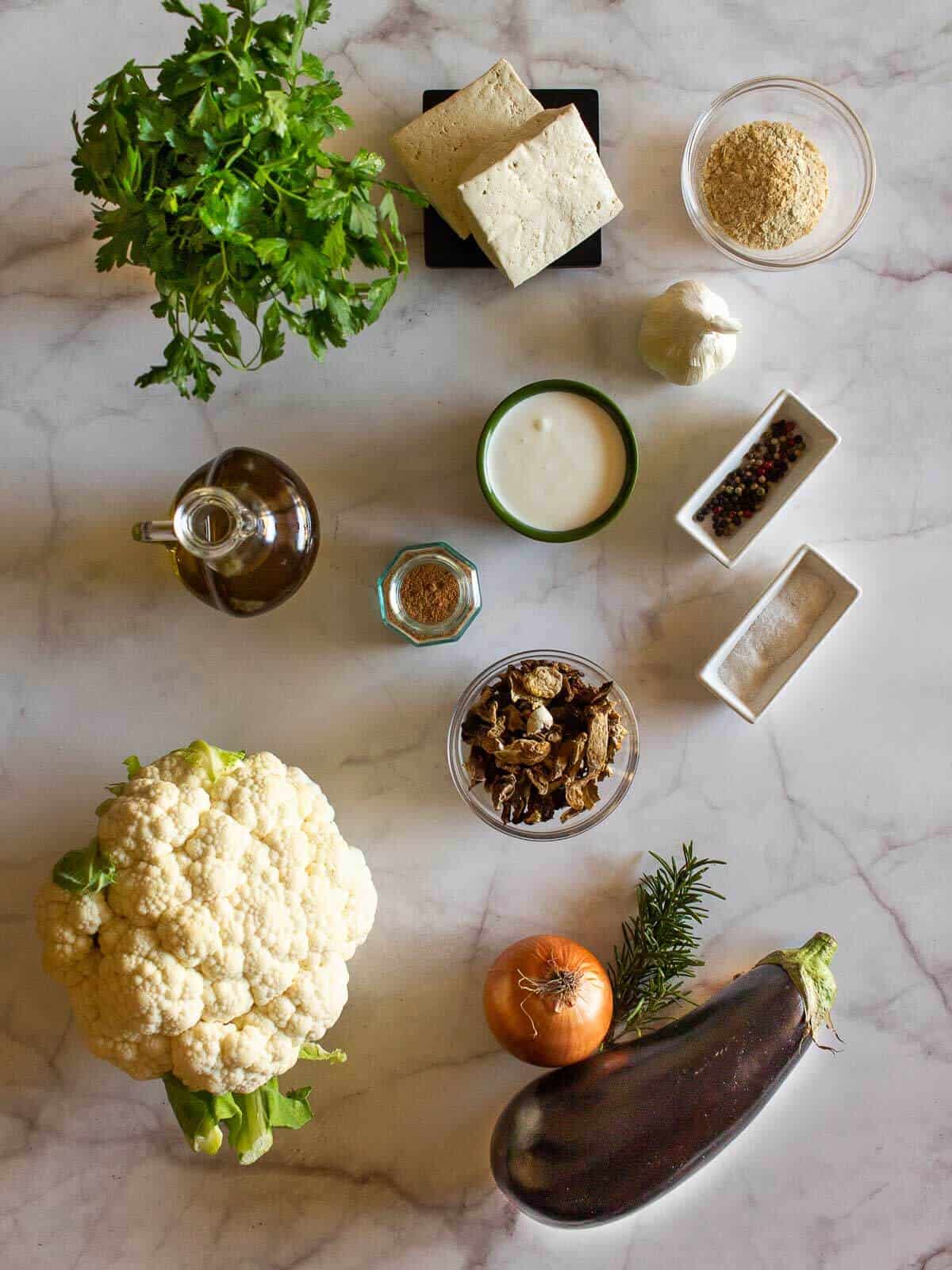 Eggplants
Salt
Dry porcini mushrooms
Cauliflower head
Extra firm tofu
Onion
Garlic
Nutritional Yeast
Parsley
Rosemary
See quantities and full instructions in the recipe card.
Instructions
Slice the eggplant and sprinkle sea salt.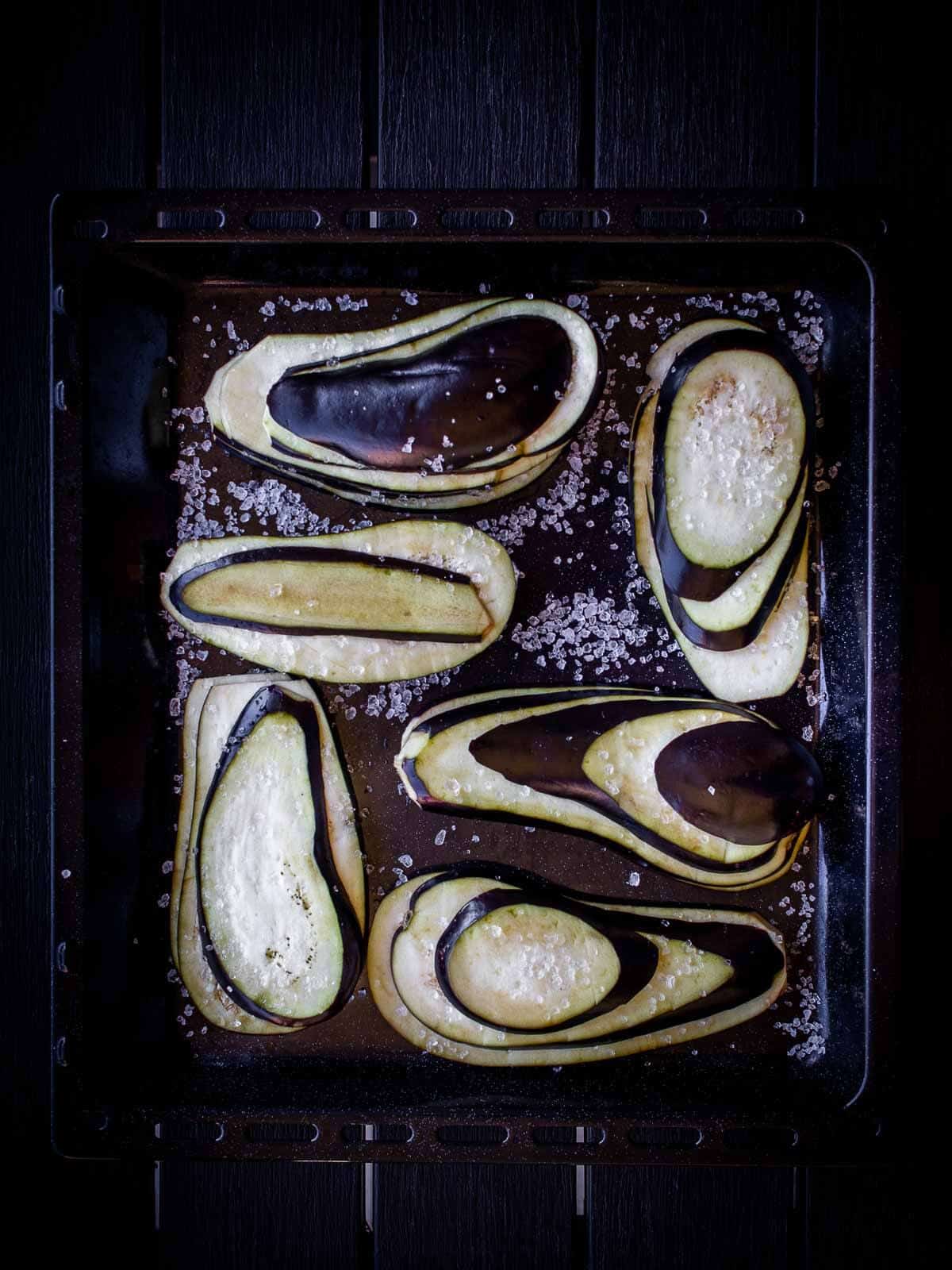 Make the filling
Lay the salted eggplant slices add some filling in one edge and roll.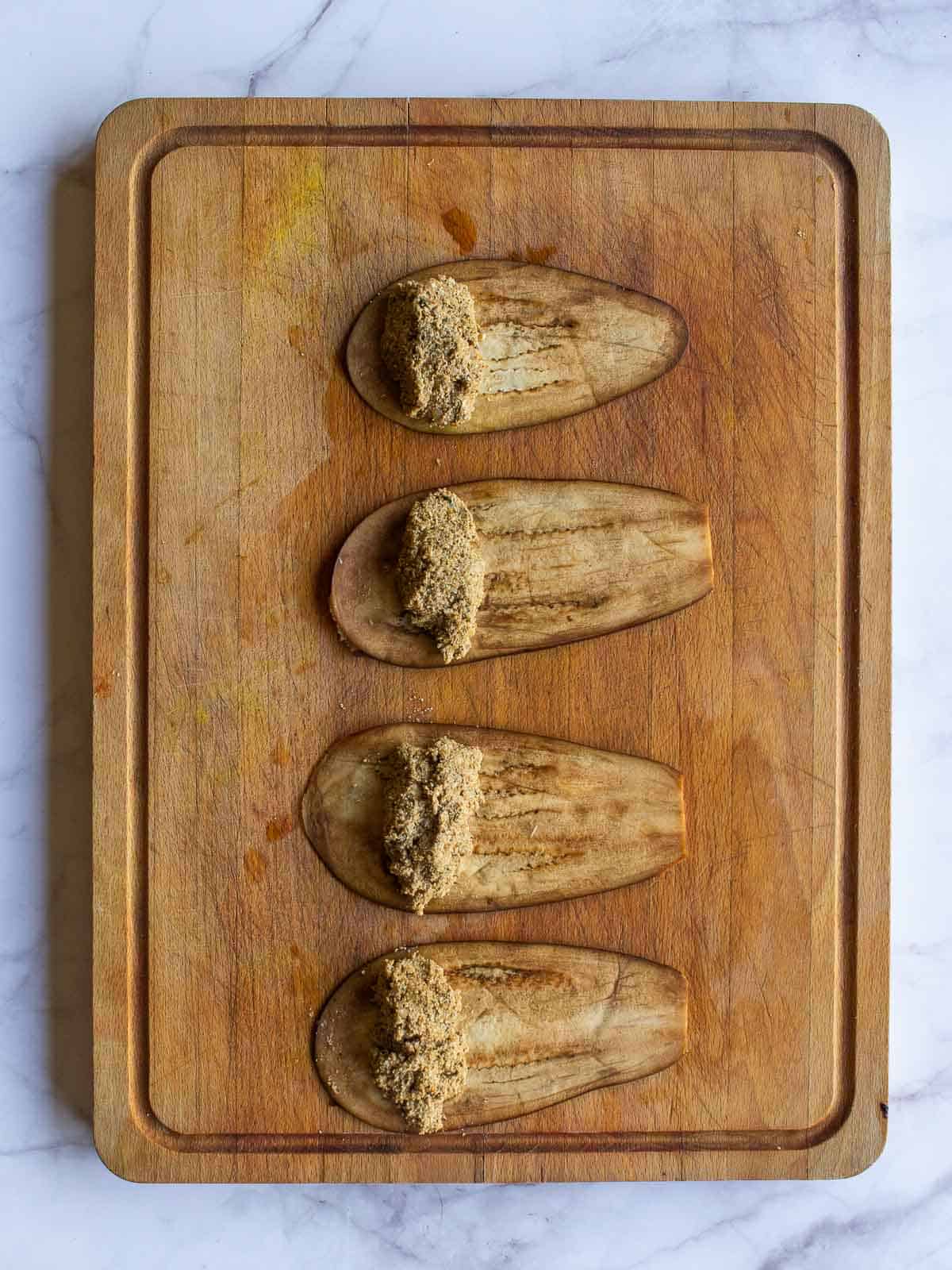 Place the involtinis in a skillet.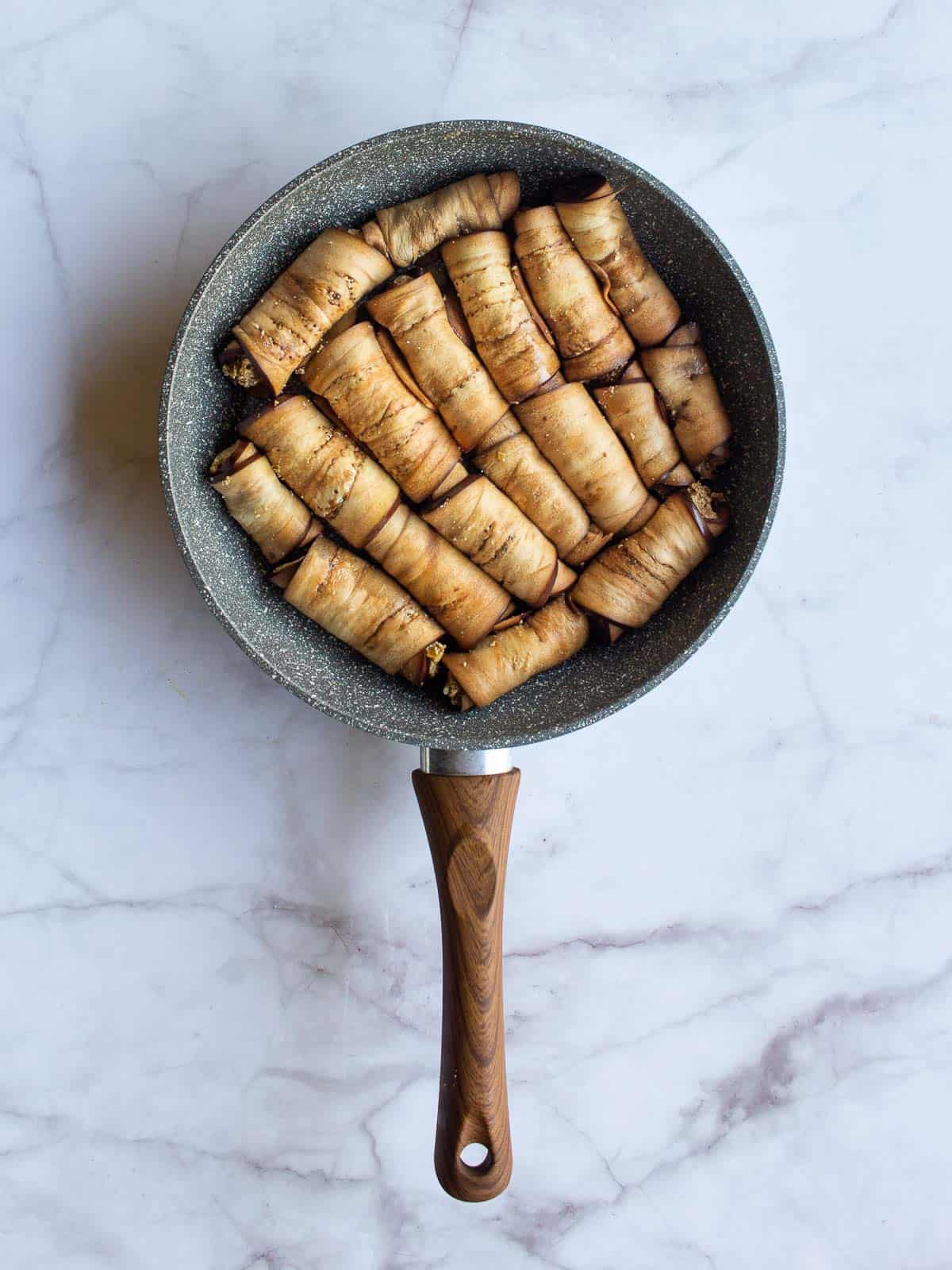 Add the Vegan Bechamel Sauce.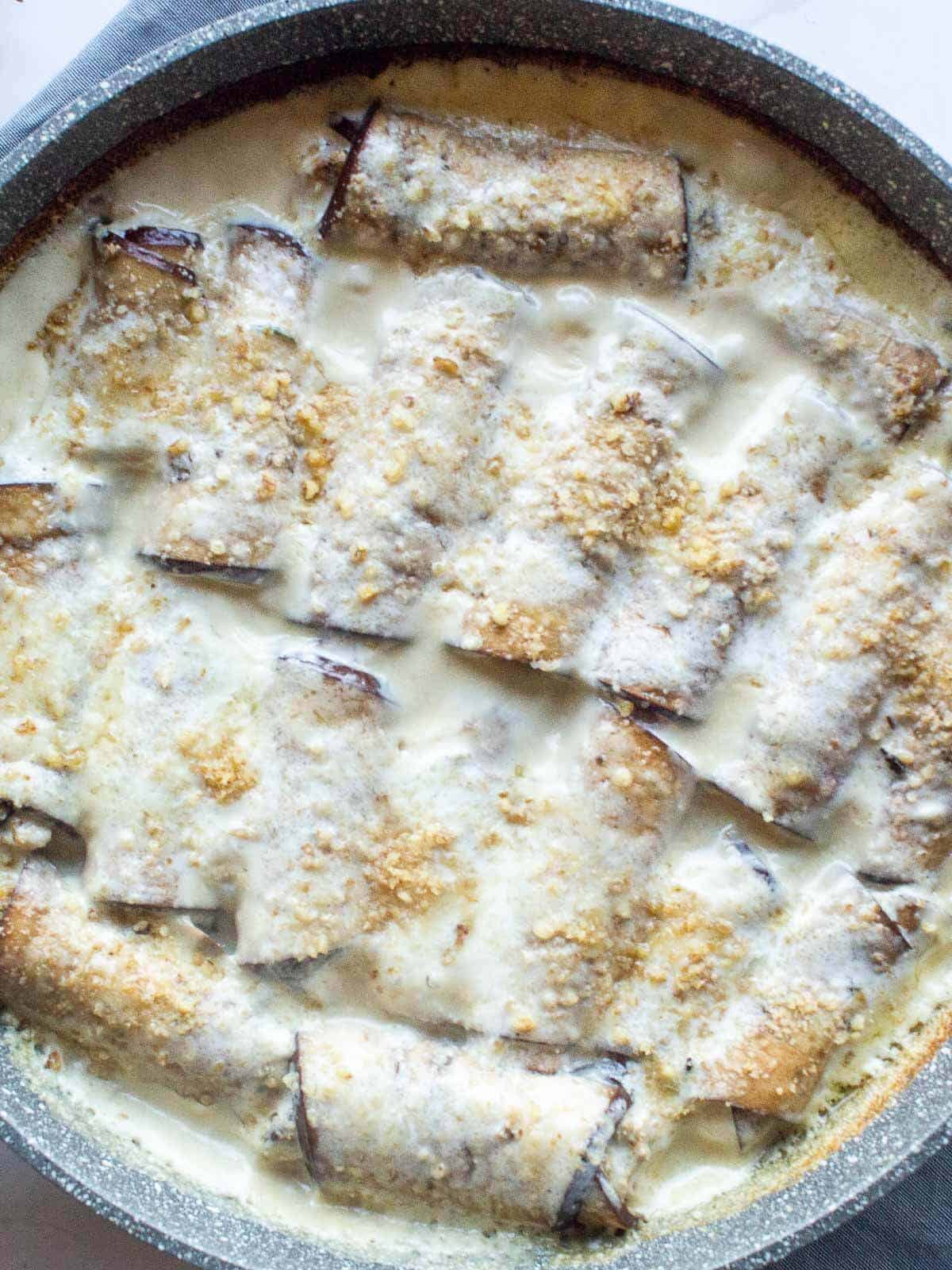 Cook in a skillet at a medium-low temperature for about 10 minutes. Ready!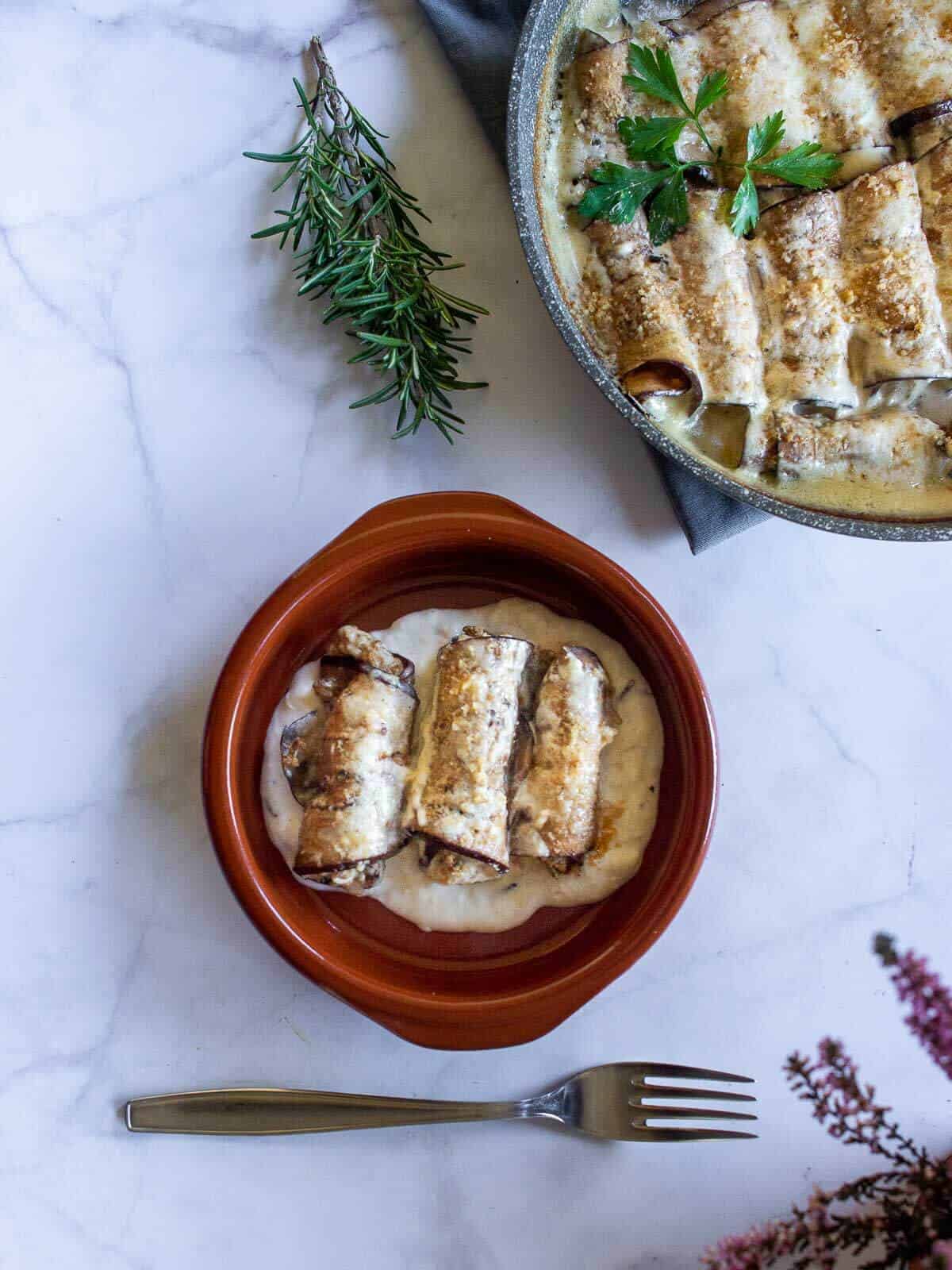 Benefits of eating eggplant
According to Healthline, the benefits of Eggplant are:
They are high in fiber
They are low in calories
Eggplants are rich in nutrients and minerals.
Eggplants have many more potential health benefits, including promoting blood sugar control and aiding in weight loss.
From reducing the risk of heart disease to blood sugar control and weight loss, eggplants are a simple and tasty addition to any healthy diet.
Jump to Recipe
Eggplant Involtini Wine Pairing
The harmonies between the wines and the foods are nothing other than the coincidence of the aromatic compounds between the drink and the food. Flavors and textures also play an important role in harmonizing food and wine and must be considered.
However, we always have to start from the aromas because it is the most complex variable in this gastronomic relationship, and without a doubt, the one that can give us the most exciting and delicious options.
It is in the Wine Culture where you will genuinely find quality wines and support sustainability. For this reason, in this blog, when we recommend wines, we do not want you to go to a supermarket shelf to buy wines for the usual varietals resulting from monoculture. Instead, we recommend wines taking you to the places where they come from. Thus, we advocate for living wines, with Culture, with Terroir.
Deciding on Harmony
Whenever I decide on harmony, I ask myself how I am seasoning my food: what spices and herbs I am using. For our Eggplant Involtini, the essential seasoning comes in the filling, rosemary. The other condiments, or ingredients with dominant flavors, are nutritional yeast, reminding us of nuts, bread, or even cheese, and vegan béchamel, with its touch of nutmeg.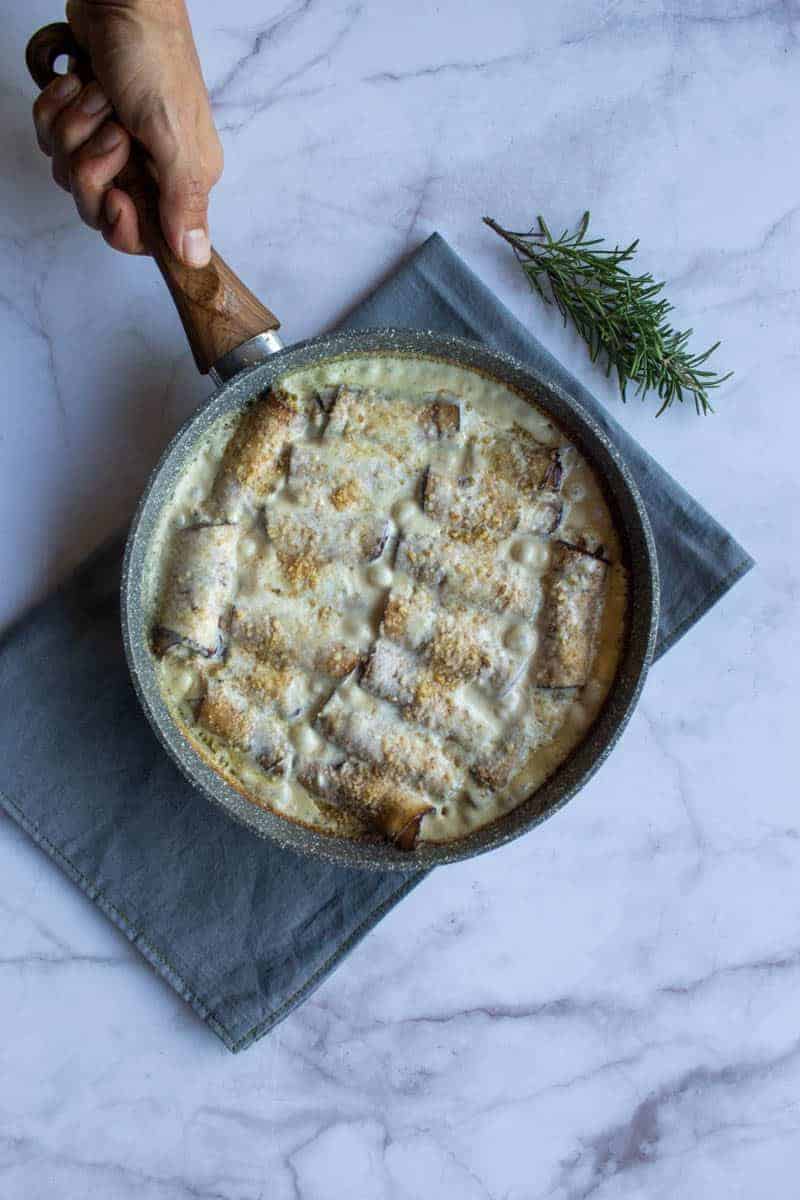 Creamy sauces have the particularity of enhancing herbaceous aroma to count on the aromatic complexity of rosemary having an additional vehicle.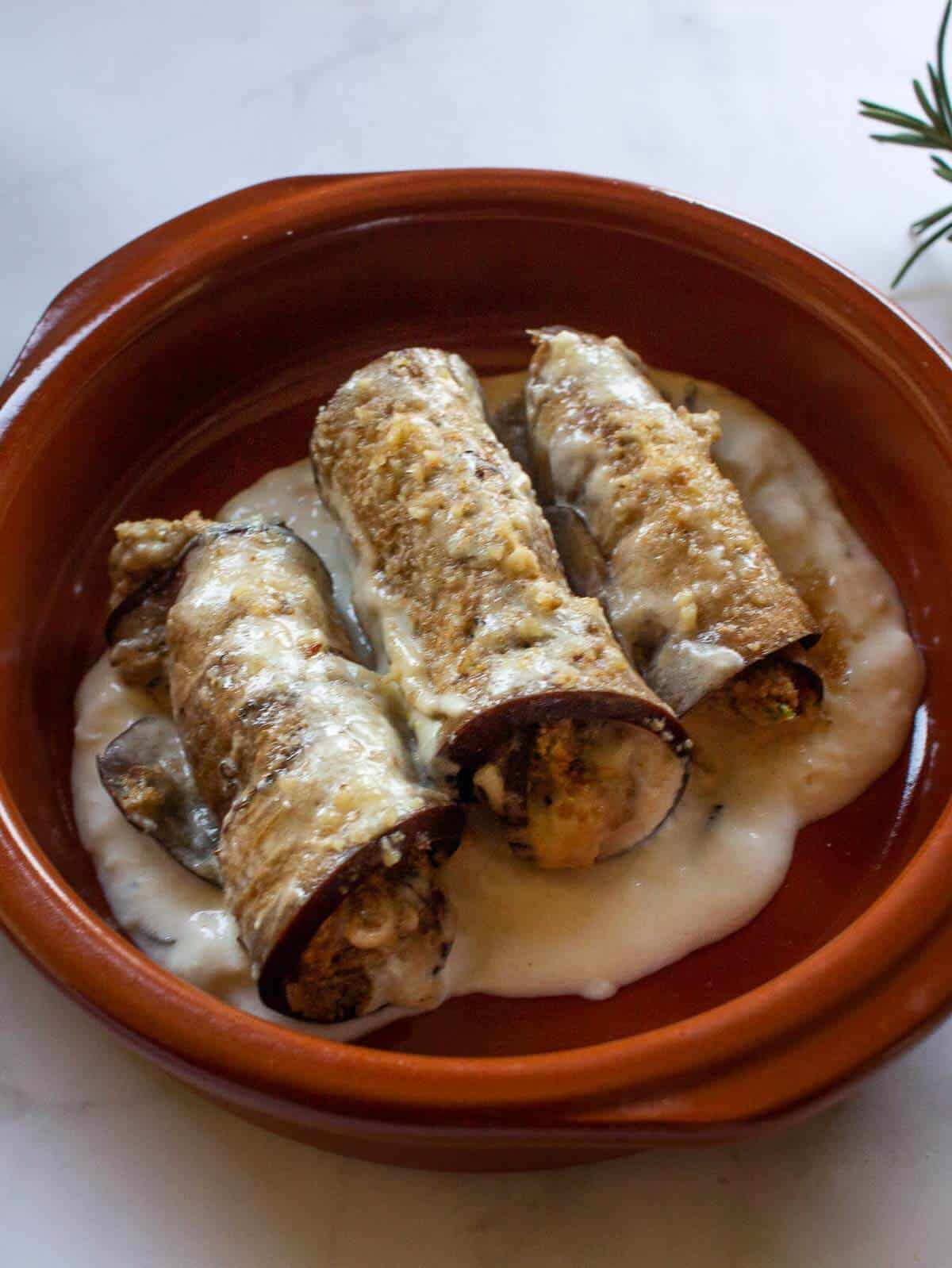 From this sensory analysis of the recipe, we have a seasoning that stands out, the rosemary. From there, we will look for possible pairings. A rosemary sprig has a powerful smell that we always recognize as rosemary, but its complex notes can remind us of wood, conifers, eucalyptus, cloves, and flowers.
What wines have these aromas? We usually find them in white wines.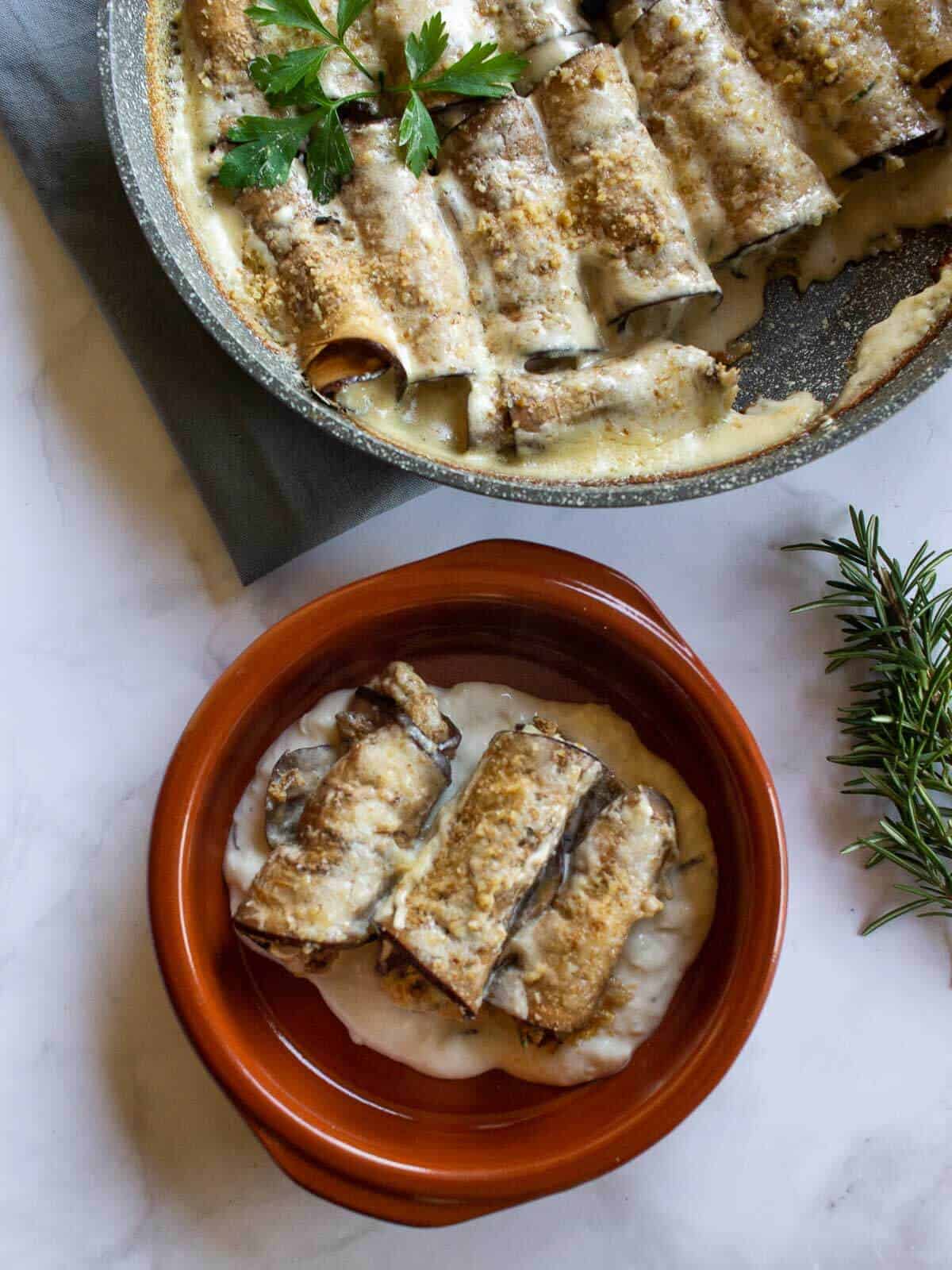 And from there I will choose two of my three suggestions.
When choosing wines, if you live in a producing area, always choose local, find out about your producers, the history of your location, and the winemaking practices, and explore all the styles available in your area.
If you do not live in a producing area (or close to one of them), support the specialized stores near you, just as you would support your local farmers' market. Talk to the specialists, ask them about their wine's selection, the wine's origins, their production practices, and the reasons that led to their inclusion in their selection.
With wine, as with any food on our table, it is always good to think about the path it went through before reaching us. It is also essential considering the kilometers and the means of transportation used. Be aware of the carbon footprint of the food and wine you consume, and you will make your small contribution to sustainability.
The traditional suggestion, which I base on enhancing cultural harmonies, is the locals' choices between their cuisine and regional wines. Eggplant Parmigiana, the dish on which our Involtini recipe is based, is typical of Italy's entire southern region. Among the various options of white wine in this vast area, I recommend a Greco di, Tufo. This one is a fresh white typical of the Campania area, which will enhance very well the fresh origin of the Mediterranean garden of our dish.
A second traditional suggestion follows in the footsteps of the classic harmonies of Mediterranean cuisine. This one is why we chose a rosé wine, and why not, the rosé that is most associated with the Mediterranean, a Cotes de Provence Rosé.
This is a fresh and light wine whose coupage the ever-present Grenache stands out, a grape that often recalls the herbaceous aroma that we associate with rosemary. Also, rosé is a cultural choice in Mediterranean gastronomy for garden dishes.
The third suggestion is the playful and unexpected one. The white grape that I associate most with conifers and flowers is Riesling. Therefore, to seek maximum harmony with our dish, we chose a Riesling Troken. This one is the driest style of German white wines made with this wonderful variety.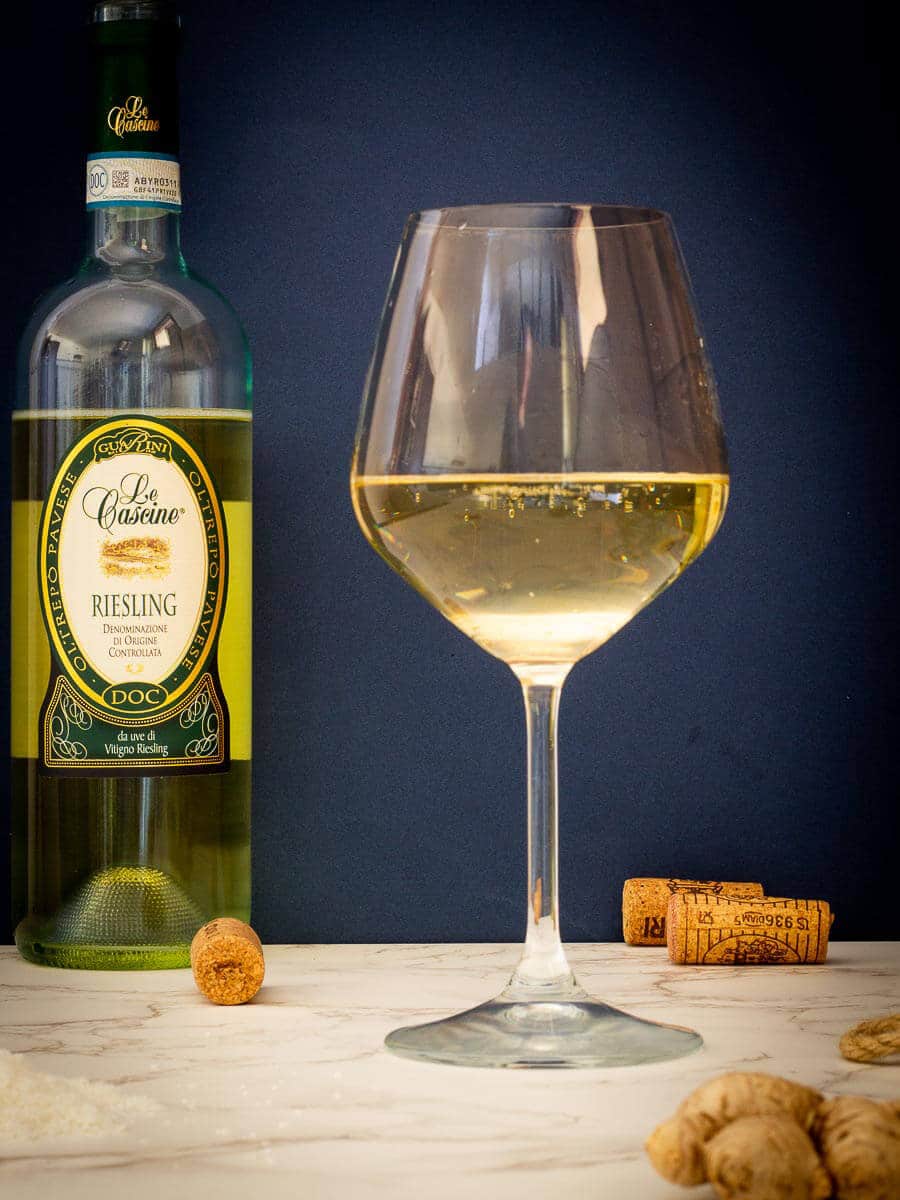 Our last suggestion is to be adventurous and experiment. First, of course, you can choose one of the three wines we hand-picked. But why not try the dish by tasting the three of them and comparing the different harmonies they produce with this delicious Eggplant Involtini dish.
Wine Pairing Recap
Italian - Fresh White - Greco di Tufo
French - Rosé - Grenache, Cotes de Provence
German - White - Riesling Troken
If you try this recipe, let us know! Leave a comment, rate it, and don't forget to tag a photo #ourplantbasedworld on Instagram. Cheers!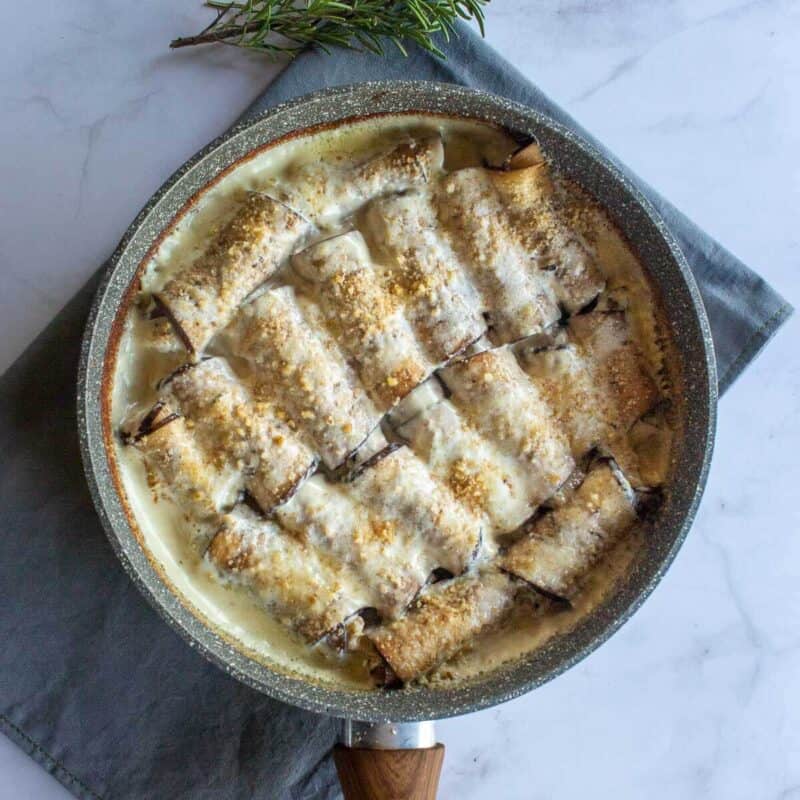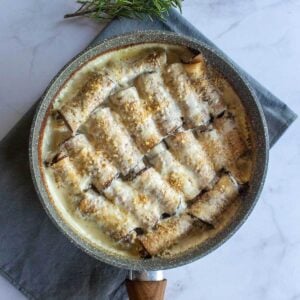 Recipe: Vegan Eggplant Involtini
This Vegan Eggplant Involtini (aubergine involtini) recipe is the veganized version of the classic Italian dish.
Ingredients
2

medium eggplants

1

tablespoon

salt
Optional
Directions
Slice Egglant. Start by finely slice the Eggplant lengthways and spread the slices in a trey.

Sprinkle salt on top of them and let them "sweat" for 30 minutes (this will remove the Eggplant's bitter flavor).
Filling
Steam the cauliflower head or boil it in 5 cups of water and cook it for 10 minutes.

Soak the porcini mushrooms in 2 cups of warm water for 5 minutes.

1 ounce dry porcini mushrooms

Crumble the tofu with your hands.

9 ounces organic extra firm tofu

Chop and stir fry. Chop the parsley, onion, and garlic and stir fry them with the tofu on medium heat until the mix is fragrant and pale golden, approximately 5 minutes.

1 medium onion

,

2 garlic cloves

,

1 cup parsley

,

9 ounces organic extra firm tofu

Coarsely chop the steamed cauliflower and hydrated mushrooms and add them to the onion mix. Cook for another 5 minutes.

1 small cauliflower head

,

1 ounce dry porcini mushrooms

Blend. In a food processor or blender, mix the stir fry mixture, the cauliflower, mushrooms, plus the nutritional yeast, rosemary, salt, and pepper.

12 tablespoons nutritional yeast

,

1 rosemary sprig

,

1 teaspoon salt

,

½ teaspoon black pepper

Remove any excess salt from the eggplant layers.

Grill. Lightly grill the eggplant layers on a skillet and reserve them on a plate to start preparing the involtinis.

Roll. Add the tofu filling to the narrow end of the eggplant slices, roll them up and place them in a skillet with some Vegan bechamel sauce on the bottom.

Top. After finishing the rolls, top them with the rest of the bechamel sauce.

Cook in a skillet at a medium-low temperature for about 10 minutes until they are meltingly tender.
Nutrition
Calories:
253
kcal
Carbohydrates:
41
g
Protein:
23
g
Fat:
3
g
Saturated Fat:
1
g
Sodium:
1843
mg
Potassium:
1746
mg
Fiber:
17
g
Sugar:
13
g
Vitamin A:
1326
IU
Vitamin C:
97
mg
Calcium:
106
mg
Iron:
4
mg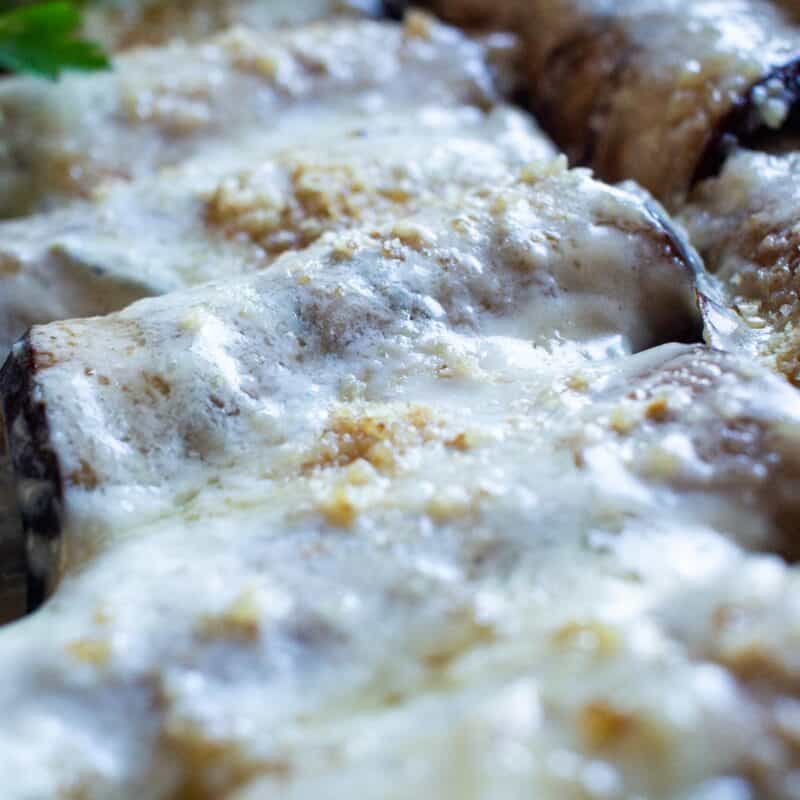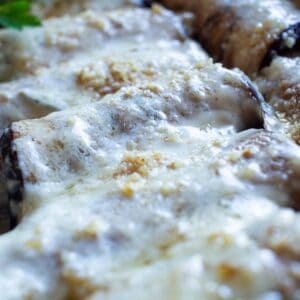 Recipe: Vegan Bechamel Sauce Recipe
This Vegan Bechamel Sauce is super creamy, quick to make, and delicious.
Directions
Start making the bechamel by melting the vegan butter or adding the olive oil on a saucepan and adding the flour.

2 tablespoons extra virgin olive oil

,

8 tablespoons chickpeas flour

When it starts to brown, cook it for 1 minute more and add the vegetable milk.

Stir with a whisk until it starts to get creamy. Add the nutritional yeast, nutmeg, salt, and pepper.

2 tablespoons nutritional yeast

,

½ teaspoon nutmeg

,

1 teaspoon Fine sea salt

,

pinch Pepper
Notes
This sauce gets sticky very quickly, so; you should make it just when everything is ready to assemble.
Plant milk: any plant milk will work here. Suitable creamy replacements for almond milk are unsweetened oat milk and soy milk.
Nutrition
Calories:
170
kcal
Carbohydrates:
11
g
Protein:
6
g
Fat:
11
g
Saturated Fat:
1
g
Polyunsaturated Fat:
3
g
Monounsaturated Fat:
7
g
Sodium:
916
mg
Potassium:
203
mg
Fiber:
3
g
Sugar:
2
g
Vitamin A:
6
IU
Vitamin C:
1
mg
Calcium:
308
mg
Iron:
1
mg
Food safety
We sometimes take for granted that we have years (or decades) of cooking experience that the average visitor may not. Add to, or remove from, the list below with health and safety tips.
Cook to a minimum temperature of 165 °F (74 °C)
Do not use the same utensils on cooked food, that previously touched raw meat
Wash hands after touching raw meat
Don't leave food sitting out at room temperature for extended periods
Never leave cooking food unattended
Use oils with high smoking point to avoid harmful compounds
Always have good ventilation when using a gas stove
See more guidelines at USDA.gov.
The information shown is an estimate provided by an online nutrition calculator. It should not be considered a substitute for a professional nutritionist's advice. See our full Nutritional Disclosure here.
Please note that some of the links here are affiliate links and I will earn a commission if you purchase through those links. I use all of the products listed and recommend them because they are companies that I have found helpful and trustworthy.