Did you love chili con carne? I know I sure did. This Bean Vegan Chili in Carne Recipe is one of my favorites. It's easy to make, and it's really delicious. If you're looking for a hearty and satisfying meal, this is definitely the recipe for you! We know this 1-pot high-protein vegan chili will become a staple in your kitchen. It's ideal when you want something filling, satisfying, flavorful, and fully customizable.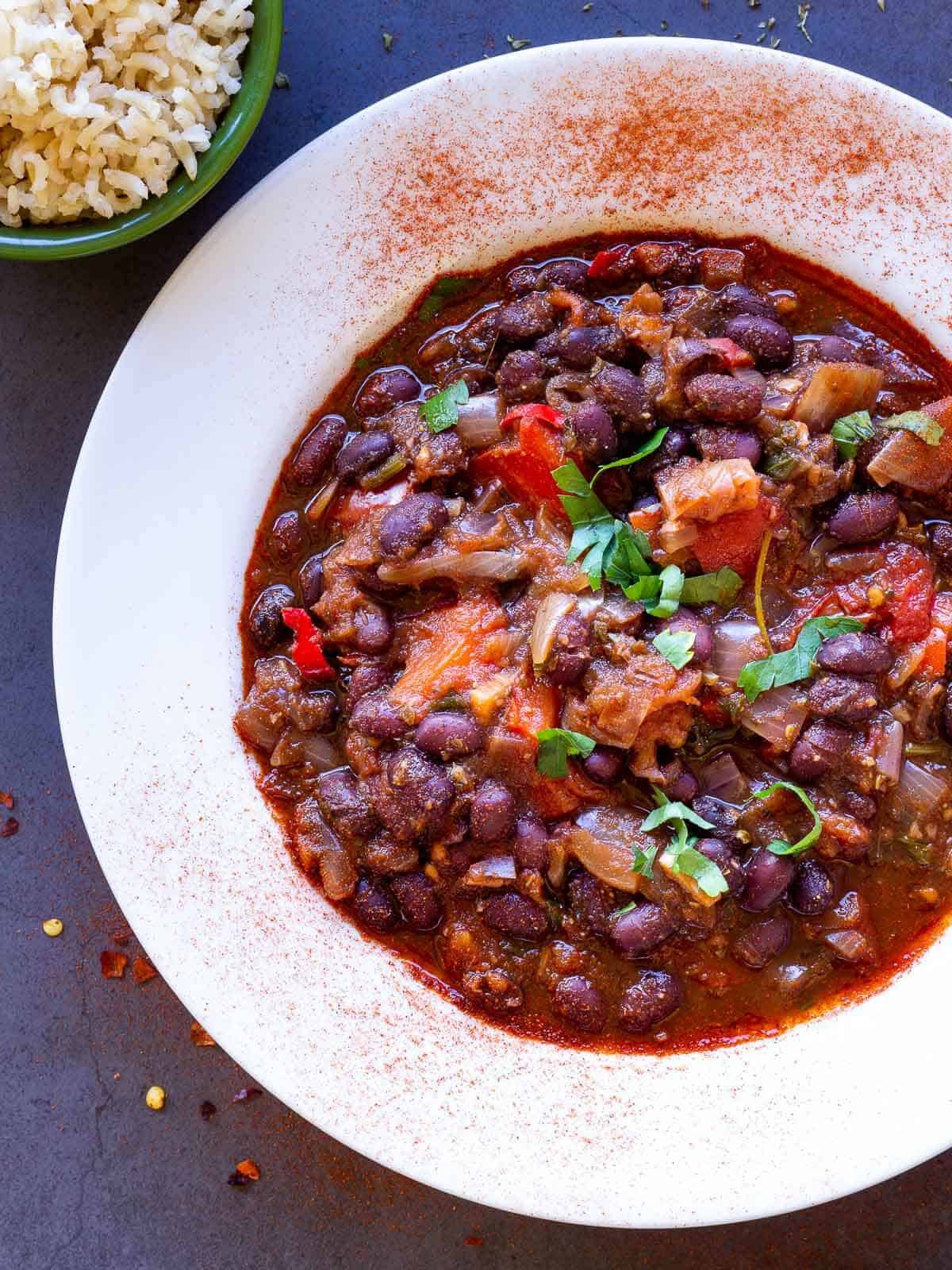 It is no secret that we are all about beans and stews in Latin America! With no shame, I raise that flag! As vegans need to know your beans, pulses, chickpeas, and pulses. They constitute the healthiest source of proteins but also the cheapest.
The dish is also versatile in adding ground firm tofu, vegan mince, or tempeh as an extra plant-based protein source. Enjoy it on its own, as a filling for organic whole-grain tortillas, with organic rice, or scooped up with sprouted chips. It is packed with vitamins, minerals, fiber, and phytonutrients!
The versatility of legumes is endless, if you are into lentils, don't forget to try our 1-pot Creamy Red Lentil Curry, and the Holiday must Vegan Vegetable Casserole to see gourmet lentils in action!
Read on: High-Protein Vegan Meals »
They have earned their place at the center of the vast fall season recipes we develop yearly.
Jump to:
🧾 Ingredients
This vegan bean chili recipe is made with very simple ingredients.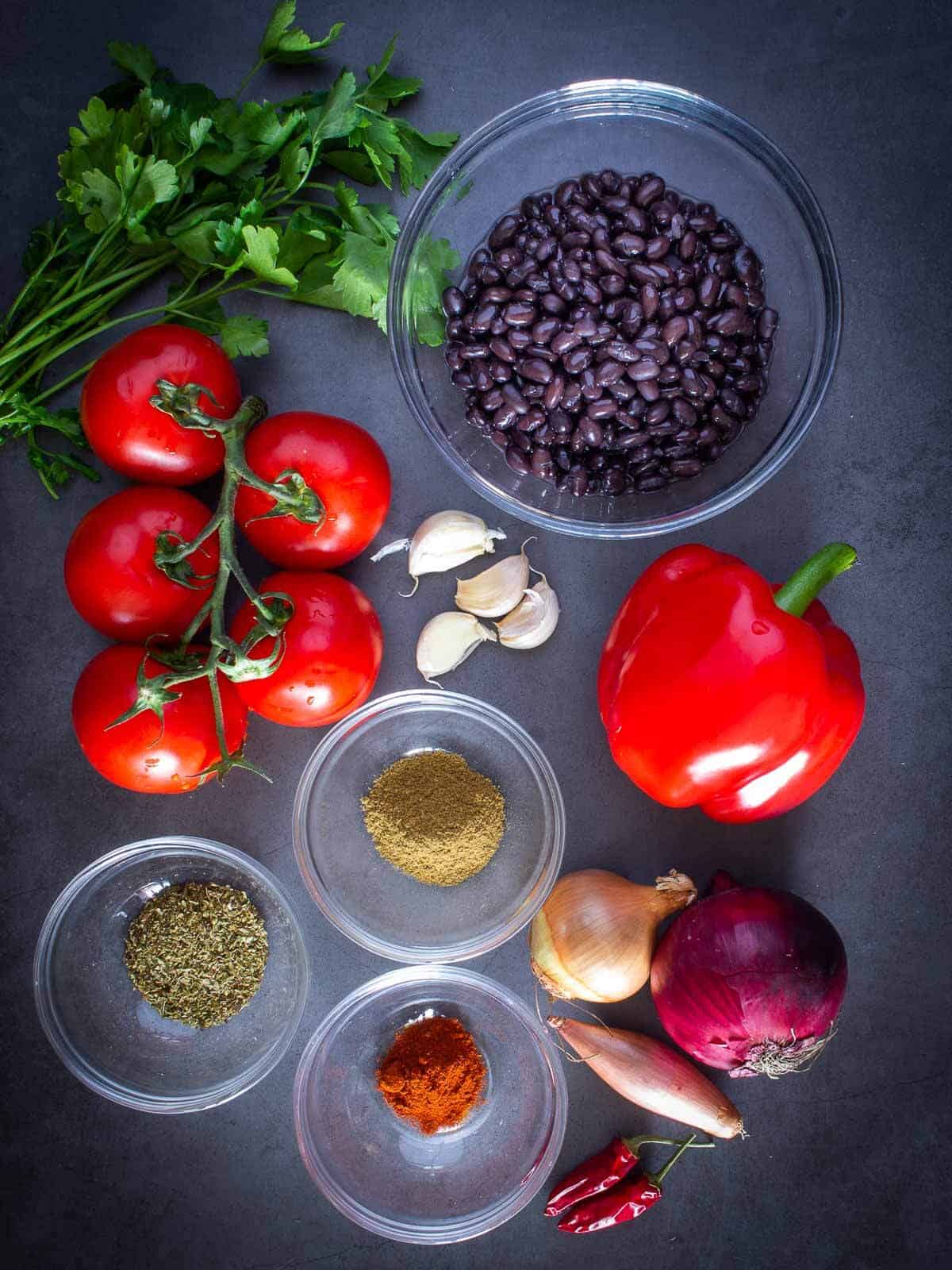 Black beans are a good source of plant-based protein and dietary fiber, providing a meaty texture and protein substitute for traditional carne (meat).
Red bell peppers are packed with vitamin C, an antioxidant that supports immune function and collagen production while adding sweetness and vibrant color to the dish.
Onions are low in calories and rich in antioxidants, providing a savory base and depth of flavor to the recipe while also supporting digestive health.
Garlic contains compounds that have potential health benefits, including immune-boosting properties and potential heart health benefits, infusing the dish with a distinct aroma and robust flavor.
Cumin is a good source of iron, a mineral that plays a vital role in oxygen transport and energy production in the body, adding a warm and earthy note to the authentic taste of the chili.
Oregano contains antioxidants and may have antibacterial properties, contributing to overall health and potentially supporting the immune system, while offering a hint of herbal freshness and complexity to the dish.
Paprika powder is a source of vitamin A and antioxidants, which are beneficial for eye health and overall cell protection, providing a smoky and slightly spicy flavor that adds depth and richness to the dish.
Optional ingredients
Optional: Chilies, parsley, or cilantro: Chilies can provide a boost of capsaicin, which may help with metabolism and pain relief, allowing customization based on personal preference. Parsley is a rich source of vitamin K and vitamin C, while cilantro is a good source of vitamin A and antioxidants, offering potential health benefits and adding a unique and vibrant flavor to the dish.
See the recipe card for quantities.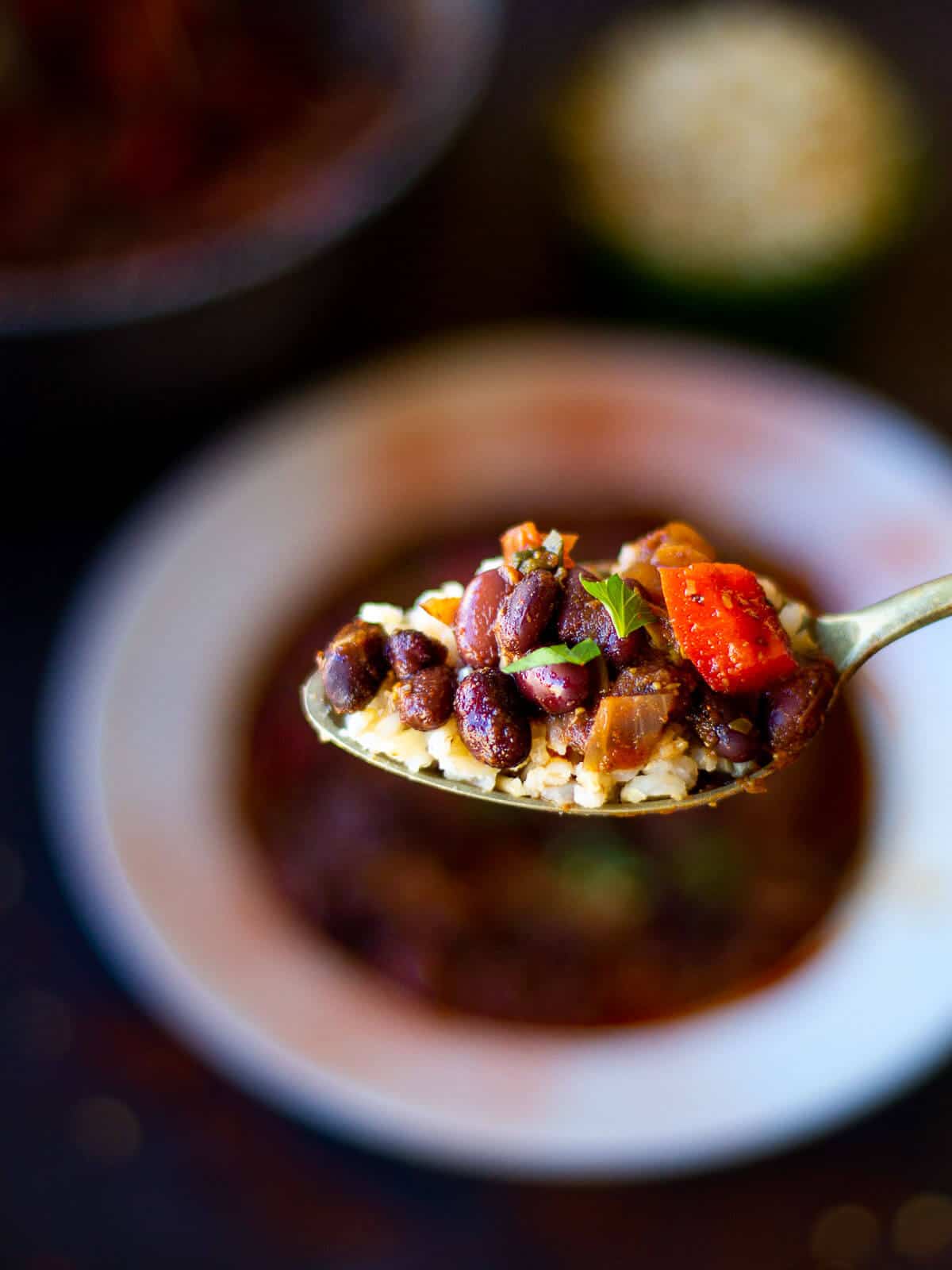 🔪 Instructions
To make this vegetarian chili recipe, start by chopping the parsley (or cilantro), red bell pepper, tomatoes, onions, and garlic.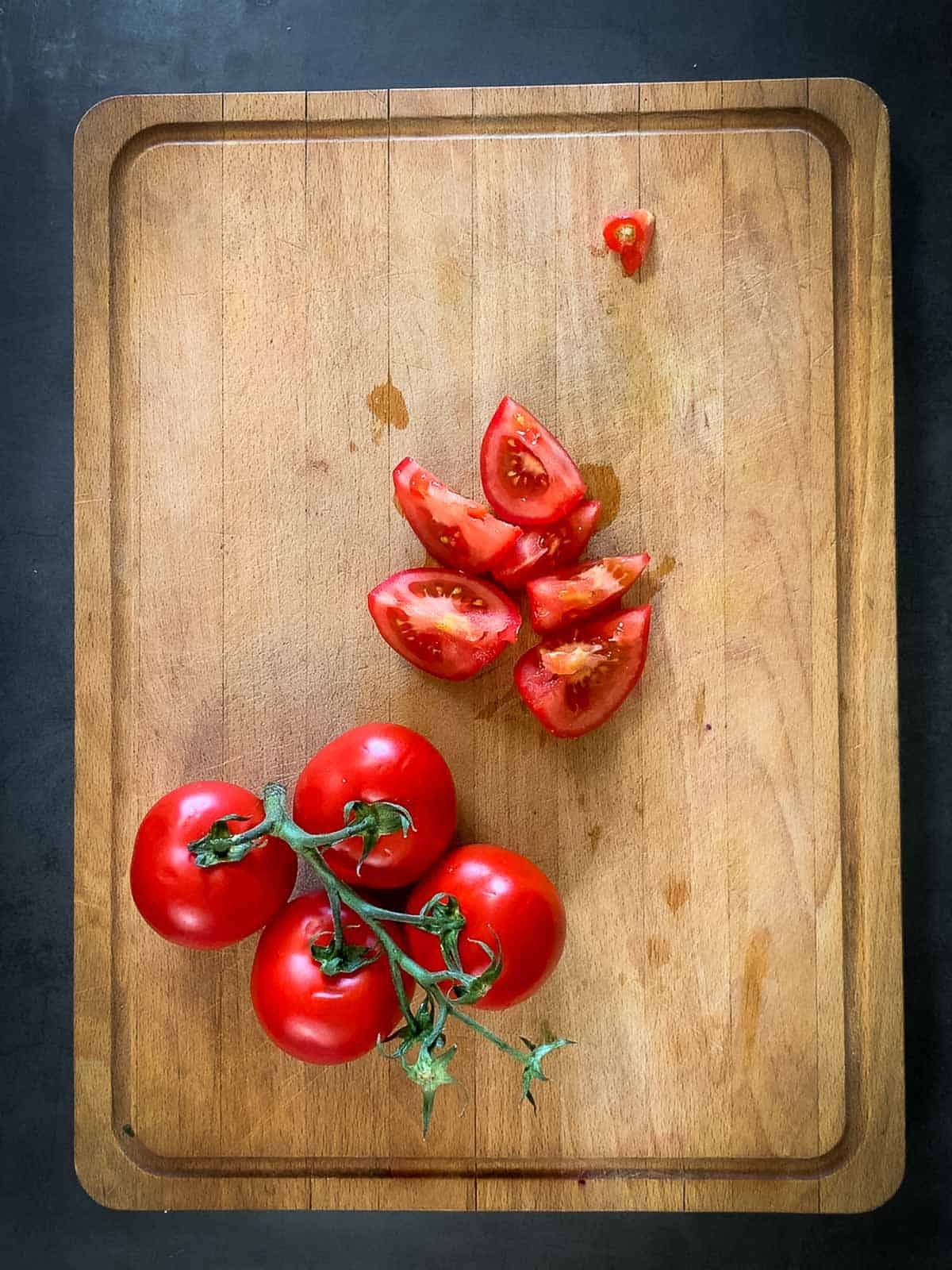 Coarsely chop tomatoes and onions.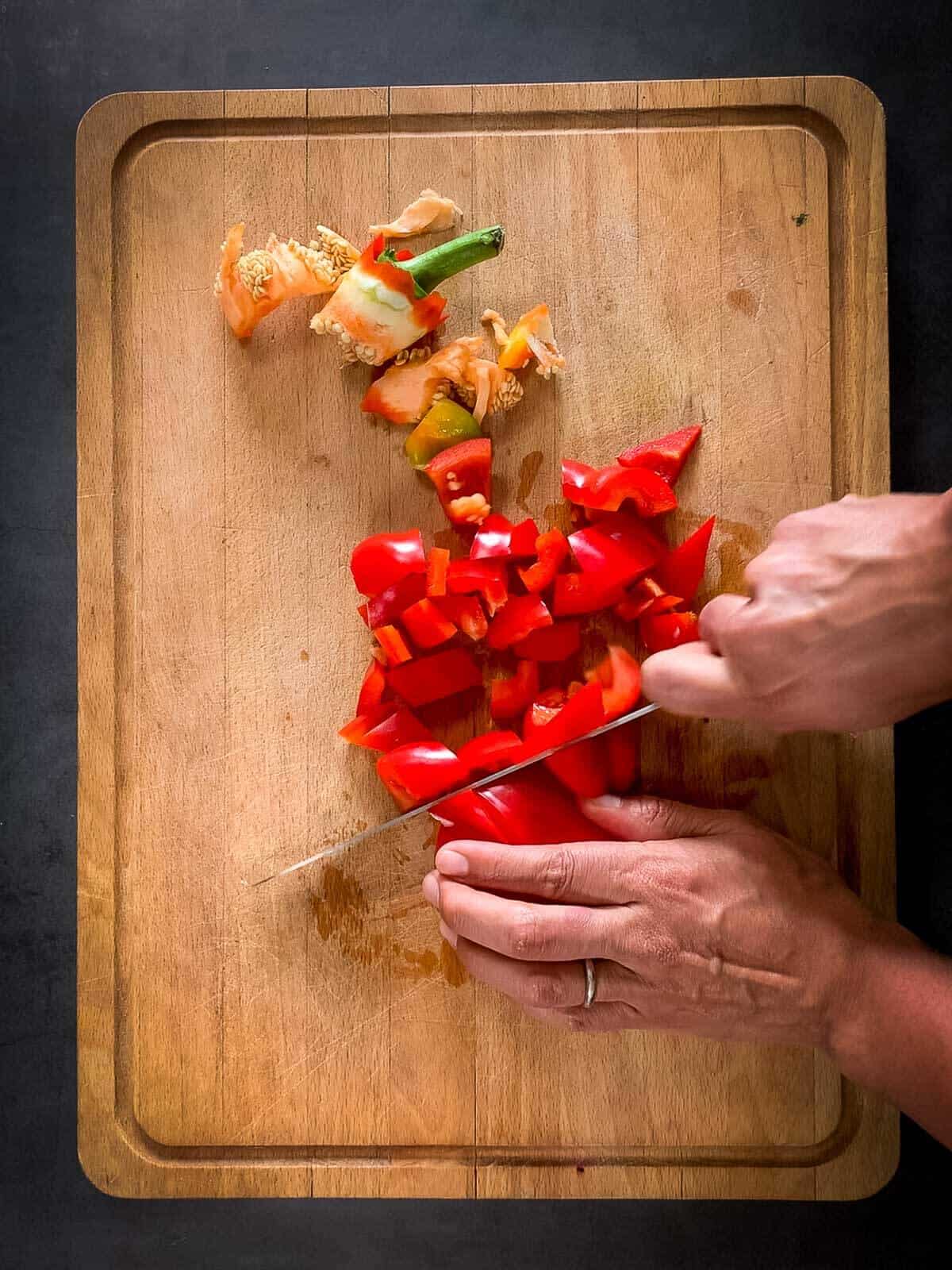 Deseed and chop red bell peppers.
At high heat, stir-fry the onions and garlic.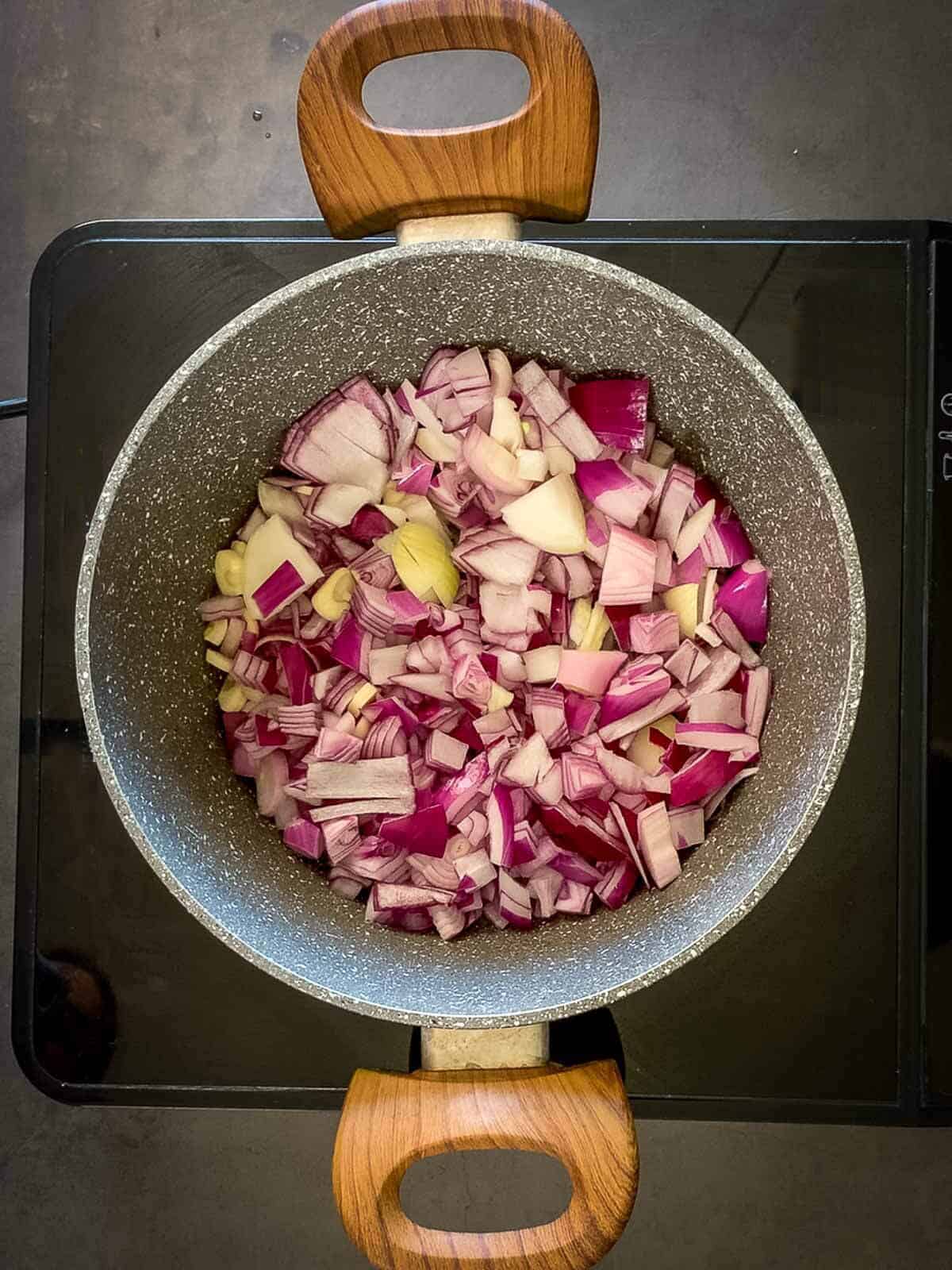 Add chopped red onions and minced garlic, followed by red bell peppers, to a pot over medium heat.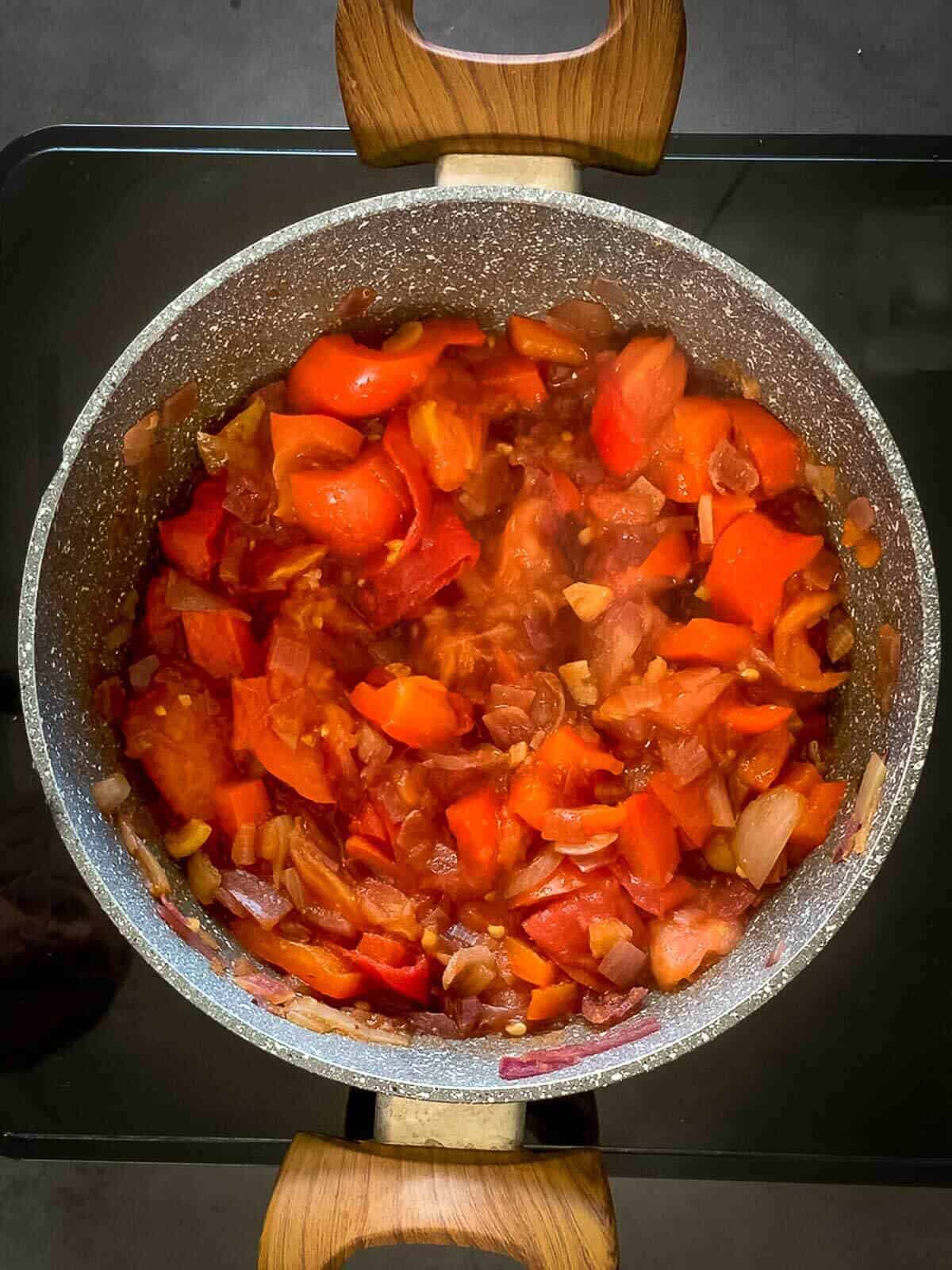 Toss the chopped tomatoes and keep cooking on medium heat, stirring occasionally.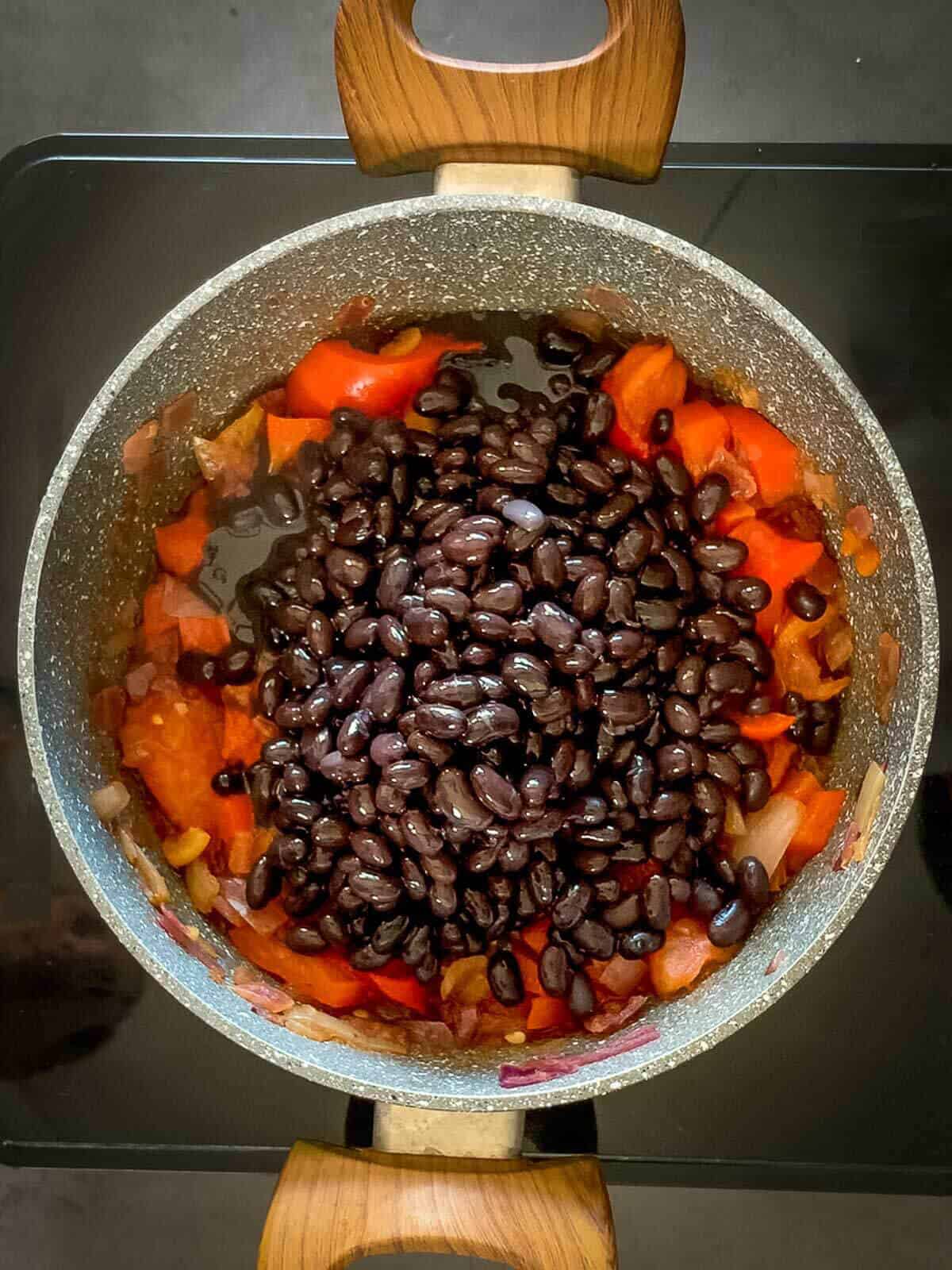 Add chili powder (if using), spices, beans, and one cup of water or vegetable broth.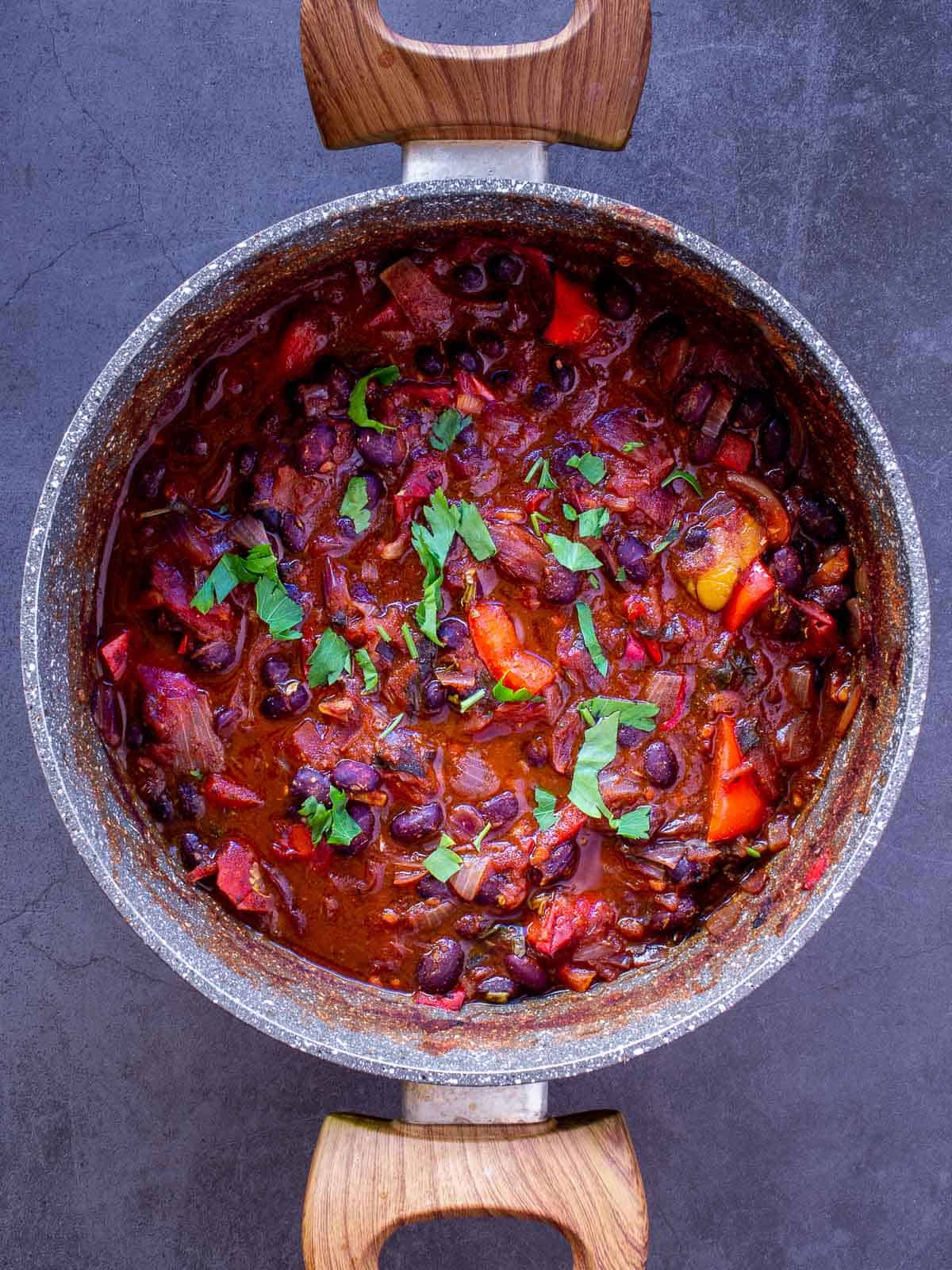 Finish by adding the chopped cilantro or parsley and let the chili simmer for a couple of minutes.
Remove the lid and stir. Let it cook for another 5 minutes with the lid off.
Adjust with salt and pepper and serve.
Hint: this 1-pot Vegan Chilli sin carne keeps well for days, so it is great for batch cooking. I recommend doubling the quantities if you need to meal-prep. It thaws easily in the microwave or saucepan.
🍶 Substitutions
Beans - instead of black beans, you can use kidney beans, pinto beans, or even white beans.
Onions - use red, yellow, white, and even shallots; they all work.
Bell pepper - use your choice of red, green, yellow, or orange bell pepper.
Smoked paprika - use chili powder instead, or your favorite pantry spices.
Tomatoes - you can use canned tomatoes, chunky tomato sauce, or diced tomatoes instead, and add tomato paste while cooking sautéeing the onions for a richer flavor.
Add more nutrition, flavor, and textures.
Add a dollop of plant "cheese" to each serving.
Include some crumbled extra-firm tofu while stir-frying the onions.
Mix in your favorite leafy greens.
Sprinkle hemp seeds on top.
This vegetarian dish is naturally gluten-free.
📖 Variations
Spicy - Add sliced 1–2 jalapeños to the chili while cooking or cayenne pepper.
Deluxe - add homemade guacamole.
Side - serve with boiled brown rice.
🥢 How to serve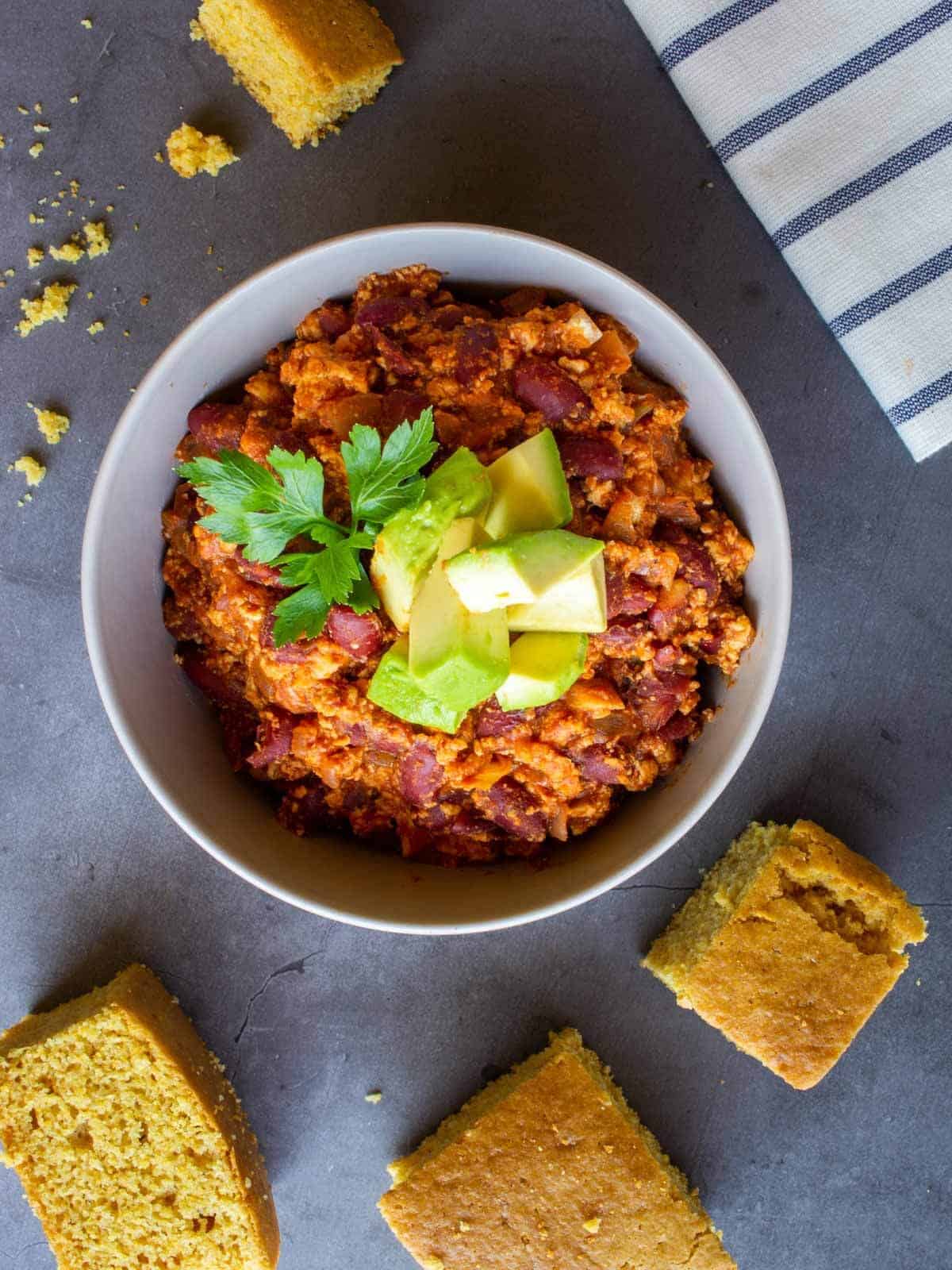 These are some popular garnishing options to make your vegan chili sin carne, monumental.
Add sliced or cubed avocado with lime juice.
Sprinkle julienned green onion tops.
Top with grated vegan cheddar cheese.
Whole-grain tortilla chips.
Additional fresh cilantro.
Lime wedges.
Vegan sour cream, dairy-free vegan yogurt, or vegan cheese.
Serve vegan chili with vegan buttermilk cornbread and maple syrup, steamed basmati rice, sweet potatoes, or cornbread dressing, or baked potato.
You can also serve this vegan recipe on top of a yellow corn tortilla as an appetizer, just like our vegan chickpea salad.
🍽 Equipment
Saucepan and a knife.
🥡 Storage
Store leftover chili in portions using an airtight container. That way, you avoid reheating the chili multiple times.
This chili makes great leftovers. This Vegan Chili will keep well in the refrigerator for about 3 days. You can also freeze it for longer-term storage. Reheat your vegetable chili in a saucepan, and it's good to go.
You can also serve this chili as a protein-rich topping on baked potatoes or whole-grain nachos. If you are into burritos and quesadillas, use this chili as stuffing.
💡Top tip
If you plan to use this chili as a snack, reduce the amount of water so it becomes thicker. You don't need to do this if you cook it beforehand because it will naturally dry up a bit.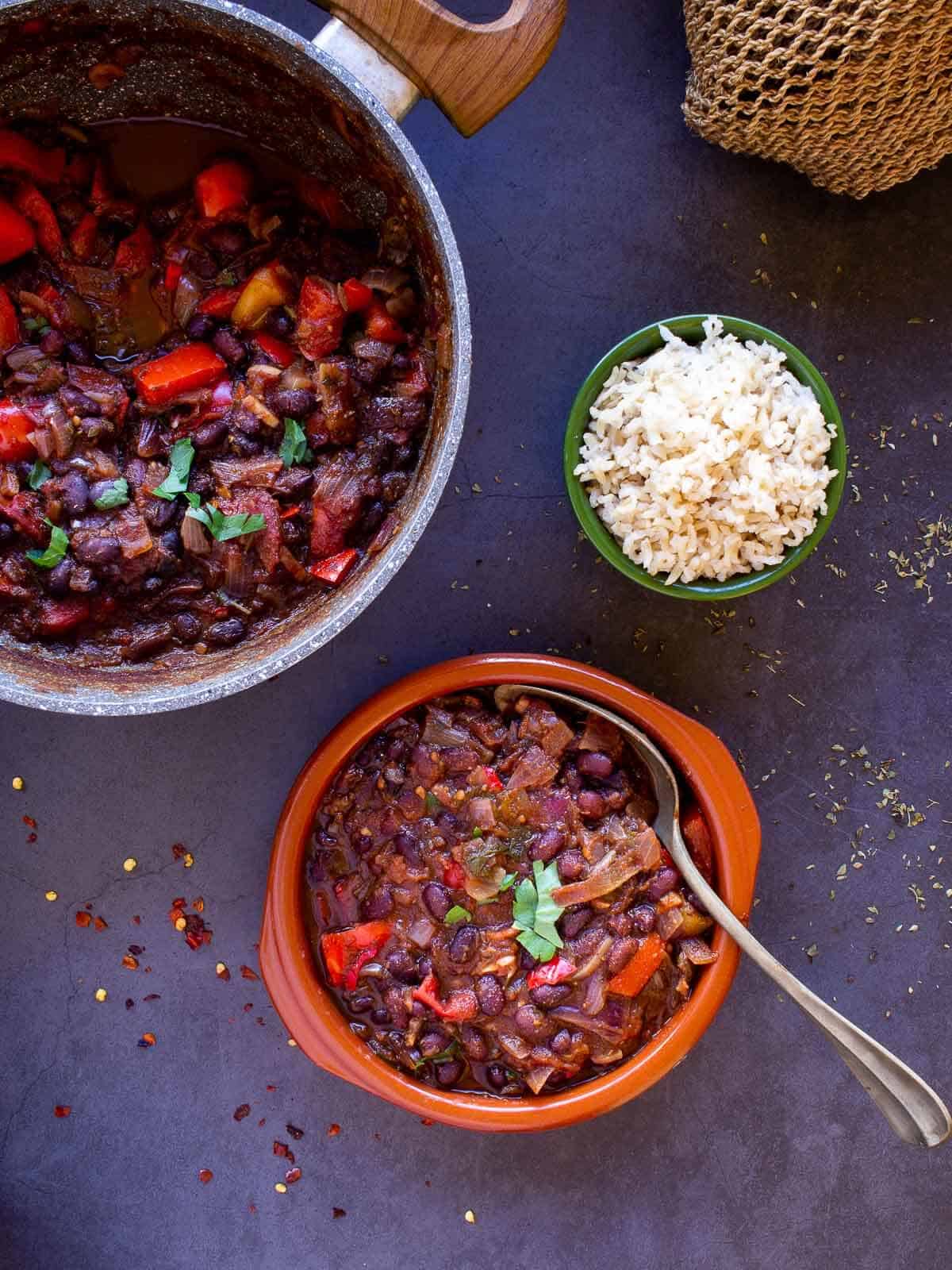 If you are into 1-pot easy bean dishes, don't forget to check out the Vegan Kitchari Cleanse Ayurvedic recipe.
If you try this veggie chili recipe, let us know! Leave a comment, rate it, and don't forget to tag a photo #ourplantbasedworld on Instagram. Cheers!
📋 Recipe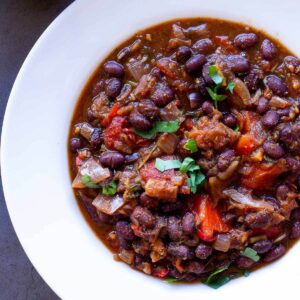 Bean Vegan Chili sin Carne Recipe
We know this 1-pot vegan chili sin carne will become a staple in your kitchen. It's ideal when you want something filling, satisfying, flavorful, and fully customizable.
Equipment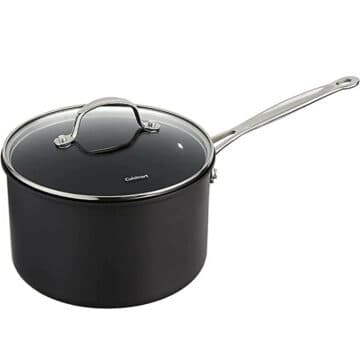 (affiliate link)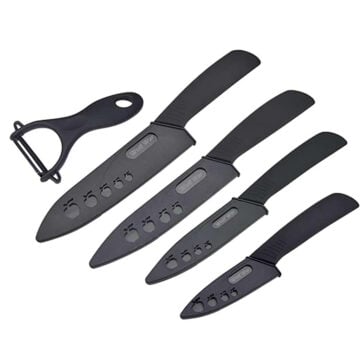 (affiliate link)
Ingredients
2

cups

black beans

pre-boiled or refried , oil-free, home-cooked

5

tomatoes

plum,medium ripe, or 20 oz additives free tomato sauce

2

onions

medium, Red or White chopped, shallots

½

red bell pepper

small, chopped

2

tablespoons

oregano

1 ½

tablespoon

cumin

ground

1 ½

teaspoon

smoked paprika

or sweet paprika

4

cloves

garlic

fresh
Optional:
1

teaspoon

salt

2

small chilies

optional, chopped

1

bunch cilantro

or parsley, chopped

Nutritional Yeast

to top
Directions
Chop the red bell pepper, tomatoes, onions, and garlic. Deseed the chilies (if using).

At medium-high heat, stir fry the onions and garlic for 3 minutes.

Add the bell peppers and stir for 2 minutes.

Continue adding the tomatoes and let them cook for 8 mins.

Add the parsley, spices, chilies, beans, and one cup of water. Let it cook for 10 minutes with the lid on.

Remove the lid and stir. Let it cook for another 5 minutes, with the lid off.

Adjust with salt and pepper and serve.
Nutrition Facts
Calories:
189
kcal
Carbohydrates:
37
g
Protein:
11
g
Fat:
2
g
Saturated Fat:
1
g
Polyunsaturated Fat:
1
g
Monounsaturated Fat:
1
g
Sodium:
17
mg
Potassium:
882
mg
Fiber:
12
g
Sugar:
7
g
Vitamin A:
2194
IU
Vitamin C:
45
mg
Calcium:
120
mg
Iron:
5
mg
Nutrition Facts
Bean Vegan Chili sin Carne Recipe
Amount per Serving
% Daily Value*
* Percent Daily Values are based on a 2000 calorie diet.
🌡️ Food safety
Cook to a minimum temperature of 165 °F (74 °C)
Do not use the same utensils on cooked food, that previously touched raw meat
Wash hands after touching raw meat
Don't leave food sitting out at room temperature for extended periods
Never leave cooking food unattended
Use oils with a high smoking point to avoid harmful compounds
Always have good ventilation when using a gas stove
See more guidelines at USDA.gov.
Nutritional Disclaimer
The information shown is an estimate provided by an online nutrition calculator. It should not be considered a substitute for a professional nutritionist's advice. See our full Nutritional Disclosure here.
Affiliate Disclaimer
Please note that some of the links here are affiliate links, and I will earn a commission if you purchase through those links. I recommend all of the products listed because they are companies I have found helpful and trustworthy.