Just the Best Vegan Buttermilk Gluten-Free Cornbread recipe out here, perfect for teatime or serving with Vegan Chili. Super easy to make, one bowl and one baking pan. It's moist and has just the right balance of sweetness and savory notes.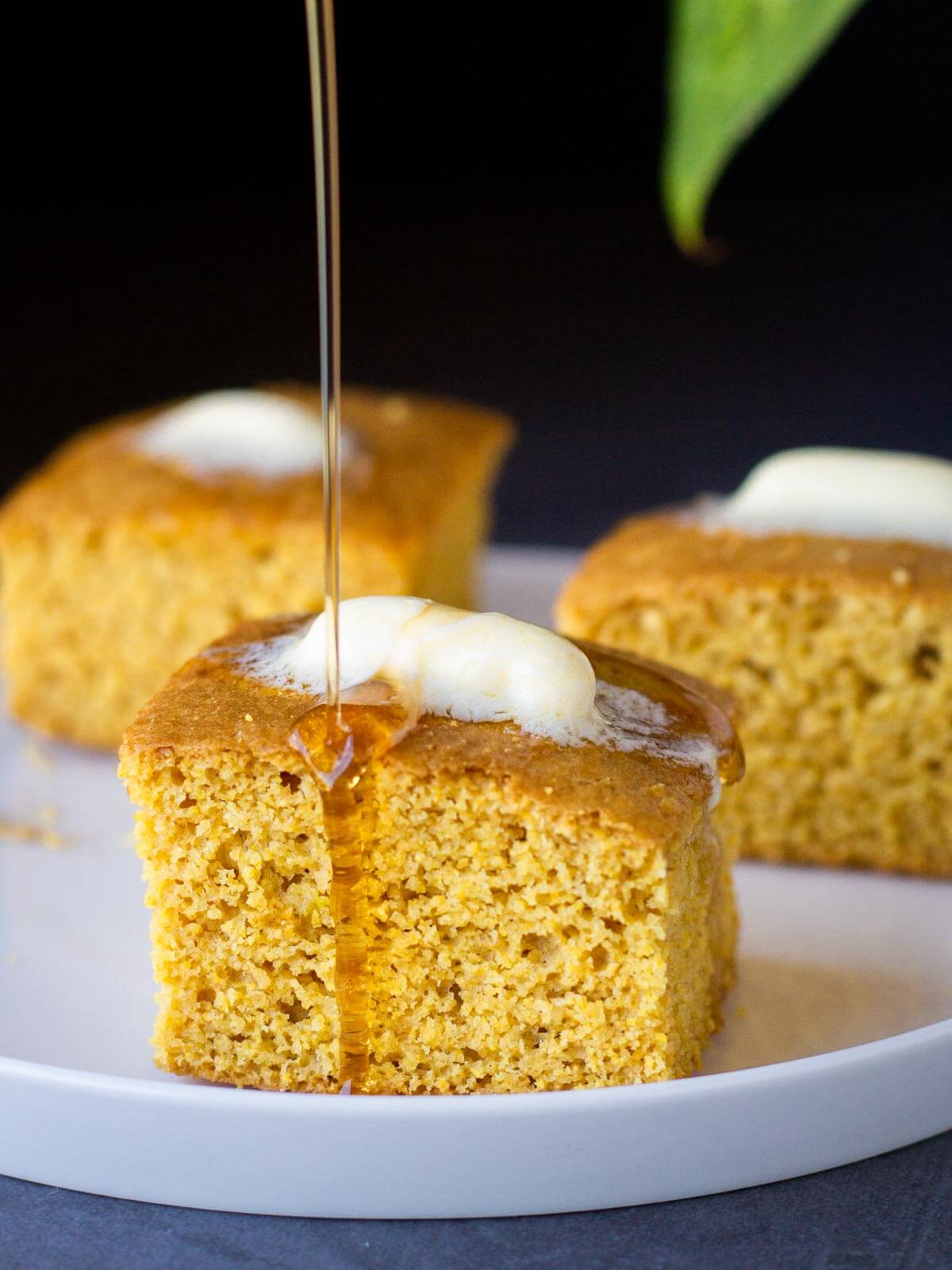 We have found that this vegan gluten-free cornbread recipe can be stretched to the sweeter side, simply adding some extra sugar, and to the savory side, just adding some extra salt, without risking the texture or rising of the dough.
Every time we have our Vegan chili, we either pair it with some avocado and a bowl of brown rice or with this delicious vegan buttermilk cornbread.
Of course, pairing chili with cornbread is an all-time winning combination, so we go for this gluten-free cornbread when we don't mind waiting 25 minutes.
Jump to:
🤔 Why you will love it
Gluten-free. Eating for people with celiac disease is safe, or simply avoiding gluten.
Dairy-free. Lactose intolerant or vegan, you have come to the right place.
Egg-free. Egg allergies or vegan? We have you covered!
Adjustable and easily scalable. It's easily adjustable to the sweet or savory side. This vegan cornbread is a little sweet but not overly so. It's not a savory Cornbread, though. I have turned it into savory cornbread, just playing with the sugar/salt ratios with excellent results.
Moisture. It's very moist, with the perfect puffy cornbread texture, without too much "grit" in it.
Easily made buttermilk. It's made with 2-ingredient vegan buttermilk in 5 minutes while you measure your dry ingredients.
Hassle-free. You just need one bowl and a baking pan, making it super simple: dump, mix and bake! Perfect every time.
Oil-free option. Easily make an oil-free version replacing vegan butter with apple sauce.
No waiting. You can eat it straight out of the oven without waiting or setting a time.
Last but not least... it always comes out perfectly! The only way to mess it up is to burn it, just set your oven to 25 minutes, and you are guaranteed to get it right 100% of the time.
Serve this Dairy-free Cornbread with this Vegan Chili, a dollop of fresh Guacamole, or fresh avocado dice for the ultimate treat!
This recipe is also one of our favorite fall season recipes, as it brings many flavors related to Thanksgiving and cozy gatherings.
🧾 Ingredients
This easy cornbread recipe calls for just a handful of staple ingredients.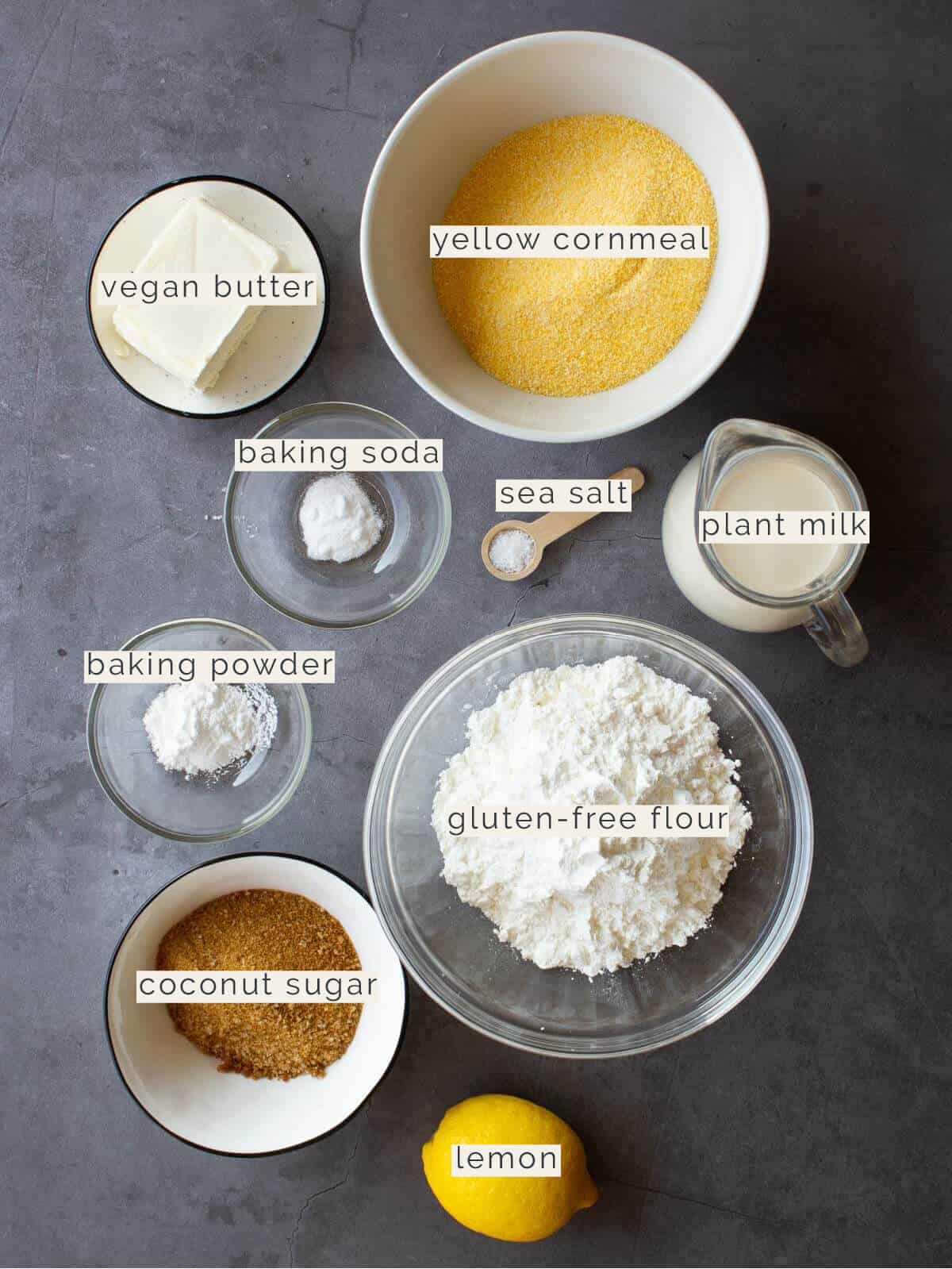 Gluten-free flour (or all-purpose, if you don't mind the gluten)
Yellow cornmeal
Baking soda
Baking powder
Vegan butter or margarine, or neutral oil
Coconut sugar or organic cane sugar
Salt
For the Vegan Buttermilk
Unsweetened and unflavored plant milk (almond milk, soy milk, and oat milk work well)
Lemon juice or apple cider vinegar
See quantities and complete instructions in the recipe card.
🔪 Instructions
Preheat oven. Set it to 400 ºF (200 ºC) and melt the vegan butter in a small sauce on low heat.
Make the buttermilk
Mix the dairy-free milk and lemon juice and reserve for 5-10 minutes until it curdles.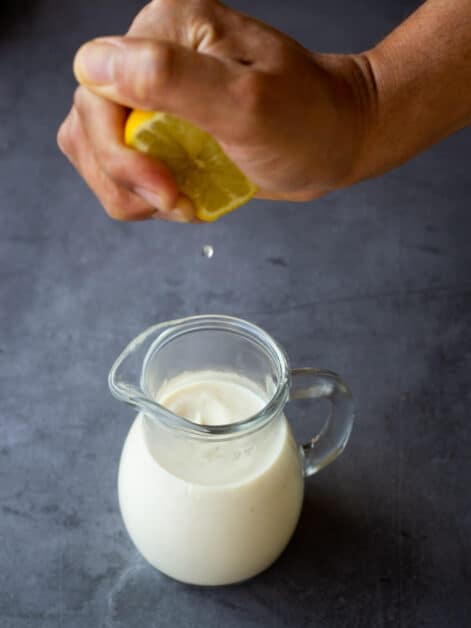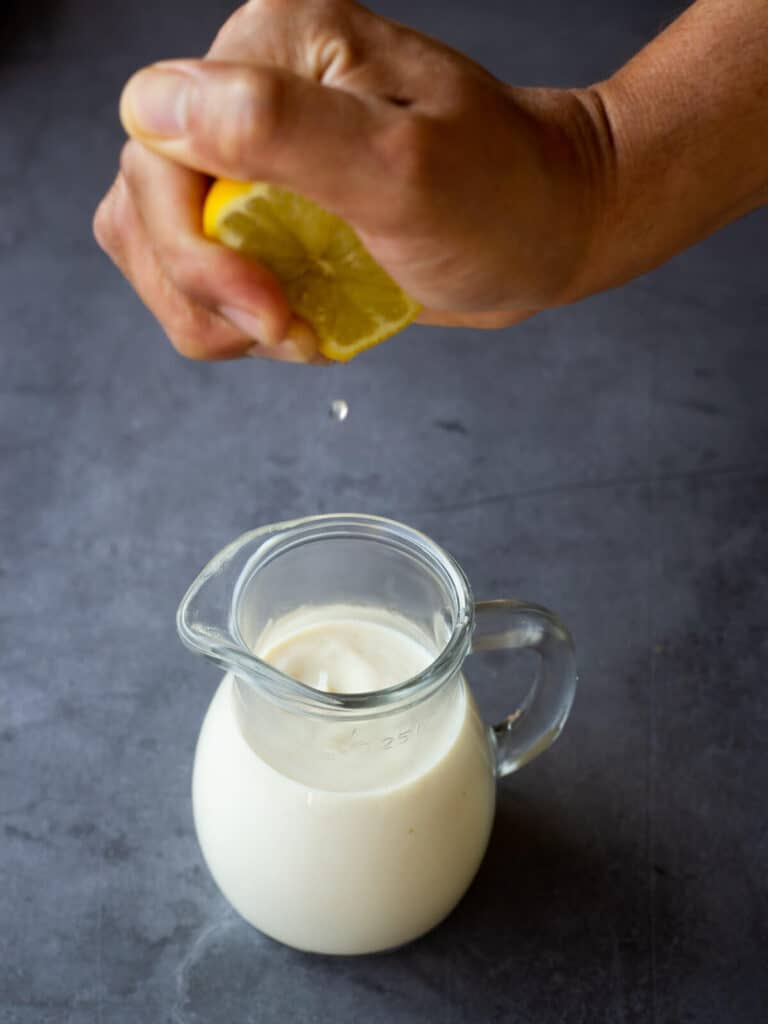 Mix ingredients
Mix all the dry ingredients, including the GF flour, cornmeal, baking soda, baking powder, coconut sugar, and salt. Optionally sieve the ingredients to avoid any clumps.
Then add and mix the remaining ingredients, including the melted vegan butter and vegan buttermilk. Now, you have your gluten-free cornbread mix ready.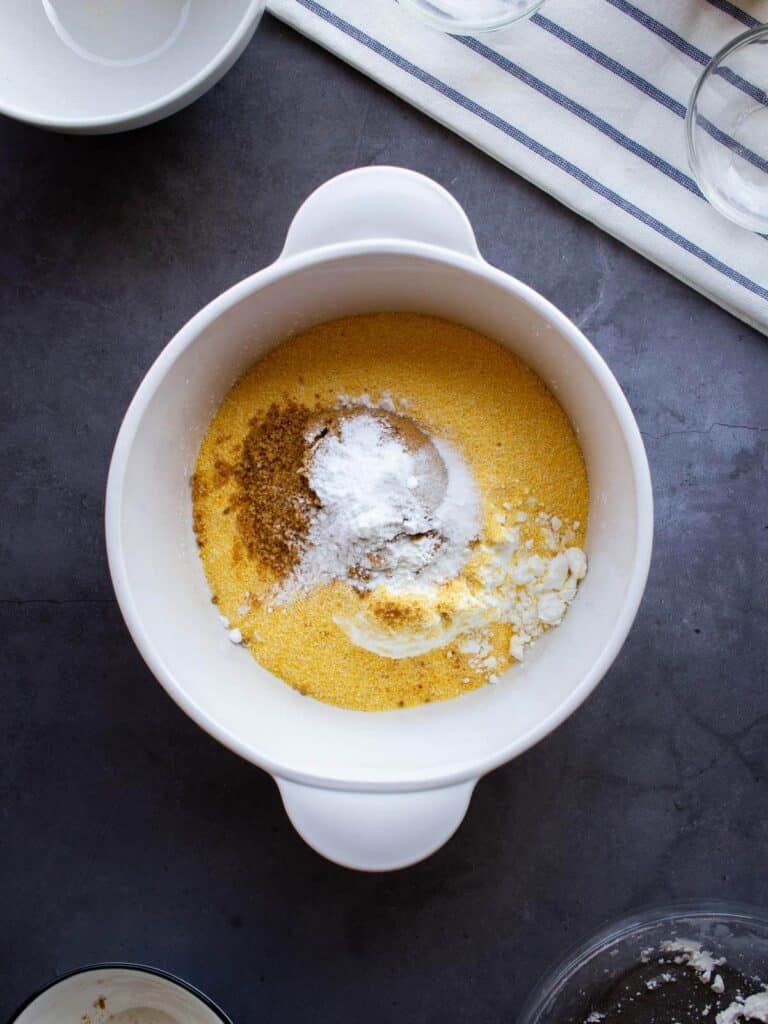 Prepare for baking
Oil the baking sheet using vegan butter or oil, then sprinkle some gluten-free flour to prevent the cornbread from sticking to the pan.
Pour the batter into a prepared pan and slightly shake the baking sheet, to ensure the batter is evenly spread.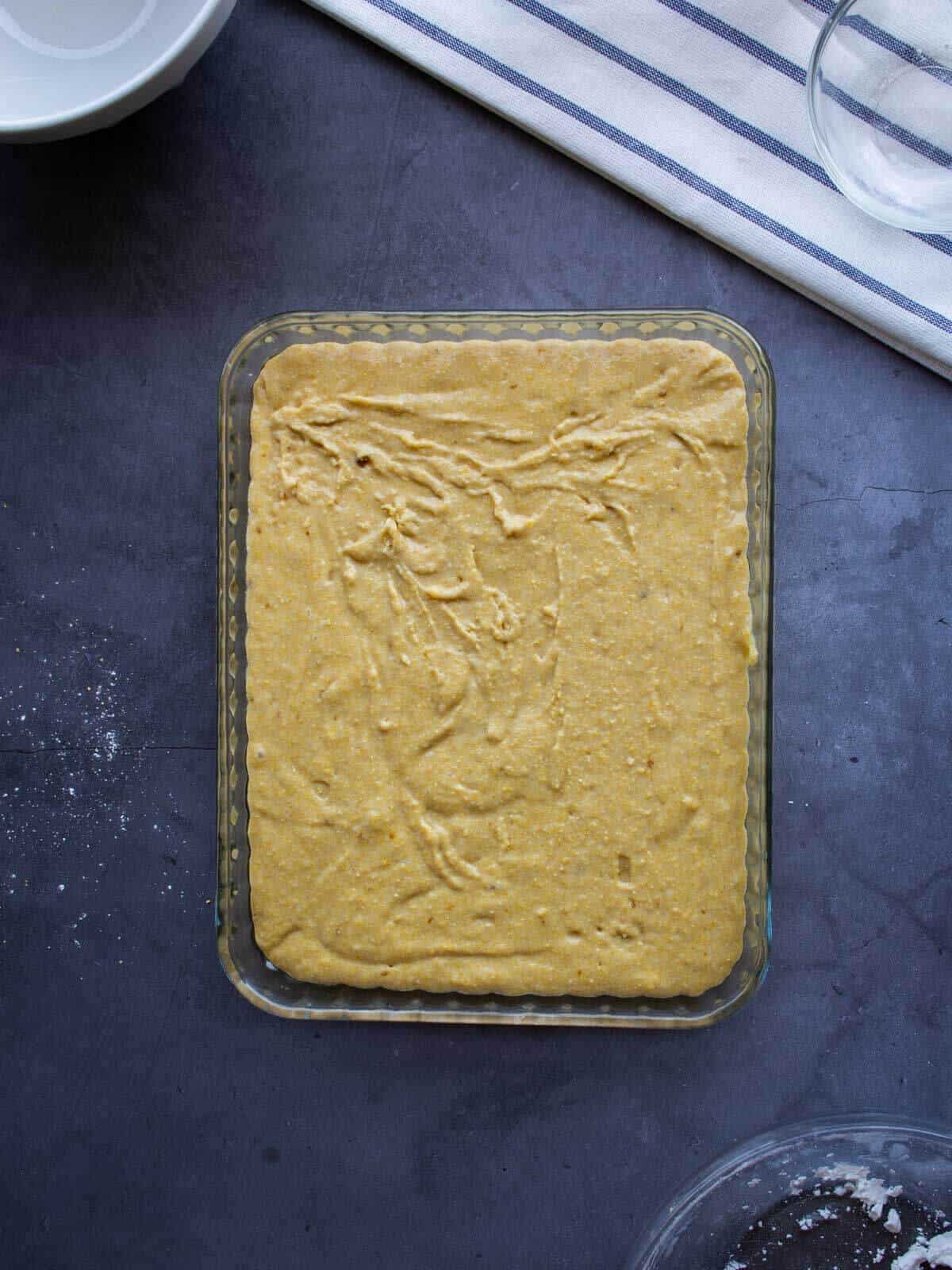 Bake
Bake your vegan cornbread for 20-25 minutes. If you are unsure about how even the temperature in your oven is, I suggest two tips.
Place an oven-resistant container with one cup of water at the bottom of the oven. The steam generated will ensure your gluten-free baked goods cook evenly.
Use your oven's fan mode if available.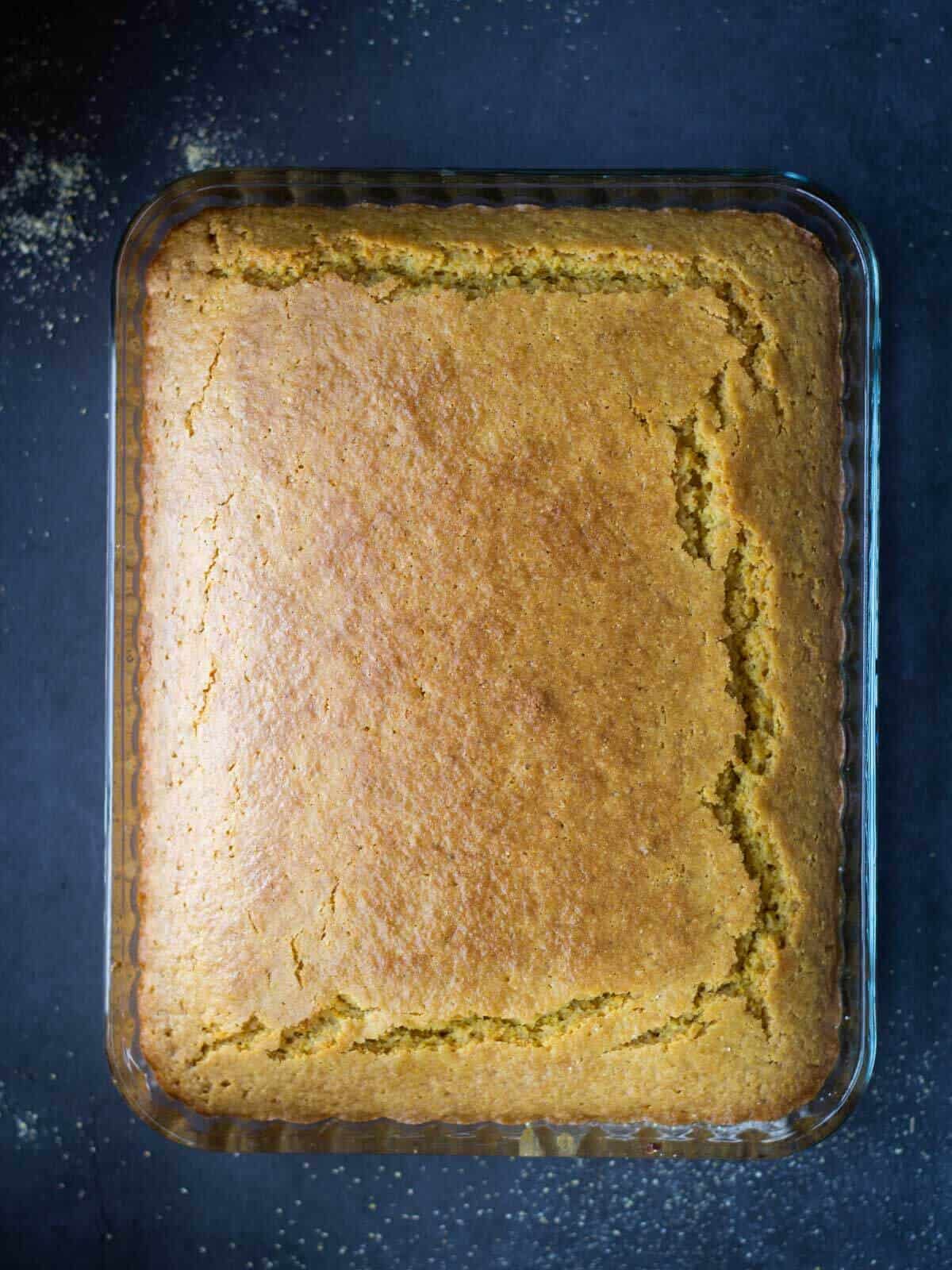 Another great option to bake your delicious cornbread and reduce the baking time is using a muffin pan instead of a baking sheet.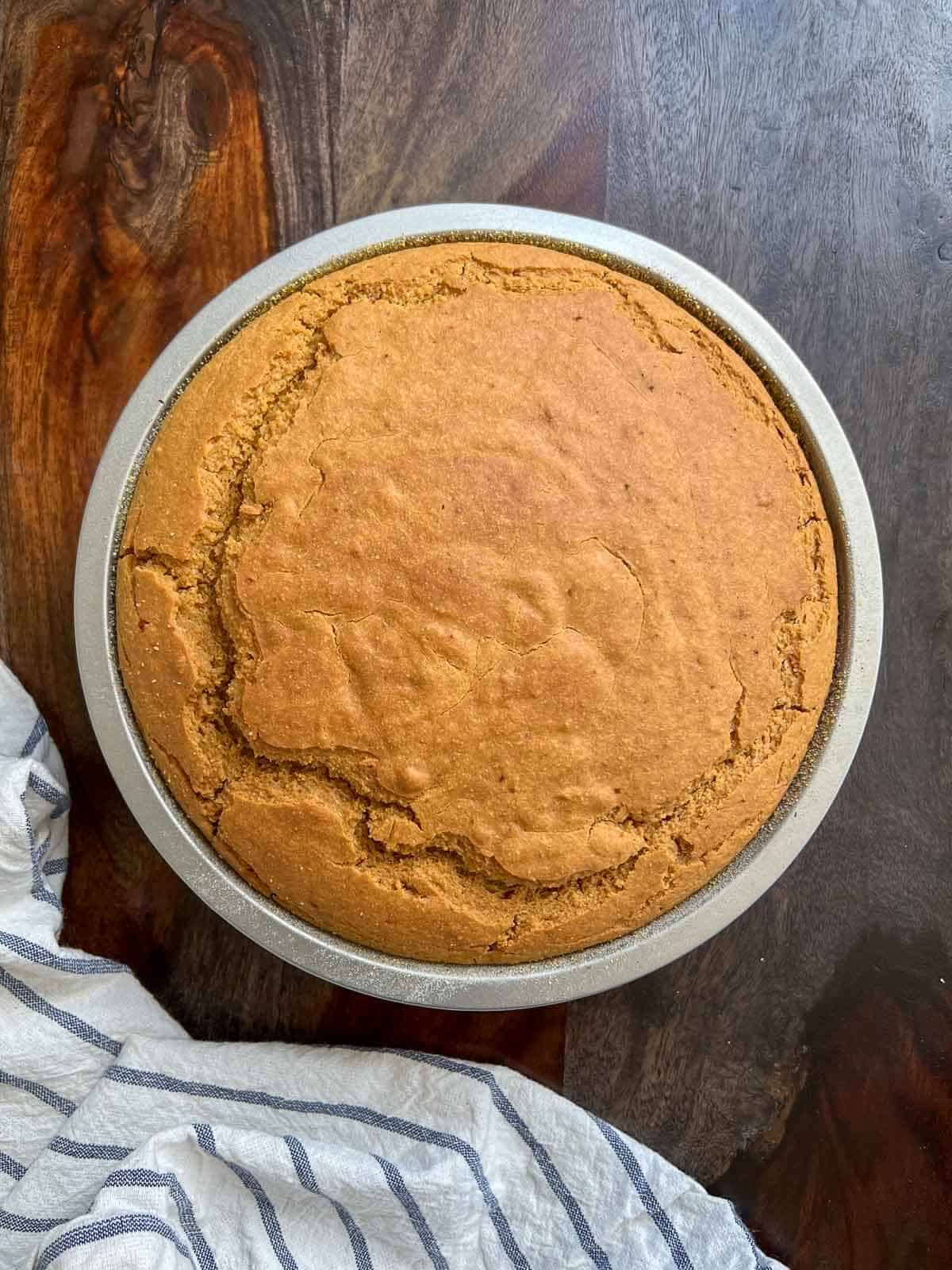 You can also use an 8" round pan.
📖 Variations
You have several options to keep this vegan cornbread recipe gluten-free.
The Gluten-Free flour we are using is a mixture of garbanzo bean, sorghum, fava bean flour, potato starch, and tapioca flour. It works perfectly for making this GF cornbread and all gluten-free recipes.
Alternative gluten-free flour options - you could also use oat flour, almond flour, and chickpea flour to make this easy cornbread recipe.
We used gluten-free flour since we wanted to make a gluten-free, vegan cornbread, but if you don't mind the gluten in your flour, you can use either all-purpose flour or bread flour (strong, high gluten content).
Cornmeal
If you don't like any grittiness in your cornbread, make sure to use fine cornmeal instead of medium-grind cornmeal. We use Bob's Mill medium-grind cornmeal.
Vegan butter
Any vegan butter or margarine will work. We have also used canola, grapeseed, and avocado oil (all neutral oils), in the same proportions. It will work.
Olive oil is also a good option. We like olive oil in all its forms, but keep in mind, that it will add its distinctive flavor.
Some people even use coconut oil, but I don't recommend it because, I can certainly taste the coconut in the cornbread, and that was not the flavor I was looking for, as we were aiming to get the flavor as close as possible to the traditional cornbread, which of course uses wheat flour, non-vegan butter, and regular buttermilk.
If you choose to use oil, instead of a good quality vegan butter, such as Earth Balance (affiliate link), you will miss some of the buttery flavors, but it is barely noticeable.
If you are vegetarian and don't mind using regular butter, go ahead. The same applies to milk.
Oil-free
You can make a vegan cornbread with applesauce instead of using any kind of oil if you prefer to prepare a healthier version.
Sweetness
If you like your cornbread sweeter, use an extra ¼ cup of coconut sugar, or organic cane sugar. We do this when we plan to have cornbread for breakfast with our coffee or teatime.
You can also simply add a little bit of maple syrup on top before serving.
You could use other types of sugar, but we wanted to keep this gluten-free cornbread also refined sugar-free.
Savory
If you prefer your gluten-free cornbread to be savory, add ½ teaspoon of salt and use ⅓ cup of sugar. This is the recipe I use when aiming to remove most of the sweet notes but keep the cornbread essence.
Baking powder
If where you live, you can't find baking powder (yes, it happens! Here in Italy, baking powder is not used, but you can easily make your own in seconds!). Check how below.
Buttermilk
If you don't mind the buttermilk, which I strongly recommend, just use the same amount of dairy-free milk, skip the lemon (or vinegar) and add ¼ teaspoon of baking powder. It is excellent for vegan pancakes, vegan banana bread, or cornbread.
🥛 How to Make Vegan Buttermilk
Homemade Vegan Buttermilk is easy to make and only takes 5 minutes and 2 ingredients. You need almost any kind of plant milk (see notes below), such as soy milk and almond milk, and you need something to make it curdle.
I don't recommend using rice milk as a dairy-free alternative, as it has a lesser protein content; thus, it may not curdle as needed to make gluten-free baked goods.
You can use either one tablespoon of lemon or lime juice or one tablespoon of apple cider vinegar.
See our post, explaining the details and the best combinations to make the best vegan buttermilk, easily made with soy milk, almond milk, or even oat milk.
Tip: I don't recommend regular or canned coconut milk, as it can change the flavor profile of this cornbread recipe.
Let the vegan buttermilk mixture sit for 5 to 10 minutes until you see it looks thicker and you can see curdles.
It will only slightly curdle because the regular milk solids separate from the whey, but in this case, plant milk doesn't have as much fat content as regular cows' milk, but it is ready to use.
Vegan buttermilk is an excellent resource in gluten-free, vegan baking. We love using it in our Vegan Apple Cake; it works wonderfully for making vegan banana bread, and vegan pancakes.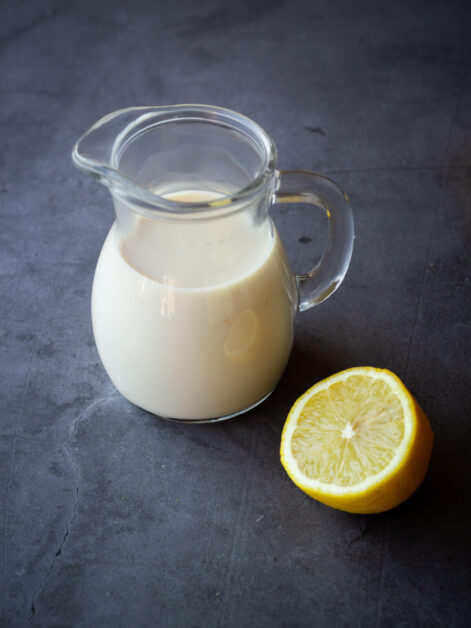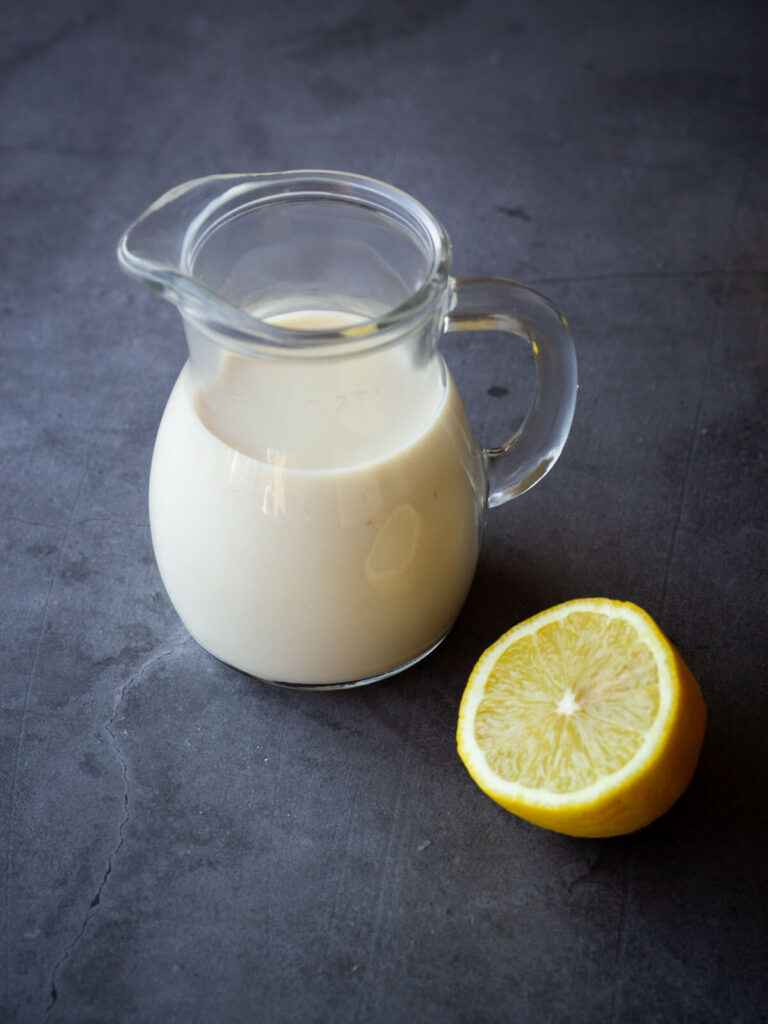 ❓ How to make baking powder at home
To make this DIY baking powder, simply mix
2 parts of baking soda
2 parts of cream of tartar
1 part of cornstarch (also known as Maizena).
This homemade baking powder can be kept in a closed Tupperware and use in the future. It keeps well in the fridge.
Make sure you use fresh baking soda and not the one that has been sitting in your fridge for months!
🥢 How to serve
This delicious Gluten-Free Vegan Cornbread pairs very well with hearty dishes such as this Vegan Chili or these Creamy Red Lentils.
Dice some avocado on top, or add a spoon of freshly made Mexican Guacamole.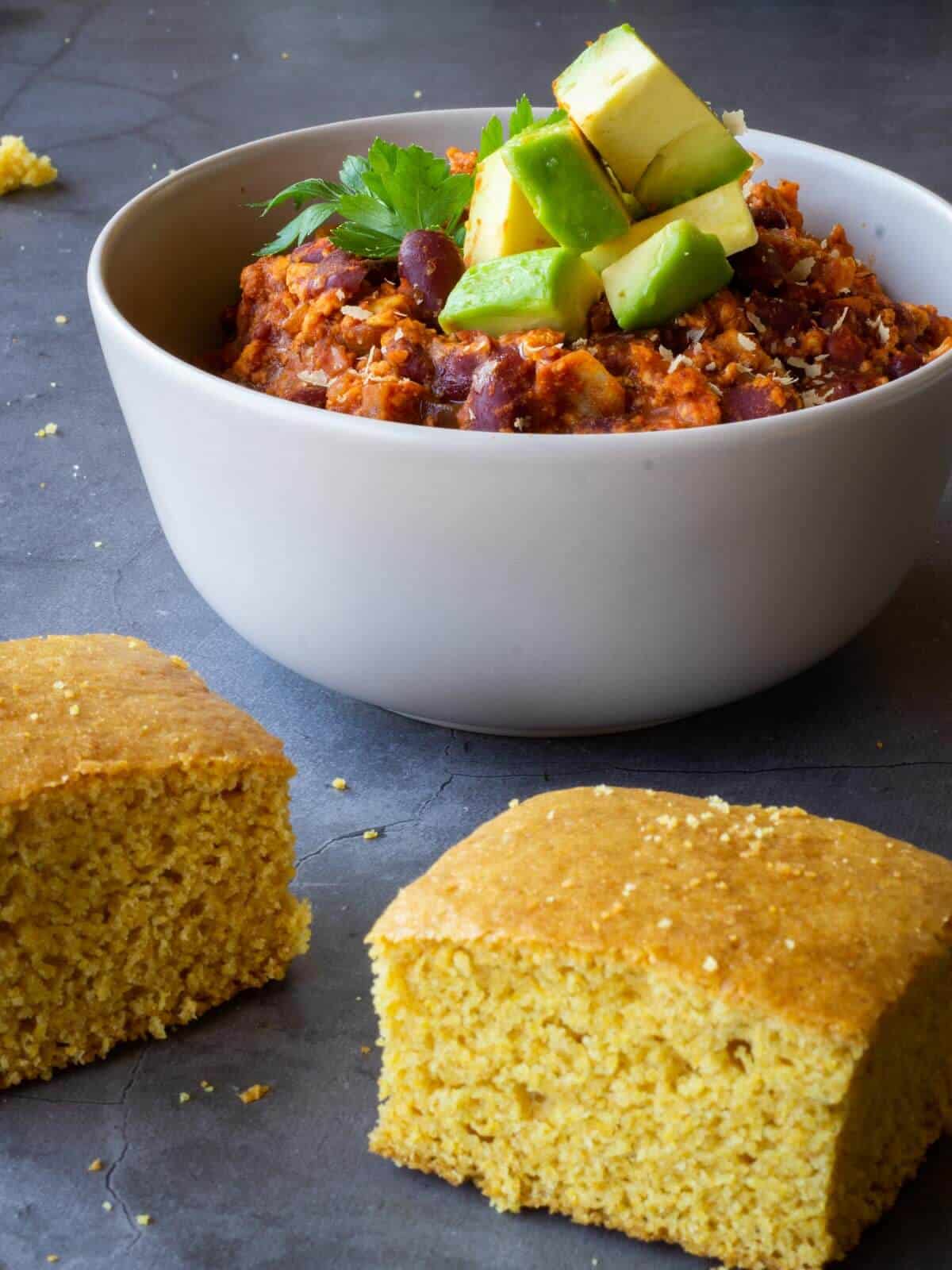 This recipe is also the base for making Cornbread dressing or stuffing.
We also love having it for breakfast, during the weekend, with freshly made coffee or Vegan Golden Milk.
Other delicious add-ons we love to add on top are vegan cheese, brown rice syrup, agave syrup, maple syrup, and vegan butter.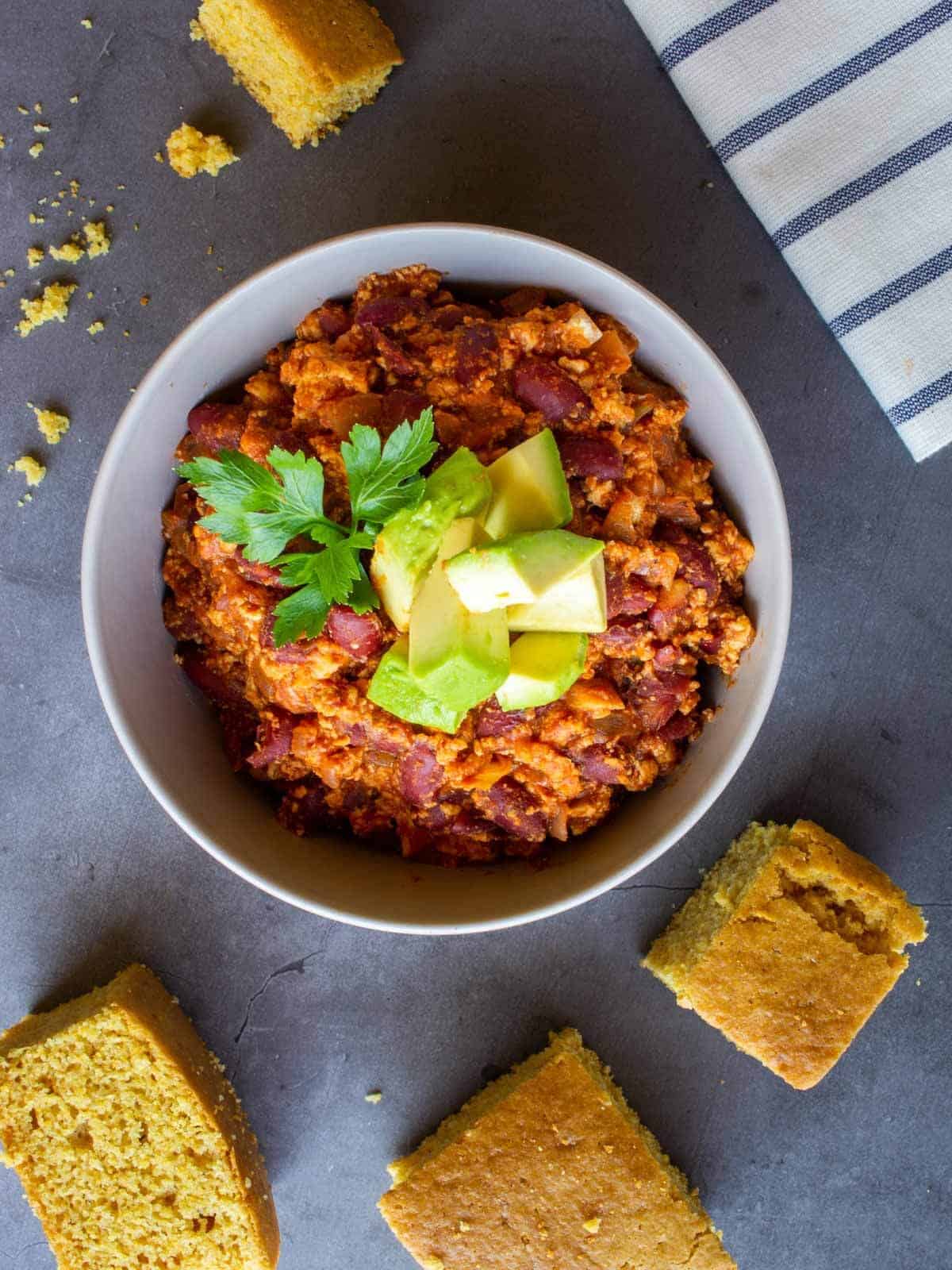 Other popular and simpler options to serve this homemade cornbread recipe include thawed frozen corn, canned corn kernels, and baked beans.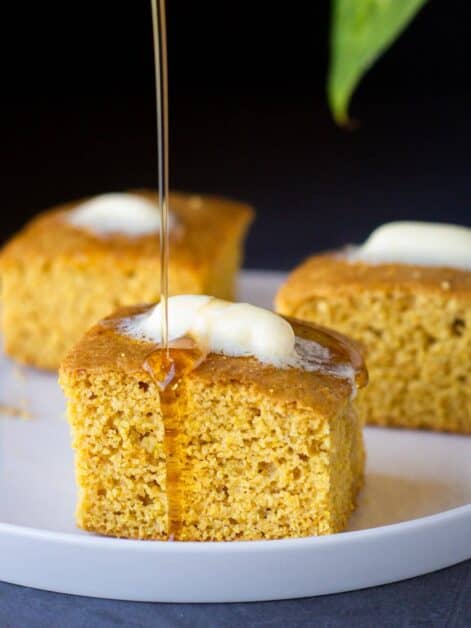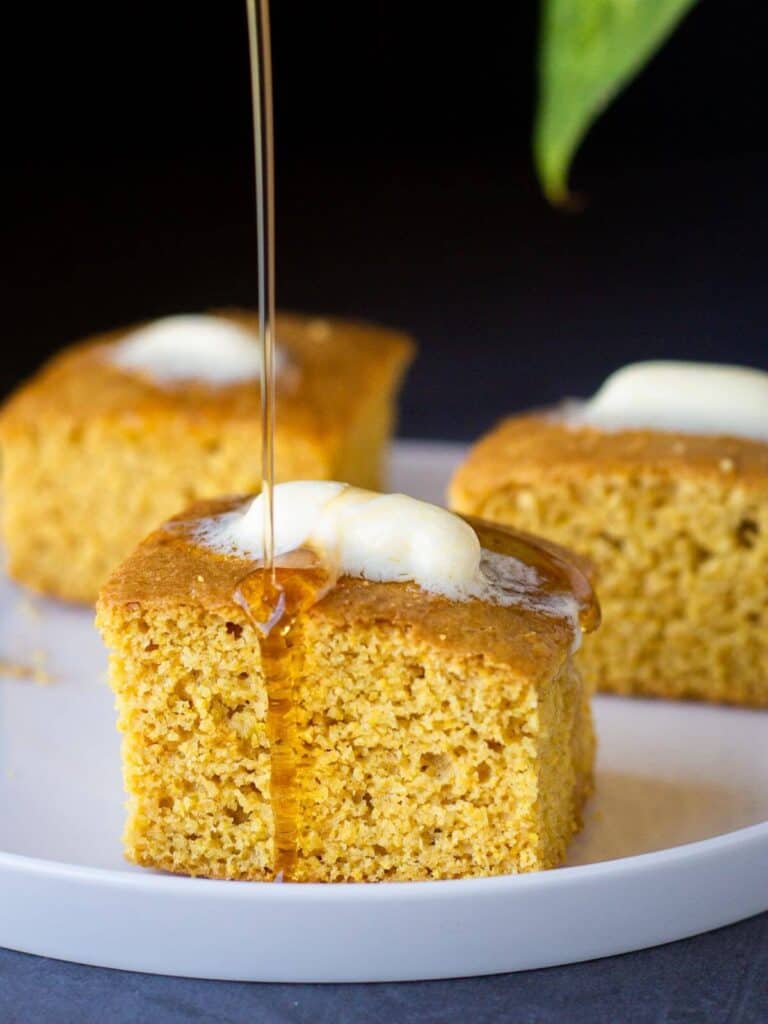 Last but not least, of course, Cornbread is a staple on our Thanksgiving table, especially paired with our favorite Spiced Cranberry Sauce, Applesauce, Sweet potato apple crunch, and the never-ever missing pumpkin pie.
🥡 Storage
You can store this easy vegan cornbread covered at room temperature for 2 to 3 days or in the refrigerator for 3 to 4 days.
You can also freeze this egg-free cornbread for up to 1 month.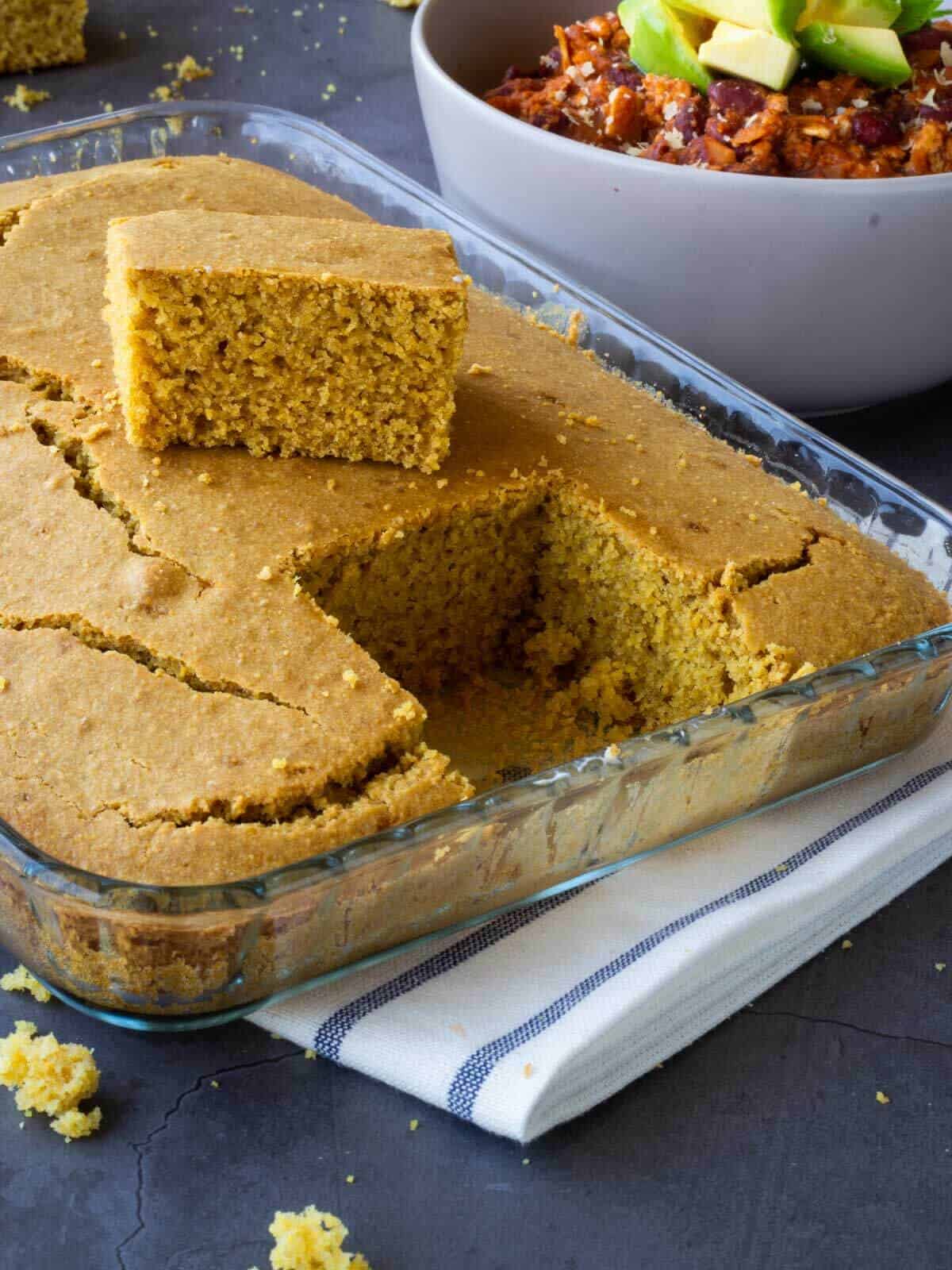 ⏲️ More easy baking vegan ideas
⭐ If you try this recipe, let us know! 💬 Leave a comment, rate it, and don't forget to tag us @ourplantbasedworld on Instagram. Cheers!
📋 Recipe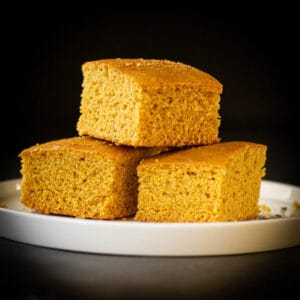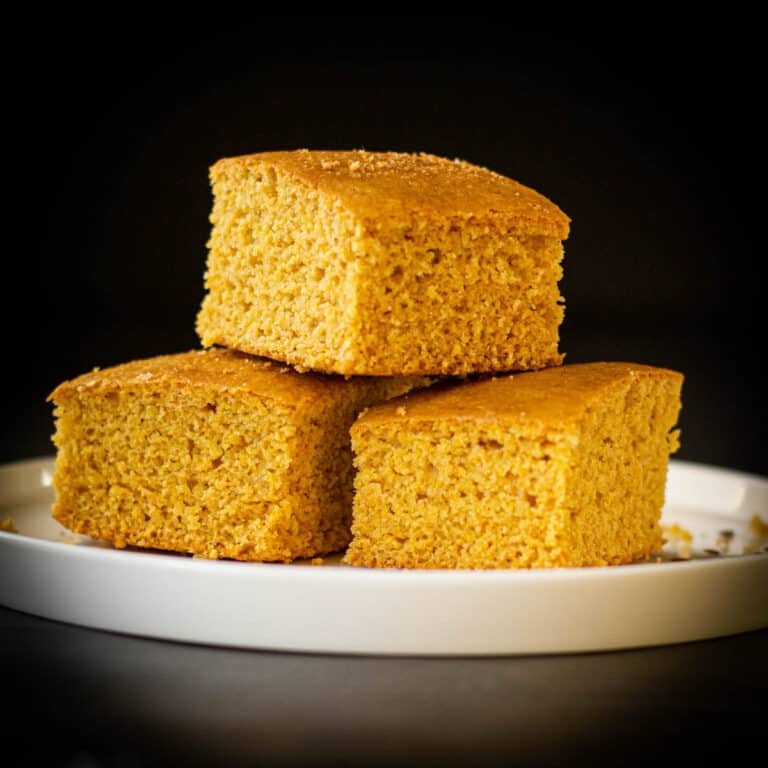 Vegan Cornbread Recipe Gluten-free
Just the Best Vegan Buttermilk Gluten-Free Cornbread recipe out here, perfect for teatime or serving with Vegan Chili. Super easy to make, one bowl and one baking pan. It's moist and has just the right balance of sweetness and savory notes.
Directions
Preheat the oven to 400ºF and lightly grease an 8 x 10" pan (20 x 25 cm), 8 x 8" (20 x 20 cm), or a 9-inch (23 cm) round cake pan.

Make the buttermilk. Measure out soy milk and add lemon juice. Set aside.

Mix the dry ingredients.

Add the wet ingredients. Stir until well combined.

Pour into a pan. Pour the batter into the prepared pan.

Bake for 20-25 minutes, until the top looks golden and a knife inserted into the center comes out clean.
Notes
You may use all-purpose flour or white whole wheat flour in place if you wish. To make it oil-free, you can choose to replace the vegan butter with applesauce.
Storing
You can store this easy vegan cornbread covered at room temperature for 2 to 3 days or in the refrigerator for 3 to 4 days.
You can also freeze this egg-free cornbread for up to 1 month.
You may want to substitute organic cane sugar for a natural sweetener. I wouldn't suggest you do so. The cornbread's flavor and texture are compromised when using sweeteners like maple, agave syrup, and even coconut sugar. Yes, we have tried that.
Notes: This is an adapted recipe from allrecipes.
Nutrition Facts
Calories:
166
kcal
Carbohydrates:
28
g
Protein:
3
g
Fat:
6
g
Saturated Fat:
1
g
Polyunsaturated Fat:
2
g
Monounsaturated Fat:
2
g
Trans Fat:
1
g
Sodium:
246
mg
Potassium:
79
mg
Fiber:
3
g
Sugar:
9
g
Vitamin A:
292
IU
Vitamin C:
1
mg
Calcium:
70
mg
Iron:
1
mg
Nutrition Facts
Vegan Cornbread Recipe Gluten-free
Amount per Serving
% Daily Value*
* Percent Daily Values are based on a 2000 calorie diet.
🌡️ Food safety
Cook to a minimum temperature of 165 °F (74 °C)
Do not use the same utensils on cooked food that previously touched raw meat
Wash hands after touching raw meat
Don't leave food sitting out at room temperature for extended periods
Never leave cooking food unattended
Use oils with high smoking points to avoid harmful compounds
Always have good ventilation when using a gas stove
See more guidelines at USDA.gov.
The information shown is an estimate provided by an online nutrition calculator. It should not be considered a substitute for a professional nutritionist's advice. See our full Nutritional Disclosure here.
Please note that some of the links here are affiliate links, and I will earn a commission if you purchase through those links. I recommend all of the products listed because they are companies I have found helpful and trustworthy.